Visited on: March 17, 2016 and November 2, 2017.
Location
Thiruppurambiyam is situated at a distance of about 10 kms from Kumbakonam on the Kumbakonam to Thiruvaiyaru route (via Puliancheri). Take the diversion road from Puliancheri and proceed for about 6 kms to reach this temple.
Other Devara Paadal Petra Shiva Sthalams near this place are –
Innambur, Kottaiyur, Thiruvisayamangai (Govandha Puthur) and Thiruvaikavur, Patteeswaram, Sakthimutram, Pazhayarai Vadathali, Thiruvalanchuzhi and Kumbakonam (3 temples – Kudamukku, Keezhkkottam and Karonam).
General Information
| | |
| --- | --- |
| Moolavar | Sri Satchinatheswarar, Sri Punnaivana Nathar |
| Ambal | Sri Karumpadu Solliammai, Sri Ishuvaani |
| Theertham (Holy water) | Brahma Theertham, river Manniyaru and Saptha Sagara Koobam (well) |
| Sthala Vriksham (Sacred Tree) | Punnai tree |
| Pathigam (Hymn) rendered by | Saint Thirugnanasambanthar-1, Saint Thirunavukarasar (Appar)-1 and Saint Sundaramurthy (Sundarar)-1 |
This is one of the 276 Devara Paadal Petra Shiva Sthalams and 46th Shiva Sthalam on the northern bank of the river Cauvery in Chozha Nadu (Vadakarai).
Lord Shiva in this temple is a Swayambumurthi (self-manifested).
The 64th "Thiruvilaiyadal" of Lord Shiva took place here.
This is one of the 24 important temples for Lord Dakshinamoorthy.
This is one of the 44 Paadal petra sthalams where the "Moovar" (the three saints - Saint Thirugnanasambanthar, Saint Thirunavukarasar (Appar) and Saint Sundaramurthy (Sundarar) had rendered their Pathigams.
This east facing temple has two corridors and its main tower Rajagopuram has 5-tiers.
The last consecration ceremony (Maha Kumbabishekam) took place on 18.03.2016.
History of the Temple
The temple is situated on the northern bank of the river Manniyaru and is surrounded by three rivers - Manniyaru, Kollidam and the Cauvery.
There are 11 stone inscriptions in this temple dating back to the periods from the first Chola king Rajakesari Varman to king Kulothungan. Also, there is another set of 62 stone inscriptions which belong to the periods of later Chola kings including Paranthagan-I, Kandarathithan, Adithan, Rajarajan, Vikraman, Rajarajan-III and Rajendran-III. Another stone inscription present there bears a mention of the Vijayanagara king Virupatchirayan.
Once this temple was under the control of the Pandya kingdom and king Varaguna Pandyan built this temple in brick. Later, the Chola king Adhithya Chola-I converted it into a granite temple.
The historical names of this place are Thirupurambiam, Kalyanamaanagar and Punnaahavanam.
Some of the idols in the koshtam and the corridor are badly broken. It is believed that this was done a long time ago by people from other religious backgrounds.
This temple is under the administrative control of Thirugnanasambantha Swamigal Adheenam, Madurai.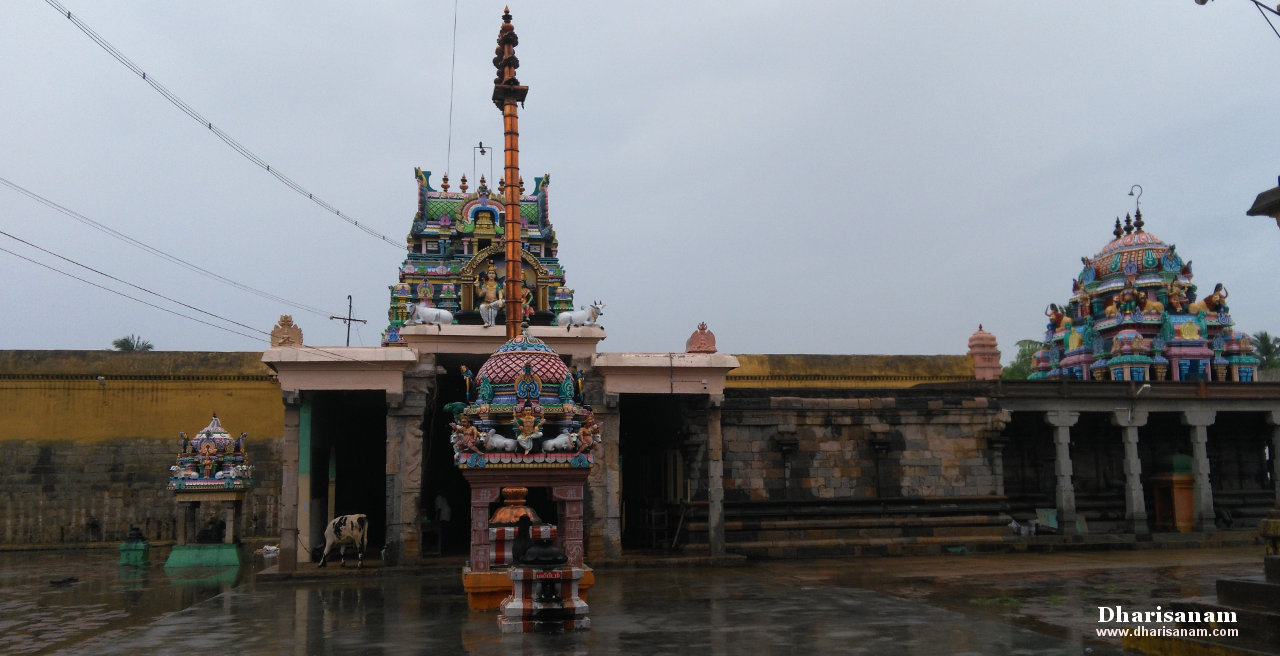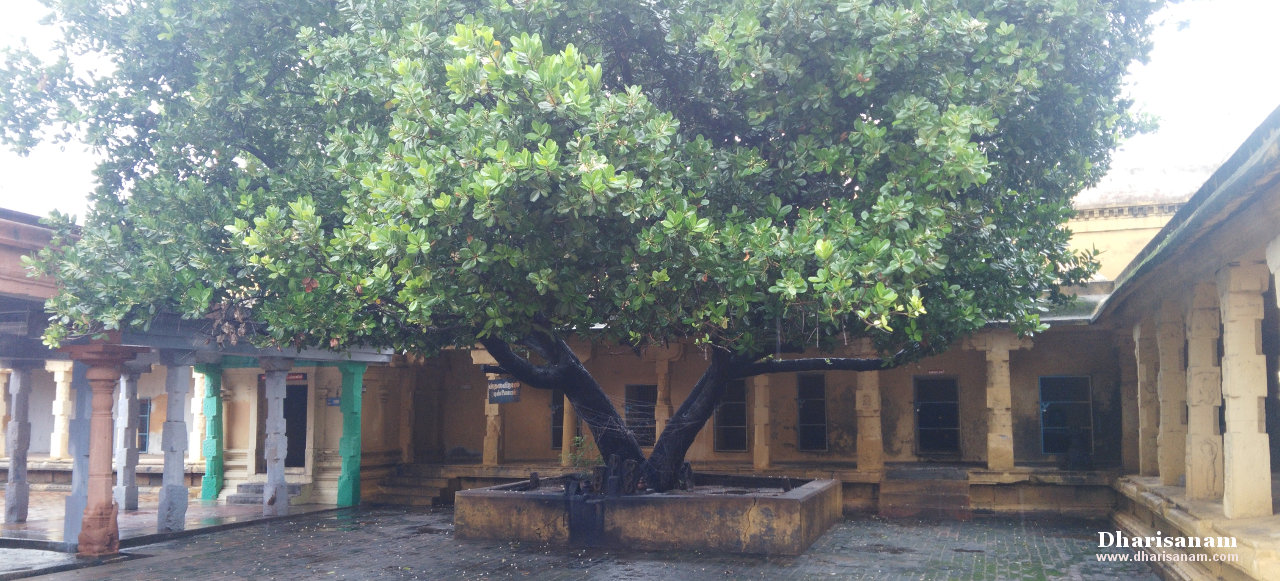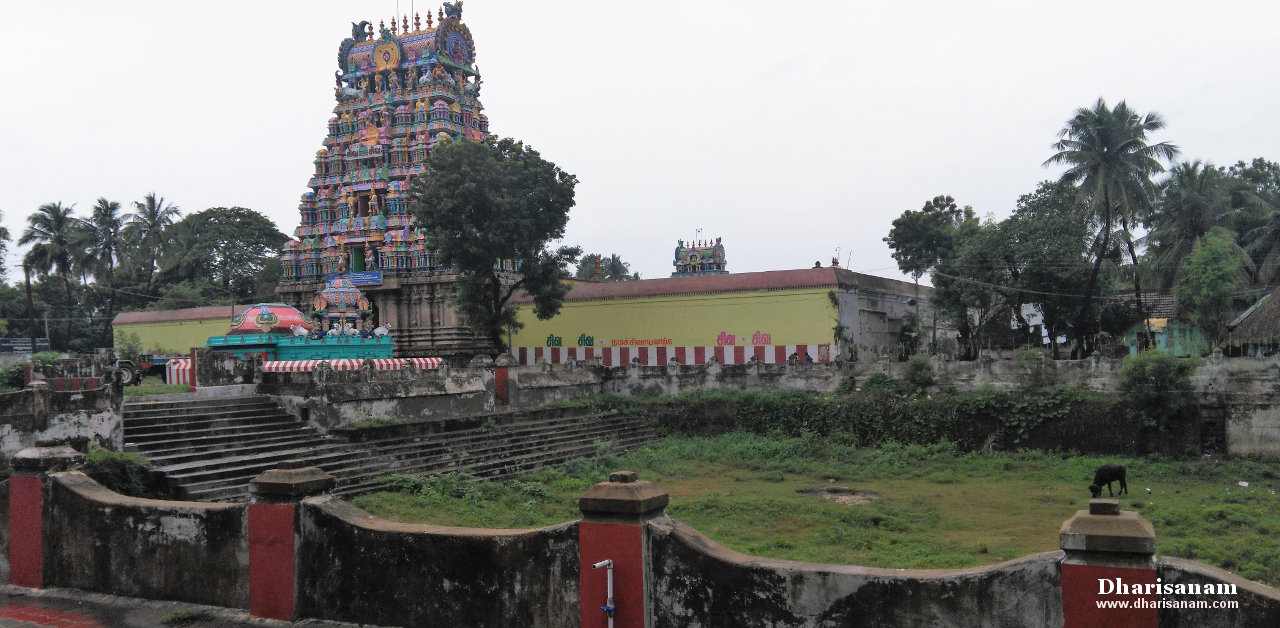 Legend
According to Hindu mythology, the end of every "yuga" is marked by a huge flood that leads to the destruction of all living beings on the earth. This is called the "Pralayam". During the deluge at the end of the "Krutha yuga", on the instruction of Lord Shiva, Vinayakar of this temple saved this place by diverting the water of all the seven seas into this temple's well. This well is called the "Saptha Sagara Koobam" ("seven sea well") and it is located on the eastern bank of this temple's tank. Hence the Vinayakar here is praised as "Pralayam Katha Vinayakar". This place gets the name Thiru Purambayam because it was an exception and wa not affected by the Pralayam ("puram" means exception and "payas" means water in Tamil).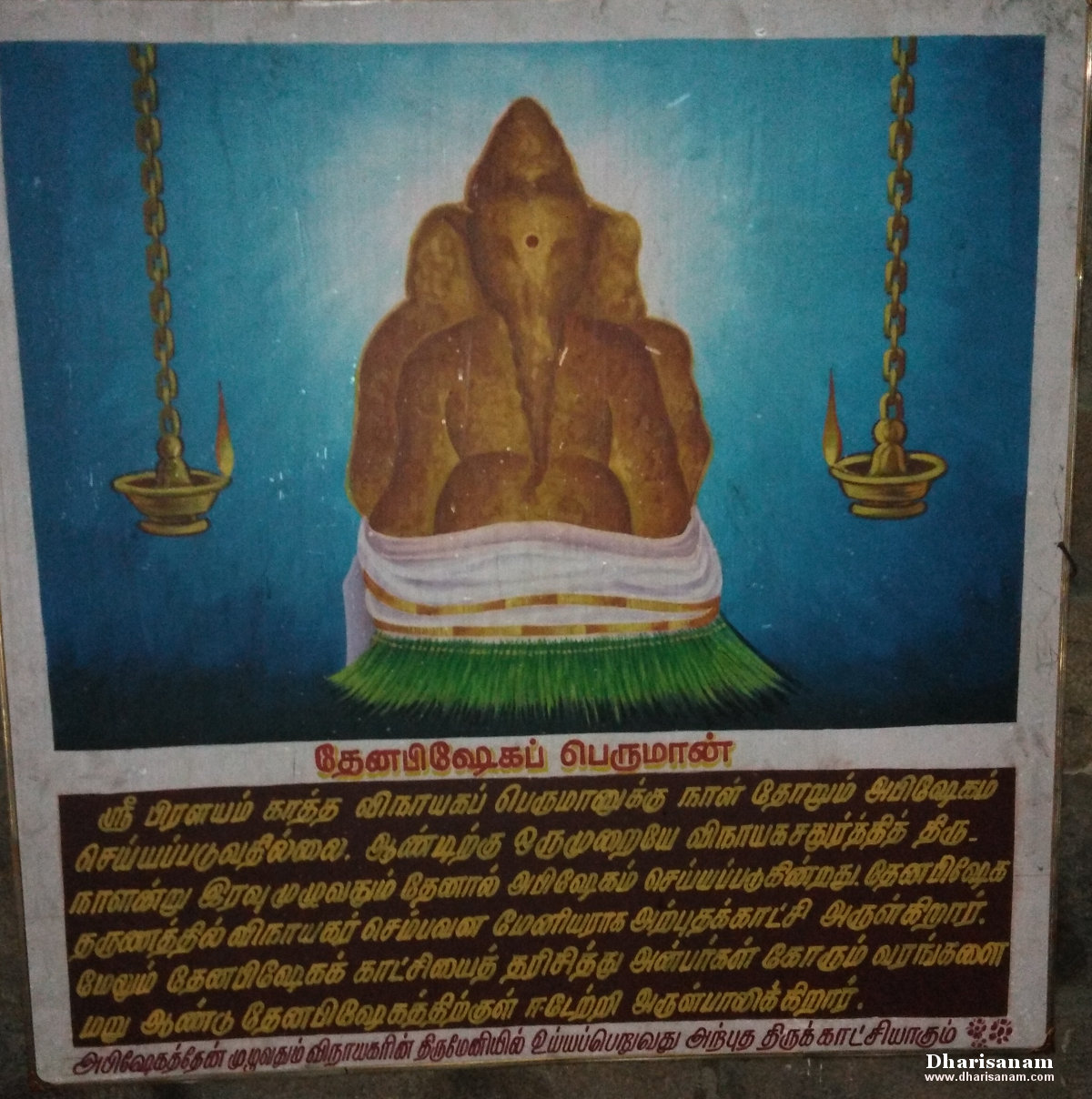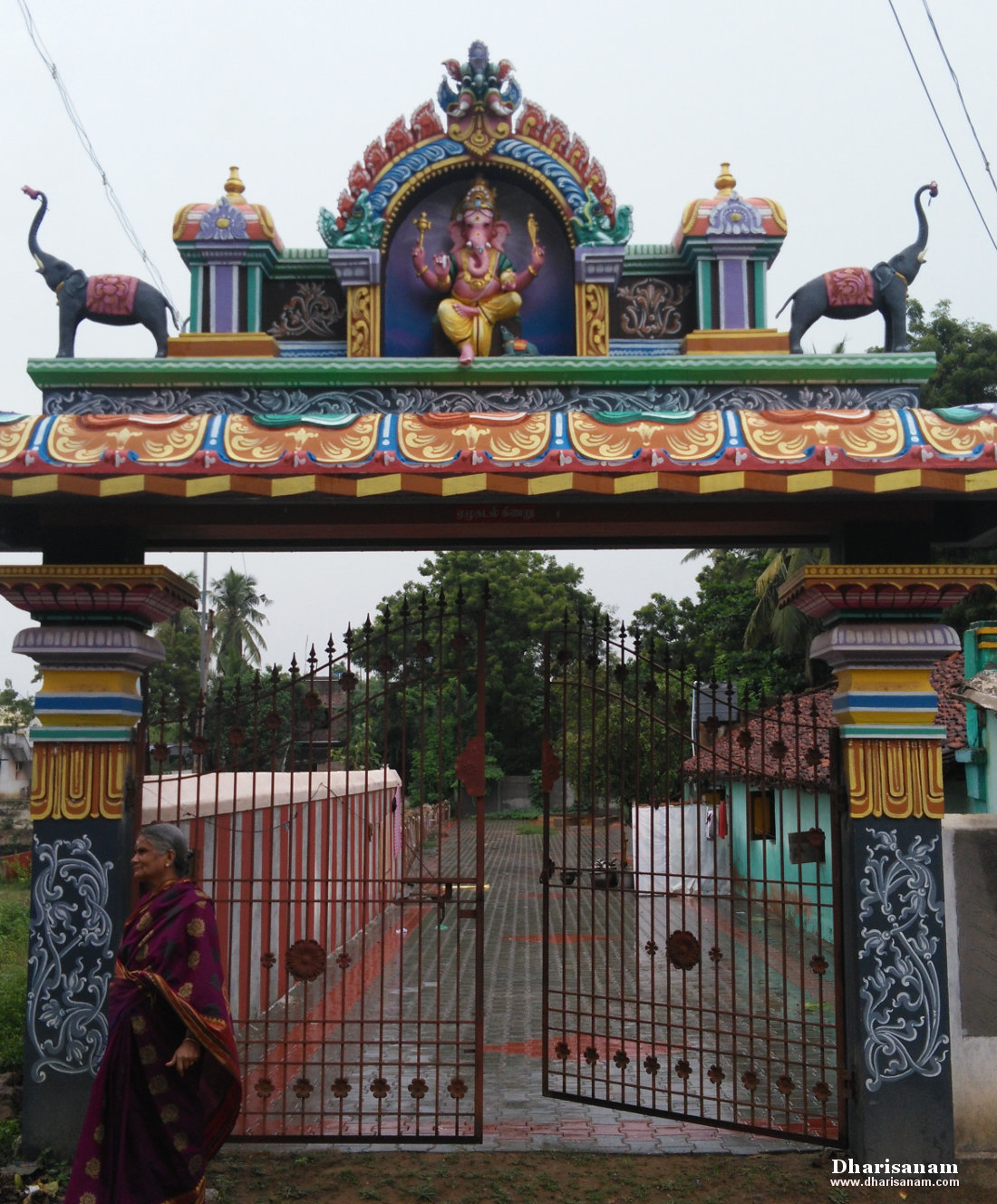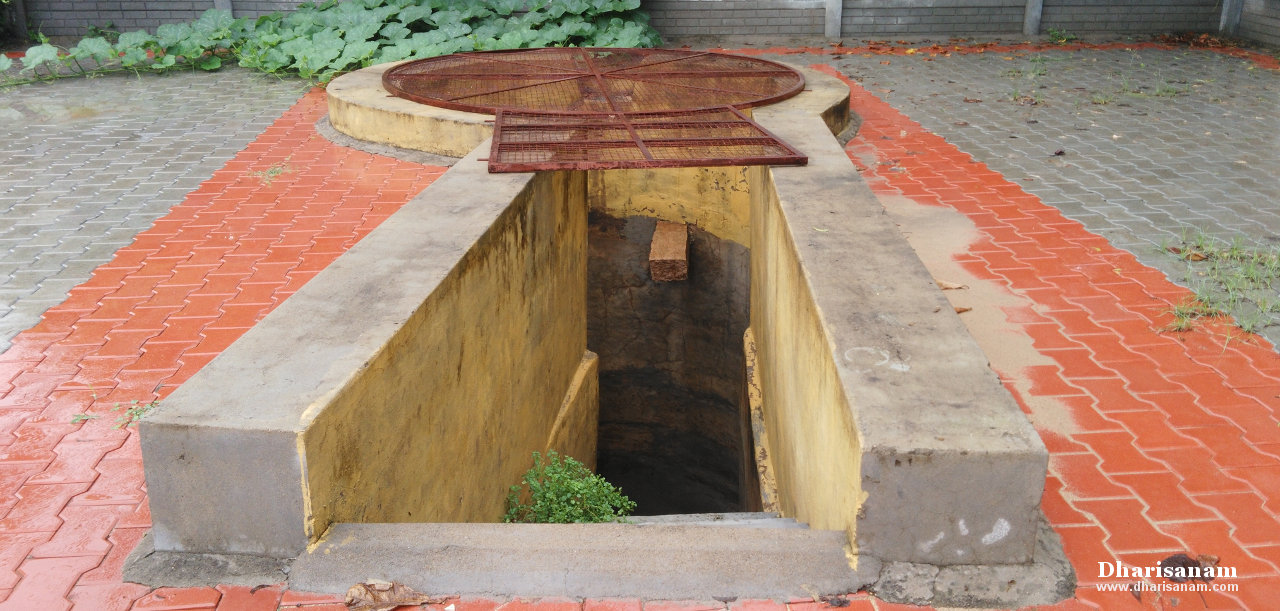 The idol of Vinayakar in this temple is believed to have been created by Lord Varunan (the god of water) using foam and shells from the sea. No abhishekam is performed to this Vinayakar except on the Vinayaka Chathurthi day. On this day, abhisheham is performed to him for the entire night with honey only. All the honey that is poured on the idol gets fully absorbed.
Another legend associated with this temple is that the 64th "Thiruvilaiyadal" of Lord Shiva took place here. Thiruvilaiyadal is a collection of sixty-four epics and devotional stories written in the 16th century by Saint Paranjothi Munivar. They record the stories of Lord Shiva appearing on earth in various disguises to test his devotees.
This 64th Thiruvilaiyadal refers to the following story. It is believed that a businessman (a chettiyar) from Kaveripoom Pattinam (Poompuhar) had a daughter named Rathnavalli. He wanted to marry her to his nephew who lived in Madurai. He fell ill and called his nephew to Poompuhar and gave him Rathnavalli's hand in marriage before passing away from his illness. The boy decided to go back to Madurai with the girl and on their way, they spent the night in this temple. But unfortunately, he died of a snake bite on that night. Rathnavalli cried and prayed to Lord Shiva for help. It is believed that Lord Shiva brought him back to life and got them married under a Vanni tree in this temple's corridors. Since there was no one else present at that time, the wedding took place in the presence of inanimate objects like this temple's kitchen, its well and the Vanni tree.
Later Rathnavalli's marriage was challenged by the businessman's first wife in Madurai. In order to show proof of the wedding, Lord Shiva went to Madurai's Sri Sundareswarar temple along with the items that had witnessed the marriage - the kitchen, the well and the Vanni tree from Thiruppurambayam. Hence the lord here is praised as "Sri Satchinathar" (the lord who stood witness). Even today one can see the kitchen, well and the Vanni tree in the corridors of the Madurai temple. Interestingly, all the three items can also be seen here.
Other legends
It is believed that a wood cutter (a "Pulainjan") from the nearby village Govandhaputhur, who supplied fire woods to this temple got darshan of Lord Shiva (in the form of Lord Dakshinamurthy).
King Haridwajan of Magada kingdom had suffered from a disease called "Muyalagan" due to a curse by Sage Durvasa. He visited many Shiva temples and finally came to this place and worshiped the lord here. It is believed that he was relieved of his curse and was cured.
It is believed that Lord Brahma, Sukreev, Sages Agasthiyar, Dhronachary, Viswamithrar and Sanakathi Rishis (four) have worshipped the lord here.
Deities in the temple
Other than the shrines of Lord Shiva and Goddess Parvathy, shrines and idols of Vinayakar, Murugan with his consorts, Gajalakshmi, Somaskandar, Natarajar, Pralayam Katha Vinayakar, Nalvar, Dhandapani, Mukkan Ganapathy, few lingams, Pradiksha Nathar, Jaya Durgai, Ashtabuja Durgai, Kala Bairavar, Suryan, Chandran and Navagraham can be seen in the main hall and corridors.
In the "koshtam" (place surrounding the sanctum sanctorum), idols of Narthana Ganapathy, Dakshinamurthy, Sattanathar, Lingothbavar, Durgai and Chandikeswarar can be seen.
There is a separate shrine for Sri Chandikeswari in the koshtam of Goddess Parvathy's shrine.
Lingams worshiped by Agasthiyar, Pulasthiyar, Sanakar, Sananthanar, Sanathanar, Sanarkumarar and Vishwamitrar can be seen in the corridors.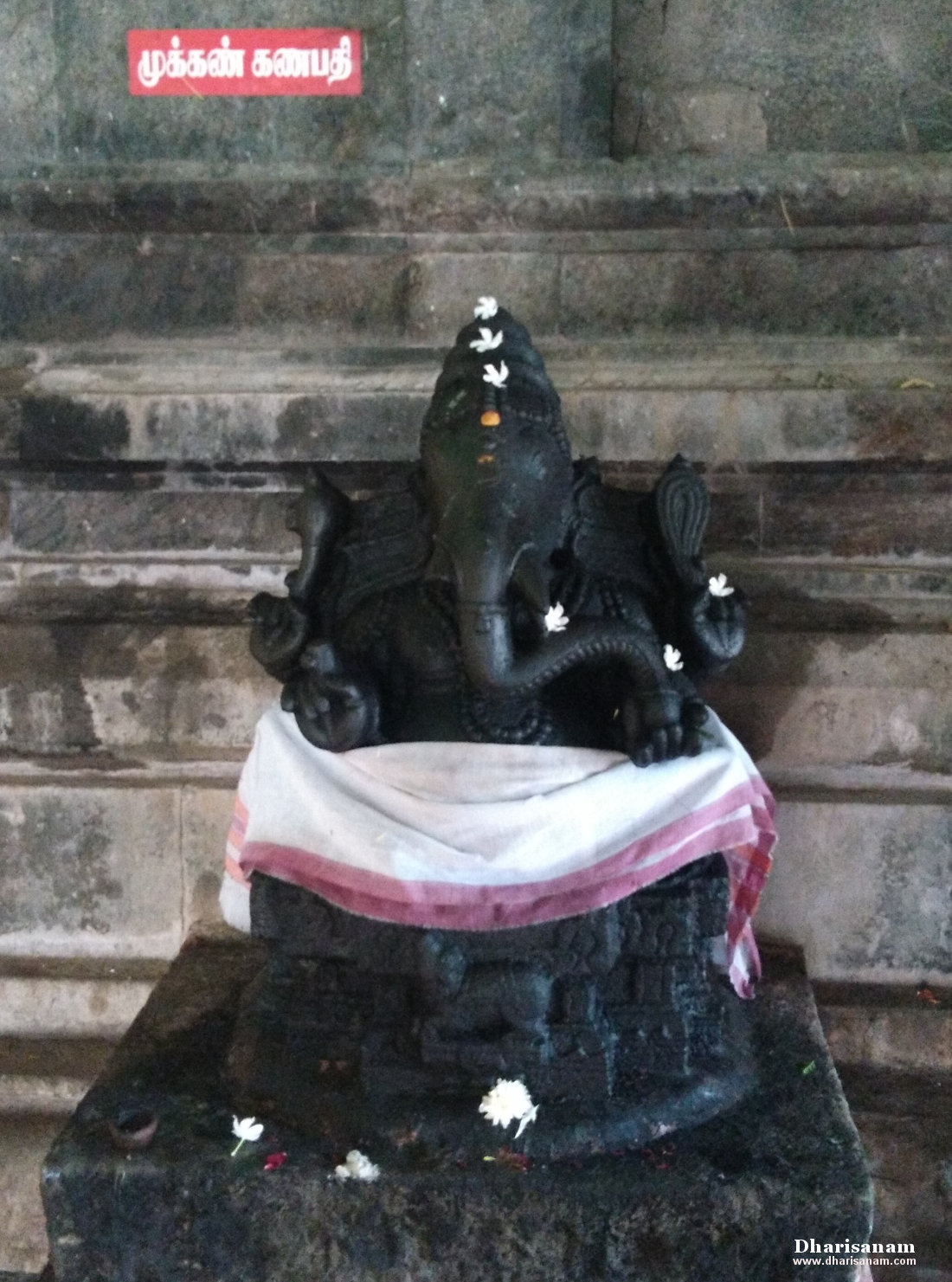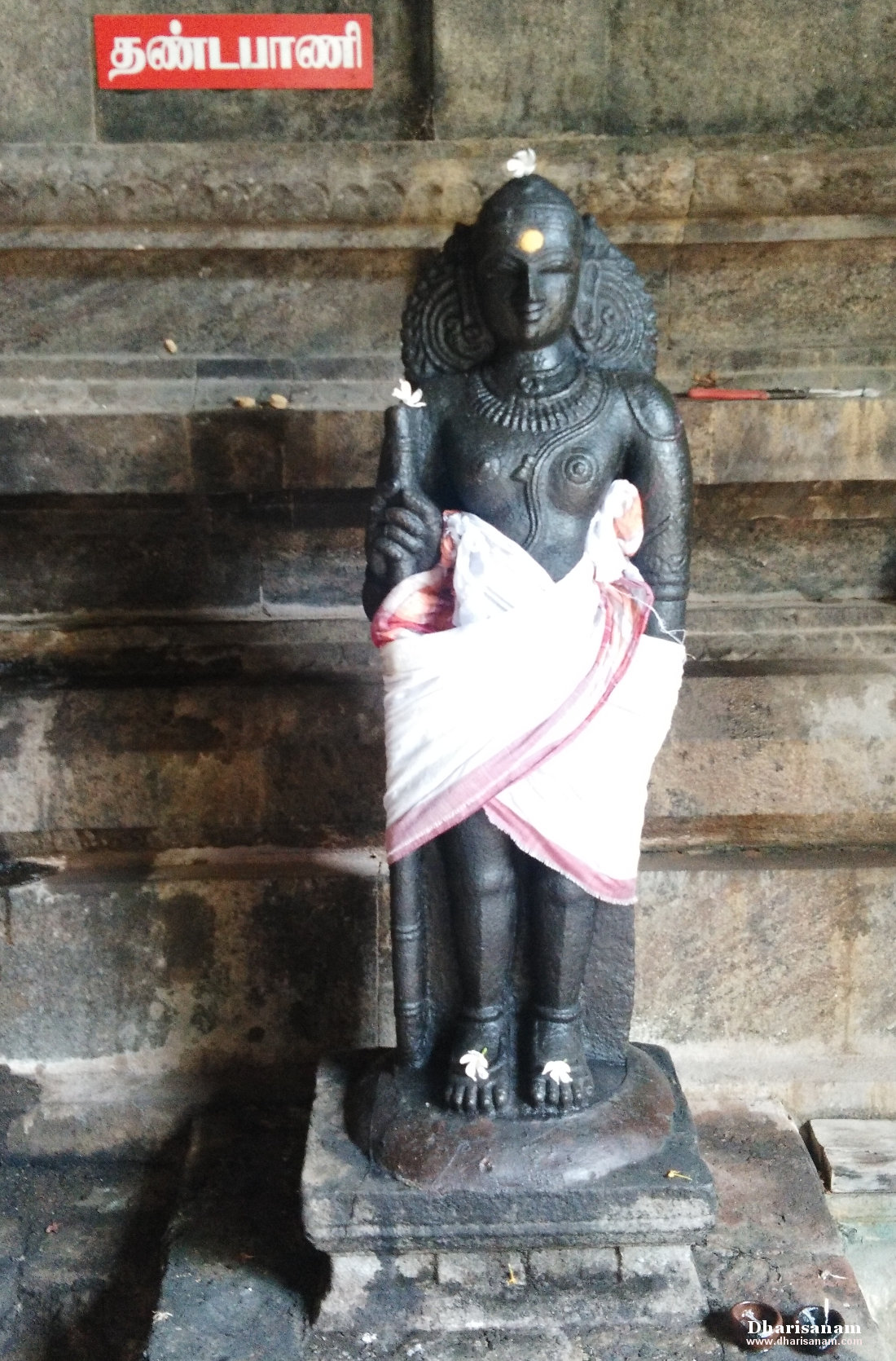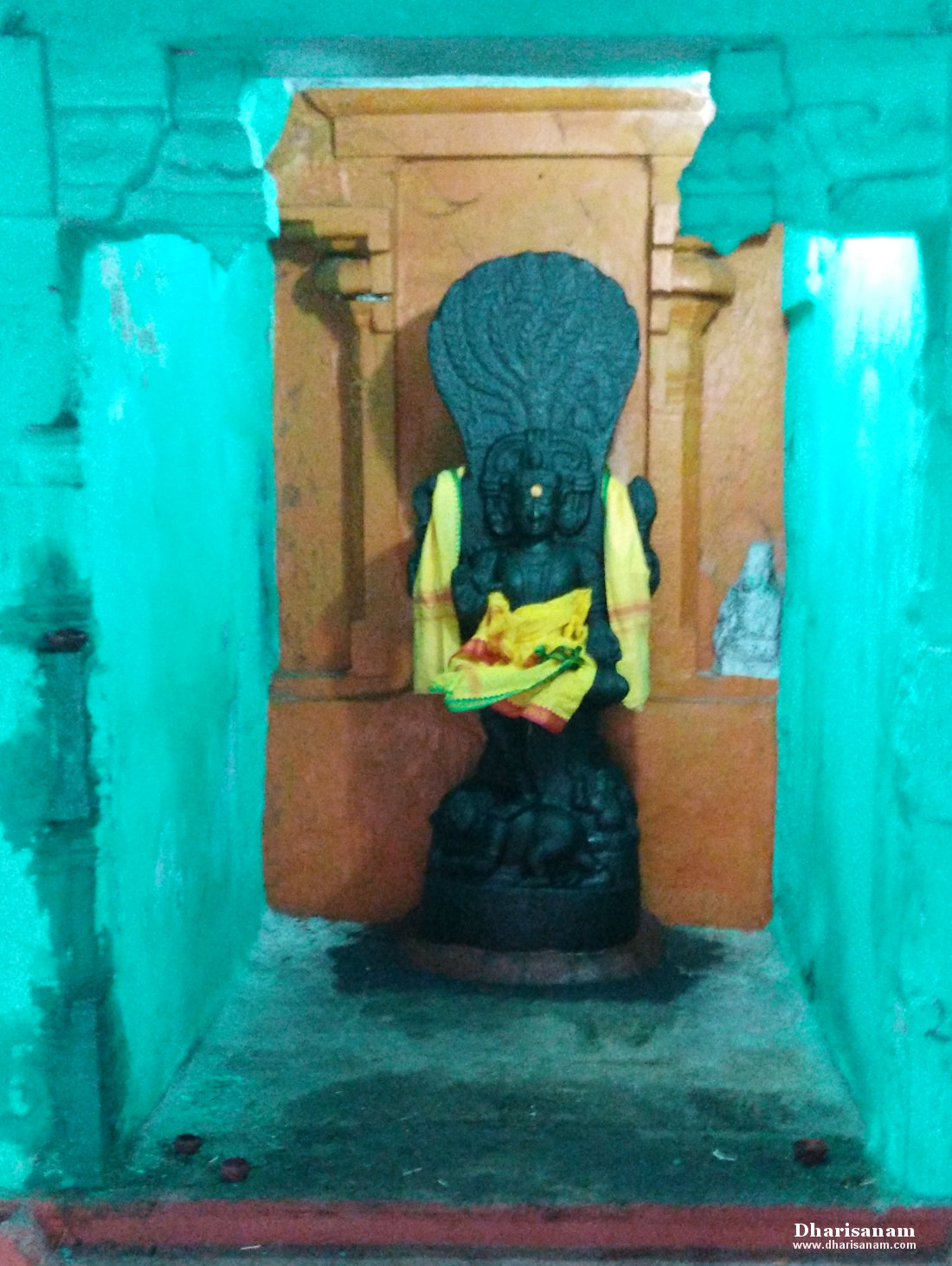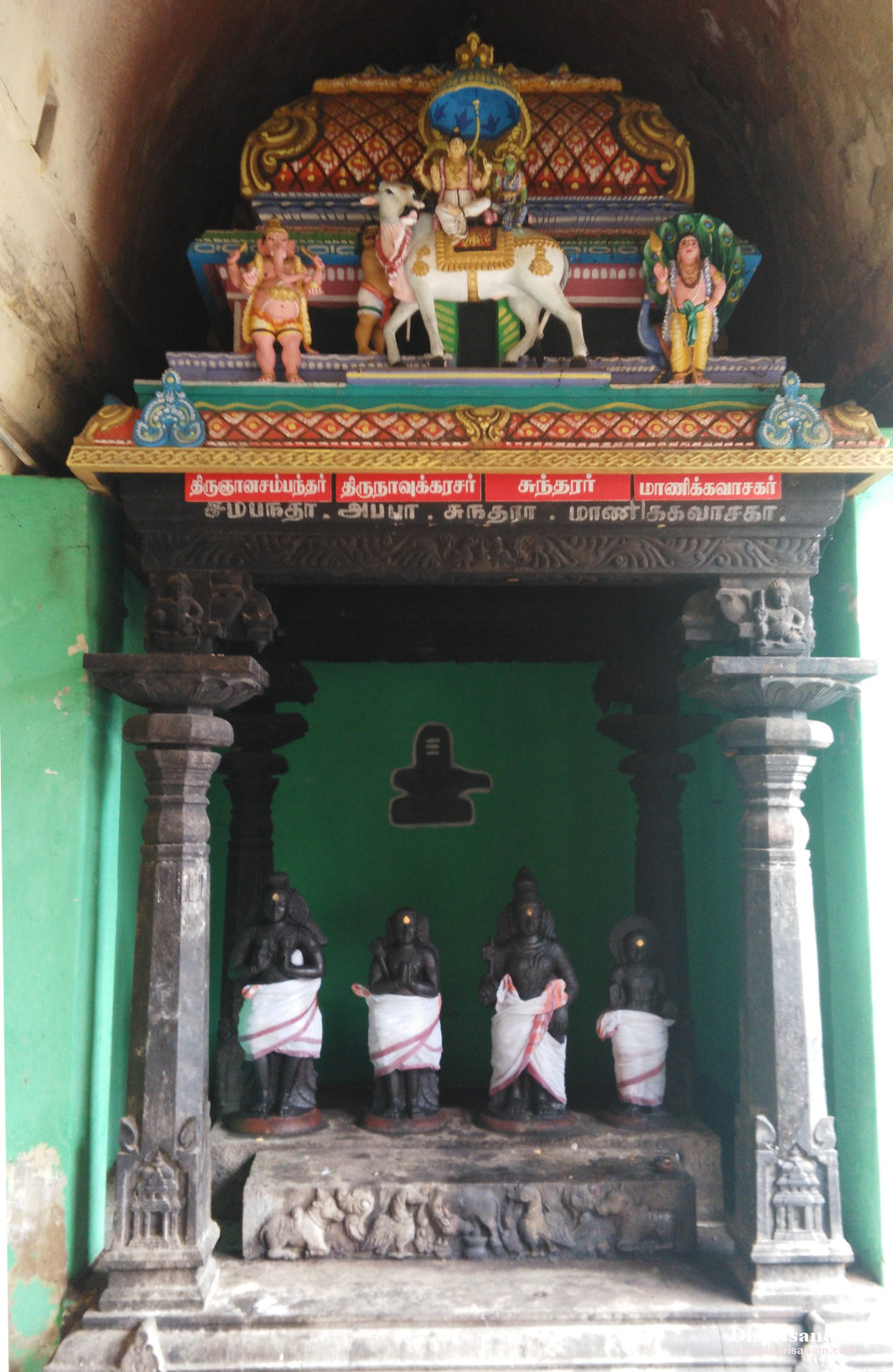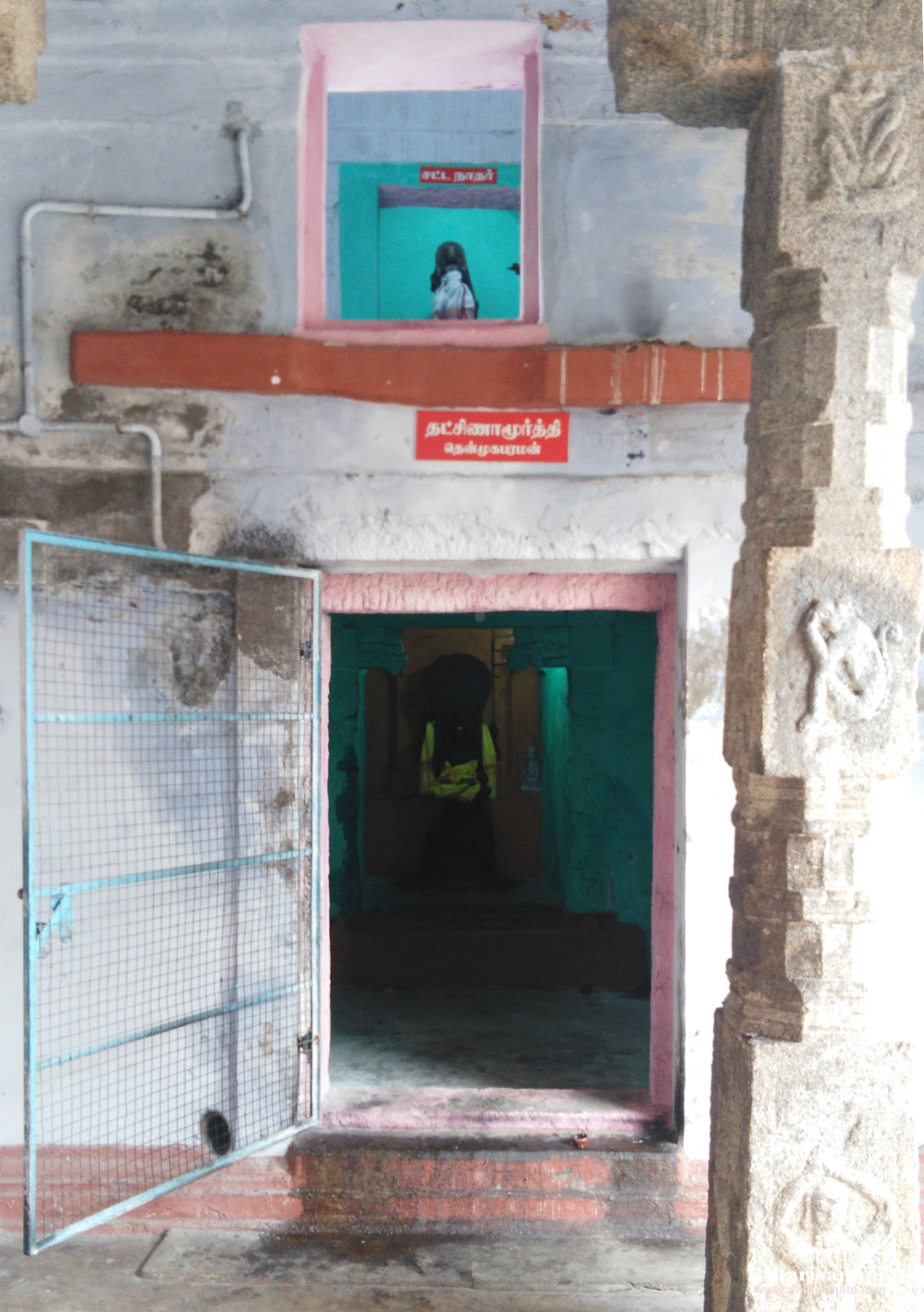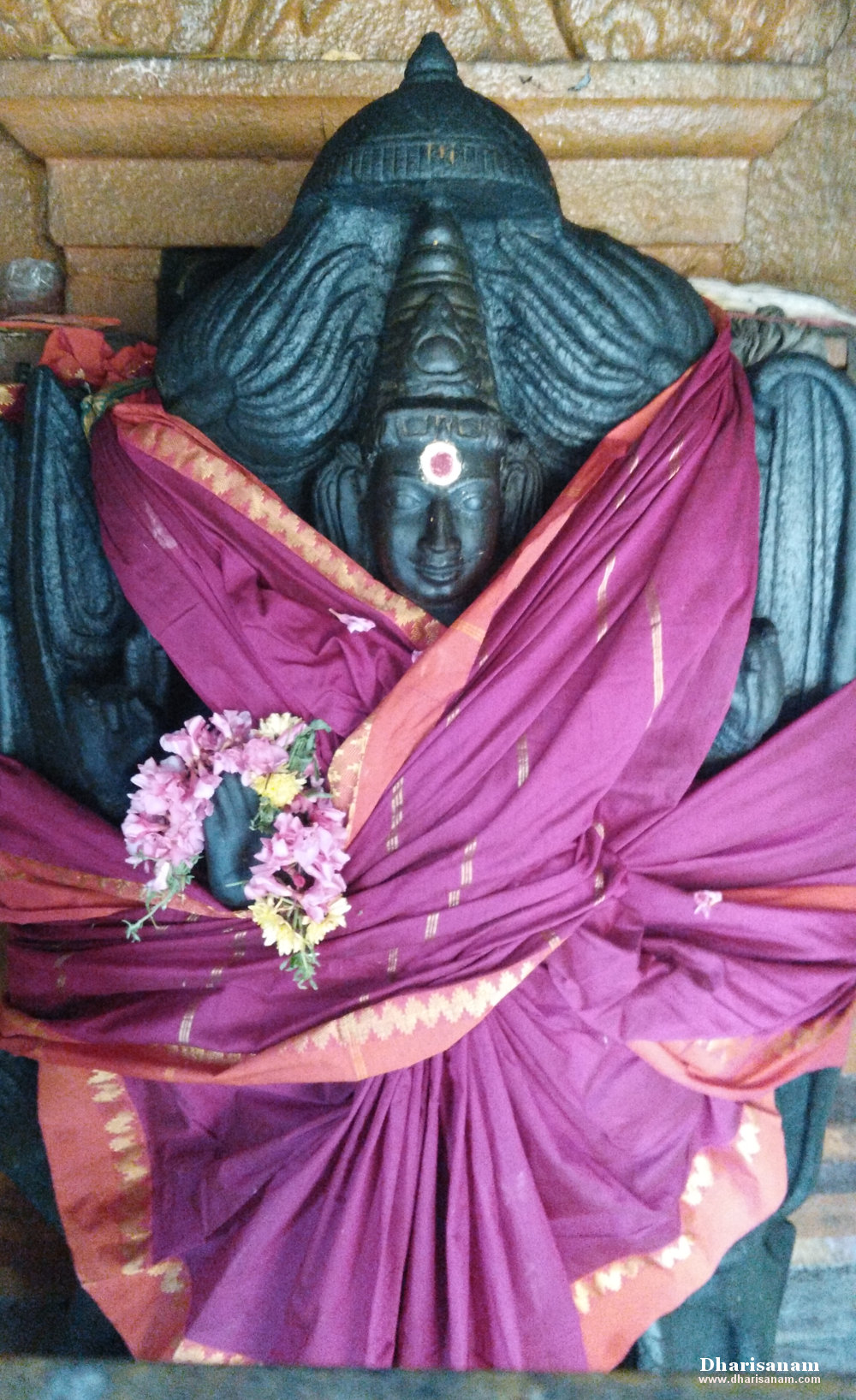 Salient Features
Apart from the separate shrine for the Goddess Karumbanna Sollammai, there is also a separate shrine for Goddess Guhambika. She is seen with Murugan (as a child) in her lap. This idol is made out of clay ("sudai").
In Tamil Nadu, this is the only place where Lord Dakshinamurthy has a separate temple. He is also praised as "Sri Aram Uraitha Nayanar". This temple is situated outside the entrance of the main tower and on the southern bank of the temple's tank. This is one of the 24 sacred Dakshinamurthy shrines and is considered to be very auspicious.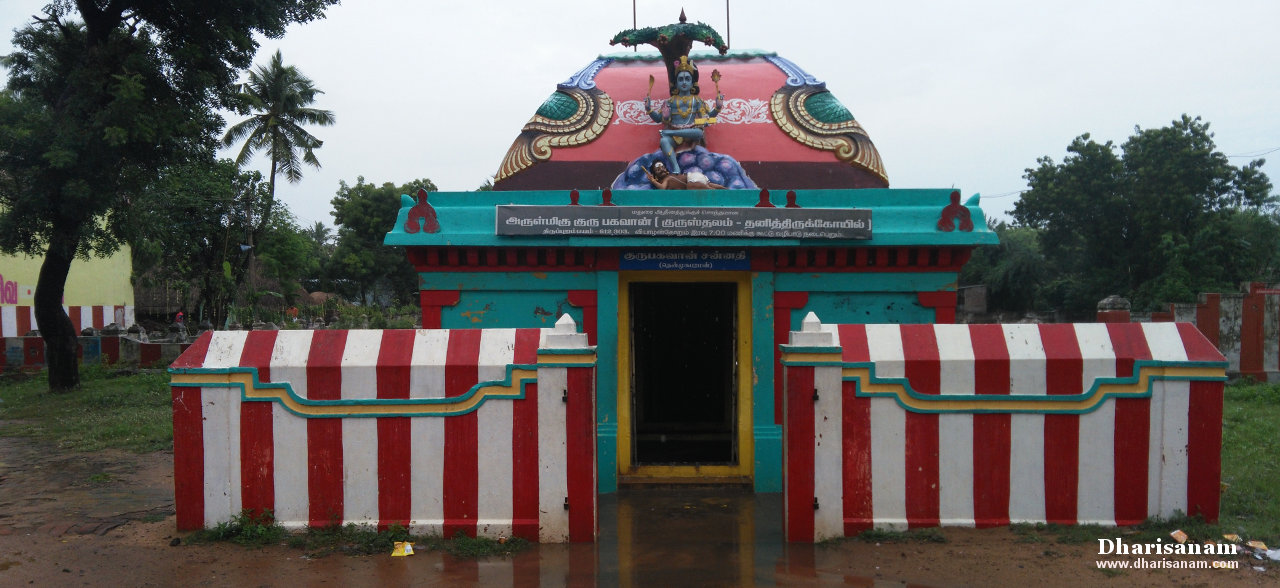 There are beautiful sculptures on the roof of Nandhi's shrine.
It is believed that Lord Suryan (Sun) worships Lord Shiva of this temple by directing his rays on the lingam every year for three days in the Tamil month of Panguni (Mar-Apr) on 3rd, 4th and 5th.
Saint Arunagirinadhar has sang songs in praise of Lord Murugan of this temple in his revered Thirupugazh.
Saint Pattinathar has also visited this temple and rendered his pathigam praising Lord Shiva.
Greatness of this temple
Women worship Goddess Parvathy here asking for a child boon ("Santhana Prapthi").
Devotees believe that by worshiping Lord Shiva here, obstacles from their marriage proposals will be removed. This is because Lord Shiva himself had conducted the marriage of Rathnavalli here.
Devotees also worship Sri Pralayam Katha Vinayakar and offer honey on Vinayaka Chaturthi days for the blessing of prosperity and wisdom.
Important Festivals
Some of the important festivals celebrated in the temple are –
Vinayakar Chaturthi in the Tamil month of Aavani (Aug-Sept),
Navarathri in the Tamil month of Purattasi (Sept-Oct),
Annabishekam in the Tamil month of Aippasi (Oct–Nov),
Thiru Karthikai in the Tamil month of Karthikai (Nov-Dec),
Thiruvadhirai in the Tamil month of Markazhi (Dec-Jan),
Makara Sankranthi in the Tamil month of Thai (Jan-Feb), and
Masi Maham and Maha Shivrathri in the Tamil month of Masi (Feb-Mar).
Pradosham is also observed regularly.
Temple Timings
From 08.00 AM to 12.00 Noon and from 05.00 PM to 08.00 PM.
Temple Address
Sri Satchinatheswarar Temple,
Thiruppurambayam Post,
Kumbakonam Taluk,
Tanjure District,
Tamil Nadu – 612 303.
Tele: +91 - 435-2459519, 2459715, 94446 26632 and 99523 23429.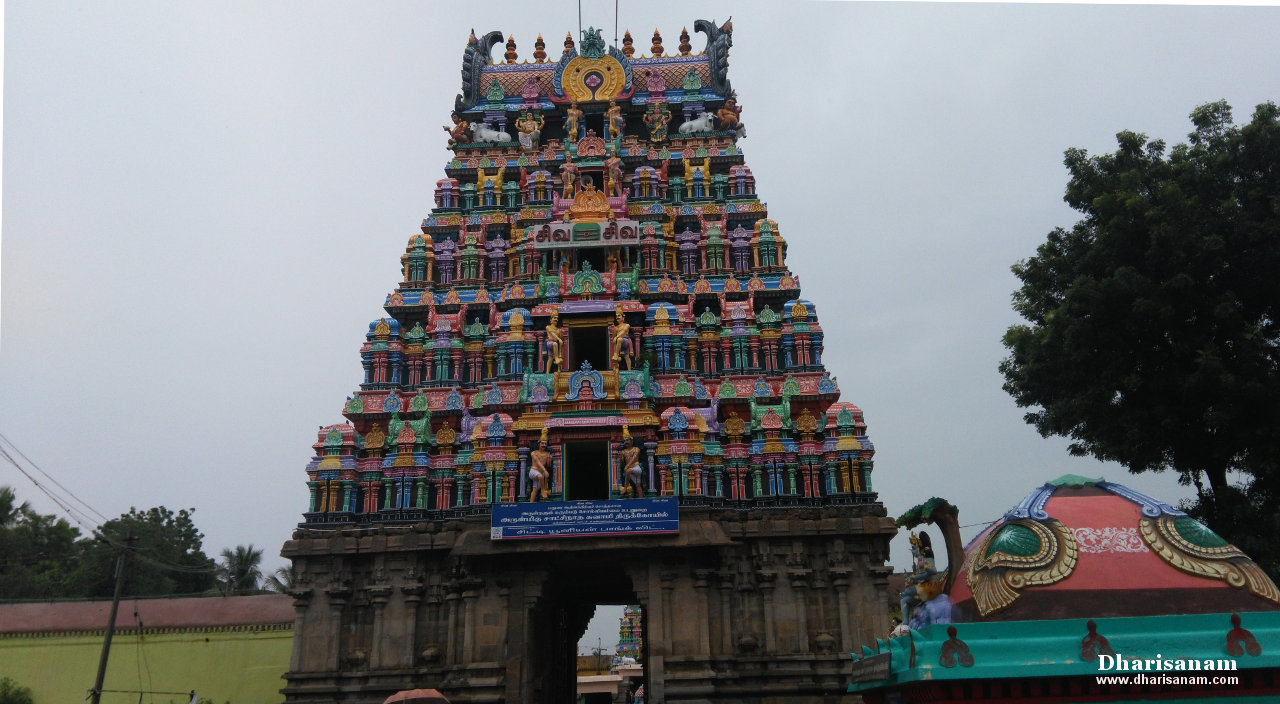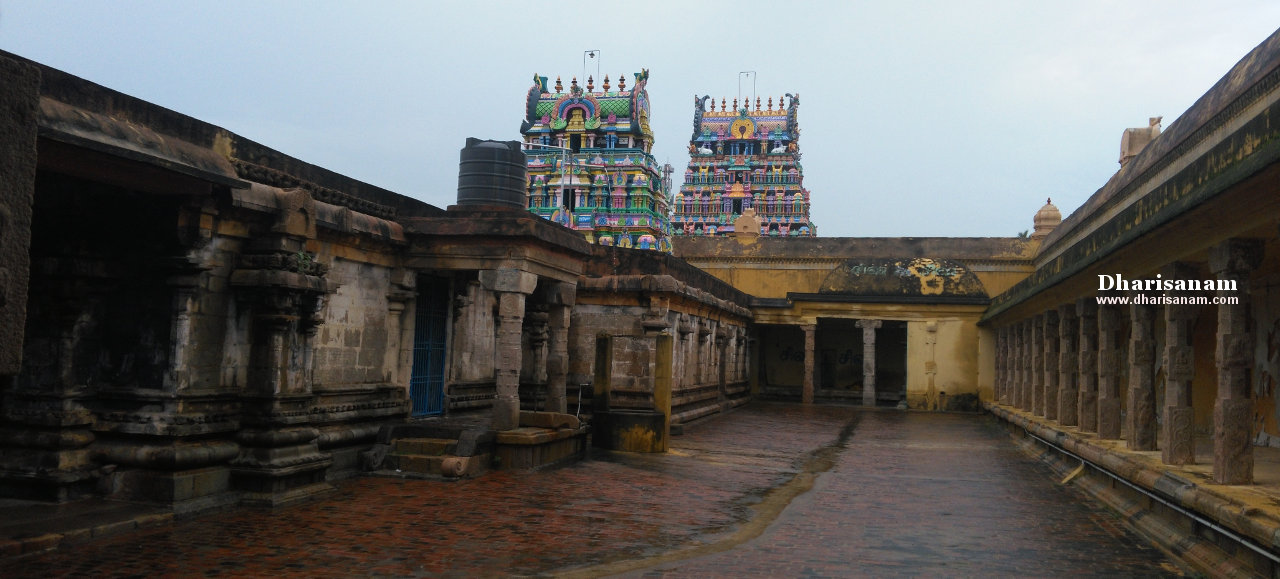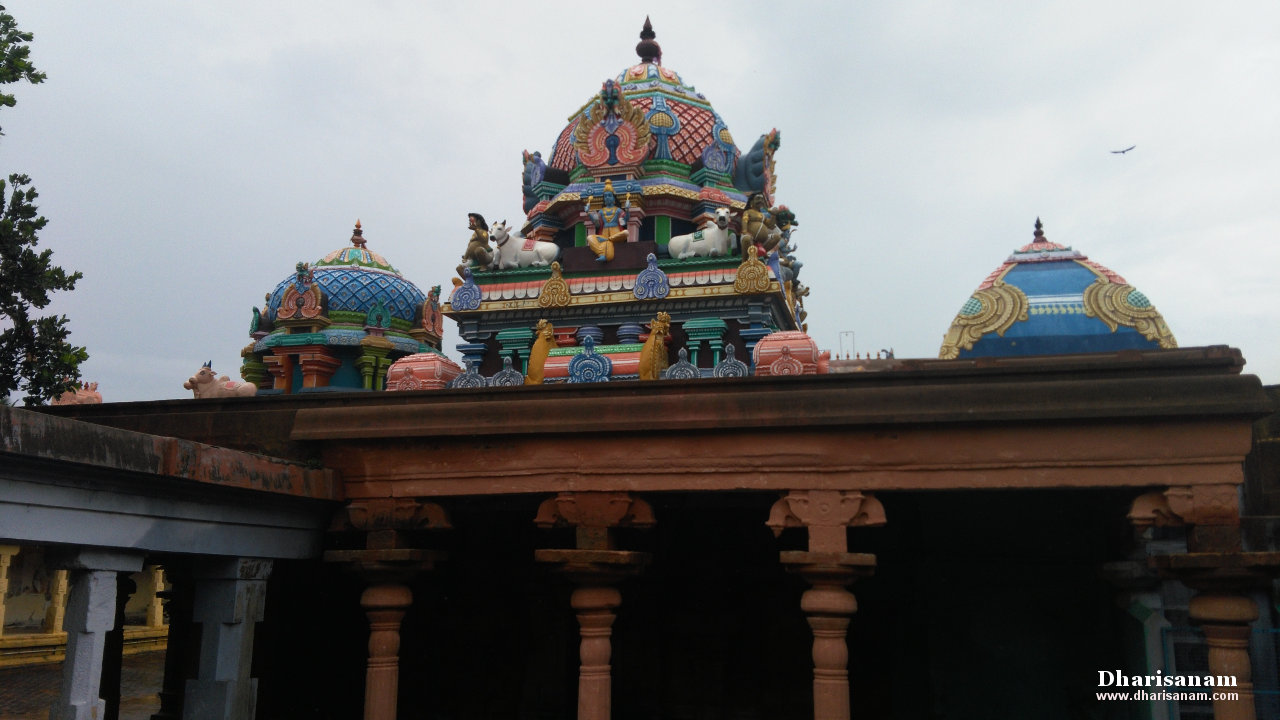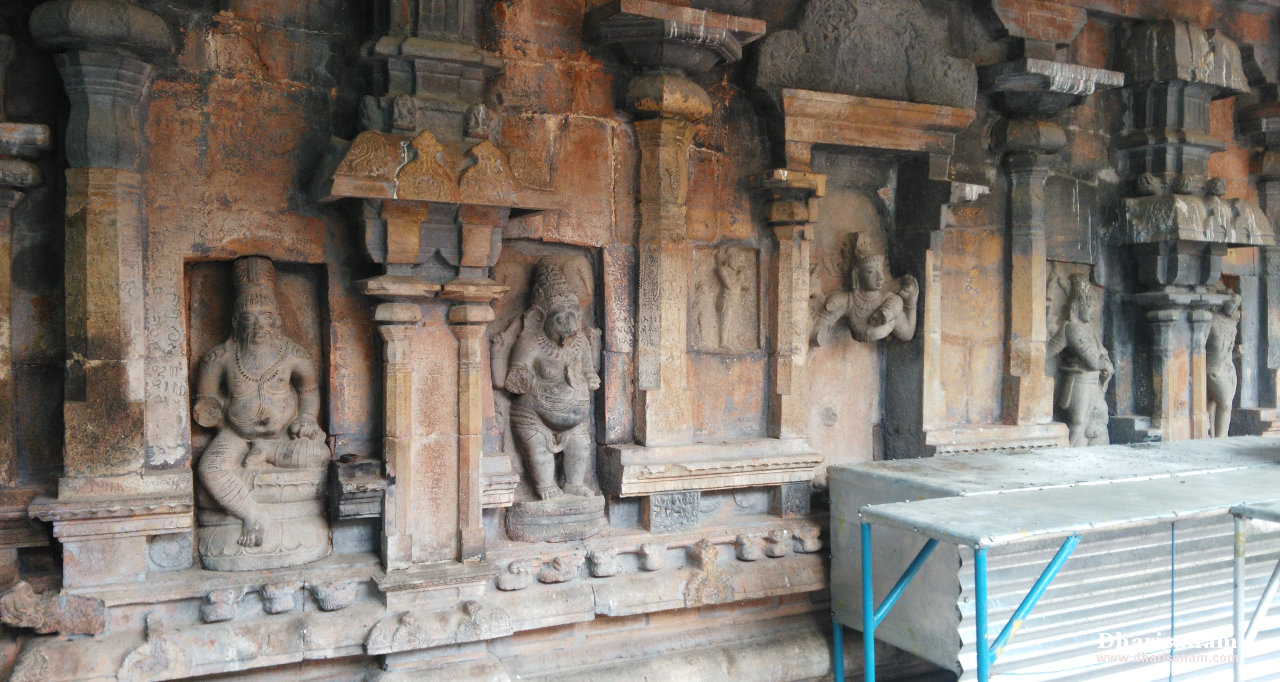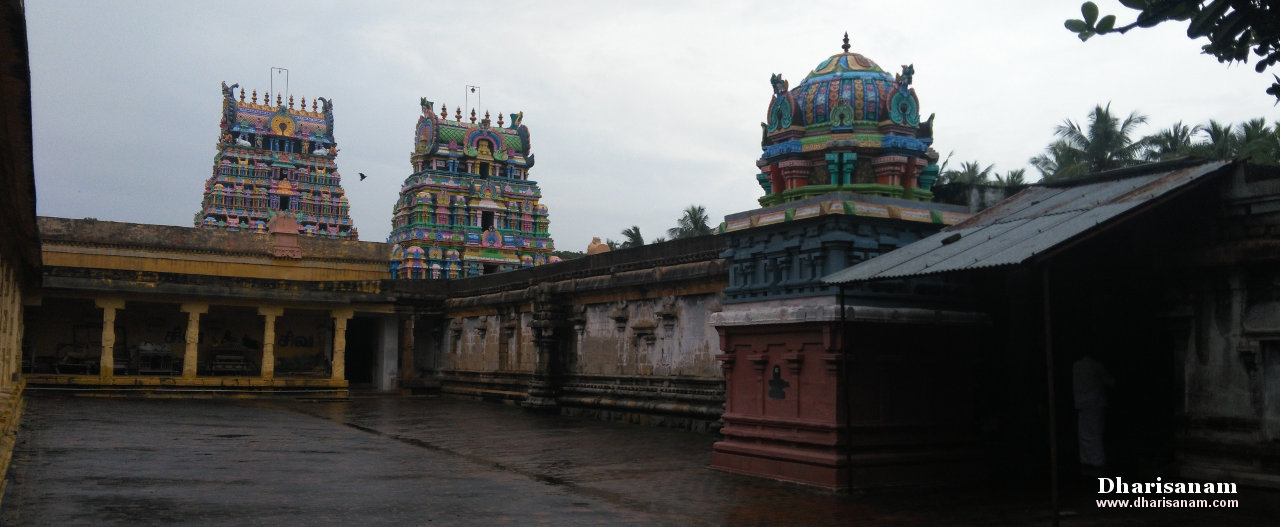 ---
Pathigam (Hymn) with English transliteration
Saint Thirugnanasambanthar visited this temple and sang this Pathigam.
Devotees visiting this temple should make it a practice to recite this Pathigam.
மறம்பய மலைந்தவர் மதிற்பரி சறுத்தனை
நிரம்பசுமை செம்மையொ டிசைந்துனது நீர்மை
திறம்பய னுறும்பொருள் தெரிந்துணரு நால்வர்க்
கறம்பய னுரைத்தனை புரம்பயம் அமர்ந்தோய்.
"Maṟampaya malainthavar mathiṟpari saṟuththaṉai
nirampasumai sem'maiyo ṭisainthuṉathu nīrmai
thiṟampaya ṉuṟumporuḷ therinthuṇaru nālvark
kaṟampaya ṉuraiththaṉai purampayam amarnthōy".
விரித்தனை திருச்சடை யரித்தொழுகு வெள்ளம்
தரித்தனை யதன்றியும் மிகப்பெரிய காலன்
எருத்திற வுதைத்தனை இலங்கிழையொர் பாகம்
பொருத்துதல் கருத்தினை புறம்பயம் அமர்ந்தோய்.
"Viriththaṉai thiruchchaṭai yariththozhuku veḷḷam
thariththaṉai yathaṉtṟiyum mikapperiya kālaṉ
eruththiṟa vuthaiththaṉai ilaṅkizhaiyor pākam
poruththuthal karuththiṉai puṟampayam amarnthōy".
விரிந்தனை குவிந்தனை விழுங்குயி ருமிழ்ந்தனை
திரிந்தனை குருந்தொசி பெருந்தகையு நீயும்
பிரிந்தனை புணர்ந்தனை பிணம்புகு மயானம்
புரிந்தனை மகிழ்ந்தனை புரம்பயம் அமர்ந்தோய்.
"Virinthaṉai kuvinthaṉai vizhuṅkuyi rumizhnthaṉai
thirinthaṉai kurunthosi perunthakaiyu nīyum
pirinthaṉai puṇarnthaṉai piṇampuku mayāṉam
purinthaṉai makizhnthaṉai purampayam amarnthōy".
வளங்கெழு கதும்புன லொடுஞ்சடை யொடுங்கத்
துளங்கம ரிளம்பிறை சுமந்தது விளங்க
உளங்கொள வளைந்தவர் சுடுஞ்சுடலை நீறு
புளங்கொள விளங்கினை புரம்பயம் அமர்ந்தோய்.
"Vaḷaṅkezhu kathumpuṉa loṭuñchaṭai yoṭuṅkath
thuḷaṅkama riḷampiṟai sumanthathu viḷaṅka
uḷaṅkoḷa vaḷainthavar suṭuñchuṭalai nīṟu
puḷaṅkoḷa viḷaṅkiṉai purampayam amarnthōy".
பெரும்பிணி பிறப்பினொ டிறப்பிலையொர் பாகம்
கரும்பொடு படுஞ்சொலின் மடந்தையை மகிழ்ந்தோய்
சுரும்புண அரும்பவிழ் திருந்தியெழு கொன்றை
விரும்பினை புறம்பயம் அமர்ந்தஇறை யோனே.
"Perumpiṇi piṟappiṉo ṭiṟappilaiyor pākam
karumpoṭu paṭuñcholiṉ maṭanthaiyai makizhnthōy
surumpuṇa arumpavizh thirunthiyezhu koṉtṟai
virumpiṉai puṟampayam amarntha'iṟai yōṉē".
அனற்படு தடக்கையவ ரெத்தொழில ரேனும்
நினைப்புடை மனத்தவர் வினைப்பகையு நீயே
தனற்படு சுடர்ச்சடை தனிப்பிறையொ டொன்றப்
புனற்படு கிடைக்கையை புறம்பயம் அமர்ந்தோய்.
"Aṉaṟpaṭu thaṭakkaiyava reththozhila rēṉum
niṉaippuṭai maṉaththavar viṉaippakaiyu nīyē
thaṉaṟpaṭu suṭarchchaṭai thaṉippiṟaiyo ṭoṉtṟap
puṉaṟpaṭu kiṭaikkaiyai puṟampayam amarnthōy".
மறத்துறை மறுத்தவர் தவத்தடிய ருள்ளம்
அறத்துறை யொறுத்துன தருட்கிழமை பெற்றோர்
திறத்துள திறத்தினை மதித்தகல நின்றும்
புறத்துள திறத்தினை புறம்பயம் அமர்ந்தோய்.
"Maṟaththuṟai maṟuththavar thavaththaṭiya ruḷḷam
aṟaththuṟai yoṟuththuṉa tharuṭkizhamai petṟōr
thiṟaththuḷa thiṟaththiṉai mathiththakala niṉtṟum
puṟaththuḷa thiṟaththiṉai puṟampayam amarnthōy".
இலங்கைய ரிறைஞ்சிறை விலங்கலின் முழங்க
உலங்கெழு தடக்கைக ளடர்த்திடலு மஞ்சி
வலங்கொள எழுந்தவன் நலங்கவின அஞ்சு
புலங்களை விலங்கினை புறம்பயம் அமர்ந்தோய்.
"Ilaṅkaiya riṟaiñchiṟai vilaṅkaliṉ muzhaṅka
ulaṅkezhu thaṭakkaika ḷaṭarththiṭalu mañchi
valaṅkoḷa ezhunthavaṉ nalaṅkaviṉa añchu
pulaṅkaḷai vilaṅkiṉai puṟampayam amarnthōy".
வடங்கெட நுடங்குண இடந்தவிடை யல்லிக்
கிடந்தவன் இருந்தவன் அளந்துணர லாகார்
தொடர்ந்தவ ருடம்பொடு நிமிர்ந்துடன் வணங்கப்
புடங்கருள்செய் தொன்றினை புறம்பயம் அமர்ந்தோய்.
"Vaṭaṅkeṭa nuṭaṅkuṇa iṭanthaviṭai yallik
kiṭanthavaṉ irunthavaṉ aḷanthuṇara lākār
thoṭarnthava ruṭampoṭu nimirnthuṭaṉ vaṇaṅkap
puṭaṅkaruḷsey thoṉtṟiṉai puṟampayam amarnthōy".
விடக்கொருவர் நன்றென விடக்கொருவர் தீதென
உடற்குடை களைந்தவ ருடம்பினை மறைக்கும்
படக்கர்கள் பிடக்குரை படுத்துமையொர் பாகம்
அடக்கினை புறம்பயம் அமர்ந்தவுர வோனே.
"Viṭakkoruvar naṉtṟeṉa viṭakkoruvar thītheṉa
uṭaṟkuṭai kaḷainthava ruṭampiṉai maṟaikkum
paṭakkarkaḷ piṭakkurai paṭuththumaiyor pākam
aṭakkiṉai puṟampayam amarnthavura vōṉē".
கருங்கழி பொருந்திரை கரைக்குலவு முத்தம்
தருங்கழு மலத்திறை தமிழ்க்கிழமை ஞானன்
சுரும்பவிழ் புறம்பயம் அமர்ந்த தமிழ்வல்லார்
பெரும்பிணி மருங்கற ஒருங்குவர் பிறப்பே.
"Karuṅkazhi porunthirai karaikkulavu muththam
taruṅkazhu malaththiṟai thamiḻkkizhamai gñāṉaṉ
surumpavizh puṟampayam amarntha tamizhvallār
perumpiṇi maruṅkaṟa oruṅkuvar piṟappē".