Visited on: 23rd July, 2016 and 5th November, 2016.
Note: Presently this temple is under renovation and the expected date for Consecration ceremony (Kumbabishekam) is 5th July, 2017.
Location
Thirukkolakka is situated on the outskirts of Sirkazhi and is about 1.5 kms away from the Sirkazhi bus stand. It is about 4 kms away from Sirkazhi railway station.
Sirkazhi is on the Chidambaram to Mayiladuthurai route.
Other Devara Paadal Petra Sthalams near this place are – Sirkazhi, Thirumullaivasal, Thiruvenkadu, Chayavanam, Poompukar, Mahendrapalli, Thirukkurukavur and Achalpuram.
General Information
| | |
| --- | --- |
| Moolavar | Sri Thalapureeswarar, Sri Shabdapureeswarar, Thiru Thalam Udaiyar |
| Ambal | Sri Osai Nayaki Ambal, Sri Osai Kodutha Nayaki, Sri Thvaniprathambal |
| Theertham (Holy water) | Surya Theertham, Ananda Theertham |
| Sthala Vriksham (Sacred Tree) | Kondrai |
| Pathigam (Hymn) rendered by | Saint Thirugnanasambanthar and Saint Sundaramurthy (Sundarar) |
This is one of the 276 Devara Paadal Petra Shiva Sthalams and 15th Shiva Sthalam on the northern bank of the river Cauvery in Chozha Nadu (Vadakarai).
Lord Shiva in this temple is a Swayambumurthi (self-manifested).
This east facing temple has no main tower (Rajagopuram) or dwajasthambam (flag post). But there is an arch at the entrance.
Saint Thirugnanasambanthar received golden plates ("thalam") from Lord Shiva here.
History of the Temple
The historical name of this temple is Thirukkolakka. However, it is now known as Thiru Thalam Udayar Koil.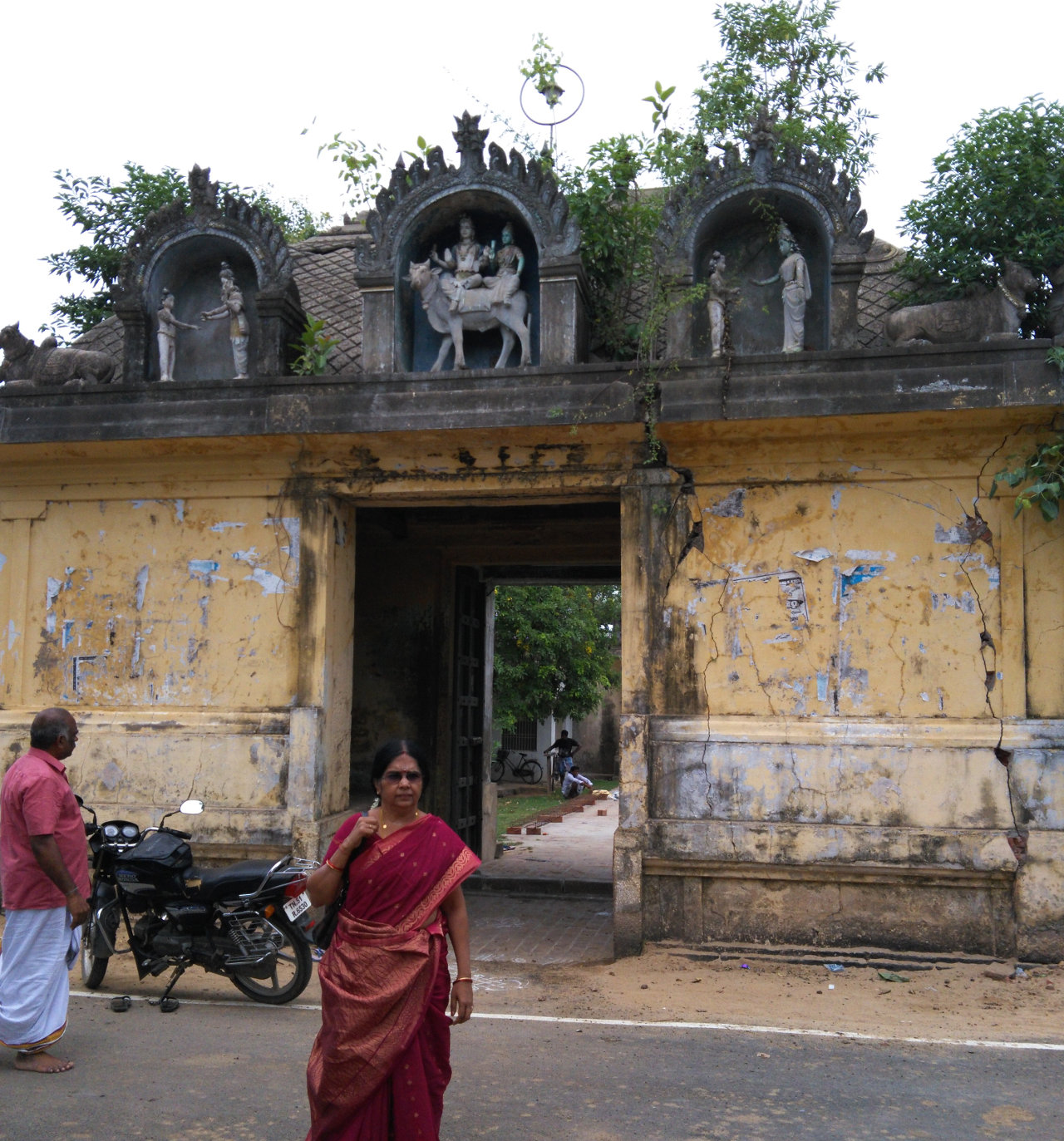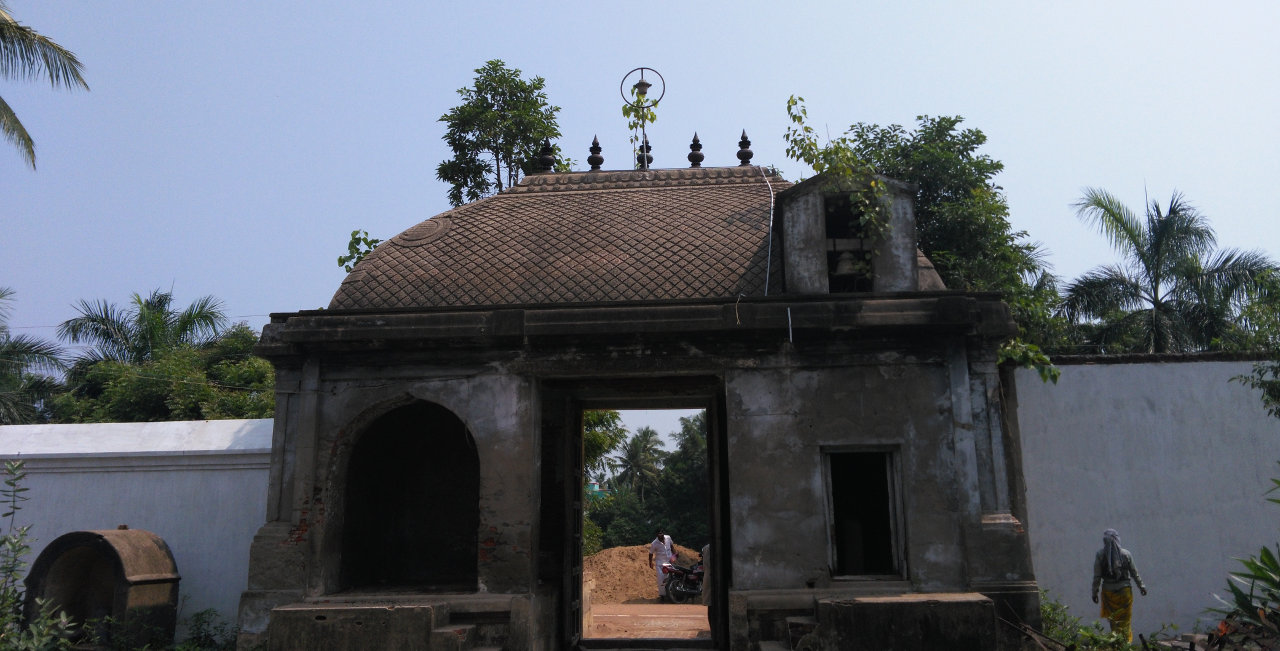 Legend
It is believed that the wedding of Goddess Mahalakshmi with Lord Mahavishnu took place here.
Lord Shiva here is believed to have been worshipped by lords Indira, Suryan and sages Agasthiyar and Kanva Maharishi.
This is the first pilgrimage temple of Saint Thirugnanasambanthar after he received the blessings of Goddess Parvathy at Sirkazhi. He also rendered his first hymn there. It is believed that when Sambanthar was rendering his pathigam (hymn) here and clapping his hands in ecstasy, Lord Shiva noticed that the young child's hands had gone red from pain. In order to relieve him from the pain, Lord Shiva gave him two golden plates ("Thalam"). Since striking two gold plates does not produce any sound, Goddess Parvathi infused divine energy into them to make them produce musical notes.
Hence, the lord is praised as "Sri Thalapureeswarar" and the Goddess "Sri Osai Kodutha Nayaki". "Osai" means sound, "Kodutha" means given and "Nayaki" means Goddess in Tamil. The temple's name "Thiruthalam Udayar Koil" is also derived from this legend.
Deities in the temple
Other than the shrines of Lord Shiva and Goddess Parvathy, shrines and idols of lords Periya Vinayakar, Murugan with his consorts, Somaskanthar, Natarajar, Dakshinamurthy, Lingothbavar, Brahma, Vishnu, Mahalakshmi, Durgai, Chandikeswarar, Nalvar, Saneeswaran, Suryan, Chandran and Bairavar can be seen in the corridors.
Goddess Osai Nayaki graces from a separate temple. Lord Vinayakar and Lord Dandapani can be seen on either side of her shrine.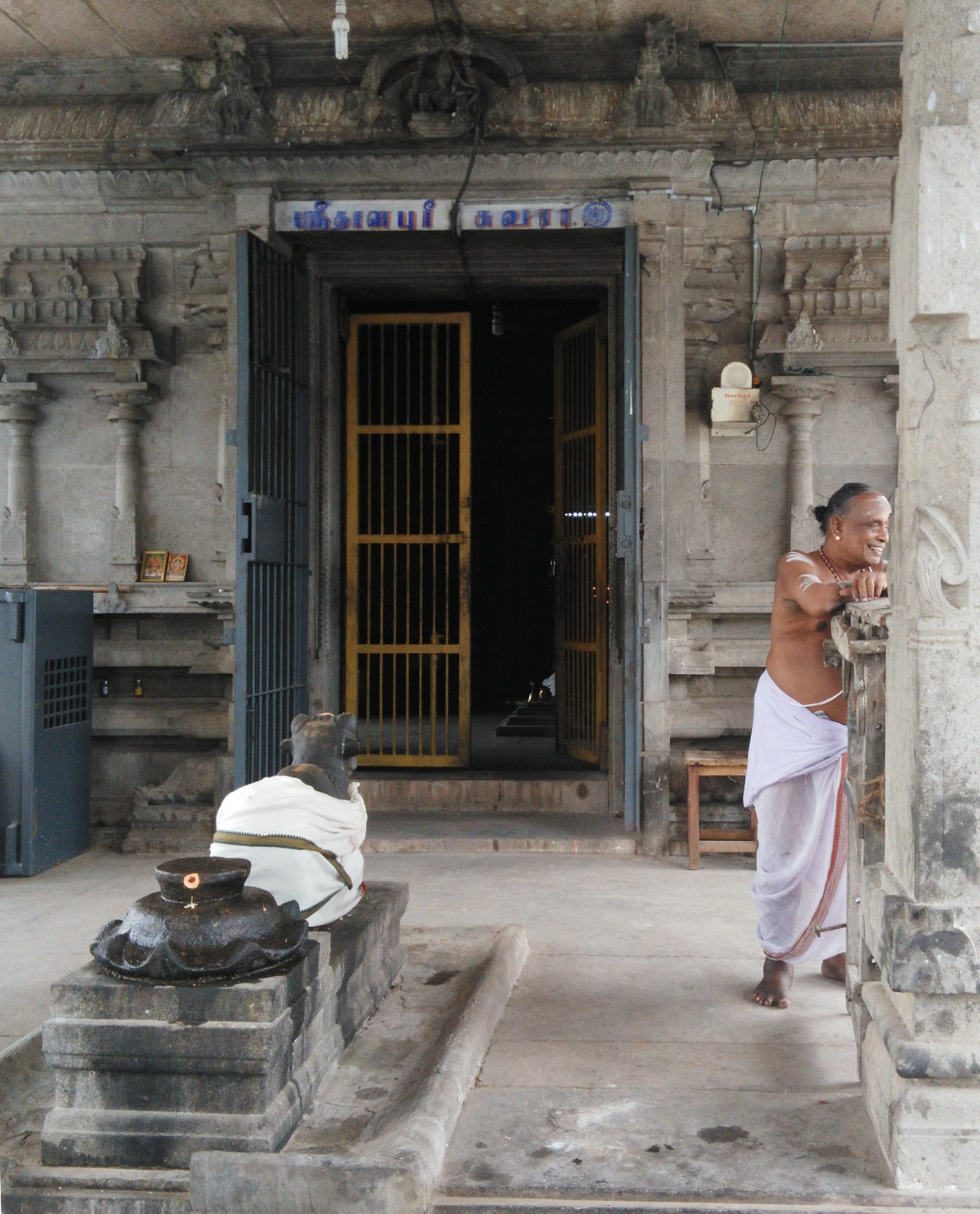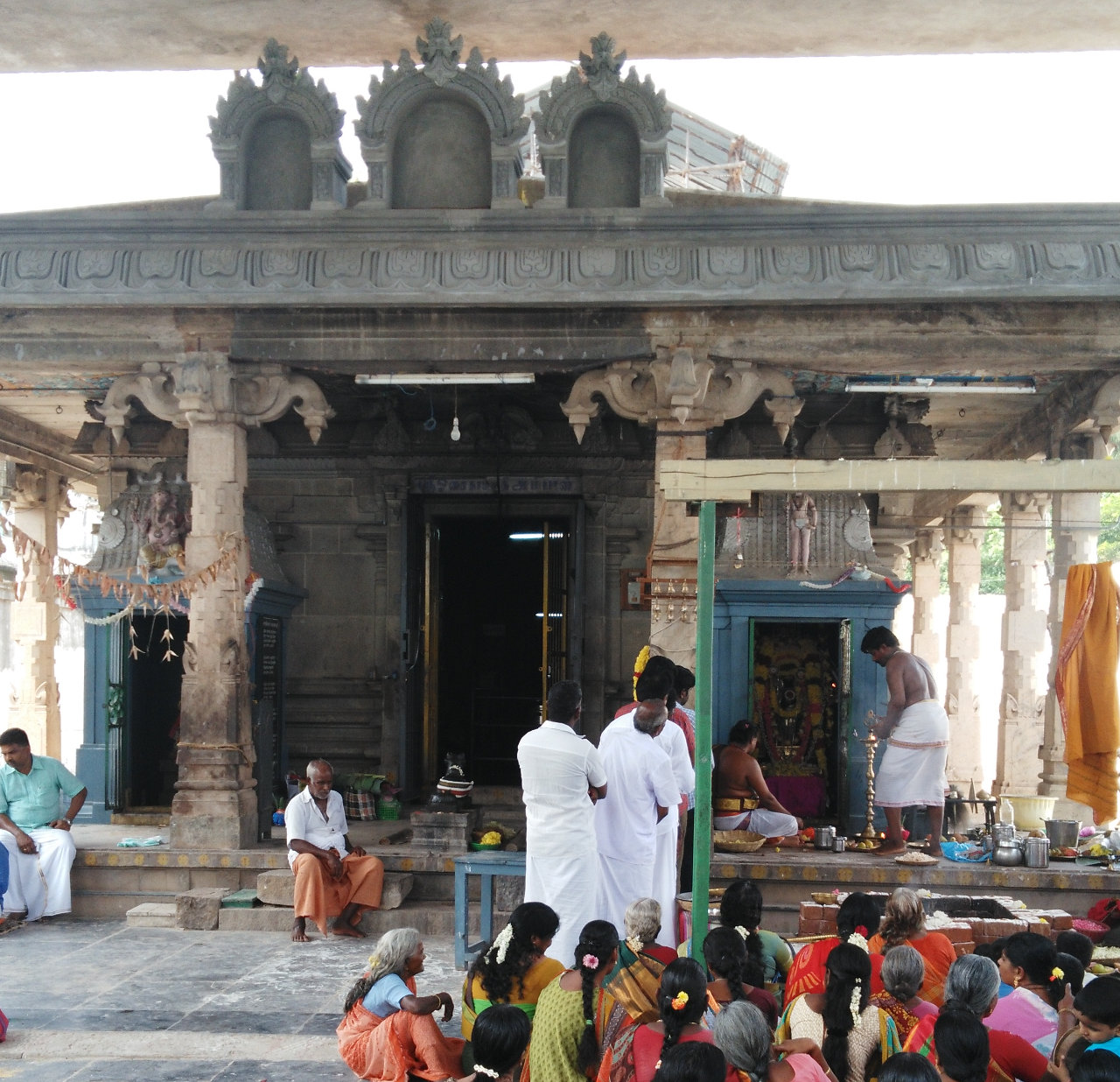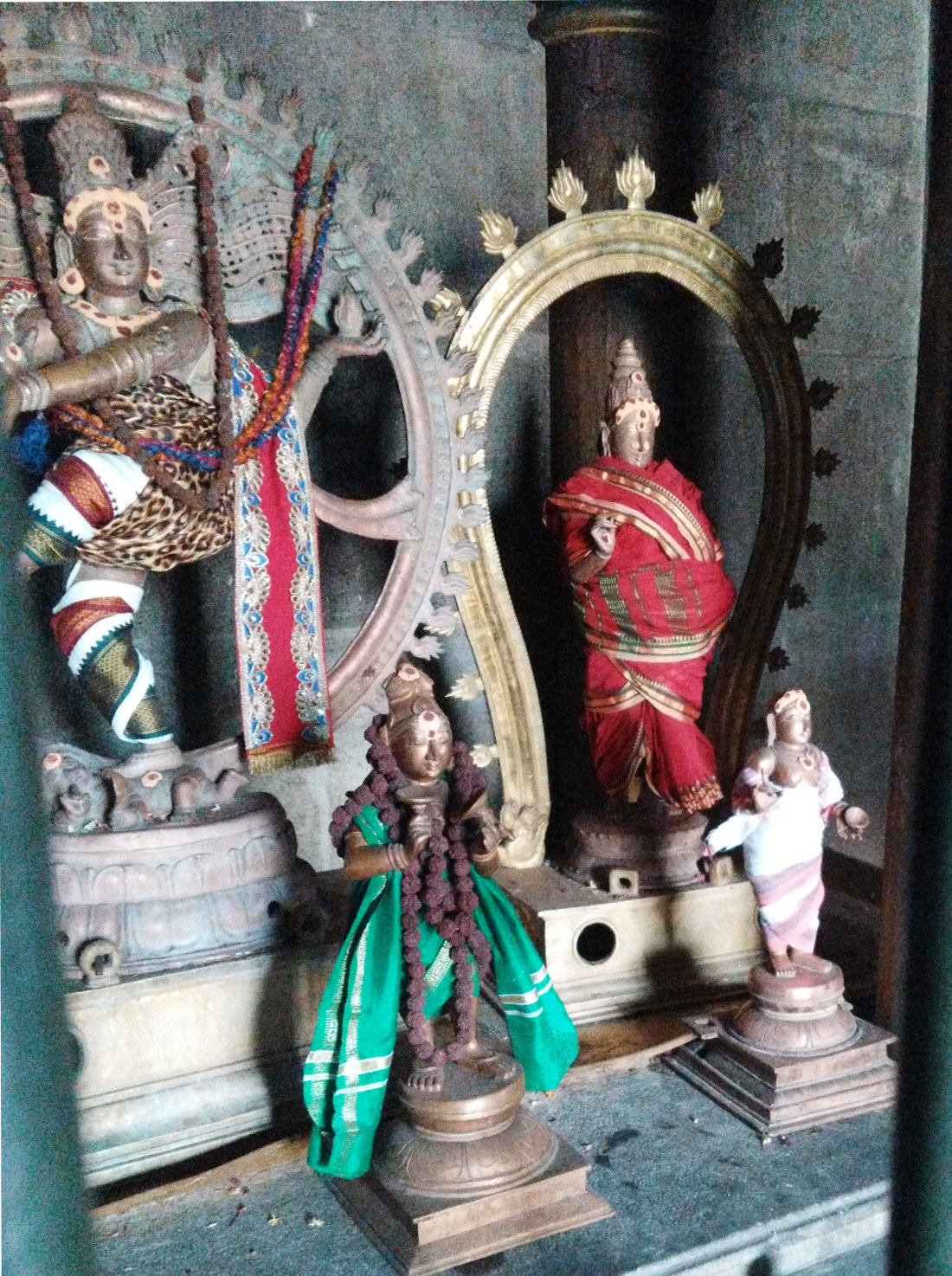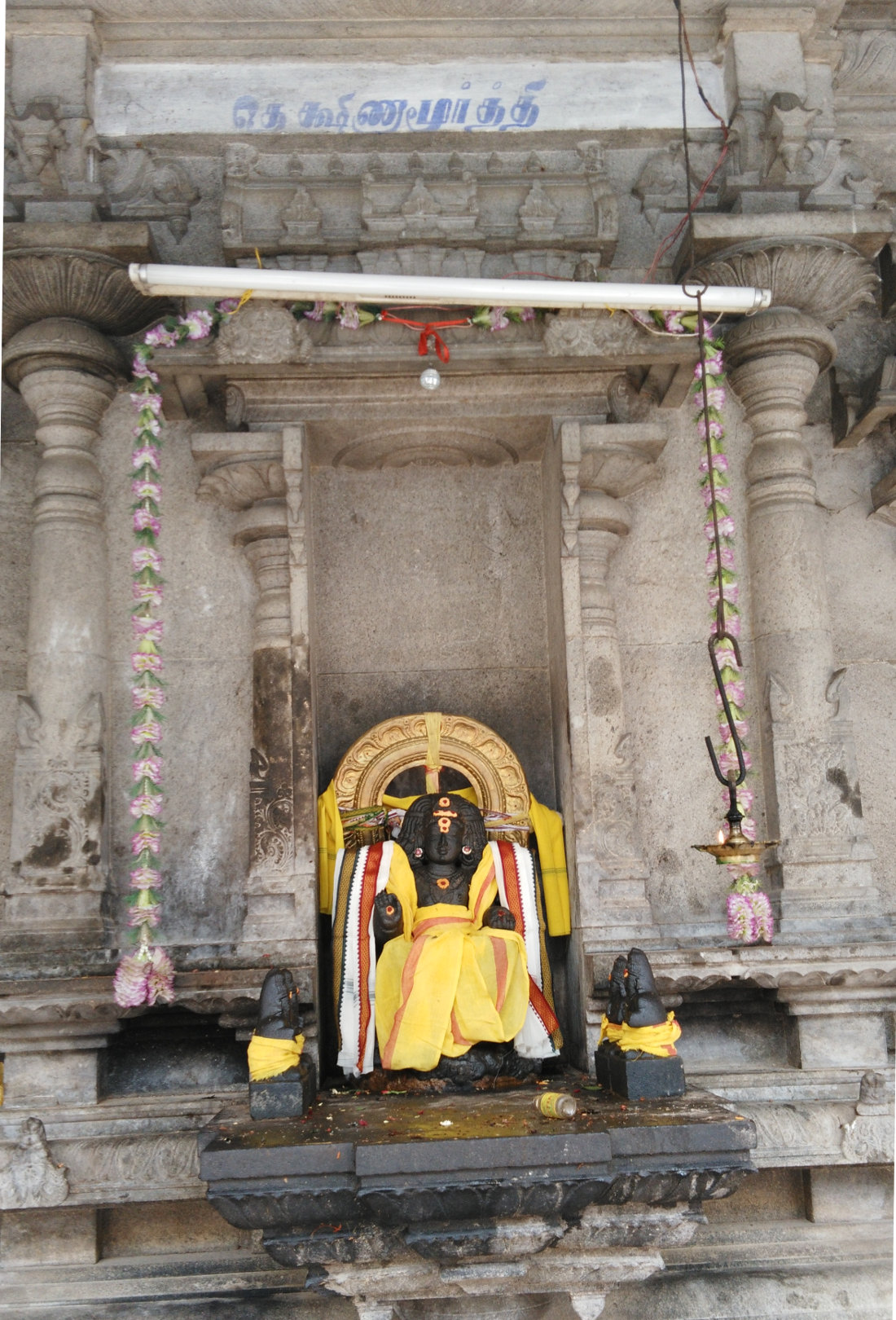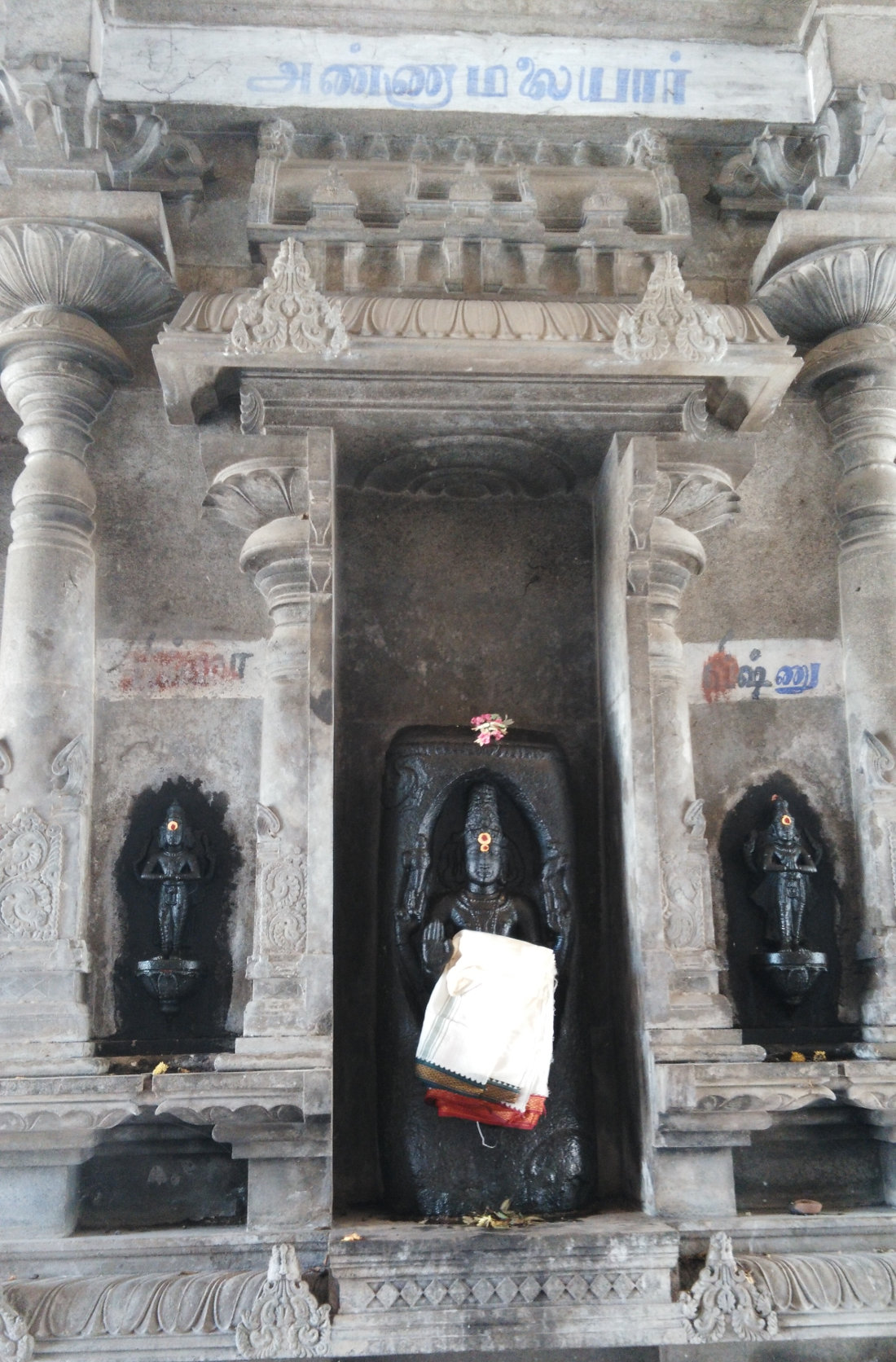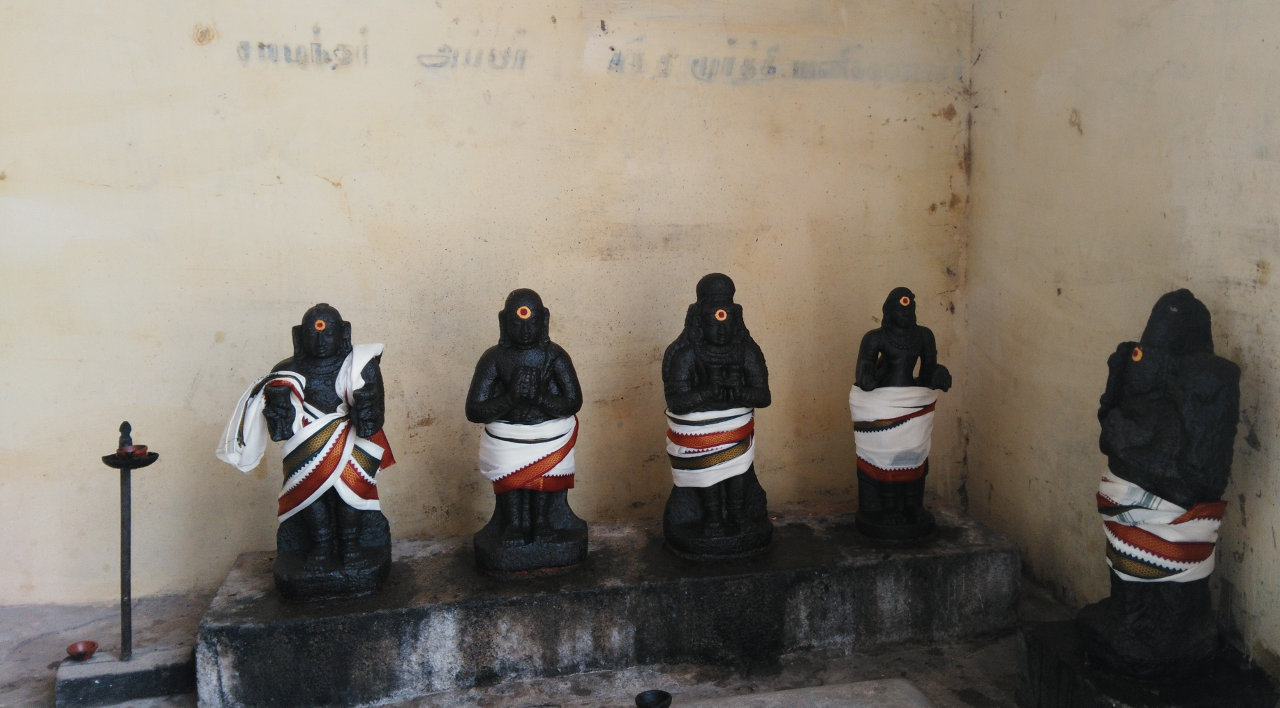 Salient Features
Procession idol of Lord Natarajar can be seen with Goddess Sivakami and Sambanthar. Sambanthar is holding the two golden plates in his hands which he is believed to have received from the lord here. There is another idol of Sambanthar where he can be seen holding a cup.
In his hymn of this temple - "Nalum innisaiyal… …", Saint Sundarar mentioned the golden plates that Sambanthar received from the lord.
Greatness of this temple
Lord Shiva gave the plate to the saint but it was Goddess Parvathy who infused it with sound. Those facing speech impairment can visit this temple, place honey at the feet of Goddess Parvathy and consume the honey after performing poojas. It is believed that by doing so, devotees can be cured of their speech problems. Furthermore, when this happens devotees make an offering of gold plates (Thalam) to the lord here.
Interestingly, there is a story that a mute child was able to speak by the grace of Lord Shiva of this temple in the year 1979. His father donated a golden "thalam" which can be seen at this temple. This temple also maintains a list of such miracles and till date there are about 473 recorded incidents.
Important Festivals
In the neighbouring temple at Sirkazhi, the second day of Brahmotsavam - "Thirumulaippal Urchavam" is celebrated in a grand manner for Saint Thirugnanasambanthar. After this event, the procession idol (Utsavamoorthy) of Saint Thirugnanasambanthar is brought to the Thirukkolakka temple. The event where Sambanthar was given the golden thalam is symbolically celebrated on this day. Thereafter, the idol of Sambanthar is taken back to Sirkazhi temple in a palanquin bedecked with flowers ("Poo Pallakku").
Other important festivals celebrated in this temple are –
Vinayakar Chaturthi in the Tamil month of Aavani (Aug-Sept),
Navarathri in the Tamil month of Purattasi (Sept-Oct),
Skanda Shashti and Annabishekam in the Tamil month of Aippasi (Oct–Nov), Thiruvadhirai in the Tamil month of Markazhi (Dec-Jan),
Shivrathri in the Tamil month of Masi (Feb-Mar).
Pradosham and Karthikai are also observed regularly.
Temple Timings
From 07.30 AM to 11.30 AM and 04.30 PM to 08.00 PM.
Temple Address
Sri Sapthapureeswarar Temple,
Thirukkolakka,
Sirkazhi Post and Taluk,
Nagapattinam District,
Tamil Nadu– 609 110.
Tele: +91 4364 274 175.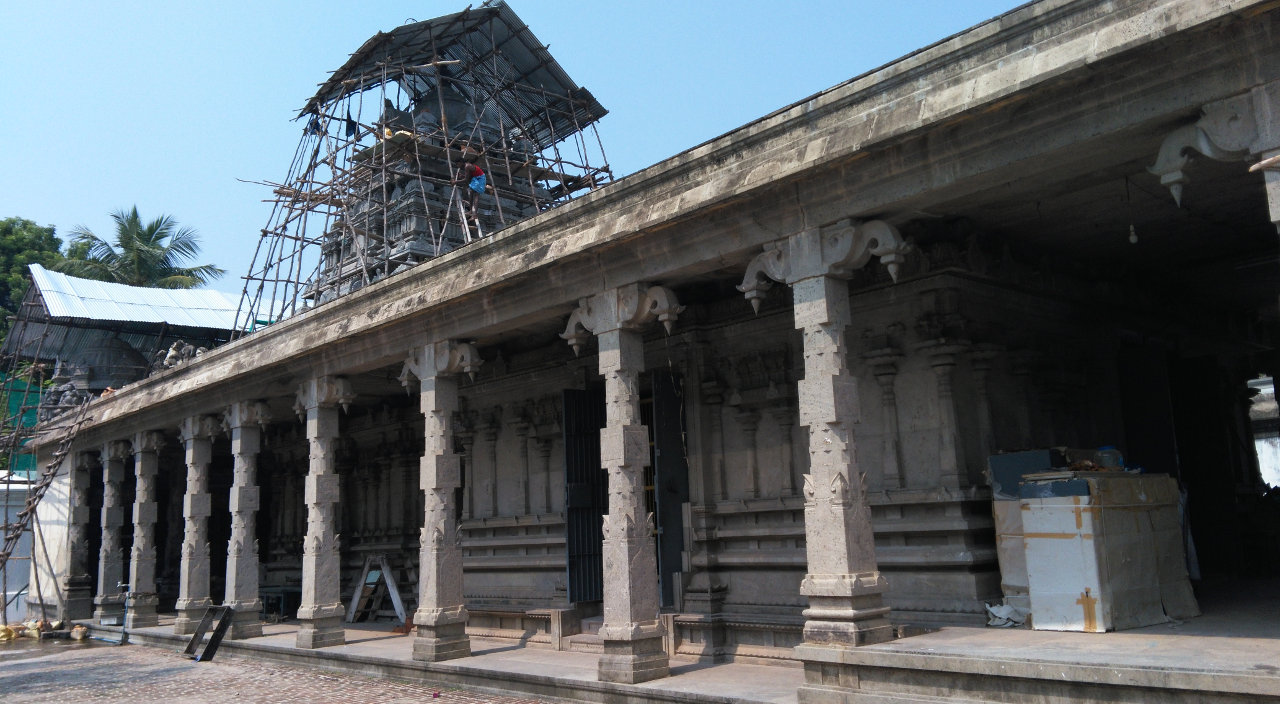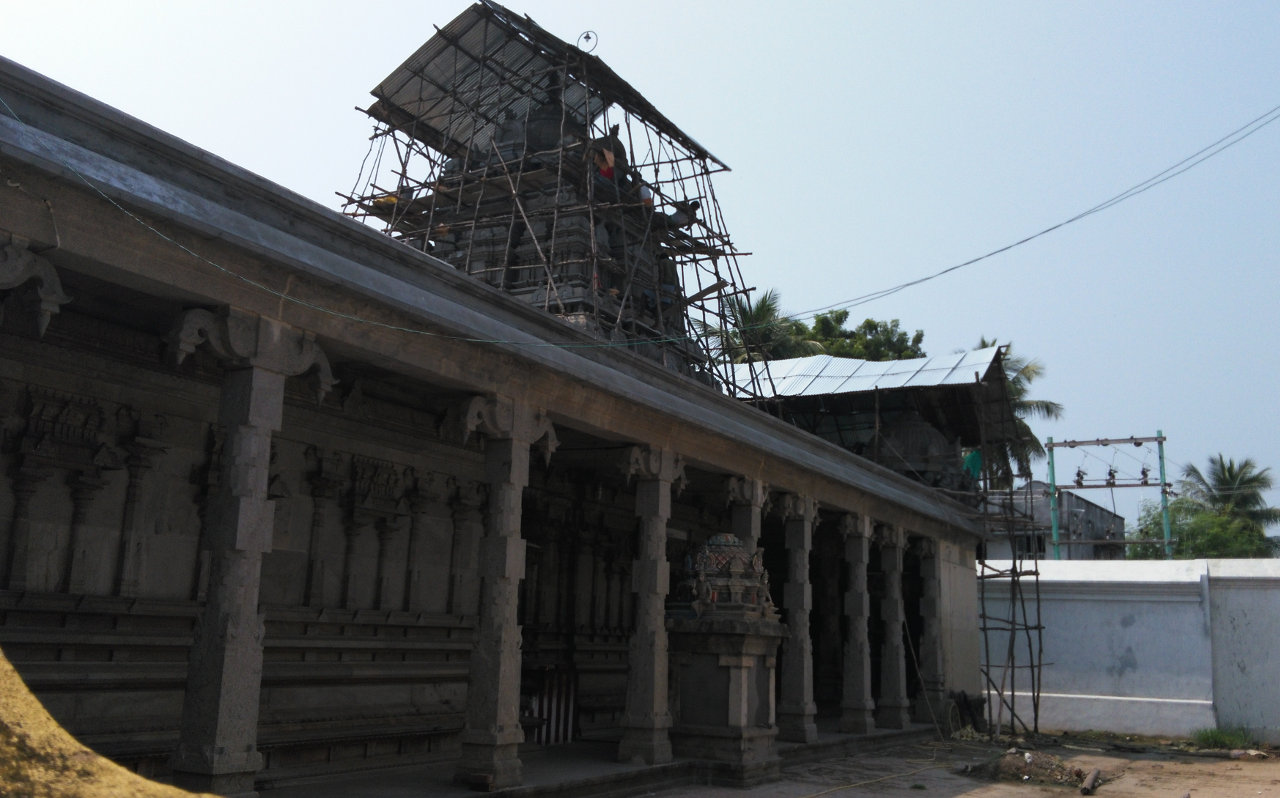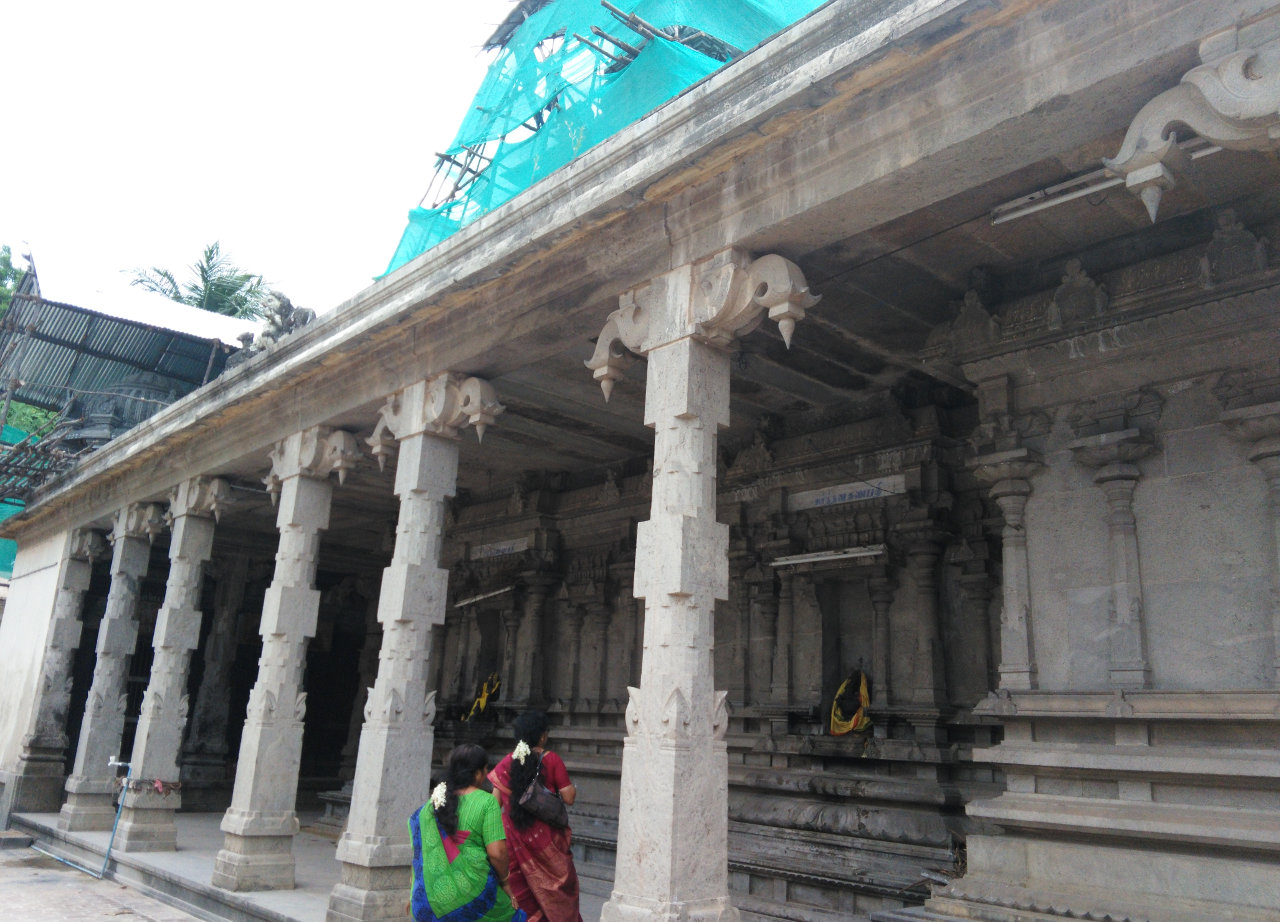 ---
Pathigam (Hymn) with English transliteration
Saint Thirugnanasambanthar visited this temple and sang this Pathigam.
Devotees visiting this temple should make it a practice to recite this Pathigam.
மடையில் வாளை பாய மாதரார்
குடையும் பொய்கைக் கோலக் காவுளான்
சடையும் பிறையுஞ் சாம்பற் பூச்சுங்கீழ்
உடையுங் கொண்ட வுருவ மென்கொலோ.
"Maṭaiyil vāḷai pāya mātharār
kuṭaiyum poykaik kōlak kāvuḷāṉ
saṭaiyum piṟaiyuñ chāmpaṟ pūchchuṅkīzh
uṭaiyuṅ koṇṭa vuruva meṉkolō".
பெண்டான் பாக மாகப் பிறைச்சென்னி
கொண்டான் கோலக் காவு கோயிலாக்
கண்டான் பாதங் கையாற் கூப்பவே
உண்டான் நஞ்சை உலக முய்யவே.
"Peṇṭāṉ pāka mākap piṟaichcheṉṉi
koṇṭāṉ kōlak kāvu kōyilāk
kaṇṭāṉ pāthaṅ kaiyāṟ kūppavē
uṇṭāṉ nañchai ulaka muyyavē".
பூணற் பொறிகொள் அரவம் புன்சடைக்
கோணற் பிறையன் குழகன் கோலக்கா
மாணப் பாடி மறைவல் லானையே
பேணப் பறையும் பிணிக ளானவே.
"Pūṇaṟ poṟikoḷ aravam puṉsaṭaik
kōṇaṟ piṟaiyaṉ kuzhakaṉ kōlakkā
māṇap pāṭi maṟaival lāṉaiyē
pēṇap paṟaiyum piṇika ḷāṉavē".
தழுக்கொள் பாவந் தளர வேண்டுவீர்
மழுக்கொள் செல்வன் மறிசே ரங்கையான்
குழுக்கொள் பூதப் படையான் கோலக்கா
இழுக்கா வண்ணம் ஏத்தி வாழ்மினே.
"Tazhukkoḷ pāvan thaḷara vēṇṭuvīr
mazhukkoḷ selvaṉ maṟisē raṅkaiyāṉ
kuzhukkoḷ pūthap paṭaiyāṉ kōlakkā
izhukkā vaṇṇam ēththi vāzhmiṉē".
மயிலார் சாயல் மாதோர் பாகமா
எயிலார் சாய எரித்த எந்தைதன்
குயிலார் சோலைக் கோலக் காவையே
பயிலா நிற்கப் பறையும் பாவமே.
"Mayilār sāyal māthōr pākamā
eyilār sāya erithah enthaithaṉ
kuyilār chōlaik kōlak kāvaiyē
payilā niṟkap paṟaiyum pāvamē".
வெடிகொள் வினையை வீட்ட வேண்டுவீர்
கடிகொள் கொன்றை கலந்த சென்னியான்
கொடிகொள் விழவார் கோலக் காவுளெம்
அடிகள் பாதம் அடைந்து வாழ்மினே.
"Veṭikoḷ viṉaiyai vīṭṭa vēṇṭuvīr
kaṭikoḷ koṉtṟai kalantta seṉṉiyāṉ
koṭikoḷ vizhavār kōlak kāvuḷem
aṭikaḷ pātham aṭainthu vāzhmiṉē".
நிழலார் சோலை நீல வண்டினங்
குழலார் பண்செய் கோலக் காவுளான்
கழலான் மொய்த்த பாதங் கைகளால்
தொழலார் பக்கல் துயர மில்லையே.
"Nizhalār chōlai nīla vaṇṭiṉaṅ
kuzhalār paṇsey kōlak kāvuḷāṉ
kazhalāṉ moyththa pāthaṅ kaikaḷāl
thozhalār pakkal thuyara millaiyē".
எறியார் கடல்சூழ் இலங்கைக் கோன்றனை
முறியார் தடக்கை யடர்த்த மூர்த்திதன்
குறியார் பண்செய் கோலக் காவையே
நெறியால் தொழுவார் வினைகள் நீங்குமே.
"Eṟiyār kaṭalchūzh ilaṅkaik kōṉtṟaṉai
muṟiyār thaṭakkai yaṭarththa mūrththithaṉ
kuṟiyār paṇsey kōlak kāvaiyē
neṟiyāl thozhuvār viṉaikaḷ nīṅkumē".
நாற்ற மலர்மேல் அயனும் நாகத்தில்
ஆற்ற லணைமே லவனுங் காண்கிலாக்
கூற்ற முதைத்த குழகன் கோலக்கா
ஏற்றான் பாதம் ஏத்தி வாழ்மினே.
"Nātṟa malarmēl ayaṉum nākaththil
ātṟa laṇaimē lavaṉuṅ kāṇkilāk
kūtṟa muthaiththa kuzhakaṉ kōlakkā
ētṟāṉ pātham ēththi vāzhmiṉē".
பெற்ற மாசு பிறக்குஞ் சமணரும்
உற்ற துவர்தோ யுருவி லாளருங்
குற்ற நெறியார் கொள்ளார் கோலக்காப்
பற்றிப் பரவப் பறையும் பாவமே.
"Petṟa māsu piṟakkuñ chamaṇarum
utṟa thuvarthō yuruvi lāḷaruṅ
kutṟa neṟiyār koḷḷār kōlakkāp
patṟip paravap paṟaiyum pāvamē".
நலங்கொள் காழி ஞான சம்பந்தன்
குலங்கொள் கோலக் காவு ளானையே
வலங்கொள் பாடல் வல்ல வாய்மையார்
உலங்கொள் வினைபோய் ஓங்கி வாழ்வரே.
"Nalaṅkoḷ kāzhi gñāṉa sambanthaṉ
kulaṅkoḷ kōlak kāvu ḷāṉaiyē
valaṅkoḷ pāṭal valla vāymaiyār
ulaṅkoḷ viṉaipōy ōṅki vāzhvarē".