Visited on: 12th March, 2017 and 23rd May, 2017.
Location
Thalaichangadu is situated at a distance of about 18 kms from Mayiladuthurai on the Mayiladuthurai to Poompuhar (Via Aakkur) route. From Aakkur, it is about 5 kms.
Other Devara Paadal Petra Shiva Sthalams near this temple are – Thiru Valampuram, Aakkur, Thiruppallavaneecharam (Poompuhar), Chayavanam, Thiruvenkadu, Kezhai Thirukkattuppalli, Thirukkalikkamur (Annappan Pettai), Pariyal Veerattam, Thiruchempon Palli, Nani Palli, Thirukkadaiyur and Thirukkadaiyur Mayanam.
General Information
Moolavar

Sri Sankaaranyeswarar, Sri Sankarunatheswarar,

Sri Sankavana Nathar

Ambal

Sri Soundhara Nayaki, Sri Brahath Sundaraambigai

Theertham (Holy water)

Sangu Theertham, River Cauvery

Sthala Vriksham (Sacred Tree)

Purasu tree

Pathigam (Hymn) rendered by

Saint Thirugnanasambanthar
This is one of the 276 Devara Paadal Petra Shiva Sthalams and 45th Shiva Sthalam on the Southern bank of the river Cauveri in Chozha Nadu (Thenkarai).
Lord Shiva in this temple is a Swayambumurthi (self-manifested).
This temple is counted as one of the Maadak Koils built by King Kochengat Cholan.
This east facing temple has two corridors and it has no main tower.
The last consecration ceremony (Kumbabishekam) took place on 26.05.2010 and prior to that on 27.01.2003.
History of the Temple
This ancient temple is close to Poompuhar. This place is famous as the birth place of "Madala Marayavan", a character from Silapathikaram, one of the Sangam epics.
The historical names of this place are Sanguvanam, Sankaaranyam, Thalaisai and Thalaichanganam.
There are 10 stone inscriptions available in this temple. All of them date back to the Chola dynasty. There are special mentions of King Uthama Chola and his mother Queen Sembian Maadevi. In one of the inscriptions, this place is referred to as "Rajaraja Valanattu Nangoor Nattu Thalaichangadu" and "Thalaiyudayavar Koil Pathu".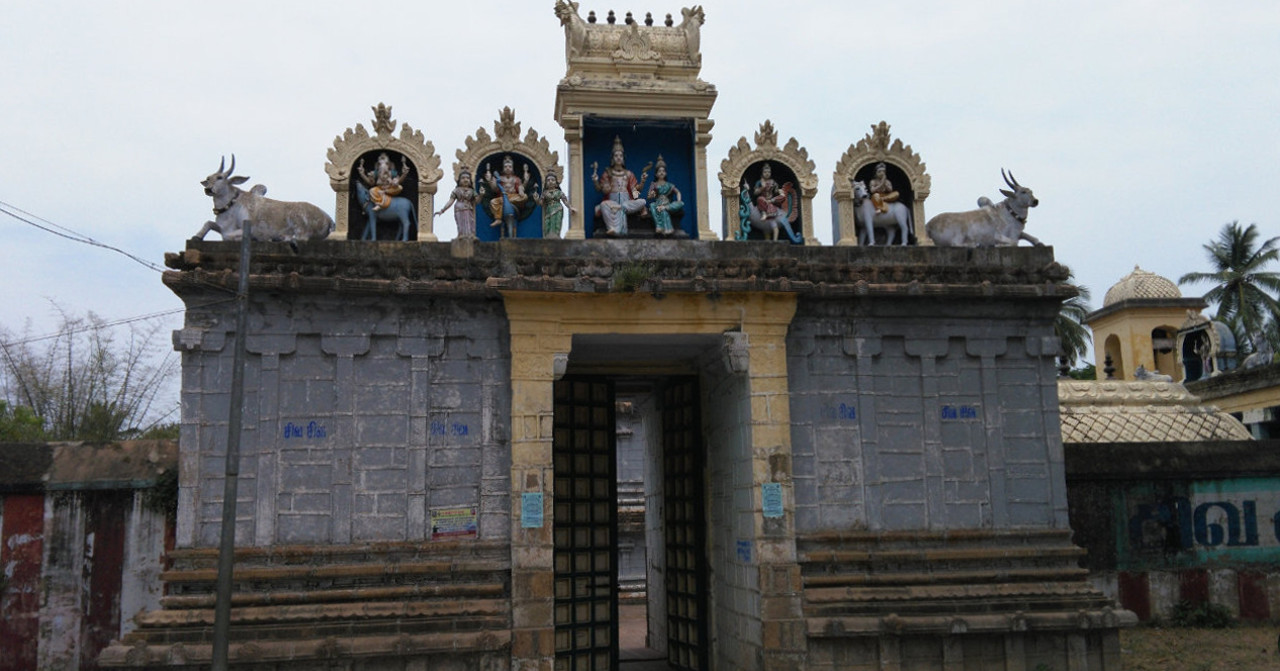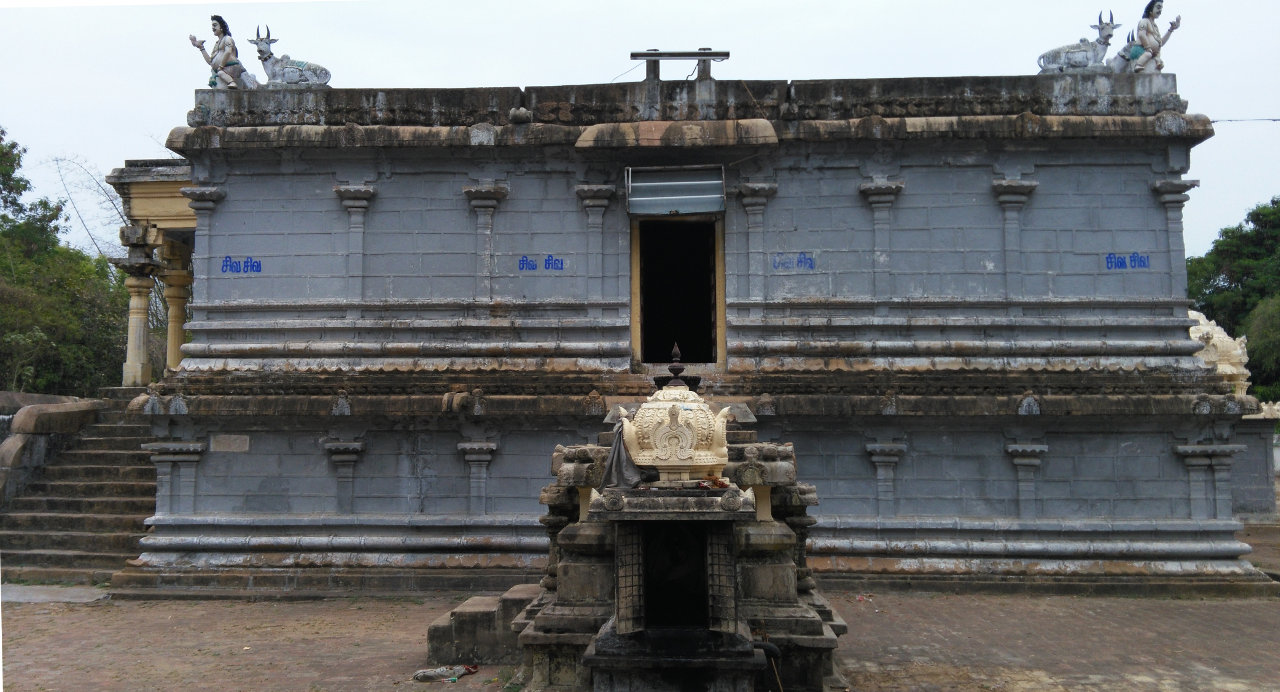 Legend
Lord Mahavishnu worshipped Lord Shiva here and obtained "Paanchajanyam" ("Thalai Sangu"), the greatest of all conch (Sangu). The base (Aavudayar) of the main deity is in the shape of a conch.
Deities in the temple
Other than the shrines of Lord Shiva and Goddess Parvathy, shrines and idols of Vinayakar, Singara Subramaniyar, Srinivasaperumal with his consorts Sridevi and Bhoodevi, Dhanakarshana Vayulingeswarar, Neelakandeswarar, Akhilandeswarar, Bhuvaneswari Amman, Valampuri Vinayakar, Balasubramaniar, Kaveri, Agasthiyar, Mahalakshmi, Jeshtadevi, Bairavar, Suryan and Pradosha Nayakar can be seen in the corridors.
In the "koshtam" (place surrounding the sanctum sanctorum), idols of Vinayakar, Dakshinamurthy, Lingothbavar, Vishnu, Brahma and Durgai can be seen.
In the corridor, idols of Nalvar, Pattinathar and Kochengat Cholan are placed in a row. Similarly, there is another row for idols of Chandikeswarar, Mahavishnu, Jurahareswarar and Lord Ram with Sita.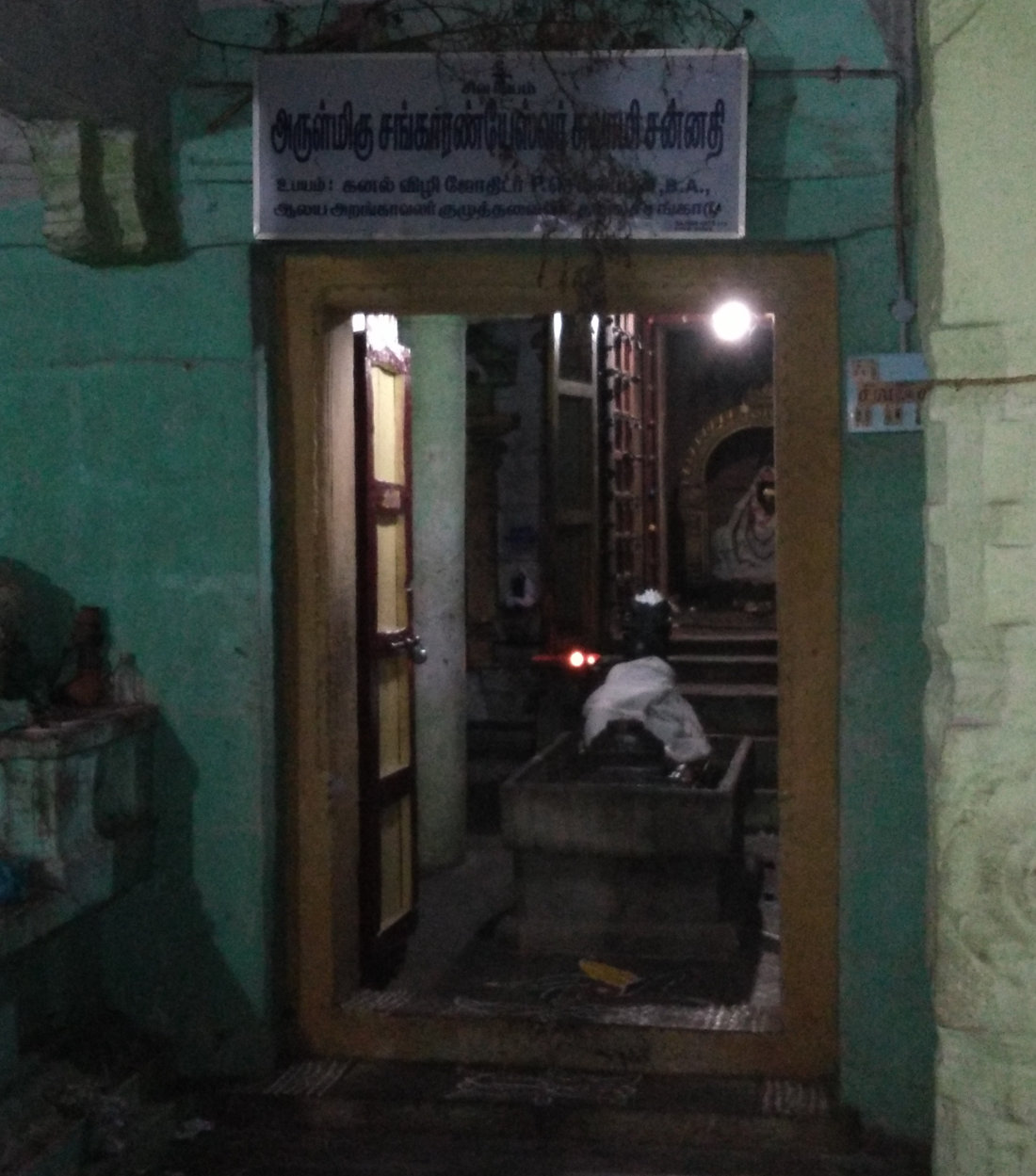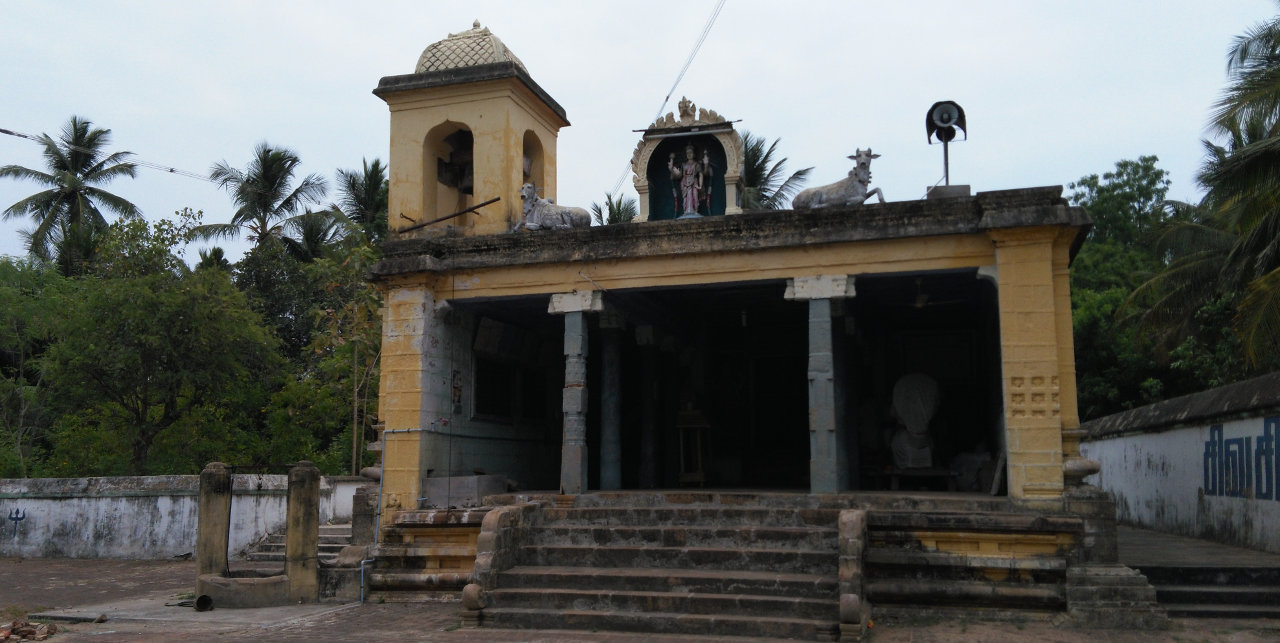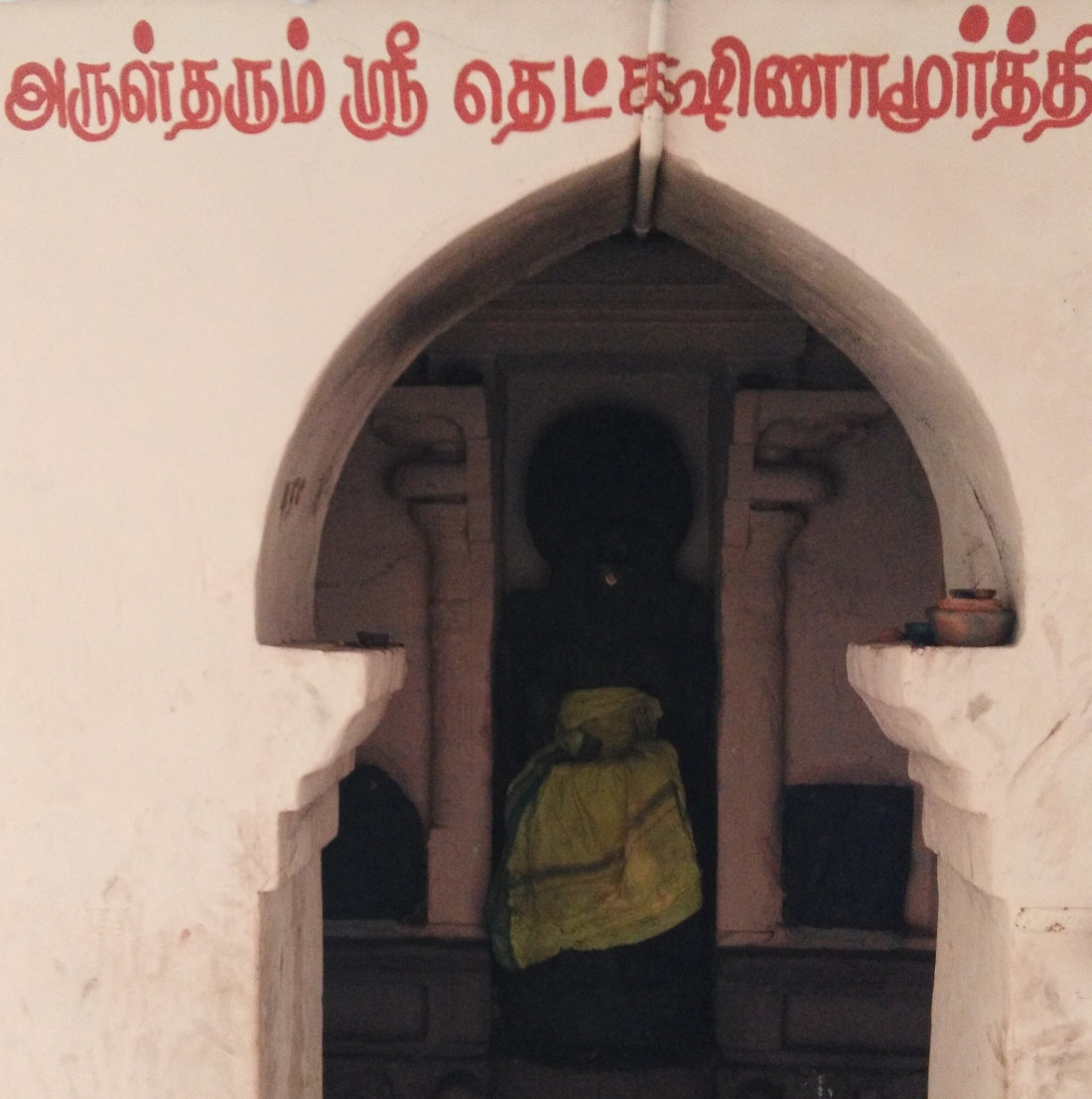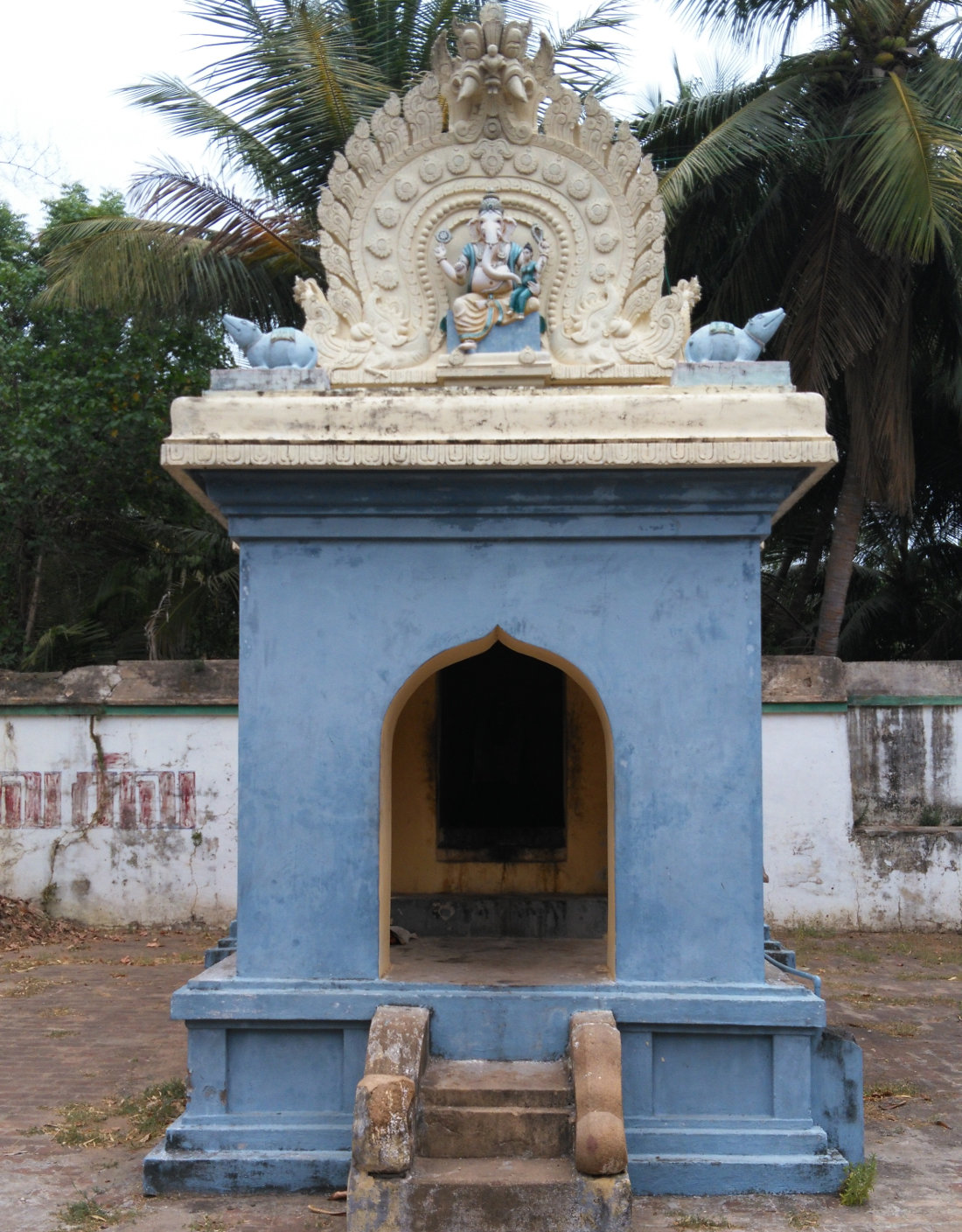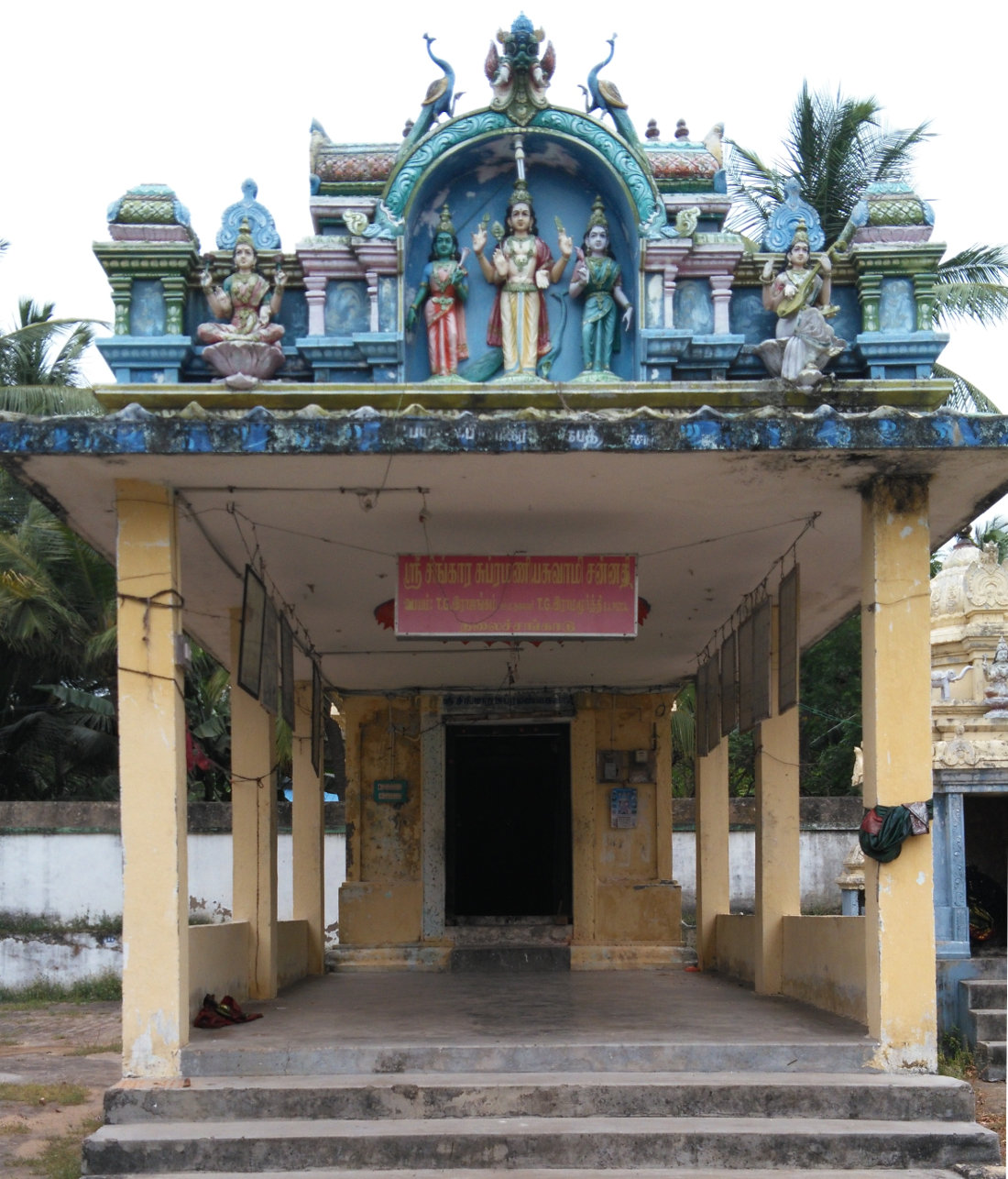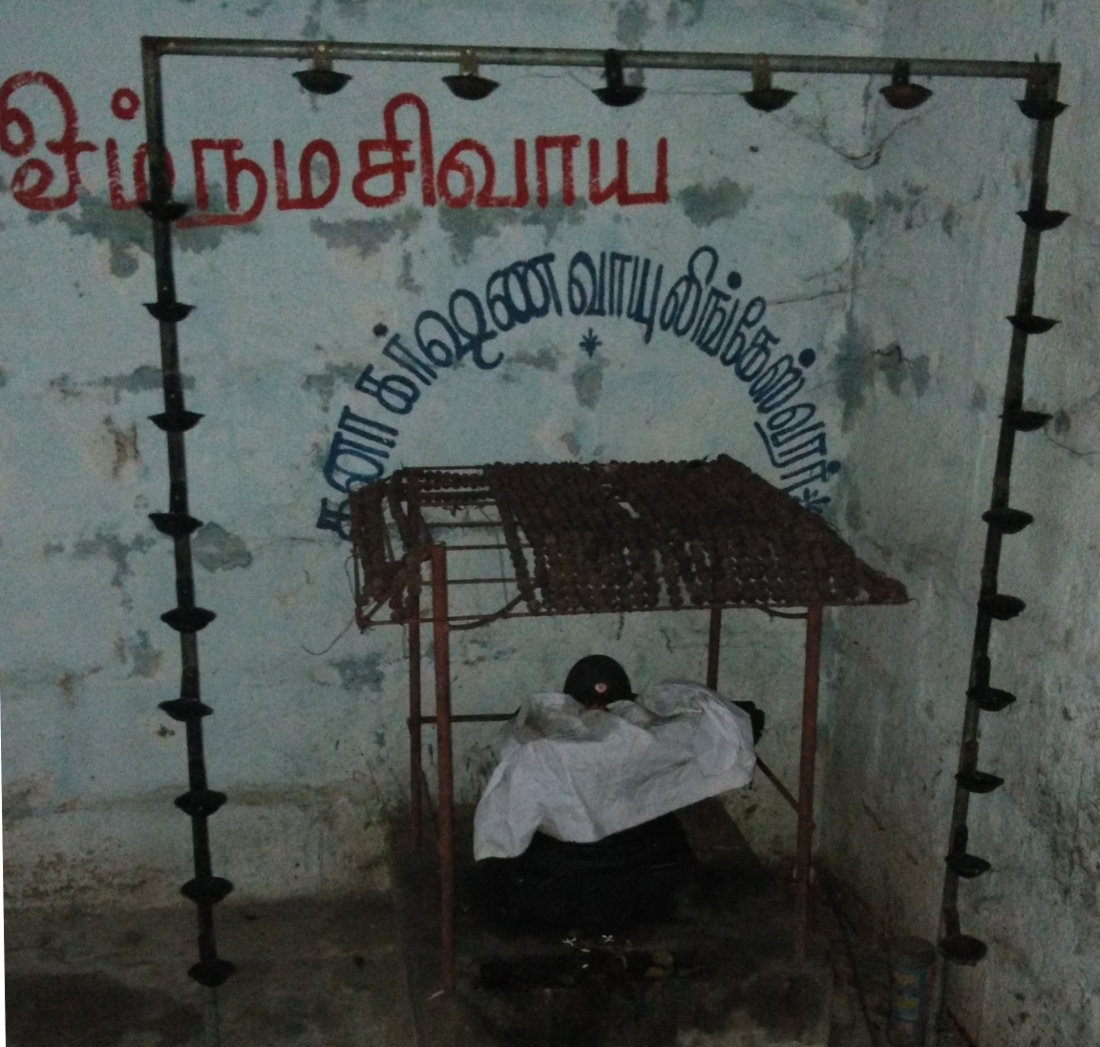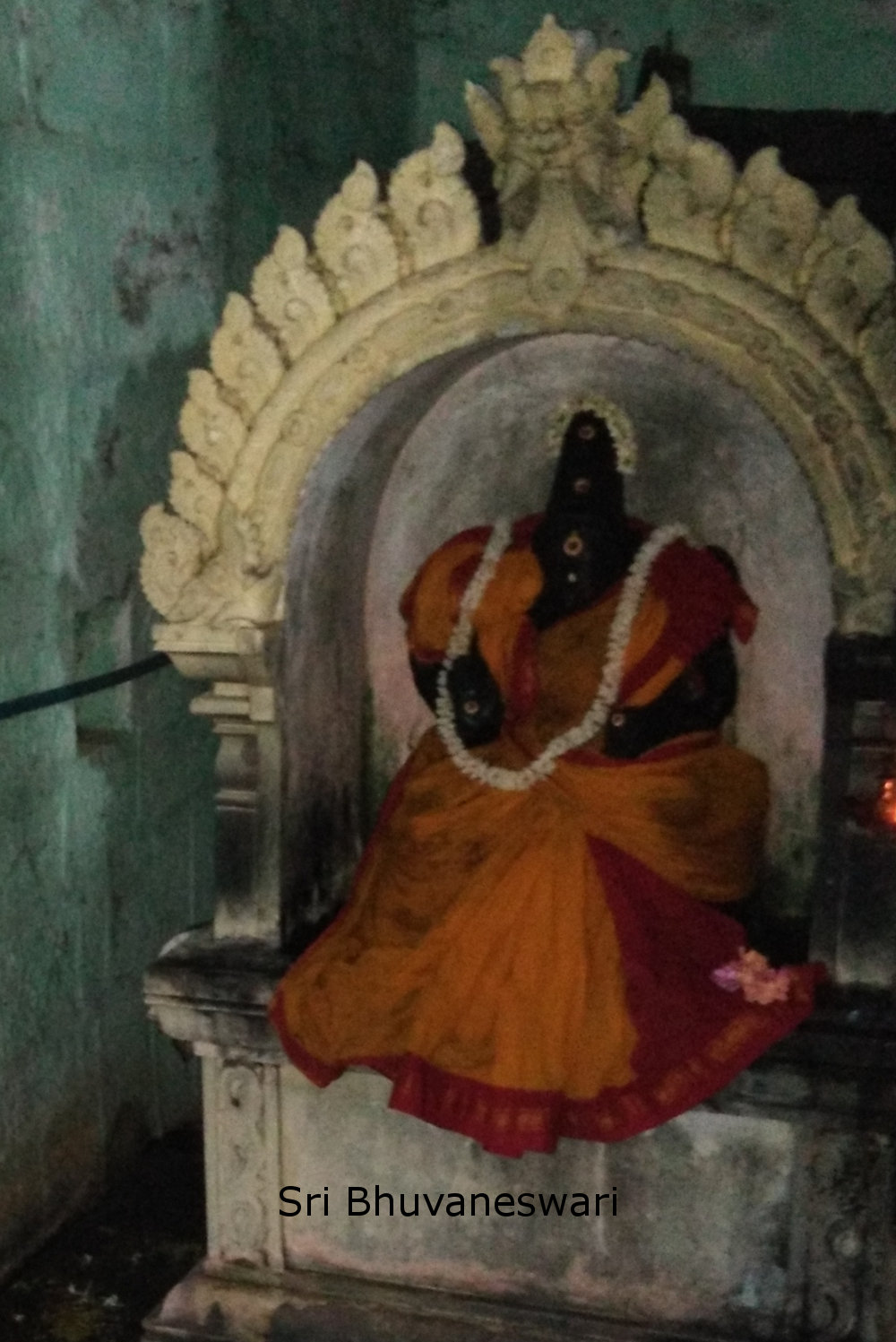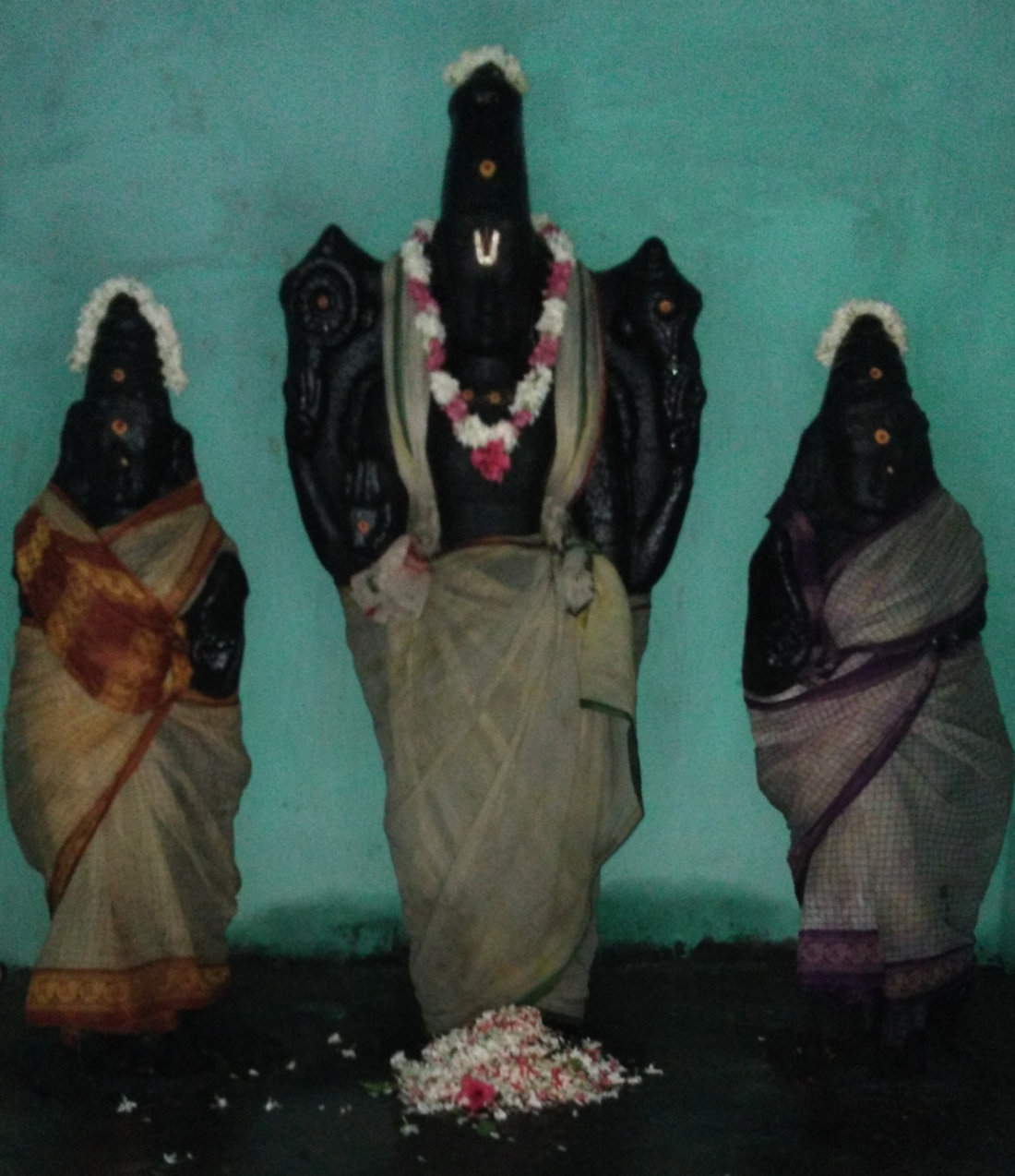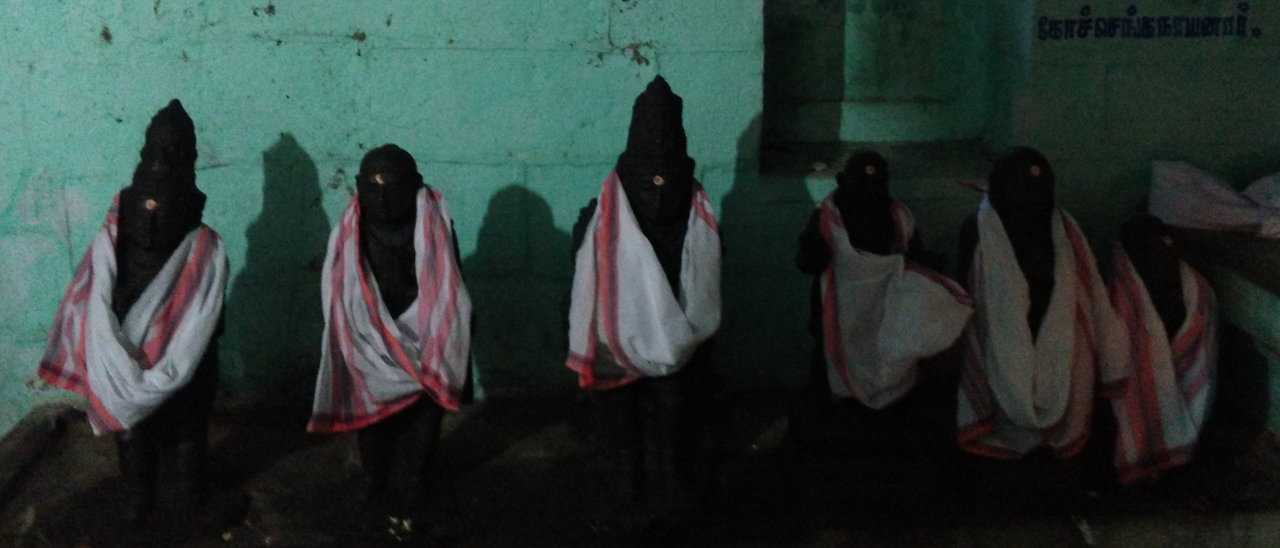 Salient Features
The main deity's lingam is very tall and the uniqueness of this lingam is that it has locks of hair. This can be seen at the time of abhishekam using gingelly oil.
The structure of this temple is in the form of "Somaskandar" – with Lord Murugan's shrine situated in between the shrines of Lord Shiva and Goddess Parvathi.
It is believed that King Kochengat Chola built about 70 "Madakkoils". The distinguishing feature of a Madakkoil is that it is not easily approachable by an elephant. He built these temples at an elevation and there are a few steps that need to be climbed before seeing the lord. Also, the sanctum sanctorum's (Karpagragam) entrance is narrow such that no elephant can enter it.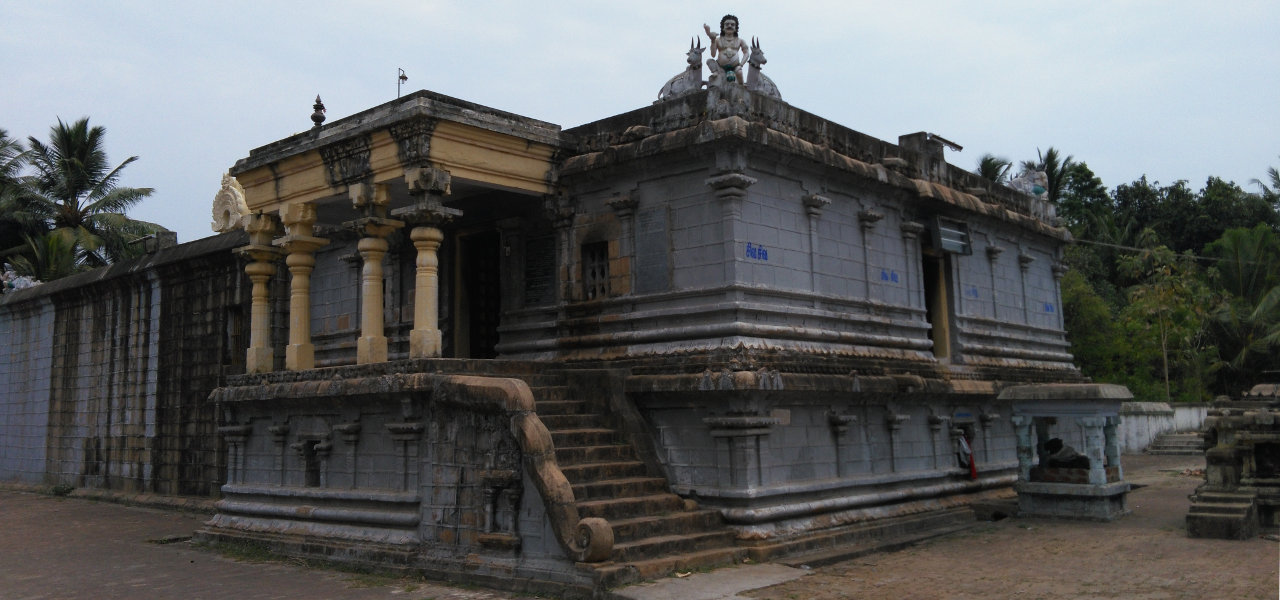 Behind the sanctum sanctorum, on either sides of Lord Lingothbavar, there are idols of Lord Mahavishnu and Lord Brahma in a worshipping posture. Devotees can enjoy the darshan of all the three lords (Trimurthys) – Brahma, Vishnu and Shiva. This is considered to be very auspicious.
The reliefs of Lord Kuberan's "Sanganidhi" and "Padmanidhi" can be seen at the entrance of the temple.
There is a Shivalingam and an idol of Vinayakar under the temple's "sthala vriksham" Purasu.
The sanctum sanctorum is in the form of semi-circular tank (akazhi in Tamil).
Greatness of this temple
It is believed that devotees can worship Goddess Soundhara Nayaki here to seek blessing for "santhana prapthi" (child boon). Women come here on full-moon days for worship after observing fast ("Pournami viratham"). They break their fast by consuming a small amount of the sandalwood paste that has adorned the goddess.
Important Festivals
Some of the important festivals celebrated in the temple are –
Vinayakar Chaturthi in the Tamil month of Aavani (Aug-Sept),
Skanda Shashti and Annabishekam in the Tamil month of Aippasi (Oct – Nov),
Thiru Karthikai in the Tamil month of Karthikai (Nov-Dec) and
Shivrathri in the Tamil month of Masi (Feb-Mar).
The 5-day Vaikasi Visakam in the Tamil month of Vaikasi (May-June) is celebrated in a grand manner.
Pradoshan and Pournami are also observed regularly.
Temple Timings
From 07:00 AM to 11:00 AM and 05:00 PM to 07:30 PM.
Temple Address
Sri Sankaaranyeswarar Tirukkoil,
Thalaichangaadu,
Aakkoor Post,
Tarangampadi Taluk,
Nagapattinam District.
Tamil Nadu – 609 301.
Tele: +91- 4364 - 280 757.

The temple priest Sri Balachandran can be contacted at 9443401060.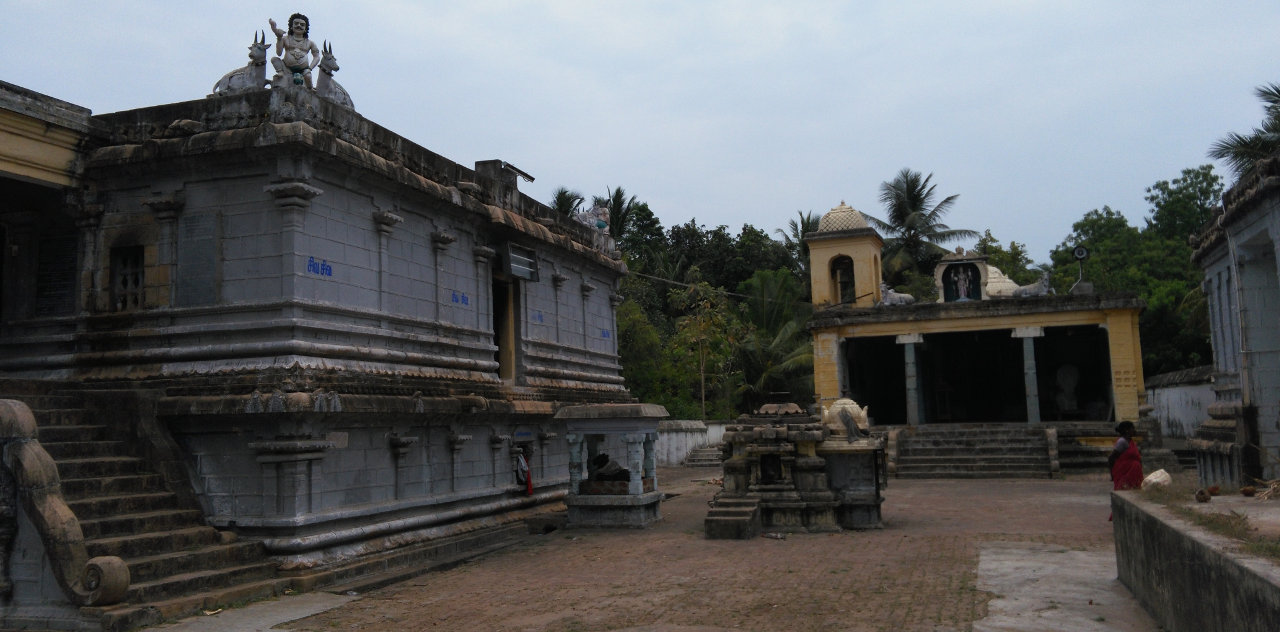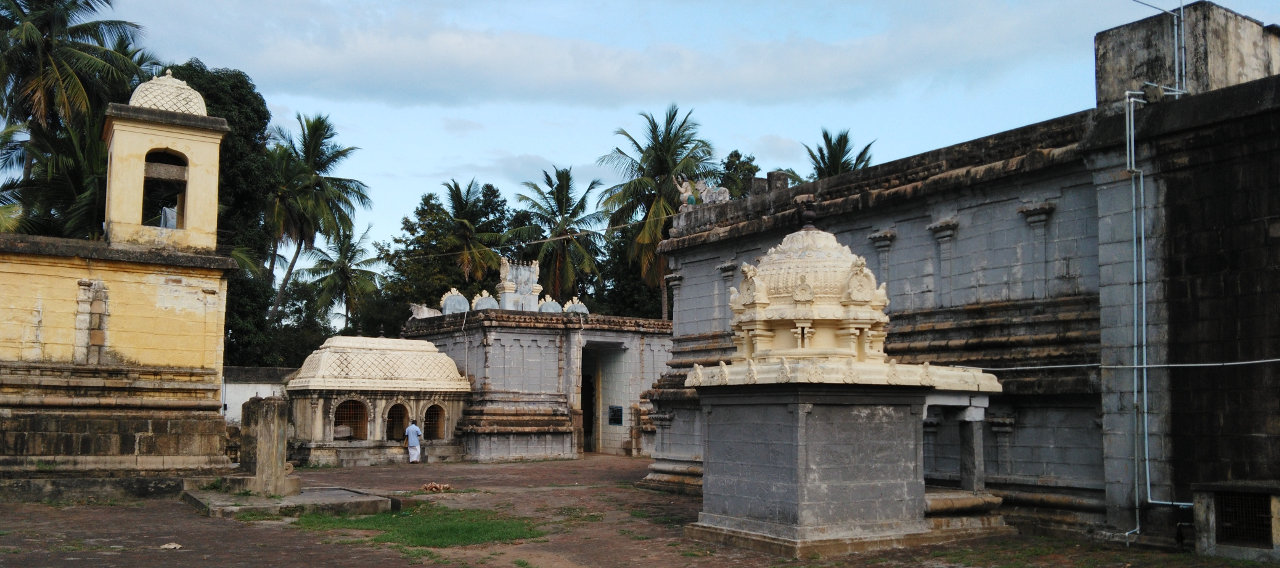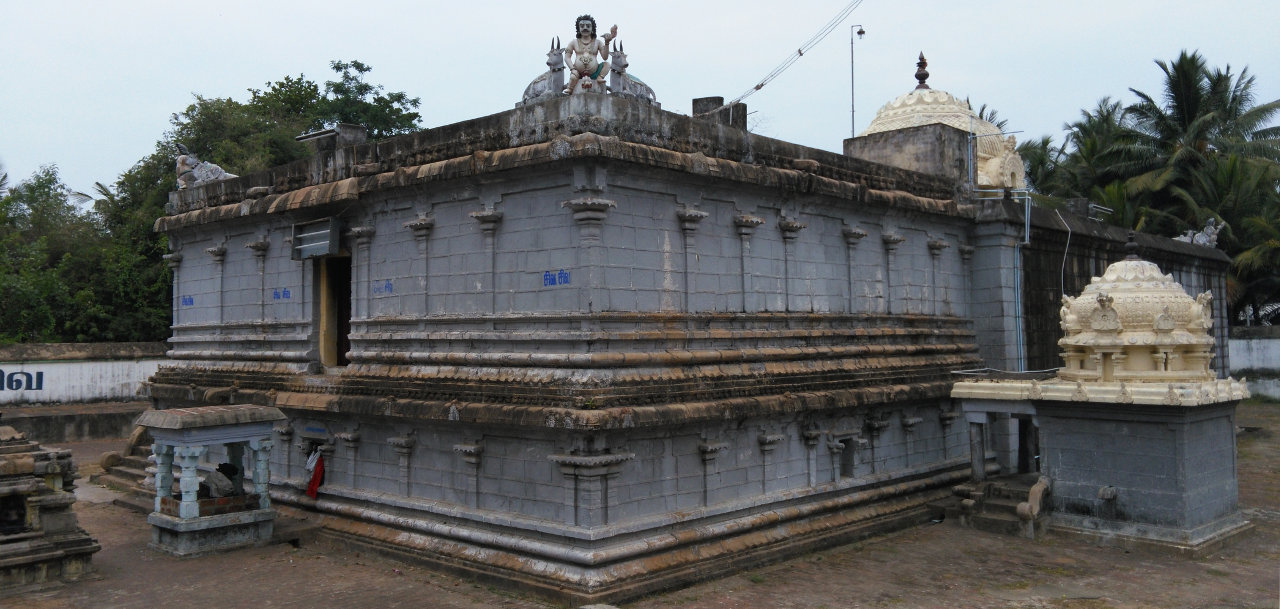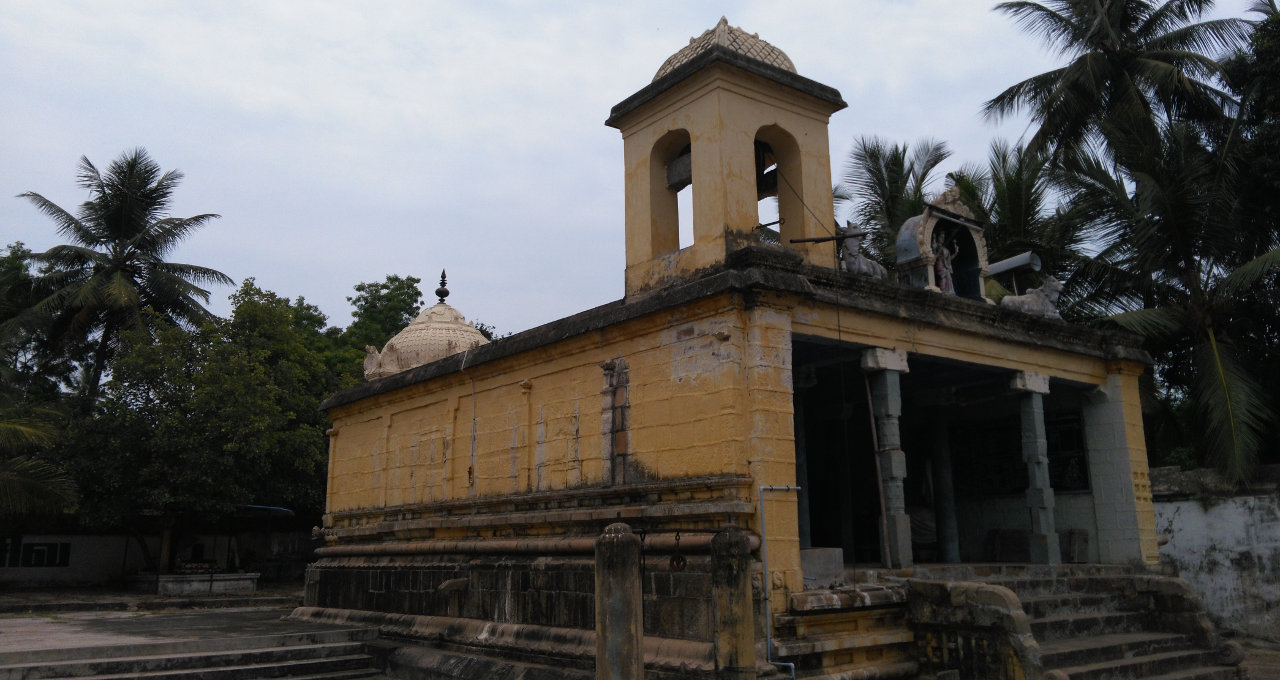 ---
Pathigam (Hymn) with English transliteration
Saint Thirugnanasambanthar visited this temple and sang this Pathigam.
Devotees visiting this temple should make it a practice to recite this Pathigam.
நலச்சங்க வெண்குழையுந் தோடும்பெய்தோர் நால்வேதம்
சொலச்சங்கை யில்லாதீர் சுடுகாடல்லாற் கருதாதீர்
குலைச்செங்காய்ப் பைங்கமுகின் குளிர்கொள்சோலைக் குயிலாலும்
தலைச்சங்கைக் கோயிலே கோயிலாகத் தாழ்ந்தீரே.
"Nalachchaṅka veṇkuzhaiyun thōṭumpeythōr nālvētham
solachchaṅkai yillāthīr suṭukāṭallāṟ karuthātīr
kulaichcheṅkāyp paiṅkamukiṉ kuḷirkoḷchōlaik kuyilālum
thalaichchaṅkaik kōyilē kōyilākath thāzhnthīrē".
துணிமல்கு கோவணமுந் தோலுங்காட்டித் தொண்டாண்டீர் மணிமல்கு கண்டத்தீர் அண்டர்க்கெல்லாம் மாண்பானீர்
பிணிமல்கு நூல்மார்பர் பெரியோர்வாழுந் தலைச்சங்கை
அணிமல்கு கோயிலே கோயிலாக அமர்ந்தீரே.
"Thuṇimalku kōvaṇamun thōluṅkāṭṭith thoṇṭāṇṭīr
maṇimalku kaṇṭaththīr aṇṭarkkellām māṇpāṉīr
piṇimalku nūlmārpar periyōrvāzhun thalaichchaṅkai
aṇimalku kōyilē kōyilāka amarnthīrē".
சீர்கொண்ட பாடலீர் செங்கண்வெள்ளே றூர்தியீர்
நீர்கொண்டும் பூக்கொண்டும் நீங்காத்தொண்டர் நின்றேத்தத்
தார்கொண்ட நூல்மார்பர் தக்கோர்வாழுந் தலைச்சங்கை
ஏர்கொண்ட கோயிலே கோயிலாக இருந்தீரே.
"Sīrkoṇṭa pāṭalīr seṅkaṇveḷḷē ṟūrthiyīr
nīrkoṇṭum pūkkoṇṭum nīṅkāththoṇṭar niṉtṟēththath
thārkoṇṭa nūlmārpar thakkōrvāzhun thalaichchaṅkai
ērkoṇṭa kōyilē kōyilāka irunthīrē".
வேடஞ்சூழ் கொள்கையீர் வேண்டிநீண்ட வெண்டிங்கள்
ஓடஞ்சூழ் கங்கையும் உச்சிவைத்தீர் தலைச்சங்கைக்
கூடஞ்சூழ் மண்டபமுங் குலாயவாசற் கொடித்தோன்றும்
மாடஞ்சூழ் கோயிலே கோயிலாக மகிழ்ந்தீரே.
"Vēṭañchūzh koḷkaiyīr vēṇṭinīṇṭa veṇṭiṅkaḷ
ōṭañchūzh gaṅgaiyum uchchivaiththīr thalaichchaṅkaik
kūṭañchūzh maṇṭapamuṅ kulāyavāsaṟ koṭiththōṉtṟum
māṭañchūzh kōyilē kōyilāka makizhnthīrē".
சூலஞ்சேர் கையினீர் சுண்ணவெண்ணீ றாடலீர்
நீலஞ்சேர் கண்டத்தீர் நீண்டசடைமேல் நீரேற்றீர்
ஆலஞ்சேர் தண்கானல் அன்னமன்னுந் தலைச்சங்கைக்
கோலஞ்சேர் கோயிலே கோயிலாகக் கொண்டீரே.
"Chūlañchēr kaiyiṉīr suṇṇaveṇṇī ṟāṭalīr
nīlañchēr kaṇṭaththīr nīṇṭasaṭaimēl nīrētṟīr
ālañchēr thaṇkāṉal aṉṉamaṉṉun thalaichchaṅkaik
kōlañchēr kōyilē kōyilākak koṇṭīrē".
நிலநீரொ டாகாசம் அனல்காலாகி நின்றைந்து
புலநீர்மை புறங்கண்டார் பொக்கஞ்செய்யார் போற்றோவார்
சலநீத ரல்லாதார் தக்கோர்வாழுந் தலைச்சங்கை
நலநீர கோயிலே கோயிலாக நயந்தீரே.
"Nilanīro ṭākāsam aṉalkālāki niṉtṟainthu
pulanīrmai puṟaṅkaṇṭār pokkañcheyyār pōtṟōvār
salanītha rallāthār thakkōrvāzhun thalaichchaṅkai
nalanīra kōyilē kōyilāka nayanthīrē".
அடிபுல்கு பைங்கழல்கள் ஆர்ப்பப்பேர்ந்தோர் அனலேந்திக் கொடிபுல்கு மென்சாயல் உமையோர்பாகங் கூடினீர்
பொடிபுல்கு நூல்மார்பர் புரிநூலாளர் தலைச்சங்கைக்
கடிபுல்கு கோயிலே கோயிலாகக் கலந்தீரே.
"Aṭipulku paiṅkazhalkaḷ ārppappērnthōr aṉalēnthik
koṭipulku meṉsāyal umaiyōrpākaṅ kūṭiṉīr
poṭipulku nūlmārpar purinūlāḷar thalaichchaṅkaik
kaṭipulku kōyilē kōyilākak kalanthīrē".
திரையார்ந்த மாகடல்சூழ் தென்இலங்கைக் கோமானை
வரையார்ந்த தோளடர விரலாலூன்றும் மாண்பினீர்
அரையார்ந்த மேகலையீர் அந்தணாளர் தலைச்சங்கை
நிரையார்ந்த கோயிலே கோயிலாக நினைந்தீரே.
"Thiraiyārntha mākaṭalchūzh theṉilaṅkaik kōmāṉai
varaiyārntha thōḷaṭara viralālūṉtṟum māṇpiṉīr
araiyārntha mēkalaiyīr anthaṇāḷar thalaichchaṅkai
niraiyārntha kōyilē kōyilāka niṉainthīrē".
பாயோங்கு பாம்பணைமே லானும்பைந்தா மரையானும் போயோங்கிக் காண்கிலார் புறம்நின்றோரார் போற்றோவார்
தீயோங்கு மறையாளர் திகழுஞ்செல்வத் தலைச்சங்கைச்
சேயோங்கு கோயிலே கோயிலாகச் சேர்ந்தீரே.
"Pāyōṅku pāmpaṇaimē lāṉumpainthā maraiyāṉum
pōyōṅkik kāṇkilār puṟamniṉtṟōrār pōtṟōvār
thīyōṅku maṟaiyāḷar thikazhuñchelvath thalaichchaṅkaich
chēyōṅku kōyilē kōyilākach chērnthīrē".
அலையாரும் புனல்துறந்த அமணர்குண்டர் சாக்கியர்
தொலையாதங் கலர்தூற்றத் தோற்றங்காட்டி யாட்கொண்டீர்
தலையான நால்வேதந் தரித்தார்வாழுந் தலைச்சங்கை
நிலையார்ந்த கோயிலே கோயிலாக நின்றீரே.
"Alaiyārum puṉalthuṟantha amaṇarkuṇṭar sākkiyar
tholaiyāthaṅ kalarthūtṟath thōtṟaṅkāṭṭi yāṭkoṇṭīr
thalaiyāṉa nālvēthan thariththārvāzhun thalaichchaṅkai
nilaiyārntha kōyilē kōyilāka niṉtṟīrē".
நளிரும் புனற்காழி நல்லஞான சம்பந்தன்
குளிருந் தலைச்சங்கை ஓங்குகோயில் மேயானை
ஒளிரும் பிறையானை உரைத்தபாடல் இவைவல்லார்
மிளிருந் திரைசூழ்ந்த வையத்தார்க்கு மேலாரே.
"Naḷirum puṉaṟkāzhi nallañāṉa sambanthaṉ
kuḷirun thalaichchaṅkai ōṅkukōyil mēyāṉai
oḷirum piṟaiyāṉai uraiththapāṭal ivaivallār
miḷirun thiraichūzhntha vaiyaththārkku mēlārē".