Visited on: 25th June, 2016 and 10th April, 2017.
Location
Thirumiyachur Ilamkoil is a part of the Thirumiyachur temple and is situated inside that temple itself.
Thirumiyachur is located at a distance of about 20 kms from Mayiladuthurai on the Mayiladuthurai to Thiruvarur route. From Mauiladuthurai first travel to Peralam (17 kms) and then to Thirumiyachur (3 kms). Nearest railway station is Peralam which is 2 kms away from this temple.
Other Devara Paadal Petra Shiva Sthalams near this temple are – Thirumiyachur, Thilathaipathy, Thiru Anniyur, Thiruppampuram, Serukudi, Thiruveezhimizhalai, Thiru Kottaram, Ambal Maakalam and Ambar Perunthirukkoil.
General Information
| | |
| --- | --- |
| Moolavar | Sri Sakalabuvaneswarar |
| Ambal | Sri Minnum Megalaiyaal, Sri Vidhyudh Megalambal |
| Theertham (Holy water) | Surya Pushkarini |
| Sthala Vriksham (Sacred Tree) | Vilvam |
| Pathigam (Hymn) rendered by | Saint Thirunavukarasar (Appar) |
This is one of the 276 Devara Paadal Petra Shiva Sthalams and 57 Shiva Sthalam on the Southern bank of the river Cauveri in Chozha Nadu (Thenkarai).
Lord Shiva in this temple is a Swayambumurthi (self-manifested).
History of the Temple
This "Ilam Koil" (temple within a temple) is situated right within the Thirumiyachur temple.
The shrines of the main deities of the Ilamkoil – Sri Sakalabhuvaneswarar and Goddess Minnum Megalaiyaal are situated in the northern corridor of the main temple.
It is believed that this ancient temple was renovated by King Rajendra Chola and Queen Sembian Maadevi.
There are seven stone inscriptions available in this temple which relate to the periods of Chola and Pandiya kingdoms.
This temple is under the administrative control of the Thiruppukalur Velakurichi Aadheenam.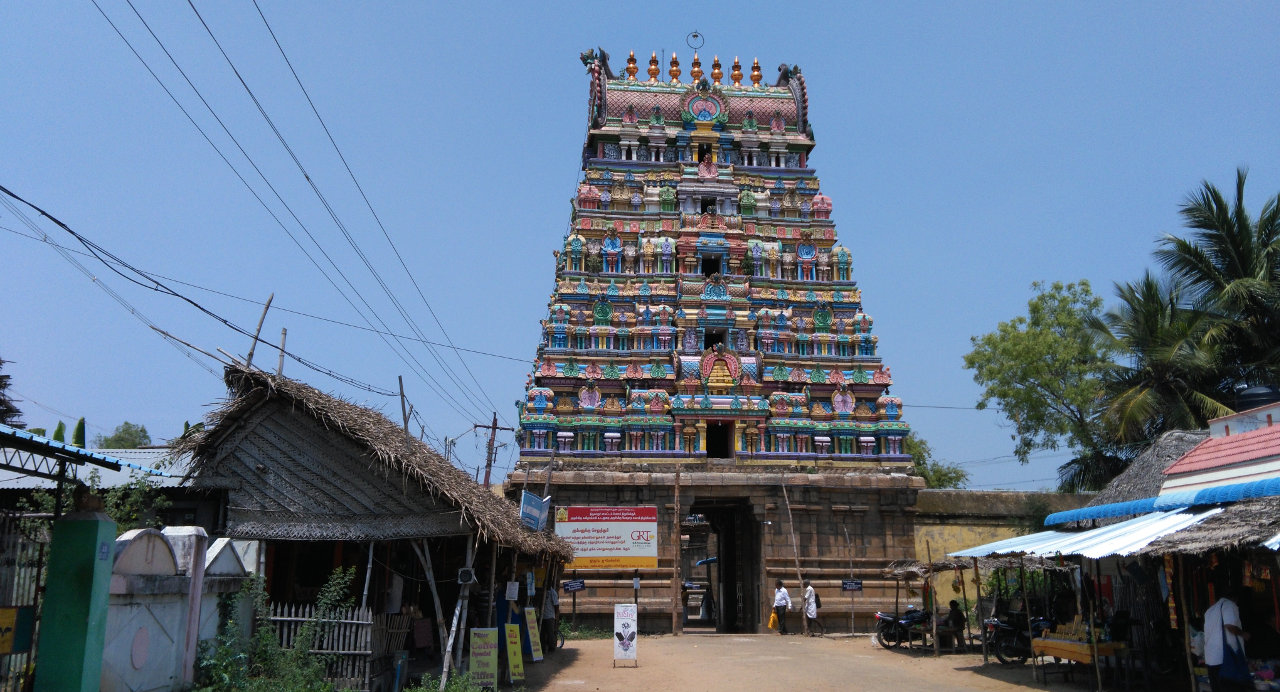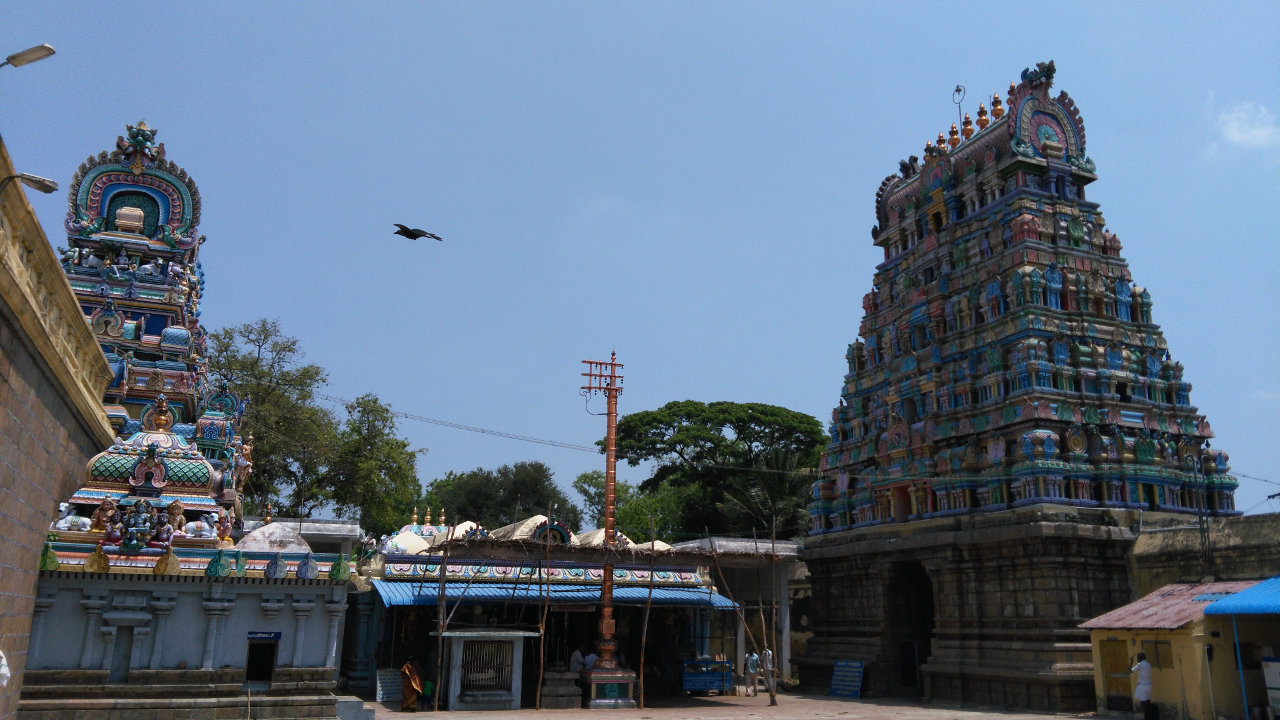 Legend
This is the place where "Lalitha Sahasranamam" originated and was first introduced to the world.
It is believed that Goddess Mahalakshmi and Goddess Kali have worshipped the lord of this temple.

It is believed that Garuda (the eagle mount of Lord Mahavishnu), Aruna (the charioteer of Suryan), the monkey brothers Vali and Sukreev, Yama (the God of Death) and Saneeswarar (the planet Saturn) were born in this place.
Deities in the temple
The main deities of this temple are Lord Sakalabuvaneswarar and Goddess Minnum Megalaiyaal.
In the "Koshtam" (place surrounding the sanctum sanctorum), idols of lords Dakshinamurthy, Brahma and Mahavishnu can be seen. The unique feature of the idol of Lord Mahavishnu is that his hands are folded.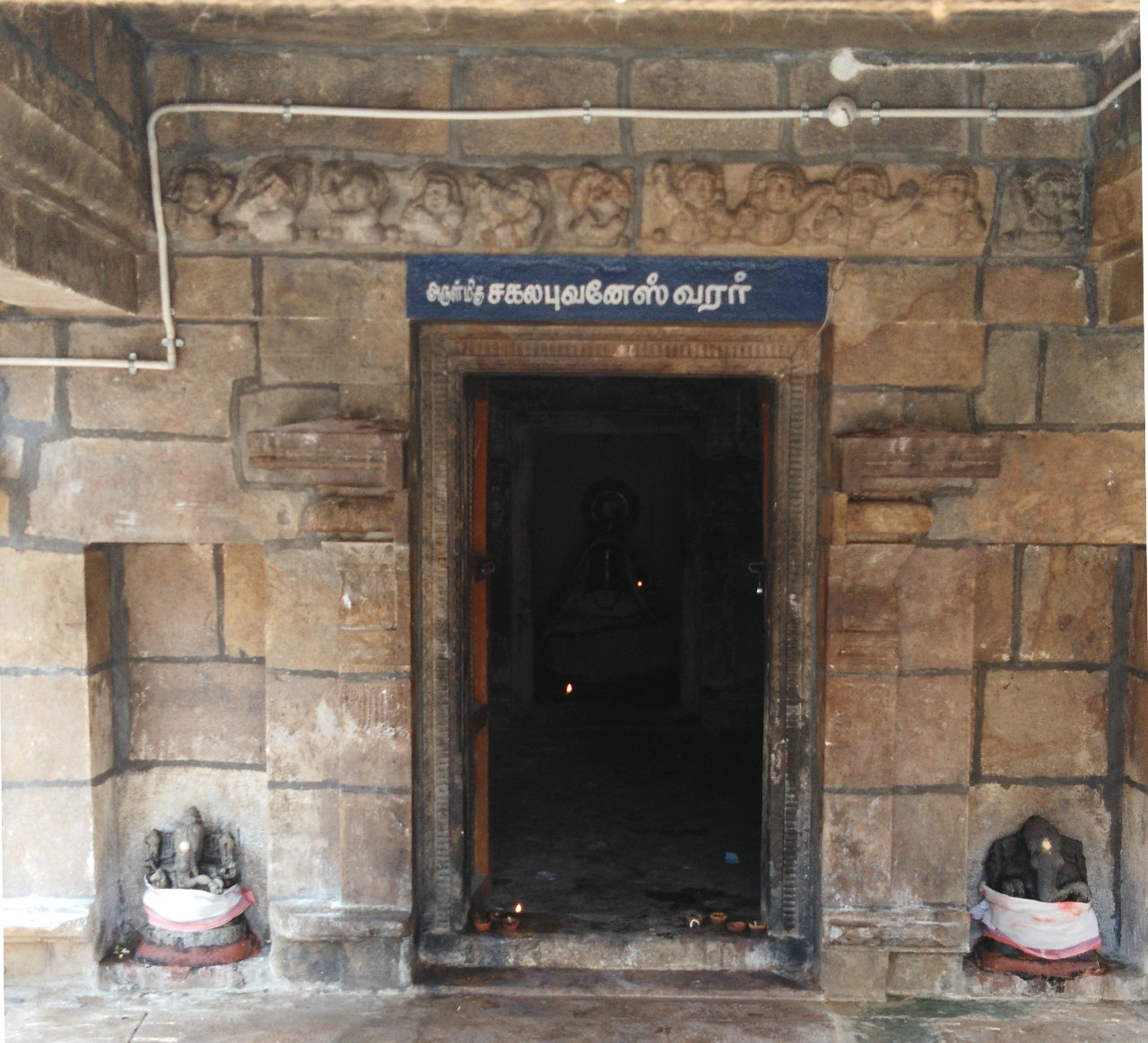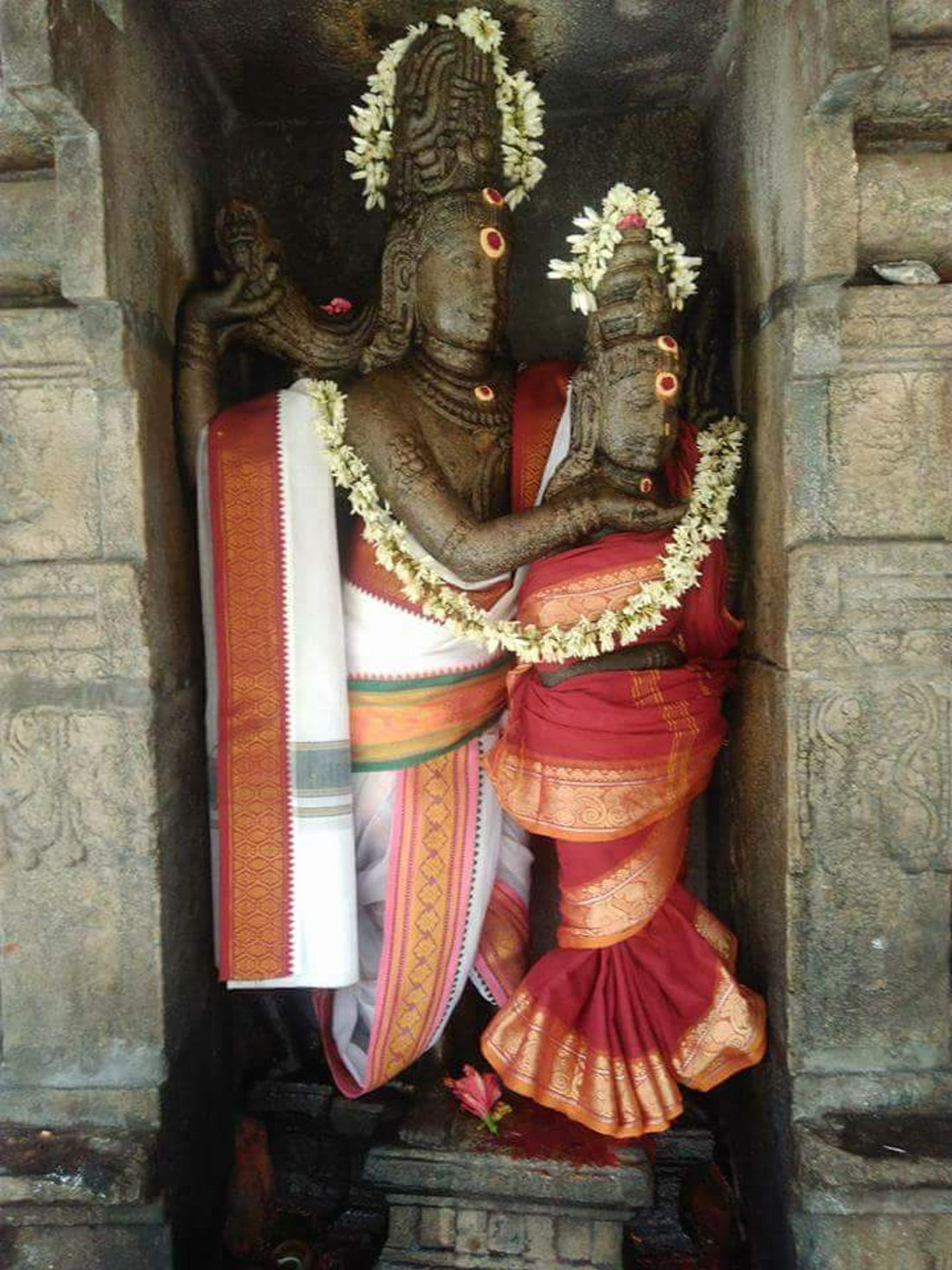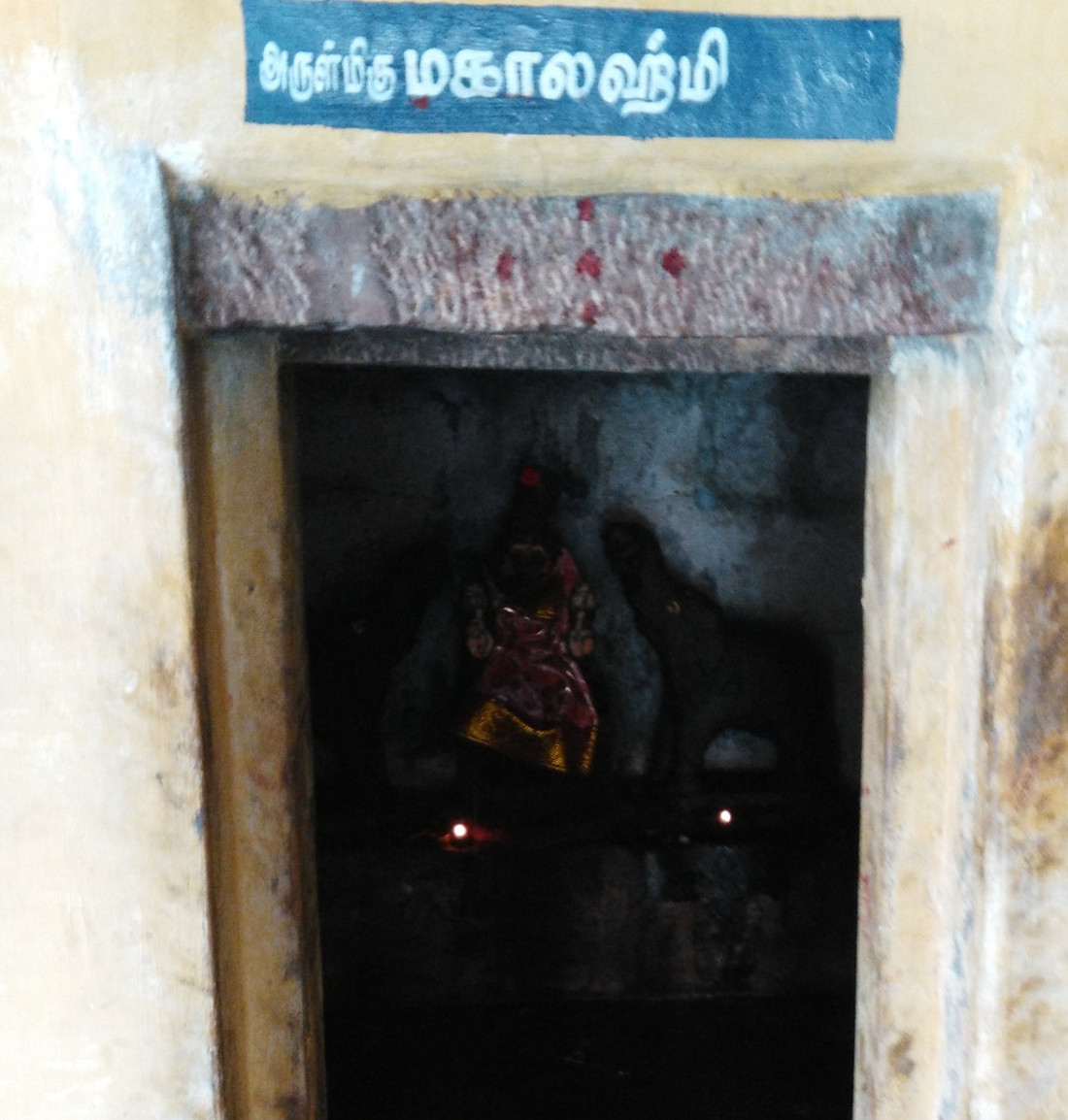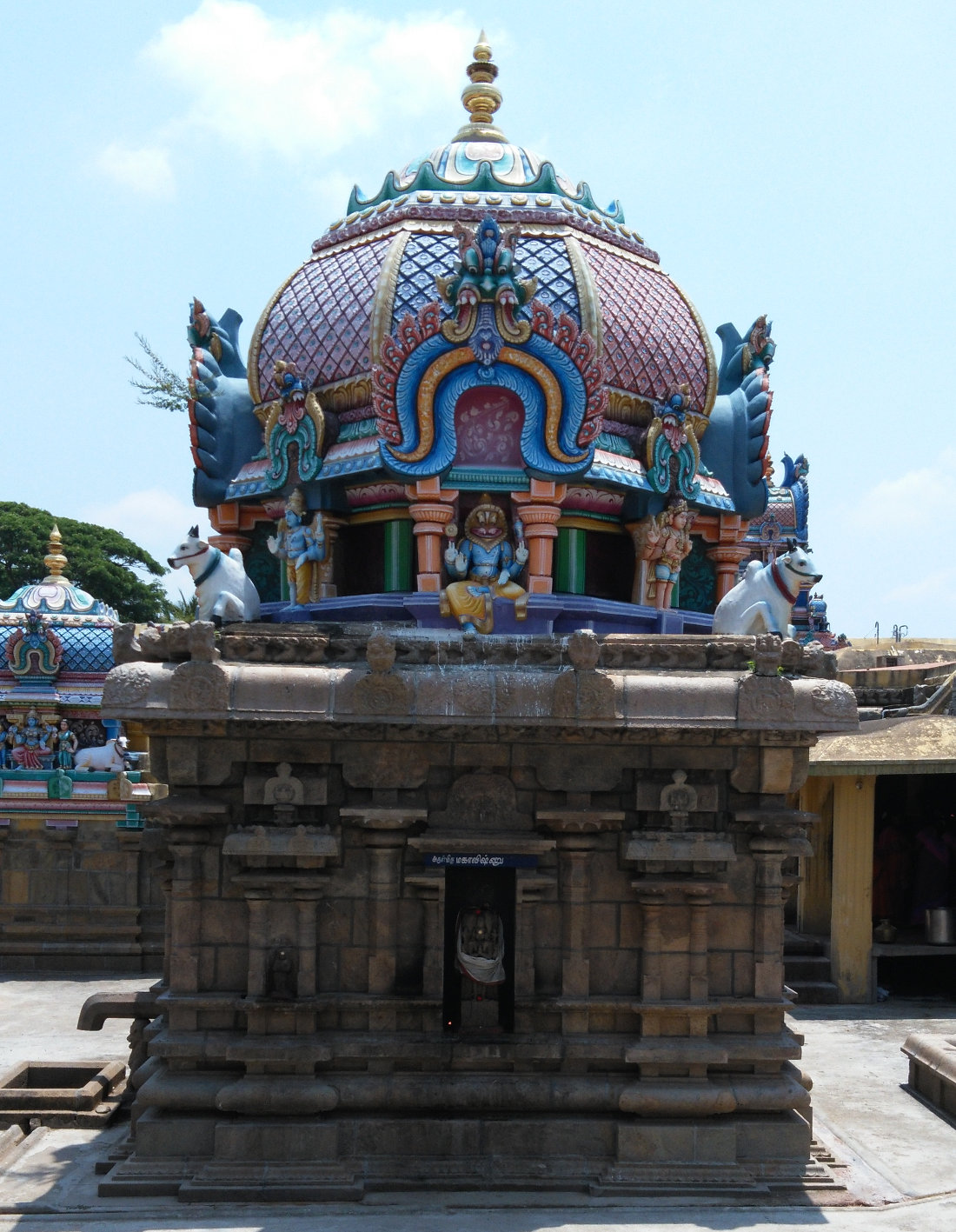 Salient Features
Since this small temple is located within the Thirumiyachur temple, one can see Lords Shiva (as Lingothbhavar), Vishnu and Brahma simultaneously from the north- west corner of the outer corridor. This is a unique feature of this temple.
Another significance of this temple is that one can get the darshan of the lords of two separate Paadal Petra Sthalams from a single temple complex.
The idol of Chandikeswarar can be seen here with four faces ("Chaturmuka"). Such a form of Chandikeswarar is quite rare.
Greatness of this temple
It is believed that those seeking wedding boon can pray to the lord here.
Important Festivals
Rathasapthami in the Tamil month of Thai is an important festival in this temple.
Apart from this, almost all festivals related to Lord Shiva are celebrated here.
Temple Timings

From 06.00 AM to 12.00 Noon and 04.30 PM to 08.30 PM.
Temple Address
Sri Meganathaswamy / Sri Sakalapuvaneswarar Temple
Thirumiyachur Post,
Nannilam Taluk,
Thiruvarur District
Tamil Nadu – 609 405.
Tele: +91 94448 36526, 94446 98841, 04366 - 239 170.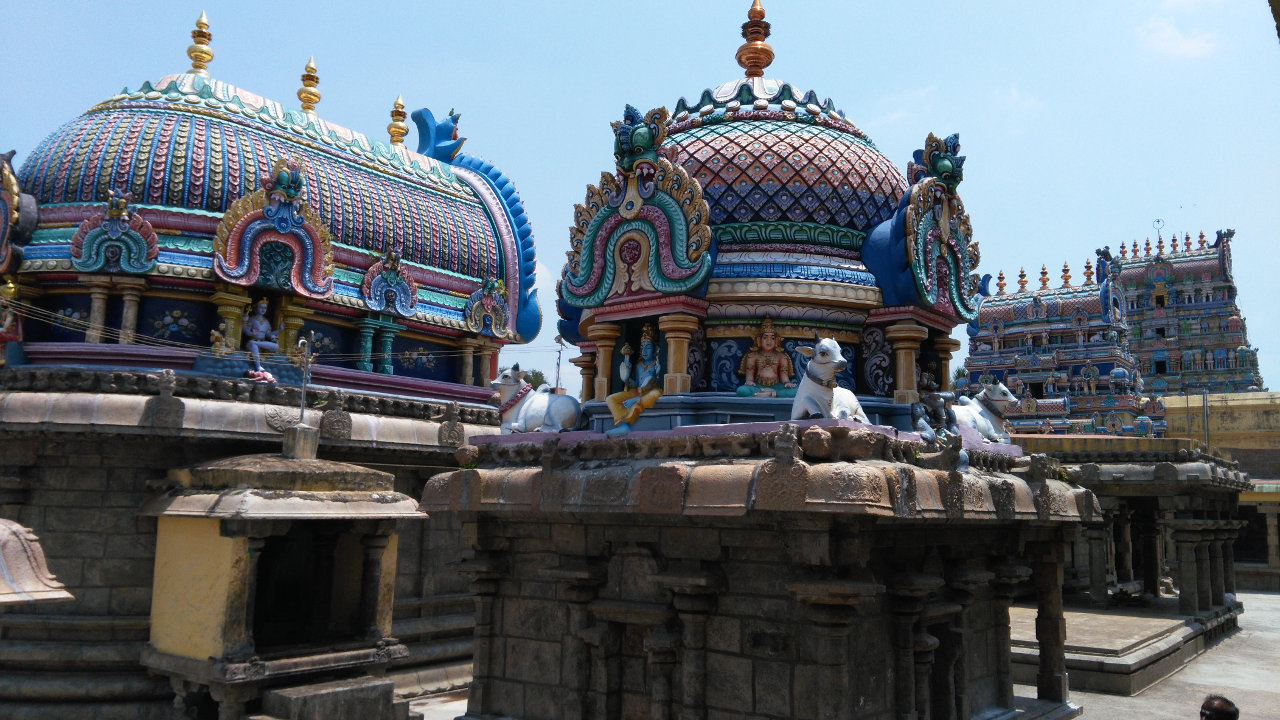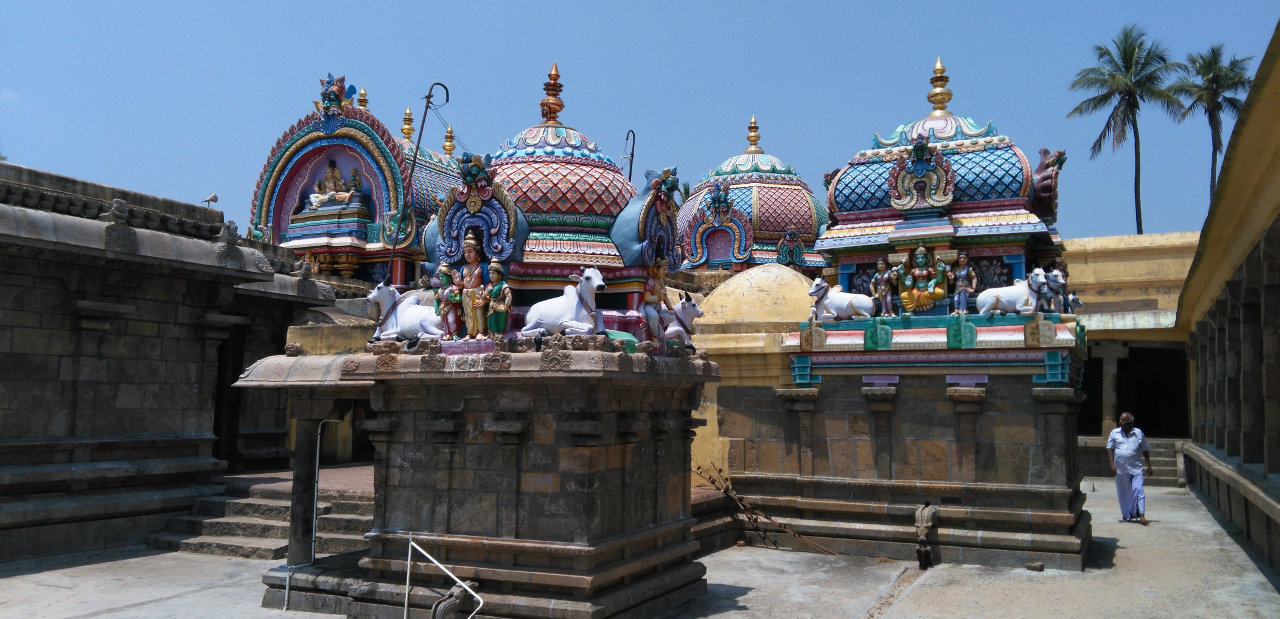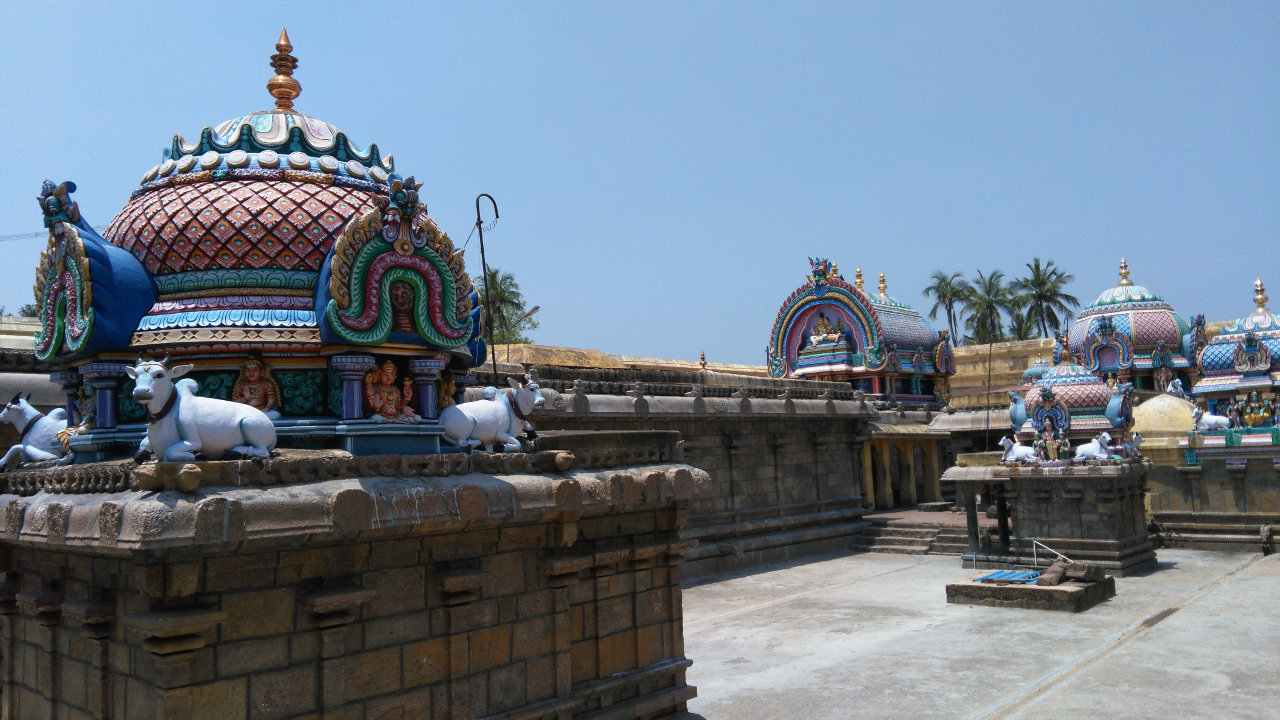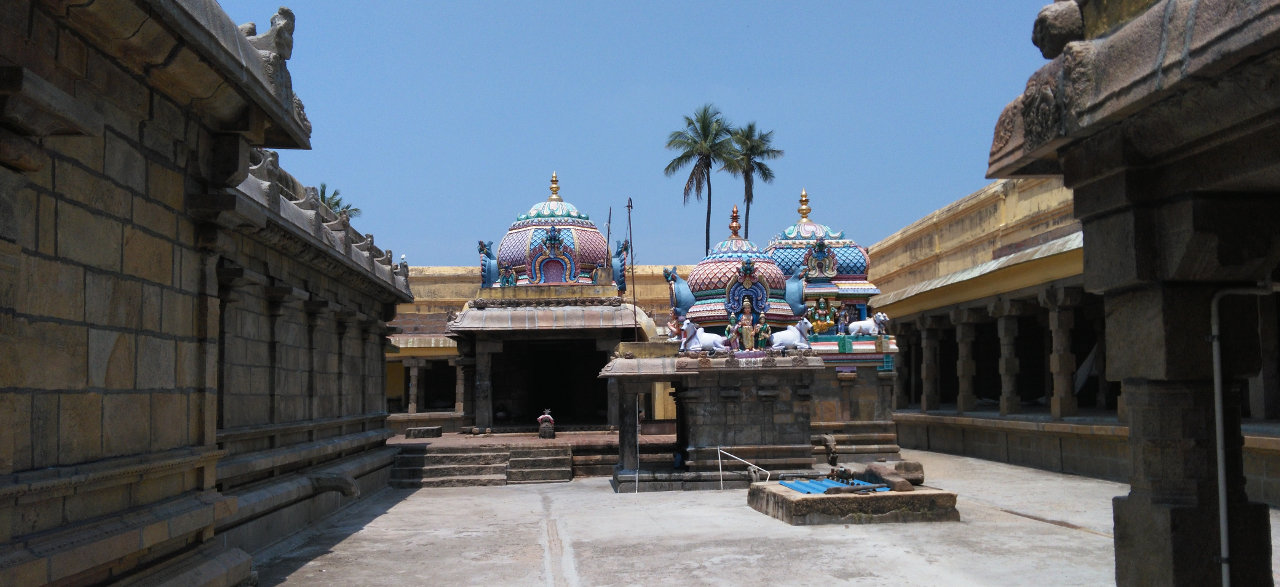 ---
Pathigam (Hymn) with English transliteration
Saint Thirunavukarasar visited this temple and sang this Pathigam.
Devotees visiting this temple should make it a practice to recite this Pathigam.
தோற்றுங் கோயிலுந் தோன்றிய கோயிலும்
வேற்றுக் கோயில் பலவுள மீயச்சூர்க்
கூற்றம் பாய்ந்த குளிர்புன் சடையரற்
கேற்றங் கோயில்கண் டீரிளங் கோயிலே.
"Thōtṟuṅ kōyilun thōṉtṟiya kōyilum
vētṟuk kōyil palavuḷa mīyachchūrk
kūtṟam pāyntha kuḷirpuṉ saṭaiyaraṟ
kētṟaṅ kōyilkaṇ ṭīriḷaṅ kōyilē".
வந்த னையடைக் கும்மடித் தொண்டர்கள்
பந்த னைசெய்து பாவிக்க நின்றவன்
சிந்த னைதிருத் துந்திரு மீயச்சூர்
எந்த மையுடை யாரிளங் கோயிலே.
"Vantha ṉaiyaṭaik kum'maṭith thoṇṭarkaḷ
pantha ṉaiseythu pāvikka niṉtṟavaṉ
sintha ṉaithiruth thunthiru mīyachchūr
entha maiyuṭai yāriḷaṅ kōyilē".
பஞ்ச மந்திர மோதும் பரமனார்
அஞ்ச ஆனை யுரித்தன லாடுவார்
நெஞ்சம் வாழி நினைந்திரு மீயச்சூர்
எந்த மையுடை யாரிளங் கோயிலே.
"Pañcha manthira mōthum paramaṉār
añcha āṉai yuriththaṉa lāṭuvār
neñcham vāzhi niṉainthiru mīyachchūr
entha maiyuṭai yāriḷaṅ kōyilē".
நாறு மல்லிகை கூவிளஞ் செண்பகம்
வேறு வேறு விரித்த சடையிடை
ஆறு கொண்டுகந் தான்றிரு மீயச்சூர்
ஏறு கொண்டுகந் தாரிளங் கோயிலே.
"Nāṟu mallikai kūviḷañ cheṇpakam
vēṟu vēṟu viriththa saṭaiyiṭai
āṟu koṇṭukan thāṉtṟiru mīyachchūr
ēṟu koṇṭukan thāriḷaṅ kōyilē".
வெவ்வ வண்ணத்து நாகம் வெருவவே
கவ்வ வண்ணக் கனல்விரித் தாடுவர்
செவ்வ வண்ணந் திகழ்திரு மீயச்சூர்
எவ்வ வண்ணம் பிரானிளங் கோயிலே.
"Vevva vaṇṇaththu nākam veruvavē
kavva vaṇṇak kaṉalvirith thāṭuvar
sevva vaṇṇan thikazhthiru mīyachchūr
evva vaṇṇam pirāṉiḷaṅ kōyilē".
பொன்னங் கொன்றையும் பூவணி மாலையும்
பின்னுஞ் செஞ்சடை மேற்பிறை சூடிற்று
மின்னு மேகலை யாளொடு மீயச்சூர்
இன்ன நாள்அக லாரிளங் கோயிலே.
"Poṉṉaṅ koṉtṟaiyum pūvaṇi mālaiyum
piṉṉuñ cheñchaṭai mēṟpiṟai sūṭitṟu
miṉṉu mēkalai yāḷoṭu mīyachchūr
iṉṉa nāḷaka lāriḷaṅ kōyilē".
படைகொள் பூதத்தன் பைங்கொன்றைத் தாரினன்
சடைகொள் வெள்ளத்தன் சாந்தவெண் ணீற்றினன்
விடைகொ ளூர்தியி னான்றிரு மீயச்சூர்
இடைகொண் டேத்தநின் றாரிளங் கோயிலே.
"Paṭaikoḷ pūthaththaṉ paiṅkoṉtṟaith thāriṉaṉ
saṭaikoḷ veḷḷaththaṉ sānthaveṇ ṇītṟiṉaṉ
viṭaiko ḷūrthiyi ṉāṉtṟiru mīyachchūr
iṭaikoṇ ṭēththaniṉ tṟāriḷaṅ kōyilē".
ஆறு கொண்ட சடையினர் தாமுமோர்
வேறு கொண்டதோர் வேடத்த ராகிலுங்
கூறு கொண்டுகந் தாளொடு மீயச்சூர்
ஏறு கொண்டுகந் தாரிளங் கோயிலே.
"Āṟu koṇṭa saṭaiyiṉar thāmumōr
vēṟu koṇṭathōr vēṭaththa rākiluṅ
kūṟu koṇṭukan thāḷoṭu mīyachchūr
ēṟu koṇṭukan thāriḷaṅ kōyilē".
வேதத் தானென்பர் வேள்வியு ளானென்பர்
பூதத் தானென்பர் புண்ணியன் றன்னையே
கீதத் தான்கிள ருந்திரு மீயச்சூர்
ஏதந் தீர்க்கநின் றாரிளங் கோயிலே.
"Vēthath thāṉeṉpar vēḷviyu ḷāṉeṉpar
pūthath thāṉeṉpar puṇṇiyaṉ tṟaṉṉaiyē
kīthath thāṉkiḷa runthiru mīyachchūr
ēthan thīrkkaniṉ tṟāriḷaṅ kōyilē".
கடுக்கண் டன்கயி லாய மலைதனை
எடுக்க லுற்ற இராவணன் ஈடற
விடுக்க ணின்றி வெகுண்டவன் மீயச்சூர்
இடுக்கண் தீர்க்கநின் றாரிளங் கோயிலே.
"Kaṭukkaṇ ṭaṉkayi lāya malaithaṉai
eṭukka lutṟa irāvaṇaṉ īṭaṟa
viṭukka ṇiṉtṟi vekuṇṭavaṉ mīyachchūr
iṭukkaṇ thīrkkaniṉ tṟāriḷaṅ kōyilē".