Visited on: July 24, 2016 and November 25, 2017.
Location
Thiruvazhkoliputhur is located at a distance of about 14 kms from Vaitheeswaran Koil on the Vaitheeswaran Koil to Thiruppananthal route. Thiruvalapputhur is situated after Ilanthoppu village. Atter Ilanthoppu, take the diversion road to reach this temple.
Other Devara Paadal Petra Shiva Sthalams near this place are – Vaitheeswaran Koil, Thirukkannar Koil, Thirunintriyur, Thiruppunkur, Thiru Karuppariyalur, Thiru Needur, Thiru Pazhamannippadikkarai, Thiru Kurakkuka, Thiru Kurukkai, Mayiladuthurai and Thiru Anniyur.
General Information
Moolavar

Sri Rathnapureeswarar, Sri Maanikkavannar

Ambal

Sri Vandamar Poonguzhal Nayagi, Sri Brahma Kundhalambikai

Theertham (Holy water)

Brahma Theertham

Sthala Vriksham (Sacred Tree)

Vaakai tree

Pathigam (Hymn) rendered by

Saint Thirugnanasambanthar-2,

Saint Sundaramurthy (Sundarar)-1
This is one of the 276 Devara Paadal Petra Shiva Sthalams and 29th Shiva Sthalam on the northern bank of the river Cauvery in Chozha Nadu (Vadakarai).
Lord Shiva in this temple is a Swayambumurthi (self-manifested).
This temple is famous for Goddess Ashtapuja Durgai.
This east facing temple has no main tower (Rajagopuram) but it has a beautiful arch at the entrance.
There is no Flag post (Kodimaram) here.
The last consecration ceremony (Kumbabishekam) took place on 08.09.2005 and prior to that on 01.09.1985.
History of the Temple
The historical name of this place is Thiruvazhkoliputhur. However, it is now changed to Thiruvalapputhur.

This temple is under the administrative control of the Hindu Religious and Charitable Endowments Department of Government of Tamil Nadu (HR&CE).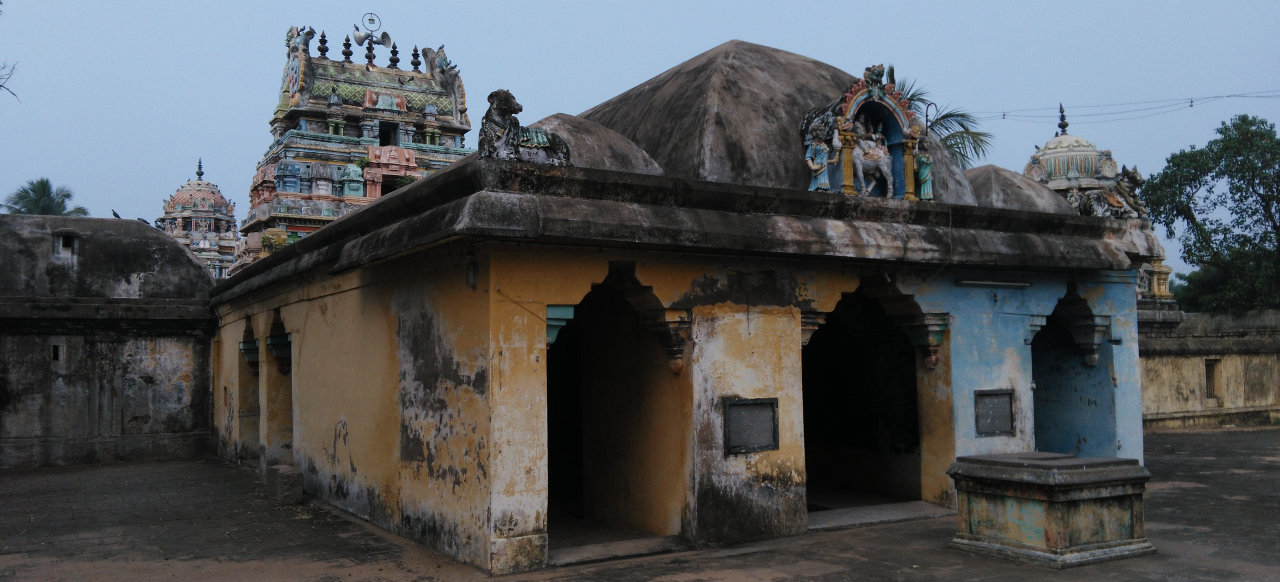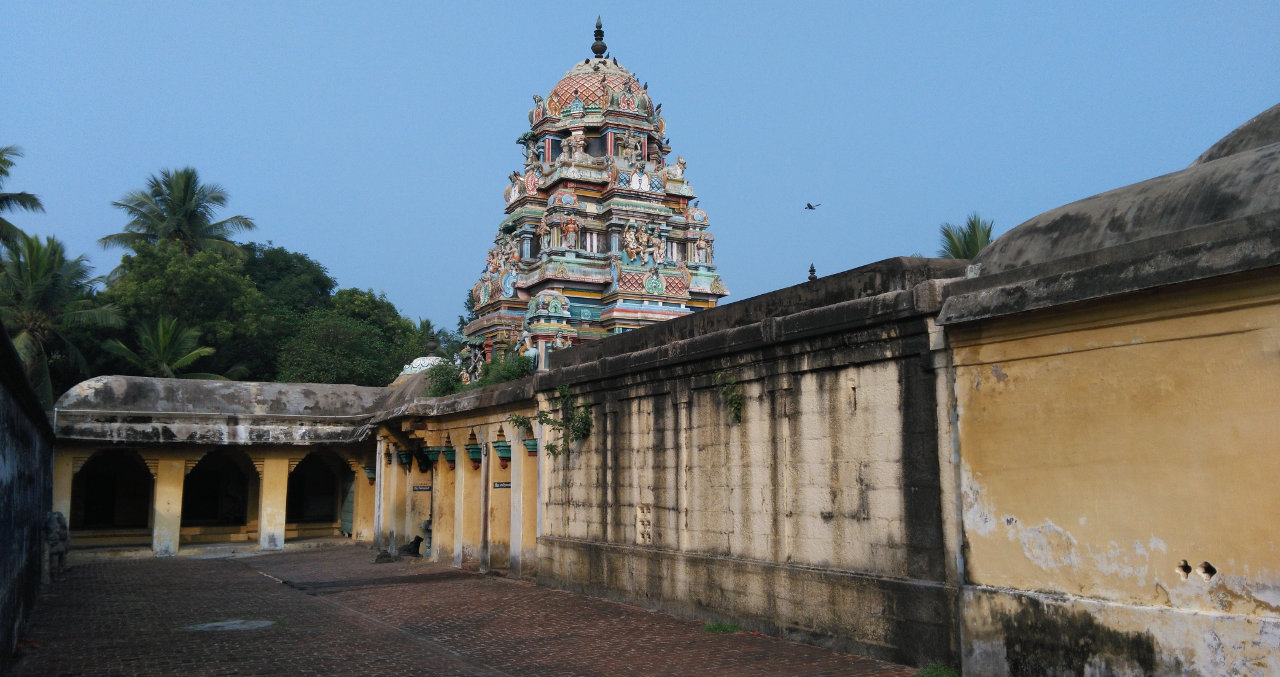 Legend
Once upon a time, when the Devas and Asuras were churning the "Thiruparkadal" ocean to extract nectar, Serpent Vasuki was used as a rope and the Mandara hill as the churning rod. During this process, Vasuki was unable to bear the pain and spat out venom. This was consumed by Lord Shiva. Vasuki felt guilty that it had caused Lord Shiva to consume its poison. It is believed that he visited this place to worship Lord Shiva and seek his pardon. He also wanted to regain his strength. He stayed here under this temple's "sthala viruksham" (Vaakai tree) in a snake hill (Putru). It is here that Vasuki was blessed to become an ornament of Lord Shiva. Since Vasuki stayed in a "putru" here, this place gets the name Putrur.

Another legend is that when Arjuna visited this place, he was looking for water to quench his thirst. Lord Shiva appeared before him in the form of an old man, offered him a stick and asked him to strike the ground under the Vaakai tree to get water. Arjuna handed over his sword to the old man in order to strike the ground and drink the water. While Arjuna was drinking water, the lord hid his sword in a hole in the tree and disappeared. When Arjuna returned and found that the old man was not there, he realised that the old man had been none other than Lord Shiva himself. He followed the footsteps of the old man and found a snake hill with a Shivalingam near it. He also found his sword in a nearby tree. He worshiped the lord and took his sword from the tree. Hence this place gets the name "Thiru Val Oli Putrur" ("Thiru" is a respectful prefix, "Val" means sword, "oli" means to hide and "putrur" means a snake hill in Tamil). However, now this name has been changed to Thiruvaalaputhur.
Another legend associated with this temple is that of Lord Mahavishnu. It is believed that he worshiped his Maanikka (Ruby) lingam here. Hence Lord Shiva here is also praised as Sri Maanikkavannar and this place gets the name "Arathanapuram" ("Arathana" means to worship and "puram" means place in Tamil.
It is also believed that Goddess Durgai had slain the demon Mahishasuran at Kadaathalaimedu, a nearby place. After vanquishing the demon, Durgai, in the form of "Mahishasura Marthini", came to this temple to calm down. For this reason, in this temple, Goddess Durgai is being worshipped first.
It is believed that Lord Mahavishnu, Indran, Vasuki, Pandavas and Draupadi have worshiped the lord of this temple.
Deities in the temple
Other than the shrines of Lord Shiva and Goddess Parvathy, shrines and idols of Vinayakar, Murugan with his consorts, Natarajar, Gajalakshmi, Saraswathi, Nalvar, Vasuki, Suryan, Chandran and Bairavar can be seen in the corridors.
There is a separate shrine for Sri Gurusthana Mudaiyar and Saneeswarar. Also, Saint Meikanda Nayanar has a shrine in this temple.
There are no Navagraham and Dwarabalakars in this temple.
In the "koshtam" (place surrounding the sanctum sanctorum), idols of Narthana Vinayakar, Dakshinamurthy, Lingothbavar, Mahavishnu, Brahma, Ashtapuja Vishnu Durgai and Chandikeswarar can be seen.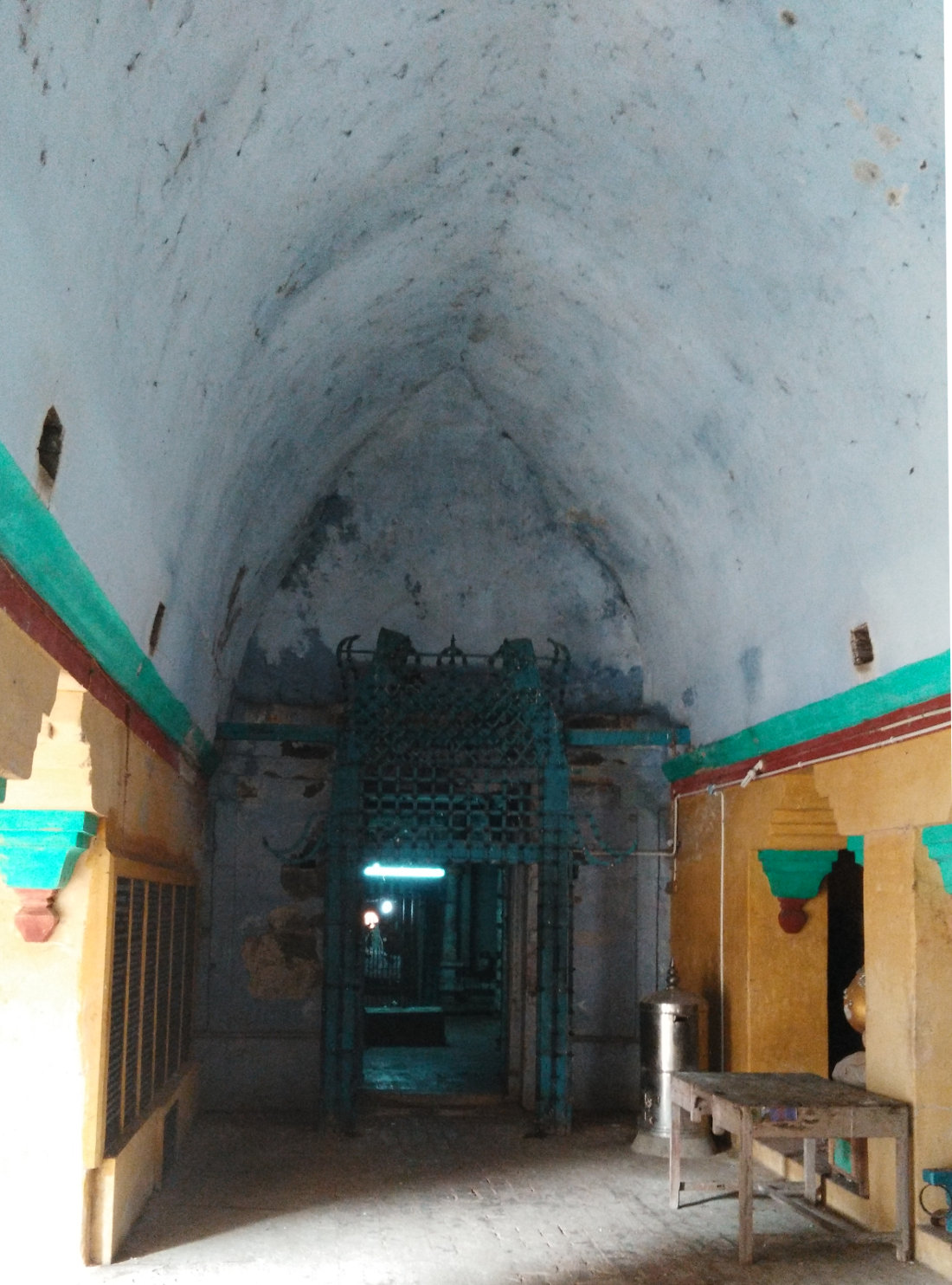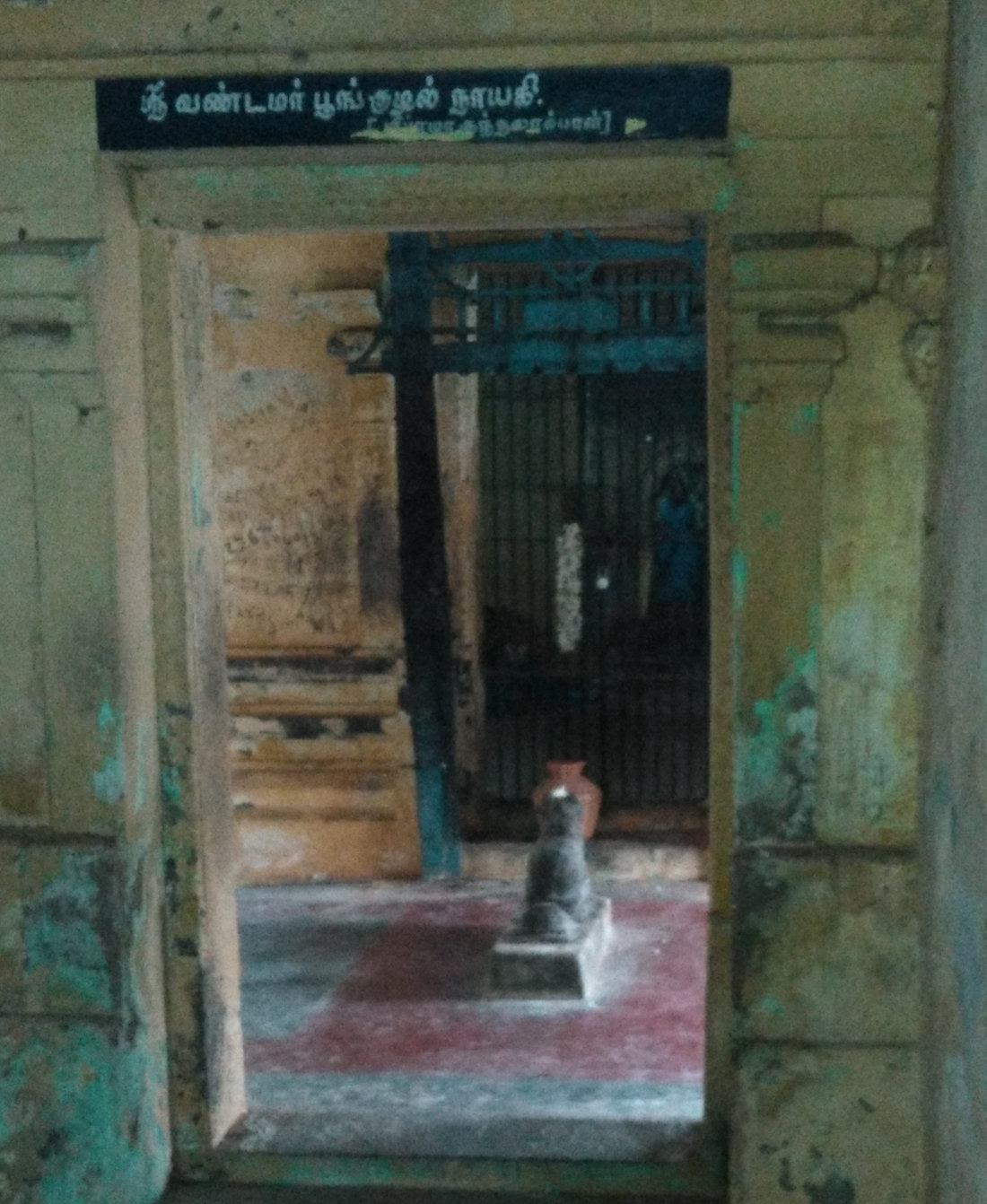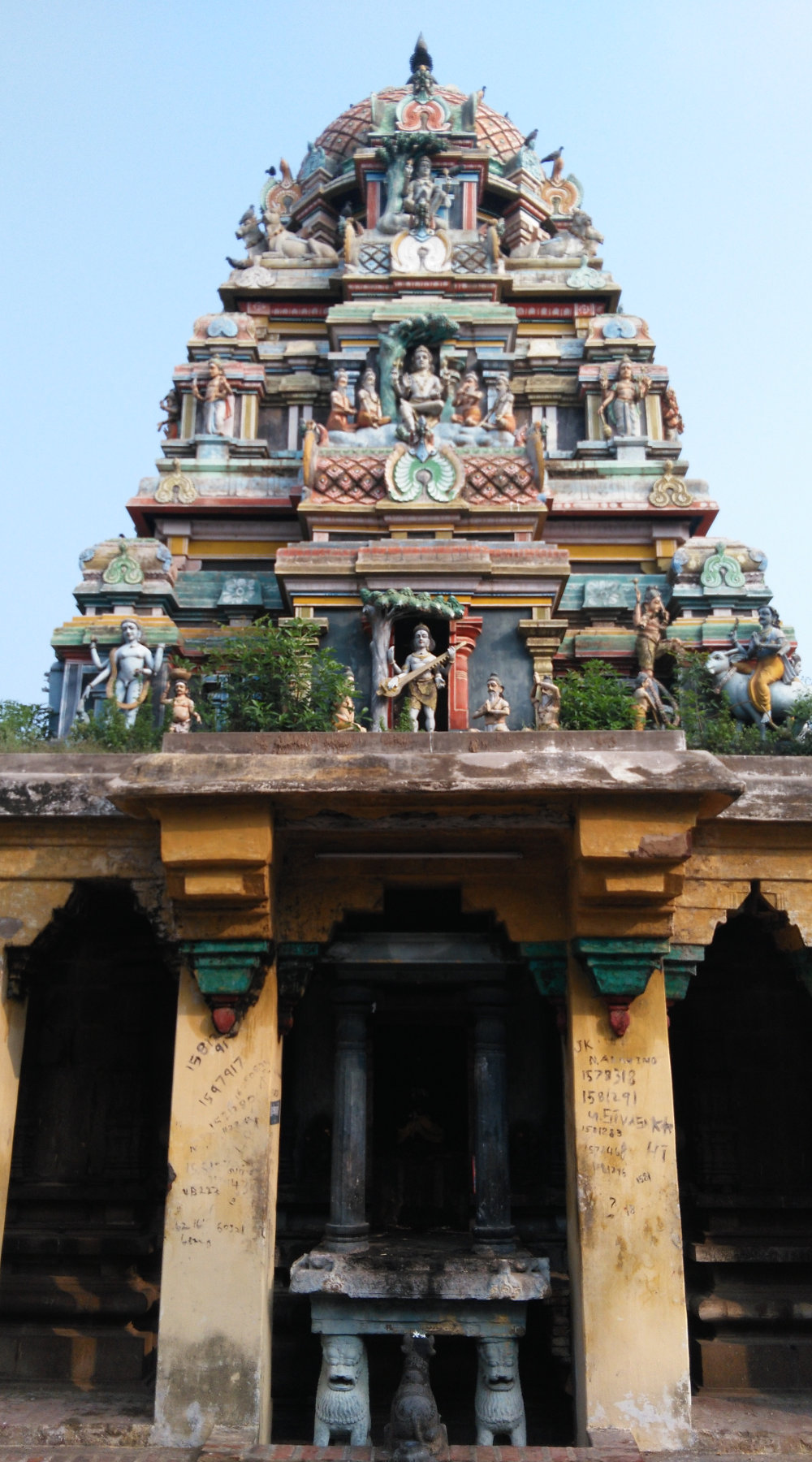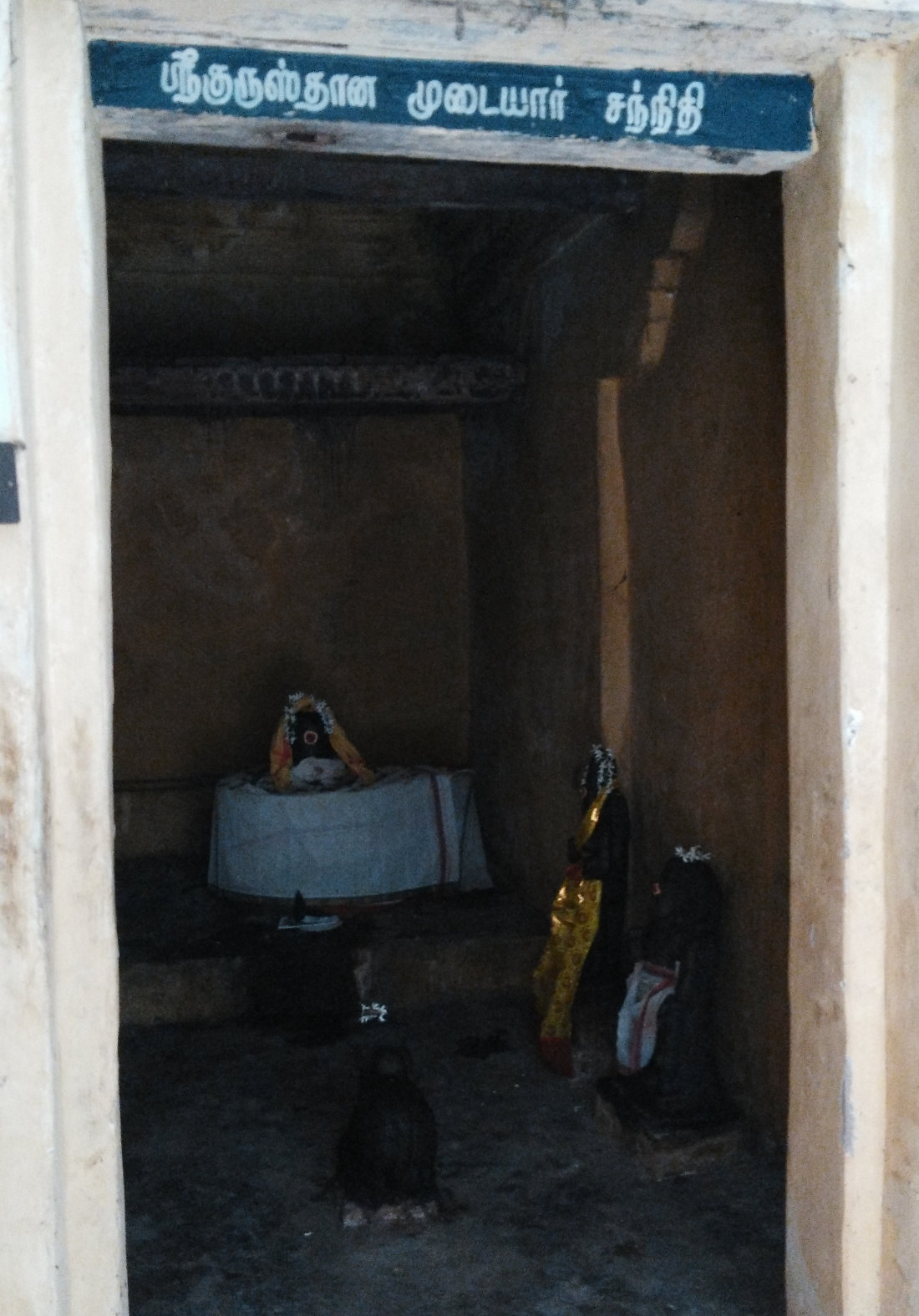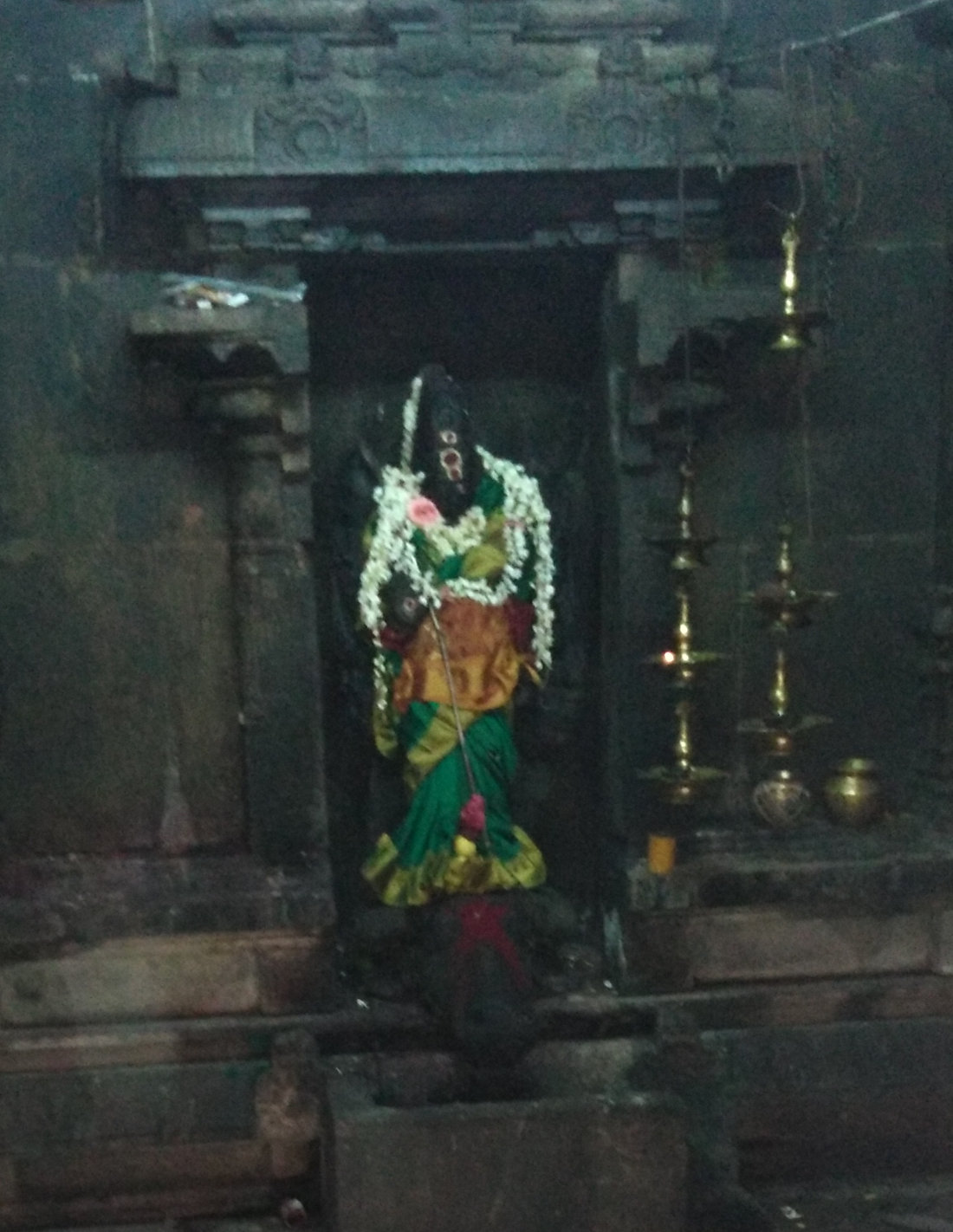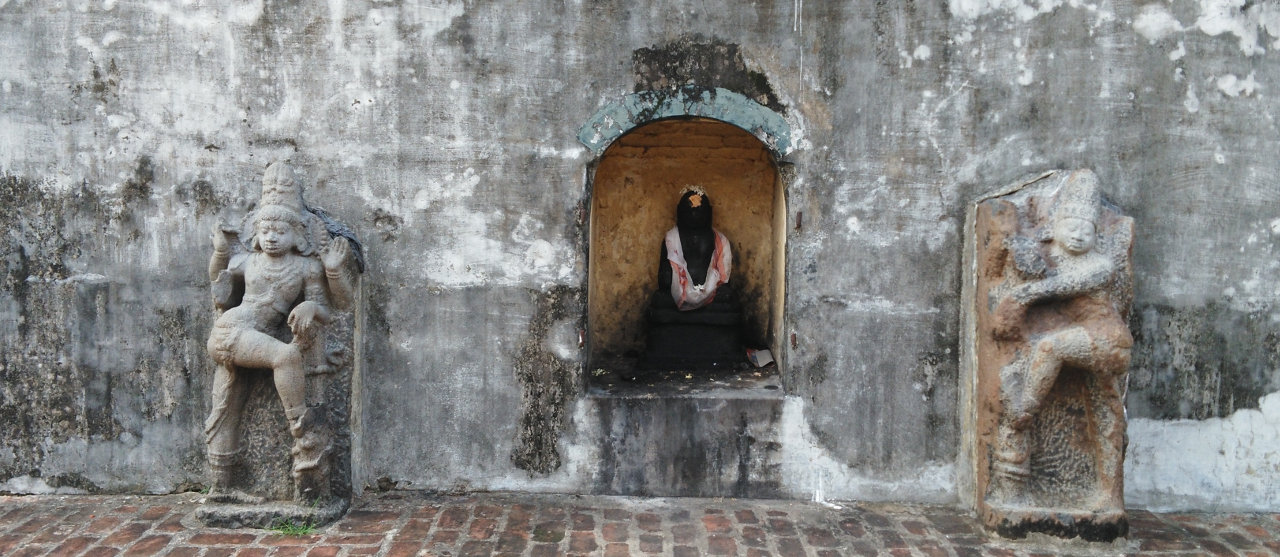 Salient Features
The front hall (Mandapam) of this temple is designed to look like the forehead of a bat ("Vovval Nethi Mandapam"). This looks very beautiful.
There is also a shrine for Lord Vinayakar with 8 serprents – "Ashta Naga" Vinayakar. This shrine is under the Sthala Viruksham and it is designed to look like an anthill.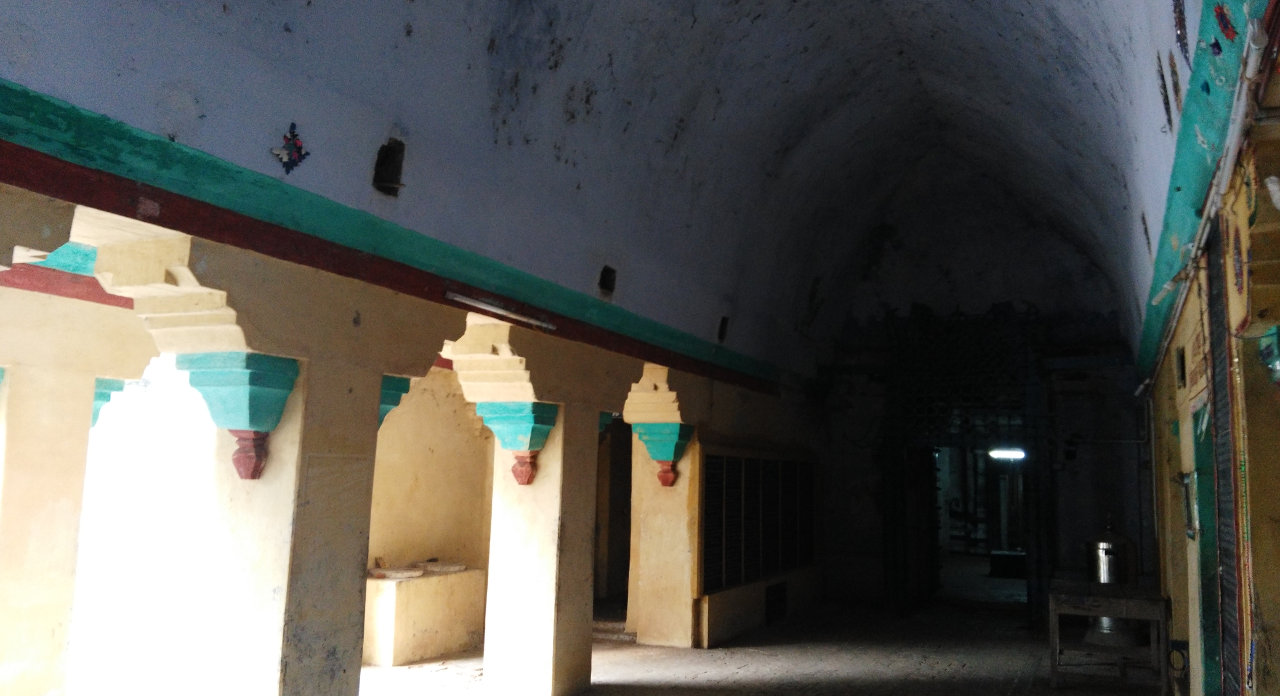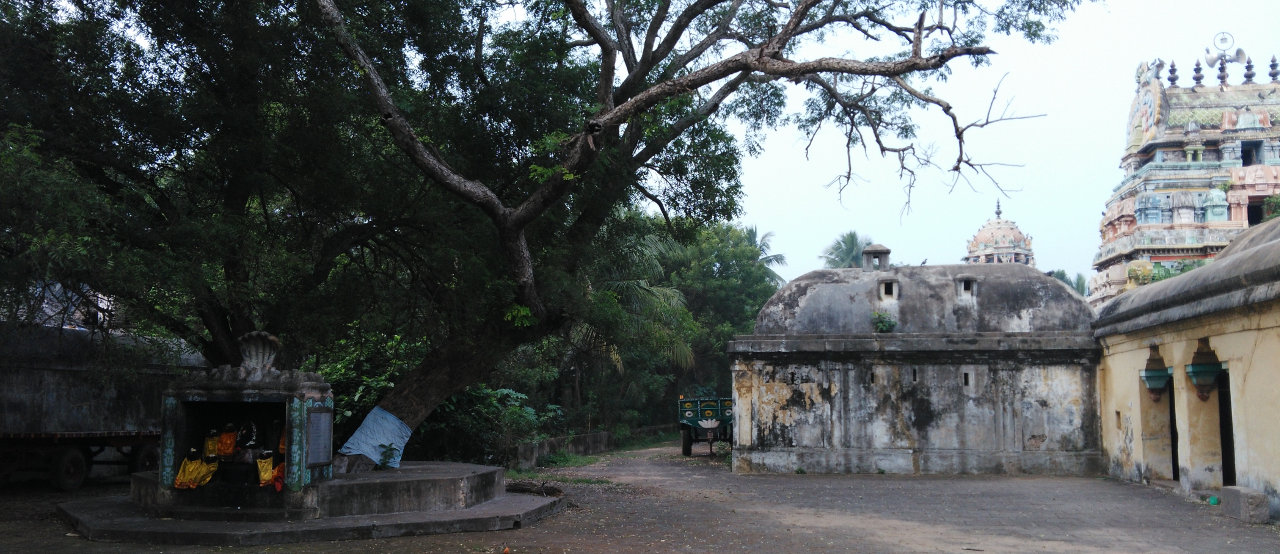 Behind the sanctum sanctorum, on either sides of Lord Lingothbavar, there are idols of Lord Mahavishnu and Lord Brahma in a worshipping posture. Devotees can enjoy the darshan of all the three lords (Trimurthys) – Brahma, Vishnu and Shiva. This is considered to be very auspicious.
The sanctum sanctorum is in the form of semi-circular tank (akazhi in Tamil).
Greatness of this temple
It is believed that those seeking "Santhana Prapthi" (child boon) can pray to the lord here.
Those who are facing adverse effects of "naga dosham" can worship Lord Shiva here for relief.
Important Festivals
Some of the important festivals celebrated in the temple are –
Vaikasi Visakam Brahmotsavam in the Tamil month of Vaikasi (May-June),
Vinayakar Chaturthi in the Tamil month of Aavani (Aug-Sept),
Navarathri in the Tamil month of Purattasi (Sept-Oct),
Thiru Karthikai in the Tamil month of Karthikai (Nov-Dec),
Thiruvadhirai in the Tamil month of Markazhi (Dec-Jan),
Shivrathri in the Tamil month of Masi (Feb-Mar) and
Panguni Uthiram in the Tamil month of Panguni (Mar-Apr).
Special pooja is performed to Goddess Durgai on all full moon days (Pournami).
Temple Timings
From 07.30 AM to 11.30 AM and from 04.30 PM to 08.00 PM.
Temple Address
Sri Rathnapureeswaraswamy Temple,
Thiruvalapputhur Post,
Mayiladuthurai Taluk,
Nagappattinam District,
Tamil Nadu – 609 205.
Tele: +91-4364 - 254 879, 98425 38954.
The temple priest Sri A.Mohana Sundaram Gurukkal can be contacted at 95854 50057.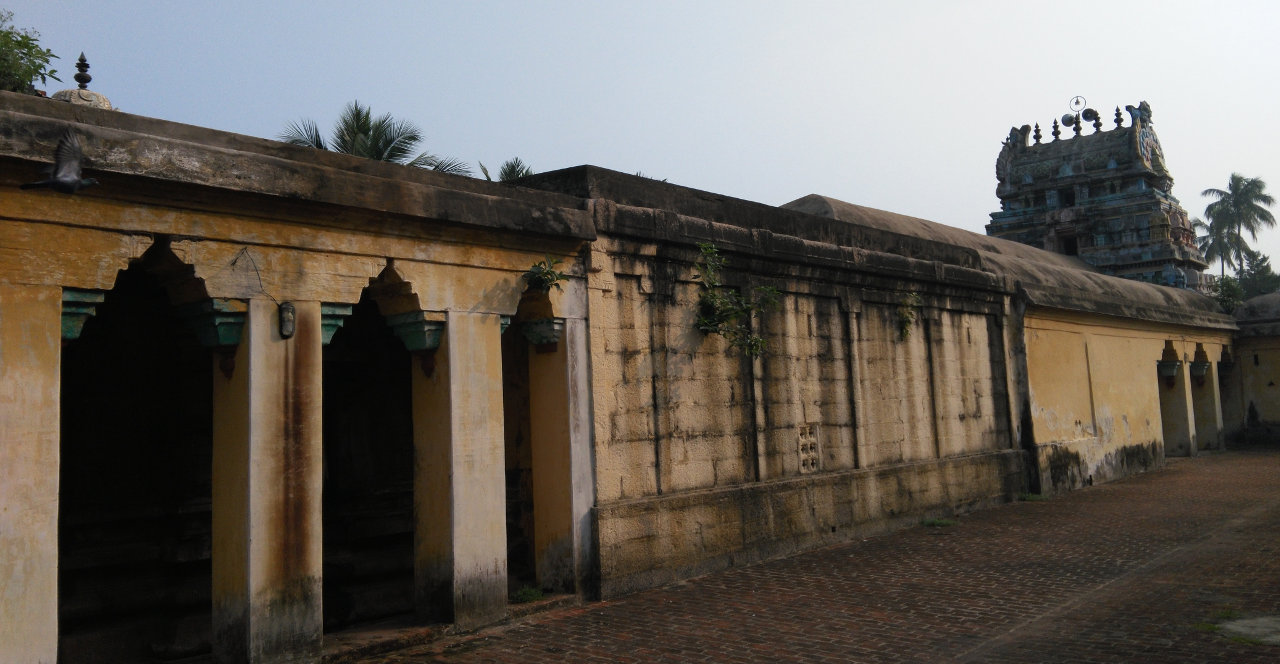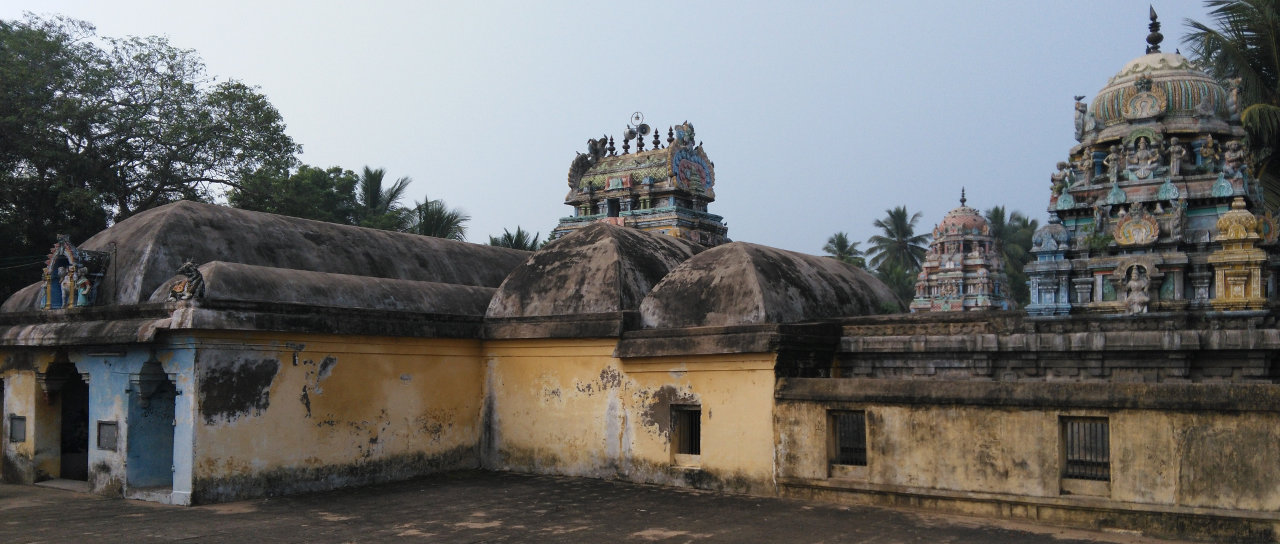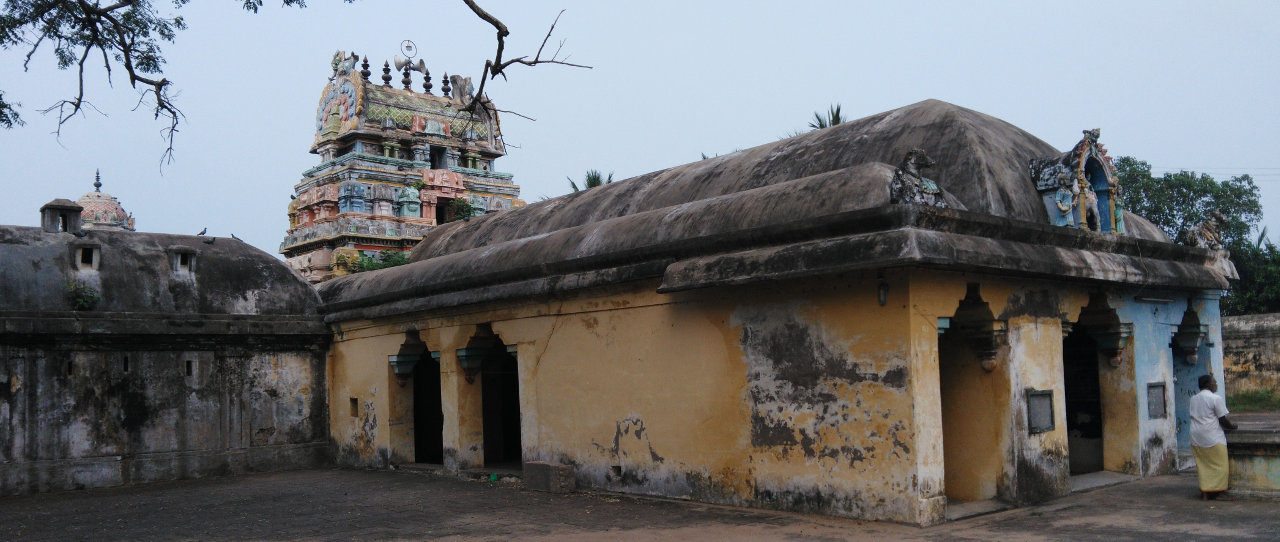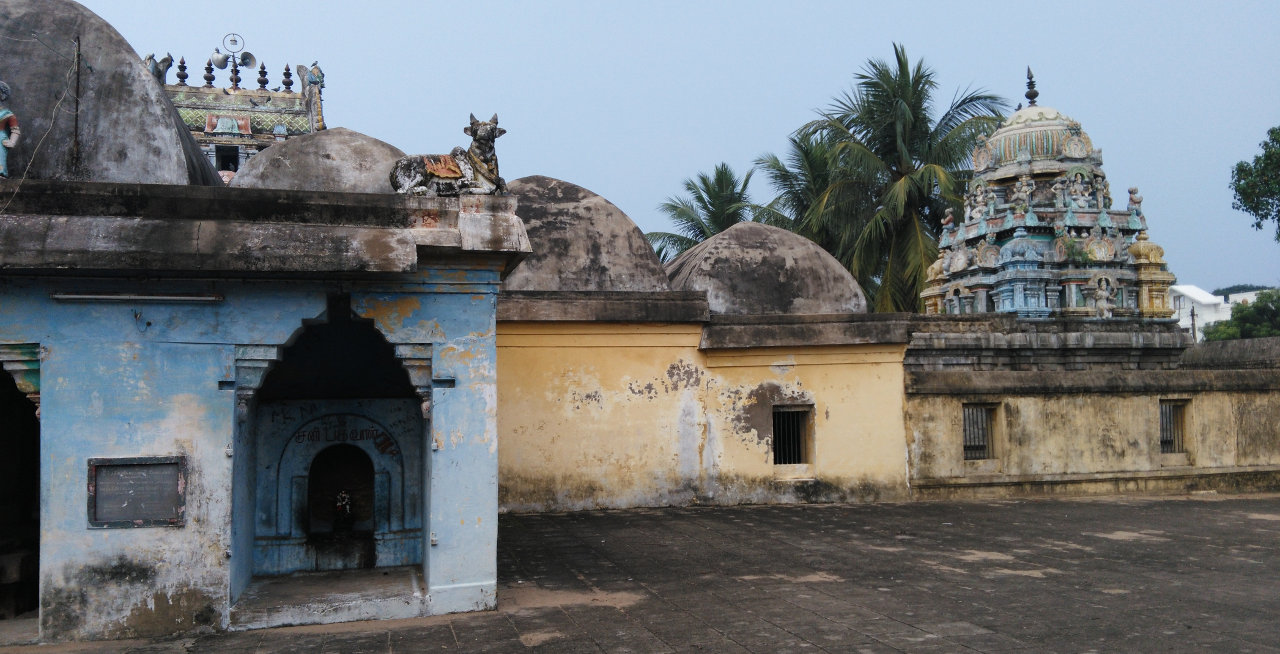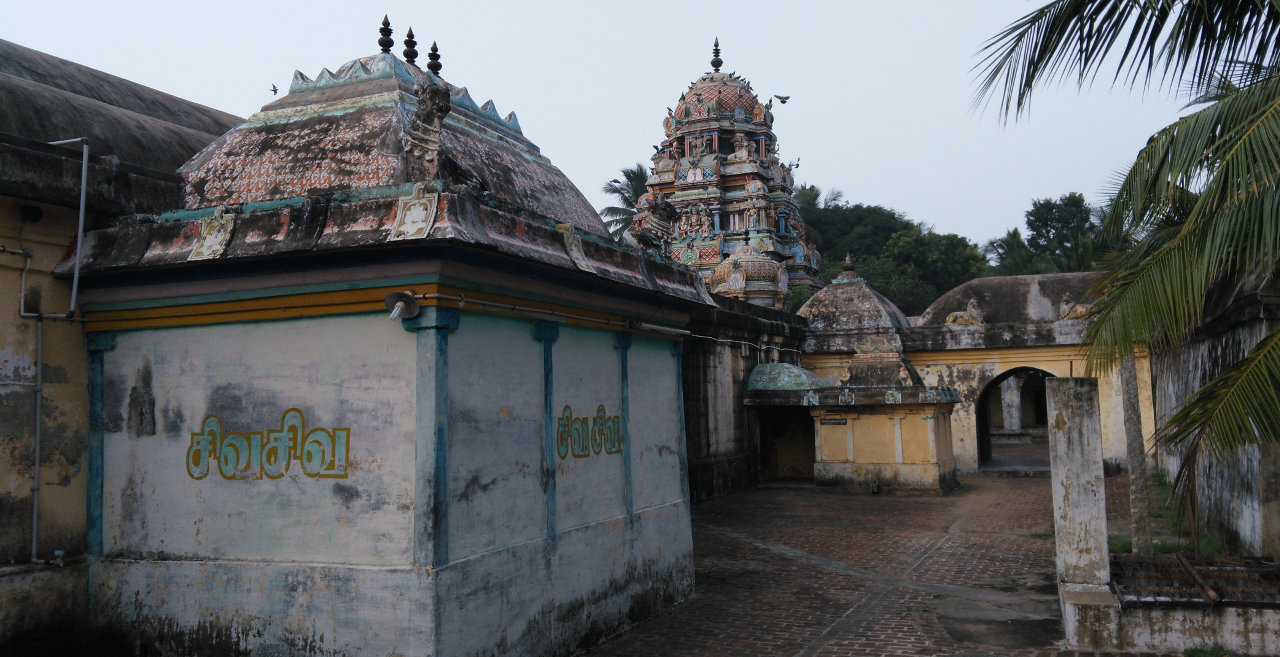 ---
Pathigam (Hymn) with English transliteration
Saint Thirugnanasambanthar visited this temple and sang this Pathigam.
Devotees visiting this temple should make it a practice to recite this Pathigam.
சாகை ஆயிர முடையார் சாமமும் ஓதுவ துடையார்
ஈகை யார்கடை நோக்கி யிரப்பதும் பலபல வுடையார்
தோகை மாமயி லனைய துடியிடை பாகமும் உடையார்
வாகை நுண்துளி வீசும் வாழ்கொளி புத்தூ ருளாரே.
"Sākai āyira muṭaiyār sāmamum ōthuva thuṭaiyār
īkai yārkaṭai nōkki yirappathum palapala vuṭaiyār
thōkai māmayi laṉaiya thuṭiyiṭai pākamum uṭaiyār
vākai nuṇthuḷi vīsum vāzhkoḷi puththū ruḷārē".
எண்ணில் ஈரமும் உடையார் எத்தனை யோரிவர் அறங்கள்
கண்ணும் ஆயிரம் உடையார் கையுமோ ராயிரம் உடையார்
பெண்ணும் ஆயிரம் உடையார் பெருமையோ ராயிரம் உடையார்
வண்ணம் ஆயிரம் உடையார் வாழ்கொளி புத்தூ ருளாரே.
"Eṇṇil īramum uṭaiyār eththaṉai yōrivar aṟaṅkaḷ
kaṇṇum āyiram uṭaiyār kaiyumō rāyiram uṭaiyār
peṇṇum āyiram uṭaiyār perumaiyō rāyiram uṭaiyār
vaṇṇam āyiram uṭaiyār vāzhkoḷi puththū ruḷārē".
நொடியோ ராயிரம் உடையார் நுண்ணிய ராமவர் நோக்கும்
வடிவும் ஆயிரம் உடையார் வண்ணமும் ஆயிரம் உடையார்
முடியும் ஆயிரம் உடையார் மொய்குழ லாளையும் உடையார்
வடிவும் ஆயிரம் உடையார் வாழ்கொளி புத்தூ ருளாரே.
"Noṭiyō rāyiram uṭaiyār nuṇṇiya rāmavar nōkkum
vaṭivum āyiram uṭaiyār vaṇṇamum āyiram uṭaiyār
muṭiyum āyiram uṭaiyār moykuzha lāḷaiyum uṭaiyār
vaṭivum āyiram uṭaiyār vāzhkoḷi puththū ruḷārē".
பஞ்சி நுண்துகி லன்ன பைங்கழற் சேவடி யுடையார்
குஞ்சி மேகலை யுடையார் கொந்தணி வேல்வல னுடையார்
அஞ்சும் வென்றவர்க் கணியார் ஆனையின் ஈருரி யுடையார்
வஞ்சி நுண்ணிடை யுடையார் வாழ்கொளி புத்தூ ருளாரே.
"Pañchi nuṇthuki laṉṉa paiṅkazhaṟ sēvaṭi yuṭaiyār
kuñchi mēkalai yuṭaiyār konthaṇi vēlvala ṉuṭaiyār
añchum veṉtṟavark kaṇiyār āṉaiyiṉ īruri yuṭaiyār
vañchi nuṇṇiṭai yuṭaiyār vāzhkoḷi puththū ruḷārē".
பரவு வாரையும் உடையார் பழித்திகழ் வாரையும் உடையார்
விரவு வாரையும் உடையார் வெண்டலைப் பலிகொள்வ
துடையார்அரவம் பூண்பதும் உடையார் ஆயிரம் பேர்மிக
வுடையார்வரமும் ஆயிரம் உடையார் வாழ்கொளி புத்தூ ருளாரே.
"Paravu vāraiyum uṭaiyār pazhiththikazh vāraiyum uṭaiyār
viravu vāraiyum uṭaiyār veṇṭalaip palikoḷva
thuṭaiyār'aravam pūṇpathum uṭaiyār āyiram pērmika
vuṭaiyārvaramum āyiram uṭaiyār vāzhkoḷi puththū ruḷārē".
தண்டுந் தாளமுங் குழலுந் தண்ணுமைக் கருவியும் புறவில்
கொண்ட பூதமும் உடையார் கோலமும் பலபல வுடையார்
கண்டு கோடலும் அரியார் காட்சியும் அரியதோர் கரந்தை
வண்டு வாழ்பதி யுடையார் வாழ்கொளி புத்தூ ருளாரே.
"Thaṇṭun thāḷamuṅ kuzhalun thaṇṇumaik karuviyum puṟavil
koṇṭa pūthamum uṭaiyār kōlamum palapala vuṭaiyār
kaṇṭu kōṭalum ariyār kāṭchiyum ariyathōr karanthai
vaṇdu vāzhpathi yuṭaiyār vāzhkoḷi puththū ruḷārē".
மான வாழ்க்கைய துடையார் மலைந்தவர் மதிற்பரி சறுத்தார்
தான வாழ்க்கைய துடையார் தவத்தொடு நாம்புகழ்ந் தேத்த
ஞான வாழ்க்கைய துடையார் நள்ளிருள் மகளிர்நின் றேத்த
வான வாழ்க்கைய துடையார் வாழ்கொளி புத்தூ ருளாரே.
"Māṉa vāzhkkaiya thuṭaiyār malainthavar mathiṟpari saṟuththār
thāṉa vāzhkkaiya thuṭaiyār thavaththoṭu nāmpukazhn thēththa
ñāṉa vāzhkkaiya thuṭaiyār naḷḷiruḷ makaḷirniṉ tṟēththa
vāṉa vāzhkkaiya thuṭaiyār vāzhkoḷi puththū ruḷārē".
ஏழு மூன்றுமோர் தலைகள் உடையவன் இடர்பட அடர்த்து
வேழ்வி செற்றதும் விரும்பி விருப்பவர் பலபல வுடையார்
கேழல் வெண்பிறை யன்னகெழுமணி மிடறுநின் றிலங்க
வாழி சாந்தமும் உடையார் வாழ்கொளி புத்தூ ருளாரே.
"Ēzhu mūṉtṟumōr thalaikaḷ uṭaiyavaṉ iṭarpaṭa aṭarththu
vēzhvi setṟathum virumpi viruppavar palapala vuṭaiyār
kēzhal veṇpiṟai yaṉṉakezhumaṇi miṭaṟuniṉ tṟilaṅka
vāzhi sānthamum uṭaiyār vāzhkoḷi puththū ruḷārē".
வென்றி மாமல ரோனும் விரிகடல் துயின்றவன் தானும்
என்றும் ஏத்துகை யுடையார் இமையவர் துதிசெய விரும்பி
முன்றில் மாமலர் வாசம் முதுமதி தவழ்பொழில் தில்லை
மன்றி லாடல துடையார் வாழ்கொளி புத்தூ ருளாரே.
"Veṉtṟi māmala rōṉum virikaṭal thuyiṉtṟavaṉ thāṉum
eṉtṟum ēththukai yuṭaiyār imaiyavar thuthiseya virumpi
muṉtṟil māmalar vāsam muthumathi thavazhpozhil thillai
maṉtṟi lāṭala thuṭaiyār vāzhkoḷi puththū ruḷārē".
மண்டை கொண்டுழல் தேரர் மாசுடை மேனிவன் சமணர்
குண்டர் பேசிய பேச்சுக் கொள்ளன்மின் திகழொளி நல்ல
துண்ட வெண்பிறை சூடிச் சுண்ணவெண் பொடியணிந் தெங்கும்
வண்டு வாழ்பொழில் சூழ்ந்த வாழ்கொளி புத்தூ ருளாரே.
"Maṇṭai koṇṭuzhal thērar māsuṭai mēṉivaṉ samaṇar
kuṇṭar pēsiya pēchchuk koḷḷaṉmiṉ thikazhoḷi nalla
thuṇṭa veṇpiṟai chūṭich chuṇṇaveṇ poṭiyaṇin theṅkum
vaṇṭu vāzhpozhil chūzhntha vāzhkoḷi puththū ruḷārē".
நலங்கொள் பூம்பொழிற் காழி நற்றமிழ் ஞான சம்பந்தன்
வலங்கொள் வெண்மழு வாளன் வாழ்கொளி புத்தூரு ளானை
இலங்கு வெண்பிறை யானை யேத்திய தமிழிவை வல்லார்
நலங்கொள் சிந்தைய ராகி நன்னெறி யெய்துவர் தாமே.
"Nalaṅkoḷ pūmpozhiṟ kāzhi natṟamizh gñāṉa sambanthaṉ
valaṅkoḷ veṇmazhu vāḷaṉ vāzhkoḷi puththūru ḷāṉai
ilaṅku veṇpiṟai yāṉai yēththiya thamizhivai vallār
nalaṅkoḷ sinthaiya rāki naṉṉeṟi yeythuvar thāmē".