Visited on: 29th September, 2016 and 23rd May, 2017.
Location
Thiruchaikkadu is situated at a distance of about 20 kms from Mayiladuthurai on the Mayiladuthurai to Poompuhar route. From Sirkazhi, it is about 17 kms.
Other Devara Paadal Petra Shiva Sthalams near this temple are – Thiruppallavaneecharam (Poompuhar), Thiruvenkadu, Kezhai Thirukkattuppalli, Thirukkalikkamur (Annappan Pettai), Pariyal Veerattam, Thiruchempon Palli, Nani Palli, Valampuram, Thalaichangadu, Aakkur, Thirukkadaiyur and Thirukkadaiyur Mayanam.
General Information
Moolavar

Sri Rathina Chaayavaneswarar, Sri Indreswarar

Ambal

Sri Kuyilinum Nanmozhi Ammai, Sri Kokilavani,
Sri Goshambaal

Theertham (Holy water)

Sangumukha Theertham, Iraavada Theertham, River Kaveri

Sthala Vriksham (Sacred Tree)

Chai plants (Korai plants)

Pathigam (Hymn) rendered by

Saint Thirugnanasambanthar and Saint Thirunavukarasar (Appar)

This is one of the 276 Devara Paadal Petra Shiva Sthalams and 9th Shiva Sthalam on the northern bank of the river Cauvery in Chozha Nadu (Vadakarai).
Lord Shiva in this temple is a Swayambumurthi (self-manifested).
This is one of the 6 Shiva Sthalams on the banks of the river Cauvery that are considered to be equal in significance to Kasi (Banaras). The others being (1) Thiruvaiyaru, (2) Mayiladuthurai, (3) Thiruvenkadu, (4) Thiruvidaimaruthur, and (5) Thiruvanchiyam.
This is the birth place of Eyarpagai Nayanar, one of 63 Nayanmars. It is believed that Eyarpagai Nayanar and his wife attained salvation here.
This temple is counted as one of the seventy Maadak Koils built by King Kochengat Cholan.
Both Chayavanam and Pallavaneecharam temples are situated in Poompuhar.
This east facing temple has 2 corridors and its main tower (Rajagopuram) has 3-tiers. There is no flag post here.
There are two beautiful entrance arches – one on the eastern side and the other on the southern side.
The last consecration ceremony (Maha Kumbabishekam) took place on 24.05.2010 and prior to that on 19.08.1956.
History of the Temple
Poompuhaar was the capital of the Chola kingdom.

According to legend, in ancient times, this region was a forest densely covered with "Chai" plants ("Korai" in Tamil). Hence thisplace gets the name "Chayavanam" ("Vanam" means forest in Tamil). Other historical names of this place are Chaikadu and Melayur.

There are 13 stone inscriptions available here – 10 are from the period of the Chola kingdom (Vikraman, Rajarajan, Kulothungan-III and Rajendran) and the rest of the 3 are from the time of Pandiya kingdom (Sundara Pandiyan). In one of the inscriptions, this place's name is mentioned as "Rajathiraja valanaattu Nangoor Naattu Kaveripoompattinaththu Thiruchaikkadu".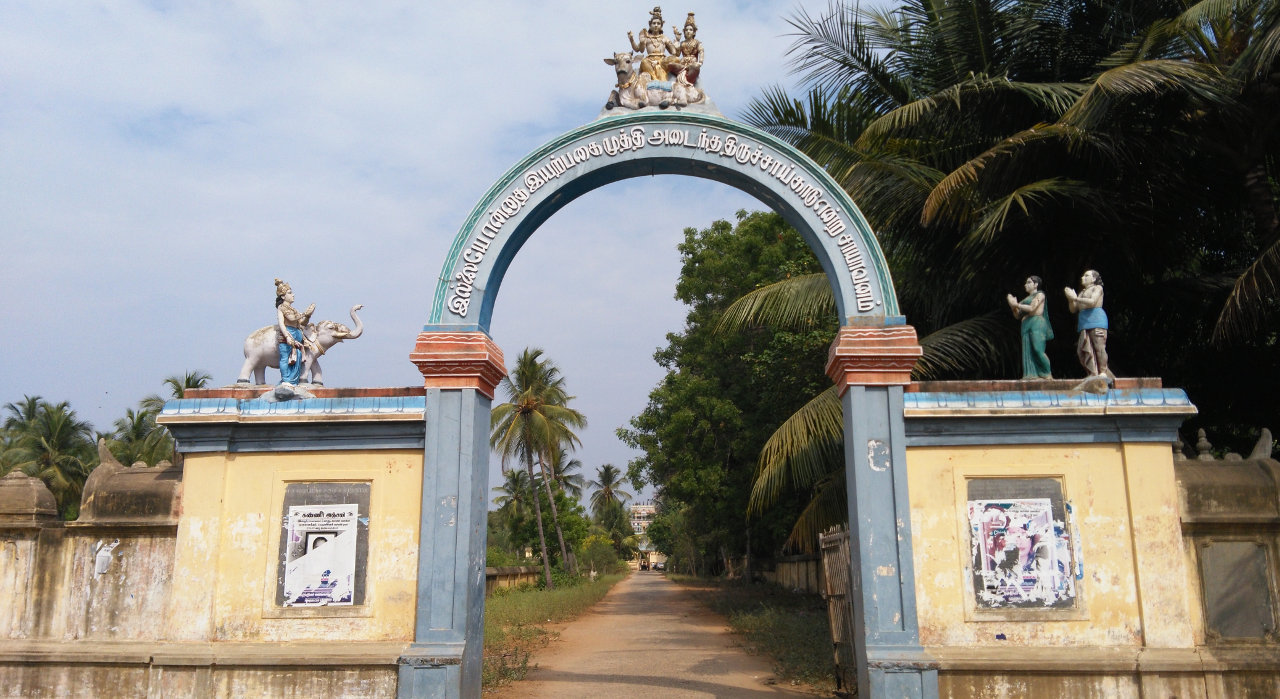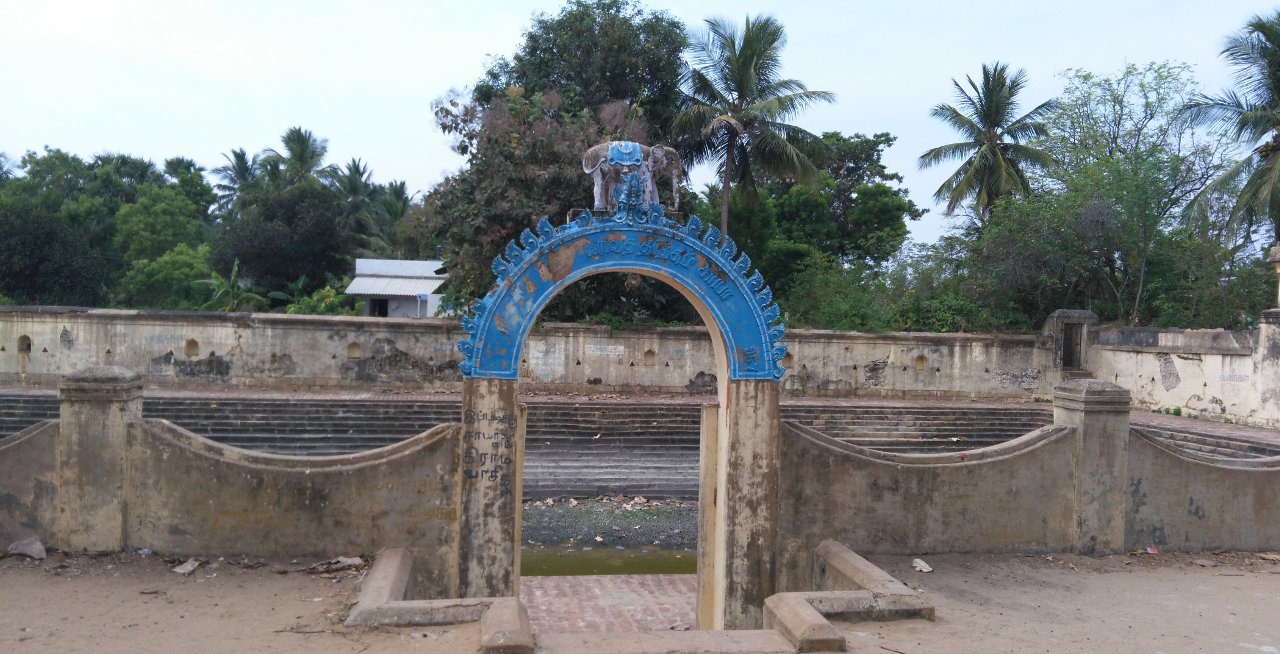 Legend
The legend is that Athithi, mother of Indran, had a desire to come to earth and worship Lord Chayavaneswarar. She came to this place and worshiped the lord. When Indran came to know that his mother was so enamoured by this place, he decided to take this temple to his place where his mother could worship the lord every day. He tried pulling the temple using his white elephant Iraavadham. However, even Iraavadham's enormous strength could not move it.

At this point it is believed that Lord Shiva appeared before Indran and asked him to drop this idea and ask his mother to perform her worship here itself. The scar due to the lingam being tied to the elephant can still be seen on the lingam. Lord Shiva's shrine in this temple also looks like a chariot. When the elephant was about to pull the temple, its tusk hit the earth. A pond was created there that is now known as "Iraavada Theertham".

Also, it is believed that during this event, Goddess Parvathy made a sound that was sweeter than a nightingale ("Kuyil" in Tamil). Hence, she is praised as "Kuyilinum Nanmozhi Ammai".

Another legend associated with this temple is that of Eyarpagai Nayanar, one of the 63 Nayanars. He was born and attained salvation in this place. It is believed that both Eyarpagai Nayanar and his wife, Karpinukarasiyar, were staunch devotees of Lord Shiva. They used to fulfil the needs of devotees with lots of devotion. Lord Shiva wanted to showcase their high standards of devotion to the entire world. He came to his house in the form of a Shiva devotee and praised the Nayanar about his services to Shiva devotees. When the Nayanar asked him what he needed, Lord Shiva asked him to send his wife with him for help. Without any hesitation, Nayanar asked his wife to go with the devotee which she also obeyed.

When Nayanar asked the devotee whether he is expecting anything else, the devotee asked Nayanar to accompany him with his wife as an escort till the border of the village. The devotee further told the Nayanar that they might be attacked by the local people and his relatives. Nayanar agreed to this also and escorted them with a long sword till the border of the place. Nayanar resisted the opposition of the people and took them safely till the border. Nayanar was then asked to go back. When he turned around and started walking, the devotee called him loudly. When Nayanar turned around, he saw that the devotee had disappeared and in his place stood Lord Shiva and Goddess Parvathy seated on Lord Shiva's bull mount. Lord Shiva explained to him that he was involved in this trickery only because he wanted to showcase to the world their exemplary devotion.

It is believed that Sage Upamanyu also worshiped Lord Shiva here.
Deities in the temple
Other than the shrines of Lord Shiva and Goddess Parvathy, shrines and idols of lords Vinayakar, Murugan Gajalakshmi, Bairavar, Navagraham, Suryan, Indran and the Moovars can be seen in the corridors.
Since this temple legend involves Saint Iyarpagai Nayanar and his wife, there is a separate idol for them in the corridor.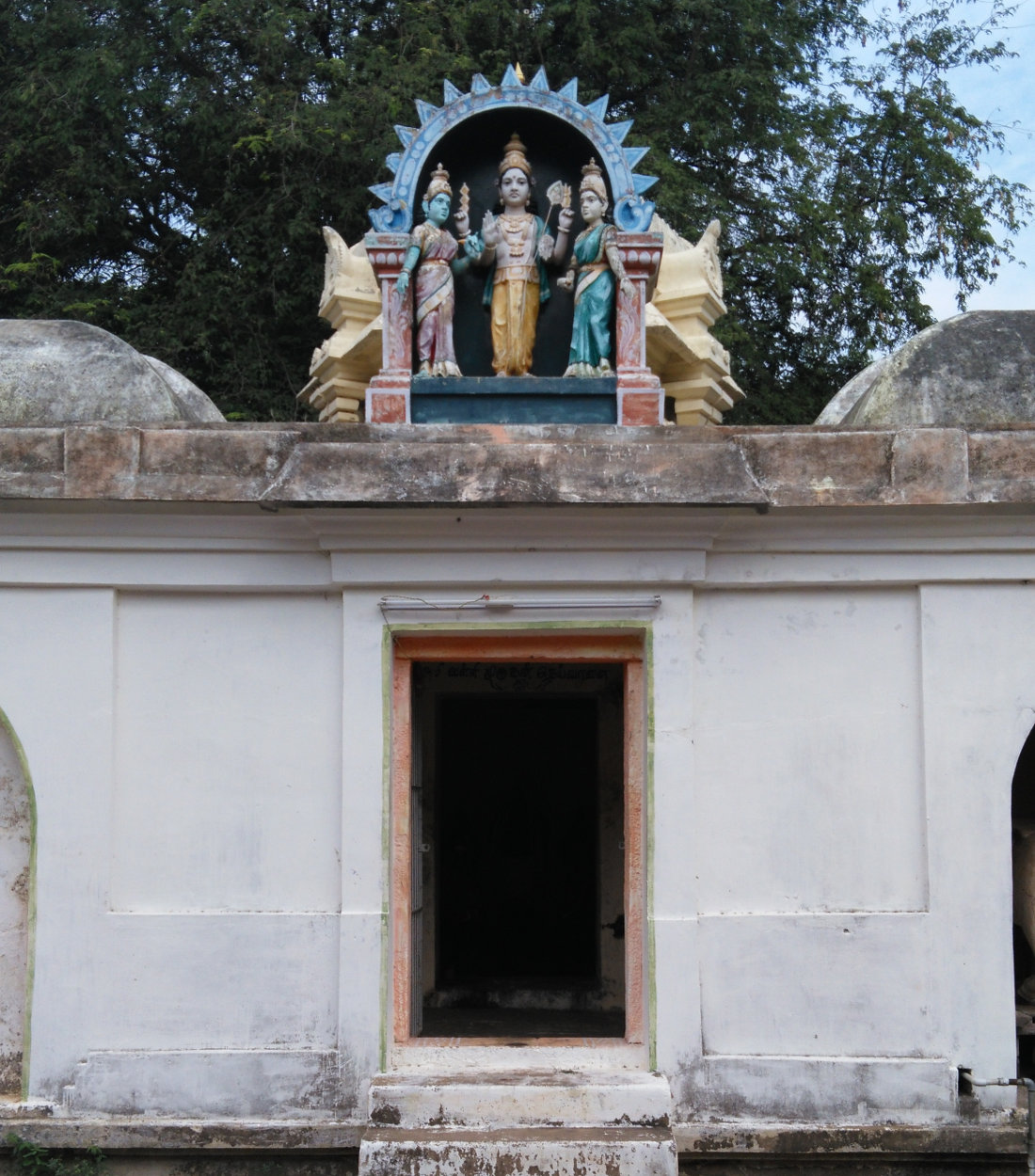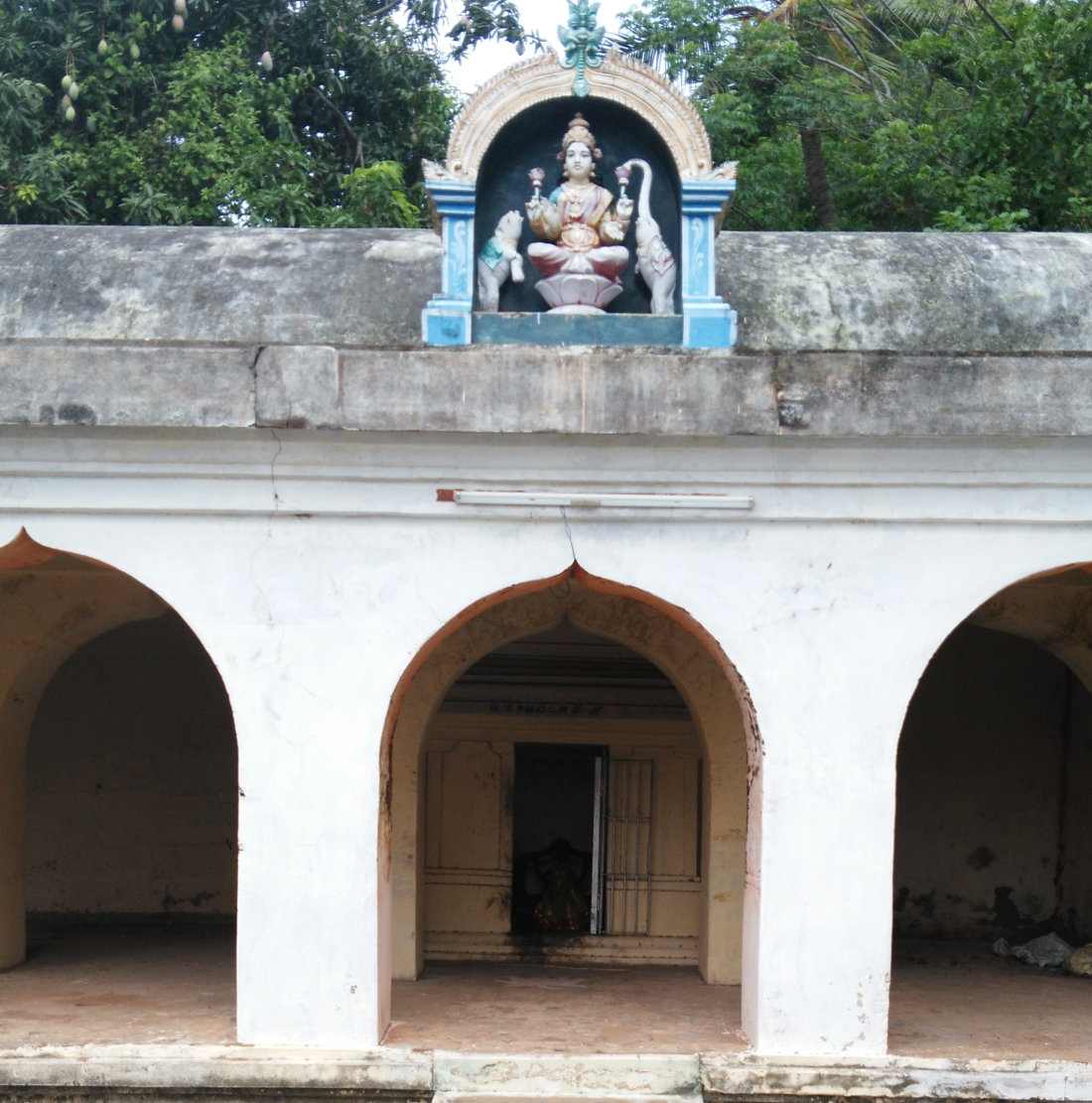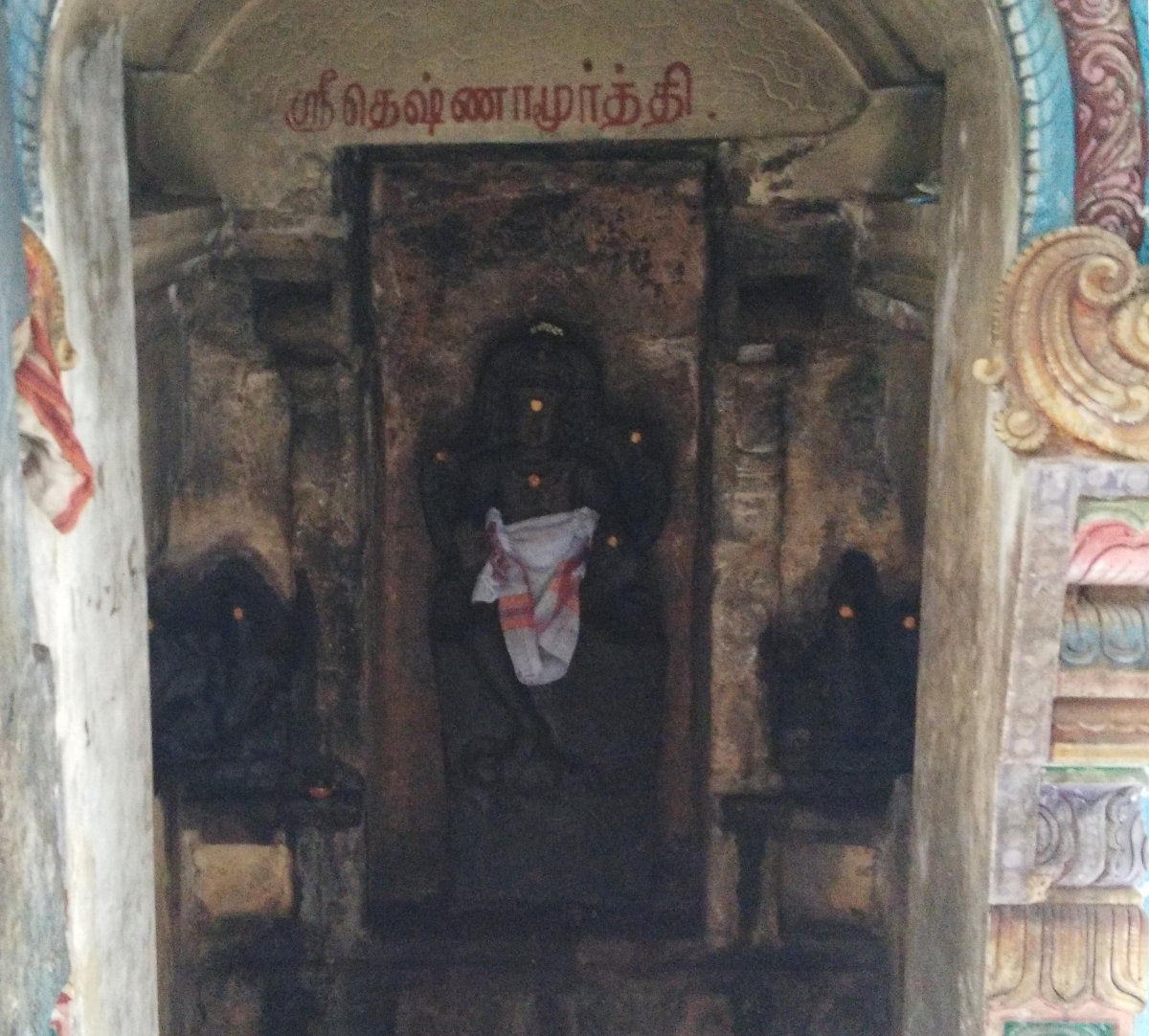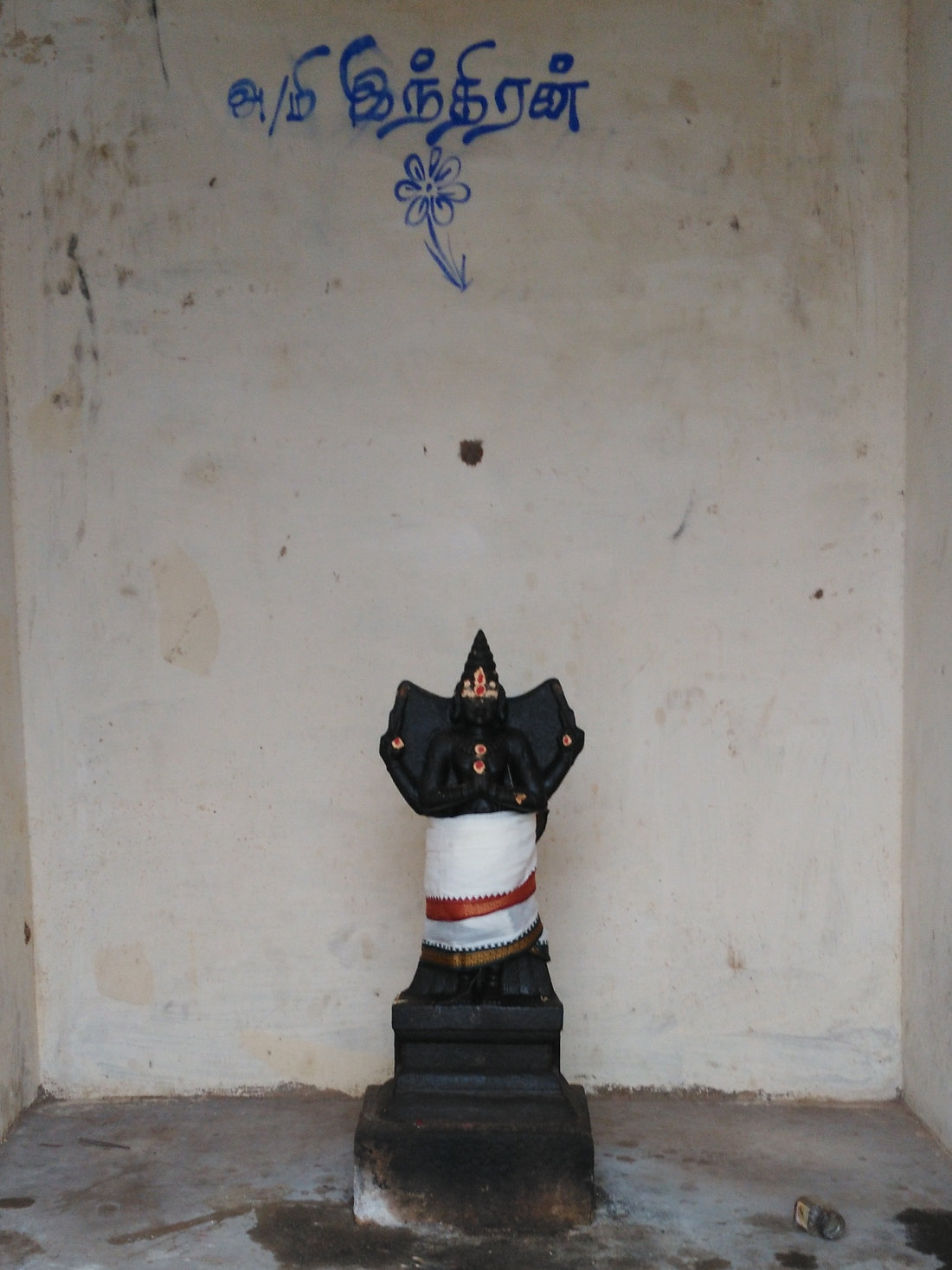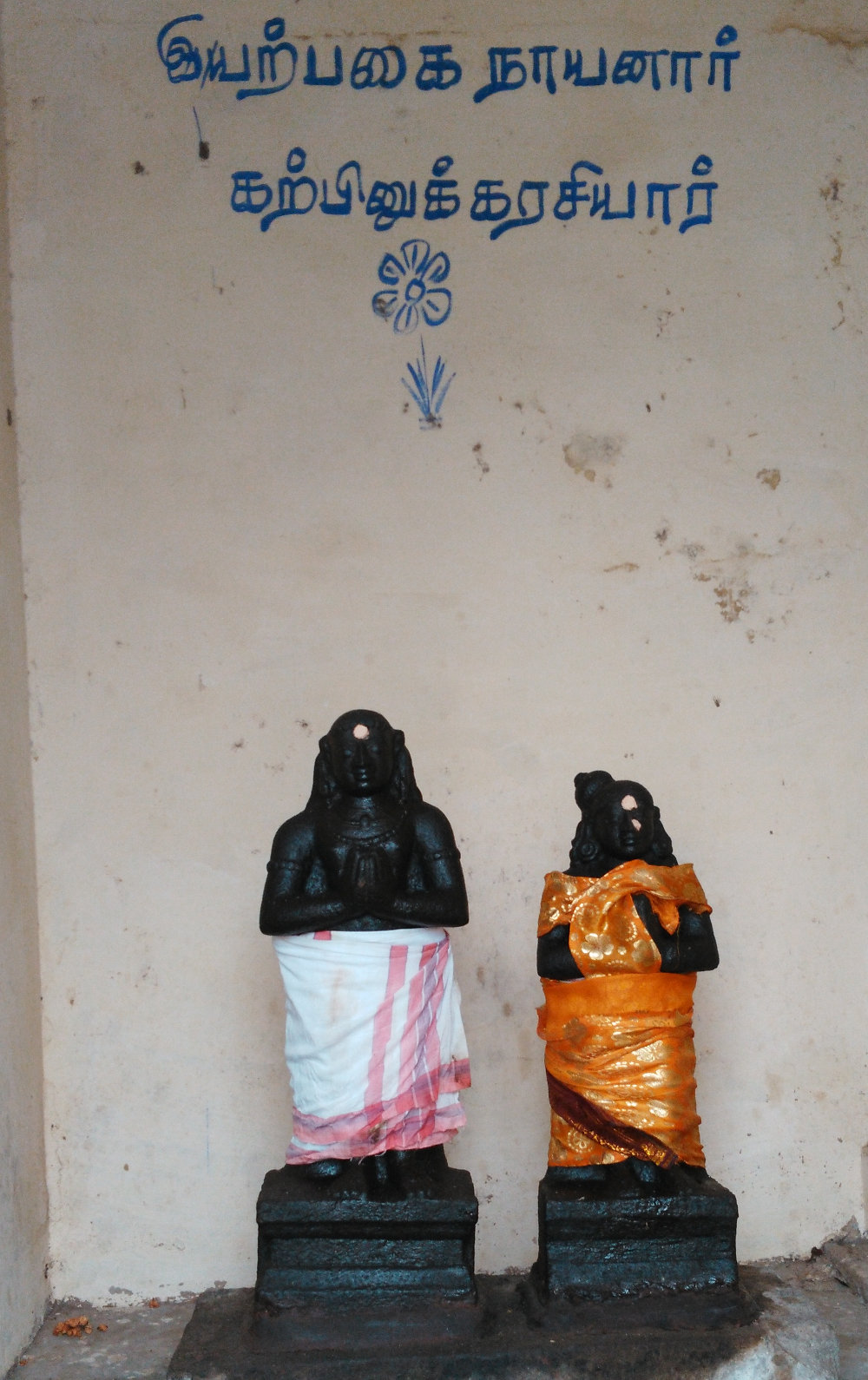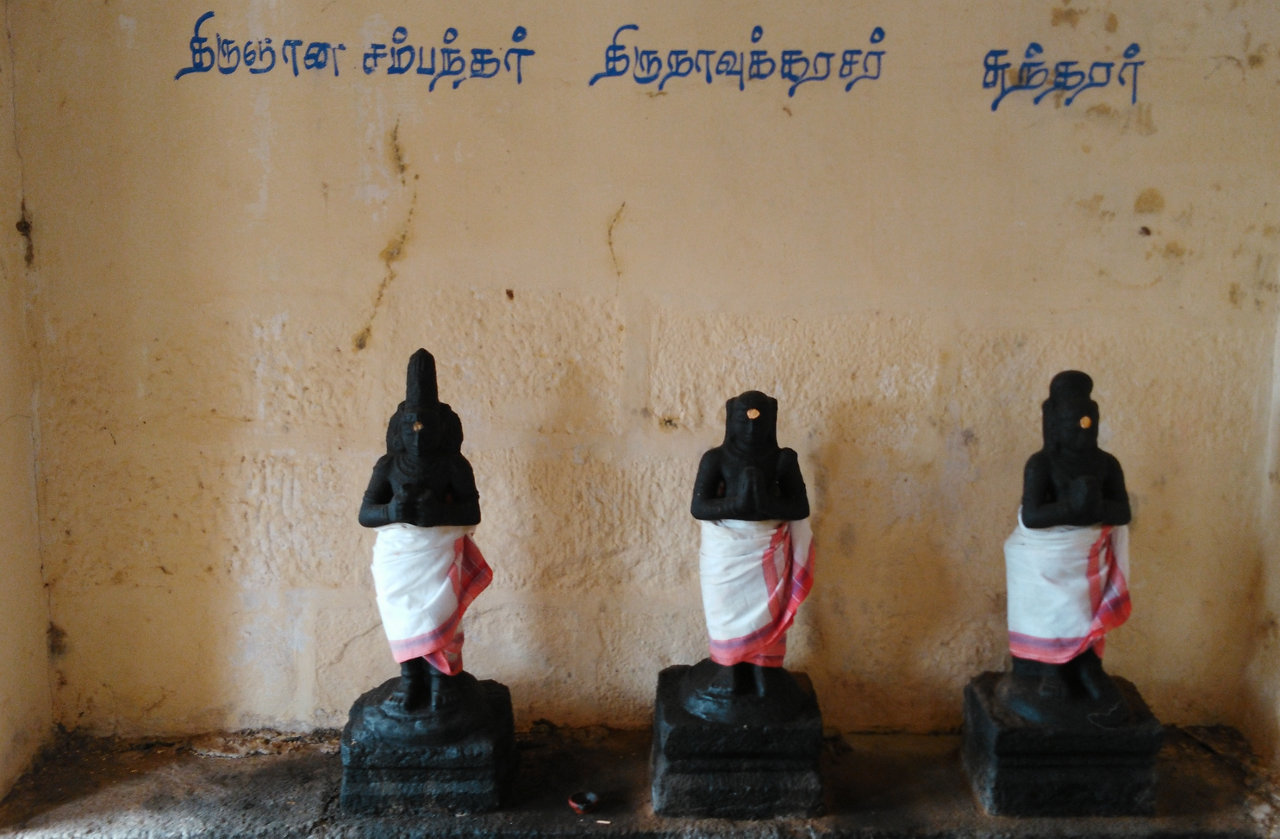 Salient Features
The procession idol of Lord Subramanyar here is very beautiful. He is seen with his peacock, holding the bow and arrow instead of his usual weapon "Vel" (spear) He looks battle-ready. Such a depiction of Lord Subramanyar is quite unique.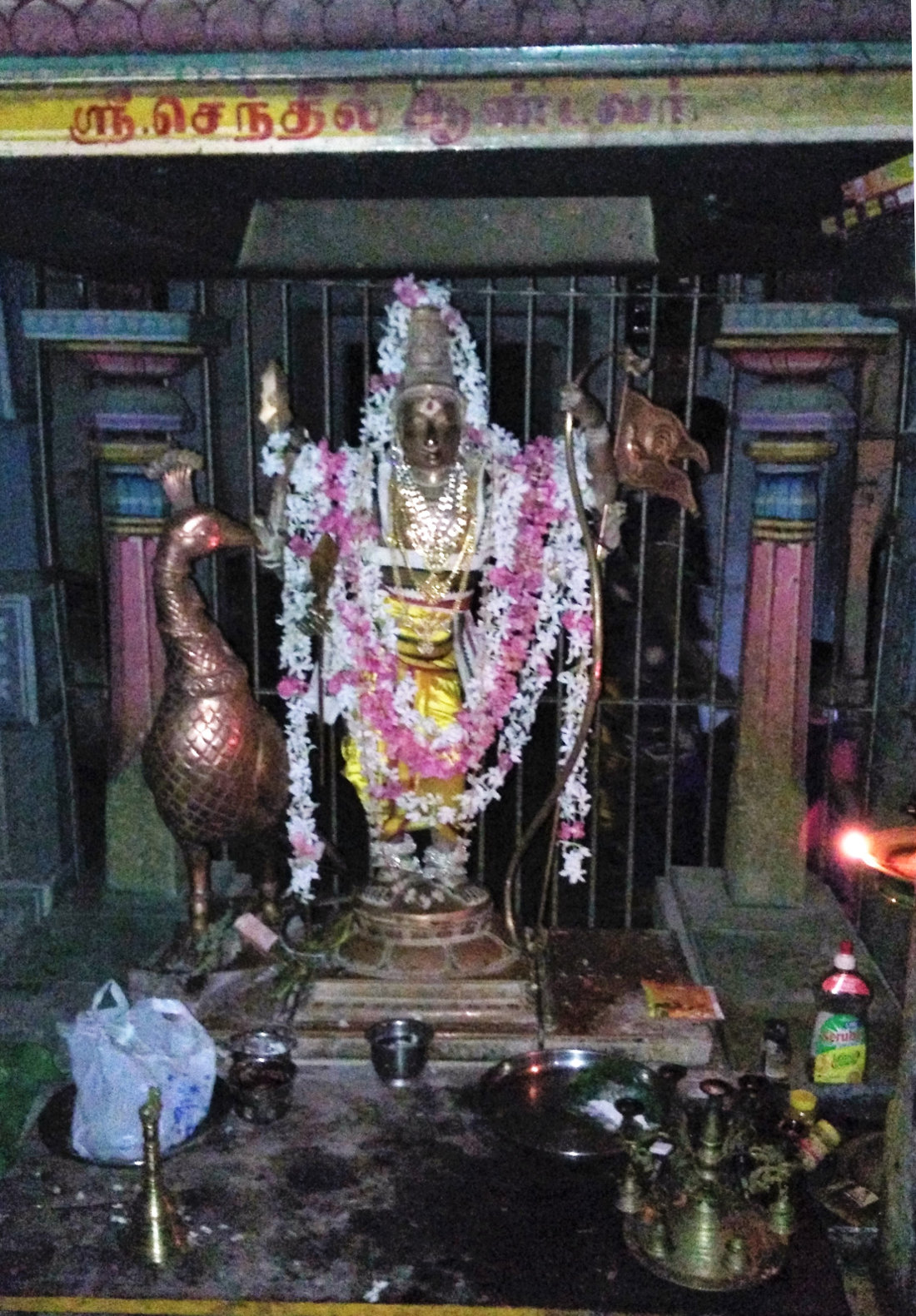 It is believed that this idol of Lord Subramanyar belongs to the Thiruchendur temple. It was smuggled and carried away by Dutch sailors in 1648 but their ship got stuck in mid-sea. They feared that this was due to the idol that they stole. They throw the idol in the sea near Kavery Poompattinam (Poompuhar). Later it was found by fishermen and it was brought to this temple. Incidentally, the name "Senthilandavar" (the name of the lord at Thiruchendur) is engraved at the bottom of the idol.

Lord Subramanyar also wears the Veeragandamani (anklet) in his right leg. This was given to him by his father Lord Shiva. While Goddess Paarvathy offered the "Vel" to Lord Subramayar, the lord gave him the "Veeragandamani", both of which he used to destroy his enemies.

In his hymn, Saint Thirugnanasambanthar mentioned that both Chayavanam and Pallavaneecharam temples are situated in Poompuhar.

Saint Iyadigal Kadavarkon has also rendered a pathigam praising the lord of this temple.

It is believed that King Kochengat Chola built 70 "Madakkoils". The distinguishing feature of a Madakkoil is that it is not easily approachable by an elephant. He built these temples at an elevation and there are a few steps that need to be climbed before seeing the lord. Also, the sanctum sanctorum's (Karpagragam) entrance is narrow such that no elephant can enter it.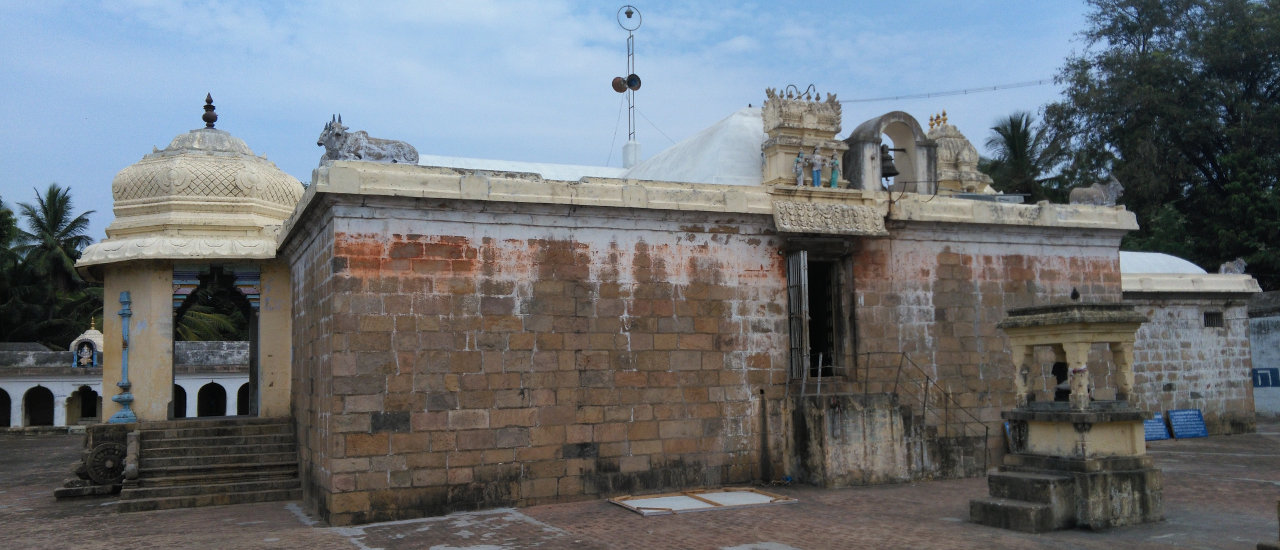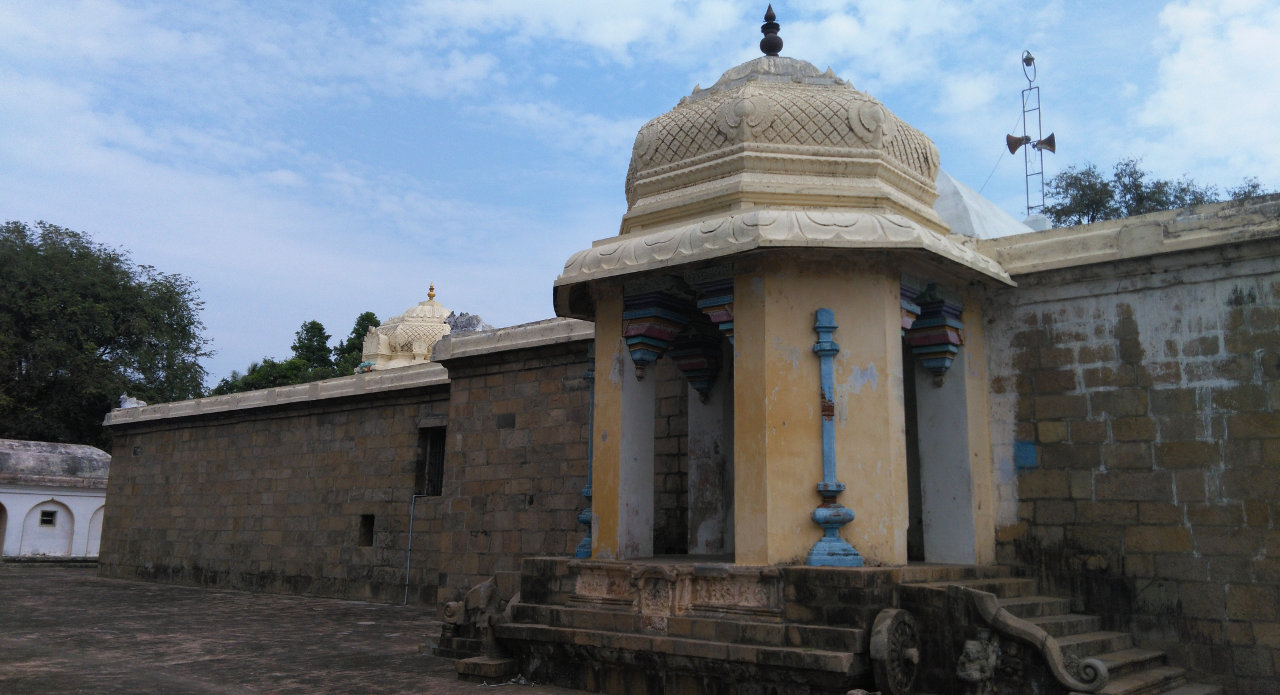 The sanctum sanctorum is in the form of semi-circular tank (akazhi in Tamil).

The temple of "Goddess Sampapathi Amman", the guardian deity of Poompuhar is located near this temple. This goddess is believed to have been worshipped by Kannaki, Madhavi and Manimekalai (characters of Silapathikaram) of the Sangam era.
Greatness of this temple
Those who are afraid of their enemies can worship Lord Subramanyar here for courage and strength.
Important Festivals
Some of the important festivals celebrated in this temple are -
21-day Indira Vizha in the Tamil month of Chittirai (Apr-May),
Saint Kumara Guruparar Guru Puja in the Tamil month of Vaikasi (May-June) and
5-day Eyarpagai Nayanar festival in the Tamil month of Markazhi (Dec-Jan).

Pradosham is also observed regularly.
Temple Timings
From 07:00 AM to 12.00 Noon and from 05:00 PM to 08:00 PM.
Temple Address
Sri Chayavaneswarar Temple,
Chayavanam
Kaveri Poompattinam Post,
Sirkazhi Taluk,
Nagapatinam District,
Tamil Nadu – 609105.
Tele: 04364-260151.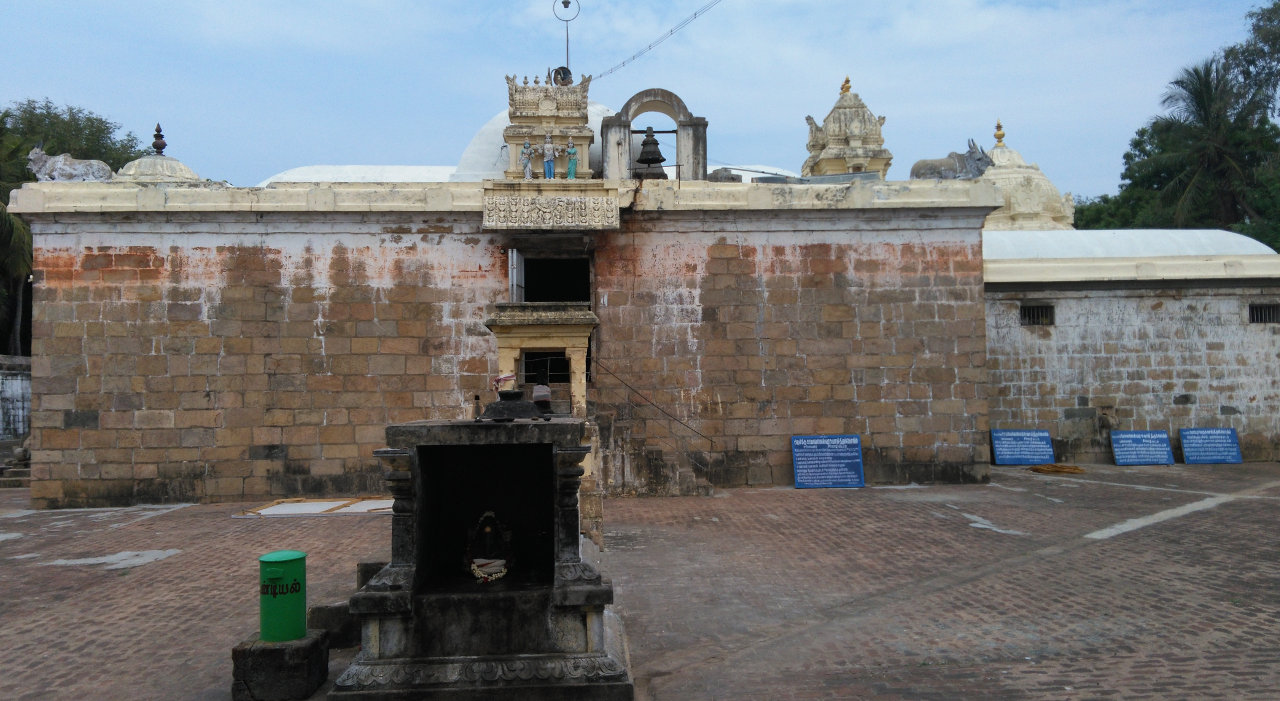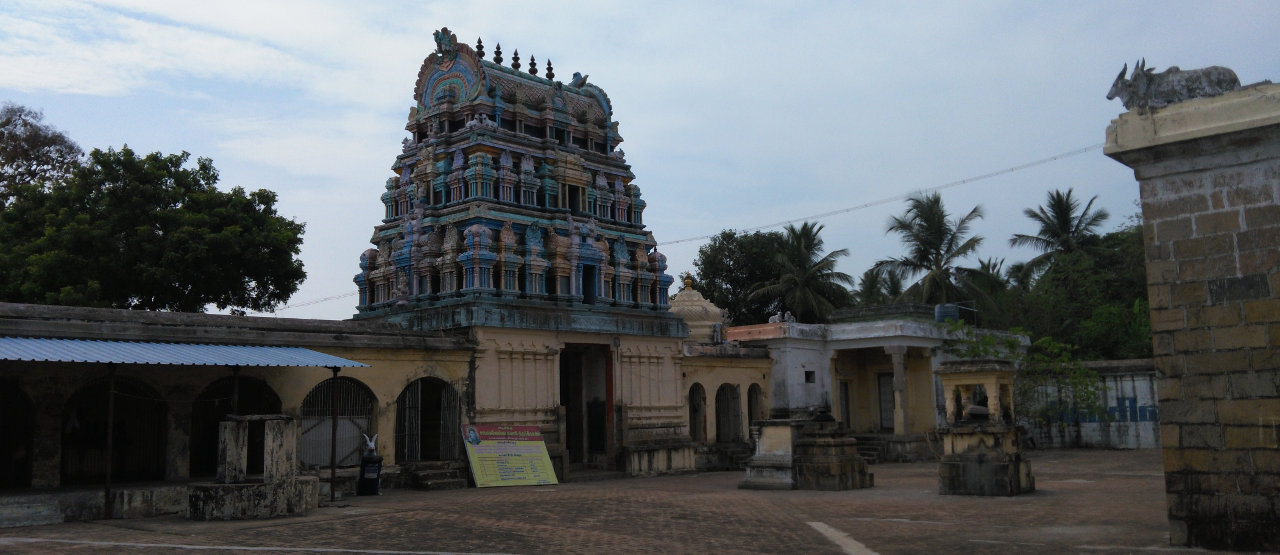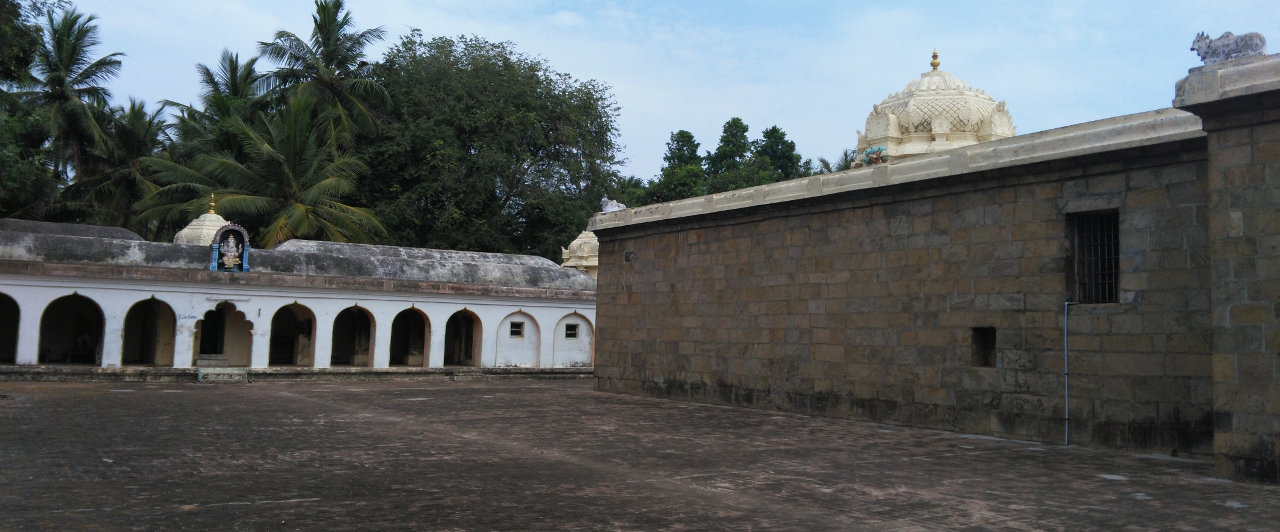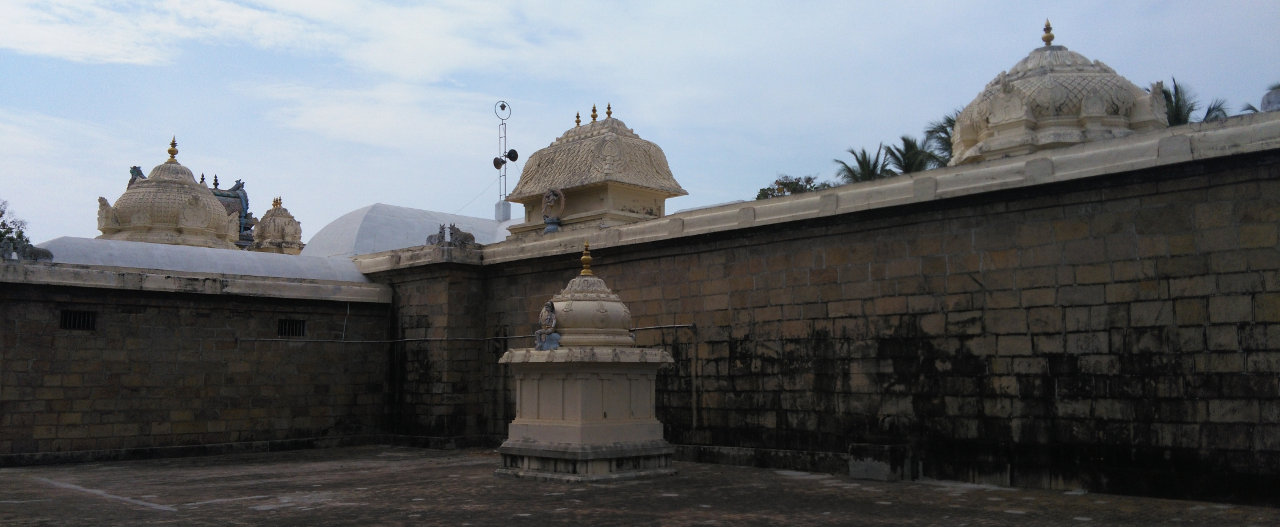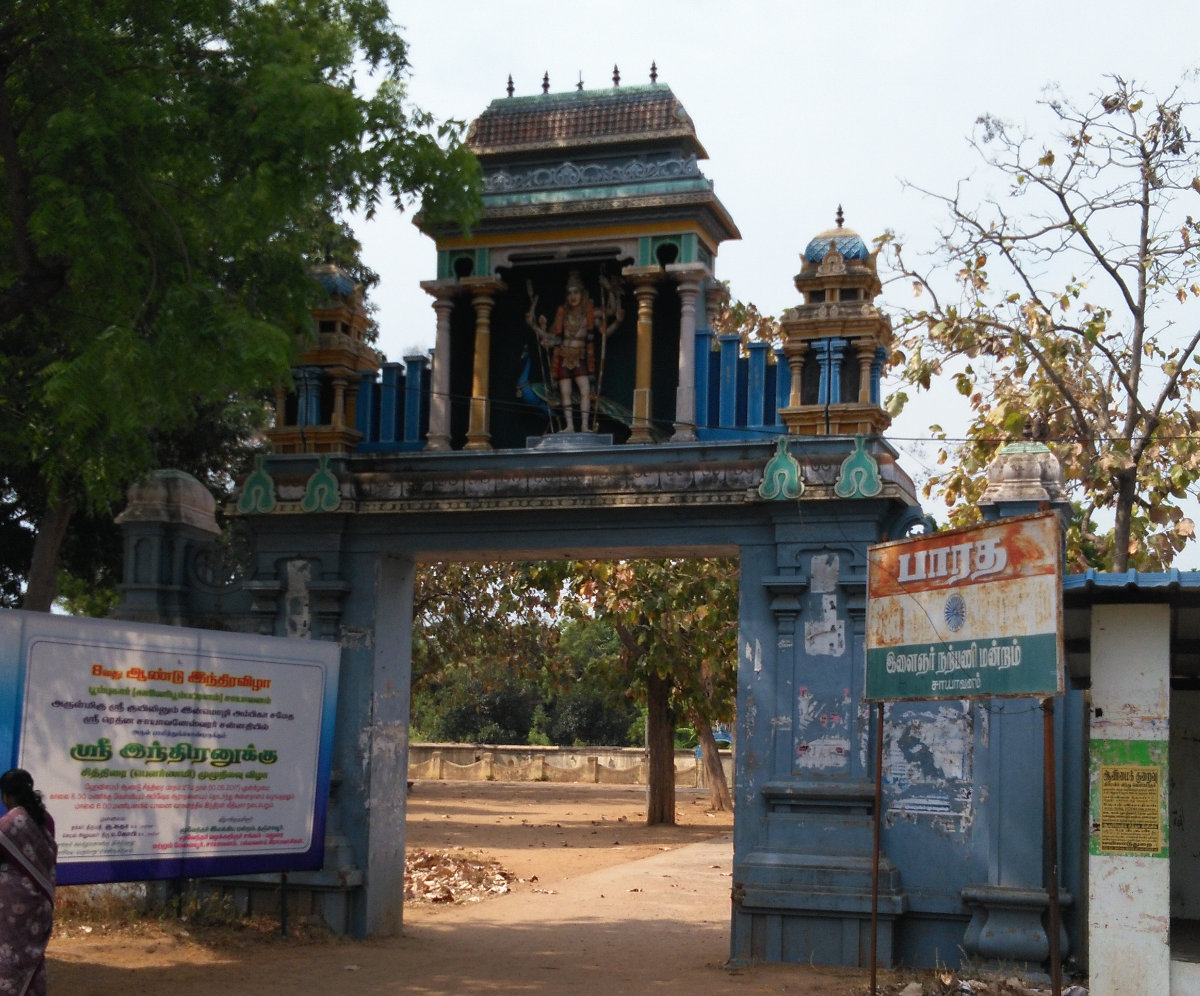 ---
Pathigam (Hymn) with English transliteration
Saint Thirugnanasambanthar visited this temple and sang this Pathigam.
Devotees visiting this temple should make it a practice to recite this Pathigam.
நித்தலுந் நியமஞ் செய்துநீர் மலர்தூவிச்
சித்தமொன் றவல்லார்க் கருளுஞ் சிவன்கோயில்
மத்தயா னையின்கோ டும்வண்பீ லியும்வாரி
தத்துநீர்ப் பொன்னி சாகரமேவு சாய்க்காடே.
"Niththalun niyamañ seythunīr malarthūvich
chiththamoṉt ṟavallārk karuḷuñ sivaṉkōyil
maththayā ṉaiyiṉkō ṭumvaṇpī liyumvāri
thaththunīrp poṉṉi sākaramēvu chāykkādē".
பண்டலைக் கொண்டு பூதங்கள் பாடநின்றாடும்
வெண்டலைக் கருங்கா டுறைவே தியன்கோயில்
கொண்டலைத் திகழ்பே ரிமுழங் கக்குலாவித்
தண்டலைத் தடமா மயிலாடு சாய்க்காடே.
"Paṇṭalaik koṇdu pūthaṅkaḷ pāṭaniṉtṟāṭum
veṇṭalaik karuṅkā ṭuṟaivē thiyaṉkōyil
koṇṭalaith thikazhpē rimuzhaṅ kakkulāvith
thaṇṭalaith thaṭamā mayilāṭu chāykkādē".
நாறுகூ விளநா கிளவெண் மதியத்தோ(டு)
ஆறுசூ டும்அம ரர்பிரா னுறைகோயில்
ஊறுதேங் கனிமாங் கனியோங் கியசோலைத்
தாறுதண் கதலிப் புதல்மேவு சாய்க்காடே.
"Nāṟukū viḷanā kiḷaveṇ mathiyaththō(du)
āṟusū dumama rarpirā ṉuṟaikōyil
ūṟuthēṅ kaṉimāṅ kaṉiyōṅ kiyachōlaith
thāṟuthaṇ kathalip puthalmēvu chāykkādē".
வரங்கள்வண் புகழ்மன் னியஎந்தை மருவார்
புரங்கள்மூன் றும்பொடி படஎய் தவன்கோயில்
இரங்கலோ சையுமீட் டியசரத் தொடுமீண்டித்
தரங்கநீள் கழித்தண் கரைவைகு சாய்க்காடே.
"Varaṅkaḷvaṇ pukazhmaṉ ṉiya'enthai maruvār
puraṅkaḷmūṉt ṟumpoṭi paṭa'ey thavaṉkōyil
iraṅkalō saiyumīṭ ṭiyasarath thoṭumīṇṭith
tharaṅkanīḷ kazhiththaṇ karaivaiku chāykkādē".
ஏழைமார் கடைதோ றுமிடு பலிக்கென்று
கூழைவா ளரவாட் டும்பிரா னுறைகோயில்
மாழையொண் கண்வளைக் கைநுளைச் சியர்வண்பூந்
தாழைவெண் மடற்கொய்து கொண்டாடு சாய்க்காடே.
"zhaimār kaṭaithō ṟumiṭu palikkeṉtṟu
kūzhaivā ḷaravāṭ ṭumpirā ṉuṟaikōyil
māzhaiyoṇ kaṇvaḷaik kainuḷaich chiyarvaṇpūn
thāzhaiveṇ maṭaṟkoythu koṇṭāṭu chāykkādē".
துங்கவா னவர்சூழ் கடல்தாம் கடைபோதில்
அங்கொர்நீ ழலளித் தஎம்மா னுறைகோயில்
வங்கம்அங் கொளிர்இப் பியும்முத் தும்மணியுஞ்
சங்கும்வா ரித்தடங் கடலுந்து சாய்க்காடே.
"Thuṅkavā ṉavarchūzh kaṭalthām kaṭaipōthil
aṅkornī zhalaḷith tha'em'mā ṉuṟaikōyil
vaṅkamaṅ koḷir'ip piyum'muth thum'maṇiyuñ
chaṅkumvā riththaṭaṅ kaṭalunthu chāykkādē".
வேதநா வினர்வெண் பளிங்கின் குழைக்காதர்
ஓதநஞ் சணிகண் டருகந் துறைகோயில்
மாதர்வண் டுதன்கா தல்வண்டா டியபுன்னைத்
தாதுகண் டுபொழில் மறைந்தூடு சாய்க்காடே.
"Vēthanā viṉarveṇ paḷiṅkiṉ kuzhaikkāthar
ōthanañ chaṇikaṇ ṭarukan thuṟaikōyil
mātharvaṇ ṭuthaṉkā thalvaṇṭā ṭiyapuṉṉaith
thāthukaṇ ṭupozhil maṟainthūṭu chāykkādē".
இருக்குநீள் வரைபற் றியடர்த் தன்றெடுத்த
அரக்கன் ஆகம்நெரித் தருள்செய் தவன்கோயில்
மருக்குலா வியமல் லிகைசண் பகம்வண்பூந்
தருக்குலா வியதண் பொழில்நீடு சாய்க்காடே.
"Irukkunīḷ varaipat ṟiyaṭarth thaṉtṟeṭuththa
arakkaṉ ākamnerith tharuḷsey thavaṉkōyil
marukkulā viyamal likaisaṇ pakamvaṇpūn
tharukkulā viyathaṇ pozhilnīṭu chāykkādē".
மாலினோ டயன்காண் டற்கரி யவர்வாய்ந்த
வேலையார் விடமுண் டவர்மே வியகோயில்
சேலின்நேர் விழியார் மயிலா லச்செருந்தி
காலையே கனகம் மலர்கின்ற சாய்க்காடே.
"Māliṉō ṭayaṉkāṇ ṭaṟkari yavarvāyntha
vēlaiyār viṭamuṇ ṭavarmē viyakōyil
sēliṉnēr vizhiyār mayilā lachcherunthi
kālaiyē kaṉakam malarkiṉtṟa chāykkādē".
ஊத்தைவாய்ச் சமண்கை யர்கள்சாக் கியர்க்கென்றும்
ஆத்தமா கஅறி வரிதா யவன்கோயில்
வாய்த்தமா ளிகைசூழ் தருவண் புகார்மாடே
பூத்த வாவிகள் சூழ்ந் துபொலிந்த சாய்க்காடே.
"Ūththaivāych samaṇkai yarkaḷchāk kiyarkkeṉtṟum
āththamā ka'aṟi varithā yavaṉkōyil
vāyththamā ḷikaichūzh tharuvaṇ pukārmādē
pūththa vāvikaḷ chūzhn thupolintha chāykkādē".
ஏனையோர் புகழ்ந்தேத் தியஎந்தை சாய்க்காட்டை
ஞானசம் பந்தன்கா ழியர்கோன் நவில்பத்தும்
ஊனமின் றியுரை செயவல் லவர்தாம்போய்
வானநா டினிதாள் வர்இம்மா நிலத்தோரே.
"Ēṉaiyōr pukazhnthēth thiya'enthai chāykkāṭṭai
ñāṉasam banthaṉkā zhiyarkōṉ navilpaththum
ūṉamiṉt ṟiyurai seyaval lavarthāmpōy
vāṉanā ṭiṉithāḷ var'im'mā nilaththōrē".