Visited on: 30th March, 2018.
Location
Omampuliyur is situated at a distance of about 31 kms from Chidambaram on the Chidambaram to Kattumannarkoil route. From Kattumannar koil, this place is about 8 kms away and from Kaanattam Puliur it is about 6 kms away.
Other Devara Paadal Petra Shiva Sthalam near this place are – Thiru Naaraiyur (15 kms), Thirukkadampur, Kanattampuliyur (6 kms), Thiruvazhkoli Puthur, Thiru Pazhamanni Padikkarai (Iluppaipattu), Erukkathampuliyur (Rajendrapatinam) and Thiru Kudalaiyatrur.
General Information
Moolavar

Sri Pranava Viyakrapureeswarar, Sri Thuyartheertha Nathar

Ambal

Sri Poonkodi Nayaki, Sri Pushpalathambigai,

Theertham (Holy water)

Gowri Thertham, river Kollidam

Sthala Vriksham (Sacred Tree)

Elandhai tree

Pathigam (Hymn) rendered by

Saint Thirugnanasambanthar-1
Saint Thirunavukarasar (Appar)-1

This is one of the 276 Devara Paadal Petra Shiva Sthalams and 31st Shiva Sthalam on the northern bank of the river Cauvery in Chozha Nadu (Vadakarai).
Lord Shiva in this temple is a Swayambumurthi (self-manifested).
This is a famous Guru Parihara Sthalam.
This is a Parihara Sthalam for Revathi Nakshathiram (star).
In place of the main tower, there is a beautiful arch with sculptures of Lord Shiva and Goddess Parvathy.
This east facing temple has a single corridor and its second main tower has 3-tiers.
There is no flag post (dwajasthambam) here.
The last consecration ceremony (Maha Kumbabishekam) took place in the year 2011 and prior to that on 25.06.1992.
History of the Temple
This ancient temple is situated on the northern bank of the river Kollidam. There are six stone inscriptions in this temple which date back to the periods of Chola King Kulothungan-III and Pallava King Kopperunsinga Devar.
This temple is under the administrative control of the Hindu Religious and Charitable Endowments Department of Government of Tamil Nadu (HR&CE).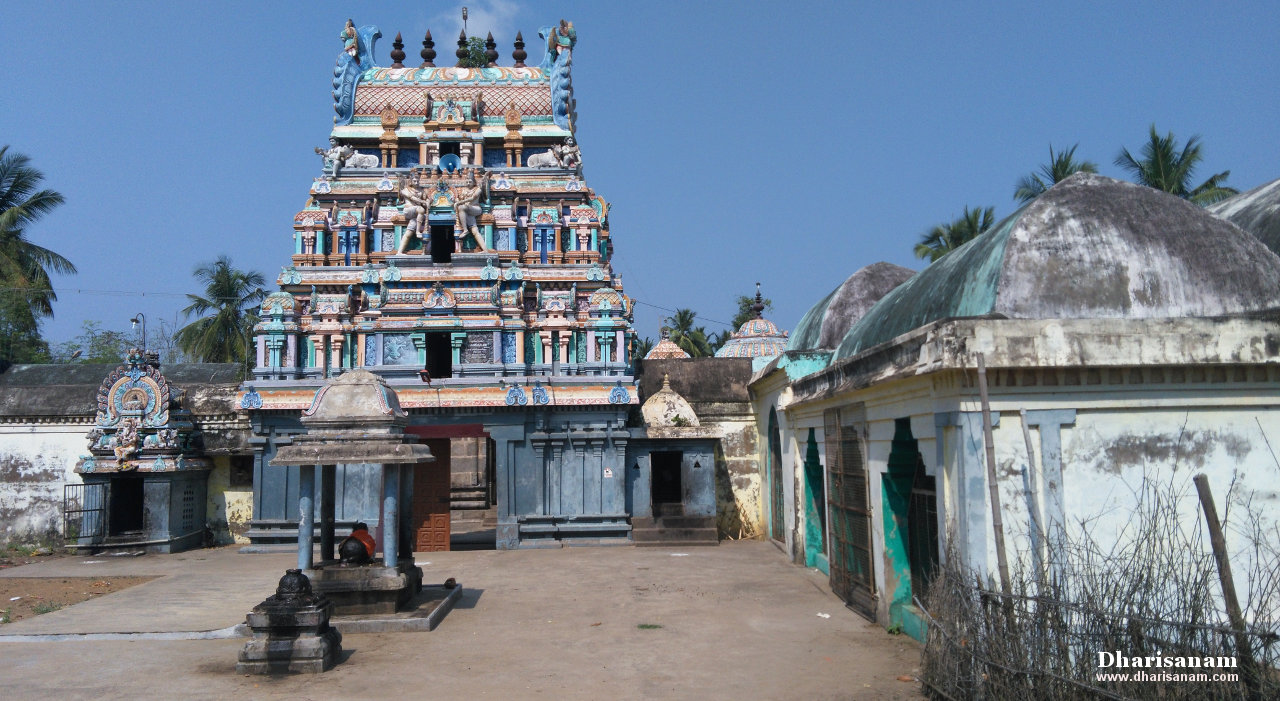 Legend
According to legend, once Goddess Parvathy requested Lord Shiva to explain to her the meaning of "Pranava Mantra – OM". When Lord Shiva was explaining it to her, she lost interest in it. Lord Shiva was angered by this and he punished her to be born on earth as a human. Goddess Parvathy stayed in this place "Omam puliur" and performed penance here under this temple's Sthala Viruksham, "Ilanthai tree". It is believed that Lord Shiva as Dakshinamurthy (Guru) blessed her with his darshan and completed the teaching of Pranava Mantra. Hence the lord here is praised as "Sri Pranavapureeswarar". It is believed that Lord Murugan, in the form of a beetle ("vandu"), overheard the teachings without his parents knowing about it. Lord Murugan is believed to have recited this "Mantra" to his father in Swamimalai at a later date.
It is believed that Lord Guru is a Swayambu Moorthy in this temple. The sanctum of Guru Dakshinamurthy is placed in in the main hall (Maha Mandapam) in between the sanctums of Lord Shiva and Goddess Parvathy. This place is considered to be one of the Guru Sthalams. Abhishekam is performed here first to Dakshinamoorthy and then to Lord Shiva.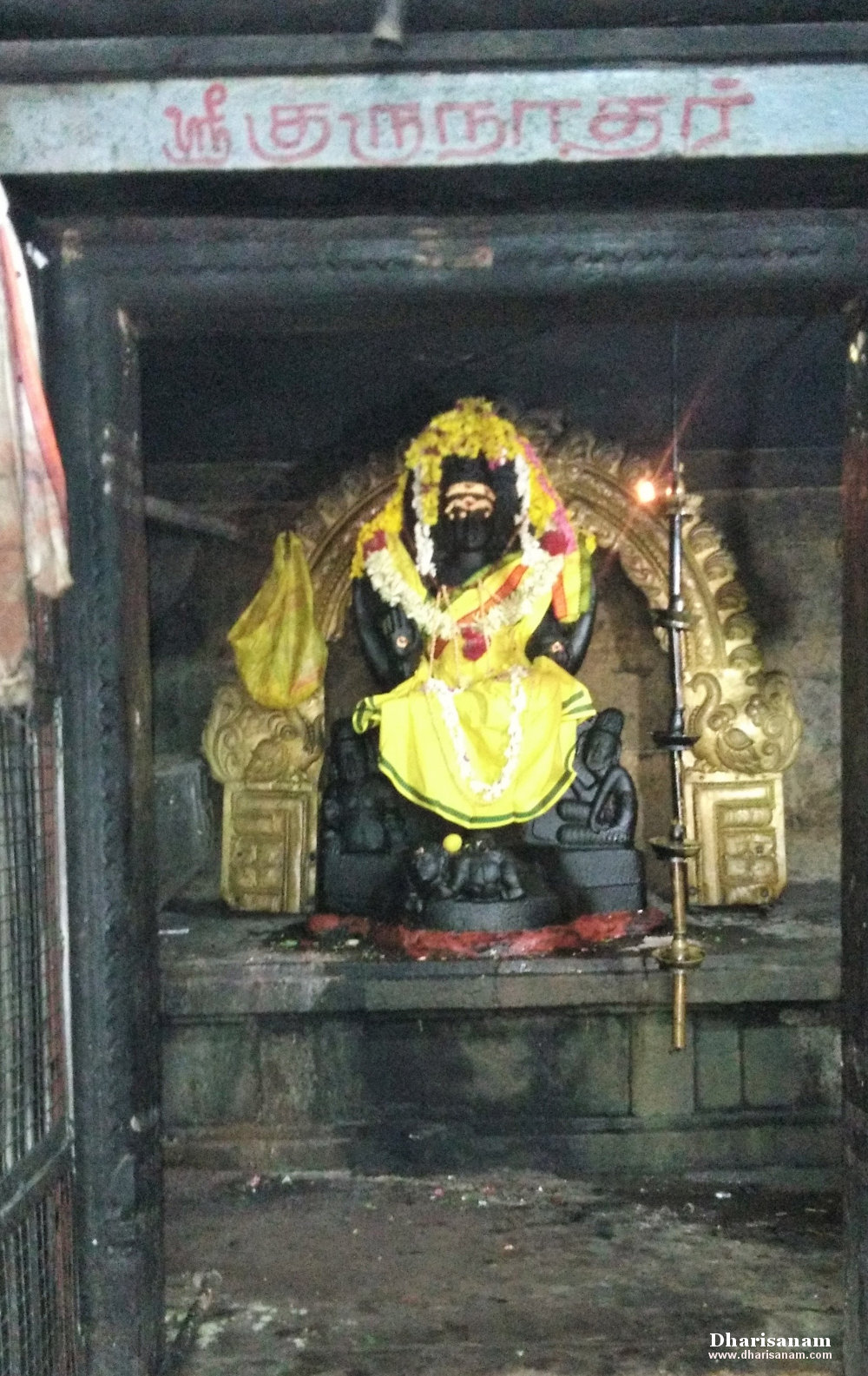 Interestingly, the places of Lord Dakshinamurthy and Natarajar are interchanged in this temple. As in other Shiva temples, here also there is a shrine for Dakshinamurthy in the khostam. Hence, there are two Dakshinamurthy in this temple which is considered to be very auspicious.
As per Sthala Puranam, Sage Vyakyapathar (Pulikkal Munivar – tiger legged rishi) worshipped Lord Shiva in five places – Perumpatra Puliyur, Omampuliyur, Perum Puliyur, Erukkatham Puliyur and Thiruppathiri Puliyur. It is believed that he worshiped Lord Shiva here to seek the dance darshan of Thillai Natarajar as seen in Chidambaram. Hence, the lord here is praised as "Sri Vyagyapureeswarar" and this place gets the name "Puliyur".
As Lord Dakshinamoorthy explained the meaning of Pranavam "Om" to Goddess Uma Devi (Parvathy), this place gets the name "Om amam Puliyur". Later this name was changed to Omampuliyur.
Another reason for the name Omampuliyur is that in ancient times, a lot of yagnas ("Homam") were conducted in this place and the smoke from these yagnas would engulf this village. In his hymn, Saint Thirunavukkarasar also mentions about the large number of yagnas performed and the smoke in this place.
Once, a king called Sadanandan, a staunch devotee of Lord Shiva, visited this place, took a dip in the temple's tank and worshiped the lord. It is believed that he was then cured of his leprosy.
Deities in the temple
Other than the shrines of Lord Shiva and Goddess Parvathy, shrines and idols of
Vinayakar (3), Murugan with his consorts, Iyappan, Anjaneyar, Gajalakshmi, Saraswathy, Pathralingeswarar with Parvathy, Natarajar (stone), Guru Bhagawan,
Nagars, Iyanar, Bairavar, Suryan, Saneeswarar and Nalvar with Viyakrapathar can be seen the main hall and the corridors.
In the "koshtam" (place surrounding the sanctum sanctorum), idols of Vinayakar, Dakshinamurthy, Annamalaiyar, Brahma, Durgai and Chandikeswarar can be seen.
There is no Navagraham in this temple.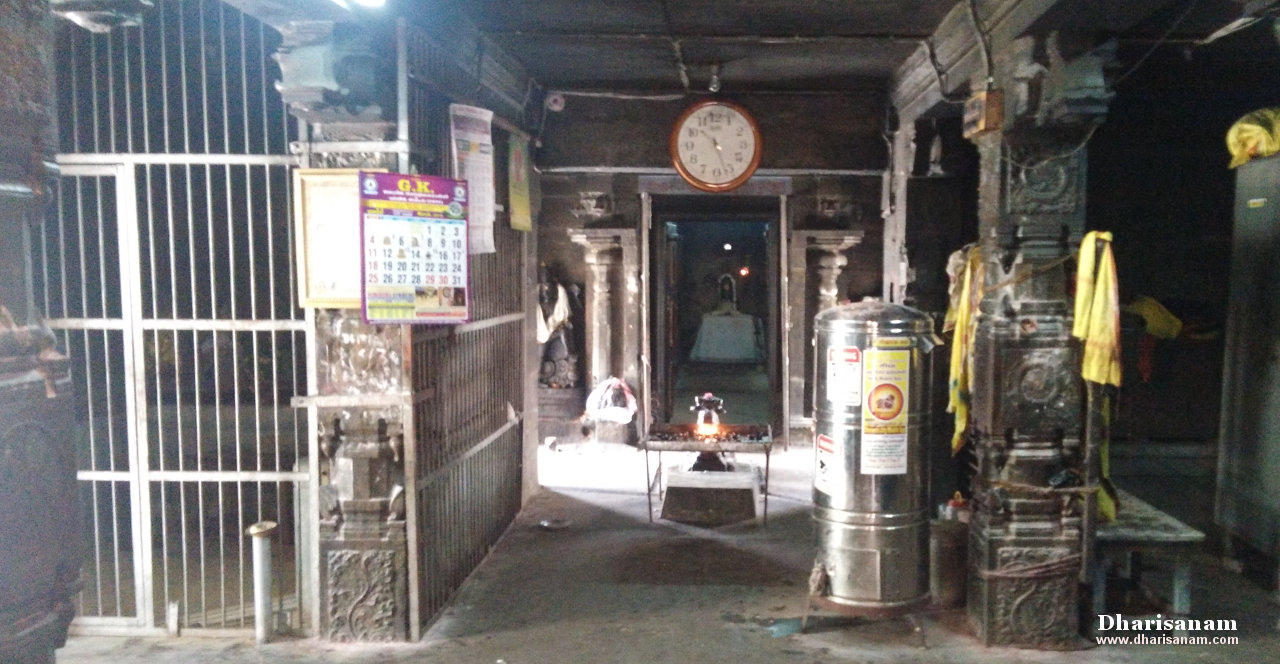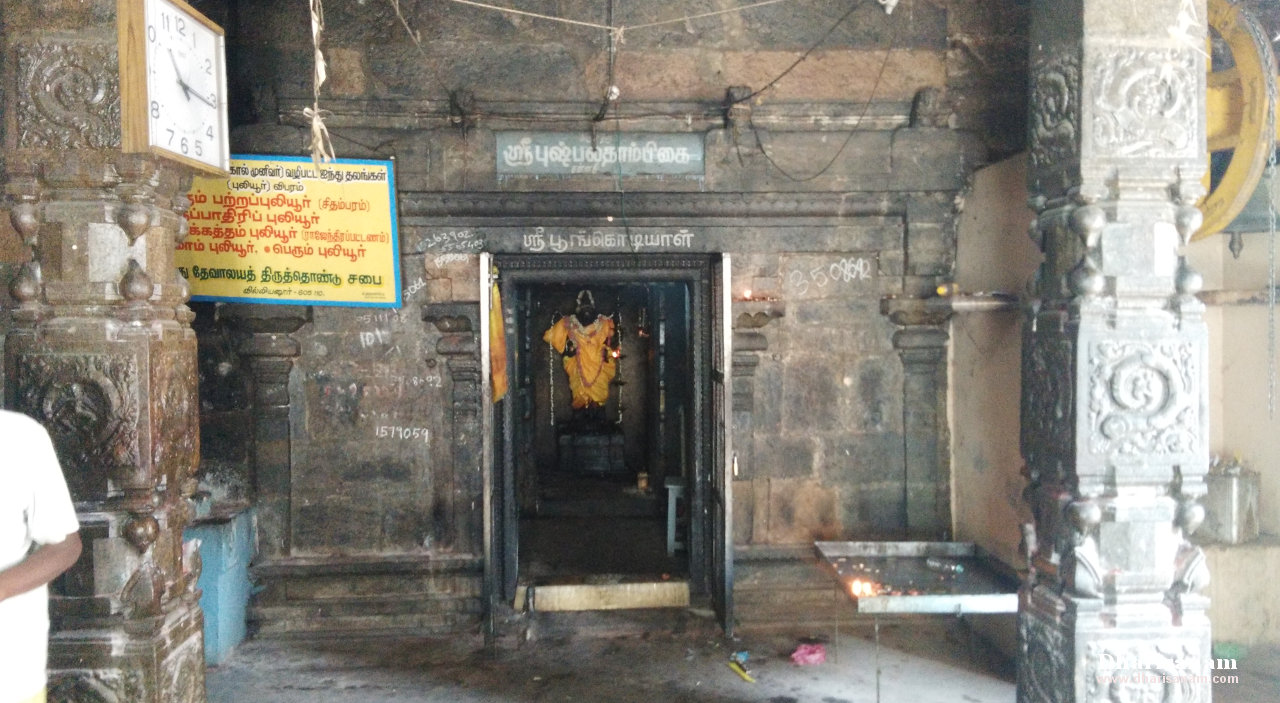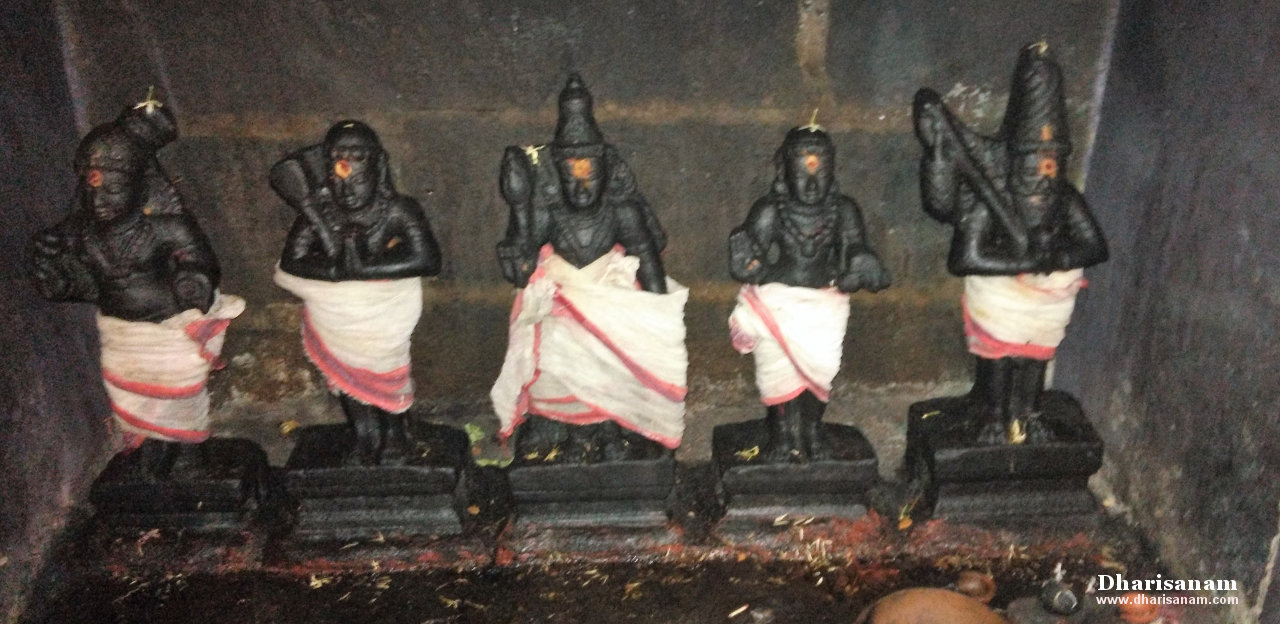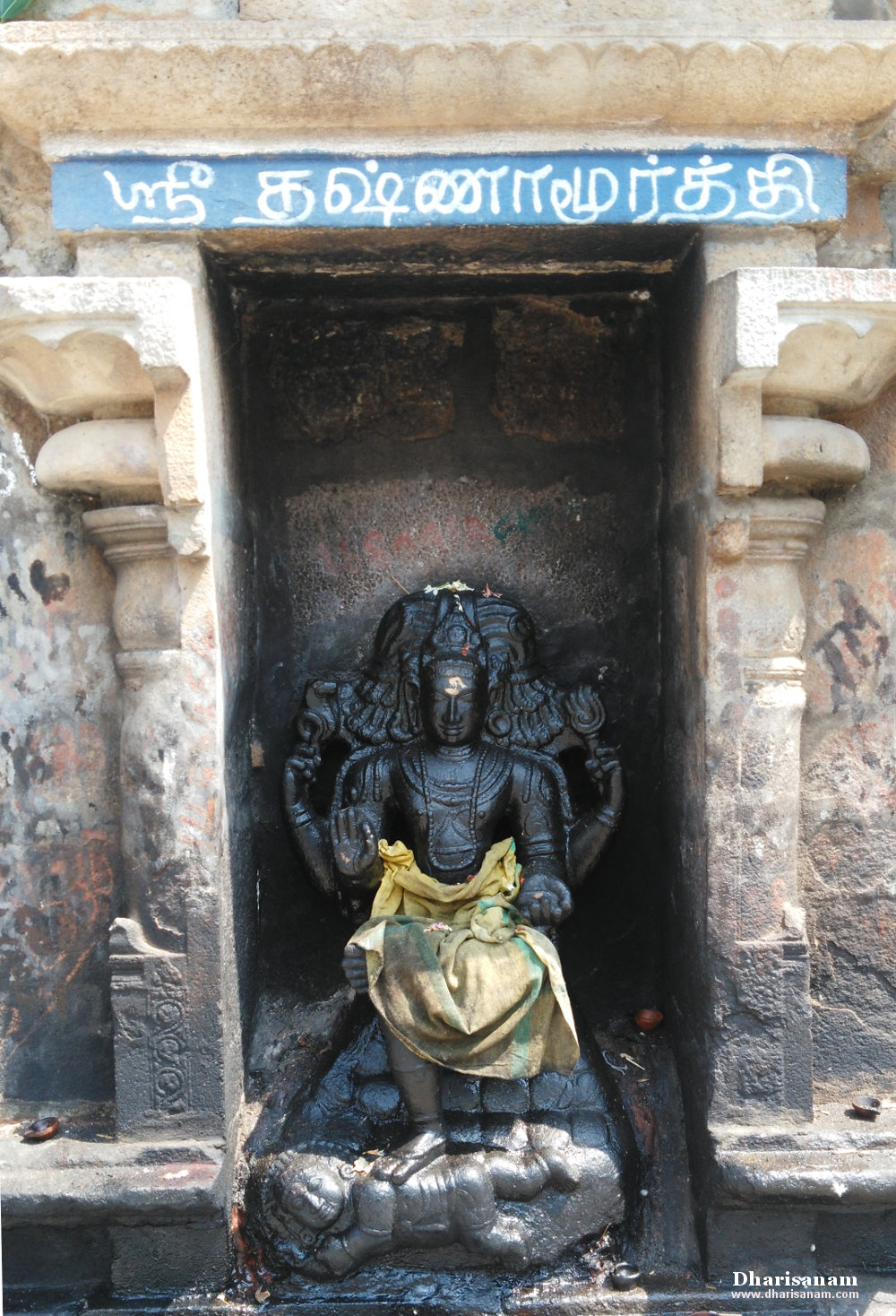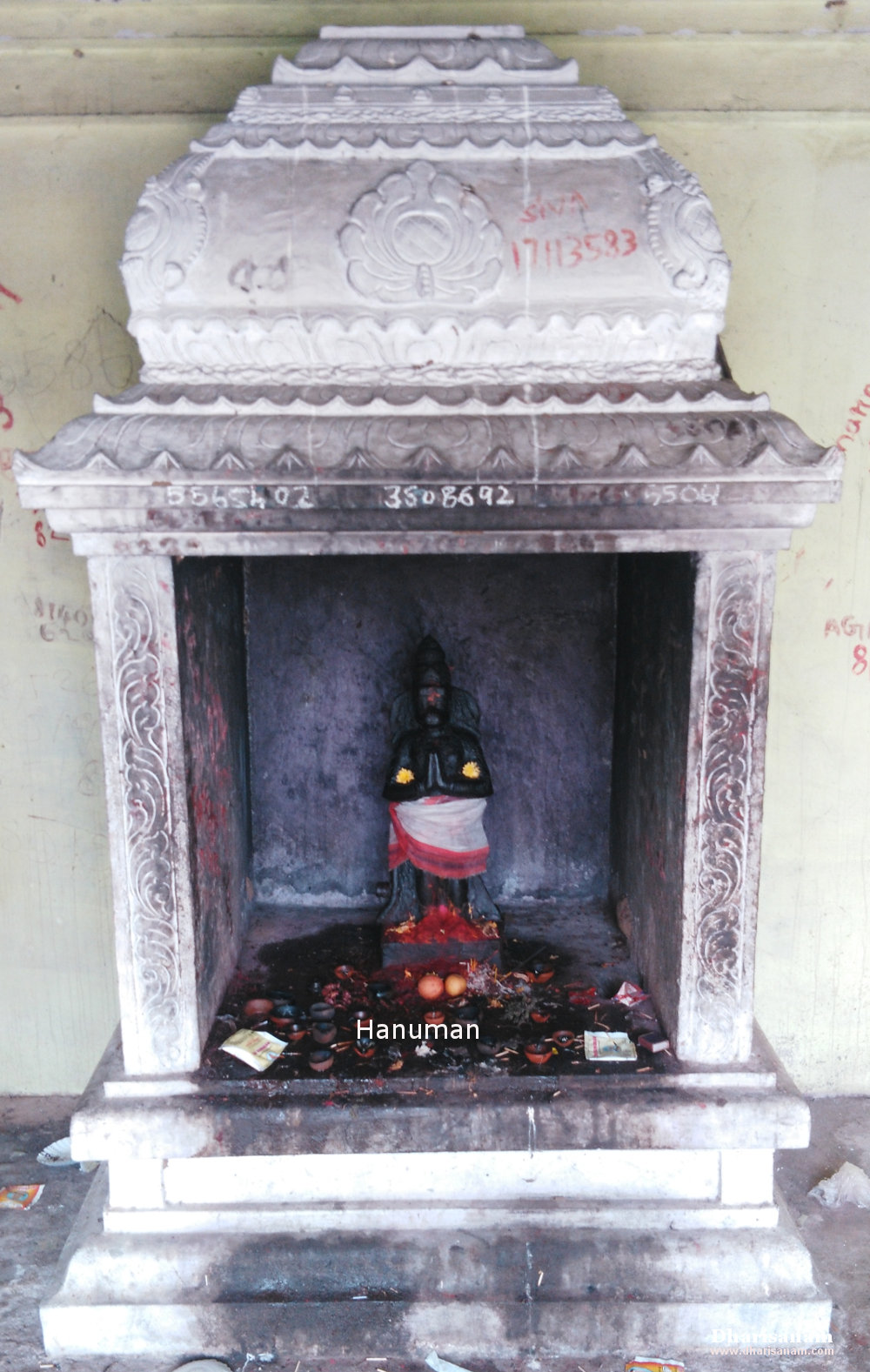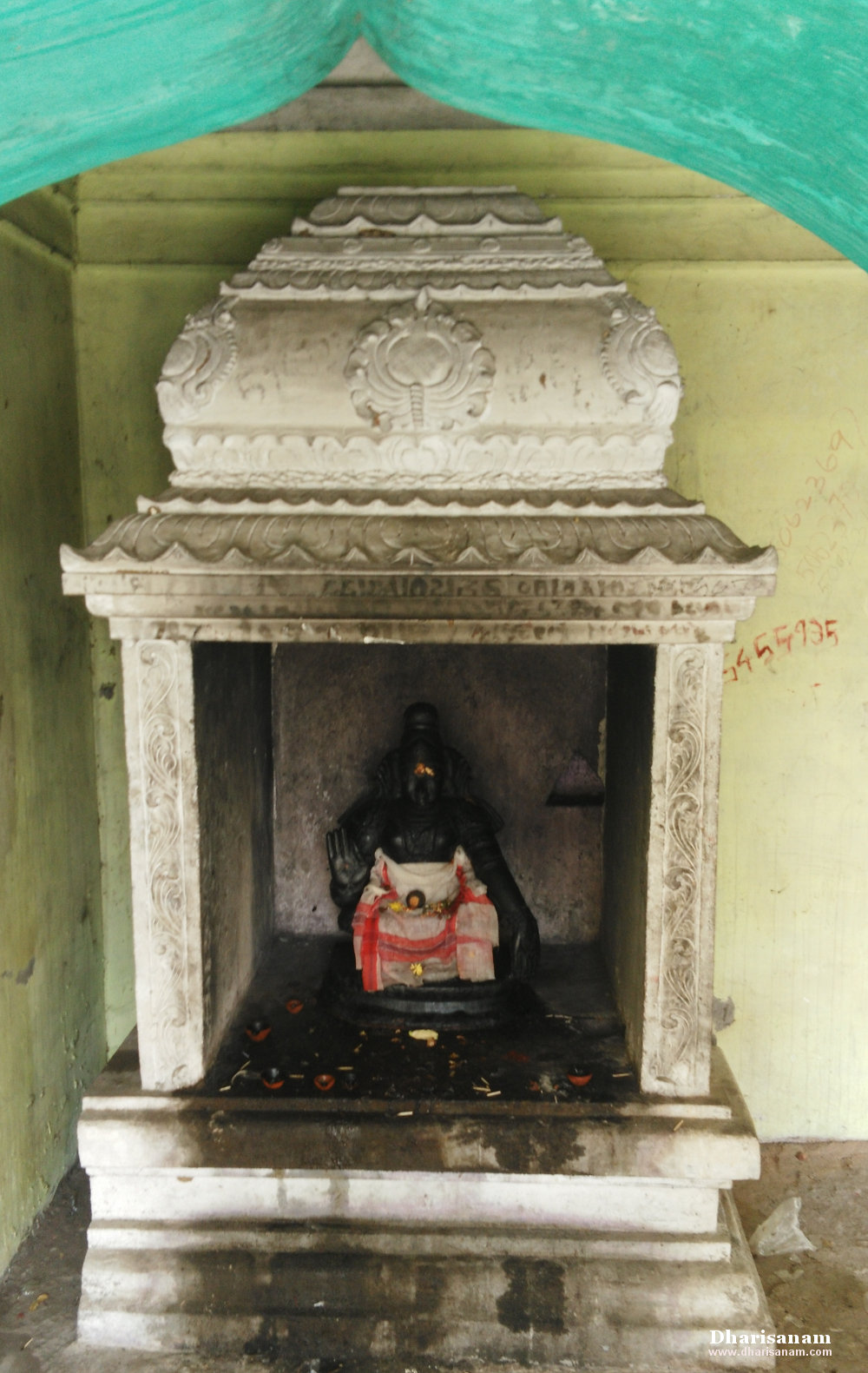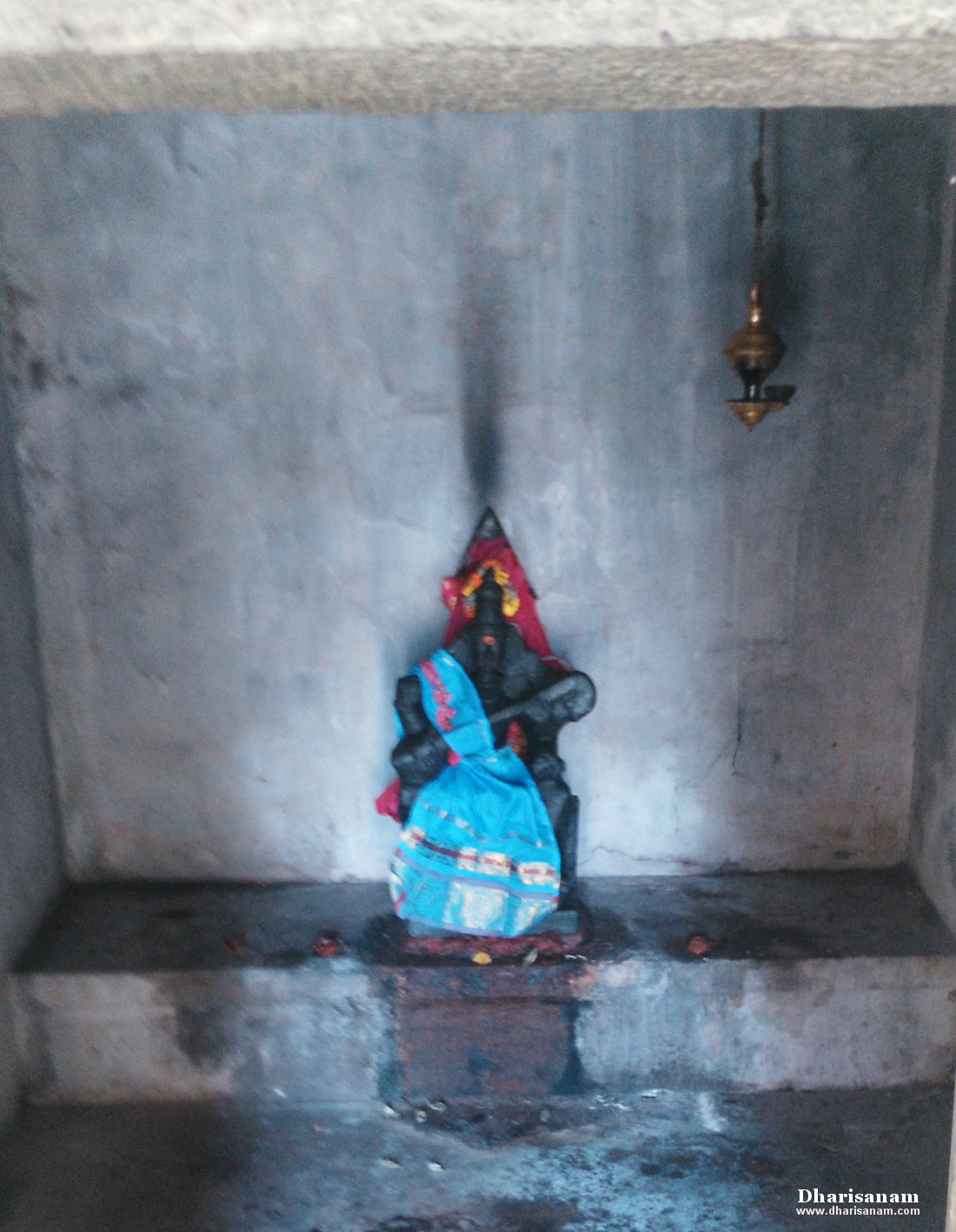 Salient Features
The idol of Natarajar is placed in the khostam. It is believed that this is the Natarajar that gave darshan to Sage Viyakrapathar.
There are beautiful sculptures that depict Sage Vyakrapathar worshiping the lord in five different Shiva temples. The names of all the five places are affixed with "Puliyur" and they are together known as "Pancha Puliyur". These places are –
Perum Patra Puliyur (Chidambaram),
Perum Puliyur,
Omampuliyur (this place),
Thiruppathiri Puliyur (Cuddalore), and
Thiru Erukkatham Puliyur.
Another sculpture in the sanctum depicts Lord Mahavishnu receiving the "Chakrayudam" from Lord Shiva to destroy the demon Salandharan.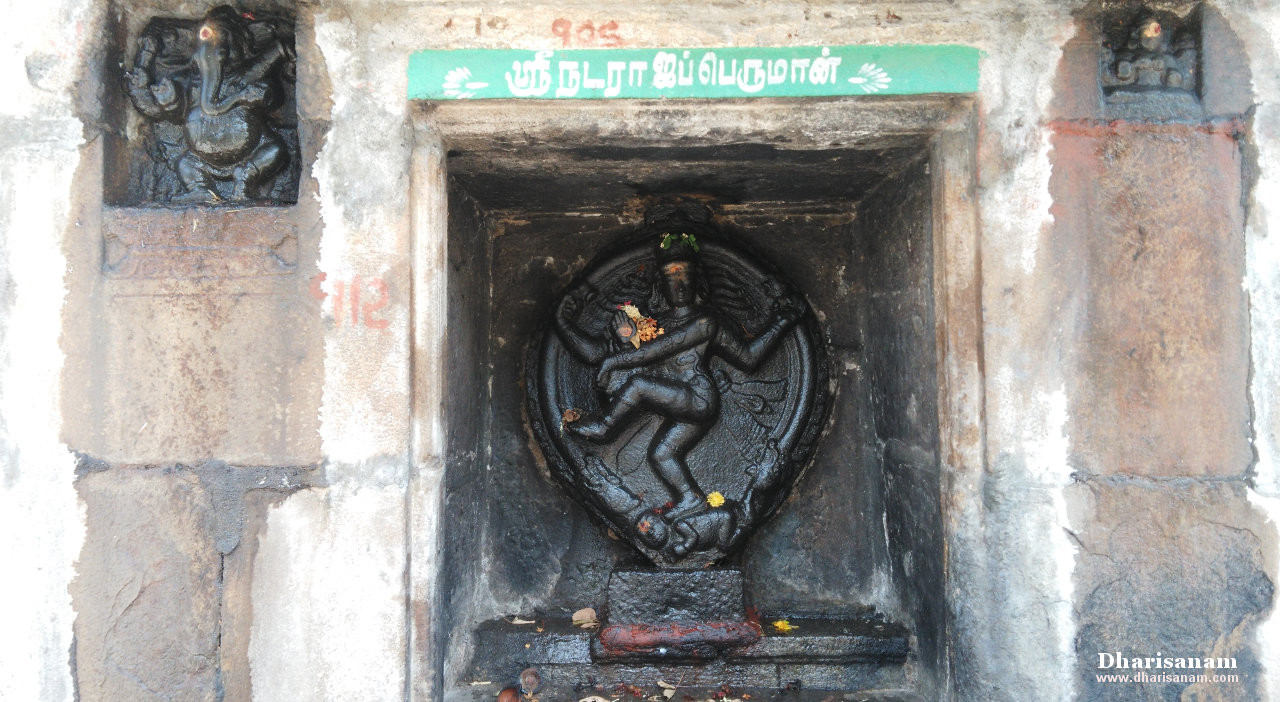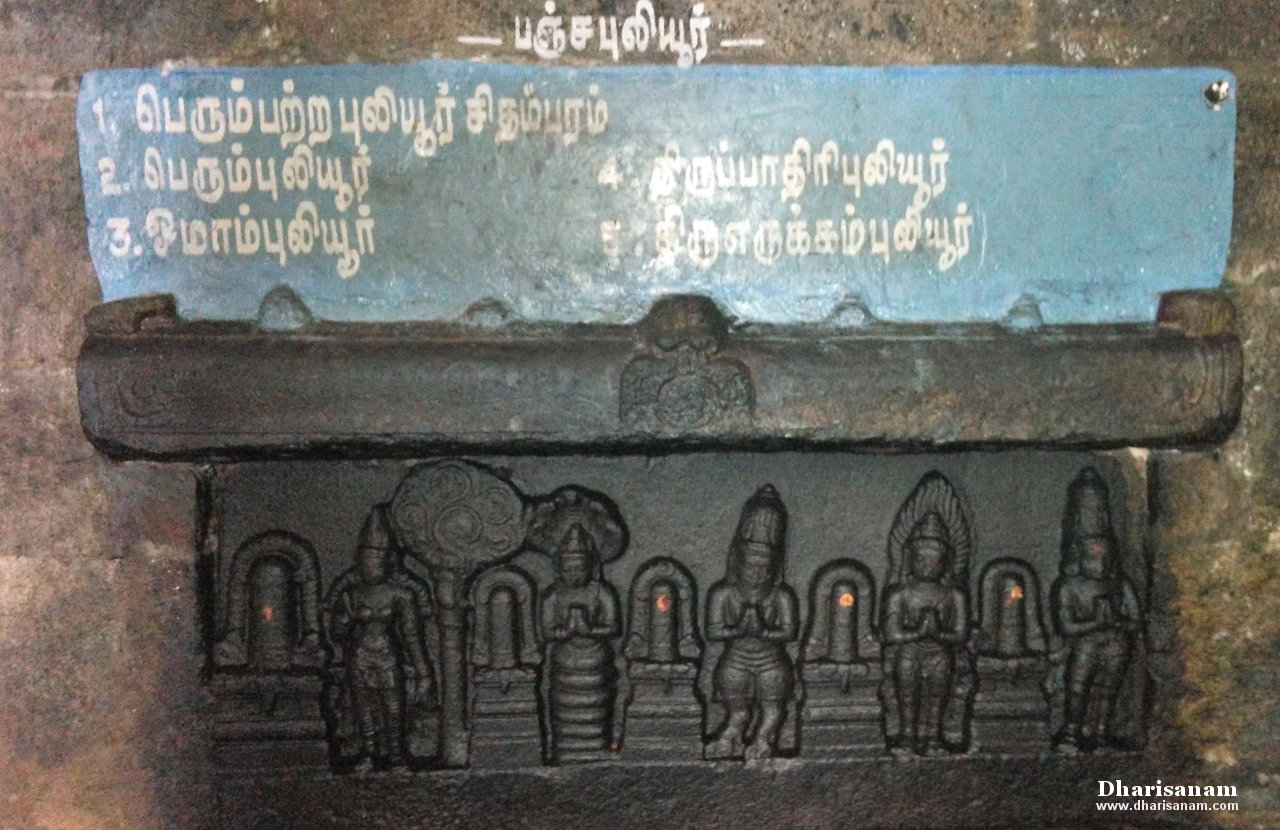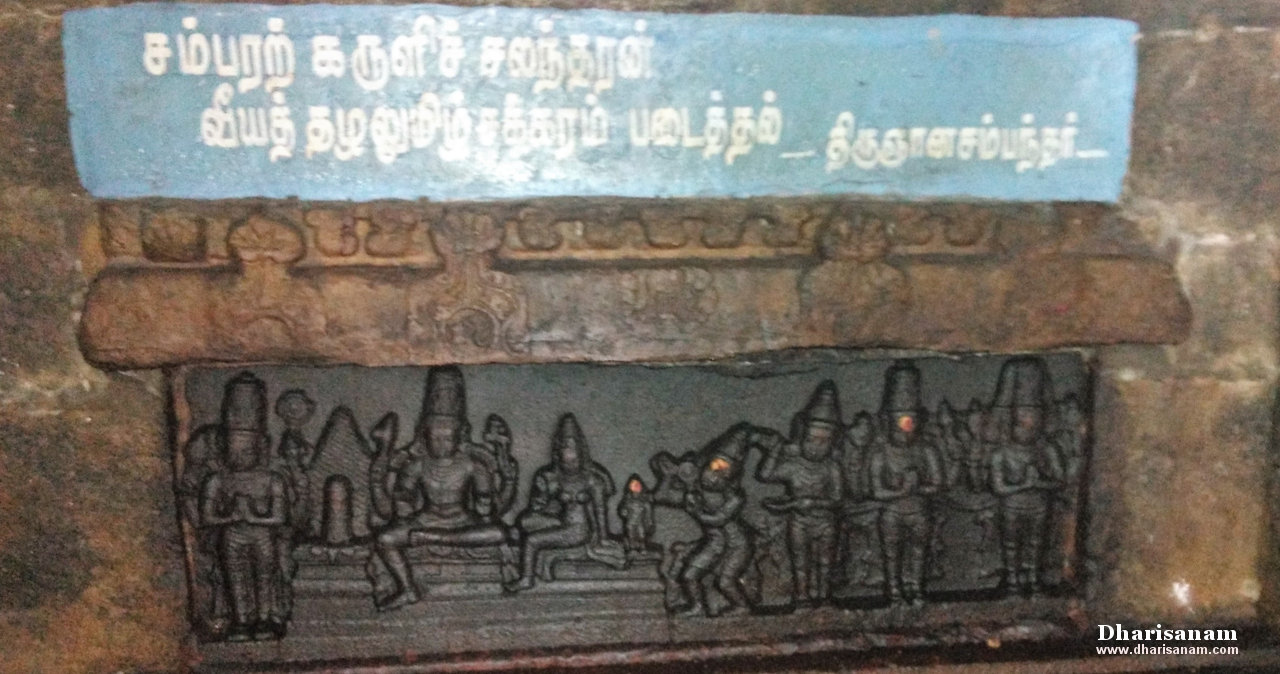 The Sthala Viruksham of this temple (Ilanthai tree) can be seen in the corridor. There is an idol of Goddess Parvathy underneath it. This idol shows the goddess in a meditative posture.
There is a small Shiva Temple called Vadathali (Sri Vadathaleeswarar with Sri Nagavalli) on the banks of the Gowri Theertham, which is just opposite to this temple.
Saints Thirugnanasambanthar and Appar have referred to this place as "Omamam Puliyur" and "Omampuliyur" respectively. "Vadathali temple" also finds a mention in both their hymns.
Greatness of this temple
This is a Parihara Sthalam for those who born during the periods of Revathi Nakshathiram. Devotees whose birth star is Revathi can visit this temple for performing special poojas.
This is also a famous "Guru Parihara Sthalam".
Also, parents bring their children here to worship the lord and seek his blessings for a bright academic future for their children.
Important Festivals
Some of the important festivals celebrated in this temple are –
Vinayakar Chaturthi in the Tamil month of Aavani (Aug-Sept),
Navarathri in the Tamil month of Purattasi (Sept-Oct),
Skanda Shashti and Annabishekam in the Tamil month of Aippasi (Oct–Nov),
Thiru Karthikai in the Tamil month of Karthikai (Nov-Dec),
Thiruvadhirai in the Tamil month of Markazhi (Dec-Jan) and
Masi Maham and Shivrathri in the Tamil month of Masi (Feb-Mar).
Special poojas are conducted on Jupitar (Guru) transition days.
Pradosham is also observed regularly.
Temple Timings
From 06.30 AM to 12.00 Noon and from 04.00 PM to 07.30 PM.
Temple Address
Sri Pranava Vyakrapureeswarar Temple,
Omampuliyur Post,
Kattumannar Koil Taluk,
Cuddalore District,
Tamil Nadu – 608 306.

The temple priest, Sri Jagadeesa Gurukkal can be contacted at +91-4144–264845 and +91 99426 34949.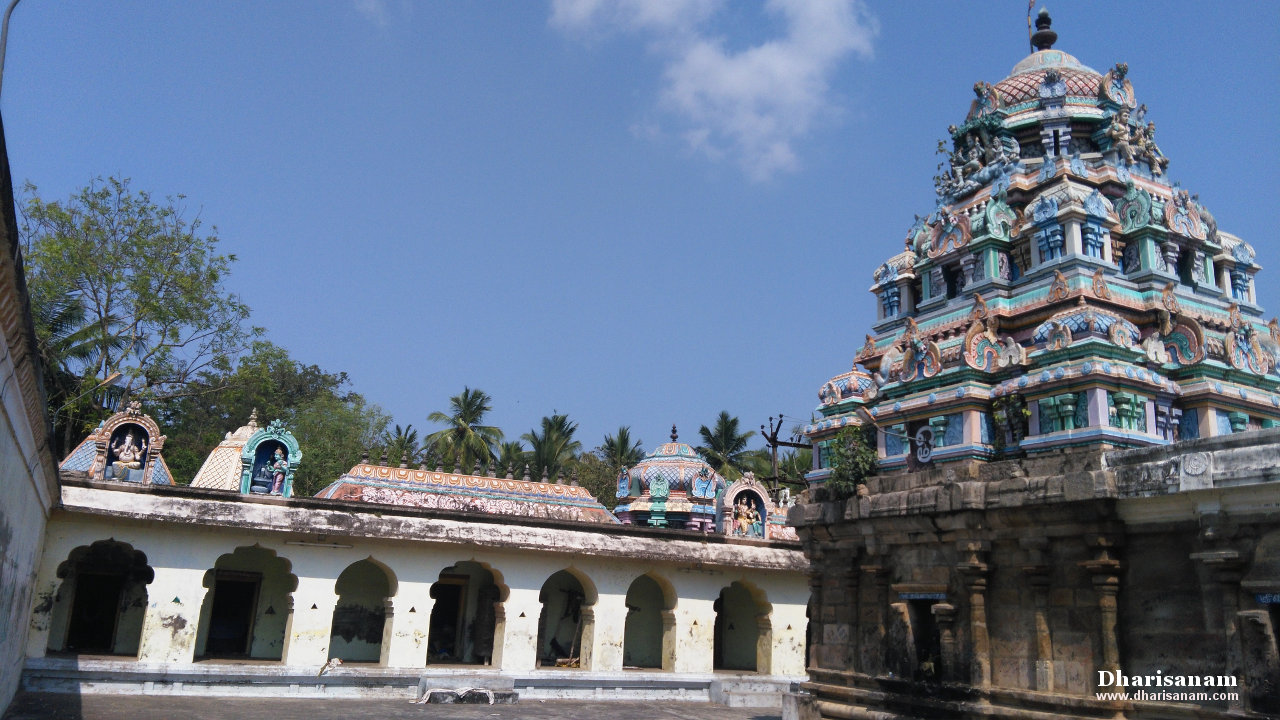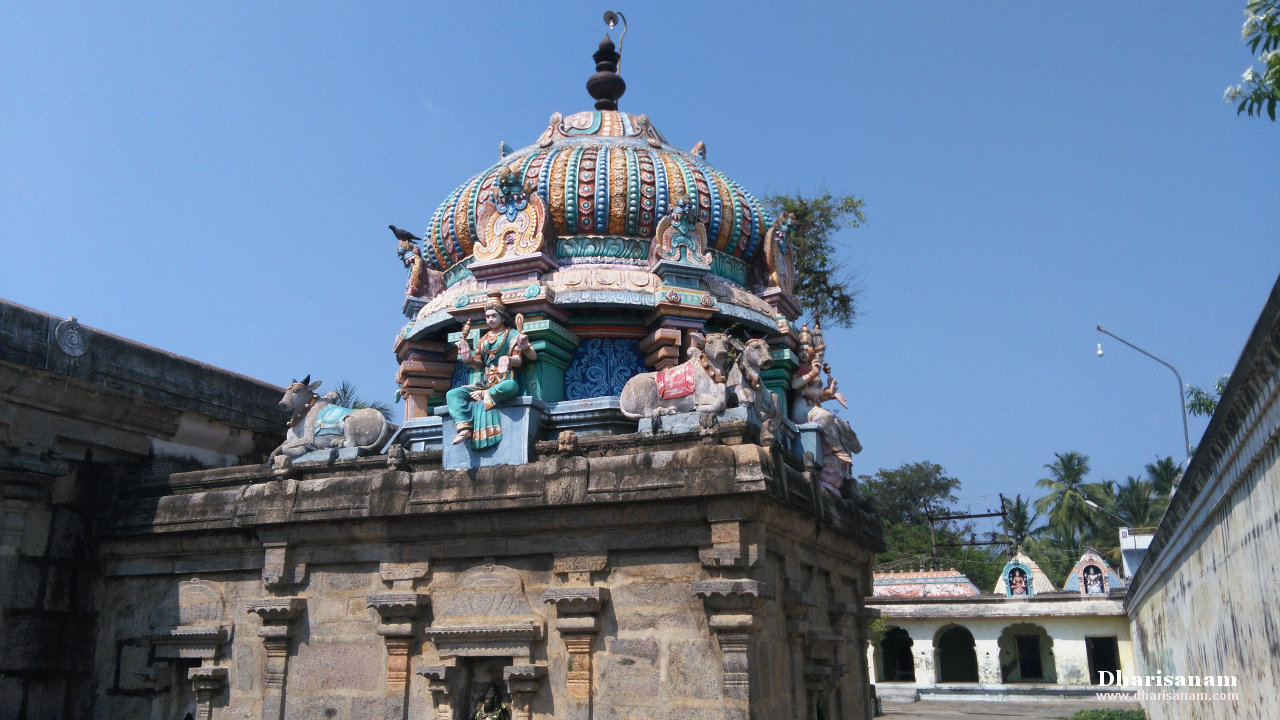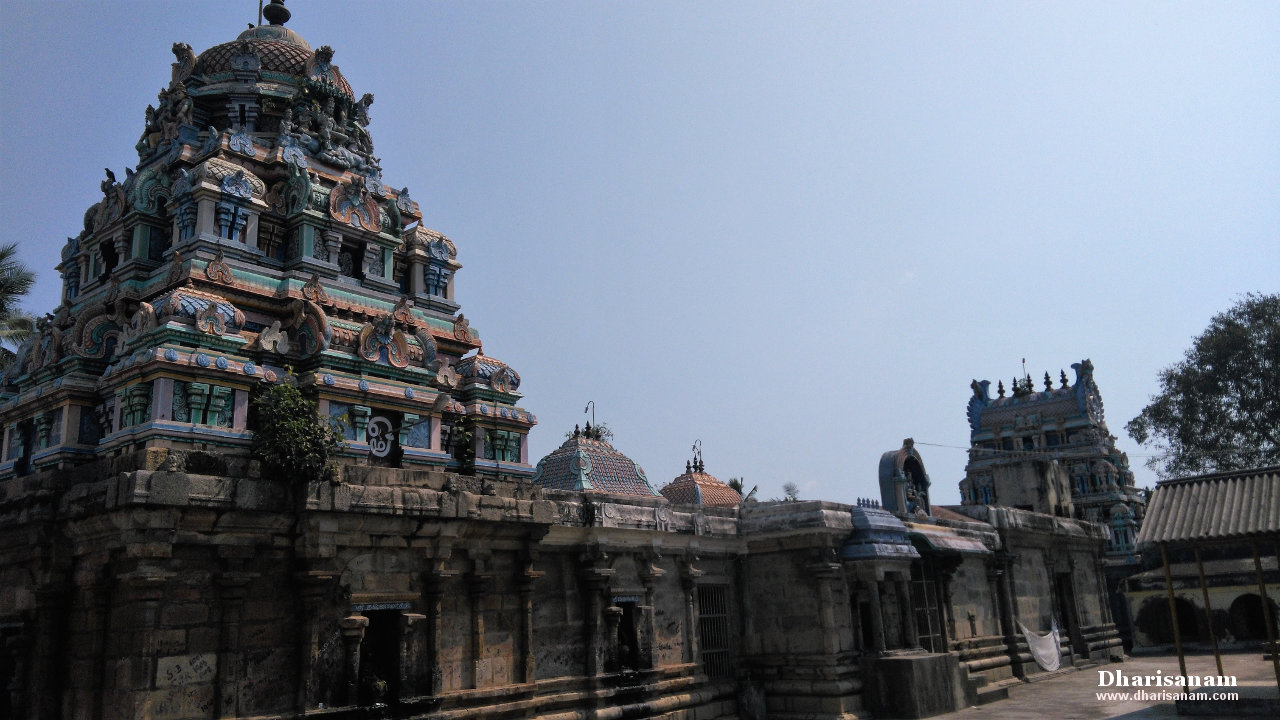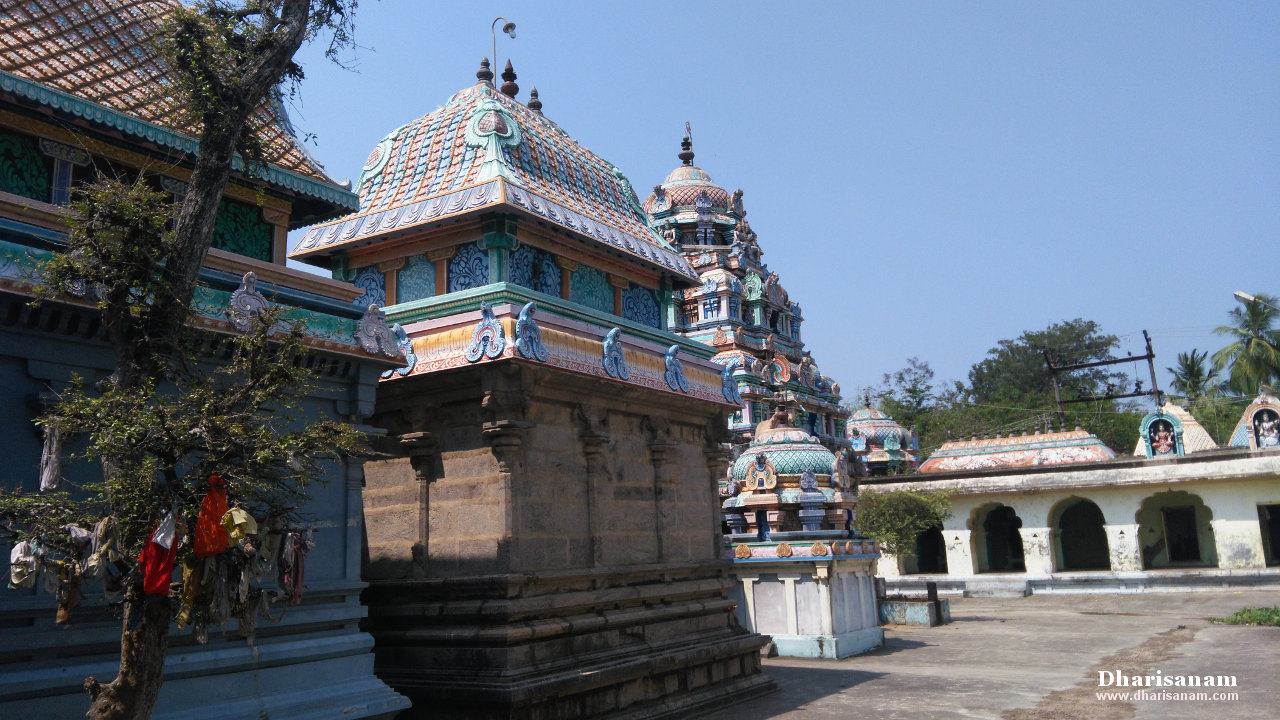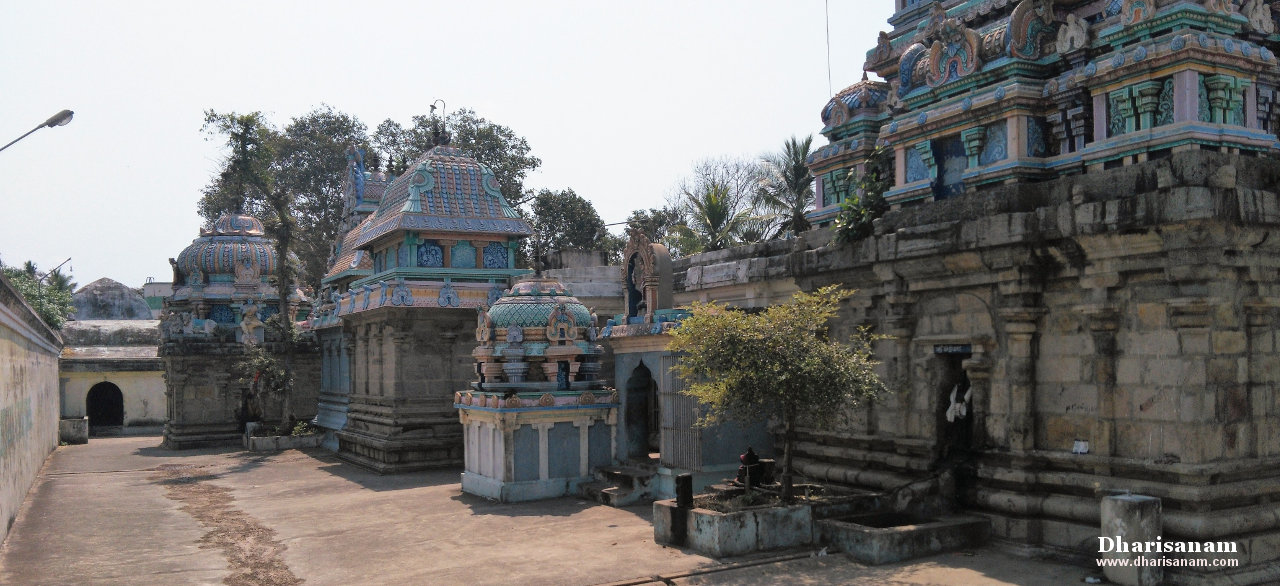 ---
Pathigam (Hymn) with English transliteration
Saint Thirugnanasambanthar visited this temple and sang this Pathigam.
Devotees visiting this temple should make it a practice to recite this Pathigam.
பூங்கொடி மடவாள் உமையொரு பாகம் புரிதரு சடைமுடி யடிகள்
வீங்கிருள் நட்டம் ஆடுமெம் விகிர்தர் விருப்பொடும் உறைவிடம் வினவில்
தேங்கமழ் பொழிலிற் செழுமலர் கோதிச் செறிதரு வண்டிசை பாடும்
ஓங்கிய புகழார் ஓமமாம் புலியூர் உடையவர் வடதளி யதுவே.
"Pūṅkoṭi maṭavāḷ umaiyoru pākam puritharu saṭaimuṭi yaṭikaḷ
vīṅkiruḷ naṭṭam āṭumem vikirthar viruppoṭum uṟaiviṭam viṉavil
thēṅkamazh pozhiliṟ chezhumalar kōthich cheṟitharu vaṇṭisai pāṭum
ōṅkiya pukazhār ōmamām puliyūr uṭaiyavar vaṭathaḷi yathuvē".
சம்பரற் கருளிச் சலந்தரன் வீயத் தழலுமிழ் சக்கரம் படைத்த
எம்பெரு மானார் இமையவ ரேத்த இனிதினங் குறைவிடம் வினவில்
அம்பர மாகி அழலுமிழ் புகையின் ஆகுதி யான்மழை பொழியும்
உம்பர்க ளேத்தும் ஓமமாம் புலியூர் உடையவர் வடதளி யதுவே.
"Samparaṟ karuḷich chalantharaṉ vīyath thazhalumizh sakkaram paṭaiththa
emperu māṉār imaiyava rēththa iṉithiṉaṅ kuṟaiviṭam viṉavil
ampara māki azhalumizh pukaiyiṉ ākuthi yāṉmazhai pozhiyum
umparka ḷēththum ōmamām puliyūr uṭaiyavar vaṭathaḷi yathuvē".
பாங்குடைத் தவத்துப் பகீரதற் கருளிப் படர்சடைக் கரந்தநீர்க் கங்கை
தாங்குதல் தவிர்த்துத் தராதலத் திழித்த தத்துவன் உறைவிடம் வினவில்
ஆங்கெரி மூன்றும் அமர்ந்துட னிருந்த அங்கையால் ஆகுதி வேட்கும்
ஓங்கிய மறையோர் ஓமமாம் புலியூர் உடையவர் வடதளி யதுவே.
"Pāṅkuṭaith thavaththup pakīrathaṟ karuḷip paṭarsaṭaik karanthanīrk gaṅgai
thāṅkuthal thavirththuth tharāthalath thizhiththa thaththuvaṉ uṟaiviṭam viṉavil
āṅkeri mūṉtṟum amarnthuṭa ṉiruntha aṅkaiyāl ākuthi vēṭkum
ōṅkiya maṟaiyōr ōmamām puliyūr uṭaiyavar vaṭathaḷi yathuvē".
புற்றர வணிந்து நீறுமெய் பூசிப் பூதங்கள் சூழ்தர வூரூர்
பெற்றமொன் றேறிப் பெய்பலி கொள்ளும் பிரானவன் உறைவிடம் வினவிற்
கற்றநால் வேதம் அங்கமோ ராறுங் கருத்தினார் அருத்தியாற் றெரியும்
உற்றபல் புகழார் ஓமமாம் புலியூர் உடையவர் வடதளி யதுவே.
"Putṟara vaṇinthu nīṟumey pūsip pūthaṅkaḷ chūzhthara vūrūr
petṟamoṉ tṟēṟip peypali koḷḷum pirāṉavaṉ uṟaiviṭam viṉaviṟ
katṟanāl vētham aṅkamō rāṟuṅ karuththiṉār aruththiyāt ṟeriyum
utṟapal pukazhār ōmamām puliyūr uṭaiyavar vaṭathaḷi yathuvē".
நிலத்தவர் வானம் ஆள்பவர் கீழோர் துயர்கெட நெடியமாற் கருளால்
அலைத்தவல் லசுரர் ஆசற வாழி யளித்தவன் உறைவிடம் வினவிற்
சலத்தினாற் பொருள்கள் வேண்டுதல் செய்யாத் தன்மையார் நன்மையான் மிக்க
உலப்பில்பல் புகழார் ஓமமாம் புலியூர் உடையவர் வடதளி யதுவே.
"Nilaththavar vāṉam āḷpavar kīzhōr thuyarkeṭa neṭiyamāṟ karuḷāl
alaiththaval lasurar āsaṟa vāzhi yaḷiththavaṉ uṟaiviṭam viṉaviṟ
salaththiṉāṟ poruḷkaḷ vēṇṭuthal seyyāth thaṉmaiyār naṉmaiyāṉ mikka
ulappilpal pukazhār ōmamām puliyūr uṭaiyavar vaṭathaḷi yathuvē".
மணந்திகழ் திசைகள் எட்டும் ஏழிசையும் மலியுமா றங்கம் ஐவேள்வி
இணைந்தநால் வேதம் மூன்றெரி யிரண்டு பிறப்பென வொருமையா லுணருங்
குணங்களும் அவற்றின் கொள்பொருள் குற்றம் மற்றவை யுற்றது மெல்லாம்
உணர்ந்தவர் வாழும் ஓமமாம் புலியூர் உடையவர் வடதளி யதுவே.
"Maṇanthikazh thisaikaḷ eṭṭum ēzhisaiyum maliyumā ṟaṅkam aivēḷvi
iṇainthanāl vētham mūṉtṟeri yiraṇṭu piṟappeṉa vorumaiyā luṇaruṅ
kuṇaṅkaḷum avatṟiṉ koḷporuḷ kutṟam matṟavai yutṟathu mellām
uṇarnthavar vāzhum ōmamām puliyūr uṭaiyavar vaṭathaḷi yathuvē".

இப்பதிகத்தில் 7-ம் செய்யுள் சிதைந்து போயிற்று.

Ippathikaththil 7-m seyyuḷ sithainthu pōyitṟu.
தலையொரு பத்துந் தடக்கைய திரட்டி தானுடை அரக்க னொண்கயிலை
அலைவது செய்த அவன்றிறல் கெடுத்த ஆதியார் உறைவிடம் வினவில்
மலையென வோங்கும் மாளிகை நிலவும் மாமதில் மாற்றல ரென்றும்
உலவுபல் புகழார் ஓமமாம் புலியூர் உடையவர் வடதளி யதுவே.
"Thalaiyoru paththun thaṭakkaiya thiraṭṭi thāṉuṭai arakka ṉoṇkayilai
alaivathu seytha avaṉtṟiṟal keṭuththa āthiyār uṟaiviṭam viṉavil
malaiyeṉa vōṅkum māḷikai nilavum māmathil mātṟala reṉtṟum
ulavupal pukazhār ōmamām puliyūr uṭaiyavar vaṭathaḷi yathuvē".
கள்ளவிழ் மலர்மே லிருந்தவன் கரியோ னென்றிவர் காண்பரி தாய
ஒள்ளெரி யுருவர் உமையவ ளோடும் உகந்தினி துறைவிடம் வினவிற்
பள்ளநீர் வாளை பாய்தரு கழனி பனிமலர்ச் சோலைசூ ழாலை
ஒள்ளிய புகழார் ஓமமாம் புலியூர் உடையவர் வடதளி யதுவே.
"Kaḷḷavizh malarmē lirunthavaṉ kariyō ṉeṉtṟivar kāṇpari thāya
oḷḷeri yuruvar umaiyava ḷōṭum ukanthiṉi thuṟaiviṭam viṉaviṟ
paḷḷanīr vāḷai pāytharu kazhaṉi paṉimalarch chōlaichū zhālai
oḷḷiya pukazhār ōmamām puliyūr uṭaiyavar vaṭathaḷi yathuvē".
தெள்ளிய ரல்லாத் தேரரோ டமணர் தடுக்கொடு சீவரம் உடுக்குங்
கள்ளமார் மனத்துக் கலதிகட் கருளாக் கடவுளார் உறைவிடம் வினவில்
நள்ளிருள் யாமம் நான்மறை தெரிந்து நலந்திகழ் மூன்றெரி யோம்பும்
ஒள்ளியார் வாழும் ஓமமாம் புலியூர் உடையவர் வடதளி யதுவே.
"Theḷḷiya rallāth thērarō ṭamaṇar thaṭukkoṭu sīvaram uṭukkuṅ
kaḷḷamār maṉaththuk kalathikaṭ karuḷāk kaṭavuḷār uṟaiviṭam viṉavil
naḷḷiruḷ yāmam nāṉmaṟai therinthu nalanthikazh mūṉtṟeri yōmpum
oḷḷiyār vāzhum ōmamām puliyūr uṭaiyavar vaṭathaḷi yathuvē".
விளைதரு வயலுள் வெயில்செறி பவளம் மேதிகள் மேய்புலத் திடறி
ஒளிதர மல்கும் ஓமமாம் புலியூர் உடையவர் வடதளி யரனைக்
களிதரு நிவப்பிற் காண்டகு செல்வக் காழியுள் ஞானசம் பந்தன்
அளிதரு பாடல் பத்தும்வல் லார்கள் அமரலோ கத்திருப் பாரே.
"Viḷaitharu vayaluḷ veyilseṟi pavaḷam mēthikaḷ mēypulath thiṭaṟi
oḷithara malkum ōmamām puliyūr uṭaiyavar vaṭathaḷi yaraṉaik
kaḷitharu nivappiṟ kāṇṭaku selvak kāzhiyuḷ gñāṉasam banthaṉ
aḷitharu pāṭal paththumval lārkaḷ amaralō kaththirup pārē".