Visited on: 10th March, 2017
Location
Pennadam is at a distance of about 18 kms from Virudachalam on the Virudhachalam to Thittakudi route. It is about 15 kms from Thozhuthur, 23 kms from Srimushnam and 40 kms from Ulunthurpettai.
Another Paadal Petra Shiva Sthalam near Pennadam is Thiru Nelvayil Arathurai which is about 5 kms from it.
General Information
| | |
| --- | --- |
| Moolavar | Sri Pralayakaleswarar, Sri Sudarkozhundeeswarar, Sri Kadanthai Nathar, Sri Kaivazhangeesar |
| Ambal | Sri Aamodanambal, Sri Kadanthai Nayaki, Sri Azhagiya Kadhali |
| Theertham (Holy water) | Parvathi Theertham, Kapila Theertham, Kayilai Theertham, Indira theertham, Mukkulam, Vellaru river |
| Sthala Vriksham (Sacred Tree) | Shanbaga tree |
| Pathigam (Hymn) rendered by | Saint Thirugnanasambanthar, Saint Thirunavukarasar (Appar) |
This is one of the 276 Devara Paadal Petra Shiva Sthalams and 2nd Shiva Sthalam in Nadu Naadu.
Lord Shiva in this temple is a Swayambumurthi (self-manifested).
This temple has two corridors and its main tower (Rajagopuram) has 5-tiers.
The vimanam (roof tower) of the sanctum sanctorum has been constructed according to the Gaja Brishtam style of architecture.
This is the birth place of Saint Kalikkamba Nayanar - one of the 63 Nayanmars and Saint Meikandar - the first of the four "Santhana Kuravars". He is considered a pioneer of Saiva philosophy.
Saint Marai Ganasambanthar, the third "Santhana Kuravars" is also believed to have lived here.
The last consecration ceremony took place on 10.05.1989. Before that, the consecration ceremonies were held on 18.03.1981 and 13.07.1973.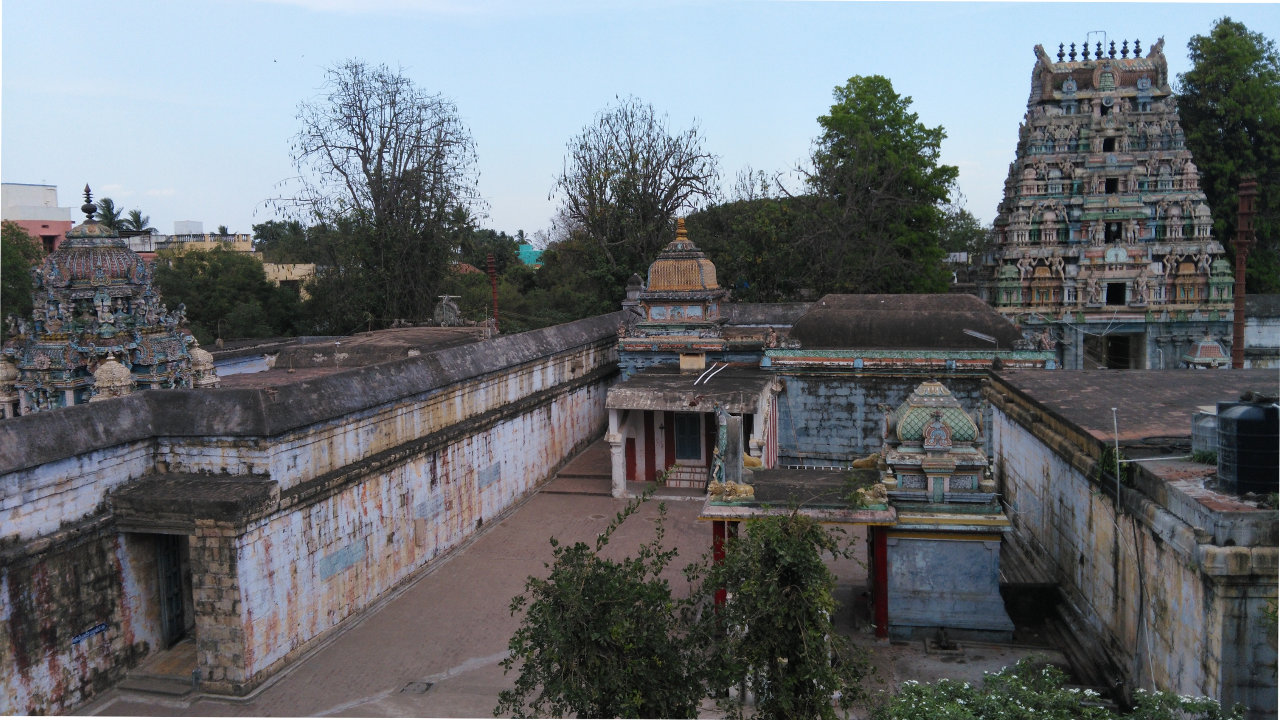 History of the Temple
It is believed that this temple was built in the early Chola period. The historical names of this place are - Soundarya Chola Puram, Thiru Kadanthai, Parvathi Puram, Pushpavanam and Dhayarasapathi. The lord of this temple is praised as Sri Sudarkozhunthu Nathar and Sri Kaivazhangeesar.
Legend
According to the legend, there was once a flood which was consuming the entire world. This was the only place left that wasn't submerged in water. Devas (celestial gods) rushed to this place and prayed to Lord Shiva to protect all beings by preventing the water from entering this place. Lord Shiva directed Nandhi to prevent the flood water entering here. Nandhi, till then facing Lord Shiva, turned to the opposite direction, swallowed the incoming flood water and saved this place from getting submerged. Hence, the lord of this place is praised as "Pralaya Kaleswarar" – "the lord who protected the world". Nandhi, is still facing the opposite direction, that is, facing the entrance of the temple.
Another legend is that once Indira, the king of Devas needed flowers form earth to perform Shiva pooja at his abode. He sent two maidens to earth to bring flowers. Although the maidens found flowers there in plenty, they did not return back to the celestial world and instead decided to stay in this place itself after seeing a Shiva lingam here. They started worshiping this Shiva lingam. When they did not return, Indira sent the divine cow Kamadenu to bring them back. Kamadenu found the maidens but instead of taking them bak she joined them in their worship of the Shiva lingam. When Kamadenu also did not return, Indra was perplexed and sent his white elephant Iravadham in search of them. Iravadham found them worshiping Lord Shiva and decided to join them. He stood near the lingam in such a way that prevented sunlight from falling directly on the Shiva lingam so as to not let the lord feel the heat of the sun.
Finally, Indira himself came down to earth and saw everyone worshiping the lord. He also joined them in the worship. Later on, all of them returned together to the celestial world with the blessings of Lord Shiva.
The name of this place "Pennadam" is believed to have originated from this legend. "Penn" means angel (maidens), "Aa" means divine cow (Kamadenu) and "Kada" means elephant (Iravadham).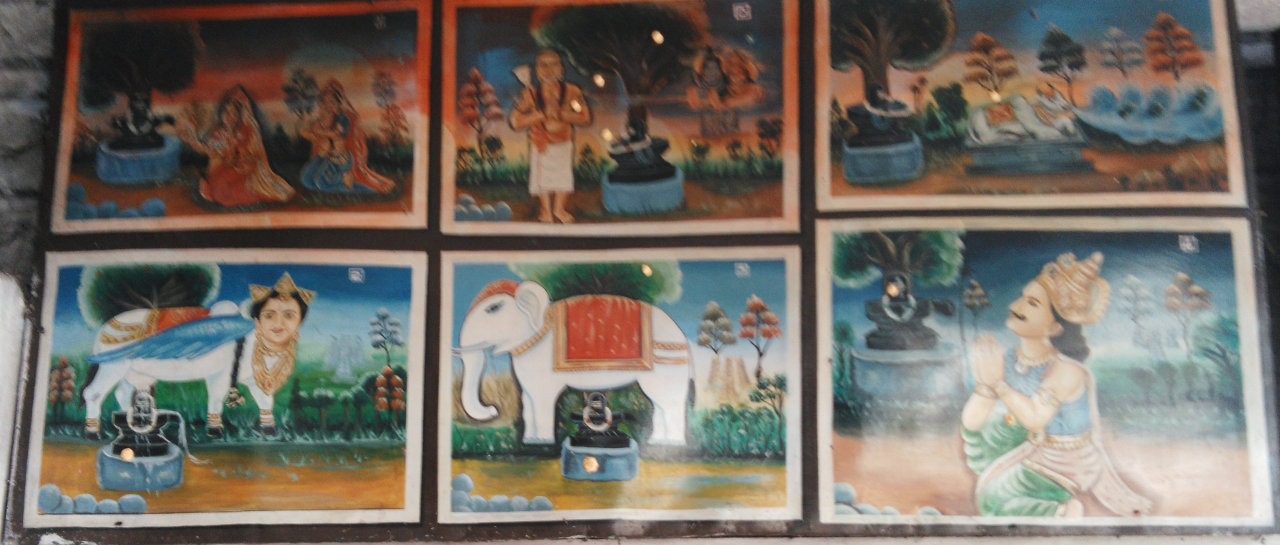 Another legend associated with this temple is that of Anandavalli Ammaiyar, an ardent Shiva devotee, who used to worship the lord here regularly. Once there was a heavy flood in the river Vellaru that prevented her from reaching the temple. She decided to perform her daily worship from the other bank of the river itself. Although she completed her worship, she could not see the lord. Lord Shiva realised this and as a token of his appreciation for her devotion, he raised the ground level by about 40 to 50 feet. Even today, the shrine is an elevated position and one has to climb up some steps to enter it.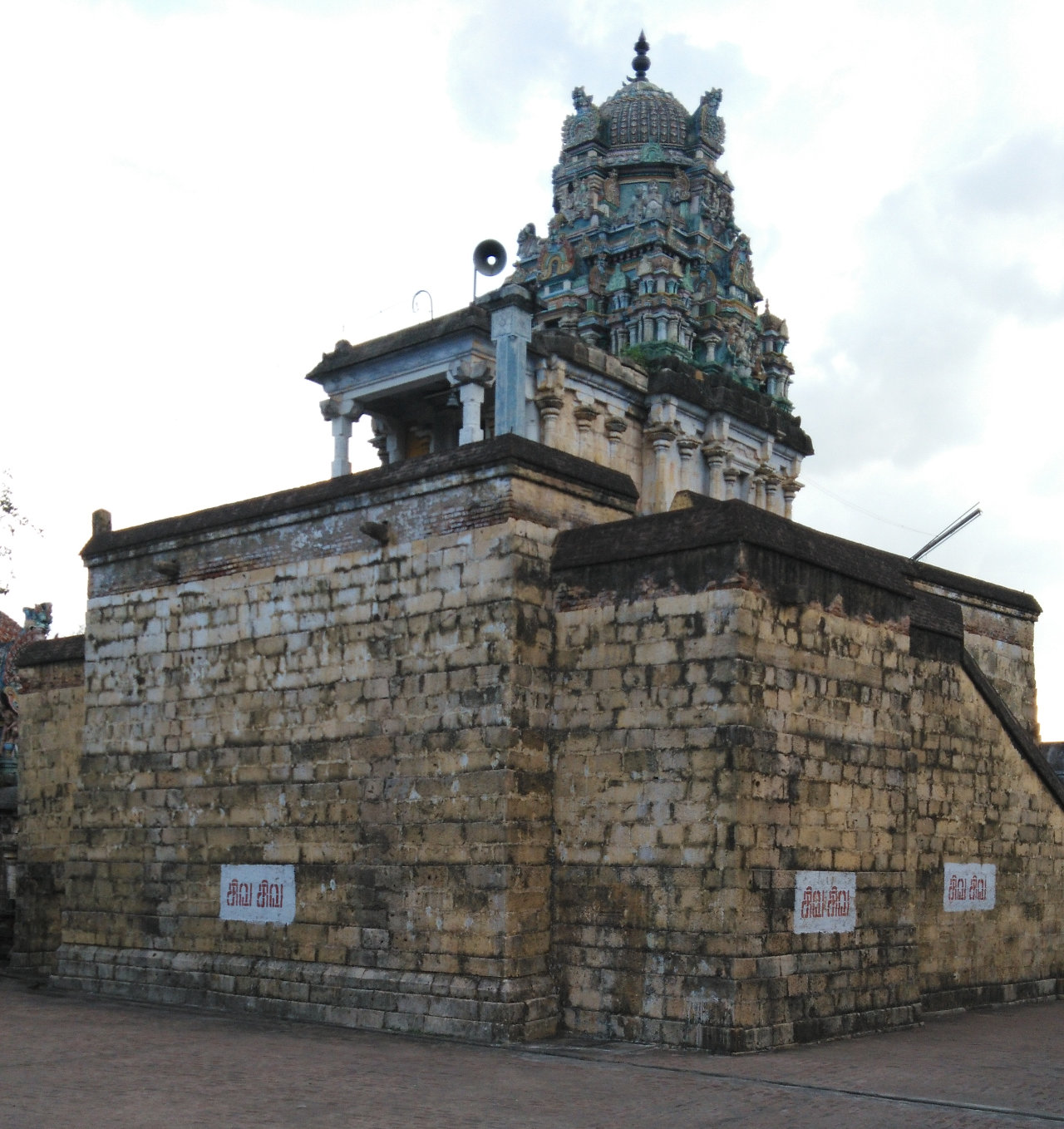 There is another legend associated with this place that involves Kalikamba Nayanar (one of the 63 Nayanmars) and his wife. Kalikamba Nayanar and his wife used to do "Pada Pujai" (washing the feet of Shiva devotees before offering them food). Once, his wife was reluctant to perform pada pooja for a devotee who happened to be their servant. In a fit of rage, Kalikambar chopped off the hands of his wife for refusing to perform a divine duty. Pleased with his dutifulness, Lord Shiva restored his wife's hands and blessed both of them with salvation. Hence the lord here is also praised as "Sri Kaivazhangeesar" – (in Tamil "Kai" means hand and "Vazhangu" means to give).
Another legend associated with this temple is that it was here that Saint Thirunavukkarasar (Appar) appealed to Lord Sudarkozhundhu Nathar to inscribe tattoos of a Trident (Thrishul), Vibuthi pattai (sacred lines of ash) and Nandhi (Lord Shiva's mount) on his hands and forehead. Lord Shiva felt that Appar is deserving of such an honour and blessed the saint with these inscriptions. This episode is beautifully described by the renowned poet Sekkizhar in his magnum opus Peria Puranam.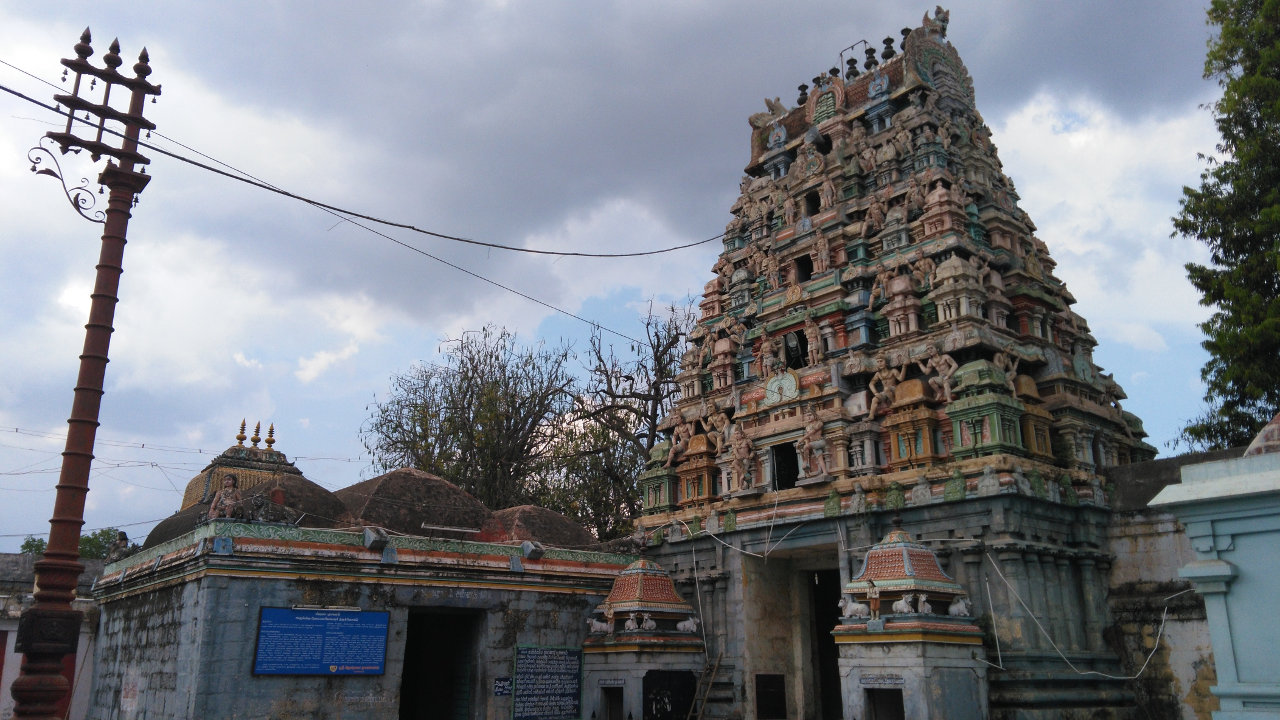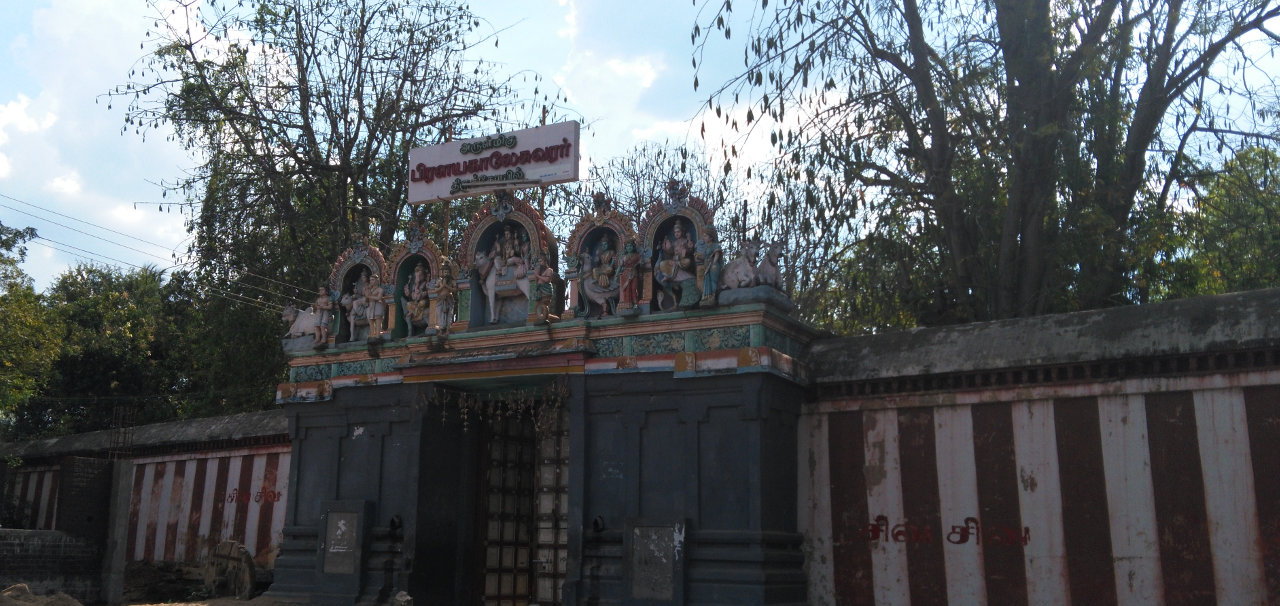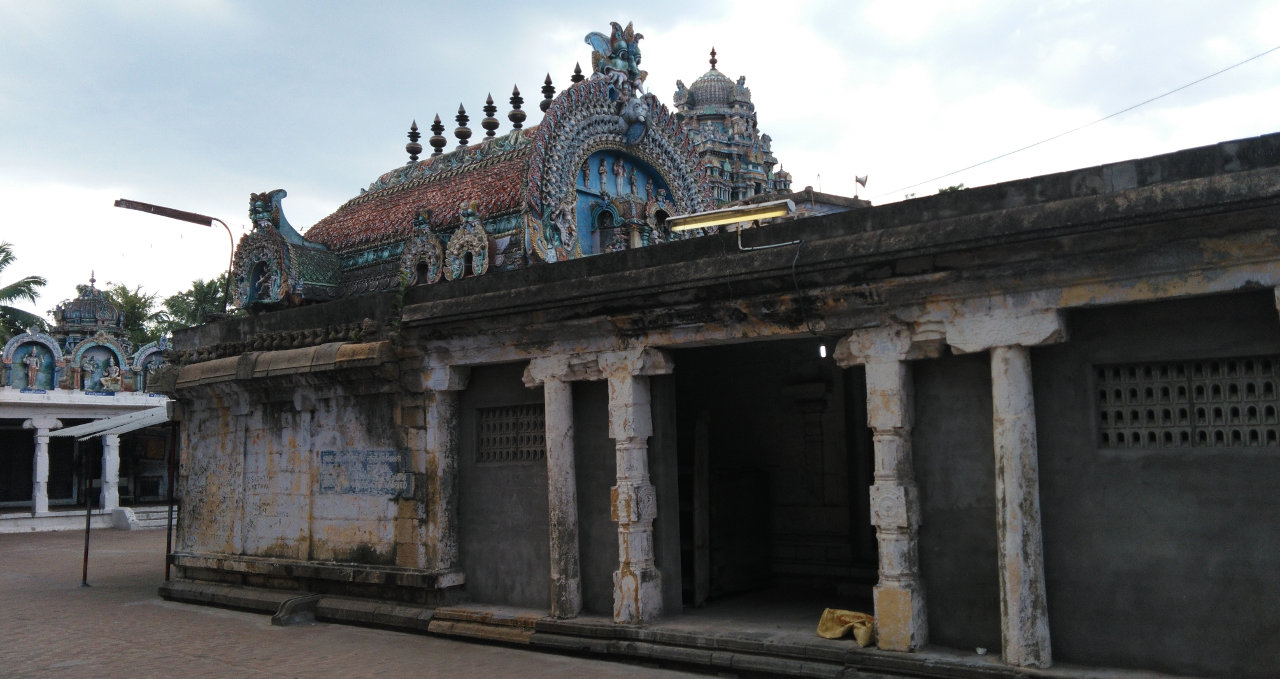 Deities in the temple
Shrines and idols of Lords Vinai Theertha Vinayakar, Murugan with his consorts, Natarajar and Sivakami, Kasi Viswanathar, Dakshinamurthy, Nalvar, Navagraham, Goddess Mahalakshmi and Saptha Madakkal can be seen in the corridors.
There are separate shrines for Saint Kalikkamba Nayanar, Saint Meikkanda Devar and Lord Soundaraeswarar in the corridors.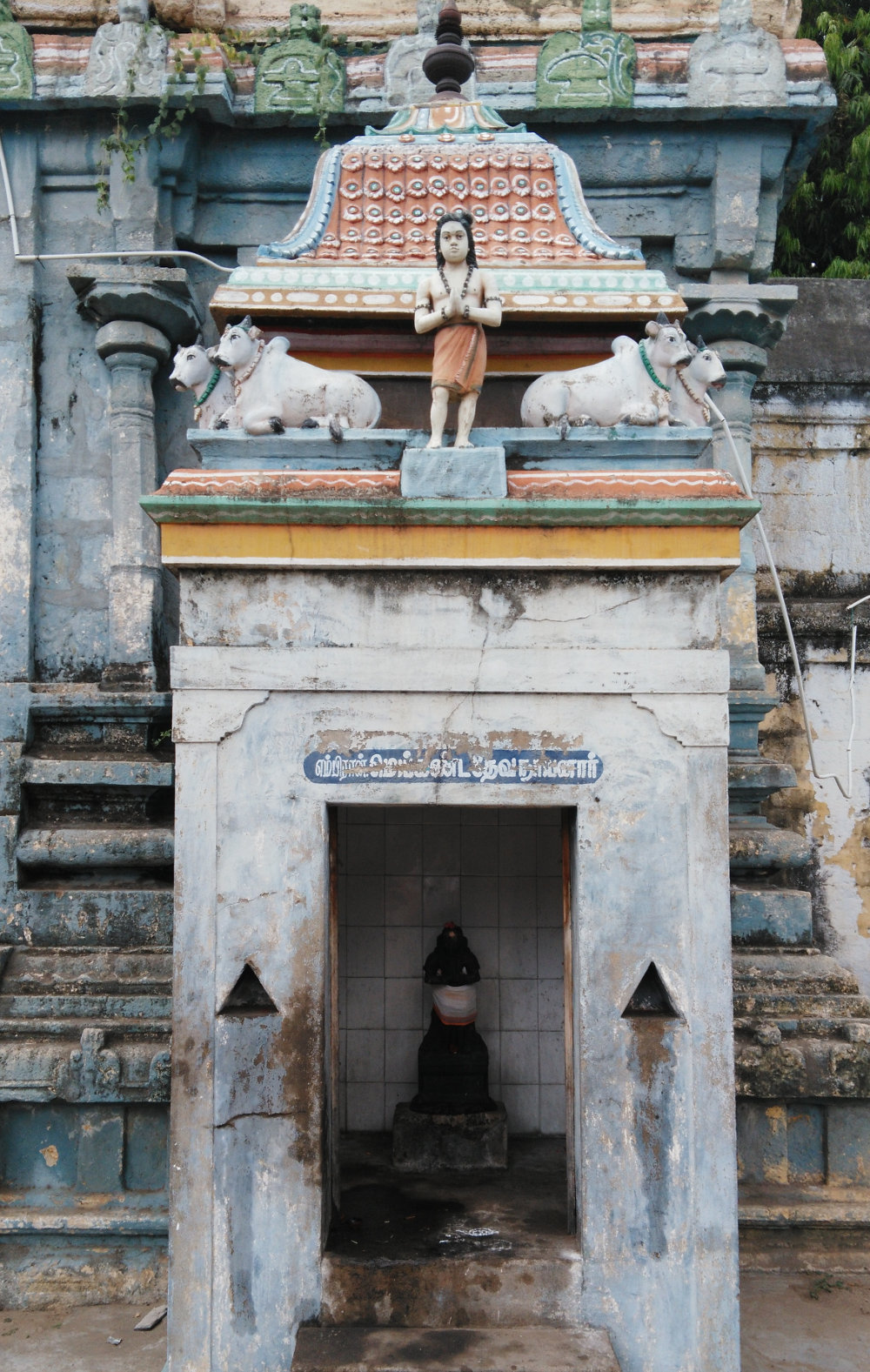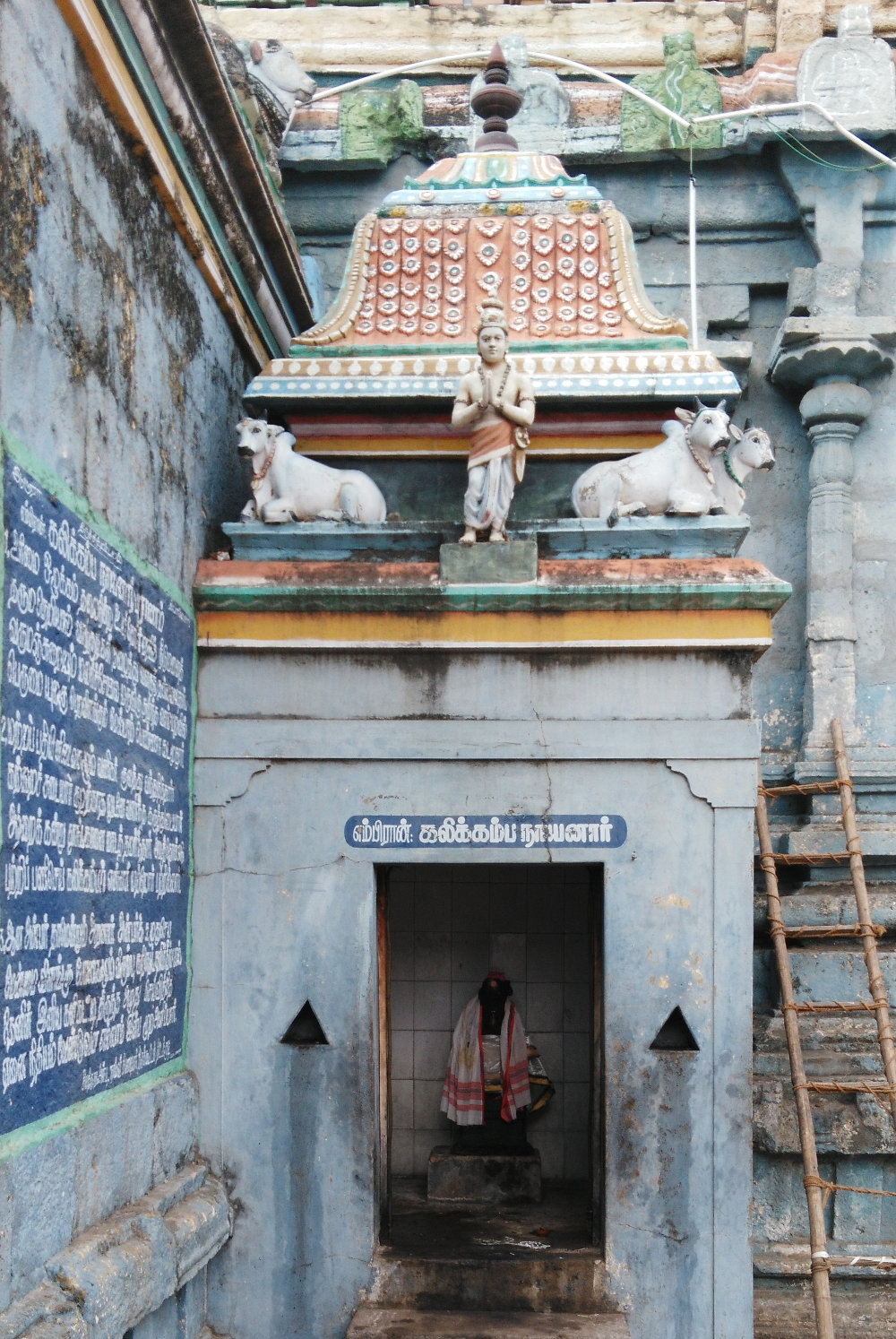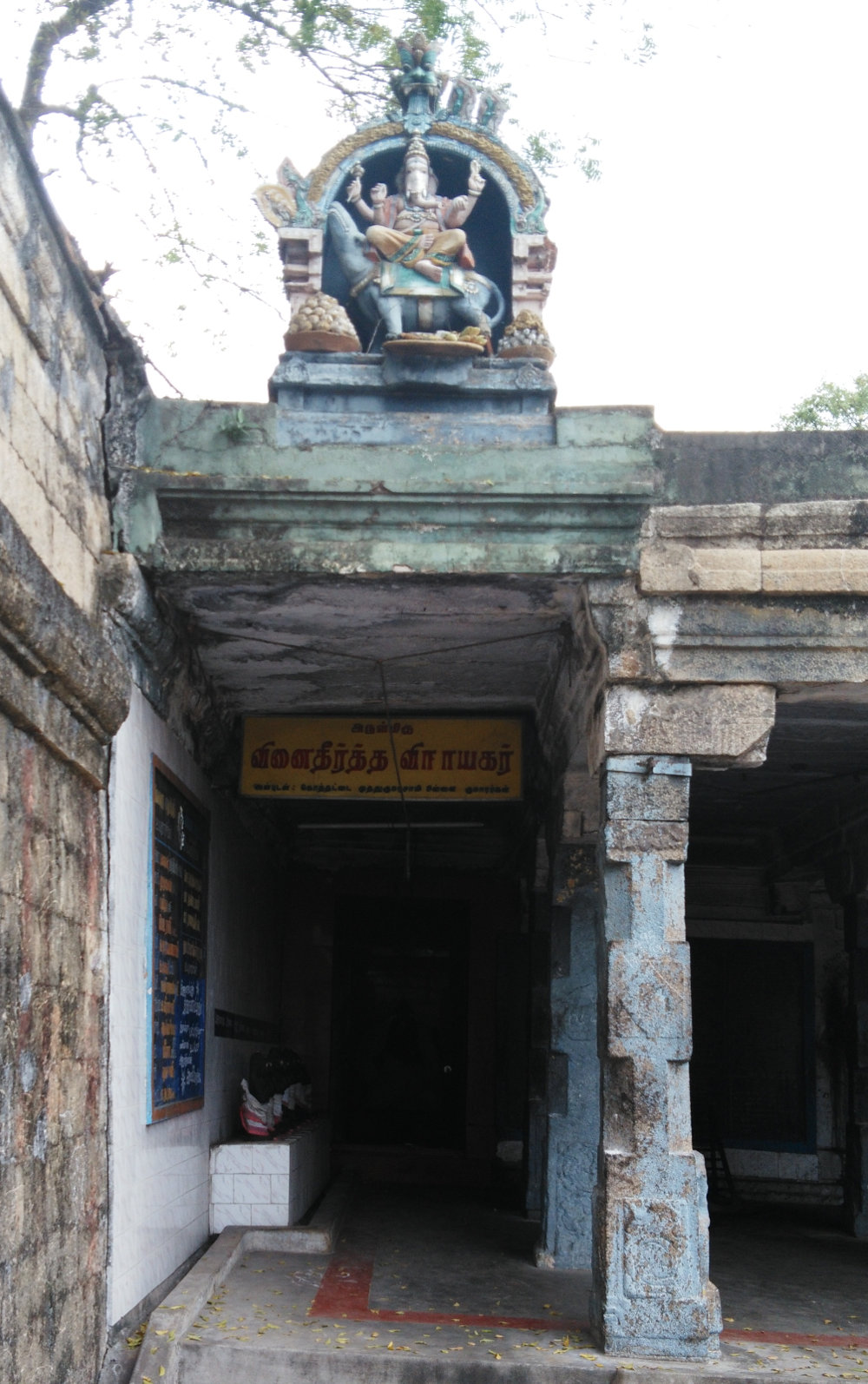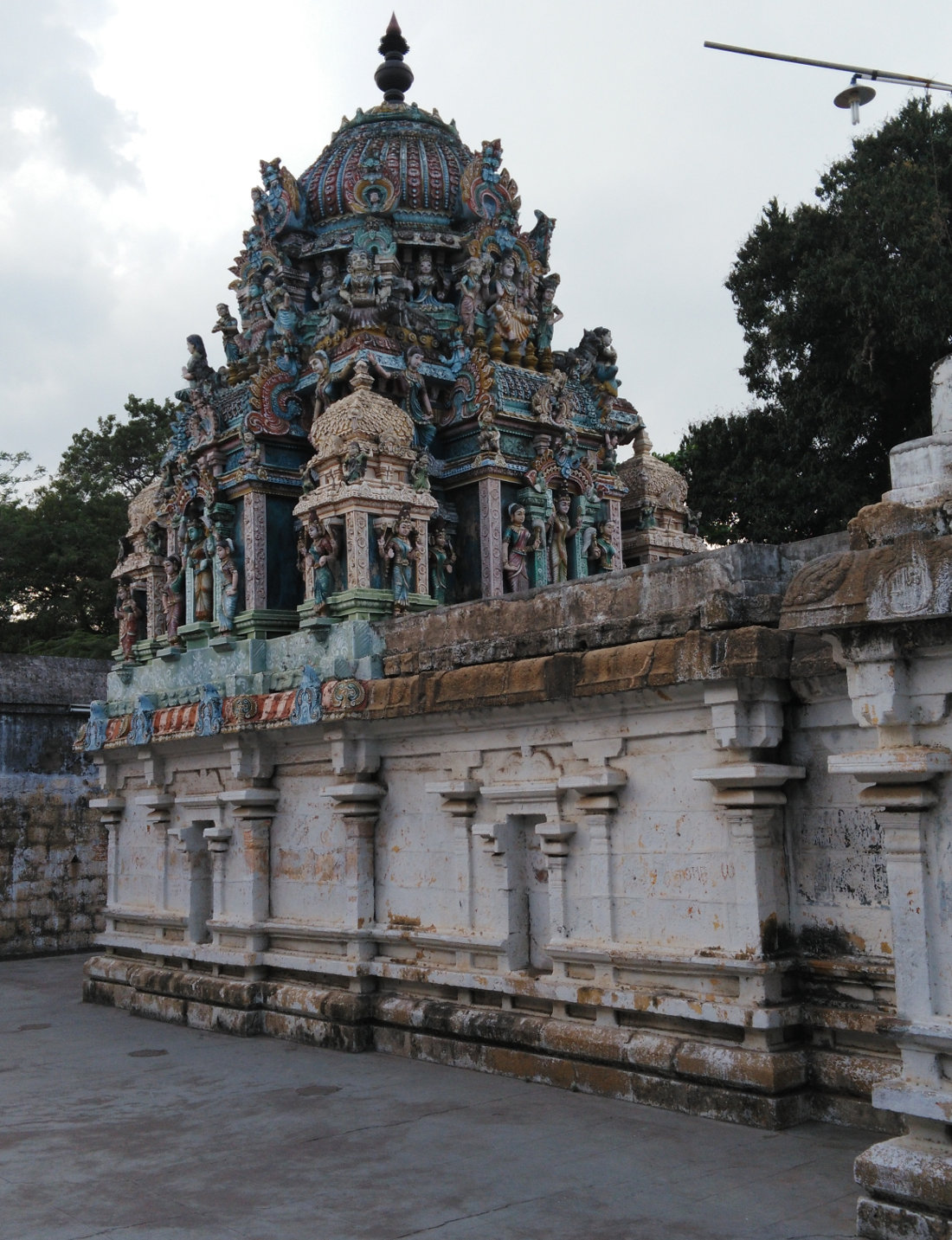 Salient Features
The vimana (roof tower) of the sanctum sanctorum is designed in a special style of architecture called the Gaja Brishtam. This makes the vimanam look like the rear of an elephant (Gaja - elephant, brishtam - rear). This is also known as "Thoonganai Maadam" in Tamil (thoong(um) - sleeping, aanai - elephant, maadam - top of a temple).
Also, the sanctum has three slotted windows on three sides which facilitates dharisanam of the Lord from all sides.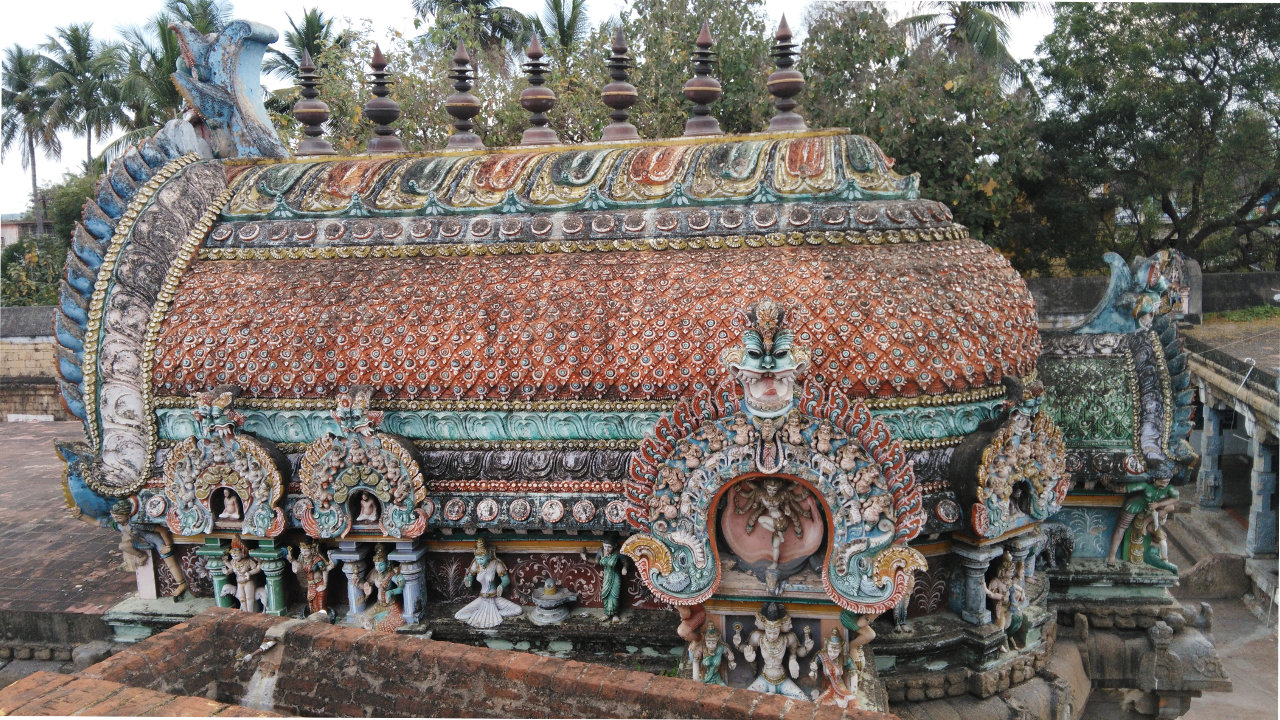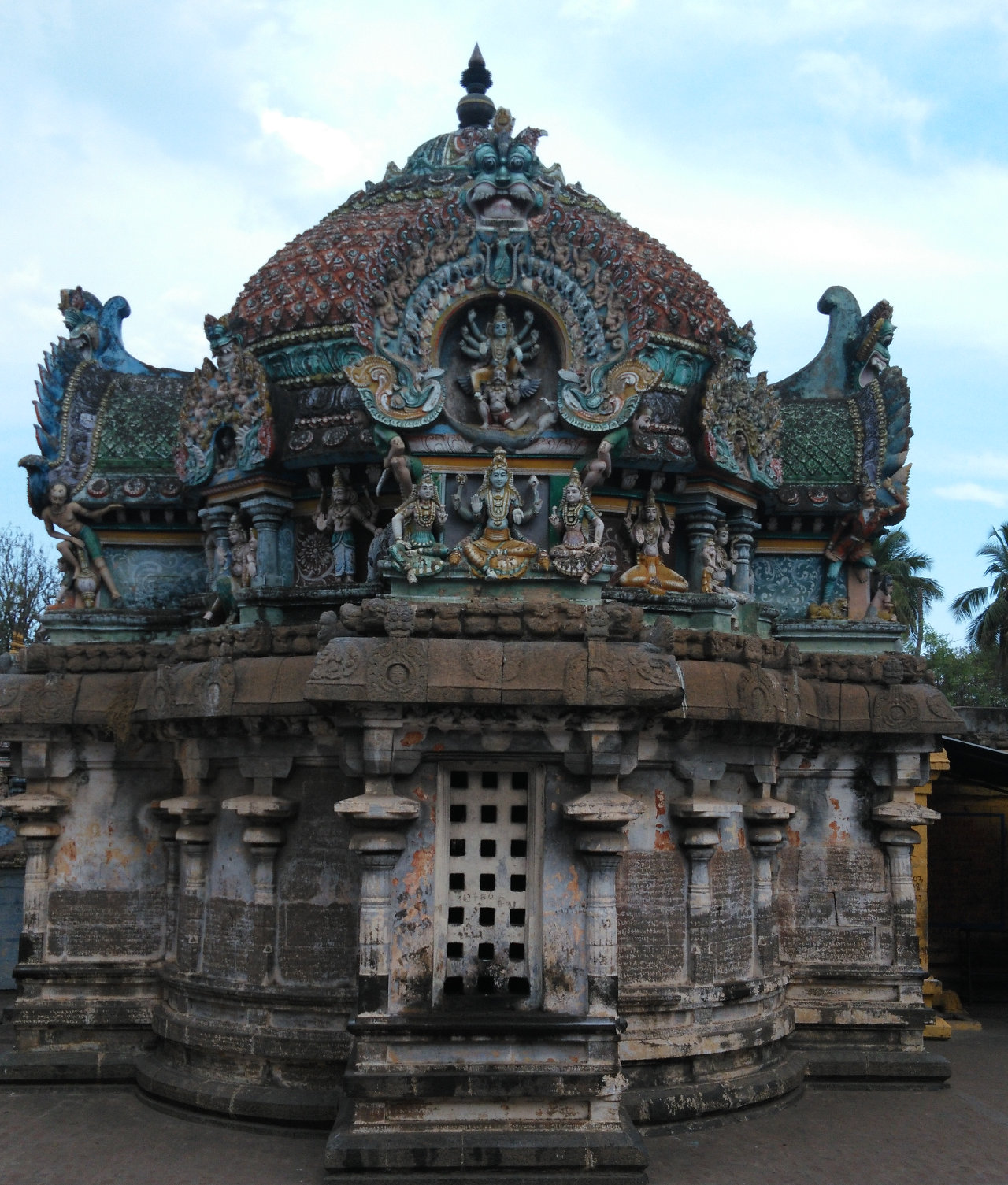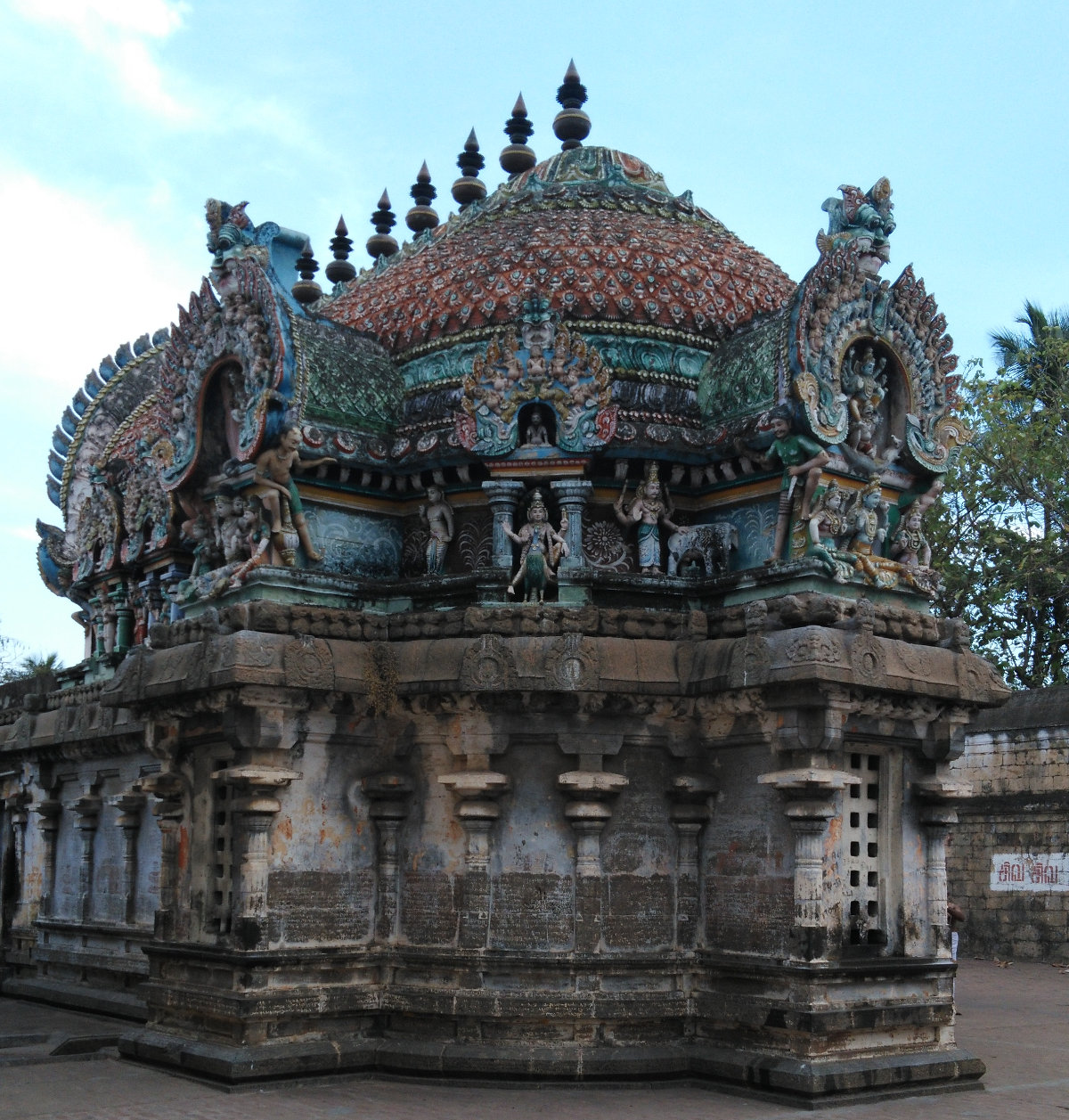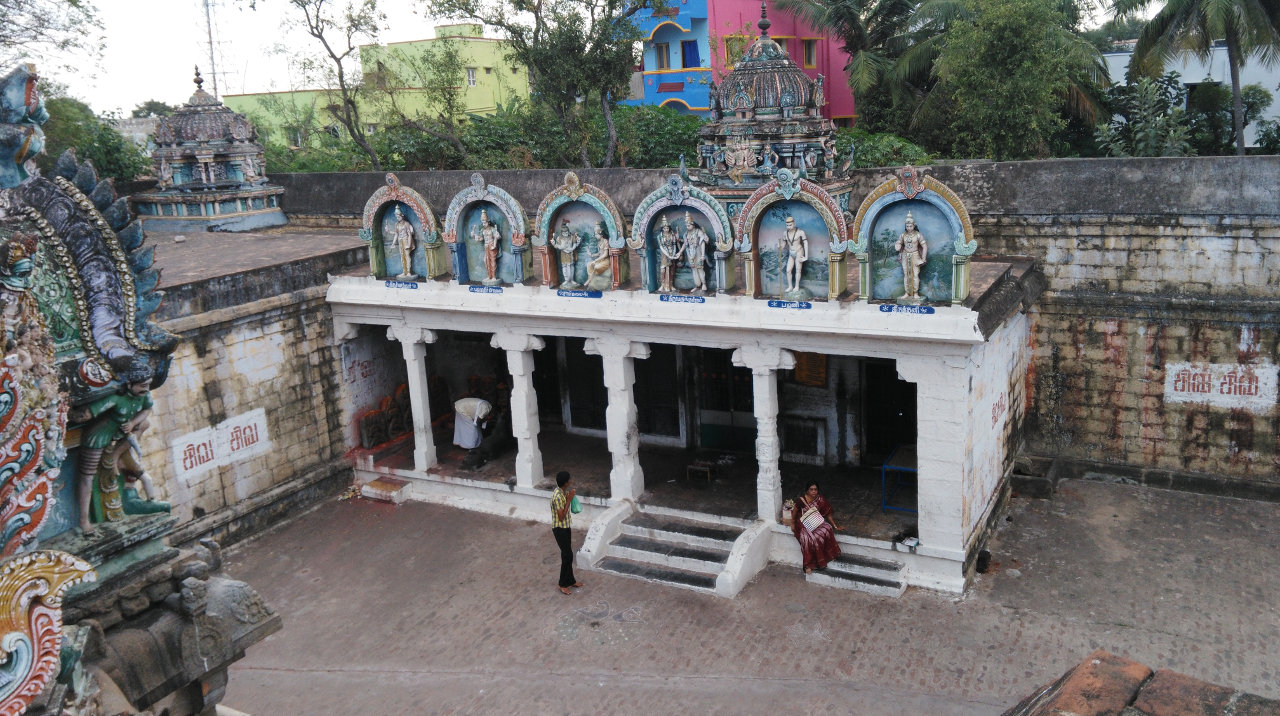 This lingam inside the elevated shrine is made of 16 plate faces (Sodasa lingam) and is known as Sri Soundaraeswarar. One can see this lord from outside the temple also.
In his hymns, Saint Thirugnanasambanthar has referred to this place as "Thungaanai Maadam".
There is a separate temple for Goddess Aamodanambal in the outer corridor.
Greatness of this temple
There is a saying about this temple - "you will be blessed once for each time you circumambulate this temple".
This is also a parihara sthalam for those who born during the periods of the constellation Kettai (Jyeshta nakshatram). Devotees whose birth star is Kettai visit this temple for special poojas.
Those suffering from any kind of body pain can visit this temple and worship the lord here to seek relief.
Important Festivals
12 day Brahmotsavam in the Tamil month of Chithirai (April-May) is celebrated in a grand manner. Maha Shivrathri in the Tamil month of Masi (Feb-Mar) and Thiruvadhirai in the Tamil month of Margazhi (Dec-Jan) are the other important festivals celebrated in this temple. Pradosham is also observed regularly.
Temple Timings

From 06.00 AM to 11.30 AM and 05.00 PM to 08.00 PM

Temple Address

Sri Pralayakaleswarar Temple
Pennadam Post
Thittakudi Taluk
Cuddalore District
Tamil Nadu - 606 105.
Tele: 04143 - 222 788.

Contact the temple priest, Sri Karthikeya Gurukkal at 09994088359.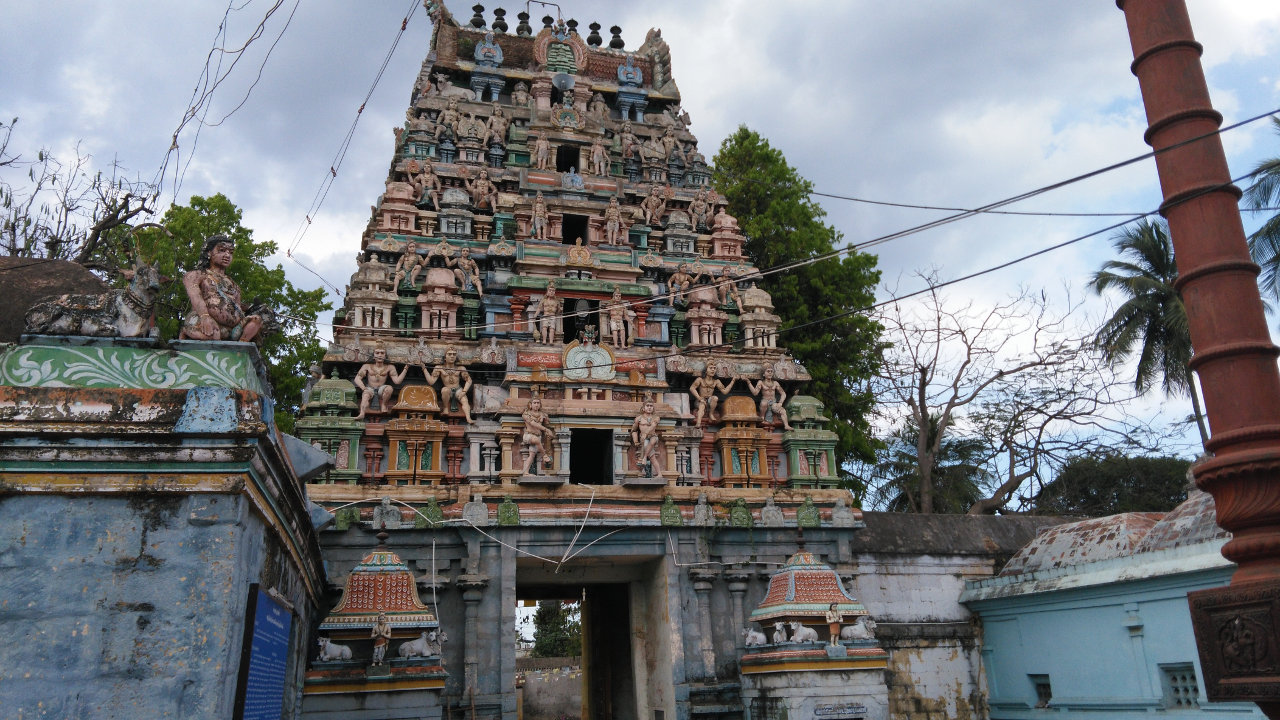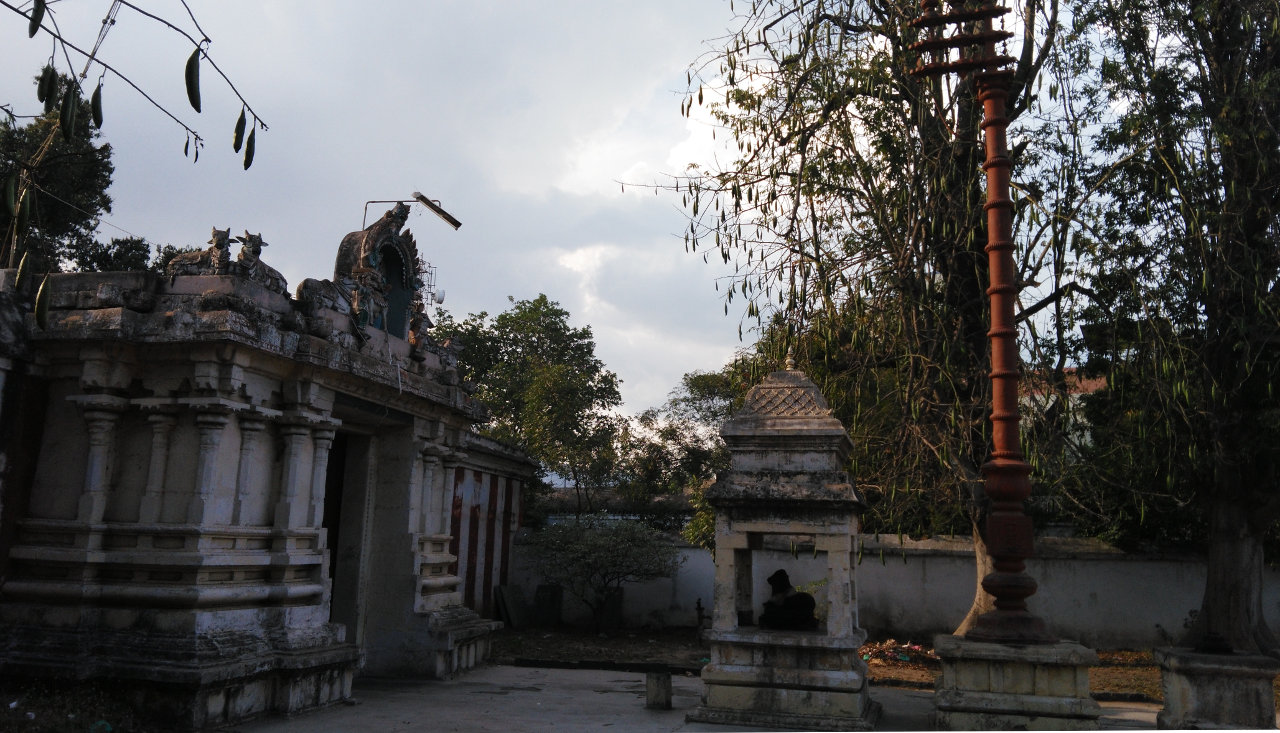 ---

Pathigam (Hymn) with English transliteration

Saint Thirugnanasambanthar visited this temple and sang this Pathigam.

Devotees visiting this temple should make it a practice to recite this Pathigam.
ஒடுங்கும் பிணிபிறவி கேடென்றிவை
யுடைத்தாய வாழ்க்கை யொழியத்தவம்
அடங்கும் மிடங்கருதி நின்றீ ரெல்லாம்
அடிக ளடிநிழற்கீ ழாளாம் வண்ணம்
கிடங்கும் மதிலுஞ் சுலாவி யெங்கும்
கெழுமனைகள் தோறும் மறையின்னொலி
தொடங்குங் கடந்தைத் தடங்கோயில்சேர்
தூங்கானை மாடம் தொழுமின்களே.
"Oṭuṅkum piṇipiṟavi kēṭeṉṟivai
yuṭaithāya vāzhkkai yozhiyathavam
aṭaṅkum miṭaṅkaruthi niṉtṟī rellām
aṭika ḷaṭinizhaṟkī zhāḷām vaṇṇam
kiṭaṅkum mathiluñ chulāvi yeṅkum
kezhumaṉaikaḷ thōṟum maṟaiyiṉṉoli
thoṭaṅkuṅ kaṭanthaith thaṭaṅkōyilsēr
thūṅkāṉai māṭam thozhumiṉkaḷē".
பிணிநீர சாதல் பிறத்தலிவை
பிரியப் பிரியாத பேரின்பத்தோ
டணிநீர மேலுலகம் எய்தலுறில்
அறிமின் குறைவில்லை ஆனேறுடை
மணிநீல கண்டம் உடையபிரான்
மலைமகளுந் தானும் மகிழ்ந்துவாழும்
துணிநீர்க் கடந்தைத் தடங்கோயில்சேர்
தூங்கானை மாடம் தொழுமின்களே.
"Piṇinīra sāthal piṟathalivai
piriyap piriyātha pēriṉpathō
ṭaṇinīra mēlulakam eythaluṟil
aṟimiṉ kuṟaivillai āṉēṟuṭai
maṇinīla kaṇṭam uṭaiyapirāṉ
malaimakaḷun thāṉum makizhnthuvāzhum
thuṇinīrk kaṭanthaith thaṭaṅkōyilsēr
thūṅkāṉai māṭam thozhumiṉkaḷē".
சாநாளும் வாழ்நாளுந் தோற்றமிவை
சலிப்பாய வாழ்க்கை யொழியத்தவம்
ஆமா றறியா தலமந்துநீர்
அயர்ந்துங் குறைவில்லை ஆனேறுடைப்
பூமாண் அலங்கல் இலங்குகொன்றை
புனல்பொதிந்த புன்சடையி னான்உறையும்
தூமாண் கடந்தைத் தடங்கோயில்சேர்
தூங்கானை மாடம் தொழுமின்களே.
"Sānāḷum vāzhnāḷun thōtṟamivai
salippāya vāzhkkai yozhiyathavam
āmā ṟaṟiyā thalamanthunīr
ayarnthuṅ kuṟaivillai āṉēṟuṭaip
pūmāṇ alaṅkal ilaṅkukoṉtṟai
puṉalpothintha puṉsaṭaiyi ṉāṉuṟaiyum
thūmāṇ kaṭanthaith thaṭaṅkōyilsēr
thūṅkāṉai māṭam thozhumiṉkaḷē".
ஊன்றும் பிணிபிறவி கேடென்றிவை
யுடைத்தாய வாழ்க்கை யொழியத்தவம்
மான்று மனங்கருதி நின்றீரெல்லாம்
மனந்திரிந்து மண்ணில் மயங்காதுநீர்
மூன்று மதிலெய்த மூவாச்சிலை
முதல்வர்க் கிடம்போலும் முகில்தோய்கொடி
தோன்றுங் கடந்தைத் தடங்கோயில்சேர்
தூங்கானை மாடம் தொழுமின்களே.
"Ūṉtṟum piṇipiṟavi kēṭeṉtṟivai
yuṭaithāya vāzhkkai yozhiyathavam
māṉtṟu maṉaṅkaruthi niṉtṟīrellām
maṉanthirinthu maṇṇil mayaṅkāthunīr
mūṉtṟu mathileytha mūvāchchilai
muthalvark kiṭampōlum mukilthōykoṭi
thōṉtṟuṅ kaṭanthaith thaṭaṅkōyilsēr
thūṅkāṉai māṭam thozhumiṉkaḷē".
மயல்தீர்மை யில்லாத தோற்றம்மிவை
மரணத்தொ டொத்தழியு மாறாதலால்
வியல்தீர மேலுலக மெய்தலுறின்
மிக்கொன்றும் வேண்டா விமலனிடம்
உயர்தீர வோங்கிய நாமங்களா
லோவாது நாளும் அடிபரவல்செய்
துயர்தீர் கடந்தைத் தடங்கோயில்சேர்
தூங்கானை மாடம் தொழுமின்களே.
"Mayalthīrmai yillātha thōtṟam'mivai
maraṇatho ṭothazhiyu māṟāthalāl
viyalthīra mēlulaka meythaluṟiṉ
mikkoṉtṟum vēṇṭā vimalaṉiṭam
uyarthīra vōṅkiya nāmaṅkaḷā
lōvāthu nāḷum aṭiparavalsey
thuyarthīr kaṭanthaith thaṭaṅkōyilsēr
thūṅkāṉai māṭam thozhumiṉkaḷē".
பன்னீர்மை குன்றிச் செவிகேட்பிலா
படர்நோக்கிற் கண் பவளந்நிற
நன்னீர்மை குன்றித் திரைதோலொடு
நரைதோன்றுங் காலம் நமக்காதல்முன்
பொன்னீர்மை துன்றப் புறந்தோன்றுநற்
புனல்பொதிந்த புன்சடையி னான்உறையும்
தொன்னீர்க் கடந்தைத் தடங்கோயில்சேர்
தூங்கானை மாடம் தொழுமின்களே.
"Paṉṉīrmai kuṉtṟich chevikēṭpilā
paṭarnōkkiṟ kaṇ pavaḷanniṟa
naṉṉīrmai kuṉtṟith thiraithōloṭu
naraithōṉtṟuṅ kālam namakkāthalmuṉ
poṉṉīrmai thuṉtṟap puṟanthōṉtṟunaṟ
puṉalpothintha puṉsaṭaiyi ṉāṉuṟaiyum
thoṉṉīrk kaṭanthaith thaṭaṅkōyilsēr
thūṅkāṉai māṭam thozhumiṉkaḷē".
இறையூண் துகளோ டிடுக்கண் எய்தி
யிழிப்பாய வாழ்க்கை யொழியத்தவம்
நிறையூண் நெறிகருதி நின்றீரெல்லாம்
நீள்கழ லேநாளும் நினைமின் சென்னிப்
பிறைசூ ழலங்கல் இலங்குகொன்றை
பிணையும் பெருமான் பிரியாத நீர்த்
துறைசூழ் கடந்தைத் தடங்கோயில்சேர்
தூங்கானை மாடம் தொழுமின்களே.
"Iṟaiyūṇ thukaḷō ṭiṭukkaṇ eythi
yizhippāya vāzhkkai yozhiyathavam
niṟaiyūṇ neṟikaruthi niṉtṟīrellām
nīḷkazha lēnāḷum niṉaimiṉ seṉṉip
piṟaichū zhalaṅkal ilaṅkukoṉtṟai
piṇaiyum perumāṉ piriyātha nīrth
thuṟaichuzh kaṭanthaith thaṭaṅkōyilsēr
thūṅkāṉai māṭam thozhumiṉkaḷē".
பல்வீழ்ந்து நாத்தளர்ந்து மெய்யில்வாடிப்
பழிப்பாய வாழ்க்கை யொழியத்தவம்
இல்சூ ழிடங்கருதி நின்றீரெல்லாம்
இறையே பிரியா தெழுந்து போதும்
கல்சூ ழரக்கன் கதறச்செய்தான்
காதலி யுந்தானுங் கருதிவாழும்
தொல்சீர்க் கடந்தைத் தடங்கோயில்சேர்
தூங்கானை மாடம் தொழுமின்களே.
"Palvīzhnthu nāthaḷarnthu meyyilvāṭip
pazhippāya vāzhkkai yozhiyathavam
ilchū zhiṭaṅkaruthi niṉtṟīrellām
iṟaiyē piriyā thezhunthu pōthum
kalchū zharakkaṉ kathaṟachcheythāṉ
kāthali yunthāṉuṅ karuthivāzhum
tholsīrk kaṭanthaith thaṭaṅkōyilsēr
thūṅkāṉai māṭam thozhumiṉkaḷē".
நோயும் பிணியும் அருந்துயரமும்
நுகருடைய வாழ்க்கை யொழியத்தவம்
வாயும் மனங்கருதி நின்றீரெல்லாம்
மலர்மிசைய நான்முகனும் மண்ணும்விண்ணும்
தாய அடியளந்தான் காணமாட்டாத்
தலைவர்க் கிடம்போலுந் தண்சோலைவிண்
தோயும் கடந்தைத் தடங்கோயில்சேர்
தூங்கானை மாடம் தொழுமின்களே.
"Nōyum piṇiyum arunthuyaramum
nukaruṭaiya vāzhkkai yozhiyathavam
vāyum maṉaṅkaruthi niṉtṟīrellām
malarmisaiya nāṉmukaṉum maṇṇumviṇṇum
thāya aṭiyaḷanthāṉ kāṇamāṭṭāth
thalaivark kiṭampōlun thaṇchōlaiviṇ
thōyum kaṭanthaith thaṭaṅkōyilsēr
thūṅkāṉai māṭam thozhumiṉkaḷē".
பகடூர்பசி நலிய நோய்வருதலாற்
பழிப்பாய வாழ்க்கை யொழியத்தவம்
முகடூர் மயிர்கடிந்த செய்கையாரும்
மூடுதுவ ராடையாரும் நாடிச்சொன்ன
திகழ்தீர்ந்த பொய்ம்மொழிகள் தேறவேண்டா
திருந்திழை யுந்தானும் பொருந்திவாழும்
துகள்தீர் கடந்தைத் தடங்கோயில்சேர்
தூங்கானை மாடம் தொழுமின்களே.
"Pakaṭūrpasi naliya nōyvaruthalāṟ
pazhippāya vāzhkkai yozhiyathavam
mukaṭūr mayirkaṭintha seykaiyārum
mūṭuthuva rāṭaiyārum nāṭichchoṉṉa
thikazhthīrntha poym'mozhikaḷ thēṟavēṇṭā
thirunthizhai yunthāṉum porunthivāzhum
thukaḷthīr kaṭanthaith thaṭaṅkōyilsēr
thūṅkāṉai māṭam thozhumiṉkaḷē".
மண்ணார் முழவதிரும் மாடவீதி
வயற்காழி ஞானசம் பந்தன்நல்ல
பெண்ணா கடத்துப் பெருங்கோயில்சேர்
பிறையுரிஞ்சுந் தூங்கானை மாடமேயான்
கண்ணார் கழல்பரவு பாடல் பத்துங்
கருத்துணரக் கற்றாருங் கேட்டாருங்போய்
விண்ணோ ருலகத்து மேவிவாழும்
விதியது வேயாகும் வினைமாயுமே.
"Maṇṇār muzhavathirum māṭavīthi
vayaṟkāzhi gñāṉasam banthaṉnalla
peṇṇā kaṭathup peruṅkōyilsēr
piṟaiyuriñchun thūṅkāṉai māṭamēyāṉ
kaṇṇār kazhalparavu pāṭal pathuṅ
karuththuṇarak katṟāruṅ kēṭṭāruṅpōy
viṇṇō rulakathu mēvivāzhum
vithiyathu vēyākum viṉaimāyumē".