Visited on: 2nd September, 2016
Location
Thirumangalakkudi is situated at a distance of about 17 kms from Kumbakonam on the Kumbakonam to Mayiladuthurai route (Via Kathiramangalam).
It is about 2 kms from Aduthurai on the Aduthurai to Thirupananthal route.
It is very near to Suriyanarkoil, a famous Navagraha temple.
Other Devara Paadal Petra Shiva Sthalams near this temple are – Kuthalam, Therezhunthur, Thirukkozhambam, Thiruvaduthurai, Thiruvelvikudi, Ethirkolpadi, Thirumanancheri, Thirukkodikkaval and Kanchanur.
General Information
| | |
| --- | --- |
| Moolavar | Sri Praananatheswarar, Sri Pranavaratheswarar |
| Ambal | Sri Mangala Nayaki |
| Theertham (Holy water) | Mangala Theertham, river Cauvery, Surya and Chandra Theerthams |
| Sthala Vriksham (Sacred Tree) | Kongu Ilavu (Vellerukku) |
| Pathigam (Hymn) rendered by | Saint Thirugnanasambanthar, Saint Thirunavukarasar (Appar) |
This is one of the 276 Devara Paadal Petra Shiva Sthalams and 38th Shiva Sthalam on the northern bank of the river Cauvery in Chozha Nadu (Vadakarai).
Lord Shiva in this temple is a Swayambumurthi (self-manifested). The Banam of the Lingam is very big and taller than the Avudayar in this temple.
This east facing temple has 2 corridors and its main tower (Rajagopuram) has 5-tiers.
History of the Temple
There are six stone inscriptions in this temple which relate to the period of Chola Kings Kulothungan, Rajarajan and Pallava King Kopperunsingan. This temple was renovated during the 11th century by Chola King Kulothungan.
Now this temple is under the administrative control of Thiruvavaduthurai Adheenam.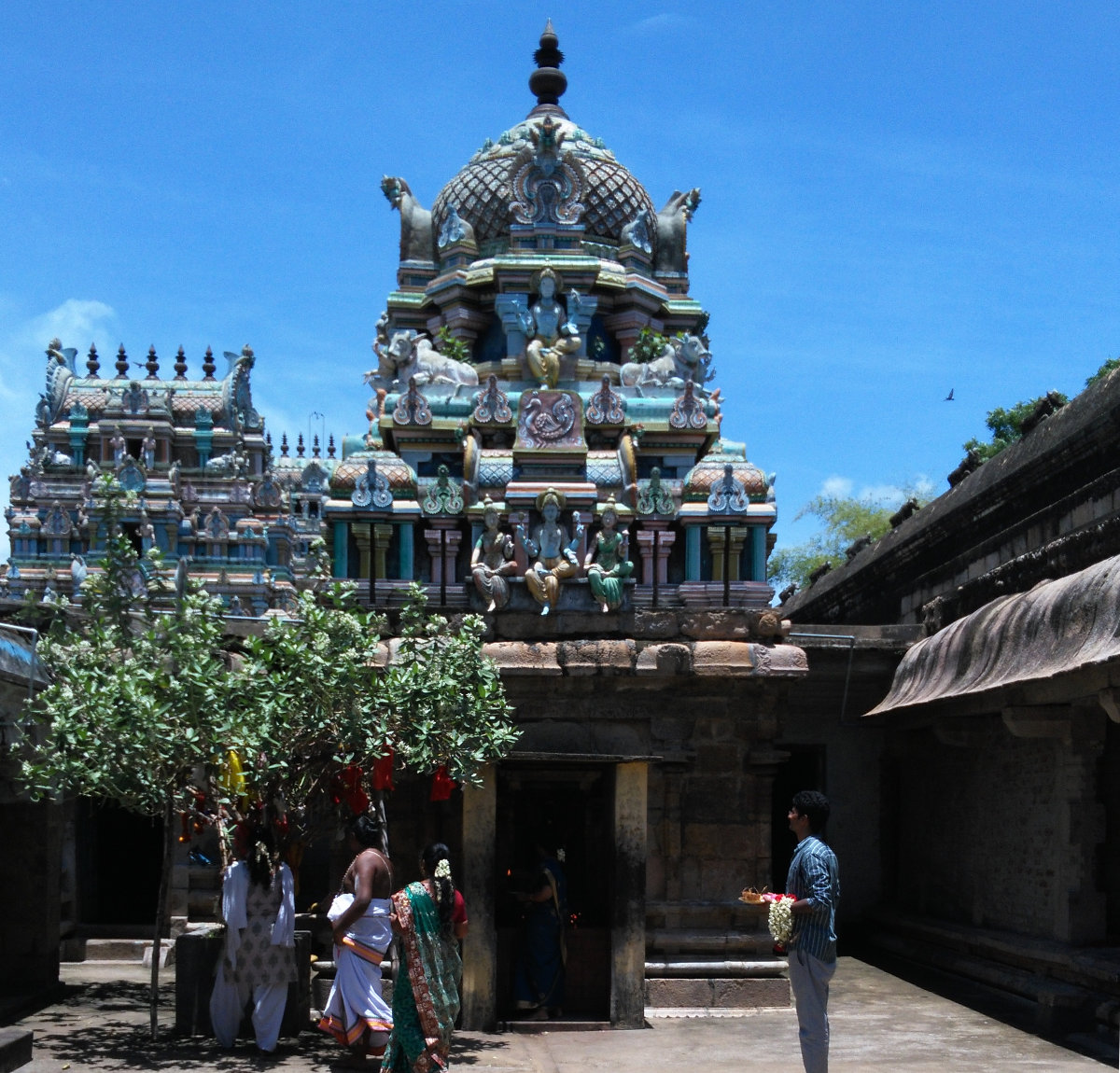 Legend
It is a common believe that those facing the adverse effects of the planetary positions of Sun (Lord Suryan) should visit this temple first before proceeding to Suriyanarkoil.
Thirumangalakudi is known as "Panchamangala Kshetram" (five items of prosperity). The village is named "Mangalakkudi", the Goddess's name is "Sri Mangalambika", the sanctum tower is called "Mangala Vimanam", the holy water is "Mangala Theertham" and the Vinayakar of this temple is called "Mangala Vinayakar".
The legend of this temple is that it was built by Alaivaanar in the 11th century. Alaivaanar was a minister of King Kulothunga Chola-I and he built this temple using the tax revenues but without the sanction of his king. When the king came to know about this, he asked his soldiers to arrest him and behead him. The minister accepted the punishment but requested the king that he be buried at his native place, Thirumangalakkudi.
However, Alaivaanar's wife prayed to the goddess and begged her to save her husband's life. Her prayer was heard and the minister's life was reinstated by the goddess when his body was brought to this place. As the minister got rebirth here, the goddess is praised as "Sri Mangalanayaki" (the one who returned the "Mangal Sutra" to the widow) and the lord is praised as "Sri Praananatheswarar" ("Praanam" means life in Tamil).
Another legend associated with this place is that of Sage Kalava. The sage was informed that he would soon be affected by leprosy disease. In order to prevent it, he performed rigorous penance and prayed to the Navagrahas. It is believed that the Navagrahas informed Sage Kalava that they did not have the powers to grant such protection to anyone. Angered by this, the sage cursed the Navagrahas that they would also be affected by the same disease which he was expecting to get afflicted by. The Navagrahas then prayed to Lord Shiva for relief who advised them to go to this place and worship him for 11 consecutive Sundays. As advised by Lord Shiva, they performed penance here. On completion of their worship, it is believed that Lord Shiva appeared before them and relieved them from the curse.
The place where the Navagrahas had performed penance is now known as "Suryanar Koil". Since then it has become a custom that the devotees who wish to go to Suryanar Koil, do so only after worshipping the lord here. In Suryanar Koil, separate shrines for each of the nine planets can be seen.
It is believed that Goddess Parvathy, Kaali, Bhooma Devi, Akashvani, Suryan, Lord Mahavishnu, Lord Brahma and Sage Agasthiyar have worshiped Lord Shiva in this temple.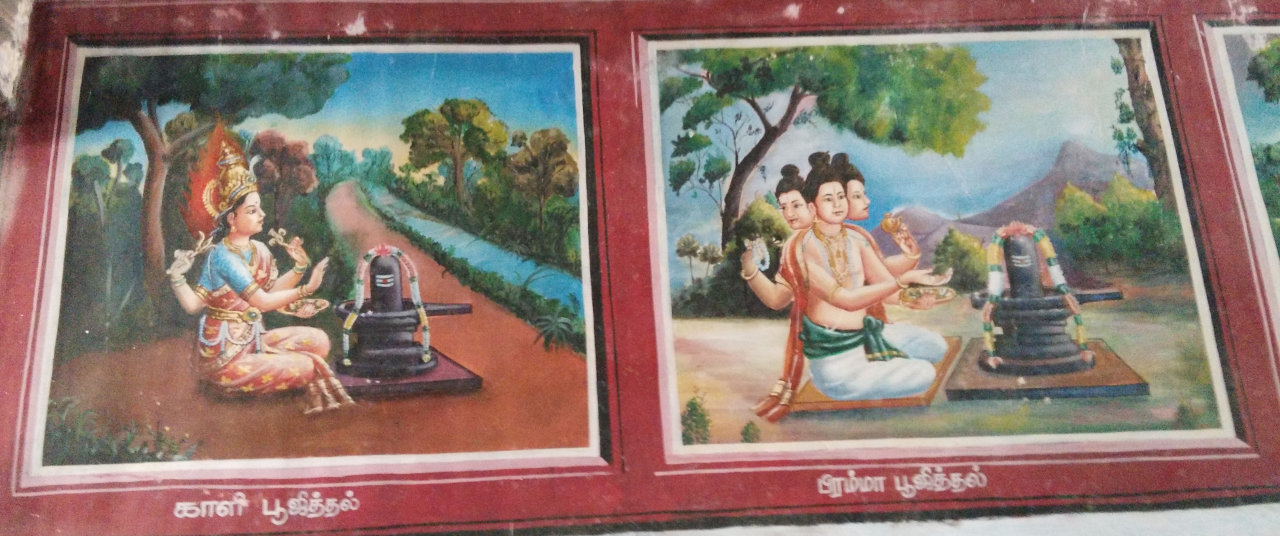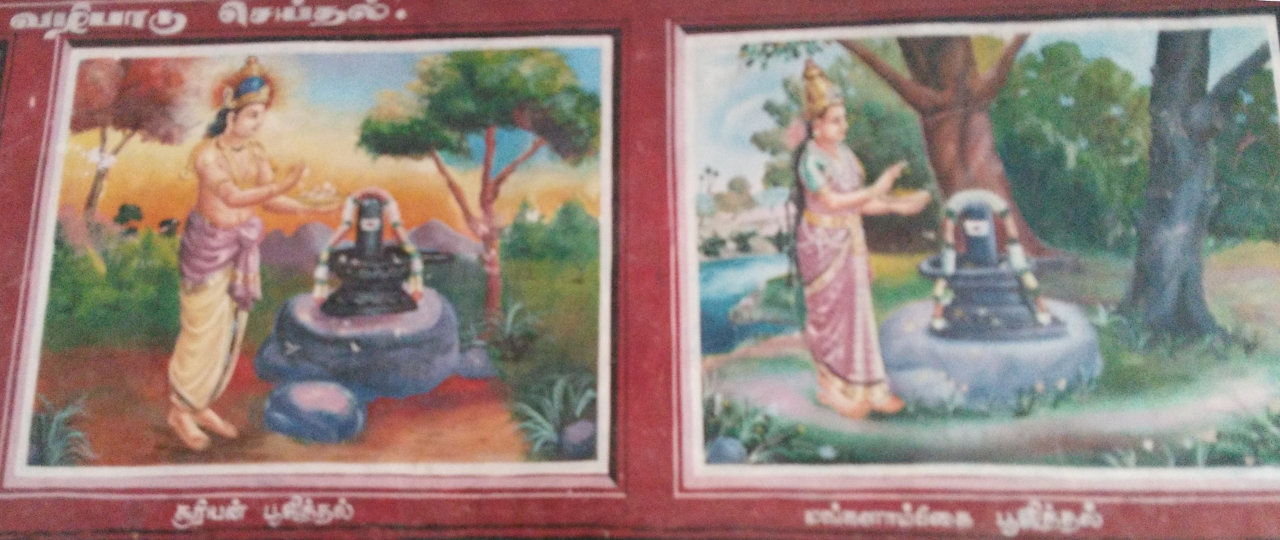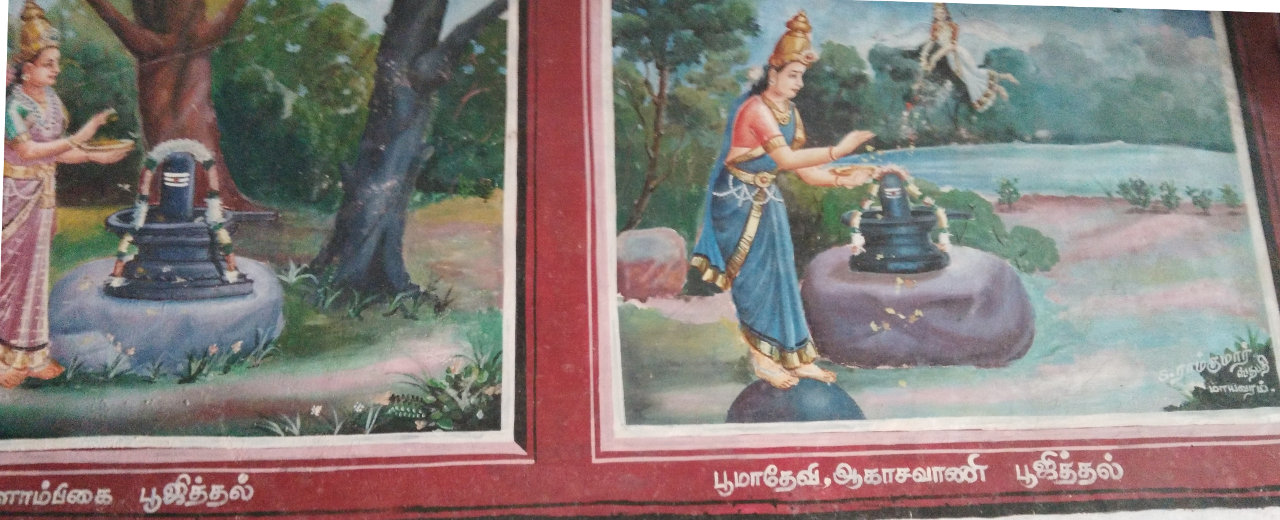 Deities in the Temple
Other than the shrines of Lord Shiva and Goddess Parvathy, shrines and idols of Vinayagar, Murugan, Gajalakshmi, Bairavar, two Natarajar with Sivakami, Chandrasekarar, Agasthiya lingam, Nalvar, Haradhathar and Meikkandar can be seen in the corridor. There is no Navagraham here. In the corridor, there are 11 Shivalingams placed in a row.
In the "koshtam" (place surrounding the sanctum sanctorum), idols of Vinayakar, Dakshinamurthy, Rishbaroodar, Brahma and Durgai can be seen.
There is a Maragatha (emerald) Lingam in Lord Natarajar's shrine.
There is an idol for river Cauvery in this temple which is very rare.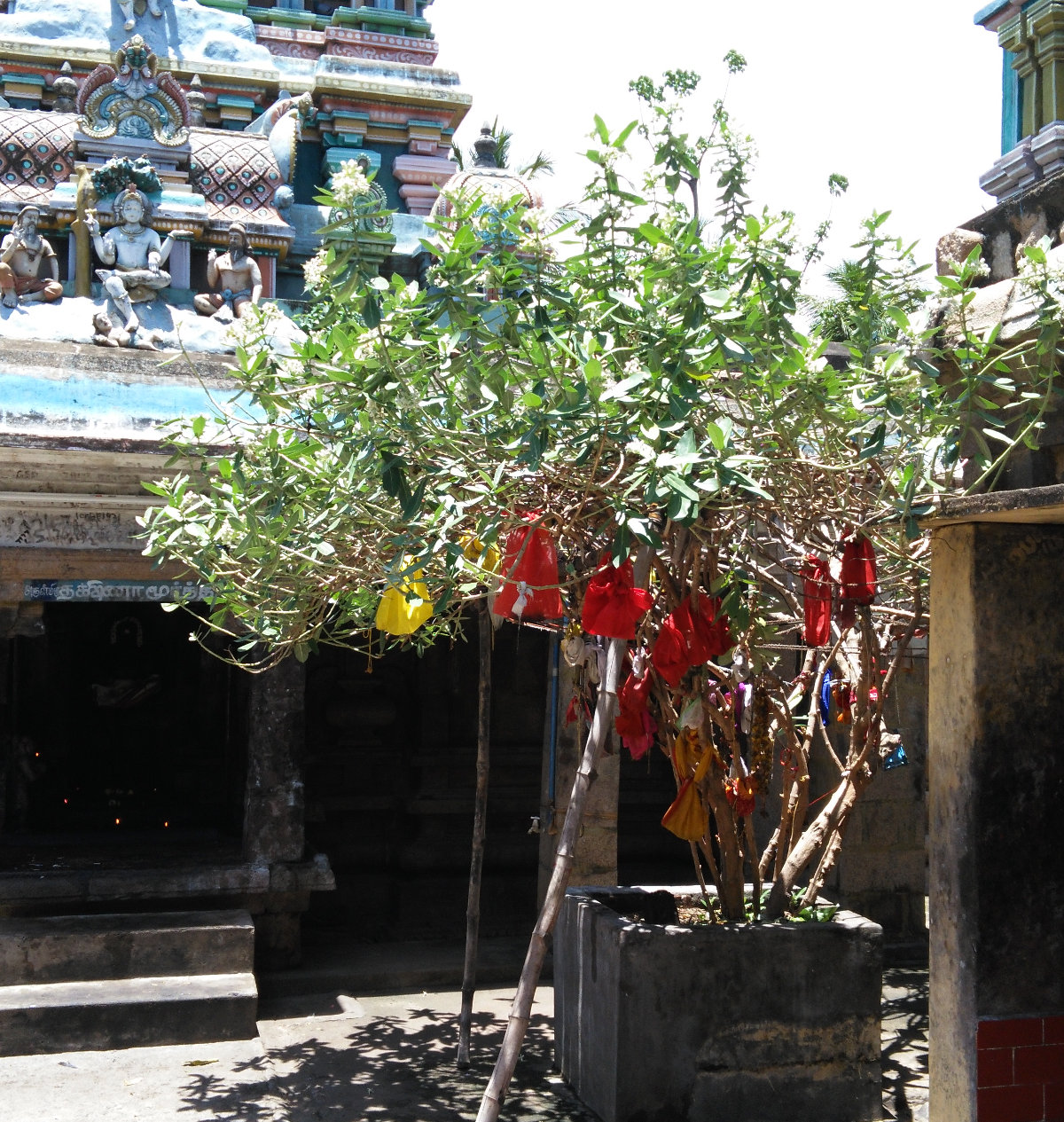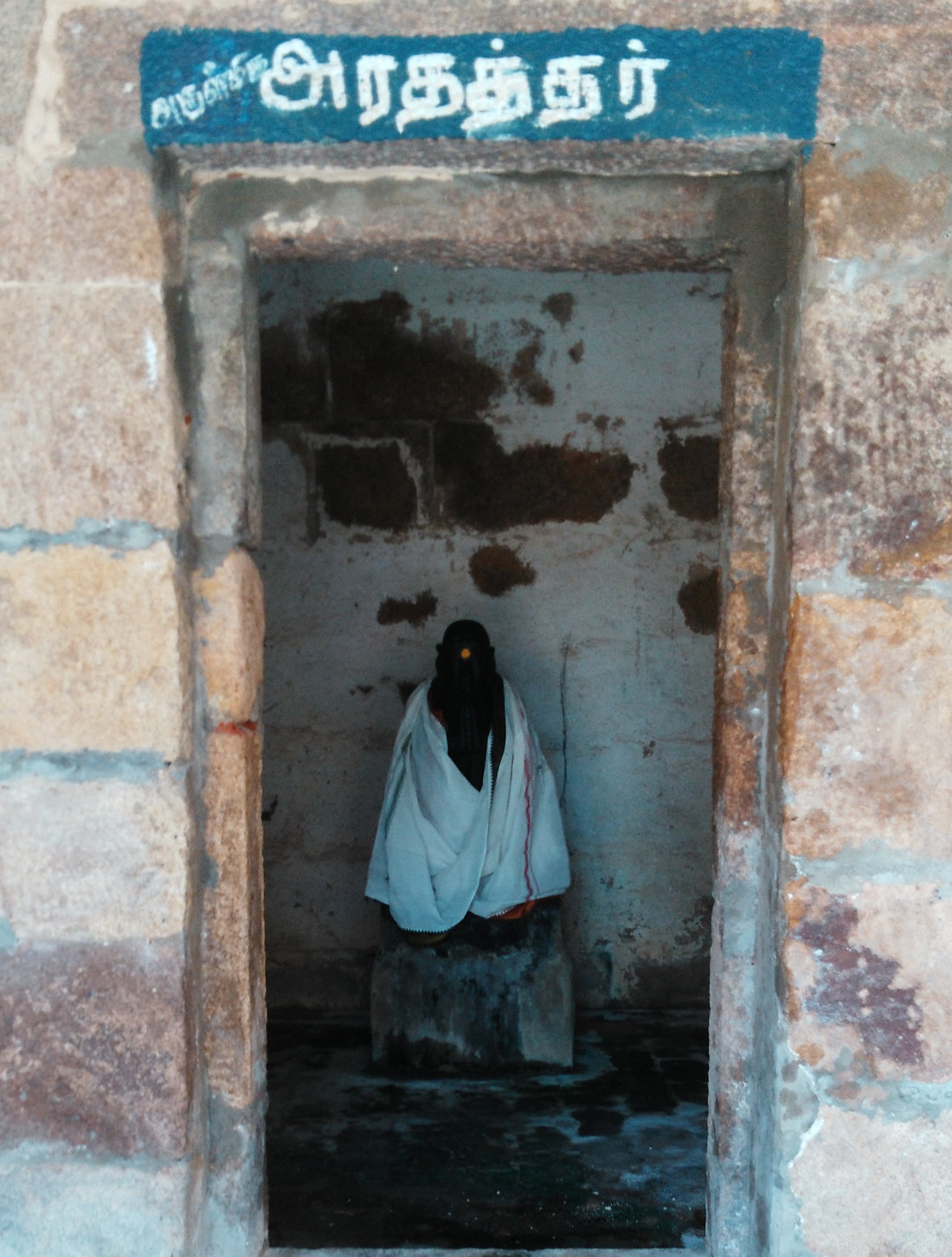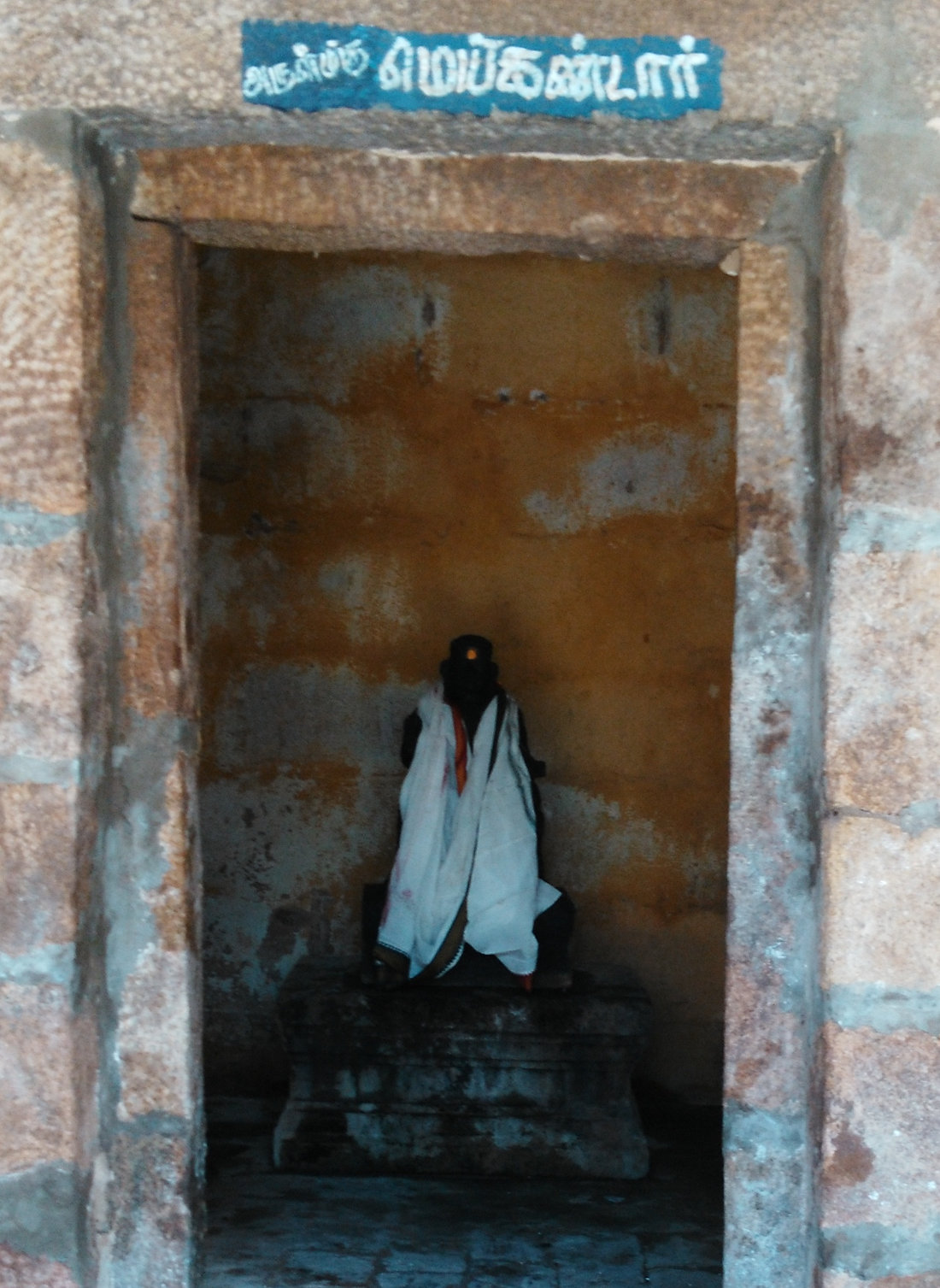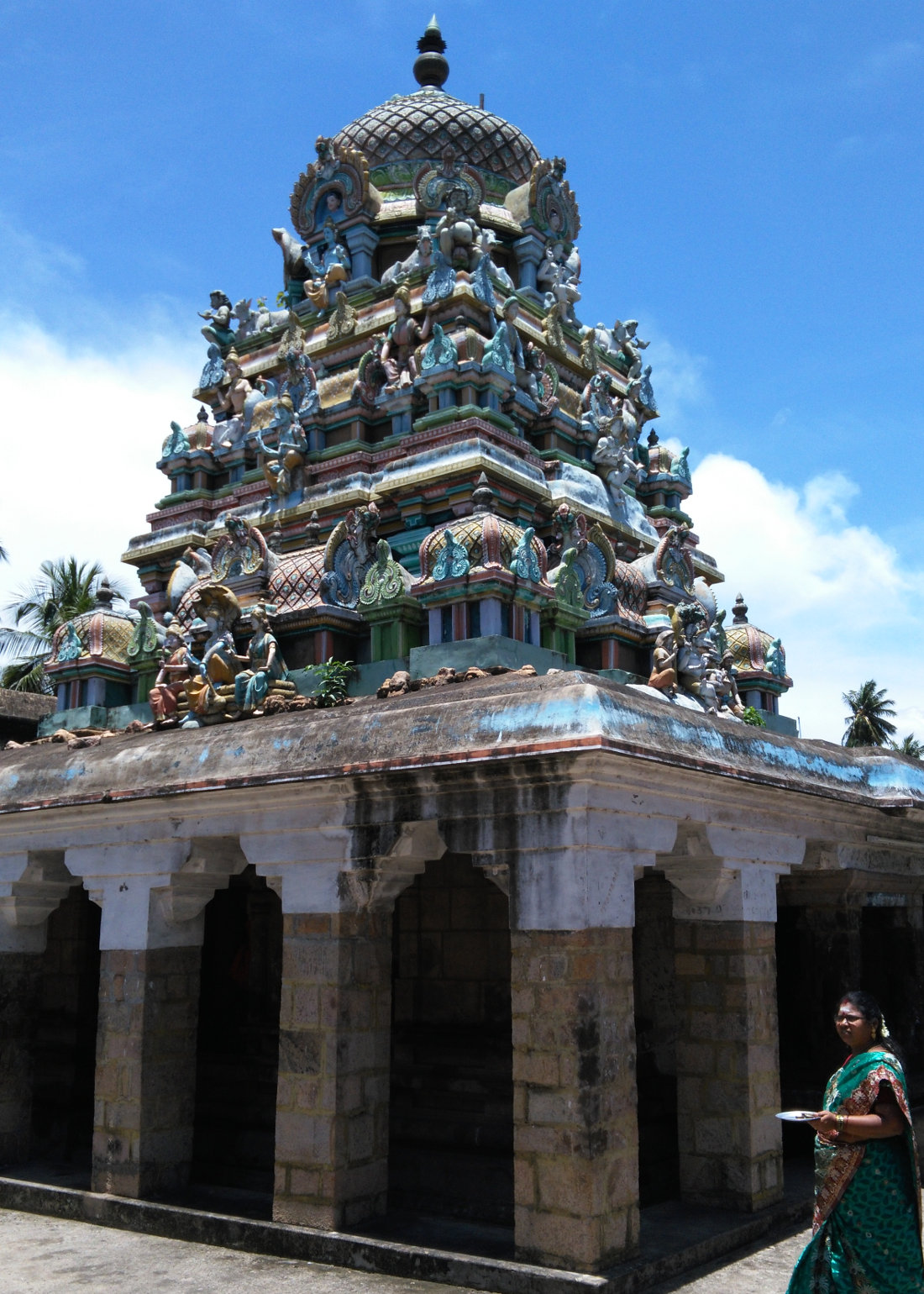 Salient Features
There are two holy waters in this temple called Surya Theertham and Chandra Theertham. Suryan and Chandran are considered to be the two eyes of Lord Shiva. Both of them are here in the form of "Theertham".
In his hymn of this temple, Saint Thirunavukkarasar mentioned about the worship of Lord Shiva of this temple by Goddess Kaali, Suryan, Lord Mahavishnu, Lord Brahma and Sage Agasthiyar.
During Brahmotsavam, on the seventh day, the wedding festival is celebrated at night time. This is opposed to the traditional way of celebrating it during the day.
The temple is famous for Goddess Mangalanayaki. The "Mangal Sutra" thread tied in the hands of the goddess is offered as "Prasad" to women. It is believed that those facing obstacles in marriage will be blessed with a suitable match and those who are already married will be blessed with marital prosperity ("Dheerga Sumangali Bagyam"). Married women replace the new thread and leave the old one in the goddess's shrine.
There is a unique procession mount (Vahanam) in this temple called "Purusha Mirugam" (a mix of human, animal and bird).
Beautiful sculptures depicting various scenes from Hindu mythology can be seen in the main tower. Two of the prominent ones are – churning of the "Thirupparkadal" to find nectar and Saint Thirunavukkarasar carrying Saint Gnanasambanthar's palanquin.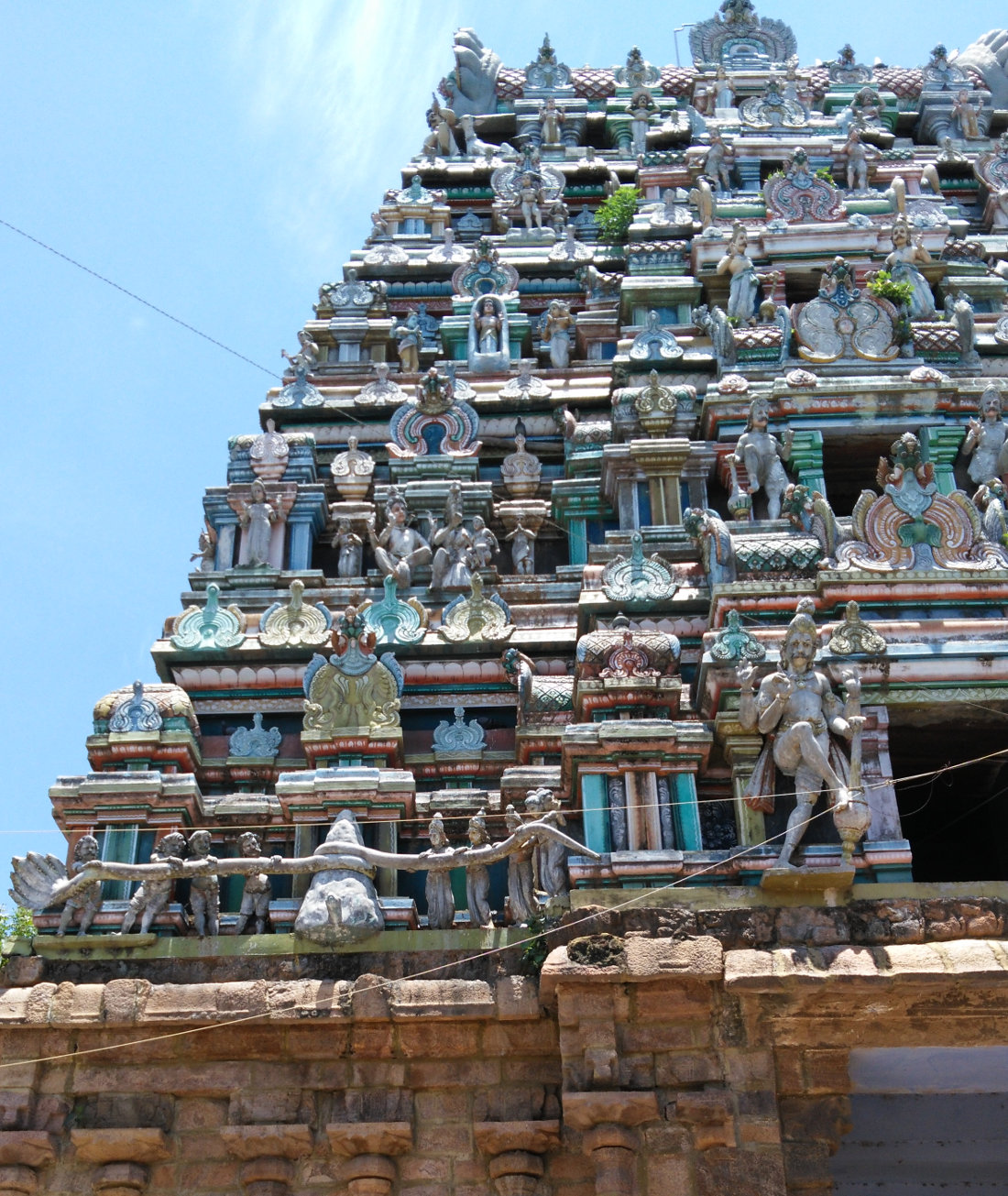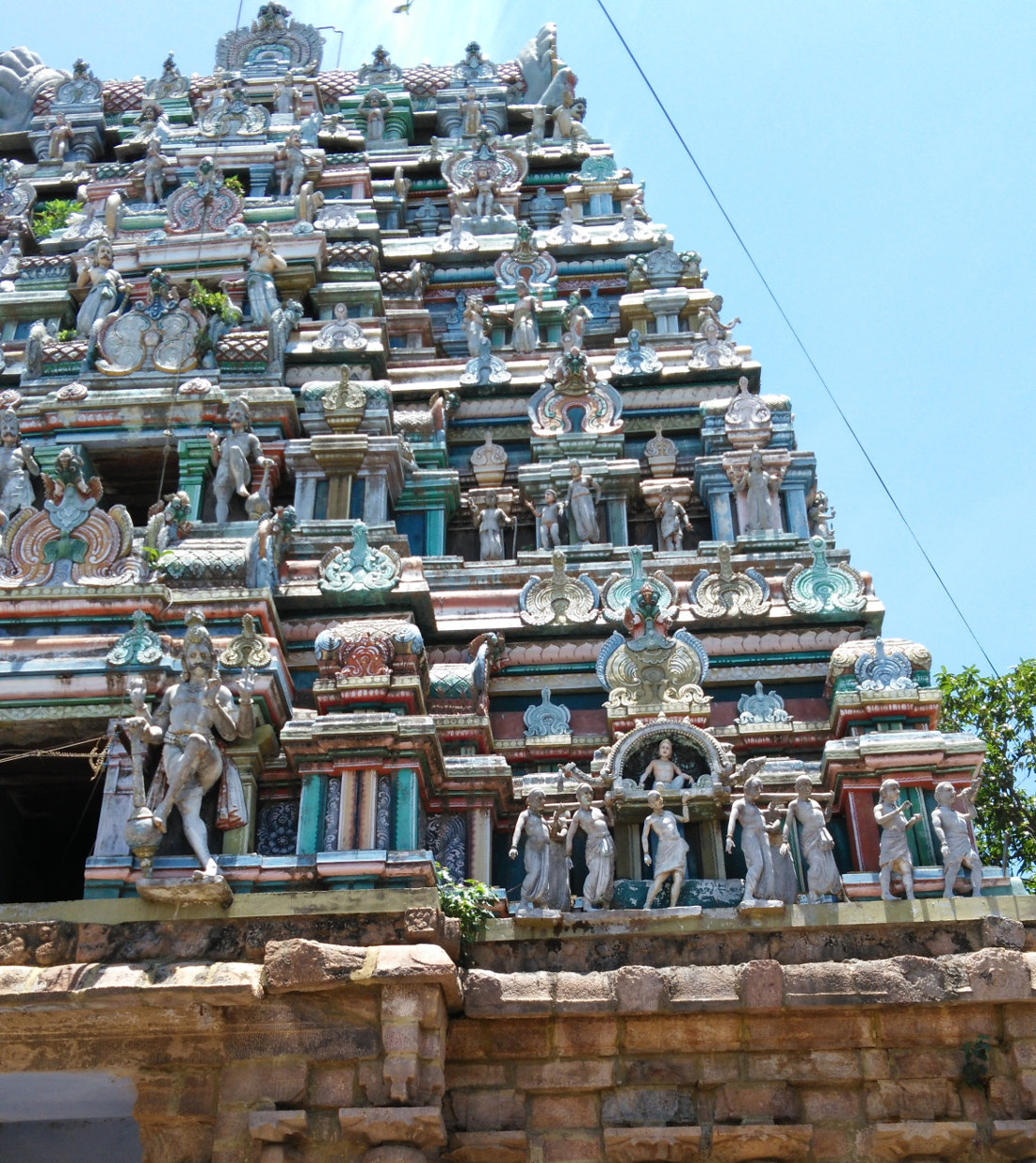 Greatness of this temple
Devotees follow a custom of worshiping Lord Shiva here on 11 consecutive Sundays. They make an offering of curd rice placed on the leaf of this temple's sacred tree (Erukkan Ilai). This offering is then consumed by them and distributed to other devotees. It is strongly believed that by doing so, they will be relieved from various doshas like "Navagraha doshas", "Kalathra dosham", "Mangalya dosham" and will also get relieved from other ailments.
Devotees perform pooja to Agasthiya lingam on new moon day with the hope that they will be relieved from the sins and curses accrued in their previous birth.
Important Festivals
Some of the important festivals celebrated in this temple are-
10-day Panguni Uthiram Brahmotsavam in the Tamil month of Panguni (Mar-Apr).
Aani Thirumanjanam in the Tamil month of Aani (June-July),
Vinayakar Chaturthi in the Tamil month of Aavani (Aug-Sept),
Navarathri in the Tamil month of Purattasi (Sept-Oct) and
Thiruvadhirai in the Tamil month of Markazhi (Dec-Jan).
The wedding festival is celebrated in a grand manner on the second day of the Pamnguni Uthiram.
Monthly festivals like Sankatahara Chaturthi, Kiruthikai, Pradosham are also observed.
Special poojas are performed to Lord Bairavar on Ashtami days.
During "Aadi Perukku" (18th day of Tamil month Aadi (July-Aug)) special pujas are performed to the idol of river Cauvery.
Temple Timings
From 06:30 AM to 12:30 PM and 04:00 PM to 08:30 PM.
Temple Address
Sri Prana Natheswarar Temple,
Thirumangalakudi Post,
Thiruvidaimaruthur Taluk,
Thanjavur District.
Tamil Nadu-612 102.
Tele: +91 0435 247 0480.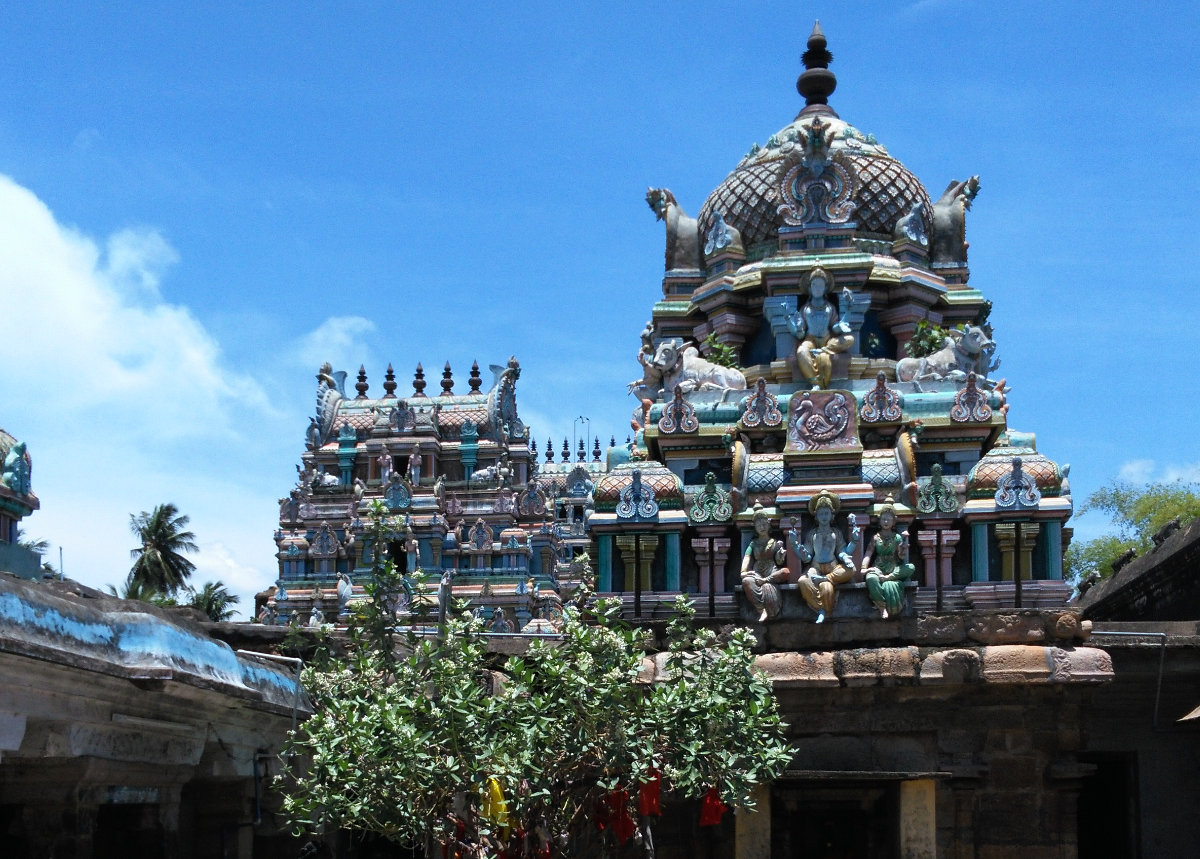 ---
Pathigam (Hymn) with English transliteration
Saint Thirugnanasambanthar visited this temple and sang this Pathigam.
Devotees visiting this temple should make it a practice to recite this Pathigam.
சீரி னார்மணி யும்மகில் சந்துஞ்செ றிவரை
வாரி நீர்வரு பொன்னிவ டமங்க லக்குடி
நீரின் மாமுனி வன்நெடுங் கைகொடு நீர்தனைப்
பூரித் தாட்டியர்ச் சிக்கஇ ருந்த புராணனே.
"Sīri ṉārmaṇi yum'makil santhuñche ṟivarai
vāri nīrvaru poṉṉiva ṭamaṅga lakkudi
nīriṉ māmuṉi vaṉneṭuṅ kaikoṭu nīrthaṉaip
pūrith thāṭṭiyarch chikka'i runtha purāṇaṉē".
பணங்கொ ளாடர வல்குல்நல் லார்பயின் றேத்தவே
மணங்கொள் மாமயி லாலும்பொ ழில்மங்க லக்குடி
இணங்கி லாமறை யோரிமை யோர்தொழு தேத்திட
அணங்கி னோடிருந் தானடி யேசர ணாகுமே.
"Paṇaṅko ḷāṭara valkulnal lārpayiṉ tṟēththavē
maṇaṅkoḷ māmayi lālumpo zhilmaṅga lakkudi
iṇaṅki lāmaṟai yōrimai yōrthozhu thēththiṭa
aṇaṅki ṉōṭirun thāṉaṭi yēsara ṇākumē".
கருங்கை யானையின் ஈருரி போர்த்திடு கள்வனார்
மருங்கெ லாம்மண மார்பொழில் சூழ்மங்க லக்குடி
அரும்பு சேர்மலர்க் கொன்றையி னானடி யன்பொடு
விரும்பி யேத்தவல் லார்வினை யாயின வீடுமே.
"Karuṅkai yāṉaiyiṉ īruri pōrththiṭu kaḷvaṉār
maruṅke lām'maṇa mārpozhil chūzhmaṅga lakkudi
arumpu sērmalark koṉtṟaiyi ṉāṉaṭi yaṉpoṭu
virumpi yēththaval lārviṉai yāyiṉa vīṭumē".
பறையி னோடொலி பாடலும் ஆடலும் பாரிடம்
மறையி னோடியல் மல்கிடு வார்மங்க லக்குடிக்
குறைவி லாநிறை வேகுண மில்குண மேயென்று
முறையி னால்வணங் கும்மவர் முன்னெறி காண்பரே.
"Paṟaiyi ṉōṭoli pāṭalum āṭalum pāriṭam
maṟaiyi ṉōṭiyal malkiṭu vārmaṅga lakkudik
kuṟaivi lāniṟai vēkuṇa milkuṇa mēyeṉtṟu
muṟaiyi ṉālvaṇaṅ kum'mavar muṉṉeṟi kāṇparē".
ஆனி லங்கிளர் ஐந்தும் அவிர்முடி யாடியோர்
மானி லங்கையி னான்மண மார்மங்க லக்குடி
ஊனில் வெண்டலைக் கையுடை யானுயர் பாதமே
ஞான மாகநின் றேத்தவல் லார்வினை நாசமே.
"Āṉi laṅkiḷar ainthum avirmuṭi yāṭiyōr
māṉi laṅkaiyi ṉāṉmaṇa mārmaṅga lakkudi
ūṉil veṇṭalaik kaiyuṭai yāṉuyar pāthamē
gñāṉa mākaniṉ tṟēththaval lārviṉai nāsamē".
தேனு மாயமு தாகிநின் றாதெளி சிந்தையுள்
வானு மாய்மதி சூடவல் லான்மங்க லக்குடிக்
கோனை நாடொறும் ஏத்திக் குணங்கொடு கூறுவார்
ஊனமானவை போயறும் உய்யும்வ கையதே.
"Thēṉu māyamu thākiniṉ tṟātheḷi chinthaiyuḷ
vāṉu māymathi chūṭaval lāṉmaṅga lakkudik
kōṉai nāṭoṟum ēththik kuṇaṅkoṭu kūṟuvār
ūṉamāṉavai pōyaṟum uyyumva kaiyathē".
வேள் படுத்திடு கண்ணினன் மேருவில் லாகவே
வாள ரக்கர் புரமெரித் தான்மங்க லக்குடி
ஆளும் ஆதிப்பி ரானடி கள்ளடைந் தேத்தவே
கோளு நாளவை போயறுங் குற்றமில் லார்களே.
"Vēḷ paṭuththiṭu kaṇṇiṉaṉ mēruvil lākavē
vāḷa rakkar puramerith thāṉmaṅga lakkudi
āḷum āthippi rāṉaṭi kaḷḷaṭain thēththavē
kōḷu nāḷavai pōyaṟuṅ kutṟamil lārkaḷē".
பொலியும் மால்வரை புக்கெடுத் தான்புகழ்ந் தேத்திட
வலியும் வாளொடு நாள்கொடுத் தான்மங்க லக்குடிப்
புலியின் ஆடையி னானடி யேத்திடும் புண்ணியர்
மலியும் வானுல கம்புக வல்லவர் காண்மினே.
"Poliyum mālvarai pukkeṭuth thāṉpukazhn thēththiṭa
valiyum vāḷoṭu nāḷkoṭuth thāṉmaṅga lakkudip
puliyiṉ āṭaiyi ṉāṉaṭi yēththiṭum puṇṇiyar
maliyum vāṉula kampuka vallavar kāṇmiṉē".
ஞாலம் முன்படைத் தான்நளிர் மாமலர் மேலயன்
மாலுங் காணவொ ணாஎரி யான்மங்க லக்குடி
ஏல வார்குழ லாளொரு பாகமி டங்கொடு
கோல மாகிநின் றான்குணங் கூறுங் குணமதே.
"Gnālam muṉpaṭaith thāṉnaḷir māmalar mēlayaṉ
māluṅ kāṇavo ṇā'eri yāṉmaṅga lakkudi
ēla vārkuzha lāḷoru pākami ṭaṅkoṭu
kōla mākiniṉ tṟāṉkuṇaṅ kūṟuṅ kuṇamathē".
மெய்யின் மாசினர் மேனிவி ரிதுவ ராடையர்
பொய்யை விட்டிடும் புண்ணியர் சேர்மங்க லக்குடிச்
செய்ய மேனிச்செ ழும்புனற் கங்கைசெ றிசடை
ஐயன் சேவடி யேத்தவல் லார்க்கழ காகுமே.
"Meyyiṉ māsiṉar mēṉivi rithuva rāṭaiyar
poyyai viṭṭiṭum puṇṇiyar sērmaṅga lakkudich
cheyya mēṉichche zhumpuṉaṟ gaṅgaise ṟisaṭai
aiyaṉ sēvaṭi yēththaval lārkkazha kākumē".
மந்த மாம்பொழில் சூழ்மங்க லக்குடி மன்னிய
எந்தை யையெழி லார்பொழிற் காழியர் காவலன்
சிந்தை செய்தடி சேர்த்திடு ஞானசம் பந்தன்சொல்
முந்தி யேத்தவல் லாரிமை யோர்முத லாவரே.
"Mantha māmpozhil chūzhmaṅga lakkudi maṉṉiya
enthai yaiyezhi lārpozhiṟ kāzhiyar kāvalaṉ
sinthai seythaṭi sērththiṭu gñāṉasam banthaṉsol
munthi yēththaval lārimai yōrmutha lāvarē".