Visited on: July 24, 2016 and November 25, 2017.
Location
Panthanallur is located at a distance of about 20 kms from Mayiladuthurai on the Mayiladuthurai to Thiruppananthal route. This place is 8 kms north-east of Thiruppananthal. Thiruppananthal to Kumbakonam is about 18 kms.
Other Devara Paadal Petra Shiva Sthalam near this place are –Thiruvaippadi, Thiru Seinganur and Thiruppananthal.
General Information
| | |
| --- | --- |
| Moolavar | Sri Pasupatheeswarar |
| Ambal | Sri Venubhujambikai, Sri Kaambana Tholi Ammai |
| Theertham (Holy water) | Surya Theertham |
| Sthala Vriksham (Sacred Tree) | Sarakkontrai tree |
| Pathigam (Hymn) rendered by | Saint Thirugnanasambanthar and Saint Thirunavukarasar (Appar) |
This is one of the 276 Devara Paadal Petra Shiva Sthalams and 35th Shiva Sthalam on the northern bank of the river Cauvery in Chozha Nadu (Vadakarai).
Lord Shiva in this temple is a Swayambumurthi (self-manifested).
This east facing temple has two corridors and its main tower (Rajagopuram) has 5-tiers.
The last consecration ceremony (Maha Kumbabishekam) took place on 06.07.2003.
History of the Temple
There are stone inscriptions here which date back to the periods of Chola kings Rajarajan-I, Vikraman, Rajathirajan-II, Kulothungan-III and Rajarajan-III. Also, there are a few stone inscriptions from the Vijayanagara dynasty.

This temple was originally renovated by a king of Kambeeli and thereafter by the Chola kings.

The historical names of this place are Aavoor, Kontraivanam, Bhanupuram, Vishnupuram, Indrapuri, Vaali Nagar, and Thenkayilai.

This temple is under the administrative control of the Hindu Religious and Charitable Endowments Department of Government of Tamil Nadu (HR&CE).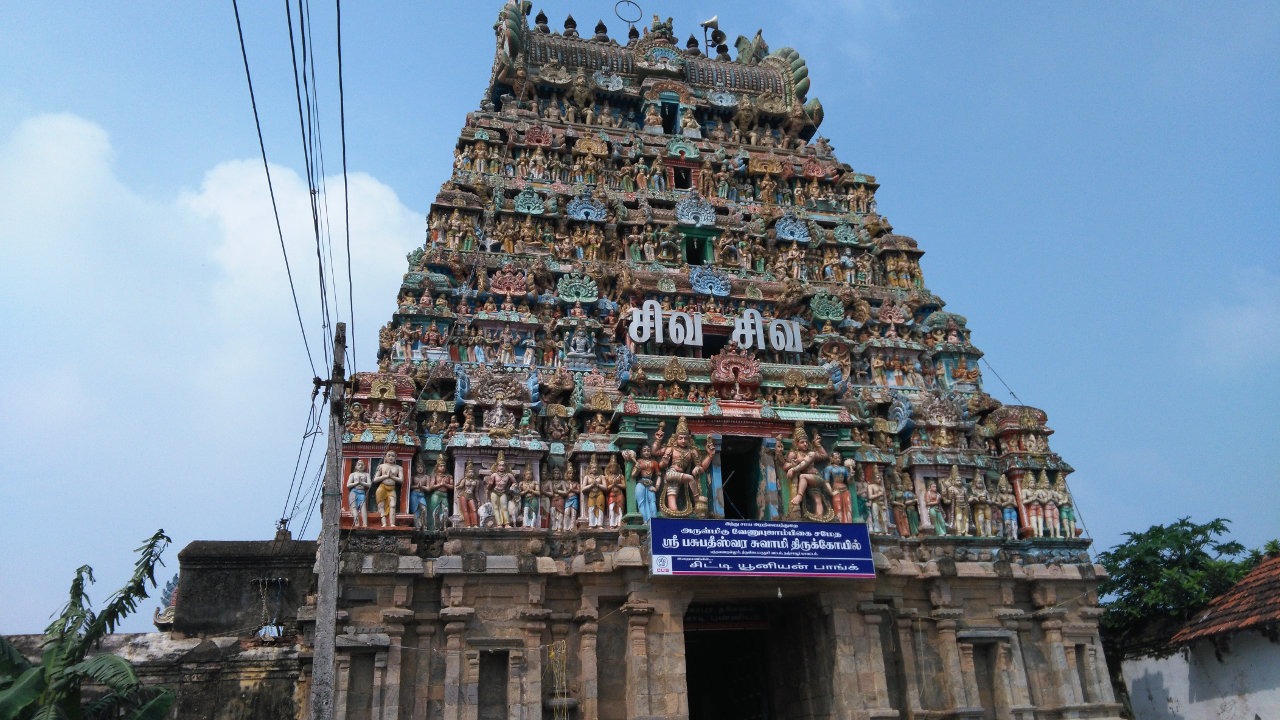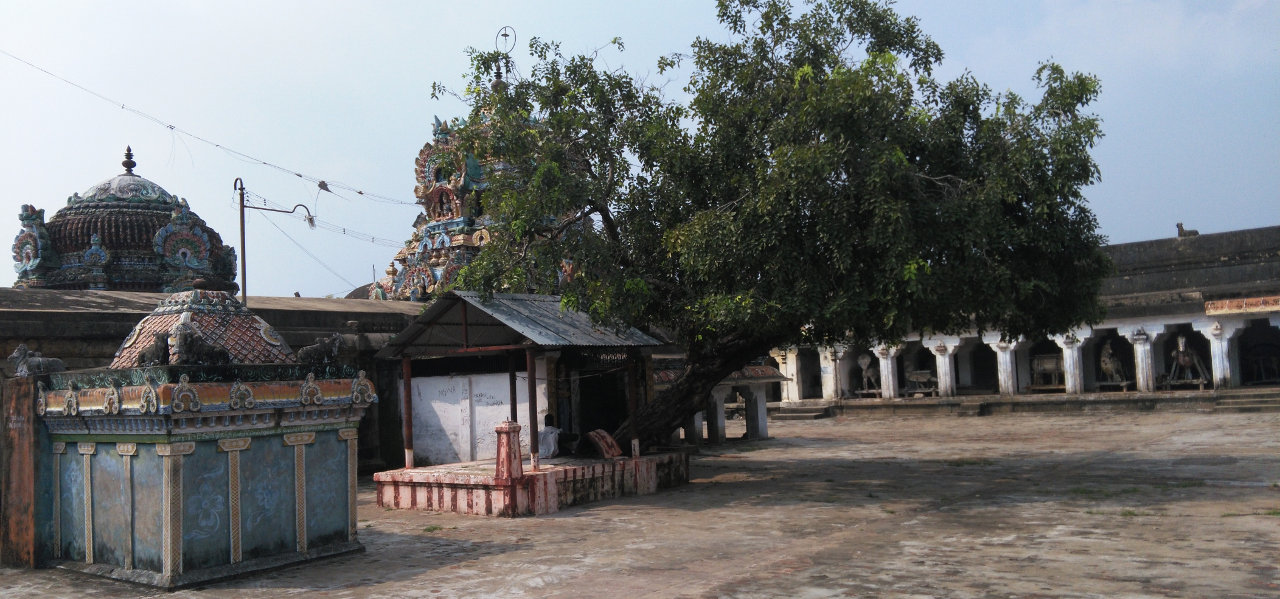 Legend
The legend associated with this temple is that of Goddess Parvathy's worship in the form of a cow. Once, in Mount Kailash, Goddess Parvathy wanted to play a game of catch. Lord Shiva presented her with 4 balls. These are believed to have been representative of the 4 Vedas. Since she was playing with her friends, Suryan delayed the setting of the sun. As the day went on increasing, Sage Narada tried to inform her about the difficulty that everyone was facing without the onset of night. She did not pay any attention to his pleas. The sages on earth could not perform their evening ritual ceremony (Santhiya Vanthanam) because there was no sunset. They went to Suryan but he denied their request due to the fear of incurring the wrath of Goddess Parvathy.

Finally, they went to Lord Shiva and appealed to him to resolve this problem. Lord Shiva went to Goddess Parvathy to ask her to stop the play but she did not pay any attention to his arrival. Angered by this, Lord Shiva kicked the ball and cursed her that she would be born on earth in the form of a cow. As she realised her mistake, she prayed for some respite. Lord Shiva advised her to go to the place where the ball had finally landed and worship him there in order to be restored back to her original form. The ball finally settled in this place under the Sarakkontrai tree - this temple's "sthala viruksham".

It is also believed that in order to protect Goddess Parvathy, Lord Mahavishnu took the form of a shepherd and accompanied her. During day time Vishnu would take the cow for grazing and in the evenings, he would supply the milk to Sage Kanva Maharishi here. One day while grazing, the cow saw an anthill with a lingam. She started pouring milk on the lingam. Sage Kanva received less milk that day and he asked the shepherd why was so. The shepherd followed the cow and kept a close watch on it. When the cow started pouring milk on the anthill, he tried to beat the cow. In the tussle, the cow jumped and hit the anthill and both the cow and the shepherd got restored to their original forms.

After her penance, Goddess Parvathy prayed to Lord Shiva asking him to marry her and take her back to Mount Kailash. Lord Shiva accepted her request, gave darshan to everyone present there as "Sri Kalayana Sundarar" and took her back to his abode. ("Kalyanam" means wedding and "Sundarar" means the lord in Tamil).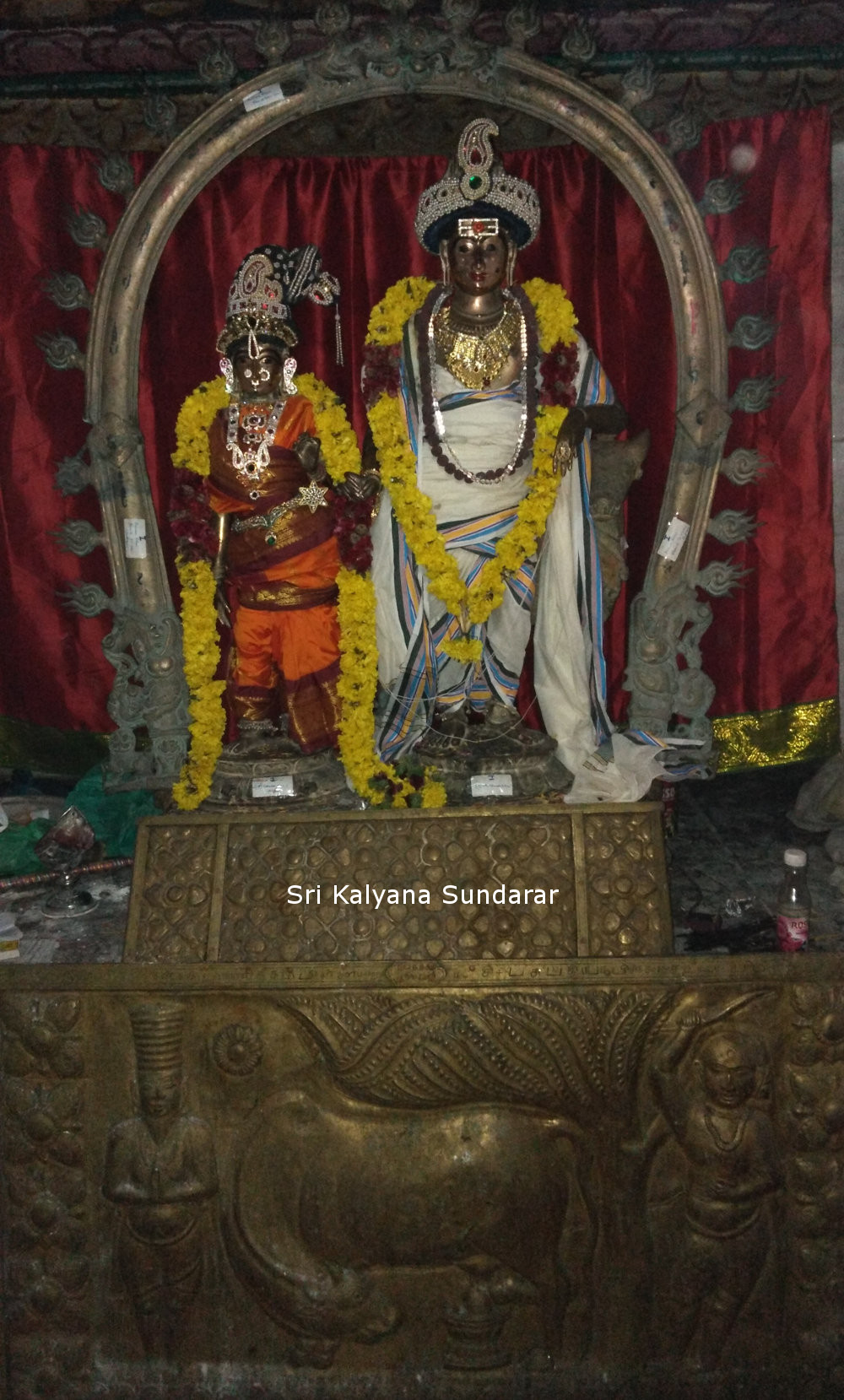 The ball that Lord Shiva kicked is believed to have settled in this place near an anthill under the sthala viruksham of this temple. For this reason, this place gets the name "Panthu Anaintha Nalla Oor" (Panthu means ball, anaintha means stationed, "nalla" means good and "Oor" means village in Tamil). With the passage of time, this name has been changed to Panthanainallur and then to Pandanallur. There are marks on the lingam that indicate both the ball and the hoof of the cow hitting it.

Lord Shiva is also praised here as Sri Pasupatheeswar as he came here to relieve the curse on Goddess Parvathy. ("Pasu" means cow, "Pathi" means husband and "Easwarar" means the lord in Tamil).

It is believed that Goddess Kali and Ayyanar stood guard during Goddess Parvathy's penance here. Shrines for both Kali and Ayyanar can be seen outside the goddess's shrine.

The idols of Navagraham here are placed in a straight line as they had the opportunity to witness the wedding darshan of Lord Shiva and Goddess Parvathy.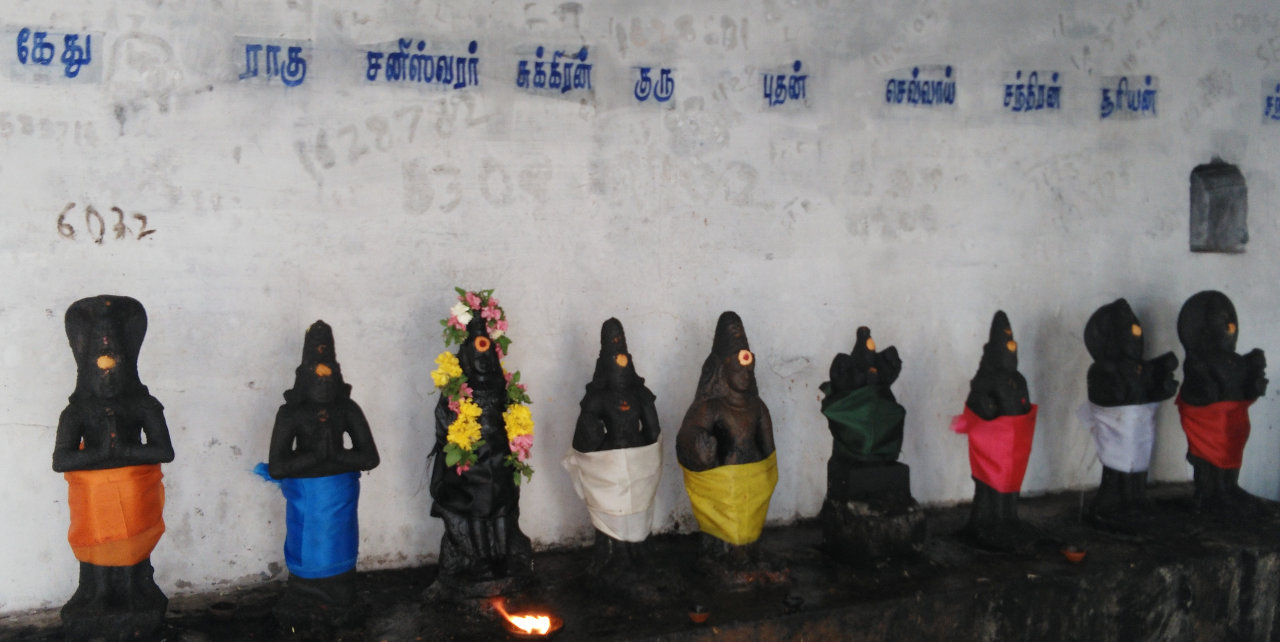 Other Legends
Another legend associated with this temple is that of a king from Kambeeli named Bhupathi Soodamani. His son was blind by birth and it is believed that he worshipped the lord here who restored the eyesight of his son. The king named his son "Pasupathi" in the honour of the lord. He also renovated the temple. One entrance to the temple's tank is known as "Kambeeli Mannan Thurai" ("Mannan" means king and "thurai" means "staircase in the tank" in Tamil).

Another legend associated with this temple is that of king Annapuram Miruthunjayan of the Saiyagiri kingdom. He was stricken by leprosy due to the sins accrued by killing a cow. He visited many Shiva temples and finally reached this place. He took a dip in this temple's holy tank, worshiped the lord and was miraculously cured.

Another legend is that of a king named Kaanthan from the Kamboj kingdom. He was suffering from some illness and in order to seek cure for it, he visited this place. He stayed here for a period of 45 days (one mandalam) and worshiped the lord every day after taking a dip in the holy tank. It is believed that he was cured of his illness.

It is believed that king Veerathurantharan from the Thuluva kingdom worshiped the lord here and was blessed with a child.

It is believed that Goddess Parvathy (in the form of a cow), Lord Mahavishnu, Brahma, Indran, Suryan, Sage Kanva and Vaali have worshipped the lord here.
Deities in the temple
Other than the shrines of Lord Shiva and Goddess Parvathy, shrines and idols of Vinayakar, Murugan with his consorts (in two places - one with six faces), Natarajar, Kailasanathar, Kaali Amman, Sri Kalyana Sundarar, Thasa lingams (10 lingams) 2 Suryan and 2 Chandran, Bairavar, Navagraham (in straight line), Nalvars, 63 Nayanmars, Gajalakshmi, Annapoorani and Saraswathy can be seen in the corridors.

In the "koshtam" (place surrounding the sanctum sanctorum), idols of Narthana Vinayakar, Dakshinamurthy, Sattanathar, Lingothbavar, Brahma, Vishnu Durgai, and Chandikeswarar can be seen.

There are certain idols here which depicts the legend of this temple. They are kept in a row in a hall in the outer corridor.

On the right side of the main tower, there is a small shrine for "Sri Kottai Muneeswarar" - a guardian deity. Poojas are performed here to ward away evil spirits.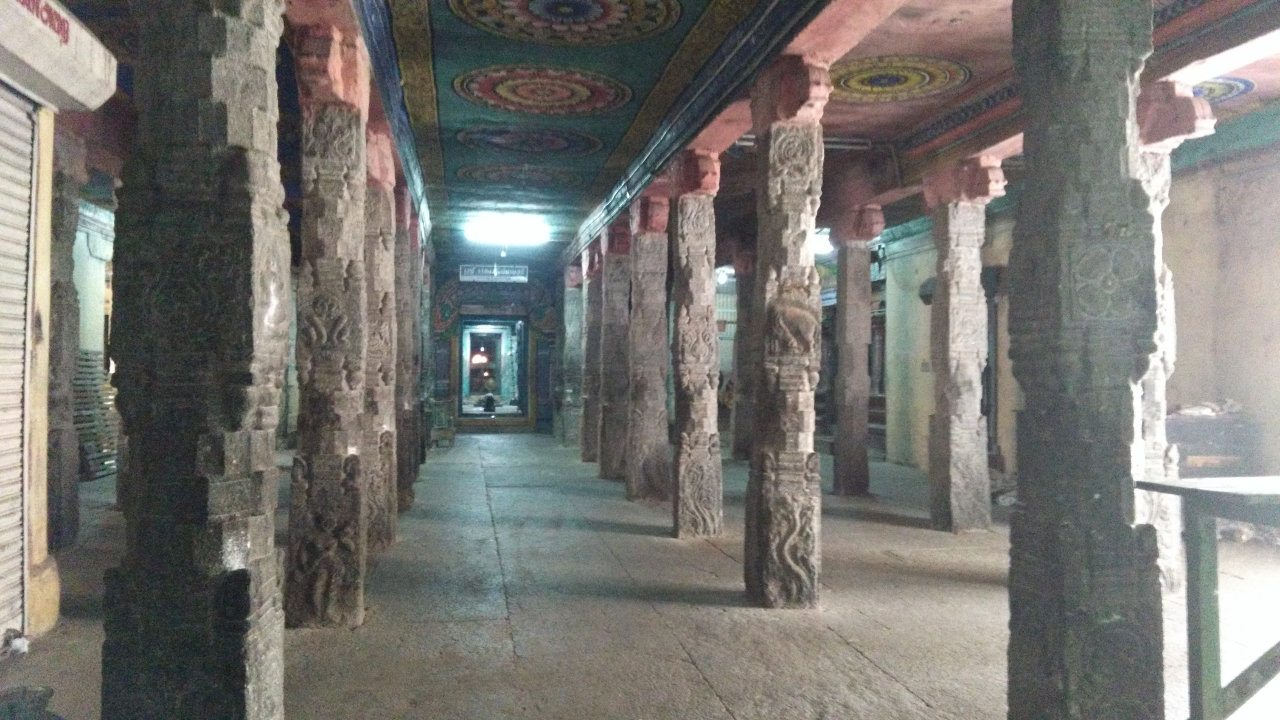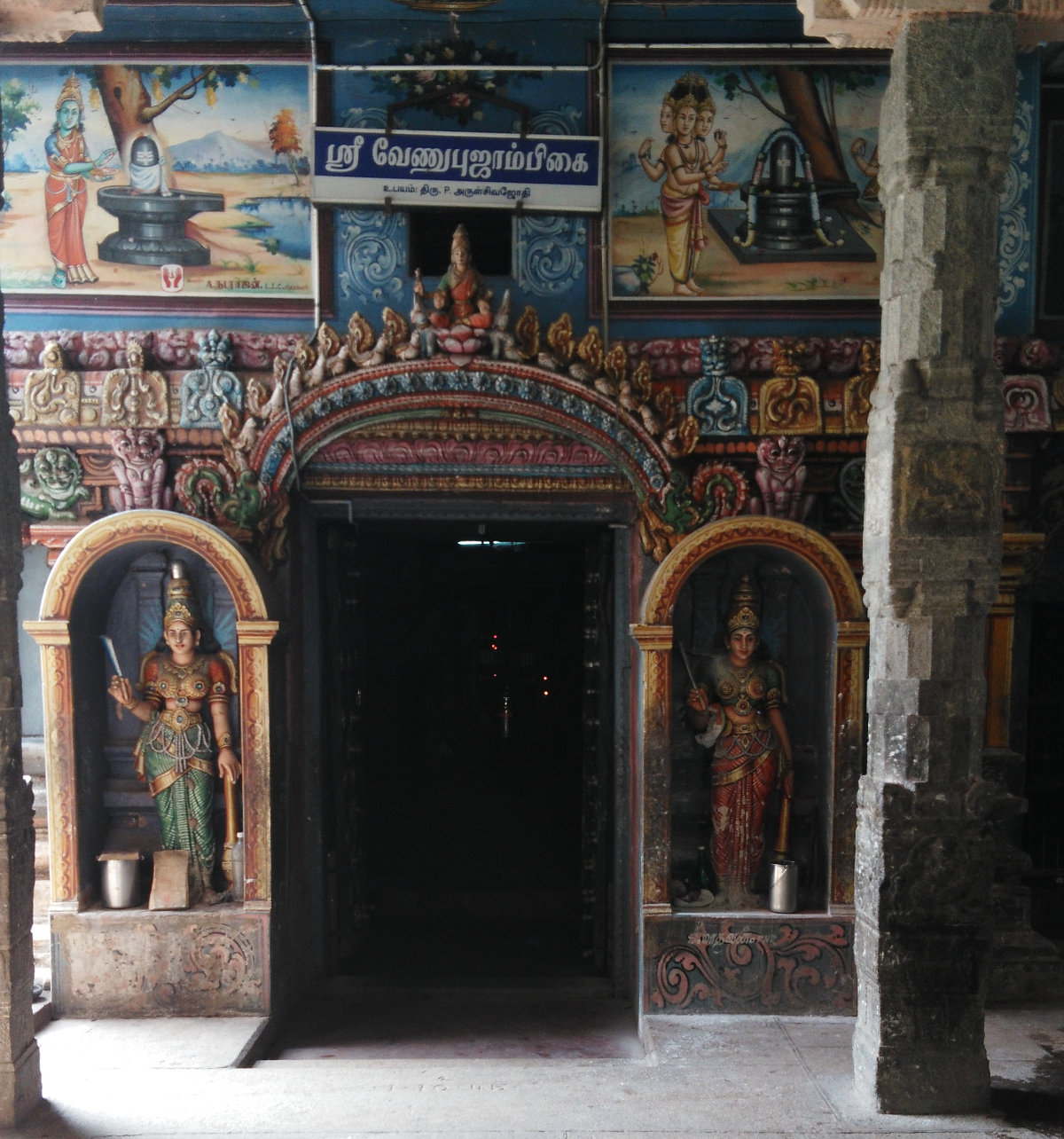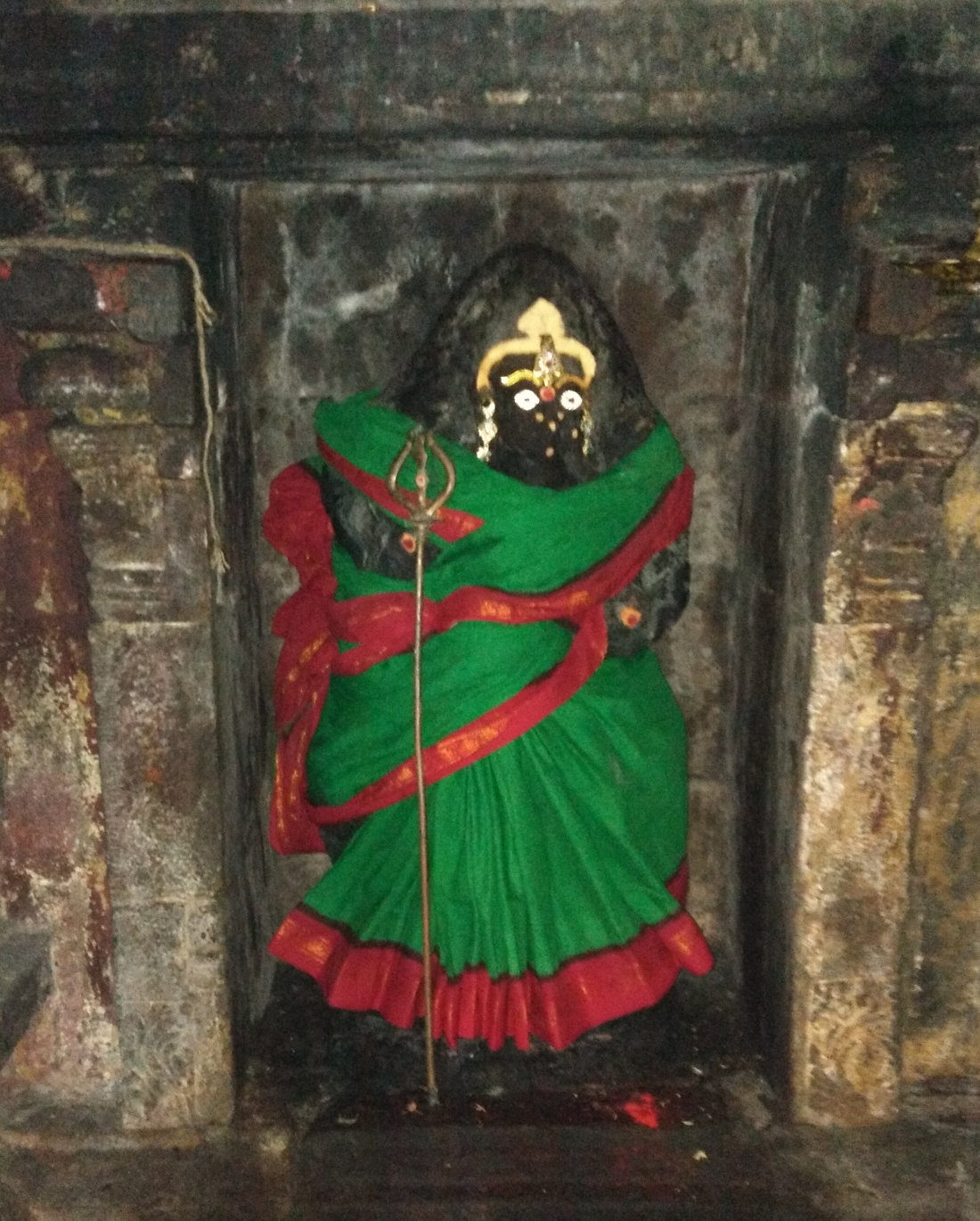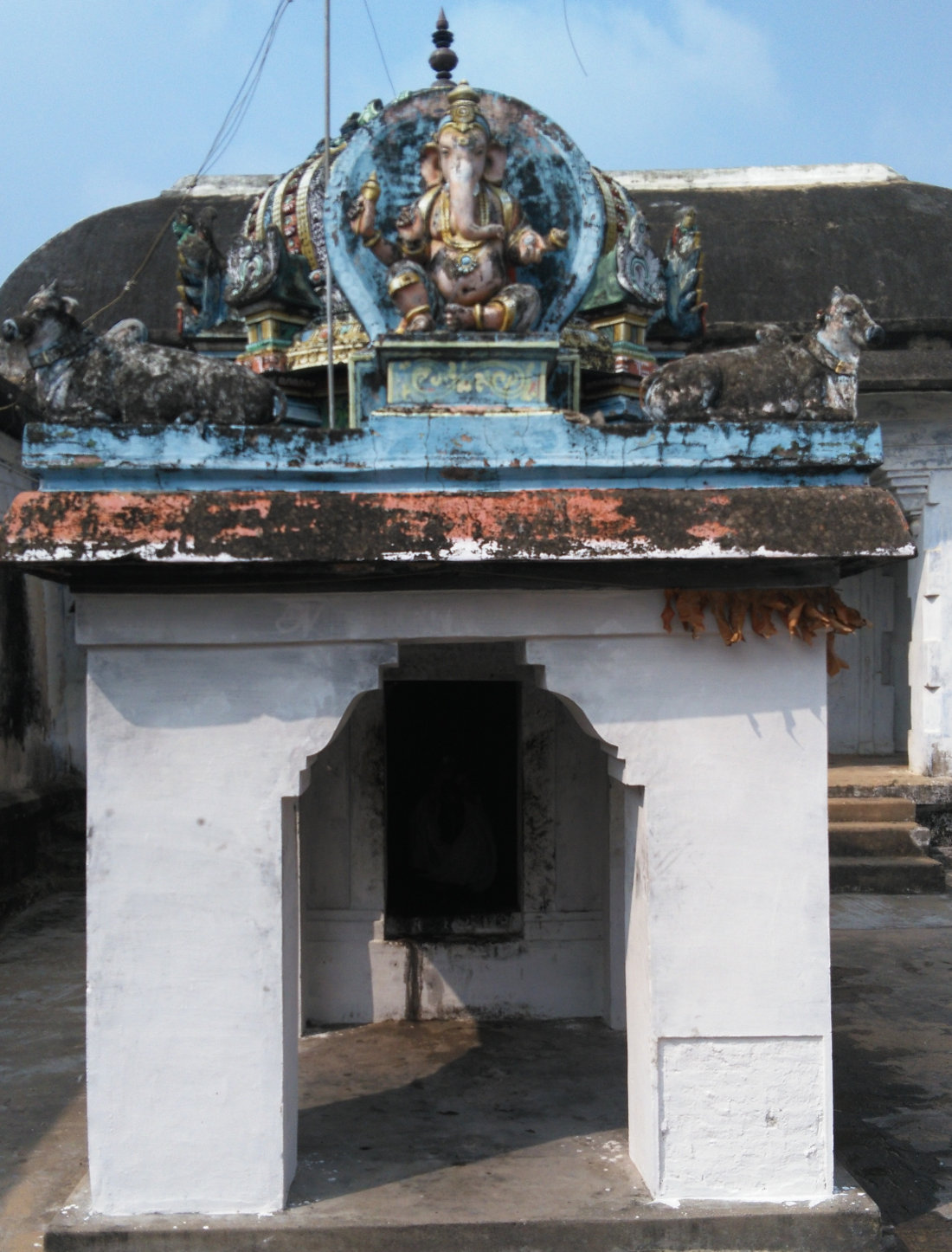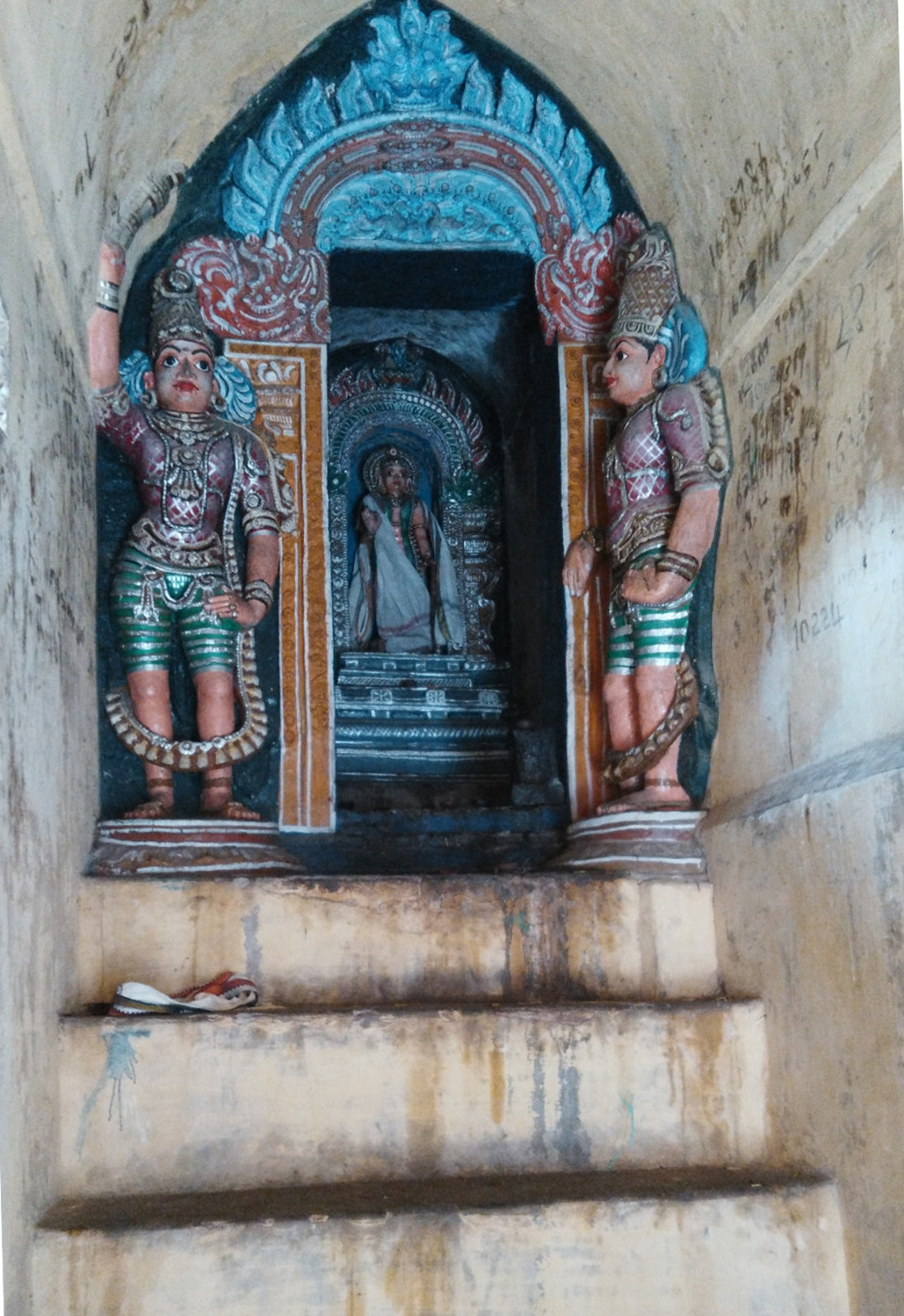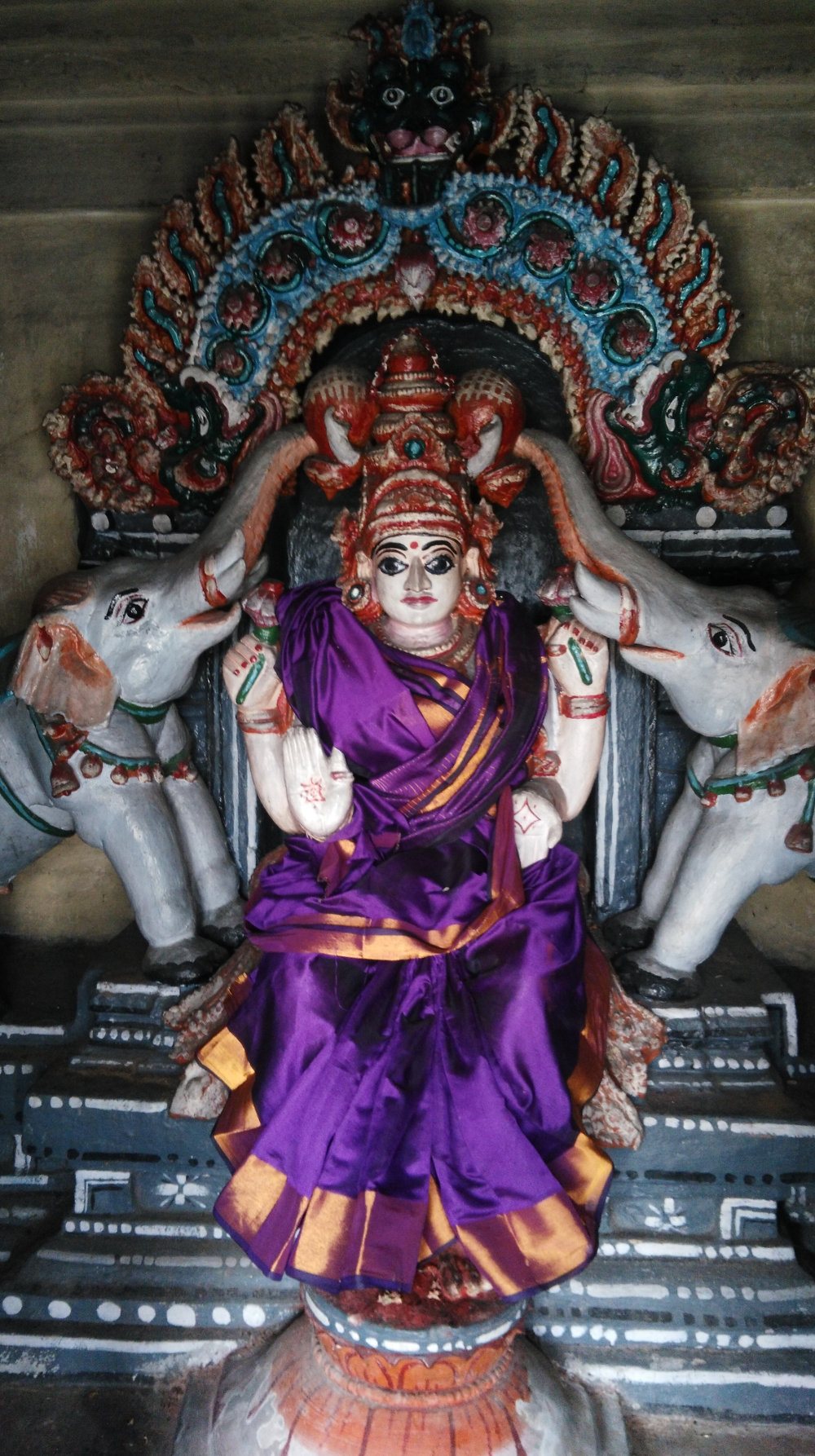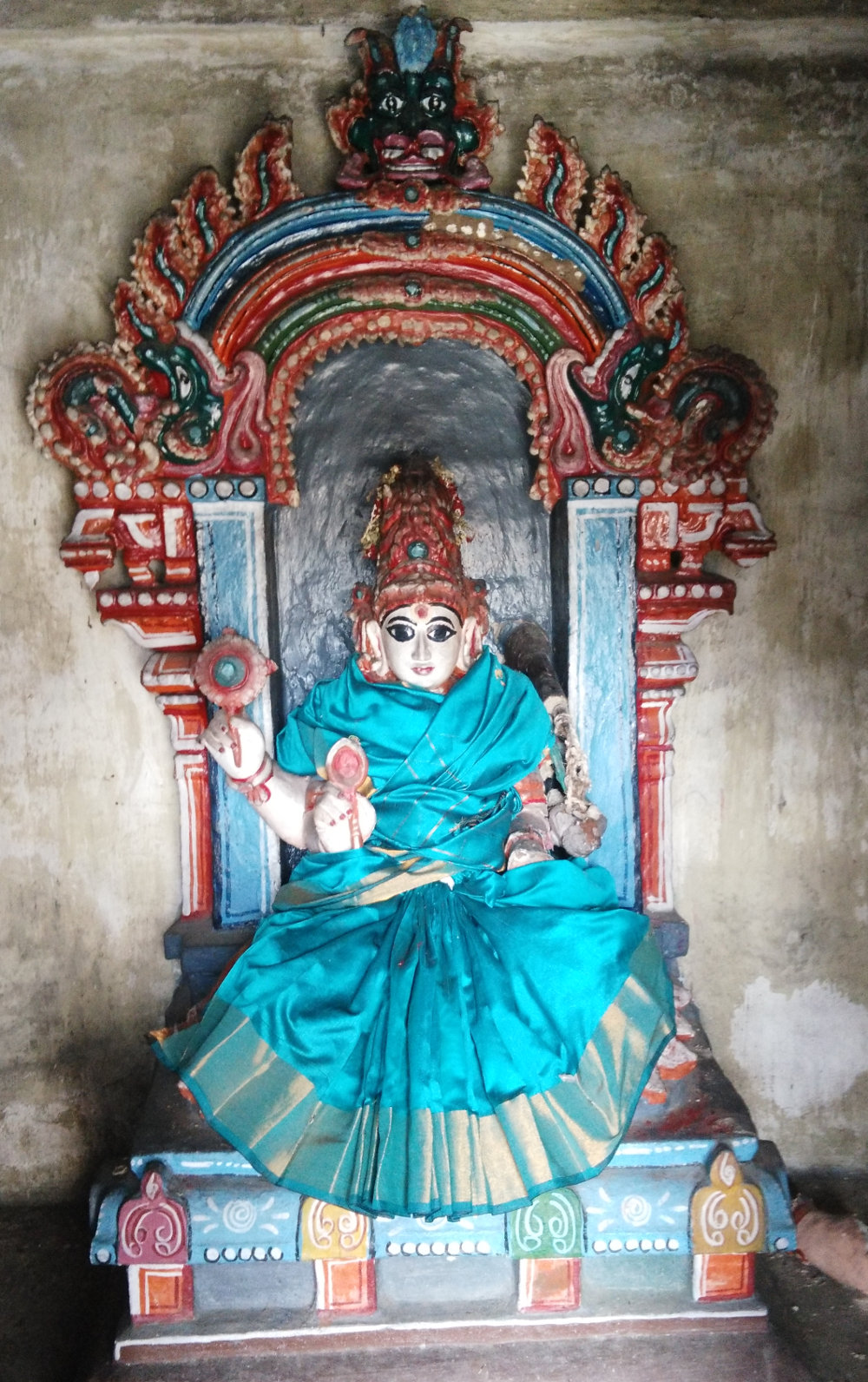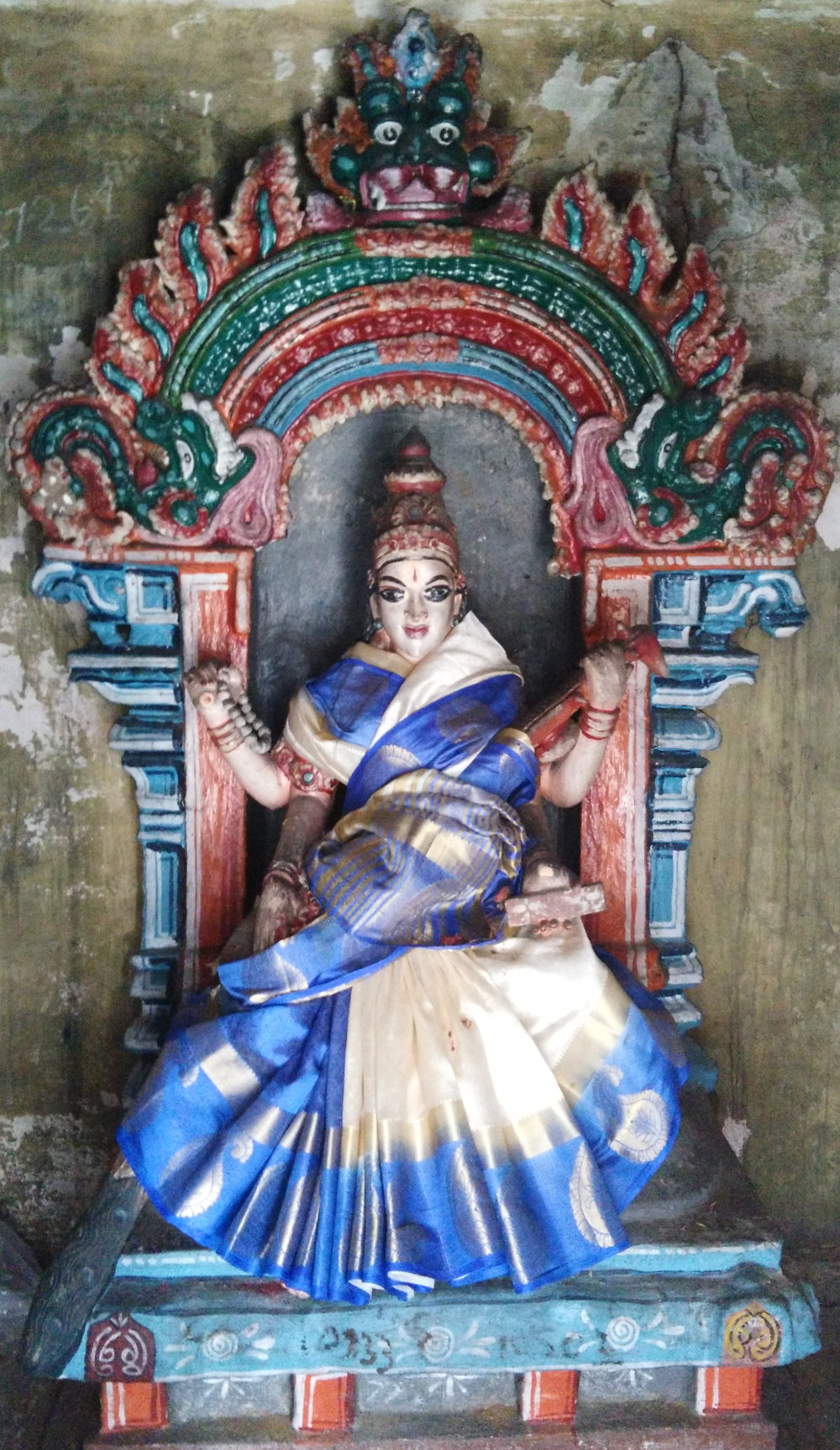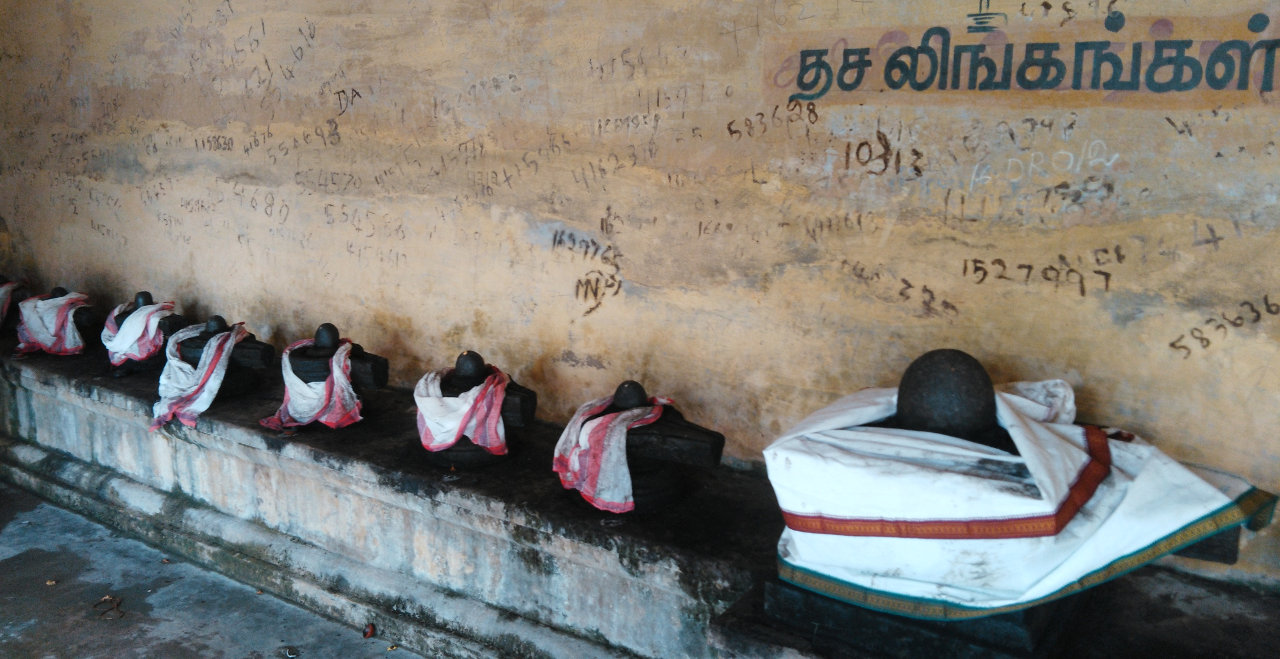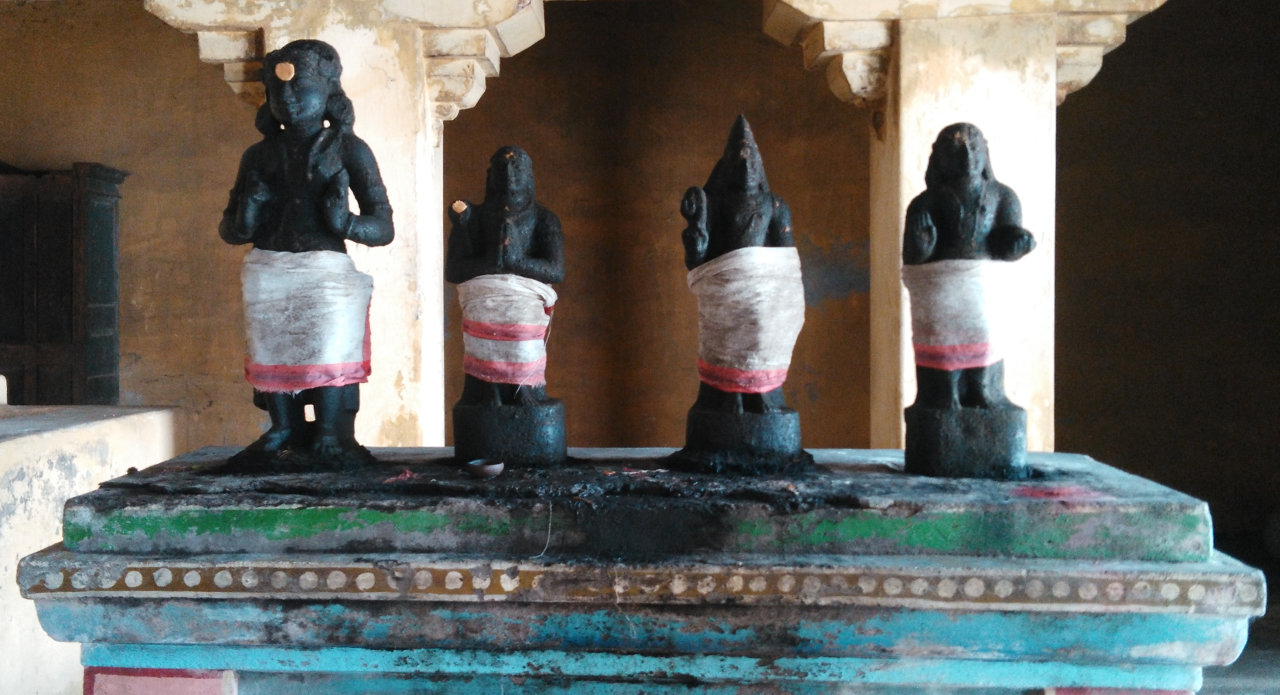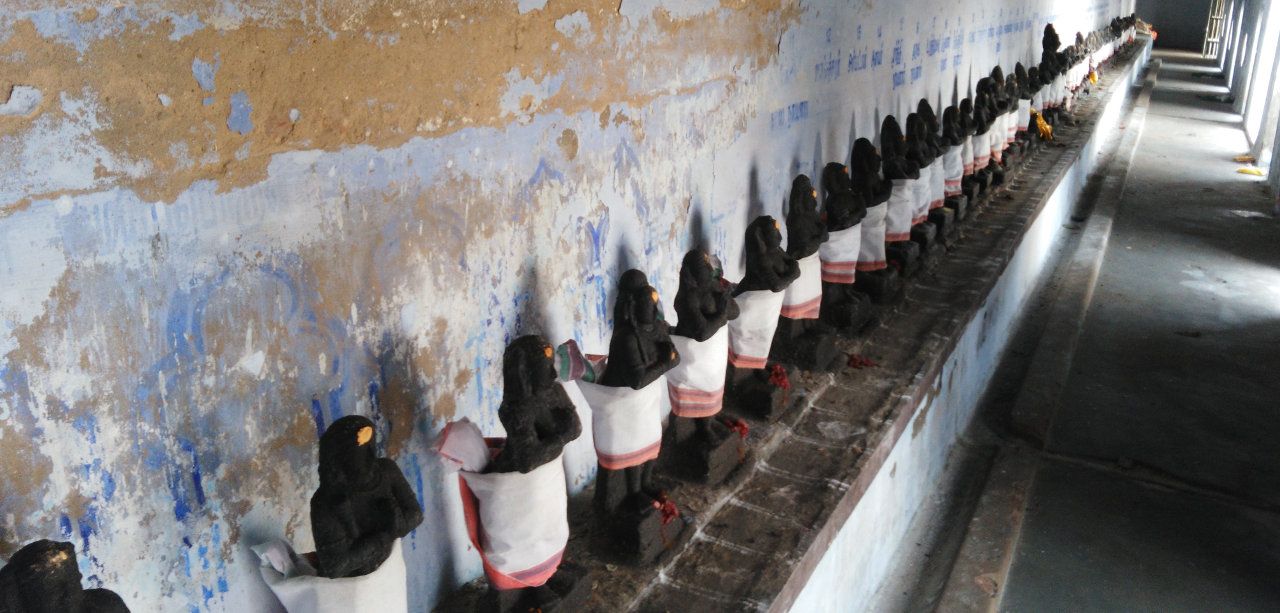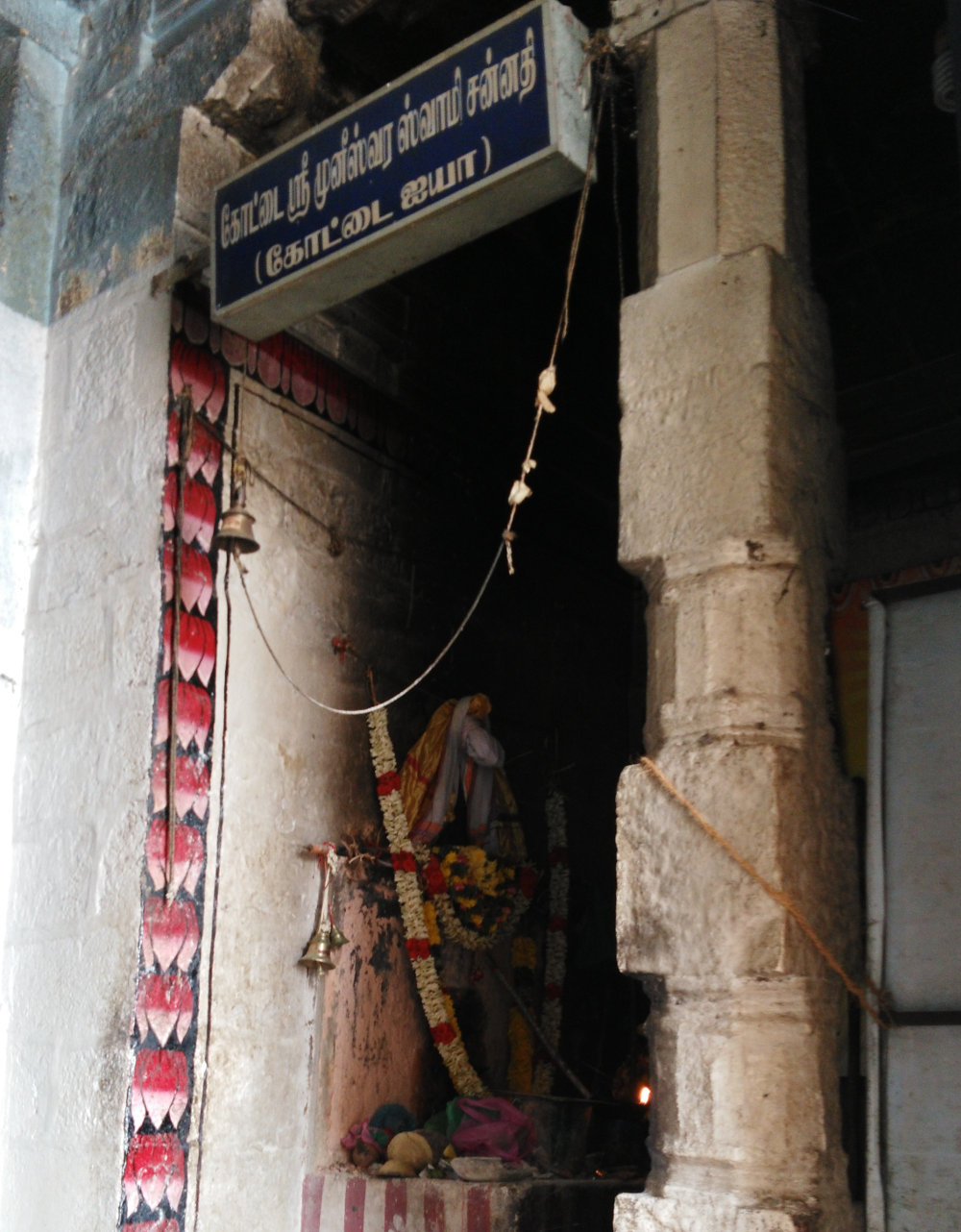 Salient Features
Since this lingam is made of sand, it is always covered with metal sheet ("kavasam") and abhishekam is performed with the cover only.

The first entrance in the sanctum sanctorum is named as "Thirunavukkarasar entrance" and the second entrance is named as "Thirugnanasambanthar entrance".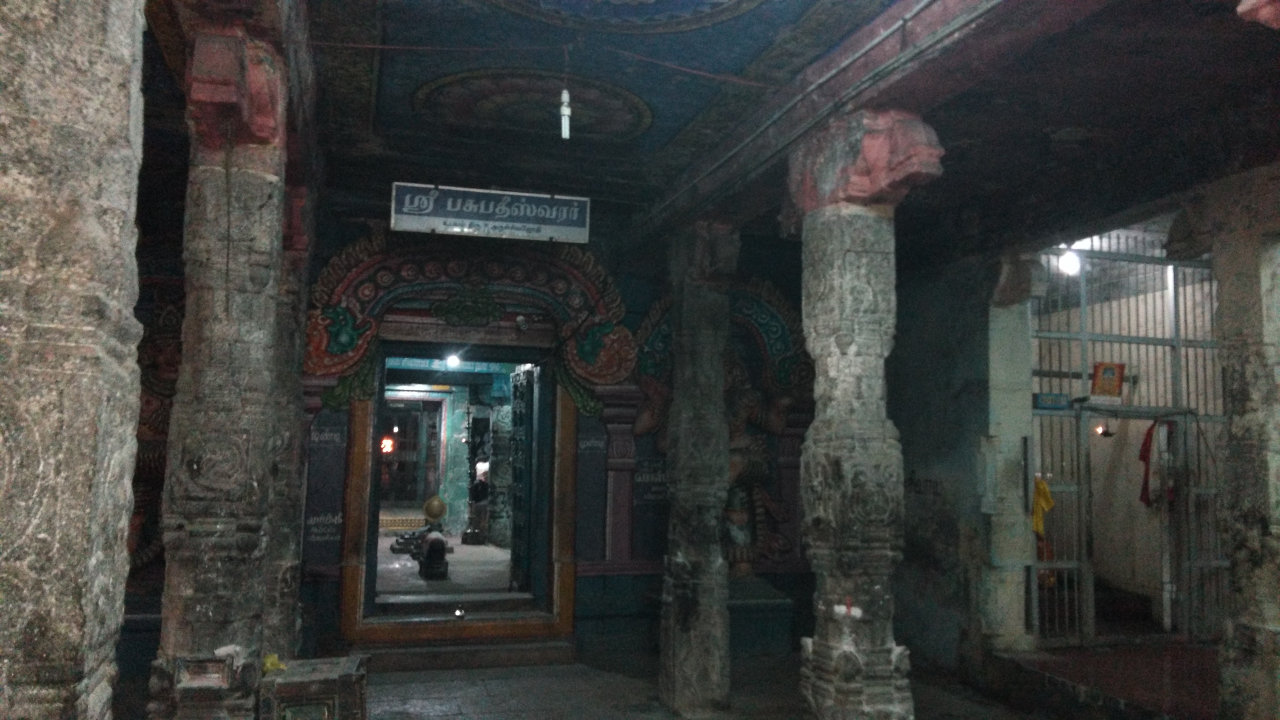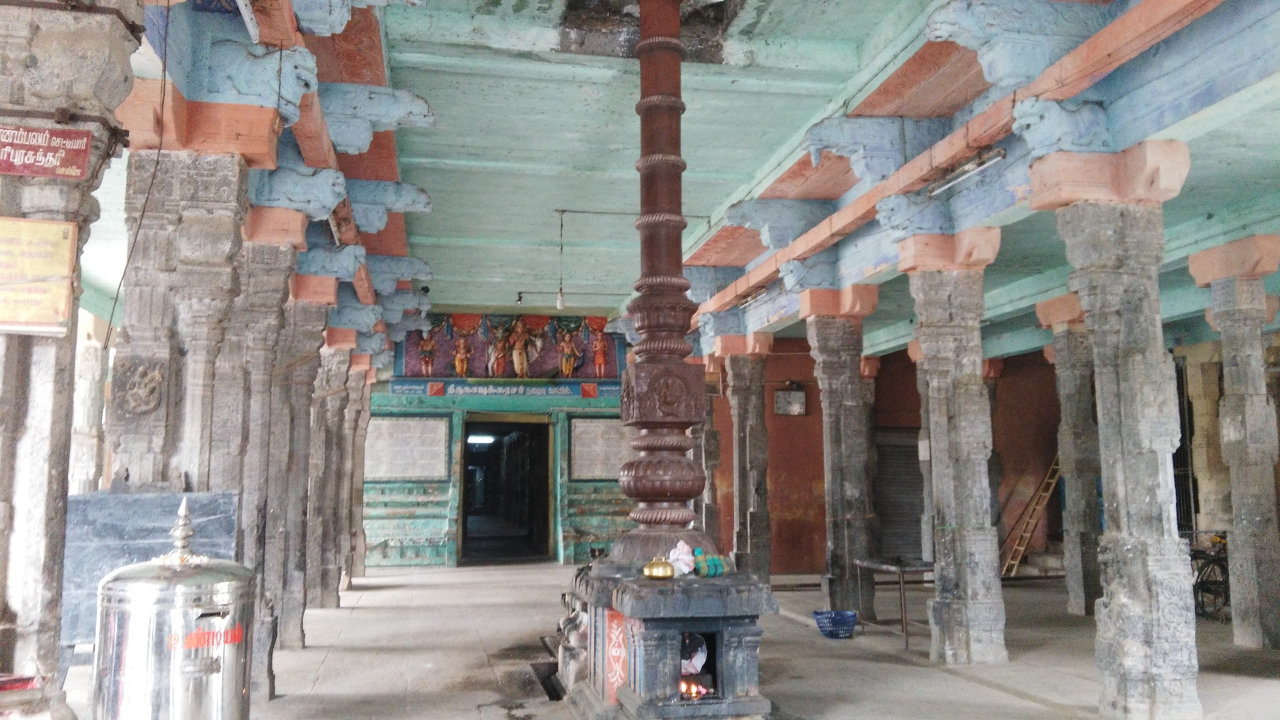 Unlike other temples, the Navagrahams in this temple are placed in a straight line.

There is a separate shrine here for Lord Mahavishnu. He is praised as Sri Aadhi Kesava Perumal. His wife, Goddess Lakshmi, is praised as Sri Parimala Valli Thayar.

The sanctum sanctorum is in the form of semi-circular tank (akazhi in Tamil).

It is believed that Lord Suryan (Sun) worships Lord Shiva of this temple by directing his rays on the lingam every year for three days from 19th to 21st in the Tamil month of Aavani (Aug-Sept).

Saint Arunagirinadhar has sang songs in praise of Lord Murugan of this temple in his revered Thirupugazh.
Greatness of this temple
Devotees believe that by worshiping the lord here, obstacles from their marriage proposals will be removed and they will also be absolved from the sins that their forefathers or ancestors had accrued ("Pithru dosha").

This is also a "parihara sthalam" for those with vision impairement and other eyesight related problems ("Nethra dhosha").
Important Festivals
Some of the important festivals celebrated in the temple are –
Vinayakar Chaturthi in the Tamil month of Aavani (Aug-Sept),
Navarathri in the Tamil month of Purattasi (Sept-Oct),
Skanda Shashti and Annabishekam in the Tamil month of Aippasi (Oct –Nov),
Thiru Karthikai in the Tamil month of Karthikai (Nov-Dec),
Shivrathri and Masi Maham in the Tamil month of Masi (Feb-Mar) and
Panguni Uthiram in the Tamil month of Panguni (Mar-Apr).

Pradosham is also observed regularly.
Temple Timings
From 06.30 AM to 12.00 Noon and from 04.00 PM to 08.00 PM.
Temple Address
Sri Pasupatheeswara Swamy Temple,
Pandanallur Post,
Kumbakonam Taluk,
Tanjure District,
Tamil Nadu – 609 807.
Tele: +91- 435-2450 595, 435-2450 595.
The temple priest Sri Sekar Gurukkal can be contacted at: 98657 78045.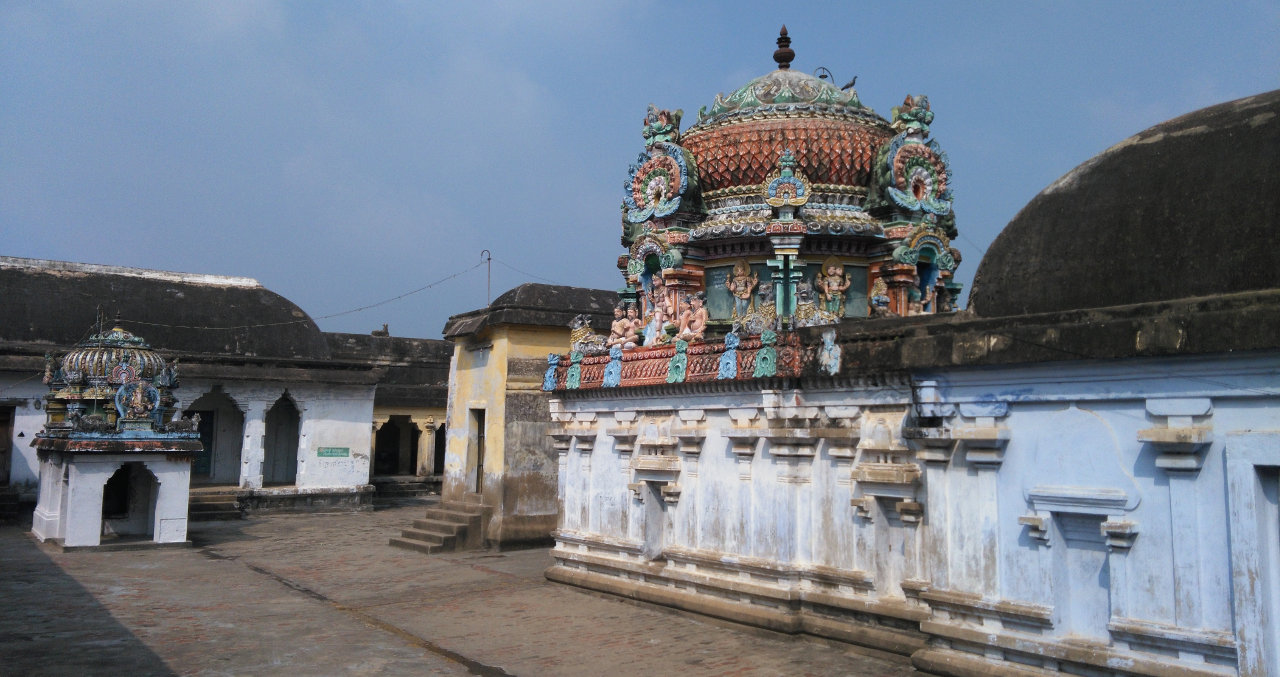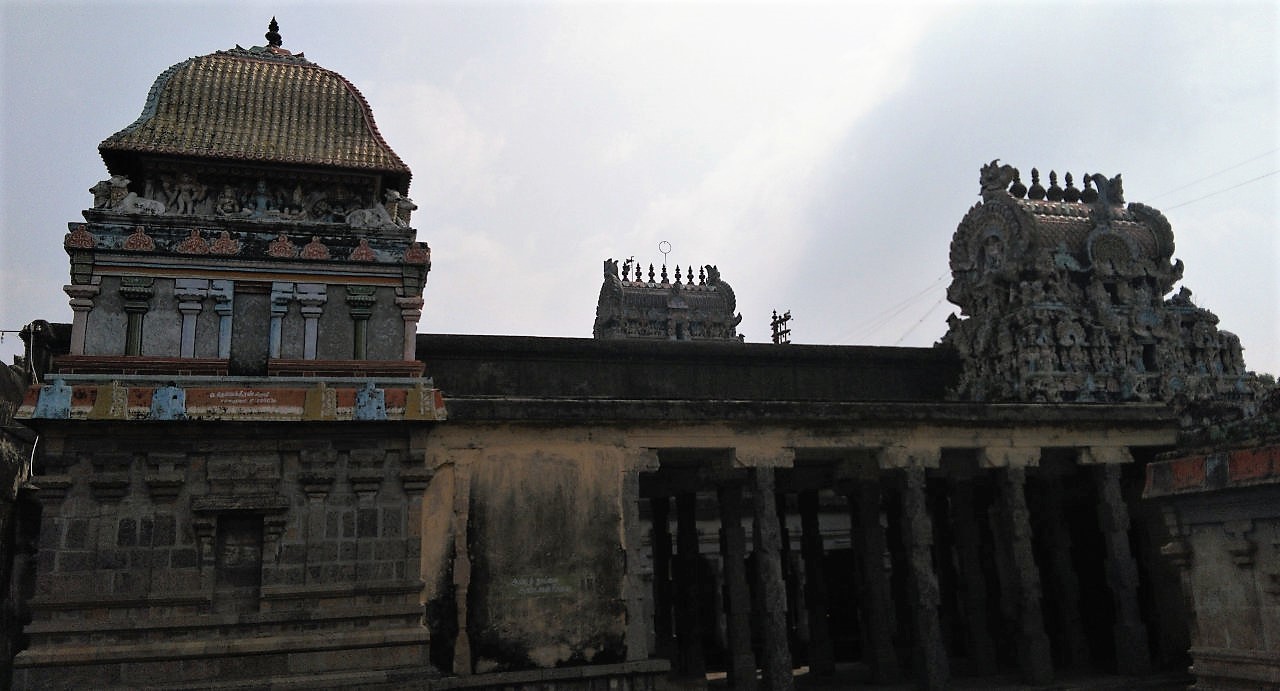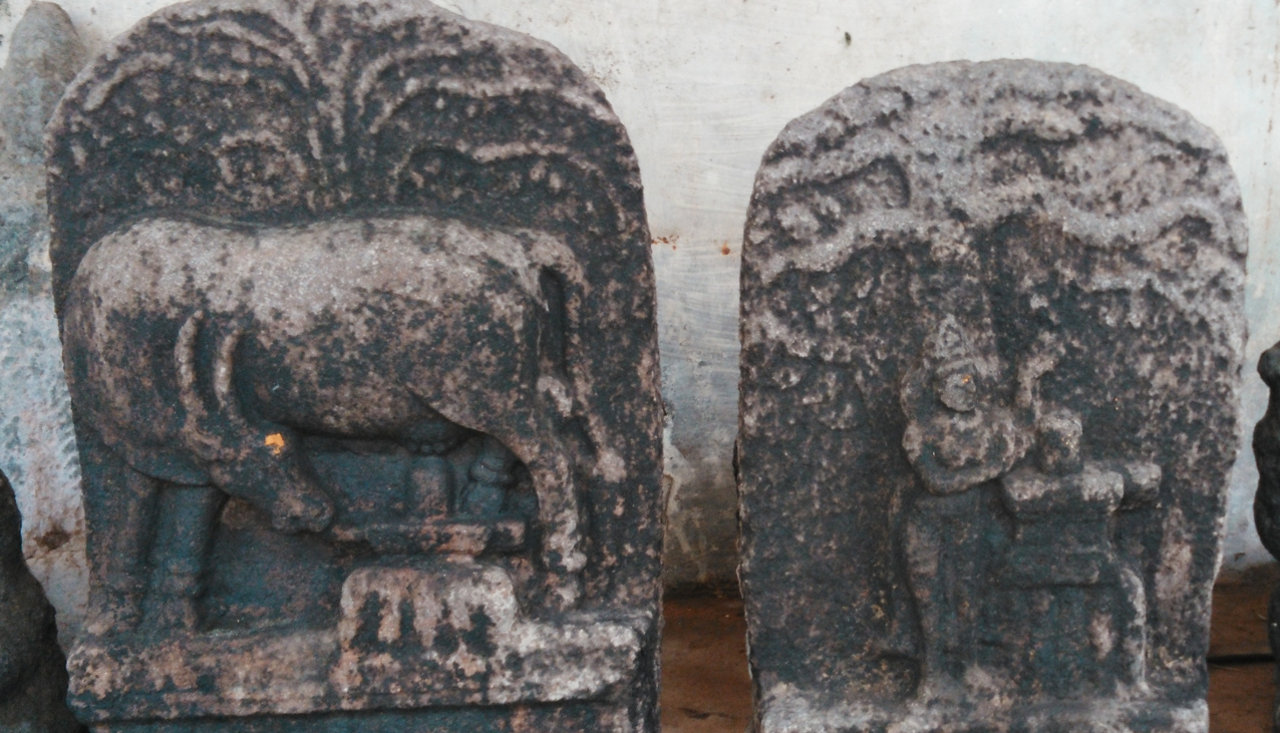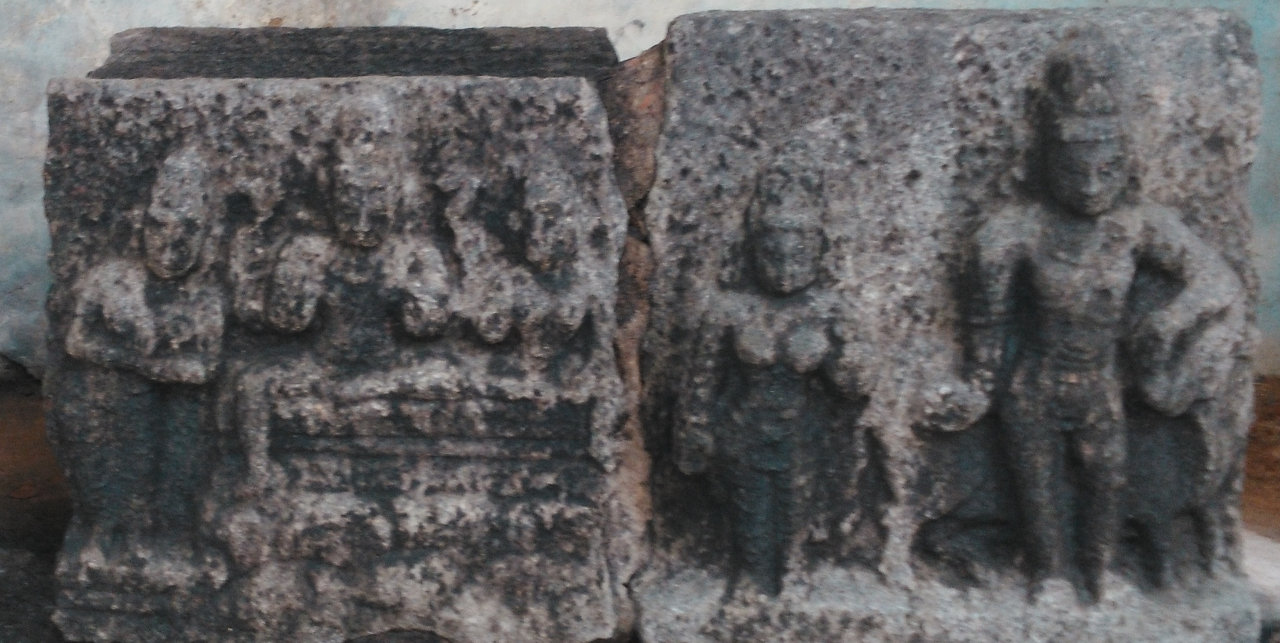 ---
Pathigam (Hymn) with English transliteration
Saint Thirugnanasambanthar visited this temple and sang this Pathigam.
Devotees visiting this temple should make it a practice to recite this Pathigam.
இடறினார் கூற்றைப் பொடிசெய்தார் மதிலை
யிவைசொல்லி யுலகெழுந் தேத்தக்
கடறினா ராவர் காற்றுளா ராவர்
காதலித் துறைதரு கோயில்
கொடிறனார் யாதுங் குறைவிலார் தாம்போய்க்
கோவணங் கொண்டு கூத்தாடும்
படிறனார் போலும் பந்தண நல்லூர்
நின்றவெம் பசுபதி யாரே.
"Iṭaṟiṉār kūtṟaip poṭiseythār mathilai
yivaisolli yulakezhun thēththak
kaṭaṟiṉā rāvar kātṟuḷā rāvar
kāthalith thuṟaitharu kōyil
koṭiṟaṉār yāthuṅ kuṟaivilār thāmpōyk
kōvaṇaṅ koṇṭu kūththāṭum
paṭiṟaṉār pōlum panthaṇa nallūr
niṉtṟavem pasupathi yārē".
கழியுளா ரெனவுங் கடலுளா ரெனவுங்
காட்டுளார் நாட்டுளா ரெனவும
வழியுளா ரெனவும் மலையுளா ரெனவும்
மண்ணுளார் விண்ணுளா ரெனவுஞ
சுழியுளா ரெனவுஞ் சுவடுதா மறியார்
தொண்டர்வாய் வந்தன சொல்லும்
பழியுளார் போலும் பந்தண நல்லூர்
நின்றவெம் பசுபதி யாரே.
"Kazhiyuḷā reṉavuṅ kaṭaluḷā reṉavuṅ
kāṭṭuḷār nāṭṭuḷā reṉavum
vazhiyuḷā reṉavum malaiyuḷā reṉavum
maṇṇuḷār viṇṇuḷā reṉavuñ
chuzhiyuḷā reṉavuñ suvaṭuthā maṟiyār
thoṇṭarvāy vanthaṉa sollum
pazhiyuḷār pōlum panthaṇa nallūr
niṉtṟavem pasupathi yārē".
காட்டினா ரெனவும் நாட்டினா ரெனவுங்
கடுந்தொழிற் காலனைக் காலால்
வீட்டினா ரெனவுஞ் சாந்தவெண் ணீறு
பூசியோர் வெண்மதி சடைமேற
சூட்டினா ரெனவுஞ் சுவடுதா மறியார்
சொல்லுள சொல்லு நால்வேதப்
பாட்டினார் போலும் பந்தண நல்லூர்
நின்றவெம் பசுபதி யாரே.
"Kāṭṭiṉā reṉavum nāṭṭiṉā reṉavuṅ
kaṭunthoḻiṟ kālaṉaik kālāl
vīṭṭiṉā reṉavuñ sānthaveṇ ṇīṟu
pūsiyōr veṇmathi saṭaimēṟ
chūṭṭiṉā reṉavuñ suvaṭuthā maṟiyār
solluḷa sollu nālvēthap
pāṭṭiṉār pōlum panthaṇa nallūr
niṉtṟavem pasupathi yārē".
முருகினார் பொழில்சூழ் உலகினா ரேத்த
மொய்த்தபல் கணங்களின் றுயர்கண்
டுருகினா ராகி உறுதிபோந் துள்ளம்
ஒண்மையால் ஒளிதிகழ் மேனி
கருகினா ரெல்லாங் கைதொழு தேத்தக்
கடலுள்நஞ் சமுதமா வாங்கிப்
பருகினார் போலும் பந்தண நல்லூர்
நின்றவெம் பசுபதி யாரே.
"Murukiṉār pozhilchūzh ulakiṉā rēththa
moyththapal kaṇaṅkaḷiṉ tṟuyarkaṇ
ṭurukiṉā rāki uṟuthipōn thuḷḷam
oṇmaiyāl oḷitikazh mēṉi
karukiṉā rellāṅ kaithozhu thēththak
kaṭaluḷnañ chamuthamā vāṅkip
parukiṉār pōlum panthaṇa nallūr
niṉtṟavem pasupathi yārē".
பொன்னினார் கொன்றை யிருவடங் கிடந்து
பொறிகிளர் பூணநூல் புரள
மின்னினார் உருவின் மிளிர்வதோர் அரவம்
மேவுவெண் ணீறுமெய் பூசித்
துன்னினார் நால்வர்க் கறமமர்ந் தருளித்
தொன்மையார் தோற்றமுங் கேடும்
பன்னினார் போலும் பந்தண நல்லூர்
நின்றவெம் பசுபதி யாரே.
"Poṉṉiṉār koṉtṟai yiruvaṭaṅ kiṭanthu
poṟikiḷar pūṇanūl puraḷa
miṉṉiṉār uruviṉ miḷirvathōr aravam
mēvuveṇ ṇīṟumey pūsith
thuṉṉiṉār nālvark kaṟamamarn tharuḷith
thoṉmaiyār thōtṟamuṅ kēṭum
paṉṉiṉār pōlum panthaṇa nallūr
niṉtṟavem pasupathi yārē".
ஒண்பொனா ரனைய அண்ணல்வாழ் கெனவும்
உமையவள் கணவன்வாழ் கெனவும்
அண்பினார் பிரியார் அல்லுநண் பகலும்
அடியவர் அடியிணை தொழவே
நண்பினார் எல்லாம் நல்லரென் றேத்த
அல்லவர் தீயரென் றேத்தும்
பண்பினார் போலும் பந்தண நல்லூர்
நின்றவெம் பசுபதி யாரே.
"Oṇpoṉā raṉaiya aṇṇalvāzh keṉavum
umaiyavaḷ kaṇavaṉvāzh keṉavum
aṇpiṉār piriyār allunaṇ pakalum
aṭiyavar aṭiyiṇai thozhavē
naṇpiṉār ellām nallareṉ ṟēththa
allavar thīyareṉ tṟēththum
paṇpiṉār pōlum panthaṇa nallūr
niṉtṟavem pasupathi yārē".
எற்றினார் ஏதும் இடைகொள்வா ரில்லை
இருநிலம் வானுல கெல்லை
தெற்றினார் தங்கள் காரண மாகச்
செருமலைந் தடியிணை சேர்வான்
முற்றினார் வாழும் மும்மதில் வேவ
மூவிலைச் சூலமும் மழுவும்
பற்றினார் போலும் பந்தண நல்லூர்
நின்றவெம் பசுபதி யாரே.
"Etṟiṉār ēthum iṭaikoḷvā rillai
irunilam vāṉula kellai
thetṟiṉār thaṅkaḷ kāraṇa mākach
cherumalain thaṭiyiṇai sērvāṉ
mutṟiṉār vāzhum mum'mathil vēva
mūvilaich chūlamum mazhuvum
patṟiṉār pōlum panthaṇa nallūr
niṉtṟavem pasupathi yārē".
ஒலிசெய்த குழலின் முழவம தியம்ப
வோசையால் ஆட லறாத
கலிசெய்த பூதங் கையினா லிடவே
காலினாற் பாய்தலும் அரக்கன்
வலிகொள்வர் புலியின் உரிகொள்வ ரேனை
வாழ்வுநன் றானுமோர் தலையிற்
பலிகொள்வர் போலும் பந்தண நல்லூர்
நின்றவெம் பசுபதி யாரே.
"Oliseytha kuzhaliṉ muzhavama thiyampa
vōsaiyāl āṭa laṟātha
kaliseytha pūthaṅ kaiyiṉā liṭavē
kāliṉāṟ pāythalum arakkaṉ
valikoḷvar puliyiṉ urikoḷva rēṉai
vāzhvunaṉ tṟāṉumōr thalaiyiṟ
palikoḷvar pōlum panthaṇa nallūr
niṉtṟavem pasupathi yārē".
சேற்றினார் பொய்கைத் தாமரை யானுஞ்
செங்கண்மா லிவரிரு கூறாத்
தோற்றினார் தோற்றத் தொன்மையை யறியார்
துணைமையும் பெருமையுந் தம்மில்
சாற்றினார் சாற்றி யாற்றலோ மென்னச்
சரண்கொடுத் தவர்செய்த பாவம்
பாற்றினார் போலும் பந்தண நல்லூர்
நின்றவெம் பசுபதியாரே.
"Sētṟiṉār poykait thāmarai yāṉuñ
cheṅkaṇmā livariru kūṟāth
thōtṟiṉār thōtṟath thoṉmaiyai yaṟiyār
thuṇaimaiyum perumaiyun tham'mil
sātṟiṉār sātṟi yātṟalō meṉṉach
charaṇkoṭuth thavarseytha pāvam
pātṟiṉār pōlum panthaṇa nallūr
niṉtṟavem pasupathiyārē".

இப்பதிகத்தில் 10-ம் செய்யுள் சிதைந்து போயிற்று.

Ippathikaththil 10-m seyyuḷ cithainthu pōyitṟu.
கல்லிசை பூணக் கலையொலி ஓவாக்
கழுமல முதுபதி தன்னில்
நல்லிசை யாளன் புல்லிசை கேளா
நற்றமிழ் ஞானசம் பந்தன்
பல்லிசை பகுவாய்ப் படுதலை யேந்தி
மேவிய பந்தண நல்லூர்
சொல்லிய பாடல் பத்தும்வல் லவர்மேல்
தொல்வினை சூழகி லாவே.
"Kallisai pūṇak kalaiyoli ōvāk
kazhumala muthupathi thaṉṉil
nallisai yāḷaṉ pullisai kēḷā
natṟamizh gñāṉasam banthaṉ
pallisai pakuvāyp paṭuthalai yēnthi
mēviya panthaṇa nallūr
solliya pāṭal paththumval lavarmēl
tholviṉai chūzhaki lāvē".