Visited on: 17th September, 2016
Location
Panayapuram is at a distance of about 12 kms from Villupuram and 3 kms from Mundiambakkam. It is on the Pondicherry to Mundiambakkam route. The temple is hardly one km away from the Vikravandi tollgate on the Panruti / Kumabakonam route.
Other Paadal Petra Shiva Sthalams near Panayapuram are: Thiruvamathur (13 kms), Thiruthuraiyur (24 kms) and Thirumundeeswaram (Gramam) (29 kms).
General Information
Moolavar

Sri Panangatteswarar, Sri Nethrotharaneswarar,
Sri Kannamarntha Nayanar

Ambal

Sri Sathyambikai, Sri Meyyambikai, Sri Puravambikai

Theertham (Holy water)

Padma Theertham

Sthala Vriksham (Sacred Tree)

Palm tree (panai)

Pathigam (Hymn) rendered by

Saint Thirugnanasambanthar

This is one of the 276 Devara Paadal Petra Shiva Sthalams and 20th Shiva Sthalam in Nadu Naadu.
Lord Shiva in this temple is a Swayambumurthi (self-manifested).
This is one of the few temples that has palm tree is its "sthala viruksham".
This temple has two corridors and its main tower (Rajagopuram) has 4-tiers.
The last Consecration ceremony (Maha Kumbabishekam) took place on 02.06.2004 and prior to that in the year 1971.
History of the Temple
This temple is believed to have been built by the Chola King Kulothungan-I.
It is believed that once this place was densely populated with palm trees. This place is called "Puravaar Panangkatur" because "Puravaar" in Tamil means forest and Panangkatur means full of palm trees. Saint Thirugnanasambanthar has also mentioned this place as Puravaar Panankatur in his hyms.
Of the 276 Paadal Petra Shivasthalams, very few temples have Palm tree (Panai) as their Sthala Viruksham. This temple is one of them. They are - Thiru Panaiyur, Thiru Vanparthan Panankattur, Thiru Puravaar Panankattur, Thiru Cheyyar, Thiru Mazhapadi, Thiru Valampuram and Thiruppanandal.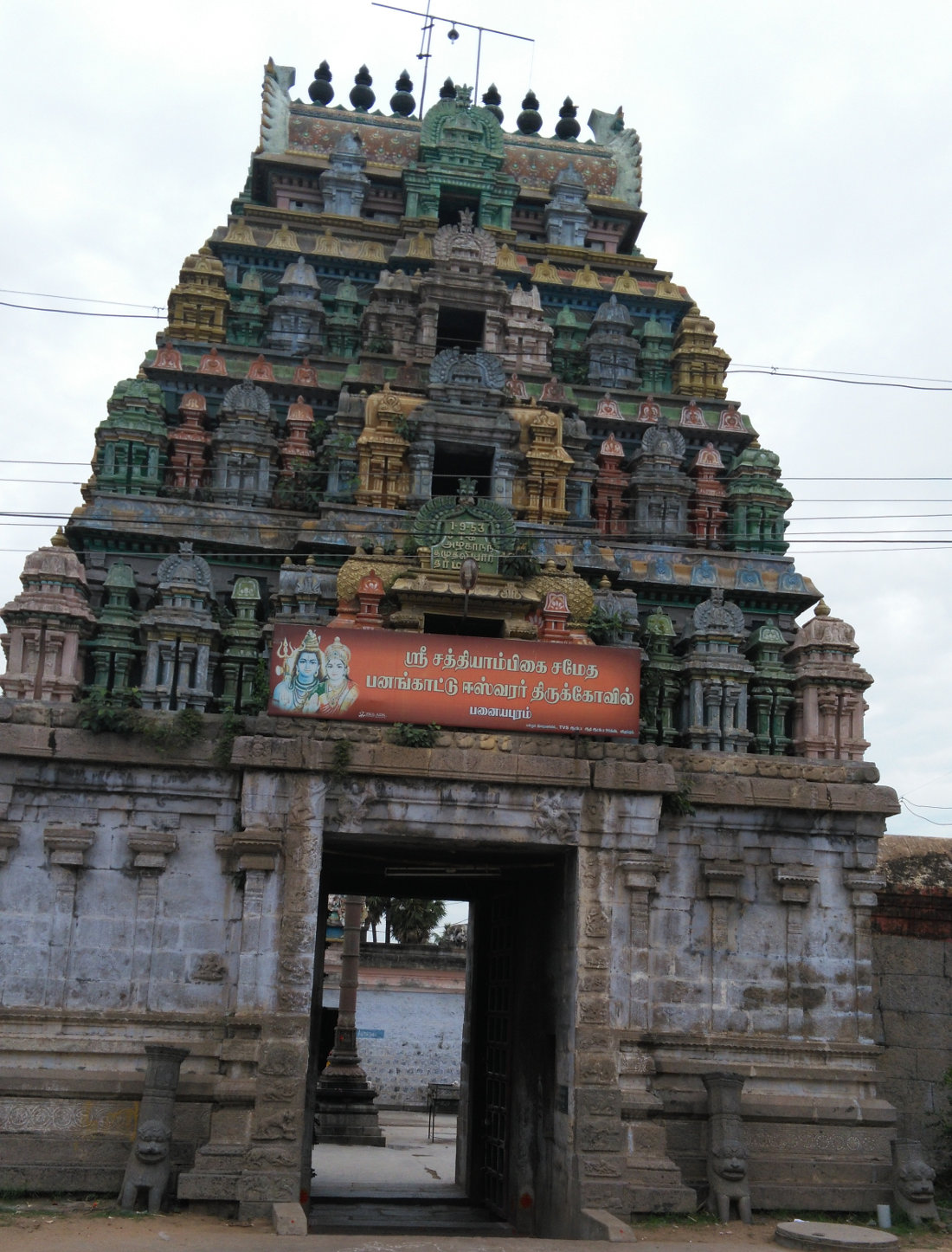 Legend
The legend is that Dakshan (father of Goddess Parvathi) once performed a yagna where he invited all the devas (celestial gods) but intentionally left out Lord Shiva. Lord Shiva was angered by this slight and all the devas who attended the yagna and consumed the yagna-food (avirbhaagam), became the object of his fury.
Lord Shiva instructed Aghora Veerabhadrar to go to Dakshan's yagna-hall and punish all the devas. Agora Veerabhadrar carried out the lord's instruction and as a result the Sun God (Suryan) who was one of the attendee lost his eye sight and lustre. To seek Lord Shiva's forgiveness, Suryan went to several holy places and offered his prayers. It was finally at this place (Puravaar Panangkattur) that Suryan's eye sight and his brightness were restored. Hence, Lord Shiva is also praised here as "Kan parithu aruliya kadavul" (the God who took and later restored the eye sight).
As Suryan got back his brightness at this temple, it is believed that every year, he worships Lord Shiva and Goddess Parvathi for a period of seven days from the 1st day of the Tamil New year by illuminating the idols in the two sanctums.
Another legend associated with this place is that of the Chola Emperor Sibi Chakravarthi. It is believed that once, a pigeon that was being hunted by a vulture surrendered to the King and sought his help. He immediately cut a portion of his thigh flesh equivalent to the weight of the pigeon and offered it as food to the vulture instead. This deed came to the notice of Lord Shiva who appreciated his generosity, gave him his dharisanam and offered him salvation (moksham). In order to celebrate this event and to honour King Sibi, his descendants built a beautiful temple at this place.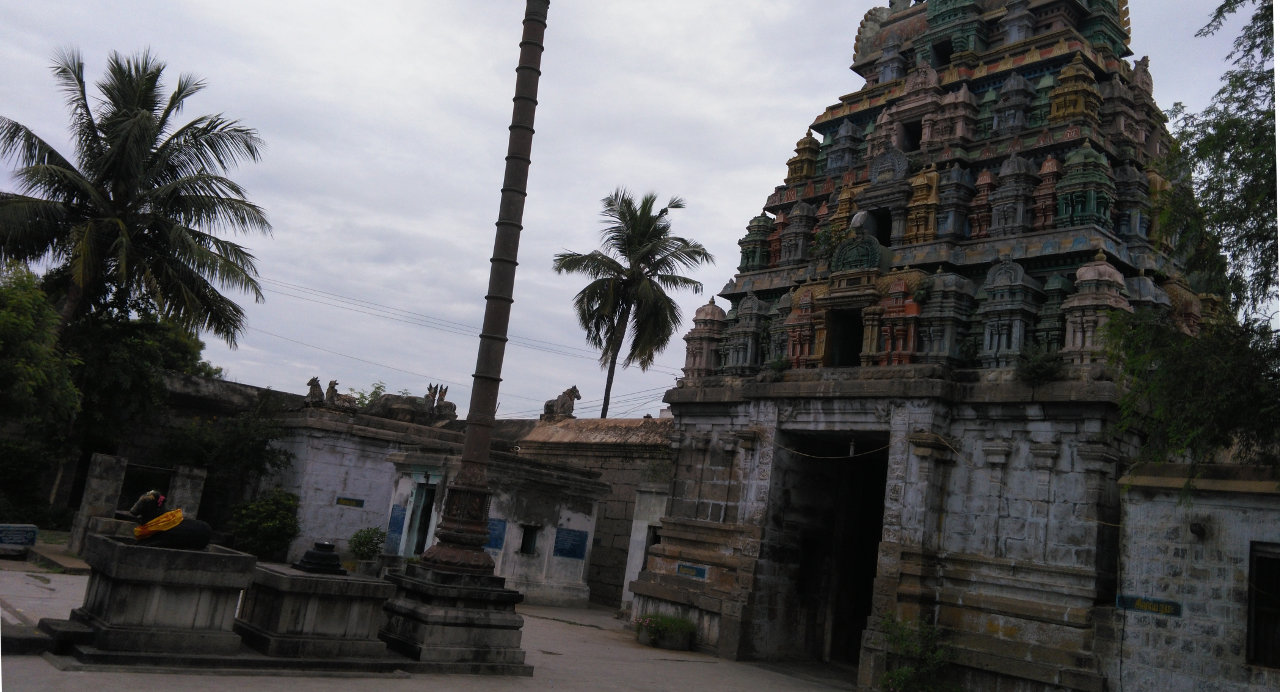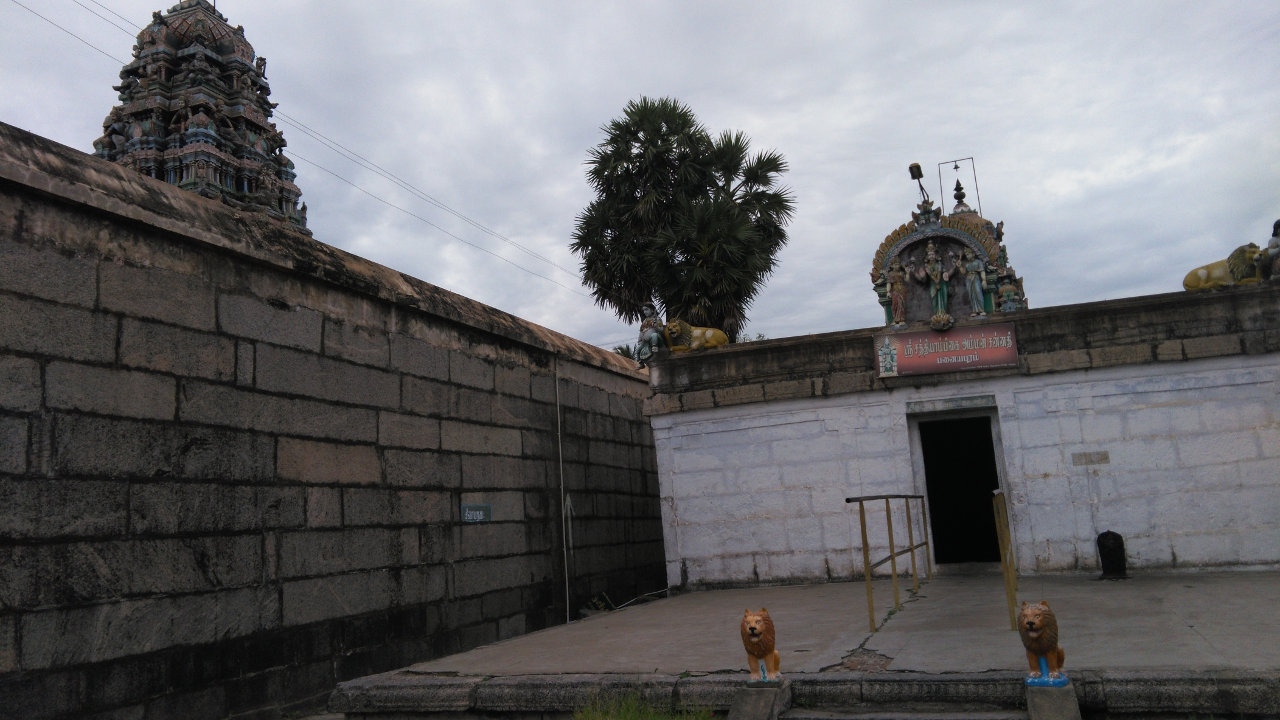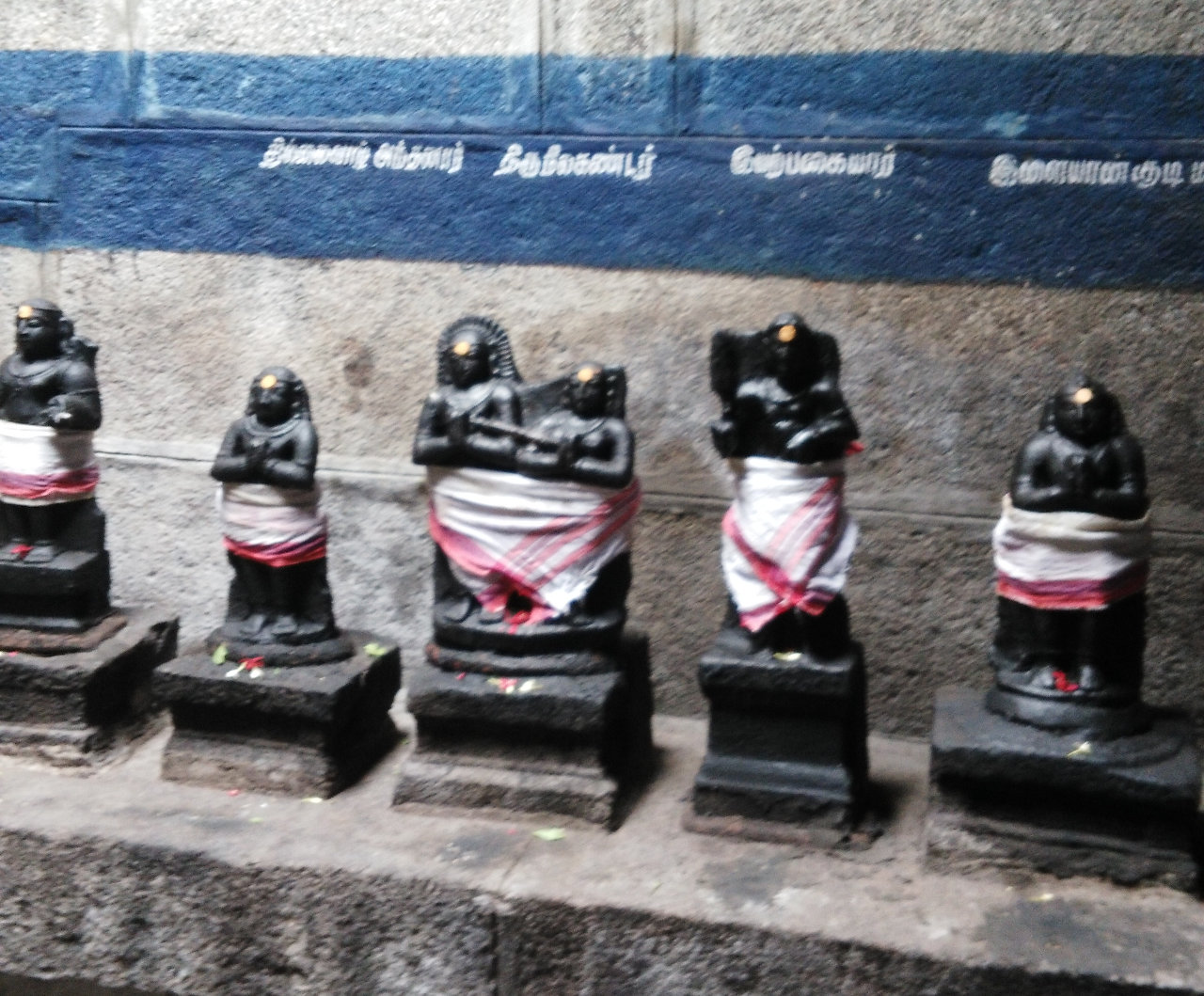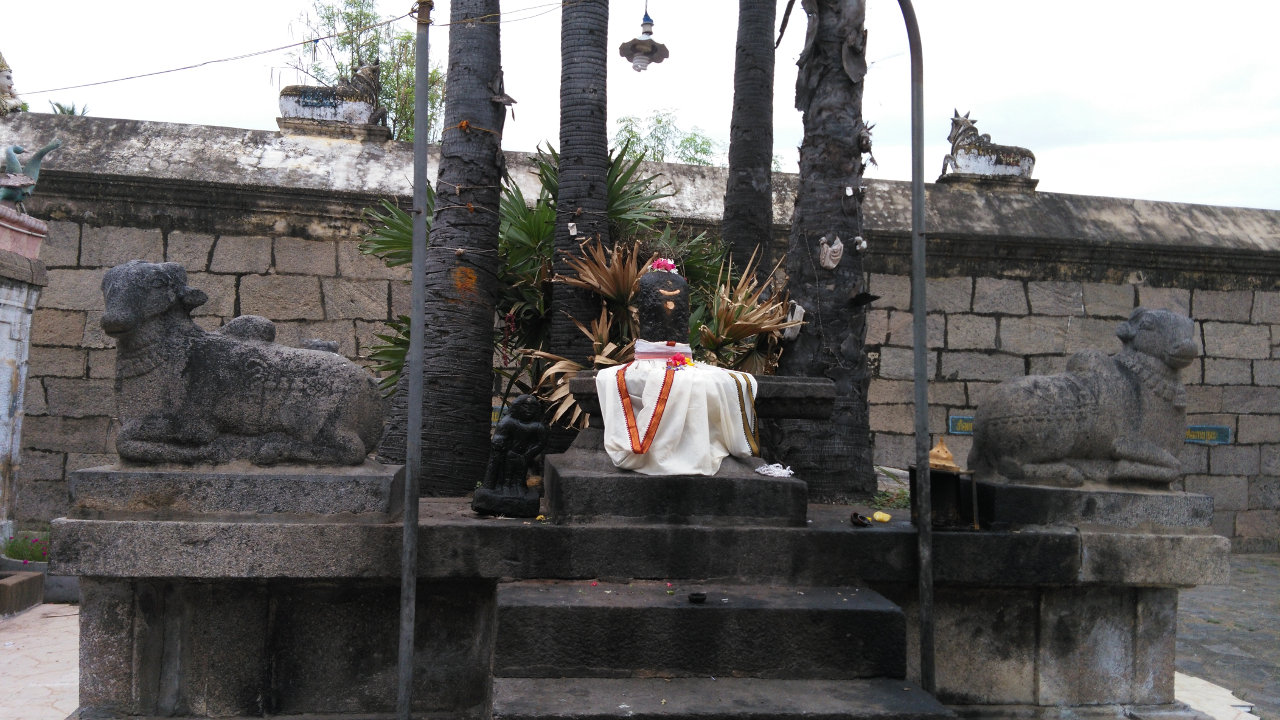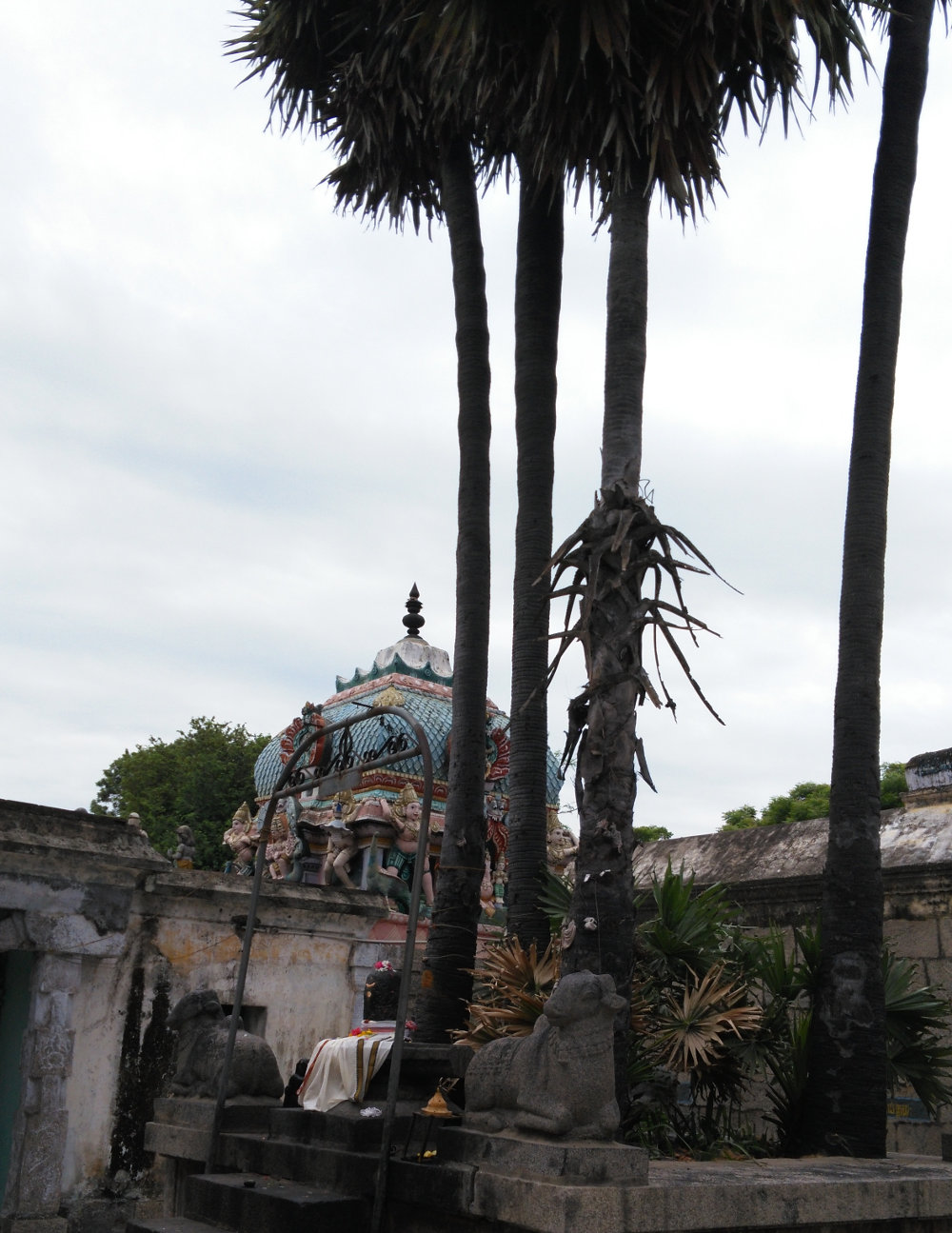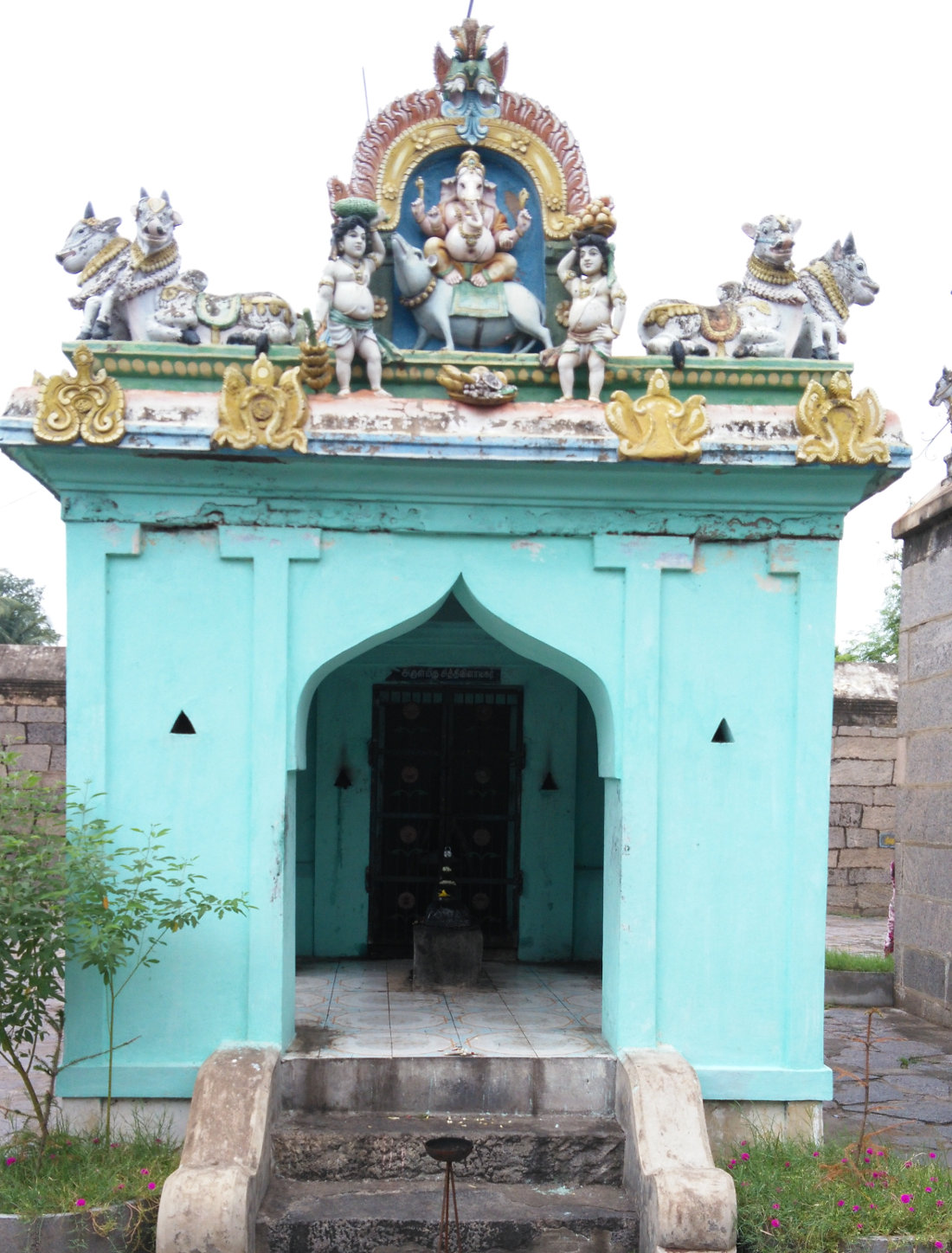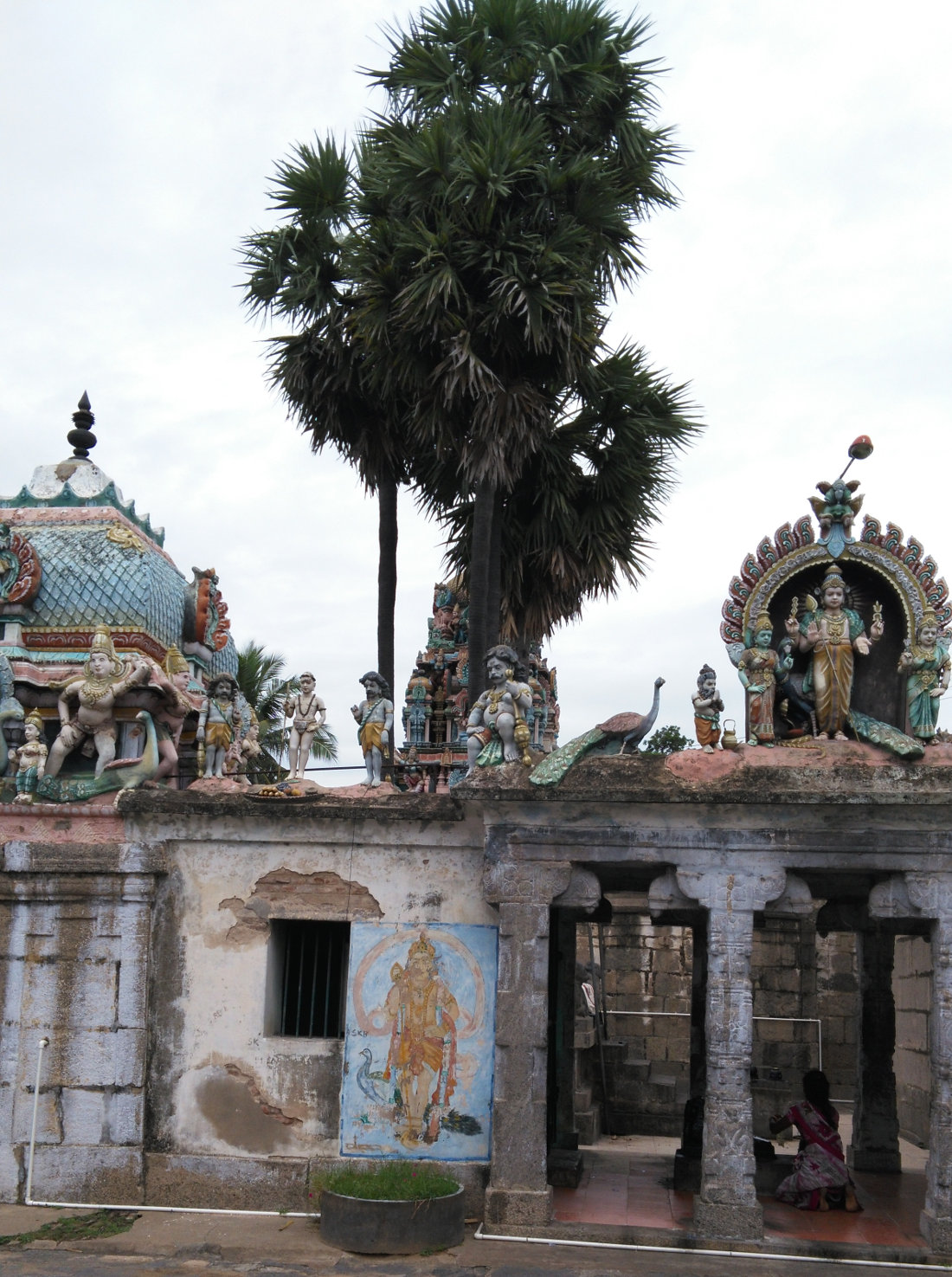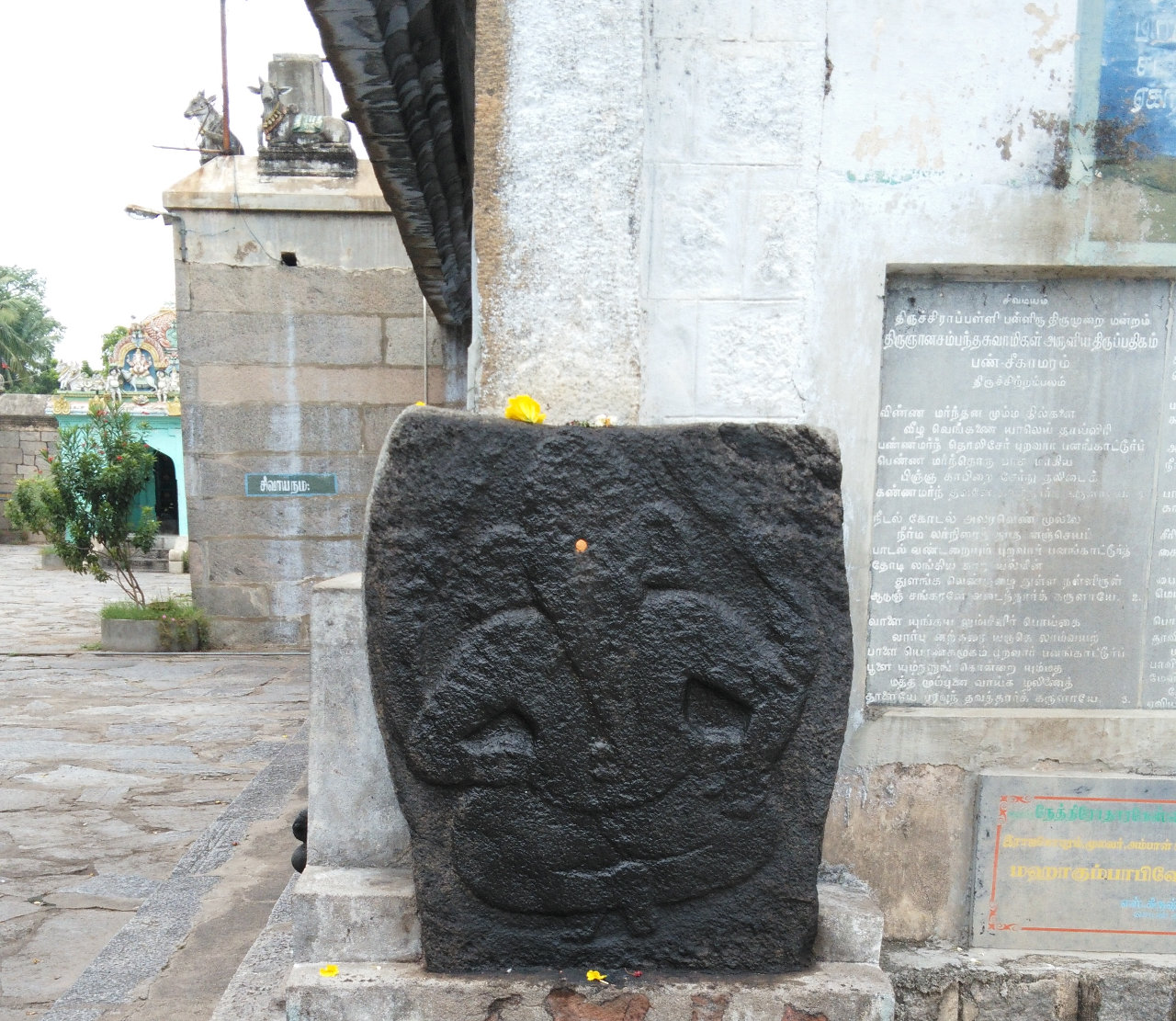 Deities in the Temple

In the inner corridors idols of lords Vinayakar, Murugan, Saneeswarar, Suryan, 63 Nayanmars, Saptamaathas, Lord Mahavishnu, Gajalakshmi, Bikshaantavar, Dakshinamurthi, Bala Dandayuthapani, Vallabha Vinayakar, Brahma, Durgai, Chantikeswarar, Navagrahams and others can be seen.
There are also separate shrines for Lords Natarajar and Somaskandar.

Salient Features
There are four sacred palm trees in the outer corridor.
There is a rare idol of Thiruneelakandar (one of the 63 Nayanmars) and his wife where both of them are holding a staff and standing in praying posture.
There is also a rare rock relief depicting Lord Vinayakar (Polla Pillaiyar) at the entrance. This relief has been made using stone tools.
In the 11th stanza of his hymn, Saint Thirugnanasambanthar said that those who recite his hymn of this temple, will get a place at Lord Shiva's abode.
Greatness of this temple
It is believed by devotees that worshipping Lord Shiva here would cure their eye sight related problems.
Devotees also pray to Lord Shiva here for the removal of hurdles from marriage proposals, to attain knowledge and wisdom.
Important Festivals
Amongst others, Surya Pooja in the Tamil month of Chithirai, Brahmotsavam in the Tamil month of Chithirai, Maha Shivarathiri in the Tamil month of Masi, Thiruvaathirai in the Tamil month of Markazhi and Annabhishekam in the Tamil month of Aippasi are celebrated in a grand manner.
Temple Timings
From 06.00 AM to 11.00 AM and from 04.00 PM to 08.30 PM.
Temple Address
Sri Panangaateeswarar Temple,
Panaiyapuram Post
Mundiyampakkam Via
Villupuram District
Tamil Nadu - 605 601.
Tele: +91 9942056781.

The temple priest Sri S.Ganesan Gurukkal can be contacted at 094448 97861.
---
Pathigam (Hymn) with English transliteration
Saint Thirugnanasambanthar visited this temple and sang this Pathigam.
Devotees visiting this temple should make it a practice to recite this Pathigam.
விண்ண மர்ந்தன மும்ம தில்களை
வீழ வெங்கணை யாலெய் தாய்வரி
பண்ணமர்ந் தொலிசேர் புறவார் பனங்காட்டூர்ப்
பெண்ண மர்ந்தொரு பாக மாகிய
பிஞ்ஞ காபிறை சேர்நு தலிடைக்
கண்ணமர்ந் தவனே கலந்தார்க் கருளாயே.
"Viṇṇa marnthaṉa mum'ma thilkaḷai
vīzha veṅkaṇai yāley thāyvari
paṇṇamarn tholisēr puṟavār paṉaṅkāṭṭūrp
peṇṇa marnthoru pāka mākiya
piñña kāpiṟai sērnu thaliṭaik
kaṇṇamarn thavaṉē kalanthārk karuḷāyē".
நீடல் கோடல் அலரவெண் முல்லை
நீர்ம லர்நிறைத் தாத ளஞ்செயப்
பாடல்வண் டறையும் புறவார் பனங்காட்டூர்த்
தோடி லங்கிய லாத யல்மின்
துளங்க வெண்குழை துள்ள நள்ளிருள்
ஆடுஞ்சங் கரனே அடைந்தார்க் கருளாயே.
"Nīdal kōdal alaraveṇ mullai
nīrma larniṟaith thātha ḷañcheyap
pāṭalvaṇ daṟaiyum puṟavār paṉaṅkāṭṭūrth
thōṭi laṅkiya lātha yalmiṉ
thuḷaṅka veṇkuzhai thuḷḷa naḷḷiruḷ
āduñsaṅ karaṉē aṭainthārk karuḷāyē".


வாளை யுங்கய லும்மிளிர் பொய்கை
வார்பு னற்கரை யருகெ லாம்வயற்
பாளையொண் கமுகம் புறவார் பனங்காட்டூர்ப்
பூளை யுந்நறுங் கொன்றை யும்மத
மத்த மும்புனை வாய்க ழலிணைத்
தாளையே பரவுந் தவத்தார்க் கருளாயே.
"Vāḷai yuṅkaya lum'miḷir poykai
vārpu ṉaṟkarai yaruke lāmvayaṟ
pāḷaiyoṇ kamukam puṟavār paṉaṅkāṭṭūrp
pūḷai yunnaṟuṅ koṉtṟai yum'matha
matha mumpuṉai vāyka zhaliṇaith
thāḷaiyē paravun thavathārk karuḷāyē".


மேய்ந்திளஞ் செந்நெல் மென்க திர்கவ்வி
மேற்ப டுகலின் மேதி வைகறை
பாய்ந்ததண் பழனப் புறவார் பனங்காட்டூர்
ஆய்ந்த நான்மறை பாடி யாடும்
அடிக ளென்றென் றரற்றி நன்மலர்
சாய்ந்தடி பரவுந் தவத்தார்க் கருளாயே.
"Mēynthiḷañ chennel meṉka thirkavvi
mēṟpa dukaliṉ mēthi vaikaṟai
pāynthathaṇ pazhaṉap puṟavār paṉaṅkāṭṭūr
āyntha nāṉmaṟai pādi yādum
adika ḷeṉtṟeṉ tṟaratṟi naṉmalar
chāynthaṭi paravun thavathārk karuḷāyē".
செங்க யல்லொடு சேல்செ ருச்செயச்
சீறி யாழ்முரல் தேனி னத்தொடு
பங்கயம் மலரும் புறவார் பனங்காட்டூர்க்
கங்கை யும்மதி யுங்க மழ்சடைக்
கேண்மை யாளொடுங் கூடி மான்மறி
அங்கையா டலனே அடியார்க் கருளாயே.
"Seṅka yallodu sēlse rucheyach
chīṟi yāzhmural thēṉi ṉathodu
paṅkayam malarum puṟavār paṉaṅkāṭṭūrk
gaṅgai yum'mathi yuṅka mazhsadaik
kēṇmai yāḷoṭuṅ kūṭi māṉmaṟi
aṅkaiyā ṭalaṉē aṭiyārk karuḷāyē".
நீரி னார்வரை கோலி மால்கடல்
நீடி யபொழில் சூழ்ந்து வைகலும்
பாரினார் பிரியாப் புறவார் பனங்காட்டூர்க்
காரி னார்மலர்க் கொன்றை தாங்கு
கடவு ளென்றுகை கூப்பி நாடொறும்
சீரினால் வணங்குந் திறத்தார்க் கருளாயே.
"Nīri ṉārvarai kōli mālkadal
nīdi yapozhil chūḻnthu vaikalum
pāriṉār piriyāp puṟavār paṉaṅkāṭṭūrk
kāri ṉārmalark koṉtṟai thāṅku
kaṭavu ḷeṉtṟukai kūppi nāṭoṟum
sīriṉāl vaṇaṅkun thiṟathārk karuḷāyē".


கைய ரிவையர் மெல்வி ரல்லவை
காட்டி யம்மலர்க் காந்த ளங்குறி
பையரா விரியும் புறவார் பனங்காட்டூர்
மெய்ய ரிவையோர் பாக மாகவும்
மேவி னாய்கழ லேத்தி நாடொறும்
பொய்யிலா அடிமை புரிந்தார்க் கருளாயே.
"Kaiya rivaiyar melvi rallavai
kāṭṭi yam'malark kāntha ḷaṅkuṟi
paiyarā viriyum puṟavār paṉaṅkāṭṭūr
meyya rivaiyōr pāka mākavum
mēvi ṉāykazha lēthi nāṭoṟum
poyyilā aṭimai purinthārk karuḷāyē".


தூவி யஞ்சிறை மெல்ந டையன
மல்கி யொல்கிய தூம லர்ப்பொய்கைப்
பாவில்வண் டறையும் புறவார் பனங்காட்டூர்
மேவி யந்நிலை யாய ரக்கன
தோள டர்த்தவன் பாடல் கேட்டருள்
ஏவிய பெருமான் என்பவர்க் கருளாயே.
"Thūvi yañchiṟai melna daiyaṉa
malki yolkiya thūma larppoykaip
pāvilvaṇ ṭaṟaiyum puṟavār paṉaṅkāṭṭūr
mēvi yannilai yāya rakkaṉa
thōḷa ṭarthavaṉ pādal kēṭṭaruḷ
ēviya perumāṉ eṉpavark karuḷāyē".
அந்தண் மாதவி புன்னை நல்ல
அசோக மும்மர விந்த மல்லிகை
பைந்தண்ஞா ழல்கள்சூழ் புறவார் பனங்காட்டூர்
எந்தி ளம்முகில் வண்ணன் நான்முகன்
என்றி வர்க்கரி தாய்நி மிர்ந்ததொர்
சந்தம்ஆ யவனே தவத்தார்க் கருளாயே.

"Anthaṇ māthavi puṉṉai nalla
asōka mum'mara vintha mallikai
painthaṇñā zhalkaḷchūzh puṟavār paṉaṅkāṭṭūr
enthi ḷam'mukil vaṇṇaṉ nāṉmukaṉ
eṉtṟi varkkari tāyni mirnthathor
santhamā yavaṉē thavathārk karuḷāyē".
நீண மார்முரு குண்டு வண்டினம்
நீல மாமலர் கவ்வி நேரிசை
பாணில்யாழ் முரலும் புறவார் பனங்காட்டூர்
நாண ழிந்துழல் வார்ச மணரும்
நண்பில் சாக்கிய ருந்ந கத்தலை
ஊணுரி யவனே உகப்பார்க் கருளாயே.

"Nīṇa mārmuru kuṇdu vaṇdiṉam
nīla māmalar kavvi nērisai
pāṇilyāzh muralum puṟavār paṉaṅkāṭṭūr
nāṇa zhinthuzhal vārsa maṇarum
naṇpil sākkiya runna kathalai
ūṇuri yavaṉē ukappārk karuḷāyē".
மையி னார்மணி போல்மி டற்றனை
மாசில் வெண்பொடிப் பூசு மார்பனைப்
பையதேன் பொழில்சூழ் புறவார் பனங்காட்டூர்
ஐய னைப்புக ழான காழியுள்
ஆய்ந்த நான்மறை ஞான சம்பந்தன்
செய்யுள்பா டவல்லார் சிவலோகஞ் சேர்வாரே.

"Maiyi ṉārmaṇi pōlmi ṭatṟaṉai
māsil veṇpoṭip pūsu mārpaṉaip
paiyathēṉ pozhilchūzh puṟavār paṉaṅkāṭṭūr
aiya ṉaippuka zhāṉa kāzhiyuḷ
āyntha nāṉmaṟai gñāṉa sampanthaṉ
seyyuḷpā ṭavallār sivalōkañ sērvārē".