Visited on: 11th March, 2017
Location
Thirukkazhippalai is situated at a distance of about 4 kms from Chidambaram and it is very close to Thirunelvoyil (Sivapuri) temple.
Other Devara Paadal Petra Sthalams near this place are – Chidambaram, Thiruvetkalam and Thirunelvayil (Sivapuri).
General Information
| | |
| --- | --- |
| Moolavar | Sri Palvanna Nathar |
| Ambal | Sri Porpatha Vedanayaki Ammai |
| Theertham (Holy water) | river Kollidam (Coleroon) |
| Sthala Vriksham (Sacred Tree) | Vilvam tree |
| Pathigam (Hymn) rendered by | Saint Thirugnanasambanthar (2), Saint Thirunavukarasar (Appar) (5), Saint Sundaramurthy (Sundarar) (1). |
This is one of the 276 Devara Paadal Petra Shiva Sthalams and 4th Shiva Sthalam on the northern bank of the river Cauvery in Chozha Nadu (Vadakarai).
Lord Shiva in this temple is a Swayambumurthi (self-manifested).
This is the Moovar Paadal Petra Sthalam.
This temple has a 3-tiered main tower (Rajagopuram) and it has a single corridor. There is no flag post (dwajasthambam) here.
The last consecration ceremony (Kumbabishekam) took place on 10.07.2003.
History of the Temple
It is believed that this is a reconstructed / relocated temple. The original temple was about 12 kms away from this place and was called Kaaraimedu. It was on the banks of the Kollidam river. The old temple was totally destroyed due to floods. A devotee by the name of Palaniappa Mudaliar built a new temple in Sivapuri and relocated all the idols.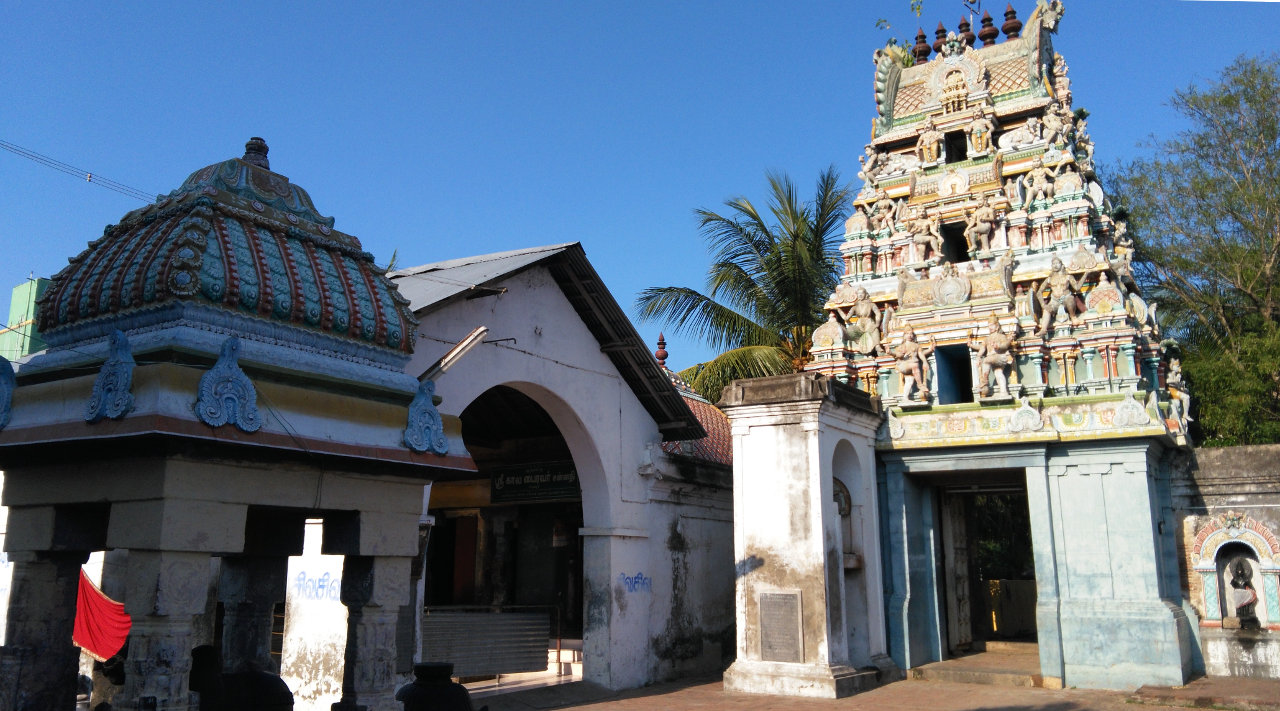 Legend
The Swayambu lingam is small in size and white in colour. The lingam has a peculiar in shape – the top portion is split in two with a narrow gap in between. It is believed that this lingam was installed and worshiped by Poet-Sage Kabilar during his pilgrimage. This lingam is believed to have been hit by the hoof of a horse which had caused it to split. Only milk is poured during abishekam and the rest of the offerings are placed at the base of the lingam. Since the lord here is white in colour, he is praised as "Sri Palvanna Nathar" – "Palvannam" means milk white and "Nathar" is a respectful suffix in Tamil.
It is believed that this place was once on the banks of a backwater (Uppankazhi). This is could be the reason why this place gets the name "Thirukkazhippalai" - Thiru is a respectful prefix, Kazhi is derived from Uppankazhi and Pal means land in Tamil.
It is believed that Saint Thirugnanasambanthar stayed in Thiruvetkalam, a neighbouring Paadal Petra Shiva Sthalam, and visited this temple from there.
It is believed that sage Agasthiyar worshiped the lord here and he was blessed with the lord's darshan.
Sage Valmiki also believed to have worshiped the lord of this temple.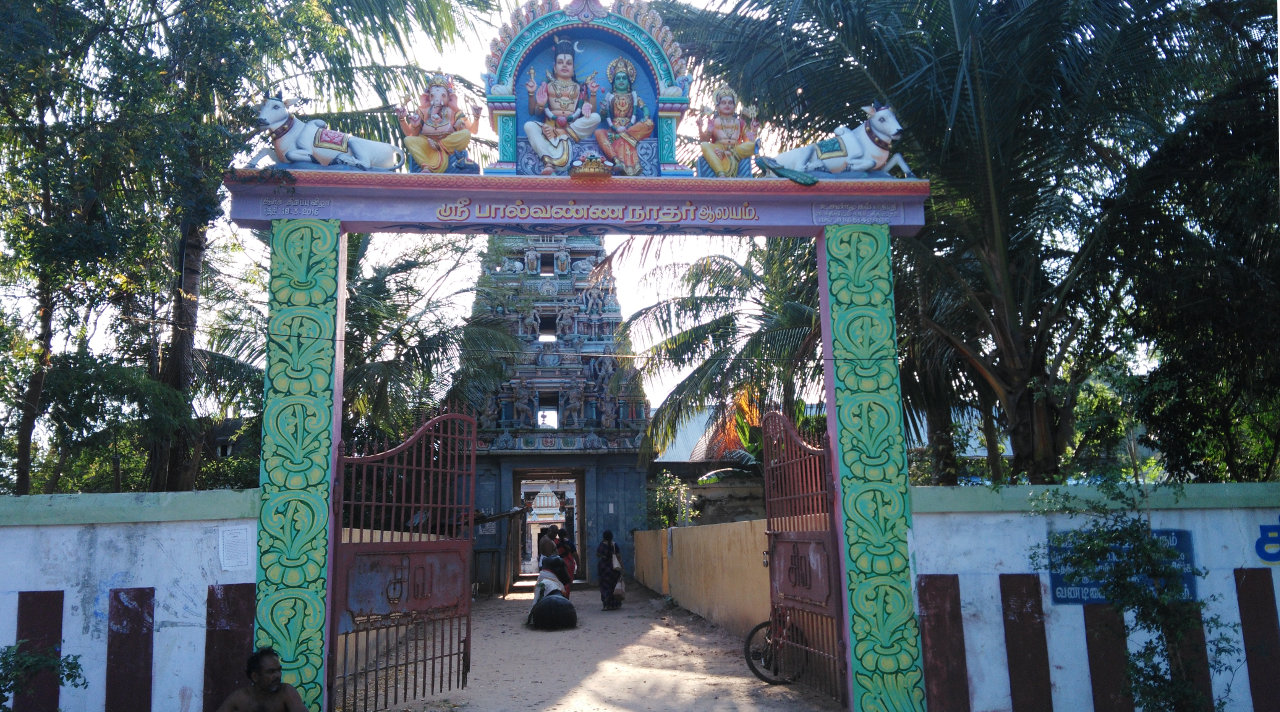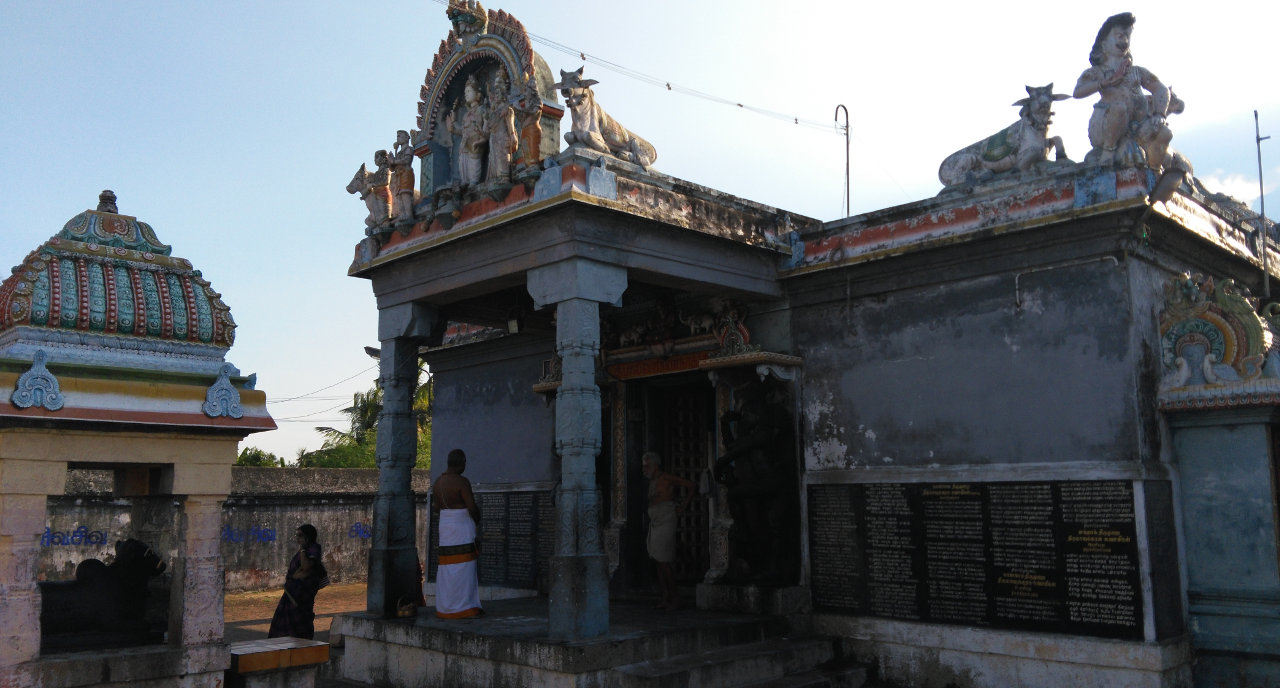 Deities in the temple
Other than the shrines of Lord Shiva and Goddess Parvathy, shrines and idols of lords Vinayakar, Murugan with his consorts, Natarajar, Dakshinamurthy, Chadura Durgai, Lingothbavar, Brahma, Vishnu, Durgai, Chandikeswarar, Balaganapathy, Nagar, Athmalingam, Jyothilingam, Kirathamurthy, Mahavishnu, Meipporul Nayanar, Nalvar, Sekkizhar, Bhuvaneswari Ambal, Navagrahams, Suryan and Chandran can be seen in the corridors.
There is a separate shrine for Kala Bhairavar.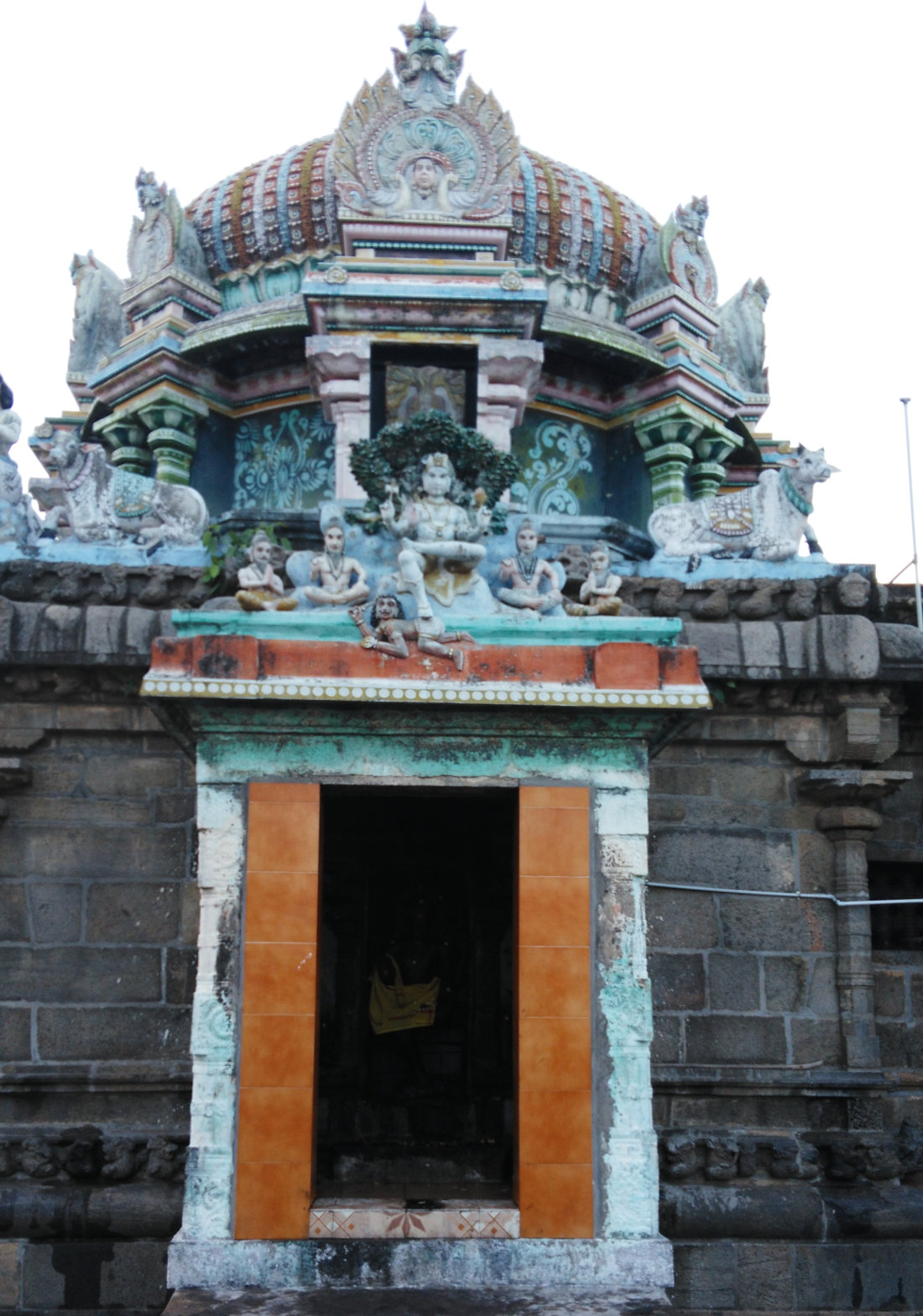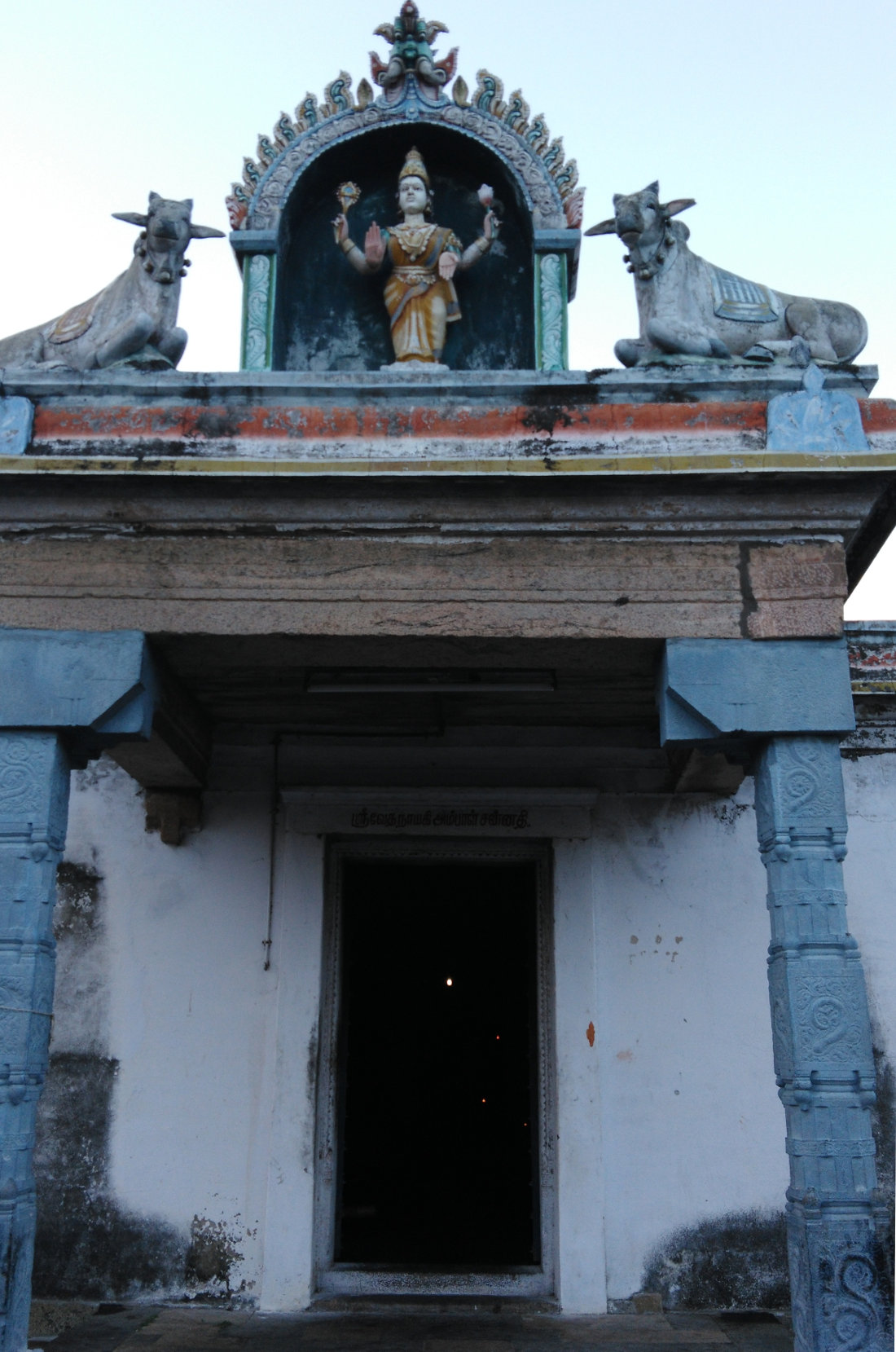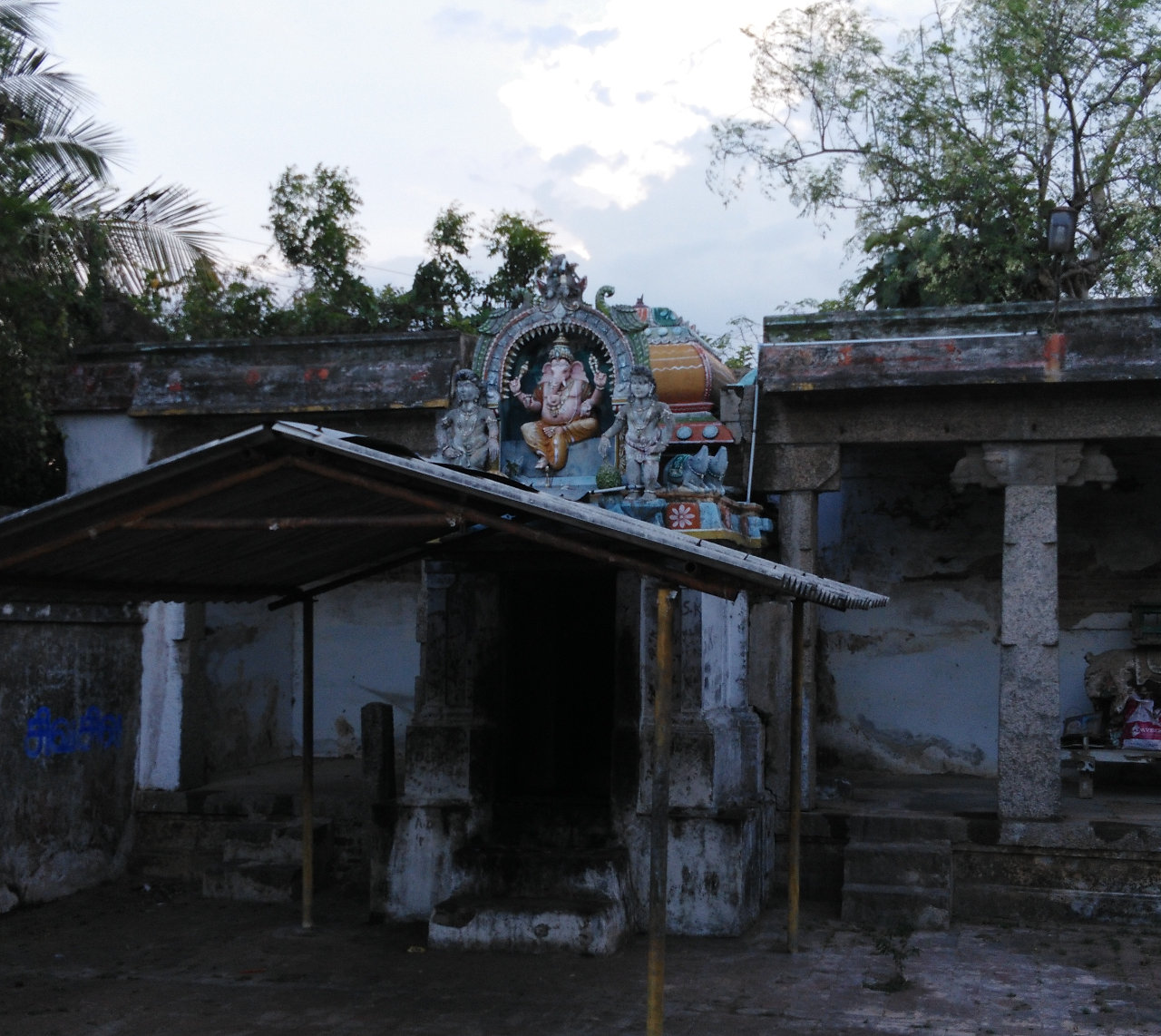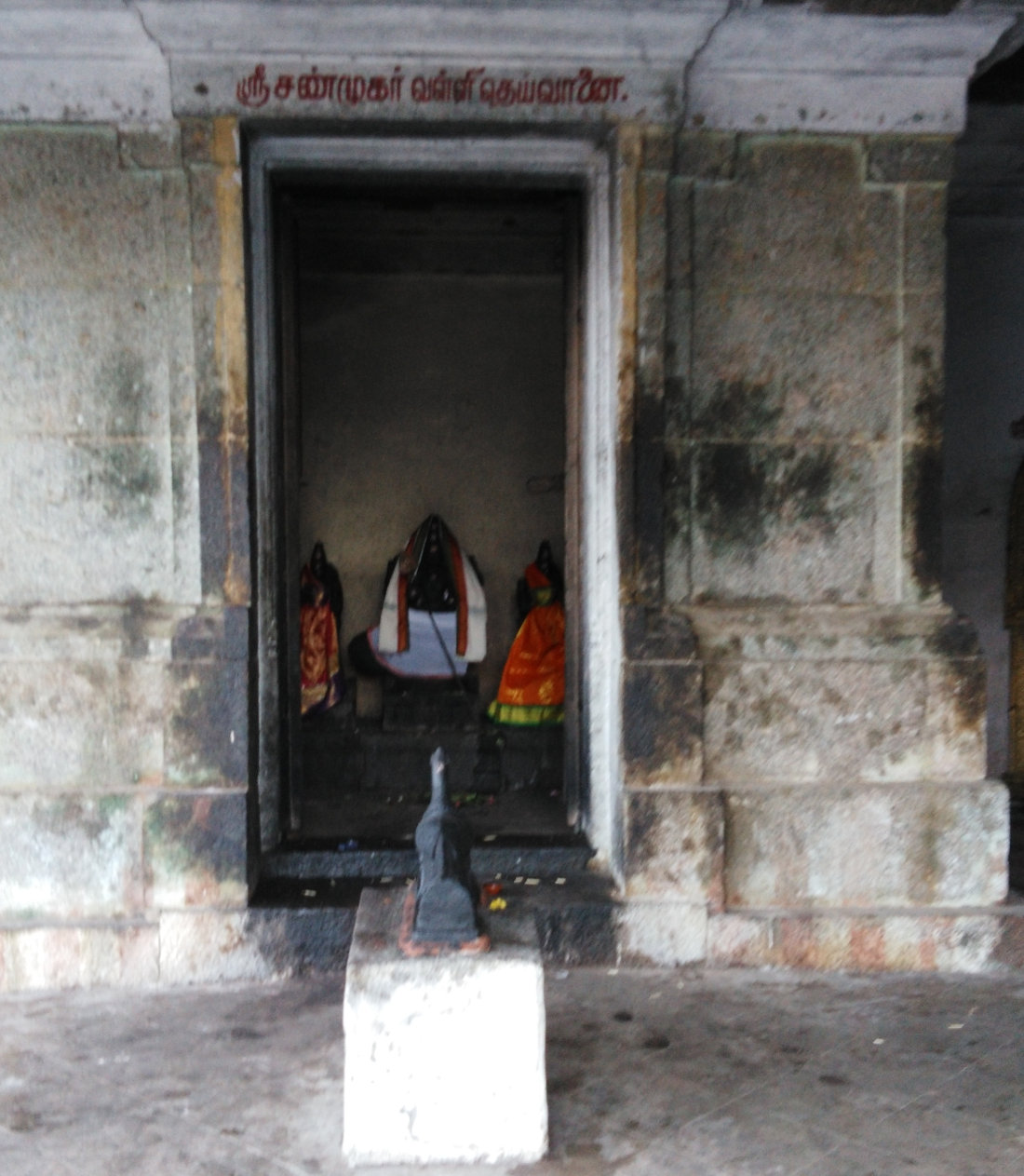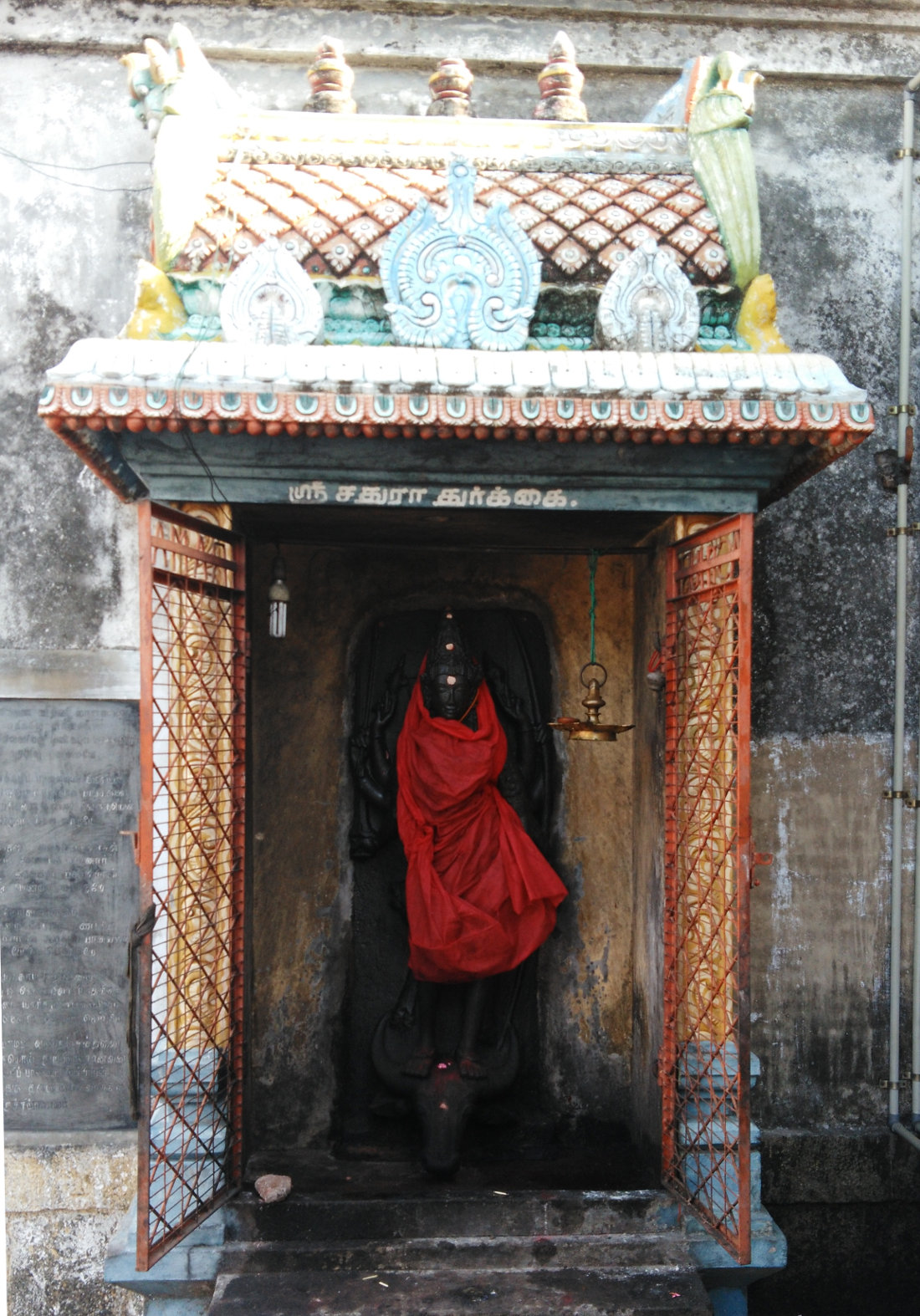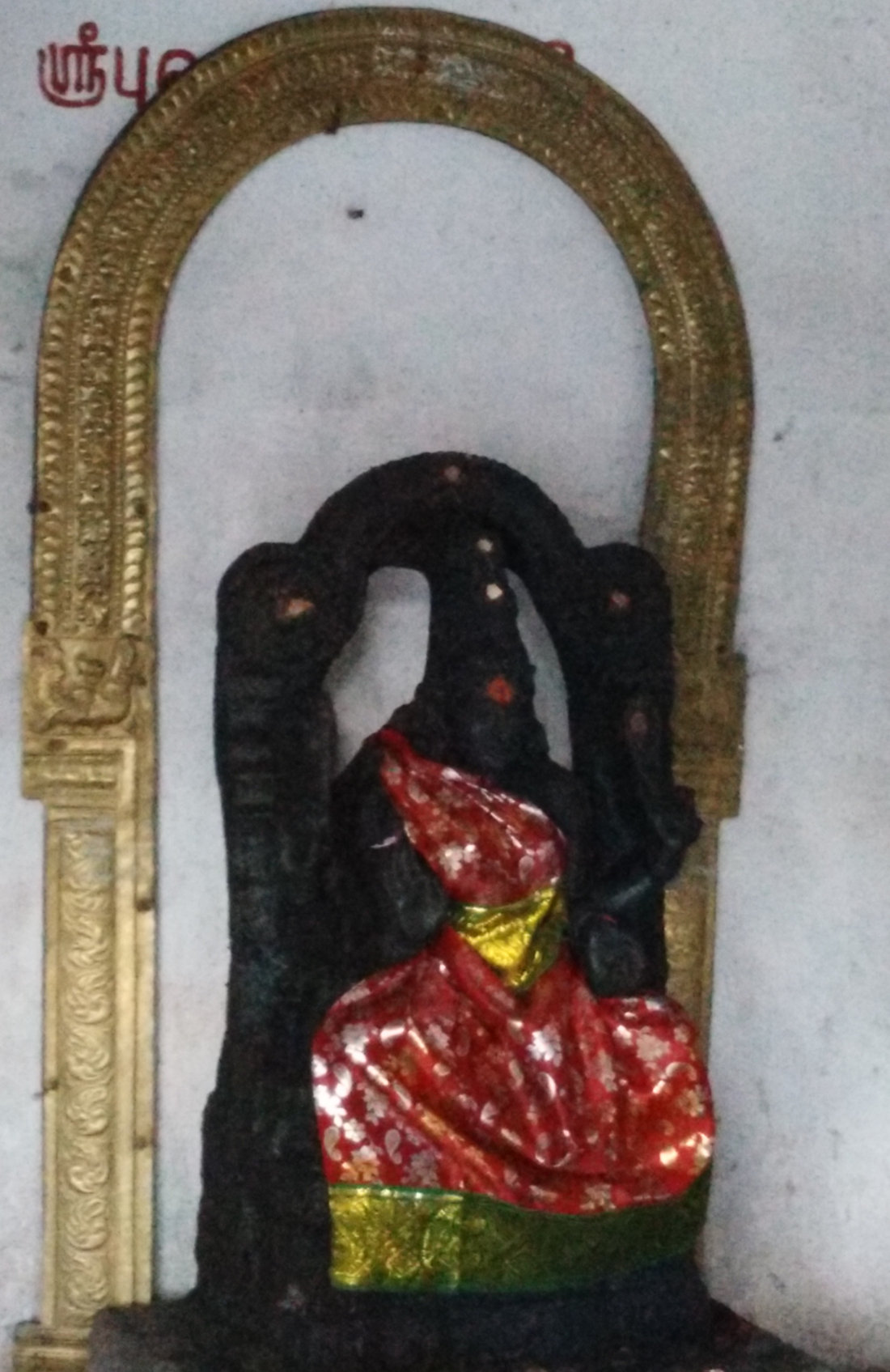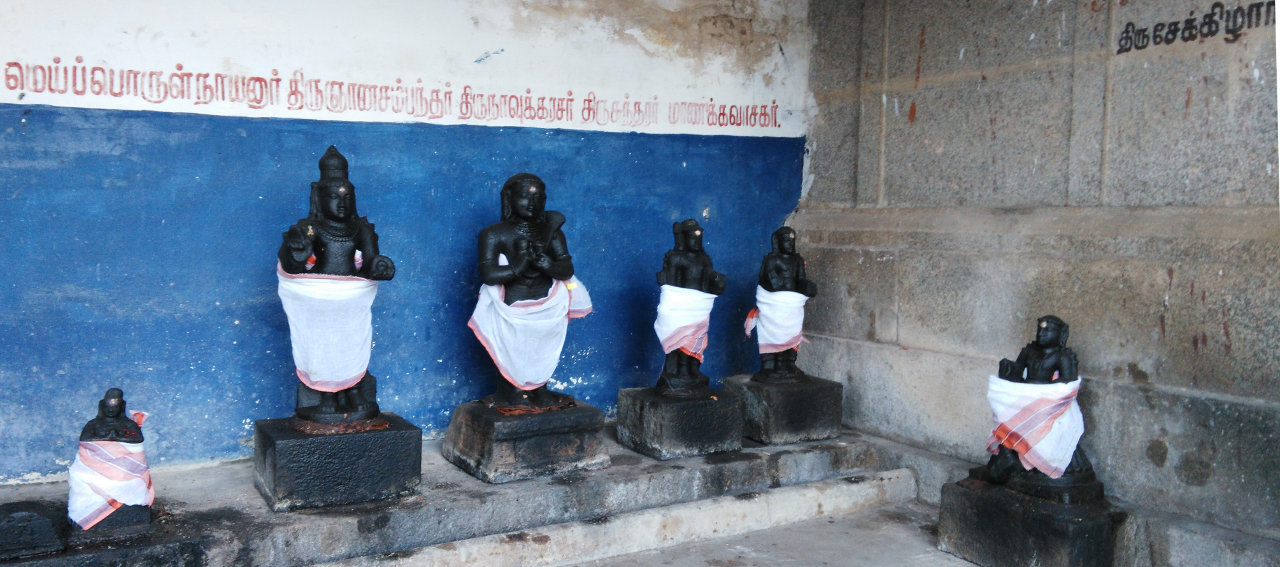 Salient Features
In this temple, Kala Bhairavar is very famous and devotees perform poojas for him regularly. It is considered especially auspicious to worship him on Ashtami days (eighth day after the new moon or on the night of full moon). It is believed that the same sculptor who designed the Bhairavar idol in Kasi (Banaras) also made this idol. According to scriptures, worshipping Lord Bhairavar here is equivalent to worshiping him in Kasi. In fact, the Bhairavar is so famous that the locals call it a Bhairavar temple instead of a Shiva temple.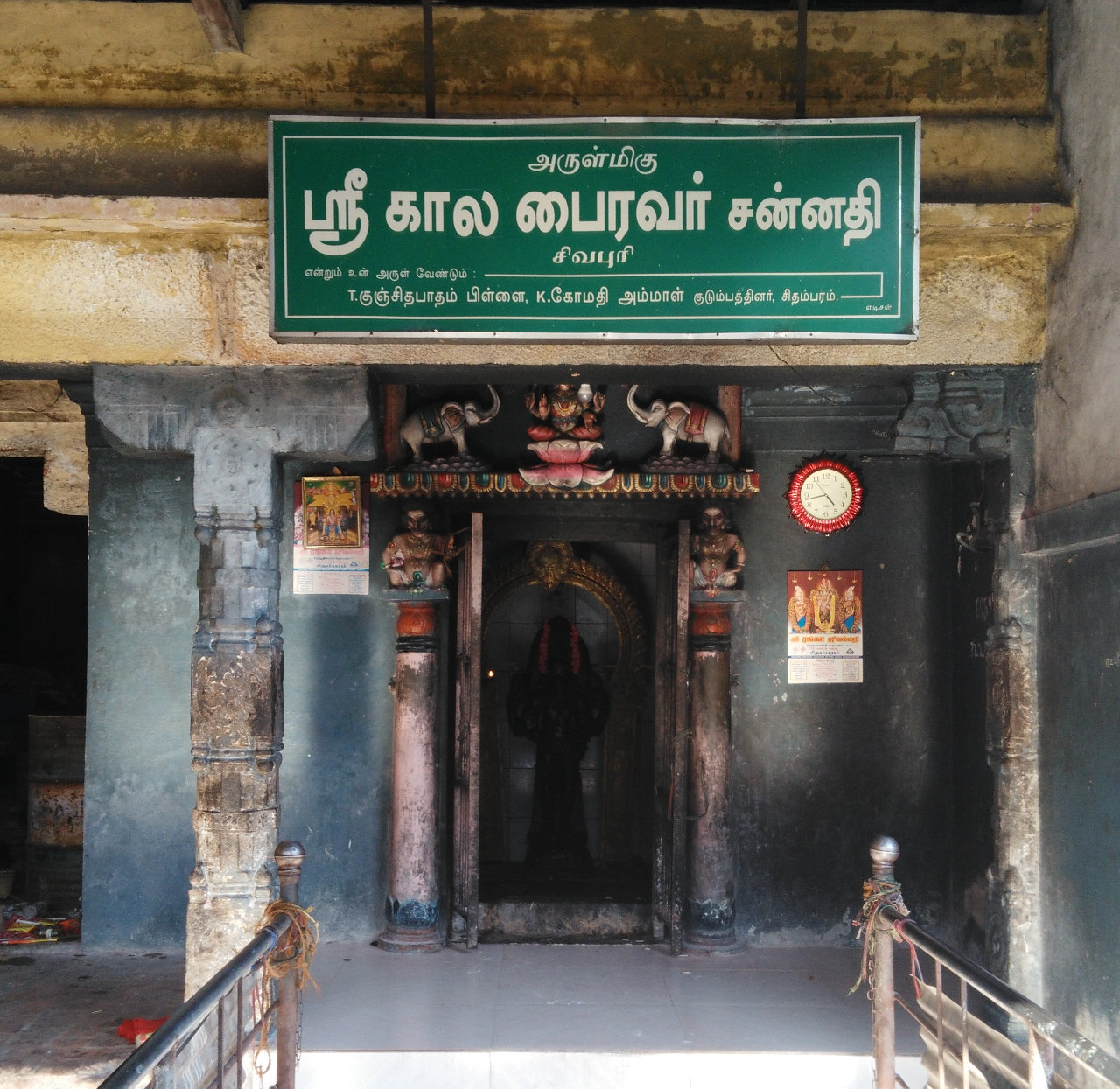 Saint Arunagirinadhar has sang songs in praise of Lord Murugan of this temple in his revered Thirupugazh.
Greatness of this temple
It is believed that those seeking "santhana prapthi" (child boon) can pray to the lord here and consume the milk used for abishekam of the lord.
Devotees also believe that worshipping the lord here would bless them with prosperity and happiness.
Important Festivals
Some of the important festivals celebrated in this temple are -
Thai Poosam in the Tamil month of Thai (Jan-Feb),
Navarathri in the Tamil month Purattasi (Sept-Oct),
Somavarams (Mondays) in the Tamil month of Karthikai (Nov-Dec),
Annabishekam in in the Tamil month of Aippasi (Oct-Nov), and
Thiruvadirai in the Tamil month of Margazhi (Dec-Jan).
Pradosham is also observed regularly.
Temple Timings
From 07.00 AM to 10.00 AM and 04.30 PM to 07.30 PM.
Temple Address
Sri Palvanna Nathar Temple,
Thirukkazhippalai (Sivapuri),
Sivapuri Post,
Annamalai Nagar Via,
Chidambaram Taluk,
Cuddalore District,
Tamil Nadu – 608 002.

Tele: +91 98426 24580.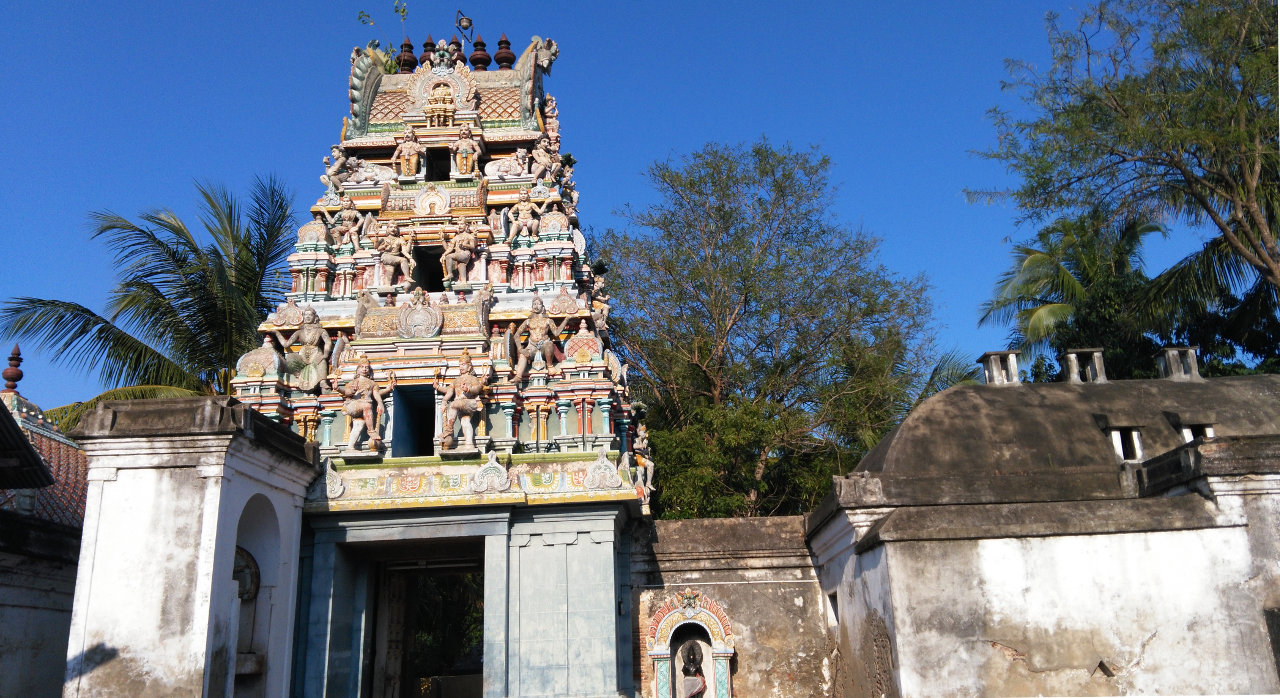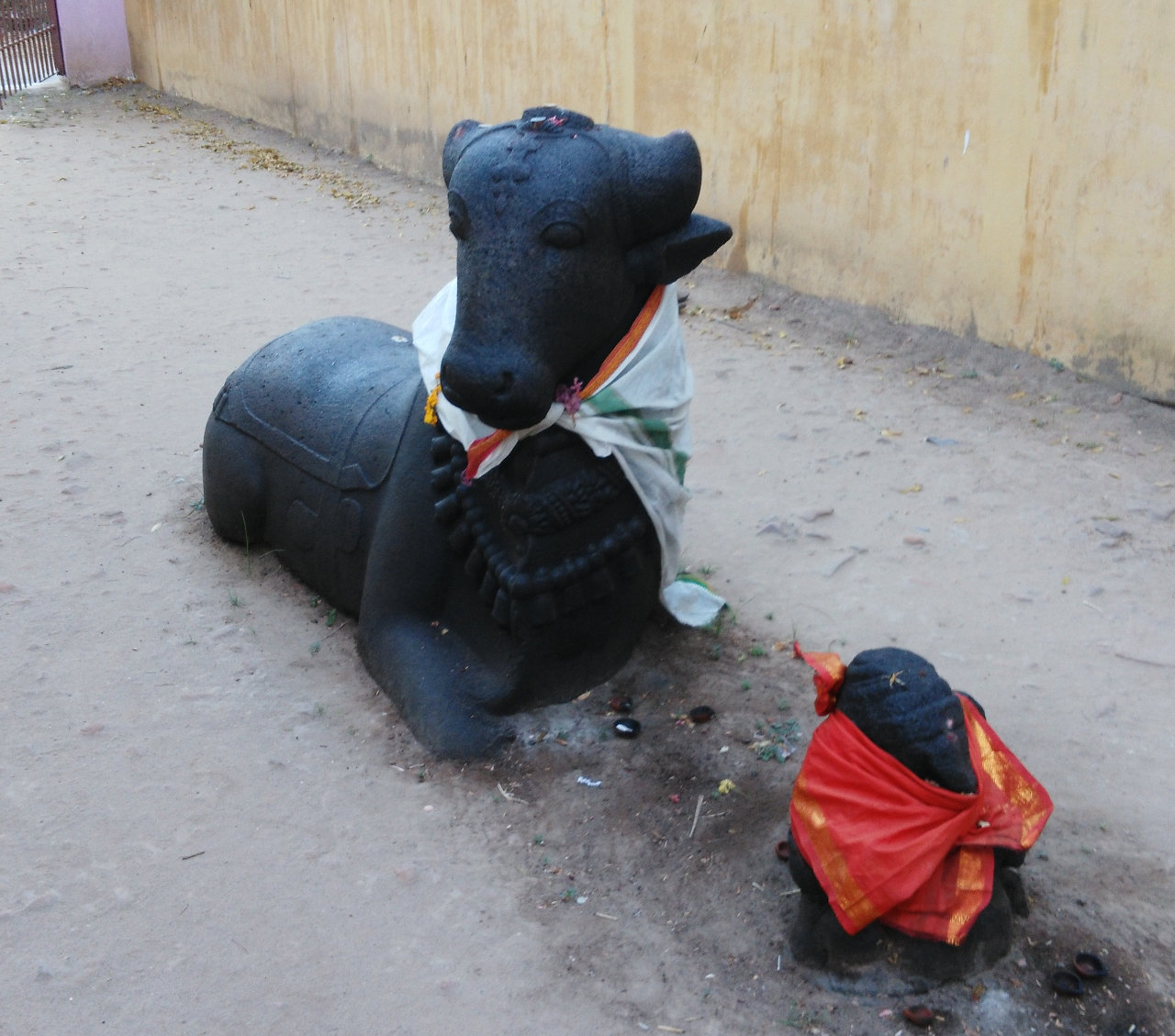 ---
Pathigam (Hymn) with English transliteration

Saint Sundaramurthy Nayanar visited this temple and sang this Pathigam.
Devotees visiting this temple should make it a practice to recite this Pathigam.
செடியேன் தீவினையிற் றடுமாறக் கண்டாலும்
அடியான் ஆவவெனா தொழிதல் தகவாமே
முடிமேல் மாமதியும் அரவும் உடன்றுயிலும்
வடிவே தாமுடையார் மகிழுங்கழிப் பாலையதே.
"Seṭiyēṉ thīviṉaiyiṟ tṟaṭumāṟak kaṇṭālum
aṭiyāṉ āvaveṉā thozhithal thakavāmē
muṭimēl māmathiyum aravum uṭaṉtṟuyilum
vaṭivē thāmuṭaiyār makizhuṅkazhip pālaiyathē".
எங்கே னும்மிருந்துன் அடியே னுனைநினைந்தால்
அங்கே வந்தென்னோடும் உடனாகி நின்றருளி
இங்கே என்வினையை அறுத்திட் டெனையாளும்
கங்கா நாயகனே கழிப்பாலை மேயானே.
"Eṅkē ṉum'mirunthuṉ aṭiyē ṉuṉainiṉainthāl
aṅkē vantheṉṉōṭum uṭaṉāki niṉtṟaruḷi
iṅkē eṉviṉaiyai aṟuththiṭ ṭeṉaiyāḷum
kaṅkā nāyakaṉē kazhippālai mēyāṉē".
ஒறுத்தாய் நின்னருளில் அடியேன் பிழைத்தனகள்
பொறுத்தாய் எத்தனையும் நாயேனைப் பொருட்படுத்துச்
செறுத்தாய் வேலைவிட மறியாமல் உண்டுகண்டங்
கறுத்தாய் தண்கழனிக் கழிப்பாலை மேயானே.
"Oṟuthāy niṉṉaruḷil aṭiyēṉ pizhaihaṉakaḷ
poṟuthāy ethaṉaiyum nāyēṉaip poruṭpaṭuththuch
cheṟuthāy vēlaiviṭa maṟiyāmal uṇṭukaṇṭaṅ
kaṟuthāy thaṇkazhaṉik kazhippālai mēyāṉē".
சுரும்பார் விண்டமலர் அவைதூவித் தூங்குகண்ணீர்
அரும்பா நிற்குமனத் தடியாரொடும் அன்புசெய்வன்
விரும்பேன் உன்னையல்லால் ஒருதெய்வம் என்மனத்தாற்
கரும்பா ருங்கழனிக் கழிப்பாலை மேயானே.
"Surumpār viṇṭamalar avaithūvith thūṅkukaṇṇīr
arumpā niṟkumaṉath thaṭiyāroṭum aṉpuseyvaṉ
virumpēṉ uṉṉaiyallāl orutheyvam eṉmaṉathāṟ
karumpā ruṅkazhaṉik kazhippālai mēyāṉē".
ஒழிப்பாய் என்வினையை உகப்பாய் முனிந்தருளித்
தெழிப்பாய் மோதுவிப்பாய் விலையா வணமுடையாய்
கழிப்பால் கண்டடங்கச் சுழியேந்து மாமறுகிற்
கழிப்பா லைமருவுங் கனலேந்து கையானே.
"Ozhippāy eṉviṉaiyai ukappāy muṉintharuḷith
thezhippāy mōthuvippāy vilaiyā vaṇamuṭaiyāy
kazhippāl kaṇṭaṭaṅkach chuzhiyēnthu māmaṟukiṟ
kazhippā laimaruvuṅ kaṉalēnthu kaiyāṉē".
ஆர்த்தாய் ஆடரவை அரையார் புலியதள்மேற்
போர்த்தாய் ஆனையின்றோல் உரிவை புலால்நாறக்
காத்தாய் தொண்டுசெய்வார் வினைகள் அவைபோகப்
பார்த்தா னுக்கிடமாம் பழியில்கழிப் பாலையதே.
"Ārthāy āṭaravai araiyār puliyathaḷmēṟ
pōrthāy āṉaiyiṉtṟōl urivai pulālnāṟak
kāthāy thoṇṭuseyvār viṉaikaḷ avaipōkap
pārthā ṉukkiṭamām pazhiyilkazhip pālaiyathē".
பருத்தாள் வன்பகட்டைப் படமாகமுன் பற்றியதள்
உரித்தாய் ஆனையின்றோல் உலகந்தொழும் உத்தமனே
எரித்தாய் முப்புரமும் இமையோர்கள் இடர்கடியுங்
கருத்தா தண்கழனிக் கழிப்பாலை மேயானே.
"Paruthāḷ vaṉpakaṭṭaip paṭamākamuṉ patṟiyathaḷ
urithāy āṉaiyiṉtṟōl ulakanthozhum uthamaṉē
erithāy muppuramum imaiyōrkaḷ iṭarkaṭiyuṅ
karuthā thaṇkazhaṉik kazhippālai mēyāṉē".
படைத்தாய் ஞாலமெலாம் படர்புன்சடை எம்பரமா
உடைத்தாய் வேள்விதனை உமையாளையோர் கூறுடையாய்
அடர்த்தாய் வல்லரக்கன் றலைபத்தொடு தோள்நெரியக்
கடற்சா ருங்கழனிக் கழிப்பாலை மேயானே.
"Paṭaithāy gñālamelām paṭarpuṉsaṭai emparamā
uṭaithāy vēḷvithaṉai umaiyāḷaiyōr kūṟuṭaiyāy
aṭarthāy vallarakkaṉ tṟalaipathoṭu thōḷneriyak
kaṭaṟsā ruṅkazhaṉik kazhippālai mēyāṉē".
பொய்யா நாவதனாற் புகழ்வார்கள் மனத்தினுள்ளே
மெய்யே நின்றெரியும் விளக்கேயொத்த தேவர்பிரான்
செய்யா னுங்கரிய நிறத்தானுந் தெரிவரியான்
மையார் கண்ணியொடு மகிழ்வான்கழிப் பாலையதே.
"Poyyā nāvathaṉāṟ pukazhvārkaḷ maṉathiṉuḷḷē
meyyē niṉtṟeriyum viḷakkēyotha thēvarpirāṉ
seyyā ṉuṅkariya niṟathāṉun therivariyāṉ
maiyār kaṇṇiyoṭu makizhvāṉkazhip pālaiyathē".
பழிசே ரில்புகழான் பரமன் பரமேட்டி
கழியார் செல்வமல்குங் கழிப்பாலை மேயானைத்
தொழுவான் நாவலர்கோன் ஆரூரன் உரைத்ததமிழ்
வழுவா மாலைவல்லார் வானோருல காள்பவரே.
"Pazhisē rilpukazhāṉ paramaṉ paramēṭṭi
kazhiyār celvamalkuṅ kazhippālai mēyāṉaith
thozhuvāṉ nāvalarkōṉ ārūraṉ uraiththathamizh
vazhuvā mālaivallār vāṉōrula kāḷpavarē".