Visited on: 31st March, 2018.
Location
Arisir Karai Puthur (Azhakaputhur) is situated at a distance of about 8 kms from Kumbakonam on the Kumbakonam to Nachiyarkoil route. Nachiyarkoil is about 2 kms away from this temple
Other Devara Paadal Petra Shiva Sthalam near this place are – Kalayanallur, Karukkudi, Sivapuram, Thiruvanniyur, Kudavasal, Naraiyur Siddheecharam, Thirucherai, Penu Perunthurai, Thalaiyalangaadu, Peruvelur, Karaveeram, Nalur Mayanam, Kaduvaikarai Puthur (Andankoil) and Thiru Kollamputhur.
General Information
Moolavar

Sri Padikkasu Nathar, Sri Swarnapureeswarar, Sri Kuberalingam

Ambal

Sri Azhakambigai, Sri Soundara Nayaki

Theertham (Holy water)

Amirtha Pushkarani and Arasalaaru

Sthala Vriksham (Sacred Tree)

Vilvam

Pathigam (Hymn) rendered by

Saint Thirugnanasambanthar,
Saint Thirunavukarasar (Appar), and
Saint Sundaramurthy (Sundarar)

This is one of the 276 Devara Paadal Petra Shiva Sthalams and 66th Shiva Sthalam on the Southern bank of the river Cauveri in Chozha Nadu (Thenkarai).
Lord Shiva in this temple is a Swayambumurthi (self-manifested).
This is the birth place of Pugazhthunai Nayanar, one of the 63 Nayanmars.
This is one of the "Moovar paadal petra sthalams".
This west facing temple has a single corridor and its main tower (Rajagopuram) has 3-tiers.
The last consecration ceremony (Maha Kumbabishekam) took place in the year 2015 and prior to that on 27.04.2001 and 05.09.1982.
History of the Temple
The historical names of this place are Seruvili Puthur and Arisir Karai Puthur. This temple is situated on the southern side of the river Arasalaru, hence the place gets the name "Arasil karai puthur" ("Arasil" the river, "karai" means bank and "puthur" means village in Tamil).
There are seven stone inscriptions in this temple which date back to the periods of the Chola kings.
This temple is under the administrative control of the Hindu Religious and Charitable Endowments Department of Government of Tamil Nadu (HR&CE).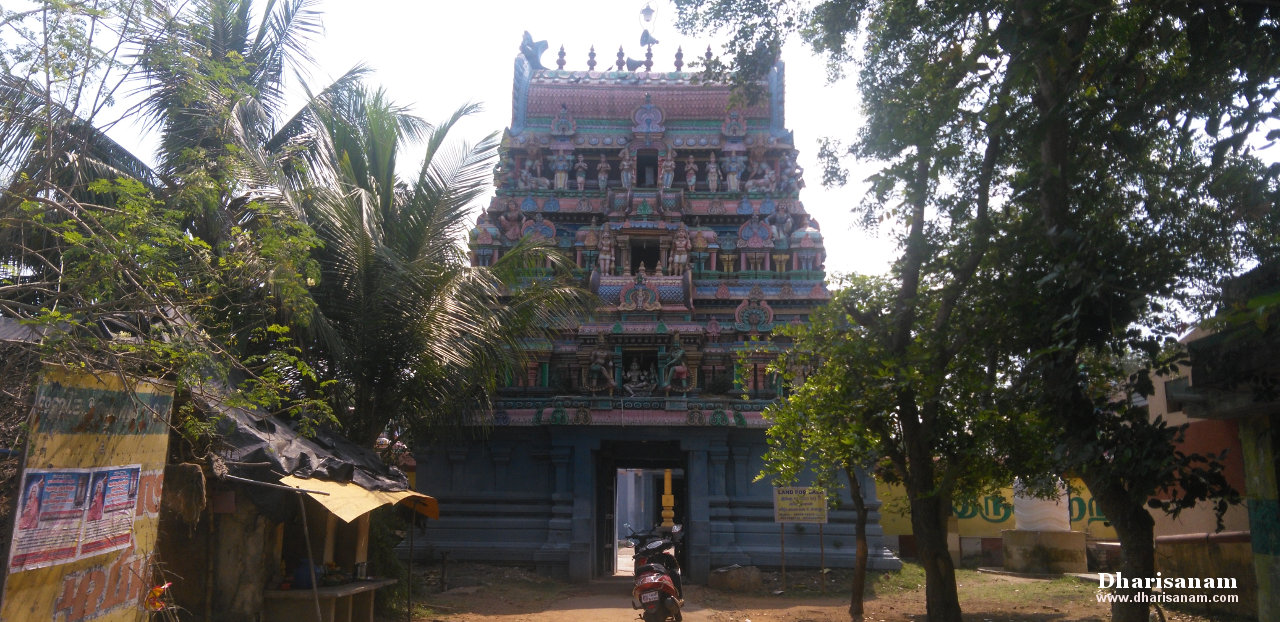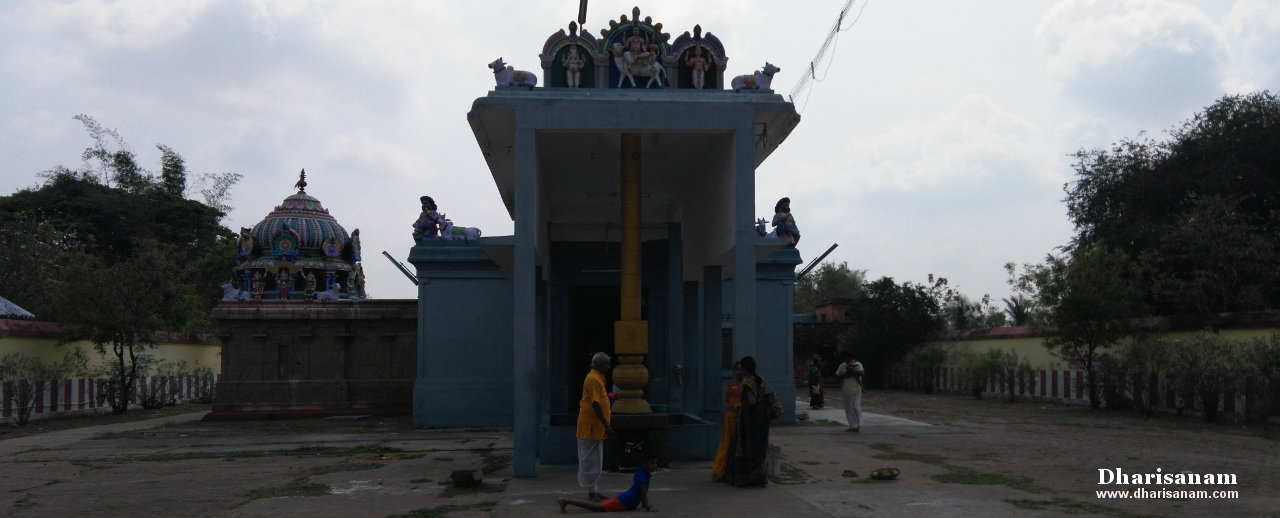 Legend
It is believed that there was a time when the demons had started terrorising the devas in the celestial world. When their atrocities increased to an alarming extent, Lord Shiva instructed Lord Murugan to destroy them. When Lord Murugan began preparing for the war, Lord Shiva and the Devas gave him many weapons. Lord Mahavishnu gave him his discus and conch. With all these weapons, Murugan destroyed the demons. In this temple he is shown with all these weapons in his hands.
Another legend associated with this temple is that of Pugazhthunai Nayanar, one of the 63 Nayanmars. This is his birth place. He was the priest of this temple and continued to serve the lord even in his old age. During that time there was a drought and this place was under the grip of a severe famine.
Despite the hardship, he continued his service to the lord. Every day he would bring a pot of water from the river Arasalaru to offer abishekam to the lord. One day, he was so weak that while performing the abishekam, the pot fell on the lingam. He thought that he had committed a sin by hitting the lord and fell unconscious. The lord appeared in his dream and told him that he had not committed any mistake. It was only due to his starvation and weakness that the pot had fallen on the lingam. The lord further told him that as long as the drought remained, he would give him a gold coin every day.
Every day, Lord Shiva placed a gold coin on a step in the sanctum sanctorum as allowance for Pugazhthunai Nayanar's services ("Siva thondu"). Hence the lord is praised as Sri Padikkasu Nathar ("padi" means both step as well as allowance, "kasu" means money in Tamil). After serving the lord for a long time, the saint is believed to be attained salvation in this place.
It is believed that King Kochengat Chola renovated this temple and worshiped the lord here. In his hymn of this temple, saint Thirugnanasambanthar mentions about Kochengat Chola's worship.
It is also believed that Sage Unmaiyananda has worshiped the lord here.
It is also believed that Lord Murugan performed penance in this place to seek relief for the sin he had committed by punishing Lord Brahma.
Deities in the temple
Other than the shrines of Lord Shiva and Goddess Parvathy, shrines and idols of Swarna Vinayakar, Murugan with his consorts, Gajalakshmi, Sorna Bairavar, Kala Bairavar and Navagraham can be seen in the corridors.
In the main hall, idols of Nalvar and Pukazhthunai Nayanar with his wife Lakshmi can be seen. Saint Sundarar is seen with his wife Paravai Nachiyar.
In the "koshtam" (place surrounding the sanctum sanctorum), idols of Narthana Vinayakar, Dakshinamurthy, Lingothbavar, Brahma, Durgai and Chandikeswarar can be seen.
Shrines of Suryan and Chandran are located on either side of the main tower in the outer corridor.
Usually, in the Navagraham, Sun and Moon are seen facing the east direction. However, in this temple, they are facing each other. There are nine small pits opposite the Navagraham. It is believed that the planets are in the form of "Vayu" in these pits. Devotees who are unable to perform the shradh rituals for their ancestors regularly can perform pujas to Sun and Moon here and light lamps in these pits.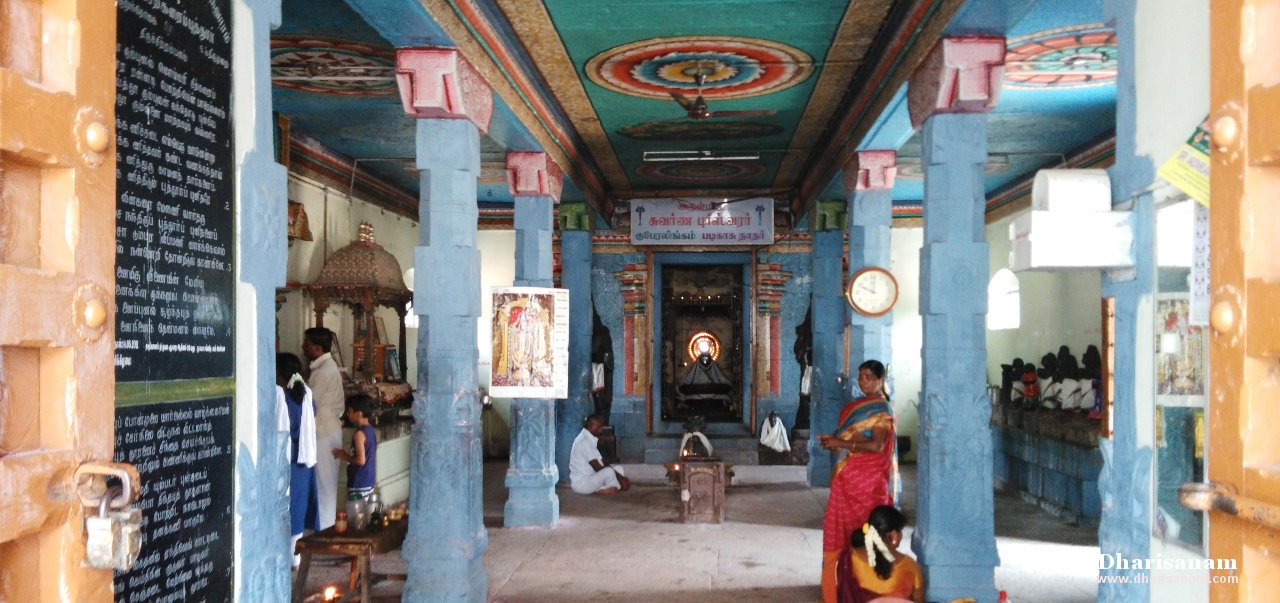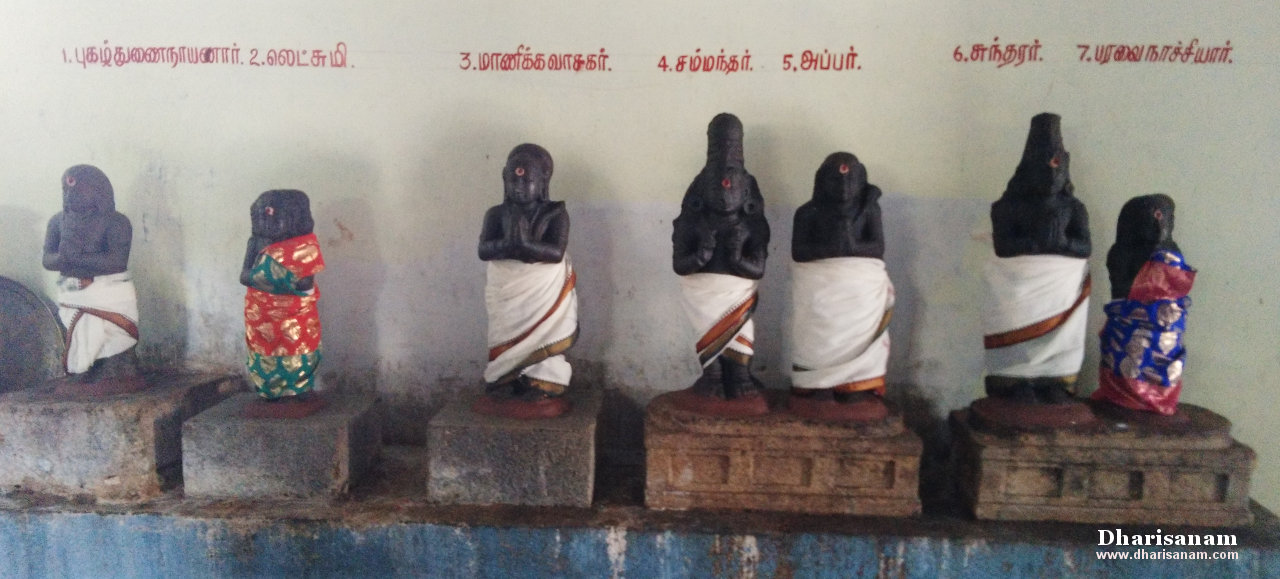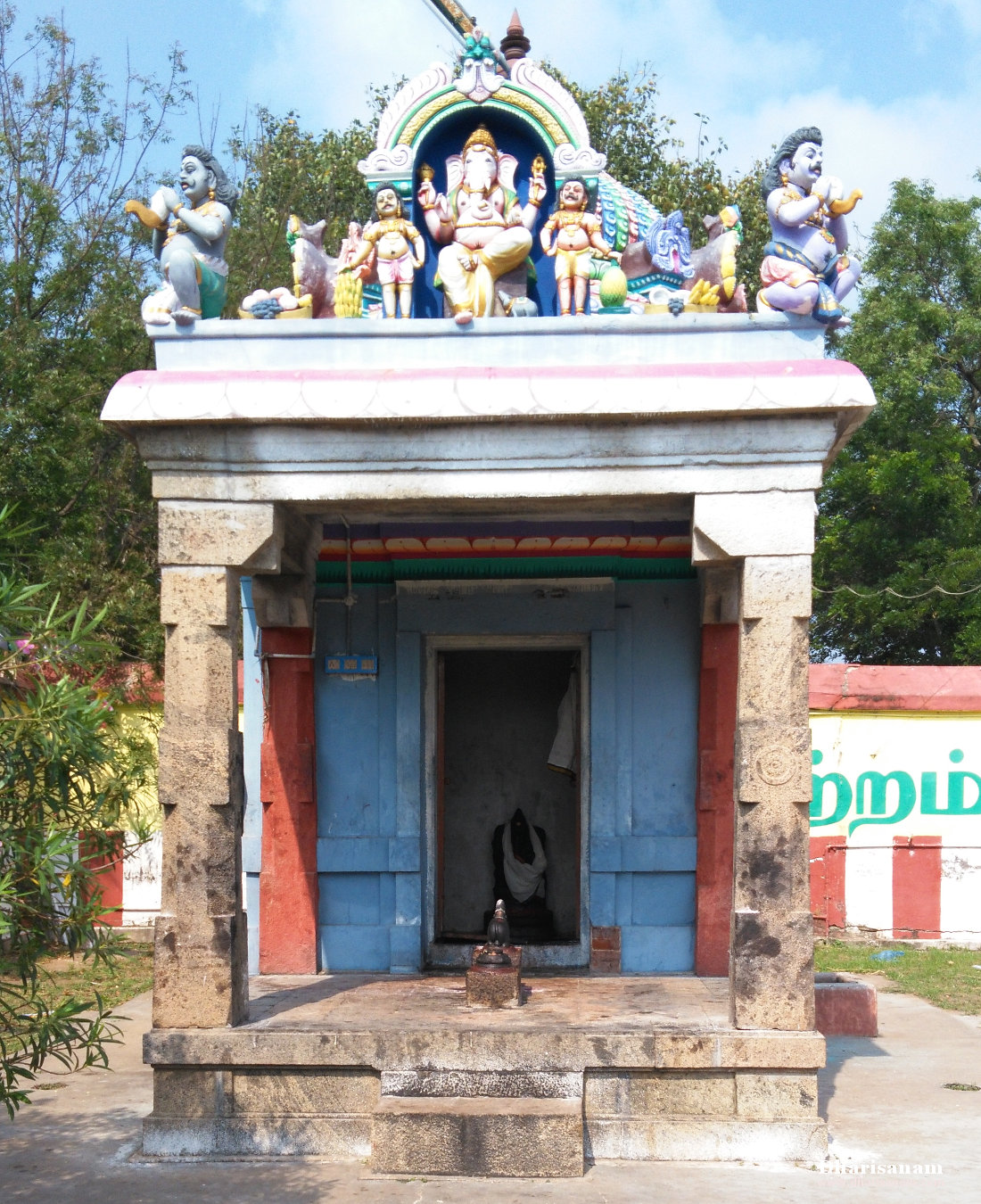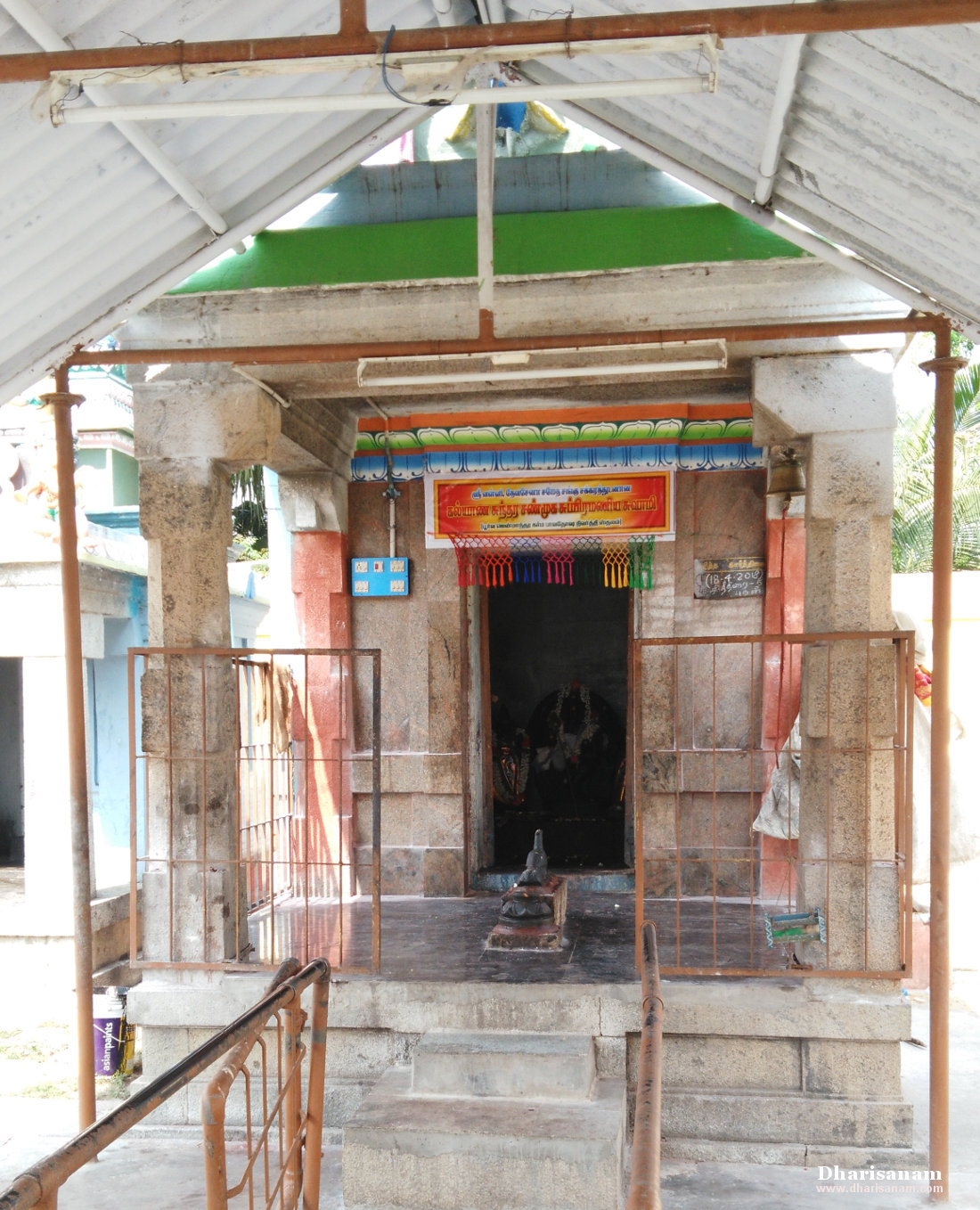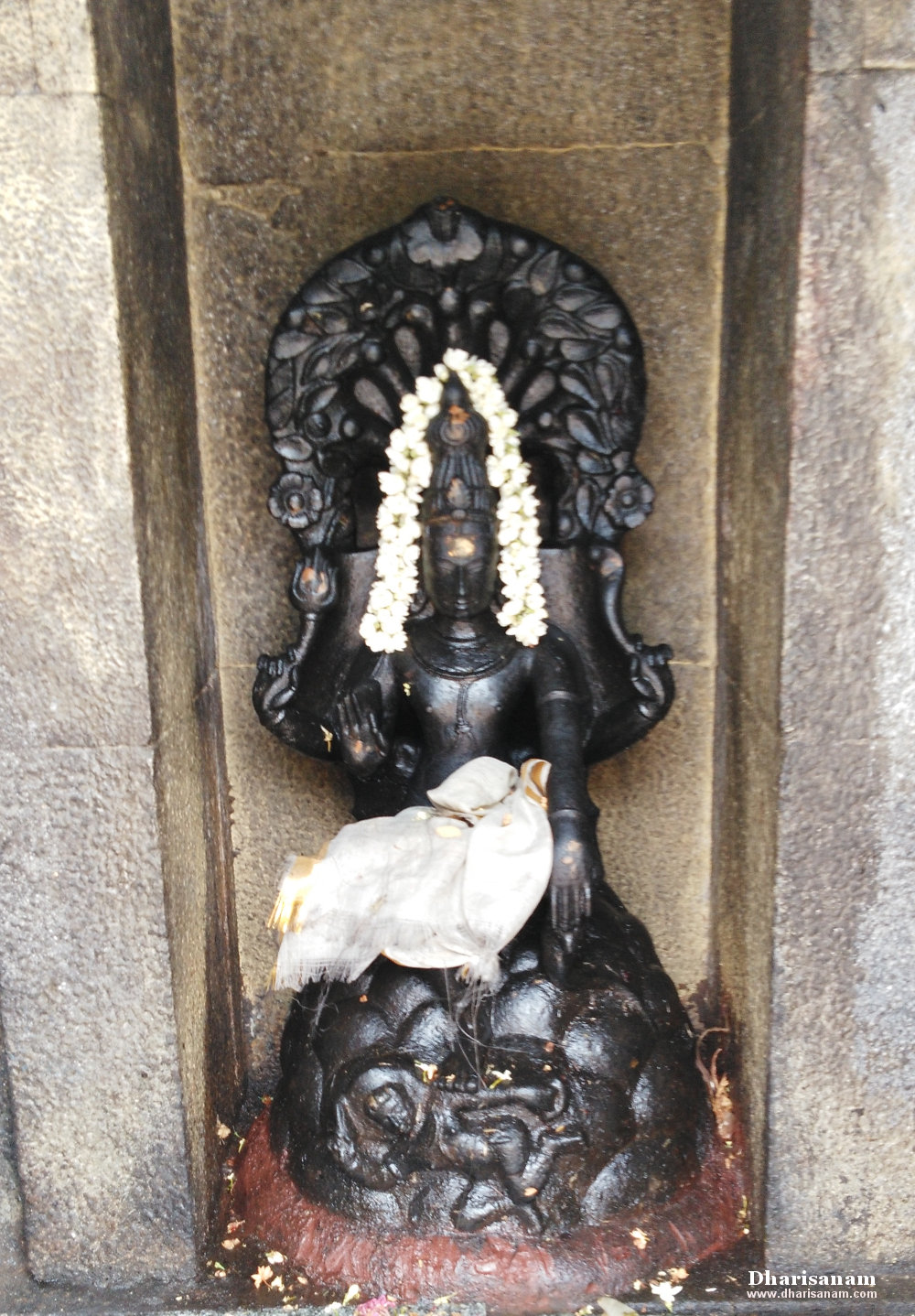 Salient Features
Lord Murugan here is praised as "Sri Kalyana Sundara Shanmuga Subramaniar". He appears with 12 hands, seated on his peacock mount, holding a conch (Sangu) on his one hand and a discus (Chakra) on another hand. This form of Lord Murugan is unique as it cannot be seen anywhere else.
The Thiruvatchi (the frame around Lord Murugan) is aesthetically designed in the shape of the Tamil letter "OHM".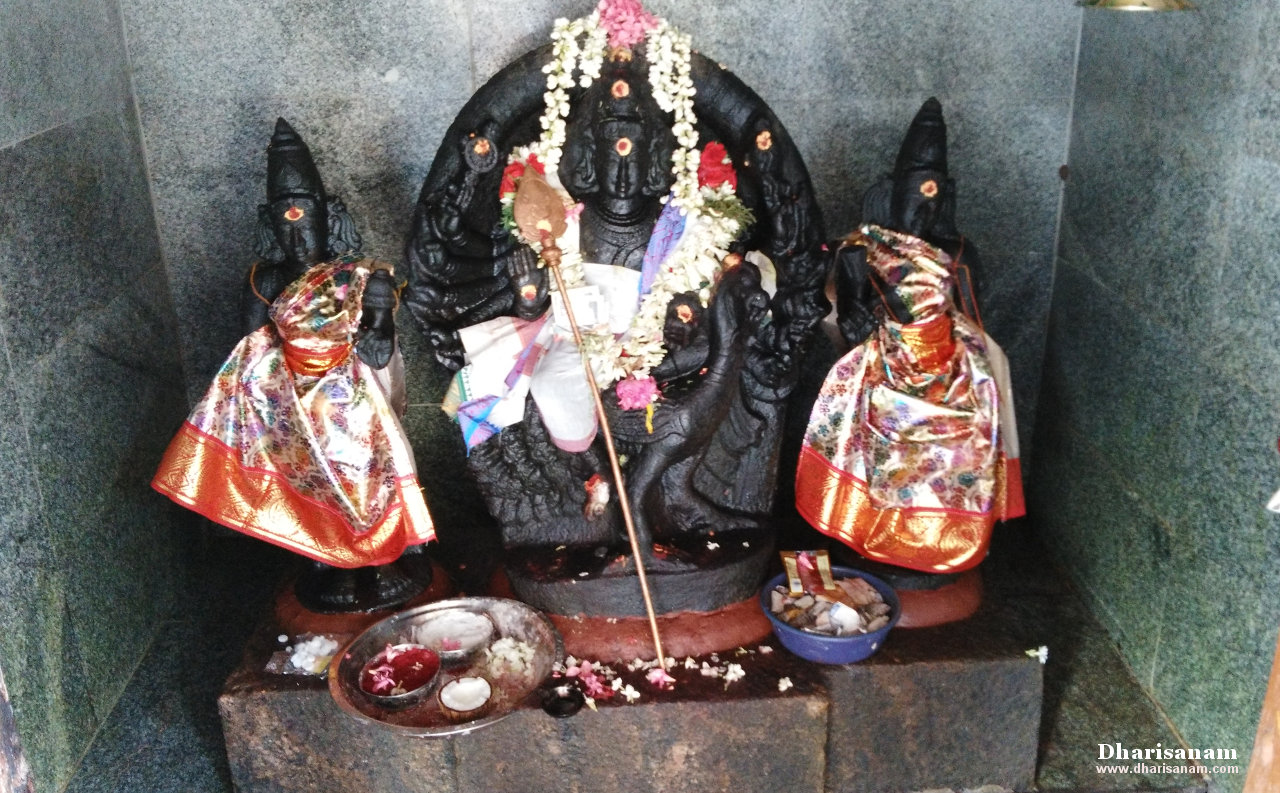 This is one of the 44 Paadal petra sthalams where the "Moovar" (the three saints – Saint Thirugnanasambanthar, Saint Thirunavukarasar (Appar) and Saint Sundaramurthy (Sundarar) had rendered their Pathigams.
In the front hall, there is a beautiful sculpture of Lord Shiva and goddess Parvathy seated on their bull mount.
The main lingam in this temple is taller than usual and is placed on a square base ("Avudayar").
It is believed that the heirs of Pugazh Thunai Nayanar are still serving as priests in this temple.
Greatness of this temple
Devotees believe that worshiping the lord here will lead to removal of sins that they might have accrued in their previous births.
Devotees worship the lord here by offering an even number of coins or notes. They take back half of them in the belief that it will lead to prosperity.
Those who have been bitten by poisonous creatures like snakes, worship Lord Murugan here in the belief that they will be cured
Important Festivals
Pukazhthunai Nayanar's Gurupoojai is celebrated on Aayilya star day in the Tamil month of Aavani.
Other important festivals celebrated in this temple are –
Vinayakar Chaturthi in the Tamil month of Aavani (Aug-Sept),
Navarathri in the Tamil month of Purattasi (Sept-Oct),
Skanda Shashti and Annabishekam in the Tamil month of Aippasi (Oct–Nov),
Thiru Karthikai in the Tamil month of Karthikai (Nov-Dec),
Thiruvadhirai in the Tamil month of Markazhi (Dec-Jan),
Makara Sankranthi in the Tamil month of Thai (Jan-Feb),
Maasi Maham and Maha Shivrathri in the Tamil month of Masi (Feb-Mar) and
Panguni Uthiram in the Tamil month of Panguni (Mar-Apr).
Pradosham is also observed regularly.
Temple Timings
From 08.00 AM to 12.00 Noon and from 04.30 PM to 08.30 PM.
Temple Address
Sri Padikkasu Nathar Temple,
Azhakaputhur Post,
Sakkottai Via,
Kumbakonam Taluk,
Tanjore District,
Tamil Nadu - 612 401.
Tele: +91- 434-2466939 and 99431 78294.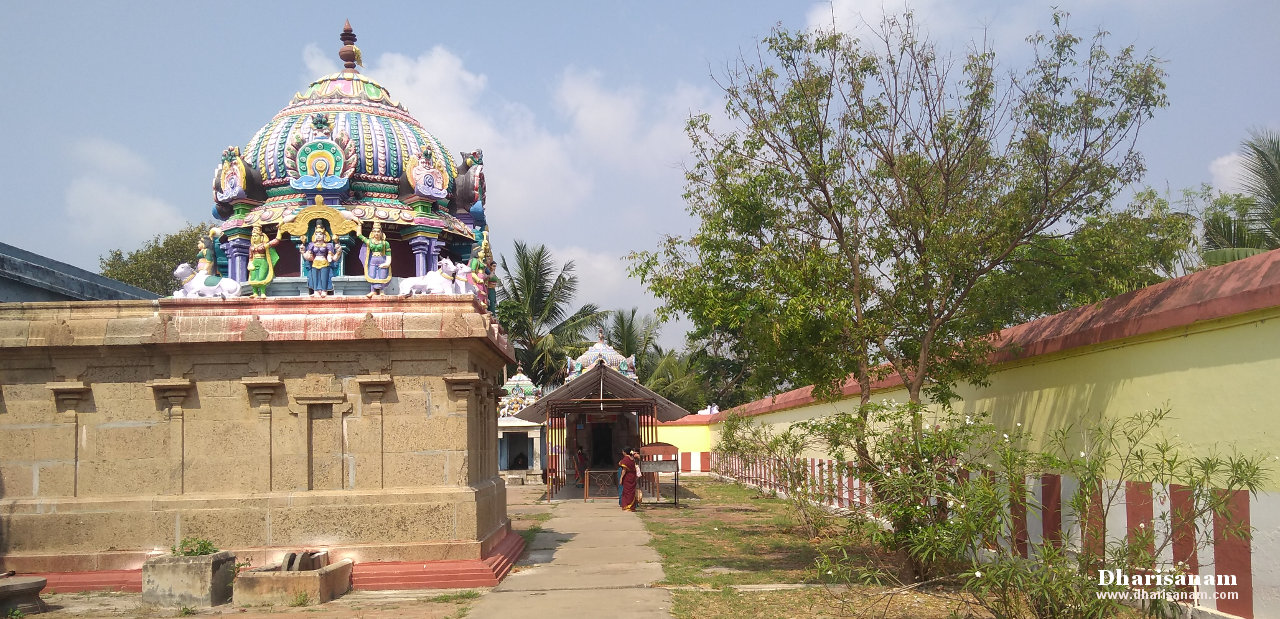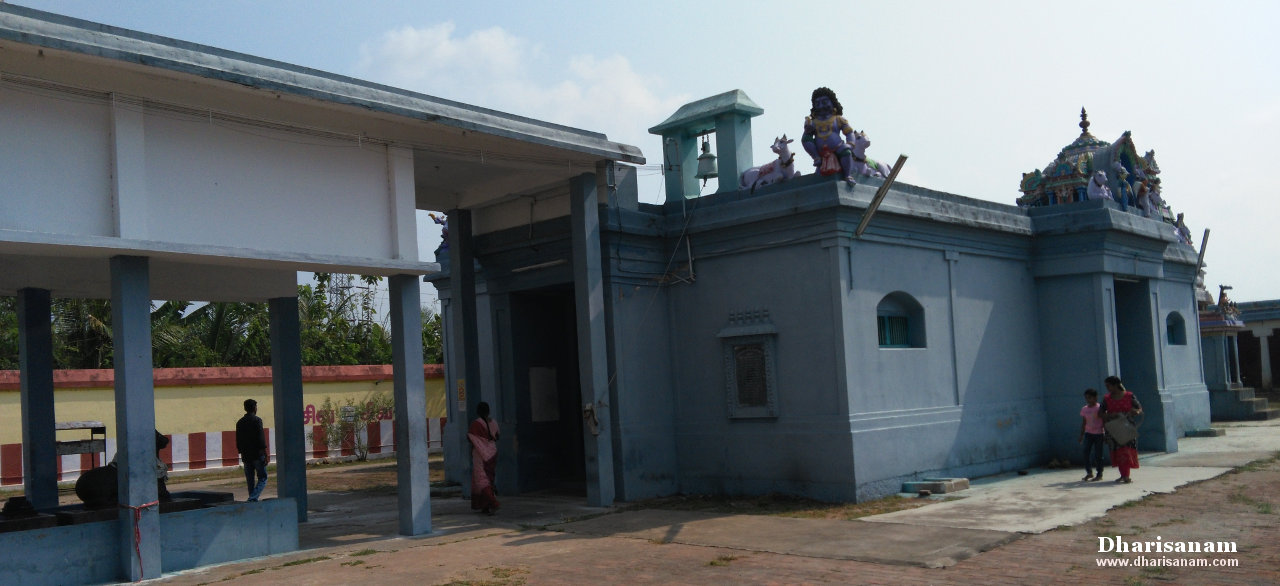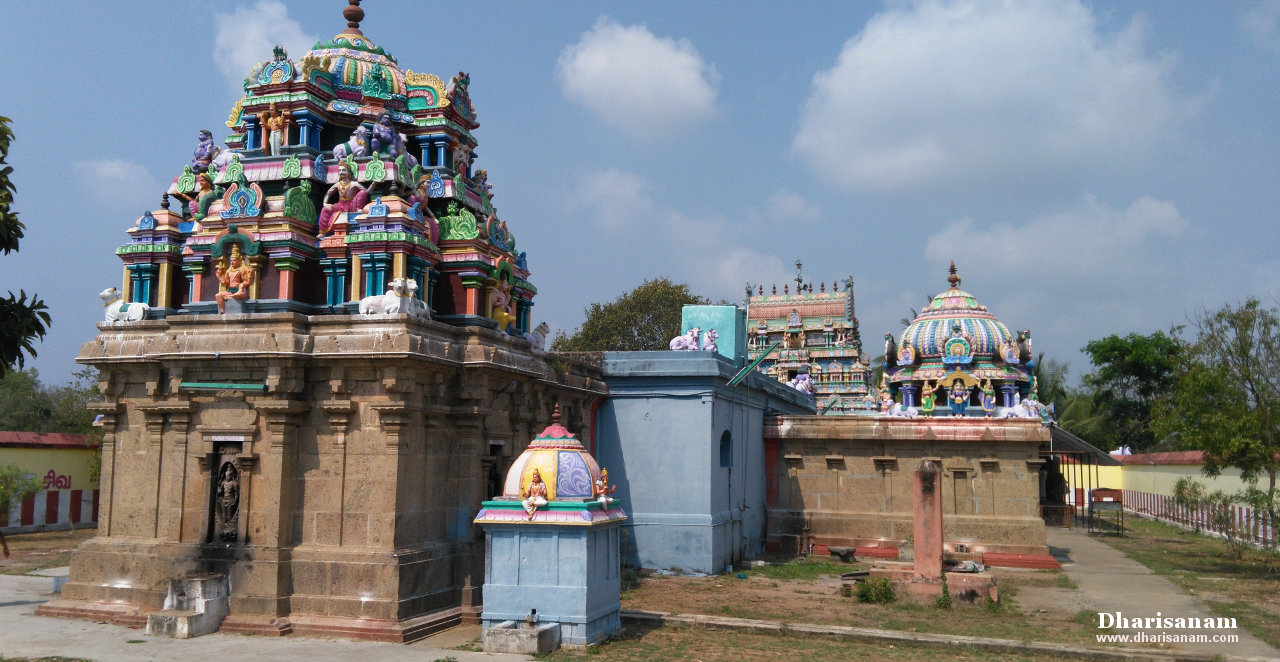 ---
Pathigam (Hymn) with English transliteration
Saint Thirugnanasambanthar visited this temple and sang this Pathigam.
Devotees visiting this temple should make it a practice to recite this Pathigam.
மின்னுஞ் சடைமேல் இளவெண் திங்கள் விளங்கவே
துன்னுங் கடல்நஞ் சிருள்தோய் கண்டர் தொன்மூதூர்
அன்னம் படியும் புனலார் அரிசில் அலைகொண்டு
பொன்னும் மணியும் பொருதென் கரைமேற் புத்தூரே.
"Miṉṉuñ chaṭaimēl iḷaveṇ thiṅkaḷ viḷaṅkavē
thuṉṉuṅ kaṭalnañ chiruḷthōy kaṇṭar thoṉmūthūr
aṉṉam paṭiyum puṉalār arisil alaikoṇṭu
poṉṉum maṇiyum porutheṉ karaimēṟ puththūrē".
மேவா அசுரர் மேவெயில் வேவ மலைவில்லால்
ஏவார் எரிவெங் கணையா லெய்தான் எய்துமூர்
நாவால் நாதன் நாமம்ஓதி நாடோறும்
பூவால் நீராற் பூசுரர் போற்றும் புத்தூரே.
"Mēvā asurar mēveyil vēva malaivillāl
ēvār eriveṅ kaṇaiyā leythāṉ eythumūr
nāvāl nāthaṉ nāmamōthi nāṭōṟum
pūvāl nīrāṟ pūsurar pōtṟum puththūrē".
பல்லார் தலைசேர் மாலை சூடிப் பாம்பும்பூண்
டெல்லா விடமும் வெண்ணீ றணிந்தோ ரேறேறிக்
கல்லார் மங்கை பங்க ரேனுங் காணுங்கால்
பொல்லா ரல்லர் அழகியர் புத்தூர்ப் புனிதரே.
"Pallār thalaisēr mālai chūṭip pāmpumpūṇ
ṭellā viṭamum veṇṇī ṟaṇinthō rēṟēṟik
kallār maṅgai paṅka rēṉuṅ kāṇuṅkāl
pollā rallar azhakiyar puththūrp puṉitharē".
வரியேர் வளையாள் அரிவை யஞ்ச வருகின்ற
கரியேர் உரிவை போர்த்த கடவுள் கருதுமூர்
அரியேர் கழனிப் பழனஞ் சூழ்ந்தங்கழகாய
பொரியேர் புன்கு சொரிபூஞ் சோலைப் புத்தூரே.
"Variyēr vaḷaiyāḷ arivai yañcha varukiṉtṟa
kariyēr urivai pōrththa kaṭavuḷ karuthumūr
ariyēr kazhaṉip pazhaṉañ chūzhnthaṅkazhakāya
poriyēr puṉku soripūñ chōlaip puththūrē".
என்போ டரவம் ஏனத்தெயிறோ டெழிலாமை
மின்போற்புரிநூல் விரவிப்பூண்ட மணிமார்பர்
அன்போ டுருகும் அடியார்க் கன்பர் அமருமூர்
பொன்போ தலர்கோங் கோங்கு சோலைப் புத்தூரே.
"Eṉpō ṭaravam ēṉaththeyiṟō ṭezhilāmai
miṉpōṟpurinūl viravippūṇṭa maṇimārpar
aṉpō ṭurukum aṭiyārk kaṉpar amarumūr
poṉpō thalarkōṅ kōṅku chōlaip puththūrē".
வள்ளி முலைதோய் குமரன் தாதை வான்தோயும்
வெள்ளி மலைபோல் விடையொன் றுடையான் மேவுமூர்
தெள்ளி வருநீர் அரிசில் தென்பாற் சிறைவண்டும்
புள்ளும் மலிபூம் பொய்கை சூழ்ந்த புத்தூரே.
"Vaḷḷi mulaithōy kumaraṉ thāthai vāṉthōyum
veḷḷi malaipōl viṭaiyoṉt ṟuṭaiyāṉ mēvumūr
theḷḷi varunīr arisil theṉpāṟ siṟaivaṇṭum
puḷḷum malipūm poykai chūzhntha puththūrē".
நிலந்த ணீரோ டனல்கால் விசும்பின் நீர்மையான்
சிலந்தி செங்கட் சோழ னாகச் செய்தானூர்
அலந்த அடியான் அற்றைக் கன்றோர் காசெய்திப்
புலர்ந்த காலை மாலை போற்றும் புத்தூரே.
"Nilantha ṇīrō ṭaṉalkāl visumpiṉ nīrmaiyāṉ
silanthi cheṅkaṭ chōzha ṉākach cheythāṉūr
alantha aṭiyāṉ atṟaik kaṉtṟōr kāseythip
pularntha kālai mālai pōtṟum puththūrē".
இத்தேர் ஏக இம்மலை பேர்ப்பன் என்றேந்தும்
பத்தோர் வாயான் வரைக்கீழ் அலறப் பாதந்தான்
வைத்தா ரருள்செய் வரதன் மருவும் ஊரான
புத்தூர் காணப் புகுவார் வினைகள் போகுமே.
"Ithēr ēka im'malai pērppaṉ eṉtṟēnthum
pathōr vāyāṉ varaikkīzh alaṟap pāthanthāṉ
vaithā raruḷsey varathaṉ maruvum ūrāṉa
puththūr kāṇap pukuvār viṉaikaḷ pōkumē".
முள்ளார் கமலத் தயன்மால் முடியோ டடிதேட
ஒள்ளா ரெரியா யுணர்தற் கரியான் ஊர்போலும்
கள்ளார் நெய்தல் கழுநீ ராம்பல் கமலங்கள்
புள்ளார் பொய்கைப் பூப்பல தோன்றும் புத்தூரே.
"Muḷḷār kamalath thayaṉmāl muṭiyō ṭaṭithēṭa
oḷḷā reriyā yuṇarthaṟ kariyāṉ ūrpōlum
kaḷḷār neythal kazhunī rāmpal kamalaṅkaḷ
puḷḷār poykaip pūppala thōṉtṟum puththūrē".
கையார்சோறு கவர்குண் டர்களுந் துவருண்ட
மெய்யார் போர்வை மண்டையர் சொல்லும்மெய்யல்ல
பொய்யா மொழியா லந்தணர்போற்றும் புத்தூரில்
ஐயா என்பார்க் கையுற வின்றி யழகாமே.
"Kaiyārchōṟu kavarkuṇ ṭarkaḷun thuvaruṇṭa
meyyār pōrvai maṇṭaiyar sollum'meyyalla
poyyā mozhiyā lanthaṇar pōtṟum puththūril
aiyā eṉpārk kaiyuṟa viṉtṟi yazhakāmē".
நறவங் கமழ்பூங் காழி ஞான சம்பந்தன்
பொறிகொள் அரவம் பூண்டான் ஆண்ட புத்தூர்மேல்
செறிவண் தமிழ்செய் மாலை செப்ப வல்லார்கள்
அறவன் கழல்சேர்ந் தன்போ டின்பம் அடைவாரே.
"Naṟavaṅ kamazhpūṅ kāzhi gñāṉa sambanthaṉ
poṟikoḷ aravam pūṇṭāṉ āṇṭa puththūrmēl
seṟivaṇ thamizhcey mālai seppa vallārkaḷ
aṟavaṉ kazhalsērn thaṉpō ṭiṉpam aṭaivārē"