Visited on: 11th March, 2017
Location
Thiruvetkalam is located at a distance of about 4 kms from Chidambaram and it is near the Annamalai University campus.
Other Devara Paadal Petra Sthalams near this place are – Chidambaram, Thirunelvoyil (Sivapuri) and Thirukkazhippalai.
General Information
| | |
| --- | --- |
| Moolavar | Sri Paasupatheswarar |
| Ambal | Sri Nalla Nayaki, Sri Sargunambal |
| Theertham (Holy water) | Krupa Kadaksha Theertham |
| Sthala Vriksham (Sacred Tree) | Bamboo tree |
| Pathigam (Hymn) rendered by | Saint Thirugnanasambanthar, Saint Thirunavukarasar (Appar) |
This is one of the 276 Devara Paadal Petra Shiva Sthalams and 2nd Shiva Sthalam on the northern bank of the river Cauvery in Chozha Nadu (Vadakarai).
Lord Shiva in this temple is a Swayambumurthi (self-manifested).
This east facing temple has a 3-tiered main tower (Rajagopuram) and it has two corridors.
The last consecration ceremony (Maha Kumbabishekam) took place on 02.07.2006.
History of the Temple
In ancient times, this place was densely populated with bamboo trees. It is believed that this temple is more than 2000 years old and it was built by Pallava kings. At a later date, it was renovated by the Nattukkottai Chettiars. The historical name of this place is Moonkilvanam.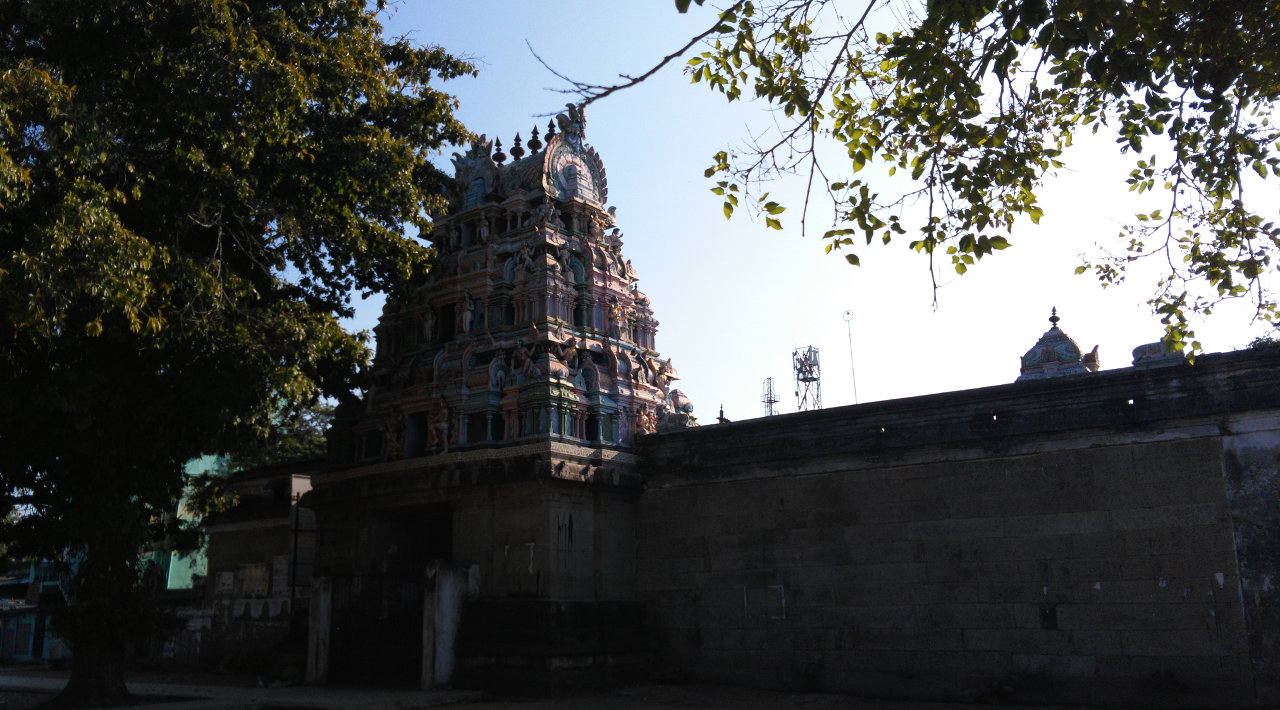 Legend
The legend of this place revolves around Arjuna – a celebrated archer and one of the five Pandavas. Before going to the Mahabharata war, it is believed that Lord Krishna advised Arjuna to visit this place and worship Lord Shiva here. On knowing about Arjuna's penance, Duryodhana sent a demon Mookasura to kill Arjuna. Demon Mookasura took the form of a wild boar to interrupt Arjuna's worship. On knowing this, Lord Shiva appeared there in the form of a hunter. It is also believed that the four Vedas followed the lord in the form of dogs in order to protect Arjuna. The lord shot an arrow on the boar and killed it. At the same time, Arjuna had also released an arrow from his bow. Thereafter a scuffle arose between the two as to whose arrow had killed the boar. The scuffle lead to a fight and Lord Shiva broke Arjuna's bow.
Angered by this, Arjuna hit Lord Shiva with his broken bow. This beating was felt throughout the world. The lord then kicked Arjuna and he went flying in the air. But because of the mercy of Goddess Parvathy, he fell in the temple's sacred tank. Arjuna then realised that the hunter was none other than Lord Shiva himself and begged his pardon. Lord Shiva and Goddess Parvathi gave darshan to Arjuna and blessed him with the Paasupathasthiram (an arrow). The scar mark on the lingam due to the blow from Arjuna's bow can still be seen. Since the lord gave Paasupathasthiram to Arjuna, he is praised as Sri Paasupatheswarar.
The event of Lord Shiva's fight with Arjuna is described in details in the epic "Kirathachuneeyam".
Interestingly, the names of the villages surrounding this temple refer to this legend. The place where Lord Shiva broke Arjuna's bow is known as "Villiruthan Kuttai" (villiruthan means "breaking the bow" and kuttai means place in Tamil), the place where Arjuna hit the lord is known as "Nakkar Ukanthakudi" (Nakkanthankudi) (Nakkar refers to the lord, Ukantha means cherished and kudi means place in Tamil) and the place where the fight took place is known as "Esan porveli" (Esan refers to the lord and porveli means fighting ground in Tamil).
It is also believed that sage Narada worshiped the lord of this temple.
It is believed that saint Thirugnanasambanthar stayed at Thiruvetkalam for few days and visited Chidambaram and othervnearby temples. In his hymn of this temple, he mentions this place as "Nannagar" (good city). Living up to its name of "Nannagar", this place now has a sprawling university campus.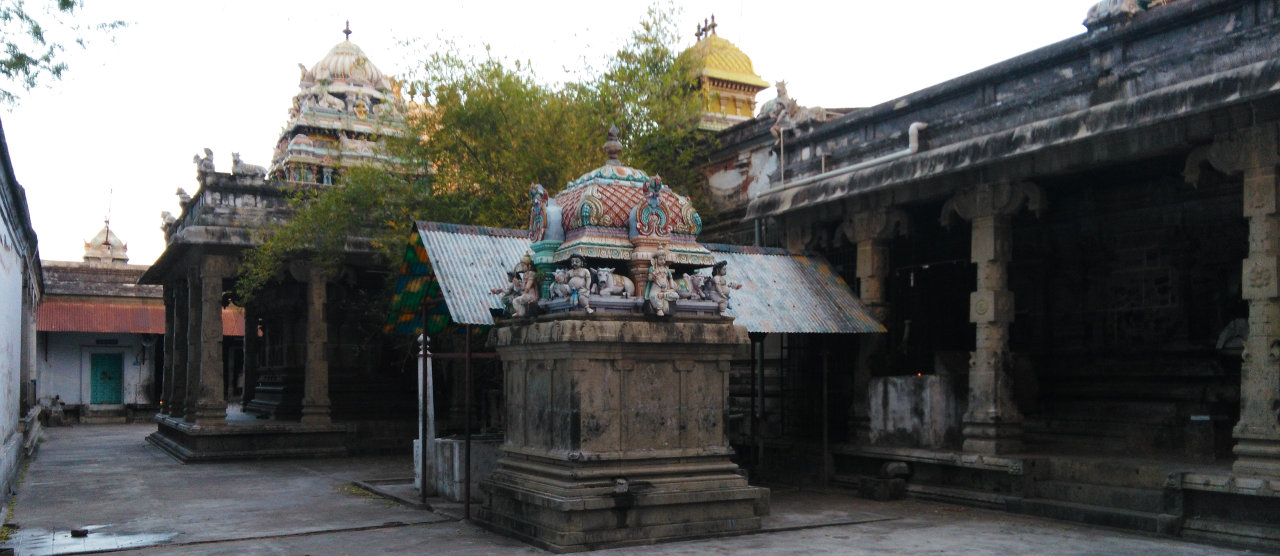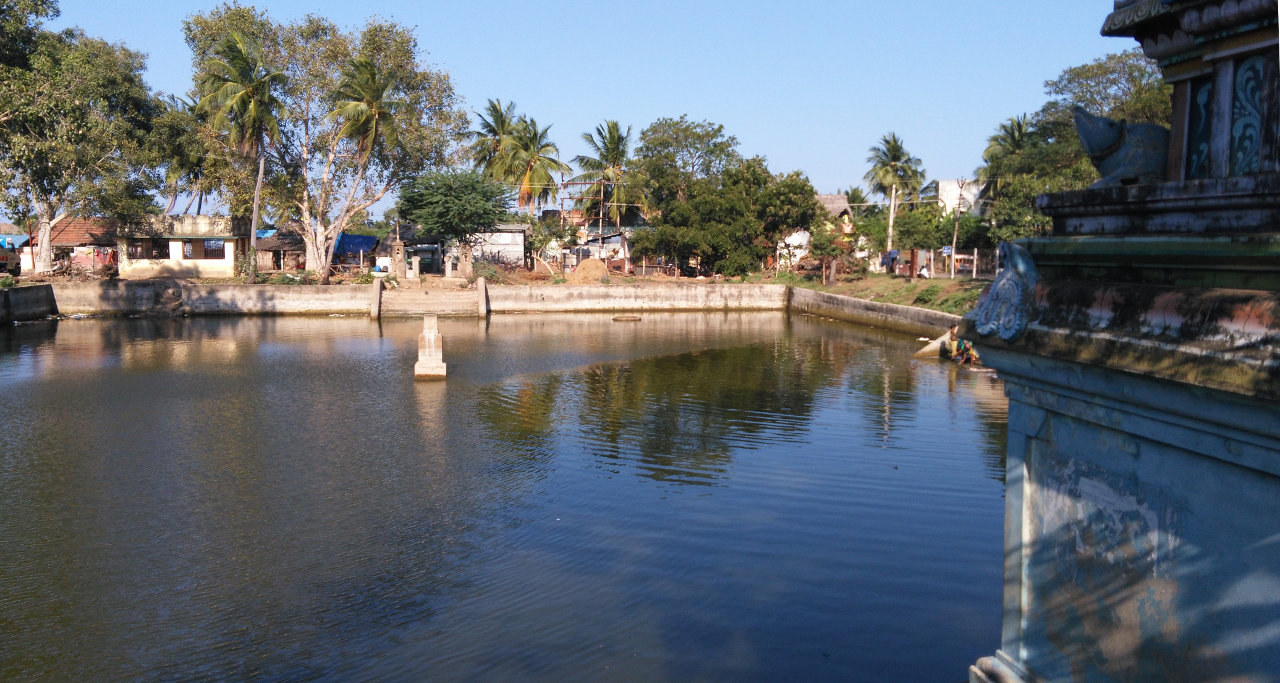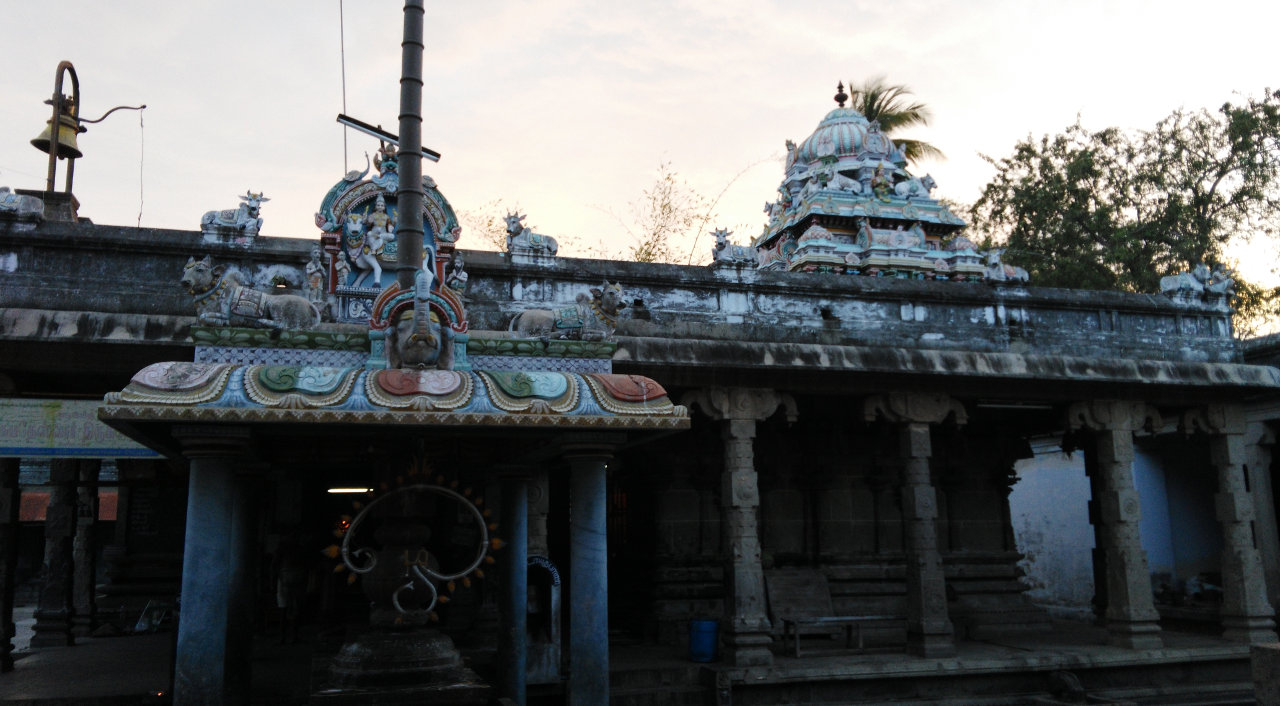 Deities in the temple
Apart from the shrines of Lord Shiva and Goddess Parvathy, shrines and idols of lords Nardana Vinayakar, Sidhdhi Vinayakar, Murugan with his consorts, Adhi Paasupatheswarar and Sri Shakti, Somaskandar, Uchi Vinayakar, Dakshinamurthy, Lingothbavar, Brahma in sitting posture, Durgai, Nalvar, Mahalakshmi, Navagraham, Bairavar, Suryan and Chandran can be seen in the corridors.
Procession idols of Arjuna and Lord Shiva (as Kirathakamurthy) holding the Paasupathasthiram with Goddess Parvathy can be seen in the hall.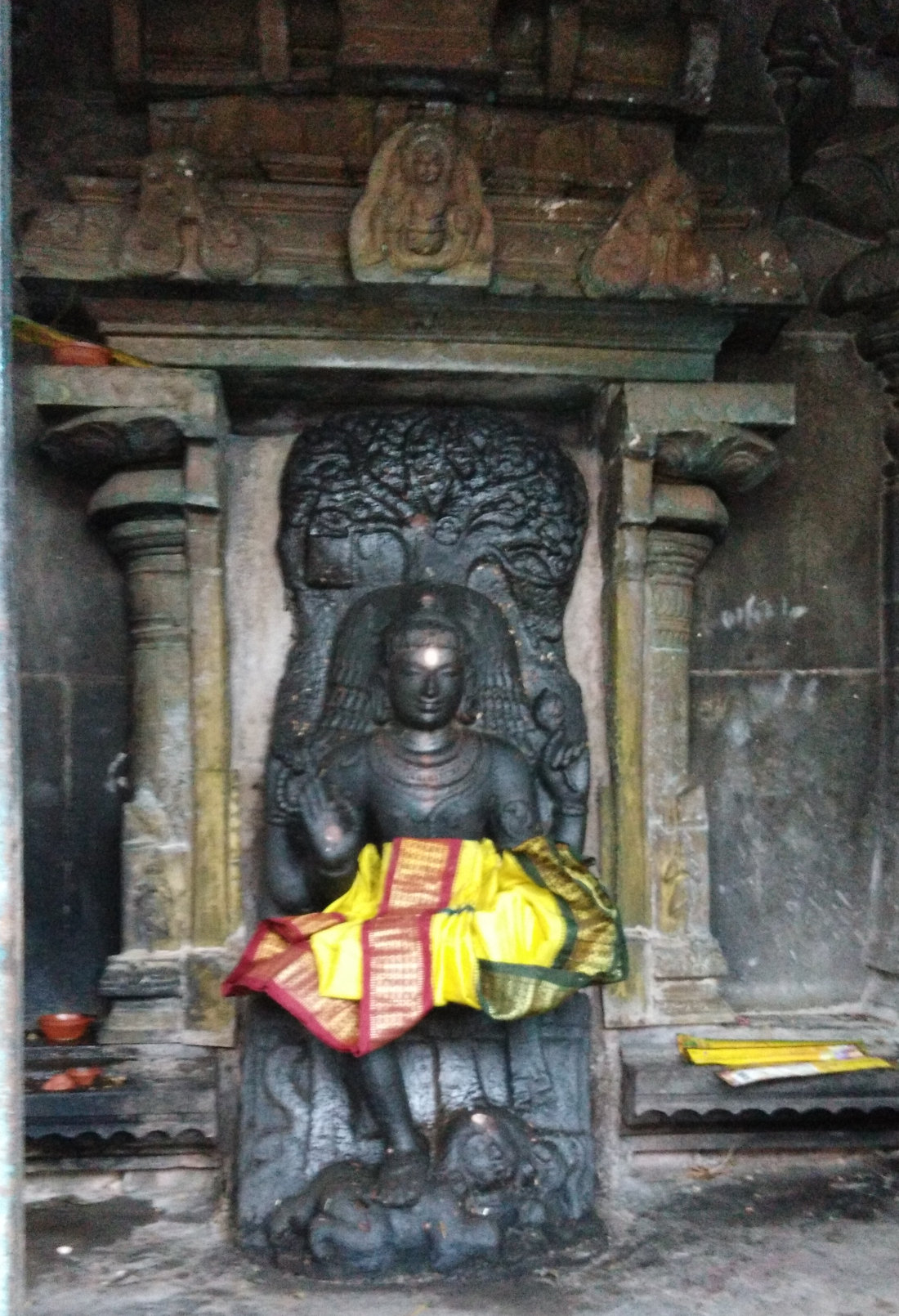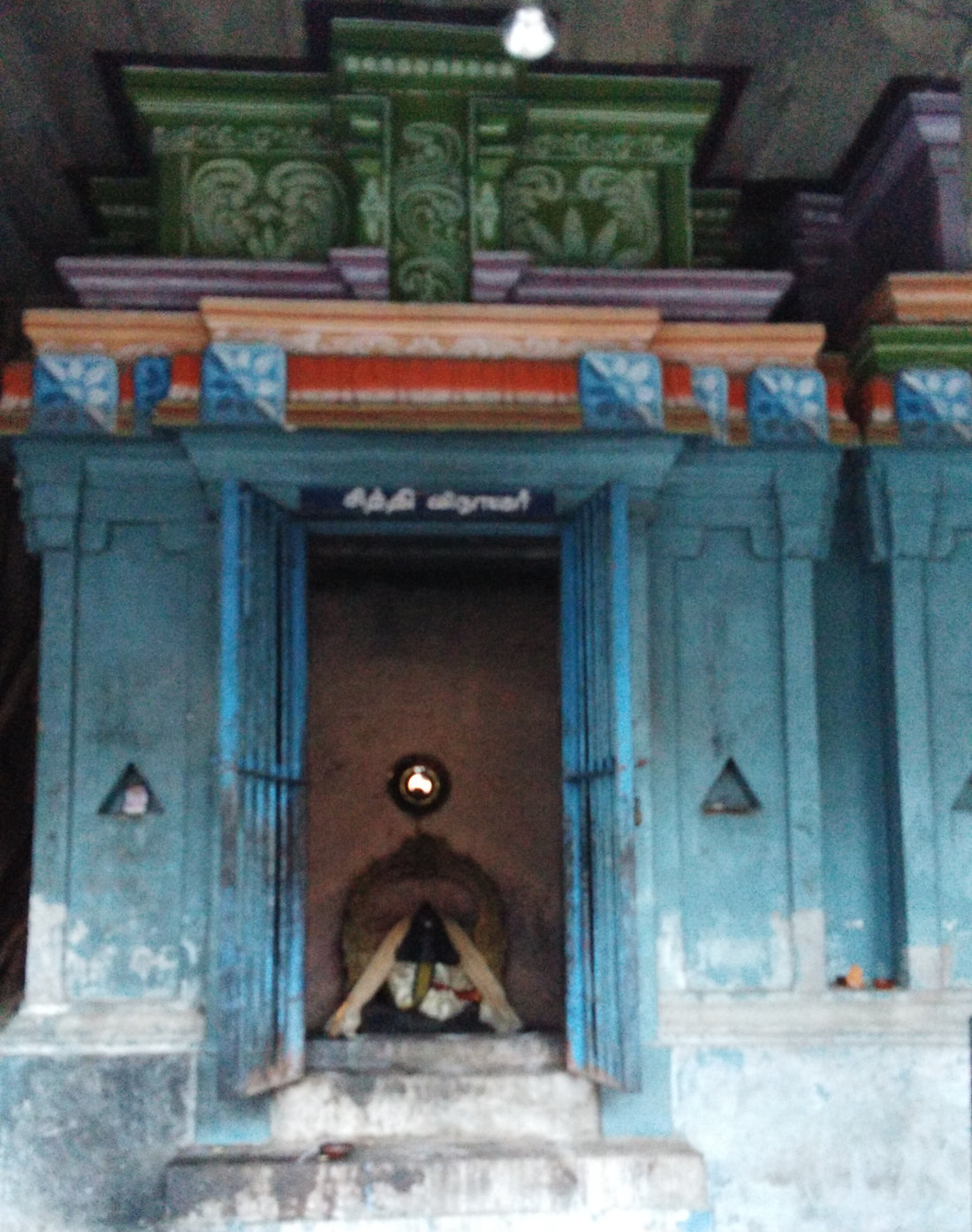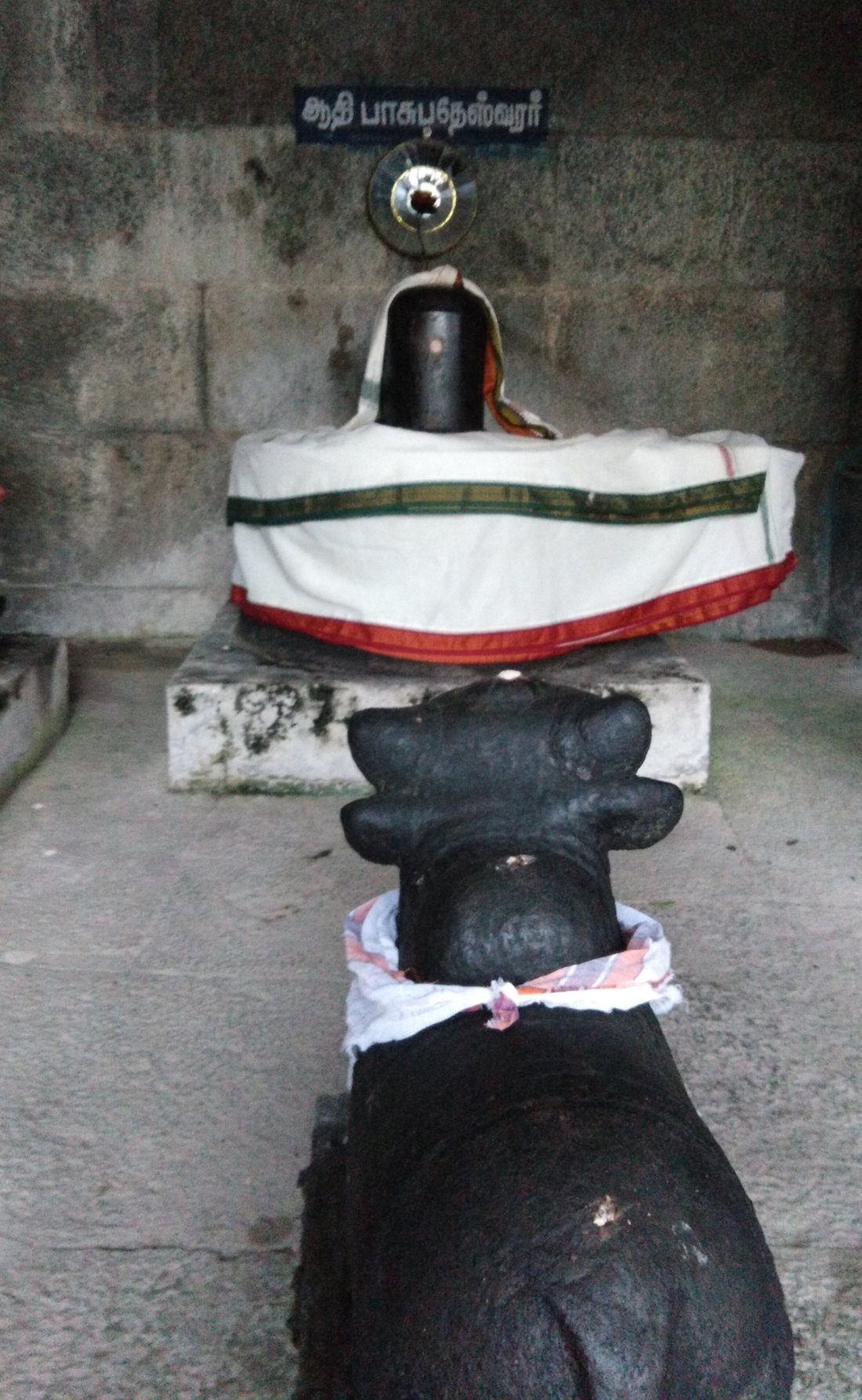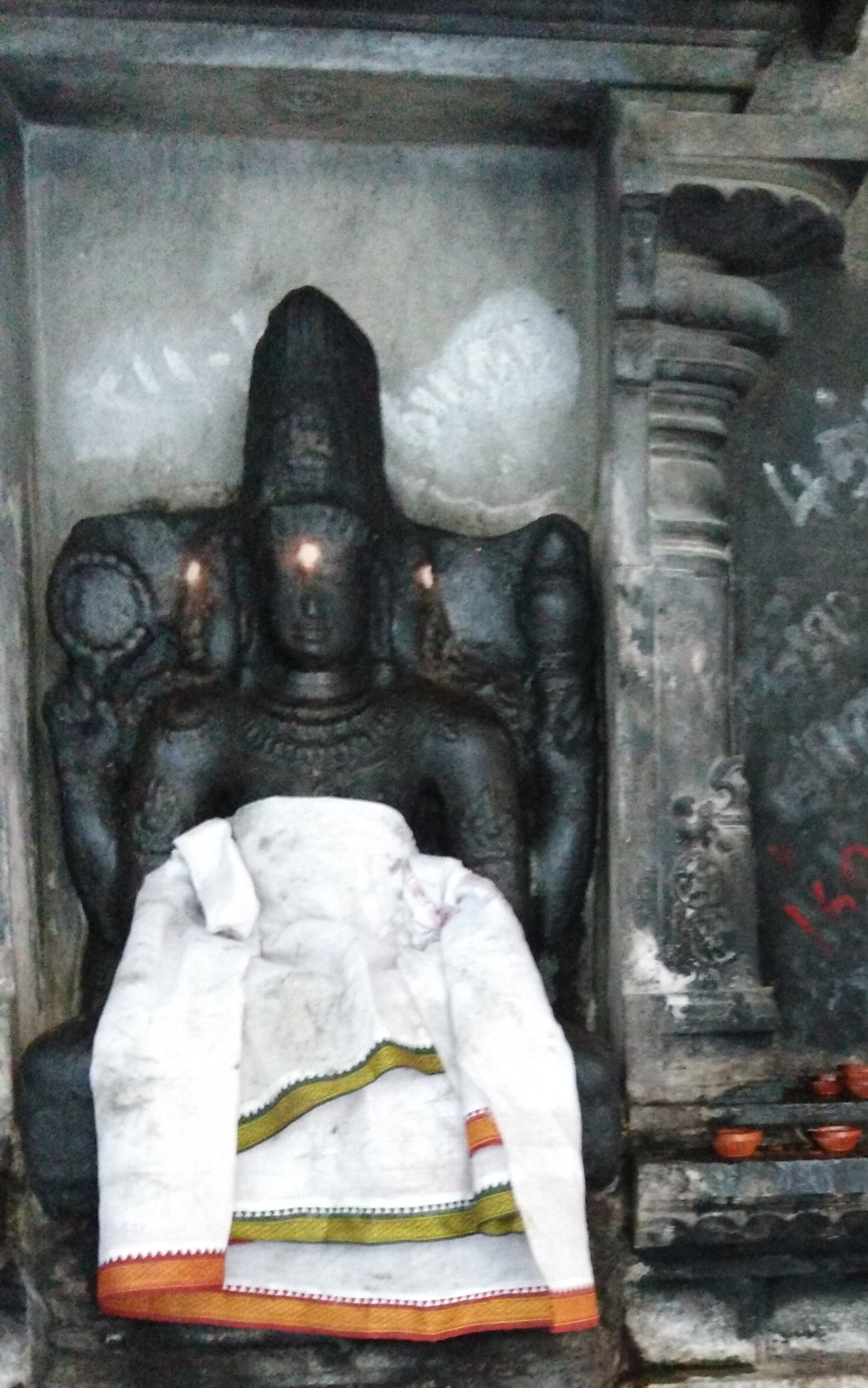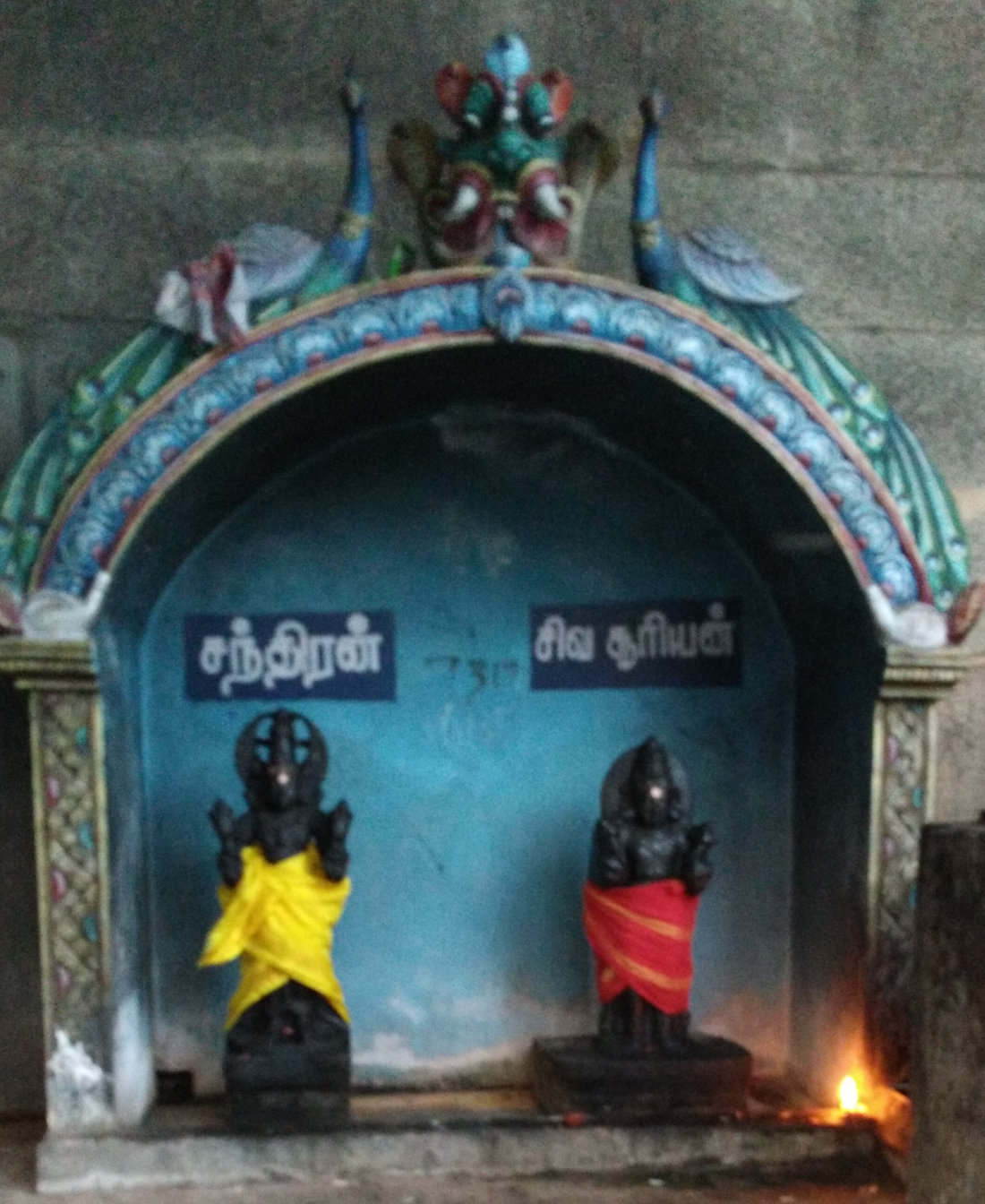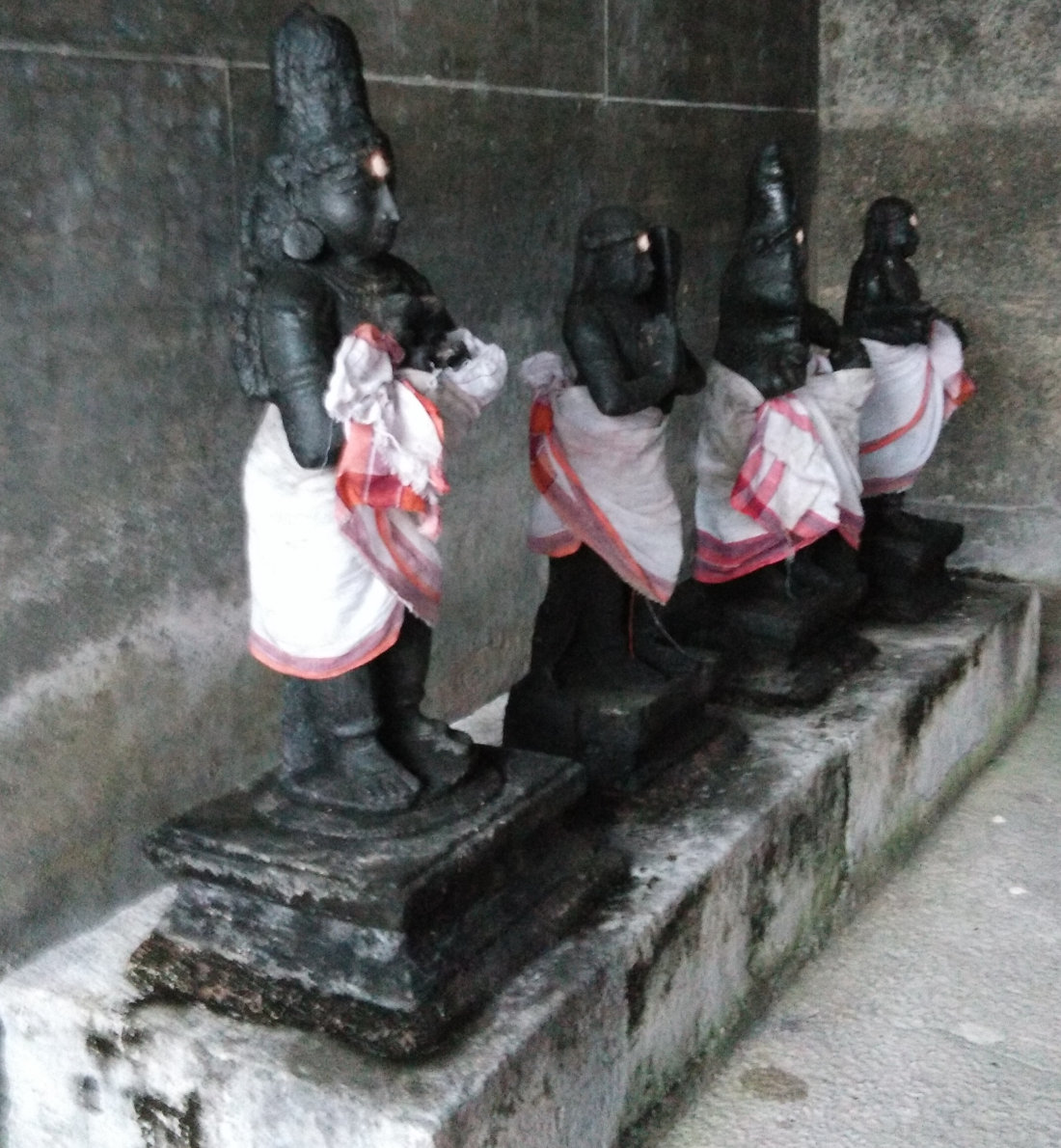 Salient Features
The significance of this temple is that there is a single shrine for Suryan and Chandran. It is believed that on the days of solar and lunar eclipses, worshiping these two lords here would give respite from planet related doshams.
This temple's hall has four pillars with beautifully carved reliefs that depict the following scene from this temple's legend - Arjuna placing his weapons on the floor, his penance while standing on one leg, Lord Shiva coming in the form of a hunter, Lord Shiva and Arjuna's fight and the lord giving Arjuna his darshan while seated on his bull mount.
Saint Arunagirinadhar has sang songs in praise of Lord Murugan of this temple in his revered Thirupugazh.
Greatness of this temple
Those facing speech impairment, particularly stammering problems, can worship the lord here. Devotees also believe that worshiping the lord here will remove obstacles from their marriage proposals.
Important Festivals
Some of the important festivals celebrated in this temple are –
Tamil New Year day in the Tamil month of Chithirai (April 14th);
Vaikasi Visakam / Arjuna Pasupathasthiram festival in the Tamil month of Vaikasi (May-June);
Aani Tirumanjanam in the Tamil month of Aani (June-July);
Vinayaka Chaturthi in the Tamil month of Aavani (Aug-Sept);
Navarathri in the Tamil month of Purattasi (Sept-Oct);
Maha Shivrathri in the Tamil month of Maasi (Feb-Mar); and
Panguni Uthiram in the Tamil month of Panguni (Mar-Apr).
Pradosham is also observed regularly.
Temple Timings
From 07.00 AM to 11.30 AM and 05.30 PM to 08.30 PM.
Temple Address
Sri Pasupatheswarar Temple,
Thiruvetkalam,
Annamalai Nagar Post,
Chidambaram,
Cuddalore District,
Tamil Nadu – 608002.

Tele: +91 98420 08291, 98433 88552.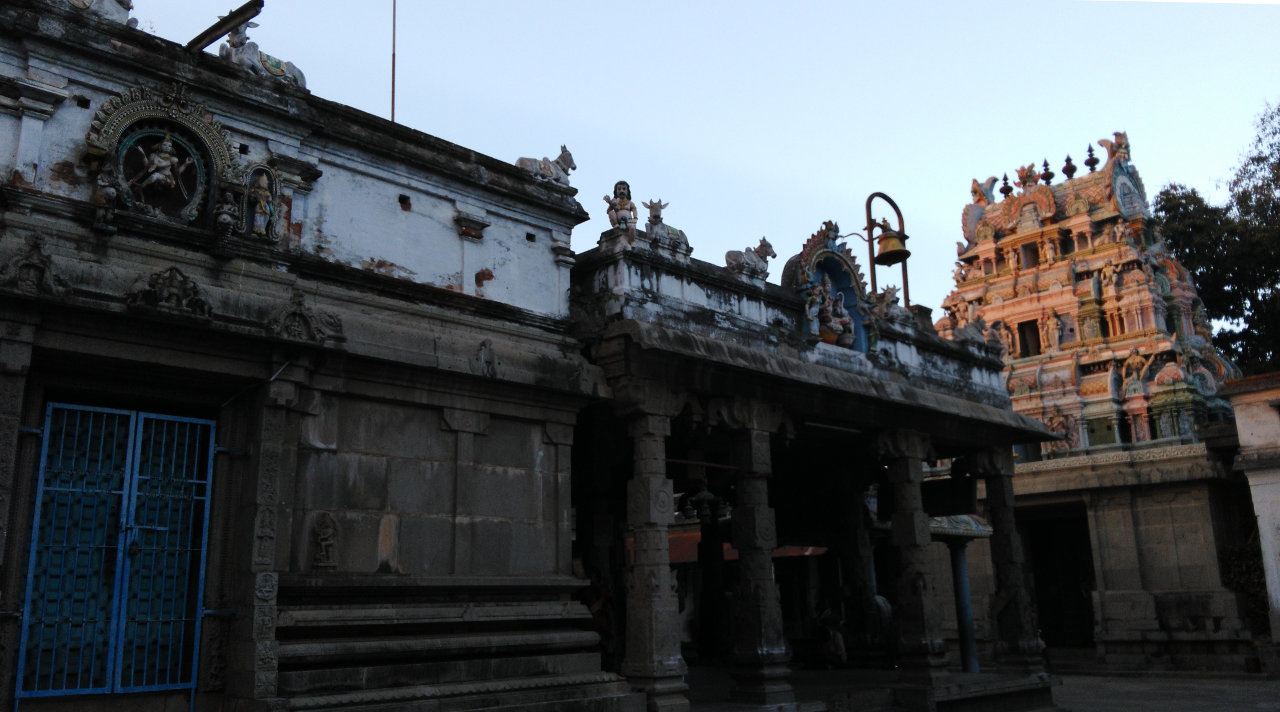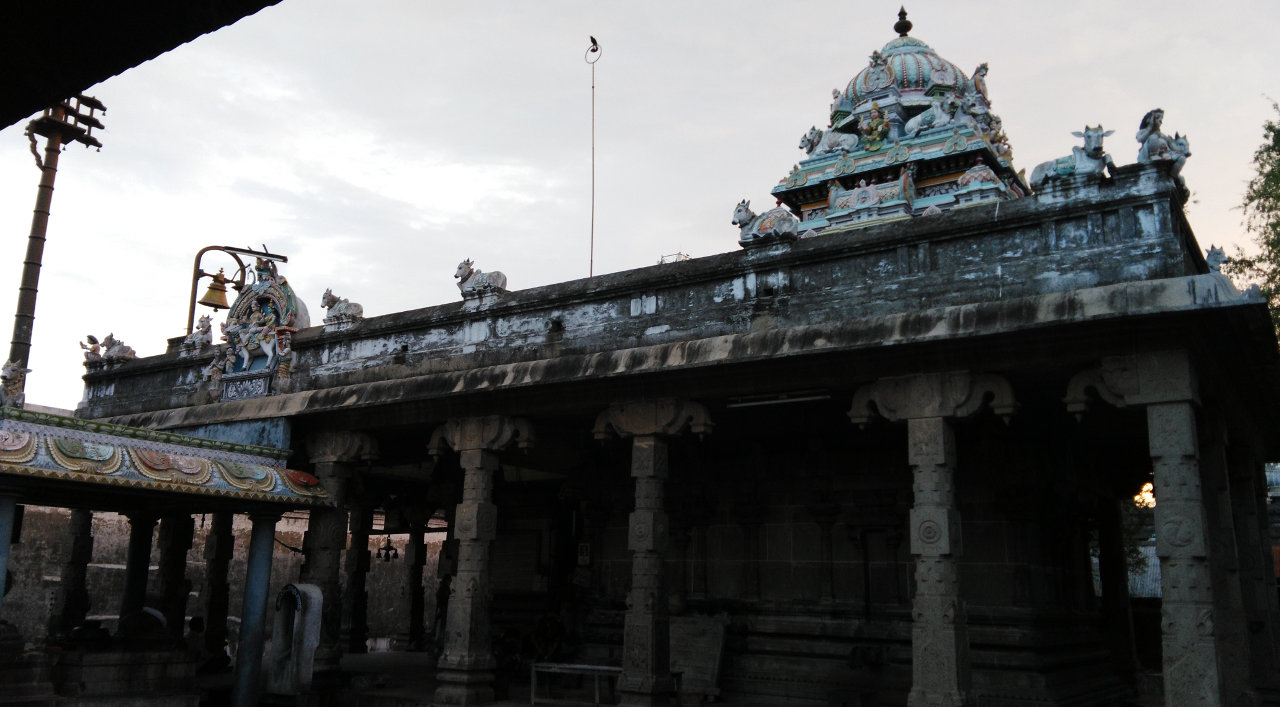 ---
Pathigam (Hymn) with English transliteration
Saint Thirugnanasambanthar visited this temple and sang this Pathigam.
Devotees visiting this temple should make it a practice to recite this Pathigam.
அந்தமும் ஆதியும் ஆகிய அண்ணல்
ஆரழல் அங்கை அமர்ந்திலங்க
மந்த முழவம் இயம்ப
மலைமகள் காணநின் றாடிச்
சந்த மிலங்கு நகுதலை கங்கை
தண்மதி யம்மய லேததும்ப
வெந்தவெண் ணீறுமெய் பூசும்
வேட்கள நன்னக ராரே.
"Anthamum āthiyum ākiya aṇṇal
ārazhal aṅkai amarnthilaṅka
mantha muzhavam iyampa
malaimakaḷ kāṇaniṉ tṟāṭich
chantha milaṅku nakuthalai gaṅgai
thaṇmathi yam'maya lēthathumpa
venthaveṇ ṇīṟumey pūsum
vēṭkaḷa naṉṉaka rārē".
சடைதனைத் தாழ்தலும் ஏறமு டித்துச்
சங்கவெண் தோடு சரிந்திலங்கப்
புடைதனிற் பாரிடஞ் சூழப்
போதரு மாறிவர் போல்வார்
உடைதனில் நால்விரற் கோவண ஆடை
உண்பதும் ஊரிடு பிச்சைவெள்ளை
விடைதனை யூர்தி நயந்தார்
வேட்கள நன்னக ராரே.
"Saṭaithaṉaith thāzhthalum ēṟamu ṭiththuch
chaṅkaveṇ thōṭu sarinthilaṅkap
puṭaithaṉiṟ pāriṭañ chūzhap
pōtharu māṟivar pōlvār
uṭaithaṉil nālviraṟ kōvaṇa āṭai
uṇpathum ūriṭu pichaiveḷḷai
viṭaithaṉai yūrthi nayanthār
vēṭkaḷa naṉṉaka rārē".
பூதமும் பல்கண மும்புடை சூழப்
பூமியும் விண்ணும் உடன்பொருந்தச்
சீதமும் வெம்மையு மாகிச்
சீரொடு நின்றவெஞ் செல்வர்
ஓதமுங் கானலுஞ் சூழ்தரு வேலை
உள்ளங் கலந்திசை யாலெழுந்த
வேதமும் வேள்வியும் ஓவா
வேட்கள நன்னக ராரே.
"Pūthamum palkaṇa mumpuṭai chūzhap
pūmiyum viṇṇum uṭaṉporunthach
chīthamum vem'maiyu mākich
chīroṭu niṉtṟaveñ chelvar
ōthamuṅ kāṉaluñ chūḻtharu vēlai
uḷḷaṅ kalanthisai yālezhuntha
vēthamum vēḷviyum ōvā
vēṭkaḷa naṉṉaka rārē".
அரைபுல்கும் ஐந்தலை யாட லரவம்
அமையவெண் கோவணத் தோடசைத்து
வரைபுல்கு மார்பிலொராமை
வாங்கி யணிந்த வர்தாந்
திரைபுல்கு தெண்கடல் தண்கழி யோதந்
தேனலங் கானலில் வண்டுபண்செய்ய
விரைபுல்கு பைம்பொழில் சூழ்ந்த
வேட்கள நன்னக ராரே.
"Araipulkum ainthalai yāṭa laravam
amaiyaveṇ kōvaṇath thōṭasaiththu
varaipulku mārpilorāmai
vāṅki yaṇintha varthān
thiraipulku theṇkaṭal thaṇkazhi yōthan
thēṉalaṅ kāṉalil vaṇṭupaṇcsyya
viraipulku paimpozhil chūzhntha
vēṭkaḷa naṉṉaka rārē".
பண்ணுறு வண்டறை கொன்றை யலங்கல்
பால்புரை நீறுவெண் ணூல்கிடந்த
பெண்ணுறு மார்பினர் பேணார்
மும்மதி லெய்த பெருமான்
கண்ணுறு நெற்றி கலந்தவெண் திங்கட்
கண்ணியர் விண்ணவர் கைதொழு தேத்தும்
வெண்ணிற மால்விடை அண்ணல்
வேட்கள நன்னக ராரே.
"Paṇṇuṟu vaṇṭaṟai koṉtṟai yalaṅkal
pālpurai nīṟuveṇ ṇūlkiṭantha
peṇṇuṟu mārpiṉar pēṇār
mum'mathi leytha perumāṉ
kaṇṇuṟu netṟi kalanthaveṇ thiṅkaṭ
kaṇṇiyar viṇṇavar kaithozhu thēththum
veṇṇiṟa mālviṭai aṇṇal
vēṭkaḷa naṉṉaka rārē".
கறிவளர் குன்றம் எடுத்தவன் காதற்
கண்கவ ரைங்கணை யோனுடலம்
பொறிவளர் ஆரழ லுண்ணப்
பொங்கியபூத புராணர்
மறிவள ரங்கையர் மங்கையொர் பங்கர்
மைஞ்ஞிற மானுரி தோலுடையாடை
வெறிவளர் கொன்றையந் தாரார்
வேட்கள நன்னக ராரே.
"Kaṟivaḷar kuṉtṟam eṭuththavaṉ kāthaṟ
kaṇkava raiṅkaṇai yōṉuṭalam
poṟivaḷar ārazha luṇṇap
poṅkiyapūtha purāṇar
maṟivaḷa raṅkaiyar maṅkaiyor paṅkar
maiññiṟa māṉuri thōluṭaiyāṭai
veṟivaḷar koṉtṟaiyan thārār
vēṭkaḷa naṉṉaka rārē".
மண்பொடிக் கொண்டெரித் தோர்சுடலை
மாமலை வேந்தன் மகள்மகிழ
நுண்பொடிச் சேரநின் றாடி
நொய்யன செய்யல் உகந்தார்
கண்பொடி வெண்டலை யோடுகை யேந்திக்
காலனைக் காலாற் கடிந்துகந்தார்
வெண்பொடிச் சேர்திரு மார்பர்
வேட்கள நன்னக ராரே.
"Maṇpoṭik koṇṭerith thōrsuṭalai
māmalai vēnthaṉ makaḷmakizha
nuṇpoṭich chēraniṉ tṟāṭi
noyyaṉa seyyal ukanthār
kaṇpoṭi veṇṭalai yōṭukai yēnthik
kālaṉaik kālāṟ kaṭinthukanthār
veṇpoṭich chērthiru mārpar
vēṭkaḷa naṉṉaka rārē".
ஆழ்தரு மால்கடல் நஞ்சினை யுண்டார்
அமுத மமரர்க் கருளிச்
சூழ்தரு பாம்பரை யார்த்துச்
சூலமோ டொண்மழு வேந்தித்
தாழ்தரு புன்சடை யொன்றினை வாங்கித்
தண்மதி யம்மய லேததும்ப
வீழ்தரு கங்கை கரந்தார்
வேட்கள நன்னக ராரே.
"Āzhtharu mālkaṭal nañciṉai yuṇṭār
amutha mamarark karuḷich
chūzhtharu pāmparai yārththuch
chūlamō ṭoṇmazhu vēnthith
thāzhtharu puṉsaṭai yoṉtṟiṉai vāṅkith
thaṇmathi yam'maya lēthathumpa
vīzhtharu gaṅgai karanthār
vēṭkaḷa naṉṉaka rārē".
திருவொளி காணிய பேதுறு கின்ற
திசைமுக னுந்திசை மேலளந்த
கருவரை யேந்திய மாலுங்
கைதொழ நின்றது மல்லால்
அருவரை யொல்க எடுத்த அரக்கன்
ஆடெழிற் றோள்க ளாழத்தழுந்த
வெருவுற வூன்றிய பெம்மான்
வேட்கள நன்னக ராரே.
"Thiruvoḷi kāṇiya pēthuṟu kiṉtṟa
thisaimuka ṉunthisai mēlaḷantha
karuvarai yēnthiya māluṅ
kaithozha niṉtṟathu mallāl
aruvarai yolka eṭuththa arakkaṉ
āṭezhiṟ tṟōḷka ḷāzhaththazhuntha
veruvuṟa vūṉtṟiya pem'māṉ
vēṭkaḷa naṉṉaka rārē".
அத்தமண் தோய்துவ ரார்அமண் குண்டர்
யாதுமல் லாவுரை யேயுரைத்துப்
பொய்த்தவம் பேசுவ தல்லாற்
புறனுரை யாதொன்றுங் கொள்ளேல்
முத்தன வெண்முறு வல்லுமை யஞ்ச
மூரிவல் லானையின் ஈருரிபோர்த்த
வித்தகர் வேத முதல்வர்
வேட்கள நன்னக ராரே.
"Athamaṇ thōythuva rār'amaṇ kuṇṭar
yāthumal lāvurai yēyuraiththup
poyththavam pēsuva thallāṟ
puṟaṉurai yāthoṉṟuṅ koḷḷēl
muthaṉa veṇmuṟu vallumai yañcha
mūrival lāṉaiyiṉ īruripōrththa
viththakar vētha muthalvar
vēṭkaḷa naṉṉaka rārē".
விண்ணியன் மாடம் விளங்கொளி வீதி
வெண்கொடி யெங்கும் விரிந்திலங்க
நண்ணிய சீர்வளர் காழி
நற்றமிழ் ஞானசம் பந்தன்
பெண்ணின்நல் லாளொரு பாகமமர்ந்து
பேணிய வேட்கள மேல்மொழிந்த
பண்ணியல் பாடல்வல் லார்கள்
பழியொடு பாவமி லாரே.
"Viṇṇiyaṉ māṭam viḷaṅkoḷi vīthi
veṇkoṭi yeṅkum virinthilaṅka
naṇṇiya chīrvaḷar kāzhi
natṟamizh gñāṉasam banthaṉ
peṇṇiṉnal lāḷoru pākamamarntu
pēṇiya vēṭkaḷa mēlmozhintha
paṇṇiyal pāṭalval lārkaḷ
pazhiyoṭu pāvami lārē".