Visited on: July 8, 2017
Location
Thiru Thelicherry is located in Karaikkal on the Bharathiyar Road. It is right at the entrance to the Karikkal town while coming from the Poraiyar route. There is a railway station in Karaikkal.
Other Devara Paadal Petra Shiva Sthalam near this place are – Thirunallaru, Dharumapuram, Thiruvettakkudi, Thirukkadaiyur and Thirukkadaiyur Mayanam.
General Information
| | |
| --- | --- |
| Moolavar | Sri Parvatheeswarar, Sree Sameevaneswarar |
| Ambal | Sri Swayamvara Thapaswini, Sri Shakti Nayaki, Sri Ampaduttakkannaal |
| Theertham (Holy water) | Surya Theertham and Guha Theertham |
| Sthala Vriksham (Sacred Tree) | Vilvam / Vanni tree |
| Pathigam (Hymn) rendered by | Saint Thirugnanasambanthar |
This is one of the 276 Devara Paadal Petra Shiva Sthalams and 50th Shiva Sthalam on the Southern bank of the river Cauveri in Chozha Nadu (Thenkarai).
Lord Shiva in this temple is a Swayambumurthi (self-manifested).
This west facing temple's main tower (Rajagopuram) has 5-tiers and it has 2 corridors.
Karaikkal is the birth place of saint Karaikkal Ammaiyar, one of the 63 revered Nayanmars.
The last consecration (Kumbabishekam) took place on 07.06.2004 and prior to that on 09.05.1971.
History of the Temple
Karaikkal is one of the oldest port cities and business centres of South India. Now Karaikkal is a part of Puducherry.
It is believed that Lord Shiva here has seen the pasage of four "Yugas". As per the sthala purana, this place was known as Brahma Vanam in Kretha Yugam, Sameevanam in Thretha Yugam, Ananda Vanam in Dwapara Yugam and Mukthi Vanam in the present Kaliyugam.
The historical names of this place are – Mukthi Sthalam, Sivathalam, Suriyathalam, Guhathalam and Gaurithalam.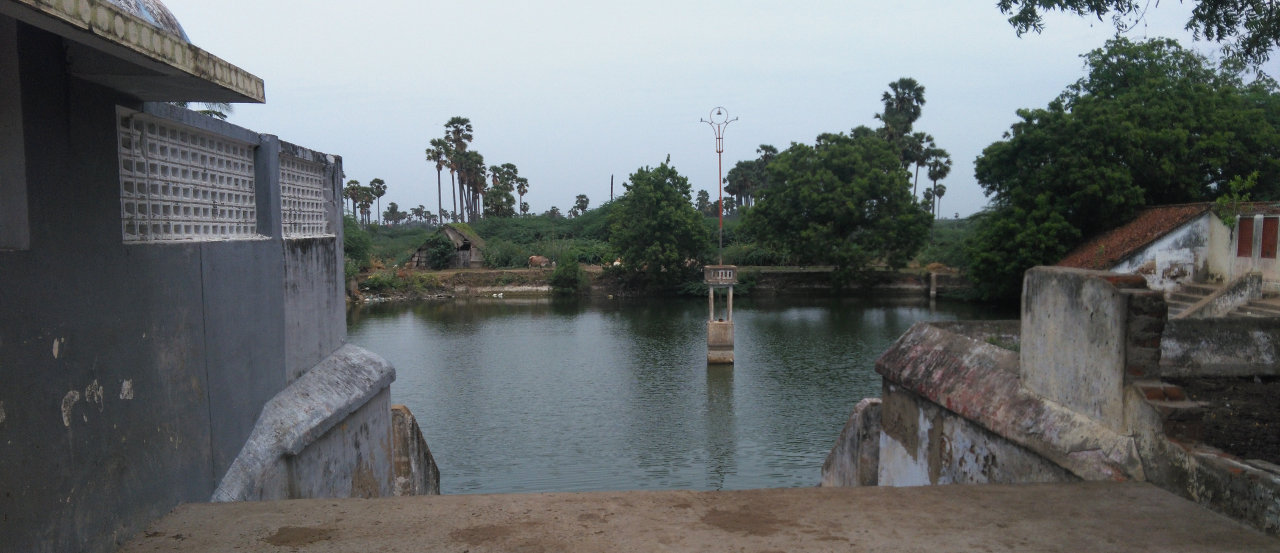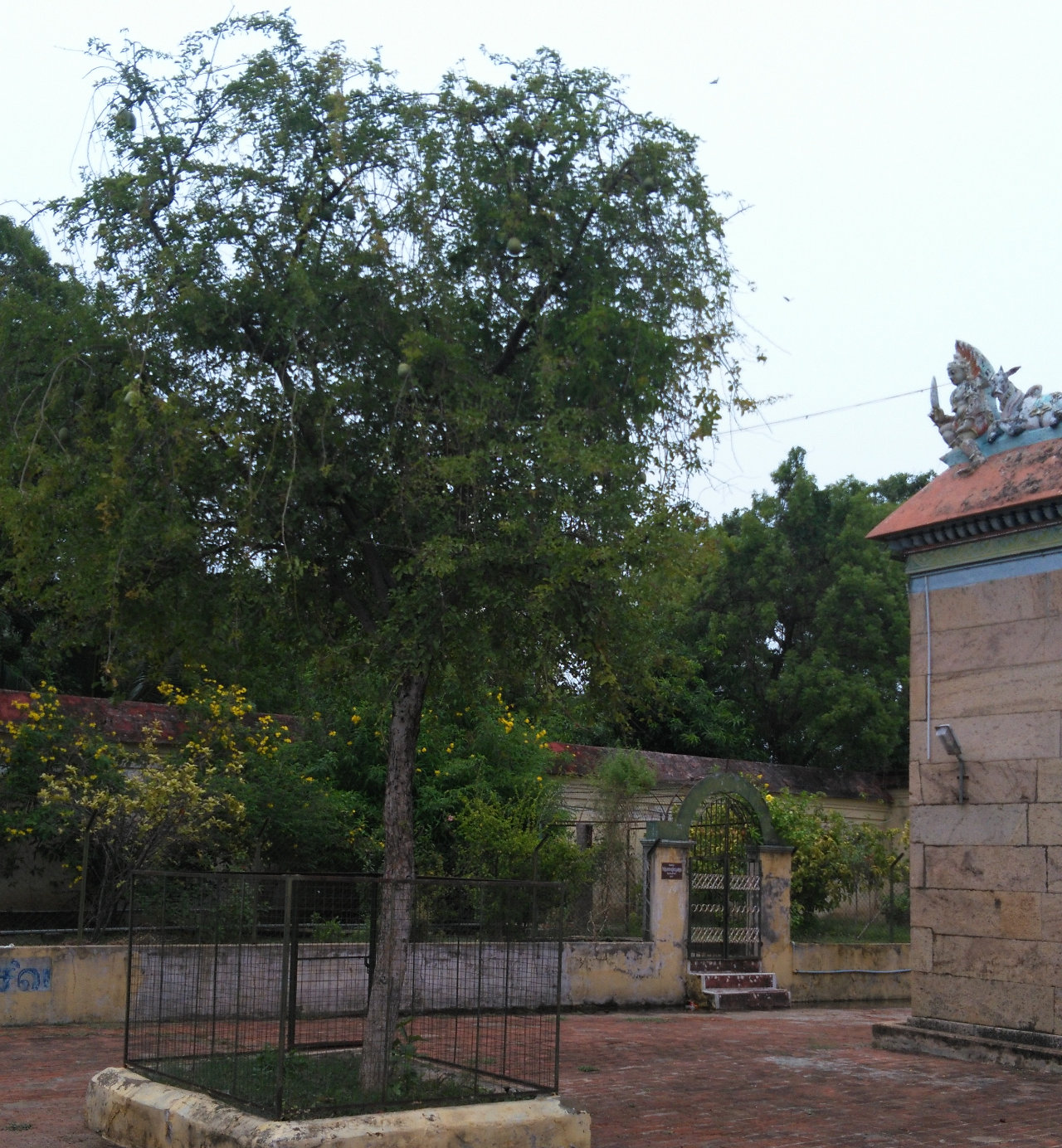 Legend
It is believed that Goddess Parvathi, Lord Brahma, Lord Indra, Saint Markandeya, Arjuna and Lord Suryan have worshiped Lord Shiva here.
Lord Suryan's wife Chaya Devi was deeply saddened by the fact that her husband was not affectionate to her. When Maharishi Narada informed her father about her state, he was enraged and cursed Lord Suryan. Suryan lost his shining glory and in order to seek relief from this curse he started visiting many temples. He came to this place, created a spring and worshiped Lord Parvatheeswarar. The lord answered his prayers and relieved him from the curse. As Lord Suryan is also known as "Bhaskara", the lord here is also praised as "Bhaskara Lingam" and this place is known as Bhaskara Sthalam.
It is believed that Lord Suryan worships Lord Shiva of this temple by directing his rays on the lingam for 10 days starting from 13th to 22nd in the Tamil month of Panguni (March-April) every year.
Another legend associated with this place is that involving Goddess Parvathi. She was angry with her father, Dakshan, for not having given Lord Shiva the respect that he deserves. For this reason, she no longer wished to be called Dakshan's daughter. Lord Shiva blessed her to born on earth as the daughter of Sage Kathyayana in Thiruthelichery. She performed rigorous penance here and when she attained the marriage age, she took her place at Lord Shiva's side. As she performed penance ("Thapas" in Tamil) here, she is praised as "Sri Thapasvini". As Lord Shiva married Goddess Parvathy here, he is also praised as "Sri Parvatheeswarar".
Another legend is that due to lack of monsoon, this area was severely affected by draught. The then ruler, a Chola King, prayed to Lord Shiva to save the people from starvation. It is believed that Lord Shiva came to this place in the guise of a farmer, ploughed the fields and sowed paddy seeds. This fields yielded enormous harvest and the people were freed from the clutches of starvation. As Lord himself sowed seeds here, this place came to be known as "Thiru Theli Cherry" - "Theli" means to sow, "Cheri" means place and "Thiru is a respectful prefix in Tamil.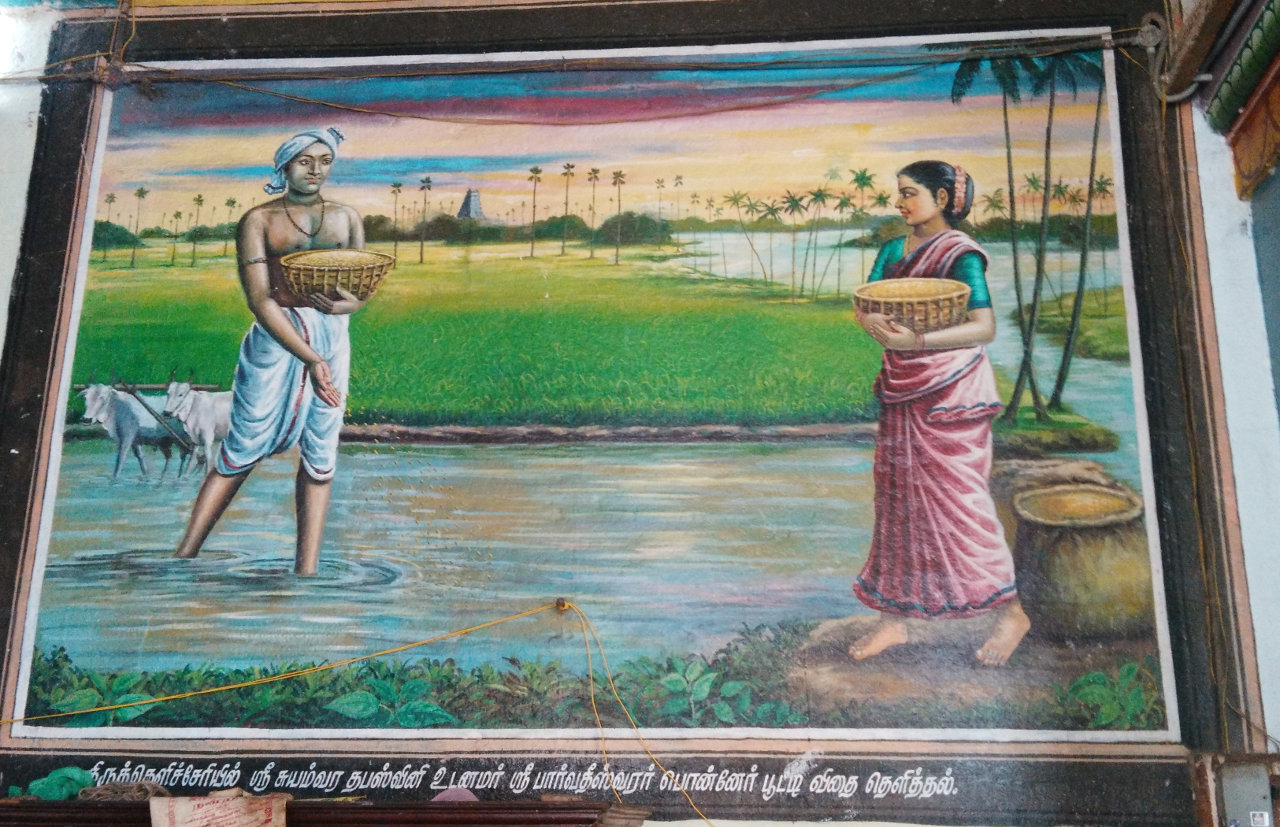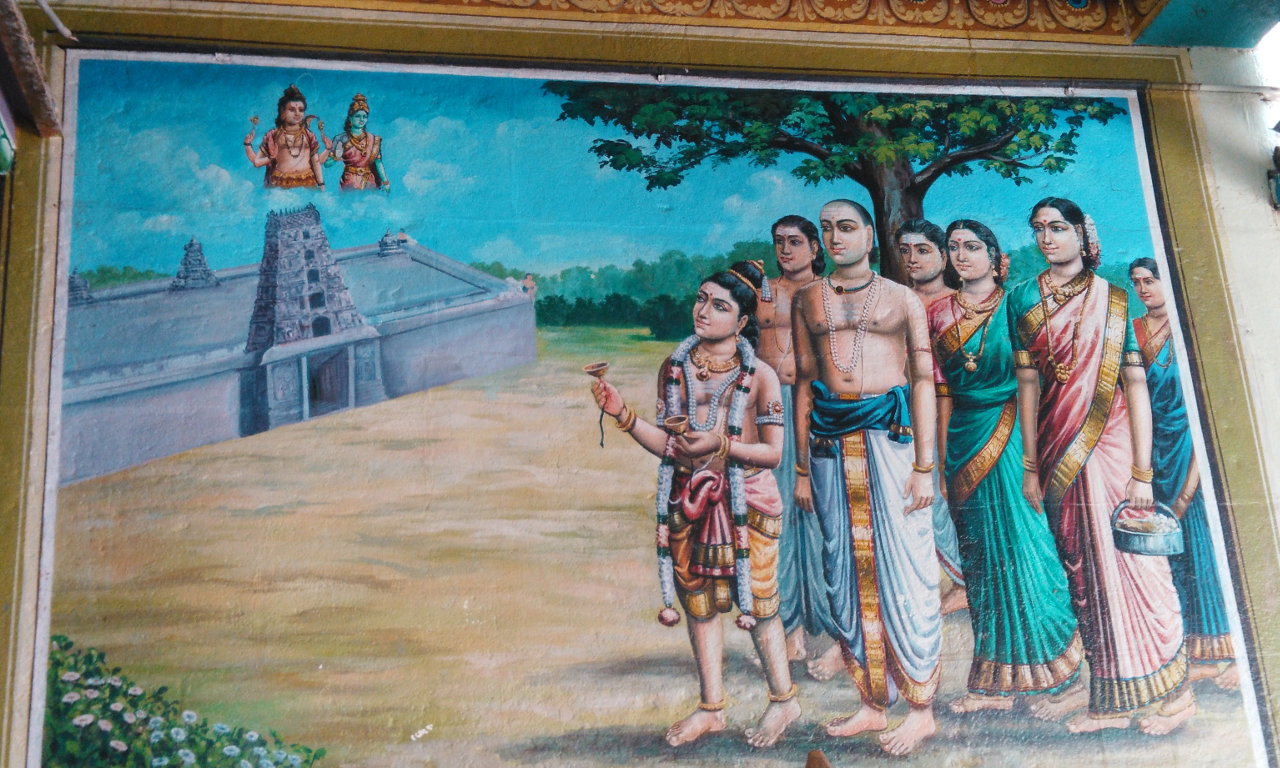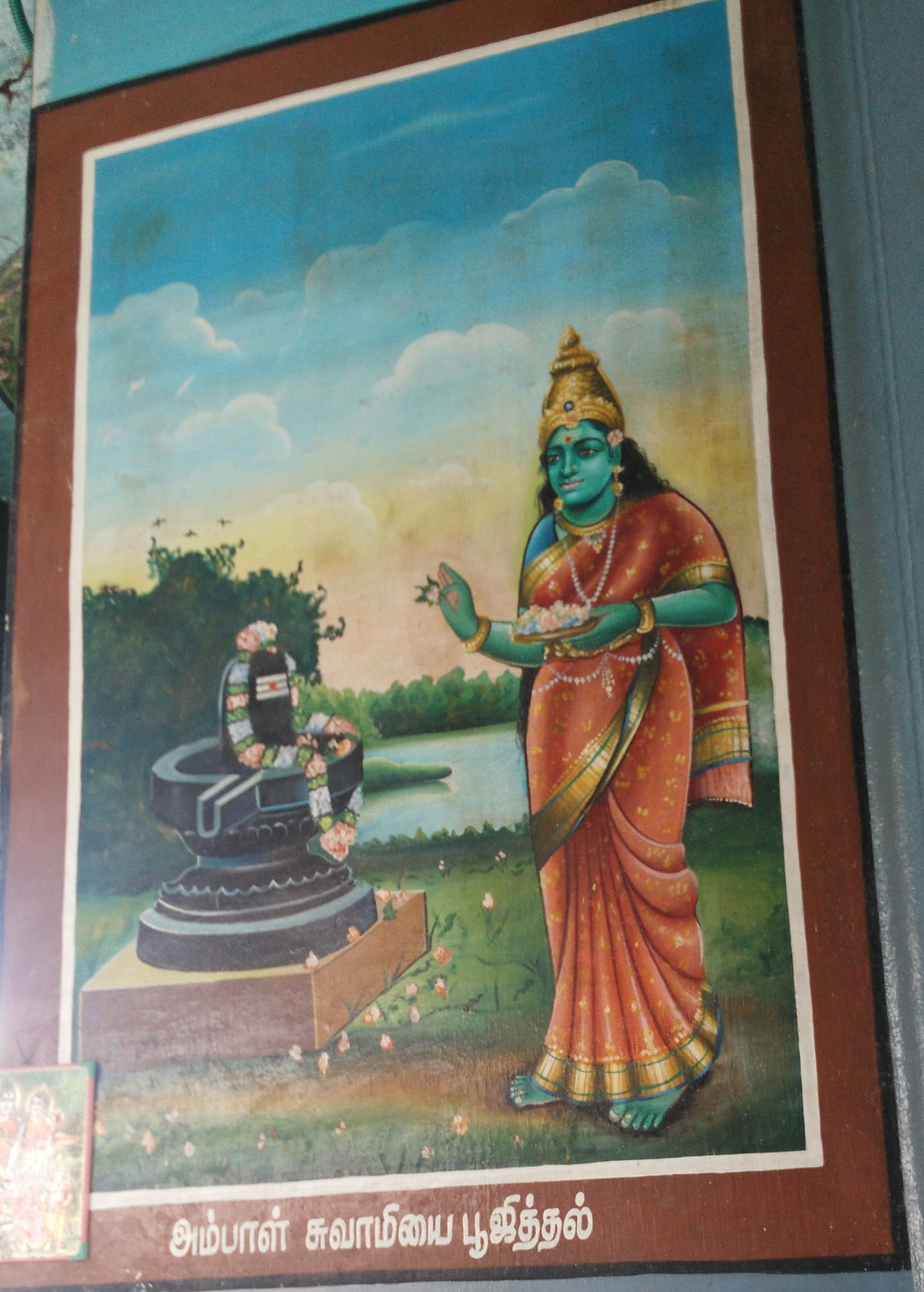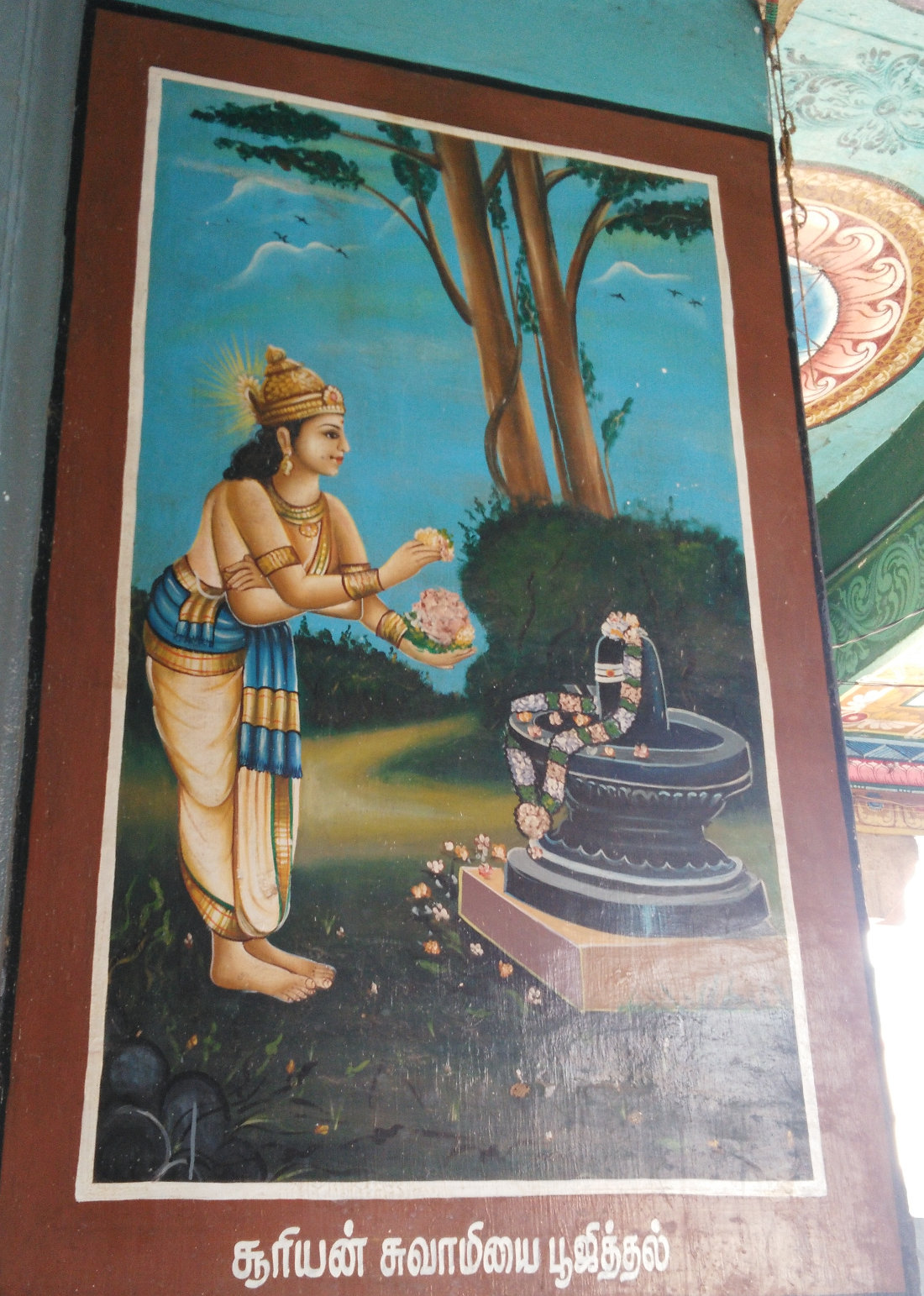 After worshipping Lord Dharbaranyeswarar in Thirunallaru, it is believed that Saint Thiruganasambanthar passed through this place without noticing this temple. Lord Vinayakar is then believed to have called the saint 10 times, made him turn back and visit this temple. As Vinayakar called the saint, he is praised as "Koovi Azhaitha Pillayar". ("Koovi Azhaitha" means calling loudly in Tamil). This place was also referred to as "Koovi Azhaitha" but over a period of time it has changed to "Koil Pathu".
When Saint Thirugnanasambanthar visited this place, he was intercepted at a place called Bodhimangai by some people belonging to other religions. They started harassing him and questioned the power of Lord Shiva. The saint appealed to Lord Shiva for a solution. It is believed that by the command of the lord, a thunder fell on them but they still argued that Saivism was not superior to their religion. They challenged Sambanthar to a debate. Sambanthar accepted the challenge and asked one of his disciples to attend the debate. The disciple alone defeated them. It is believed that they accepted their defeat and embraced Saivism.
Another legend associated with this place is that of Arjuna – Arjuna is believed to have visited this place and worshiped Lord Shiva. Lord Shiva blessed him with his darshan in the form of a hunter. Arjuna prayed to the lord that the lord and the theertham be named after him. Lord Shiva agreed to fulfil his wish, hence the lord is known as "Sri Phalguna Lingam" and the Theertham is known as Phalguna Theertham".
It is believed that as advised by Sage Vashistar, a king called Ambarisha prayed to Lord Shiva here and was blessed with a child. Thus, the lord here is also known as "Sri Raja Lingam".
Deities in the temple
Other than the shrines of Lord Shiva and Goddess Parvathy, shrines and idols of Lords Sambantha Vinayakar, Murugan with his consorts, Natarajar with Sivakamasundari, Somaskanthar, Dakshinamurthy, Nardhana Ganapathy, Lingothbavar, Brahma, Durgai, Chandikeswarar, Gajalakshmi, Nalvars, Navagraham, Suryan with Renukadevi, Chandiran, Pidariyamman, 63 Nayanmars, Kasi Viswanathar with Visalakshi and Bhairavar can be seen in the corridors.
There is also a separate shrine for Saneeswaran with his wife Renuka Devi in the corridors.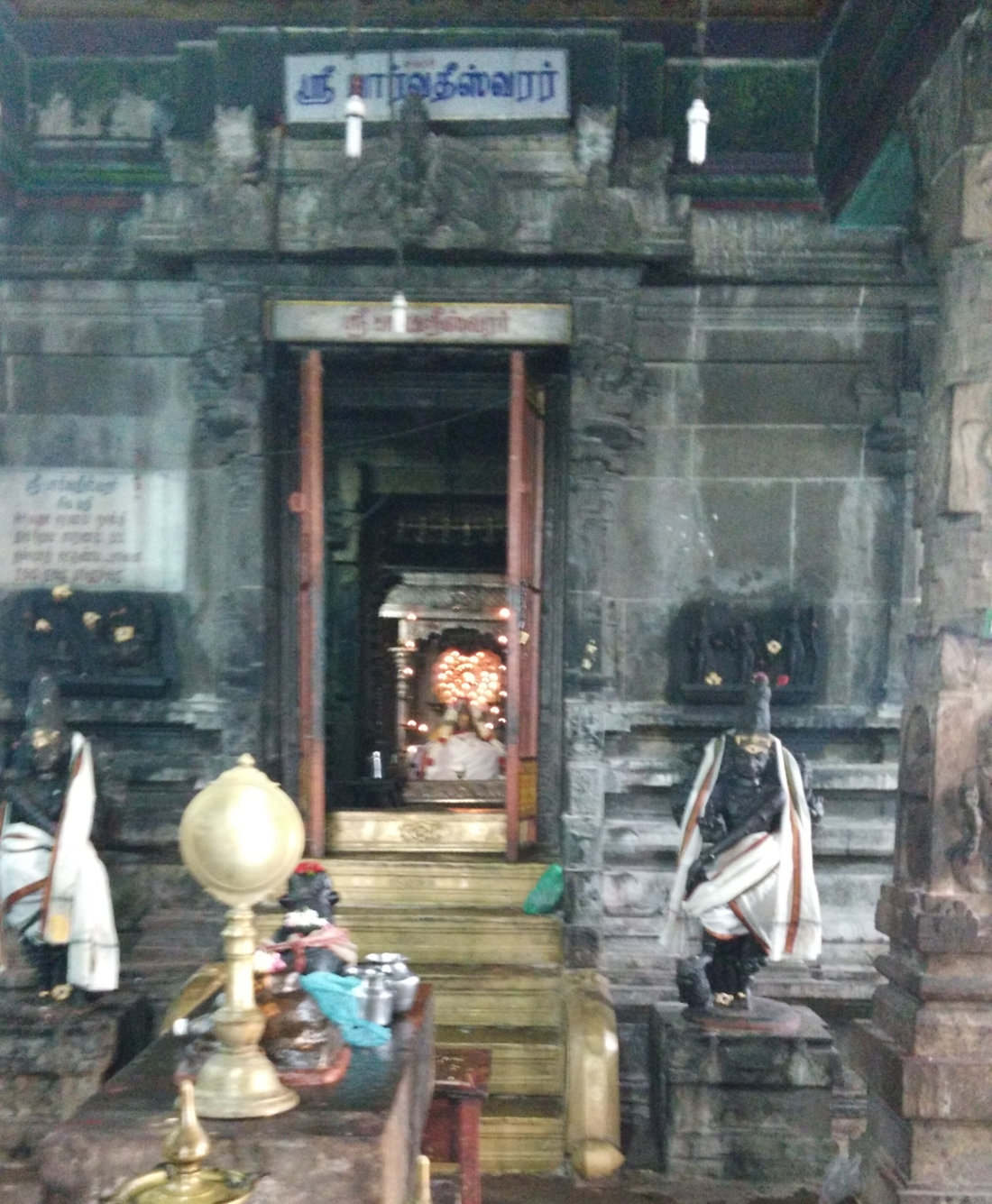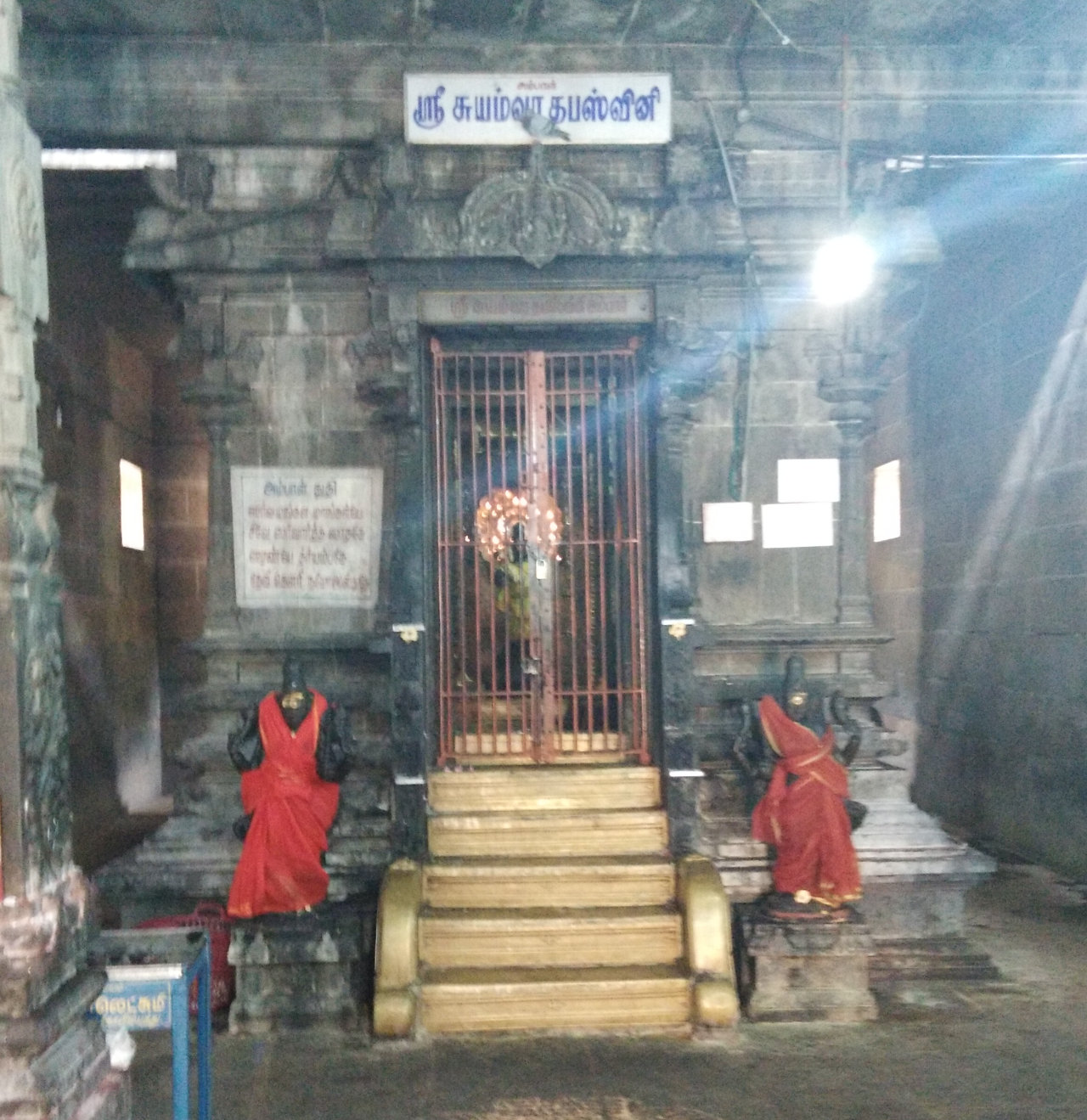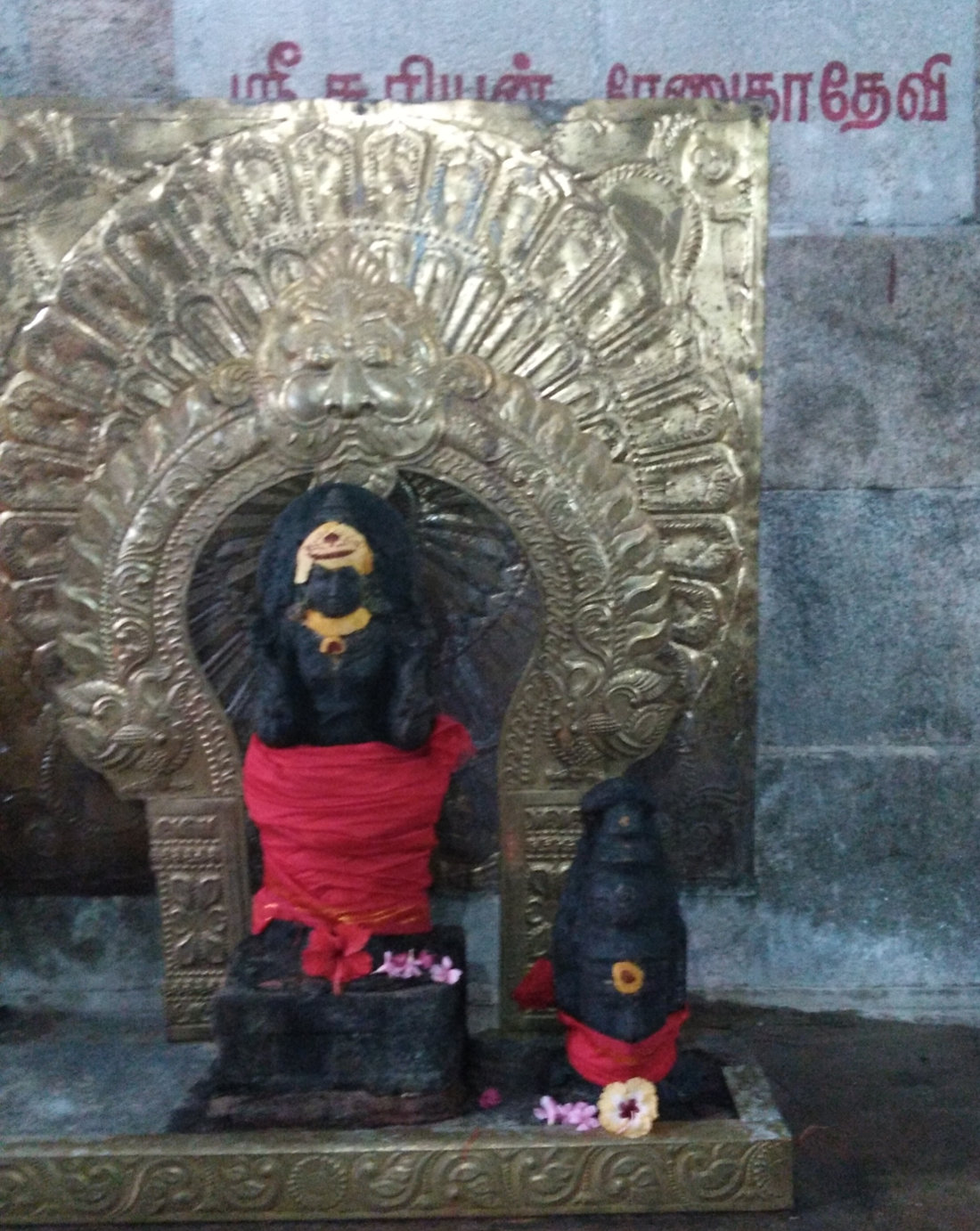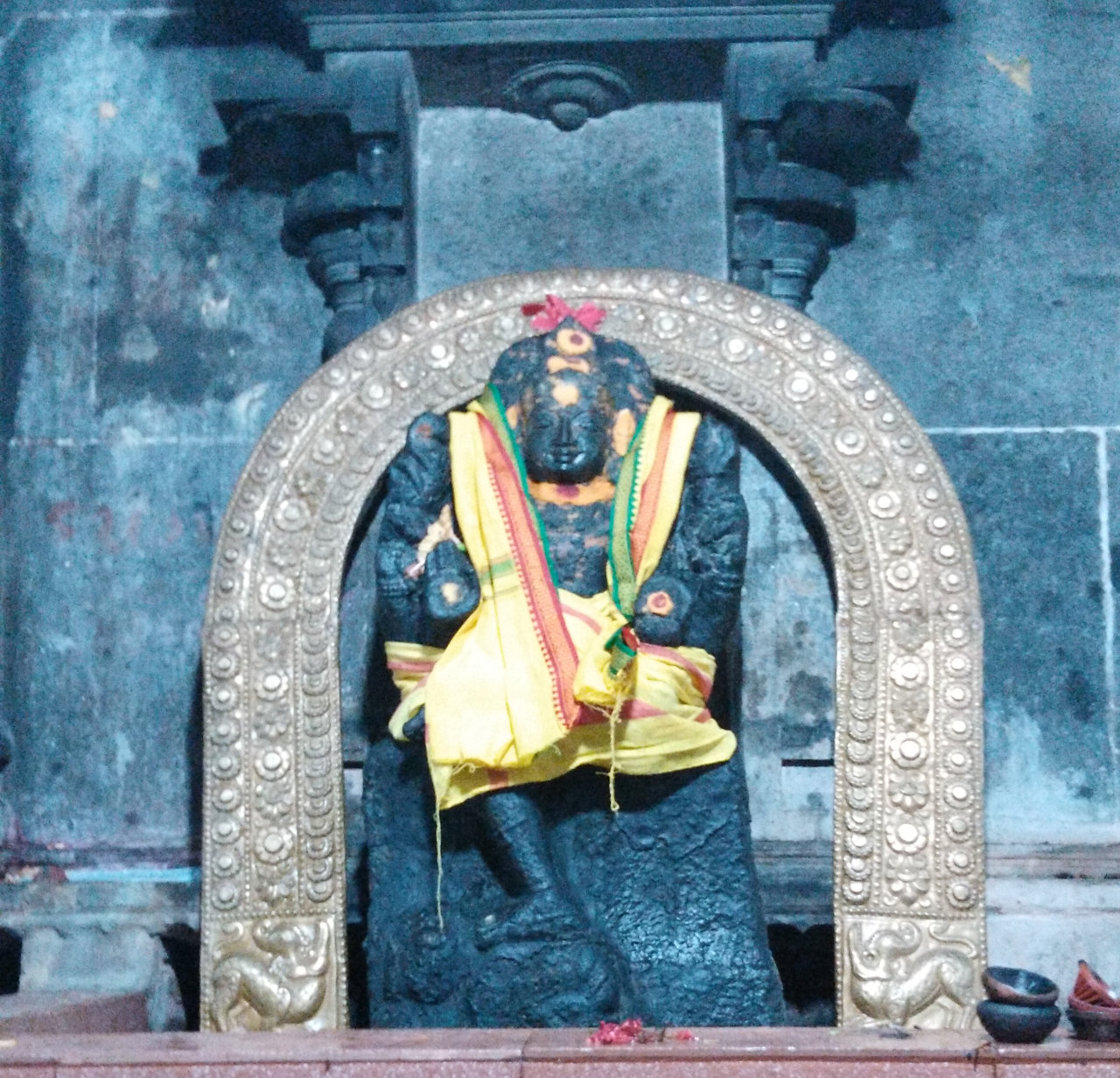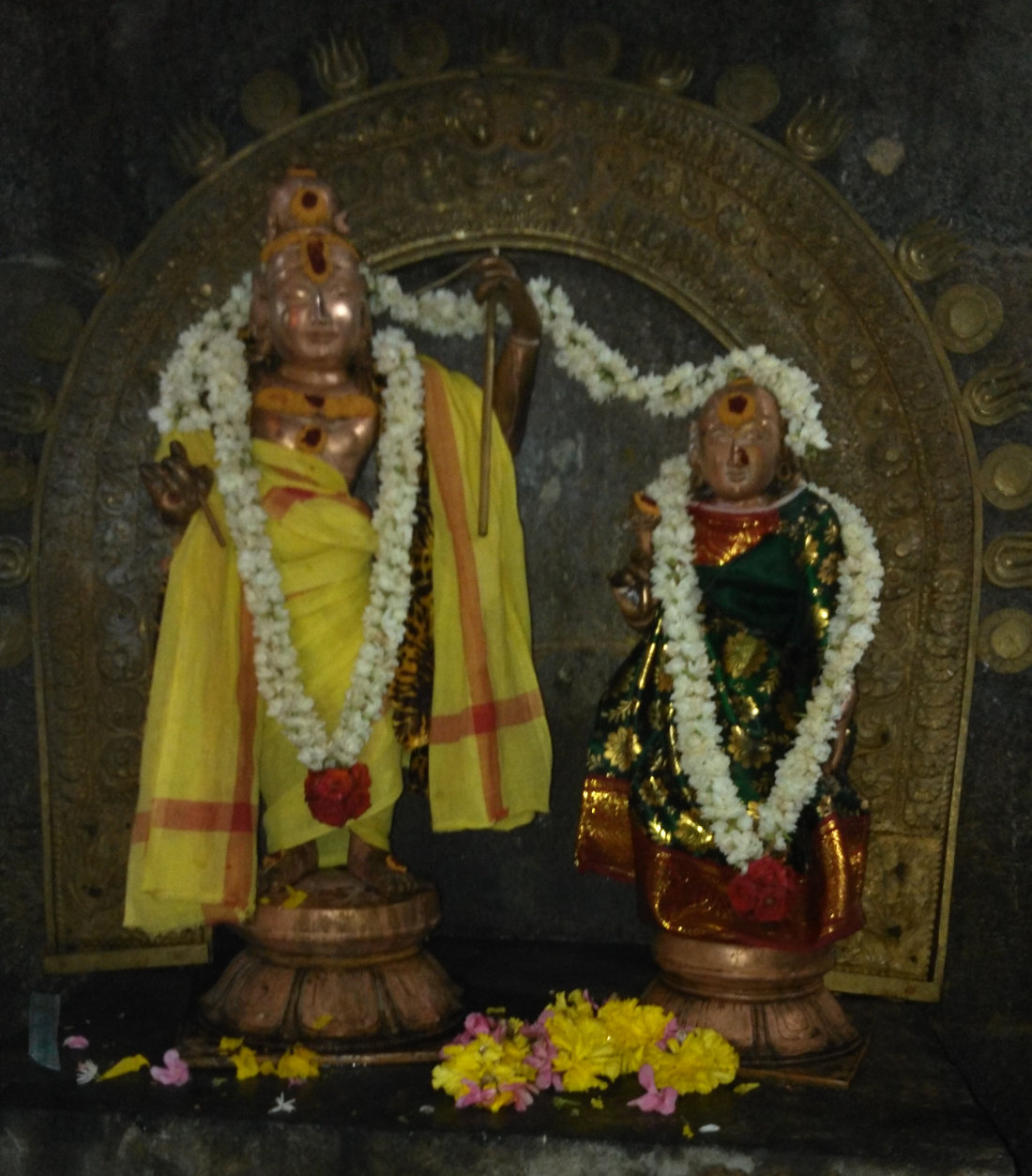 Salient Features
The procession idol of Lord Shiva here as "Sri Kirathamurthi" with Goddess Parvathy is very beautiful and unique. Lord Shiva is in the form of a farmer with a plough over his shoulders and Goddess Parvathy appears as a farmer's wife.
In this temple, there are some beautiful reliefs depicting the legends from "sthala puranam" like Goddess Parvathy worshiping the lord who can be seen in the form of a farmer; Lord Suryan and Saint Gnanasambanthar worshipping Lord Shiva and Goddess Parvathy. There is another relief that depicts Arjuna worshiping Lord Shiva who is seen in the form of a hunter.
This is the birth place of Saint Karaikkal Ammaiyar and there is a separate temple for her in Karaikkal. "Maangani Thiruvizha" is a very famous festival celebrated every year here.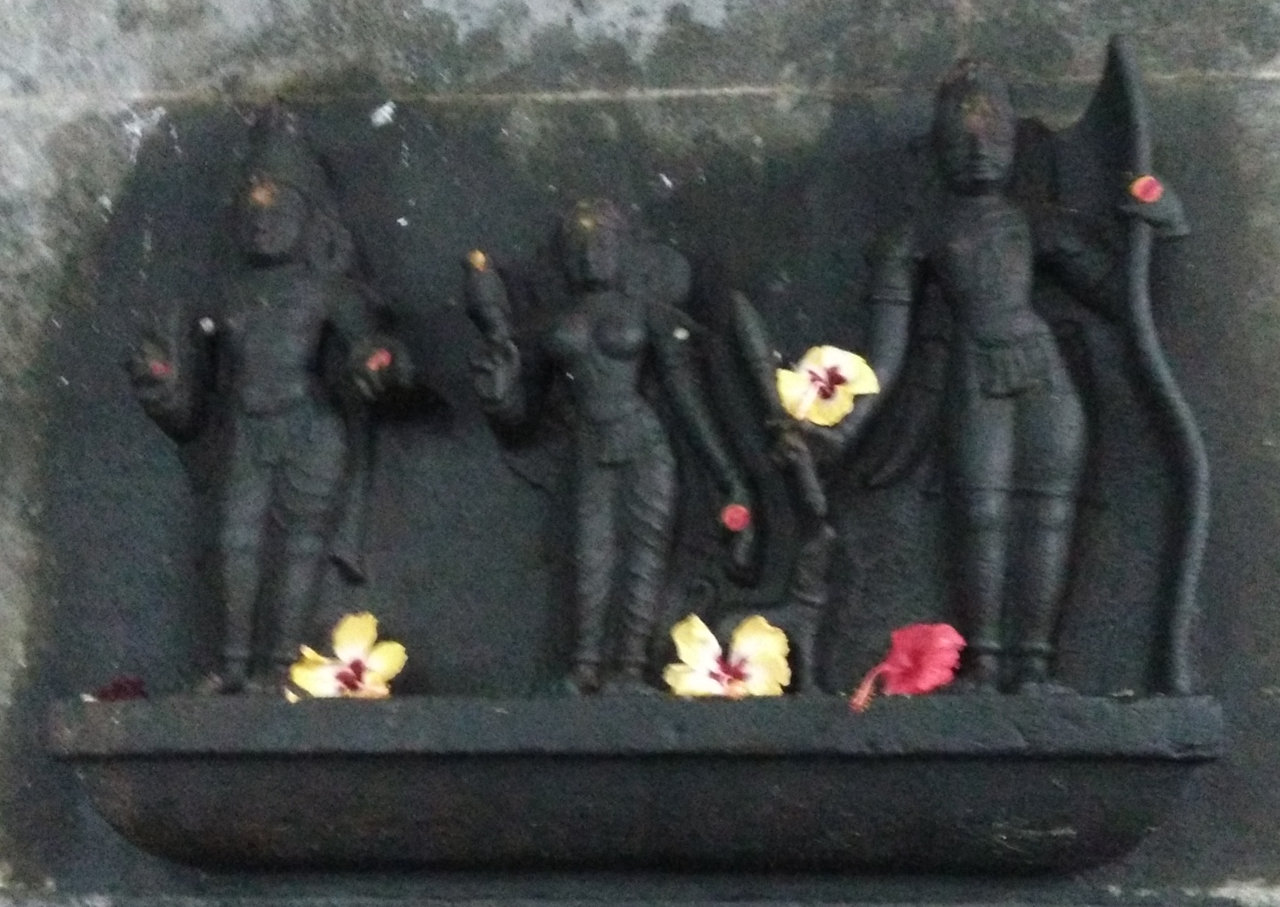 Greatness of this temple
It is believed that those seeking "santhana prapthi" (child boon) can pray to Goddess Parvathy here.
Devotees can pray to Goddess Swayamvara Thapaswini here for removal of obstacles from their wedding proposals.
Important Festivals
Paddy sowing festival in the Tamil month of Avani (August-September) is celebrated in a grand manner in this temple.
Other important festivals celebrated here are –
Maha Shivrathri in the Tamil month of Masi (Feb-Mar),
Navarathri in the Tamil month of Purattasi (Sept-Oct),
Thiruvadhirai in the Tamil month of Margazhi (Dec-Jan) and
Panguni Uthiram in the Tamil month of Panguni (Mar-Apr).
Pradosham is also observed regularly.
Temple Timings
From 07:00 AM to 12:00 Noon and from 04:00 PM to 08:30 PM.
Temple Address
Sri Parvatheeswarar Temple,
Thiruthelicherry (Kovil Pathu),
Karaikkal,
Puducherry - 609 602.
+91- 4368-221 009, 97866 35559.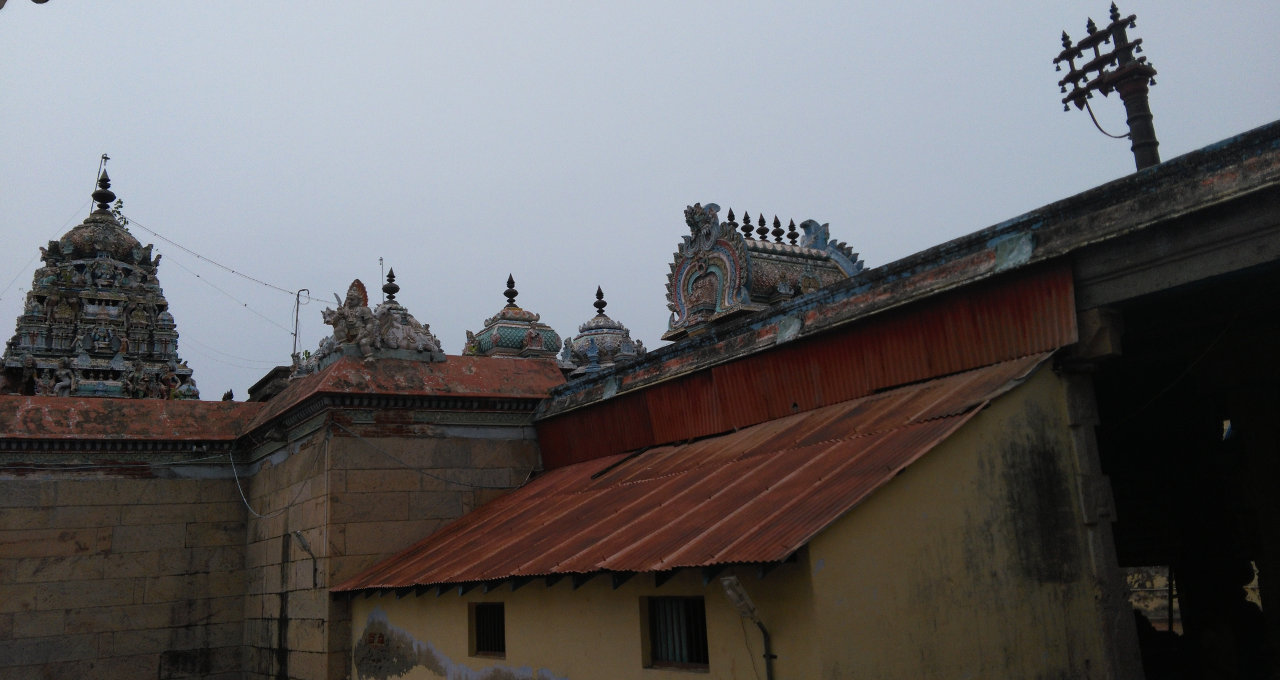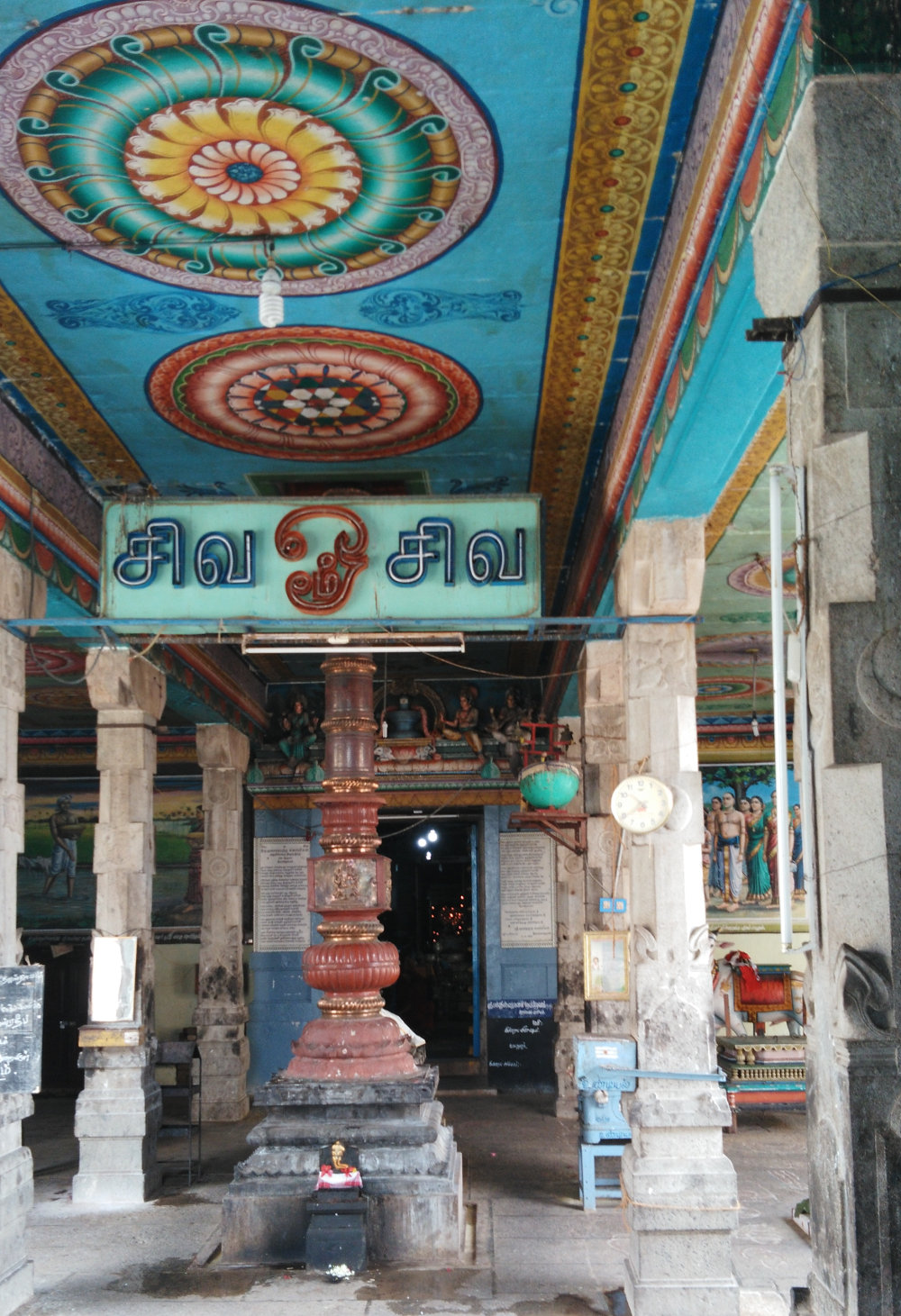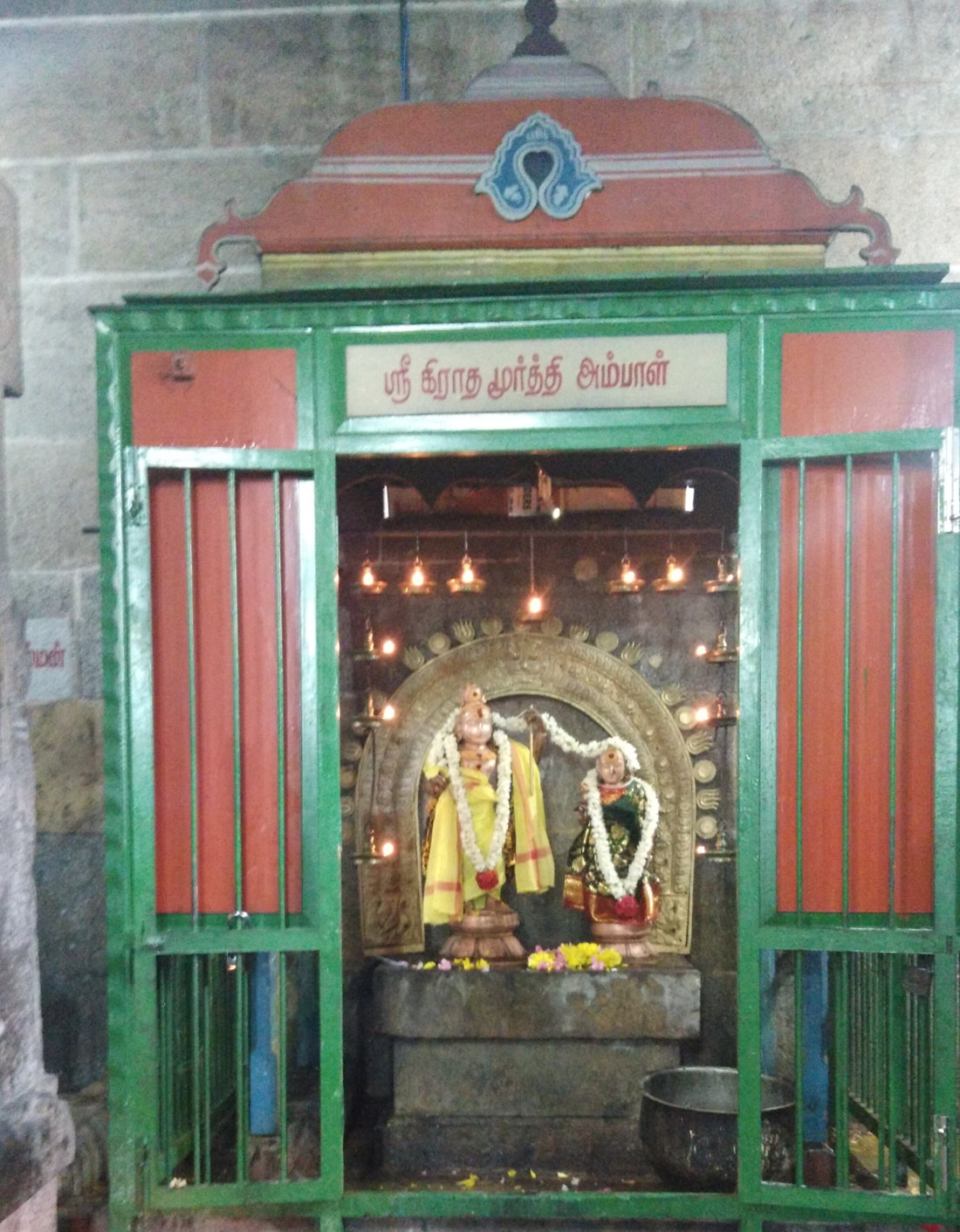 ---
Pathigam (Hymn) with English transliteration
Saint Thirugnanasambanthar visited this temple and sang this Pathigam.
Devotees visiting this temple should make it a practice to recite this Pathigam.
பூவ லர்ந்தன கொண்டுமுப் போதுமும் பொற்கழல்
தேவர் வந்து வணங்கு மிகுதெளிச் சேரியீர்
மேவ ருந்தொழி லாளொடு கேழற்பின் வேடனாம்
பாவ கங்கொடு நின்றது போலுநும் பான்மையே.
"Pūva larnthaṉa koṇṭumup pōthumum poṟkazhal
thhēvar vantu vaṇaṅku mikutheḷich chēriyīr
mēva runthozhi lāḷoṭu kēzhaṟpiṉ vēṭaṉām
pāva kaṅkoṭu niṉtṟathu pōlunum pāṉmaiyē".
விளைக்கும் பத்திக்கு விண்ணவர் மண்ணவ ரேத்தவே
திளைக்குந் தீர்த்த மறாத திகழ்தெளிச் சேரியீர்
வளைக்குந் திண்சிலை மேலைந்து பாணமுந் தானெய்து
களிக்குங் காமனை யெங்ஙனம் நீர்கண்ணிற் காய்ந்ததே.
"Viḷaikkum paththikku viṇṇavar maṇṇava rēththavē
thiḷaikkun thīrththa maṟātha thikazhtheḷich chēriyīr
vaḷaikkun thiṇsilai mēlainthu pāṇamun thāṉeythu
kaḷikkuṅ kāmaṉai yeṅkaṉam nīrkaṇṇiṟ kāynthathē".
வம்ப டுத்த மலர்ப்பொழில் சூழமதிதவழ்
செம்ப டுத்த செழும்புரி சைத்தெளிச் சேரியீர்
கொம்ப டுத்ததொர் கோல விடைமிசை கூர்மையோ
டம்ப டுத்தகண் ணாளொடு மேவல் அழகிதே.
"Vampa ṭuththa malarppozhil chūḻamathithavazh
sempa ṭuththa sezhumpuri saiththeḷich chēriyīr
kompa ṭuththathor kōla viṭaimisai kūrmaiyō
ṭampa ṭuththakaṇ ṇāḷoṭu mēval azhakithē".
காரு லாங்கட இப்பிகள் முத்தங் கரைப்பெயும்
தேரு லாநெடு வீதிய தார்தெளிச் சேரியீர்
ஏரு லாம்பலிக் கேகிட வைப்பிட மின்றியே
வாரு லாமுலை யாளையொர் பாகத்து வைத்ததே.
"Kāru lāṅkaṭa ippikaḷ muththaṅ karaippeyum
thēru lāneṭu vīthiya thārtheḷich chēriyīr
ēru lāmpalik kēkiṭa vaippiṭa miṉtṟiyē
vāru lāmulai yāḷaiyor pākaththhu vaiththathē".
பக்க நுந்தமைப் பார்ப்பதி யேத்திமுன் பாவிக்கும்
செக்கர் மாமதி சேர்மதில் சூழ்தெளிச் சேரியீர்
மைக்கொள் கண்ணியர் கைவளை மால்செய்து வௌவவே
நக்க ராயுல கெங்கும் பலிக்கு நடப்பதே.
"Pakka nunthamaip pārppathi yēththimuṉ pāvikkum
sekkar māmathi sērmathil chūḻtheḷich chēriyīr
maikkoḷ kaṇṇiyar kaivaḷai mālseythu vauvavē
nakka rāyula keṅkum palikku naṭappathē".
தவள வெண்பிறை தோய்தரு தாழ்பொழில் சூழநல்
திவள மாமணி மாடந் திகழ்தெளிச் சேரியீர்
குவளை போற்கண்ணி துண்ணென வந்து குறுகிய
கவள மால்கரி யெங்ஙனம் நீர்கையிற் காய்ந்ததே.
"Thavaḷa veṇpiṟai thōytharu thāzhpozhil chūzhanal
thivaḷa māmaṇi māṭan thikazhtheḷich chēriyīr
kuvaḷai pōṟkaṇṇi thuṇṇeṉa vanthu kuṟukiya
kavaḷa mālkari yeṅkaṉam nīrkaiyiṟ kāynthathē".
கோட டுத்த பொழிலின் மிசைக்குயில் கூவிடும்
சேட டுத்த தொழிலின் மிகுதெளிச் சேரியீர்
மாட டுத்த மலர்க்கண்ணி னாள்கங்கை நங்கையைத்
தோட டுத்த மலர்ச்சடை யென்கொல்நீர் சூடிற்றே.
"Kōṭa ṭuththa pozhiliṉ misaikkuyil kūviṭum
sēṭa ṭuththa thozhiliṉ mikutheḷich chēriyīr
māṭa ṭuththa malarkkaṇṇi ṉāḷgaṅgai naṅkaiyaith
thōṭa ṭuththa malarchchaṭai yeṉkolnīr chūṭitṟē".
கொத்தி ரைத்த மலர்க்குழ லாள்குயில் கோலஞ்சேர்
சித்தி ரக்கொடி மாளிகை சூழ்தெளிச் சேரியீர்
வித்த கப்படை வல்ல அரக்கன் விறல்தலை
பத்தி ரட்டிக் கரம்நெரித் திட்டதும் பாதமே.
"Koththi raiththa malarkkuzha lāḷkuyil kōlañchēr
siththi rakkoṭi māḷikai chūḻtheḷich chēriyīr
viththa kappaṭai valla arakkaṉ viṟalthalai
paththi raṭṭik karamnerith thiṭṭathum pāthamē".
காலெ டுத்த திரைக்கை கரைக்கெறி கானல்சூழ்
சேல டுத்த வயற்பழ னத்தெளிச் சேரியீர்
மால டித்தல மாமல ரான்முடி தேடியே
ஓல மிட்டிட எங்ஙனம் ஒருருக் கொண்டதே.
"Kāle ṭuththa thiraikkai karaikkeṟi kāṉalchūzh
sēla ṭuththa vayaṟpazha ṉaththeḷich chēriyīr
māla ṭiththhala māmala rāṉmuṭi thēṭiyē
ōla miṭṭiṭa eṅkaṉam oruruk koṇṭathē".
மந்தி ரந்தரு மாமறை யோர்கள் தவத்தவர்
செந்தி லங்கு மொழியவர் சேர்தெளிச் சேரியீர்
வெந்த லாகிய சாக்கிய ரோடு சமணர்கள்
தந்தி றத்தன நீக்குவித் தீரோர் சதிரரே.
"Manthi rantharu māmaṟai yōrkaḷ thavaththavar
senthi laṅku mozhiyavar sērtheḷich chēriyīr
ventha lākiya sākkiya rōṭu samaṇarkaḷ
thanthi ṟaththaṉa nīkkuvith thīrōr sathirarē".
திக்கு லாம்பொழில் சூழ்தெளிச் சேரியெஞ் செல்வனை
மிக்க காழியுள் ஞானசம் பந்தன் விளம்பிய
தக்க பாடல்கள் பத்தும்வல் லார்கள் தடமுடித்
தொக்க வானவர் சூழ இருப்பவர் சொல்லிலே.
"Thikku lāmpozhil chūzhtheḷich chēriyeñ selvaṉai
mikka kāzhiyuḷ gñāṉasam banthaṉ viḷampiya
thakka pāṭalkaḷ paththumval lārkaḷ thaṭamuṭith
thokka vāṉavar chūzha iruppavar sollilē".