Visited on: September 30, 2017.
Location
Thiruvaippadi is situated at a distance of about 2 kms from Thiruppanandal. This sthalam is situated on the Kumbakonam to Anaikkarai road and is about 2 kms before Thiruppanandal. From Kumbakonam it is about 18 kms.
Other Devara Paadal Petra Shiva Sthalams near this temple are – Thiruppanandhal, Seinganur and Panthanallur.
General Information
| | |
| --- | --- |
| Moolavar | Sri Paalugandha Nathar, Sri Ksheerapureeswarar |
| Ambal | Sri Periyanayagi, Sri Brahannayaki |
| Theertham (Holy water) | Ksheera Theertham, river Manniyaru |
| Sthala Vriksham (Sacred Tree) | Aathi |
| Pathigam (Hymn) rendered by | Saint Thirunavukarasar (Appar) |
This is one of the 276 Devara Paadal Petra Shiva Sthalams and 40th Shiva Sthalam on the northern bank of the river Cauvery in Chozha Nadu (Vadakarai).
Lord Shiva in this temple is a Swayambumurthi (self-manifested).
This is the place where Chandikeswarar, one of the 63 revered Nayanmars, attained salvation.
This east facing temple has two corridors. Although it has no main tower (Rajagopuram), it has a beautiful arch at the entrance.
There is no flag post here but only idols of Nandhi and Balipetam can be seen.
The last consecration ceremony (Kumbabishekam) took place on 12.12.2010 and prior to that on 22.08.2004.
History of the Temple
This ancient temple is situated on the southern banks of the river Manniyaru.
There are certain stone inscriptions available here which date back to the periods of Chola Kings Rajarajan-II and Kulothungan-III; Pandiya King Sundara Pandian; Pallava King Kopperunchingan; and Vijayanagara Kings Ariyappa Udayar and Mallikarjuna Mahadevar.
The historical names of this place are Veerakkan and Thiru Aaippadi.
This temple is under the administrative control of the Hindu Religious and Charitable Endowments Department of Government of Tamil Nadu (HR&CE).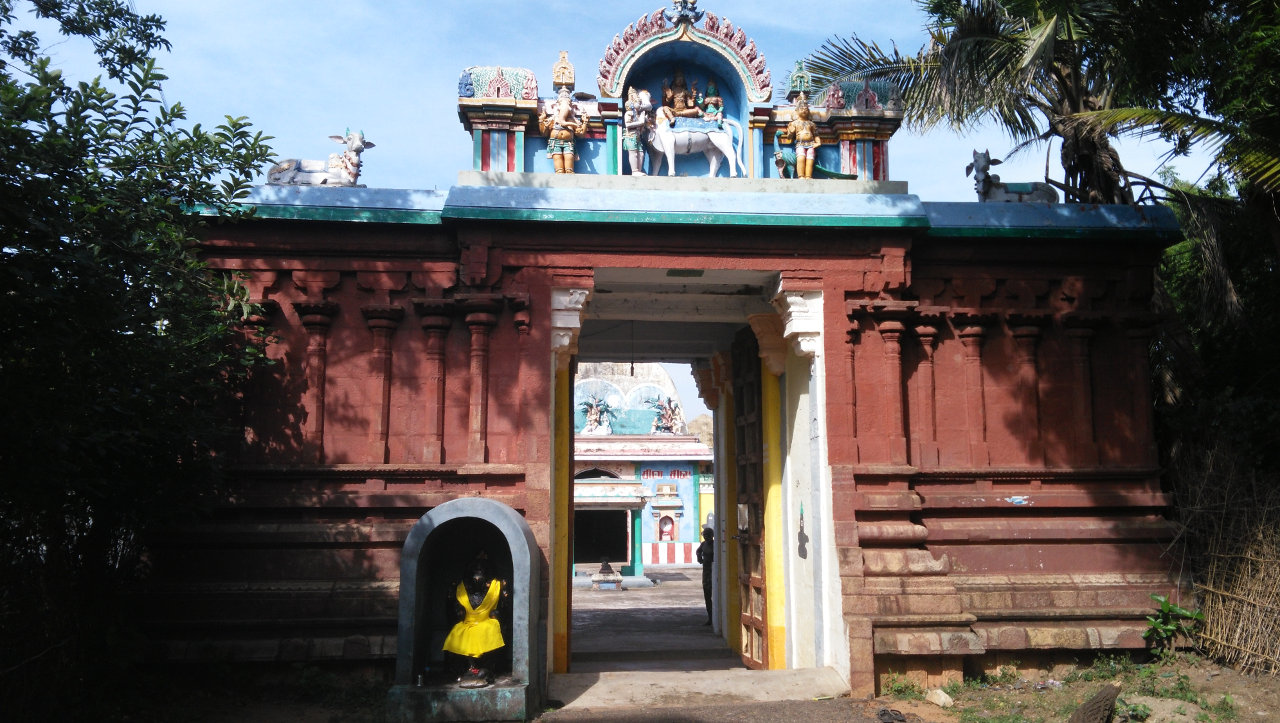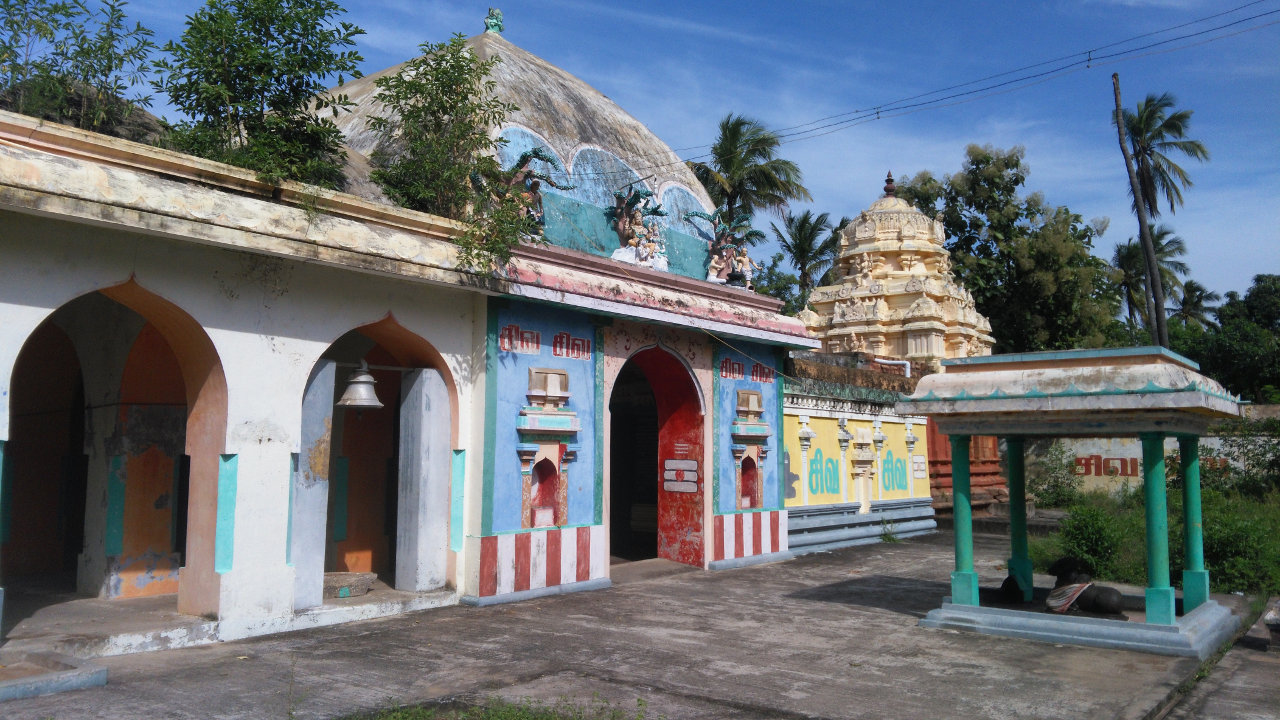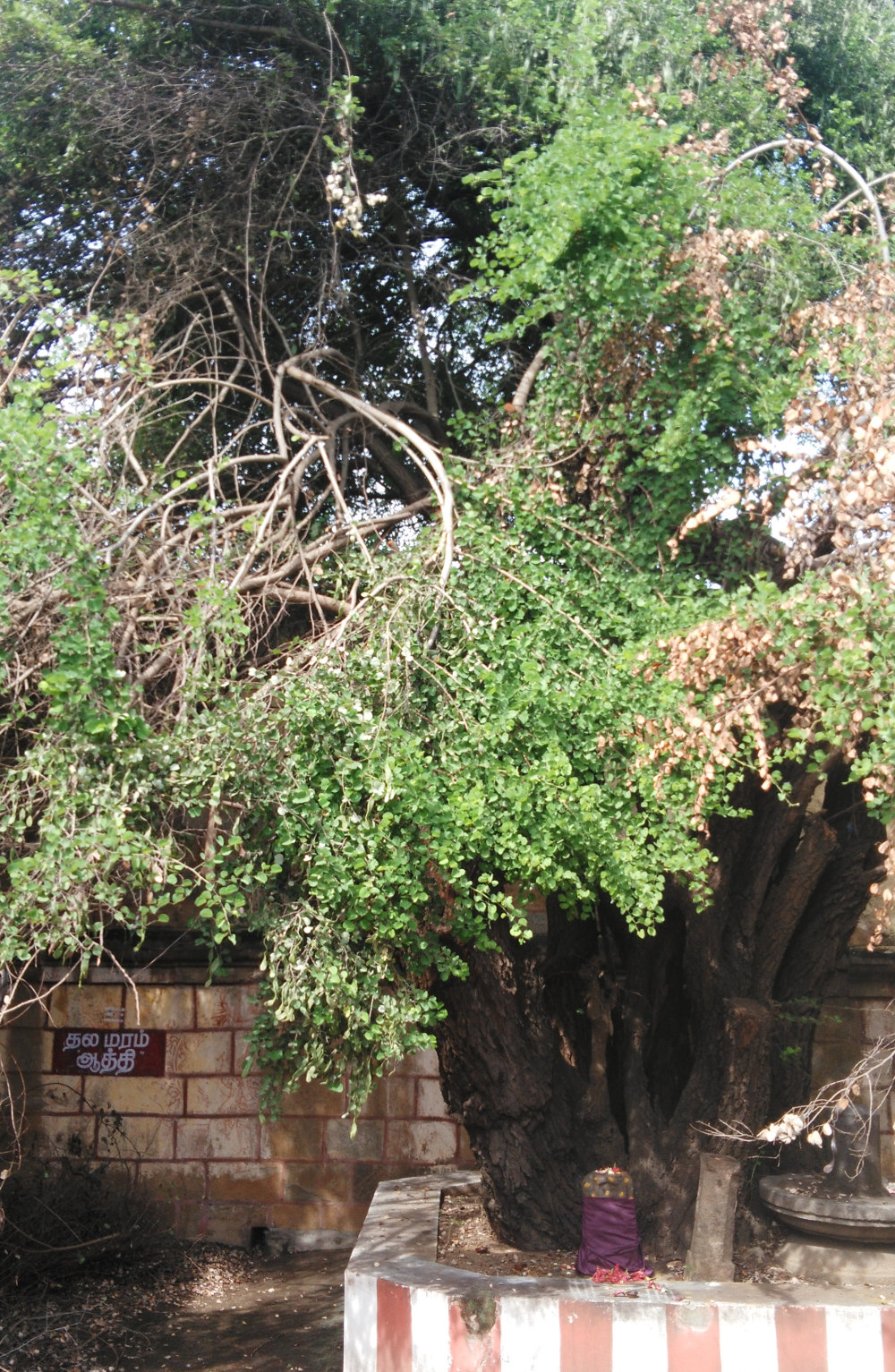 Legend
Chandikeswarar is one of the 63 revered Nayanmars and is the only one with the title of "lord" (Easwaran). His birth place is Seinganur which is very near this place.
The legend is that there was a brahmin couple, Echathathan and Pavithrai in Seinganur. They had a son called Visara Sarmar. His sacred thread wearing ceremony (Upanayanam) was performed when he turned seven. He was gifted and quickly learnt the vedas and other scholarly arts at a very young age. He was also very devout and would always think about Lord Shiva.
One day he saw a shepherd beating a calf that had attempted to hit him. Visara Sarmar asked the shepherd not to beat the cows whereupon the shepherd asked the child in jest to take up the job of shepherding. Visara Sarmar thought that this would be the best way for him to serve Lord Shiva as he saw the cows to be representing Kamadhenu (the divine cow). He further considered the cows in high esteem because they give "Panchakavyam" (five offerings) to the lord. So he decided to take up the shepherd's offer and requested the cattle owners that he be given the job of grazing the cows. They agreed to his request. He used to bring the cows to Thiruvaipadi for grazing. As he showed much affection towards the cows, the cows reciprocated his love by producing plenty of milk.
As Visara Saruman was always drowned in thoughts about Lord Shiva, he made a lingam with the river sands, installed it on the banks of the river under an Aathi tree and performed pujas. He would offer milk to the lingam which he himself milked from the cows. In spite of this, the cows gave their routine amount of milk to their owners too. The shepherd from whom Visara Sarmar took the job watched his activities and complained to the cow owners that the boy is milking the cows and wasting some of the milk which could be used for other purposes. This news reached his father and he wanted to know the truth. One day he visited the grazing place and saw his son performing pujas and abishekam. Angered by what he saw, his father hit Visara Sarmar and then kicked away the pots of milk.
Since Visara Sarmar was deep in his worship, he did not see who was disrupting his pooja. Instinctively, he retaliated by attacking the intruder with a stick and then continued his worship. However, the stick turned into an axe and cut the legs of his father. At this point, Lord Shiva along with Goddess Parvathi granted darshan to Visara Sarmar and said that he had cut his own father's legs because of his devotion. The lord was so impressed by his devotion that he decided to act as Visara Sarmar's father. The lord further honoured Visara Sarmar by embracing him and adorning his neck with a garland that he himself had worn. The lord also made him the chief caretaker of his wealth. The lord further named him as "Chandikeswara". In his hymn of this temple, Saint Thirunavukkarasar mentioned about this incident.
While praying to Chadikeshwarar, devotees click their fingers or clap. This is to show Chandikeshwarar that their hands are empty and that they are not taking away any of Lord Shiva's wealth. Since Chandikeshwara is always in deep meditation, this clicking / clapping sound is also to awaken him.
As the Lord was happy to accept the milk, he is praised as Sri Paal Ukantha Nathar. ("Paal" means milk, "Ukantha" means to accept willingly and "Nathar" means the lord in Tamil). As Chandikeswarar grazed the cows here, this place gets the name "A Paadi" ("A" meaning cow and "Paadi" meaning place in Tamil). Now it is known as Thiruvaippadi.
It is believed that Sandikeswara Naynar attained salvation ("Moksham") here on a new moon day on Shivrathri.
Another legend associated with this temple is that of a shepherd who used to live here. After milking his cows, he used to carry the milk for sale in the local market. To his anguish, every day he would slip at a particular place and thus spilling all the milk that he carried. Frustrated by this, he wanted to know the reason for this occurane. One day he dug the ground using a tool and to his surprise blood started oozing out of the ground. The shepherd took the help of some villagers and started digging deeper. They found a Shivalingam there which they installed in the temple.
Deities in the temple
Other than the shrines of Lord Shiva and Goddess Parvathy, shrines and idols of Vinayakar, Murugan with his consorts, Natarajar, Agasthiyar, Moovar, Kasi Viswanathar, Gajalakshmi, Mahalakshmi, Mahaganapathy, Subramaniyar, few Shivlingams, Suryan, Bairavar, Saneeswarar and Chandikeswarar can be seen in the corridors.
A separate shrine for Chandikeswarar can be seen next to Lord Shiva's shrine.
In the "koshtam" (place surrounding the sanctum sanctorum), idols of Narthana Vinayakar, Dakshinamurthy, Lingothbavar (with Mahavishnu and Brahma) and Durgai can be seen.
A Shivalingam under the Sthala Viruksham can also be seen in the outer corridor.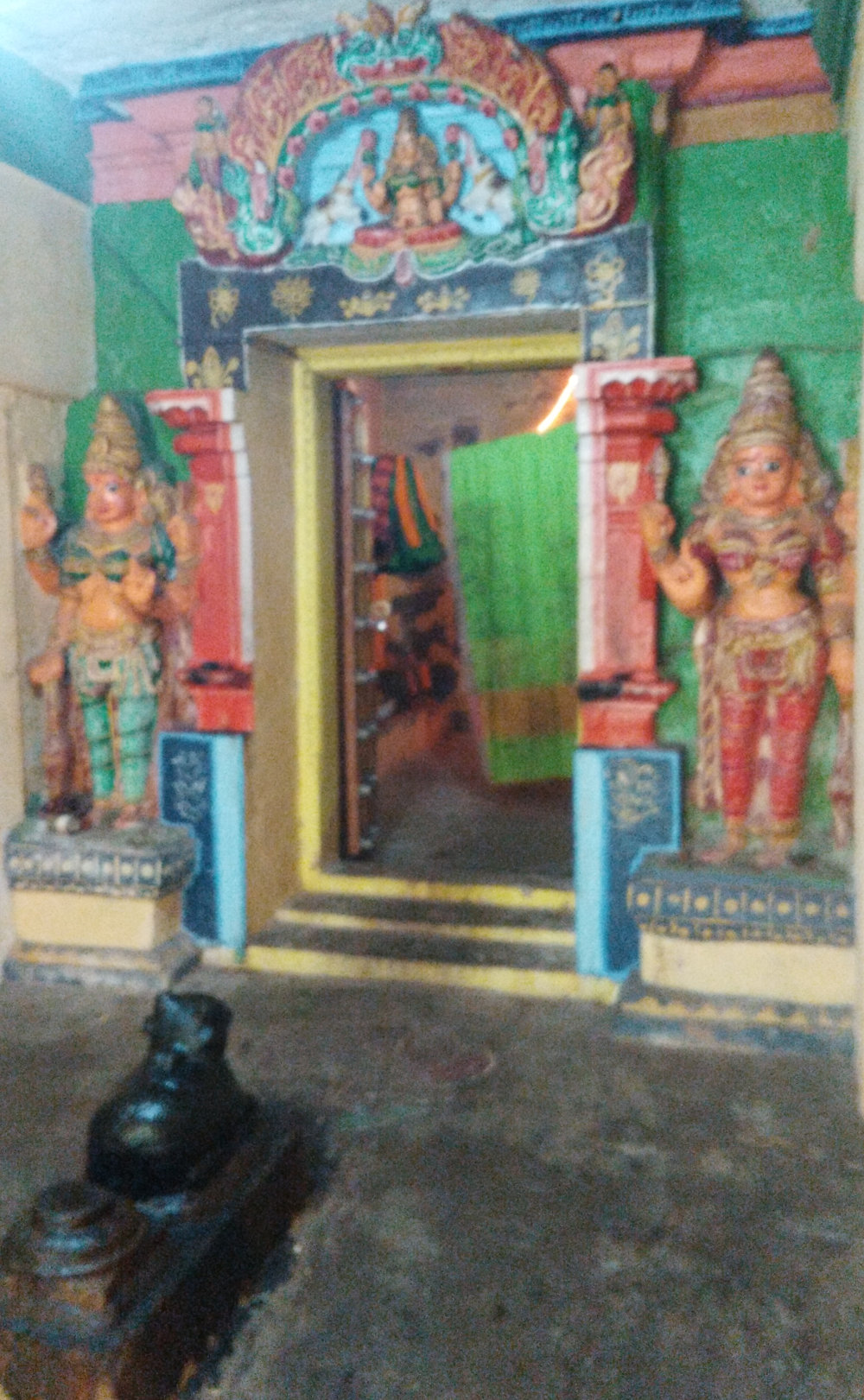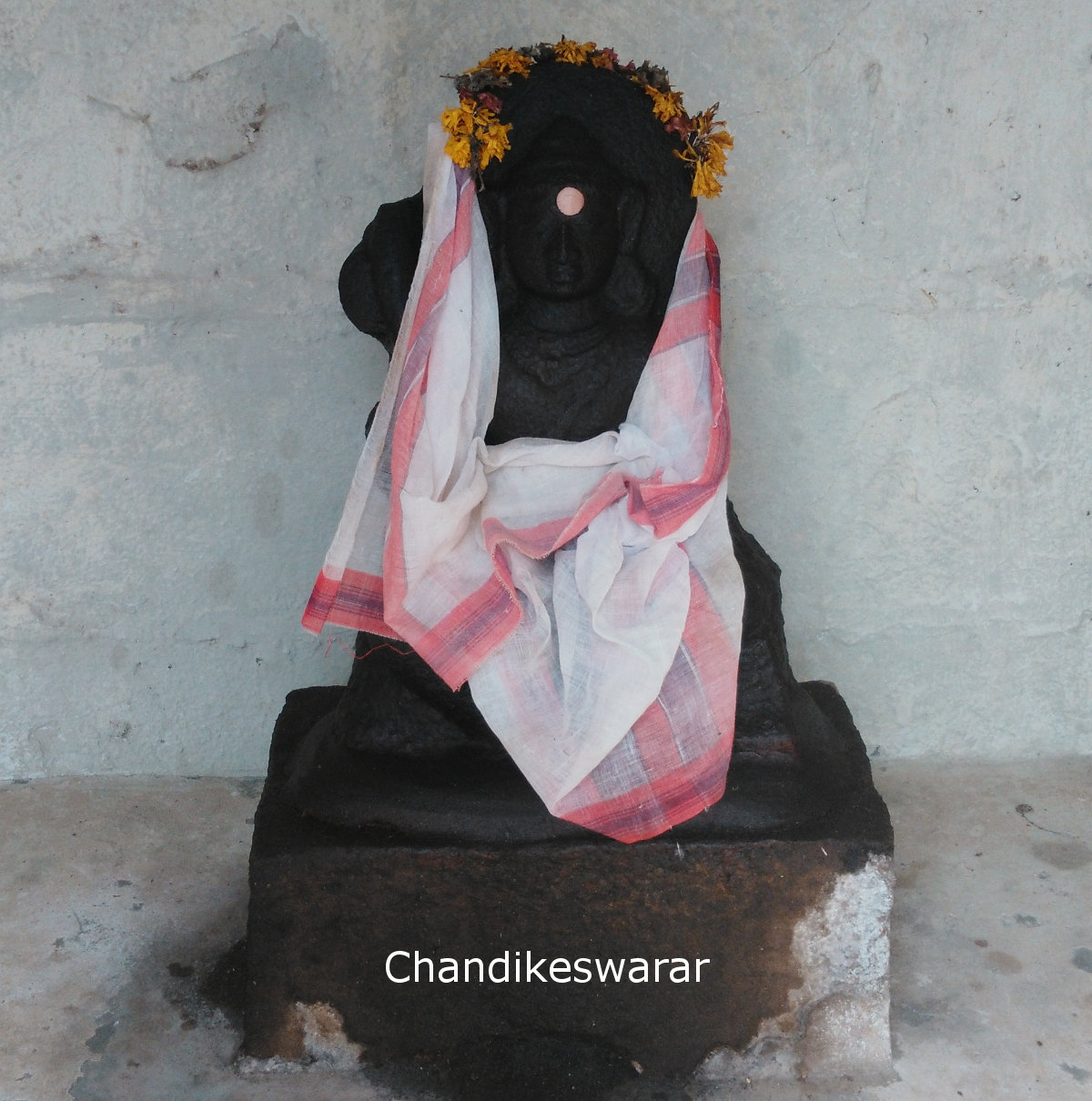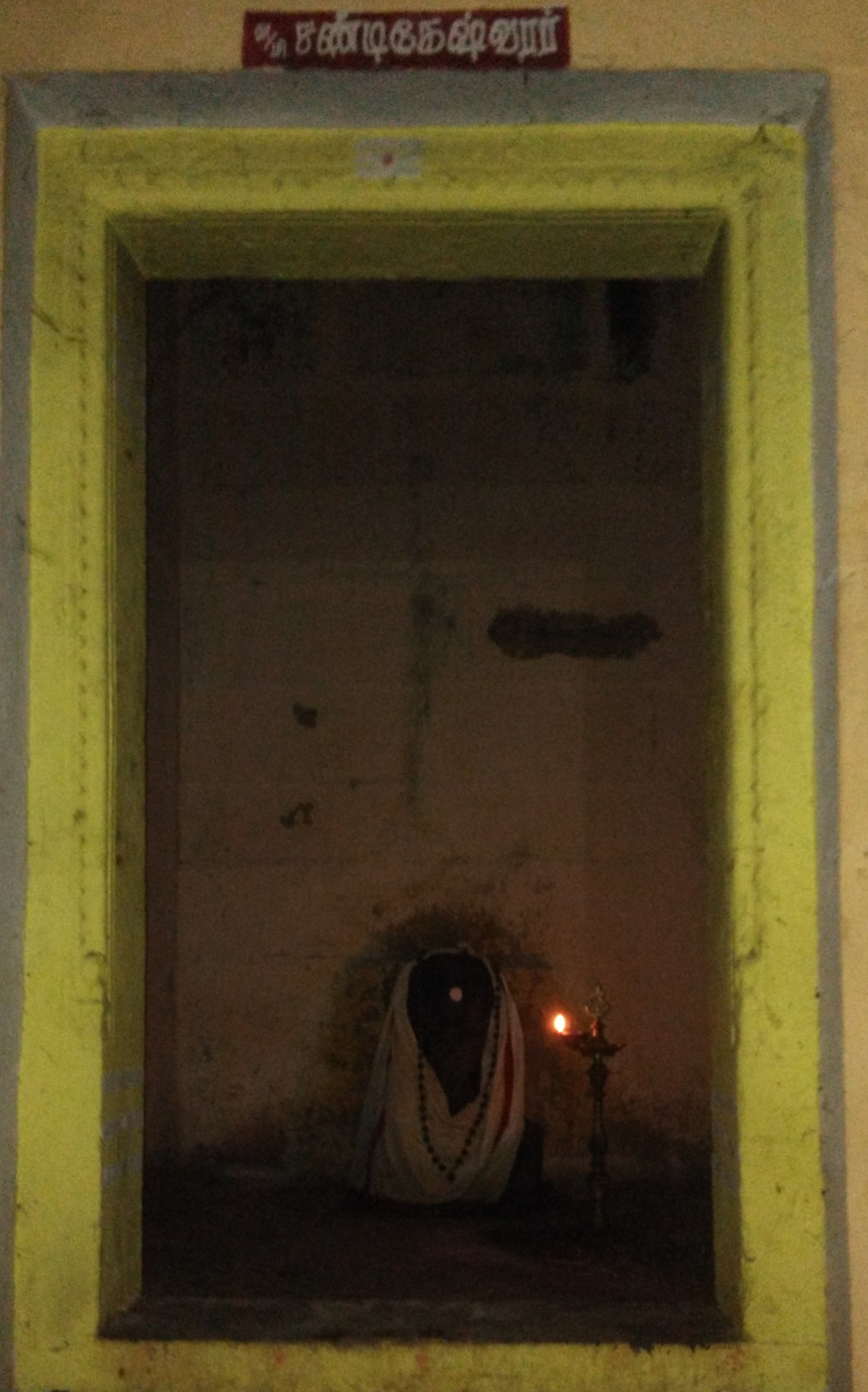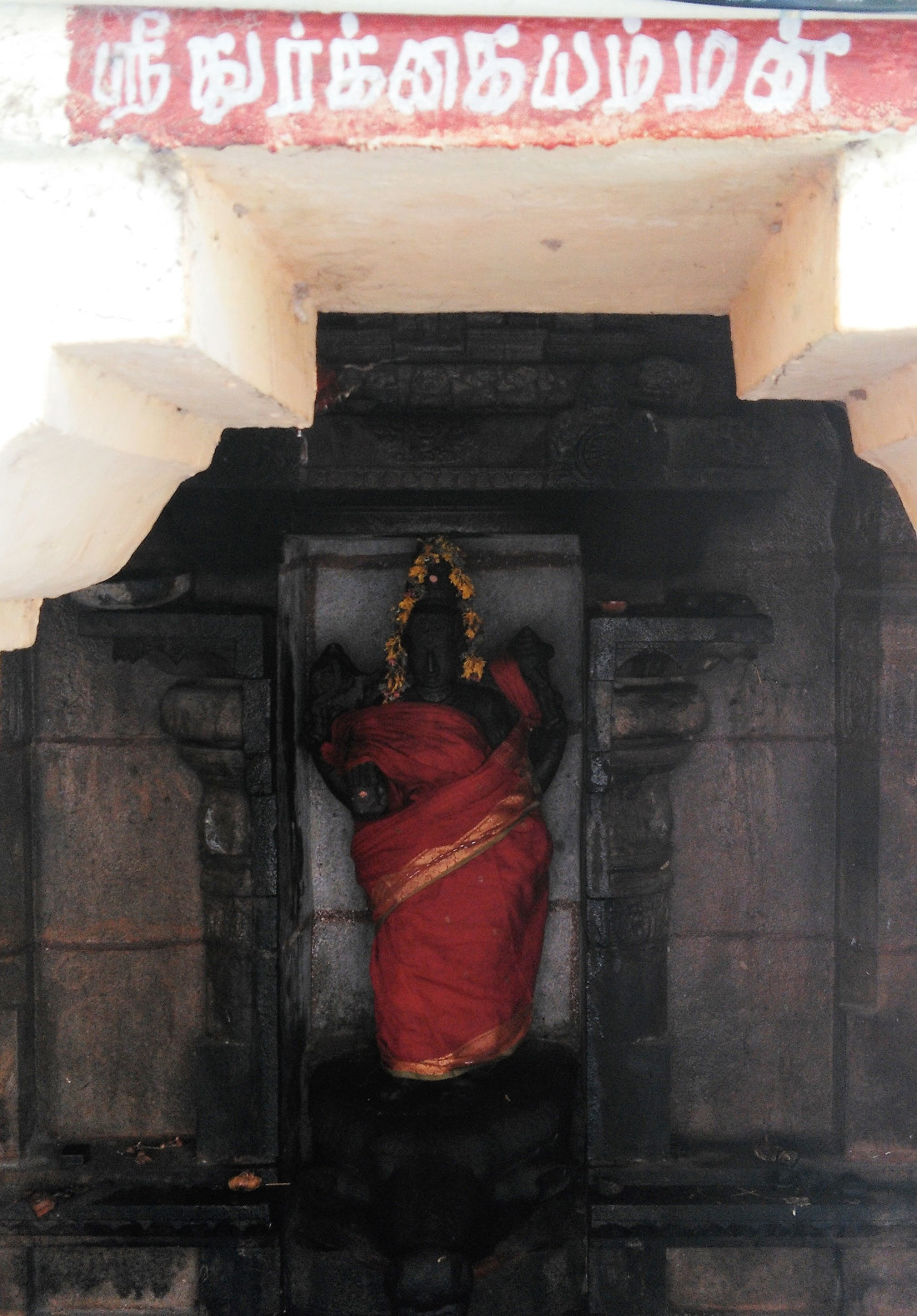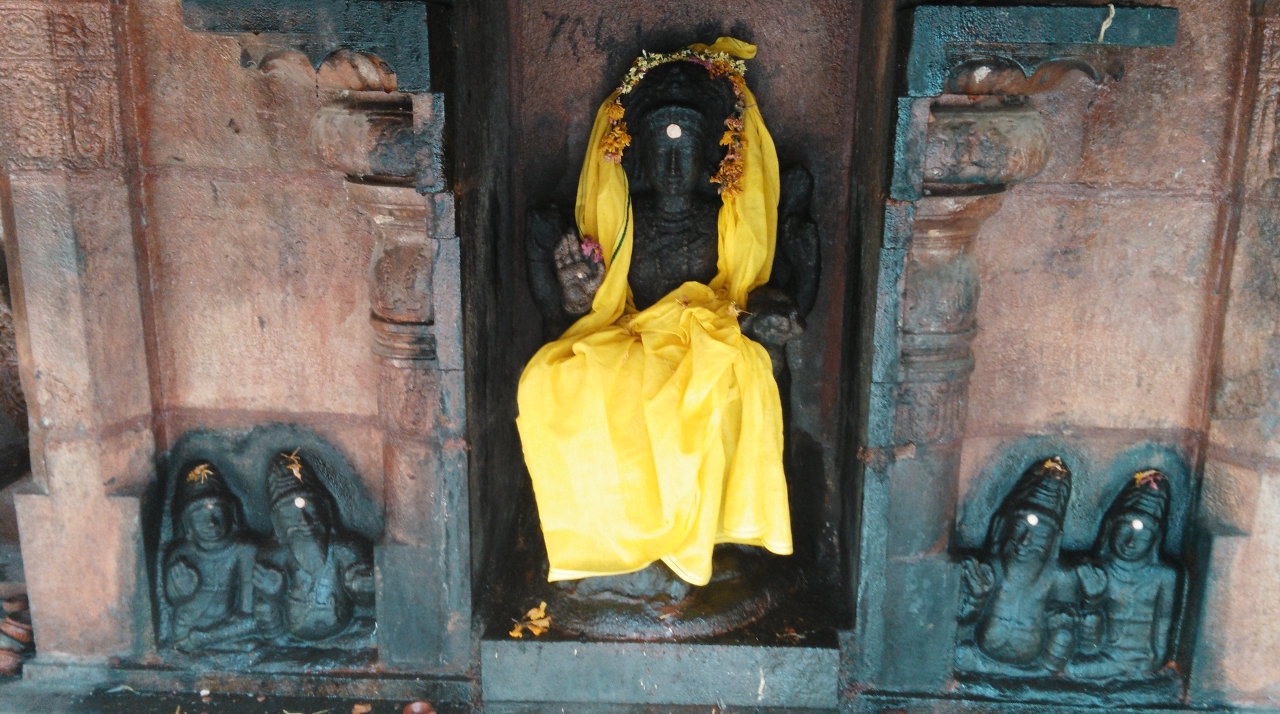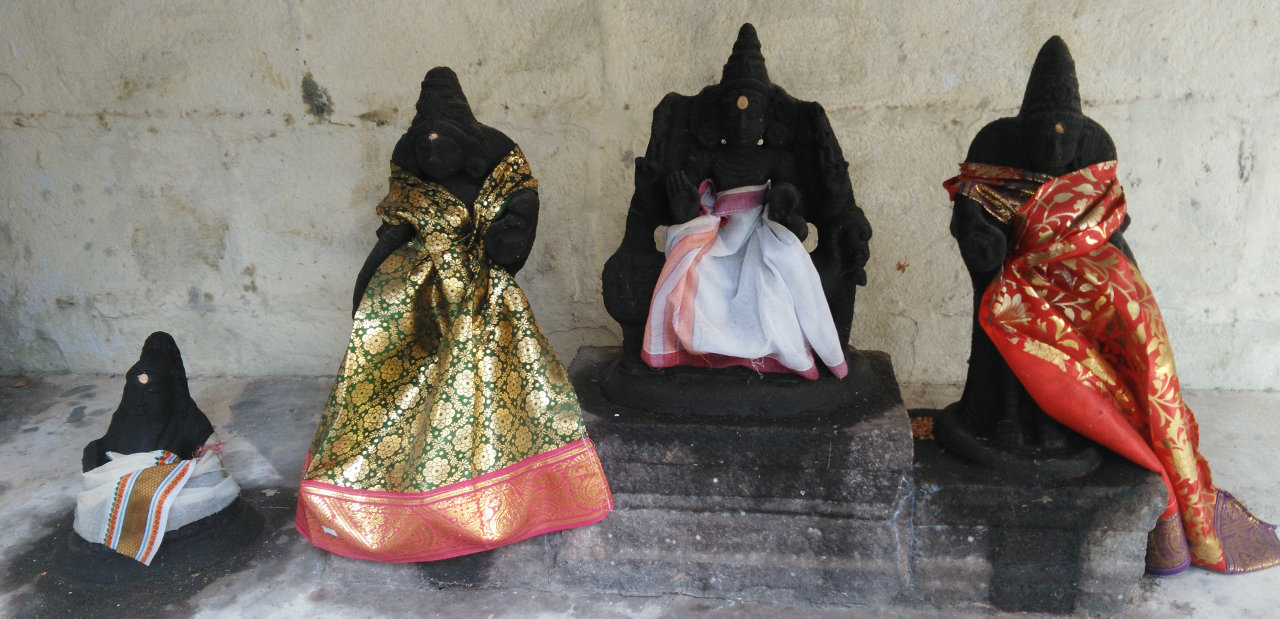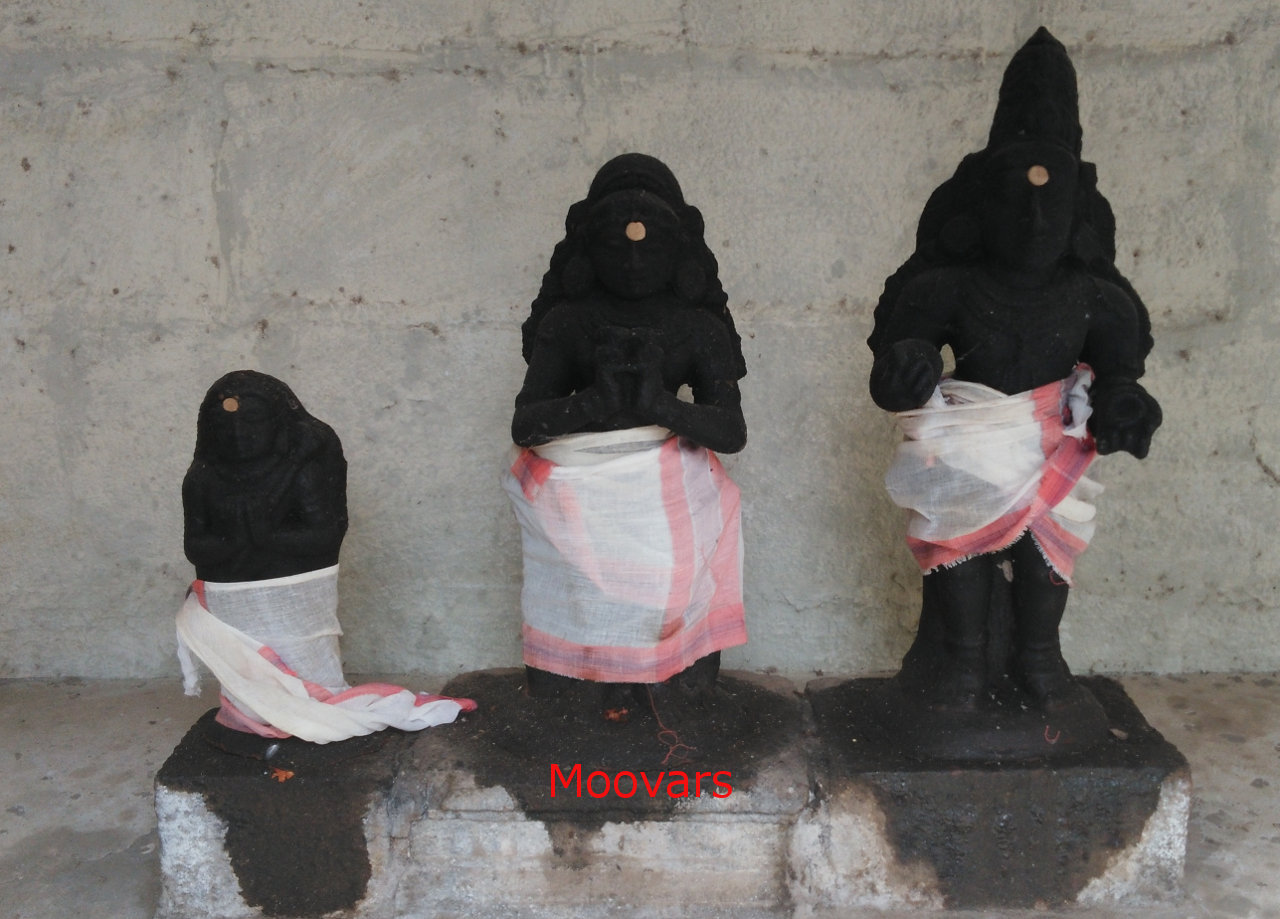 Salient Features
In this temple, Sandeswara Nayanar's shrine can be seen in the hall in front of Lord Shiva's sanctum which is quite unique.
Behind the sanctum sanctorum, on either sides of Lord Lingothbavar, there are idols of Lord Mahavishnu and Lord Brahma in a worshipping posture. Devotees can enjoy the darshan of all the three lords (Trimurthys) – Brahma, Vishnu and Shiva. This is considered to be very auspicious.
The front hall (Mandapam) of this temple is designed to look like the forehead of a bat ("Vovval Nethi Mandapam"). This looks very beautiful.
The sanctum sanctorum is in the form of semi-circular tank (akazhi in Tamil).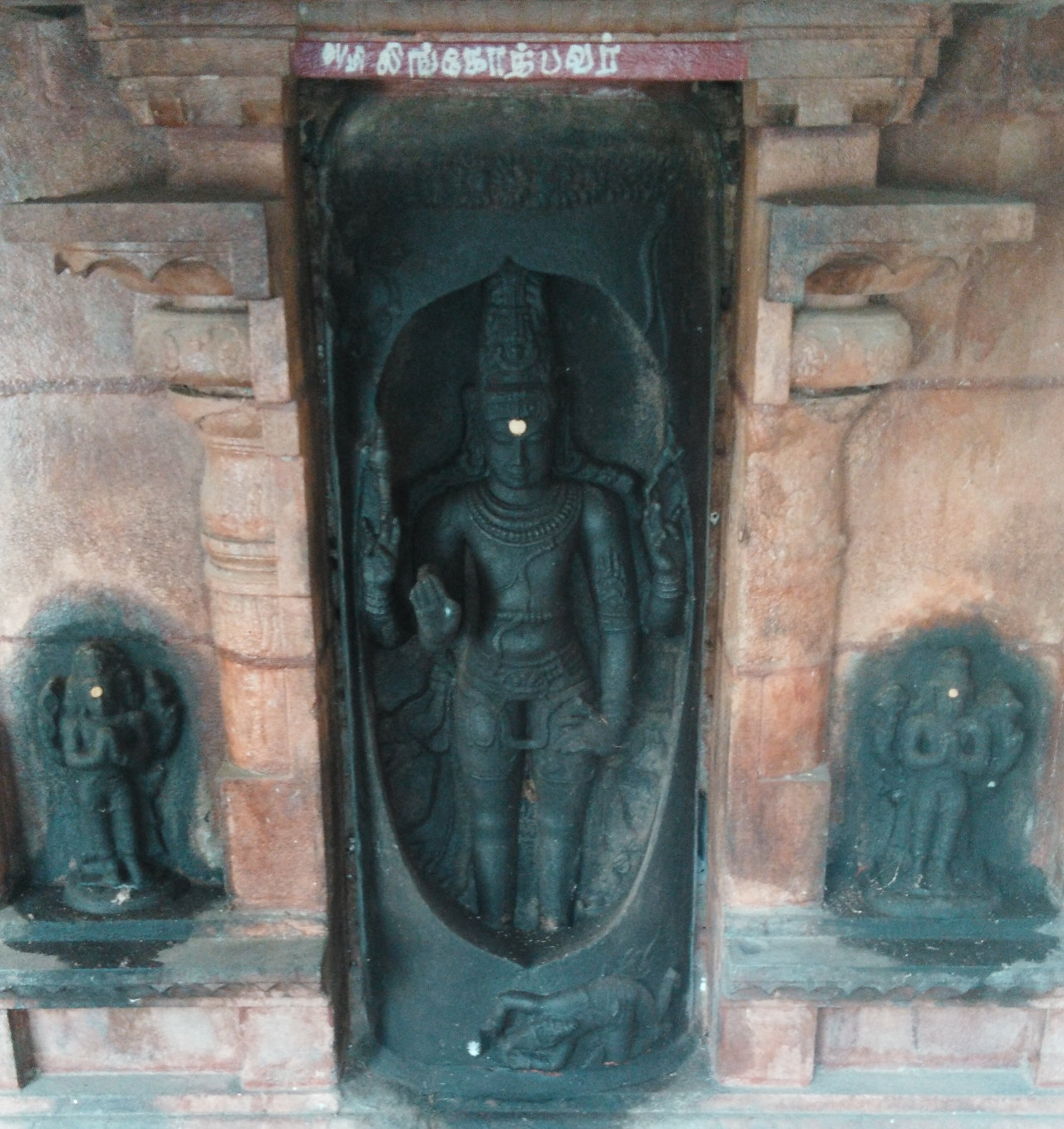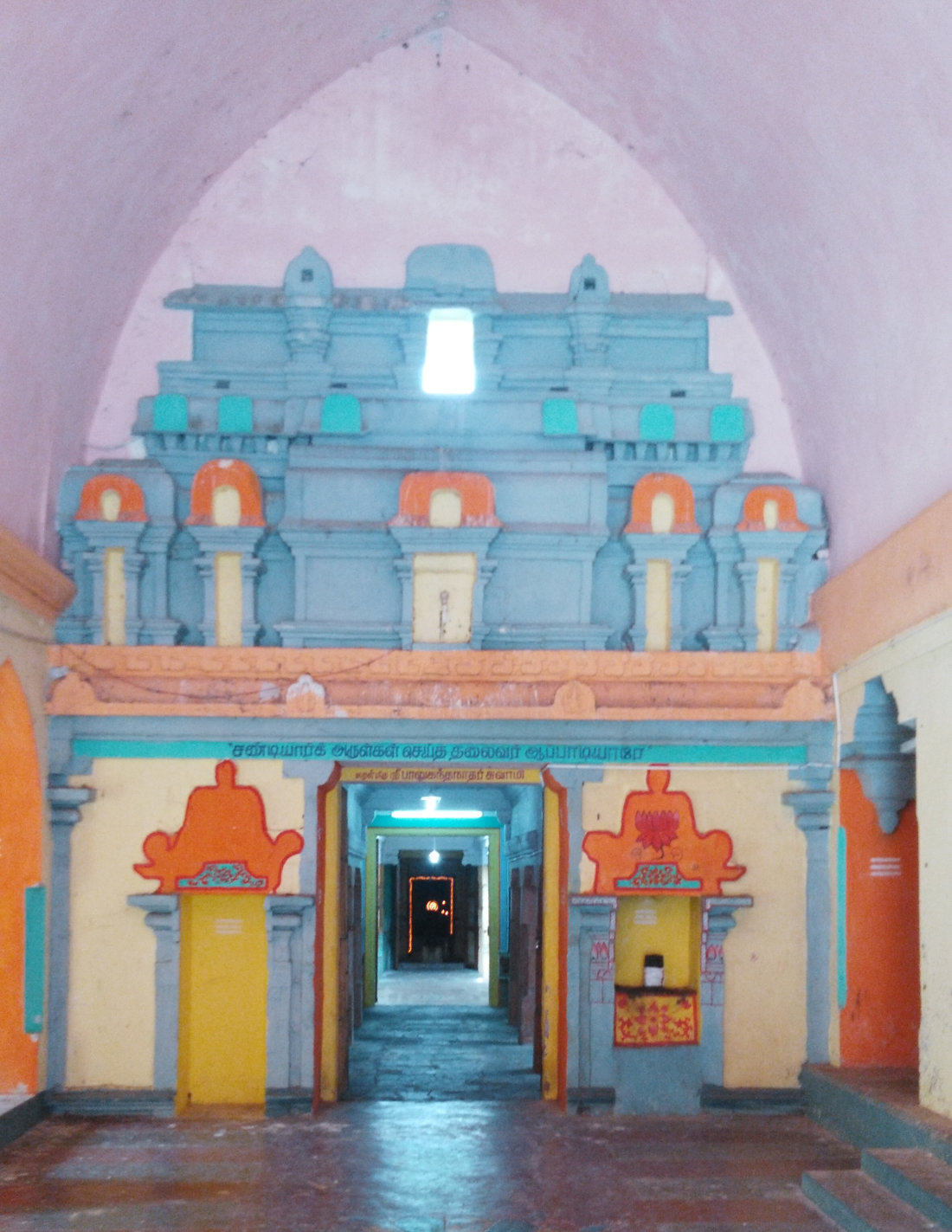 Greatness of this temple
Devotees believe that worshiping the lord here on Maha Shivratri day and on new moon days will grant them absolution and relief from the sins of their previous birth.
Important Festivals
Some of the important festivals celebrated in this temple are -
Brahmotsavam for Chandikeswarar on the new moon day following Maha Shivrathri in the Tamil month of Maasi (February-March).
Vinayakar Chaturthi in the Tamil month of Aavani (Aug-Sept) and
Annabishekam in the Tamil month of Aippasi (Oct – Nov).
Special poojas are performed on all new moon days.
Pradosham is also observed regularly.
Temple Timings
From 07.00 AM to 09.00 AM and from 05.00 PM to 07.00 PM.
Temple Address
Sri Paalugantha Nathar Temple,
Thiruvaippadi,
Thiruppanandal Post,
Thiruvidaimarudur Taluk,
Tanjure District,
Tamil Nadu- 612 504.

The temple priest, Sri S.Balugantha Natha Gurukkal can be contacted at 94421 67104.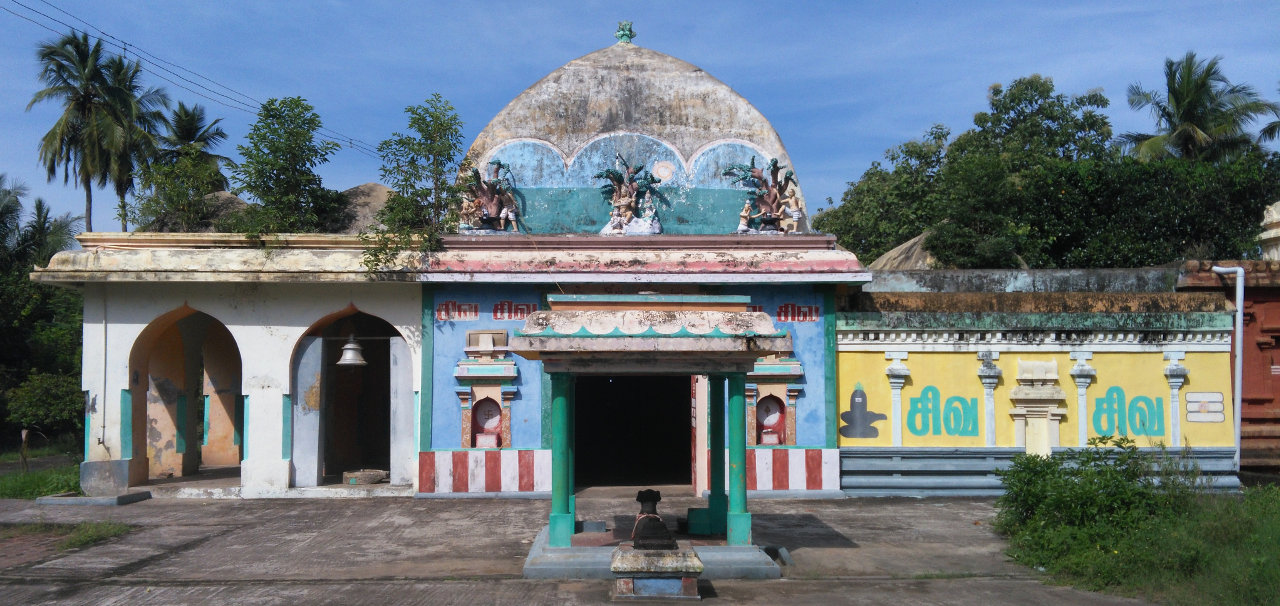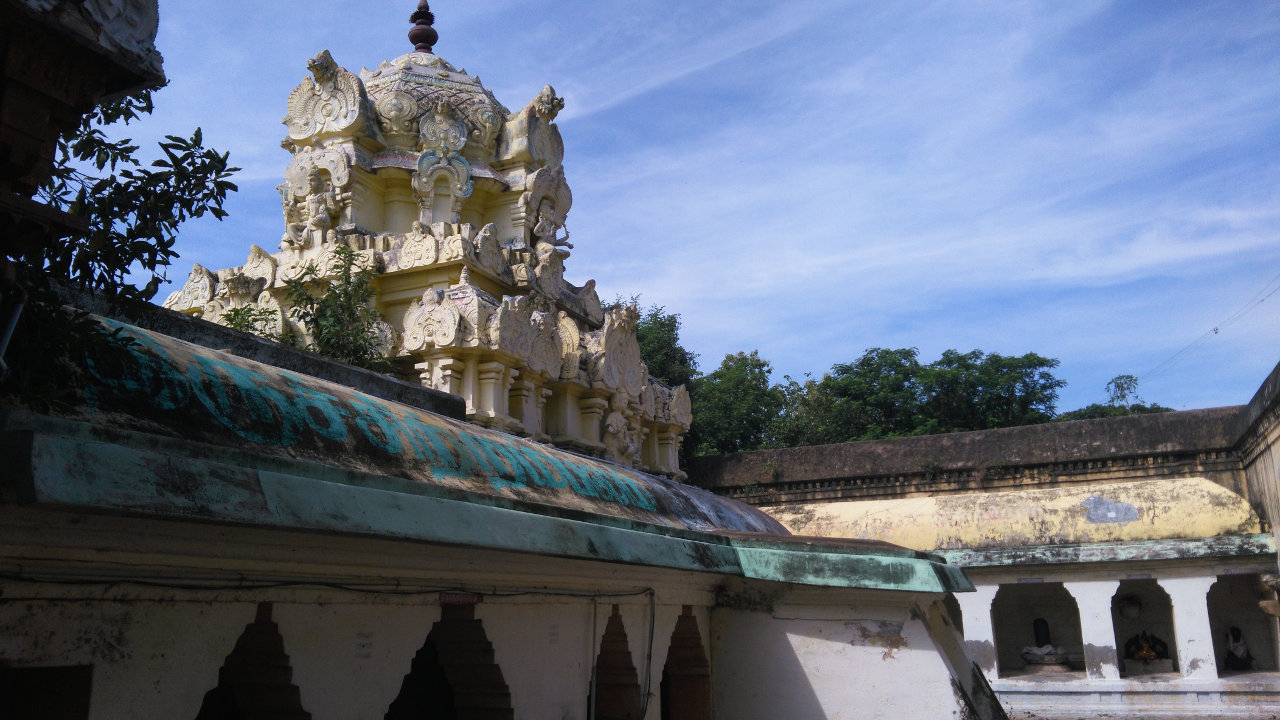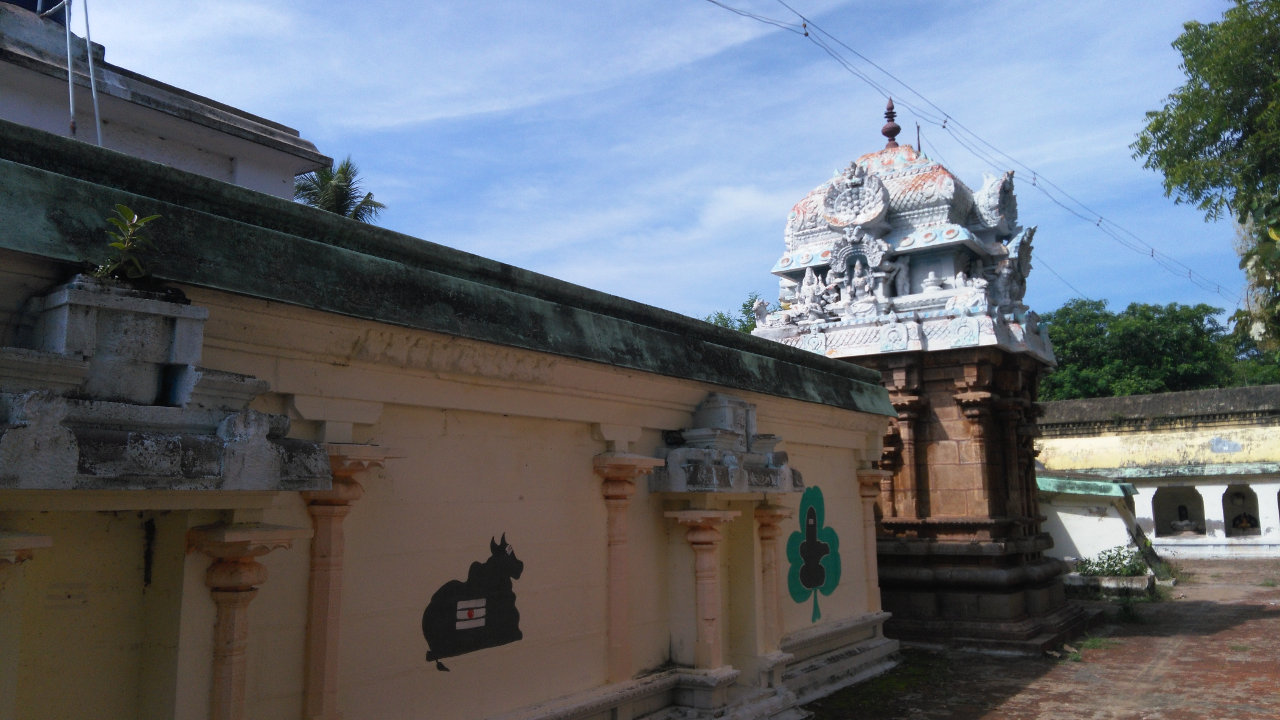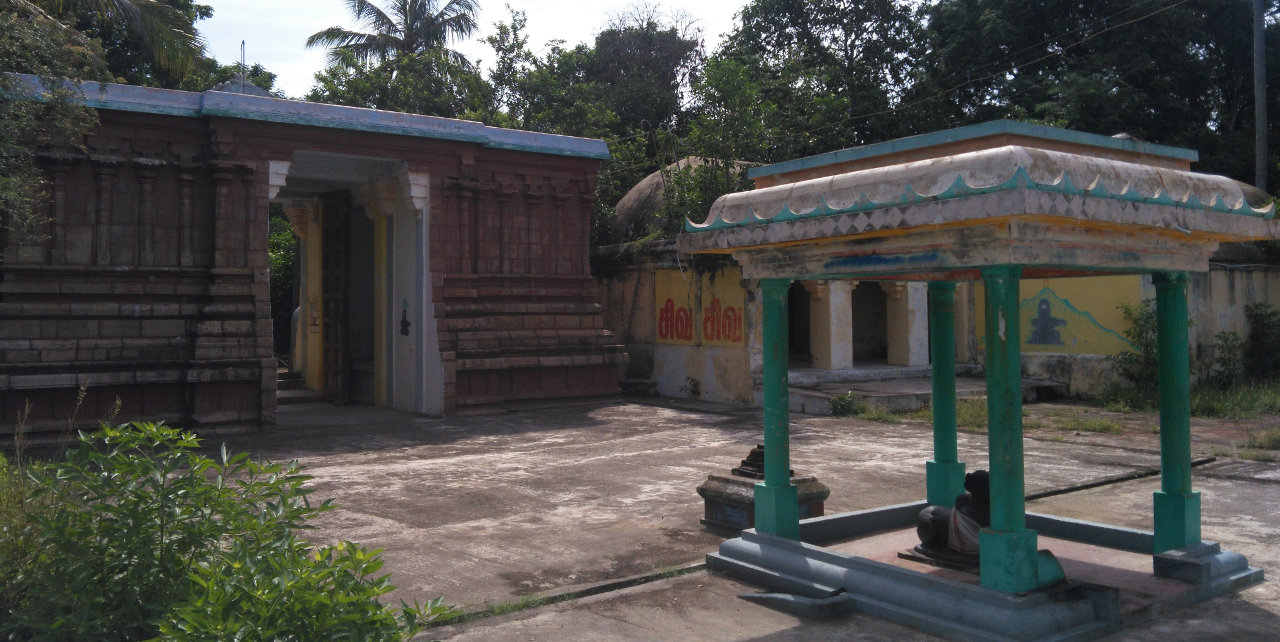 ---
Pathigam (Hymn) with English transliteration
Saint Thirunavukkarasar visited this temple and sang this Pathigam.
Devotees visiting this temple should make it a practice to recite this Pathigam.
கடலகம் ஏழி னோடும் புவனமுங் கலந்த விண்ணும்
உடலகத் துயிரும் பாரும் ஒள்ளழ லாகி நின்று
தடமலர்க் கந்த மாலை தண்மதி பகலு மாகி
மடலவிழ் கொன்றை சூடி மன்னும்ஆப் பாடி யாரே.
"Kaṭalakam ēzhi ṉōṭum puvaṉamuṅ kalantha viṇṇum
uṭalakath thuyirum pārum oḷḷazha lāki niṉtṟu
thaṭamalark kantha mālai thaṇmathi pakalu māki
maṭalavizh koṉtṟai chūṭi maṉṉumāp pāṭi yārē".
ஆதியும் அறிவு மாகி அறிவினுட் செறிவு மாகிச்
சோதியுட் சுடரு மாகித் தூநெறிக் கொருவ னாகிப்
பாதியிற் பெண்ணு மாகிப் பரவுவார் பாங்க னாகி
வேதியர் வாழுஞ் சேய்ஞல் விரும்பும்ஆப் பாடி யாரே.
"Āthiyum aṟivu māki aṟiviṉuṭ seṟivu mākich
chōtiyuṭ suṭaru mākith thūneṟik koruva ṉākip
pāthiyiṟ peṇṇu mākip paravuvār pāṅka ṉāki
vēthiyar vāzhuñ chēyñjal virumpumāp pāṭi yārē".
எண்ணுடை இருக்கு மாகி யிருக்கினுட் பொருளு மாகிப்
பண்ணொடு பாடல் தன்னைப் பரவுவார் பாங்க னாகிக்
கண்ணொரு நெற்றி யாகிக் கருதுவார் கருத லாகாப்
பெண்ணொரு பாக மாகிப் பேணும்ஆப் பாடி யாரே.
"Eṇṇuṭai irukku māki yirukkiṉuṭ poruḷu mākip
paṇṇoṭu pāṭal thaṉṉaip paravuvār pāṅka ṉākik
kaṇṇoru netṟi yākik karuthuvār karutha lākāp
peṇṇoru pāka mākip pēṇumāp pāṭi yārē".
அண்டமார் அமரர் கோமான் ஆதியெம் அண்ணல் பாதங்
கொண்டவன் குறிப்பி னாலே கூப்பினான் தாப ரத்தைக்
கண்டவன் தாதை பாய்வான் காலற எறியக் கண்டு
தண்டியார்க் கருள்கள் செய்த தலைவர்ஆப் பாடி யாரே.
"Aṇṭamār amarar kōmāṉ āthiyem aṇṇal pāthaṅ
koṇṭavaṉ kuṟippi ṉālē kūppiṉāṉ thāpa raththaik
kaṇṭavaṉ thāthai pāyvāṉ kālaṟa eṟiyak kaṇṭu
thaṇṭiyārk karuḷkaḷ seytha thalaivar'āp pāṭi yārē".
சிந்தையுந் தெளிவு மாகித் தெளிவினுட் சிவமு மாகி
வந்தநற் பயனு மாகி வாணுதல் பாக மாகி
மந்தமாம் பொழில்கள் சூழ்ந்த மண்ணித்தென் கரைமேல் மன்னி
அந்தமோ டளவி லாத அடிகள்ஆப் பாடி யாரே.
"Sinthaiyun theḷivu mākith theḷiviṉuṭ sivamu māki
vanthanaṟ payaṉu māki vāṇuthal pāka māki
manthamām pozhilkaḷ chūzhntha maṇṇiththeṉ karaimēl maṉṉi
anthamō ṭaḷavi lātha aṭikaḷāp pāṭi yārē".
வன்னிவா ளரவு மத்தம் மதியமும் ஆறுஞ் சூடி
மின்னிய உருவாஞ் சோதி மெய்ப்பொருட் பயனு மாகிக்
கன்னியோர் பாக மாகிக் கருதுவார் கருத்து மாகி
இன்னிசை தொண்டர் பாட இருந்தஆப் பாடி யாரே.
"Vaṉṉivā ḷaravu maththam mathiyamum āṟuñ chūṭi
miṉṉiya uruvāñ chōthi meypporuṭ payaṉu mākik
kaṉṉiyōr pāka mākik karuthuvār karuththu māki
iṉṉisai thoṇṭar pāṭa iruntha'āp pāṭi yārē".
உள்ளுமாய்ப் புறமு மாகி உருவுமாய் அருவு மாகி
வெள்ளமாய்க் கரையு மாகி விரிகதிர் ஞாயி றாகிக்
கள்ளமாய்க் கள்ளத் துள்ளார் கருத்துமாய் அருத்த மாகி
அள்ளுவார்க் கள்ளல் செய்திட் டிருந்தஆப் பாடி யாரே.
"Uḷḷumāyp puṟamu māki uruvumāy aruvu māki
veḷḷamāyk karaiyu māki virikathir ñāyi ṟākik
kaḷḷamāyk kaḷḷath thuḷḷār karuththumāy aruththa māki
aḷḷuvārk kaḷḷal seythiṭ ṭiruntha'āp pāṭi yārē".
மயக்கமாய்த் தெளிவு மாகி மால்வரை வளியு மாகித்
தியக்கமாய் ஒருக்க மாகிச் சிந்தையுள் ஒன்றி நின்று
இயக்கமாய் இறுதி யாகி எண்டிசைக் கிறைவ ராகி
அயக்கமாய் அடக்க மாய ஐவர்ஆப் பாடி யாரே.
"Mayakkamāyth theḷivu māki mālvarai vaḷiyu mākith
thiyakkamāy orukka mākich chinthaiyuḷ oṉtṟi niṉtṟu
iyakkamāy iṟuthi yāki eṇṭisaik kiṟaiva rāki
ayakkamāy aṭakka māya aivar'āp pāṭi yārē".
ஆரழல் உருவ மாகி அண்டமேழ் கடந்த எந்தை
பேரொளி உருவி னானைப் பிரமனும் மாலுங் காணாச்
சீரவை பரவி யேத்திச் சென்றடி வணங்கு வார்க்குப்
பேரருள் அருளிச் செய்வார் பேணும்ஆப் பாடி யாரே.
"Ārazhal uruva māki aṇṭamēzh kaṭantha enthai
pēroḷi uruvi ṉāṉaip piramaṉum māluṅ kāṇāch
chīravai paravi yēththic cheṉṟaṭi vaṇaṅku vārkkup
pēraruḷ aruḷich cheyvār pēṇumāp pāṭi yārē".
திண்டிறல் அரக்க னோடிச் சீகயி லாயந் தன்னை
எண்டிறல் இலனு மாகி எடுத்தலும் ஏழை அஞ்ச
விண்டிறல் நெறிய வூன்றி மிகக்கடுத் தலறி வீழப்
பண்டிறல் கேட்டு கந்த பரமர்ஆப் பாடி யாரே.
"Thiṇṭiṟal arakka ṉōṭich chīkayi lāyan thaṉṉai
eṇṭiṟal ilaṉu māki eṭuththalum ēzhai añcha
viṇṭiṟal neṟiya vūṉtṟi mikakkaṭuth thalaṟi vīzhap
paṇṭiṟal kēṭṭu kantha paramar'āp pāṭi yārē".