Visited on: October 1, 2017.
Location
Thiru Paalaithurai is situated at a distance of about 2 kms from Papanasam bus stand on the Thanjavur to Kumbakonam route. It is about 12 kms from Kumbakonam. Nearest railway station is Papanasam which is about one kilometre away from this temple.
Other Devara Paadal Petra Shiva Sthalam near this place are – Thiru Sakkarappalli (Iyampettai), Thirunallur and Thirukkarukavur.
General Information
| | |
| --- | --- |
| Moolavar | Sri Paalaivananathar |
| Ambal | Sri Thavala Vennagaiyal |
| Theertham (Holy water) | Vashishta Theertham, Indra Theertham, Yama Theertham and river Cauvery |
| Sthala Vriksham (Sacred Tree) | Palm tree and Paalai (not exist now) |
| Pathigam (Hymn) rendered by | Saint Thirunavukarasar (Appar) |
This is one of the 276 Devara Paadal Petra Shiva Sthalams and 19th Shiva Sthalam on the Southern bank of the river Cauveri in Chozha Nadu (Thenkarai).
Lord Shiva in this temple is a Swayambumurthi (self-manifested).
This east facing temple has two corridors and its main tower (Rajagopuram) has 5-tiers.
There is no flag post in this temple.
The last consecration ceremony (Maha Kumbabishekam) took place on 29.10.2001.
History of the Temple
This place is called Paalaithurai as the temple has the "paalai tree" as sthala viruksham. Also, since it is situated on the banks of Kudamurutti (a tributary of Cauvery) river, the place is known as Paalaithurai ("thurai" means river bank in Tamil).
There are 11 stone inscriptions available in this temple. All of them date back to the Chola dynasty. There are special mentions of Kings Kulothunga I, Vikrama Cholan, Rajarajan II, Rajarajan III and Kulothungan III. In one of the inscriptions the lord is mentioned as "Thirupalaithurai Mahadevar".
The historical names of this place are Brahmavanam, Paalaivanam, Arasavanam and Punnahavanam.
There is an enormous and world-famous granary (paddy storage) in this temple that has a breadth of 86 feet and a height of 36 feet. It is built using bricks in a conical shape and it has a capacity of about 3000 Kalams* (a unit of measurement followed in those days). The granary was built by Tanjure Nayak King Ragunatha (AD 1600-1634). This shows how much income this temple received in those days. It is not in use now. This granary is now under the control of archaeological survey of India as a "Protected Monument".
*(1 kalam = 12 marakkal = 48 padi = 36 kgs. 3000 kalams = 108,000 kgs. approx).
This temple is under the administrative control of the Hindu Religious and Charitable Endowments Board, Department of Government of Tamil Nadu (HR&CE).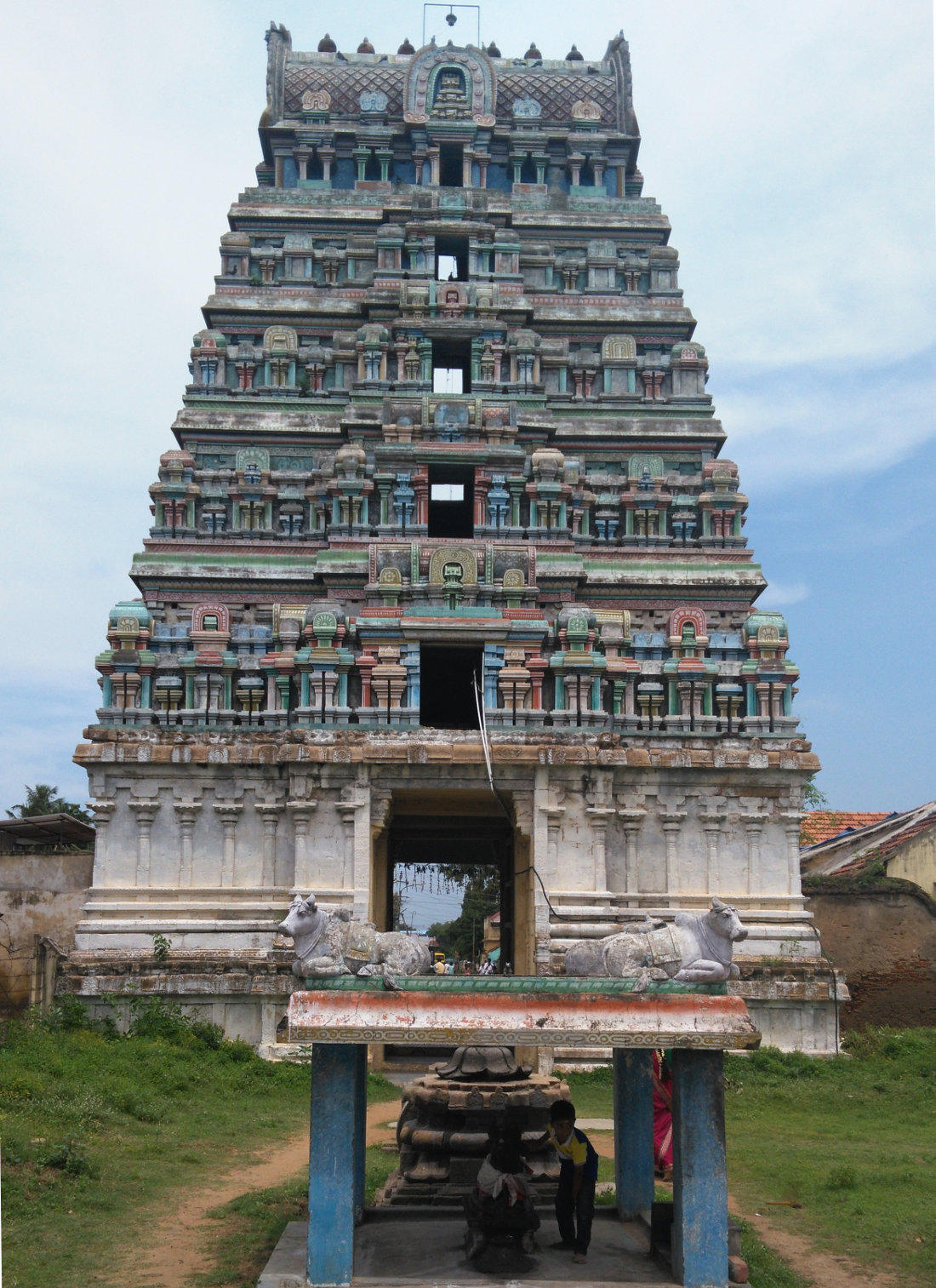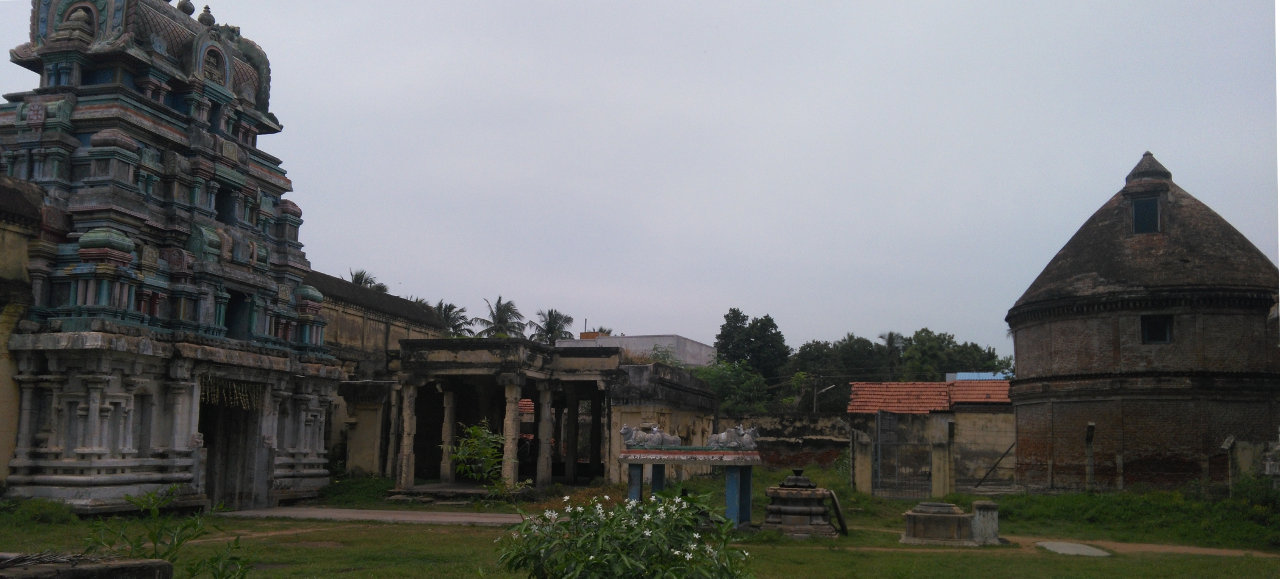 Legend
The legend of this temple involves some arrogant sages from a place called Dharukavanam. In their excessive vanity, they thought themselves to be superior than gods. To teach them a lesson, Lord Shiva asked Mahavishnu to take the form of "Mohini" (a beautiful angel) to divert the attention of the sages from their penance which they claimed was unparalleled. It is believed that the sages failed in their penance because they were attracted by Mohini. At the same time, Lord Shiva took the form of Pitchandavar and went to the sages' house to ask for alms. It is believed that the wives of the sages were so enamoured by Pitchandavar that they started following him. This incident further shattered the sages' claims that their wives were most pious and devout.
When the sages realized that this was all a play by Lord Shiva, they decided to perform a Yagna and used evil spirits and mantras to kill Lord Shiva. They created various weapons including a tiger to kill him. Lord Shiva stopped all their weapons, vanquished the man-eater and used its skin as his dress. This event is believed to have happened in this place.
Another legend associated with this temple is that Sage Vashistar performed penance under a peepal tree here. He also created a tank here which is now called Vashista Theertham. This place is also called Arasavanam because of the significance of the peepal tree ("Arasa maram" in Tamil).
Another legend associated with this temple is that of a Pandiya king named Malaiyathuvajan. It is believed that he insulted Sage Kalava once for which the sage cursed him and turned him into a bear. As advised by Sage Agasthiyar, the king visited this temple and worshiped the lord here. The lord is believed to have blessed him and restored him back to his original form.
Other legends
It is believed that lords Mahavishnu, Brahma, Ram, Sita, Sage Dhoumya, Sage Vashishtar, Pandavas and Ashtathik Balakas have worshiped Lord Shiva here.
During the forest life ("Vanavaasam") of the Pandavas, as advised by Sage Dhoumya, Arjuna came to this temple, worshipped Lord Shiva and learnt all the techniques of archery. It is also believed that he went to the underworld and married Uloopi.
Deities in the temple
Other than the shrines of Lord Shiva and Goddess Parvathy, shrines and idols of Vinayakar, Murugan with his consorts, Somaskandar, Natarajar, 63 Nayanmars, Kala Bhairavars (2 idols), Saneeswarar, Mahalakshmi, Suryan, Chandran, Navagraham, Shivalingams worshiped by Sage Vashishtar, Lord Ram, Pandiya King Malaiyathuvajan and Arjunan (Parthipan) can be seen in the corridors.
In the "koshtam" (place surrounding the sanctum sanctorum), idols of Narthana Ganapathy, Dakshinamurthy, Oordhuva Thandavar (a form of Lord Shiva dancing ferociously), Pitchandavar, Arthanareeswarar, Brahma, Durgai and Chandikeswarar can be seen.
There is a separate east facing temple for Goddess Parvathi at the right side of Lord Shiva's shrine in the outer corridor.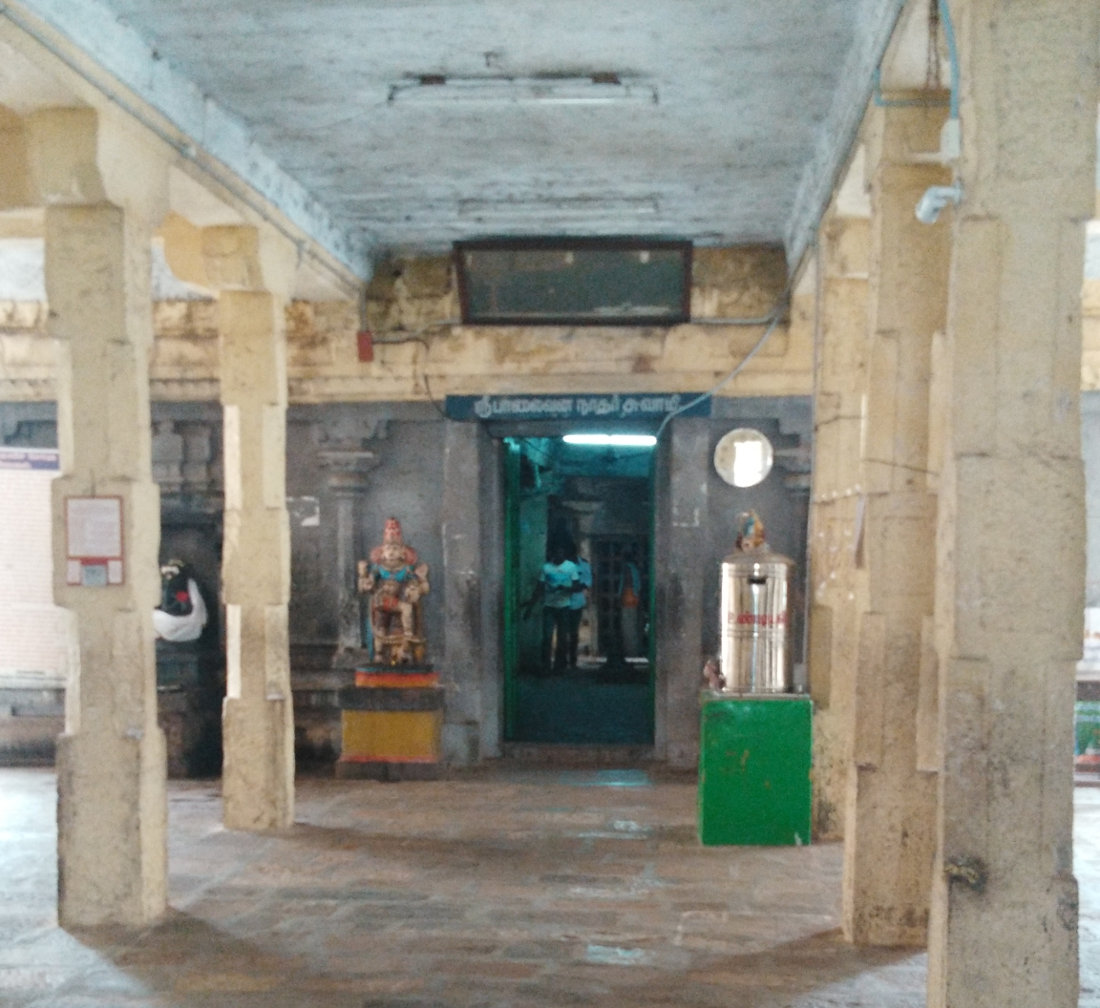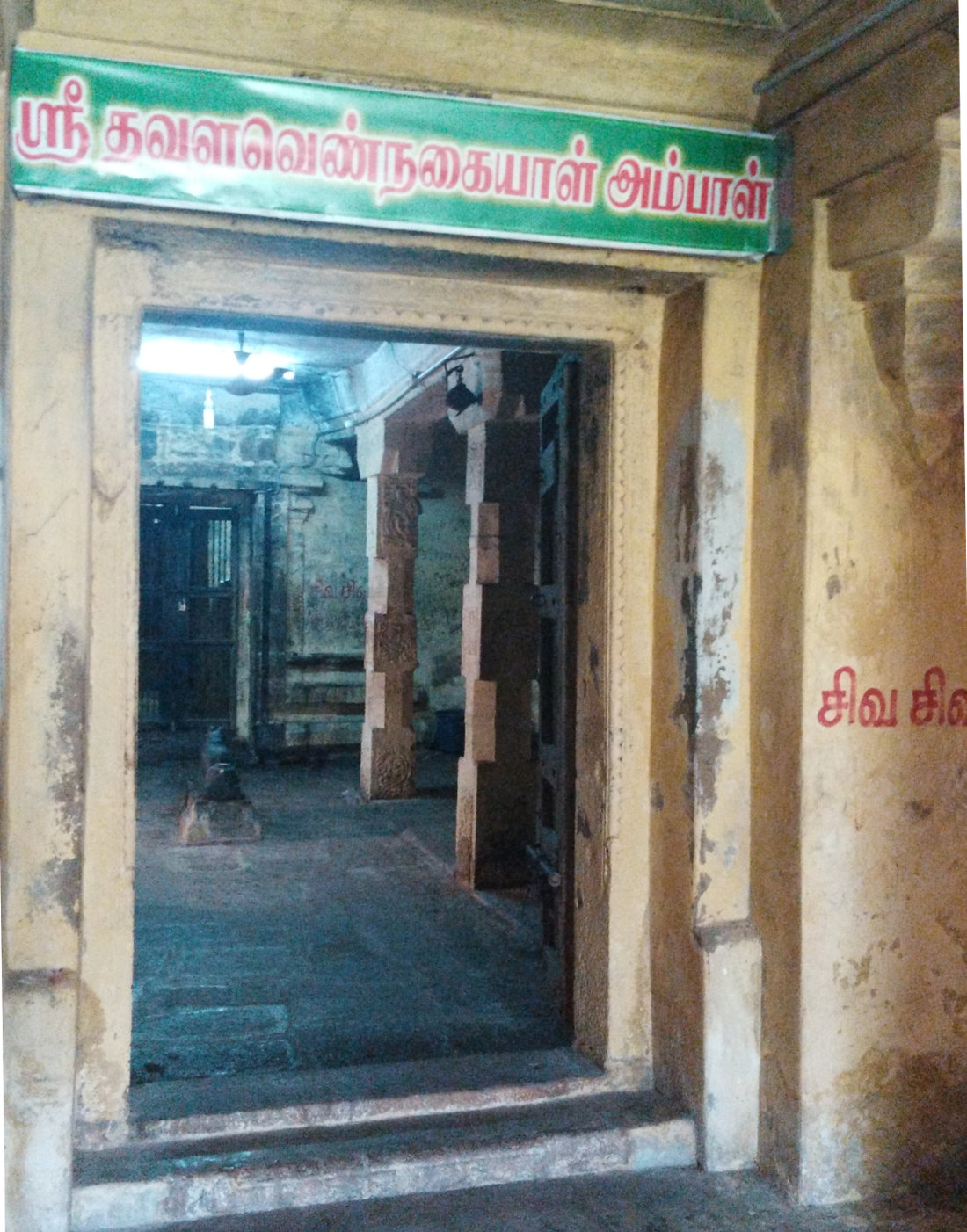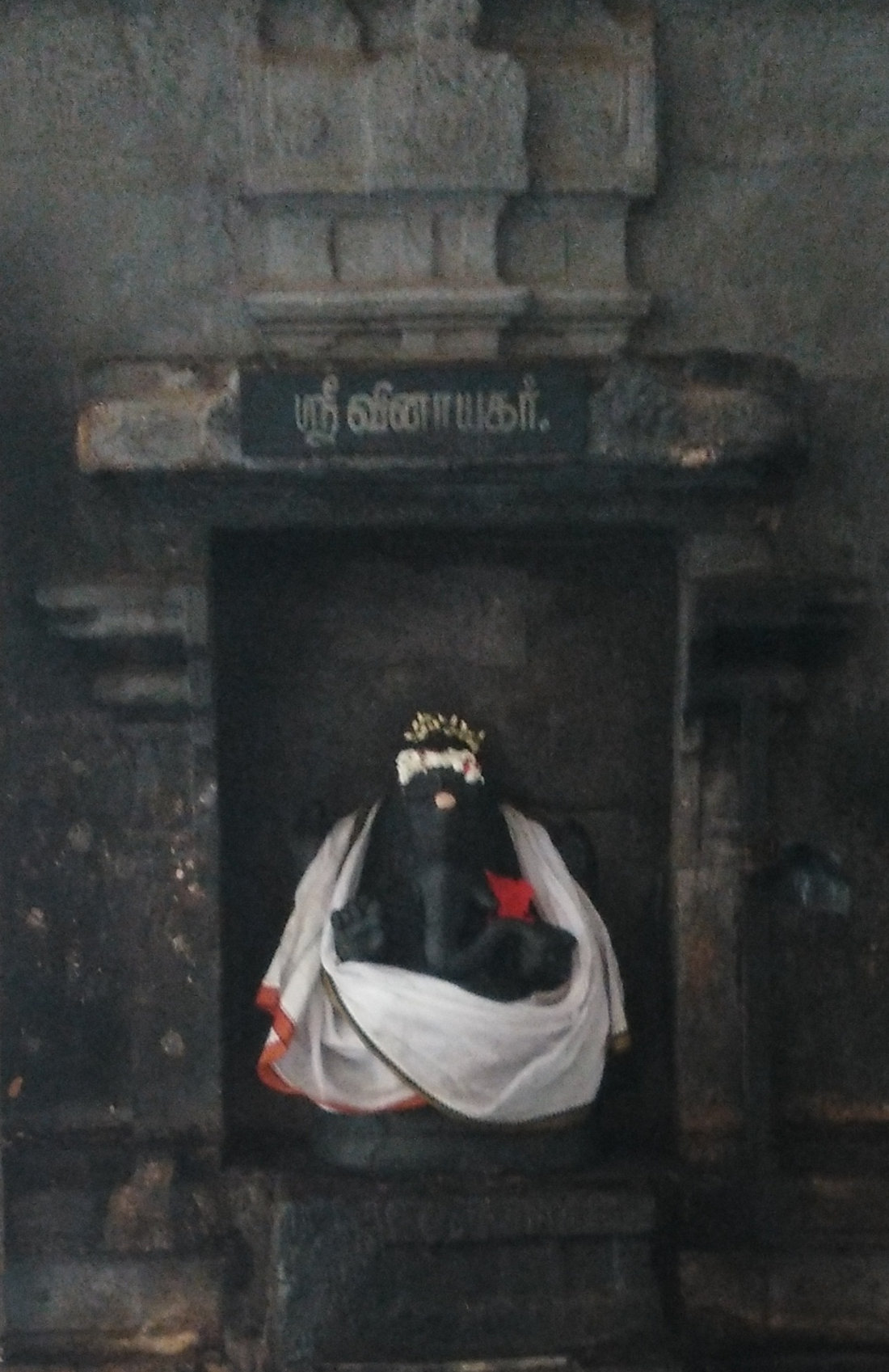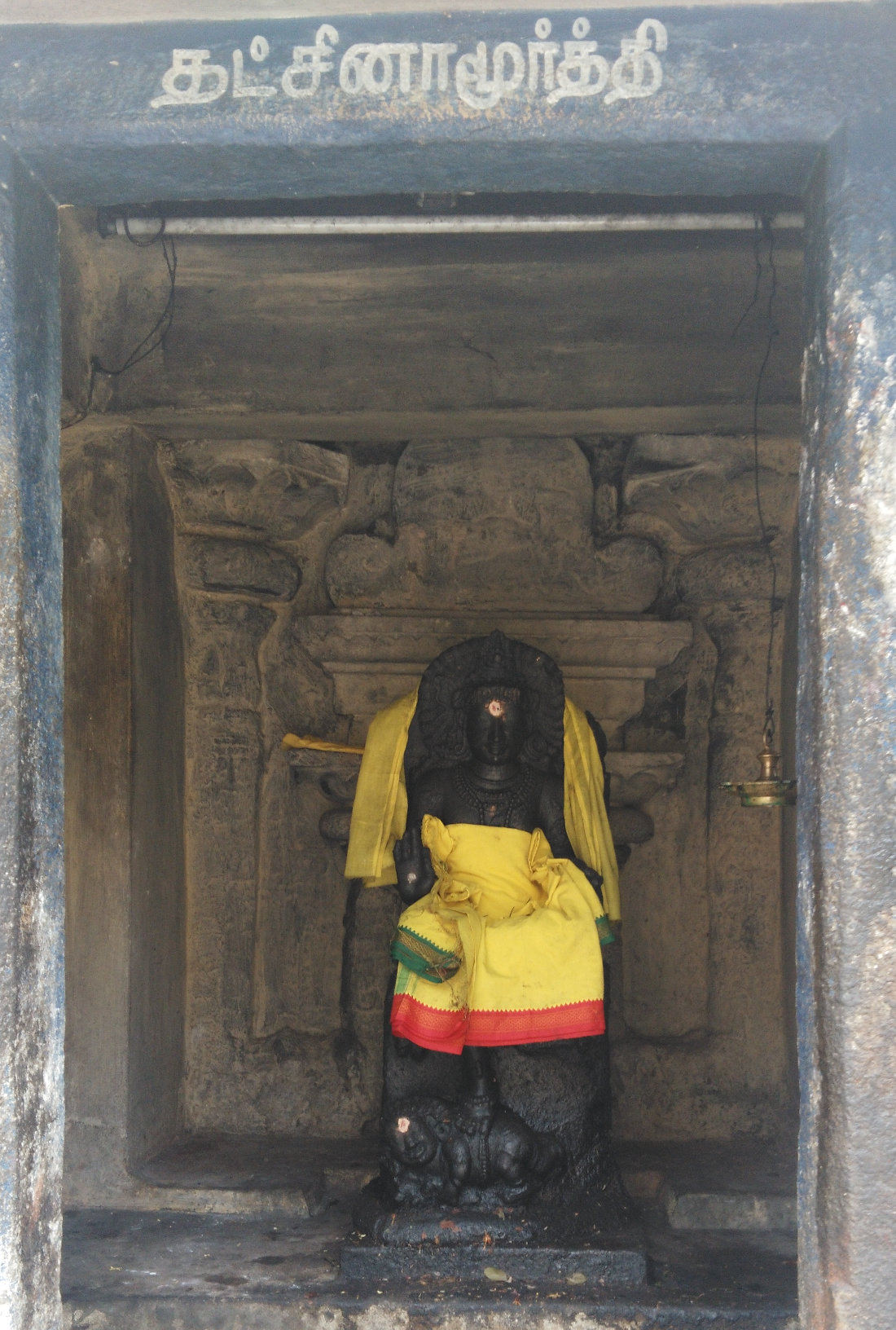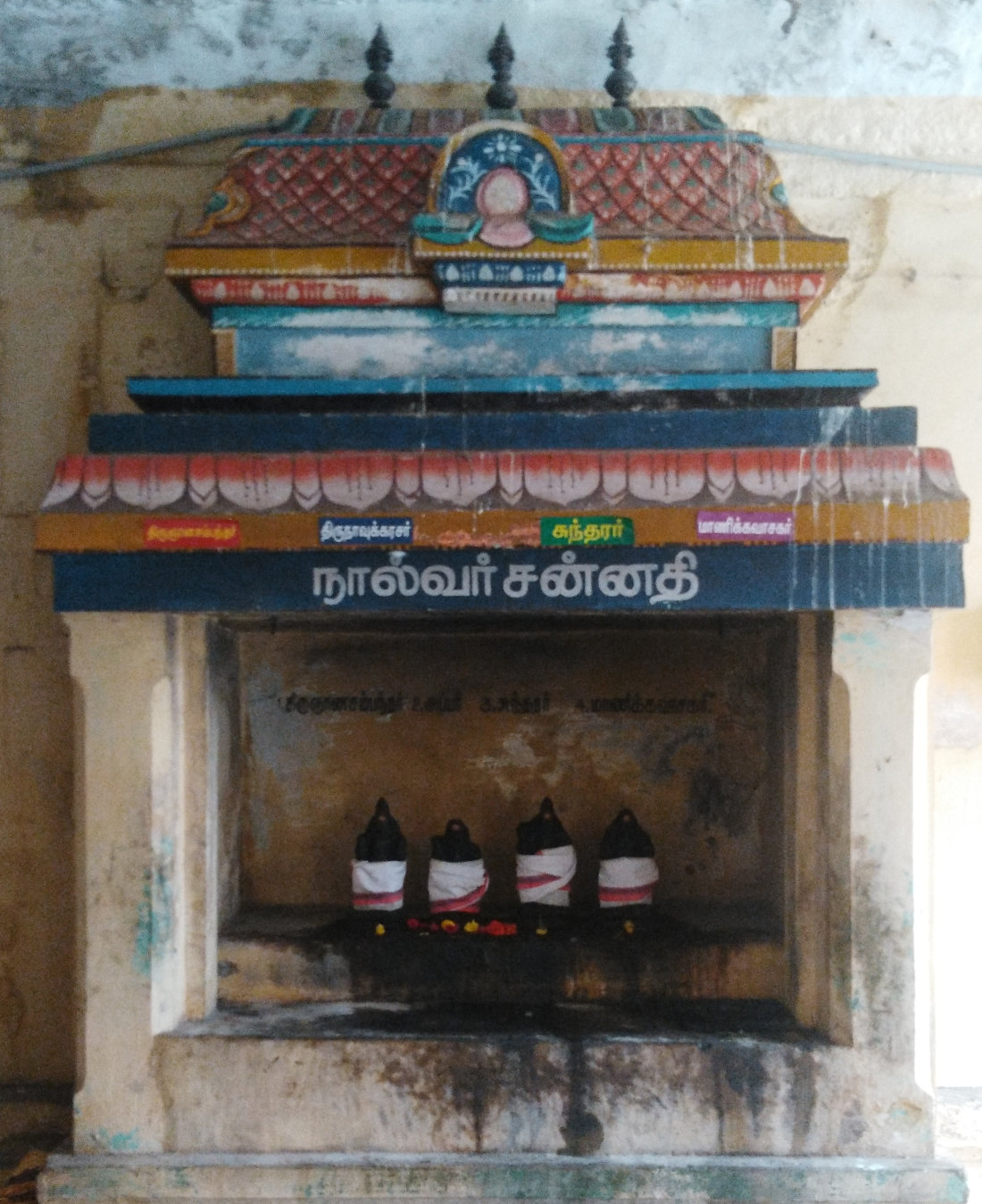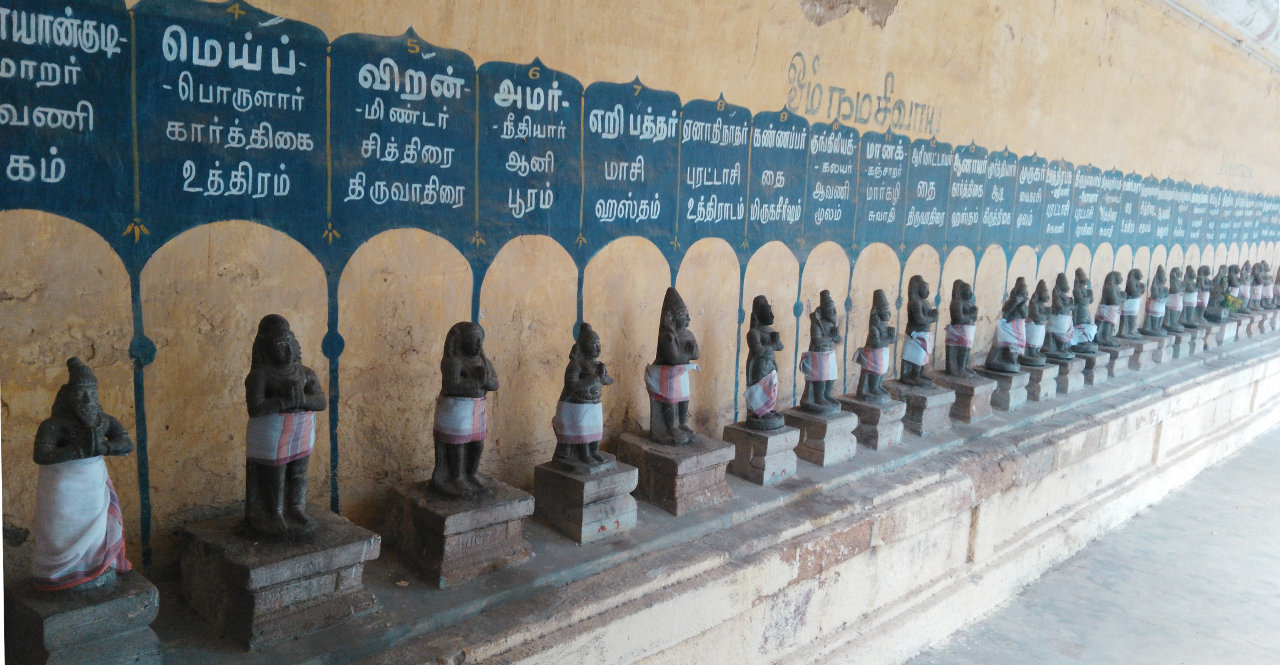 Salient Features
In this temple, the shrines of both Lord Shiva and Goddess Parvathy are facing east.
Goddess Parvathy's shrine is on the right side to Lord Shiva which signifies their wedding posture.
This temple is one of the seven temples ("Sapthasthanam") associated with Thirunallur Shiva temple.
Normally, Saint Thirunavukkarasar's pathigams contains 10 stanzas whereas in this temple's pathigam, he has rendered a pathigam with 11 stanzas. Secondly, in one of the stanzas he used the "Panchaksharam" ("Sivayanama"). Such a reference to the Panchaksharam has only been made in three of his pathigams.
In Papanasam, a nearby place, there is a temple having 108 Shivalingams. This is referred as "Keezhai Rameswaram". These Shivalingams were installed by Lord Ram to get absolution from the sins accrued by killing Ravana and others in battle. Since his sins were cleared here, this place gets the name "Papanasam" ("Papam" meaning sin and "Nasam" meaning cleared in Tamil).
Greatness of this temple
Devotees believe that by worshiping the lord here, obstacles from their marriage proposals will be removed.
Important Festivals
Some of the important festivals celebrated in the temple are –
Vinayakar Chaturthi in the Tamil month of Aavani (Aug-Sept),
Navarathri in the Tamil month of Purattasi (Sept-Oct),
Skanda Shashti and Annabishekam in the Tamil month of Aippasi (Oct – Nov),
Thiru Karthikai in the Tamil month of Karthikai (Nov-Dec),
Thiruvadhirai in the Tamil month of Markazhi (Dec-Jan) and
Mahasivrathri in Masi (February-March).
Pradosham is also observed regularly.
Temple Timings
From 08.00 AM to 12.30 PM and 05.30 PM to 08.30 PM.
Temple Address
Sri Paalaivana Nathar Temple,
Thirupalaithurai,
Papanasam Post and Taluk,
Thanjavur District,
Tamil Nadu – 614 205.
Tele: +91-94435 24410.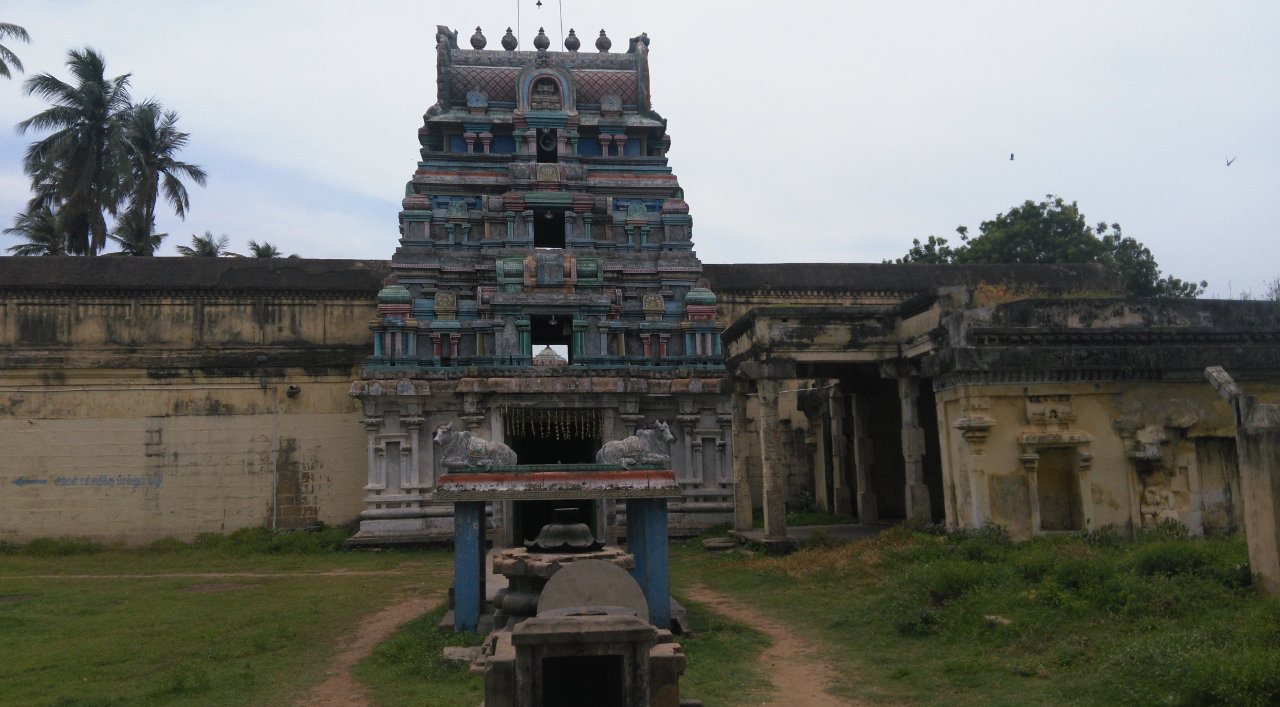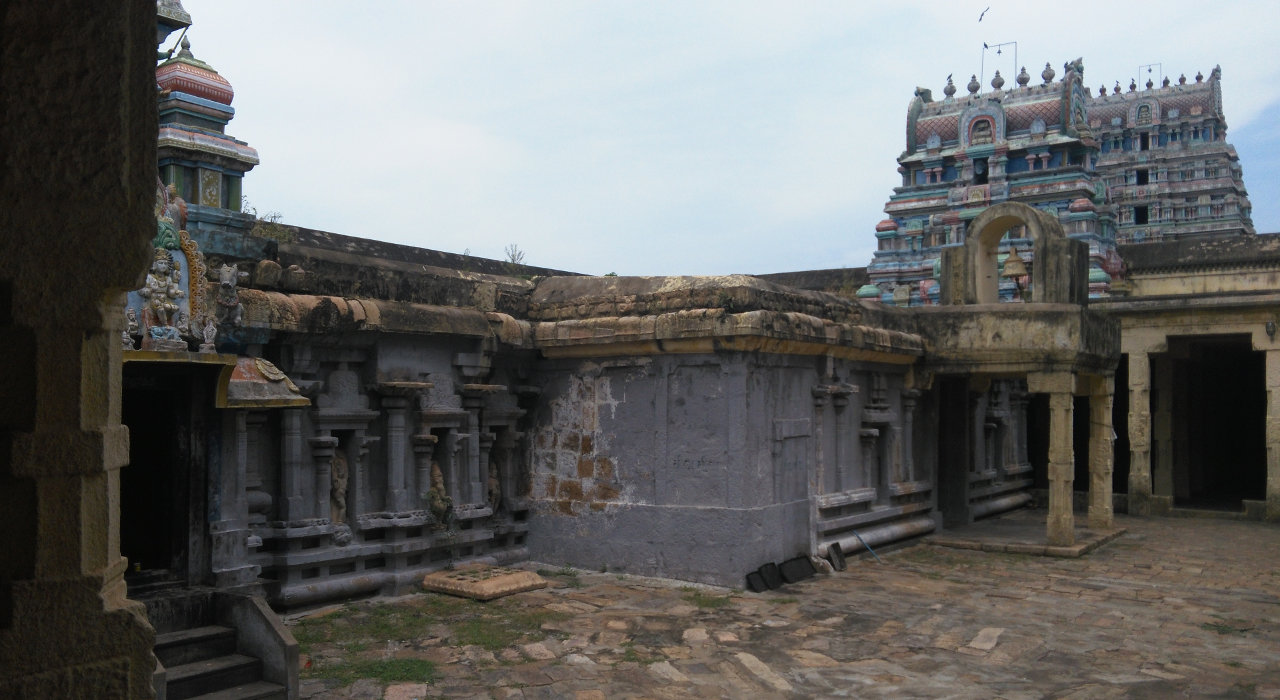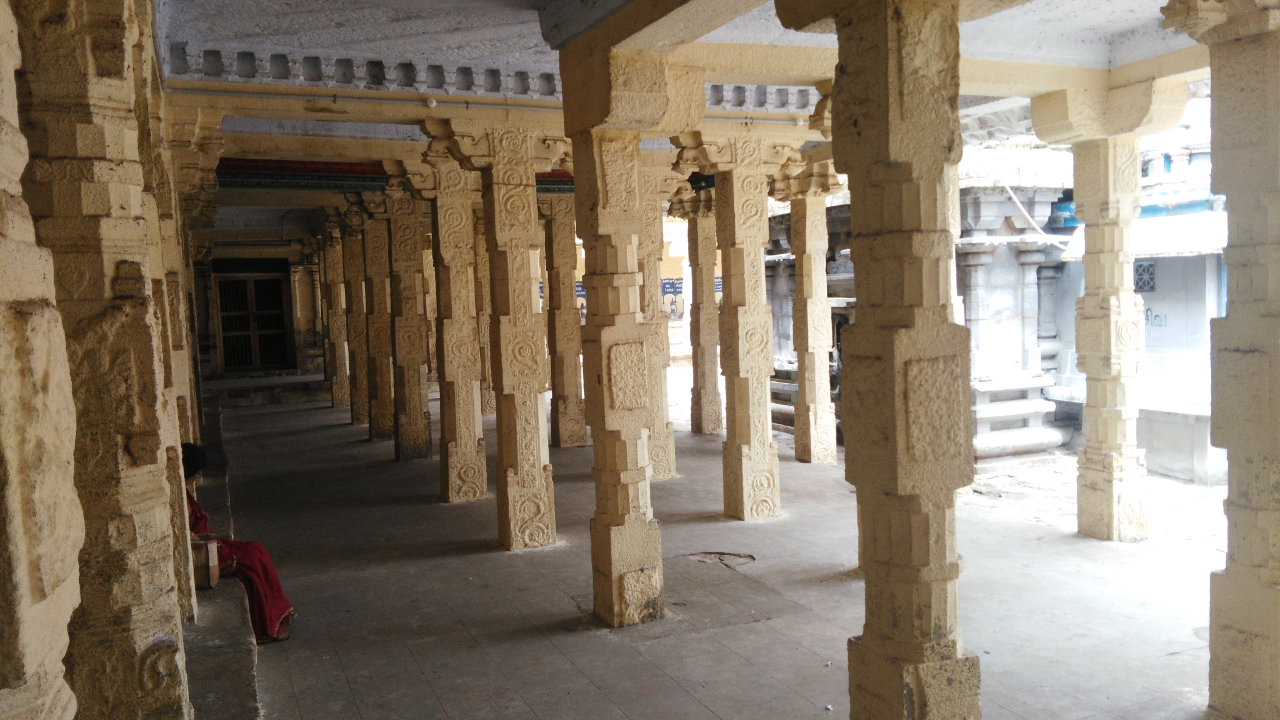 ---
Pathigam (Hymn) with English transliteration
Saint Thirunavukkarasar visited this temple and sang this Pathigam.
Devotees visiting this temple should make it a practice to recite this Pathigam.
நீல மாமணி கண்டத்தர் நீள்சடைக்
கோல மாமதி கங்கையுங் கூட்டினார்
சூல மான்மழு வேந்திச் சுடர்முடிப்
பால்நெய் யாடுவர் பாலைத் துறையரே.
"Nīla māmaṇi kaṇṭaththar nīḷsaṭaik
kōla māmathi gaṅgaiyuṅ kūṭṭiṉār
chūla māṉmazhu vēnthich chuṭarmuṭip
pālney yāṭuvar pālaith thuṟaiyarē".
கவள மால்களிற் றின்னுரி போர்த்தவர்
தவள வெண்ணகை மங்கையோர் பங்கினர்
திவள வானவர் போற்றித் திசைதொழும்
பவள மேனியர் பாலைத் துறையரே.
"Kavaḷa mālkaḷiṟ tṟiṉṉuri pōrththavar
thavaḷa veṇṇakai maṅkaiyōr paṅkiṉar
thivaḷa vāṉavar pōtṟith thisaithozhum
pavaḷa mēṉiyar pālaith thuṟaiyarē".
மின்னின் நுண்ணிடைக் கன்னியர் மிக்கெங்கும்
பொன்னி நீர்மூழ்கிப் போற்றி யடிதொழ
மன்னி நான்மறை யோடுபல் கீதமும்
பன்னி னாரவர் பாலைத் துறையரே.
"Miṉṉiṉ nuṇṇiṭaik kaṉṉiyar mikkeṅkum
poṉṉi nīrmūzhkip pōtṟi yaṭithozha
maṉṉi nāṉmaṟai yōṭupal kīthamum
paṉṉi ṉāravar pālaith thuṟaiyarē".
நீடு காடிட மாய்நின்ற பேய்க்கணங்
கூடு பூதங் குழுமிநின் றார்க்கவே
ஆடி னாரழ காகிய நான்மறை
பாடி னாரவர் பாலைத் துறையரே.
"Nīṭu kāṭiṭa māyniṉtṟa pēykkaṇaṅ
kūṭu pūthaṅ kuzhuminiṉ tṟārkkavē
āṭi ṉārazha kākiya nāṉmaṟai
pāṭi ṉāravar pālaith thuṟaiyarē".
சித்தர் கன்னியர் தேவர்கள் தானவர்
பித்தர் நான்மறை வேதியர் பேணிய
அத்த னேநமை யாளுடை யாயெனும்
பத்தர் கட்கன்பர் பாலைத் துறையரே.
"Siththar kaṉṉiyar thēvarkaḷ thāṉavar
piththar nāṉmaṟai vēthiyar pēṇiya
aththa ṉēnamai yāḷuṭai yāyeṉum
paththar kaṭkaṉpar pālaith thuṟaiyarē".
விண்ணி னார்பணிந் தேத்த வியப்புறும்
மண்ணி னார்மற வாதுசி வாயவென்
றெண்ணி னார்க்கிட மாவெழின் வானகம்
பண்ணி னாரவர் பாலைத் துறையரே.
"Viṇṇi ṉārpaṇin thēththa viyappuṟum
maṇṇi ṉārmaṟa vāthusi vāyaveṉ
tṟeṇṇi ṉārkkiṭa māvezhiṉ vāṉakam
paṇṇi ṉāravar pālaith thuṟaiyarē".
குரவ னார்கொடு கொட்டியுங் கொக்கரை
விரவி னார்பண் கெழுமிய வீணையும்
மருவு நாண்மலர் மல்லிகை செண்பகம்
பரவு நீர்ப்பொன்னிப் பாலைத் துறையரே.
"Kurava ṉārkoṭu koṭṭiyuṅ kokkarai
viravi ṉārpaṇ kezhumiya vīṇaiyum
maruvu nāṇmalar mallikai seṇpakam
paravu nīrppoṉṉip pālaith thuṟaiyarē".
தொடருந் தொண்டரைத் துக்கந் தொடர்ந்துவந்
தடரும் போதர னாயருள் செய்பவர்
கடலின் நஞ்சணி கண்டர் கடிபுனற்
படருஞ் செஞ்சடைப் பாலைத் துறையரே.
"Thoṭarun thoṇṭaraith thukkan thoṭarnthuvan
thaṭarum pōthara ṉāyaruḷ seypavar
kaṭaliṉ nañchaṇi kaṇṭar kaṭipuṉaṟ
paṭaruñ cheñchaṭaip pālaith thuṟaiyarē".
மேகந் தோய்பிறை சூடுவர் மேகலை
நாகந் தோய்ந்த அரையினர் நல்லியற்
போகந் தோய்ந்த புணர்முலை மங்கையோர்
பாகந் தோய்ந்தவர் பாலைத் துறையரே.
"Mēkan thōypiṟai chūṭuvar mēkalai
nākan thōyntha araiyiṉar nalliyaṟ
pōkan thōyntha puṇarmulai maṅkaiyōr
pākan thōynthavar pālaith thuṟaiyarē".
வெங்கண் வாளர வாட்டி வெருட்டுவர்
அங்க ணாரடி யார்க்கருள் நல்குவர்
செங்கண் மாலயன் தேடற் கரியவர்
பைங்கண் ஏற்றினர் பாலைத் துறையரே.
"Veṅkaṇ vāḷara vāṭṭi veruṭṭuvar
aṅka ṇāraṭi yārkkaruḷ nalkuvar
seṅkaṇ mālayaṉ thēṭaṟ kariyavar
paiṅkaṇ ētṟiṉar pālaith thuṟaiyarē".
உரத்தி னாலரக் கன்னுயர் மாமலை
நெருக்கி னானை நெரித்தவன் பாடலும்
இரக்க மாவருள் செய்தபா லைத்துறைக்
கரத்தி னாற்றொழு வார்வினை யோயுமே.
"Uraththi ṉālarak kaṉṉuyar māmalai
nerukki ṉāṉai neriththavaṉ pāṭalum
irakka māvaruḷ seythapā laiththuṟaik
karaththi ṉātṟozhu vārviṉai yōyumē".