Visited on: 17th July, 2016 and 23rd November, 2016
Location
Thiruvenpakkam (Poondi) is situated at a distance of about 12 kms from Thiruvallur on the Thiruvallur to Neyveli Kuttu road en route Oothukottai. From the Neyveli Kuttu road the temple is about one kilometre away. The temple is very near to the Poondi dam. From Koyambedu, Thiruvallur is about 40 kms.
Other Paadal Petra Shivasthalams near Poondi are – Ilambaiyangkottor (35 kms), Thiruvirkolam (32 kms), Thakkolam (38 kms) and Thirupachur (14 kms).
General Information
| | |
| --- | --- |
| Moolavar | Sri Oontreeswarar, Sri Venpakkanathar |
| Ambal | Sri Minnoliyammai, Sri Kanivaimozhi Nayaki |
| Theertham (Holy water) | Kailaya Theertham, Kusashthalai river |
| Sthala Vriksham (Sacred Tree) | Ilanthai |
| Pathigam (Hymn) rendered by | Saint Sundaramurthy Nayanar (Sundarar) |
This is one of the 276 Devara Paadal Petra Shiva Sthalams and 17th Shiva Sthalam in Thondai Nadu.
This is an east facing temple and has no main tower (Rajagopuram) but has arches on South and East sides. This temple has two corridors.
Consecration ceremony was performed on 14th September, 2016 after renovation.
This temple is constructed like a madakkoil with steps. Madakkoils are temples that are built at an elevation and have a few steps to be climbed to see the Lord.
Lord Shiva gave Sundararamurthy Nayanar a walking stick (Oontrukol), hence the lord here is named "Oontreeswarar".
History of the Temple
Earlier this Shiva temple was situated on the banks of river Kusashthalai in a village called Thiruvulampudur. During the year 1942, Tamil Nadu Government acquired and took over many villages including Thiruvulampudur for construction of the Poondi water dam. The Government provided alternative land at Thiruvenpakkam (Poondi) for construction of a new temple in place of the old one at Thiruvalampudur. The idols of deities except the moolavar, pillars and sculptures were removed from the old temple of Thiruvulampudur and reinstated at the new location. For this new temple, the consecration ceremony (Maha Kumbabishekam) took place on 5th July, 1968.
It is said that the idol of the main deity is newly created as the original one had already been installed at Sri Gangadareswarar temple at Purasapakkam, Chennai.
It is further said that some portion of the old temple's main tower can still be seen from the banks of the Poondi Lake.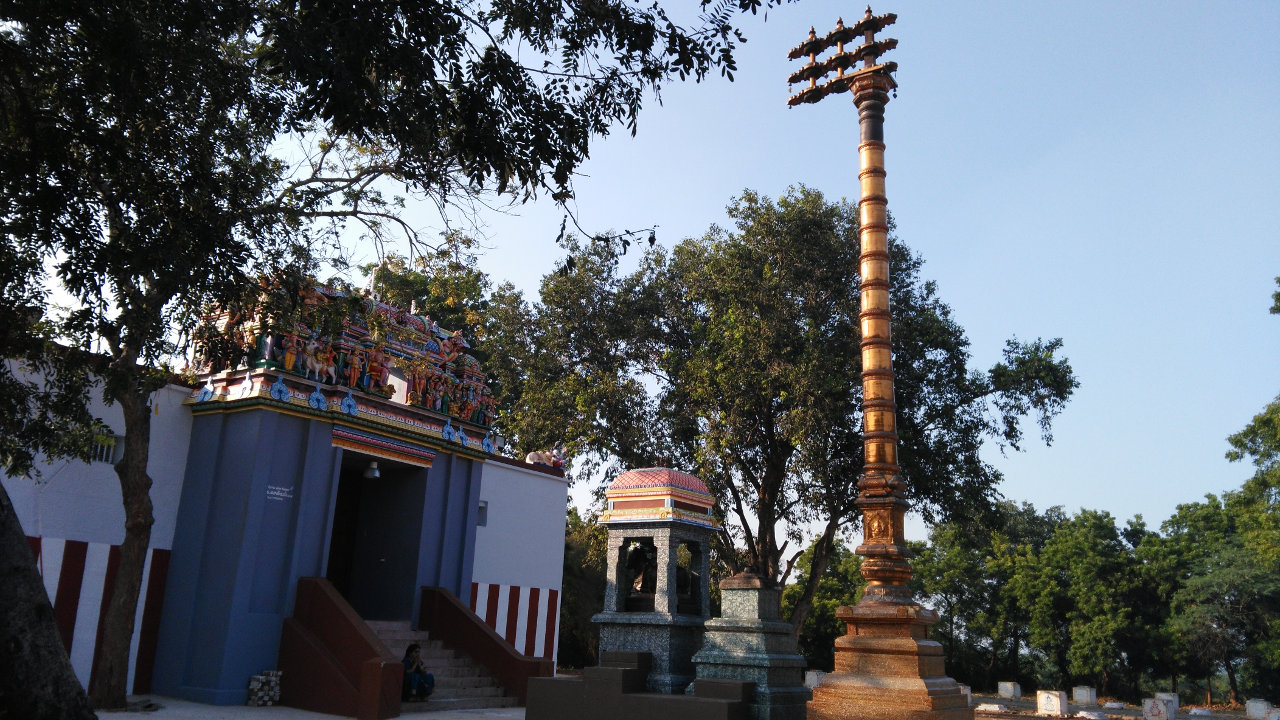 Legend
The legend is that Saint Sundarar left Thiruvotriyur to proceed to Thiruvarur after abandoning his wife Sangili Nachiyar and breaching the promise that he had made to her. On his way to this temple, it is believed that he lost his eye sight due to his failure of keep his promise to Sangili Naachiyar. While entering the temple, he asked the lord in annoyance whether he was inside (Koilul ullayo?) and further argued that if the lord cannot solve his devotees' problems, then what is the reason for his being there?
He further pleaded to the lord to restore his vision for which Lord Shiva politely replied "yes I'm inside" (Ulom Pokeer), but instead of restoring his vision, he gave Sundarar a walking stick and asked him to leave. Angered and dejected, Sundarar threw the stick back which hit the Nandhi's right horn and broke it. You can see the idol of Saint Sundarar with closed eyes and a sad expression on his face and holding a stick in his left hand. The idol of Nandhi can be seen with its right horn broken. Both these idols are in front of Lord Shiva's shrine.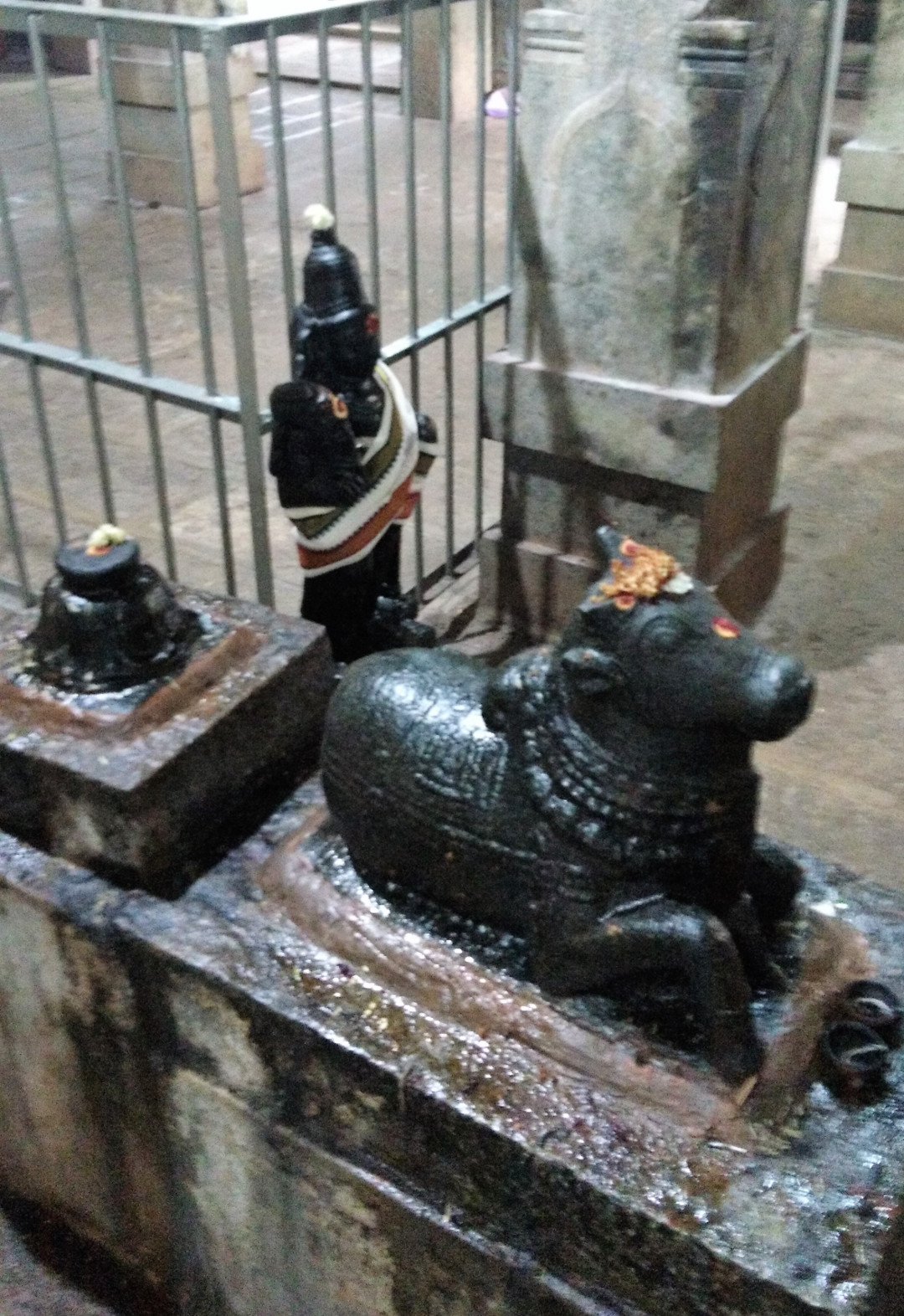 In Sundarar's pathigam at this temple, it is evident that Sundarar was heartbroken when the Lord Shiva refused to restore his vision.
It is said that Goddess Parvathy helped him reach Kancheepuram by providing him light by the way of flashes of lightning. Hence, she is praised here as "Minnoliyammai" (Minnal in Tamil means lightning). It is further said that Goddess Parvathy consoled Sundarar by saying that life goes in accordance with one's good or evil deeds and assured him that he would get back his vision in the due course of time. Hence, she is also praised as "Kanivai Mozhi Nayaki" – the goddess who gave assurance.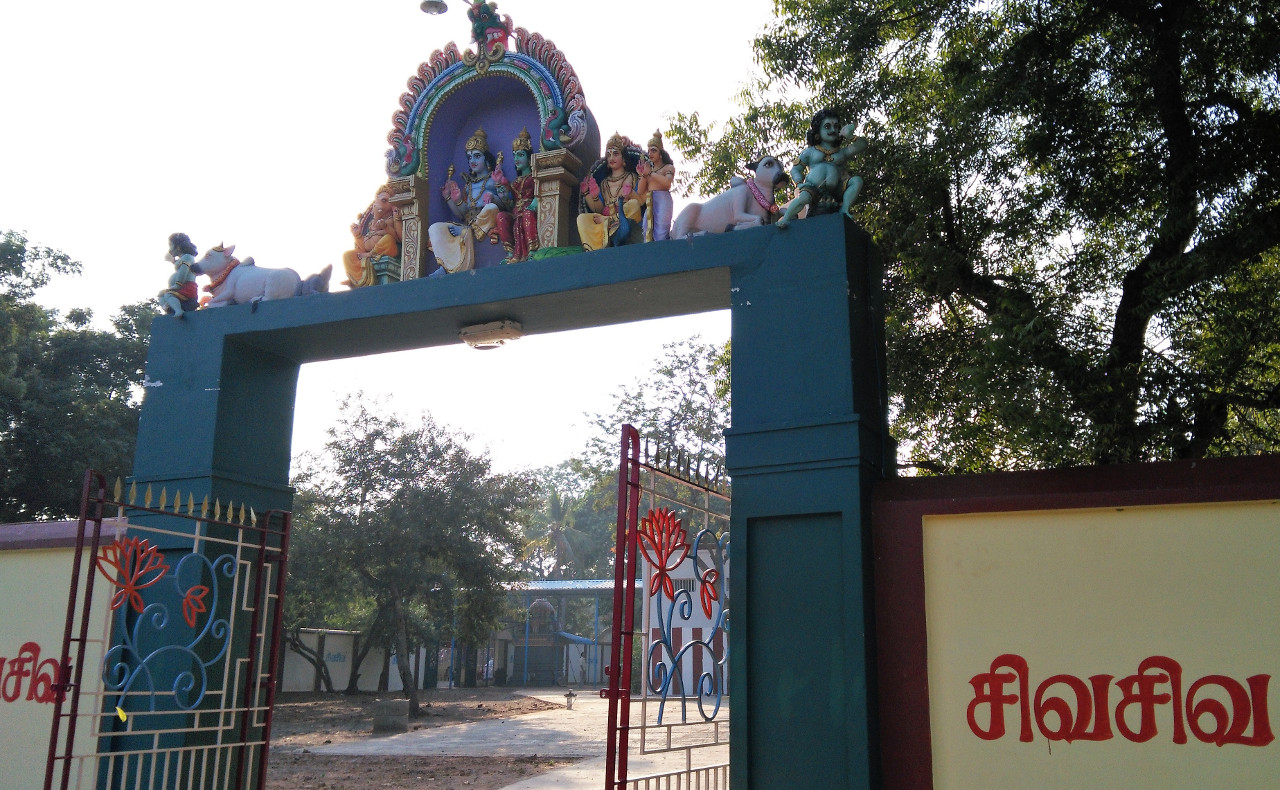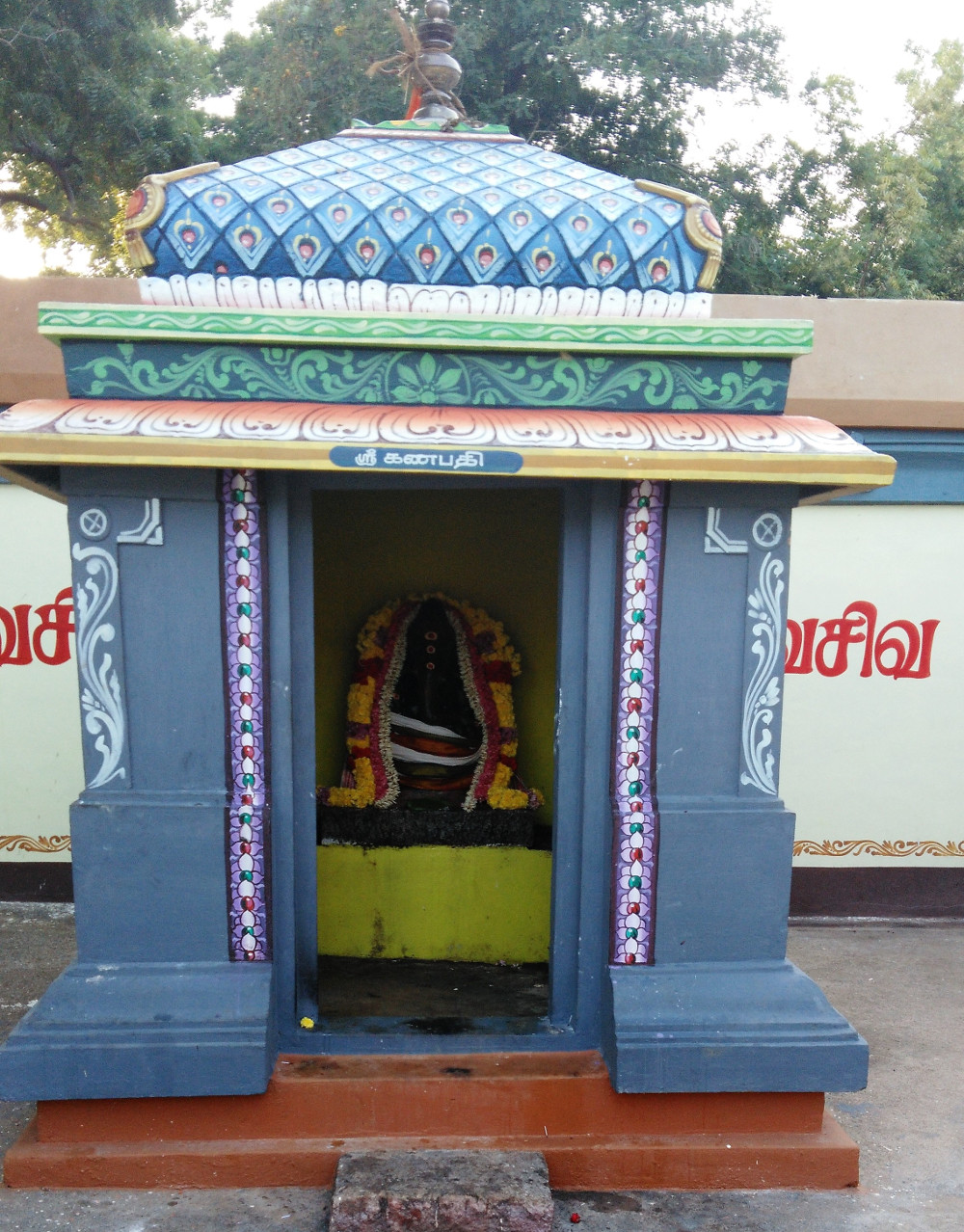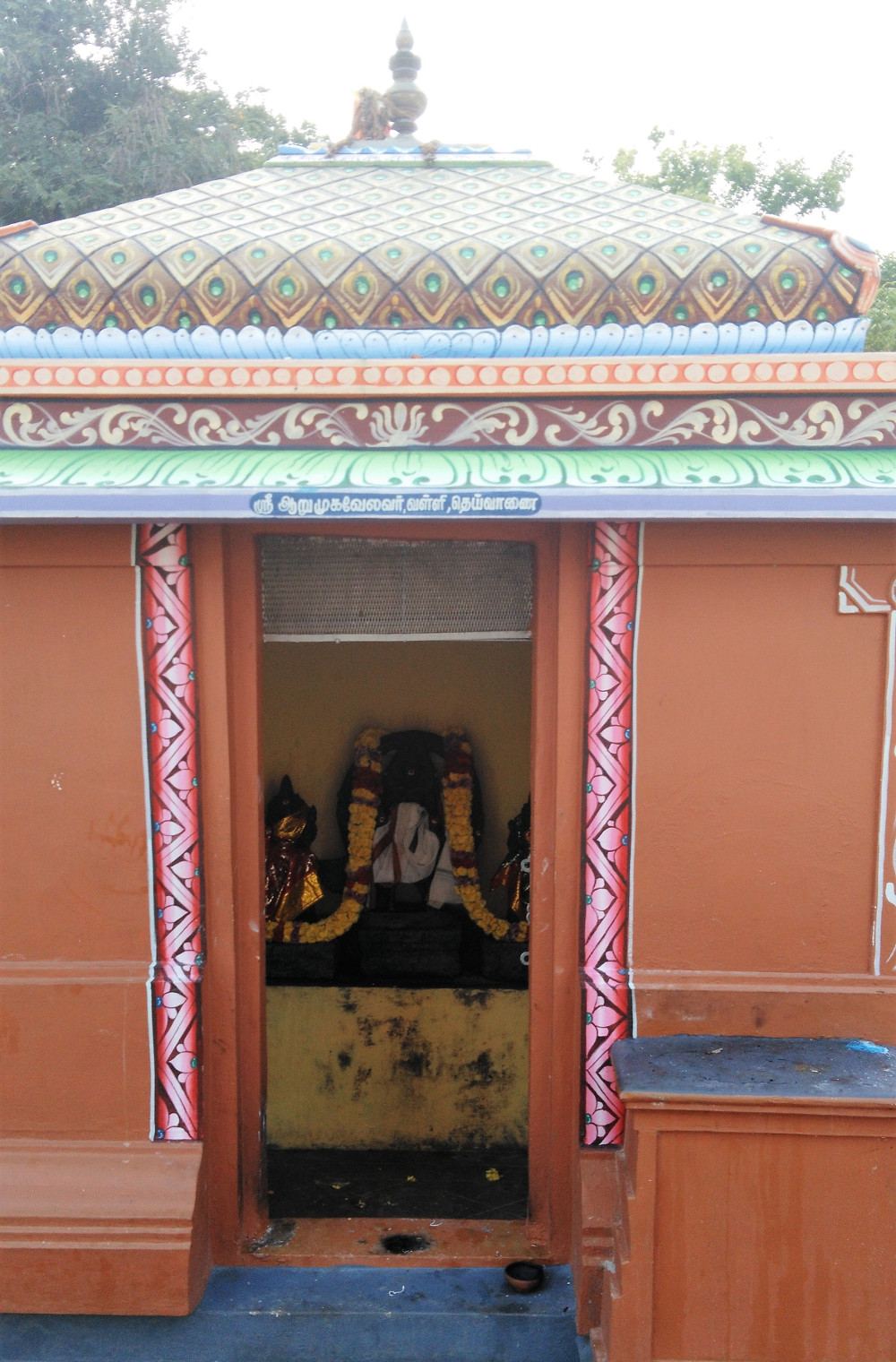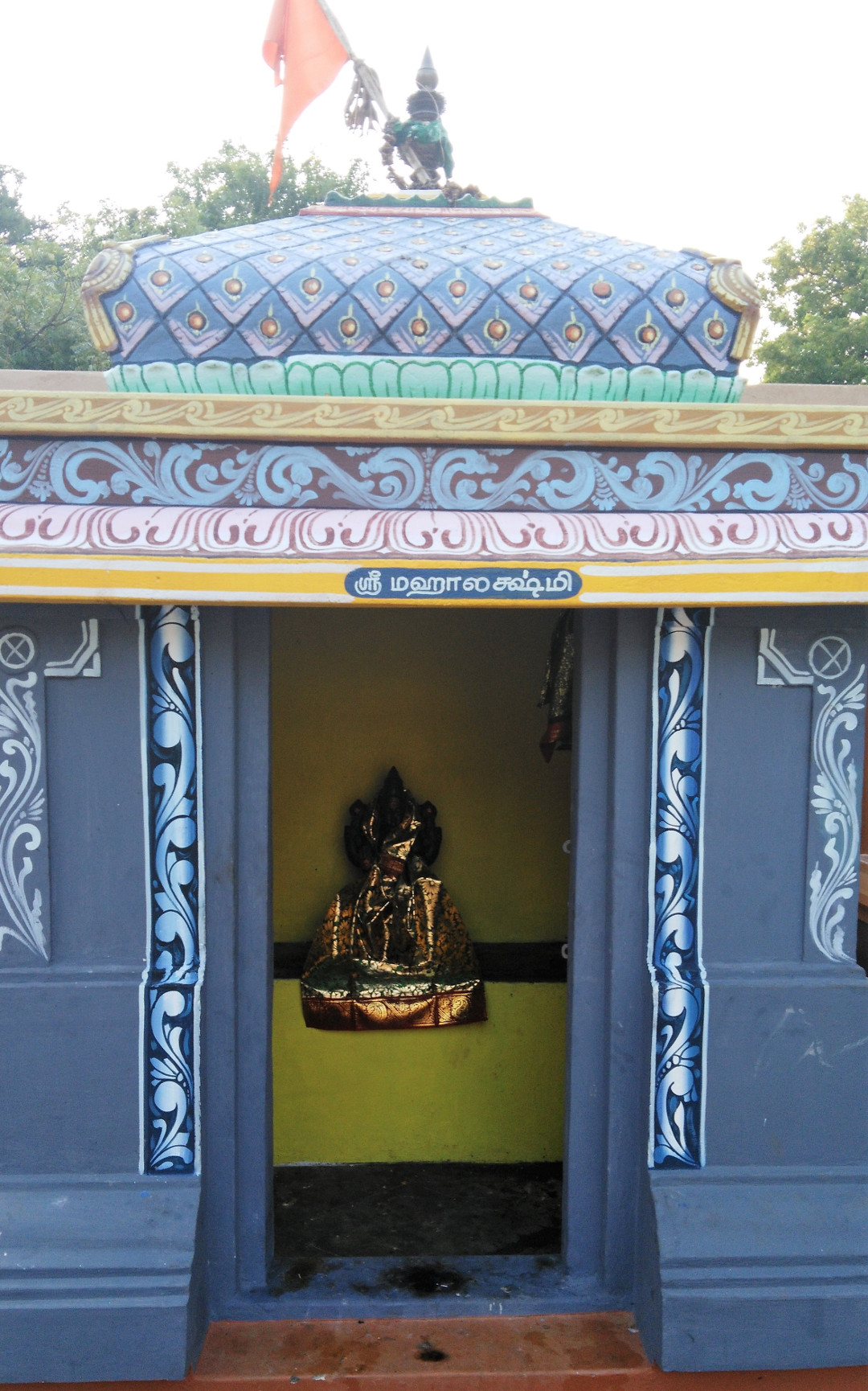 Deities in the temple
Apart from the main shrines of Sri Oontreeswarar and Sri Minnoliammai, there are idols and shrines for Lords Valampuri Vinayakar, Murugan with his consorts, Mahalakshmi, Dakshinamurthy, Lingothbavar, Brahma, Durgai, Chandikeswarar, Navagrahams, Kala Bairavar, Suryan, Chandran, Nalvars with Sekkizhar and idols of 63 Nayanmars in the hall and the corridors.
Salient Features
It is said that the second consecration of this temple took place in the year 2000.
This temple is under the supervision (Upa Koil) of Thiruverkadu Sri Devi Karumariamman temple. Recently, this temple was renovated and on 14th September, 2016 the third consecration ceremony took place. A beautiful new flag post (Dwajasthambam) was also erected here during this recent consecration ceremony.
At this place, Lord Shiva replied to Saint Sundarar by saying "Ulom Pokeer". It is believed that this could be the reason why this place got its name "Thiru vulam-pudur".
It is pertinent to mention here that even after the Lord Shiva's refusal to see Sundarar and restore his vision, Sundarar did not give up his affection and devotion towards Lord Shiva.
Greatness of this temple
Devotees facing obstacles in marriage proposals can worship Lord Oontreeswarar and seek his blessings.
Also, people with eye sight related problems can worship Goddess Minnoli Ammai for remedy.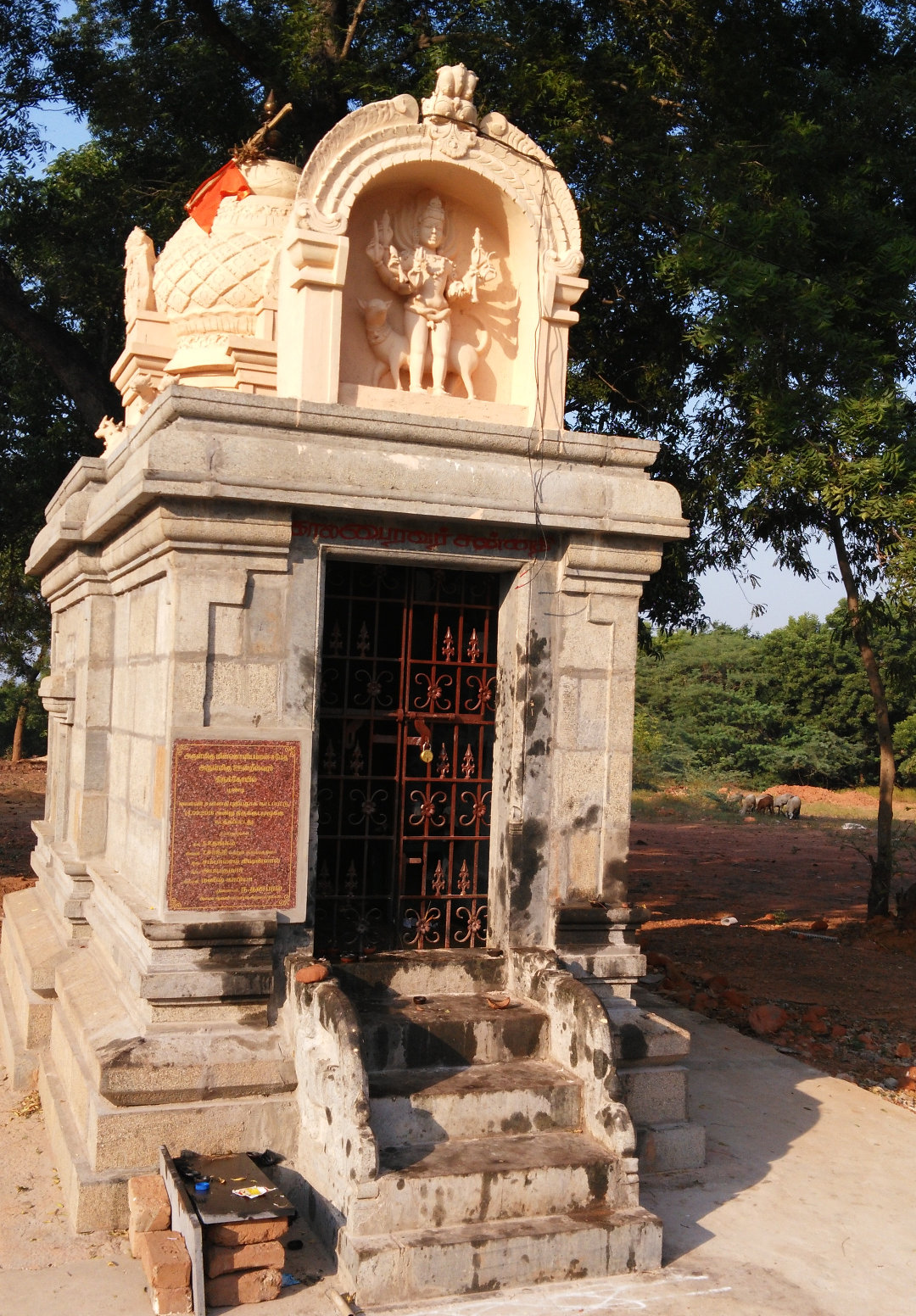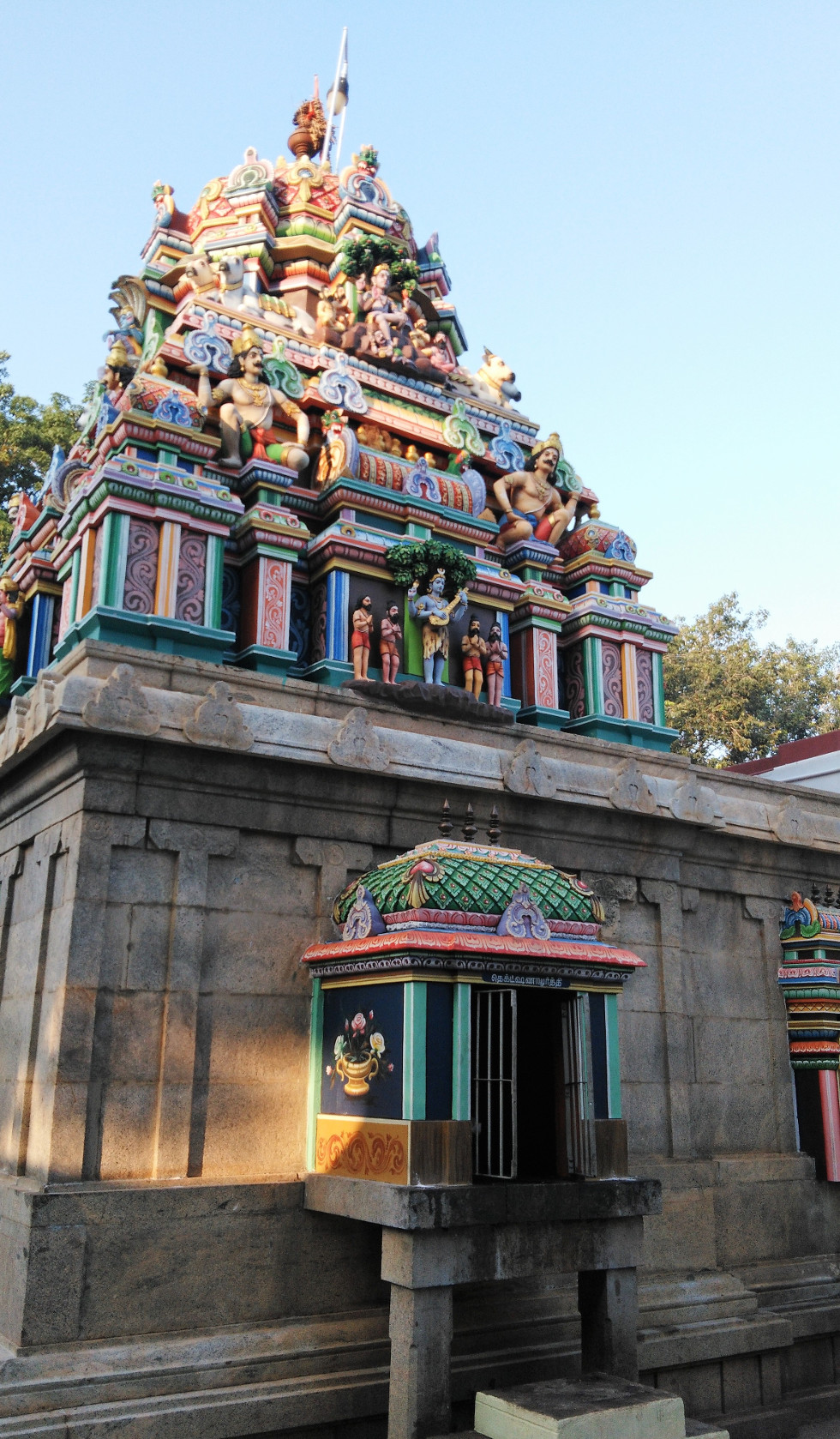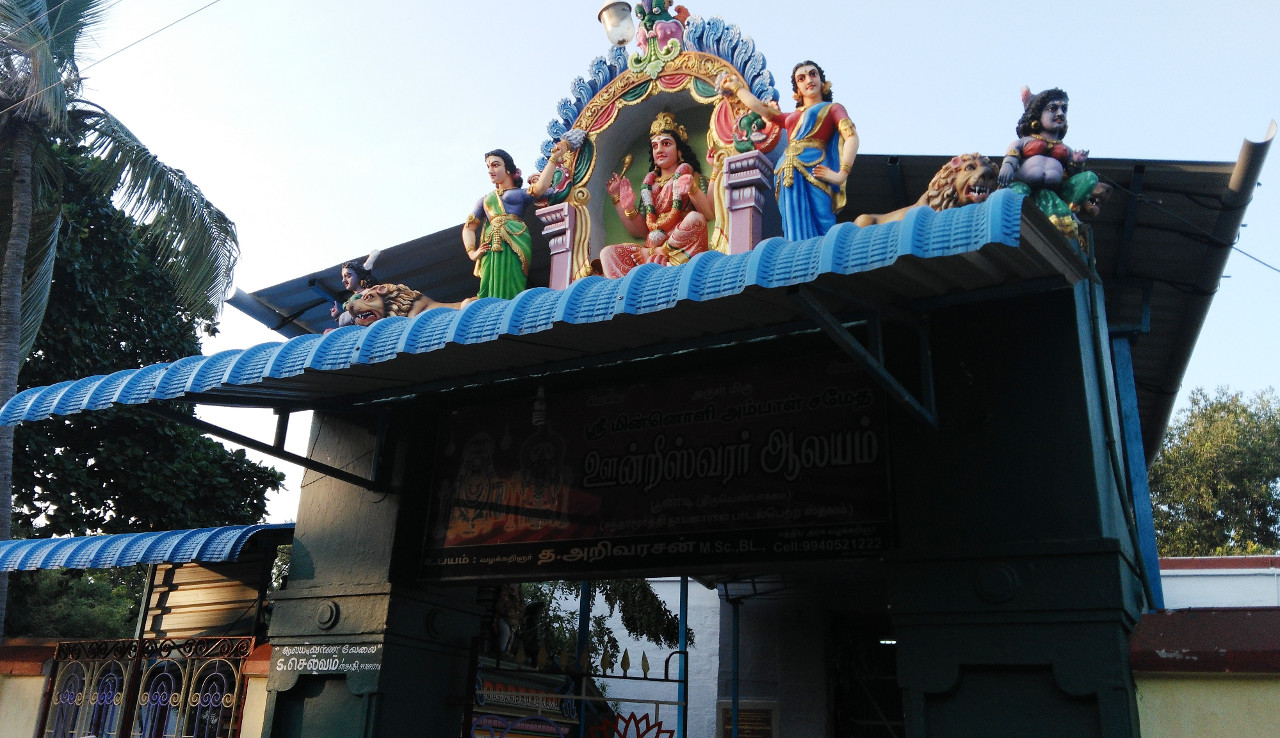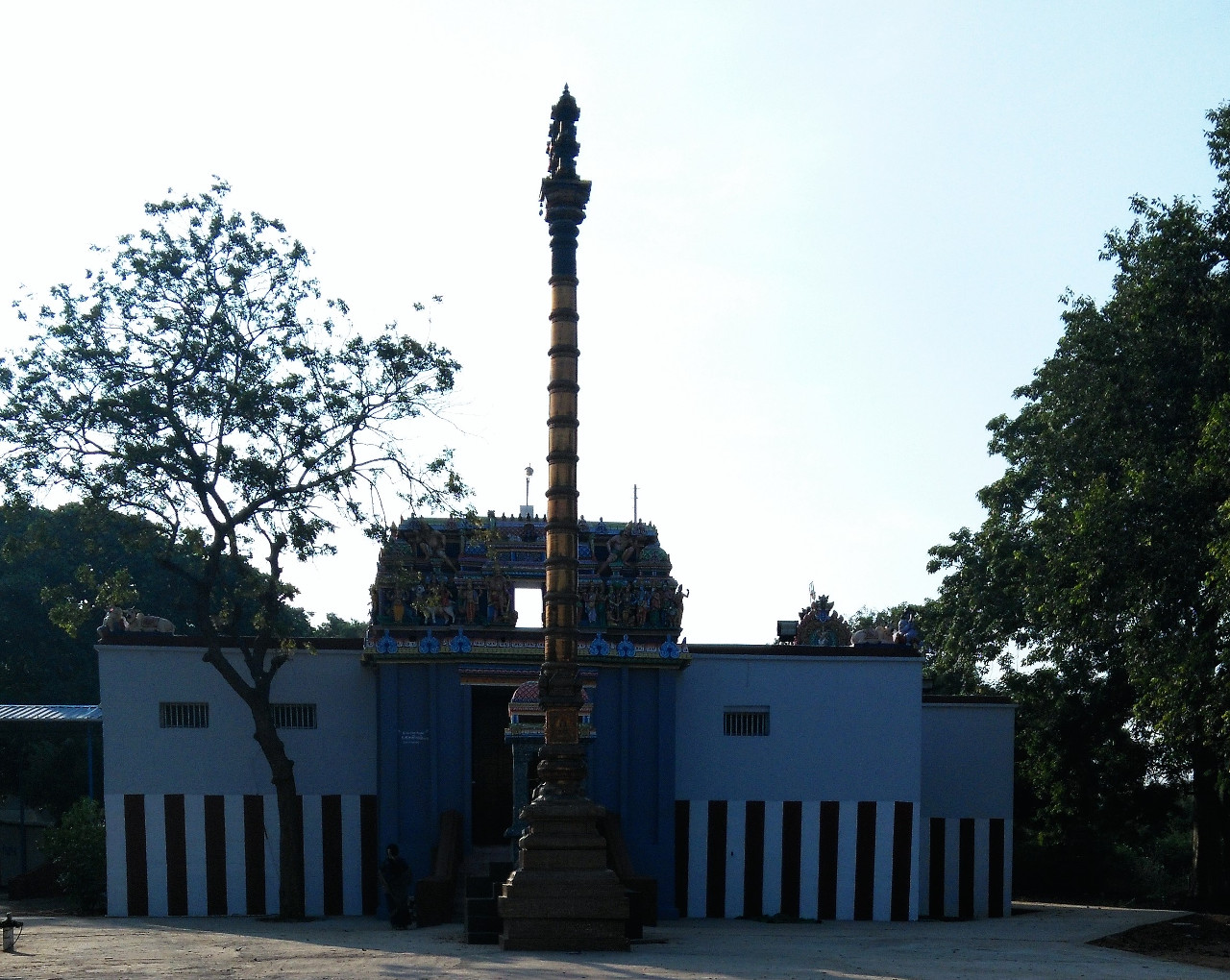 Important Festivals
Mahashivrathri in the Tamil month of Masi (February-March), Annabishekam in the Tamil month of Aipasi (October- November) and Thirukarthikai in the Tamil month of Karthikai (November-December) are the major festivals celebrated in this temple. Monthly Pradosham is also observed.
Temple Timings
06.00 AM to 11.00 AM and 04.00 PM to 08.00 PM
Temple Address

Sri Oontreeswarar Temple
Poondi Neerthekkam Post
Thiruvallur Via & District
Tamil Nadu – 602023.
Tele: 044 - 2763 9725 and 2763 9895.
Contact: Sri R.Subramanya Gurukkal – 099432 09387.
Note:
Another ancient temple with the main deities - Sri Adhi Agneeswarar and Goddess Lalithambigai is situated near the village Neyveli, at a distanace of about 3 kms from the Poondi temple. It is rare to see Goddess Lalithambigai at any other temple except for the Thirumeychur temple. One should try to visit this temple also.
The priest of this temple - Sri Ramamurthy can be contacted at 09843685562.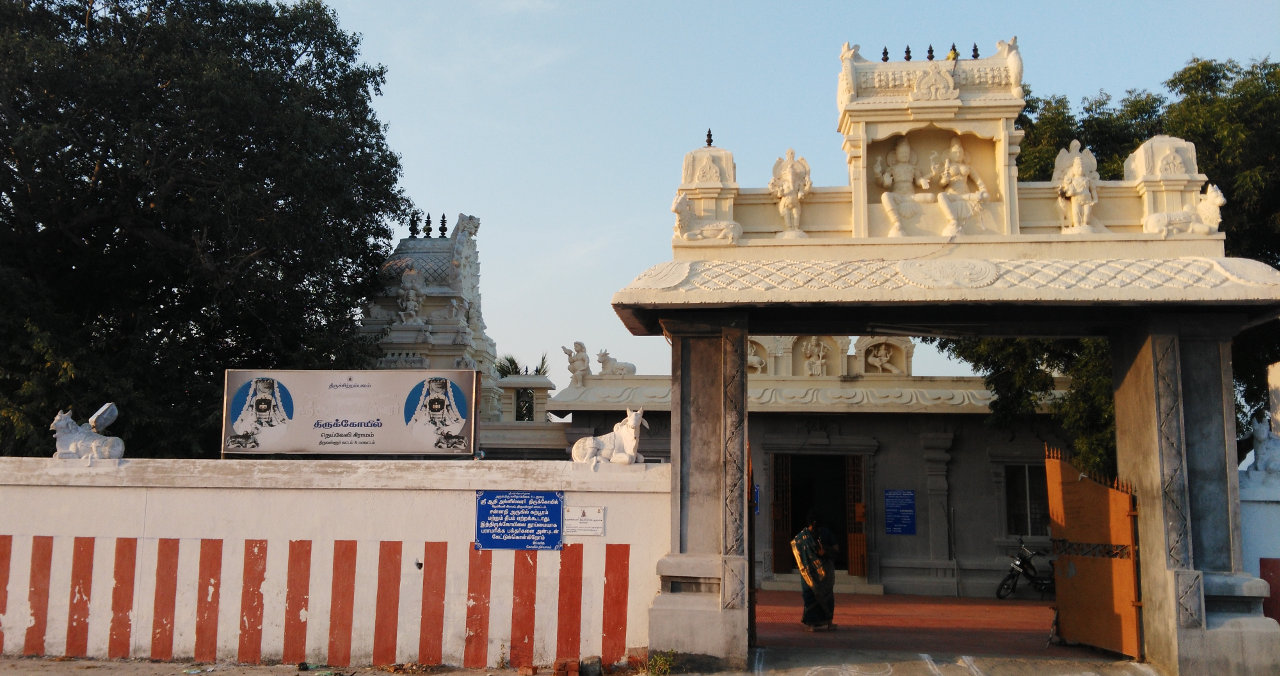 ---
Pathigam (Hymn) with English transliteration
Saint Sundaramurthy Nayanar visited this temple and sang this Pathigam.
Devotees visiting this temple should make it a practice to recite this Pathigam.
பிழையுளன பொறுத்திடுவர் என்றடியேன் பிழைத்தக்காற்
பழியதனைப் பாராதே படலமென்கண் மறைப்பித்தாய்
குழைவிரவு வடிகாதா கோயிலுளா யேயென்ன
உழையுடையான் உள்ளிருந்து உளோம்போகீர் என்றானே.
"Pizhaiyuḷaṉa poṟuthiduvar eṉtṟadiyēṉ pizhaithakkāṟ
pazhiyathaṉaip pārāthē padalameṉkaṇ maṟaippithāy
kuzhaiviravu vadikāthā kōyiluḷā yēyeṉṉa
uzhaiyudaiyāṉ uḷḷirunthu uḷōmpōkīr eṉtṟāṉē".
இடையறியேன் தலையறியேன் எம்பெருமான் சரணமென்பேன்
அடையுடையன் நம்மடியான் என்றவற்றைப் பாராதே
விடையுடையான் விடநாகன் வெண்ணீற்றன் புலியின்றோல்
உடையுடையான் எனையுடையான் உளோம்போகீர் என்றானே.
"Idaiyaṟiyēṉ thalaiyaṟiyēṉ emperumāṉ saraṇameṉpēṉ
adaiyudaiyaṉ nam'madiyāṉ eṉtṟavatṟaip pārāthē
vidaiyudaiyāṉ vidanākaṉ veṇṇītṟaṉ puliyiṉtṟōl
udaiyudaiyāṉ eṉaiyudaiyāṉ uḷōmpōkīr eṉtṟāṉē".
செய்வினையொன் றறியாதேன் திருவடியே சரணென்று
பொய்யடியேன் பிழைத்திடினும் பொறுத்திடநீ வேண்டாவோ
பையரவா இங்கிருந்தா யோவென்னப் பரிந்தென்னை
உய்யஅருள் செய்யவல்லான் உளோம்போகீர் என்றானே.
"Seyviṉaiyoṉ tṟaṟiyāthēṉ thiruvadiyē saraṇeṉtṟu
poyyadiyēṉ pizhaithidiṉum poṟuthidanī vēṇṭāvō
paiyaravā iṅkirunthā yōveṉṉap parintheṉṉai
uyya'aruḷ seyyavallāṉ uḷōmpōkīr eṉtṟāṉē".
கம்பமருங் கரியுரியன் கறைமிடற்றன் காபாலி
செம்பவளத் திருவுருவன் சேயிழையோ டுடனாகி
நம்பியிங்கே இருந்தீரே என்றுநான் கேட்டலுமே
உம்பர்தனித் துணையெனக்கு உளோம்போகீர் என்றானே.
"Kampamaruṅ kariyuriyaṉ kaṟaimiṭatṟaṉ kāpāli
sempavaḷath thiruvuruvaṉ chēyizhaiyō dudaṉāki
nampiyiṅkē irunthīrē eṉtṟunāṉ kēṭṭalumē
umparthaṉith thuṇaiyeṉakku uḷōmpōkīr eṉṟtāṉē".
பொன்னிலங்கு நறுங்கொன்றை புரிசடைமேற் பொலிந்திலங்க
மின்னிலங்கு நுண்ணிடையாள் பாகமா எருதேறித்
துன்னியிரு பால்அடியார் தொழுதேத்த அடியேனும்
உன்னதமாய்க் கேட்டலுமே உளோம்போகீர் என்றானே.
"Poṉṉilaṅku naṟuṅkoṉtṟai purisadaimēṟ polinthilaṅka
miṉṉilaṅku nuṇṇidaiyāḷ pākamā eruthēṟith
thuṉṉiyiru pāladiyār thozhuthētha adiyēṉum
uṉṉathamāyk kēṭṭalumē uḷōmpōkīr eṉtṟāṉē".
கண்ணுதலாற் காமனையுங் காய்ந்ததிறற் கங்கைமலர்
தெண்ணிலவு செஞ்சடைமேல் தீமலர்ந்த கொன்றையினான்
கண்மணியை மறைப்பித்தாய் இங்கிருந்தா யோவென்ன
ஒண்ணுதலி பெருமானார் உளோம்போகீர் என்றானே.
"Kaṇṇuthalāṟ kāmaṉaiyuṅ kāynthathiṟaṟ gaṅgaimalar
theṇṇilavu cheñchadaimēl thīmalarntha koṉtṟaiyiṉāṉ
kaṇmaṇiyai maṟaippithāy iṅkirunthā yōveṉṉa
oṇṇuthali perumāṉār uḷōmpōkīr eṉtṟāṉē".
பார்நிலவு மறையோரும் பத்தர்களும் பணிசெய்யத்
தார்நிலவு நறுங்கொன்றைச் சடையனார் தாங்கரிய
கார்நிலவு மணிமிடற்றீர் இங்கிருந்தீ ரேயென்ன
ஊரரவம் அரைக்கசைத்தான் உளோம்போகீர் என்றானே.
"Pārnilavu maṟaiyōrum patharkaḷum paṇiseyyath
tāhrnilavu naṟuṅkoṉtṟaich chadaiyaṉār thāṅkariya
kārnilavu maṇimiṭatrīr iṅkiruntīh rēyeṉṉa
ūraravam araikkasaithāṉ uḷōmpōkīr eṉtṟāṉē".
வாரிடங்கொள் வனமுலையாள் தன்னோடு மயானத்துப்
பாரிடங்கள் பலசூழப் பயின்றாடும் பரமேட்டி
காரிடங்கொள் கண்டத்தன் கருதுமிடந் திருஒற்றி
யூரிடங்கொண் டிருந்தபிரான் உளோம்போகீர் என்றானே.
"Vāridaṅkoḷ vaṉamulaiyāḷ thaṉṉōdu mayāṉathup
pāridaṅkaḷ palasūzhap payiṉtṟādum paramēṭṭi
kāriṭaṅkoḷ kaṇṭathaṉ karuthumiṭan thiru'otṟi
yūridaṅkoṇ dirunthapirāṉ uḷōmpōkīr eṉtṟāṉē".
பொன்னவிலுங் கொன்றையினாய் போய்மகிழ்க்கீ ழிருவென்று
சொன்னஎனைக் காணாமே சூளறவு மகிழ்க்கீழே
என்னவல்ல பெருமானே இங்கிருந்தா யோவென்ன
ஒன்னலரைக் கண்டாற்போல் உளோம்போகீர் என்றானே.
"Poṉṉaviluṅ koṉtṟaiyiṉāy pōymakizhkkī zhiruveṉtṟu
soṉṉa'eṉaik kāṇāmē sūḷaṟavu makizhkkīzhē
eṉṉavalla perumāṉē iṅkirunthā yōveṉṉa
oṉṉalaraik kaṇṭāṟpōl uḷōmpōkīr eṉtṟāṉē".
மான்றிகழுஞ் சங்கிலியைத் தந்துவரு பயன்களெல்லாந்
தோன்றஅருள் செய்தளித்தாய் என்றுரைக்க உலகமெலாம்
ஈன்றவனே வெண்கோயில் இங்கிருந்தா யோவென்ன
ஊன்றுவதோர் கோலருளி உளோம்போகீர் என்றானே.
"Māṉtṟikazhuñ saṅkiliyaith thanthuvaru payaṉkaḷellān
thōṉṟa'aruḷ seythaḷithāy eṉtṟuraikka ulakamelām
īṉtṟavaṉē veṇkōyil iṅkirunthā yōveṉṉa
ūṉtṟuvathōr kōlaruḷi uḷōmpōkīr eṉtṟāṉē".
ஏராரும் பொழில்நிலவு வெண்பாக்கம் இடங்கொண்ட
காராறும் மிடாற்றானைக் காதலித்திட் டன்பினொடுஞ்
சீராருந் திருவாரூர்ச் சிவன்பேர்சென் னியில்வைத்த
ஆரூரன் தமிழ்வல்லார்க் கடையாவல் வினைதானே.
"Ērārum pozhilnilavu veṇpākkam idaṅkoṇda
kārāṟum miṭātṟāṉaik kāthalithiṭ ṭaṉpiṉoduñ
chīrārun thiruvārūrch sivaṉpērseṉ ṉiyilvaitha
ārūraṉ tamizhvallārk kadaiyāval viṉaithāṉē".