Visited on: 12th August, 2017.
Location
Thiruveezhimizhalai is situated at a distance of about 27 kms from Mayiladuthurai on the Mayiladuthurai to Thiruvarur route. Frist travel to Poonthottam (20 kms) and then to Thiruveezhimizhalai (7 kms). From Kumbakonam also this place is about 26 kms.
Other Devara Paadal Petra Shiva Sthalams near this temple are – Thirumiyachur, Thirumiyachur Ilamkoil, Thilathaipathy, Thiru Anniyur, Thiruppampuram, Serukudi, Thiru Kottaram, Ambal Maakalam and Ambar Perunthirukkoil.
General Information
Moolavar

Sri Nethrarpaneswarar, Sri Veezhi Azhakeesar,
Sri Veezhinathaswamy, Sri Kalyanasundaramurthy

Ambal

Sri Sundarakujambigai,
Sri Azhagiyavanmulaiammai, Sri Karthiyayani

Theertham (Holy water)

Vishnu Theertham

Sthala Vriksham (Sacred Tree)

Veezhi tree

Pathigam (Hymn) rendered by

Saint Thirugnanasambanthar-15,
Saint Thirunavukarasar (Appar)-8,
Saint Sundaramurthy (Sundarar)-1

This is one of the 276 Devara Paadal Petra Shiva Sthalams and 61 Shiva Sthalam on the Southern bank of the river Cauveri in Chozha Nadu (Thenkarai).
Lord Shiva in this temple is a Swayambumurthi (self-manifested).
This is a famous "Parihara Sthalam" to remove obstacles from marriage proposals.
This is one of the 44 Paadal petra sthalams where the "Moovar" (the three saints - Saint Thirugnanasambanthar, Saint Thirunavukarasar (Appar) and Saint Sundaramurthy (Sundarar) had rendered their Pathigams.
This east facing temple has two corridors and its main tower (Rajagopuram) has 5-tiers.
The last consecration ceremony (Kumbabishekam) took place on 11.09.2013 and prior to that on 20.01.2000.
History of the Temple
This ancient temple is situated on the northern banks of the river Arisilaru.
According to legend, in ancient times, this region was a forest densely covered with jackfruit, sandalwood, Shenbakam and Vila trees. This forest was called the "Veezhi" forest.
This ancient temple is believed to be more than 2000 years old. There are 68 stone inscriptions available in this temple which relate to the periods starting from the Chola King Kulothungan-I.
Now this temple is under the administrative control of Thiruvavaduthurai Aadheenam.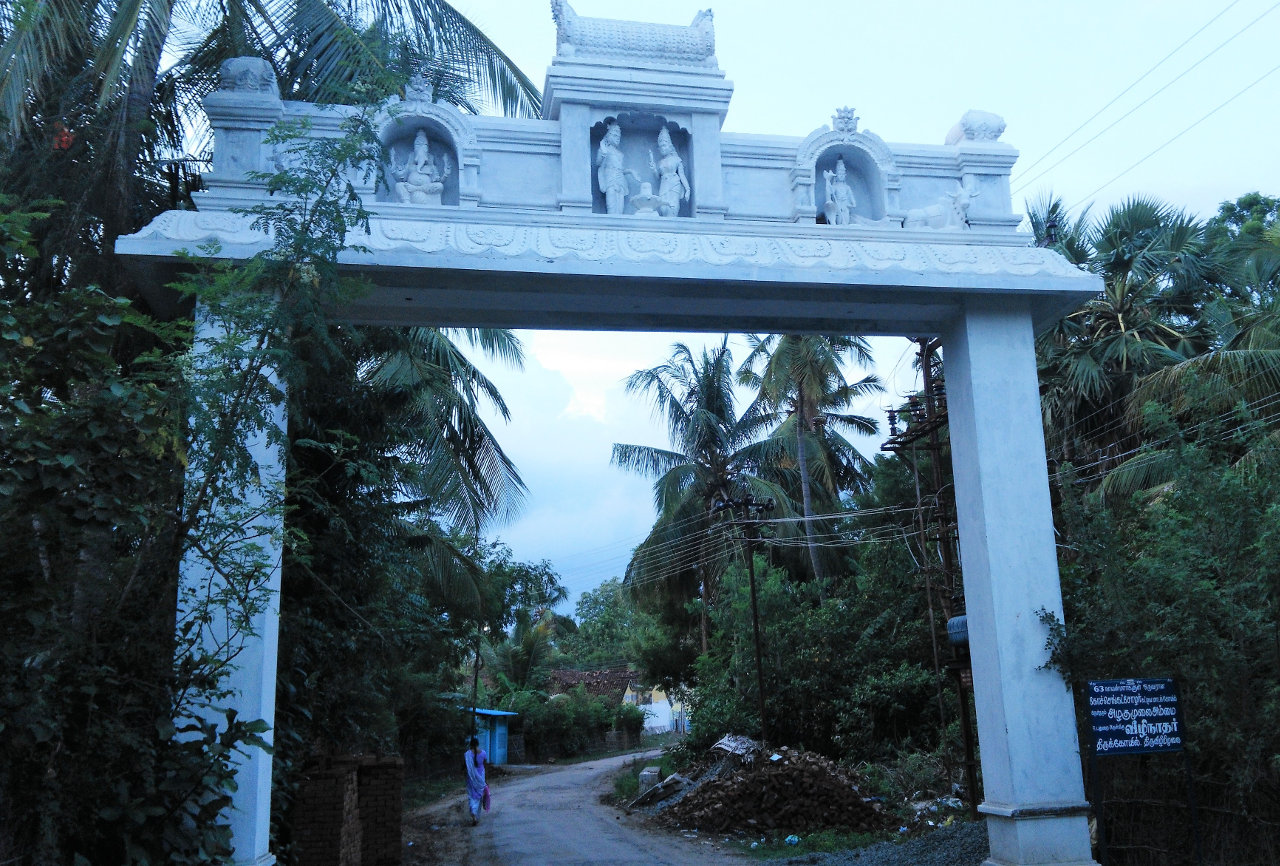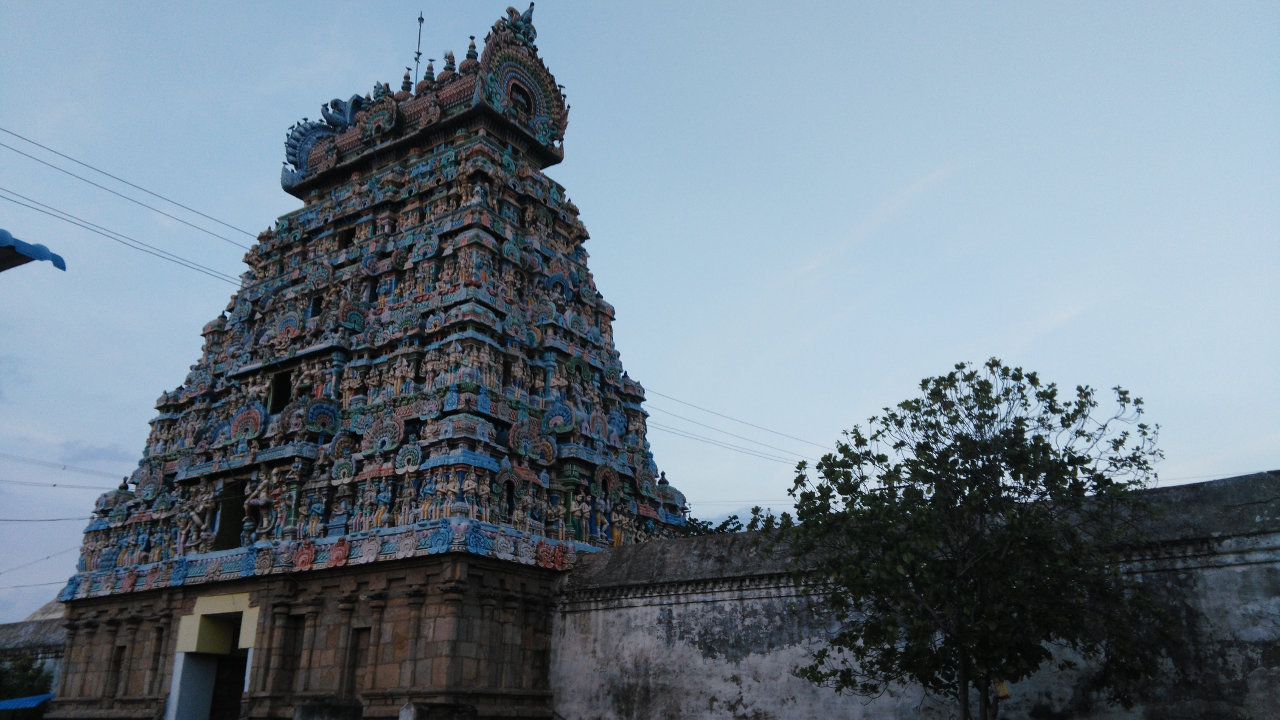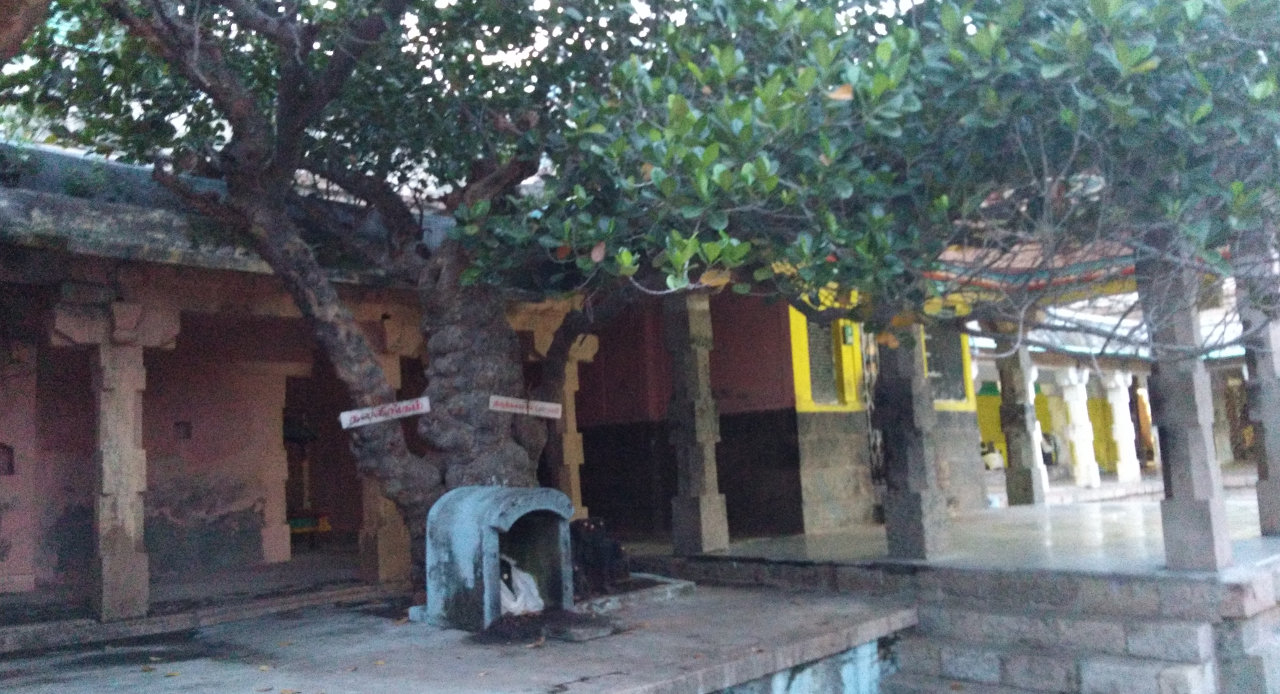 Legend
The legend is that Sage Kathyayana and his wife Sumangalai had performed rigorous penance here to obtain the blessings for a child. Pleased with their penance, Goddess Parvathi herself was born to them. She was named "Karthyayini". When she grew up and attained the marriageable age, the sage prayed to Lord Shiva that he help him find a suitable groom for her. Responding to his prayers, Lord Shiva appeared and told him that he would marry his daughter on the "Magam" star day in the Tamil month of Chithirai (April-May). The lord further told the sage that his daughter is none other than Goddess Parvathy herself. As told by Lord Shiva, their wedding took place here. The sanctum resembles a "Kalyana Mandapam" (marriage hall) with two pillars – one is said to be "Arasanikkal" and the other "Panthakkal". This form of sanctum cannot be seen anywhere else. The sage requested the lord to stay back in this temple in their wedding form and grant darshan to all the devotees. Since then it is believed that the lord can be seen in the sanctum sanctorum in their wedding form.
The idols of Lord Shiva and Goddess Parvathy that are placed behind the main lingam are very special as both of them are in a human form with a height of about 12 feet. The lord is known as Sri Kalyanasundarar and is also colloquially called as "Mappillai Swamy" ("Mappillai" means groom in Tamil). The inner tower is in the shape of a chariot with Lord Indra as the driver and Lord Shiva seated behind as the groom.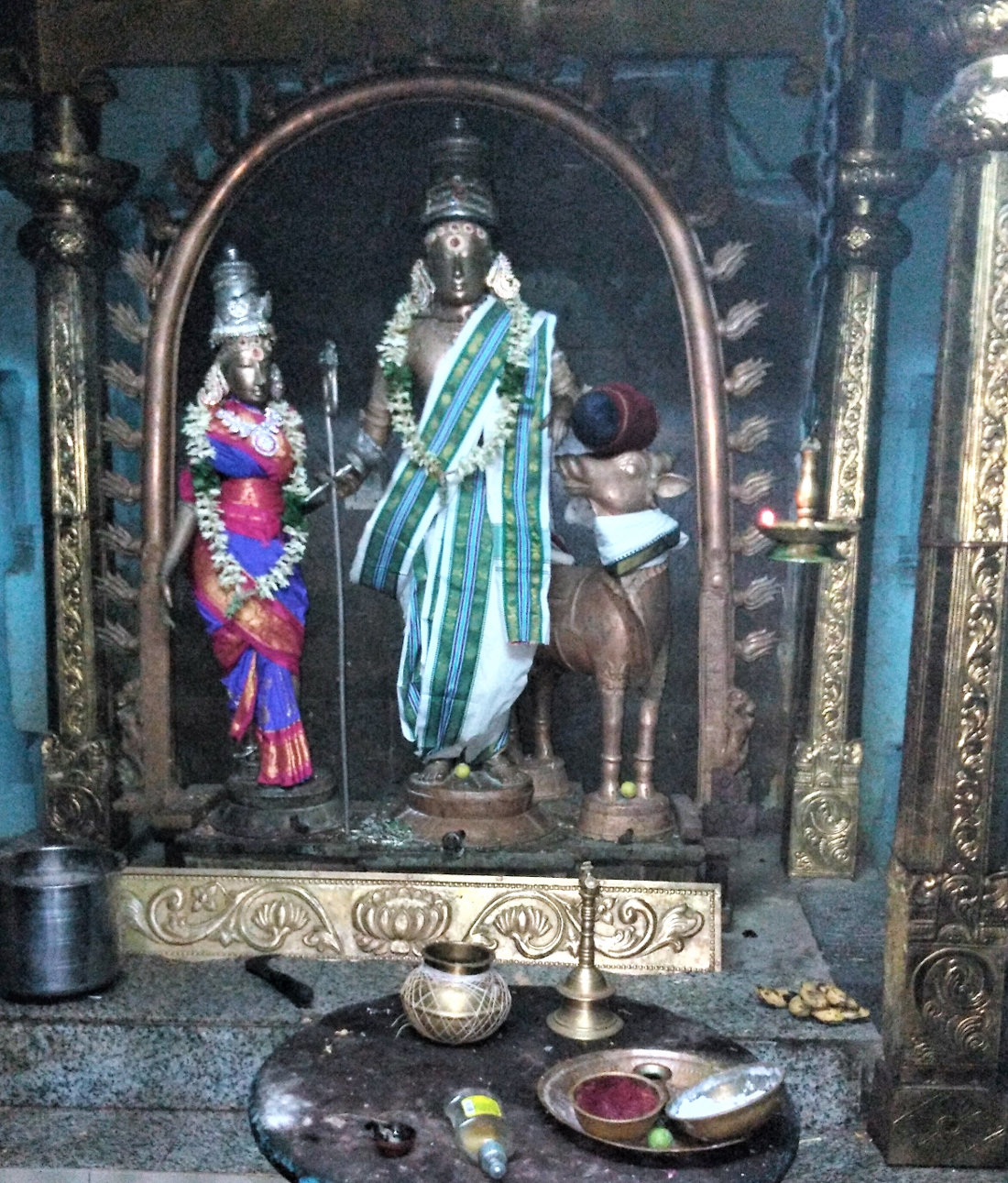 Another legend is that Lord Mahavishnu is said to have been blessed with his "Discus" (Chakrayudam) upon worshipping Lord Shiva in this temple. It is believed that in his battle against Sage Thatheesi, Lord Mahavishnu had used his discus. When the discus touched the sage's body, it lost its sharpness and became defunct. Worried, Lord Mahavishnu consulted with the celestial gods (Devas) who advised him that Lord Shiva had the "Sudharsana Chakram" (discus) which he had created to destroy demon Chalandaran. Lord Mahavishnu came to this place (Thiruveezhimizhalai) carrying a sanctum tower ("Vinnizhi Vimanam") with him. He placed the idol of Lord Shiva inside it and worshipped him every day by making an offering of a thousand lotus flowers.
To test Lord Vishnu's determination, it is believed that one day, Lord Shiva caused the shortage of one flower. To make up for this shortage, Lord Vishnu immediately plucked out one of his eyes out and offered it along with the flowers. Pleased by his devotion, Lord Shiva restored Lord Mahavishnu's eye and blessed him with the "Sudharsana Chakram". Lord Shiva also named Lord Mahavishnu as "Kamalakkannan" ("Kamalam" means lotus in Tamil).
In his hymn, Saint Thirunavukkarasar mentioned about Lord Mahavishnu's worship and the way he offered his eye to the lord. Saint Thirugnanasambanthar also mentioned in his hymn about Lord Mahavishnu's worship and the sanctum tower that he placed here.
Another legend is that when Thirunavukkarasar (Appar) and Thirugnanasambanthar visited this place together, there was a severe drought in this area. They prayed to Lord Shiva who gave one Padikasu ("Padi" means allowance and "Kasu" means Gold coin in Tamil) every day to both of them. This was done so that they could usethe Padikasu for offering food to the needy people. Sambanthar got his padikasu at the Peedam in front hall (Mahamandapam) near the flag post whereas Appar got his padikasu from the Peedam at the west side corridor.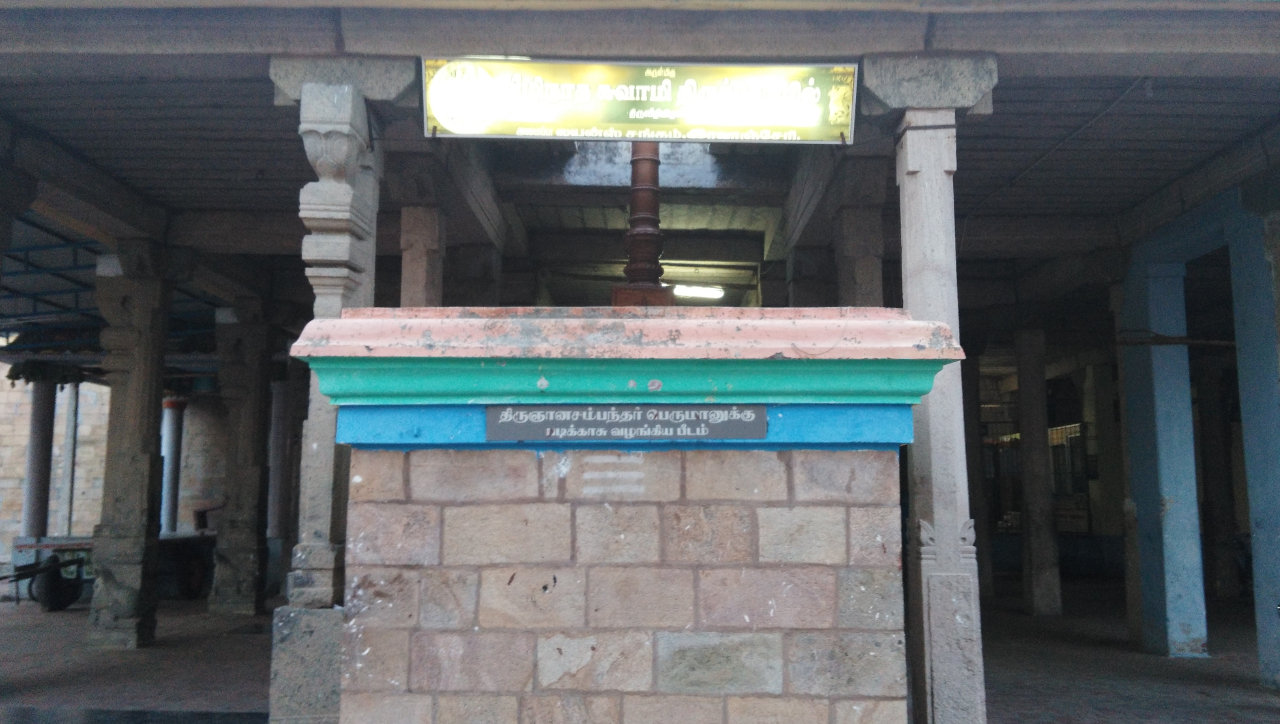 However, the gold that Sambanthar received had less purity when compared to the gold that Appar got. So Sambanthar prayed to the lord that he also be given the same quality of gold so that he could feed his followers properly. This can be inferred from his hymn which starts with the line "Vasi theerave kaasu nalkuveer….. ". Since it was a play of the lord, after Sambanthar's hymn, he also started getting good quality gold coins.
It is also believed that Lord Shiva granted his darshan as "Sirkazhi Thoniyappar" to Saint Thirugnanasambanthar from this temple's sanctum tower "Vinnizhi Vimanam".
Another legend is that one hunter by name of Mizhalai Kurumbar visited this temple and worshiped the lord here by offering "Vilam" fruits every day. Pleased with his devotion, it is believed that Lord Shiva blessed him with his dharisanam and taught him the 8 great lessons called "Ashtamasiddhi". Kurumbar then performed rigorous penance here for a long time and attained the status of a "Sidhar". There is a separate shrine for him in the corridors. This village gets the name "Thiruveezhimizhalai" ("Veezhi" the forest name and "Mizhalai" the hunter's name) and the lord here is also praised as "Sri Veezhi Nathar".
Another legend associated with this temple is that of Swedakethu, a king from the north. His court astrologers had informed him that his life span was very short (18 years only). Swedakethu took advice from various sages who had suggested him to go to Thiruveezhimizhalai and worship Lord Shiva. It is believed that he was saved from Yama by Lord Shiva. In this temple, there is an idol of "Sri Kalasamharamurthy" like in Thirukkadaiyur where Sage Markandeya was saved from Yama.
It is also believed that Sage Vashistar, Kamadenu, Rathi Devi and king Manu have worshiped the lord here.
Deities in the temple
Other than the shrines of Lord Shiva and Goddess Parvathy, shrines and idols of lords Vinayakar, Murugan, Patikkasu Vinayakar, Natarajar with Sivakami, Somaskandar, Pitchandavar, Kalasamharamurthy, Thiyagarajar, Dakshinamurthy, Nalvar, Irattai Vinayakar, Munnai Vinayakar, Bala Ganapathy, Balasubramaniyar, Selva Thiyagarajar, Thirugnanasambanthar, Sundarar, Few Shivalingams, Sri Muktha Devi, Somaskandar, Ekambareswarar, Arunachaleswarar, Vaidhiyanathar, Kalahastheeswarar, Mayuranathar, Chandikeswarar, Padala Nandhi, Suryan, Bairavar and Meikkandar can be seen in the corridors. There is a separate shrine for Lord Saneeswaran.
There is a separate Shivalingam near the flag post (Dwajasthambam) that is praised as "Sri Thirumulanathar". It is quite unique to see a Shivalingam near the flag post.
Goddess Parvathy has a separate shrine and it has a separate corridor. In that corridor, there are shrines for lords Vinayakar and Murugan.
The procession idol of Lord Kalyanasundareswarar can be seen with Lord Mahavishnu offering his eye.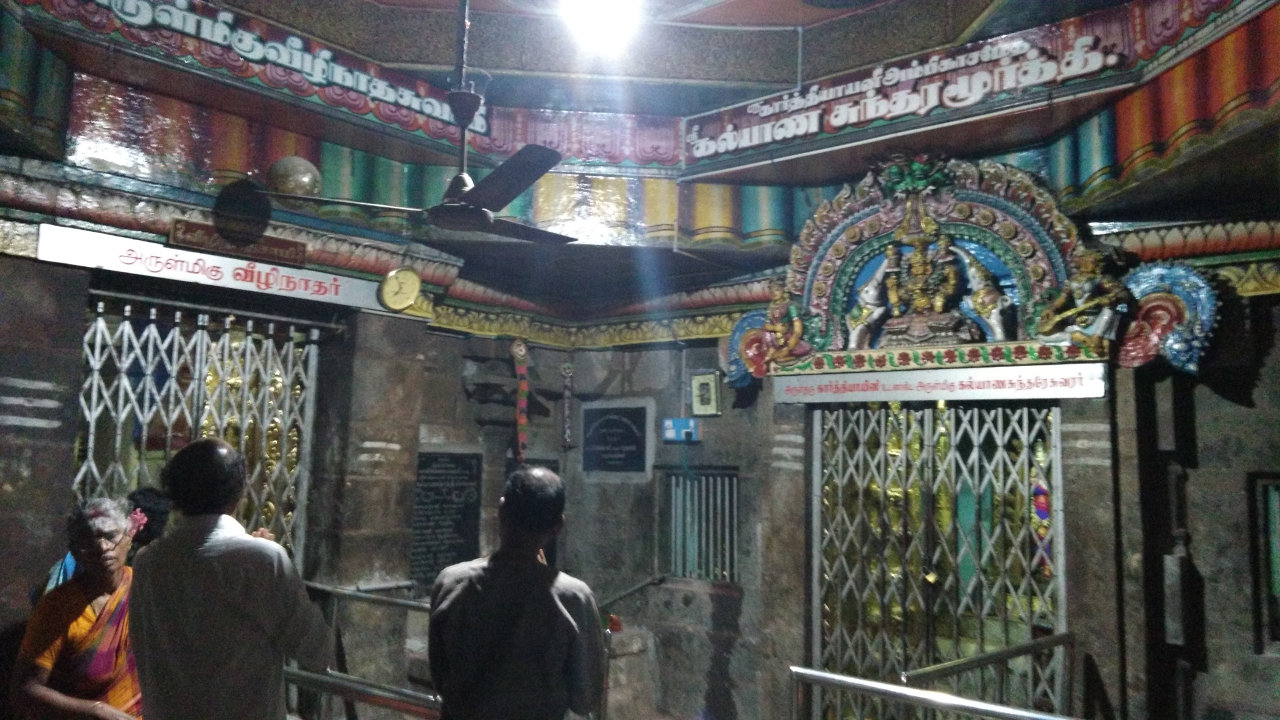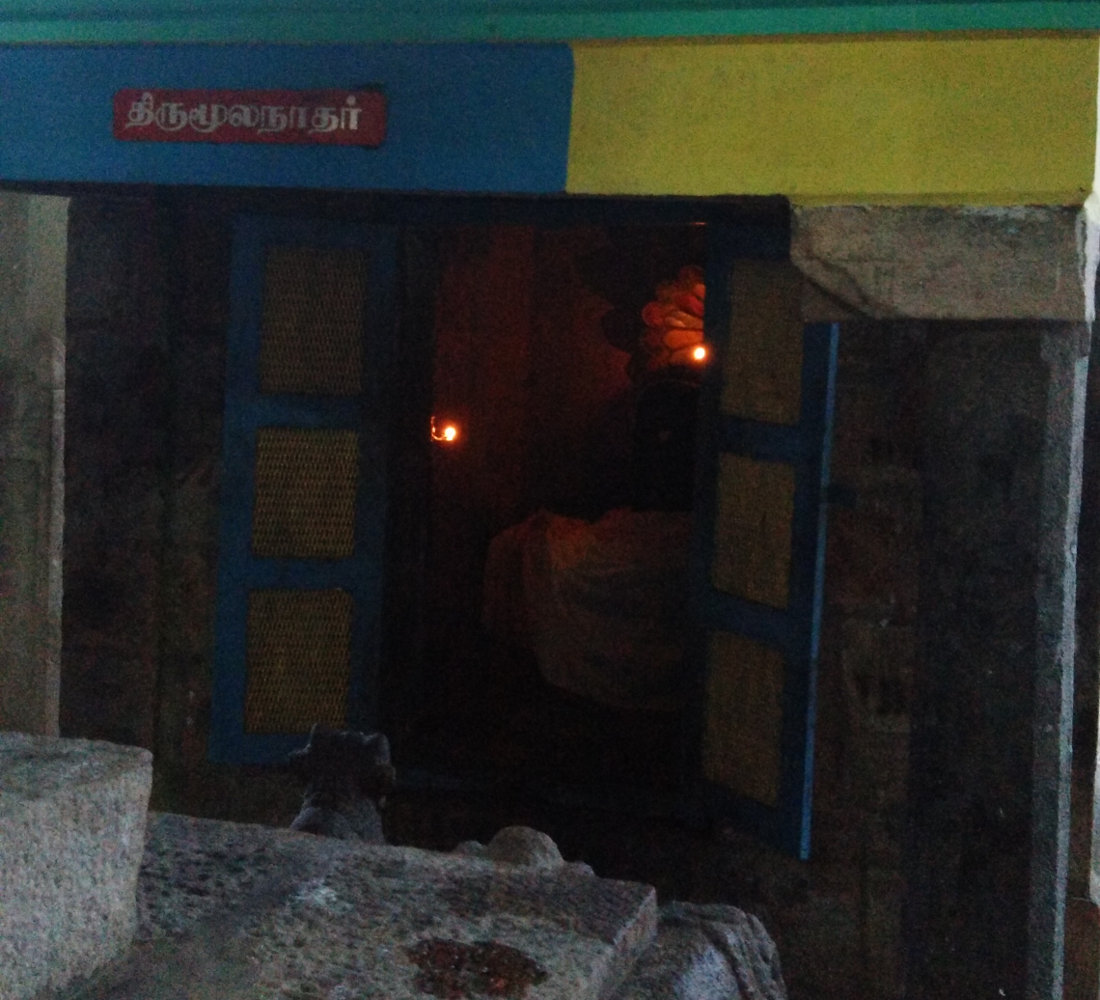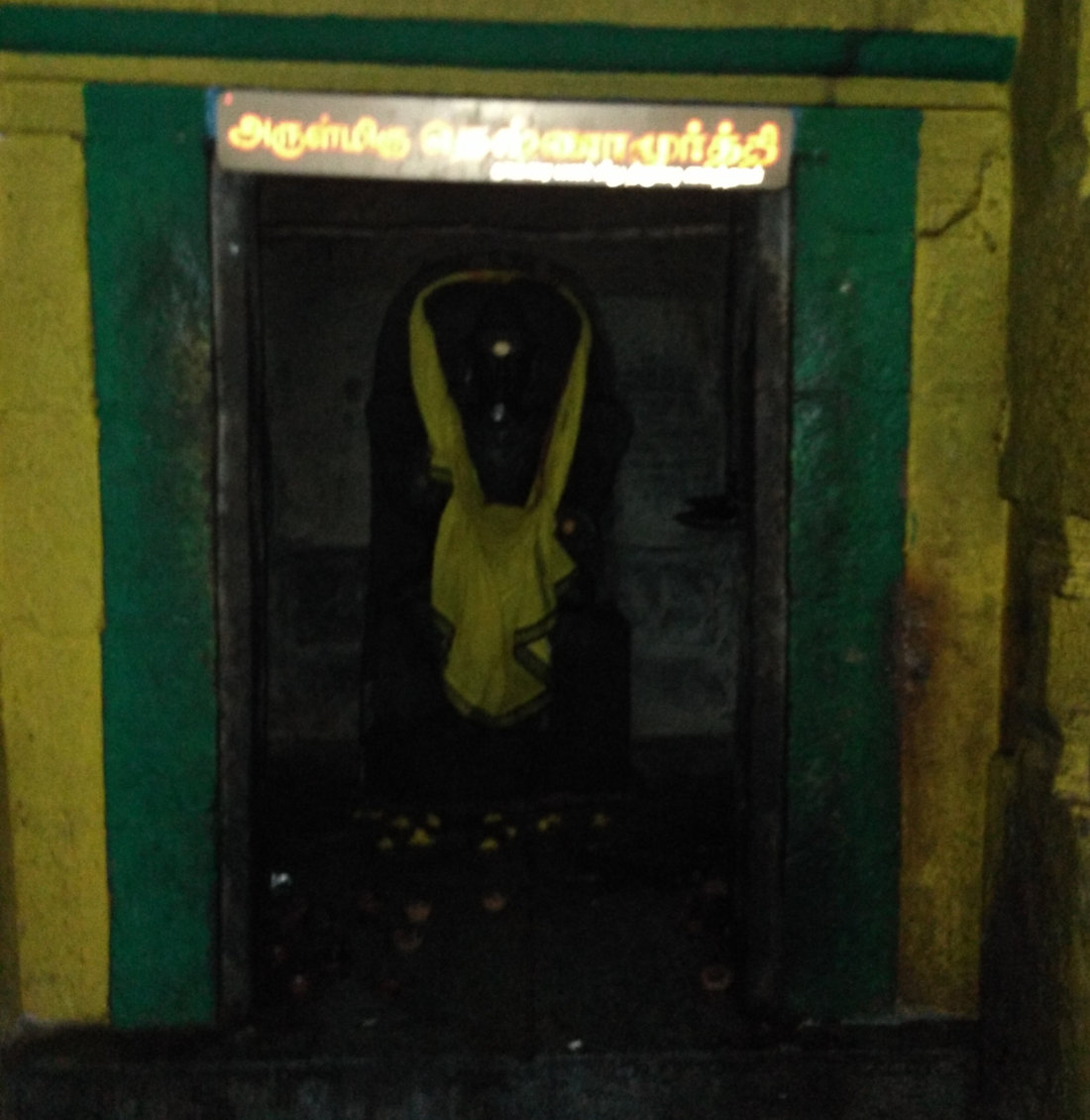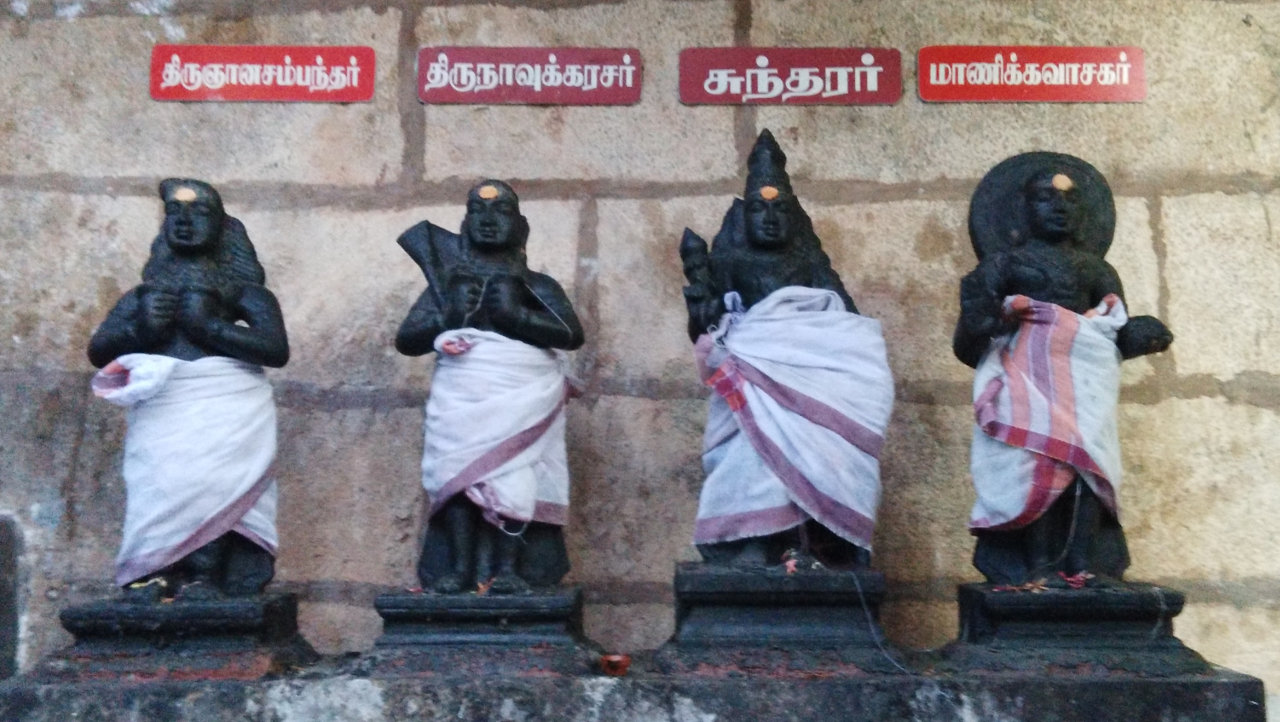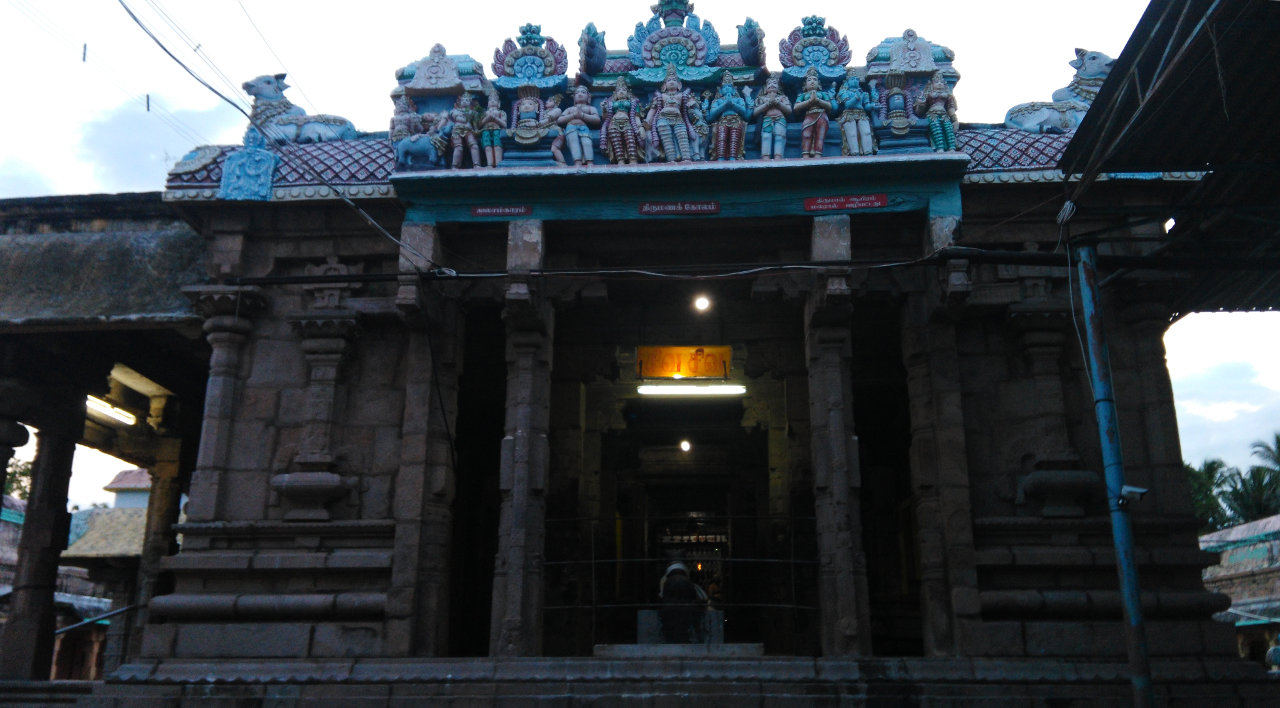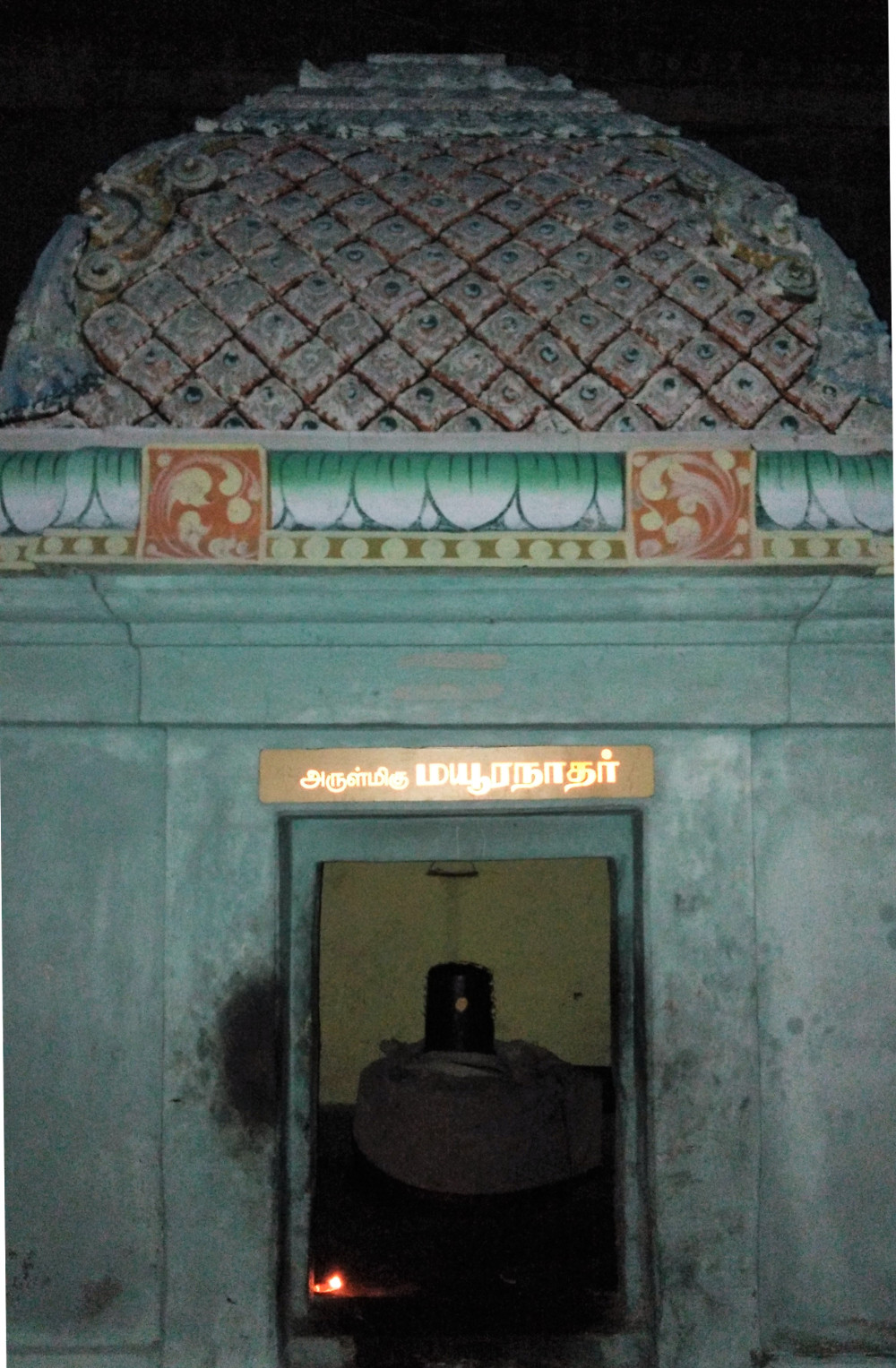 Salient Features
This temple is built like a fortress. It has a huge temple tank and there are many other special structures to see here such as the halls, sculptures and towers. It also looks like a "Madakkovil", i.e., from the floor level, one has to climb a few steps to reach the sanctum.
The sanctum sanctorum's tower looks very beautiful. It is sculpted in such a way that it looks as if 16 lions are holding it. This is known as "Vinnazhi Vimanam" which is believed to have been brought from the celestial world by Lord Mahavishnu.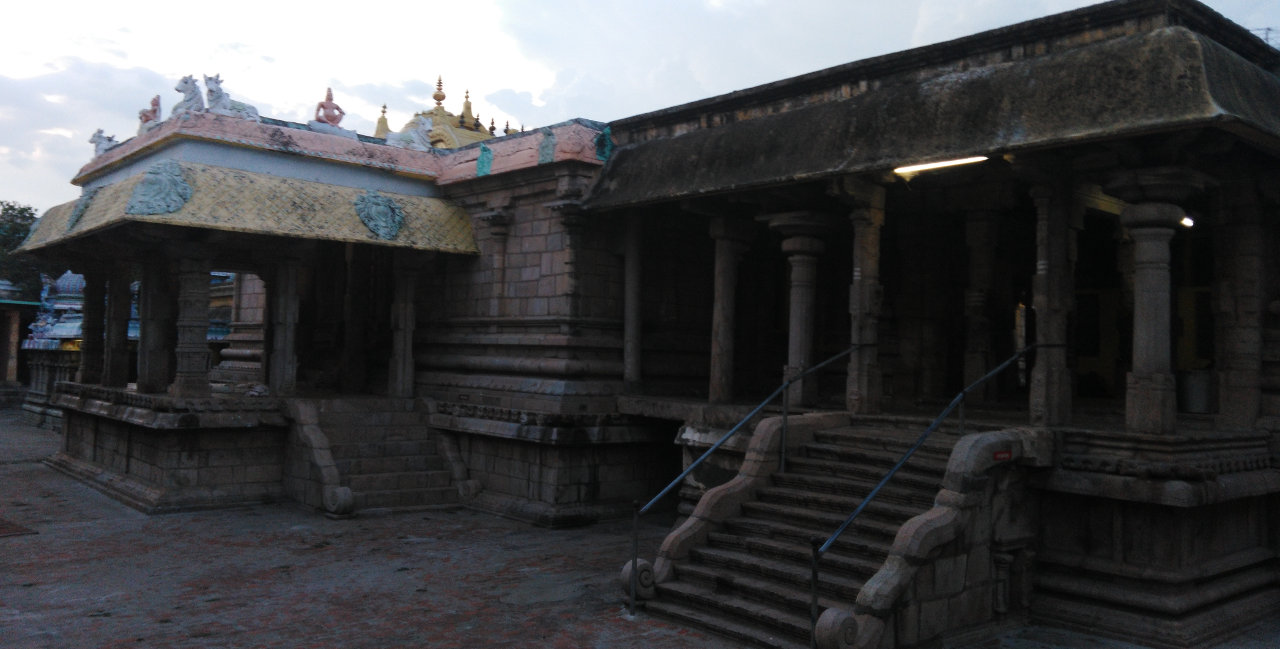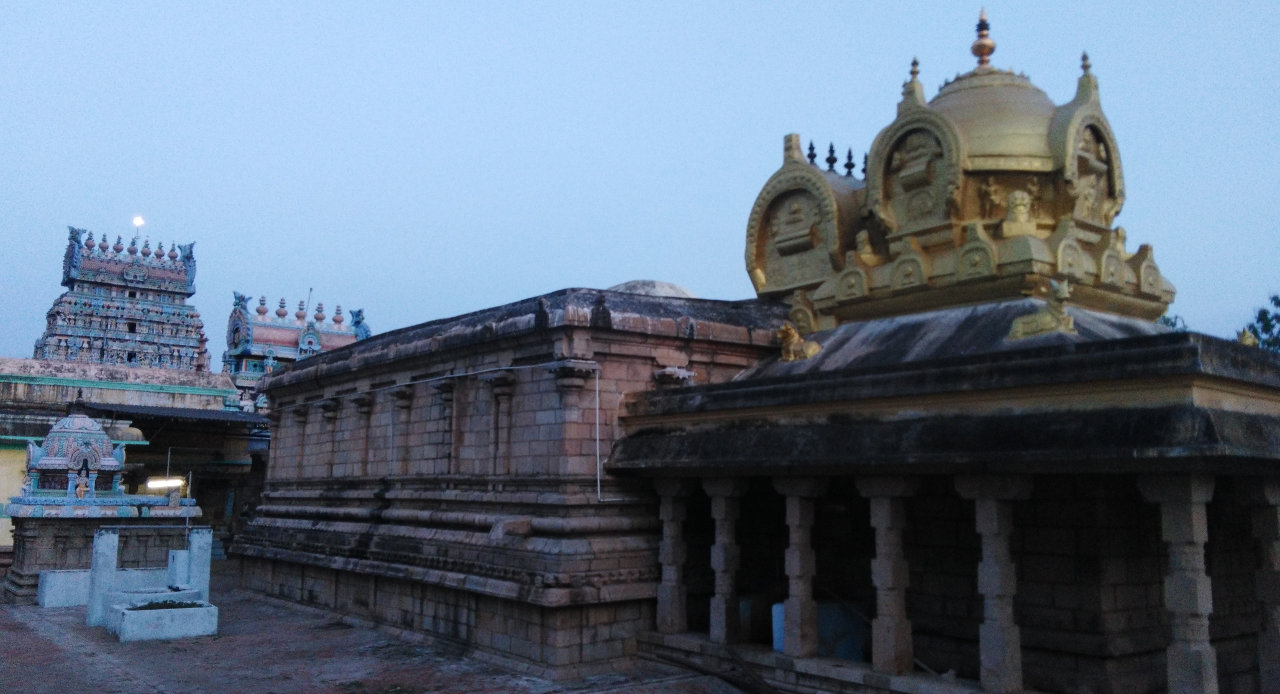 It is believed that there are six places where one can get relief from the fear of death (Lord Yama being the lord of death). These are – Thirukkadayur, Thiruveezhimizhalai (this place), Thiruvaiyaru, Thiruvenkadu, Thiruvaikavur and Thiruvanchiyam.
Both Appar and Sambanthar stayed in this place for few days – Sambanthar stayed in a mutt in the north street and Appar stayed in a mutt in the west street.
There is a separate shrine for Nandhi which is located under the ground level to one side of the sanctum. It is called "Padhala Nandhi".
There is a hole in the wall of the sanctum through which a parrot is believed to come every day to worship the lord.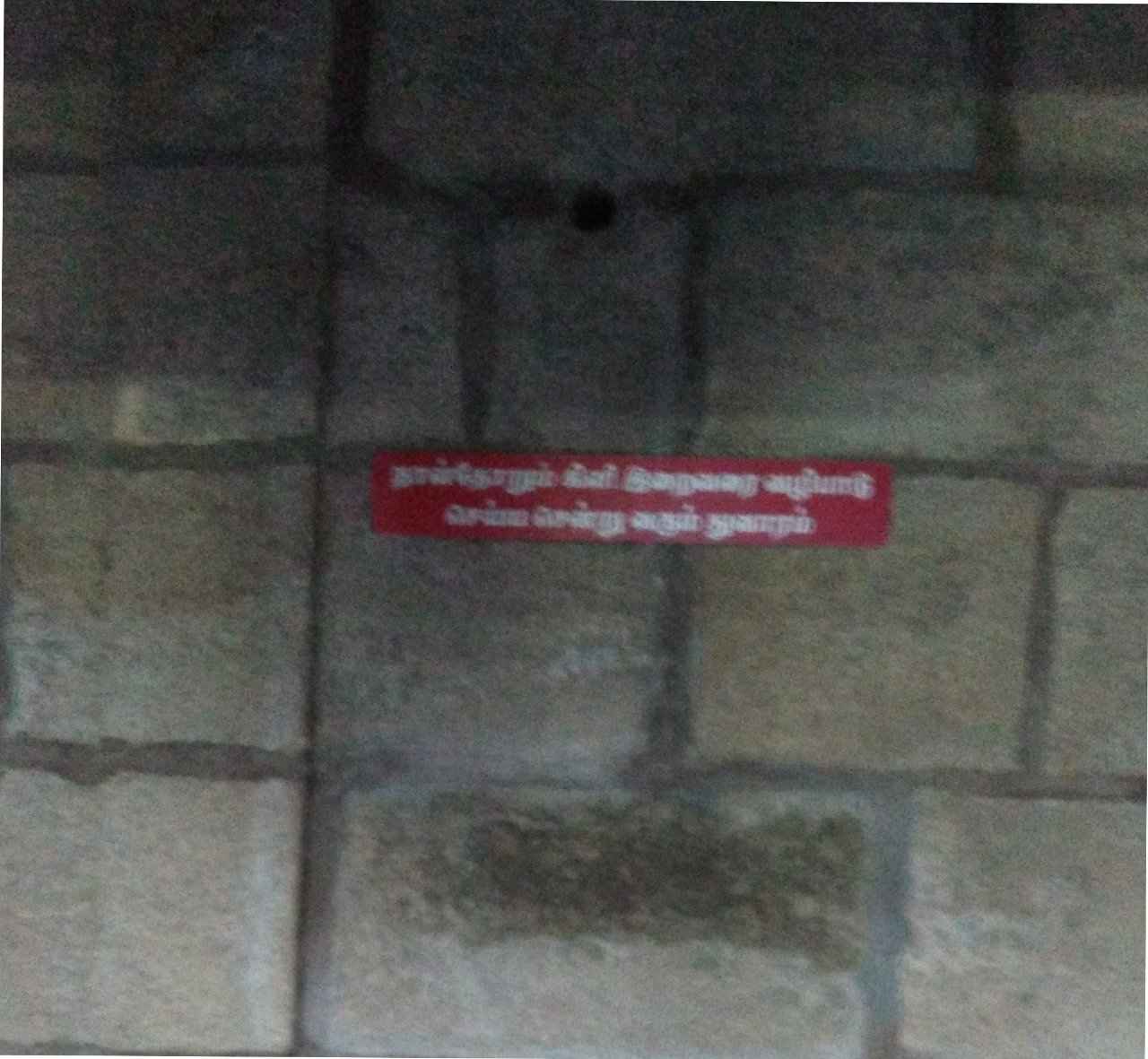 In this temple, there is a magnificent building called "Vavval Nethi Mandapam". This is a huge hall (in the shape of a tomb) having curved roofs but without any pillars in the middle. Another significance of this hall is that bats (vavval in Tamil) cannot come and stay on the roof. This kind of architectural beauty is very rare to see. In this hall, the wedding festival of Lord Shiva and Goddess Parvathy is celebrated in the Tamil month of Chithirai every year.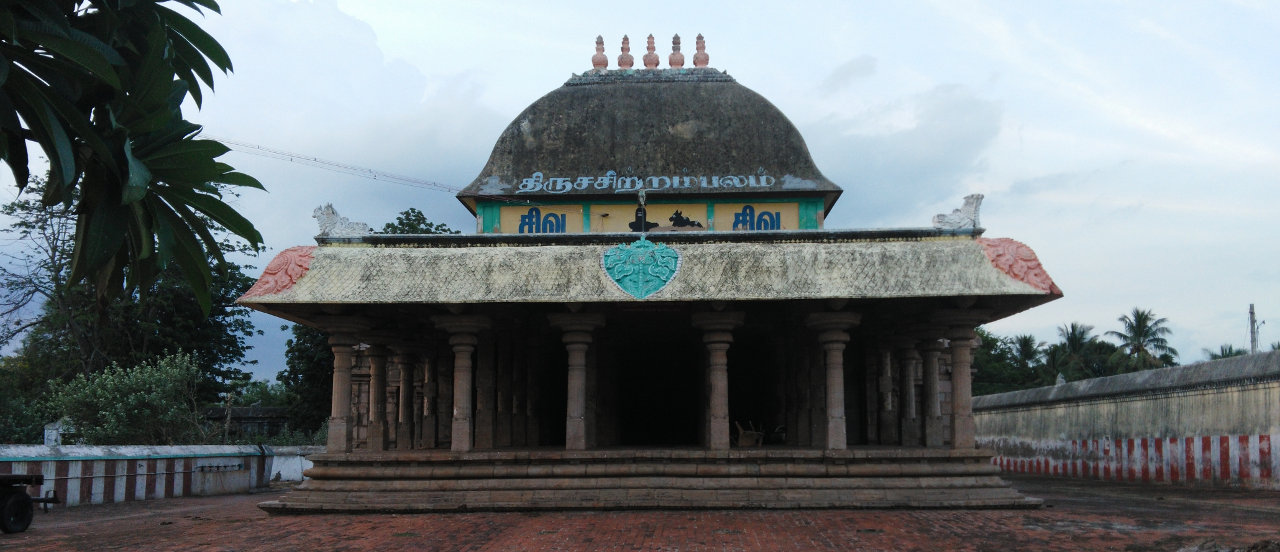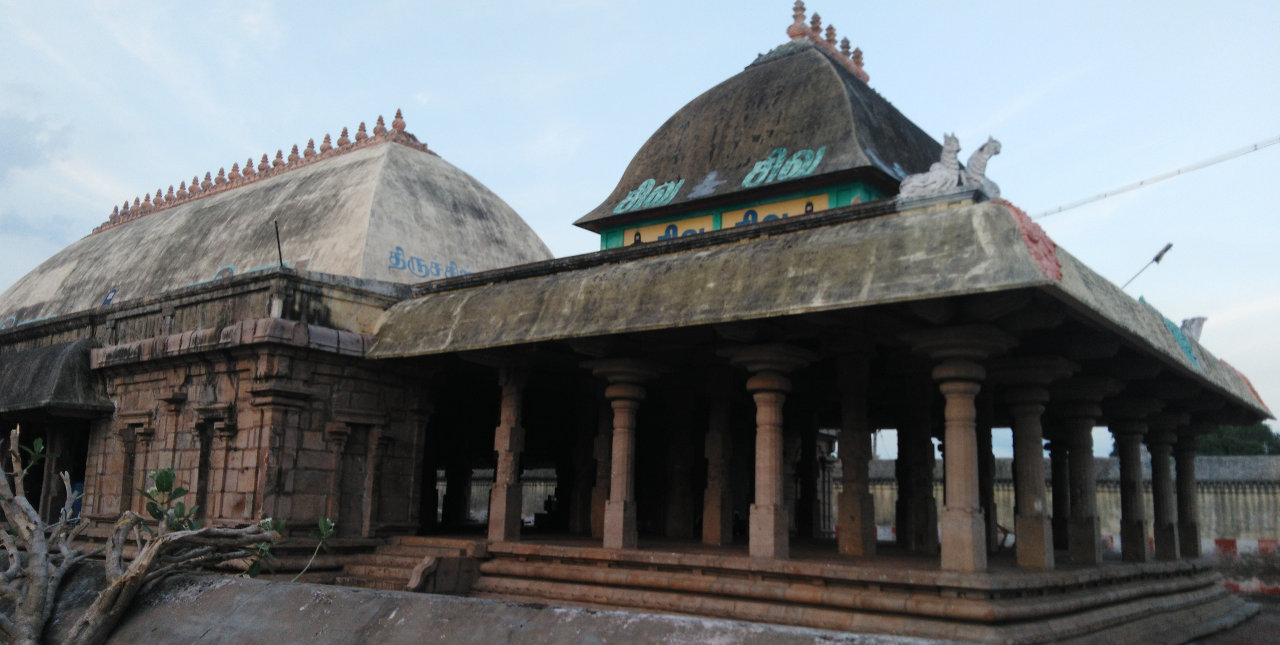 Another architectural beauty in this temple is the 100-pillared hall which has many marvellous sculptures.
Saint Senthanar rendered his "Thiru Isaippa" praising the lord of this temple.
Greatness of this temple
This is considered to be a famous "Parihara Sthalam" to remove obstacles from marriage proposals.
Important Festivals
10-day "Chithirai Peruvizha" in the Tamil month of Chithirai (April) is celebrated in a grand manner.
Some of the other important festivals celebrated in this temple are –
Vinayakar Chaturthi in the Tamil month of Aavani (Aug-Sept),
Annabishekam in the Tamil month of Aippasi (Oct – Nov),
Thiru Karthikai in the Tamil month of Karthikai (Nov-Dec),
Thiruvadhirai in the Tamil month of Markazhi (Dec-Jan) and
Shivrathri in the Tamil month of Masi (Feb-Mar).
Pradosham is also observed regularly.
Temple Timings
From 08:00 AM to 12:00 noon and from 05:00 PM to 08:00 PM.
Temple Address
Sri Nethrarpaneswarar (Sri Veezhinathaswamy) Temple,
Thiruveezhimizhalai Post,
Kudavasal Taluk,
Thiruvarur District,
Tamil Nadu – 609 505.
Tele: 04366 - 273 050, 94439 24825.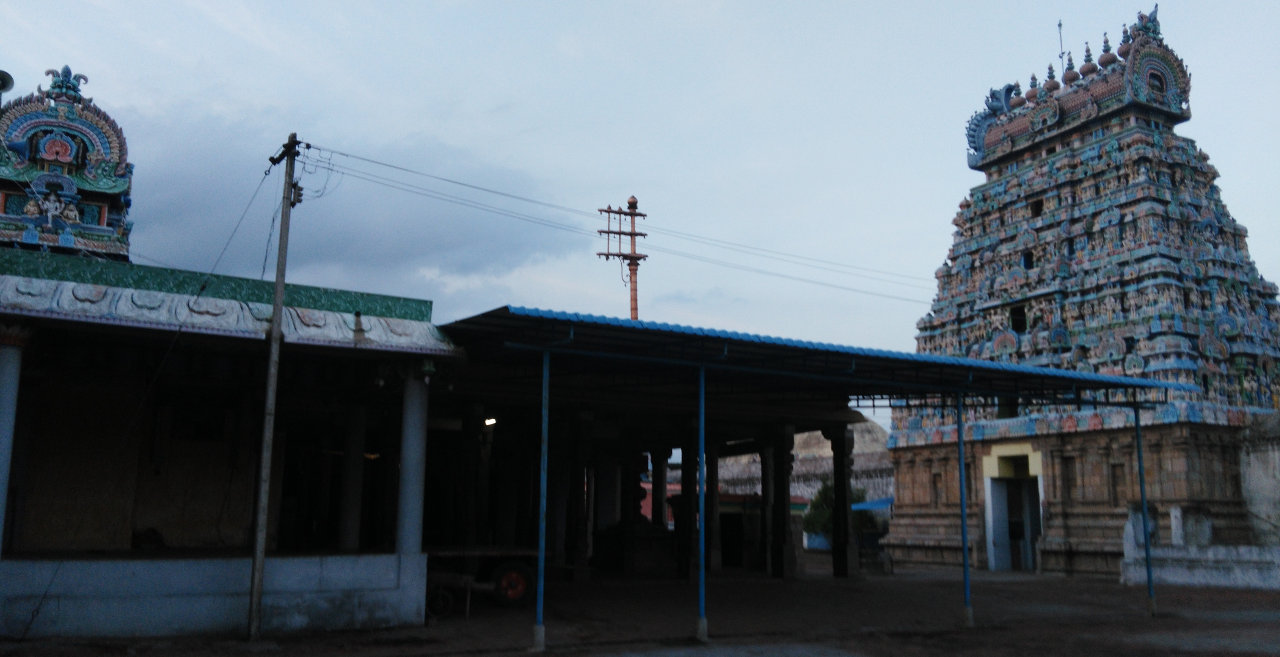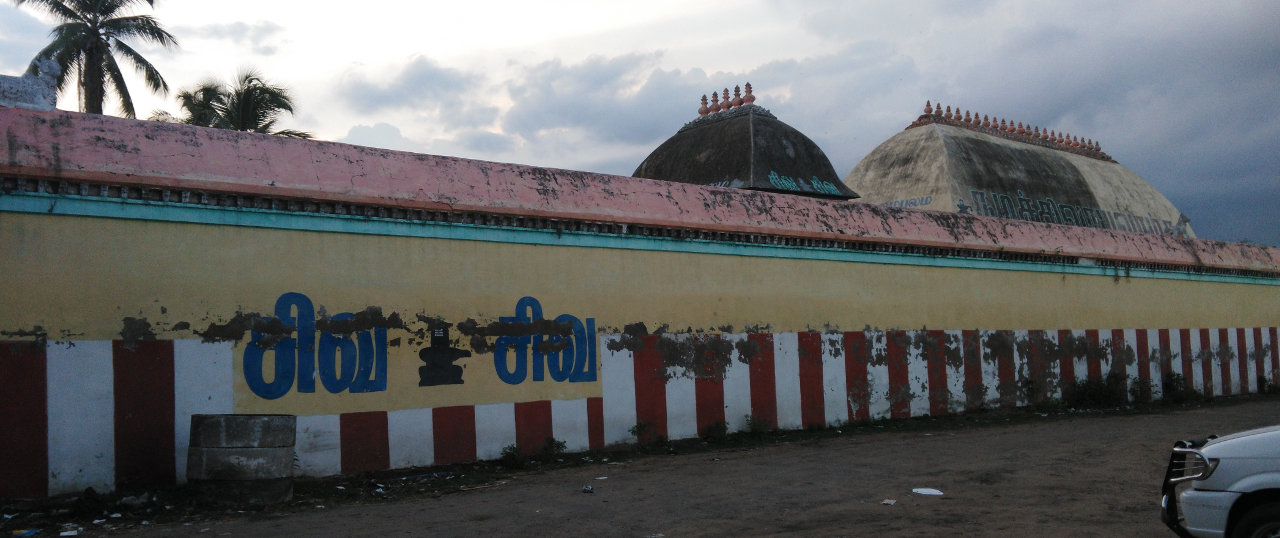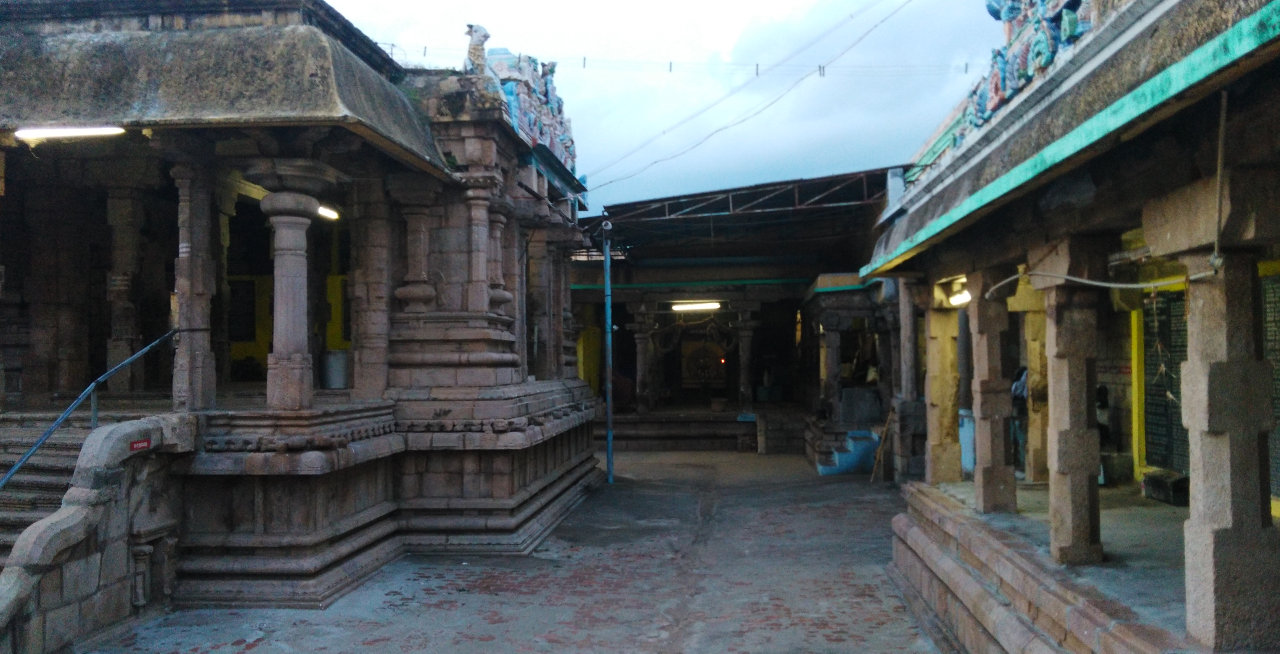 ---
Pathigam (Hymn) with English transliteration
Saint Thirugnanasambanthar visited this temple and sang this Pathigam.
Devotees visiting this temple should make it a practice to recite this Pathigam.
சடையார்புன லுடையானொரு சரிகோவணம் உடையான்
படையார்மழு வுடையான்பல பூதப்படை யுடையான்
மடமான்விழி யுமைமாதிடம் உடையானெனை யுடையான்
விடையார்கொடி யுடையானிடம் வீழிம்மிழ லையே.
"Saṭaiyārpuṉa luṭaiyāṉoru Sarikōvaṇam uṭaiyāṉ
paṭaiyārmazhu vuṭaiyāṉpala pūthappaṭai yuṭaiyāṉ
maṭamāṉvizhi yumaimāthiṭam uṭaiyāṉeṉai yuṭaiyāṉ
viṭaiyārkoṭi yuṭaiyāṉiṭam vīzhim'mizha laiyē".
ஈறாய்முத லொன்றாயிரு பெண்ணாண்குண மூன்றாய்
மாறாமறை நான்காய்வரு பூதம்மவை ஐந்தாய்
ஆறார்சுவை ஏழோசையொ டெட்டுத்திசை தானாய்
வேறாய்உடன் ஆனான்இடம் வீழிம்மிழ லையே.
"Īṟāymutha loṉtṟāyiru peṇṇāṇkuṇa mūṉtṟāy
māṟāmaṟai nāṉkāyvaru pūtham'mavai ainthāy
āṟārsuvai ēzhōsaiyo ṭeṭṭuththisai thāṉāy
vēṟāyuṭaṉ āṉāṉiṭam vīzhim'mizha laiyē".
வம்மின்னடி யீர்நாண்மல ரிட்டுத்தொழு துய்ய
உம்மன்பினோ டெம்மன்புசெய் தீசன்உறை கோயில்
மும்மென்றிசை முரல்வண்டுகள் கெண்டித் திசையெங்கும்
விம்மும்பொழில் சூழ்தண்வயல் வீழிம்மிழ லையே.
"Vam'miṉṉaṭi yīrnāṇmala riṭṭuththozhu thuyya
um'maṉpiṉō ṭem'maṉpusey thīsaṉuṟai kōyil
mum'meṉtṟisai muralvaṇṭukaḷ keṇṭith thisaiyeṅkum
vim'mumpozhil chūzhthaṇvayal vīzhim'mizha laiyē".
பண்ணும்பதம் ஏழும்பல வோசைத்தமி ழவையும்
உண்ணின்றதொர் சுவையும்முறு தாளத்தொலி பலவும்
மண்ணும்புனல் உயிரும்வரு காற்றுஞ்சுடர் மூன்றும்
விண்ணும்முழு தானானிடம் வீழிம்மிழ லையே.
"Paṇṇumpatham ēzhumpala vōsaiththami zhavaiyum
uṇṇiṉtṟathor suvaiyum'muṟu thāḷaththoli palavum
maṇṇumpuṉal uyirumvaru kātṟuñchuṭar mūṉtṟum
viṇṇum'muzhu thāṉāṉiṭam vīzhim'mizha laiyē".
ஆயாதன சமயம்பல அறியாதவ னெறியின்
தாயானவன் உயிர்கட்குமுன் தலையானவன் மறைமுத்
தீயானவன் சிவனெம்மிறை செல்வத்திரு ஆரூர்
மேயானவன் உறையும்மிடம் வீழிம்மிழ லையே.
"Āyāthaṉa samayampala aṟiyāthava ṉeṟiyiṉ
thāyāṉavaṉ uyirkaṭkumuṉ thalaiyāṉavaṉ maṟaimuth
thīyāṉavaṉ sivaṉem'miṟai selvaththiru ārūr
mēyāṉavaṉ uṟaiyum'miṭam vīzhim'mizha laiyē".
கல்லால்நிழற் கீழாயிடர் காவாயென வானோர்
எல்லாம்ஒரு தேராயயன் மறைபூட்டிநின் றுய்ப்ப
வல்லாய் எரி காற்றீர்க்கரி கோல்வாசுகி நாண்கல்
வில்லால்எயில் எய்தானிடம் வீழிம்மிழ லையே.
"Kallālnizhaṟ kīzhāyiṭar kāvāyeṉa vāṉōr
ellāmoru thērāyayaṉ maṟaipūṭṭiniṉ tṟuyppa
vallāy eri kāṟṟīrkkari kōlvāsuki nāṇkal
villāleyil eythāṉiṭam vīzhim'mizha laiyē".
கரத்தான்மலி சிரத்தான்கரி யுரித்தாயதொர் படத்தான்
புரத்தார்பொடி படத்தன்னடி பணிமூவர்கட் கோவா
வரத்தான்மிக அளித்தானிடம் வளர்புன்னைமுத் தரும்பி
விரைத்தாதுபொன் மணியீன்றணி வீழிம்மிழ லையே.
"Karaththāṉmali siraththāṉkari yuriththāyathor paṭaththāṉ
puraththārpoṭi paṭaththaṉṉaṭi paṇimūvarkaṭ kōvā
varaththāṉmika aḷiththāṉiṭam vaḷarpuṉṉaimuth tharumpi
viraiththāthupoṉ maṇiyīṉhṟaṇi vīzhim'mizha laiyē".
முன்னிற்பவர் இல்லாமுரண் அரக்கன்வட கயிலை
தன்னைப்பிடித் தெடுத்தான்முடி தடந்தோளிற வூன்றிப்
பின்னைப்பணிந் தேத்தப்பெரு வாள்பேரொடுங் கொடுத்த
மின்னிற்பொலி சடையானிடம் வீழிம்மிழ லையே.
"Muṉṉiṟpavar illāmuraṇ arakkaṉvaṭa kayilai
thaṉṉaippiṭith theṭuththāṉmuṭi thaṭanthōḷiṟa vūṉtṟip
piṉṉaippaṇin thēththapperu vāḷpēroṭuṅ koṭuththa
miṉṉiṟpoli saṭaiyāṉiṭam vīzhim'mizha laiyē".
பண்டேழுல குண்டானவை கண்டானுமுன் அறியா
ஒண்டீயுரு வானான்உறை கோயில்நிறை பொய்கை
வண்டாமரை மலர்மேல்மட அன்னம்நடை பயில
வெண்டாமரை செந்தாதுதிர் வீழிம்மிழ லையே.
"Paṇṭēzhula kuṇṭāṉavai kaṇṭāṉumuṉ aṟiyā
oṇṭīyuru vāṉāṉuṟai kōyilniṟai poykai
vaṇṭāmarai malarmēlmaṭa aṉṉamnaṭai payila
veṇṭāmarai senthāthuthir vīzhim'mizha laiyē".
மசங்கற் சமண் மண்டைக்கையர் குண்டக்குண மிலிகள்
இசங்கும்பிறப் பறுத்தானிட மிருந்தேன்களித் திரைத்துப்
பசும்பொற்கிளி களிமஞ்ஞைகள் ஒளிகொண்டெழு பகலோன்
விசும்பைப்பொலி விக்கும்பொழில் வீழிம்மிழ லையே.
"Masaṅkaṟ samaṇ maṇṭaikkaiyar kuṇṭakkuṇa milikaḷ
isaṅkumpiṟap paṟuththāṉiṭa mirunthēṉkaḷith thiraiththup
pacumpoṟkiḷi kaḷimaññaikaḷ oḷikoṇṭezhu pakalōṉ
visumpaippoli vikkumpozhil vīzhim'mizha laiyē".
வீழிம்மிழ லைம்மேவிய விகிர்தன்றனை விரைசேர்
காழிந்நகர்க் கலைஞானசம் பந்தன்தமிழ் பத்தும்
யாழின்இசை வல்லார்சொலக் கேட்டாரவ ரெல்லாம்
ஊழின்மலி வினைபோயிட வுயர்வானடை வாரே.
"Vīzhim'mizha laim'mēviya vikirthaṉtṟaṉai viraisēr
kāzhinnakark kalaigñāṉasam banthaṉtamizh paththum
yāzhiṉisai vallārsolak kēṭṭārava rellām
ūzhiṉmali viṉaipōyiṭa vuyarvāṉaṭai vārē".