Visited on: July 24, 2016 and November 25, 2017.
Location
Iluppaipattu is located at a distance of about 14 kms from Vaitheeswarankoil on the Vaitheeswarankoil to Thiruppananthal route. On this route, from Manalmedu take the diversion road to Pappakudi. This place is very near to the Government Arts College, Manalmedu.
Other Devara Paadal Petra Shiva Sthalam near this place are – Pandanallur, Vaitheeswaran Koil, Thirukkannar Koil, Thirunintriyur, Thiruppunkur, Thiru Karuppariyalur, Thiru Vazhkoliputhur, Thiru Kurakkukka, Thiru Kurukkai, Mayiladuthurai, Thiru Needur and Thiru Anniyur.
General Information
| | |
| --- | --- |
| Moolavar | Sri Neelakandeswarar |
| Ambal | Sri Amudhakara Valli |
| Theertham (Holy water) | Brahma Theertham, river Manniyaru and river Kollidam |
| Sthala Vriksham (Sacred Tree) | Iluppai tree |
| Pathigam (Hymn) rendered by | Saint Sundaramurthy Nayanar (Sundarar) |
This is one of the 276 Devara Paadal Petra Shiva Sthalams and 30th Shiva Sthalam on the northern bank of the river Cauvery in Chozha Nadu (Vadakarai).
Lord Shiva in this temple is a Swayambumurthi (self-manifested).
This east facing temple has two corridors and its main tower (Rajagopuram) has 3-tiers.
The last consecration ceremony (Maha Kumbabishekam) took place on 30.08.2009.
History of the Temple
In ancient times, this region is believed to have been densely covered with Iluppai trees. This temple's "sthala viruksham" is also the Iluppai tree. Hence, this place gets the name Iluppaipattu. This temple is situated on the southern banks of the river Manniyaru, also known as Subramanya river. Hence this place is also known as "Pazha Manni Padikkarai" ("pazha" meaning ancient, "Manni" relates to the river and "Padikkari" meaning river bank in Tamil).
There are a few stone inscriptions here which date back to the periods of Chola King Rajaraja and some kings from the Vijaya Nagara dynasty.
The historical names of this place are Madhookavanam and Pazhamanni Padikkarai.
This temple is under the administrative control of the Thiruvavaduthurai Aadheenam.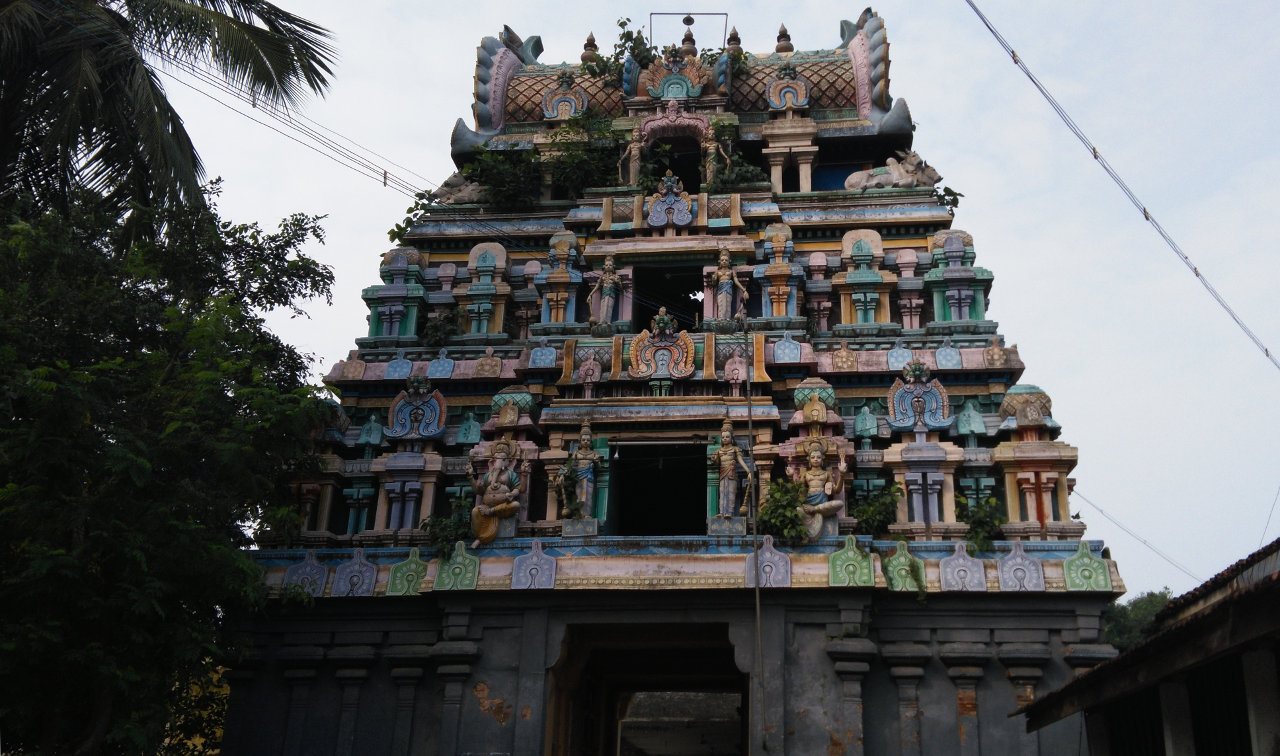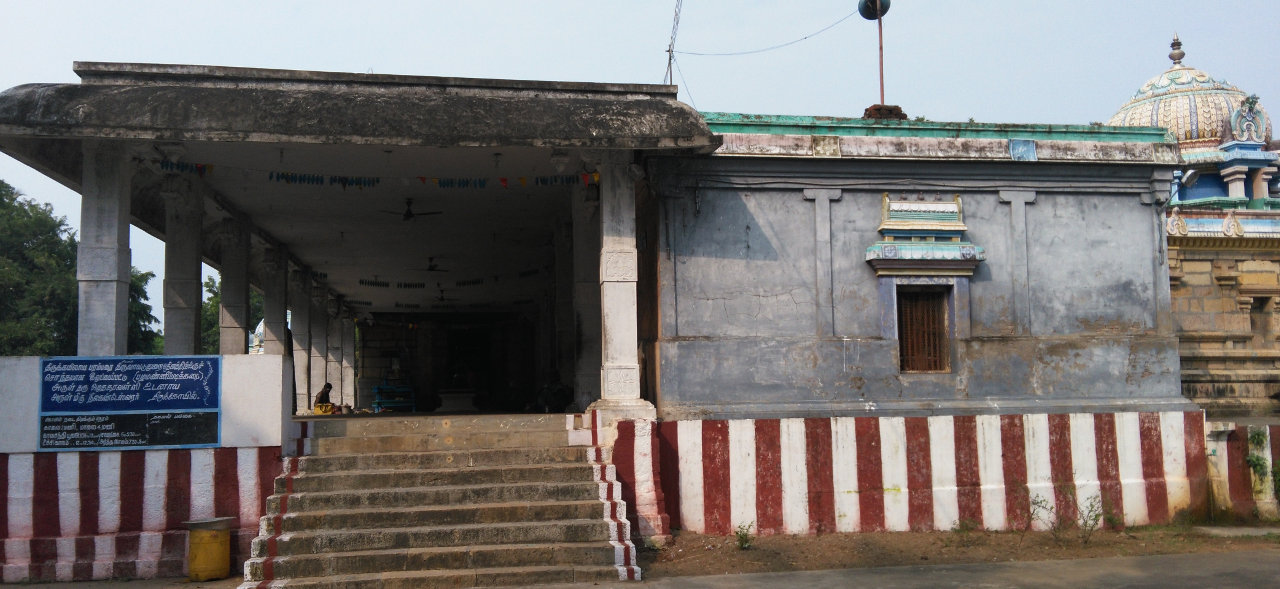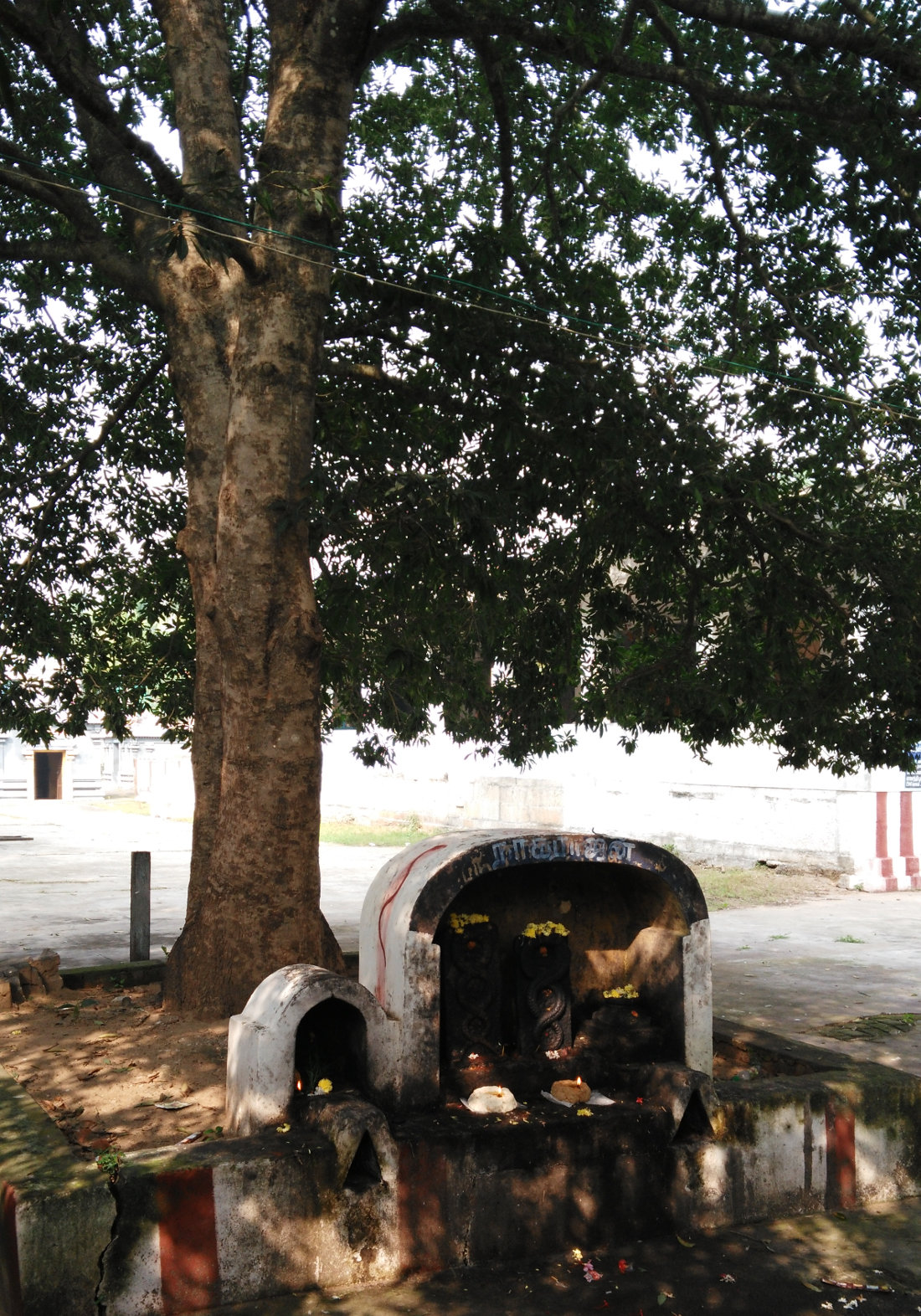 Legend
According to legend, during their exile, the Pandava brothers stayed in this place for some time. Duryodhana is believed to have poisoned the Brahma Theertham of this temple but Goddess Parvathy removed the poison and replaced it with celestial nectar. Thereafter, Lord Shiva is believed to have consumed the extracted poison in order to save the Pandavas. The tank is also known as "Nachupoigai" (loosely translated as poison pond). Goddess Parvathy here is praised as "Sri Amirtha Kara Valli" ("Amirtham" meaning nectar, "karam" meaning hands and "valli" meaning goddess in Tamil).
It is believed that the Pandavas used to extract oil from the seeds of the Iluppai tree and used it to light lamps here. It is believed that Lord Shiva was so impressed by their meditation that he granted them darshan individually. Each one of them requested the lord that he stay back here to grace all devotees. To appease them, the lord then appeared in the form of five Shivalingams in different locations in this temple's complex. It is believed that the Paandavas made five separate shrines for these Shivalingams. The shivalingams are named as follows –
1. Sri Neelakandeswarar with Amudhakara Valli worshiped by Dharumar,
2. Sri Padikkarai Nathar with Goddess Mangalambikai worshiped by Arjunan,
3. Sri Mahadeeswarar worshiped by Bheeman,
4. Sri Parameswarar worshiped by Nakulan, and
5. Sri Muktheeswarar worshiped by Sakadevan.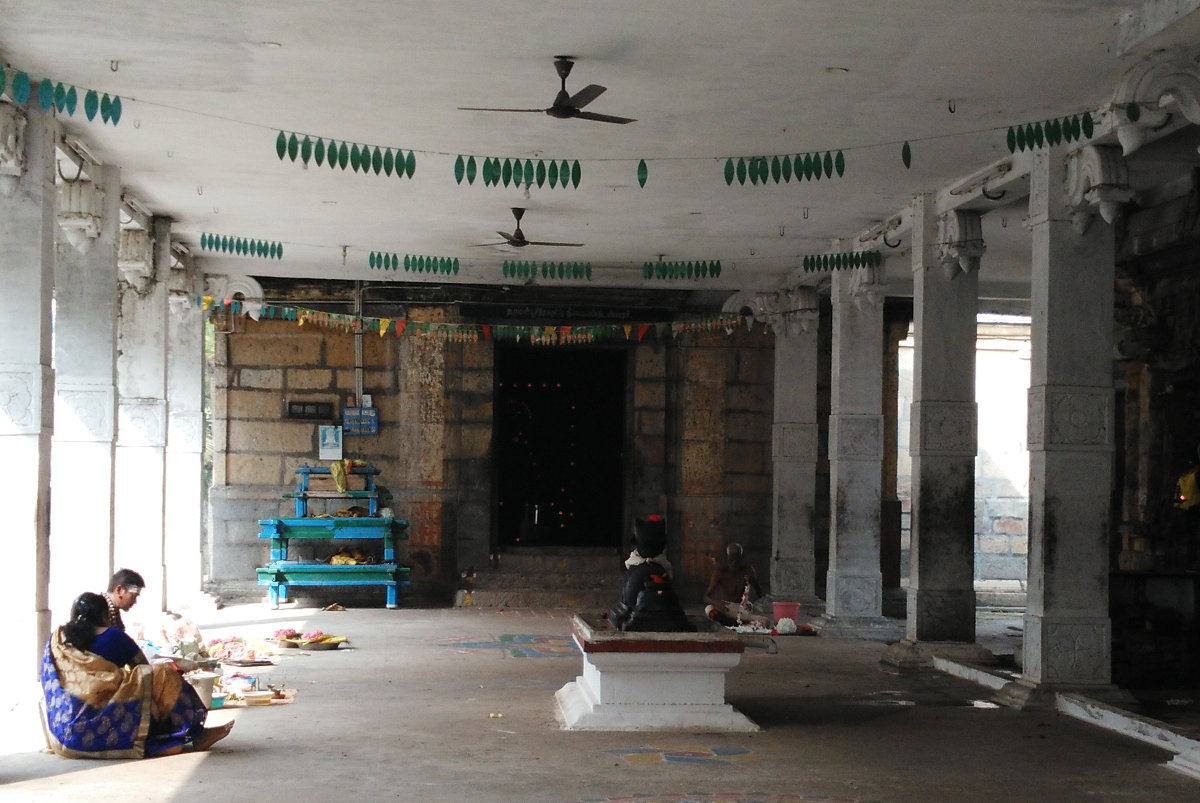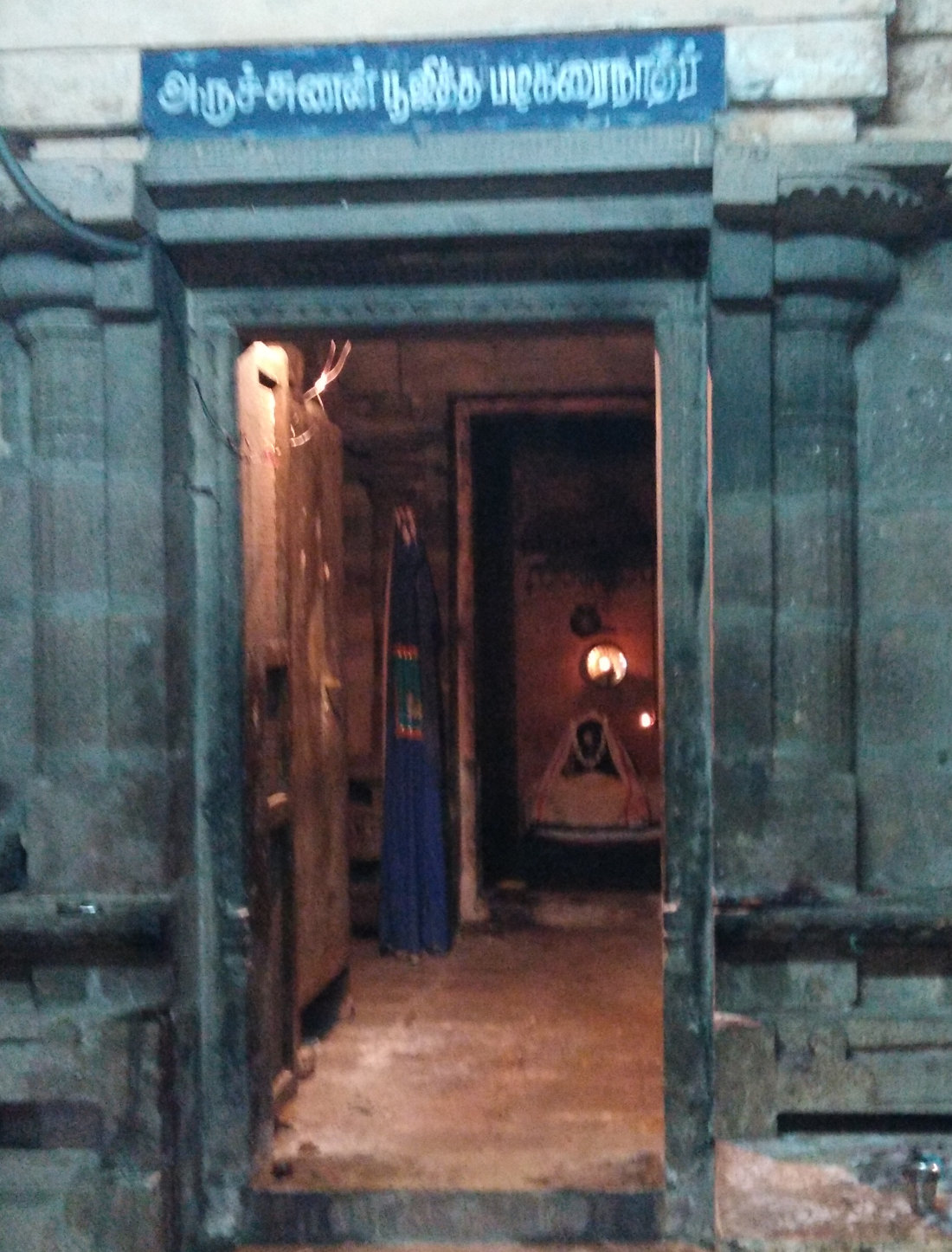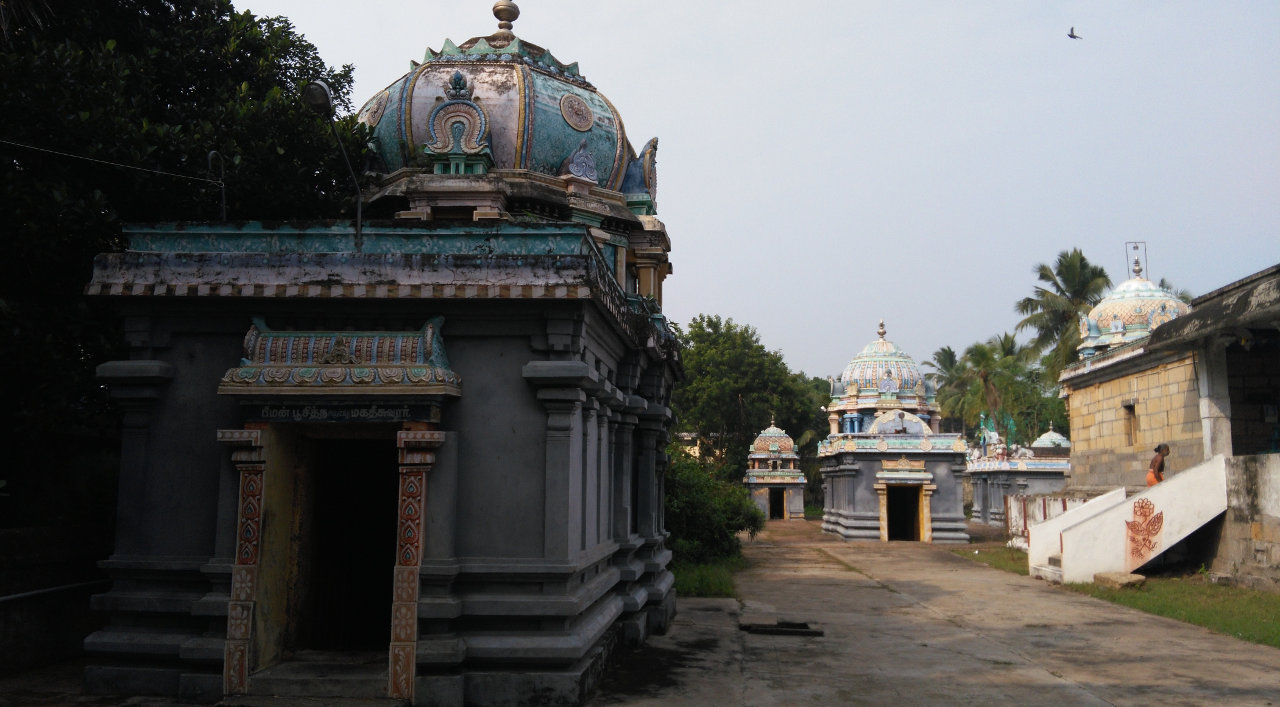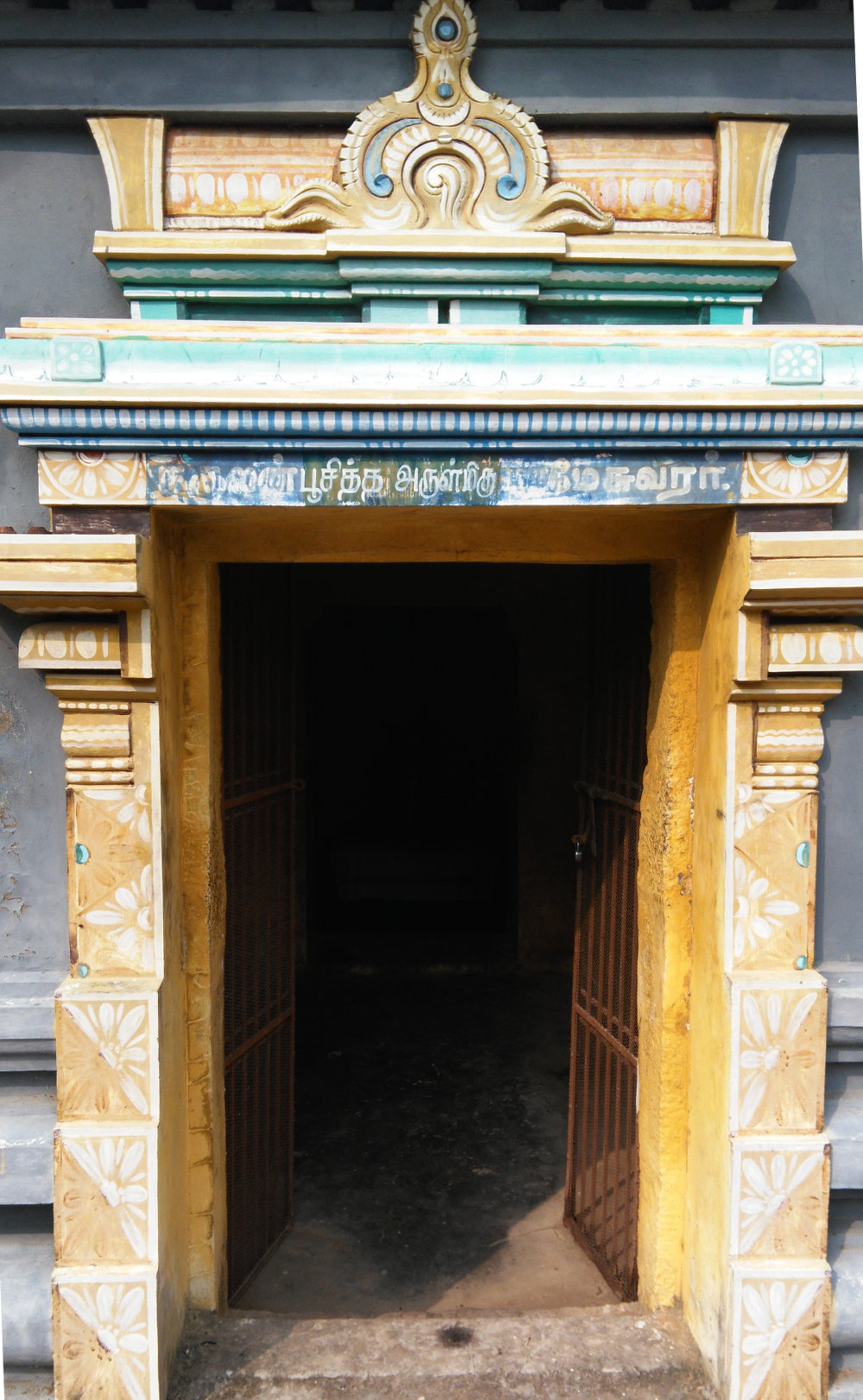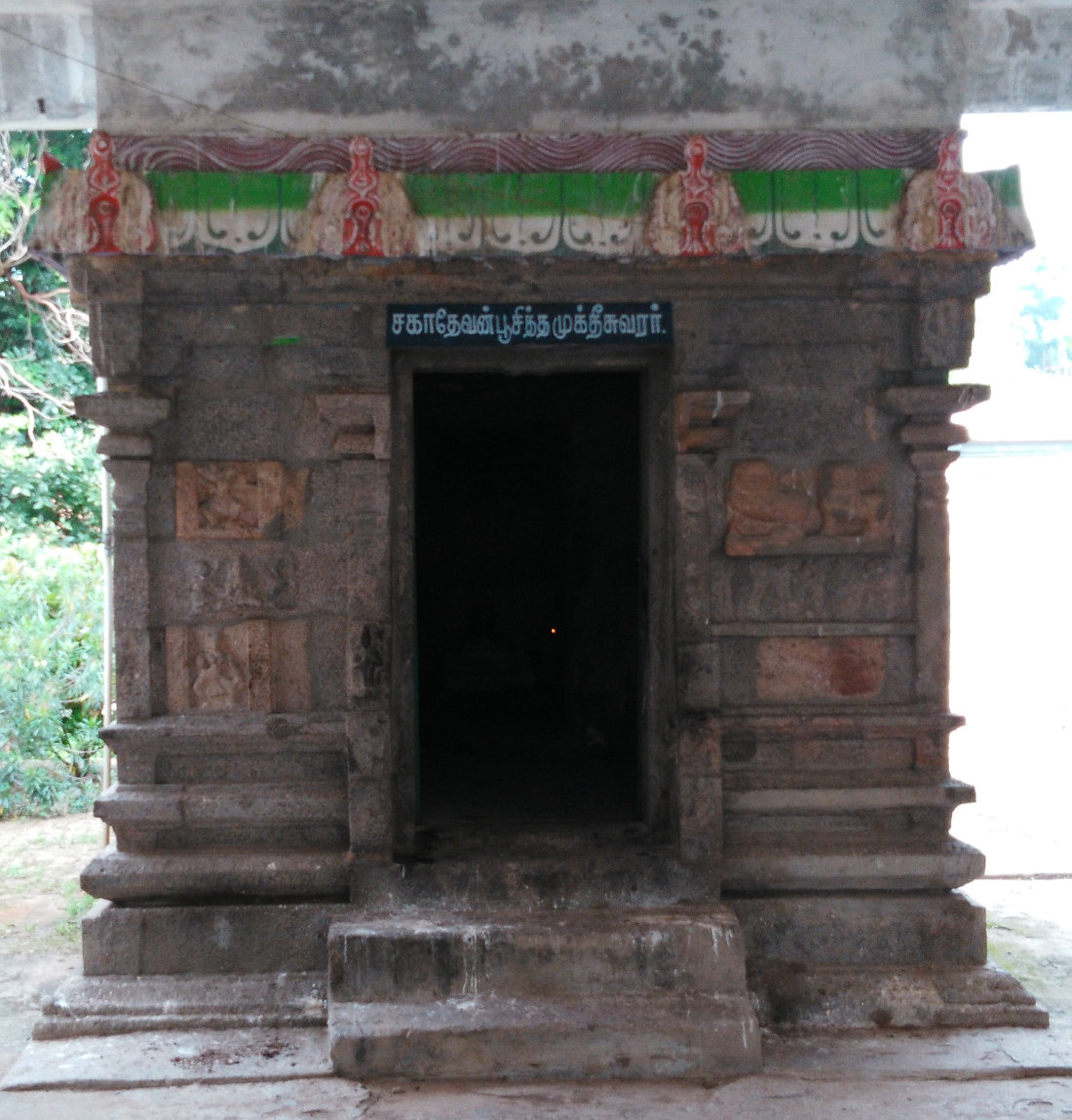 As per the "Sthala Puranam" of this temple, another legend associated with this temple involves a Chola king. Once, while crossing the river Manniyaru on a boat to reach this temple, he saw an uprooted Iluppai tree floating on the river. He brought that tree to the temple and erected it here. He felt that the oil extracted from its seeds could be used to light lamps here. A beautiful sculpture depicting this incident can be seen on the outside wall of the sanctum sanctorum.
It is believed that Pandavas, Lord Brahma, King Manthatha and Emperor Nalan have worshiped the lord here.
Deities in the temple
Other than the 5 shrines of Lord Shiva and 2 shrines of Goddess Parvathy, shrines and idols of Valampuri Vinayakar worshiped by Dhraupathi, Murugan with his consorts, Narthana Vinayakar, Dakshinamurthy, Lingothbavar, Ashtapuja (8 hands) Durgai, Chandikeswarar, Gajalakshmi, Saneeswaran, Bairavar and Suryan can be seen in the corridors.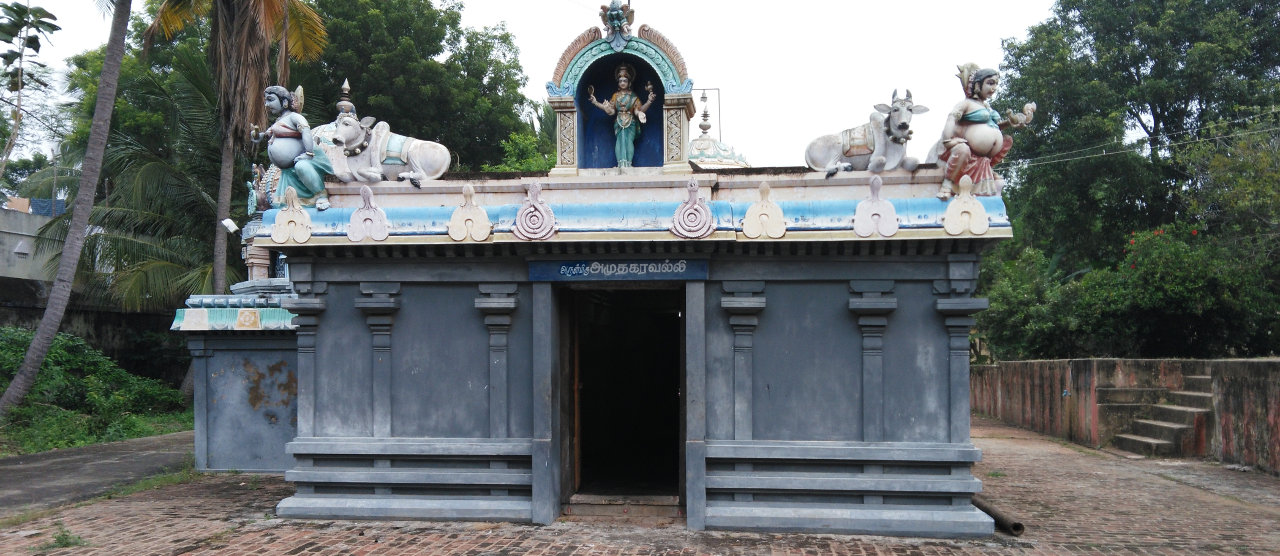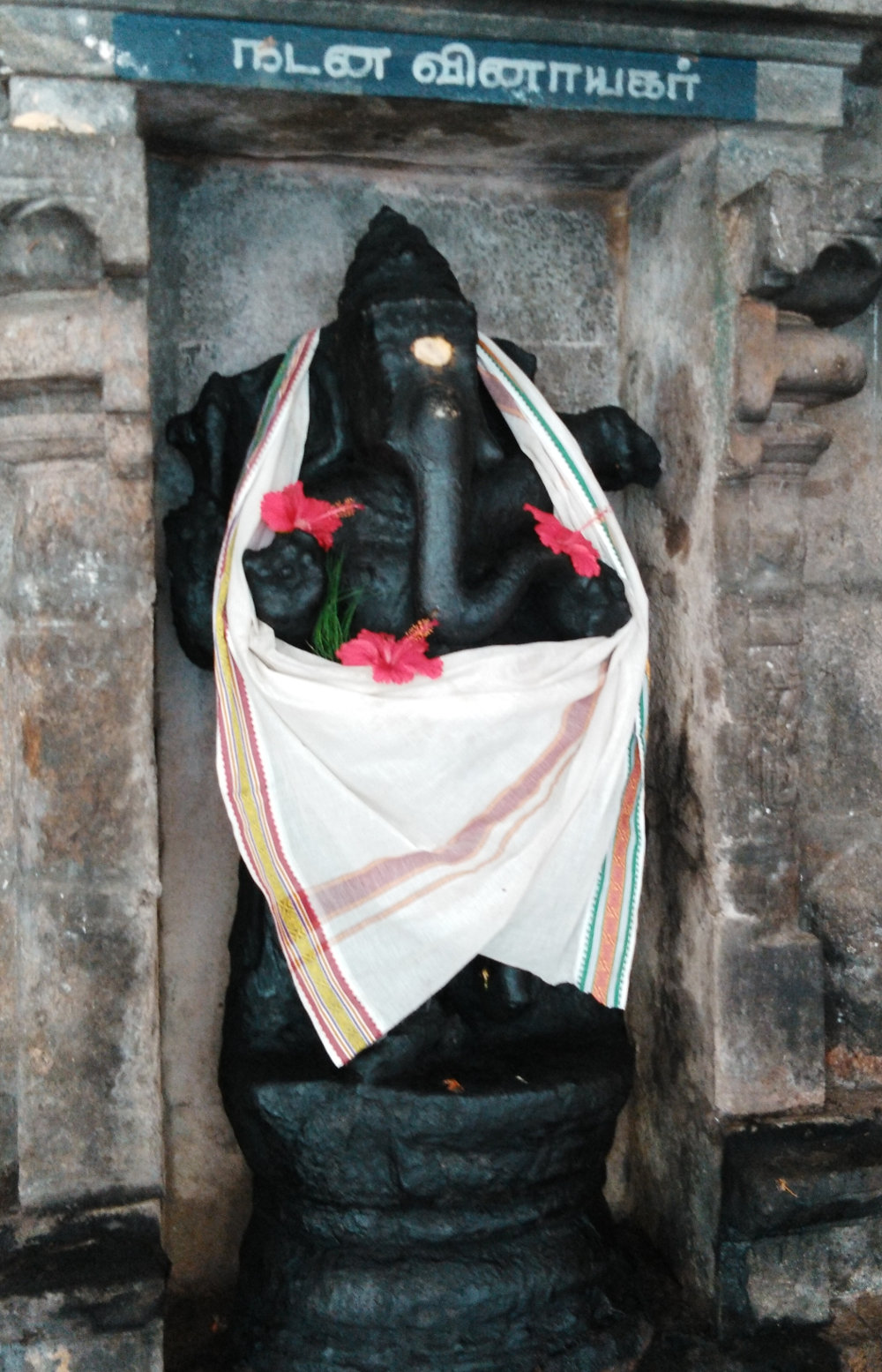 Salient Features
The shrine of Lord Valampuri Vinayakar, believed to have been worshipped by Draupathi, is in the corridor along with that of "Sri Idampuri Vinayakar". Worshiping these twin Vinayakars is considered very auspicious.
Generally, in Shiva temples, only one presiding deity will be present. Rarely, there will be two. However, in this temple, there are five shrines for Lord Shiva.
Lord Natarajar can be seen here with ten hands and standing on his bull mount surrounded by devas.
Lord Dakshinamoorthy can be seen sitting on a bull (Rishabam) below a banyan (Kallala tree). There is a hole connecting his left ear to his right ear.
The Lingam worshipped by Bheema has 16 stripes (Shodasalingam). Though all the five lingams in this temple are considered to be the presiding deities, Sri Neelakandeswarar and Sri Padikarai Nathar are given prominance. Nandhi, the bull mount of Lord Shiva can be seen before these two shrines only.
Saint Arunagirinadhar has sang songs in praise of Lord Murugan of this temple in his revered Thirupugazh.
Greatness of this temple
Devotees believe that by praying to Lord Mahadeeswarar (Shodasalingam) in this temple, they would be blessed with the 16 types of wealth ("Pathinaarum Petru" in Tamil).
Devotees with an inclination to the fields of astrology and shastras can pray to Sri Muktheeswar here. Lord Muktheeswar is believed to have been worshiped by Sakadevan who is believed to be an expert in these fields.
Married women can pray to Goddess Parvathy here for longevity and prosperity of their married life.
Important Festivals
Some of the important festivals celebrated in the temple are –
10-day Brahmotsavam in the Tamil month of Chithirai (April-May),
Vinayakar Chaturthi in the Tamil month of Aavani (Aug-Sept),
Annabishekam in the Tamil month of Aippasi (Oct–Nov), and
Thirukarthikai in the Tamil month of (Nov-Dec).
Shivrathri in the Tamil month of (Feb-Mar),
Pradosham is also observed regularly.
Temple Timings
From 07.00 AM to 12.00 Noon and from 04.30 PM to 08.00 PM.
Temple Address
Sri Neelakandeswarar Temple,
Thiru Pazha Mannippadikkarai (Iluppappattu),
Manalmedu Post & Via,
Mayiladuthurai Taluk,
Nagapattinam District,
Tamil Nadu – 609 202.
Tele: +91-92456 19738.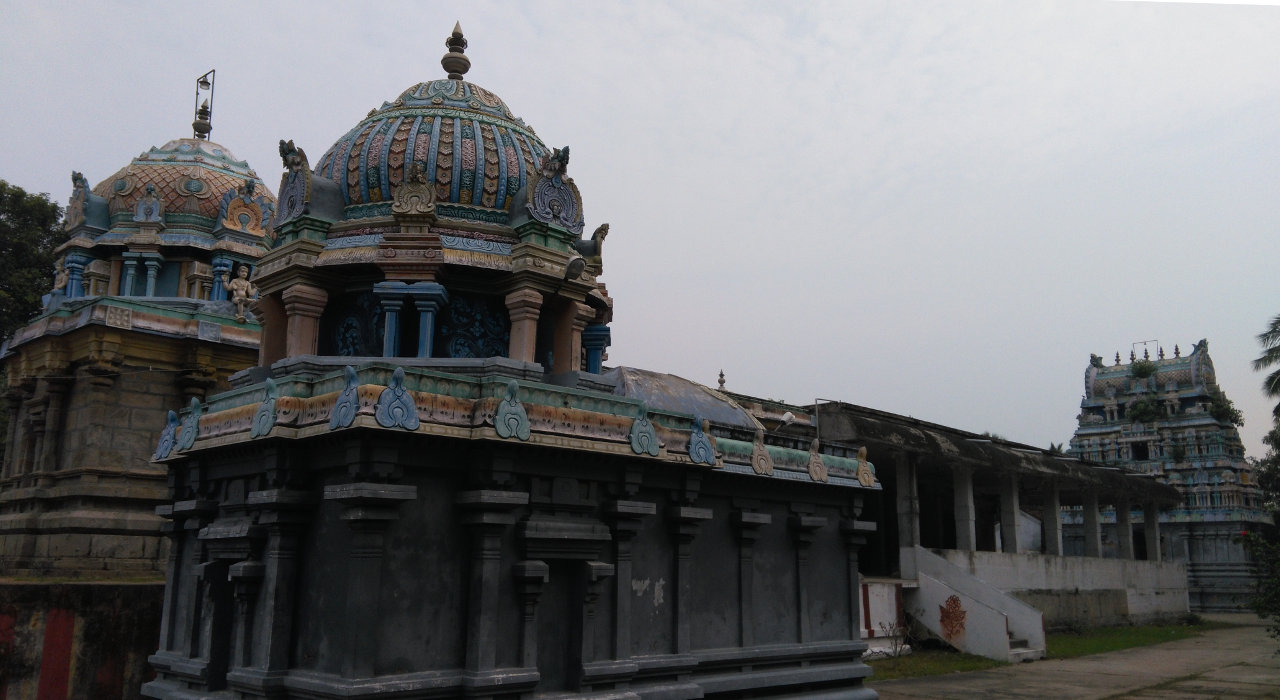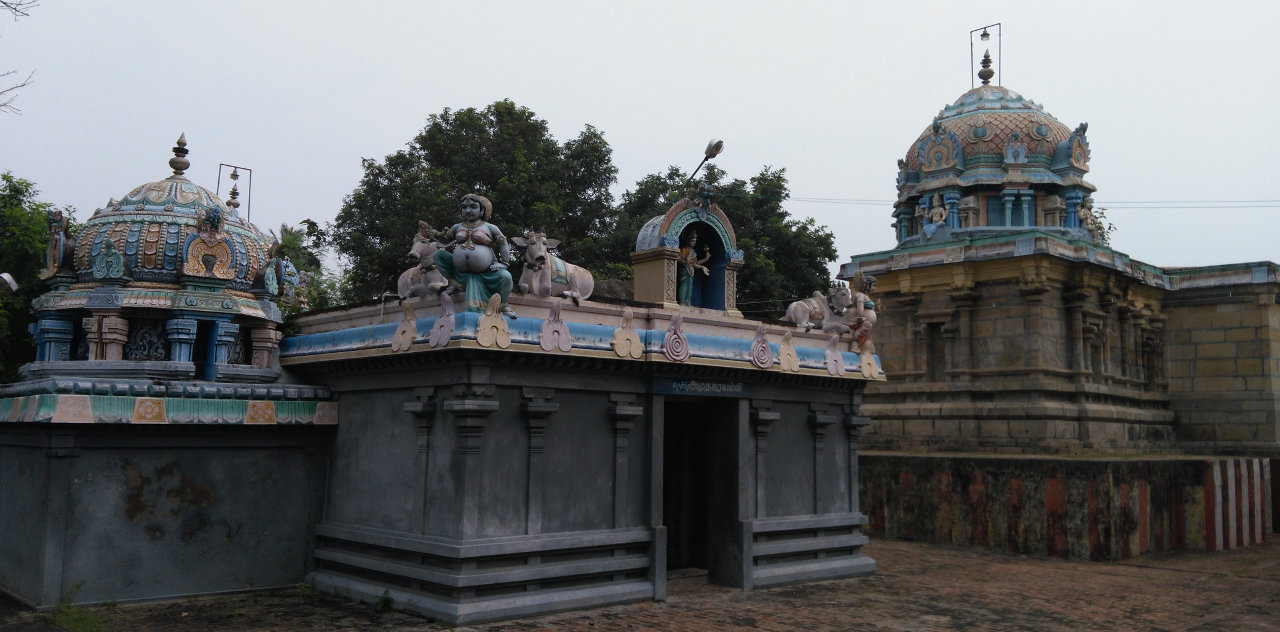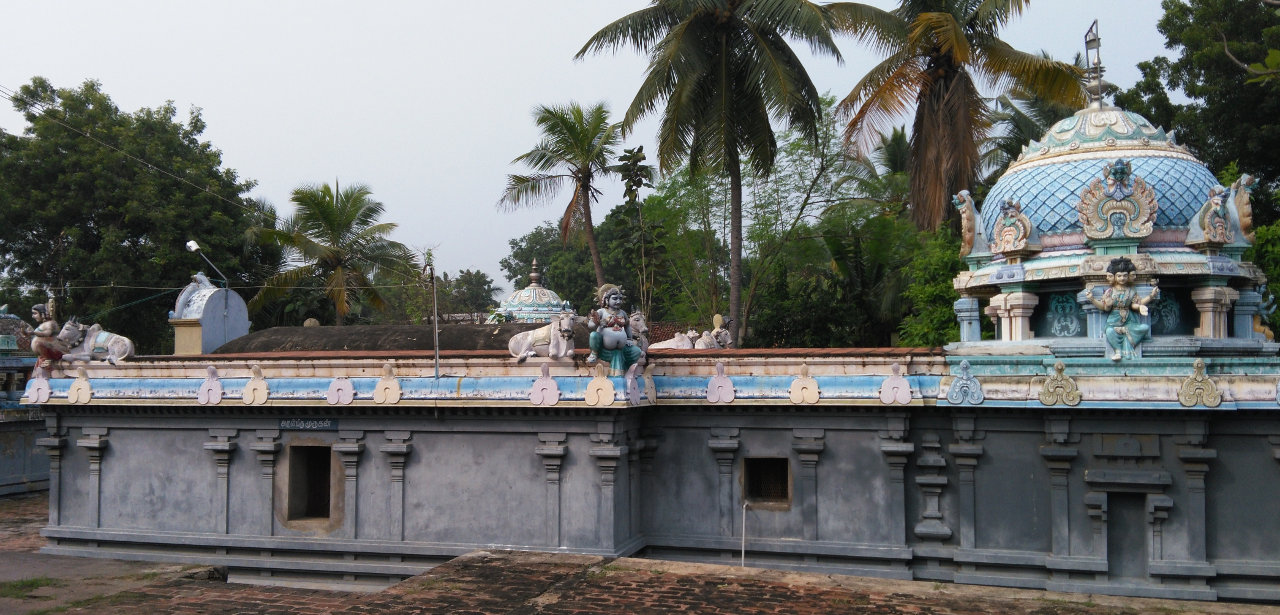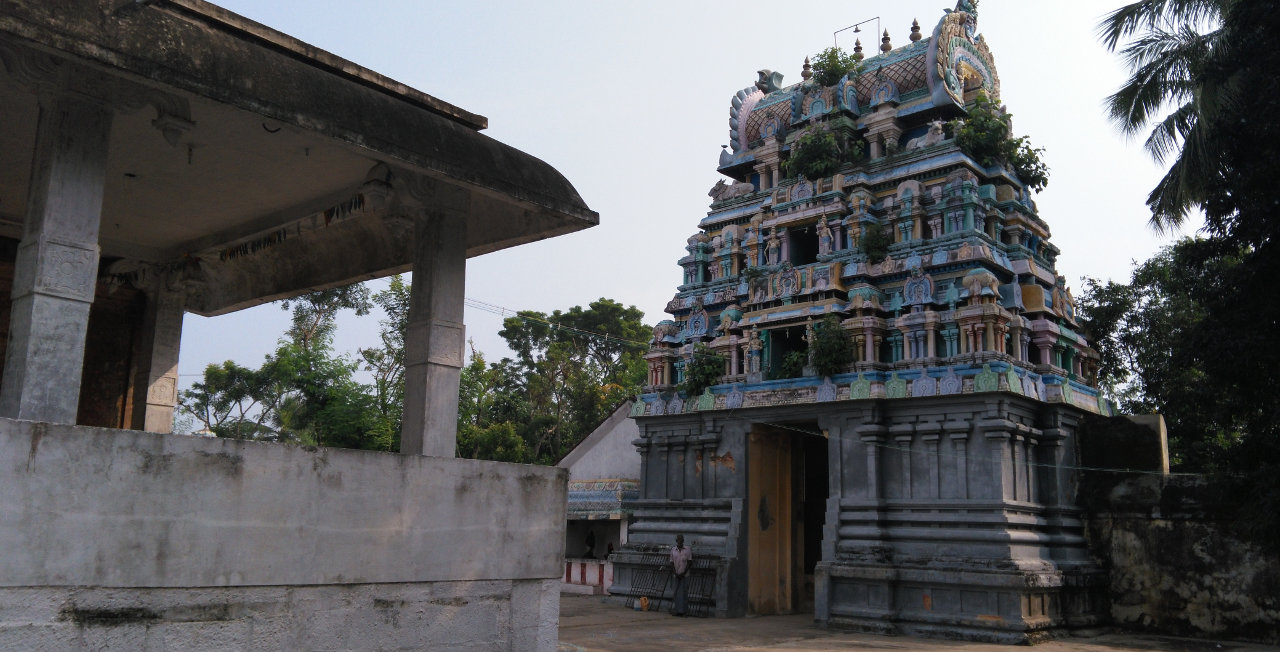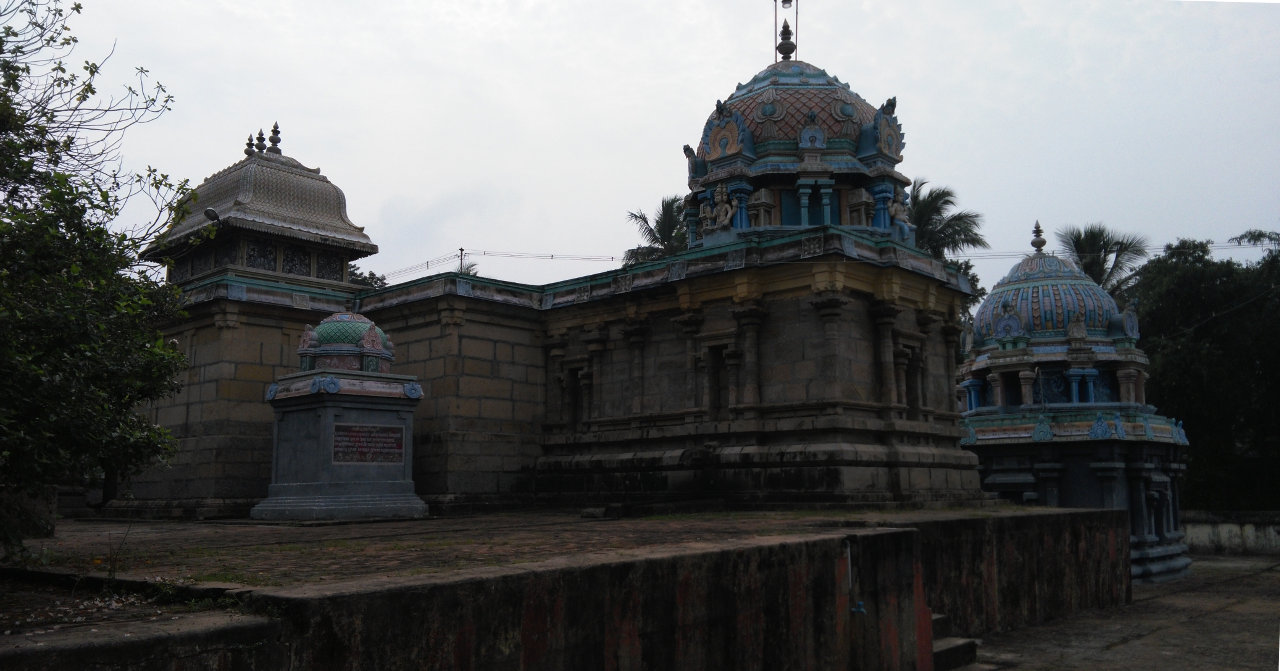 ---
Pathigam (Hymn) with English transliteration
Saint Sundaramurthy Nayanar visited this temple and sang this Pathigam.
Devotees visiting this temple should make it a practice to recite this Pathigam.
முன்னவன் எங்கள்பிரான் முதற்காண்பரி தாயபிரான்
சென்னியில் எங்கள்பிரான் திருநீலமி டற்றெம்பிரான்
மன்னிய எங்கள்பிரான் மறைநான்குங்கல் லால்நிழற்கீழ்ப்
பன்னிய எங்கள்பிரான் பழமண்ணிப் படிக்கரையே.
"Muṉṉavaṉ eṅkaḷpirāṉ muthaṟkāṇpari thāyapirāṉ
seṉṉiyil eṅkaḷpirāṉ thirunīlami ṭatṟempirāṉ
maṉṉiya eṅkaḷpirāṉ maṟaināṉkuṅkal lālnizhaṟkīzhp
paṉṉiya eṅkaḷpirāṉ pazhamaṇṇip paṭikkaraiyē".
அண்ட கபாலஞ்சென்னி அடிமேலல ரிட்டுநல்ல
தொண்டங் கடிபரவித் தொழுதேத்திநின் றாடுமிடம்
வெண்டிங்கள் வெண்மழுவன் விரையார்கதிர் மூவிலைய
பண்டங்கன் மேயவிடம் பழமண்ணிப் படிக்கரையே.
"Aṇṭa kapālañcheṉṉi aṭimēlala riṭṭunalla
thoṇṭaṅ kaṭiparavith thozhuthēththiniṉ tṟāṭumiṭam
veṇṭiṅkaḷ veṇmazhuvaṉ viraiyārkathir mūvilaiya
paṇṭaṅkaṉ mēyaviṭam pazhamaṇṇip paṭikkaraiyē".
ஆடுமின் அன்புடையீர் அடிக்காட்பட்ட தூளிகொண்டு
சூடுமின் தொண்டருள்ளீர் உமரோடெமர் சூழவந்து
வாடுமிவ் வாழ்க்கைதன்னை வருந்தாமல் திருந்தச்சென்று
பாடுமின் பத்தருள்ளீர் பழமண்ணிப் படிக்கரையே.
"Āṭumiṉ aṉpuṭaiyīr aṭikkāṭpaṭṭa thūḷikoṇṭu
chūṭumiṉ thoṇṭaruḷḷīr umarōṭemar chūzhavanthu
vāṭumiv vāzhkkaithaṉṉai varunthāmal thirunthachcheṉtṟu
pāṭumiṉ paththaruḷḷīr pazhamaṇṇip paṭikkaraiyē".
அடுதலை யேபுரிந்தான் அவைஅந்தர மூவெயிலுங்
கெடுதலை யேபுரிந்தான் கிளருஞ்சிலை நாணியிற்கோல்
நடுதலை யேபுரிந்தான் நரிகான்றிட்ட எச்சில்வெள்ளைப்
படுதலை யேபுரிந்தான் பழமண்ணிப் படிக்கரையே.
"Aṭuthalai yēpurinthāṉ avai'anthara mūveyiluṅ
keṭuthalai yēpurinthāṉ kiḷaruñchilai nāṇiyiṟkōl
naṭuthalai yēpurinthāṉ narikāṉṟiṭṭa echchilveḷḷaip
paṭuthalai yēpurinthāṉ pazhamaṇṇip paṭikkaraiyē".
உங்கைக ளாற்கூப்பி உகந்தேத்தித் தொழுமின்தொண்டீர்
மங்கையோர் கூறுடையான் வானோர்முத லாயபிரான்
அங்கையில் வெண்மழுவன் அலையார்கதிர் மூவிலைய
பங்கய பாதனிடம் பழமண்ணிப் படிக்கரையே.
"Uṅkaika ḷāṟkūppi ukanthēththith thozhumiṉthoṇṭīr
maṅkaiyōr kūṟuṭaiyāṉ vāṉōrmutha lāyapirāṉ
aṅkaiyil veṇmazhuvaṉ alaiyārkathir mūvilaiya
paṅkaya pāthaṉiṭam pazhamaṇṇip paṭikkaraiyē".
செடிபடத் தீவிளைத்தான் சிலையார்மதில் செம்புனஞ்சேர்
கொடிபடு மூரிவெள்ளை எருதேற்றையும் ஏறக்கொண்டான்
கடியவன் காலன்றன்னைக் கறுத்தான்கழற் செம்பவளப்
படியவன் பாசுபதன் பழமண்ணிப் படிக்கரையே.
"Seṭipaṭath thīviḷaiththāṉ silaiyārmathil sempuṉañchēr
koṭipaṭu mūriveḷḷai eruthētṟaiyum ēṟakkoṇṭāṉ
kaṭiyavaṉ kālaṉtṟaṉṉaik kaṟuththāṉkazhaṟ sempavaḷap
paṭiyavaṉ pāsupathaṉ pazhamaṇṇip paṭikkaraiyē".
கடுத்தவன் தேர்கொண்டோ டிக் கயிலாயநன் மாமலையை
எடுத்தவன் ஈரைந்துவாய் அரக்கன்முடி பத்தலற
விடுத்தவன் கைநரம்பால் வேதகீதங்கள் பாடலுறப்
படுத்தவன் பால்வெண்ணீணற்றன் பழமண்ணிப் படிக்கரையே.
"Kaṭuththavaṉ thērkoṇṭō ṭik kayilāyanaṉ māmalaiyai
eṭuththavaṉ īrainthuvāy arakkaṉmuṭi paththalaṟa
viṭuththavaṉ kainarampāl vēthakīthaṅkaḷ pāṭaluṟap
paṭuththavaṉ pālveṇṇīṇatṟaṉ pazhamaṇṇip paṭikkaraiyē".
திரிவன மும்மதிலும் எரித்தான்இமை யோர்பெருமான்
அரியவன் அட்டபுட்பம் அவைகொண்டடி போற்றிநல்ல
கரியவன் நான்முகனும் அடியும்முடி காண்பரிய
பரியவன் பாசுபதன் பழமண்ணிப் படிக்கரையே.
"Thirivaṉa mum'mathilum eriththāṉimai yōrperumāṉ
ariyavaṉ aṭṭapuṭpam avaikoṇṭaṭi pōtṟinalla
kariyavaṉ nāṉmukaṉum aṭiyum'muṭi kāṇpariya
pariyavaṉ pāsupathaṉ pazhamaṇṇip paṭikkaraiyē".
வெற்றரைக் கற்றமணும் விரையாதுவிண் டாலமுண்ணுந்
துற்றரைத் துற்றறுப்பான் றுன்னஆடைத் தொழிலுடையீர்
பெற்றரைப் பித்தரென்று கருதேன்மின் படிக்கரையுள்
பற்றரைப் பற்றிநின்று பழிபாவங்கள் தீர்மின்களே.
"Vetṟaraik katṟamaṇum viraiyāthuviṇ ṭālamuṇṇun
thutṟaraith thutṟaṟuppāṉ ṟuṉṉa'āṭaith thozhiluṭaiyīr
petṟaraip piththareṉtṟu karuthēṉmiṉ paṭikkaraiyuḷ
patṟaraip patṟiniṉtṟu pazhipāvaṅkaḷ thīrmiṉkaḷē".
பல்லுயிர் வாழுந்தெண்ணீணர்ப் பழமண்ணிப் படிக்கரையை
அல்லியந் தாமரைத்தார் ஆரூரன் உரைத்ததமிழ்
சொல்லுதல் கேட்டல்வல்லா ரவர்க்குந்தமர்க் குங்கிளைக்கும்
எல்லியும் நன்பகலும் இடர்கூருதல் இல்லையன்றே.
"Palluyir vāzhuntheṇṇīṇarp pazhamaṇṇip paṭikkaraiyai
alliyan thāmaraiththār ārūraṉ uraiththathamizh
solluthal kēṭṭalvallā ravarkkunthamark kuṅkiḷaikkum
elliyum naṉpakalum iṭarkūruthal illaiyaṉtṟē".