Visited on: February 11, 2017.
Location
Thiru Nanipalli (Punjai) is situated at a distance of about 5 kms from Sembonar Koil on the Mayiladuthurai to Thirukadaiyur route. From Mayiladuthurai it is about 13 kms.
Other Devara Paadal Petra Shiva Sthalams near this temple are – Thiruppallavaneecharam (Poompuhar), Thiruchaikkadu,Thiruvenkadu, Kezhai Thirukkattuppalli, Thirukkalikkamur (Annappan Pettai), Pariyal Veerattam, Thiruchempon Palli, Thiru Valampuram, Thiru Kadaimudi (Keezhur), Thiru Nintriyur, Thalaichangadu, Aakkur, Thirukkadaiyur and Thirukkadaiyur Mayanam.
General Information
Moolavar

Sri Natrunaiappar, Sri Swarnapureeswarar

Ambal

Sri Parvatharaja Puthiri, Sri Swarnambikai,
Sri Malayan Madanthai

Theertham (Holy water)

Swarna Theertham

Sthala Vriksham (Sacred Tree)

Shenbagam, Pinnai

Pathigam (Hymn) rendered by

Saint Thirugnanasambanthar-1,
Saint Thirunavukarasar (Appar)-1, and
Saint Sundaramurthy (Sundarar)-1

This is one of the 276 Devara Paadal Petra Shiva Sthalams and 43rd Shiva Sthalam on the Southern bank of the river Cauveri in Chozha Nadu (Thenkarai).
Lord Shiva in this temple is a Swayambumurthi (self-manifested).
This is one of the 44 Paadal petra sthalams where the "Moovar" (the three saints - Saint Thirugnanasambanthar, Saint Thirunavukarasar (Appar) and Saint Sundaramurthy (Sundarar) had rendered their Pathigams.
This is the birth place of Bhagavathi Ammaiyar, mother of Saint Thirugnanasambanthar.
This east facing temple has a single corridor and its main tower does not have any tiers. In place of the Gopuram, there are beautiful sculptures depicting the "Panchamurthy" (Lord Shiva, Goddess Parvathy, Vinayakar, Murugan and Chandikeswarar).
The last consecration ceremony (Maha Kumbabishekam) took place on 14.09.1970.
History of the Temple
This temple is believed to have been built by Chola King Paranthagan-I. There are 18 stone inscriptions in this temple, out of which 17 are related to the Chola periods (kings Kulothungan, Rajarajan, Rajendran and Vikraman) and one is from Vijayanagara (Krishna Devarayar) period.
This place's name "Nani Palli" might have been derived from the name of the person Nanni, who had originally built this temple. ('Palli" means temple in Tamil).
This temple is under the administrative control of the Hindu Religious and Charitable Endowments Department of Government of Tamil Nadu (HR&CE).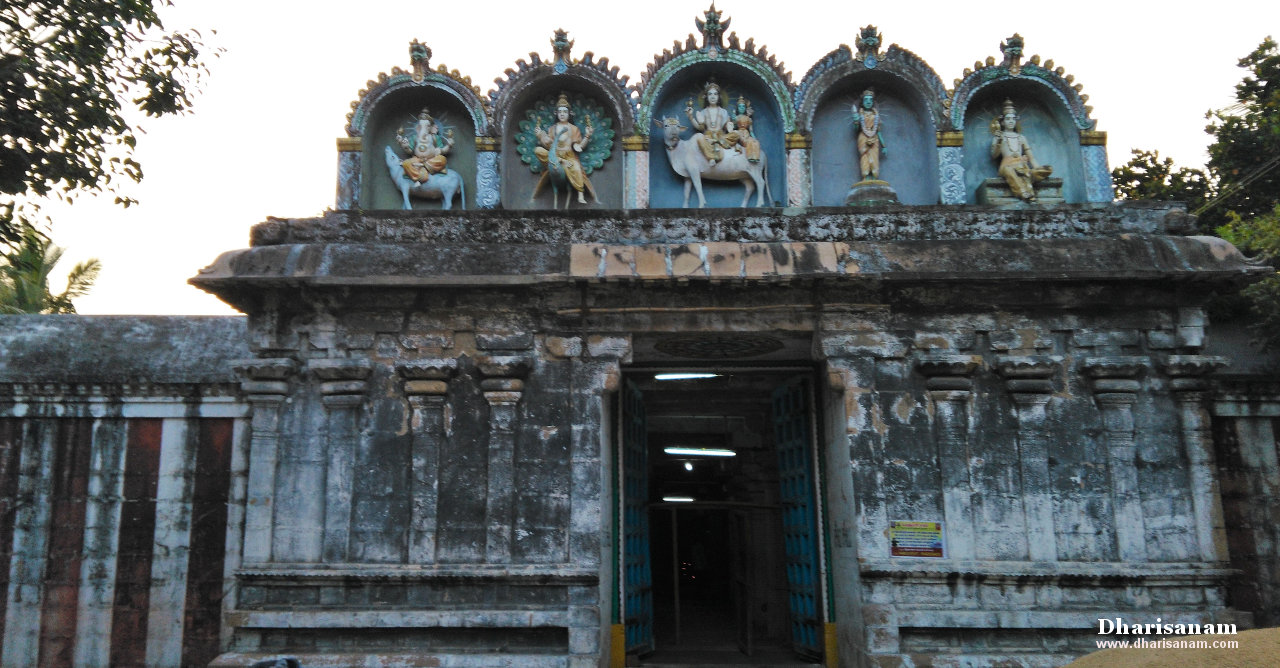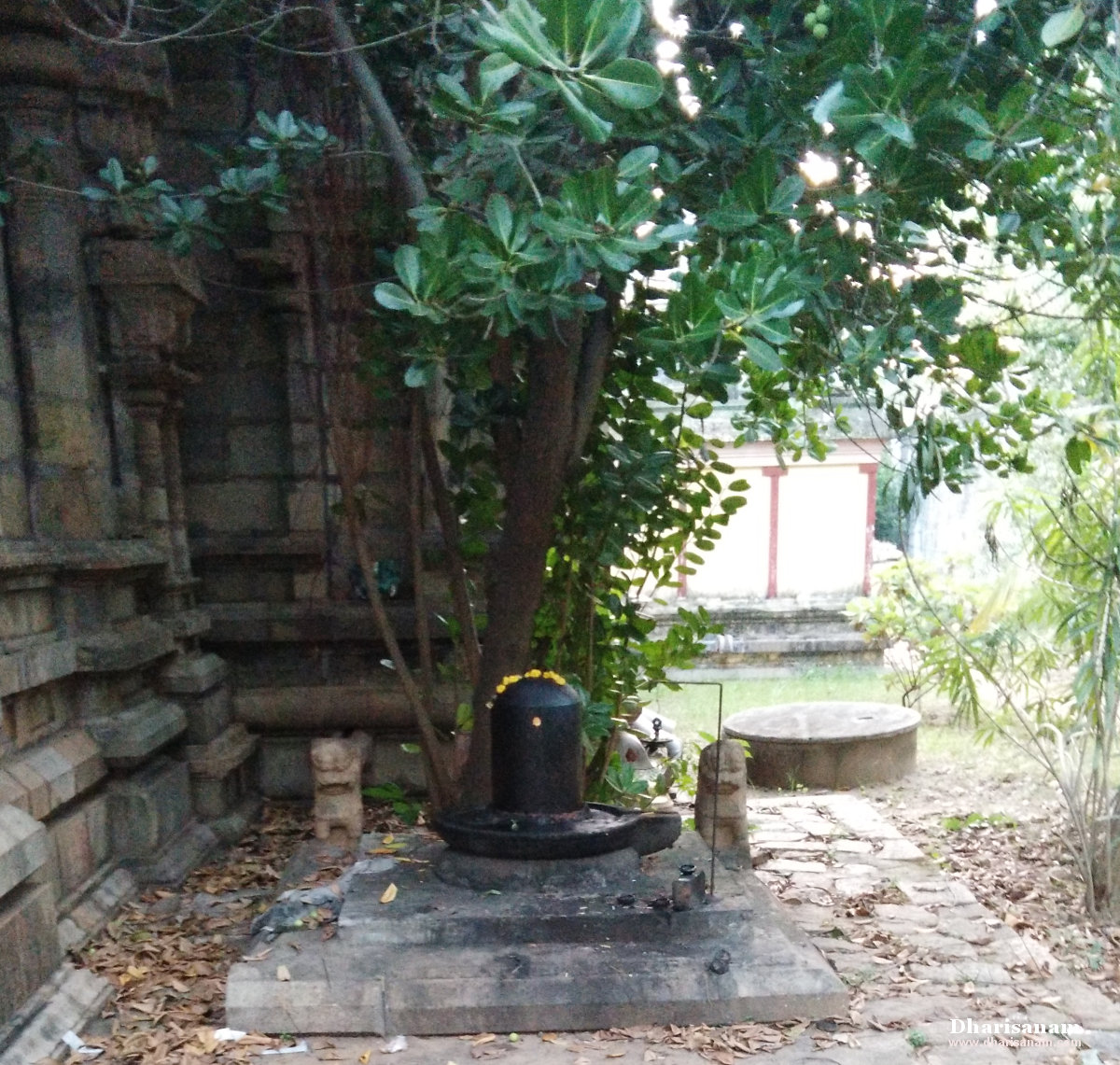 Legend
Lord Shiva here is praised as "Sri Natrunaiappar". This can be translated as "the lord who guides us to a better life".
According to legend, once Lord Vinayakar had to incur a curse from Sage Agasthiyar. This was because Vinayakar had taken the form of a crow and toppled Sage Agasthiyar's Kamandalam (hand bowl). As a result of the curse, Vinayakar was unable to regain his original form. To seek relief, Vinayakar (still in the form of a crow) visited this temple, took a dip in this temple's holy tank and worshiped the lord. When the crow emerged from the tank, its colour had changed to gold. Hence this place gets the name "Pon Sei" ("Pon" means gold and "Sei" means changed in Tamil). This was later changed to Punchai.
Another legend associated with this temple is that of Saint Thirugnanasambanthar. This village is the birth place of his mother, Bhagavathi Ammaiyar. On hearing that Sambanthar had started rendering pathigams praising Lord Shiva and had been blessed with golden plates by the lord, the people of this village wanted him to come here. Being a small child at that time, Sambanthar could not walk for long distances. His father carried him on his shoulders. When Saint Sambanthar reached this village, he sang his Pathigam while seated on the shoulders of his father, Sri Sivapatha Hrudhayar. To the delight of the villagers, the barren lands around this village were turned into fertile, cultivable land by the power of his pathigam. Another reason why this place is called "Ponsei" is that these lands started yielding a lot of food grains. Pon sei can also be interpreted as "golden land". At the end of his pathigam, Sambanthar mentioned that he was sitting on his father's shoulders while performing this rendition.
It is also believed that Sage Agasthiyar was blessed with Lord Shiva's wedding darshan here. There is a separate shrine in the corridor for Sri Kalyana Sundareswarar which symbolises this incident.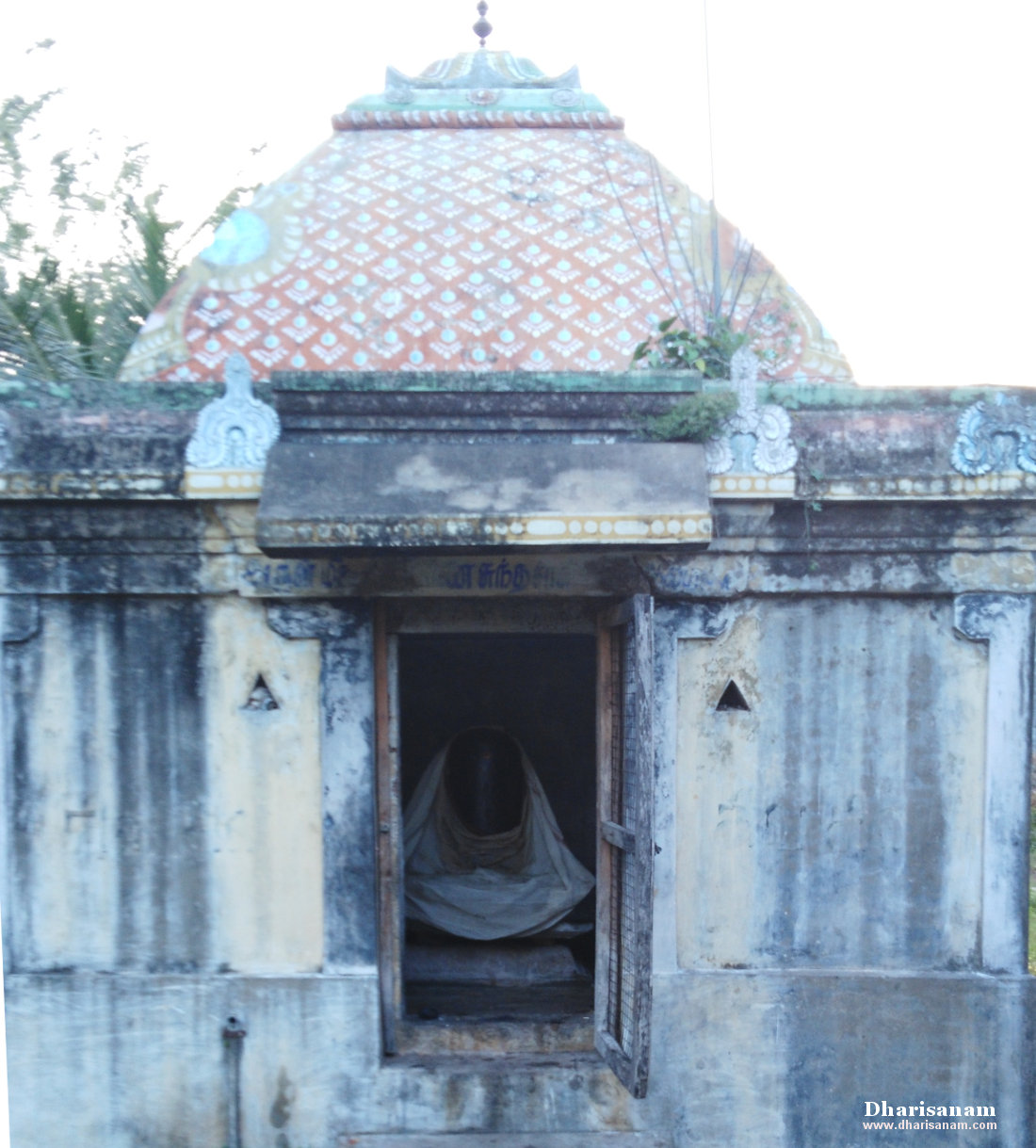 Deities in the temple
Other than the shrines of Lord Shiva and Goddess Parvathy, shrines and idols of Vinakar, Murugan with his consorts, Natarajar, Nalvar, lingam, Suryan and Vinayakar (4) can be seen in the corridors.
In the "koshtam" (place surrounding the sanctum sanctorum), idols of Vinayakar, Agasthiyar, Dakshinamurthy, Lingothbhavar, Brahma, Durgai and Chandikeswarar with his wife can be seen.
The sanctum also houses the idols of Sri Kalyanasundareswarar and Goddess Parvathy.
There are two shrines for Goddess Parvathy here - Sri Parvatharaja Puthri is on the right side of Lord Shiva's shrine while Sri Malayan Madanthai is in the corridor.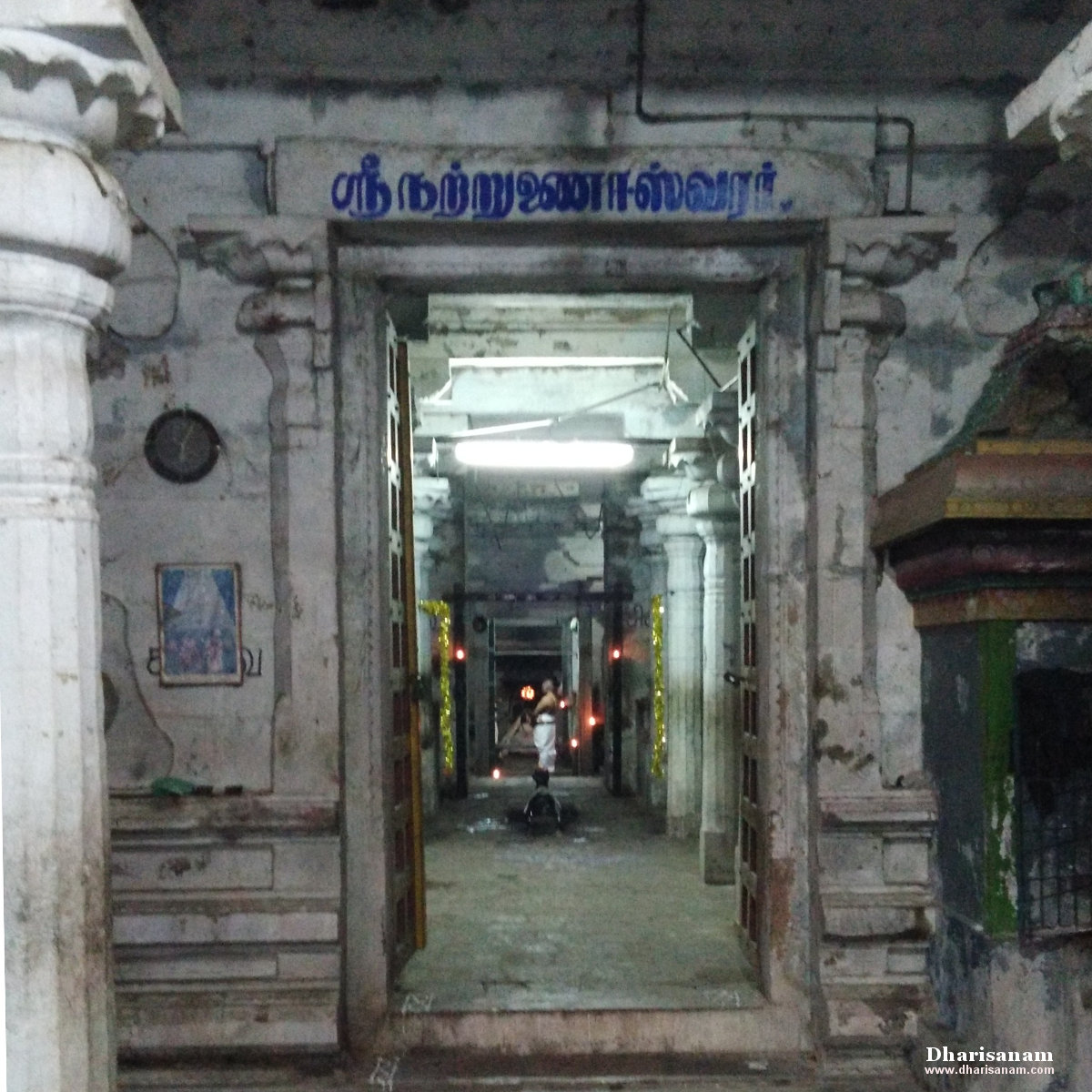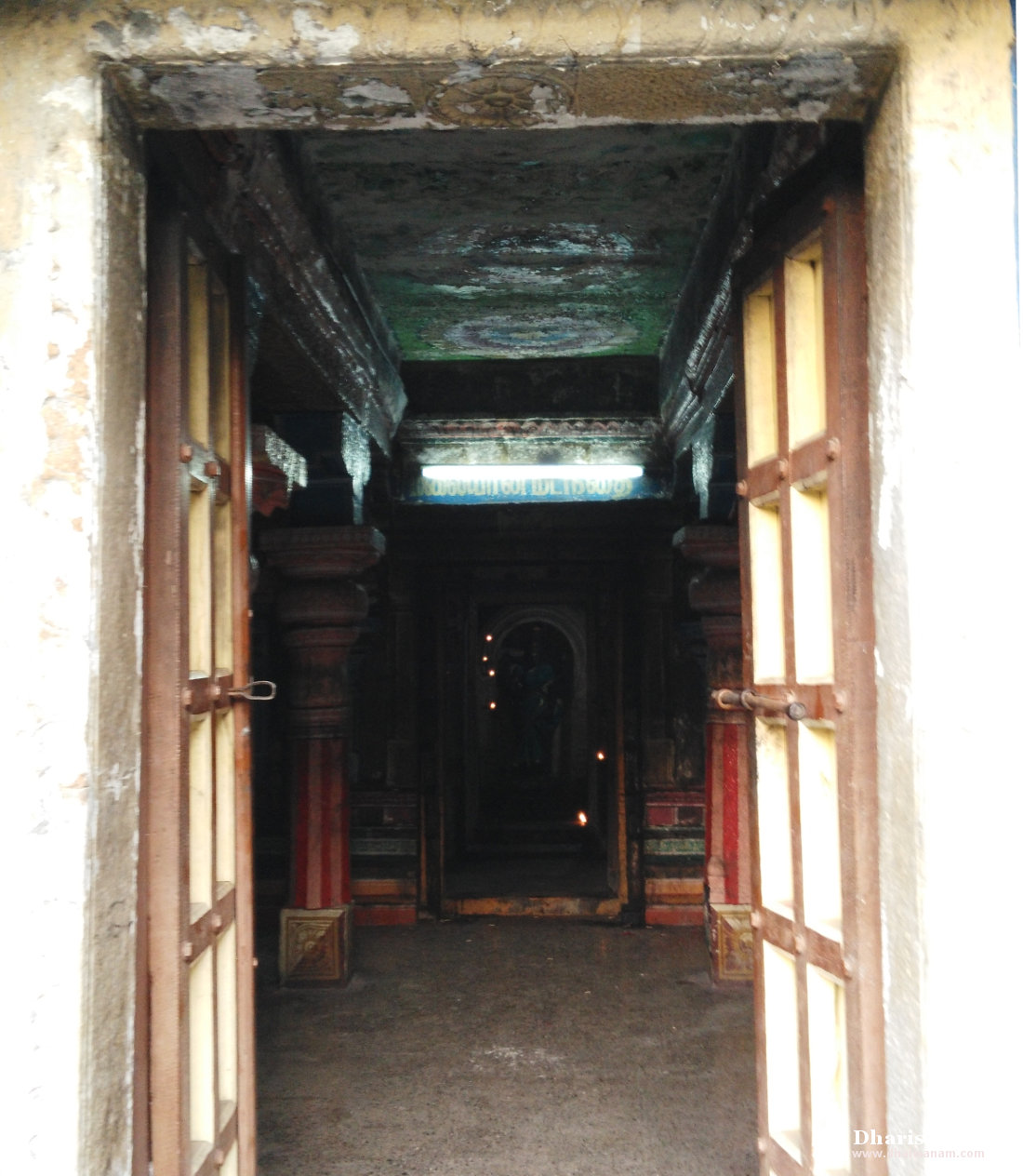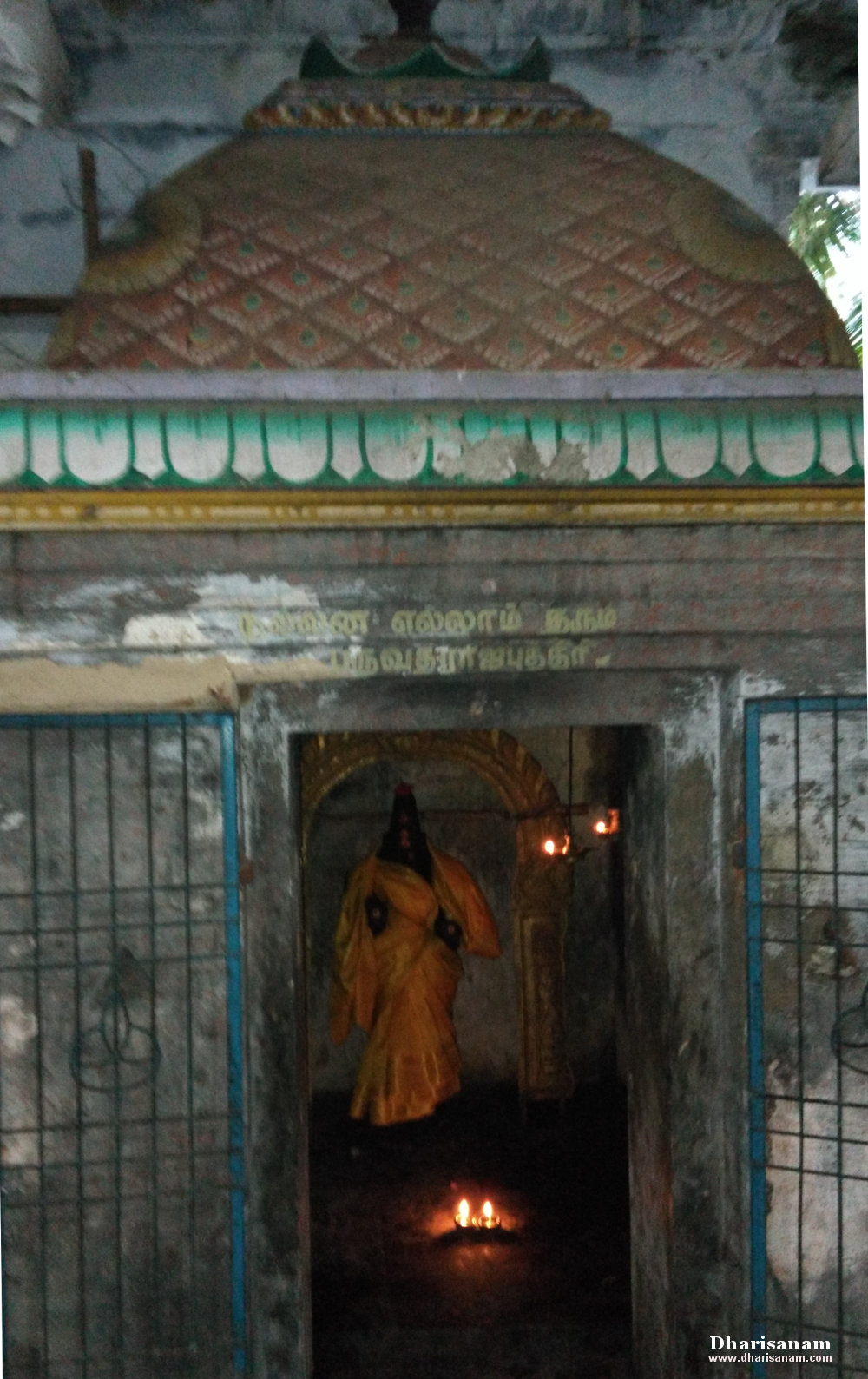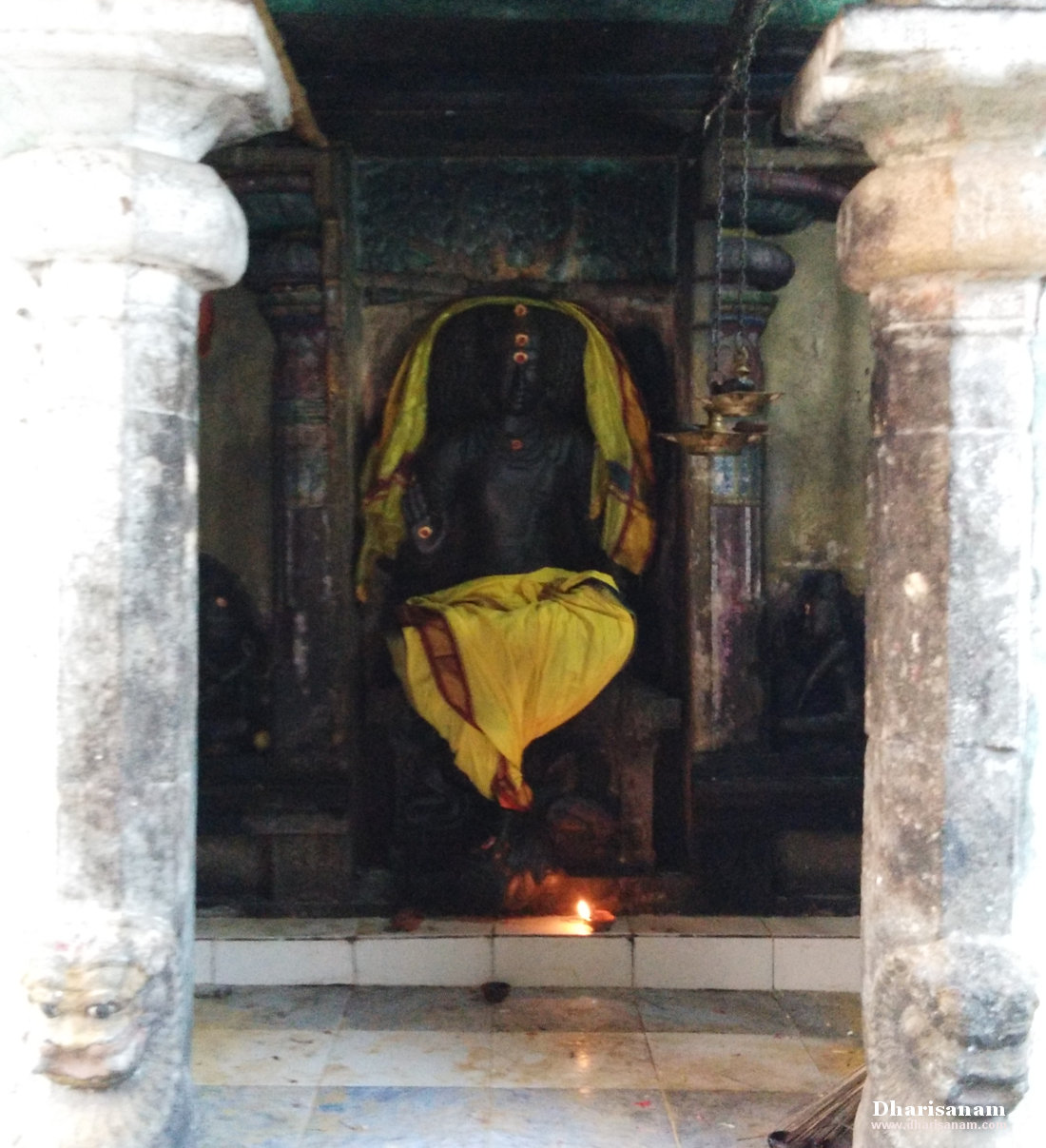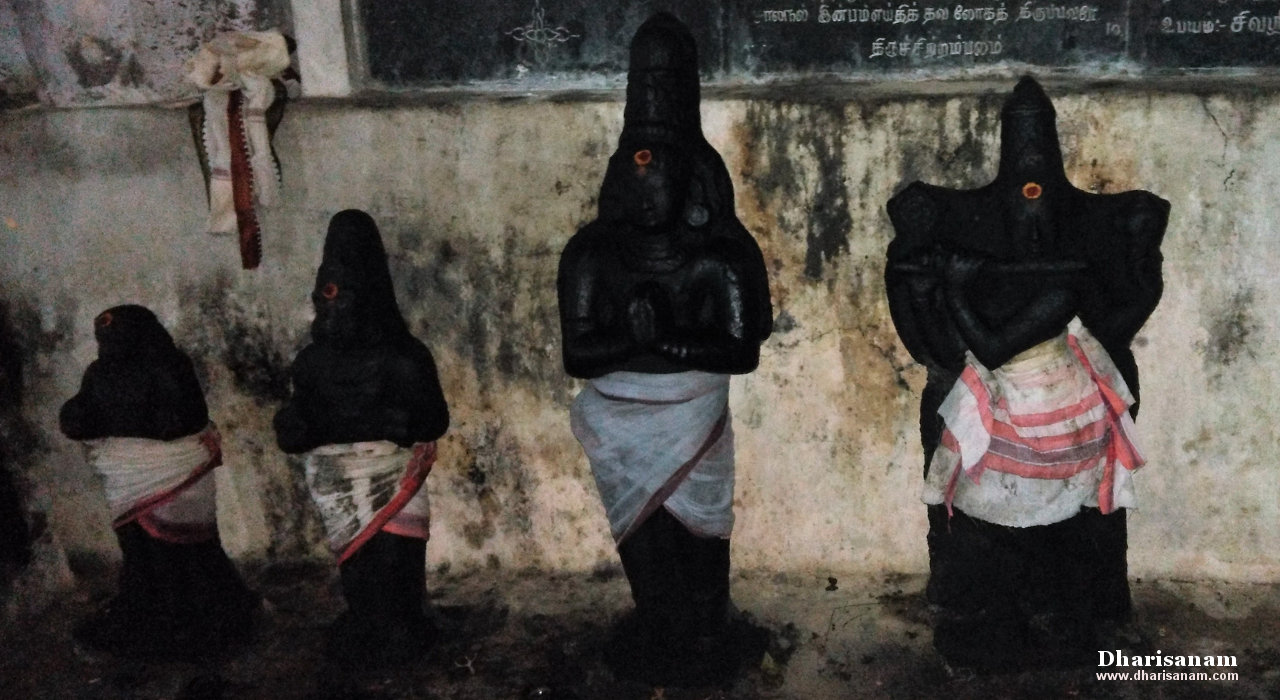 Salient Features
Most of the Idols in this temple are large in size and beautifully carved.
It is believed that Lord Suryan (Sun) worships Lord Shiva of this temple by directing his rays on the lingam every year for seven days in the Tamil month of Chithirai from 7th to 13th (April-May). Special poojas are performed on these days to Lord Shiva here.
The sanctum sanctorum is very huge and spacious and it is believed that an elephant had entered into this sanctum and worshiped the lord.
Lord Shiva's sanctum tower (Vimanam) is also very big and is in the shape of a dome. This tower is considered to be one of the biggest towers in Tamil Nadu.
The sanctum sanctorum and the halls (Mandapams) are aesthetically designed. The main hall in this temple is known as "Nanipalli Kodi Vattam".
There are many reliefs on the outer walls of the sanctum sanctorum which depict stories from Ramayan.
There is a beautifully carved pillar in the corridor that also houses a small relief of Yaali (a mythological animal). The uniqueness of this relief is that there is a small hole in place of the Yaali's nose. If you insert a rope or a stick on one end, it will emerge from the other end.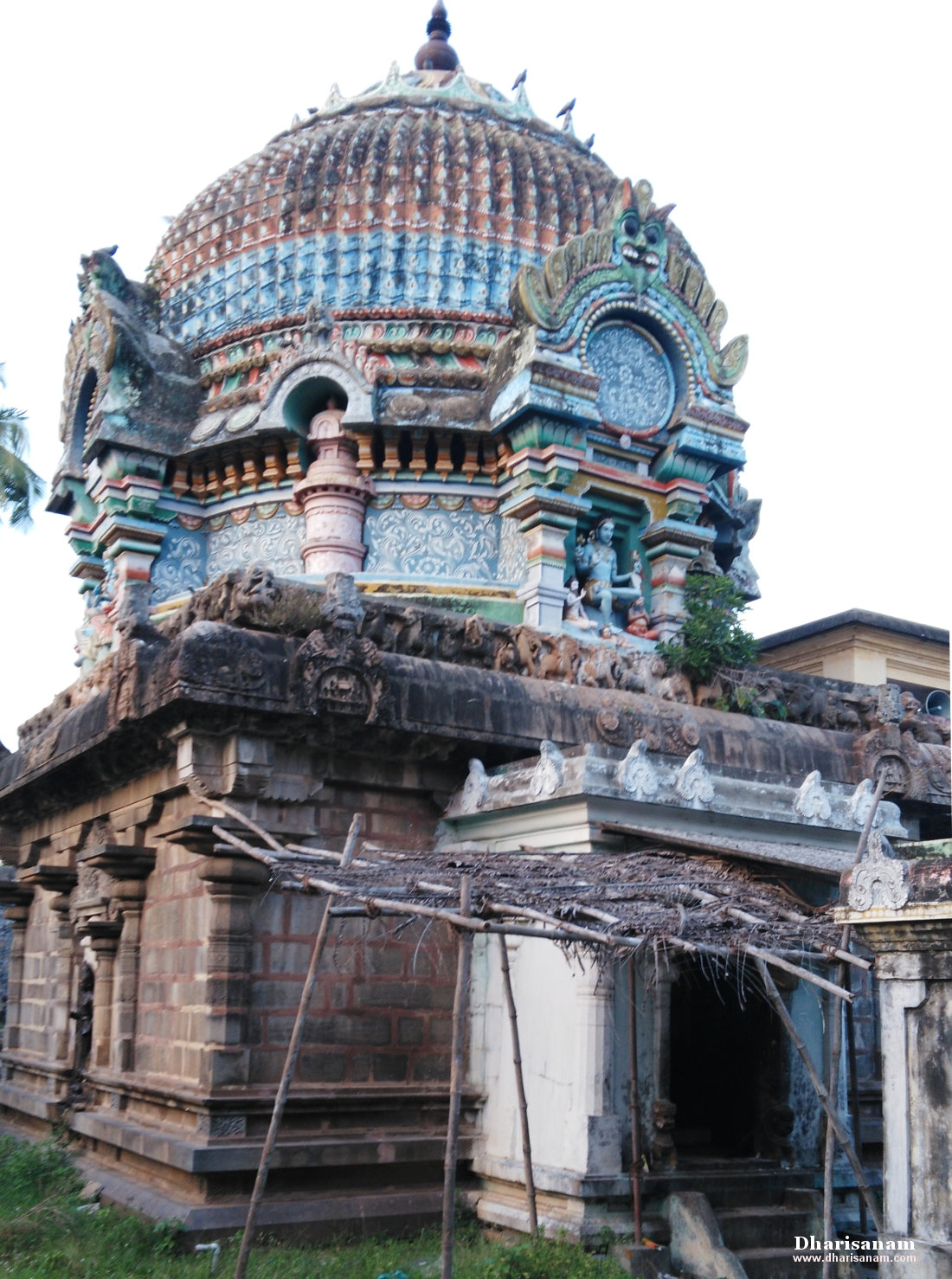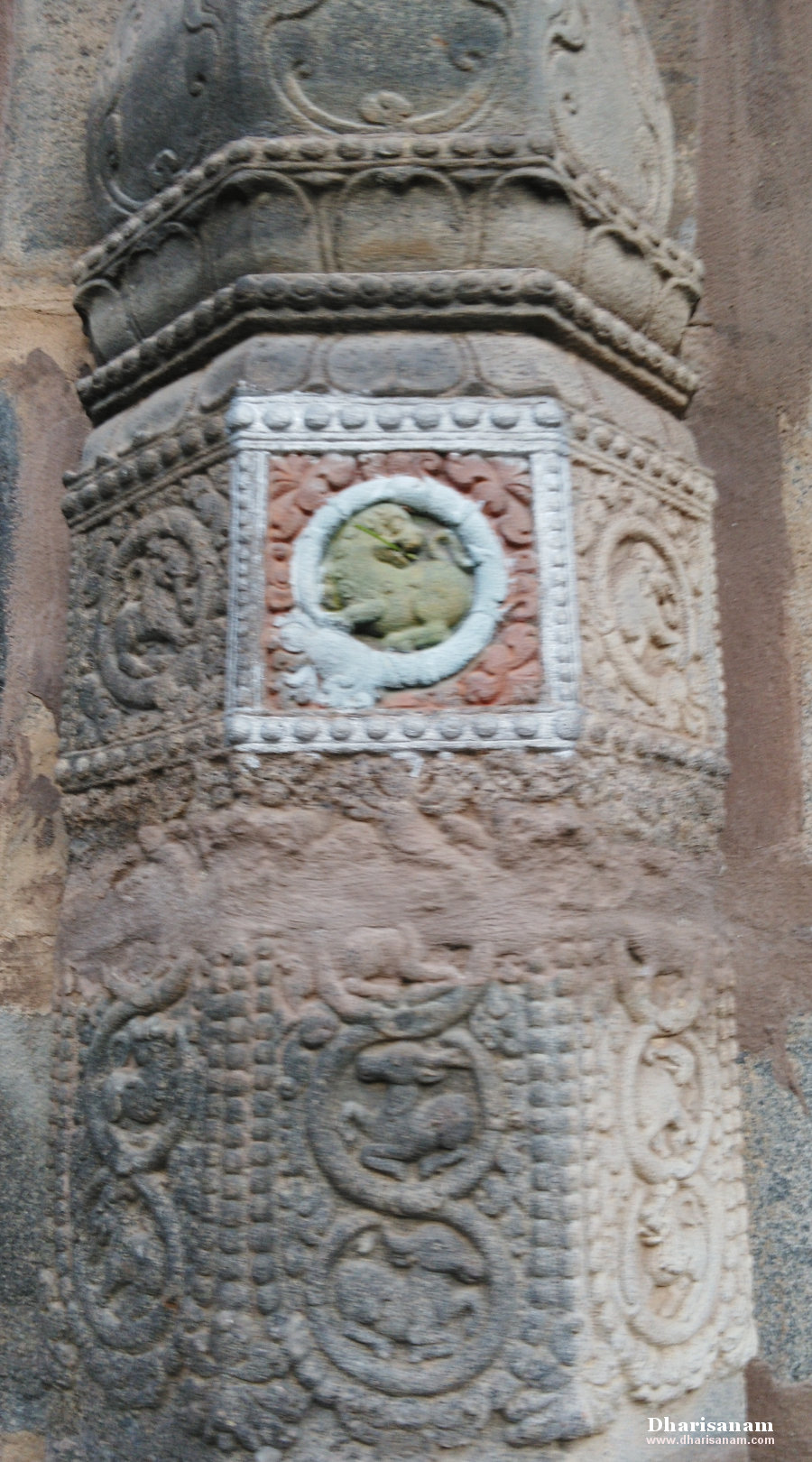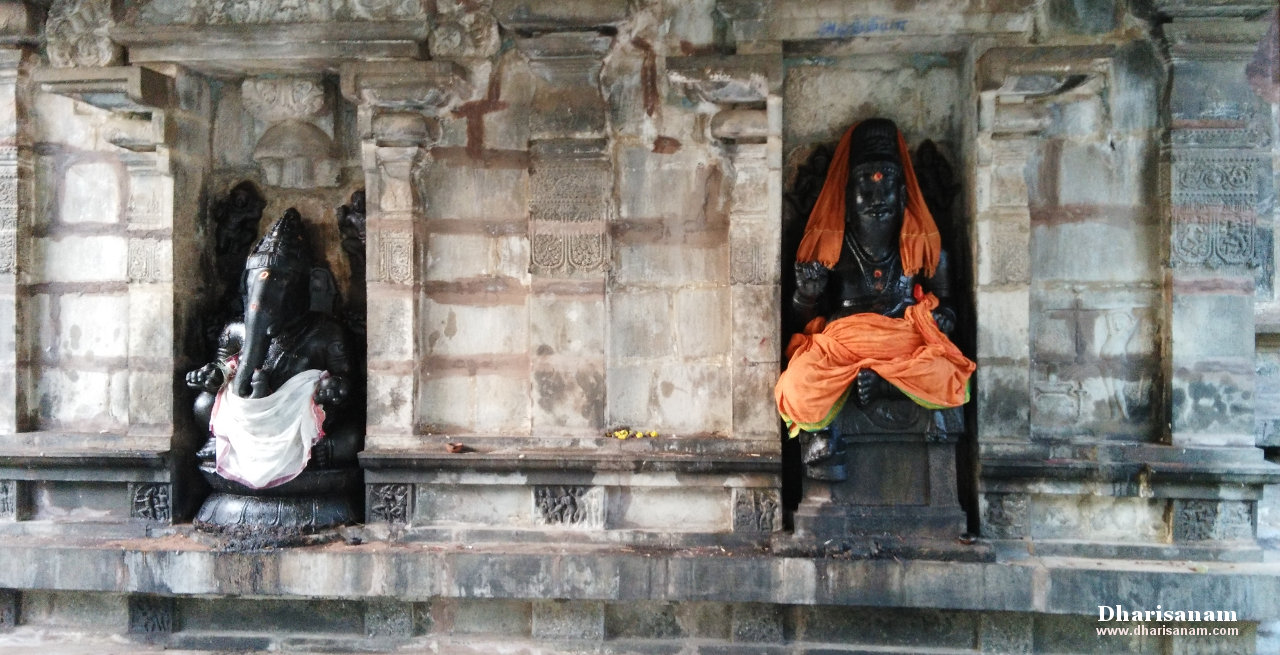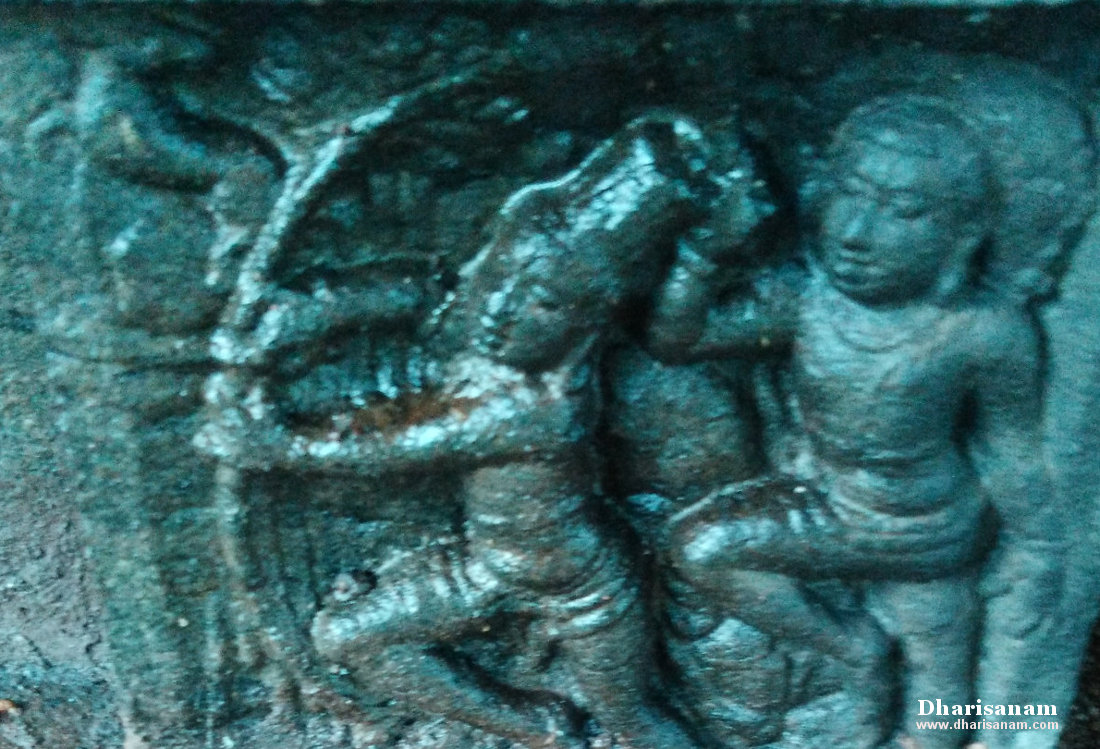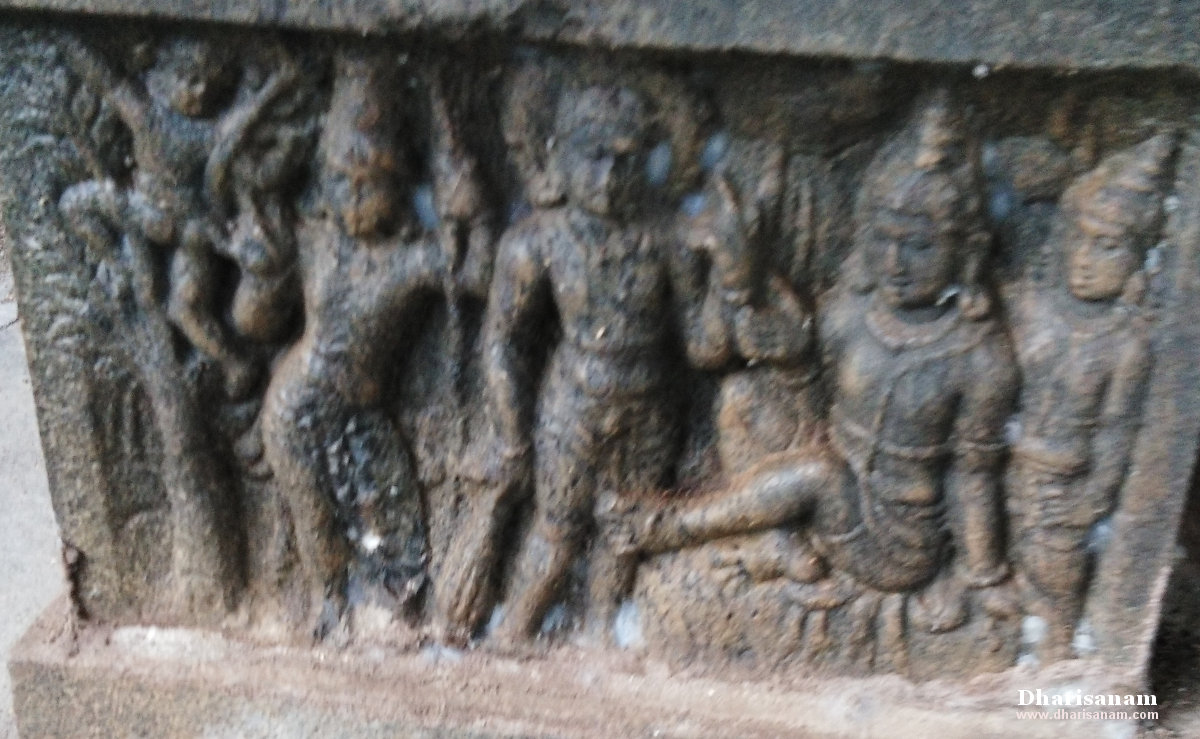 Greatness of this temple
Those facing obstacles in their marriage proposals can worship Lord Kalyana Sundareswarar here.
Devotees also worship Lord Shiva of this temple for seeking the blessing of prosperity and wisdom.
Important Festivals
Some of the important festivals celebrated in the temple are –
Vinayakar Chaturthi in the Tamil month of Aavani (Aug-Sept),
Navarathri in the Tamil month of Purattasi (Sept-Oct),
Skanda Shashti and Annabishekam in the Tamil month of Aippasi (Oct–Nov),
Thiru Karthikai in the Tamil month of Karthikai (Nov-Dec),
Thiruvadhirai in the Tamil month of Markazhi (Dec-Jan), and
Shivrathri in the Tamil month of Masi (Feb-Mar).
Pradosham is also observed regularly
Temple Timings
From 08.00 AM to 12.00 Noon and from 05.00 PM to 07.00 PM.
Temple Address
Sri Nattrunai Appar Temple,
Punchai (Thiru Nanipalli),
Kidaramkondon Post,
Mayiladuthurai Taluk,
Nagapattinam District,
Tamil Nadu – 609 304.
Tele: +91- 4364 - 283 188.

The temple priest, Sri Vaidyanatha Gurukkal can be contacted at +91 94439 06587.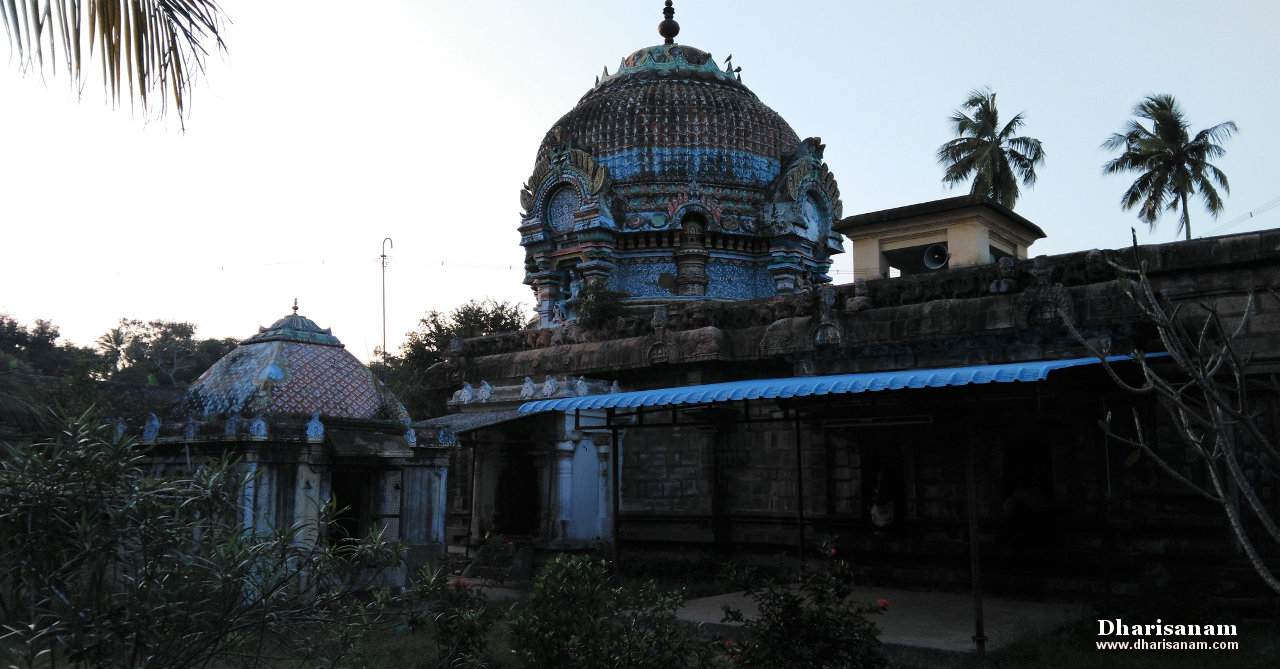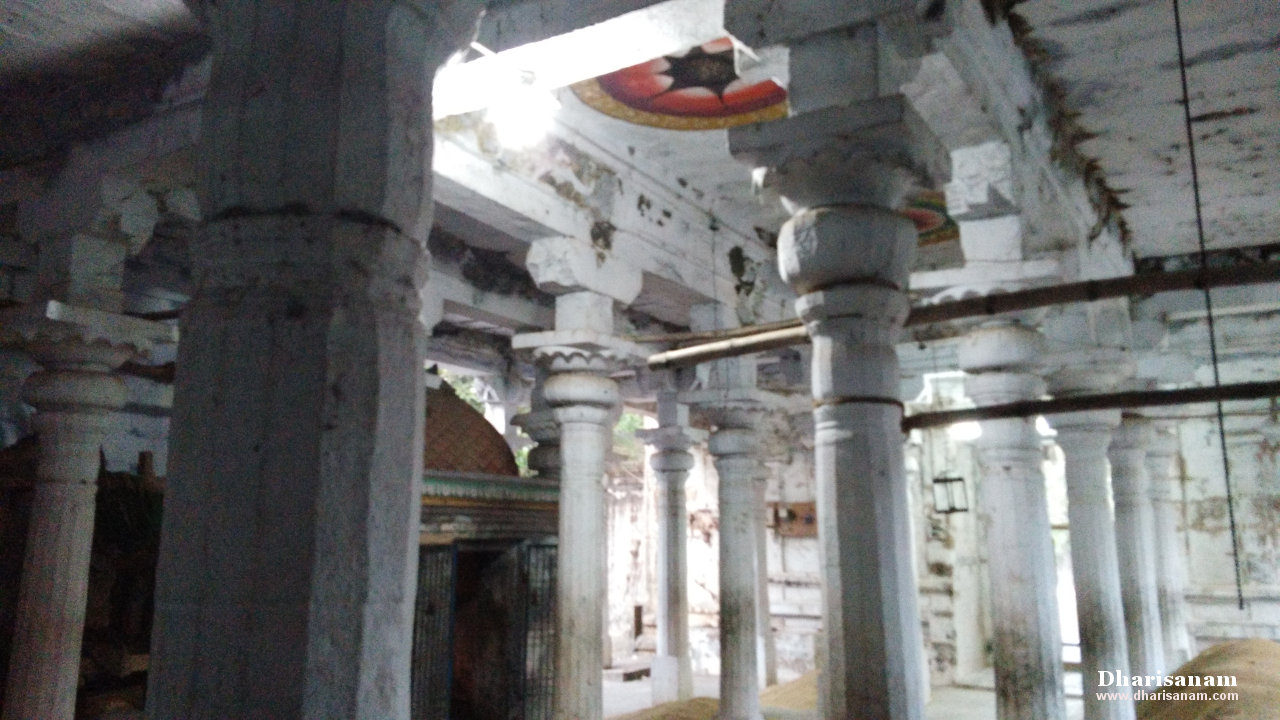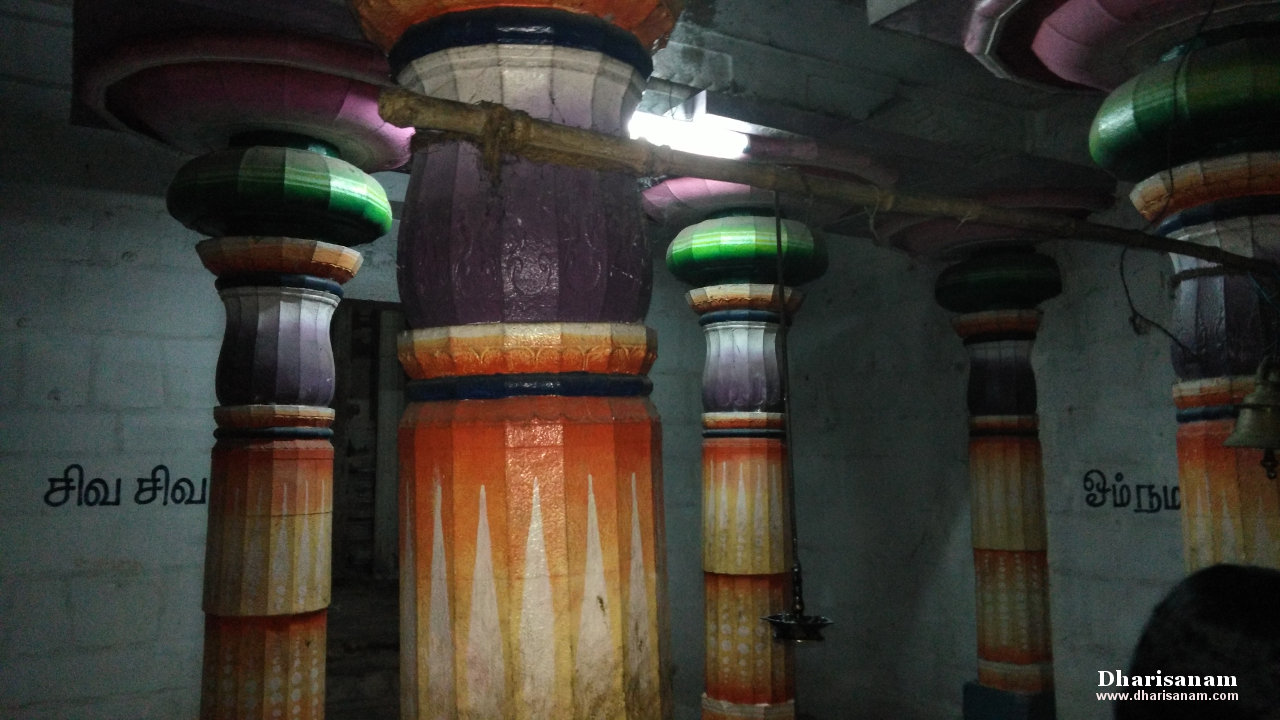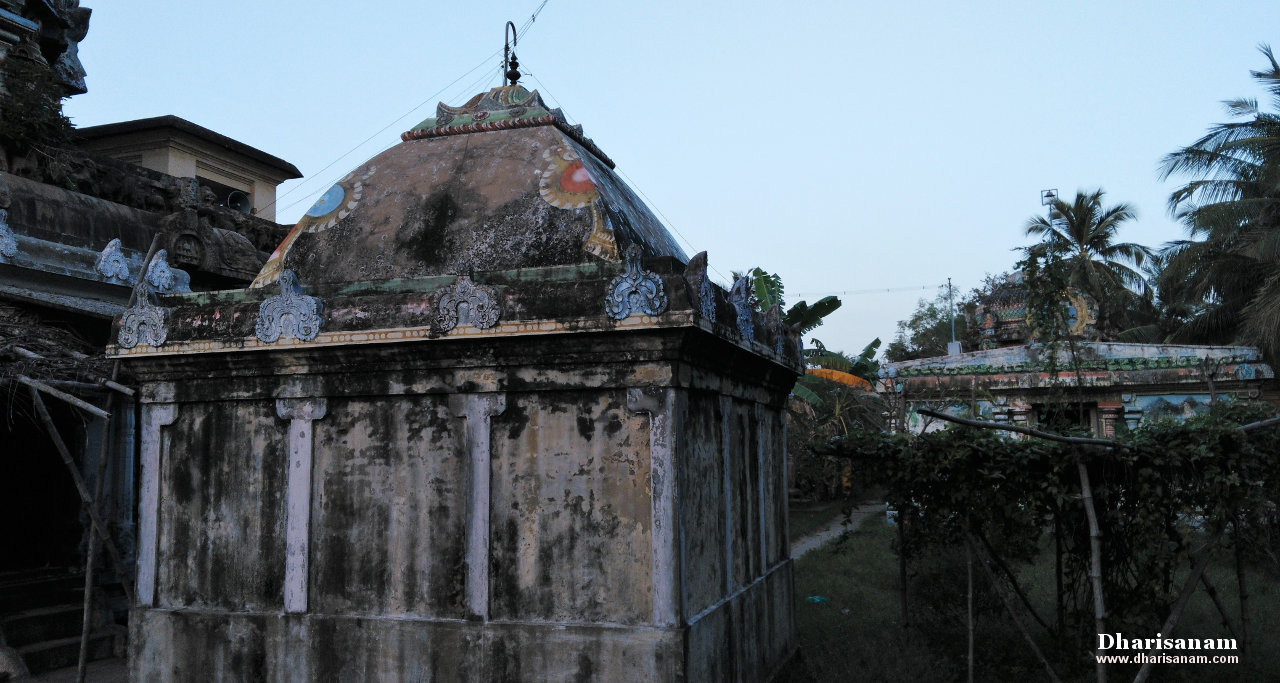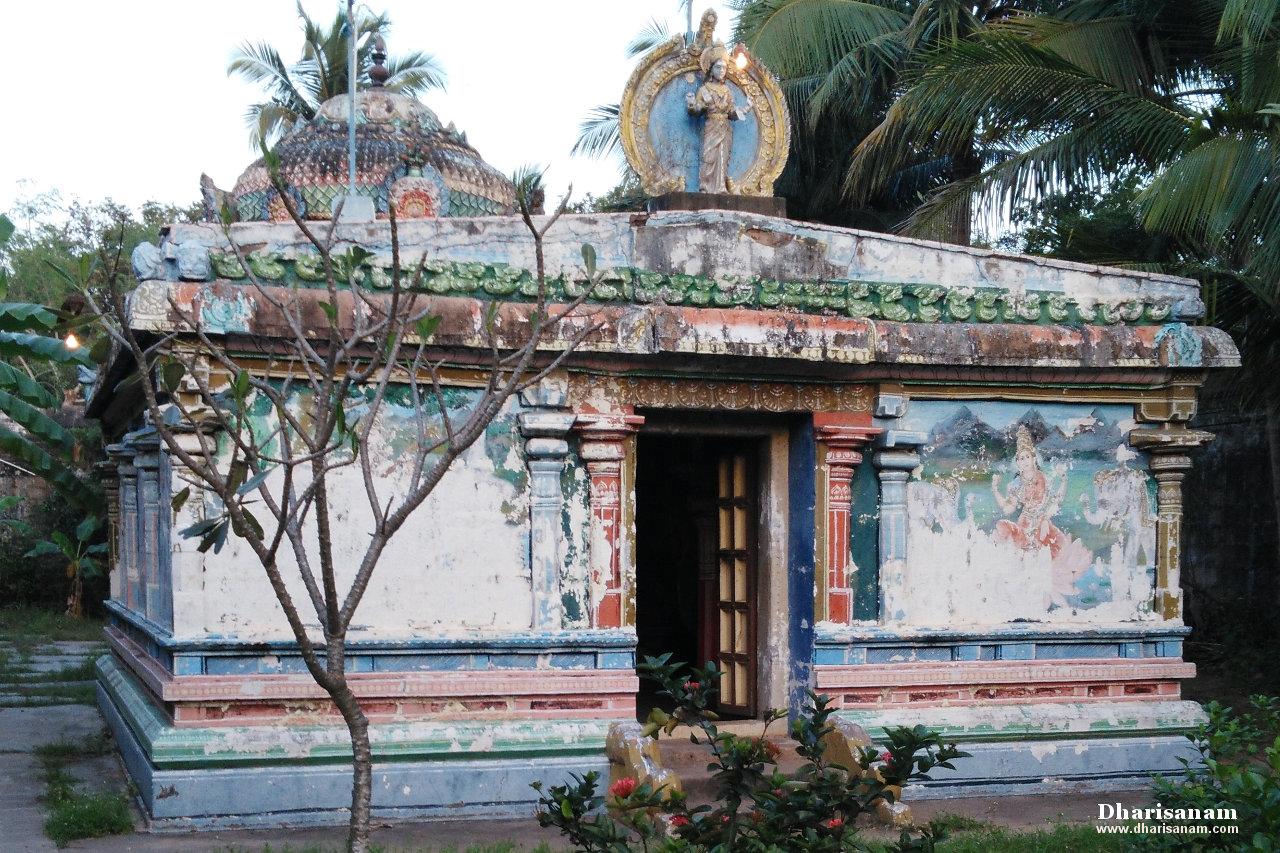 ---
Pathigam (Hymn) with English transliteration
Saint Thirugnanasambanthar visited this temple and sang this Pathigam.
Devotees visiting this temple should make it a practice to recite this Pathigam.
காரைகள் கூகைமுல்லை களவாகை யீகை
படர்தொடரி கள்ளி கவினிச்
சூரைகள் பம்மிவிம்மு சுடுகாட மர்ந்த
சிவன்மேய சோலை நகர்தான்
தேரைக ளாரைசாய மிதிகொள்ள வாளை
குதிகொள்ள வள்ளை துவள
நாரைக ளாரல்வாரி வயன்மேதி வைகும்
நனிபள்ளி போலும் நமர்காள்.
"Kāraikaḷ kūkaimullai kaḷavākai yīkai
paṭarthoṭari kaḷḷi kaviṉich
chūraikaḷ pam'mivim'mu suṭukāṭa marntha
sivaṉmēya sōlai nakarthāṉ
thēraika ḷāraisāya mithikoḷḷa vāḷai
kuthikoḷḷa vaḷḷai thuvaḷa
nāraika ḷāralvāri vayaṉmēthi vaikum
naṉipaḷḷi pōlum namarkāḷ".
சடையிடை புக்கொடுங்கி யுளதங்கு வெள்ளம்
வளர்திங்கள் கண்ணி அயலே
இடையிடை வைத்ததொக்கும் மலர்தொத்து மாலை
யிறைவன் னிடங்கொள் பதிதான்
மடையிடை வாளைபாய முகிழ்வாய் நெரிந்து
மணநாறு நீலம் மலரும்
நடையுடை யன்னம்வைகு புனலம்ப டப்பை
நனிபள்ளி போலும் நமர்காள்.
"Saṭaiyiṭai pukkoṭuṅki yuḷathaṅku veḷḷam
vaḷarthiṅkaḷ kaṇṇi ayalē
iṭaiyiṭai vaiththathokkum malarthoththu mālai
yiṟaivaṉ ṉiṭaṅkoḷ pathithāṉ
maṭaiyiṭai vāḷaipāya mukizhvāy nerinthu
maṇanāṟu nīlam malarum
naṭaiyuṭai yaṉṉamvaiku puṉalampa ṭappai
naṉipaḷḷi pōlum namarkāḷ".
பெறுமலர் கொண்டுதொண்டர் வழிபாடு செய்யல்
ஒழிபாடி லாத பெருமான்
கறுமலர் கண்டமாக விடமுண்ட காளை
யிடமாய காதல் நகர்தான்
வெறுமலர் தொட்டுவிட்ட விசைபோன கொம்பின்
விடுபோ தலர்ந்த விரைசூழ்
நறுமல ரல்லிபுல்லி யொலிவண் டுறங்கு
நனிபள்ளி போலும் நமர்காள்.
"Peṟumalar koṇṭuthoṇṭar vazhipāṭu seyyal
ozhipāṭi lātha perumāṉ
kaṟumalar kaṇṭamāka viṭamuṇṭa kāḷai
yiṭamāya kāthal nakarthāṉ
veṟumalar thoṭṭuviṭṭa visaipōṉa kompiṉ
viṭupō thalarntha viraichūzh
naṟumala rallipulli yolivaṇ ṭuṟaṅku
naṉipaḷḷi pōlum namarkāḷ".
குளிர்தரு கங்கைதங்கு சடைமா டிலங்கு
தலைமாலை யோடு குலவி
ஒளிர்தரு திங்கள்சூடி உமைபாக மாக
வுடையா னுகந்த நகர்தான்
குளிர்தரு கொம்மலோடு குயில்பாடல் கேட்ட
பெடைவண்டு தானும் முரல
நளிர்தரு சோலைமாலை நரைகுருகு வைகு
நனிபள்ளி போலும் நமர்காள்.
"kuḷirtharu kaṅkaithaṅku saṭaimā ṭilaṅku
thalaimālai yōṭu kulavi
oḷirtharu thiṅkaḷchūṭi umaipāka māka
vuṭaiyā ṉukantha nakarthāṉ
kuḷirtharu kom'malōṭu kuyilpāṭal kēṭṭa
peṭaivaṇṭu thāṉum murala
naḷirtharu chōlaimālai naraikuruku vaiku
naṉipaḷḷi pōlum namarkāḷ".
தோடொரு காதனாகி யொருகா திலங்கு
சுரிசங்கு நின்று புரளக்
காடிட மாகநின்று கனலாடும் எந்தை
யிடமாய காதல் நகர்தான்
வீடுடன் எய்துவார்கள் விதியென்று சென்று
வெறிநீர் தெளிப்ப விரலால்
நாடுடனாடு செம்மை யொலிவெள்ள மாரு
நனிபள்ளி போலும் நமர்காள்.
"Thōṭoru kāthaṉāki yorukā thilaṅku
surisaṅku niṉtṟu puraḷak
kāṭiṭa mākaniṉtṟu kaṉalāṭum enthai
yiṭamāya kāthal nakarthāṉ
vīṭuṭaṉ eythuvārkaḷ vithiyeṉtṟu seṉtṟu
veṟinīr theḷippa viralāl
nāṭuṭaṉāṭu sem'mai yoliveḷḷa māru
naṉipaḷḷi pōlum namarkāḷ".
மேகமொ டோடுதிங்கள் மலரா அணிந்து
மலையான் மடந்தை மணிபொன்
ஆகமோர் பாகமாக அனலாடும் எந்தை
பெருமான் அமர்ந்த நகர்தான்
ஊகமொ டாடுமந்தி யுகளுஞ் சிலம்ப
அகிலுந்தி யொண்பொன் இடறி
நாகமொ டாரம்வாரு புனல்வந்த லைக்கும்
நனிபள்ளி போலும் நகர்காள்.
"Mēkamo ṭōṭuthiṅkaḷ malarā aṇinthu
malaiyāṉ maṭanthai maṇipoṉ
ākamōr pākamāka aṉalāṭum enthai
perumāṉ amarntha nakarthāṉ
ūkamo ṭāṭumanthi yukaḷuñ chilampa
akilunthi yoṇpoṉ iṭaṟi
nākamo ṭāramvāru puṉalvantha laikkum
naṉipaḷḷi pōlum nakarkāḷ".
தகைமலி தண்டுசூலம் அனலுமிழு நாகங்
கொடுகொட்டி வீணை முரல
வகைமலி வன்னிகொன்றை மதமத்தம் வைத்த
பெருமான் உகந்த நகர்தான்
புகைமலி கந்தமாலை புனைவார்கள் பூசல்
பணிவார்கள் பாடல் பெருகி
நகைமலி முத்திலங்கு மணல் சூழ் கிடக்கை
நனிபள்ளி போலும் நமர்காள்.
"Thakaimali thaṇṭusūlam aṉalumizhu nākaṅ
koṭukoṭṭi vīṇai murala
vakaimali vaṉṉikoṉtṟai mathamaththam vaiththa
perumāṉ ukantha nakarthāṉ
pukaimali kanthamālai puṉaivārkaḷ pūsal
paṇivārkaḷ pāṭal peruki
nakaimali muththilaṅku maṇal chūḻ kiṭakkai
naṉipaḷḷi pōlum namarkāḷ".
வலமிகு வாளன்வேலன் வளைவா ளெயிற்று
மதியா அரக்கன் வலியோ
டுலமிகு தோள்கள்ஒல்க விரலால டர்த்த
பெருமான் உகந்த நகர்தான்
நிலமிகு கீழுமேலும் நிகராது மில்லை
யெனநின்ற நீதி யதனை
நலமிகு தொண்டர்நாளும் அடிபரவல் செய்யும்
நனிபள்ளி போலும் நமர்காள்.
"Valamiku vāḷaṉvēlaṉ vaḷaivā ḷeyitṟu
mathiyā arakkaṉ valiyō
ṭulamiku thōḷkaḷolka viralāla ṭarththa
perumāṉ ukantha nakarthāṉ
nilamiku kīzhumēlum nikarāthu millai
yeṉaniṉtṟa nīthi yathaṉai
nalamiku thoṇṭarnāḷum aṭiparaval seyyum
naṉipaḷḷi pōlum namarkāḷ".
நிறவுரு வொன்றுதோன்றி யெரியொன்றி நின்ற
தொருநீர்மை சீர்மை நினையார்
அறவுரு வேதநாவன் அயனோடு மாலும்
அறியாத அண்ணல் நகர்தான்
புறவிரி முல்லைமௌவல் குளிர்பிண்டி புன்னை
புனைகொன்றை துன்று பொதுளி
நறவிரி போதுதாது புதுவாசம் நாறும்
நனிபள்ளி போலும் நமர்காள்.
"Niṟavuru voṉtṟuthōṉtṟi yeriyoṉtṟi niṉtṟa
thorunīrmai sīrmai niṉaiyār
aṟavuru vēthanāvaṉ ayaṉōṭu mālum
aṟiyātha aṇṇal nakarthāṉ
puṟaviri mullaimauval kuḷirpiṇṭi puṉṉai
puṉaikoṉtṟai thuṉṟu pothuḷi
naṟaviri pōthuthāthu puthuvāsam nāṟum
naṉipaḷḷi pōlum namarkāḷ".
அனமிகு செல்குசோறு கொணர்கென்று கையில்
இடவுண்டு பட்ட அமணும்
மனமிகு கஞ்சிமண்டை யதிலுண்டு தொண்டர்
குணமின்றி நின்ற வடிவும்
வினைமிகு வேதநான்கும் விரிவித்த நாவின்
விடையா னுகந்த நகர்தான்
நனமிகு தொண்டர்நாளும் அடிபரவல் செய்யும்
நனிபள்ளி போலும் நமர்காள்.
"Aṉamiku selkusōṟu koṇarkeṉtṟu kaiyil
iṭavuṇṭu paṭṭa amaṇum
maṉamiku kañchimaṇṭai yathiluṇṭu thoṇṭar
kuṇamiṉtṟi niṉtṟa vaṭivum
viṉaimiku vēthanāṉkum viriviththa nāviṉ
viṭaiyā ṉukantha nakarthāṉ
naṉamiku thoṇṭarnāḷum aṭiparaval seyyum
naṉipaḷḷi pōlum namarkāḷ".
கடல்வரை யோதம்மல்கு கழிகானல் பானல்
கமழ்காழி யென்று கருதப்
படுபொரு ளாறுநாலும் உளதாக வைத்த
பதியான ஞான முனிவன்
இடுபறை யொன்றஅத்தர் பியன்மே லிருந்தி
னிசையா லுரைத்த பனுவல்
நடுவிரு ளாடுமெந்தை நனிபள்ளி யுள்க
வினைகெடுதல் ஆணை நமதே.
"Kaṭalvarai yōtham'malku kazhikāṉal pāṉal
kamazhkāzhi yeṉtṟu karuthap
paṭuporu ḷāṟunālum uḷathāka vaiththa
pathiyāṉa ñāṉa muṉivaṉ
iṭupaṟai yoṉtṟa'aththar piyaṉmē lirunthi
ṉisaiyā luraiththa paṉuval
naṭuviru ḷāṭumenthai naṉipaḷḷi yuḷka
viṉaikeṭuthal āṇai namathē".