Visited on: 17th February, 2017
Location
Kudalaiyatrur is situated at a distance of about 8 km from Sri Mushnam.
It is about 25 kms from Chidambaram on Chidambaram to Sethyathoppu route.
On the Vadalur – Sethyathoppu – Kumbakonam route, after Sethyathoppu, first reach Kumarakudi village and then proceed to Kanur. In Kanur there is an arch for Selliamman Koil and this temple is about one km away from that arch. Another village near this temple is Kavalakudi, which is also about one km away.
Other Paadal Petra Shiva Sthalams near this place are – Erukkathampuliyur (Rajendrapatinam), Thiru Naaraiyur, Thiru Omampuliyur, Thiru Kadampur and Thiru Kanattumullur.
General Information
| | |
| --- | --- |
| Moolavar | Sri Narthana Vallabeswarar, Sri Nerikattu Nathar |
| Ambal | Sri Parasakthi, Sri Gnanasakthi, Sri Purikuzhal Nayaki |
| Theertham (Holy water) | Brahma Theertham, Agasthia Theertham, Karthiyayana Theertham, Vellaaru, Manimuthaaru, Akaya Gangai and Sangama Theertham. |
| Sthala Vriksham (Sacred Tree) | Banyan Tree (Kallala Maram) |
| Pathigam (Hymn) rendered by | Saint Sundaramurthy Nayanar (Sundarar) |
This is one of the 276 Devara Paadal Petra Shiva Sthalams and 3rd Shiva Sthalam in Nadu Naadu.
Lord Shiva in this temple is a Swayambumurthi (self-manifested).
This temple was destroyed by the flooding of Manimuthaaru river and has been reconstructed after that.
This temple has a single corridor and its main tower (Rajagopuram) has 3-tiers.
The Moolavar vimanam (shrine of the main deity) has two tiers.
There is no flag post in this temple.
The last Consecration ceremony (Kumbhabishekam) took place on 08.02.2015. Prior to this, the consecration ceremony was held on 29.08.1961.
History of the Temple
Koodalaiyatrur is on the confluene of rivers Vellaaru, Manimuthaaru and Akaya Ganges (an invisible river), hence the place is known as Koodalaiyatrur and "Thiruveni Sangamam". This place is also known as "Dakshina Prayagai" as the river flows from south to north.
Legend
The legend is that a Chola King Dhinakaran, suspecting his wife of infidelity, killed her and thus incurred the "Srihathi Brahmahathi dosham" – the sin accrued by the act of killing. Due to his sins, he lost his kingdom and started wandering as a lunatic. One day he saw a dog with skin diseases following him. It fell in a river and came back healthy and beautiful. The king was surprised to see the change in the dog and wanted to try for himself by taking a dip in that river. After the dip, he also felt afresh and got relieved from his sins. He also got back his kingdom and built this temple on the banks of the confluence of the two rivers and named the place "Thiru Koodalai Atrur" meaning the confluence of the rivers. However, this temple was washed away by a severe flood in the river but later the idols were recovered and reinstated in the reconstructed temple.
Another legend associated with this temple is that Lord Brahma and Goddess Saraswathi visited this temple and worshiped Lord Shiva here. Lord Brahma requested the lord that he wanted to see the dance performance (Narthanam) which the lord performed in Chidambaram for Rishi Viyagrapathar and Rishi Pathanjali. Lord Shiva acceded Lord Brahma's request and performed his dance for Lord Brahma and Goddess Saraswathi. Hence, the lord here is also called "Narthana Vallabeswarar".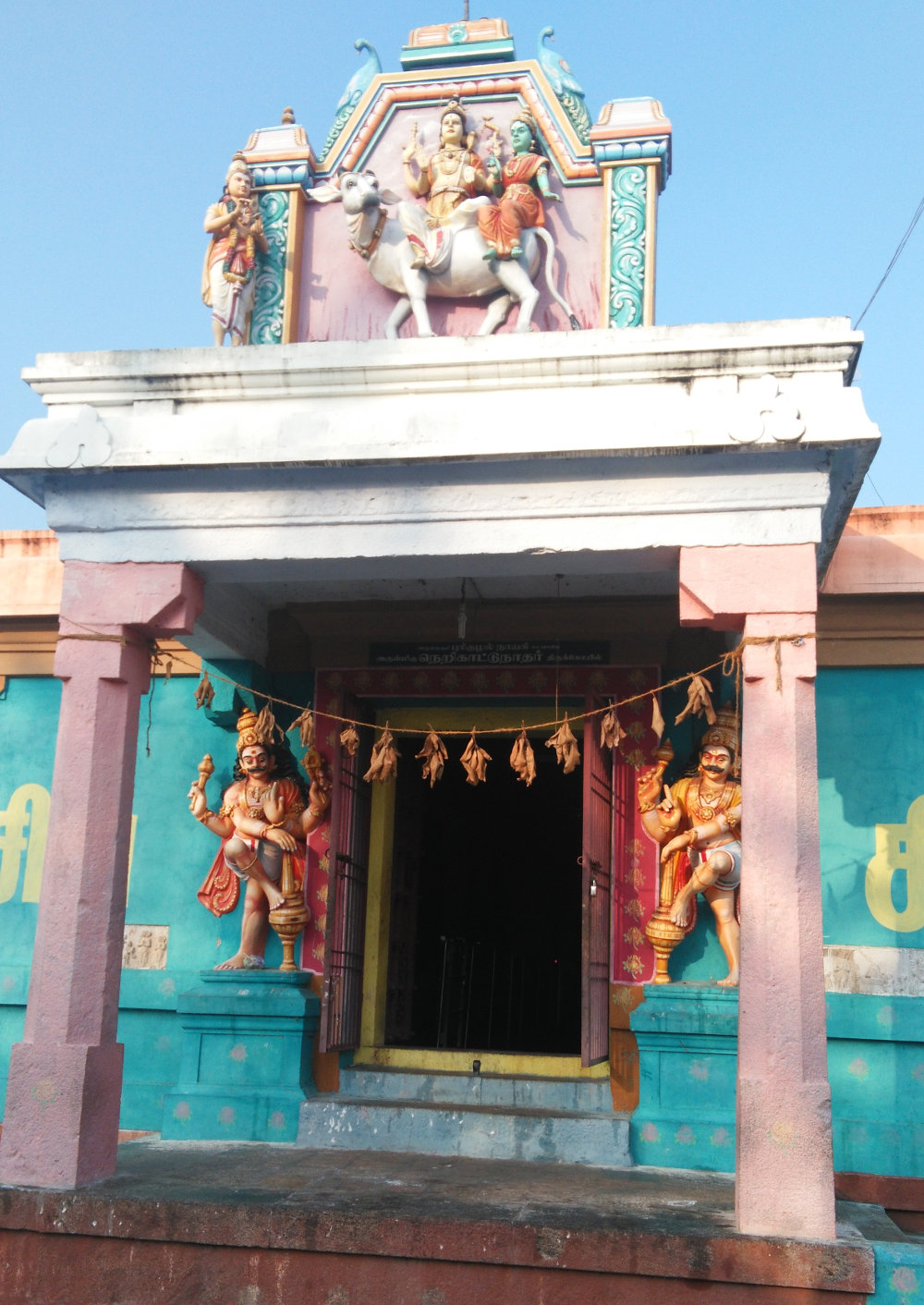 Another legend is that Sage Karthiyayanar, son of Sage Agasthiyar, prayed to the lord of this temple in order to be blessed with a daughter. The sage found a girl child playing with the lotus leaves in the Manimutharu river near this temple. He took the child with him, named her Ambujavalli and raised her as his own daughter. When Lord Mahavishnu took the Varaha Avataram, he found that his consort was missing. He visited this temple and prayed to Lord Shiva for his reunion with Goddess Lakshmi. Lord Shiva advised Lord Mahavishnu to marry Ambujavalli and informed him that she is none other than Goddess Lakshmi herself.
It is believed that Sage Agasthiar worshiped the lord of this temple and sought his blessings in order to help him retain the arts and knowledge that he had learnt so far.
It is also believed that Sages Vanmeeki and Kannuva visited this temple and worshiped the lord.
Another legend is that when Saint Sundaramurthy was travelling to Thirumudhukuntram (Viruthachalam), Lord Shiva appeared before him in the form of a Brahmin (andhanar). The saint asked him the way to Viruthachalam but the andhanar directed him to this temple by saying "Koodalaiyatrurirku vazhi ikthu" (This is the way to Koodalaiyatrur) and asked him to follow him. On reaching this temple the andhanar disappeared. The saint then realised that the Brahmin was none other than Lord Shiva himself. While rendering his pathigam, the saint finished each stanza of his song by expressing his surprise in not being able to identify the Brahmin as Lord Shiva.
Deities in the Temple
In the outer corridor, idols of Lords Amutha Vinayakar, Kasi Viswanathar, Murugan with his consorts, Natarajar, Dhakshinamoorthy, Lingothbavar, Brahma, Vishnu, Kala Bairavar, Bairavar, Suryan, Chandran, Chandikeswarar, Nalvars and goddess Ashta buja Durgai can be seen.
There is no Navagraham here but only a separate shrine for Lord Sani. He is respected as "Pongu Sani" - meaning Lord Sani who gives prosperity.
There is a separate shrine for Sage Agasthiar in the outer compound wall of the temple.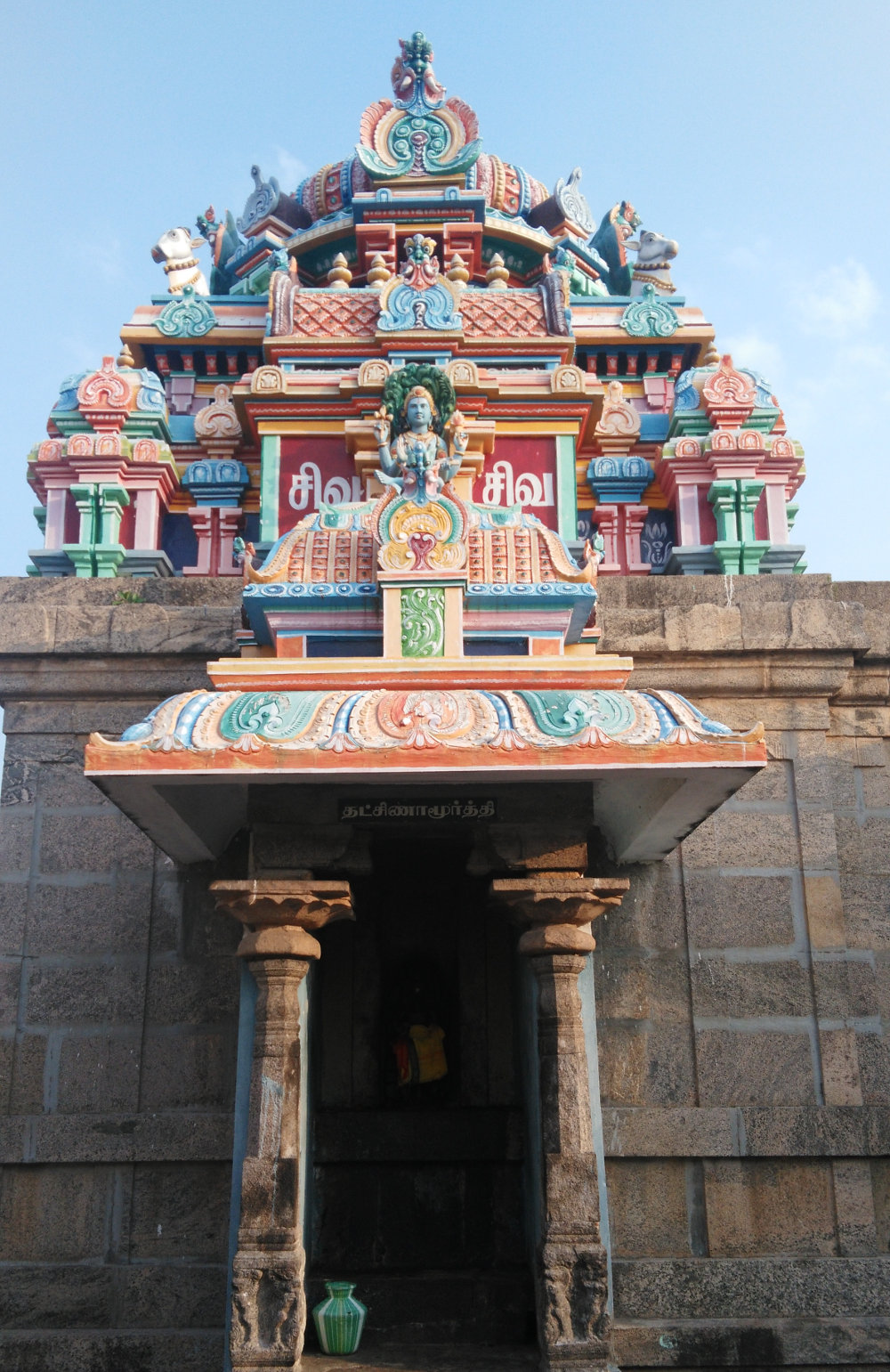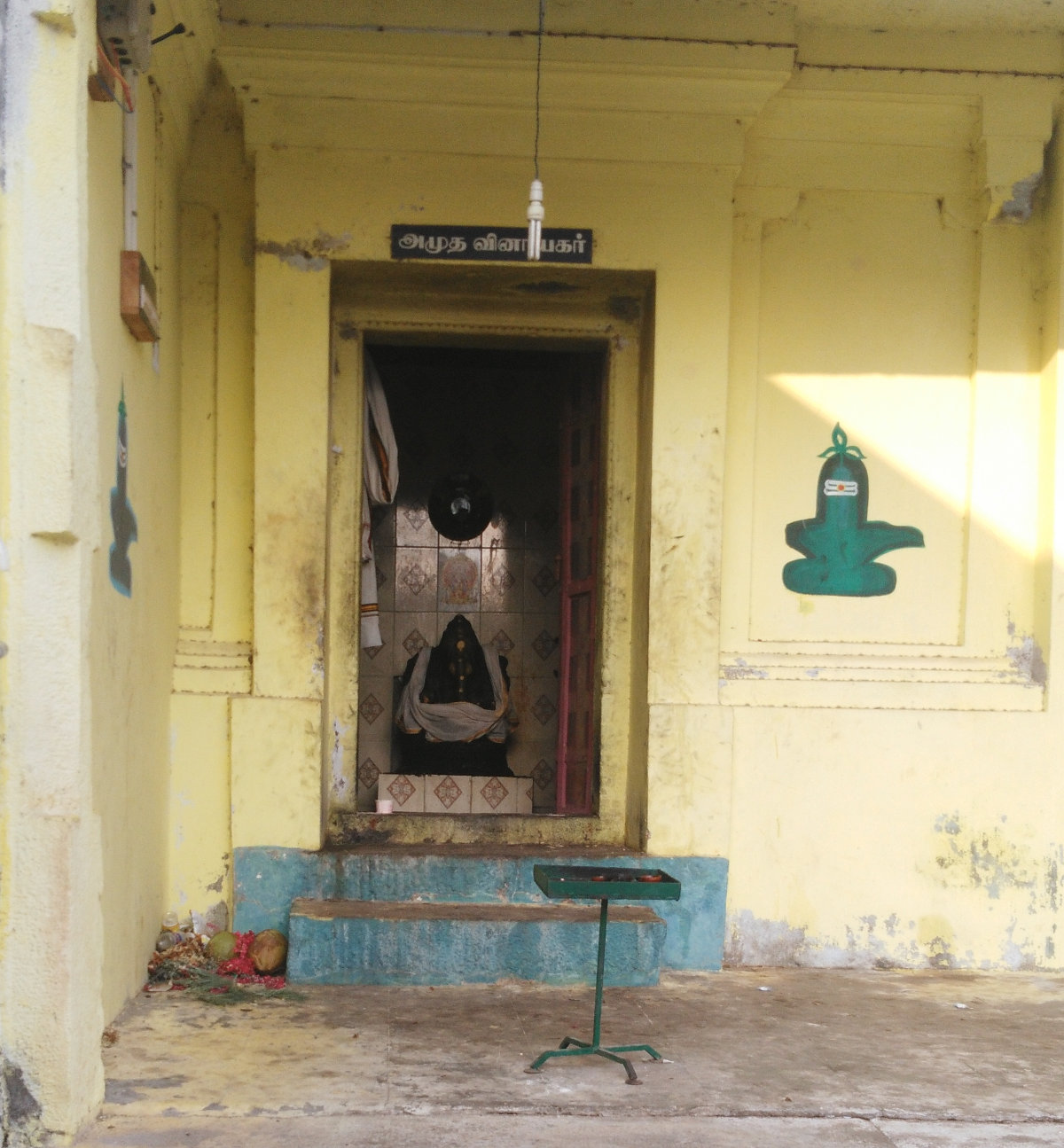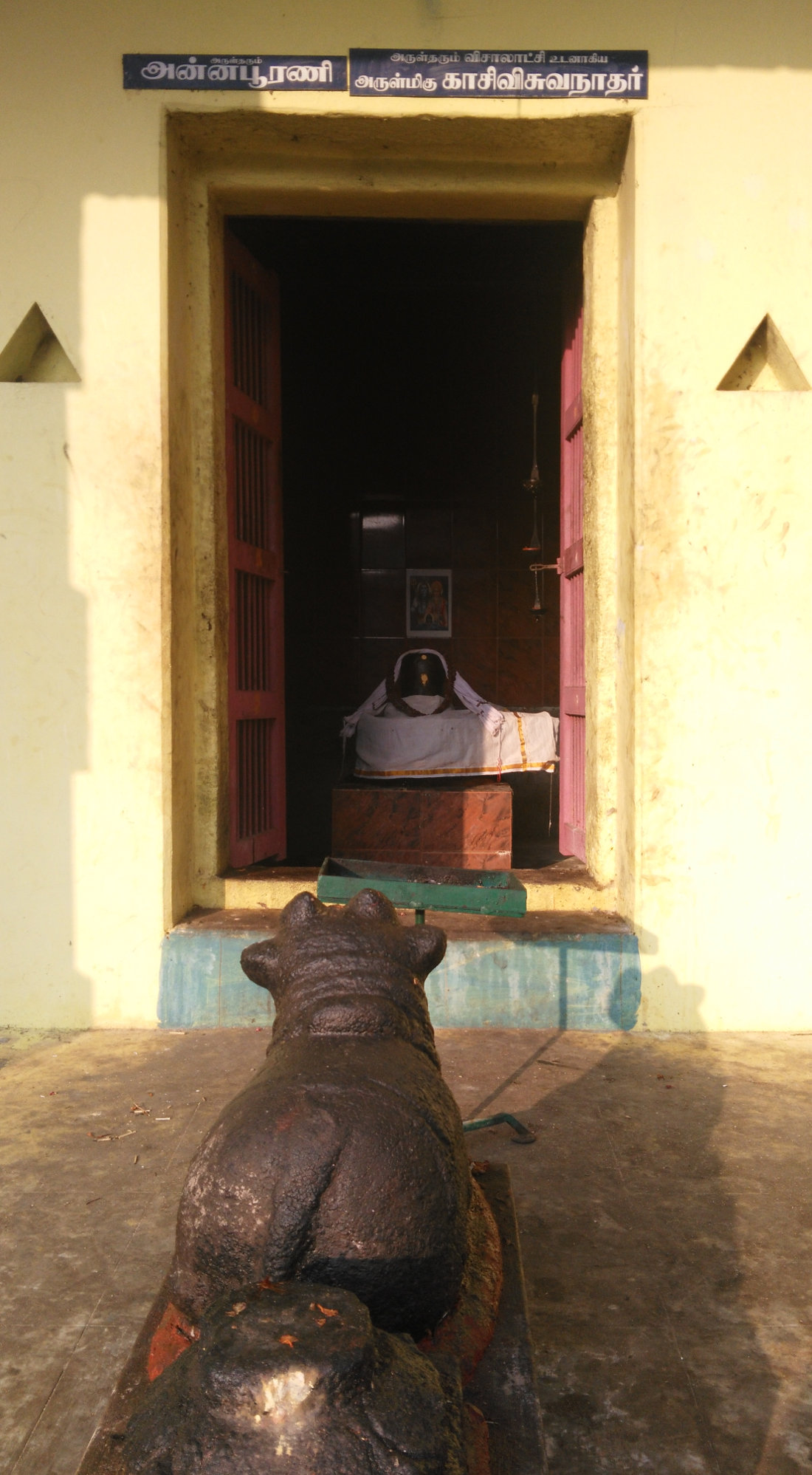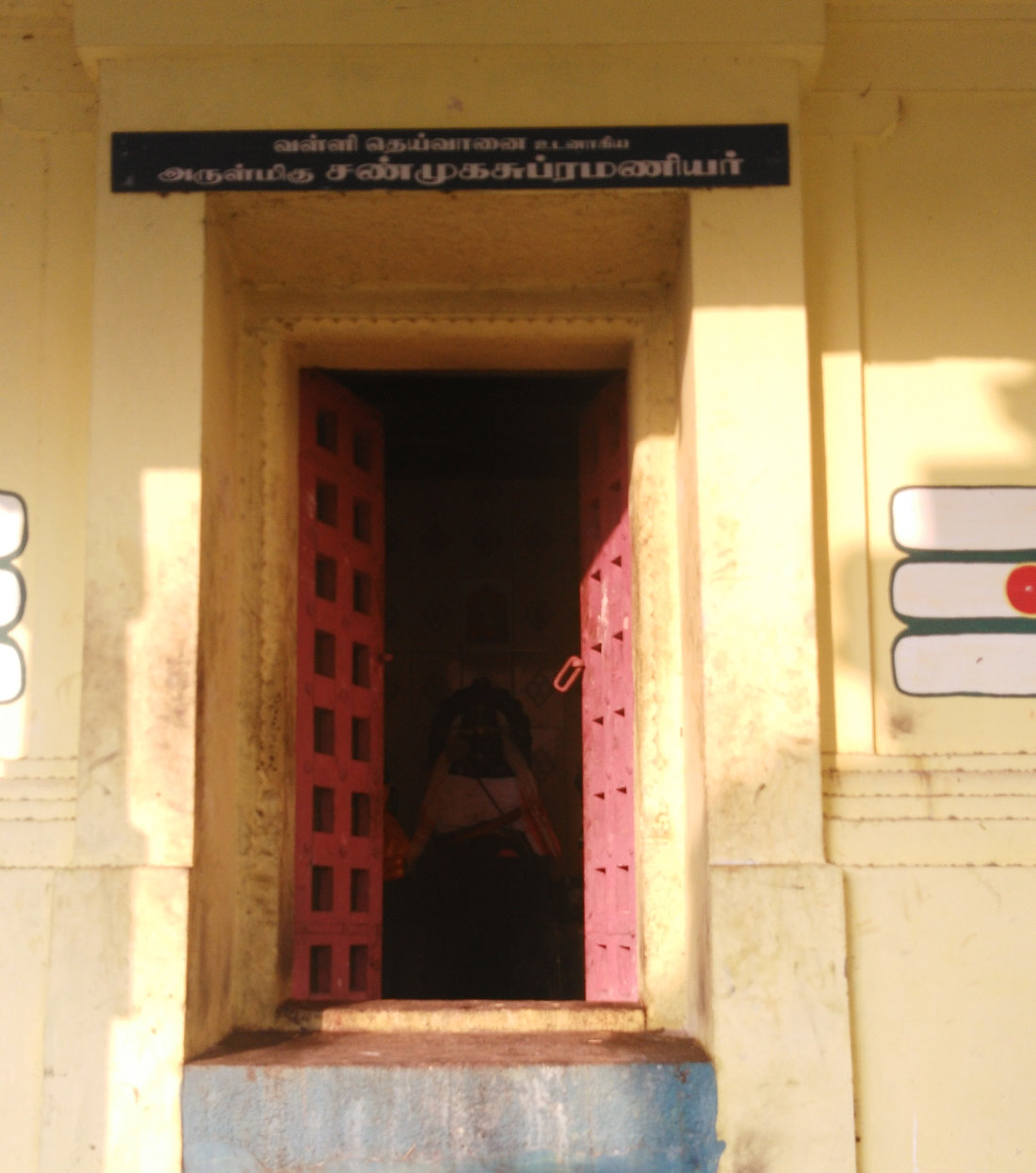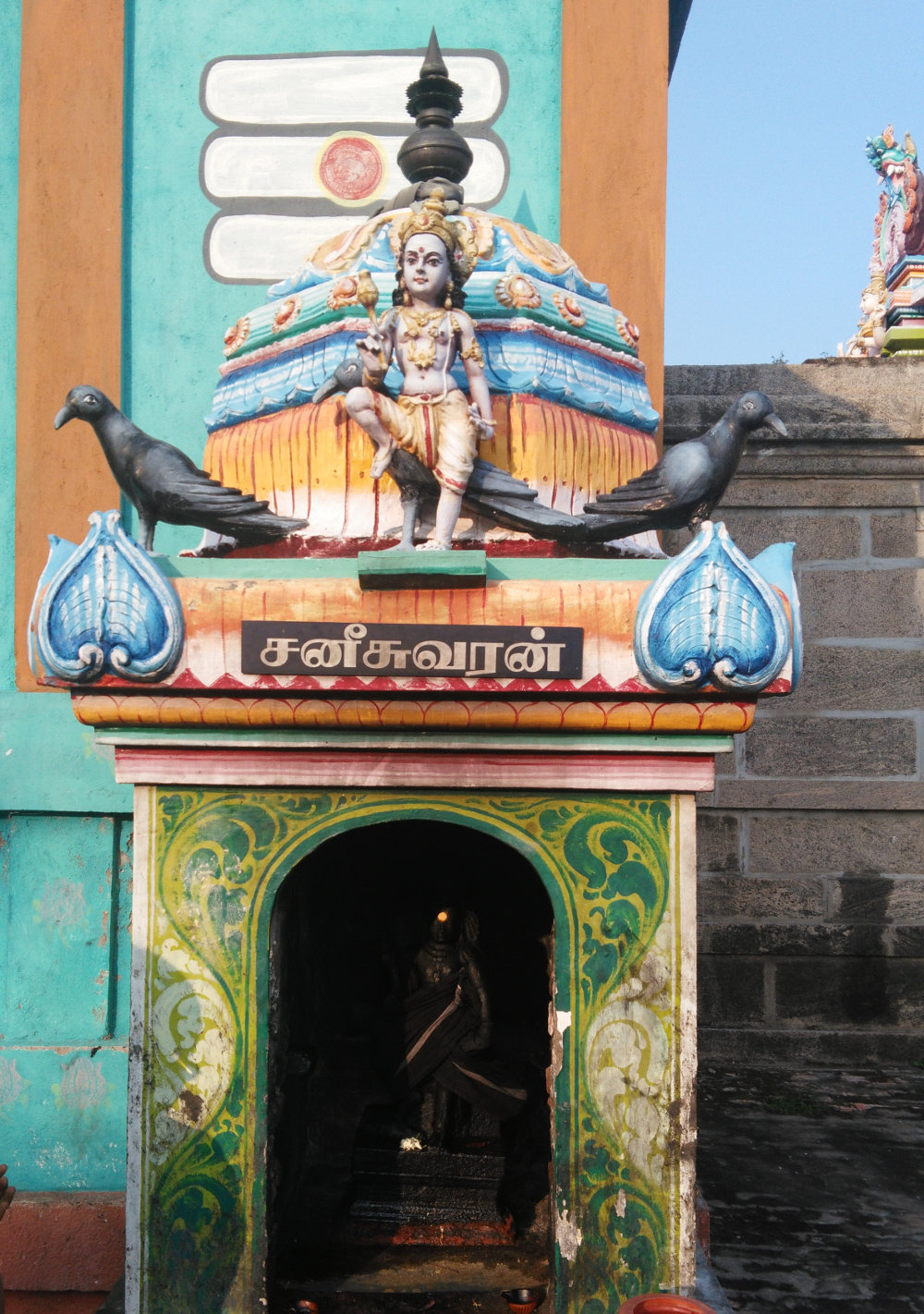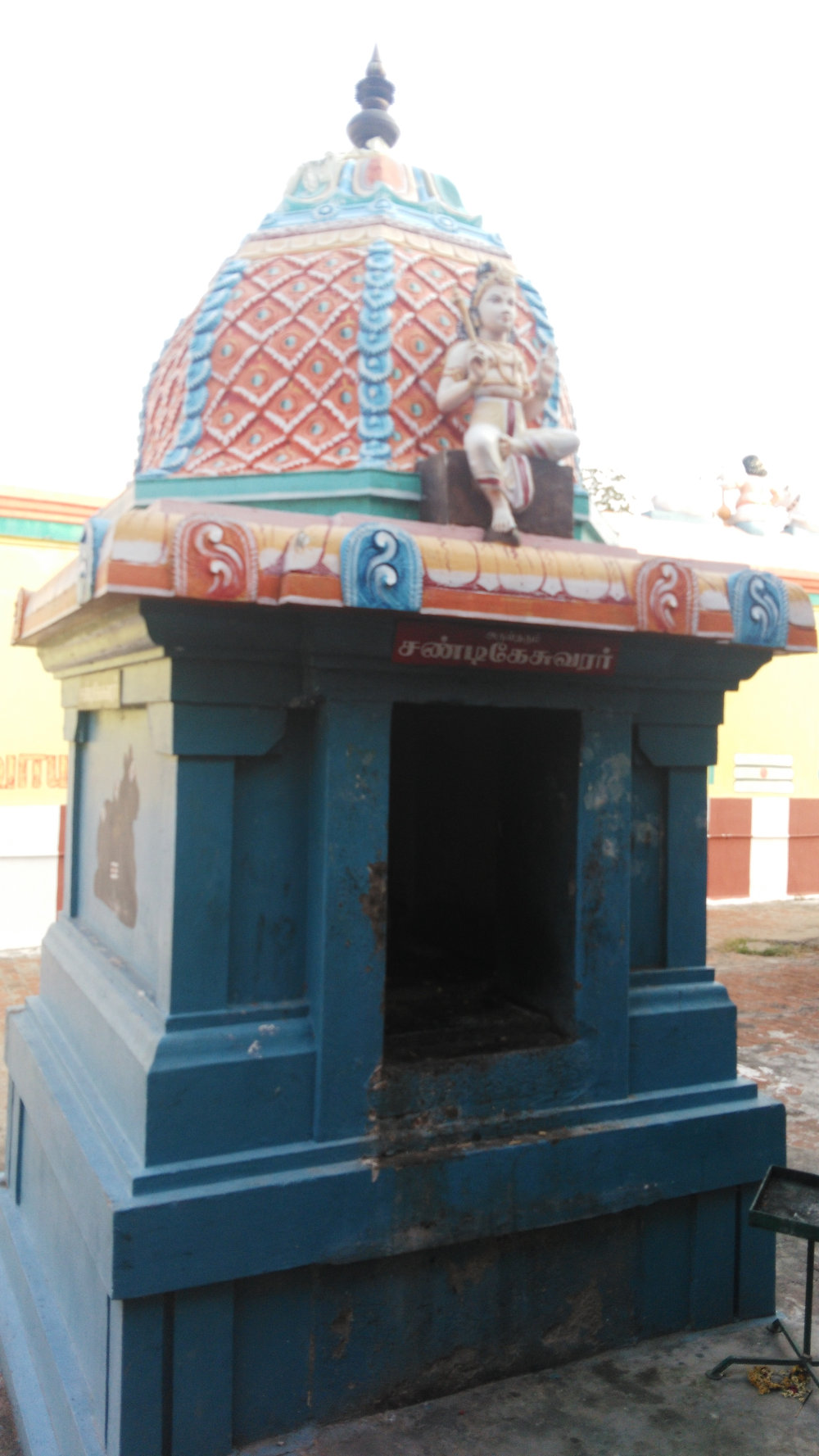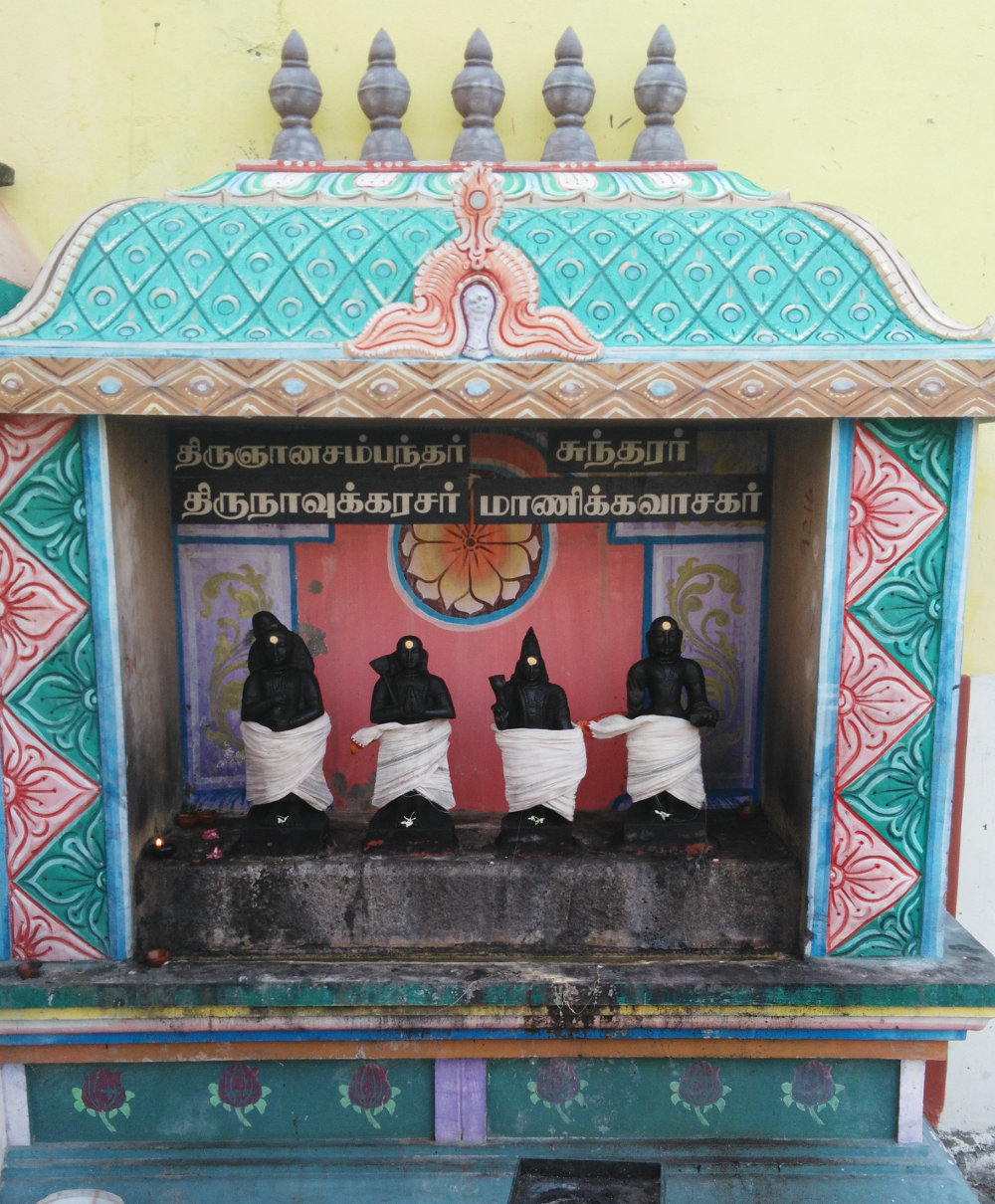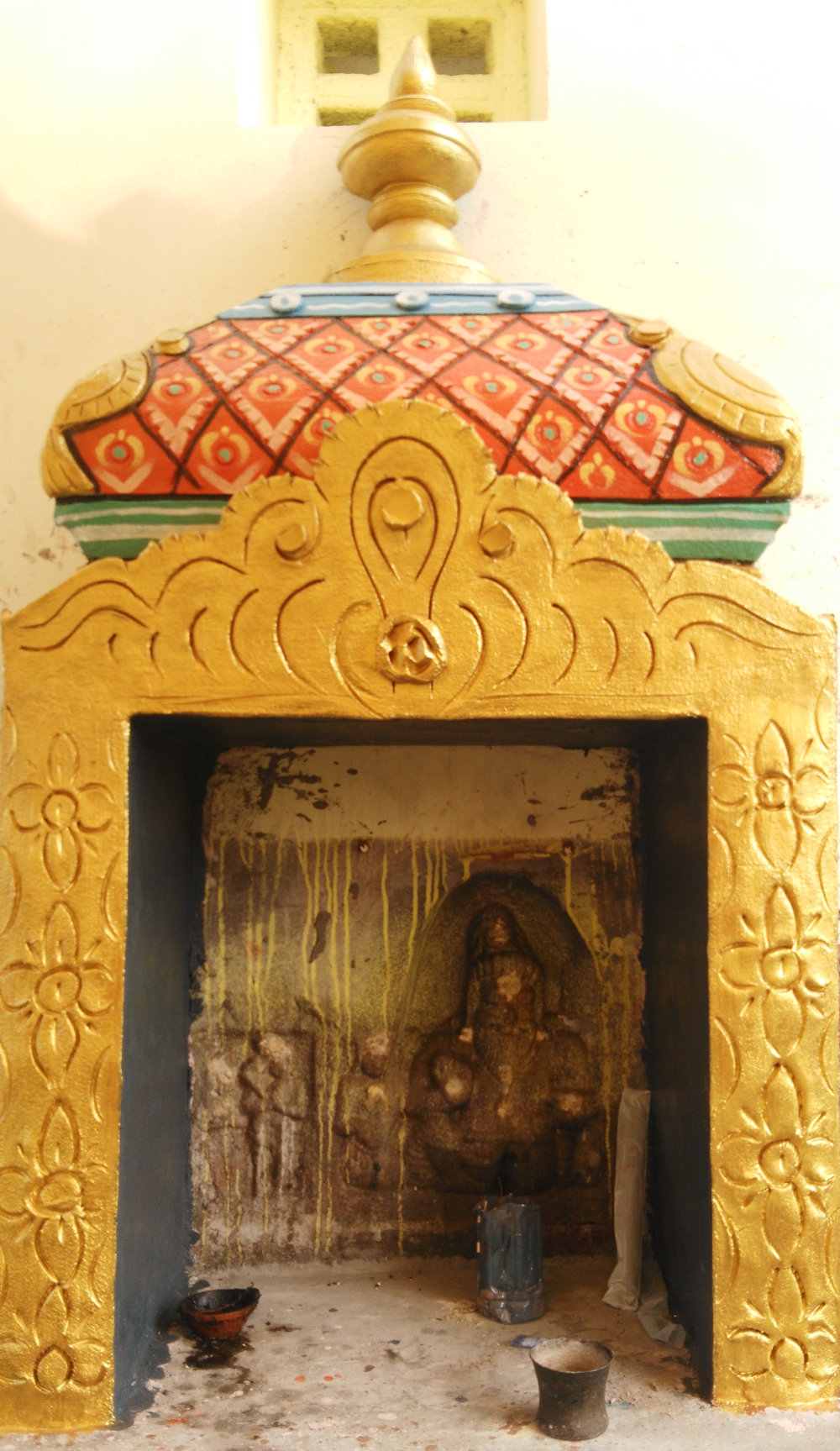 Salient Features
In most Shiva temples, there is only one shrine for the Goddess. However, in this temple there are two separate shrines – one for Goddess Gnanashakti and the other for Goddess Parashakti.
Gnanasakthi's shrine is in the outer corridor and the Parasakthi's shrine is next to Lord Shiva. Another distinguishing feature of this temple is that the sacred ash (Vibuthi) is given in Sri Parashakti Ambal Shrine while the Kungumam is given in Gnanashakti Ambal shrine.
In the outer corridor, there is a separate shrine where granite idols (as opposed to the usual metal idols) of Lord Natarajar and Goddess Sivakami can be seen.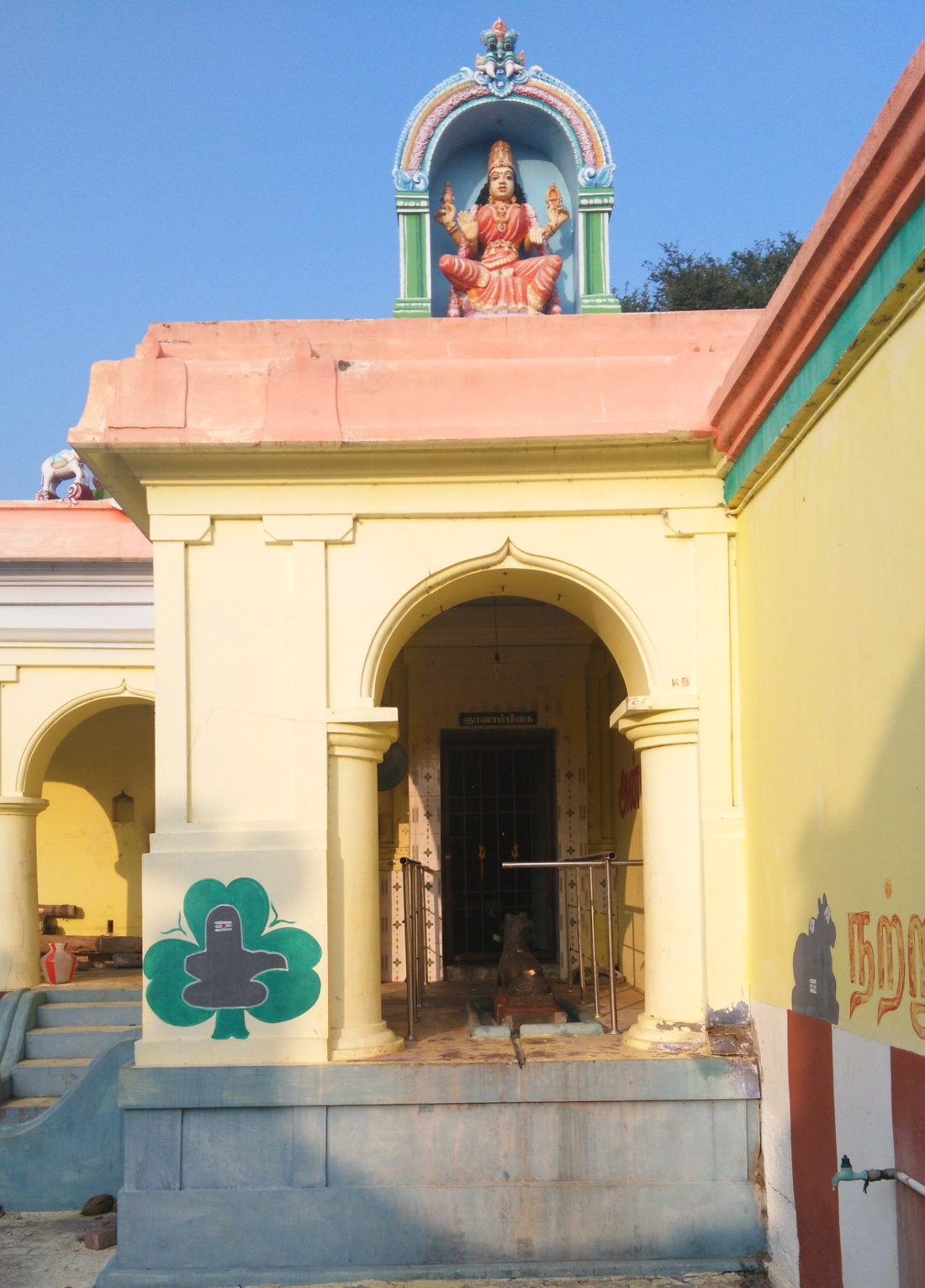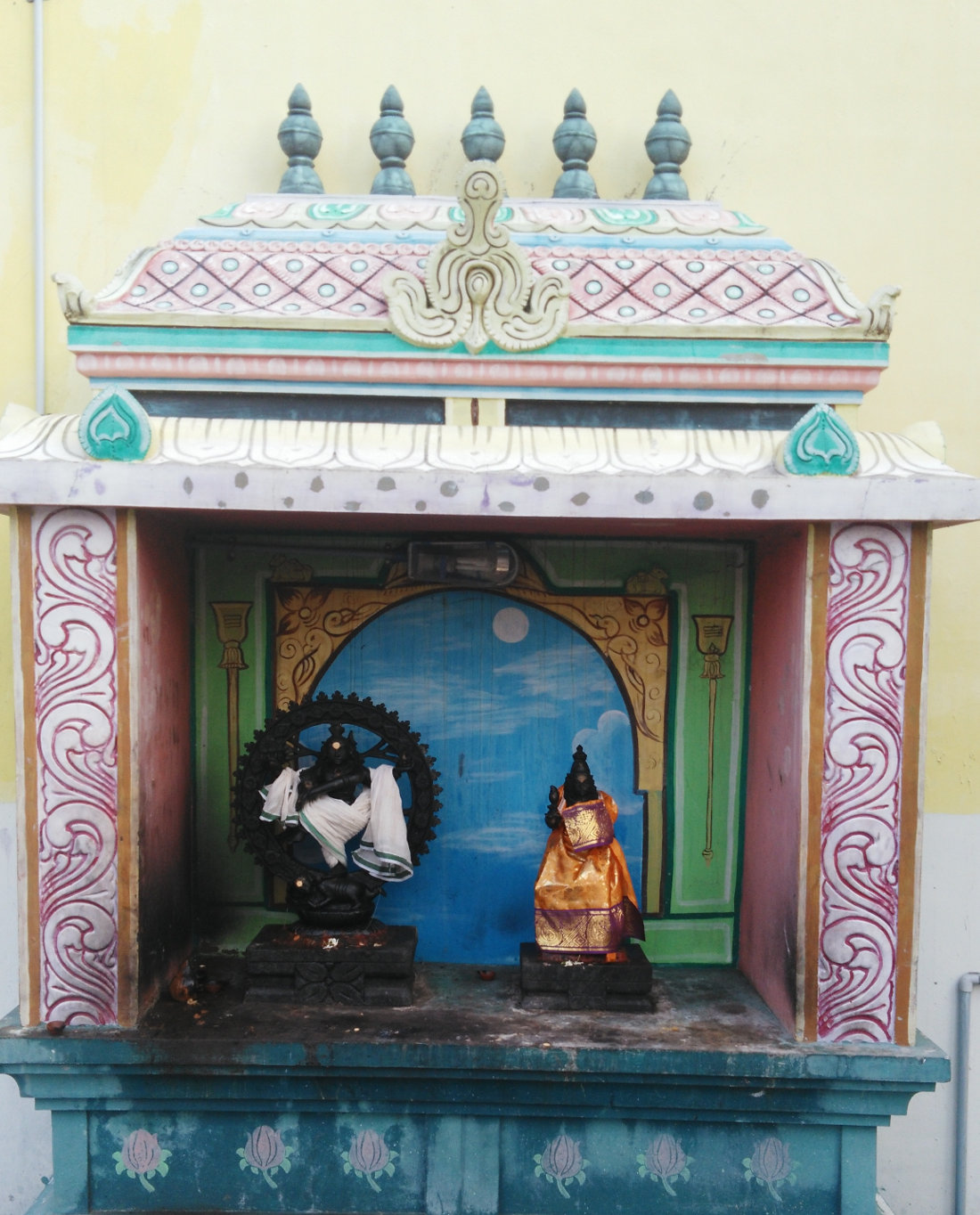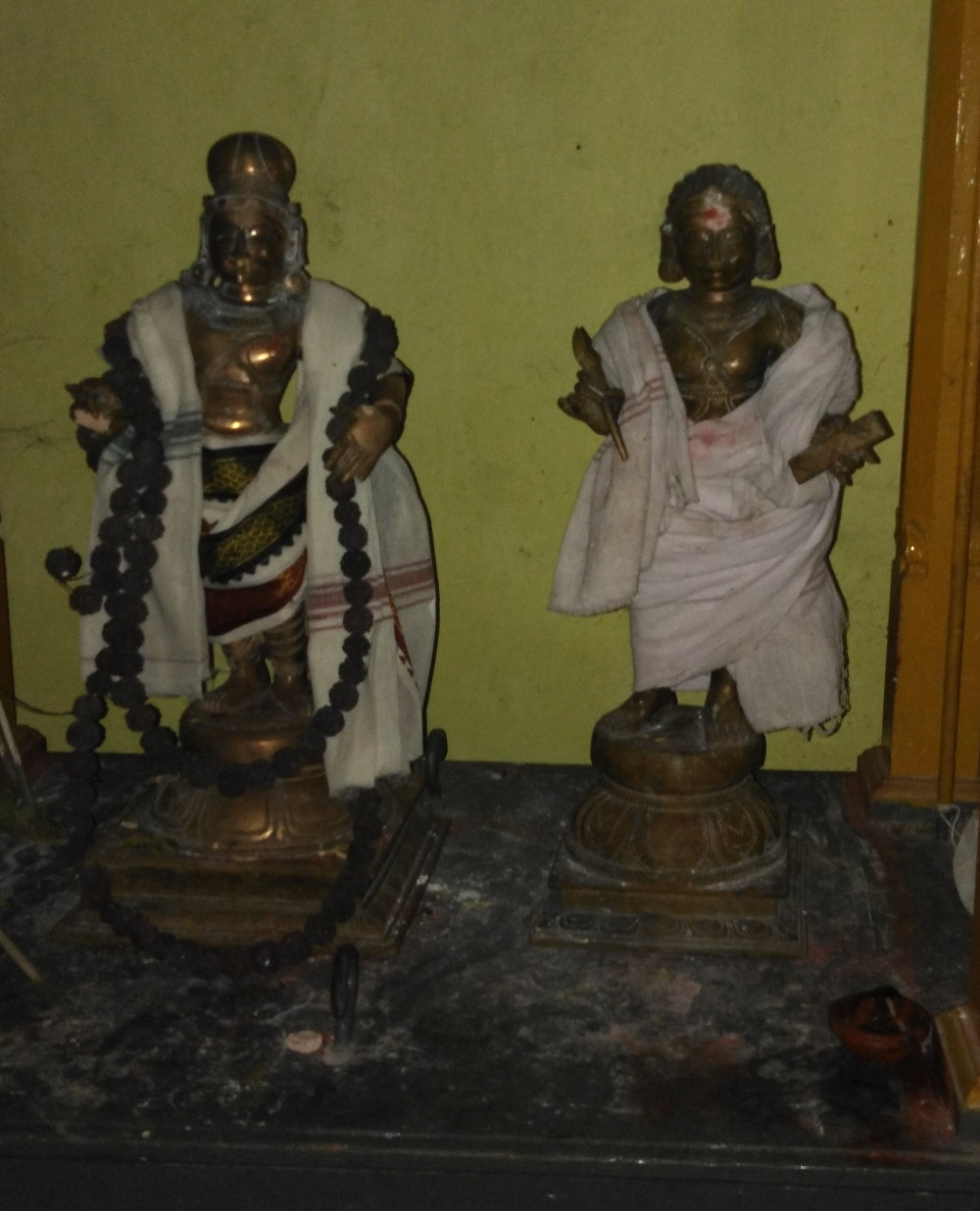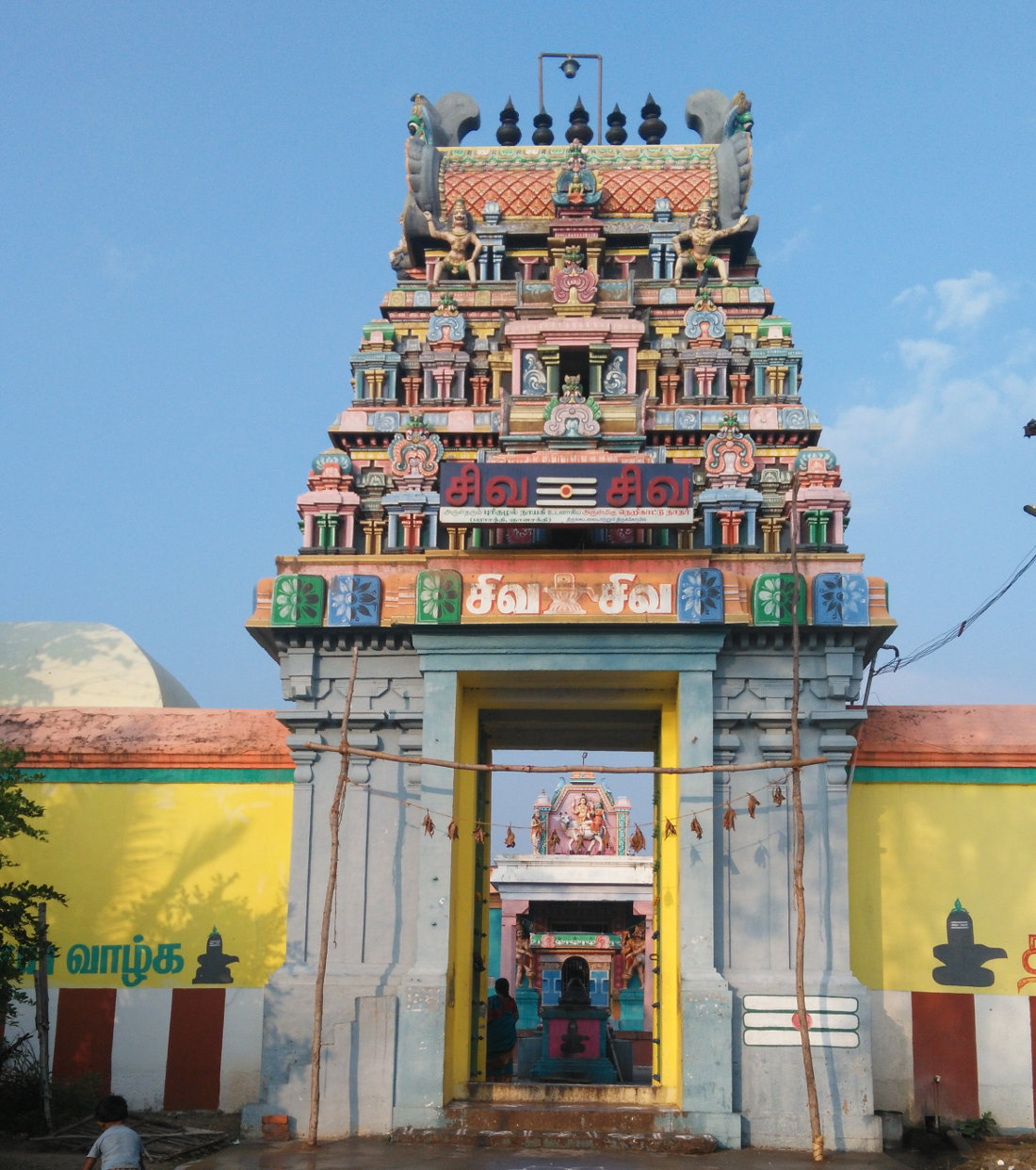 This is one of the temples that has a shrine for Chitra Gupta, the accountant of Yama (the Lord of Death). Chitra Gupta's procession idol can be seen here holding writing materials in his hands.
Saint Arunagirinadhar has also sang a song in praise of Lord Murugan of this temple in his revered Thirupugazh.
During the first three days in the Tamil month of Chithirai (April-May), sun rays fall directly on the Shivalingam and special poojas are conducted on these three days.
Greatness of this temple
Since Lord Brahma and Goddess Saraswathi are believed to have worshiped Lord Shiva, Goddess Gnanasakthi and Goddess Parasakthi in this temple, devotees believe that worshipping the deities here will give them the gift of knowledge and wisdom.
Secondly, as Sage Agasthiar worshiped the lord of this temple so as to not forget the arts and knowledge that he learnt so far, devotees worship the lord here seeking a similar blessing.
This is also a parihara sthalam for those who born during the periods of Bharani and Makam nakshatrams (constellation). Devotees whose birth nakshatram are Bharani and Makam visit this temple for poojas.
Important Festivals
13-days Brahmotsavam during Masi Magam in the Tamil month of Masi (February-March) is celebrated in a grand manner here. Other major festivals celebrated here are Mahashivratri, Arudra Dharisanam and Annabishekam.
Pradosham is also observed regularly.
Temple Timings

From 07.00 am to 12.00 noon and 04.30 pm to 08.00 pm
Temple Address

Sri Narthana Vallabeswarar Temple
Thirukudalaiyatrur
Kavalakudi Post
Kattumannar Koil Taluk
Cuddalore District
Tamil Nadu - 608702
Tele: +91 4144 208 704

Contact person: Sri Kirthivasa Gurukkal at 09786734652.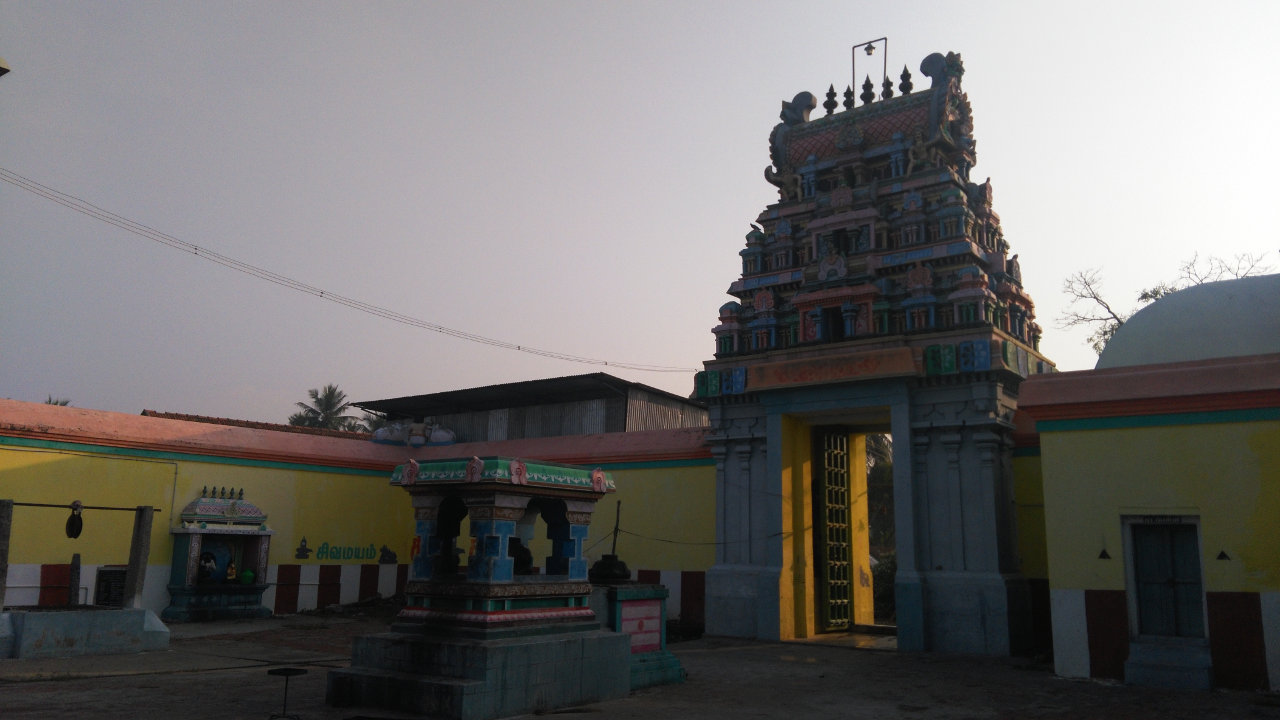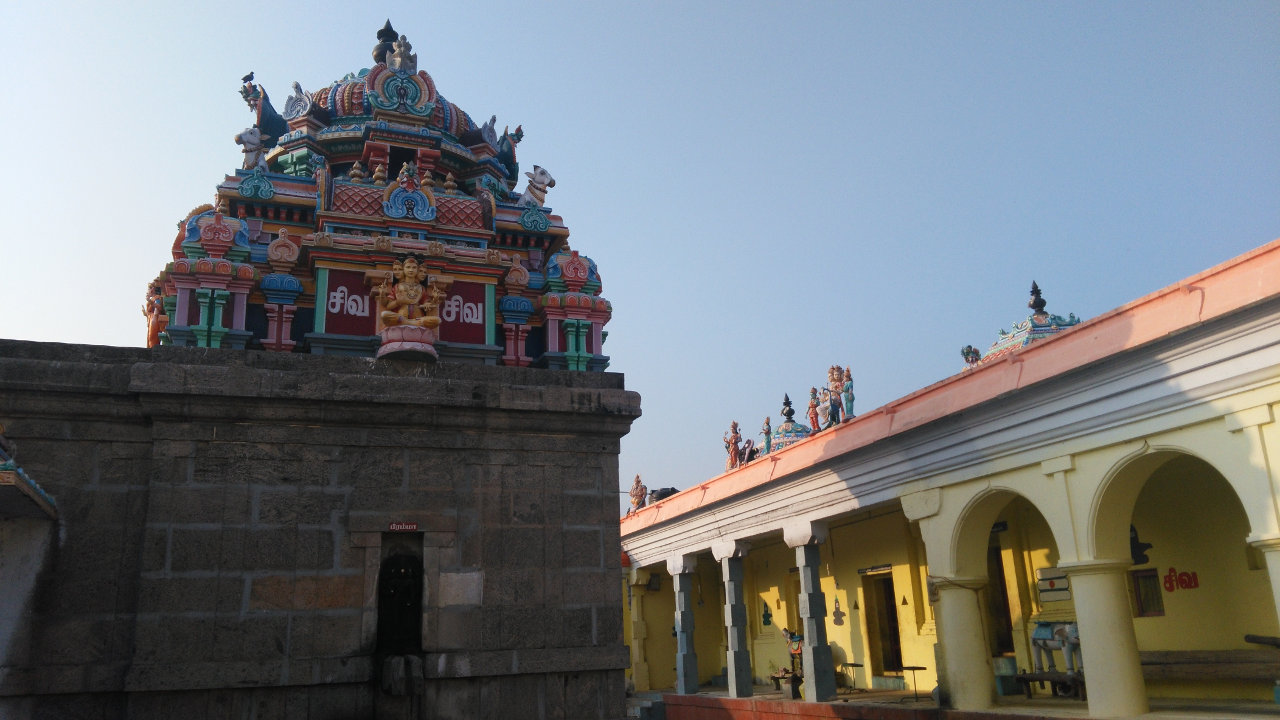 ---
Pathigam (Hymn) with English transliteration
Saint Sundaramurthy visited this temple and sang this Pathigam.
Devotees visiting this temple should make it a practice to recite this Pathigam.
வடிவுடை மழுவேந்தி மதகரி உரிபோர்த்துப்
பொடியணி திருமேனிப் புரிகுழல் உமையோடுங்
கொடியணி நெடுமாடக் கூடலை யாற்றூரில்
அடிகளிவ் வழிபோந்த அதிசயம் அறியேனே.
"Vadivudai mazhuvēnthi mathakari uripōrthup
podiyaṇi thirumēṉip purikuzhal umaiyōṭuṅ
kodiyaṇi neṭumāṭak kūṭalai yātṟūril
adikaḷiv vazhipōntha athisayam aṟiyēṉē".
வையகம் முழுதுண்ட மாலொடு நான்முகனும்
பையர விளவல்குற் பாவையொ டும்முடனே
கொய்யணி மலர்ச்சோலைக் கூடலை யாற்றூரில்
ஐயனிவ் வழிபோந்த அதிசயம் அறியேனே.
"Vaiyakam muzhuthuṇṭa mālodu nāṉmukaṉum
paiyara viḷavalkuṟ pāvaiyo ṭum'muṭaṉē
koyyaṇi malarchōlaik kūṭalai yāṟtūril
aiyaṉiv vazhipōntha athisayam aṟiyēṉē".
ஊர்தொறும் வெண்டலைகொண் டுண்பலி இடுமென்று
வார்தரு மென்முலையாள் மங்கையொ டும்முடனே
கூர்நுனை மழுவேந்திக் கூடலை யாற்றூரில்
ஆர்வனிவ் வழிபோந்த அதிசயம் அறியேனே.
"Ūrthoṟum veṇṭalaikoṇ ṭuṇpali iṭumeṉtṟu
vārtharu meṉmulaiyāḷ maṅkaiyo ṭum'muṭaṉē
kūrnuṉai mazhuvēnthik kūṭalai yātṟūril
ārvaṉiv vazhipōntha athisayam aṟiyēṉē".
சந்தண வும்புனலுந் தாங்கிய தாழ்சடையன்
பந்தண வும்விரலாள் பாவையொ டும்முடனே
கொந்தண வும்பொழில்சூழ் கூடலை யாற்றூரில்
அந்தணன் வழிபோந்த அதிசயம் அறியேனே.
"Santhaṇa vumpuṉalun thāṅkiya thāzhsaṭaiyaṉ
panthaṇa vumviralāḷ pāvaiyo ṭum'muṭaṉē
konthaṇa vumpozhilchūzh kūṭalai yātṟūril
anthaṇaṉ vazhipōntha athisayam aṟiyēṉē".
வேதியர் விண்ணவரும் மண்ணவ ருந்தொழநற்
சோதிய துருவாகிச் சுரிகுழல் உமையோடுங்
கோதிய வண்டறையுங் கூடலை யாற்றூரில்
ஆதியிவ் வழிபோந்த அதிசயம் அறியேனே.
"Vēthiyar viṇṇavarum maṇṇava runthozhanaṟ
chōthiya thuruvākich churikuzhal umaiyōṭuṅ
kōthiya vaṇṭaṟaiyuṅ kūṭalai yātṟūril
āthiyiv vazhipōntha athisayam aṟiyēṉē".
வித்தக வீணையொடும் வெண்புரி நூல்பூண்டு
முத்தன வெண்முறுவல் மங்கையொ டும்முடனே
கொத்தல ரும்பொழில்சூழ் கூடலை யாற்றூரில்
அத்தனிவ் வழிபோந்த அதிசயம் அறியேனே.
"Vithaka vīṇaiyodum veṇpuri nūlpūṇdu
muthaṉa veṇmuṟuval maṅkaiyo ṭum'muṭaṉē
kothala rumpozhilchūzh kūṭalai yātṟūril
athaṉiv vazhipōntha athisayam aṟiyēṉē".
மழைநுழை மதியமொடு வாளர வஞ்சடைமேல்
இழைநுழை துகிலல்குல் ஏந்திழை யாளோடுங்
குழையணி திகழ்சோலைக் கூடலை யாற்றூரில்
அழகனிவ் வழிபோந்த அதிசயம் அறியேனே.
"Mazhainuzhai mathiyamodu vāḷara vañchaṭaimēl
izhainuzhai thukilalkul ēnthizhai yāḷōṭuṅ
kuzhaiyaṇi tihkazhchōlaik kūṭalai yātṟūril
azhakaṉiv vazhipōntha athisayam aṟiyēṉē".
மறைமுதல் வானவரும் மாலயன் இந்திரனும்
பிறைநுதல் மங்கையொடும் பேய்க்கண முஞ்சூழக்
குறள்படை யதனோடுங் கூடலை யாற்றூரில்
அறவனிவ் வழிபோந்த அதிசயம் அறியேனே.
"Maṟaimuthal vāṉavarum mālayaṉ inthiraṉum
piṟainuthal maṅkaiyodum pēykkaṇa muñchūzhak
kuṟaḷpadai yathaṉōṭuṅ kūṭalai yātṟūril
aṟavaṉiv vazhipōntha athisayam aṟiyēṉē".
வேலையின் நஞ்சுண்டு விடையது தானேறிப்
பாலன மென்மொழியாள் பாவையொ டும்முடனே
கோலம துருவாகிக் கூடலை யாற்றூரில்
ஆலனிவ் வழிபோந்த அதிசயம் அறியேனே.
"Vēlaiyiṉ nañchuṇdu viṭaiyadu thāṉēṟip
pālaṉa meṉmozhiyāḷ pāvaiyo dum'muṭaṉē
kōlama thuruvākik kūṭalai yātṟūril
ālaṉiv vazhipōntha athisayam aṟiyēṉē".
கூடலை யாற்றூரிற் கொடியிடை யவளோடும்
ஆடலு கந்தானை அதிசயம் இதுவென்று
நாடிய இன்றமிழால் நாவல வூரன்சொற்
பாடல்கள் பத்தும்வல்லார் தம்வினை பற்றறுமே.
"Kūṭalai yātṟūriṟ kodiyidai yavaḷōdum
āṭalu kanthāṉai athisayam ithuveṉtṟu
nādiya iṉtṟamizhāl nāvala vūraṉsoṟ
pādalkaḷ pathumvallār thamviṉai patṟaṟumē".