Visited on: 25th March, 2018.
Location
Thirunageswaram is situated at a distance of about 8 kms east of Kumbakonam on the Kumbakonam to Karaikkal route. From Thiruvidaimaruthur it is about 5 kms. There is a railway station in Thirunageswaram on the Kumbakonam to Mayiladuthurai route.
Other Paadal Petra Shiva Sthalams near this place are – Thiruvidaimaruthur, Kumbakonam (3 temples – Kudamukku, Kharonam and Keezhkkottam), Aduthurai, Thiruneelakkudi, Thiruvavaduthurai, Thirukkozhambam, Therizhanthur, Kuthalam, Thirumanancheri, Velvikkudi, Ethirkolpadi and Mayiladuthurai.
One of the famous Vaishnava temples, Oppliyappan Koil (Lord Venkatesa Perumal of Thirupathi) is very close to this place.
General Information
Moolavar
Sri Thiru Nageswarar, Sri Naganathaswami,
Sri Shanbakaaranyeswarar
Ambal
Sri Kuntramulai Nayagi, Sri Girigujaambigai,
Sri Piraiyanivaal Nuthal Ammai
Theertham (Holy water)
Surya Theertham
Sthala Vriksham (Sacred Tree)
Shenbagam tree
Pathigam (Hymn) rendered by
Saint Thirugnanasambanthar-2,
Saint Thirunavukarasar (Appar)-3,
Saint Sundaramurthy (Sundarar)-1
This is one of the 276 Devara Paadal Petra Shiva Sthalams and 29th Shiva Sthalam on the Southern bank of the river Cauvery in Chozha Nadu (Thenkarai).
Lord Shiva in this temple is a Swayambumurthi (self-manifested).
This is one of the 44 Paadal petra sthalams where the "Moovar" (the three saints - Saint Thirugnanasambanthar, Saint Thirunavukarasar (Appar) and Saint Sundaramurthy (Sundarar) had rendered their Pathigams.
This is a very famous "Parihara Sthalam" for Raahu dosham.
This east facing temple has three corridors and its main tower (Rajagopuram) has 5-tiers. There are 6 other towers (Gopurams) in this temple.
The last consecration ceremony (Maha Kumbabishekam) took place on 15.08.2005.
History of the Temple
According to legend, in ancient times, this region was a forest densely covered with Shenbaka trees. Hence this place gets the name Shenbakaranyam and the lord is praised as Sri Shenbakaranyeswarar.
The historical names of this place are Shenbaka vanam and Girikannikai vanam.
There are 16 stone inscriptions in this temple which date back to the periods of Chola kings Kandarathithan, Raajarajan and Rajendran. This temple was originally built by Kandarathithan. Later it was renovated and extended by Saint Sekkizhar and Govinda Dikshithar, a minister in the kingdom of Achuthappa Nayakkar.
This temple is under the administrative control of the Hindu Religious and Charitable Endowments Department of Government of Tamil Nadu (HR&CE).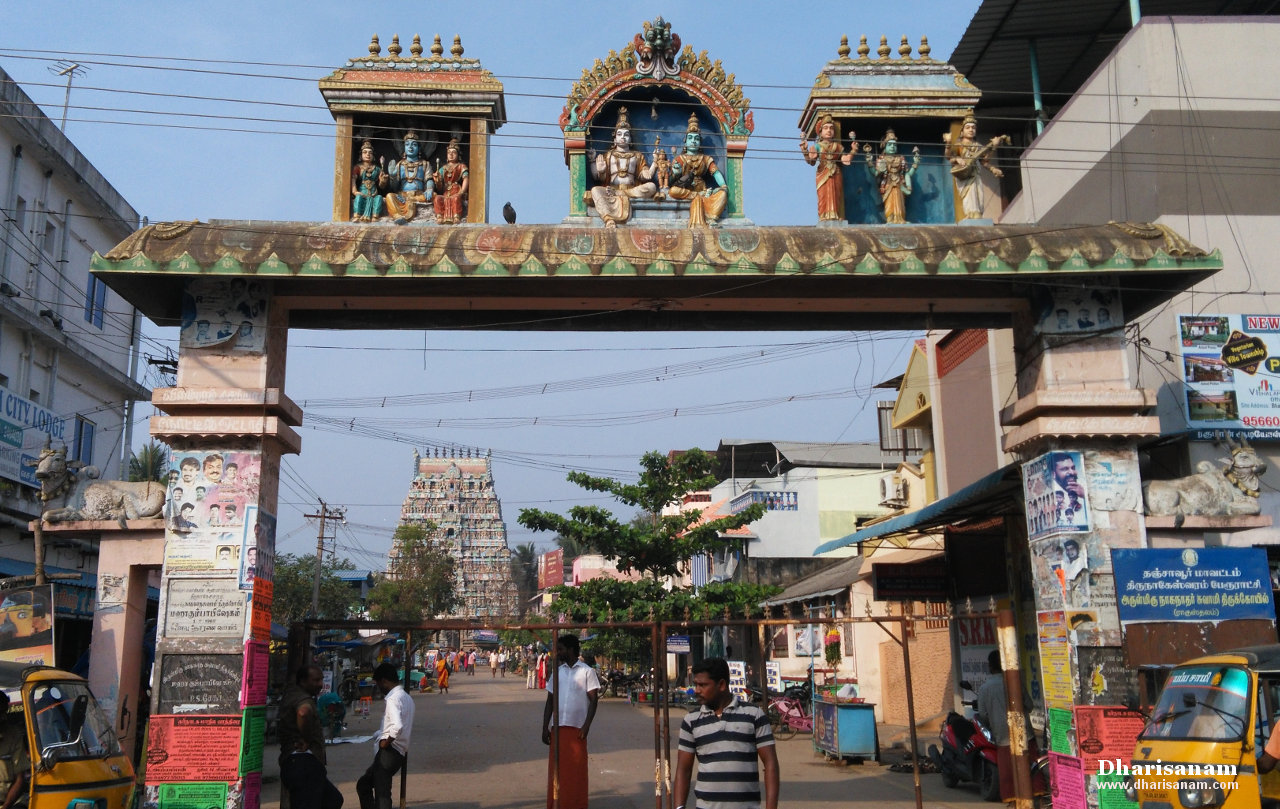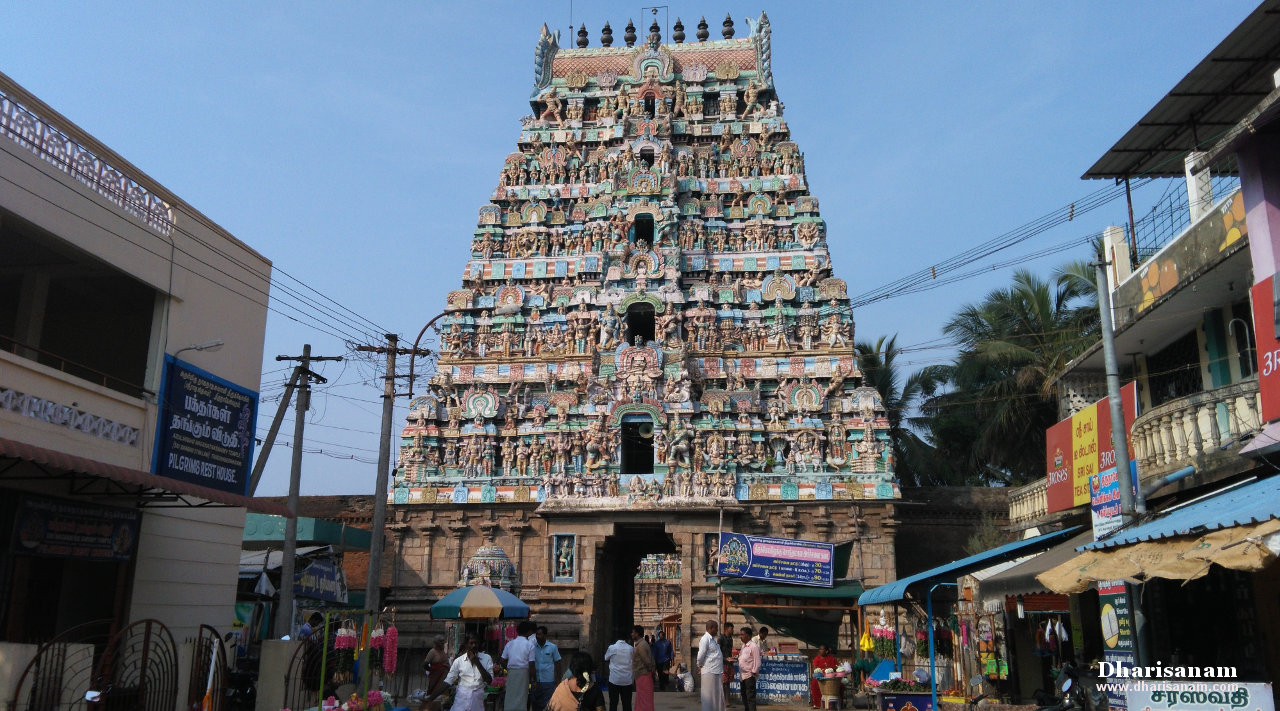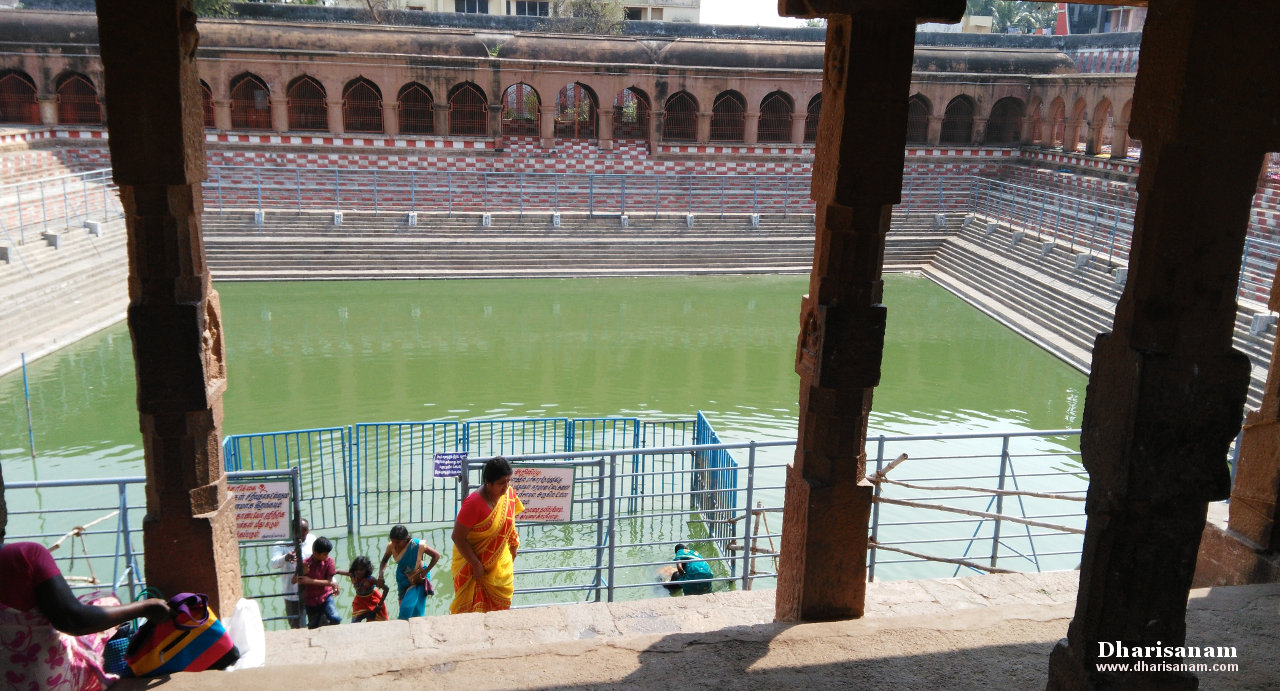 Legend
It is believed that Lord Shiva himself declared that this is the best Sthalam in the world.
According to legend, Lord Shiva had asked Goddess Parvathi to go to earth and perform penance because she had punished Sage Birunki severely. Lord Shiva also told her that Goddesses Lakshmi and Saraswathi will accompany her. Goddess Parvathi selected this place (Thirunageswaram) to perform her penance. Pleased with her penance, Lord Shiva blessed her with his darshan and took her back to Mount Kailash. Goddess Parvathi is praised here as Sri Girigujambal. Her idol is also believed to be "Swayambu".
All the "Ashtamaha" serpents – the eight great serpents- (Ananthan, Vasuki, Thatchakan, Karkodakan, Sankapalan, Kulikan, Padman and Mahapadman) along with Adhiseshan worshiped the lord here. Adhiseshan came from the "Padhala logam" (underworld) and visited this place. Hence, Lord Shiva here is praised as "Thiru Nageswarar" ("Nagam" means snake and "Nathar" means the lord in Tamil) and the place gets the name Thiru Nageswaram. In his hymn, Saint Thirunavukkarasar mentioned that this lord was worshiped by the five-headed serpent.
The legend of this temple also finds a mention in the "Samudra Manthan" episode in Hindu mythology. After extracting the nectar from the "Thiruparkadal" ocean, it was distributed among all the devas. Raahu also took a portion of the nectar. However, when Lord Mahavishnu realised that Raahu was the son of a demon woman, he severed his head. Raahu prayed to Lord Shiva for forgiveness. It is believed that Lord Shiva is restored him back to life by placing the severed head on a snake's body. Lord Shiva also blessed him and gave him a place among the nine planets.
Raahu is believed to have worshiped Lord Shiva here. Normally, Raahu appears in a snake form with human head in other temples but here he has a separate shrine. In this shrine, the idol is depicted in a human form. Also, this is the only place where the idol of Raahu can be seen with his consorts - Nagavalli and Nagakanni.
Sekkizhar, who wrote the famous "Periya Puranam", was an ardent Shiva devotee. He renovated this temple in the 12th century and built a hall in the second corridor. It is believed that he received "Thiruvadi gnanam" from Lord Shiva in this temple. "Thiruvadi gnanam" means that the lord's feet are placed on a devotee's head. The idol of Saint Sekkizhar can be seen with the idols of his mother Azhakaambigai and brother Balaravaayar in the main hall (Thiruppani Mandapam). He also built a temple in his native place, Kuntrathur near Chennai, and named that with this temple's name – Thirunageswaram.
It is also believed that Nandhi, Chandran, Suryan, Nalan, Gauthamar, Paraasarar and Bhageerathan have worshiped the lord here.
The Sthala Puranam mentions many legends associated with this temple. Some of them are -
Sage Gauthamar was re-united with his wife Akalika after worshiping the lord here.
King Nalan regained his lost wealth.
Paandavas regained their kingdom.
Chandira Varman, who had been turned into a dog due to a curse, was restored to his original form after he took a dip in this temple's holy water and worshiped the lord here.
Nandi, after worshipping Lord Shiva here, attained the status of "Adhikara Nandheeswarar".
Lord Vinayakar, after worshipping Lord Shiva here, attained the status of "Ganapathy" - the head of Ganas ("Ganas" are the attendants of Lord Shiva).
Indira, the King of Devas, worshiped Goddess Girigujambal here to seek absolution for sins.
It is believed that Sage Brinki got the darshan of all the three goddesses (Parvathy, Lakshmi and Saraswathi) simultaneously here.
This is the only place where Goddess Parvathy is depicted as a child in the morning, a young girl in the noon and in the evening as a fully-grown woman with knowledge of the 16 arts.
Deities in the temple
Other than the shrines of Lord Shiva and Goddess Parvathy (both facing the east), shrines and idols of Nirutha Ganapathy, Shenbaga Vinayakar, Nandhi, Aadhi Vinayakar, Murugan with his consorts, Natarajar, Somaskandar, Nalvar, Sapthamathakkal, Mahalakshmi, Saraswathi, Navagraham, Chandran, Suryan and Maha Bairavar can be seen in the main hall and corridors.
Shivalingams worshiped by Agasthiyar, Parasarar, Gauthama, Viyakrapathar, Pathanjali and Markandeya can also be seen in the corridors.
63 Nayanmars can be seen in the corridors along with idols of Vinayakar, Murugan, Natarajar and Dakshinamurthy.
There is a separate shrine for Lord Vinayakar near the Theertham and it is known as "Sri Mazhuporutha Vinayakar".
In the "koshtam" (place surrounding the sanctum sanctorum), idols of Narthana Ganapathy, Natarajar, Agasthiyar, Dakshinamurthy, Lingothbavar with Brahma and Mahavishnu, Durgai and Chandikeswarar can be seen. In the Navagraham, all the other idols are facing Suryan.
There are two shrines for Goddess Parvathy here. One is "Sri Arthachandra Bimba Gujambigai" or "Sri Piraiyanivaal Nuthal Ammai" ("Pirai" means Chandran (moon), "anivaal" means "to wear" and "nuthal" means forehead in Tamil). Every year, during the Tamil month of Karthigai, on the full moon day, the rays of Chandran fall on this goddess.
The other one is "Sri Girigujaambigai". This goddess is shown in a yogic posture. This idol is made of clay (sudhai) and no abhishekam is performed. Only civet ("Punugu") is applied on some specific days. On her either side, idols of Goddesses Lakshmi and Saraswathi can be seen. Saraswathi is holding her veena and Lakshmi is holding lotus flowers.
In Goddess Girigujaambigai's shrine, idols of Vinayakar, Balamurugan, Navashakthi, Sanganidhi, Thathpurusha Sakthi, Padumanidhi, Ganga, Vaishnavi with Sanakathi rishis, Giriyashakthi, Gnanambigai, Bairavar, Balasastha (Iyanar), and Durgai can be seen.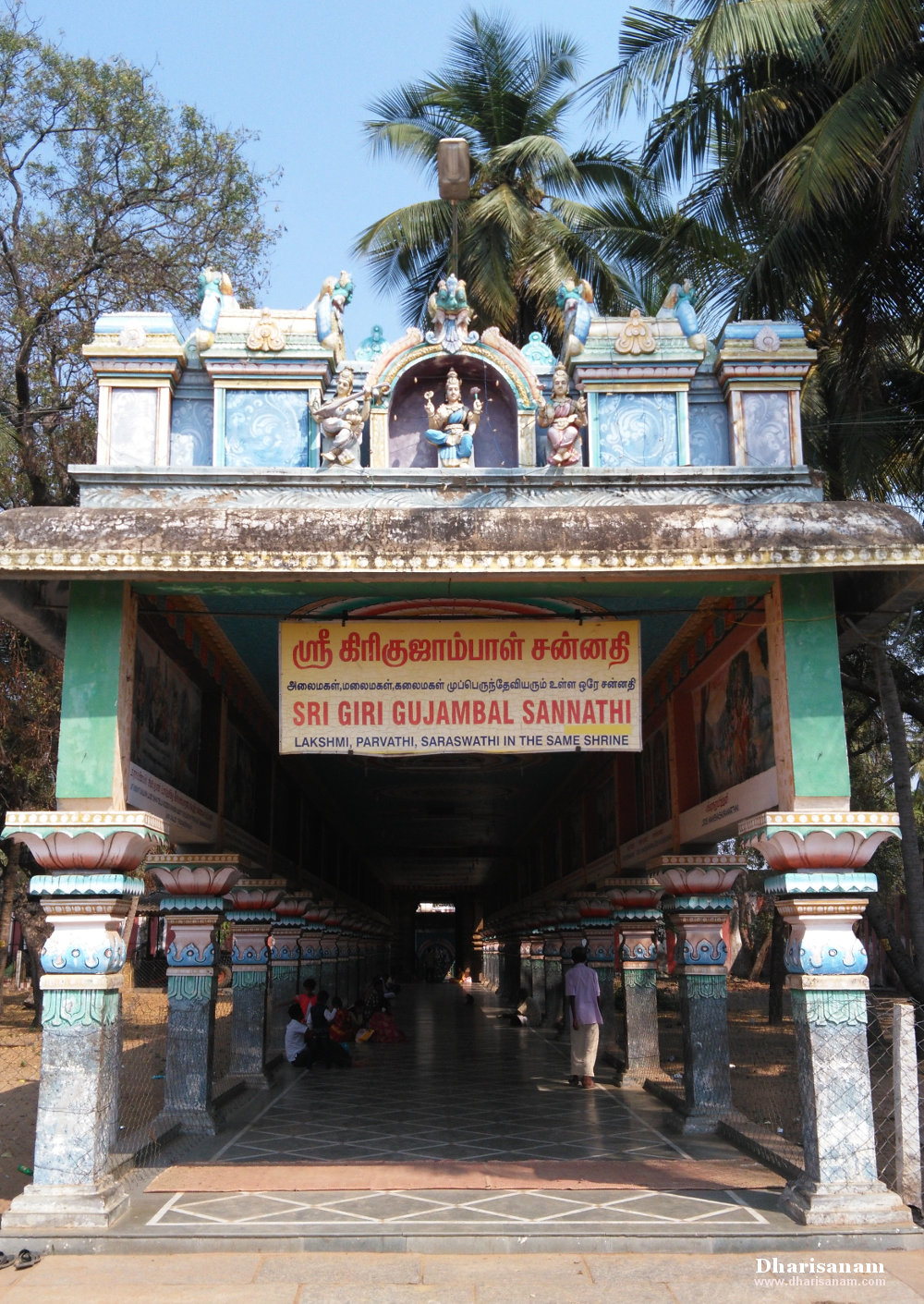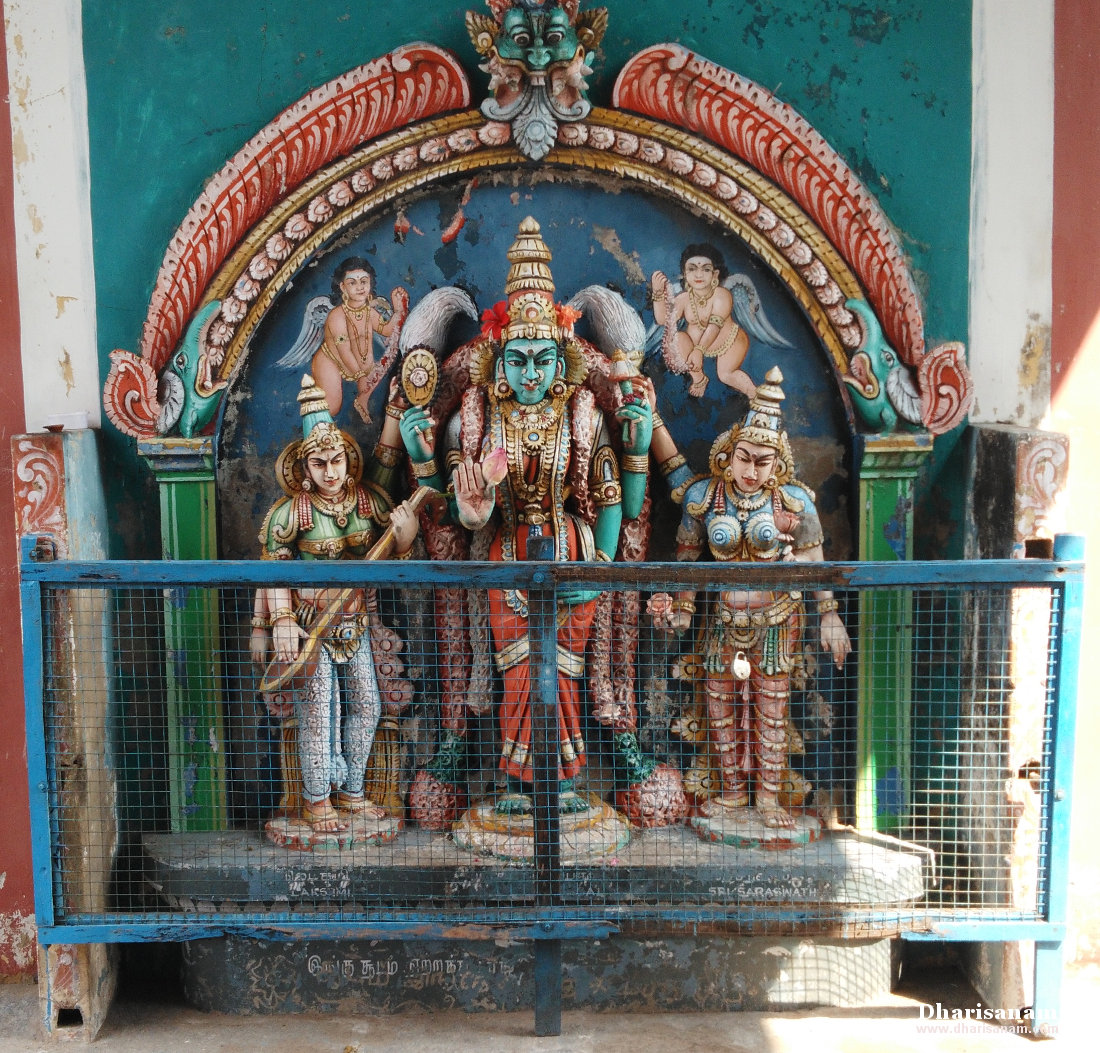 Salient Features
An important event in this temple is the milk abhishekham that is performed for Raahu. Special poojas are performed for Raahu between 4:30 p.m. and 6:00 p.m. ("Rahukaalam") on all Sundays. At this time, the milk that is poured on this idol changes its colour to blue as it passes over the body. The cloour of the milk again changes back to white when it reaches the ground. A large number of devotees gather here to worship Raahu during this time.
Lord Murugan's shrine is in between those of Lord Shiva and Goddess Piraiyanivaal Nuthal Ammai. This type of placement is called "Somaskanda".
Behind the sanctum sanctorum, on either sides of Lord Lingothbavar, there are idols of Lord Mahavishnu and Lord Brahma in a worshipping posture. Devotees can enjoy the darshan of all the three lords (Trimurthys) – Brahma, Vishnu and Shiva. This is considered to be very auspicious.
The 100-pillared hall has beautiful sculptures. It looks as if the entire hall is placed on a chariot.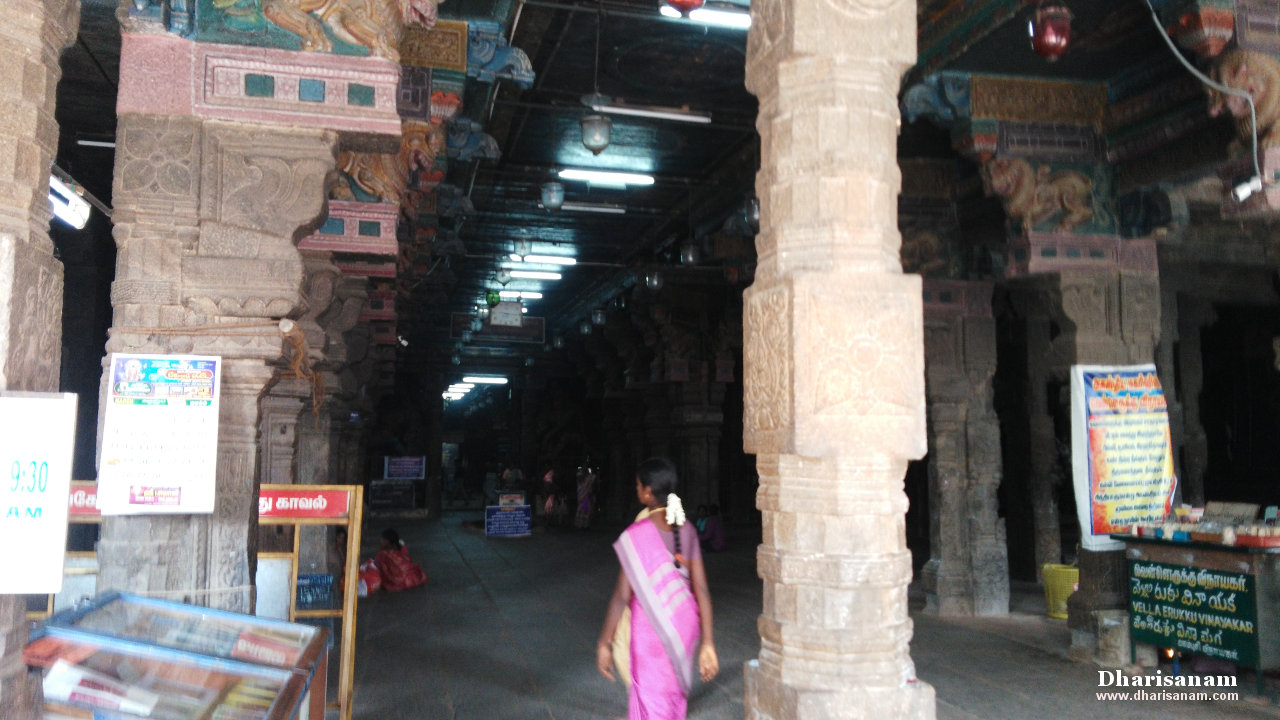 The three Goddesses – Girigujambikai (Parvathy), Mahalakshmi and Saraswathi are gracing the devotees from a single shrine here.
On 16th February 1986, a snake shed its skin (length 5.5 feet) in the form of a garland on the idol of Lord Raahu. This skin is preserved in a glass box.
Worshiping Lord Shiva in the morning at the Sri Nageswarar temple in Kudanthai Keezhkkottam, at noon in this temple and in the evening at the Thiruppampuram temple is considered very auspicious.
It is believed that earlier this temple has 12 Theerthams, including those of the three rivers – Naattaru, Arisilaru and Kirthimanaru which were created by Lord Shiva using his trident. However, now only one of them - the "Surya Pushkarini" can be seen inside the temple.
Saint Arunagirinadhar has sang songs in praise of Lord Murugan of this temple in his revered Thirupugazh.
There is a Tamil proverb which can be loosely translated as follows – No one can bless like Raahu and no one can create obstacles like Kethu. Since this is a parihara sthalam for Raahu, devotees can worship him here to seek his blessings.
In Goddess Girigujambikai's shrine, there is a small enclave which houses idols of Lord Vinayakar and Yoga Raahu. This idol of Yoga Raahu is quite unique.
There are beautiful paintings in Goddess Girigujambikai's shrine depicting the legends associated with this temple.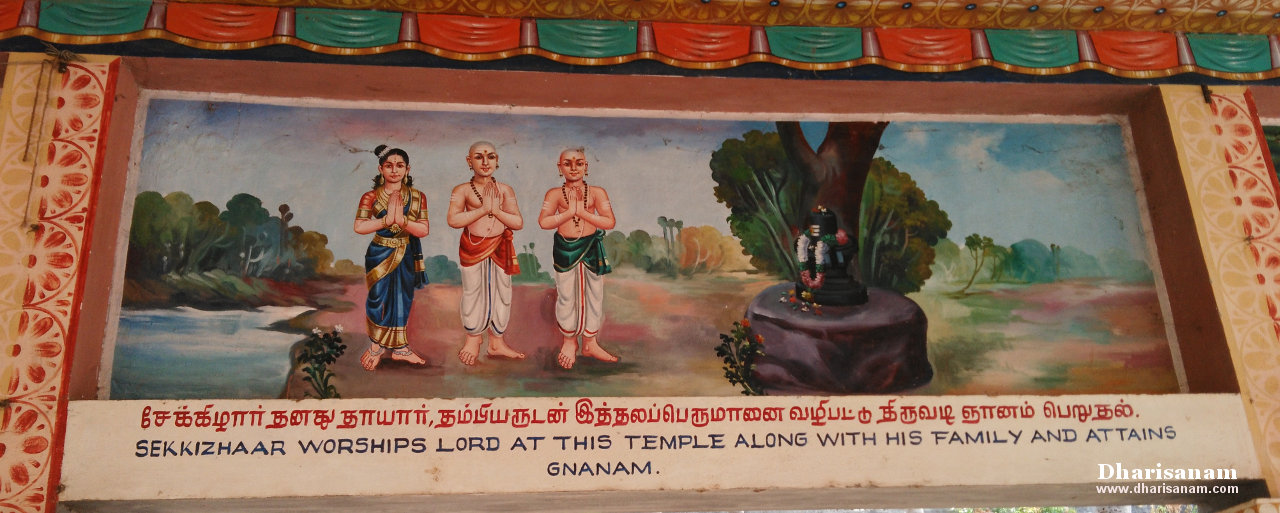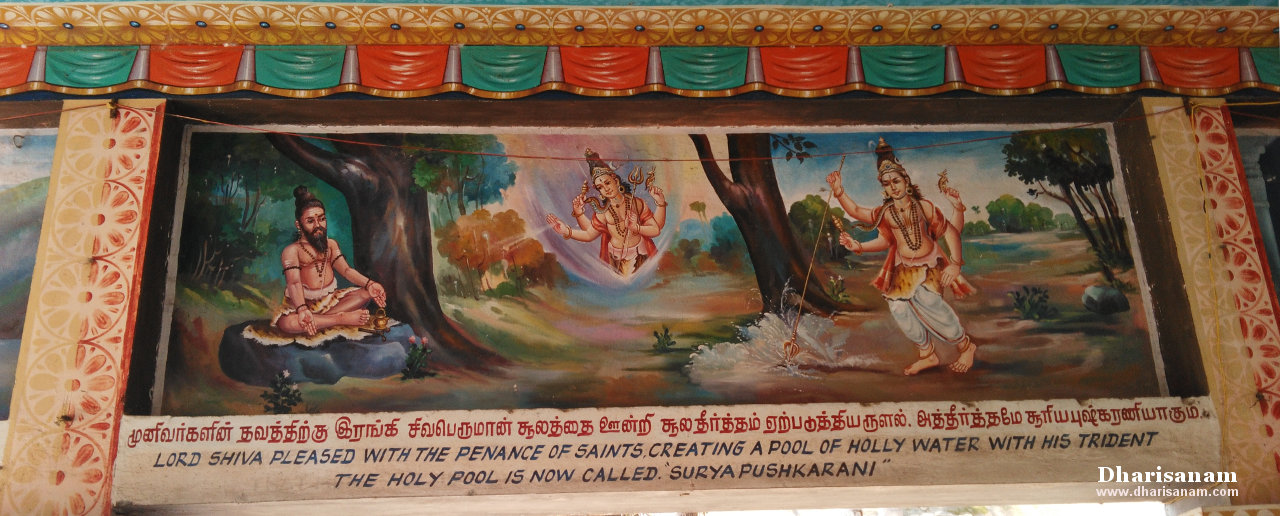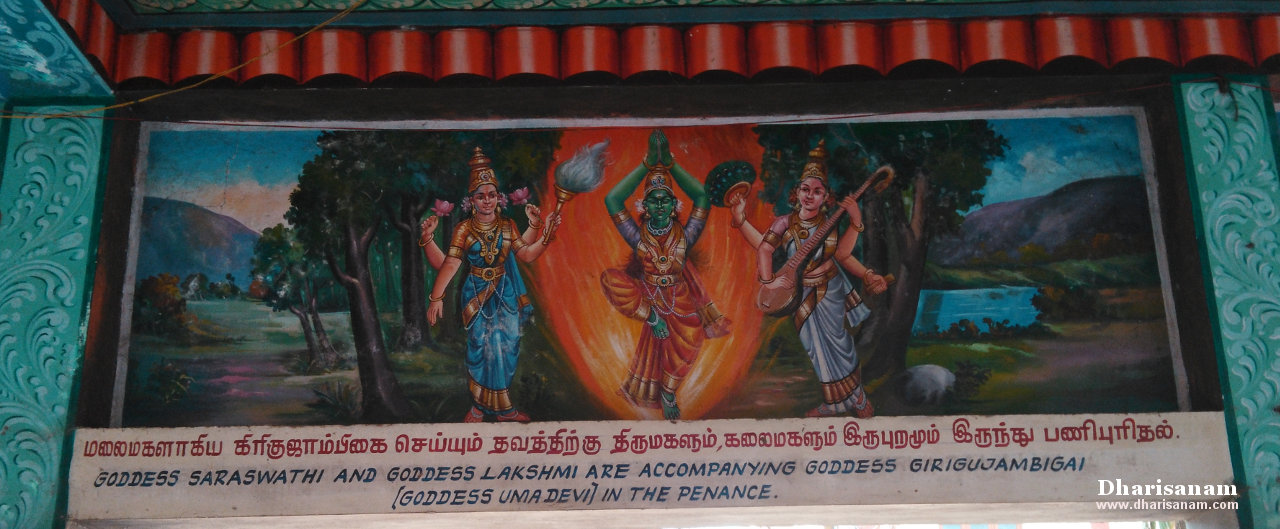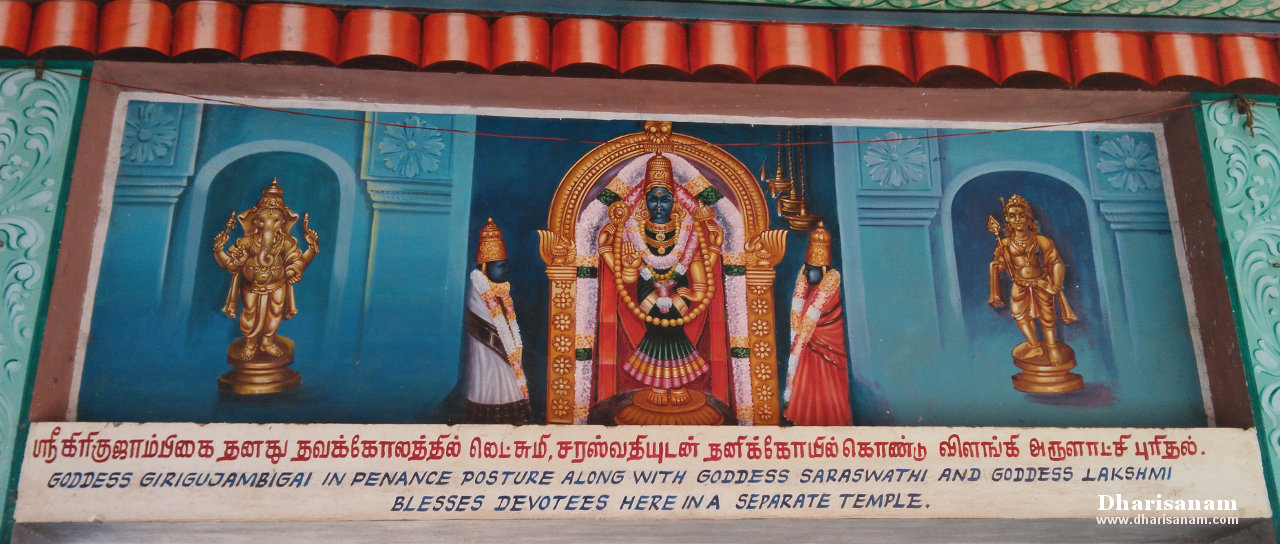 Greatness of this temple
This is a famous "Parihara Sthalam" for those suffering from the adverse effects of planet Raahu and Kethu. For example, doshas like "Sarpa dosha", "Kalathira dosha", "Pithru dosha" and "Kalasarpa dosha".
Devotees believe that by worshiping the lord here, obstacles from their marriage proposals will be removed.
Important Festivals
Some of the important festivals celebrated in this temple are –
10-day Brahmmotsavam in the Tamil month of Karthikai (Nov-Dec) and Saint Sekkizhar festival in the Tamil month of Vaikasi Poosam star day.
Vinayakar Chaturthi in the Tamil month of Aavani (Aug-Sept),
Thiru Karthikai in the Tamil month of Karthikai (Nov-Dec),
Thiruvadhirai in the Tamil month of Markazhi (Dec-Jan),
Masi Maham and Shivarathri in the Tamil month of Masi (Feb-Mar) and
Panguni Uthiram in the Tamil month of Panguni (Mar-Apr).
The transition days of the Raahu planet are also celebrated here with special poojas.
Pradosham is also observed regularly.
Temple Timings
From 06:00 AM to 12:00 Noon and from 04:00 PM to 08:30 PM.
Temple Address
Sri Nageswaraswamy Temple,
Thirunageswaram,
Kumbakonam Taluk,
Thanjavur District,
Tamil Nadu-612 204.
Tele: +91- 435-246 3354, 94434 89839.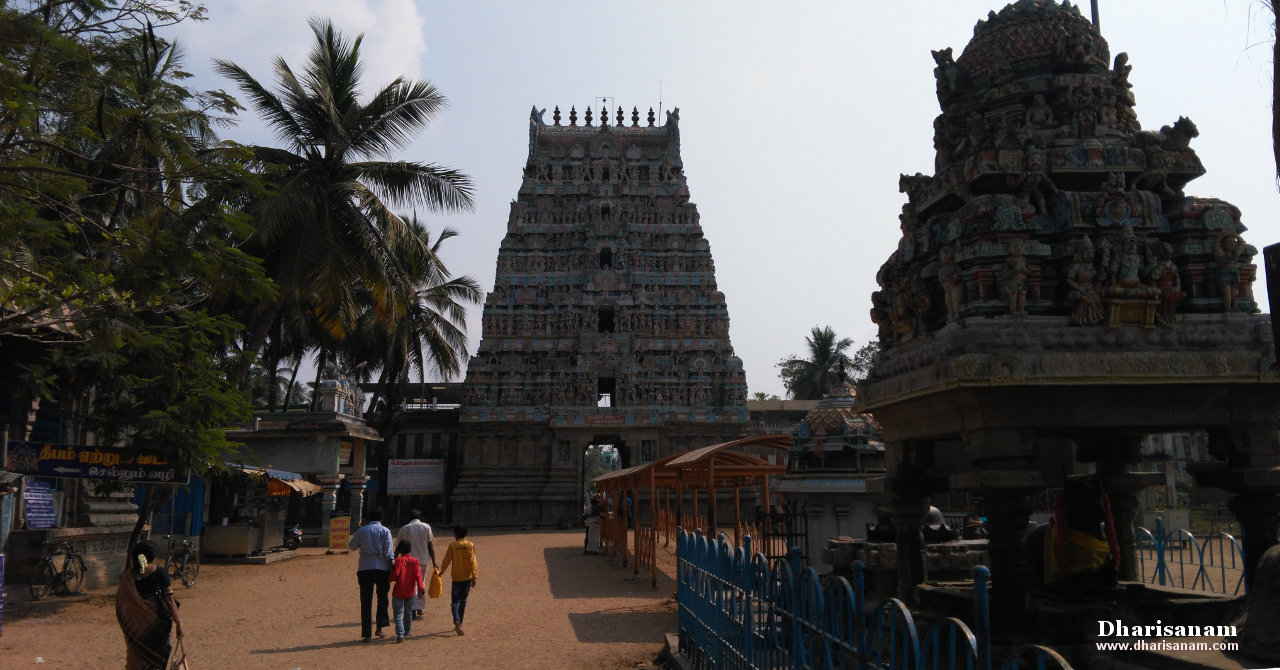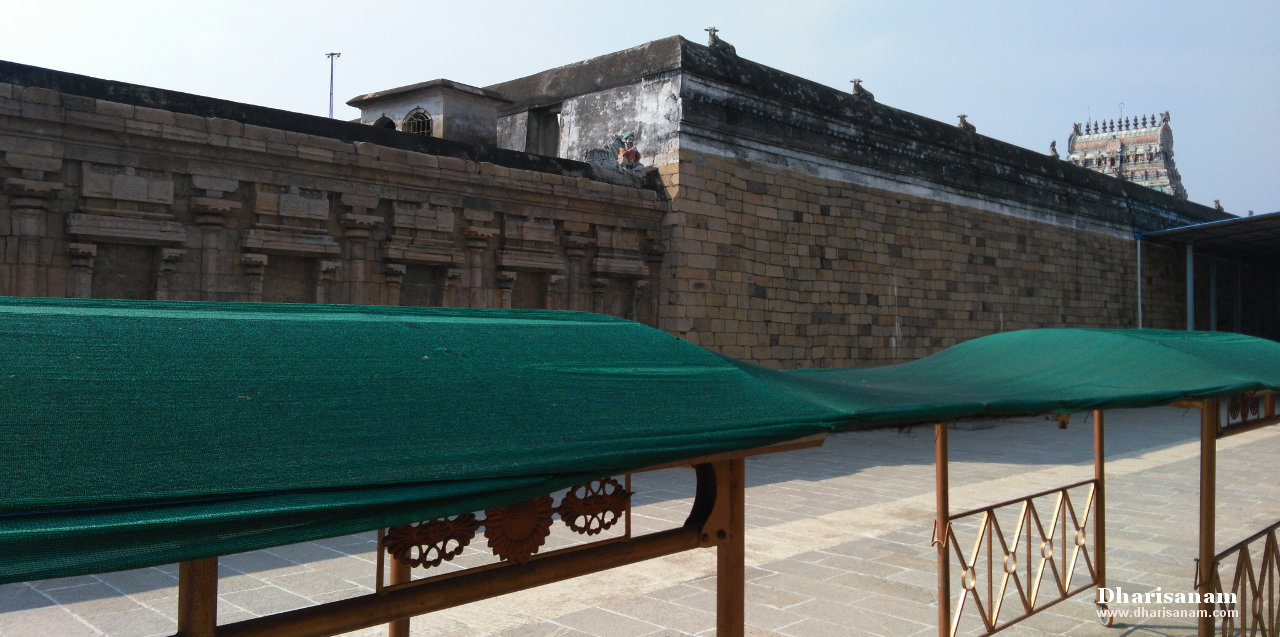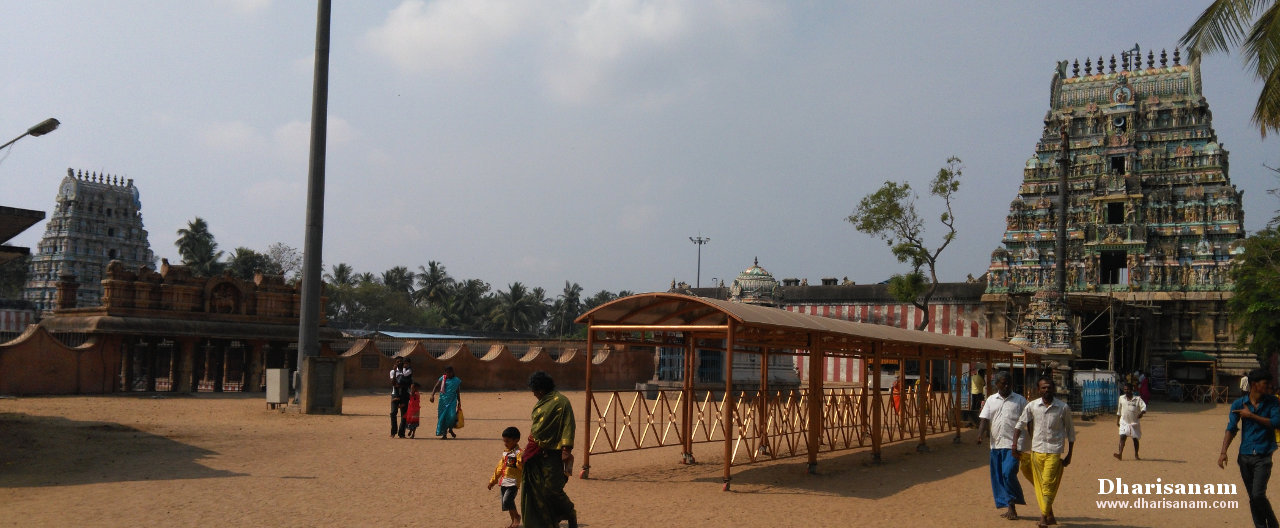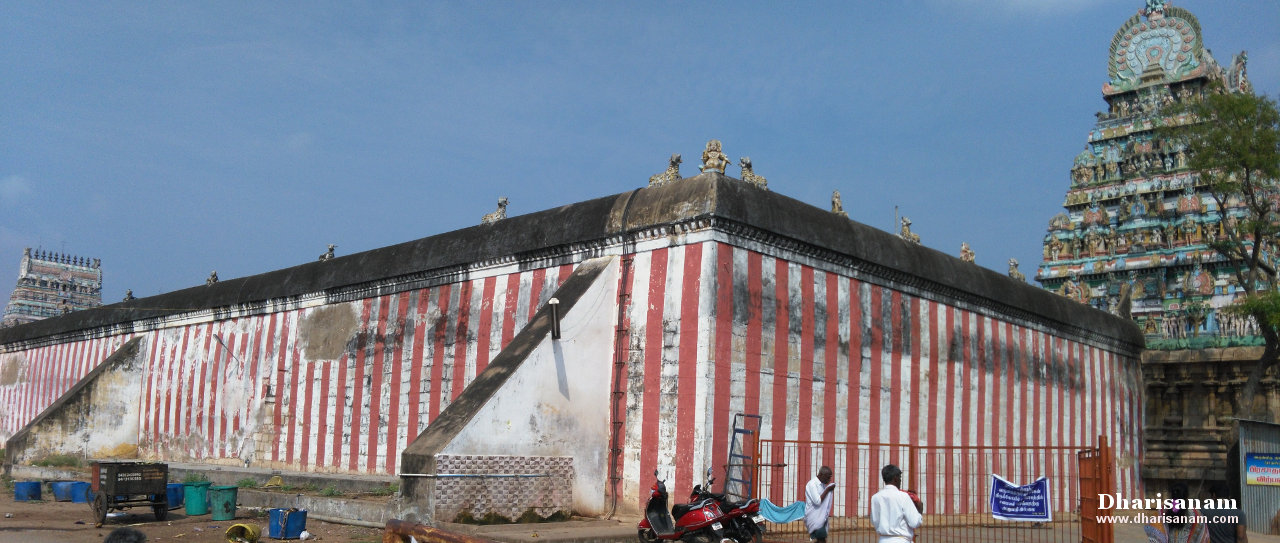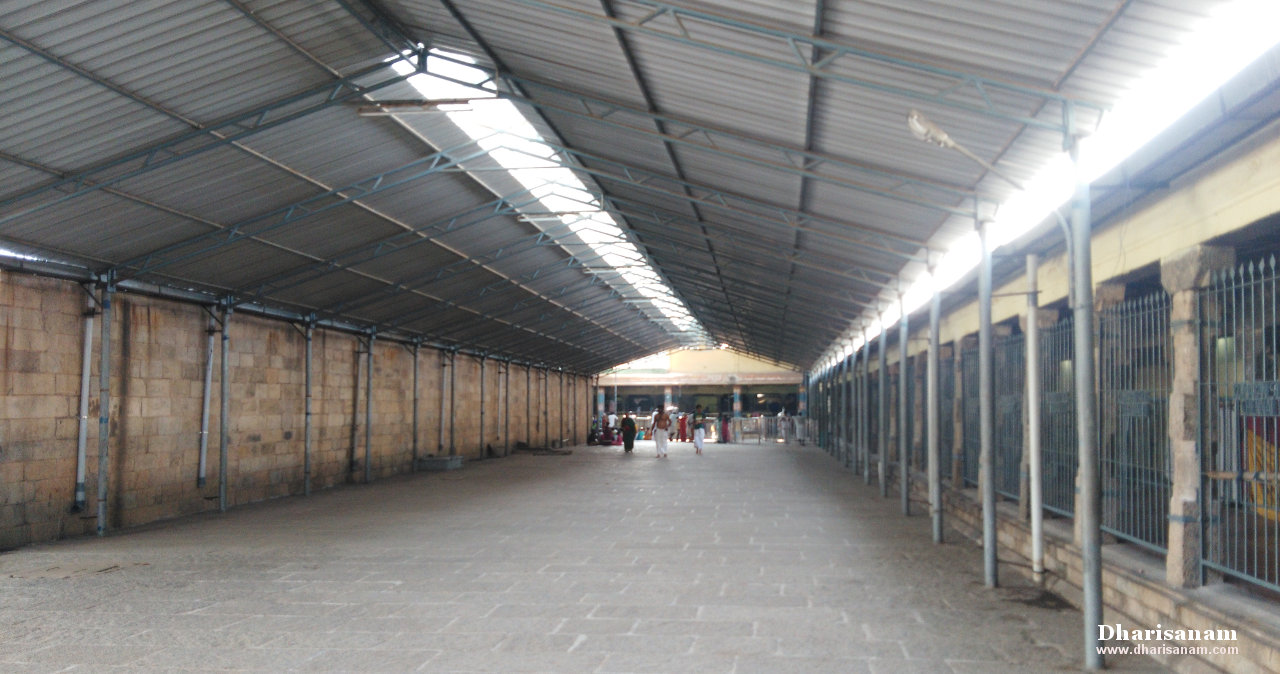 ---
Pathigam (Hymn) with English transliteration and Tamil meaning.
Saint Thirugnanasambanthar visited this temple and sang this Pathigam.
Devotees visiting this temple should make it a practice to recite this Pathigam.
பொன்நேர் தருமே னியனே புரியும்
மின்நேர் சடையாய் விரைகா விரியின்
நன்னீர் வயல்நா கேச்சர நகரின்
மன்னே யெனவல் வினைமாய்ந் தறுமே.
"Poṉnēr tharumē ṉiyaṉē puriyum
miṉnēr saṭaiyāy viraikā viriyiṉ
naṉṉīr vayalnā kēchchara nakariṉ
maṉṉē yeṉaval viṉaimāyn thaṟumē".
பொன்னை யொத்த மேனியனே, வளைத்துக் கட்டப்பட்ட மின்னல் போன்ற
சடையினை உடையவனே, மணத்துடன் வரும் காவிரி நதியின் நல்ல நீரால்
வளம் பெறும் வயல்களை உடைய நாகேச்சுரத் திருக்கோயிலில் விளங்கும்
மன்னவனே என்று ஏத்த, வலிய வினைகள் அழிந்து கெடும்.


சிறவார் புரமூன் றெரியச் சிலையில்
உறவார் கணையுய்த் தவனே உயரும்
நறவார் பொழில்நா கேச்சர நகருள்
அறவா எனவல் வினையா சறுமே.
"Siṟavār puramūṉ tṟeriyach chilaiyil
uṟavār kaṇaiyuyth thavaṉē uyarum
naṟavār pozhilnā kēchchara nakaruḷ
aṟavā eṉaval viṉaiyā saṟumē".
சிறவாதவராகிய அசுரர்களின் முப்புரங்கள் எரியுமாறு வில்லிற் பொருந்திய நீண்ட கணையைச் செலுத்தியவனே, உயர்ந்த தேன் பொருந்திய மலர்ச்சோலைகள் சூழ்ந்த திருநாகேச்சுரக் கோயிலில் விளங்கும் அறவடிவினனே! என்று கூறி ஏத்த, வலிய வினைக்குற்றங்கள் அழிந்து கெடும்.


கல்லால் நிழல்மே யவனே கரும்பின்
வில்லான் எழில்வே வவிழித் தவனே
நல்லார் தொழுநா கேச்சர நகரில்
செல்வா எனவல் வினைதேய்ந் தறுமே.
"Kallāl nizhalmē yavaṉē karumpiṉ
villāṉ ezhilvē vavizhith thavaṉē
nallār thozhunā kēchchara nakaril
selvā eṉaval viṉaithēyn thaṟumē".
கல்லால மரநிழலில் எழுந்தருளியவனே, கரும்பு வில்லை ஏந்திய
மன்மதனின் அழகிய உடல் வேகுமாறு விழித்தவனே, நல்லவர்களால்
வணங்கப்பெறும் நாகேச்சுரத்திருக்கோயிலில் விளங்கும் செல்வனே என்று
கூறி ஏத்த வலிய வினைகள் தேய்ந்து கெடும்.


நகுவான் மதியோ டரவும் புனலும்
தகுவார் சடையின் முடியாய் தளவம்
நகுவார் பொழில்நா கேச்சர நகருள்
பகவா எனவல் வினைபற் றறுமே.
"Nakuvāṉ mathiyō ṭaravum puṉalum
thakuvār saṭaiyiṉ muṭiyāy thaḷavam
nakuvār pozhilnā kēchchara nakaruḷ
pakavā eṉaval viṉaipat ṟaṟumē".
விளங்குகின்ற வானத்தில் ஊரும் திங்கள், பாம்பு, கங்கை ஆகியன
பொருந்திய தக்க நீண்ட சடையை உடையவனே, 107 முல்லை மலர்கள்
விளங்கும் நீண்ட பொழில்கள் சூழ்ந்த நாகேச்சுரத்திருக்கோயிலில் விளங்கும் பெருமானே என்று கூறி ஏத்த வலிய வினைகளின் தொடக்கு அறும்.
கலைமான் மறியுங் கனலும் மழுவும்
நிலையா கியகை யினனே நிகழும்
நலமா கியநா கேச்சர நகருள்
தலைவா எனவல் வினைதான் அறுமே.
"Kalaimāṉ maṟiyuṅ kaṉalum mazhuvum
nilaiyā kiyakai yiṉaṉē nikazhum
nalamā kiyanā kēchchara nakaruḷ
thalaivā eṉaval viṉaithāṉ aṟumē".
மான்கன்று, அழல், மழு ஆகியன நிலையாக விளங்கும் கைகளை
உடையவனே, நன்மை விளையும் தலமாகிய நாகேச்சுரக் கோயிலில்
விளங்கும் தலைவனே! என்று கூறி ஏத்த வலியவினைகள் கெடும்.
குரையார் கழலா டநடங் குலவி
வரையான் மகள்கா ணமகிழ்ந் தவனே
நரையார் விடையே றுநாகேச் சரத்தெம்
அரைசே எனநீங் கும்அருந் துயரே.
Kuraiyār kazhalā ṭanaṭaṅ kulavi
varaiyāṉ makaḷkā ṇamakizhn thavaṉē
naraiyār viṭaiyē ṟunākēch charaththem
araisē eṉanīṅ kumarun thuyarē".
மலைமகளாகிய பார்வதி தேவி கண்டு மகிழ, கால்களில் ஒலிக்கின்ற
வீரக்கழல்கள் ஆடநடனம் ஆடி மகிழ்பவனே, வெண்ணிறமான
விடையின்மீது ஏறி நாகேச்சுரத்துள் விளங்கும் அரசனே! என்று கூறி ஏத்த,
நீங்குதற்கு அரியவாய் வரும் துன்பங்கள் கெடும்.


முடையார் தருவெண் டலைகொண் டுலகில்
கடையார் பலிகொண் டுழல்கா ரணனே
நடையார் தருநா கேச்சர நகருள்
சடையா எனவல் வினைதான் அறுமே.
"Muṭaiyār tharuveṇ ṭalaikoṇ ṭulakil
kaṭaiyār palikoṇ ṭuzhalkā raṇaṉē
naṭaiyār tharunā kēchchara nakaruḷ
saṭaiyā eṉaval viṉaithāṉ aṟumē".
முடை நாற்றம் பொருந்திய வெள்ளிய தலையோட்டை ஏந்தி உலகில் பலர்
வீட்டு வாயில்களிலும் பலி கொண்டு உழலும் உலகக் காரணனே,
நாகேச்சுரக் கோயிலுள் எழுந்தருளிய சடையனே! என்று கூறி ஏத்த, வலிய
வினைகள் கெடும்.


ஓயா தஅரக் கன்ஒடிந் தலற
நீயா ரருள்செய் துநிகழ்ந் தவனே
வாயா ரவழுத் துவர்நா கேச்சரத்
தாயே எனவல் வினைதான் அறுமே.
"Ōyā tha'arak kaṉoṭin thalaṟa
nīyā raruḷsey thunikazhn thavaṉē
vāyā ravazhuth thuvarnā kēchcharath
thāyē eṉaval viṉaithāṉ aṟumē".
தன் வலிமையால் இடைவிடாது போர்புரியும் இராவணன் மனம் உடைந்து
அலற நீ அவனுக்கு அரிய அருளைச் செய்து மனம் இளகுதலாகிய உன் நடை முறையைக் காட்டியவன், என்று உன்னைப் பலரும் வாயார வாழ்த்துவர். நாகேச்சுரத்தில் எழுந்தருளிய இறைவனே! என உன்னை நினைந்து போற்றுவார் வலிய வினைகள் கெடும்.


நெடியா னொடுநான் முகன்நே டலுறச்
சுடுமா லெரியாய் நிமிர்சோ தியனே
நடுமா வயல்நா கேச்சர நகரே
இடமா வுறைவா யெனஇன் புறுமே.
"Neṭiyā ṉoṭunāṉ mukaṉnē ṭaluṟach
chuṭumā leriyāy nimirchō thiyaṉē
naṭumā vayalnā kēchchara nakarē
iṭamā vuṟaivā yeṉa'iṉ puṟumē".
திருமாலும், பிரமனும் அடிமுடி தேடலை மேற்கொள்ளச் சுடுகின்ற பெரிய
தீப்பிழம்பாய் எழுந்து நின்ற ஒளி வடிவினனே, நாற்று நடத்தக்க பெரிய
வயல்களைக் கொண்டுள்ள நாகேச்சுரத்துக் கோயிலை உனக்குரிய
கோயிலாகக் கொண்டு உறைபவனே என்று போற்ற அவன் இன்புறுவான்.
மலம்பா வியகை யொடுமண் டையதுண்
கலம்பா வியர்கட் டுரைவிட் டுலகில்
நீலம்பா வியநா கேச்சர நகருள்
சிலம்பா எனத்தீ வினைதேய்ந் தறுமே.
"Malampā viyakai yoṭumaṇ ṭaiyathuṇ
kalampā viyarkaṭ ṭuraiviṭ ṭulakil
nīlampā viyanā kēchchara nakaruḷ
silampā eṉaththī viṉaithēyn thaṟumē".
அழுக்கேறிய கையினராய் உணவுகொள்ள மண்டை முதலான
உண்கலங்களைப் பயன்படுத்தும் சமண, புத்தர்களின் பொய்மொழிகளை
விடுத்து, உலகின்கண் நன்மைகள் வளர நாகேச்சுரக்கோயிலுள்
எழுந்தருளிய கயிலை மலையானே! எனப் போற்றுவார் தீவினைகள் தேய்ந்து கெடும்.


கலமார் கடல்சூழ் தருகா ழியர்கோன்
தலமார் தருசெந் தமிழின் விரகன்
நலமார் தருநா கேச்சரத் தரனைச்
சொலமா லைகள்சொல் லநிலா வினையே.
"Kalamār kaṭalchūḻ tharukā zhiyarkōṉ
thalamār tharusen thamizhiṉ virakaṉ
nalamār tharunā kēchcharath tharaṉaich
cholamā laikaḷchol lanilā viṉaiyē".
மரக்கலங்கள் பல நிறைந்த கடல் சூழ்ந்த தலங்களில் சிறந்த காழிப்பதிக்குத் தலைவனும் செந்தமிழ் விரகனும் ஆகிய ஞானசம்பந்தன் நன்மைகள் நிறைந்த நாகேச்சுரத்து அரனைப் போற்றிச் சொன்ன பாமாலைகளாகிய இப்பதிகத்தை இசையுடன் ஓத வினைகள் நில்லா.