Visited on: 29th September, 2016
Location
Kudanthai Keezhkkottam, now popularly known as Sri Nageswaraswamy temple is situated in the heart of Kumbakonam town. It is on the Chidambaram to Tanjure via Mayiladuthurai route. It is about 35 kms from Mayiladuthurai. Kumbakonam has a railway station and this temple is about 2 kms away from the station.
Other Paadal Petra Shiva Sthalams near this place are – Kudanthai Kudamukku (Sri Adhi Kumbeswarar Koil), Kudanthai Karonam (Sri Someswarar Koil), Thiruvalanchuzhi and Thirunageswaram.
General Information
| | |
| --- | --- |
| Moolavar | Sri Nageswaraswamy, Sri Madanthai Pahar, Sri Vilva Nesar, Sri Paathala Beeja Nathar |
| Ambal | Sri Periyanayagi, Sri Brahan Nayaki |
| Theertham (Holy water) | Mahaamaham tank |
| Sthala Vriksham (Sacred Tree) | Vilvam tree |
| Pathigam (Hymn) rendered by | Saint Thirunavukarasar (Appar) |
This is one of the 276 Devara Paadal Petra Shiva Sthalams and 27th Shiva Sthalam on the Southern bank of the river Cauveri in Chozha Nadu (Thenkarai).
Lord Shiva in this temple is a Swayambumurthi (self-manifested).
This is one of the famous Parihara Sthalams for planet Rahu.
This east facing temple has 2 corridors and its main tower (Rajagopuram) has 5 tiers.
The last consecration ceremony (Maha Kumbabishekam) took place on 07.02.2003 and prior to that in the year 1988.
History of the Temple
Kumbakonam, popularly known as the "Temple city", is located on the banks of the river Cauveri. Cauvery and Arasalaru rivers flow in such a manner that they look like garlands adorning this place.
This ancient temple was constructed by King Aditya Chola-I during the 9th century. The temple's design and architecture highlight the great workmanship and skill of the Chola period. Also, the orientation is structured in such a way that it allows sunlight inside the sanctum sanctorum only for three days during the Tamil month of Chithirai (April/May).
The historical names of this place are Vilva Vanam, Surya Kottam and Keezha Kottam. As this temple is on the eastern side of Kumbakonam, the temple is known as Kudanthai Keezha Kottam ("Keezh thisai means eastern side and kottam means temple).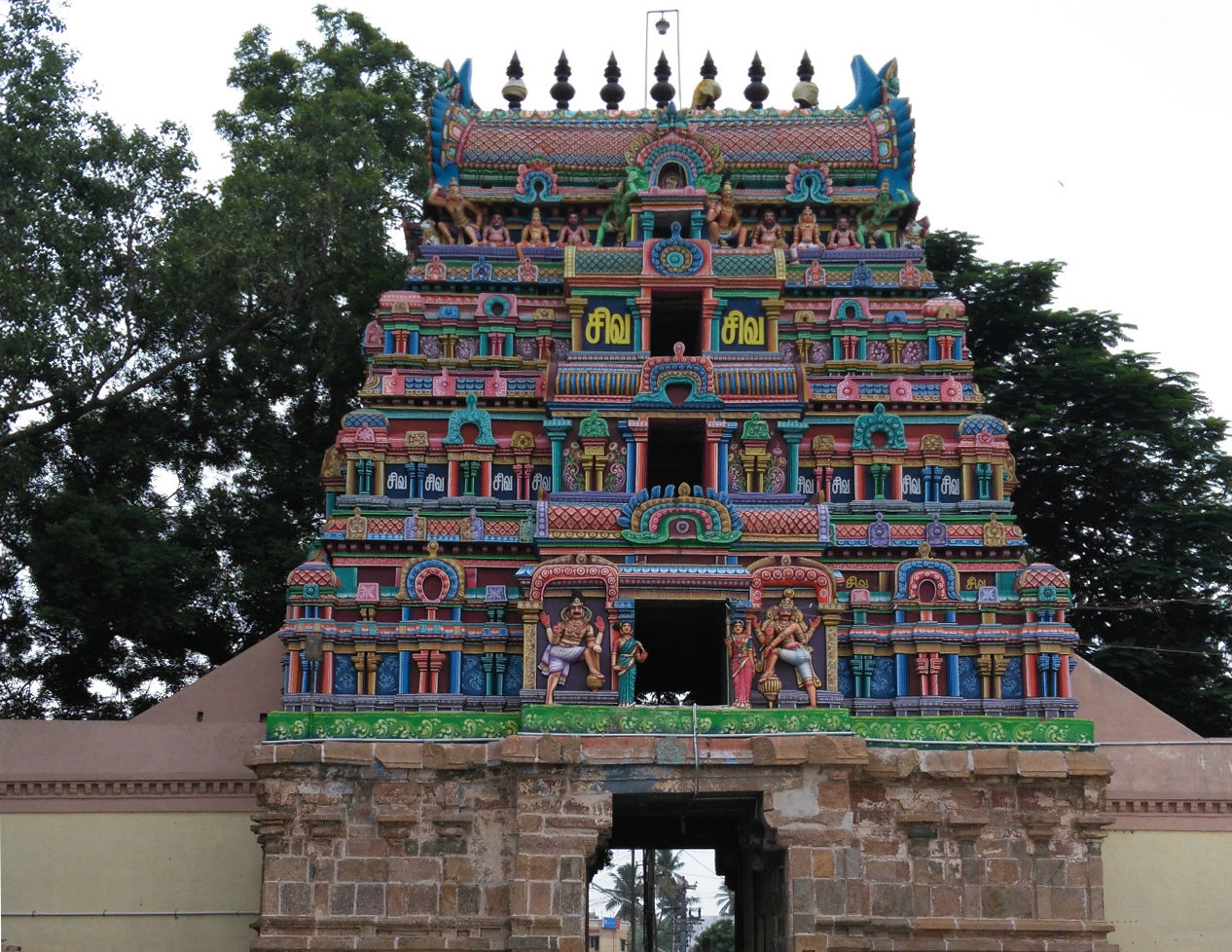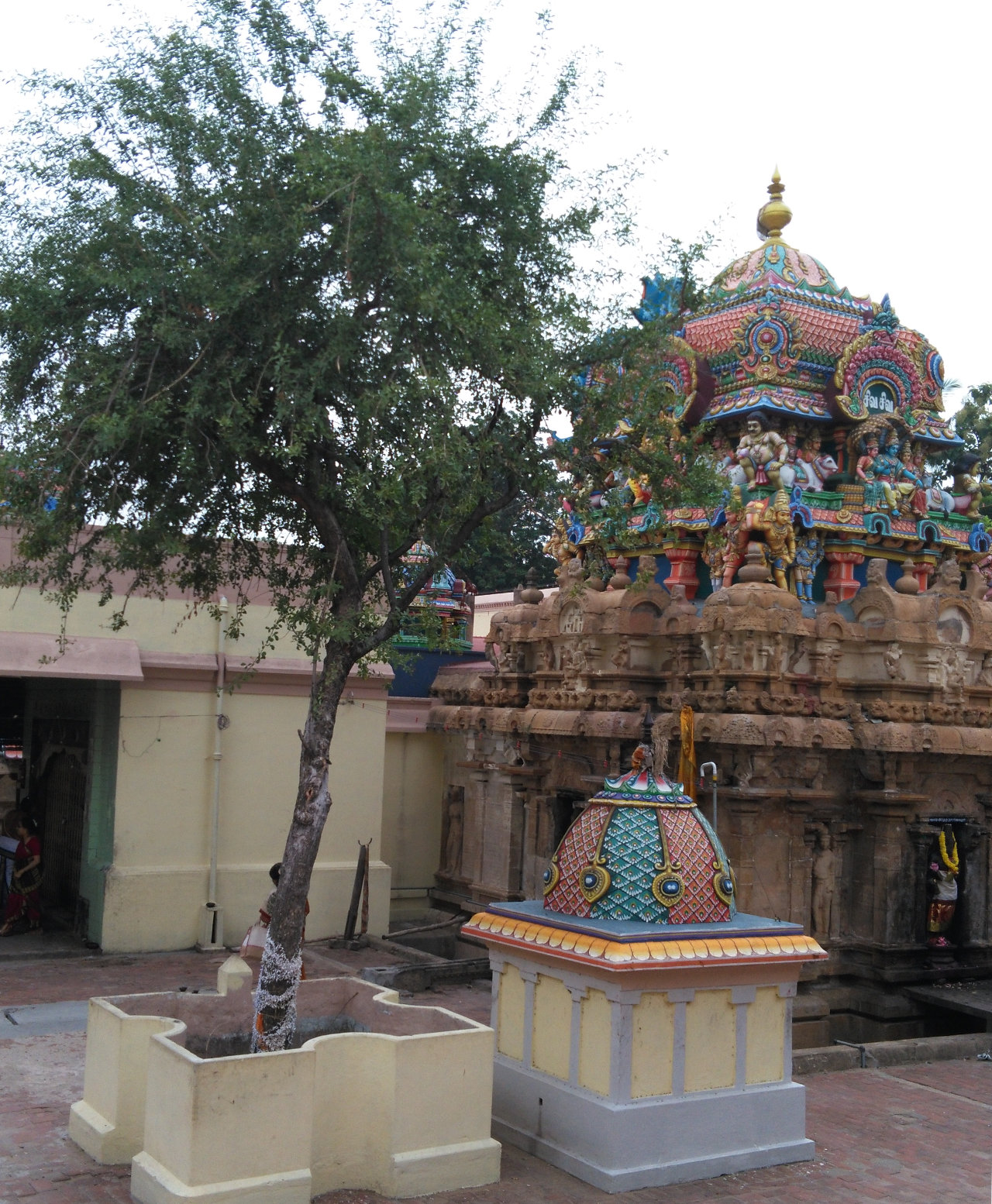 At a later date, a Shiva devotee named Padakachery Ramalinga Swamigal took a lot of pain to renovate this temple which was in a dilapidated condition at that time. He also performed the consecration ceremony in the year 1923. It is believed that he collected the funds by way of alms in a pot (hundi) which he tied around his neck. His idol with the hundi can be seen at the main entrance tower.
This temple is under the administrative control of the Hindu Religious and Charitable Endowments Department of Government of Tamil Nadu (HR & CE).
12 famous Shiva temples participate in the renowned "Mahaamaham" festival during which "Theerthavaari" happens in the Mahaamaha tank. This festival is celebrated once in 12 years in Kumbakonam. These 12 Shiva temples are:
Kasi Viswanathar Temple, Kumbakonam
Aadhi Kumbeswarar Temple, Kumbakonam
Someswarar Temple, Kumbakonam
Nageswarar (Vilvavaneswarar) Temple, Kumbakonam
Kalahasteeswarar Temple, Kumbakonam
Gauthameswarar (Upaveethanathar) Temple, Kumbakonam
Koteeswarar Temple, Kottaiyur
Amirthakalasanathar Temple, Kalayanallur
Bhanapureeswarar Temple, Kumbakonam
Abhimukeswarar Temple, Kumbakonam
Aathikambatta Visvanathar Temple, Kumbakonam and
Ekambareswarar Temple, Kumbakonam.
Simultaneously, 5 Vaishnava temples from Kumbakonam also participate in this festival. However, instead of their Theerthavaari in Mahaamaha tank, the Theerthavaari happens in the river Kaveri. These Vaishnava temples are:

1. Sri Saarangapani temple
2. Sri Chakrapaani temple
3. Sri Ramaswami temple
4. Sri Rajagopalaswami temple and
5. Sri Aadhivaraha Perumal temple.
Legend
According to Hindu mythology, at the end of every "yuga", there is a huge flood that leads to the destruction of all living beings in the earth. This is called the "Pralayam". Lord Shiva, through Lord Brahma, arranged for the seeds of all living organisms and four Vedas and Puranas to be put in a pot ("Amutha Kalas" or Kumbham or Kudam in Tamil) filled with nectar ("amirtham"). This was decorated with flowers and cloth and a string was tied to it. This was kept on top of the Mount Kailash. When the Maha Pralayam started, it destroyed all living creatures on the earth. The Amutha Kalas also got displaced and started floating on the seas for years. Eventually when the Pralayam stopped, the Kalas settled in Kumbakonam. Then Lord Shiva took the form of a hunter (Kiratha Murthy) and split open the pot with his arrow. The life on earth started flourishing again.

It is believed that when Lord Shiva opened the pot with his arrow, the pot broke and the decorative items on it fell in various places across the earth. Each of these pieces became Shivalingams.

These places are -
Kumbesam – this is the place where the Amutha Kalas stayed. This is presently known as Sri Aadhi Kumbeswarar temple ("Aadhi" means "the very beginning"). It is believed that Lord Kiratha Murthy himself made a Shivalingam with the broken pieces of the Kalas by mixing nectar and sand with it. He worshiped this lingam and stayed back in this place. The Shivalingam is in the shape of the neck of a pot ("Kudamukku" in Tamil).
Somesam – This is the place where the Kalas's string ("Uri" / "Sikkam" in Tamil) fell. This place is presently known as Sri Someswarar temple.
Nagesam – This is the place where the Kalas's "vilvam" (leaf used in poojas) fell. This place is presently known as Sri Nageswarar temple.
Abhimugesam – This is the place where the Kalas's coconut fell. This place is presently known as Sri Abhimugeswarar temple.
Gautamesam – This is the place where the Kalas's sacred thread fell. This place is presently known as Sri Gautameswarar temple.
Kudavoil - This is the place where the Kalas's rim fell. This place is presently known as Sri Koneswarar temple at Kudavasal.
Kalayanallur (Saakkottai) – This is the place where the mid-portion of the Kalas fell. This place is presently known as Sri Amirthakalasa Nathar temple.
Bhanathurai, - This is the place where Lord Shiva broke the Kalas with his arrow. This place is presently known as Sri Bhanapureeswarar temple.
Maalathivanam – This is the place where the Kalas's flowers fell. This place is presently known as Sri Aathikampatta Viswanathar temple.
Sri Kalahastheeswarar Koil – This is the place where the Kalas's "Chandan" fell.
Sri Ekambareswarar temple - This is the place where the Kalas's other decorative items fell.
Kottaiyur Sri Koteeswarar temple - This is the place where some drops of the nectar fell.
The nectar from the Kalas is believed to have reached the Mahaamaham and Potraamarai tanks.

This nectar is also believed to have spread around an area of about 24 kms. In this radius, there are five Shiva temples which are known as "Panchakurosa Sthalams" ("pancha means five and "kurosa" is a unit of measurement used in ancient times). These temples are Thiruvidaimaruthur, Koranattu Karuppur, Thirunageswaram, Swamimalai, and Dharasuram

Anecdotally, since the Kalas (also called Kumbam) settled in this place, it gets the name of "Kumbakonam".
Other Legends
One of the legends of Hindu mythology states that the serpent king Adhisheshan (Naga Raj, the king of serpent) holds the earth in its place. Once he was tired and was unable to hold the earth. He pleaded to Lord Shiva to give him enough strength to continue doing his job. Lord Shiva advised him to go to earth and worship him at this temple in Kumbakonam. The lord further advised him that he would get the energy to hold the earth with a single head instead of having 1000 heads. He installed a Shivalingam here and worshipped the lord. As Nagaraja worshipped the lord here, the lord is praised as Sri Nageswarar.
Gangai Vinayakar
It is believed that during Chola King Rajendra's Ganges expedition, the victorious army brought a beautiful Vinayakar statue as a war trophy to the Chola empire. This Vinayakar statue was kept in this temple and was aptly named as "Sri Gangai Vinayakar". This Vinayakar can be seen in the hall in front of the sanctum sanctorum.
It is believed that serpents Adhiseshan, Dakshan and Kaarkotakan worshipped Lord Shiva here. Also, it is believed that Suryan and King Nala worshipped the lord here.
Deities in the temple
Other than the shrines of Lord Shiva and Goddess Parvathy, shrines and idols of lords Vinayakar, Murugan with his consorts, Natarajar, Somaskandar, Sapthamaadakkal, Valanchuzhi Vinayakar, Gajalakshmi, Adhisheshan and Iyanar can be seen in the corridors.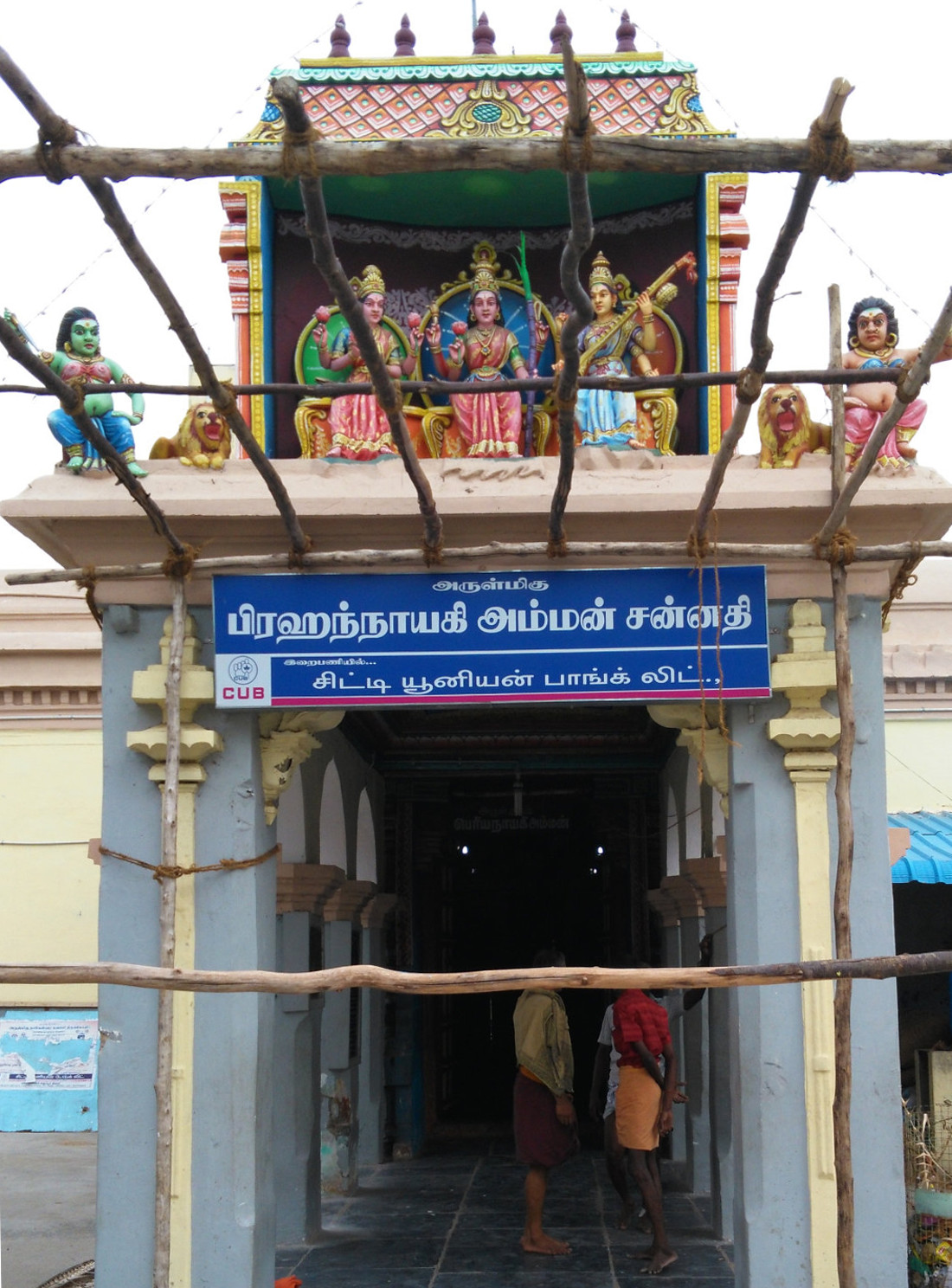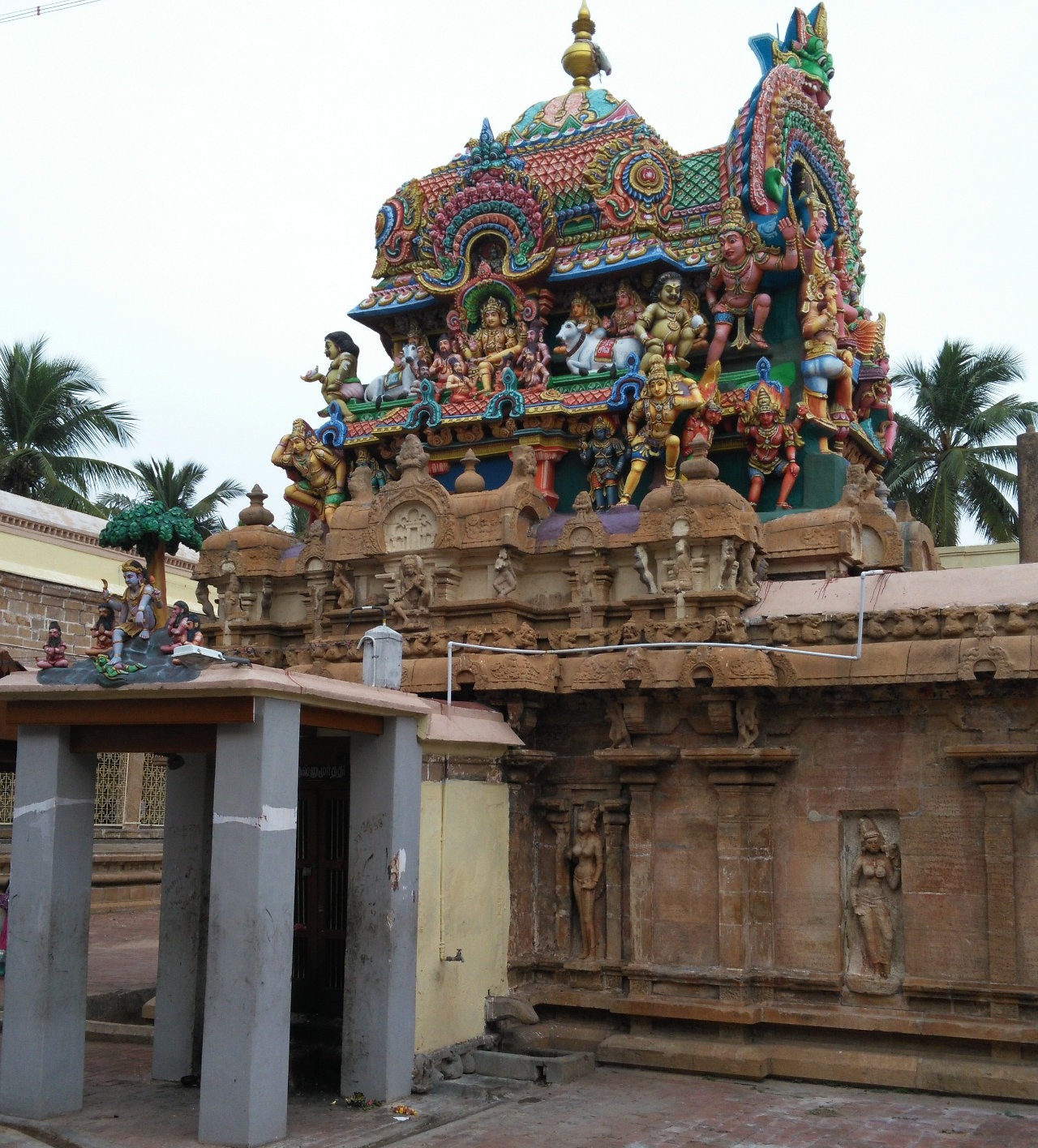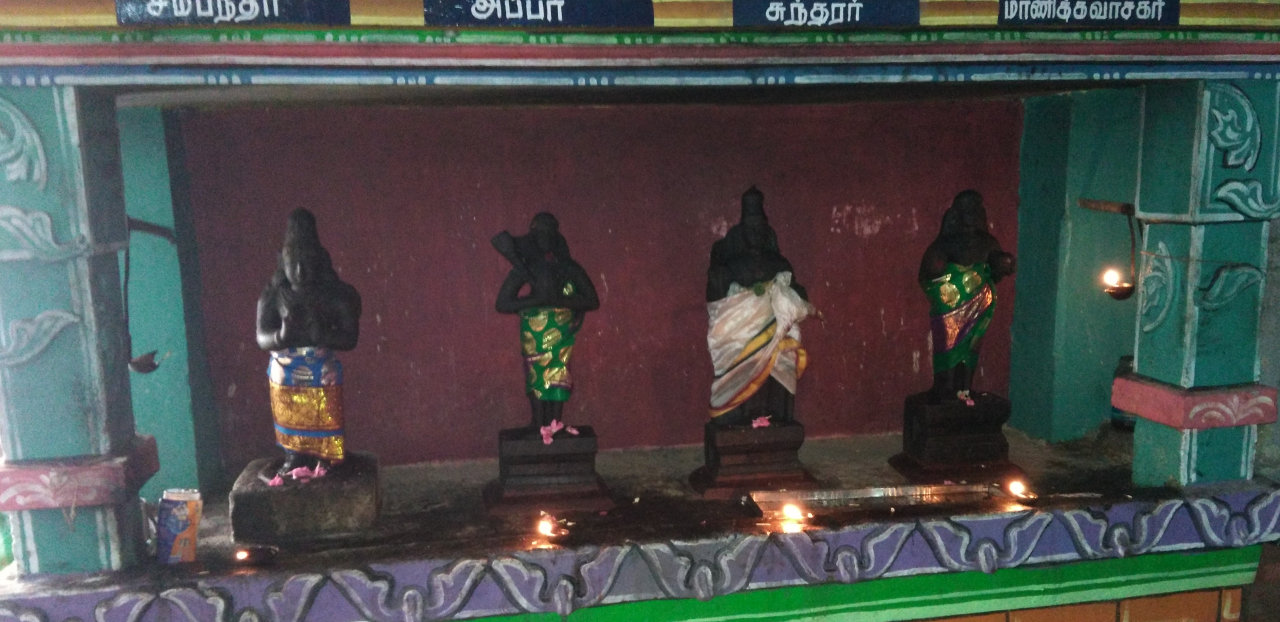 Also in the corridors are the Saptha Vidanga lingams - Sri Thiyagarajar (Thiruvarur), Sri Darbaranya Nathar (Thirunallaru), Sri Kayaarohaneswarar (Nagapattinam), Sri Kannayiranathar (Thirukkaravasal), Sri Vaaimurnathar (Thiruvaaimur), Sri Solinganathar (Thirukkuvalai) and Sri Maraikattu Manaalanathar (Vedaranyam).
There is a separate shrine for Goddess Parvathy in the outer corridor.
In the "koshtam" (place surrounding the sanctum sanctorum), idols of Vinayakar, Dakshinamurthy, Arthanareeswarar, Brahma, Durgai and Chandikeswarar can be seen.
There are separate shrines in the corridors for Sri Pralayakala Rudrar, Juragara Vinayakar, Goddess Thaiyalnayaki with Sri Vaithiyanathaswamy, Goddess Padaivetti Mariamman and Suryan.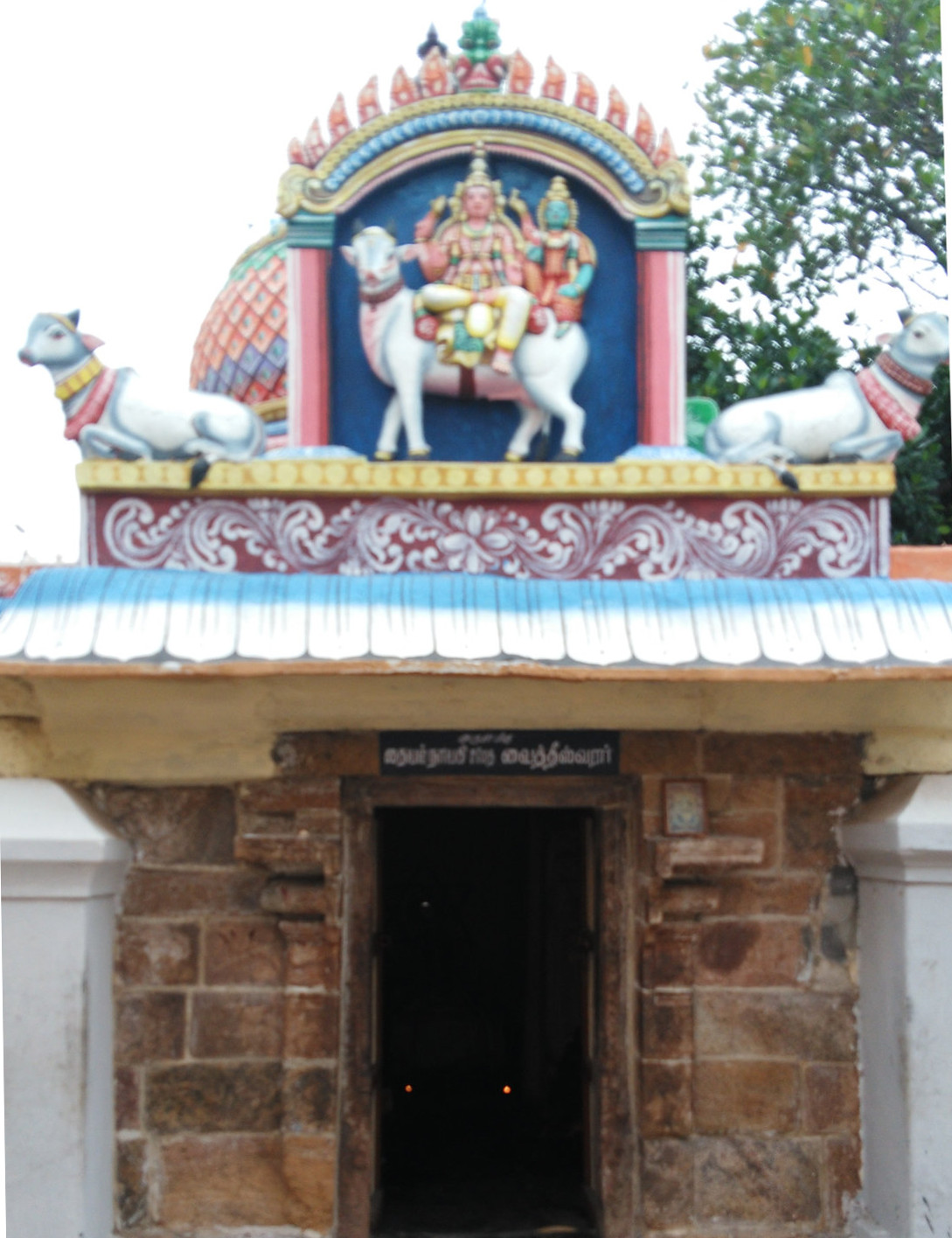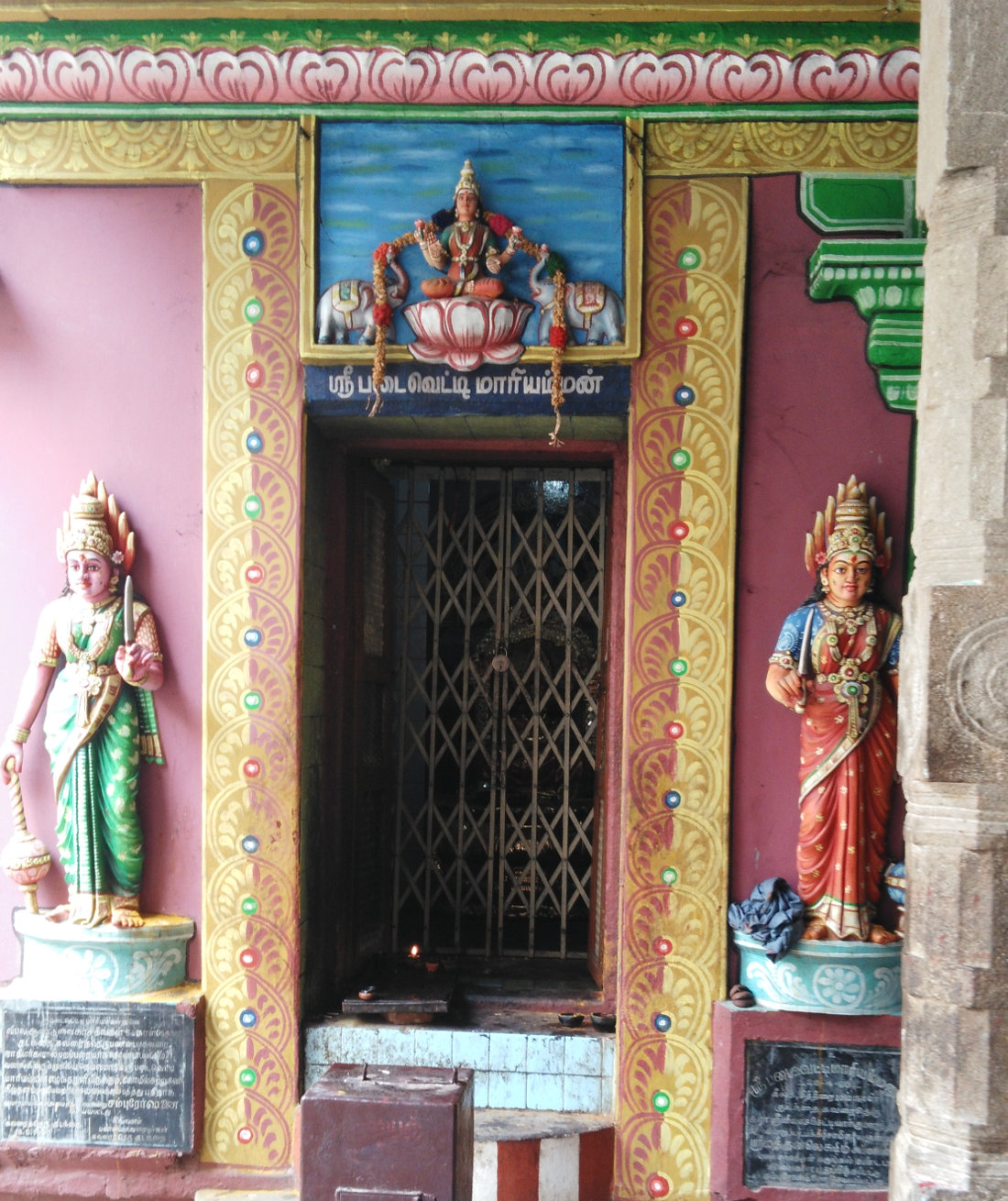 Salient Features
This temple is one of the participating temple in the Mahaamaham Theerthavaari.
The Mahamaham festival takes place once in every twelve years during the Tamil Month of Masi (February - March), when lakhs of pilgrims from various parts of India visit Kumbakonam to take a holy dip in the sacred Mahamaham tank which is located in the heart of the town. After the dip here, devotees also take a dip in the nearby Potramarai tank and in the river Kaveri (Sakkara Padithurai bathing ghat).
The huge Mahamaha tank covers of an area of about 6 acres and it has 16 entrances. At each entrance, there is a shrine for Lord Shiva. These shrines are collectively called "Sodasa Mahalingaswamy" ("Sodasam means 16 in Tamil). The names of these 16 Shivalingams are –
Brahmatheertheswarar
Mukuntheswarar
Thaneswarar
Vrushabeswarar
Baneswarar
Koneswarar
Bakthikeswarar
Bairaveswarar
Agastheeswarar
Vyaseswarar
Uma Bakeswarar
Nirutheeswarar
Brahmeswarar
Gangathareswarar
Mukthi Theertheswarar
Kshetrabaleswarar.
Mahamaha Theertham is known as -
Brahma Theertham in "Kruthayugam"
Papanodam in "Threthayugam"
Mukthi Theertham in "Thuvabarayugam" and
Kanya Theertham in Kaliyugam.
It is believed that there are 20 wells and Theerthams inside the Mahamaha tank, these are theerthams dedicated to Indra, Agni, Naga, Thiruthi, Varuna, Vayu, Kubera, Eesanya, Brahma, Ganga, Yamuna, Godhavari, Narmada, Saraswati, kaveri, Kumari, Bayoshini, Sarayu, Kanniya and Devas.
There is a popular saying in Sanskrit - Kumbakonam is more sacred than Varanasi (Kasi). A sin committed at some place can be washed away by visiting a neaby holy place. A sin committed in one of the sacred places is washed away by going on a pilgrimage to Varanasi. However, if one commits a sin in Varanasi itself, it can only be washed off in Kumbakonam. Similarly, any sinful act done at Kumbakonam is washed away there itself.
Kumbakonam gets the name "Bhaskara Kshetram" because Suryan is believed to have worshiped the lord here. Suryan is also known as Bhaskara.
The temple's holy Theertham, "Singamuga kinaru" (lion faced well) can be seen in the outer corridor.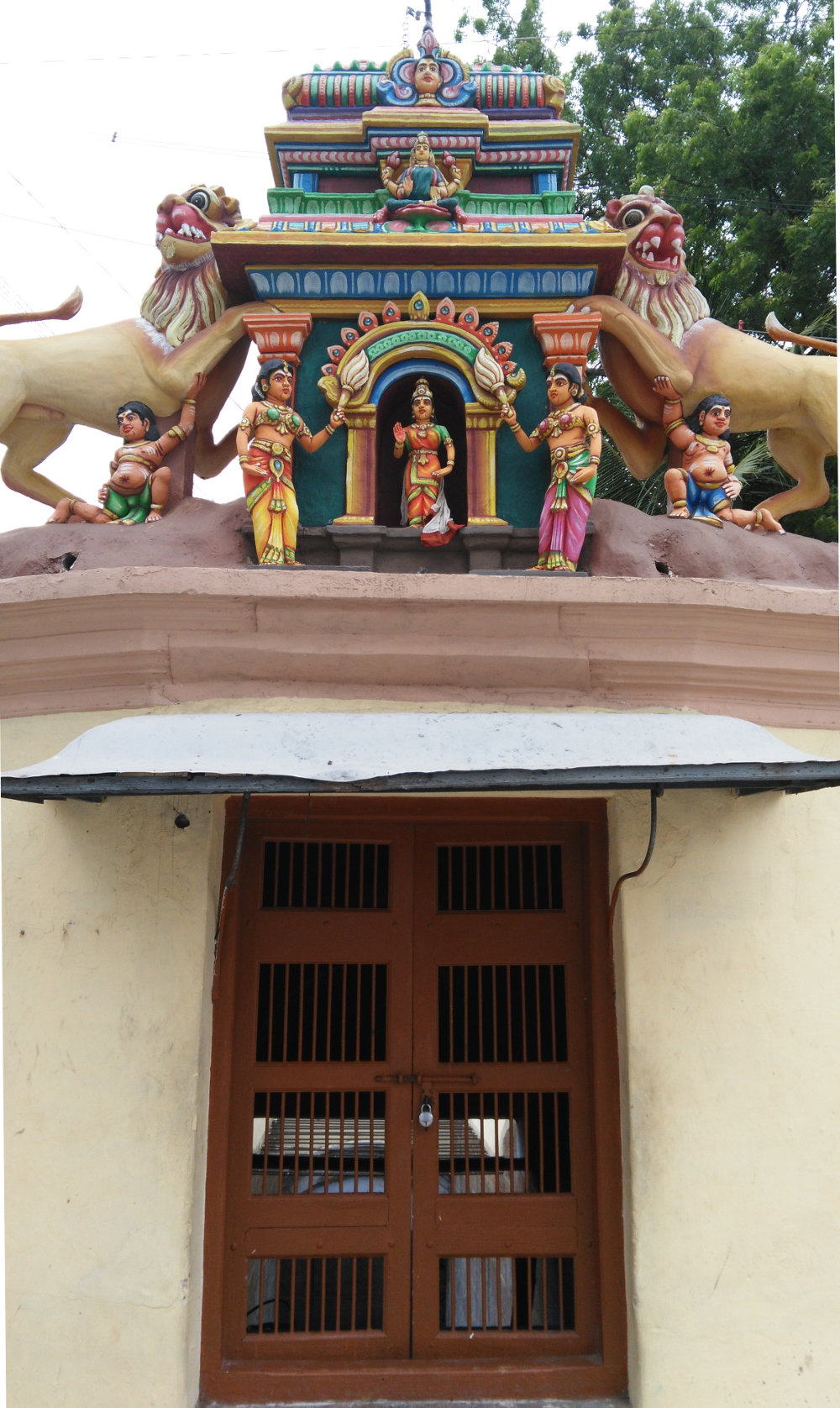 This temple is considered to be significant for its three important attributes – Moorthy, Sthalam and Theertham - glory of Lord, sacredness of the land and the auspicious temple tank.
This temple's Nataraja Sabha is called as "Perambalam" as it is in the shape of a chariot ("Ratham"). The chariot has stone wheels on both sides and is aesthetically designed with stone 2 horses and 4 elephants pulling it. The 12 spokes on the wheels are said to represent the 12 zodiac signs.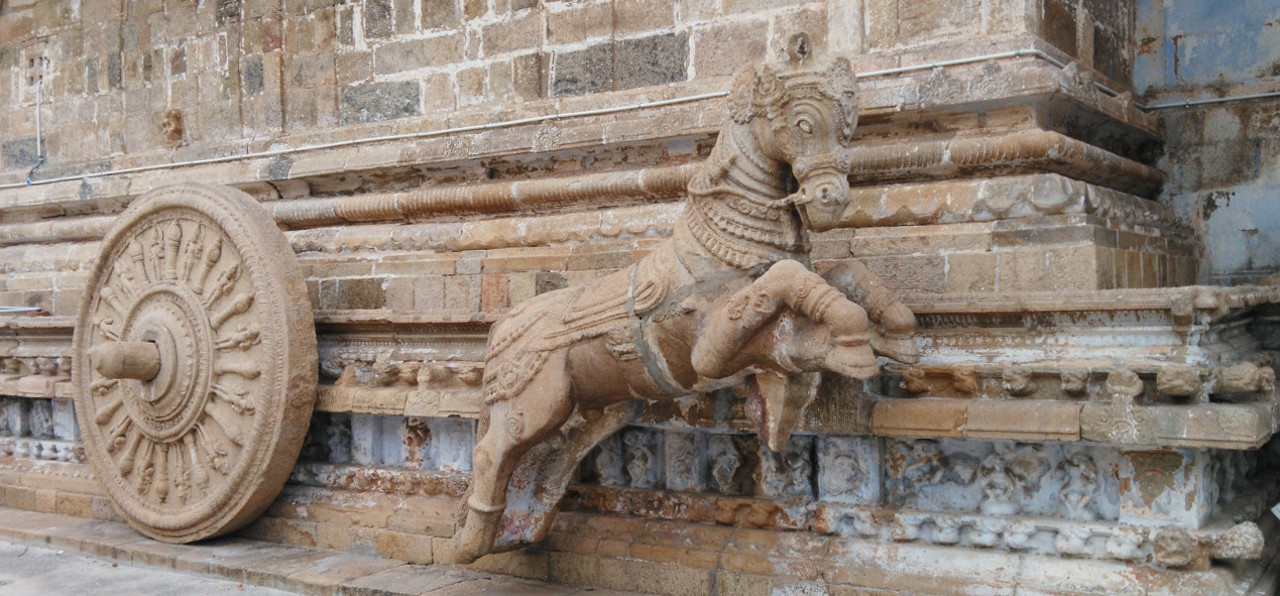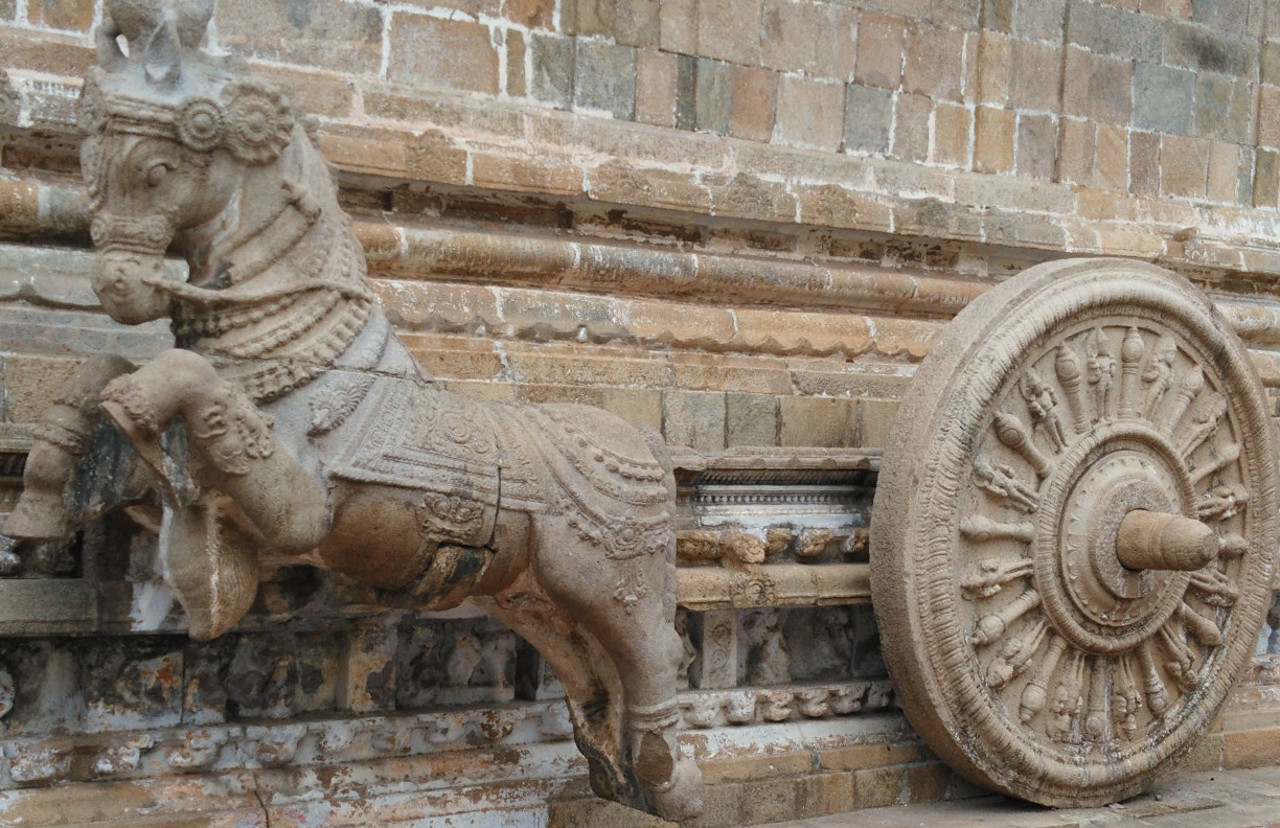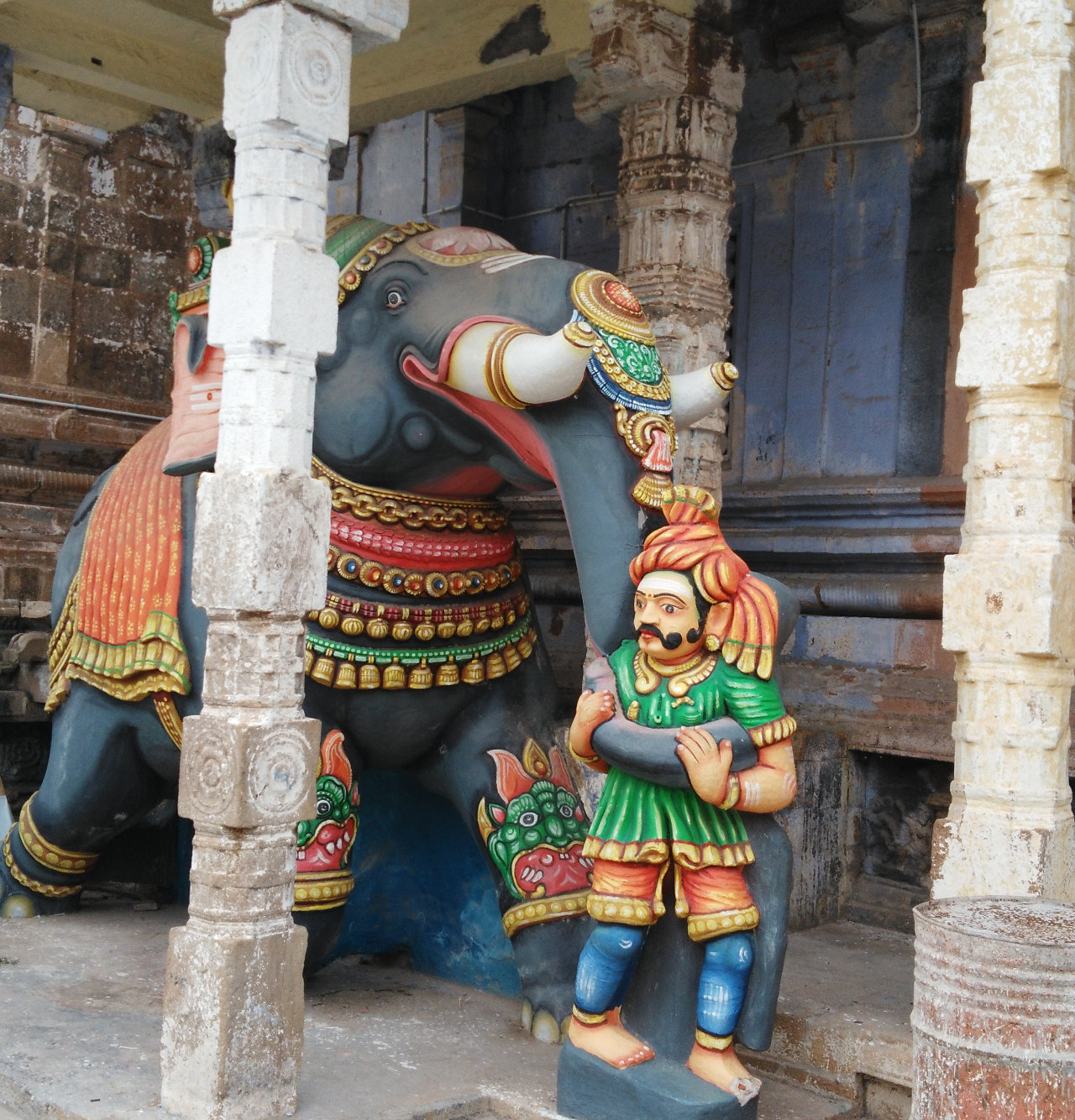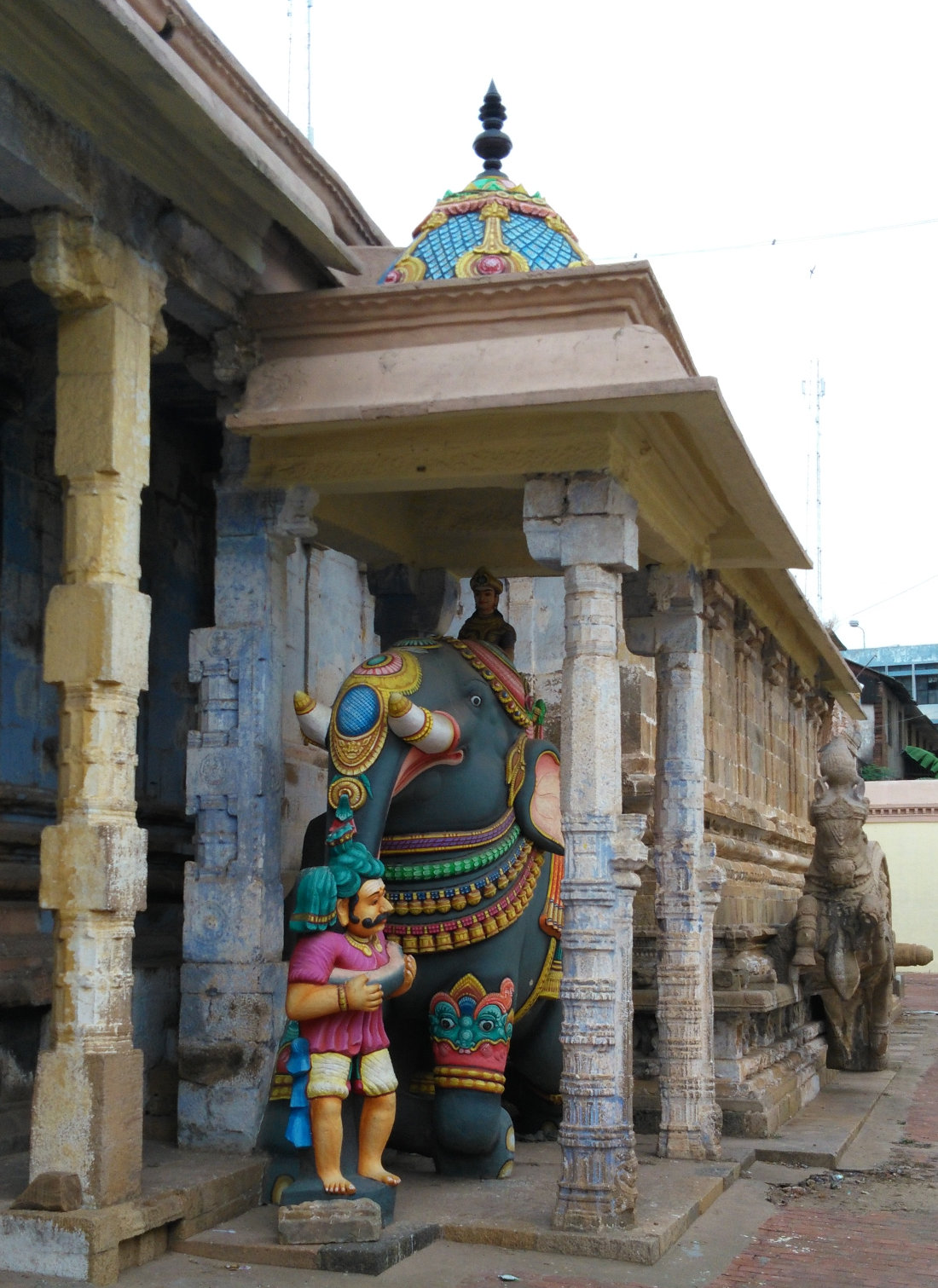 It is believed that worshiping the Lord Nageswarar at three different temples – here in this temple, at Thirunageswaram and at Thiruppampuram during morning, afternoon and evening respectively is very auspicious.
It is believed that Lord Suryan (Sun) worships Lord Shiva of this temple by directing his rays on the lingam every year for three days in the Tamil month of Chithirai (Apr-May) on 11th, 12th and 13th at 06.00 AM.
The significance of this temple is that Goddess Mahakaali and Lord Agni Veerabadrar (Urthuva Dhandavamurthy) are placed opposite to each other.
Another significance of this temple is the shrine of "Pralayakala Rudrar" which cannot be seen anywhere else.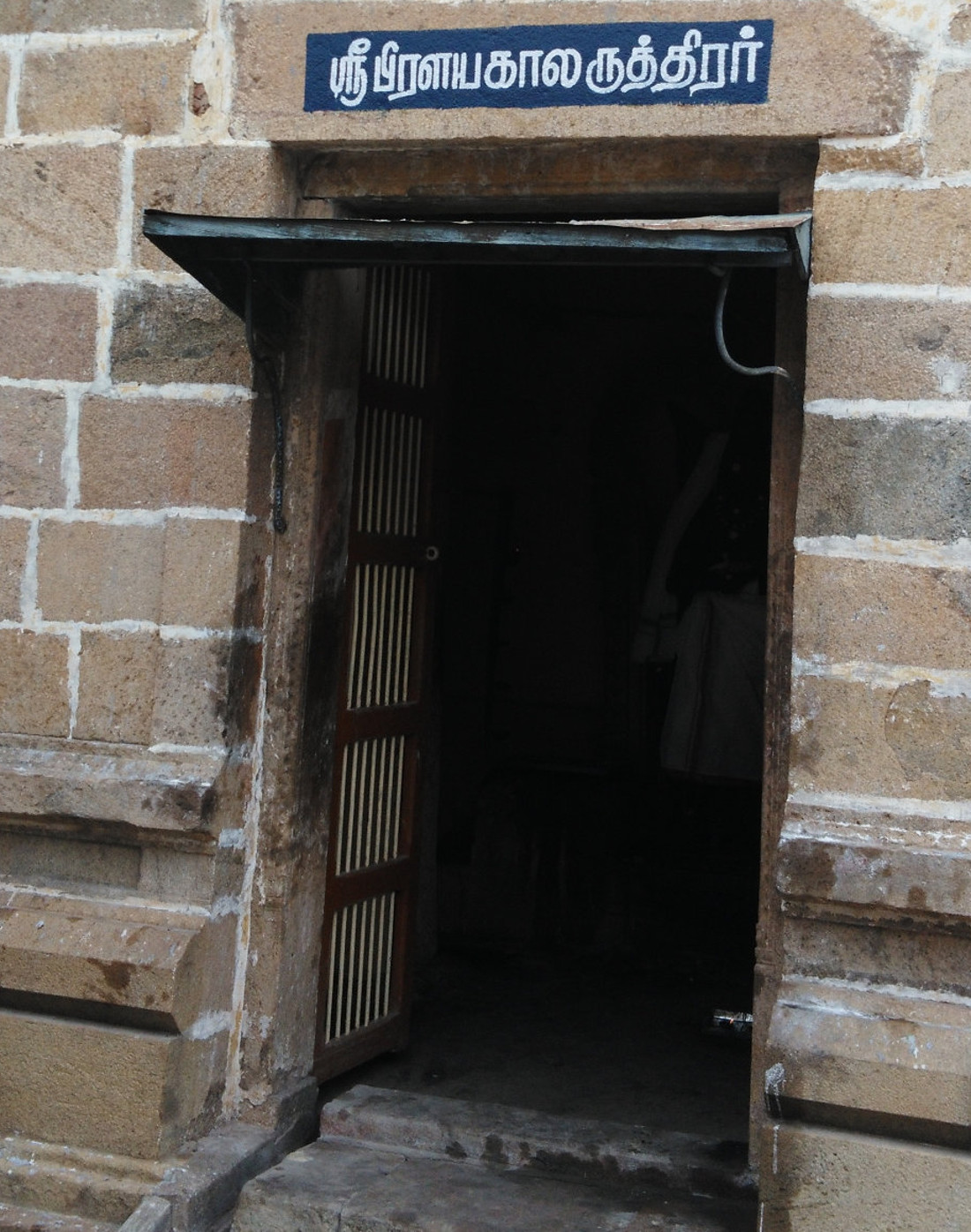 Saint Arunagirinadhar has sang songs in praise of Lord Murugan of this temple in his revered Thirupugazh.
The other noteworthy feature is that Goddess Sivakami can be seen playing the Thalam to the dance of Lord Natarajar. Lord Vishnu can be seen playing the flute. Lord Natarajar here is also praised as "Sri Aanantha Koothar".
Greatness of this temple
Devotees can worship the lord here between 4.30 p.m. and 6.00 p.m. (Rahukala time) on Sundays to get relief from all types of ailments.
It is also believed that worshiping Lord Shiva here will result in the reunion of estranged couples.
Devotees believe that by worshiping the lord here, obstacles from their marriage proposals will be removed.
Lord Jurahara Ganapathy is very famous here – ("Juram" means fever in Tamil). For any kind of fever, devotees can pray to this lord for relief. They perform abhishekam of the lord with offerings of rice, pepper "rasam" and dal paste ("Thokaiyal").
Important Festivals
"Maasi Maham" Brahmotsavam in the Tamil month of Masi (Feb-Mar) is celebrated here in a grand manner.
Almost all festivals related to Shiva temples are celebrated in this temple.
Temple Timings
From 06.30 AM to 12.00 Noon and from 04.30 PM to 09.00 PM.
Temple Address
Sri Nageswarswamy Temple,
Kumbakonam Post & Taluk,
Tanjure District,
Tamil Nadu – 612 001.
Tele: +91 435 243 0386.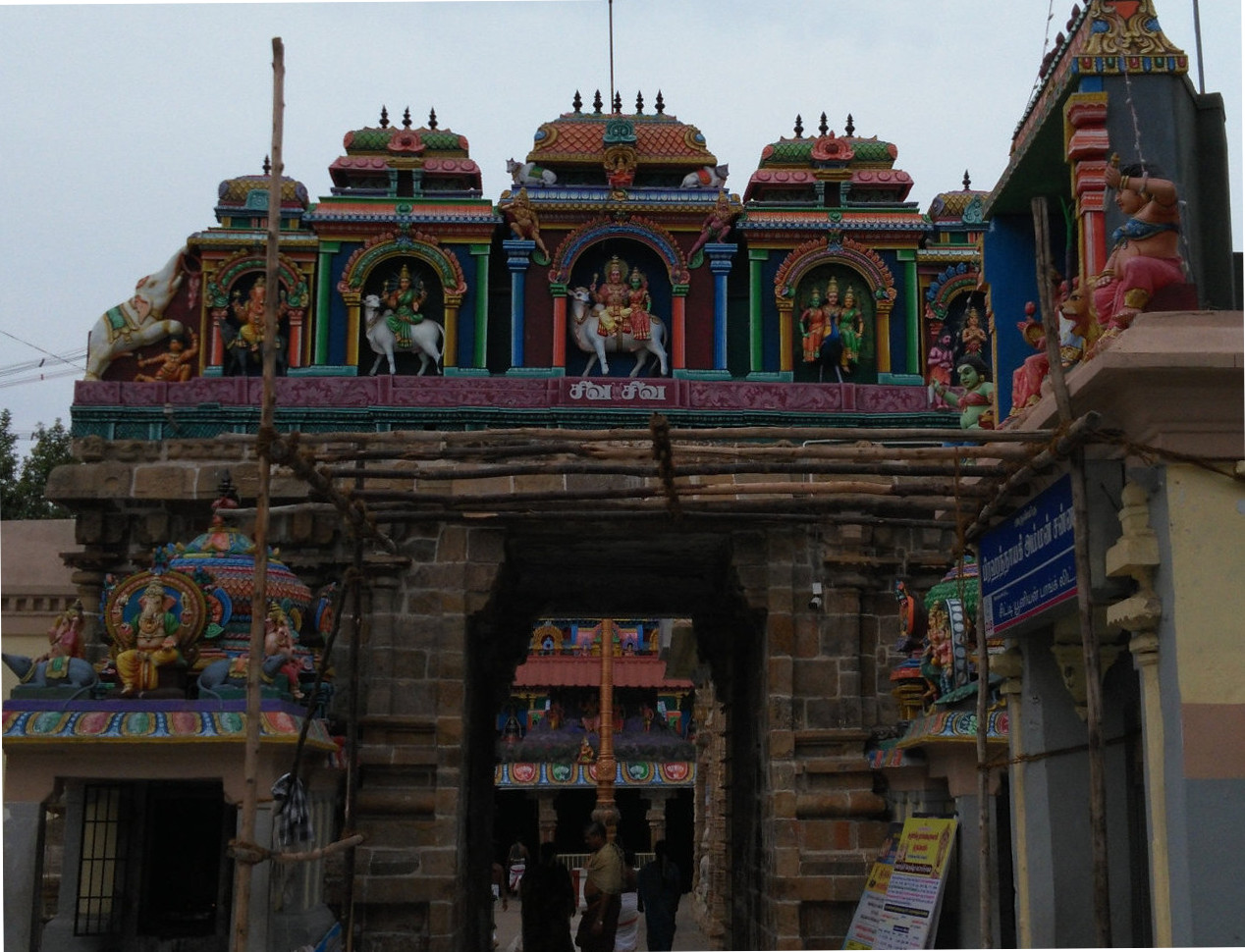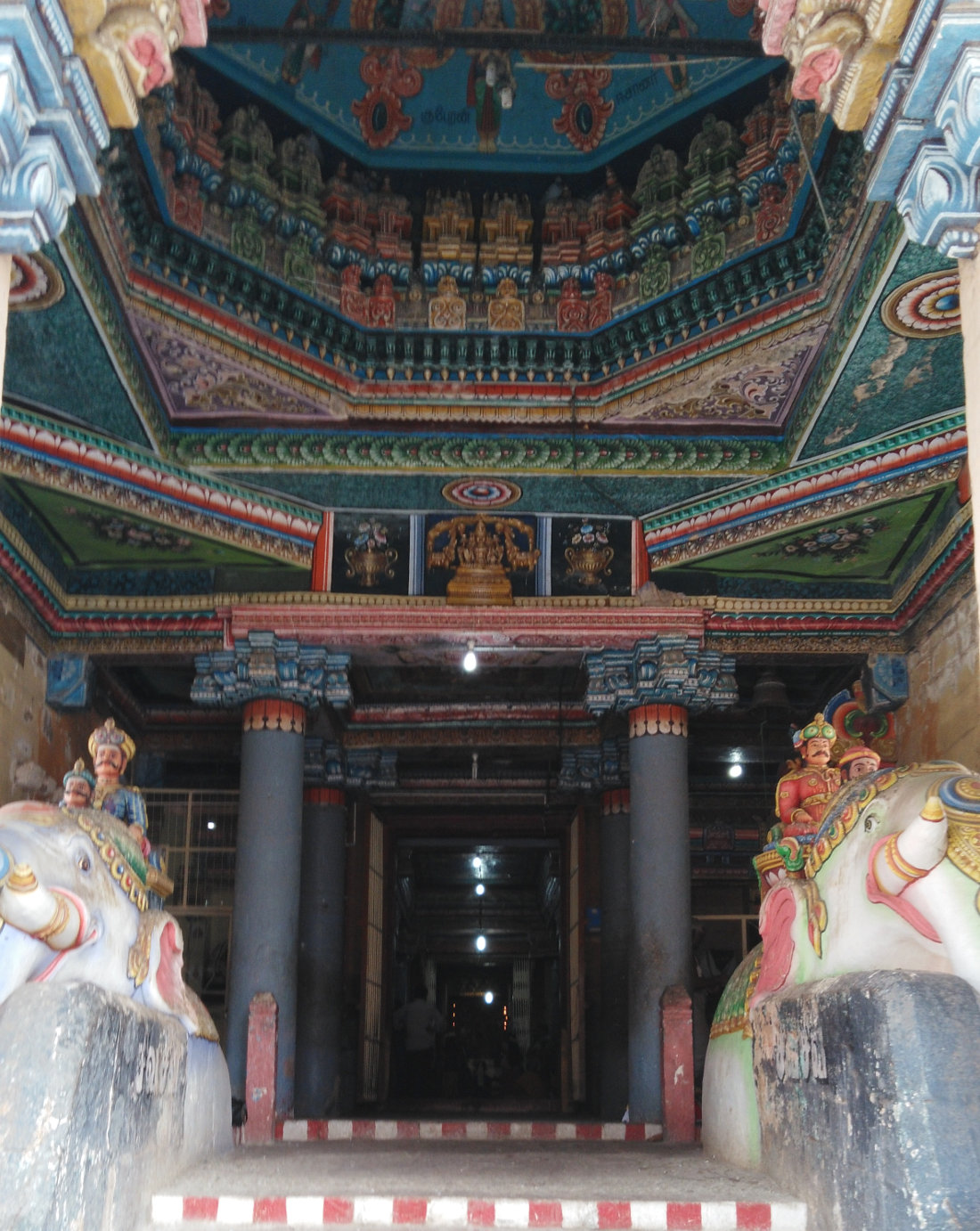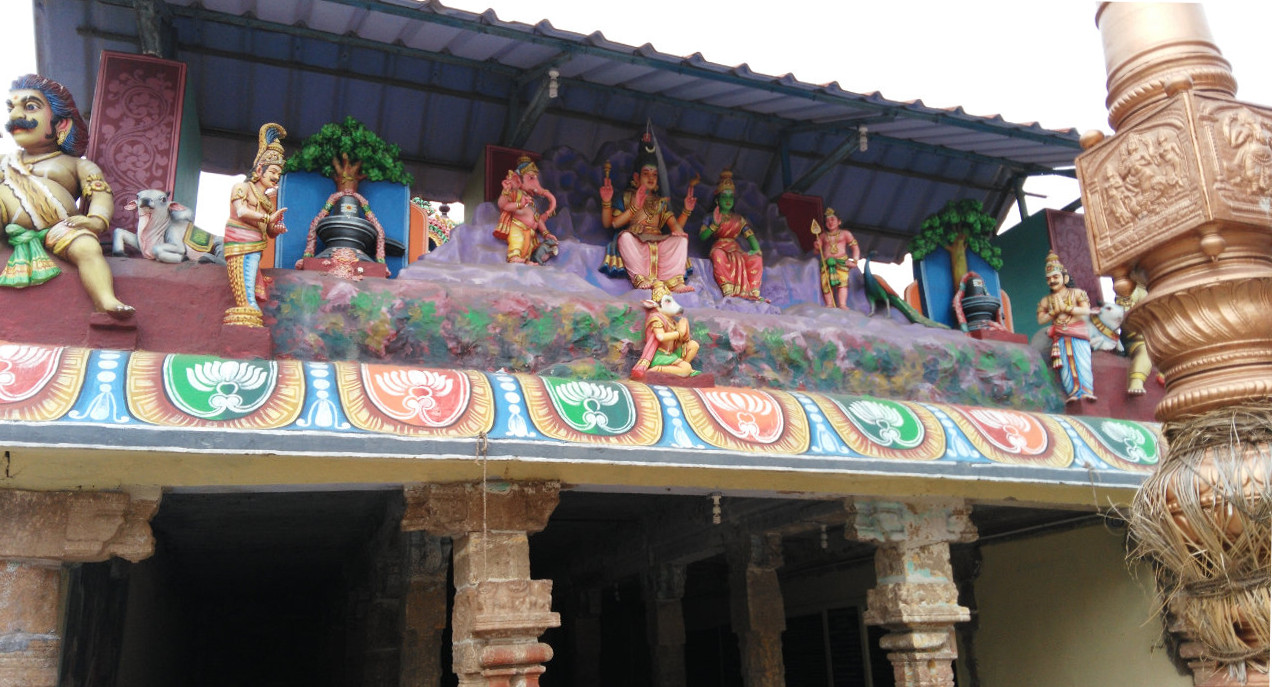 ---
Pathigam (Hymn) with English transliteration
Saint Thirunavukarasar (Appar) visited this temple and sang this Pathigam.
Devotees visiting this temple should make it a practice to recite this Pathigam.
சொன்மலிந்த மறைநான்கா றங்க மாகிச்
சொற்பொருளுங் கடந்தசுடர்ச் சோதி போலுங்
கன்மலிந்த கயிலைமலை வாணர் போலுங்
கடல்நஞ்ச முண்டிருண்ட கண்டர் போலும்
மன்மலிந்த மணிவரைத்திண் டோளர் போலும்
மலையரையன் மடப்பாவை மணாளர் போலுங்
கொன்மலிந்த மூவிலைவேற் குழகர் போலுங்
குடந்தைக்கீழ்க் கோட்டத்தெங் கூத்த னாரே.
"Soṉmalintha maṟaināṉkā ṟaṅka mākich
choṟporuḷuṅ kaṭanthasuṭarch chōti pōluṅ
kaṉmalintha kayilaimalai vāṇar pōluṅ
kaṭalnañcha muṇṭiruṇṭa kaṇṭar pōlum
maṉmalintha maṇivaraiththiṇ ṭōḷar pōlum
malaiyaraiyaṉ maṭappāvai maṇāḷar pōluṅ
koṉmalintha mūvilaivēṟ kuzhakar pōluṅ
kuṭanthaikkīzhk kōṭṭaththeṅ kūththa ṉārē".
கானலிளங் கலிமறவ னாகிப் பார்த்தன்
கருத்தளவு செருத்தொகுதி கண்டார் போலும்
ஆனவிளங் கடுவிடையொன் றேறி அண்டத்
தப்பாலும் பலிதிரியும் அழகர் போலுந்
தேனலிளந் துவலைமலி தென்றல் முன்றிற்
செழும்பொழிற்பூம் பாளைவிரி தேறல் நாறுங்
கூனலிளம் பிறைதடவு கொடிகொள் மாடக்
குடந்தைக்கீழ்க் கோட்டத்தெங் கூத்த னாரே.
"Kāṉaliḷaṅ kalimaṟava ṉākip pārththaṉ
karuththaḷavu seruththokuthi kaṇṭār pōlum
āṉaviḷaṅ kaṭuviṭaiyoṉ tṟēṟi aṇṭath
thappālum palithiriyum azhakar pōlun
thēṉaliḷan thuvalaimali theṉtṟal muṉtṟiṟ
sezhumpozhiṟpūm pāḷaiviri thēṟal nāṟuṅ
kūṉaliḷam piṟaithaṭavu koṭikoḷ māṭak
kuṭanthaikkīzhk kōṭṭaththeṅ kūththa ṉārē".
நீறலைத்த திருவுருவும் நெற்றிக் கண்ணும்
நிலாவலைத்த பாம்பினொடு நிறைநீர்க் கங்கை
ஆறலைத்த சடைமுடியும் அம்பொற் றோளும்
அடியவர்க்குக் காட்டியருள் புரிவார் போலும்
ஏறலைத்த நிமிர்கொடியொன் றுடையார் போலும்
ஏழுலகுந் தொழுகழலெம் மீசர் போலுங்
கூறலைத்த மலைமடந்தை கொழுநர் போலுங்
குடந்தைக்கீழ்க் கோட்டத்தெங் கூத்த னாரே.
"Nīṟalaiththa thiruvuruvum netṟik kaṇṇum
nilāvalaiththa pāmpiṉoṭu niṟainīrk gaṅgai
āṟalaiththa saṭaimuṭiyum ampoṟ tṟōḷum
aṭiyavarkkuk kāṭṭiyaruḷ purivār pōlum
ēṟalaiththa nimirkoṭiyoṉ tṟuṭaiyār pōlum
ēzhulakun thozhukazhalem mīsar pōluṅ
kūṟalaiththa malaimaṭanthai kozhunar pōluṅ
kuṭanthaikkīzhk kōṭṭaththeṅ kūththa ṉārē".
தக்கனது பெருவேள்வி தகர்த்தார் போலுஞ்
சந்திரனைக் கலைகவர்ந்து தரித்தார் போலுஞ்
செக்கரொளி பவளவொளி மின்னின் சோதி
செழுஞ்சுடர்த்தீ ஞாயிறெனச் செய்யர் போலும்
மிக்கதிறல் மறையவரால் விளங்கு வேள்வி
மிகுபுகைபோய் விண்பொழியக் கழனி யெல்லாங்
கொக்கினிய கனிசிதறித் தேறல் பாயுங்
குடந்தைக்கீழ்க் கோட்டத்தெங் கூத்த னாரே.
"Thakkaṉathu peruvēḷvi thakarththār pōluñ
chanthiraṉaik kalaikavarnthu thariththār pōluñ
chekkaroḷi pavaḷavoḷi miṉṉiṉ chōti
chezhuñchuṭarththī gñāyiṟeṉach cheyyar pōlum
mikkathiṟal maṟaiyavarāl viḷaṅku vēḷvi
mikupukaipōy viṇpozhiyak kazhaṉi yellāṅ
kokkiṉiya kaṉisithaṟith thēṟal pāyuṅ
kuṭanthaikkīzhk kōṭṭaththeṅ kūththa ṉārē".
காலன்வலி தொலைத்தகழற் காலர் போலுங்
காமனெழில் அழல்விழுங்கக் கண்டார் போலும்
ஆலதனில் அறம்நால்வர்க் களித்தார் போலும்
ஆணொடுபெண் ணலியல்ல ரானார் போலும்
நீலவுரு வயிரநிரைப் பச்சை செம்பொன்
நெடும்பளிங்கென் றறிவரிய நிறத்தார் போலுங்
கோலமணி கொழித்திழியும் பொன்னி நன்னீர்க்
குடந்தைக்கீழ்க் கோட்டத்தெங் கூத்த னாரே.
"Kālaṉvali tholaiththakazhaṟ kālar pōluṅ
kāmaṉezhil azhalvizhuṅkak kaṇṭār pōlum
ālathaṉil aṟamnālvark kaḷiththār pōlum
āṇoṭupeṇ ṇaliyalla rāṉār pōlum
nīlavuru vayiraniraip pachchai chempoṉ
neṭumpaḷiṅkeṉ tṟaṟivariya niṟaththār pōluṅ
kōlamaṇi kozhiththizhiyum poṉṉi naṉṉīrk
kuṭanthaikkīzhk kōṭṭaththeṅ kūththa ṉārē".
முடிகொண்ட வளர்மதியும் மூன்றாய்த் தோன்றும்
முளைஞாயி றன்னமலர்க் கண்கள் மூன்றும்
அடிகொண்ட சிலம்பொலியும் அருளார் சோதி
அணிமுறுவற் செவ்வாயும் அழகாய்த் தோன்றத்
துடிகொண்ட இடைமடவாள் பாகங் கொண்டு
சுடர்ச்சோதிக் கடிச்செம்பொன் மலைபோ லிந்நாள்
குடிகொண்டென் மனத்தகத்தே புகுந்தார் போலுங்
குடந்தைக்கீழ்க் கோட்டத்தெங் கூத்த னாரே.
"Muṭikoṇṭa vaḷarmathiyum mūṉtṟāyth thōṉtṟum
muḷaiñāyi ṟaṉṉamalark kaṇkaḷ mūṉtṟum
aṭikoṇṭa silampoliyum aruḷār chōthi
aṇimuṟuvaṟ sevvāyum azhakāyth thōṉṟath
thuṭikoṇṭa iṭaimaṭavāḷ pākaṅ koṇṭu
chuṭarchchōtik kaṭichchempoṉ malaipō linnāḷ
kuṭikoṇṭeṉ maṉaththakaththē pukunthār pōluṅ
kuṭanthaikkīzhk kōṭṭaththeṅ kūththa ṉārē".
காரிலங்கு திருவுருவத் தவற்கும் மற்றைக்
கமலத்திற் காரணற்குங் காட்சி யொண்ணாச்
சீரிலங்கு தழற்பிழம்பிற் சிவந்தார் போலுஞ்
சிலைவளைவித் தவுணர்புரஞ் சிதைத்தார் போலும்
பாரிலங்கு புனலனல்கால் பரமா காசம்
பருதிமதி சுருதியுமாய்ப் பரந்தார் போலுங்
கூரிலங்கு வேற்குமரன் தாதை போலுங்
குடந்தைக்கீழ்க் கோட்டத்தெங் கூத்த னாரே.
"Kārilaṅku thiruvuruvath thavaṟkum matṟaik
kamalaththiṟ kāraṇaṟkuṅ kāṭchi yoṇṇāch
chīrilaṅku thazhaṟpizhampiṟ sivanthār pōluñ
silaivaḷaivith thavuṇarpurañ chitaiththār pōlum
pārilaṅku puṉalaṉalkāl paramā kāsam
paruthimathi suruthiyumāyp paranthār pōluṅ
kūrilaṅku vēṟkumaraṉ thāthai pōluṅ
kuṭanthaikkīzhk kōṭṭaththeṅ kūththa ṉārē".
பூச்சூழ்ந்த பொழில்தழுவு புகலூ ருள்ளார்
புறம்பயத்தார் அறம்புரிபூந் துருத்தி புக்கு
மாச்சூழ்ந்த பழனத்தார் நெய்த்தா னத்தார்
மாதவத்து வளர்சோற்றுத் துறையார் நல்ல
தீச்சூழ்ந்த திகிரிதிரு மாலுக் கீந்து
திருவானைக் காவிலோர் சிலந்திக் கந்நாள்
கோச்சோழர் குலத்தரசு கொடுத்தார் போலுங்
குடந்தைக்கீழ்க் கோட்டத்தெங் கூத்த னாரே.
"Pūchchūzhntha pozhilthazhuvu pukalū ruḷḷār
puṟampayaththār aṟampuripūn thuruththi pukku
māchchūzhntha pazhaṉaththār neyththā ṉaththār
māthavaththu vaḷarchōtṟuth thuṟaiyār nalla
thīchchūzhntha thikirithiru māluk kīnthu
thiruvāṉaik kāvilōr silanthik kannāḷ
kōchchōzhar kulaththarasu koṭuththār pōluṅ
kuṭanthaikkīzhk kōṭṭaththeṅ kūththa ṉārē".
பொங்கரவர் புலித்தோலர் புராணர் மார்பிற்
பொறிகிளர்வெண் பூணநூற் புனிதர் போலுஞ்
சங்கரவக் கடன்முகடு தட்ட விட்டுச்
சதுரநட மாட்டுகந்த சைவர் போலும்
அங்கரவத் திருவடிக்காட் பிழைப்பத் தந்தை
அந்தணனை அறஎறிந்தார்க் கருளப் போதே
கொங்கரவச் சடைக்கொன்றை கொடுத்தார் போலுங்
குடந்தைக்கீழ்க் கோட்டத்தெங் கூத்த னாரே.
"Poṅkaravar puliththōlar purāṇar mārpiṟ
poṟikiḷarveṇ pūṇanūṟ puṉithar pōluñ
csṅkaravak kaṭaṉmukaṭu thaṭṭa viṭṭuch
chathuranaṭa māṭṭukantha saivar pōlum
aṅkaravath thiruvaṭikkāṭ pizhaippath thanthai
anthaṇaṉai aṟa'eṟinthārk karuḷap pōthē
koṅkaravach chaṭaikkoṉtṟai koṭuththār pōluṅ
kuṭanthaikkīzhk kōṭṭaththeṅ kūththa ṉārē".
ஏவியிடர்க் கடலிடைப்பட் டிளைக்கின் றேனை
இப்பிறவி யறுத்தேற வாங்கி யாங்கே
கூவிஅம ருலகனைத்து முருவிப் போகக்
குறியிலறு குணத்தாண்டு கொண்டார் போலுந்
தாவிமுதற் காவிரிநல் யமுனை கங்கை
சரச்வதிபொற் றாமரைப்புட் கரணி தெண்ணீர்க்
கோவியொடு குமரிவரு தீர்த்தஞ் சூழ்ந்த
குடந்தைக்கீழ்க் கோட்டத்தெங் கூத்த னாரே.
"Ēviyiṭark kaṭaliṭaippaṭ ṭiḷaikkiṉ tṟēṉai
ippiṟavi yaṟuththēṟa vāṅki yāṅkē
kūvi'ama rulakaṉaiththu muruvip pōkak
kuṟiyilaṟu kuṇaththāṇṭu koṇṭār pōlun
thāvimuthaṟ kāvirinal yamuṉai gaṅgai
sarasvathipot ṟāmaraippuṭ karaṇi theṇṇīrk
kōviyoṭu kumarivaru thīrththañ chūzhntha
kuṭanthaikkīzhk kōṭṭaththeṅ kūththa ṉārē".
செறிகொண்ட சிந்தைதனுள் தெளிந்து தேறித்
தித்திக்குஞ் சிவபுவனத் தமுதம் போலும்
நெறிகொண்ட குழலியுமை பாக மாக
நிறைந்தமரர் கணம்வணங்க நின்றார் போலும்
மறிகொண்ட கரதலத்தெம் மைந்தர் போலும்
மதிலிலங்கைக் கோன்மலங்க வரைக்கீ ழிட்டுக்
குறிகொண்ட இன்னிசைகேட் டுகந்தார் போலுங்
குடந்தைக்கீழ்க் கோட்டத்தெங் கூத்த னாரே.
"Seṟikoṇṭa chinthaithaṉuḷ theḷinthu thēṟith
thiththikkuñ sivapuvaṉath thamutham pōlum
neṟikoṇṭa kuzhaliyumai pāka māka
niṟainthamarar kaṇamvaṇaṅka niṉtṟār pōlum
maṟikoṇṭa karathalaththem mainthar pōlum
mathililaṅkaik kōṉmalaṅka varaikkī zhiṭṭuk
kuṟikoṇṭa iṉṉisaikēṭ ṭukanthār pōluṅ
kuṭanthaikkīzhk kōṭṭaththeṅ kūththa ṉārē".