Visited on: 12th March,2017
Location
Thirumullaivasal is situated at a distance of about 12 kms from Sirkazhi. Sirkazhi is on the Chidambaram to Mayiladuthurai route.
Other Devara Paadal Petra Sthalams near this place are – Sirkazhi, Thirukkolakka, Thiruvenkadu, Chayavanam, Poompukar, Mahendrapalli, Thirukkurukavur and Achalpuram.
General Information
| | |
| --- | --- |
| Moolavar | Sri Mullaivananathar, Sri Yuthika Parameswarar, Sri Masilamaneeswarar |
| Ambal | Sri Anikonda Kothaiyammai, Sri Sathyanantha Soundari |
| Theertham (Holy water) | Vishnu Theertham, Chandra Theertham, Brahma Theertham and Ganga Theertham. |
| Sthala Vriksham (Sacred Tree) | Mullai (Jasmine) |
| Pathigam (Hymn) rendered by | Saint Thirugnanasambanthar |
This is one of the 276 Devara Paadal Petra Shiva Sthalams and 7th Shiva Sthalam on the northern bank of the river Cauvery in Chozha Nadu (Vadakarai).
Lord Shiva in this temple is a Swayambumurthi (self-manifested) and the lingam is quite tall.
This east facing temple has no main tower (Rajagopuram) but it has an arch at the entrance.
The last Consecration ceremony (Maha Kumbabishekam) of this temple took place on 07.09.1989.
History of the Temple
This temple is situated near the coast of Bay of Bengal and the sea shore is just half a kilometre away from this temple. The temple is believed to have been built about 1,300 years ago by the Chola King Killivalavan.
There are two places with the same name of "Thirumullaivayil". One is located near Sirkazhi and the other near Chennai. Both of these places are home to very ancient temples. Thirumullaivayil near Seerkazhi is called "Then Thirumullaivasal" and the one near Chennai is called "Vada Thirumullaivoyal" ("Then" meaning south and "Vada" meaning north in Tamil).
"Thirumullaivoyal" or "Thirumullaivasal" gets its name from the belief that Lord Shiva emerged from a Jasmine bush in both these places. "Thiru" is a respectful prefix, "Mullai" means Jasmine and "Vassal" means place in Tamil.
Now this temple is under the control and administration of the Dharumapuram Adheenam.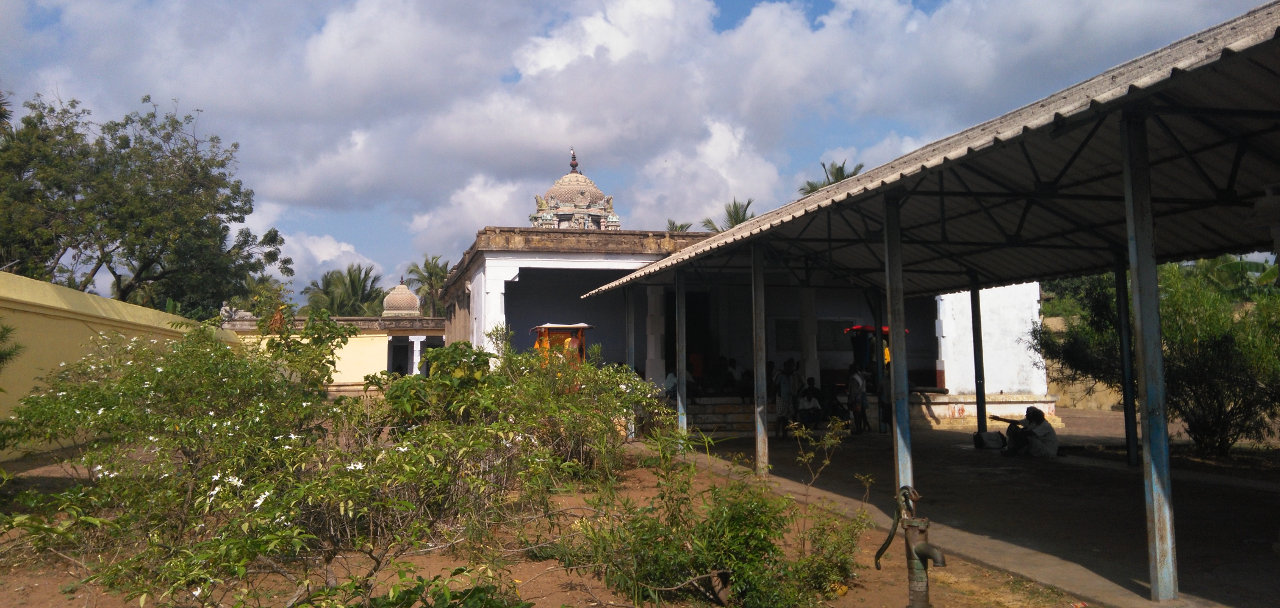 Legend
It is believed that Goddess Parvathy worshipped Lord Shiva here to learn the "Panchakshara Mantra" (the five-letter mantra), "Na Ma Shi Va Ya" and its meaning from him. Pleased with her worship, Lord Shiva imparted the knowledge of the mantra (Upadesam). Hence the lord here is considered as a teacher (Guru) and the goddess as a pupil. Because of this, there is no "Palli Arai" (bed chamber) and the poojas associated with it.
It is believed that Lord Indran, King Yudhishthira (Dharmar) and serpent Karkkodagan have worshipped Lord Shiva here.
Chandiran (Moon) is also believed to have worshiped the lord here after taking a dip in the Chandra Theertham. He is also believed to have recovered from his illness and relieved from his curse.
Another legend is that the Chola King Killi Valavan, grandfather of Karikal Valavan, was suffering from skin disease. As advised by his doctors, he came to this place for a holy dip in the sea and in the temple's Chandra Theertham. The place was densely covered with jasmine (Mullai) plants which entangled the legs of his horses. In order to clear the way, the king started hacking the plants with his sword but was shocked to see blood oozing from there. He cleared away the shrubs and found a bleeding Shivalingam there. The king was overcome by grief that he had damaged the Shivalingam. In order to repent for his mistake, the king tried to sever his head but Lord Shiva and Goddess Parvathi appeared before him and stopped him from doing so.
The king built a temple where he found the Shivalingam and named the lord as "Mullaivana Nathar" ("Mullai" means jasmine, "Vanam" means forest and "Nathar" is a respectful suffix in Tamil). This lingam still bears scar marks due to the cut from the king's sword.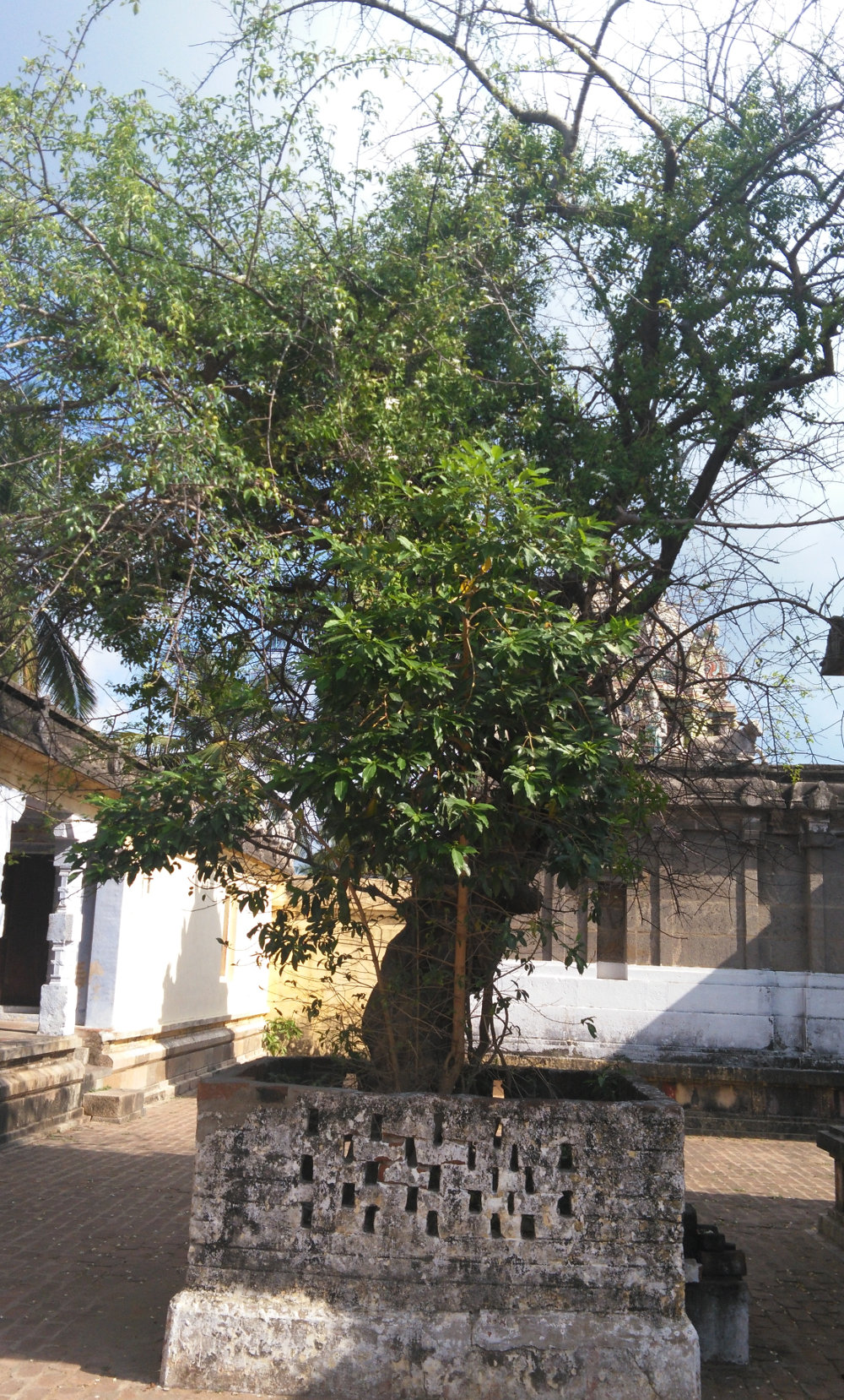 Another legend is that of Susavi, a scholar and teacher of Vedas who lived in the erstwhile Pandiya Naadu. He performed many yagnas. After his death and as per his wish, Vamadeva, his eldest son placed his bones and ashes in a pot in order to immerse it in the holy waters of many Shiva temples. When he reached this place, he met Markanda Rishi in his Ashram. The rishi advised him to dissolve the bones in this temple's Vishnu Theertham. When he put the bones in the waters, they turned into diamond stones. He then performed all the last rites for his father here to enable him to obtain salvation.
Deities in the temple
Other than the shrines of Lord Shiva and Goddess Parvathy, shrines and idols of lords Vinayakar, Shanmuga Subramaniar, Dakshinamurthy, Murugan, Mahalakshmi, few lingams, Durgai, Navagrahams, Suryan, Chandran, Nalvar and Bairavar can be seen in the corridors.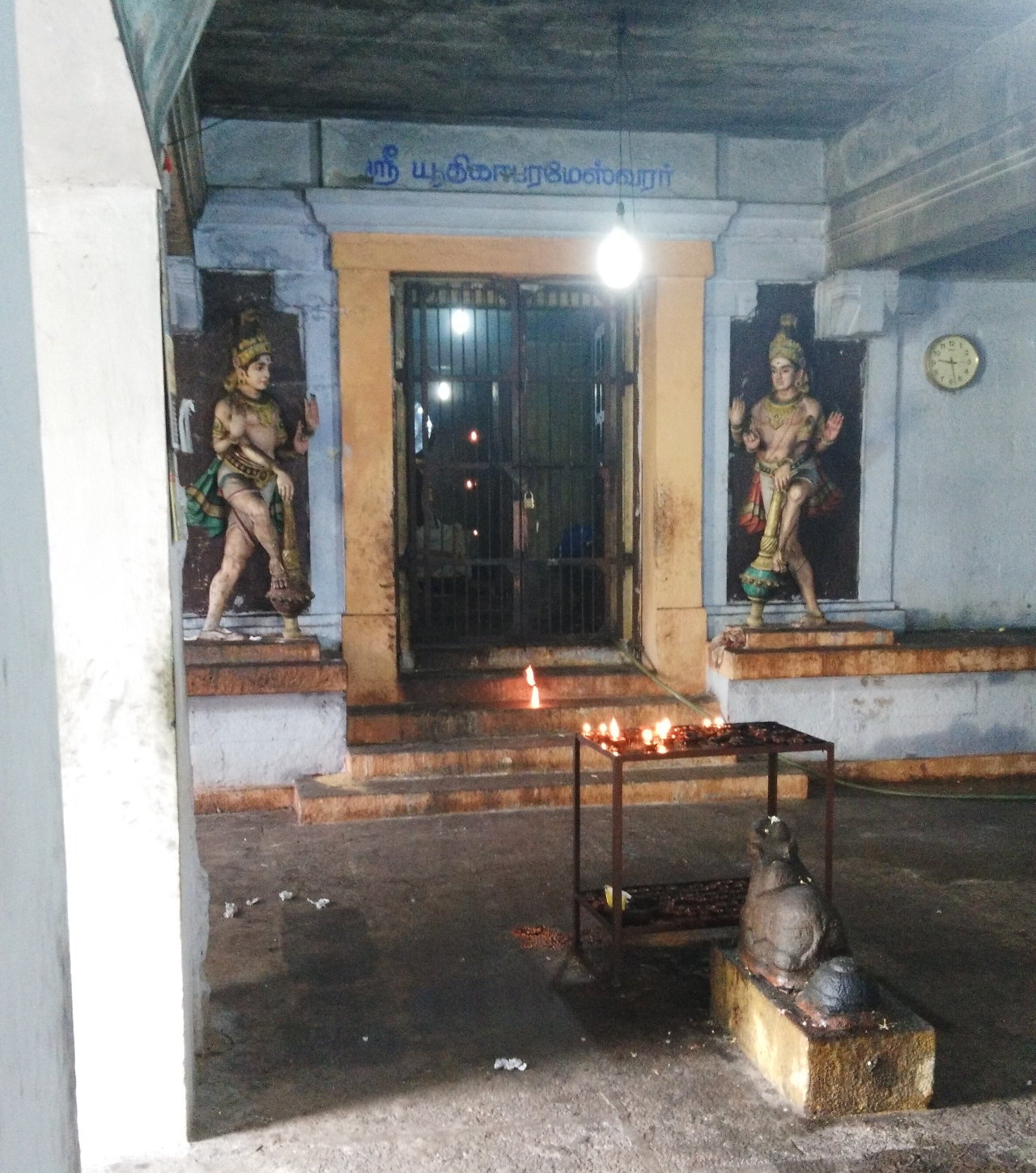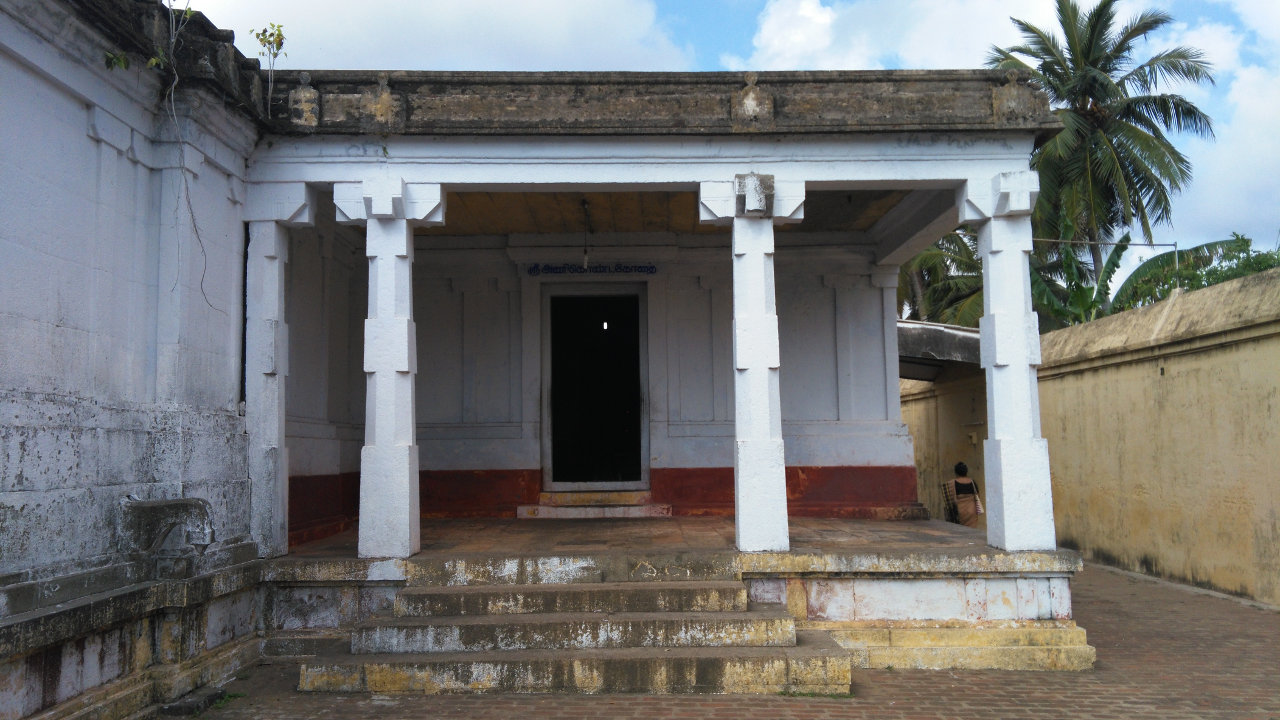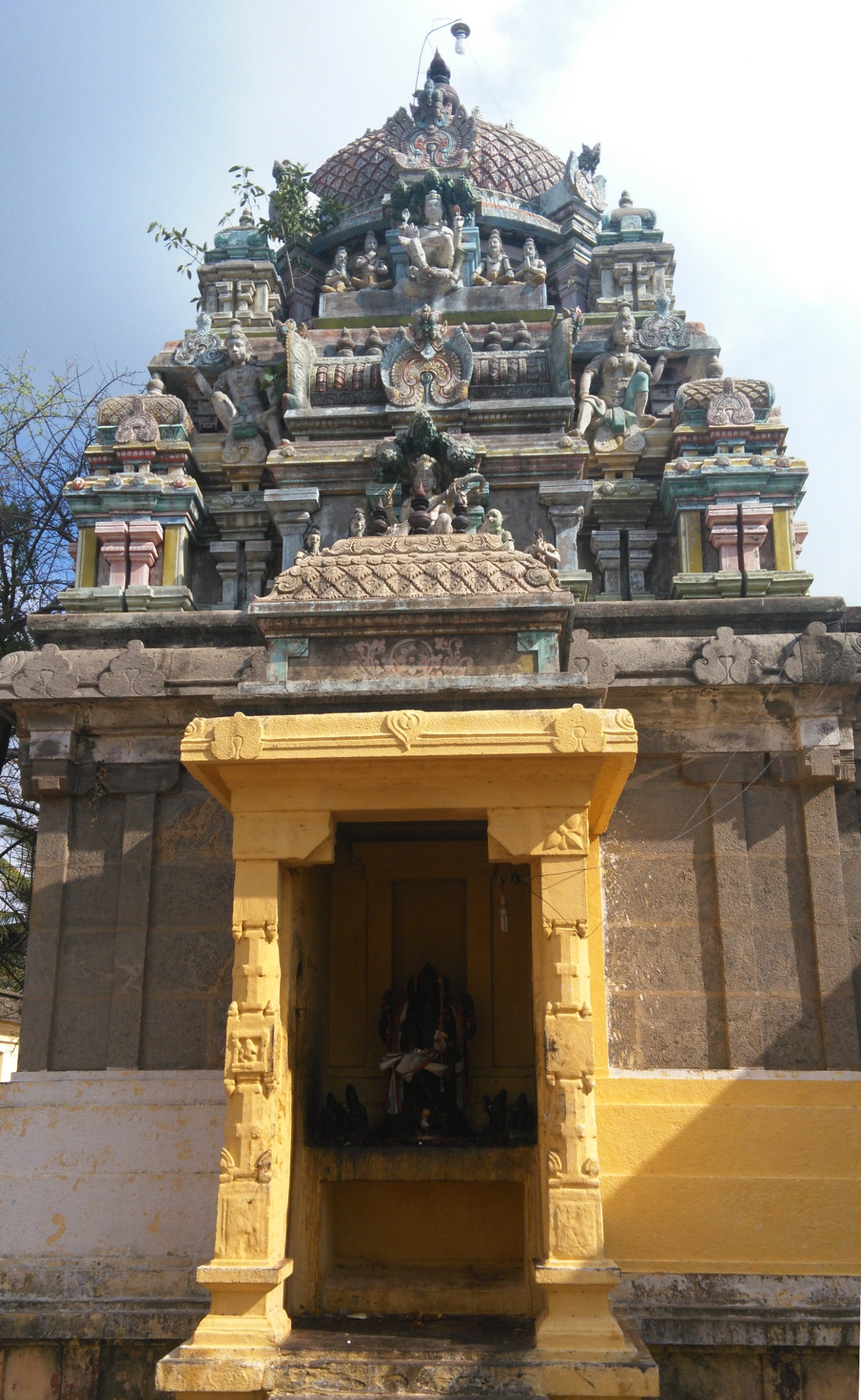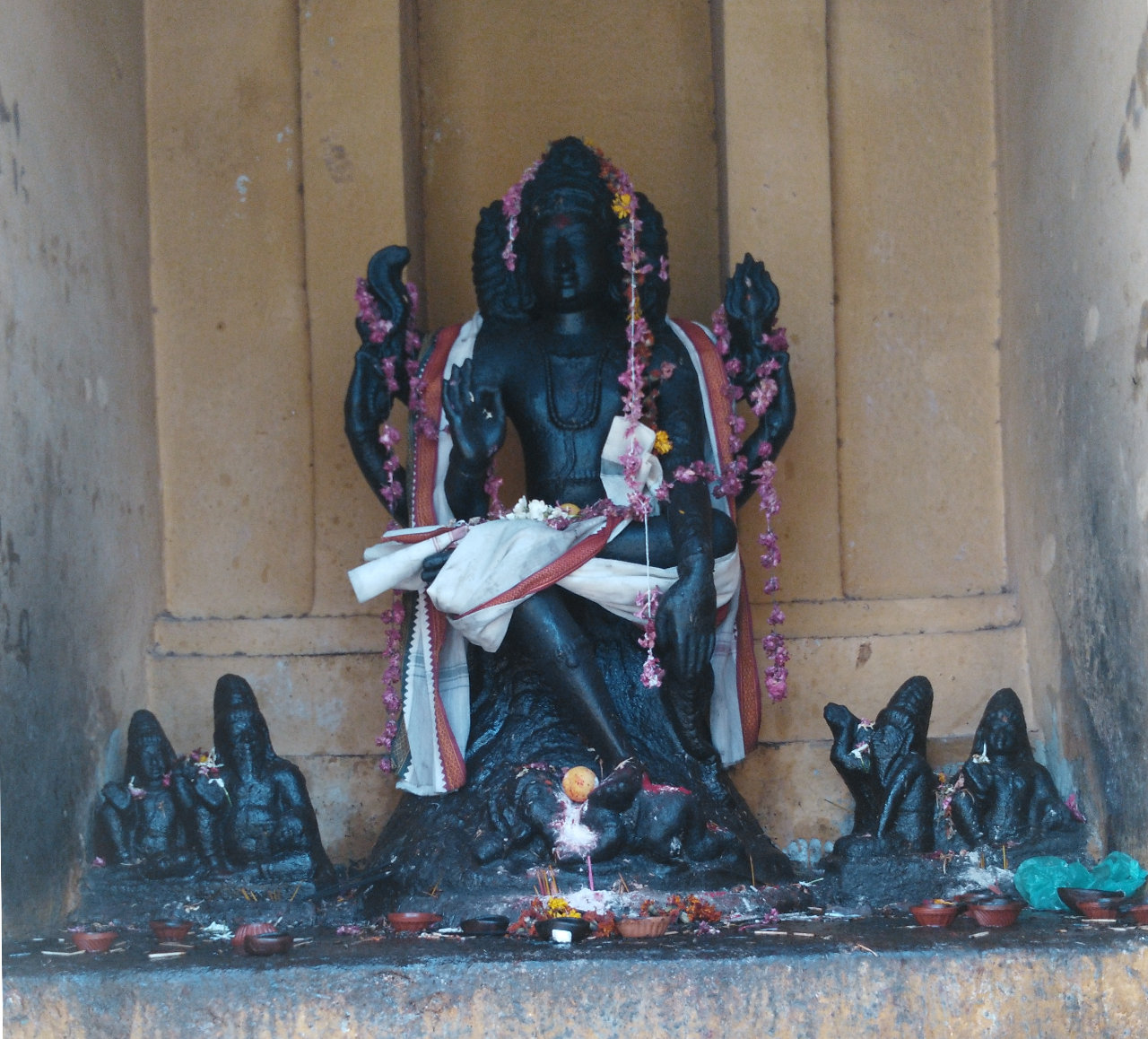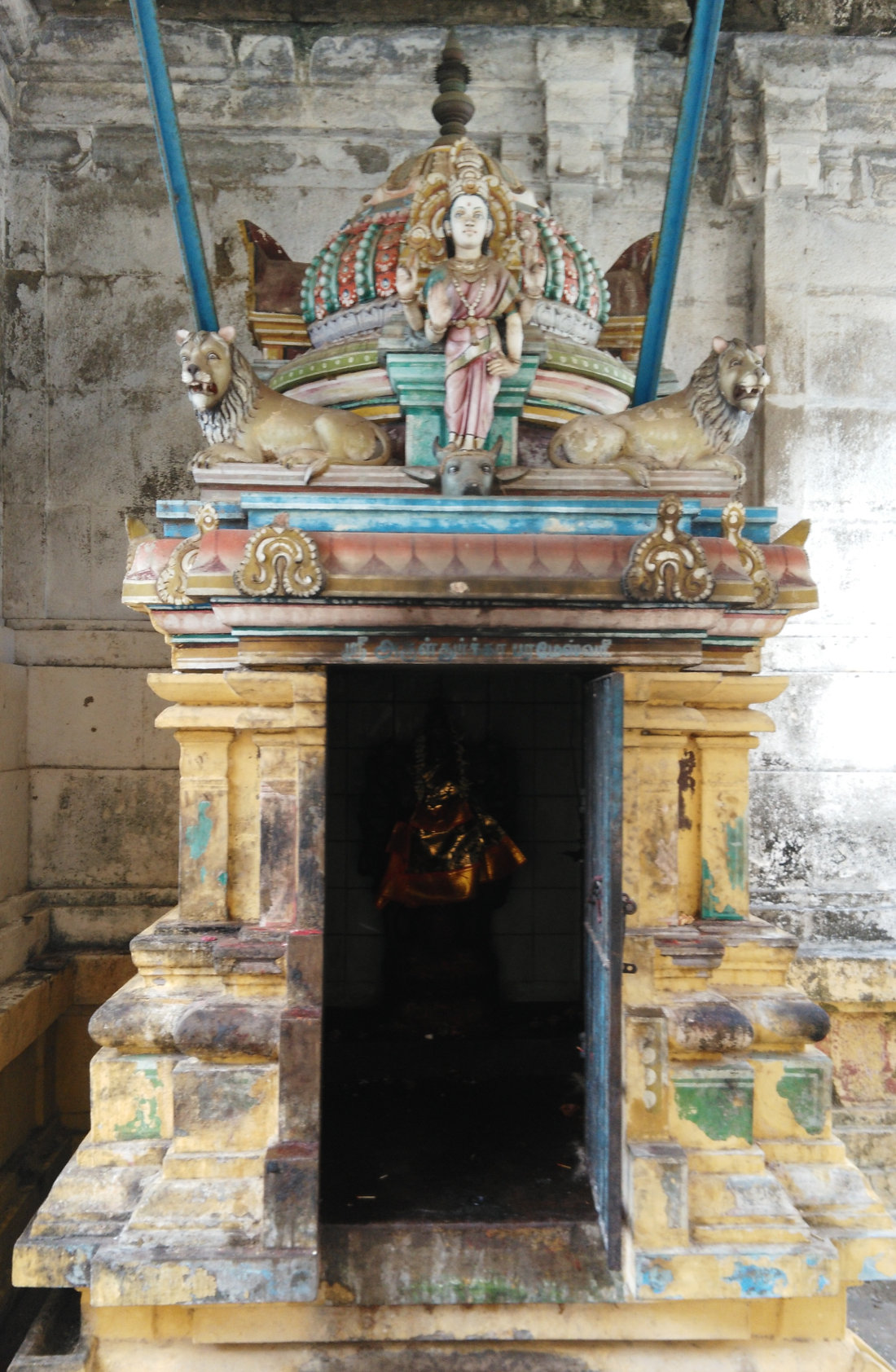 Salient Features
It is believed that the holy river Ganga springs in this temple's well.
This is one of the "Panchavaneswaram" temples – the other four being Chidambaram, Chayavanam, Thiruvenkadu and Pallavanecharam.
Lord Dakshinamurthy's idol is big and very beautiful. He can be seen with the four sages (Sanakathars).
In the corridors, there are beautifully carved reliefs that depicts the sthala puranam.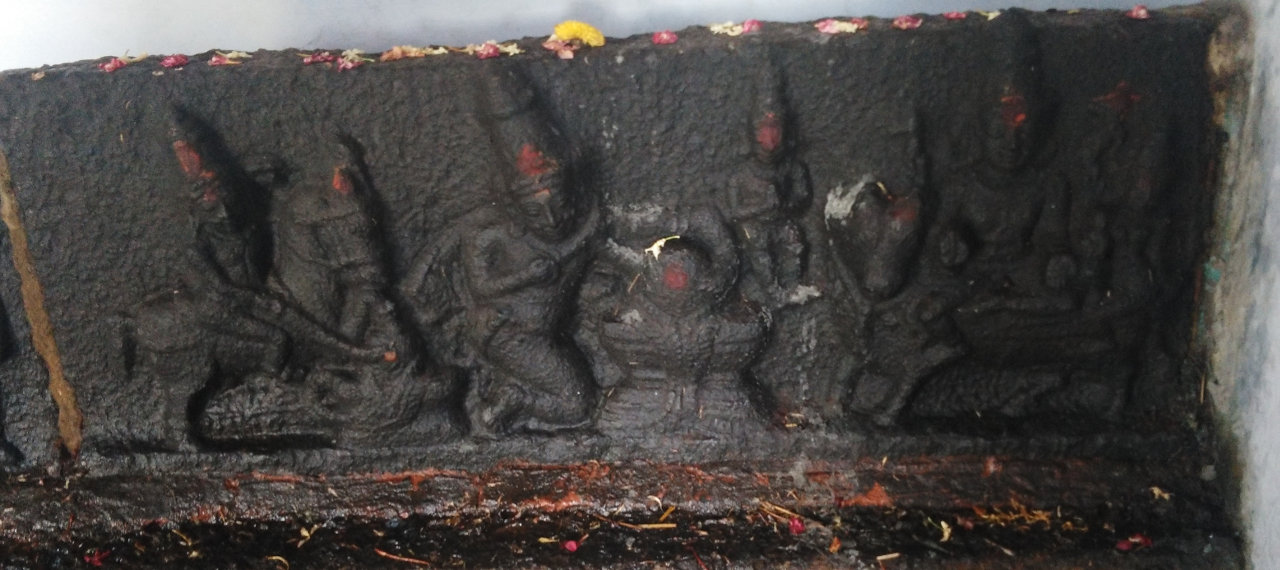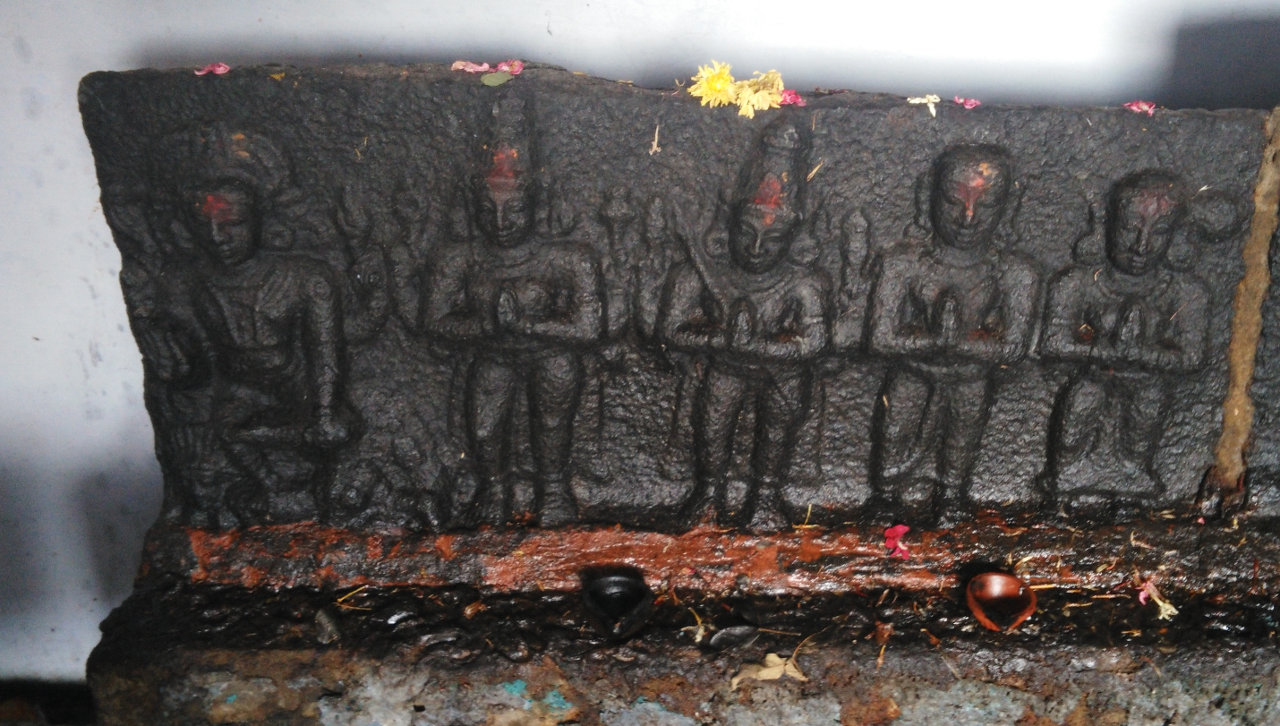 Greatness of this temple
It is strongly believed that devotees who chant the Panchakshara mantra in the temple on Solar and Lunar eclipse days and on new moon days (Amavasya) will be blessed with prosperity and happiness. It is believed that by doing so devotees will be able to break away from the repetitive cycle of birth and re-birth.
Since this is the place where Lord Shiva imparted knowledge to Goddess Parvathy, lots of students worship the lord here to seek his blessings for their educational pursuits.
Important Festivals
The Masi Maham Theerthavari festival is celebrated in a grand manner in the Tamil month of Masi (February-March). During this time, the procession idols of Lord Mullaivana Nathar and Goddess Kothaiyammai are taken to the seashore.
Other important festivals celebrated in this temple are Shivrathri in the Tamil month of Masi (Feb-Mar) and Vinayakar Chaturthi in the Tamil month of Aavani (Aug-Sept).
Pradosham is also observed regularly.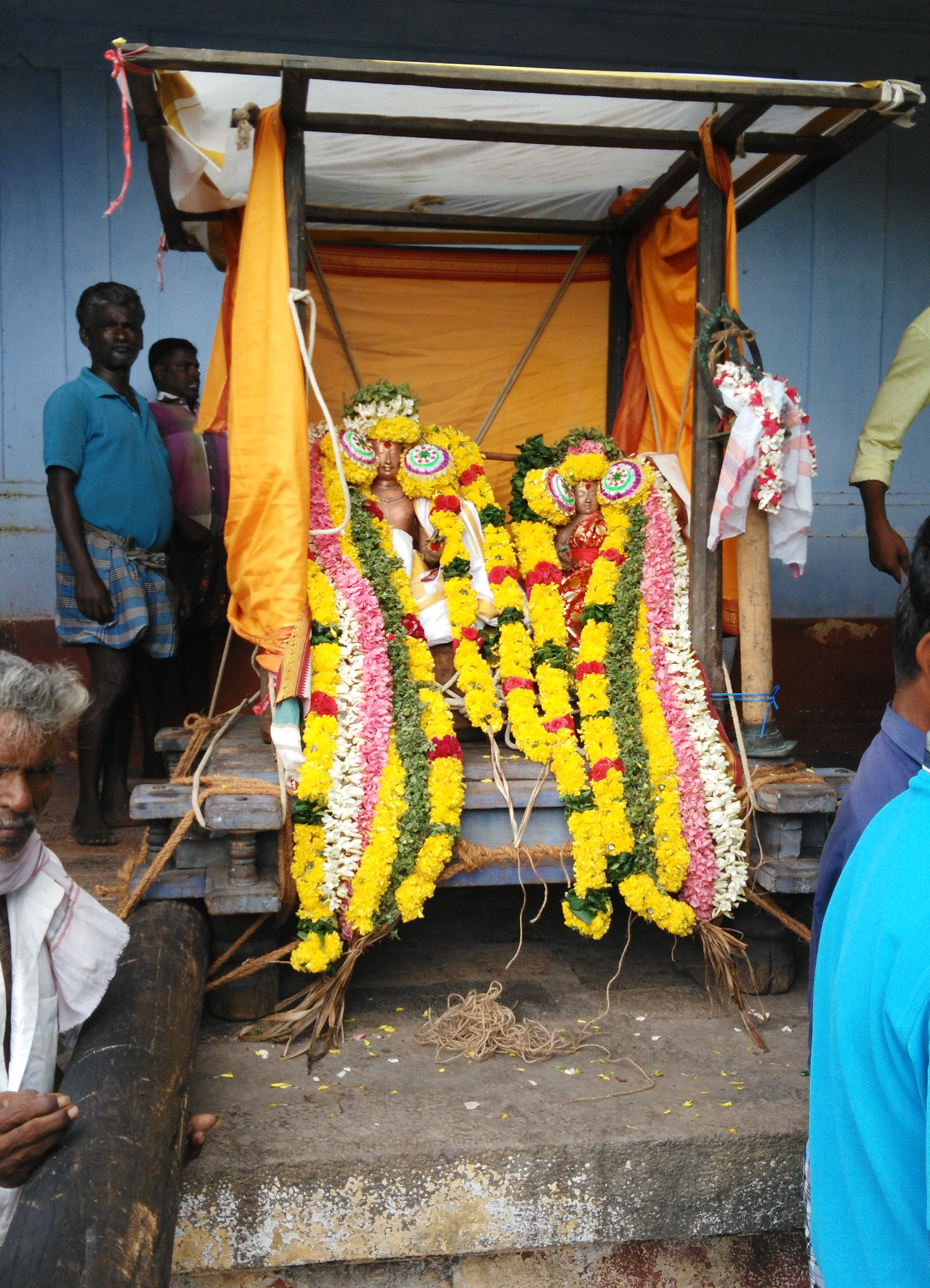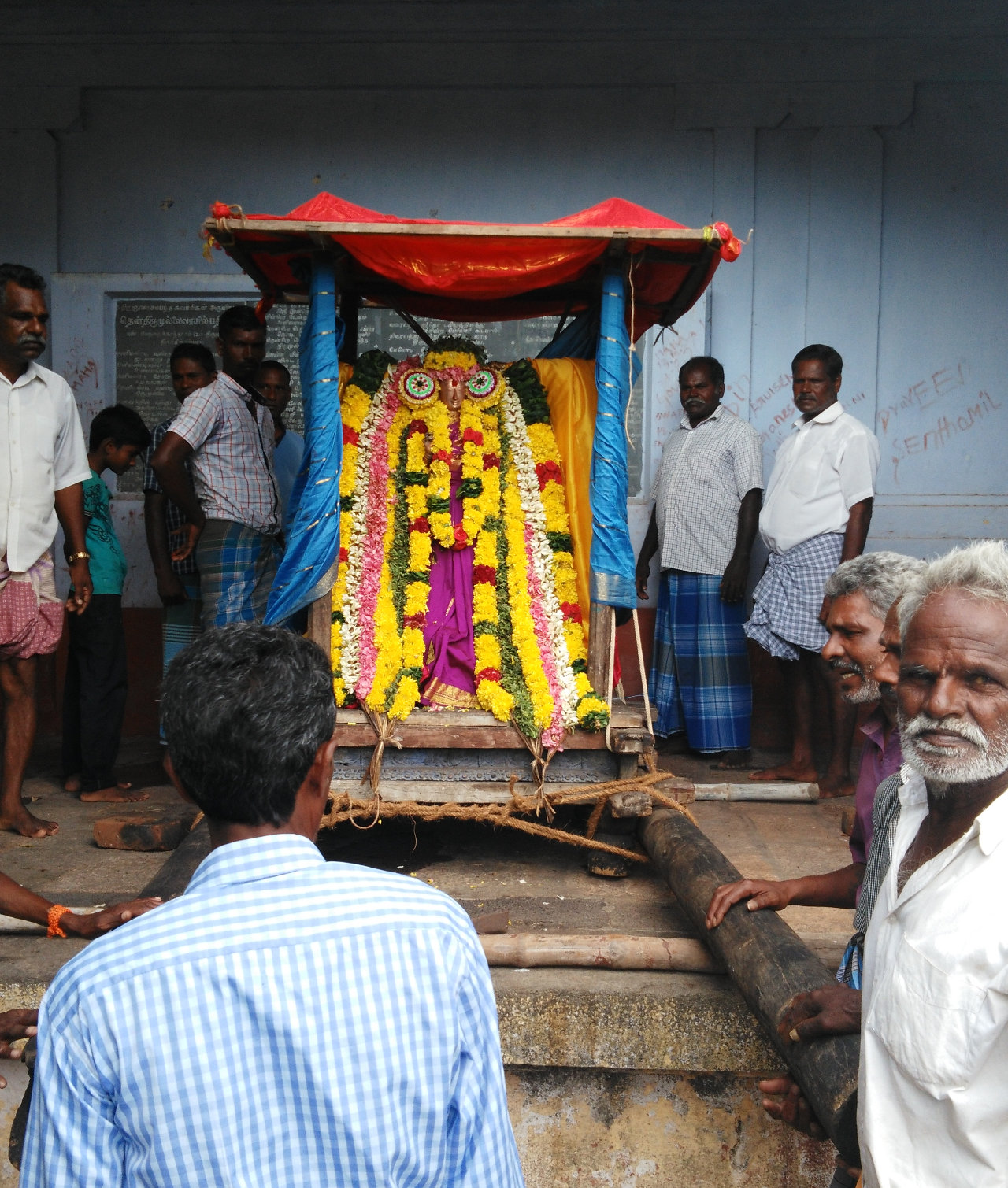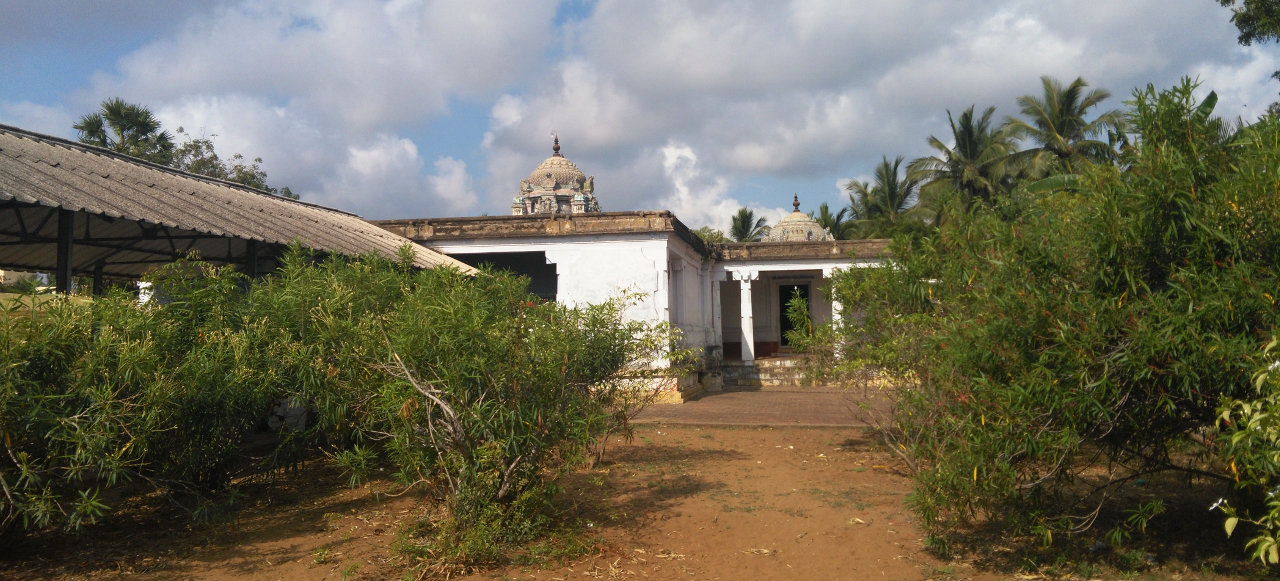 Temple Timings
From 08.00 AM to 12.30 PM and 04.00 PM to 08.00 PM.
Temple Address
Sri Mullaivananathar Temple,
Thirumullaivasal Post,
Sirkazhi Taluk,
Nagapattinam District,
Tamil Nadu – 609 113.

Tele: +91 94865 24626.
---
Pathigam (Hymn) with English transliteration
Saint Thirugnanasambanthar visited this temple and sang this Pathigam.
Devotees visiting this temple should make it a practice to recite this Pathigam.
துளிமண்டி யுண்டு நிறம்வந்த கண்டன்
நடமன்னு துன்னு சுடரோன்
ஒளிமண்டி யும்ப ருலகங் கடந்த
உமைபங்கன் எங்கள் அரனூர்
களிமண்டு சோலை கழனிக் கலந்த
கமலங்கள் தங்கு மதுவின்
தெளிமண்டி யுண்டு சிறைவண்டு பாடு
திருமுல்லை வாயி லிதுவே.
"Thuḷimaṇṭi yuṇṭu niṟamvantha kaṇṭaṉ
naṭamaṉṉu thuṉṉu suṭarōṉ
oḷimaṇṭi yumpa rulakaṅ kaṭantha
umaipaṅkaṉ eṅkaḷ araṉūr
kaḷimaṇṭu chōlai kazhaṉik kalantha
kamalaṅkaḷ thaṅku mathuviṉ
theḷimaṇṭi yuṇṭu siṟaivaṇṭu pāṭu
thirumullai vāyi lithuvē".
பருவத்தில் வந்து பயனுற்ற பண்பன்
அயனைப் படைத்த பரமன்
அரவத் தொடங்க மவைகட்டி யெங்கு
அரவிக்க நின்ற அரனூர்
உருவத்தின் மிக்க வொளிர்சங்கொ டிப்பி
யவையோத மோத வெருவித்
தெருவத்தில் வந்து செழுமுத் தலைக்கொள்
திருமுல்லை வாயி லிதுவே.
"Paruvaththil vanthu payaṉutṟa paṇpaṉ
ayaṉaip paṭaiththa paramaṉ
aravath thoṭaṅka mavaikaṭṭi yeṅku
aravikka niṉhṟa araṉūr
uruvaththiṉ mikka voḷirsaṅko ṭippi
yavaiyōtha mōtha veruvith
theruvaththil vanthu chezhumuth thalaikkoḷ
thirumullai vāyi lithuvē".
வாராத நாடன் வருவார்தம் வில்லின்
உருமெல்கி நாளும் உருகில்
ஆராத இன்பன் அகலாத அன்பன்
அருள்மேவி நின்ற அரனூர்
பேராத சோதி பிரியாத மார்பின்
அலர்மேவு பேதை பிரியாள்
தீராத காதல் நெதிநேர நீடு
திருமுல்லை வாயி லிதுவே.
"Vārātha nāṭaṉ varuvārtham villiṉ
urumelki nāḷum urukil
ārātha iṉpaṉ akalātha aṉpaṉ
aruḷmēvi niṉhṟa araṉūr
pērātha chōthi piriyātha mārpiṉ
alarmēvu pēthai piriyāḷ
thīrātha kāthal nethinēra nīṭu
thirumullai vāyi lithuvē".
ஒன்றொன்றொ டொன்றும் ஒருநான்கொ டைந்தும்
இருமூன்றொ டேழு முடனாய்
அன்றின்றொ டென்றும் அறிவான வர்க்கும்
அறியாமை நின்ற அரனூர்
குன்றொன்றொ டொன்று குலையொன்றொ டொன்று
கொடியொன்றொ டொன்று குழுமிச்
சென்றொன்றொ டொன்று செறிவாய் நிறைந்த
திருமுல்லை வாயி லிதுவே.
"Oṉtṟoṉṟo ṭoṉtṟum orunāṉko ṭainthum
irumūṉṟo ṭēzhu muṭaṉāy
aṉtṟiṉtṟo ṭeṉtṟum aṟivāṉa varkkum
aṟiyāmai niṉtṟa araṉūr
kuṉtṟoṉtṟo ṭoṉtṟu kulaiyoṉtṟo ṭoṉtṟu
koṭiyoṉtṟo ṭoṉtṟu kuzhumich
cheṉtṟoṉtṟo ṭoṉtṟu ceṟivāy niṟaintha
thirumullai vāyi lithuvē".
கொம்பன்ன மின்னின் இடையாளோர் கூறன்
விடைநாளும் ஏறு குழகன்
நம்பன்னெம் அன்பன் மறைநாவன் வானின்
மதியேறு சென்னி அரனூர்
அம்பன்ன வொண்க ணவரா டரங்கின்
அணிகோபு ரங்க ளழகார்
செம்பொன்ன செவ்வி தருமாடம் நீடு
திருமுல்லை வாயி லிதுவே.
"Kompaṉṉa miṉṉiṉ iṭaiyāḷōr kūṟaṉ
viṭaināḷum ēṟu kuzhakaṉ
nampaṉṉem aṉpaṉ maṟaināvaṉ vāṉiṉ
mathiyēṟu ceṉṉi araṉūr
ampaṉṉa voṇka ṇavarā ṭaraṅkiṉ
aṇikōpu raṅka ḷazhakār
sempoṉṉa sevvi tharumāṭam nīṭu
thirumullai vāyi lithuvē".
ஊனேறு வேலின் உருவேறு கண்ணி
யொளியேறு கொண்ட வொருவன்
ஆனேற தேறி யழகேறு நீறன்
அரனேறு பூணும் அரனூர்
மானேறு கொல்லை மயிலேறி வந்து
குயிலேறு சோலை மருவி
தேனேறு மாவின் வளமேறி யாடு
திருமுல்லை வாயி லிதுவே.
"Ūṉēṟu vēliṉ uruvēṟu kaṇṇi
yoḷiyēṟu koṇṭa voruvaṉ
āṉēṟa thēṟi yazhakēṟu nīṟaṉ
araṉēṟu pūṇum araṉūr
māṉēṟu kollai mayilēṟi vanthu
kuyilēṟu chōlai maruvi
thēṉēṟu māviṉ vaḷamēṟi yāṭu
tihrumullai vāyi lithuvē".
நெஞ்சார நீடு நினைவாரை மூடு
வினைதேய நின்ற நிமலன்
அஞ்சாடு சென்னி அரவாடு கையன்
அனலாடு மேனி அரனூர்
மஞ்சாரு மாட மனைதோறும் ஐயம்
உளதென்று வைகி வரினுஞ்
செஞ்சாலி நெல்லின் வளர்சோ றளிக்கொள்
திருமுல்லை வாயி லிதுவே.
"Neñchāra nīṭu niṉaivārai mūṭu
viṉaithēya niṉtṟa nimalaṉ
añchāṭu cheṉṉi aravāṭu kaiyaṉ
aṉalāṭu mēṉi araṉūr
mañchāru māṭa maṉaithōṟum aiyam
uḷatheṉṟtu vaiki variṉuñ
señchāli nelliṉ vaḷarchō ṟaḷikkoḷ
thirumullai vāyi lithuvē".
வரைவந் தெடுத்த வலிவா ளரக்கன்
முடிபத்து மிற்று நெரிய
உரைவந்த பொன்னின் உருவந்த மேனி
உமைபங்கன் எங்கள் அரனூர்
வரைவந்த சந்தொ டகிலுந்தி வந்து
மிளிர்கின்ற பொன்னி வடபால்
திரைவந்து வந்து செறிதேற லாடு
திருமுல்லை வாயி லிதுவே.
"Varaivan theṭuththa valivā ḷarakkaṉ
muṭipaththu mitṟu neriya
uraivantha poṉṉiṉ uruvantha mēṉi
umaipaṅkaṉ eṅkaḷ araṉūr
varaivantha santho ṭakilunthi vanthu
miḷirkiṉtṟa poṉṉi vaṭapāl
thiraivanthu vanthu seṟithēṟa lāṭu
thirumullai vāyi lithuvē".
மேலோடி நீடு விளையாடல் மேவு
விரிநூலன் வேத முதல்வன்
பாலாடு மேனி கரியானு முன்னி
யவர்தேட நின்ற பரனூர்
காலாடு நீல மலர்துன்றி நின்ற
கதிரேறு செந்நெல் வயலிற்
சேலோடு வாளை குதிகொள்ள மல்கு
திருமுல்லை வாயி லிதுவே.
"Mēlōṭi nīṭu viḷaiyāṭal mēvu
virinūlaṉ vētha muthalvaṉ
pālāṭu mēṉi kariyāṉu muṉṉi
yavarthēṭa niṉtṟa paraṉūr
kālāṭu nīla malarthuṉtṟi niṉtṟa
kathirēṟu sennel vayaliṟ
sēlōṭu vāḷai kuthikoḷḷa malku
thirumullai vāyi lithuvē".
பனைமல்கு திண்கை மதமா வுரித்த
பரமன்ன நம்பன் அடியே
நினைவன்ன சிந்தை அடையாத தேரர்
அமண்மாய நின்ற அரனூர்
வனமல்கு கைதை வகுளங்க ளெங்கு
முகுளங்க ளெங்கு நெரியச்
சினைமல்கு புன்னை திகழ்வாச நாறு
திருமுல்லை வாயி லிதுவே.
"Paṉaimalku thiṇkai mathamā vuriththa
paramaṉṉa nampaṉ aṭiyē
niṉaivaṉṉa sinthai aṭaiyātha thērar
amaṇmāya niṉhṟa araṉūr
vaṉamalku kaithai vakuḷaṅka ḷeṅku
mukuḷaṅka ḷeṅku neriyach
chiṉaimalku puṉṉai thikazhvāsa nāṟu
thirumullai vāyi lithuvē".
அணிகொண்ட கோதை யவள்நன்று மேத்த
அருள்செய்த எந்தை மருவார்
திணிகொண்ட மூன்று புரமெய்த வில்லி
திருமுல்லை வாயில் இதன்மேல்
தணிகொண்ட சிந்தை யவர்காழி ஞான
மிகுபந்தன் ஒண்ட மிழ்களின்
அணிகொண்ட பத்தும் இசைபாடு பத்தர்
அகல்வானம் ஆள்வர் மிகவே.
"Aṇikoṇṭa kōthai yavaḷnaṉtṟu mēththa
aruḷseytha enthai maruvār
thiṇikoṇṭa mūṉtṟu purameytha villi
thirumullai vāyil ithaṉmēl
thaṇikoṇṭa chinthai yavarkāzhi gñāṉa
mikupanthaṉ oṇṭa mizhkaḷiṉ
aṇikoṇṭa paththum isaipāṭu paththar
akalvāṉam āḷvar mikavē".