Visited on:25th June, 2016 and 10th April, 2017.
Location
Thirumiyachur is located at a distance of about 20 kms from Mayiladuthurai on the Mayiladuthurai to Thiruvarur route. From Mauiladuthurai first travel to Peralam (17 kms) and then to Thirumiyachur (3 kms). Nearest railway station is Peralam which is 2 kms away from this temple.
Other Devara Paadal Petra Shiva Sthalams near this temple are – Thirumiyachur Ilamkoil (inside this temple itself), Thilathaipathy, Thiru Anniyur, Thiruppampuram, Serukudi, Thiruvizhimizhalai, Thiru Kottaram, Ambal Maakalam and Ambar Perunthirukkoil.
General Information
Moolavar

Sri Meganathaswamy, Sri Muyarchi Natheswarar,
Sri Thirumeni Nathar

Ambal

Sri Lalithambikai, Sri Soundara Nayaki,
Sri Shanta Nayaki

Theertham (Holy water)

Surya Pushkarini, Kali Theerththam

Sthala Vriksham (Sacred Tree)

Vilvam, Mandharam

Pathigam (Hymn) rendered by

Saint Thirugnanasambanthar

This is one of the 276 Devara Paadal Petra Shiva Sthalams and 56 Shiva Sthalam on the Southern bank of the river Cauveri in Chozha Nadu (Thenkarai).
Lord Shiva in this temple is a Swayambumurthi (self-manifested).
This is considered to be the first ("Aadhi") Shakti Pedam and the goddess here is referred as "Aadhi Parashakti".
This is the place where "Lalitha Sahasranamam" originated and was first introduced to the world.
This temple is counted as one of the seventy Maadak Koils built by King Kochengat Cholan.
The vimanam (roof tower) of the sanctum sanctorum has been constructed according to the Gaja Brishtam style of architecture.
This east facing temple has a 5-tiered main tower (Rajagopuram) and it has two corridors.
The last consecration ceremony (Kumbabishekam) took place on 08.02.2015 and prior to that on 03.11.2000.
History of the Temple
This temple is believed to have been originally built by King Kochengat Cholan.
It was later renovated by King Rajendra Chola and Sembian Maadevi.
There are seven stone inscriptions available in this temple which relate to the periods of Chola and Pandiya kingdoms.
This temple is under the administrative control of the Thiruppukalur Velakurichi Aadheenam.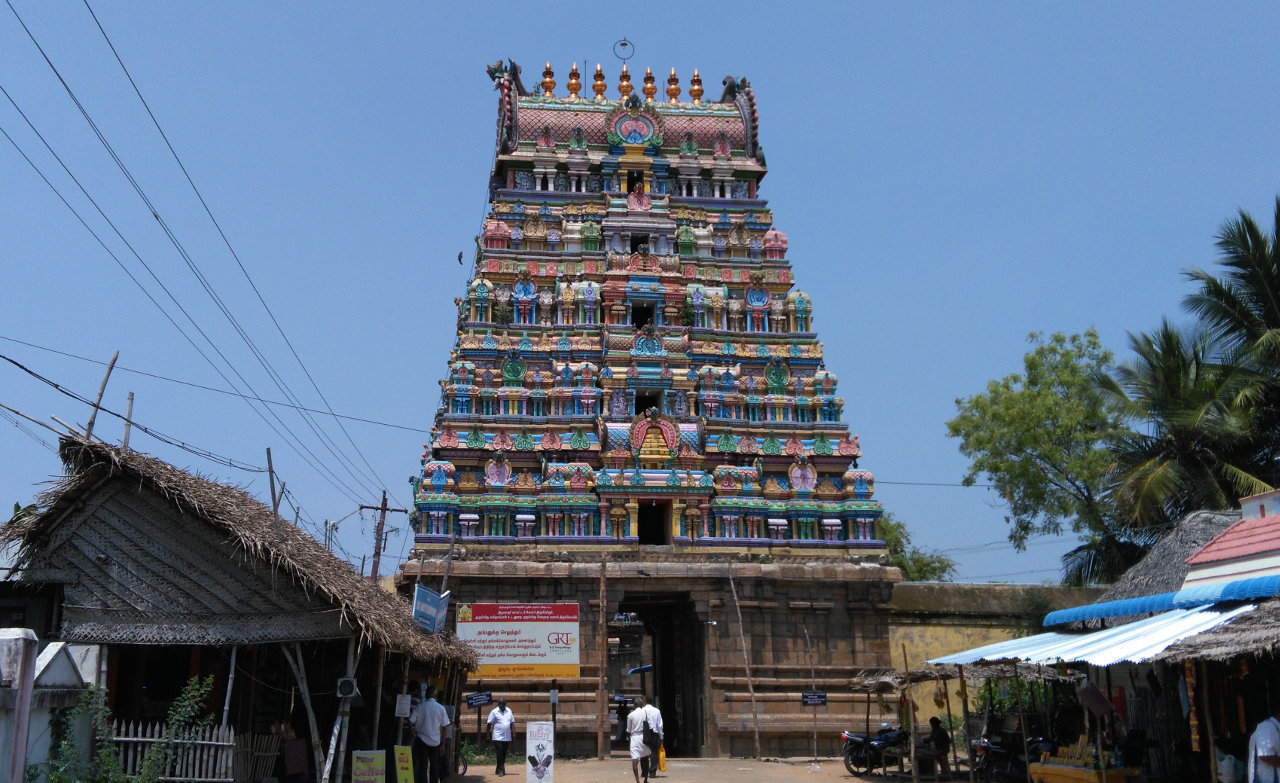 Legend
The legend associated with this temple is that of Sage Kashyapa Maharishi. It is believed that this is the birth place of Sage Kashyapa Maharishi's sons, Arunan and Garudan from his two wives. Arunan was physically handicapped. He was a staunch devotee of Lord Shiva and is believed to be the charioteer of Lord Suryan. Arunan wanted to visit Mount Kailash to have darshan of Lord Shiva. He asked Lord Suryan for his permission to go to Mount Kailash. Suryan not only denied him but also laughed at him pointing out his disability.
After praying to Lord Shiva, Arunan was able to take the form of a Mohini (angel) and visit Mount Kailash. Lord Indra fell in love with this Mohini and Vaali is believed to have born to them. When Arunan narrated this incident to Suryan, he did not believe him and teased him even more. He further asked him to prove that he could take the form of a Mohini. Arunan took the form of a Mohini again. It is believed that on seeing the Mohini's beauty, Suryan fell in love with her and Sukreev was born as their child.
Because of their affairs with Mohini, Lord Shiva cursed Indra and Suryan. Owing to this curse, Lord Indra was dethroned by King Mahabali and Lord Suryan lost his brightness.
Since Suryan's body was blackened, the universe lost the light of the day. Suryan pleaded to the lord to forgive him. The lord asked him to go to Thirumiyachur (this place) and worship him here for seven months. As advised by the lord, Suryan performed rigorous penance here. He placed idols of Lord Shiva and Goddess Parvathy on an elephant and took them to the clouds. Hence the Sanctum's tower (Vimanam) is in the shape of "Gaja Brishta" (rear portion of an elephant). The lord is praised as "Sri Meganathar" ("Megam" means cloud in Tamil).
Since he did not regain his brightness even after his penance, Suryan approached Lord Shiva screaming in grief. The goddess who was alone with Lord Shiva got disturbed by Lord Suryan's cries. She got angry and was about to curse him but the lord pacified her by saying that Suryan was already suffering from a curse and was looking for relief. It is believed that Suryan was relieved of his curse by Lord Shiva.
Since Lord Shiva pacified Goddess Parvathy, she is also praised here as "Shanta Naayagi" ("Shantam means calm in Tamil). Also, when Lord Shiva tried to pacify Goddess Lalithambigai, it is believed that 8 angels called "Vachinies" (personification of speech) emerged from the mouth of Lalithambigai and they started praising the goddess with her 1000 holy names. Pleased with their praises, Goddess Lalithambigai regained her composure.
This pacifying scene is beautifully depicted in a sculpture which can be seen in the outer corridor. This Lord Shiva's idol is called "Kshetra Puraaneswarar", and he is seen holding Goddess Parvathi's cheek to pacify her. From one angle, the Goddess appears to be in anger whereas from the other angle she looks very calm. This sculpture is one of the key attractions of this temple.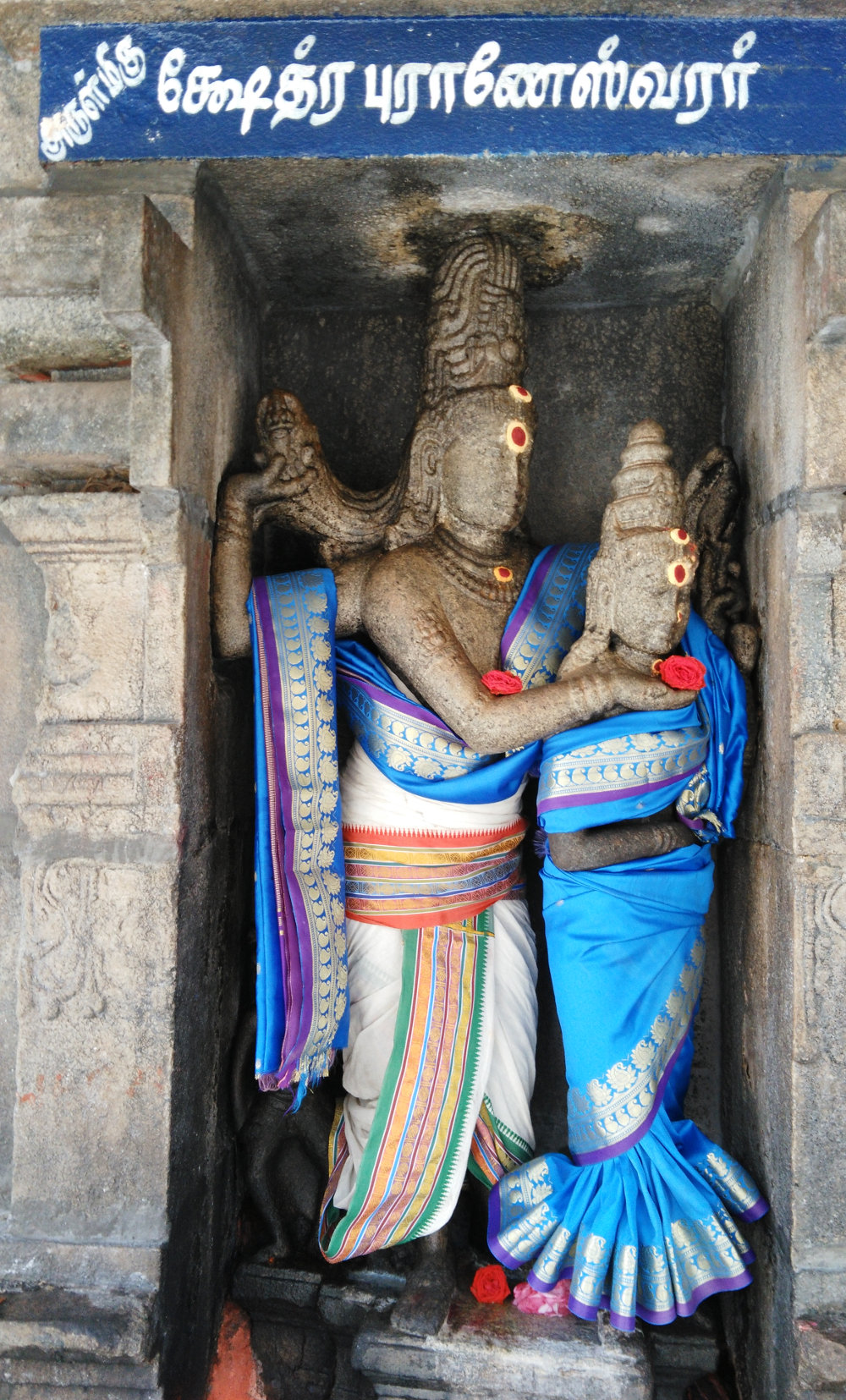 Another legend associated with this temple is that Lord Hayagreevar, a disciple of Goddess Lalithambigai, conveyed to Sage Agasthiyar about the significance of "Lalitha Sahasranamam". On his advice, Agasthiyar came to this temple and worshiped Lord Shiva and Goddess Parvathy. She is believed to have granted darshan to Saint Agasthiyar in the form of "Navratna" (nine precious stones). After this darshan, the saint rendered his songs "Navaratna Malai" praising the goddess. He has also composed another hymn here called "Rahasyanamasahasram".
It is believed that Yama, the Lord of Death, worshiped Lord Shiva here by performing an abhishekam using 1008 conches and offering "Pirandai rice" (a green creeper mixed with rice) for his longevity.
As per the sthala puranam, it is believed that this is the birth place of Saneeswarar, Yama, Arunan, Karudan, Vali and Sukreev.
An interesting incident took place here in 1999. It is believed that a devotee from Bangalore was having recurring dreams in which Goddess Parvathy was asking her for a gold anklet ("Kolusu"). This woman went in search of the goddess and visited many temples but could not find the one of which she had dreamt. Finally, she came to know of Goddess Lalithambigai of Thirumiyachur by chance in a magazine. She recognised the goddess as the one from her dreams. She prepared an anklet and visited the temple. She informed the priest about her dreams and requested him to adorn the anklet on the goddess. The priest told her that it would be difficult to adorn it as there is no way for the anklet to go around her feet. However, she insisted him to try. The priest decided to give it a try and to his surprise, he found a small hole in the idol's ankle which he could use to adorn the anklet. Later, it is said that they could find holes in her nose which is now adorned with a nose pin ("mookuthi) and a waist belt "(oddiyanam"). Now devotees have started offering "Kolusu" to Goddess Lalithambikai frequently.
Deities in the temple
Other than the shrines of Lord Shiva and Goddess Parvathy, shrines and idols of lords Vinayakar, Murugan with his consorts, Natarajar, Pathala Lingam, Mahalakshmi, Viswanathar with Visalakshi, Pancha Bootha lingams (Agni Lingam, Appu Lingam, Aakasa Lingam, Vayu Lingam and Prithvi Lingam), a few Nagars (snakes), Ratha Vinayakar, Sekkizhar, Nalvar, the Shivlingams worshiped by Sapthamaathakkal (Braahmi, Maheshwari, Vaishnavi, Gaumari, Vaaraahi, Indraani and Chamundi), Indra Lingam, Yama Lingam, Varuna Lingam, Niruthivi Lingam, Agasthiya Lingam, Kubera Lingam, Esana Lingam, Siddhi Vinayakar, Bairavar and Suryan can be seen in the corridors.
In the "koshtam" (place surrounding the sanctum sanctorum), idols of Narthana Vinayakar, Kshetra Puraaneswarar, Dakshinamurthy, Lingothbavar, Brahma, Vishnu, Chandrasekarar, Rishabaruder and Durgai can be seen.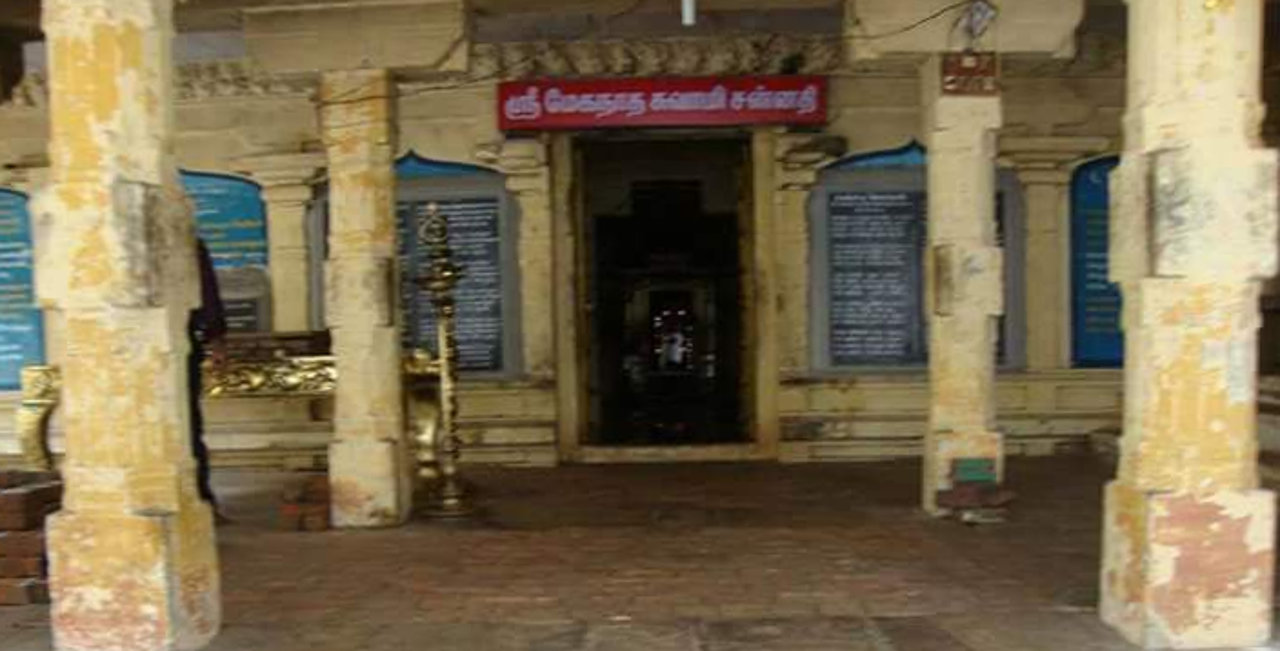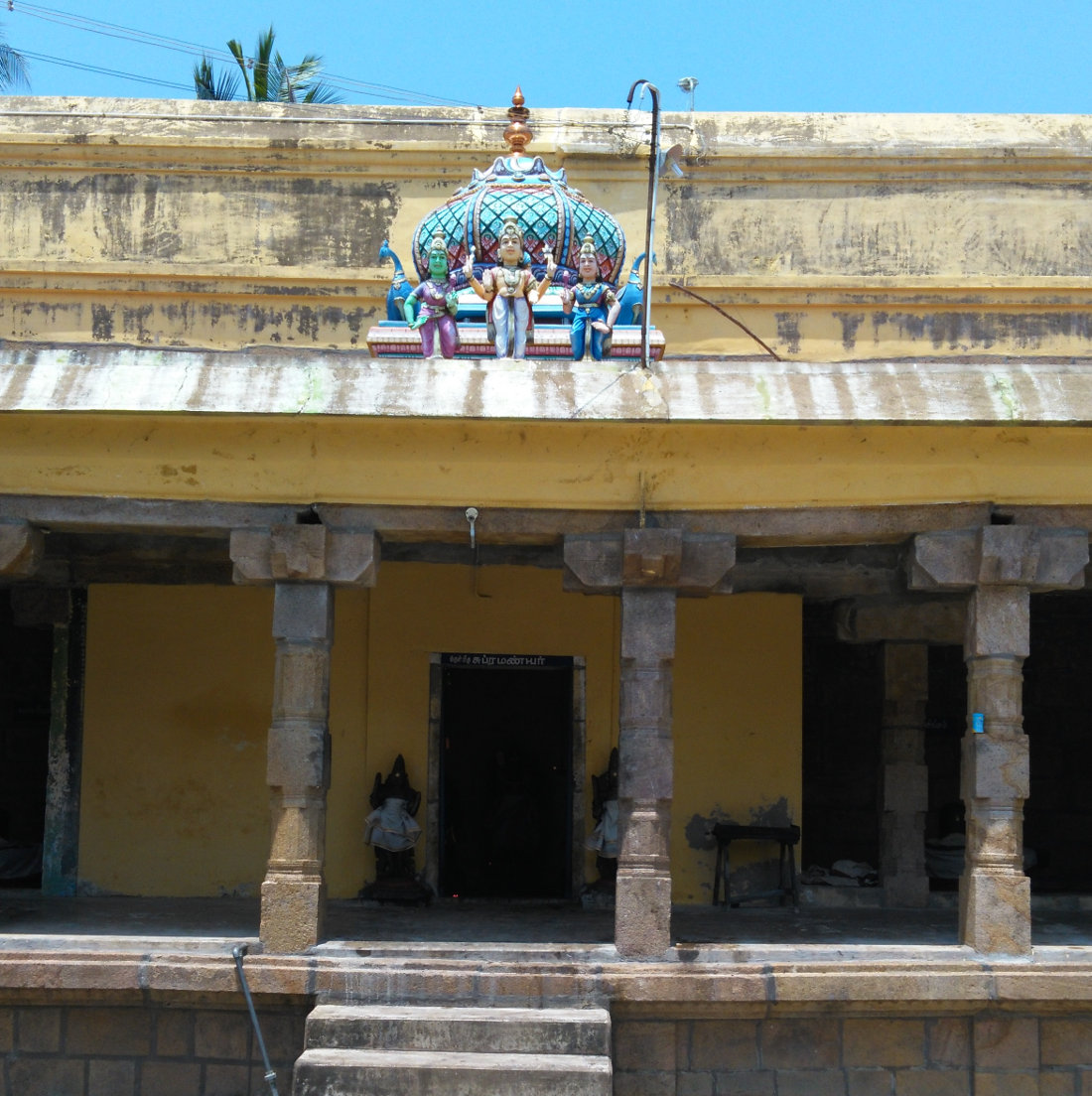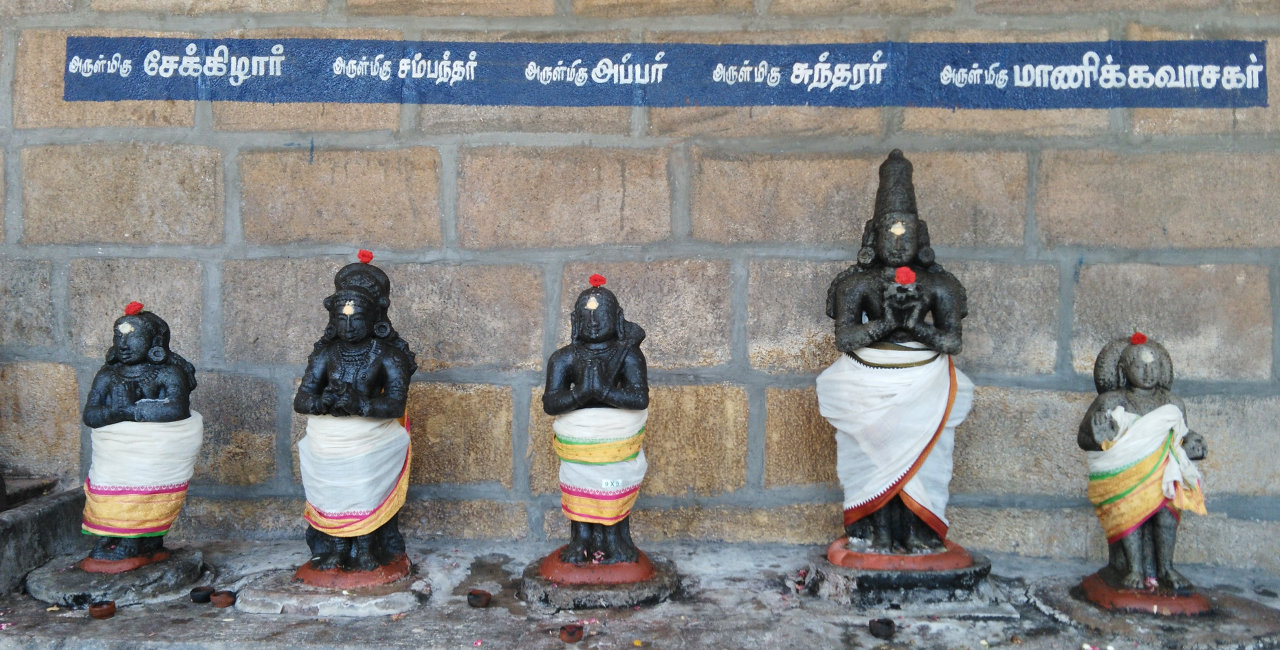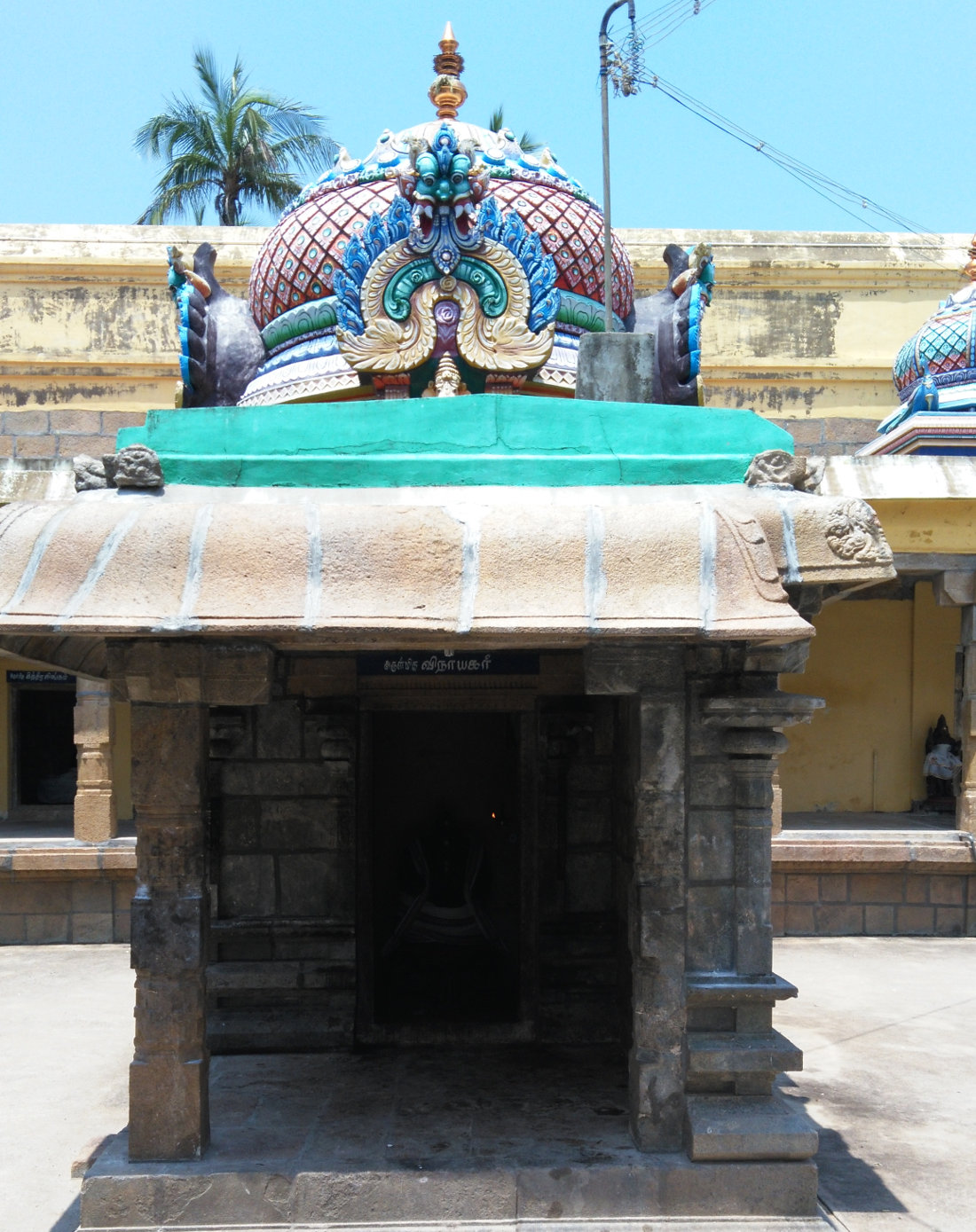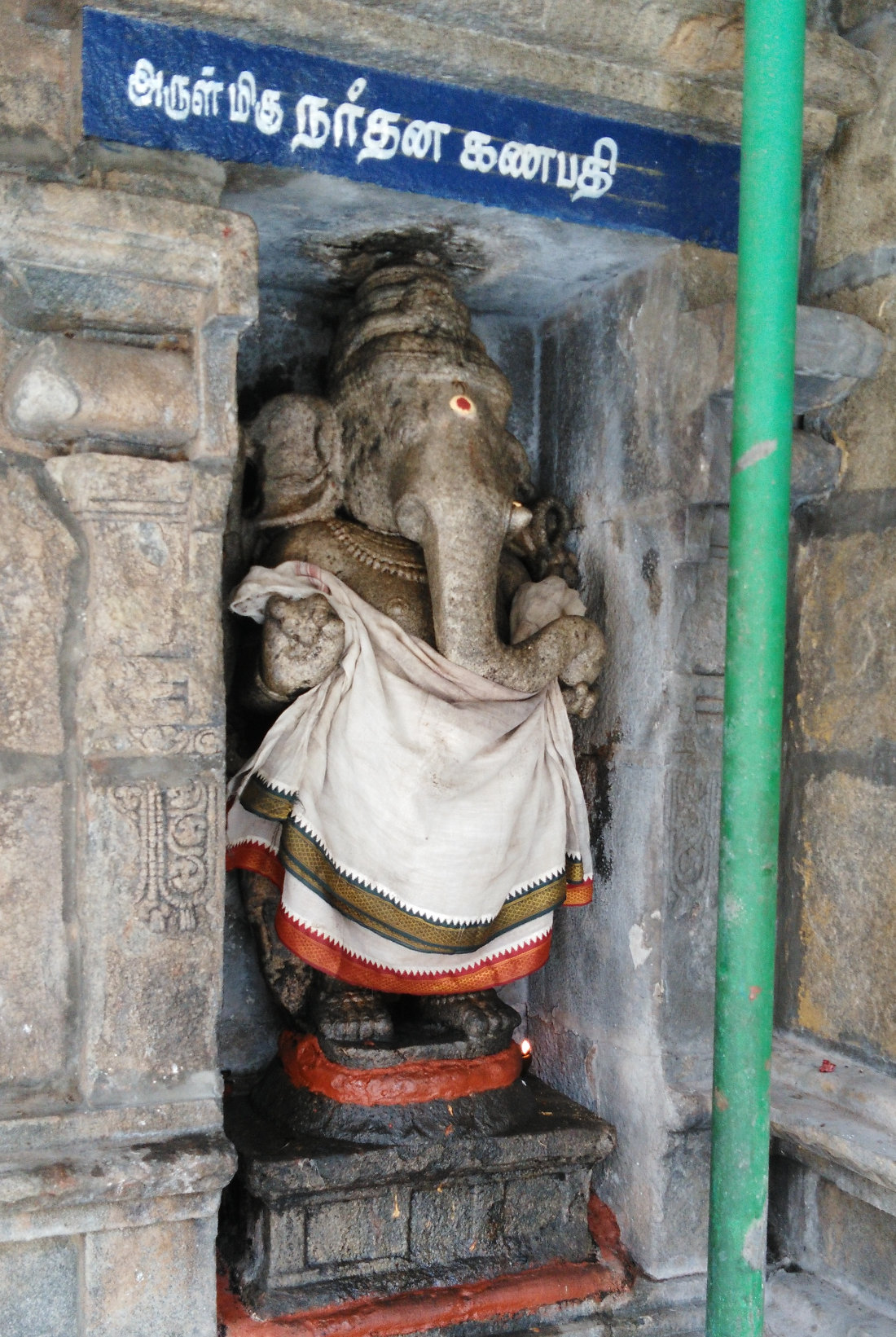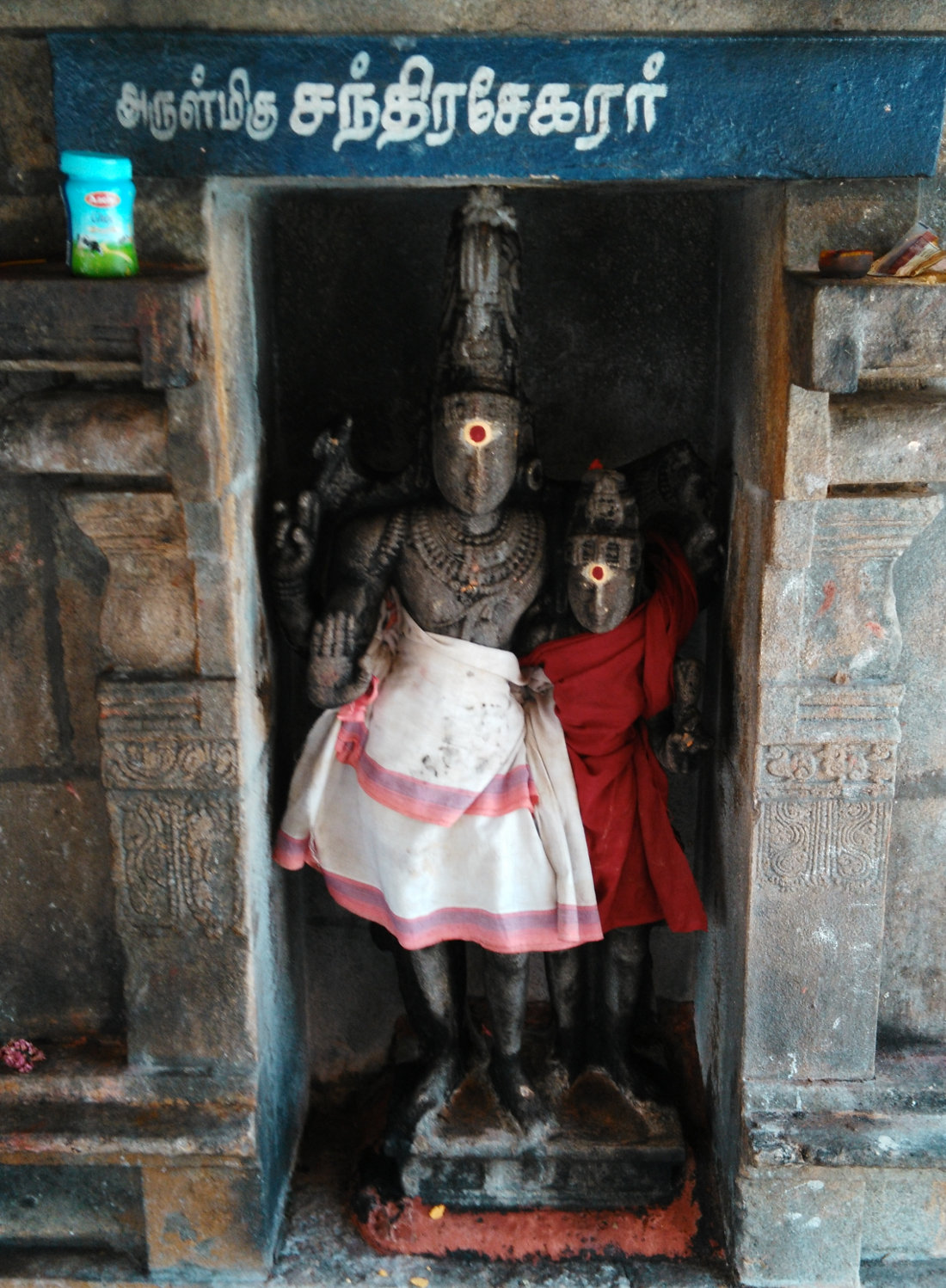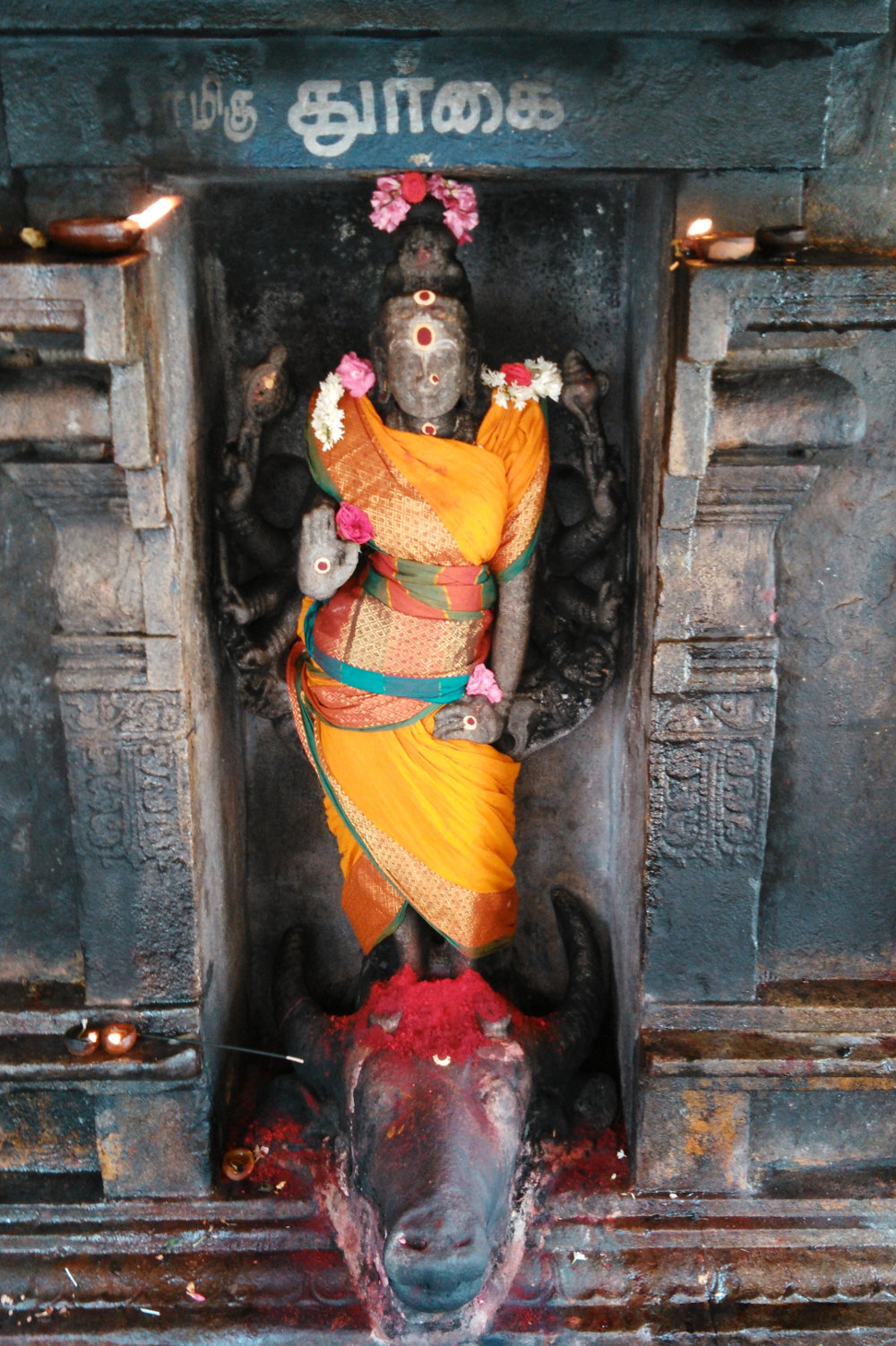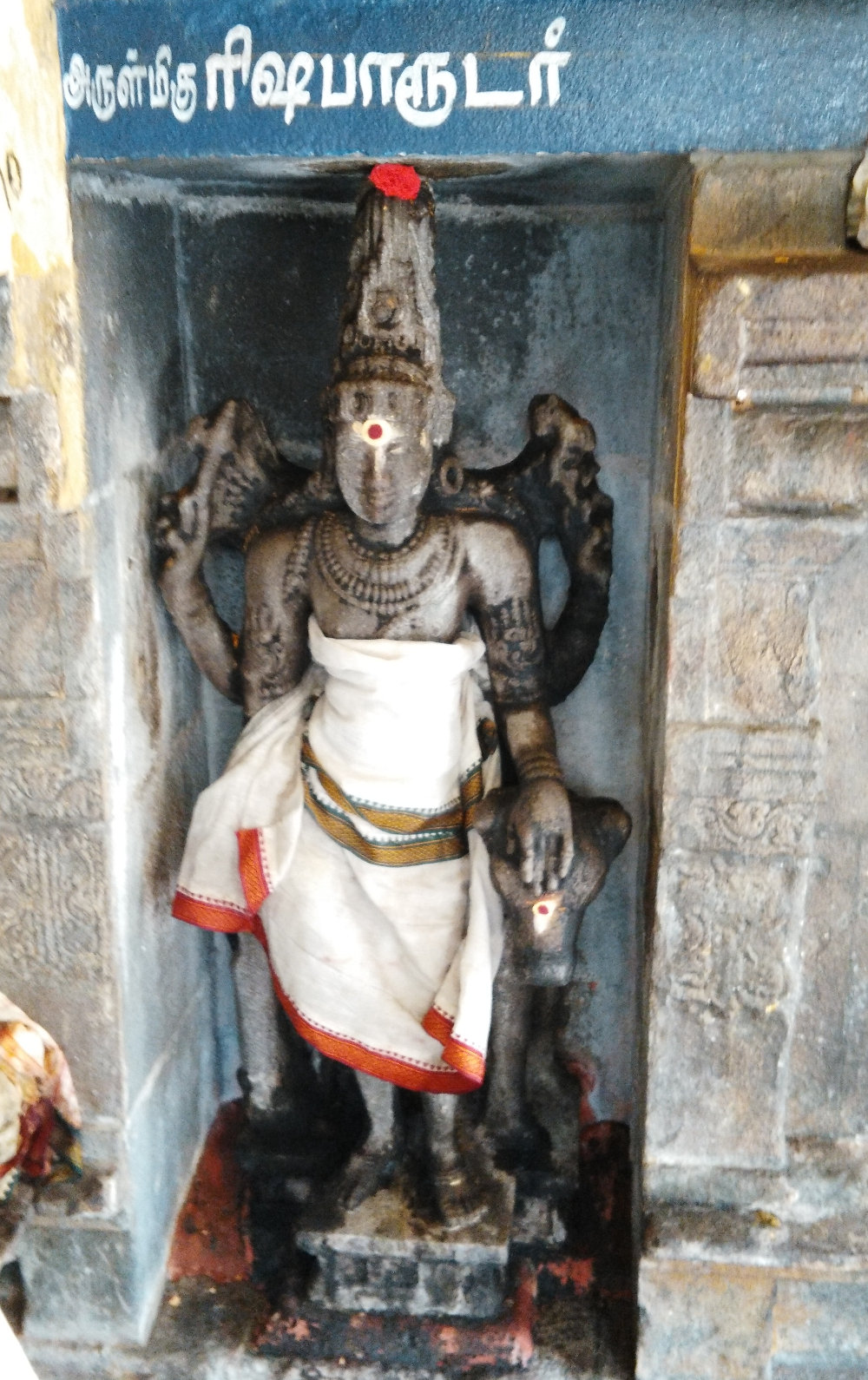 Salient Features
Goddess Parvathy's posture here is unique and cannot be seen anywhere else as she is depicted in a seated posture. The imposing five feet idol of Goddess Parvathy is installed over Sri Chakra in the sanctum. She is seated majestically, resting her folded right leg on the seat. Her left leg is in "Sukhasana" posture. She is said to be in "Manonmani Swaroopam" and hence is also known as Sri Shantha Nayaki.
Goddess Parvathy of this temple is praised as Sri Lalithambigai. This name itself is quite unique as we cannot see her praised by this name in other temples.
Another significance of this temple is that one can get the darshan of the lords of two temples from a single complex – Sri Meganathaswamy and Sri Sahalabhuvaneswarar.
Behind the sanctum sanctorum, on either sides of Lord Lingothbavar, there are idols of Lord Mahavishnu and Lord Brahma in a worshipping posture. Devotees can enjoy the darshan of all the three lords (Trimurthys) – Brahma, Vishnu and Shiva from one place. This is considered to be very auspicious.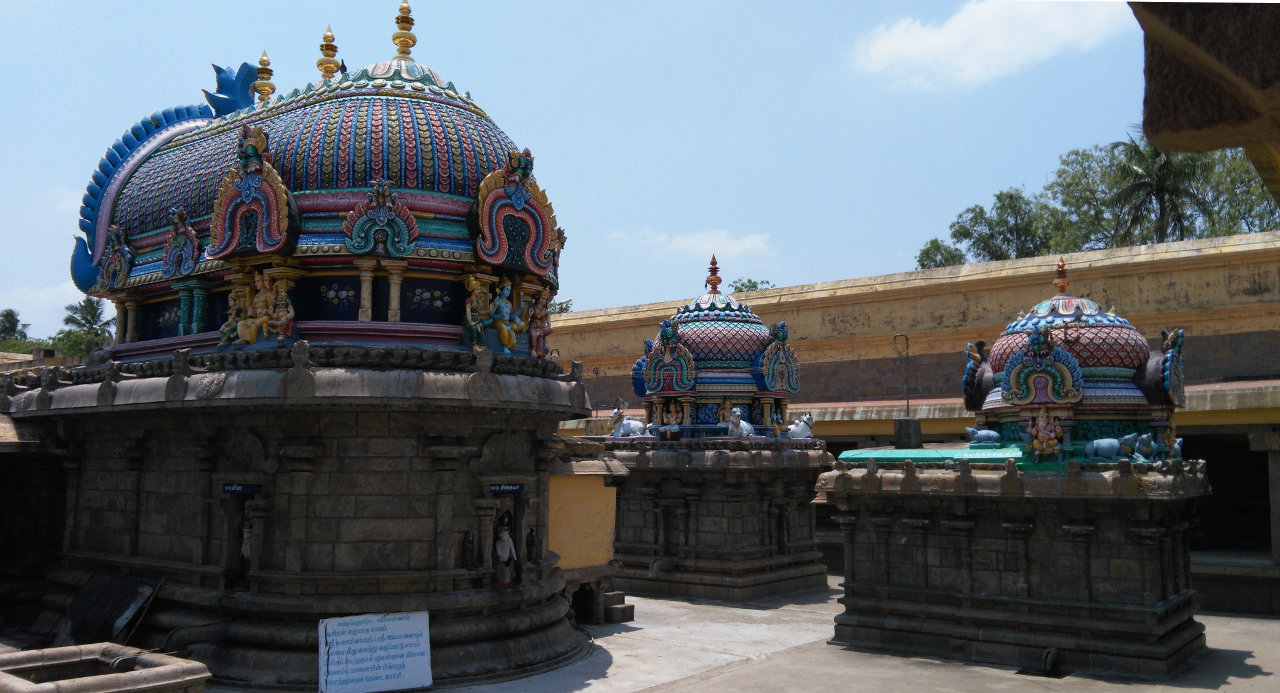 The shrine of Goddess "Asthabhujanga Durga" (Durgai with 8 hands) in the outer corridor is of special significance. She is holding a parrot in her right hand which is supposed to be taking our messages to Goddess Lalithambigai. Devotees, who want their wishes to come true can convey the same to Goddess Lalithambigai through this Goddess Durgai. We can still see some parrots in this temple.
It is believed that King Kochengat Chola built 70 "Madakkoils". The distinguishing feature of a Madakkoil is that it is not easily approachable by an elephant. He built these temples at an elevation and there are a few steps that need to be climbed before seeing the lord. Also, the sanctum sanctorum's (Karpagragam) entrance is narrow such that no elephant can enter it.
The vimana (roof tower) of the sanctum sanctorum is designed in a special style of architecture called the Gaja Brishtam. This makes the vimanam looks like the rear of an elephant (Gaja - elephant, brishtam - rear).
In this temple, we can see many beautiful sculptures and towers which speak about the architectural beauty and excellent craftmanship of the Chola period.
It is believed that Lord Suryan (Sun) worships Lord Shiva of this temple by directing his rays on the lingam for seven days (21st to 27th) in the Tamil month of Chithirai (April). Surya Puja is performed here during these days.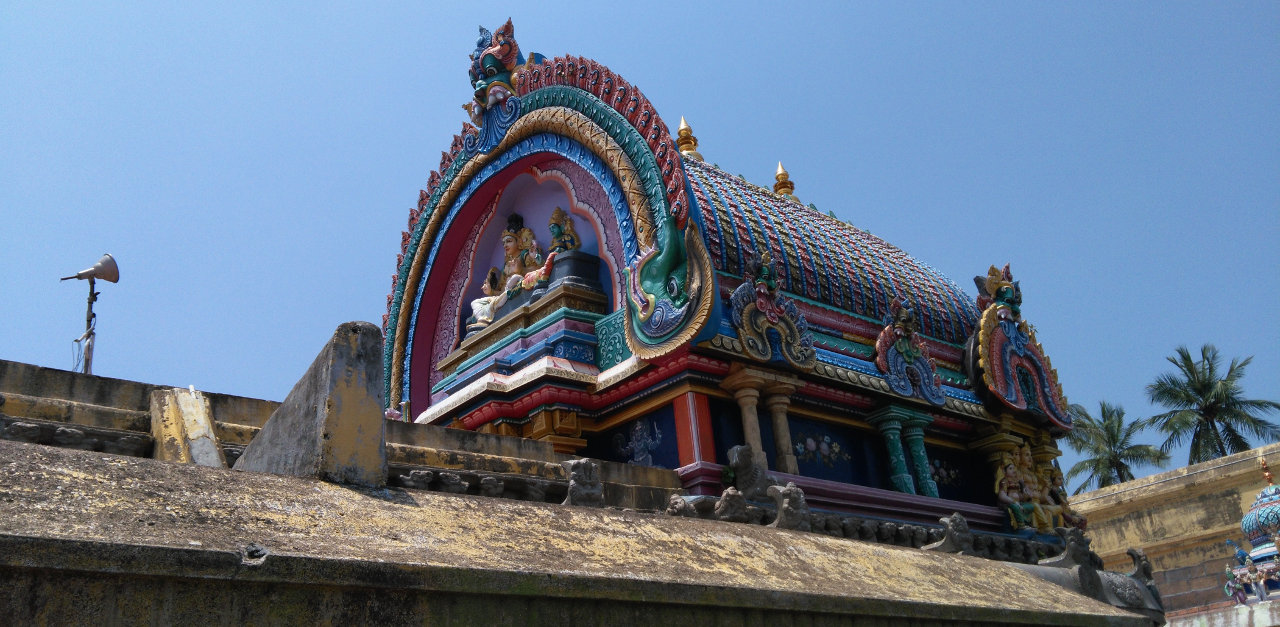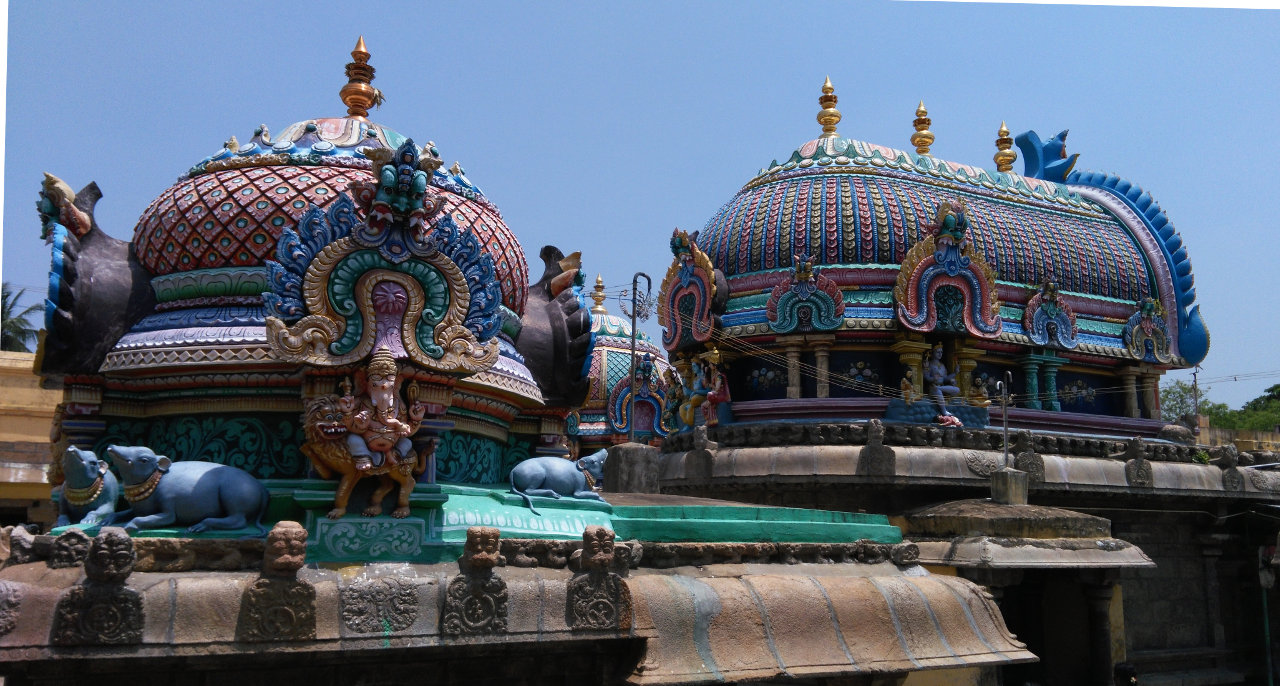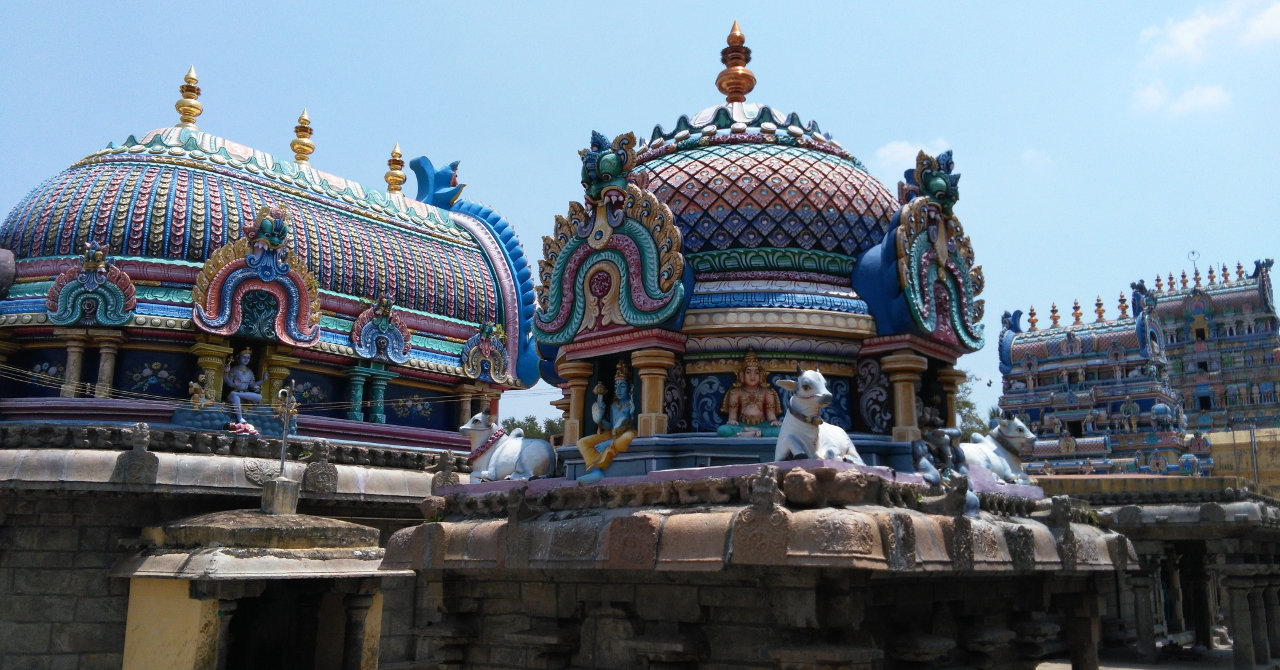 Greatness of this temple
Devotees believe that by reciting "Lalitha Sahasranamam" and "Lalitha Navarathnamala" here, they would receive the blessings of Goddess Parvathy.
Devotees also make offerings of rice mixed with "Pirandai" (a green vegetable), placed on a lotus leaf, to the lord and then distribute it to the people. By doing so, it is believed that they would be blessed with longevity and would be relieved from their ailments.
Being a Shakti Peet, it is believed by devotees that by worshiping the goddess here, they would be relieved from all kind of "doshas".
It is also believed that Lord Saneeswaran and Lord Yama were born to Lord Suryan here. Hence, it is considered auspicious to perform poojas on birth anniversary ("Aayushyahomam"), 61st birthday ("Sashtiyapthapoorthy") and 81st birth day ("Sadabishekam").
Important Festivals
A famous pooja that is celebrated here is "Annappaavaadai". During this pooja, a large quantity of rice mixed with jaggery is placed on the floor and a few litres of ghee is poured on top of it. During this offering, the reflection of the goddess can be seen on the ghee. This pooja is performed three times in a year – on Vijayadasami day during Navratri, Ashtami day in the Tamil month of Masi and Vaikasi full moon day.
"Rathasapthami" in the Tamil month of Thai is another important festival celebrated in this temple. Rathasapthami means the turning of Sun's chariot (Ratham) marking the beginning of "Utharayana" period. It continues from the Tamil month of Thai (Jan-Feb) to the Tamil month of Aani (June-July) during which the sun travels from the north to south direction.
Almost all other festivals related to Lord Shiva are celebrated in this temple in a grand manner.
Pradosham is also observed regularly.
Temple Timings
From 06.00 AM to 12.00 Noon and 04.30 PM to 08.30 PM.
Temple Address
Sri Meganathaswamy / Sri Sakalapuvaneswarar Temple
Thirumiyachur Post,
Nannilam Taluk,
Thiruvarur District
Tamil Nadu – 609405.
Tele: +91 94448 36526, 94446 98841, 04366 - 239 170.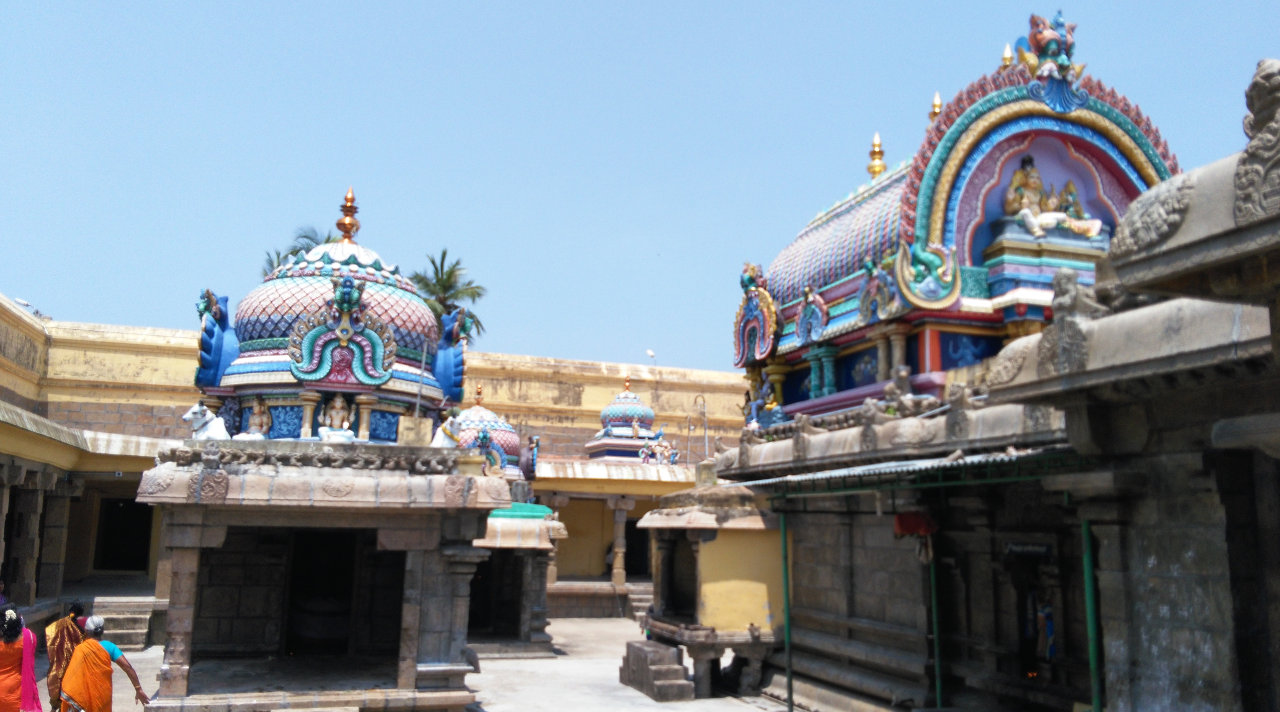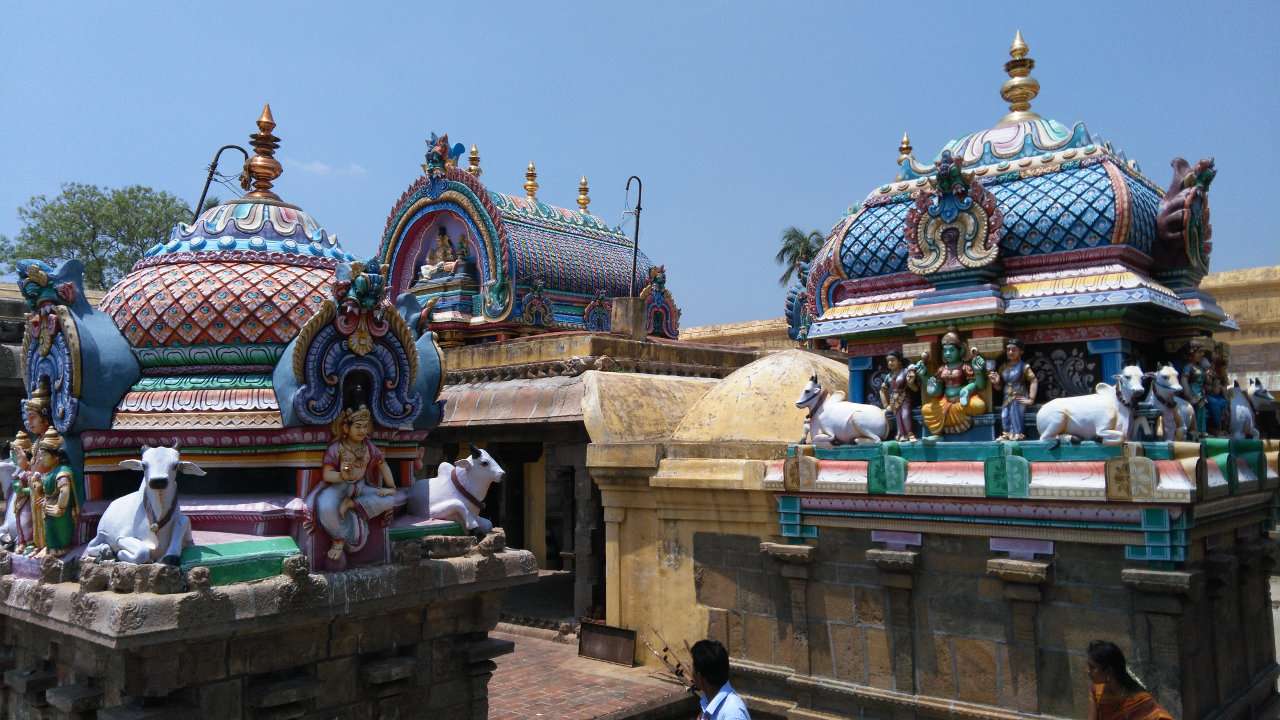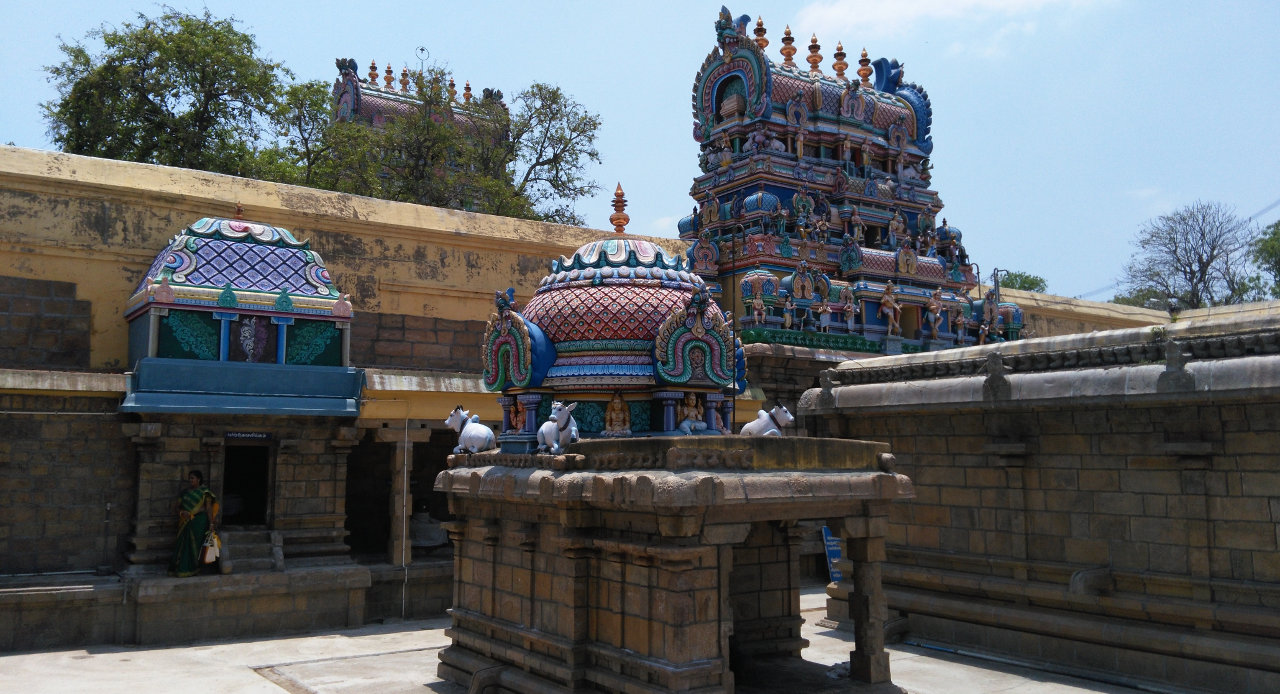 ---
Pathigam (Hymn) with English transliteration
Saint Thirugnanasambanthar visited this temple and sang this Pathigam.
Devotees visiting this temple should make it a practice to recite this Pathigam.
காயச் செவ்விக் காமற் காய்ந்து கங்கையைப்
பாயப் படர்புன் சடையிற் பதித்த பரமேட்டி
மாயச் சூர்அன் றறுத்த மைந்தன் தாதைதன்`
மீயச் சூரே தொழுது வினையை வீட்டுமே.
"Kāyach chevvik kāmaṟ kāynthu kaṅkaiyaip
pāyap paṭarpuṉ saṭaiyiṟ pathiththa paramēṭṭi
māyach chūr'aṉ tṟaṟuththa mainthaṉ thāthaithaṉ `
mīyach chūrē thozhuthu viṉaiyai vīṭṭumē".
பூவார் சடையின் முடிமேற் புனலர் அனல்கொள்வர்
நாவார் மறையர் பிறையர் நறவெண் டலையேந்தி
ஏவார் மலையே சிலையாக் கழியம் பெரிவாங்கி
மேவார் புரமூன் றெரித்தார் மீயச் சூராரே.
"Pūvār saṭaiyiṉ muṭimēṟ puṉalar aṉalkoḷvar
nāvār maṟaiyar piṟaiyar naṟaveṇ ṭalaiyēnthi
ēvār malaiyē silaiyāk kazhiyam perivāṅki
mēvār puramūṉ tṟeriththār mīyach chūrārē".
பொன்னேர் கொன்றை மாலை புரளும் அகலத்தான்
மின்னேர் சடைக ளுடையான் மீயச் சூரானைத்
தன்னேர் பிறரில் லானைத் தலையால் வணங்குவார்
அந் நே ரிமையோர் உலகம் எய்தல் அரிதன்றே.
"Poṉṉēr koṉtṟai mālai puraḷum akalaththāṉ
miṉṉēr saṭaika ḷuṭaiyāṉ mīyach chūrāṉaith
thaṉṉēr piṟaril lāṉaith thalaiyāl vaṇaṅkuvār
an nē rimaiyōr ulakam eythal arithaṉṟē".
வேக மதநல் லியானை வெருவ வுரிபோர்த்துப்
பாகம் உமையோ டாகப் படிதம் பலபாட
நாகம் அரைமே லசைத்து நடமா டியநம்பன்
மேகம் உரிஞ்சும் பொழில்சூழ் மீயச் சூரானே.
"Vēka mathanal liyāṉai veruva vuripōrththup
pākam umaiyō ṭākap paṭitham palapāṭa
nākam araimē lasaiththu naṭamā ṭiyanampaṉ
mēkam uriñchum pozhilchūḻ mīyach chūrāṉē".
விடையார் கொடியார் சடைமேல் விளங்கும் பிறைவேடம்
படையார் பூதஞ் சூழப் பாட லாடலார்
பெடையார் வரிவண் டணையும் பிணைசேர் கொன்றையார்
விடையார் நடையொன் றுடையார் மீயச் சூராரே.
"Viṭaiyār koṭiyār saṭaimēl viḷaṅkum piṟaivēṭam
paṭaiyār pūtañ chūzhap pāṭa lāṭalār
peṭaiyār varivaṇ ṭaṇaiyum piṇaisēr koṉtṟaiyār
viṭaiyār naṭaiyoṉ tṟuṭaiyār mīyach chūrārē".
குளிருஞ் சடைகொள் முடிமேற் கோல மார்கொன்றை
ஒளிரும் பிறையொன் றுடையா னொருவன் கைகோடி
நளிரும் மணிசூழ் மாலை நட்டம் நவில்நம்பன்
மிளிரும் மரவம் உடையான் மீயச் சூரானே.
"Kuḷiruñ chaṭaikoḷ muṭimēṟ kōla mārkoṉtṟai
oḷirum piṟaiyoṉ tṟuṭaiyā ṉoruvaṉ kaikōṭi
naḷirum maṇichūzh mālai naṭṭam navilnampaṉ
miḷirum maravam uṭaiyāṉ mīyach chūrāṉē".
நீல வடிவர் மிடறு நெடியர் நிகரில்லார்
கோல வடிவு தமதாங் கொள்கை யறிவொண்ணார்
காலர் கழலர் கரியின் உரியர் மழுவாளர்
மேலர் மதியர் விதியர் மீயச் சூராரே.
"Nīla vaṭivar miṭaṟu neṭiyar nikarillār
kōla vaṭivu thamathāṅ koḷkai yaṟivoṇṇār
kālar kazhalar kariyiṉ uriyar mazhuvāḷar
mēlar mathiyar vithiyar mīyach chūrārē".
புலியின் உரிதோ லாடை பூசும் பொடிநீற்றர்
ஒலிகொள் புனலோர் சடைமேற் கரந்தார் உமையஞ்ச
வலிய திரள்தோள் வன்கண் அரக்கர் கோன்தன்னை
மெலிய வரைக்கீழ் அடர்த்தார் மீயச் சூராரே.
"Puliyiṉ urithō lāṭai pūsum poṭinītṟar
olikoḷ puṉalōr saṭaimēṟ karanthār umaiyañcha
valiya thiraḷthōḷ vaṉkaṇ arakkar kōṉthaṉṉai
meliya varaikkīzh aṭarththār mīyach chūrārē".
காதின் மிளிருங் குழையர் கரிய கண்டத்தார்
போதி லவனும் மாலுந் தொழப் பொங் கெரியானார்
கோதி வரிவண் டறைபூம் பொய்கைப் புனல்மூழ்கி
மேதி படியும் வயல்சூழ் மீயச் சூராரே.
"Kāthiṉ miḷiruṅ kuzhaiyar kariya kaṇṭaththār
pōthi lavaṉum mālun thozhap poṅ keriyāṉār
kōthi varivaṇ ṭaṟaipūm poykaip puṉalmūzhki
mēthi paṭiyum vayalchūzh mīyach chūrārē".
கண்டார் நாணும் படியார் கலிங்க முடைபட்டைக்
கொண்டார்சொல்லைக் குறுகா ருயர்ந்த கொள்கையார்
பெண்டான் பாக முடையார் பெரிய வரைவில்லால்
விண்டார் புரமூன் றெரித்தார் மீயச் சூராரே.
"Kaṇṭār nāṇum paṭiyār kaliṅka muṭaipaṭṭaik
koṇṭārsollaik kuṟukā ruyarntha koḷkaiyār
peṇṭāṉ pāka muṭaiyār periya varaivillāl
viṇṭār puramūṉ tṟeriththār mīyach chūrārē".
வேட முடைய பெருமா னுறையும் மீயச்சூர்
நாடும் புகழார் புகலி ஞான சம்பந்தன்
பாட லாய தமிழீ ரைந்தும் மொழிந்துள்கி
ஆடும் அடியார் அகல்வா னுலகம் அடைவாரே.
"Vēṭa muṭaiya perumā ṉuṟaiyum mīyachchūr
nāṭum pukazhār pukali gñāṉa sambanthaṉ
pāṭa lāya tamizhī rainthum mozhinthuḷki
āṭum aṭiyār akalvā ṉulakam aṭaivārē".