Visited on: 17th July, 2016
Location
Thirumullaivoyal is situated at a distance of about 16 kms from the Koyambedu Bus Terminus, Chennai. It is on the Chennai to Thiruvallur route. There is a railway station in Thirumullaivayil on the Chennai to Arakkonam railway line. The temple is about 2 kms away from the station.
Other Devara Paadal Petra Shiva Sthalams near this temple are – Thiruvotriyur, Thiruvalithayam, Thiruverkadu, Mylapore and Thiruvanmiyur.
General Information
| | |
| --- | --- |
| Moolavar | Sri Masilamaneeswarar, Sri Paasupatheeswarar |
| Ambal | Sri Kodiyidai Nayagi (Sri Kodi-idai-amman), Sri Lathamathyambal |
| Theertham (Holy water) | Kalyana Theertham, Agni Theertham, Subramanya Theertham and river Palaru |
| Sthala Vriksham (Sacred Tree) | Mullai (Jasmine) |
| Pathigam (Hymn) rendered by | Saint Sundaramurthy Nayanar (Sundarar) |
This is one of the 276 Devara Paadal Petra Shiva Sthalams and the 22nd Shiva Sthalam in Thondai Nadu.
Lord Shiva in this temple is a Swayambumurthi (self-manifested).
This lingam is not touched by human hands, not even by the priests, as it is "Theendathirumeni".
The vimanam (roof tower) of the sanctum sanctorum has been constructed according to the Gaja Brishtam style of architecture.
The temple's main tower (Rajagopuram) has 5-tiers and has 2 corridors.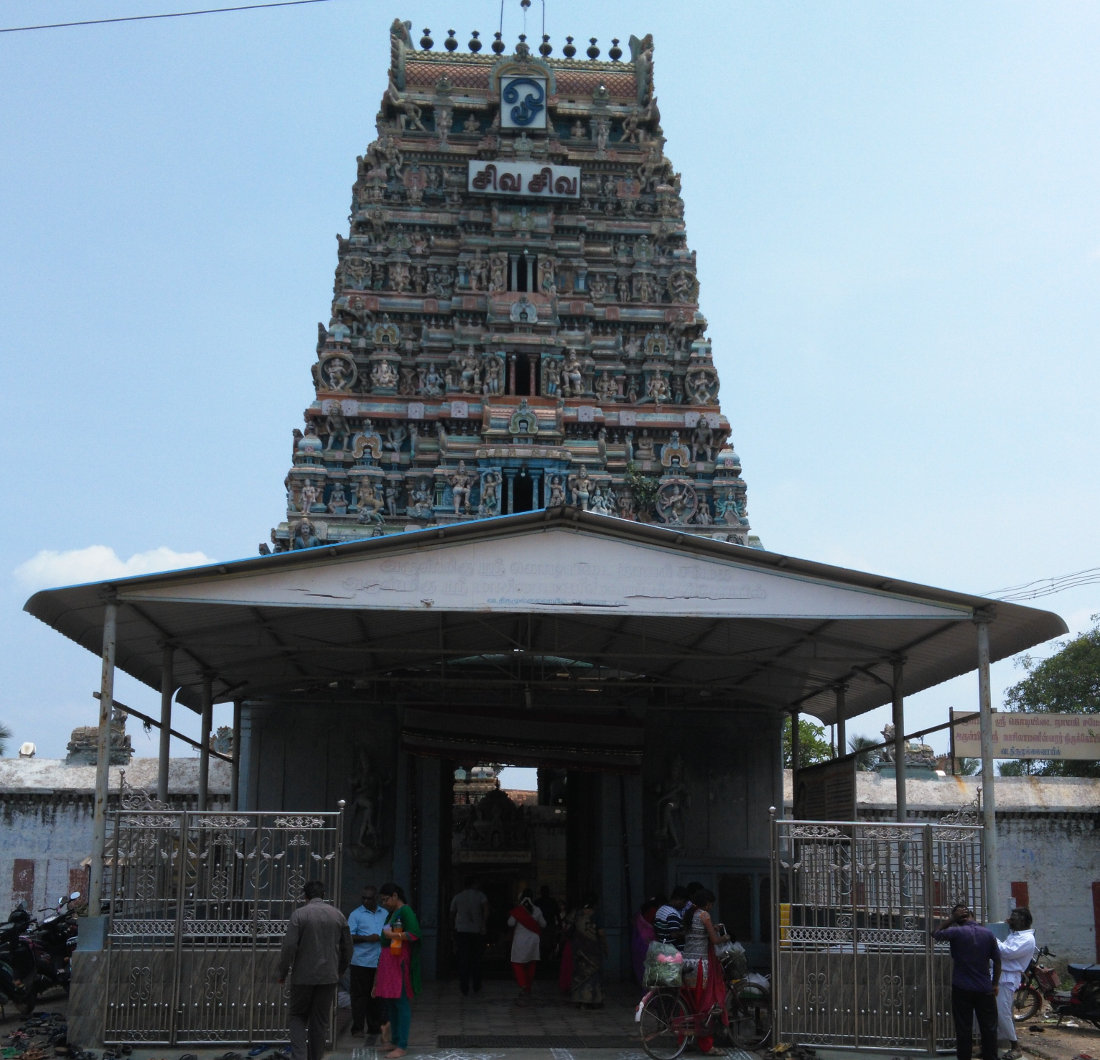 History of the Temple
There are two places with the same name of "Thirumullaivayil". One is located near Sirkazhi and the other near Chennai. Both of these places are home to very ancient temples. Thirumullaivayil near Seerkazhi is called "Then Thirumullaivasal" and the one near Chennai is called "Vada Thirumullaivoyal" ("Then" meaning south and "Vada" meaning north in Tamil).
"Thirumullaivoyal" or "Thirumullaivasal" gets its name from the belief that Lord Shiva emerged from a Jasmine bush in both these places. "Thiru" is a respectful prefix, "Mullai" means Jasmine and "Vassal" means place in Tamil. The historical name of the place is "Shanbakaranyam".
The "Tri-Shakti temples" – the temples for Itcha, Kriya and Gnana Shakthis are very popular and are of great significance in Hindu religion. Of these, the temple of Sri Kodiyidai Nayagi at Thirumullaivayil is considered to be the Kriya Shakti temple.
Legend
Acording to legend, in ancient times, the forest surrounding Thirumullaivayil was occupied by three demons - Onan, Kanthan and Vaanan from the Kurumbar tribes. They were ruling the Puzhal region (a place in Chennai) with Lord Bairavar as their protecting deity. These demons were terrorising the common people. King Thondaiman tried to intervene but he failed in his efforts to seek a peaceful solution. Then the king went to war with them but could not succeed as these demons had Lord Bairavar protecting them.
While returning from the battle field, the legs of his elephant got entangled in the jasmine shrubs. In order to clear the way, the king started hacking the plants with his sword but was shocked to see blood oozing from there. He cleared away the shrubs and found a bleeding Shivalingam there. The king was overcome by grief that he had damaged the Shivalingam. He tried to sever his head himself but Lord Shiva and Goddess Parvathi appeared before him and stopped him from doing so. Lord Shiva asked Nandhi to go with the king to counter the demons. With Nandhi's support, the king succeeded in his second attempt and destroyed the demons. That is why the Nandhi here is facing the east direction (towards the Puzhal region) instead of looking at Lord Shiva.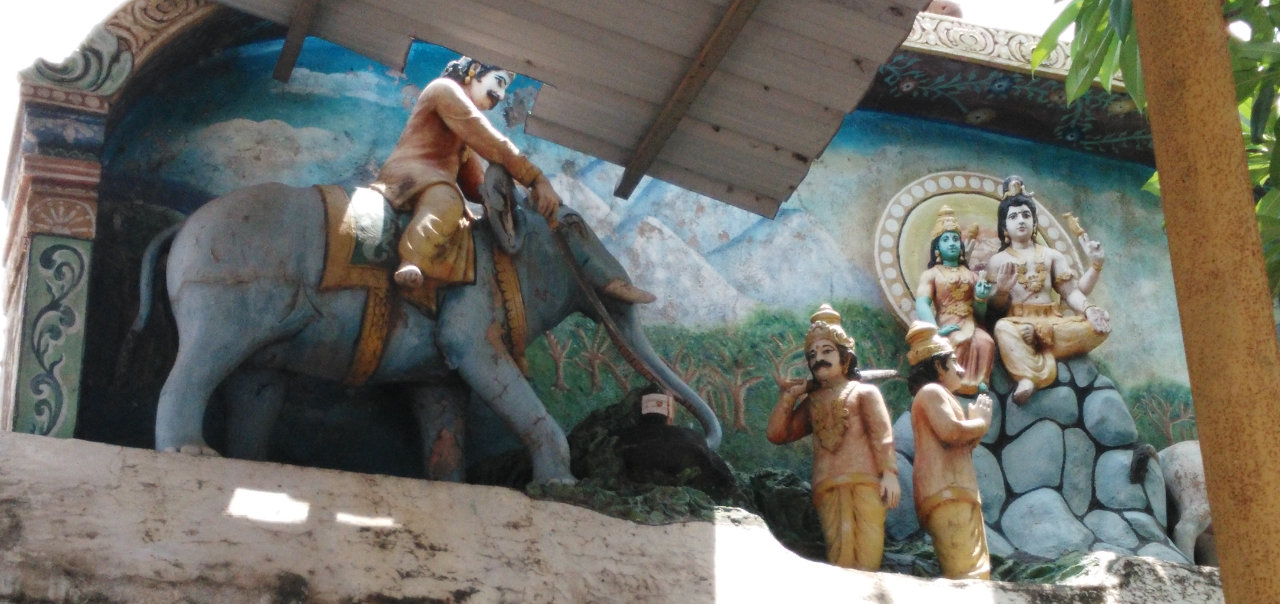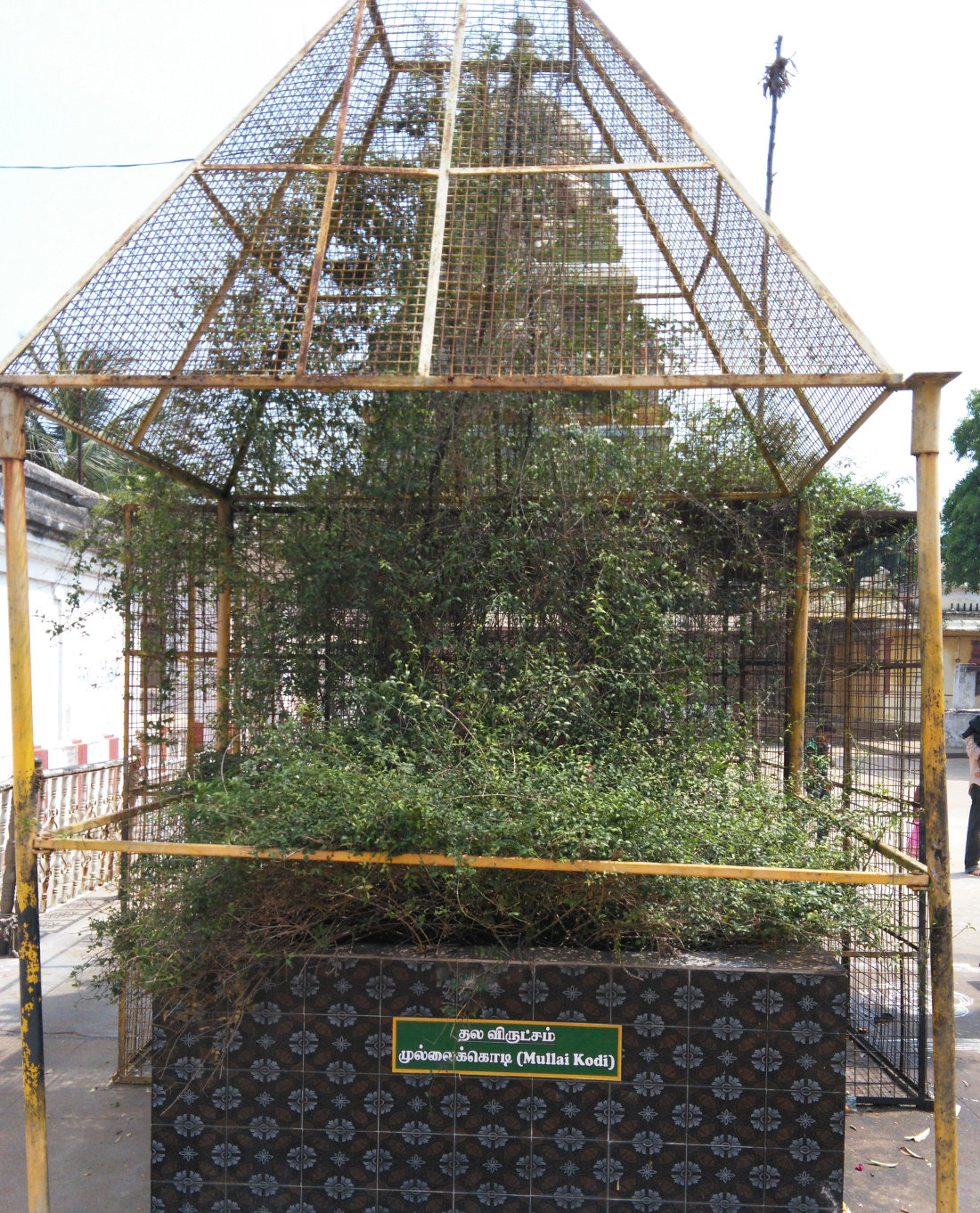 The king built a temple where he found the Shivalingam and named the lord as "Masilamaniswarar". This can be literally translated as "the Lord who is as precious as a gem, but without any stains". In Tamil, "Maasu" means stains, "ila" means without, "mani" means gem and "Iswar" is a respectful suffix.
To commemorate the victory, he seized a prized possession of the Kurumbars - two pillars made from the trunk of the "Vellerukku" tree (white Crown flower – Calotropins) from their fort and installed them in front of the main deity of this temple. These pillars are 11 ft high and have a perimeter of about 2.5 ft. They can be seen even today on either sides of Lord Masilamaniswarar.
The main deity is a tall Swayambumurthy lingam with a square base (Avudaiyar). This lingam bears scar marks due to the cut from the king's sword. To hide these scars, the lingam is always covered with sandalwood paste. During the day of the Sathaya nakshatra (Aquarius) in the Tamil month of Chithirai (Apr-May) every year, the old sandal paste is removed and a fresh layer is applied. This sandalwood paste is also seen as a way to treat the wounds on the lingam. There is no abhisheham for the lingam and it is only performed on the Avudaiyar (base).
It is believed that lords Mahavishnu, Brahma, Murugan, Ram, Lakshman, Krishna, Suryan, Chandran, sages Brigu, Vashistar, Soodama, Durvasar, and all the 27 Nakshatras (constellations) have worshiped the lord here and received his blessings.
It is believed that sage Vashistar performed penance here and got the divine cow Kamadenu as a reward for his devotion.
An interesting aside is that these demons - Onan and Kanthan had earlier installed a Shivalingam in Kancheepuram and obtained the lord's blessings. This temple in Kancheepuram is known as "Thiru Onakanthanthali".
Deities in the temple
Apart from Lord Shiva and Goddess Parvathi's shrines, Shrines and idols of lords Prasanna Vinayakar, Murugan, Natarajar, Pitchandavar, Mahavishnu with Sridevi and Poodevi, Dakshinamurthy, Brahma, Vishnu, Durgai, Bairavar, can be seen in the corridors. Idols of Nalvar, King Thondaiman and Neelakanda Sivachariyar can also be seen in the corridors.
There are shrines for Sri Kusalapureeswarar and Sri Cholapureeswarar in the corridors and these lingams are believed to have been worshipped by Lauv and Kush - the sons of Lord Ram.
There is also a "Rasalingam" – a lingam made out of Mercury and Silver that is kept in the sanctum.
Salient Features
As opposed to the regular position of the shrines of Lord Shiva and Goddess Parvathi (Kodiyidai Amman), Goddess Parvathy's shrine in this temple is on the right side of that of Lord Shiva. Secondly both these shrines are facing the east direction. This is considered to be very auspicious.
The Goddess here is called "Kodiyidai Nayagi". This can be literally translated as "goddess who has a waist as slender as a Jasmine climber".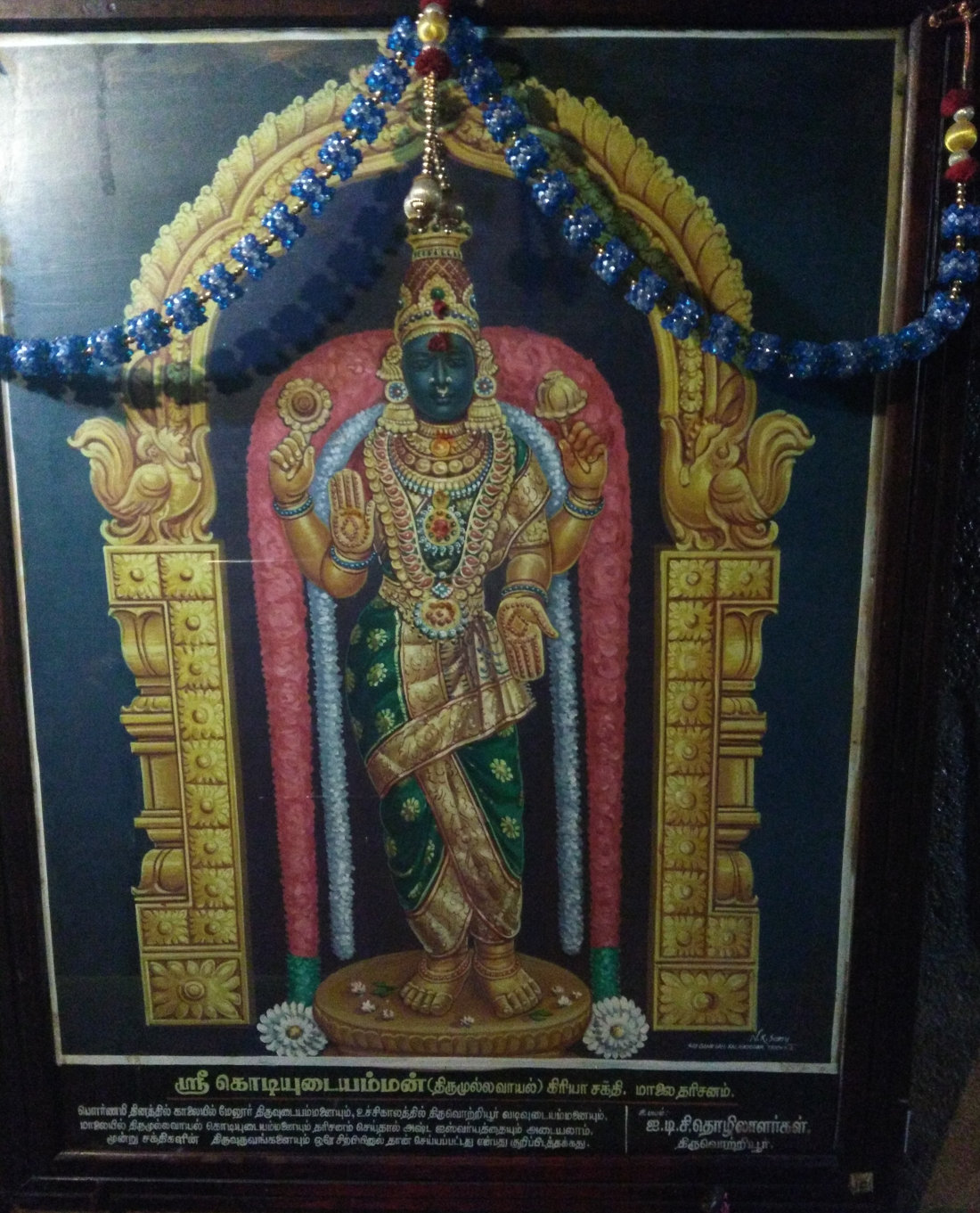 Of the three (Icha, Kiriya and Gnana) Shaktis, Sri Kodiyidai Nayagi is considered to be the Kriya Shakti. It is believed that worshipping these three goddesses in a single day (especially on a full moon day which falls on a Friday) at morning, midday and evening rewards the devotees with manifold benefits. Devotees can visit Sri Thiruvudai Amman (Icha Shakthi) in Melur in the morning, Sri Vadivudai Amman (Gnana Shakthi) in Thiruvotriyur in the afternoon and Sri Kodiyidai Nayagi (Kriya Shakthi) in Thirumullaivayil in the evening.
Shiva Puranam identifies five ways by which one can seek to obtain salvation -
By visiting and worshiping the temple in Chidambaram;
If one dies at Kasi (Banaras);
By remembering the lord at Thiruvannamalai;
By being born in Thiruvarur; and
By living in Kancheepuram.
In a similar vein, the significance of this temple is that one can seek to obtain salvation by simply hearing about the lord of this temple.
There is no shrine or idols for Navagraham in this temple as these nakshatras are believed to have worshiped Lord Shiva here.
The vimana (roof tower) of the sanctum sanctorum is designed in a special style of architecture called the Gaja Brishtam. This makes the vimanam look like the rear of an elephant (Gaja - elephant, brishtam - rear). This is also known as "Thoonganai Maadam" in Tamil (thoong(um) - sleeping, aanai - elephant, maadam - top of a temple).
The sanctum sanctorum is in the form of semi-circular tank (akazhi in Tamil).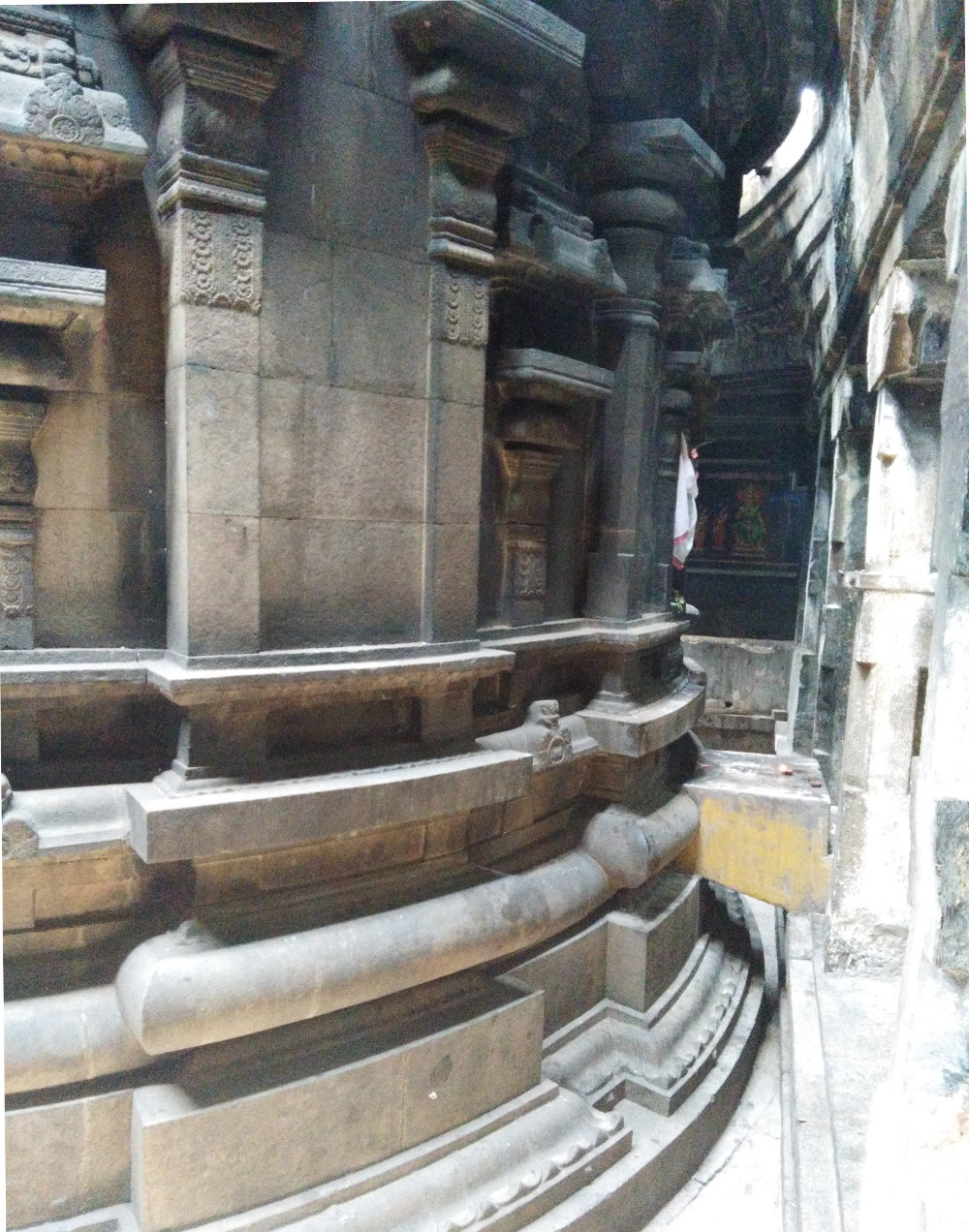 In his hymn of this temple, Saint Sundaramurthy sings about the King Thondaiman and how his elephant got entangled in the jasmine shrubs.
Saint Arunagirinadhar has sang songs in praise of Lord Murugan of this temple in his revered Thirupugazh.
Saint Madhava Shivagnana Yogi, Saint Ramalinga Adigalar and the "twin poets" (Irattai Pulavarkal) are believed to have worshiped the lord and rendered their songs.
Greatness of this temple
Since Goddess Kodiyidai Nayagi is considered to be the Kriya Shakti, her shrine is famous among devotees. They believe that worshiping the goddess here will bless the newlyweds with a long and prosperous married life and will remove obstacles in marriage proposals of unmarried women.
Important Festivals
10-day Brahmotsavam in the Tamil month of Vaikasi (May-June), wedding festival on the Vaikasi Visakam day, Masi Float festival (Theppam in Tamil) in the Tamil month of Masi (Feb-Mar) and Vasantha Utsavam in the Tamil month of Aani (June-July) are the main festivals celebrated in this temple.
Pradosham is also observed regularly.
Temple Timings
From 06:30 AM to 12:00 Noon and from 04:00 PM to 08:00 PM.
Temple Address
Sri Masilamaneeswarar Temple
Thirumullaivoyal,
Thiruvallur District
Tamil Nadu – 600 062.
Tele: +91 44 2637 6151.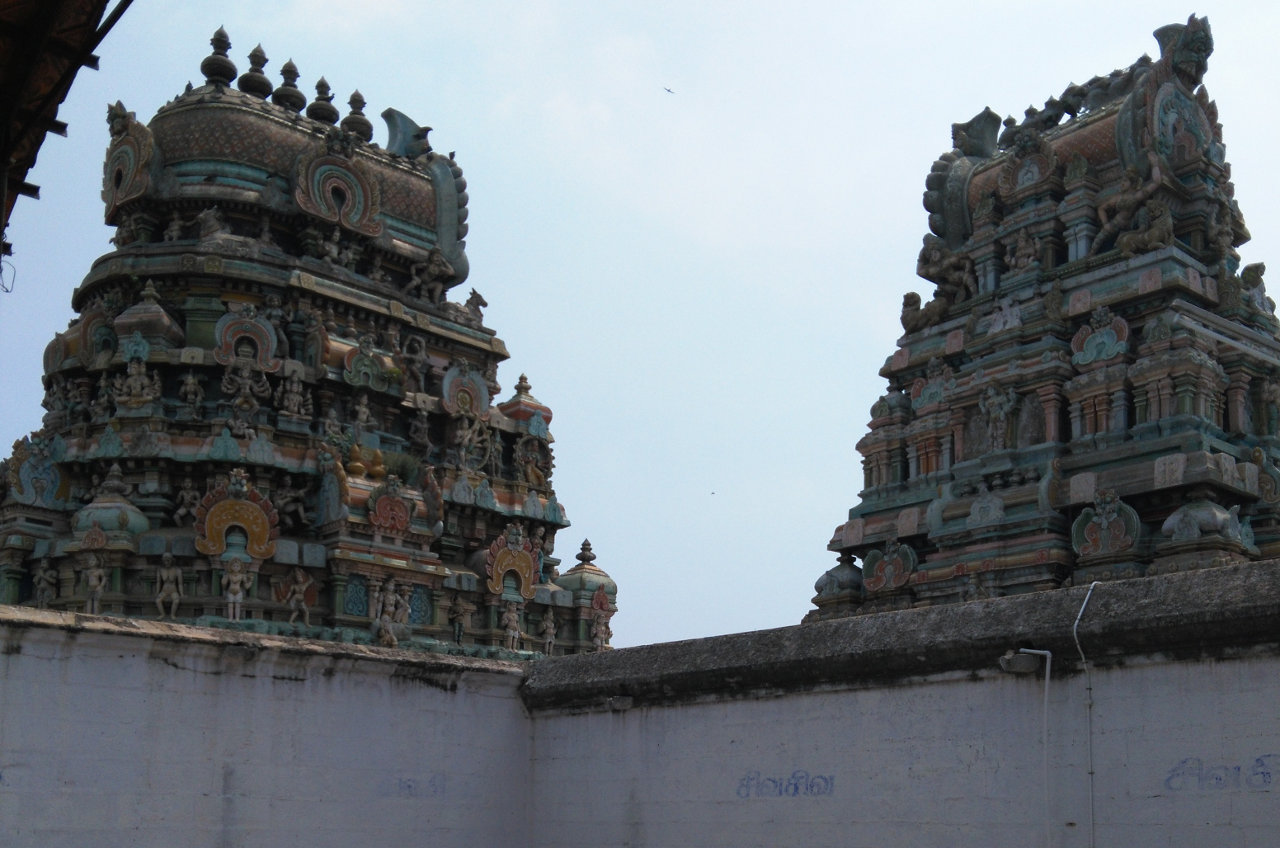 ---
Pathigam (Hymn) with English transliteration
Saint Sundaramurthy Nayanar visited this temple and sang this Pathigam.
Devotees visiting this temple should make it a practice to recite this Pathigam.
திருவுமெய்ப் பொருளுஞ் செல்வமும் எனக்குன்
சீருடைக் கழல்களென் றெண்ணி
ஒருவரை மதியா துறாமைகள் செய்து
மூடியும் உறைப்பனாய்த் திரிவேன்
முருகமர் சோலை சூழ்திரு முல்லை
வாயிலாய் வாயினால் உன்னைப்
பரவிடும் அடியேன் படுதுயர் களையாய்
பாசுப தாபரஞ் சுடரே.
"Thiruvumeyp poruḷuñ selvamum eṉakkuṉ
chīruṭaik kaḻzhlkaḷeṉ tṟeṇṇi
oruvarai mathiyā thuṟāmaikaḷ seythu
mūṭiyum uṟaippaṉāyt thirivēṉ
murukamar chōlai chūzhthiru mullai
vāyilāy vāyiṉāl uṉṉaip
paraviṭum aṭiyēṉ paṭuthuyar kaḷaiyāy
pāsupa thāparañ chuṭarē".
கூடிய இலயம் சதிபிழை யாமைக்
கொடியிடை உமையவள் காண
ஆடிய அழகா அருமறைப் பொருளே
அங்கணா எங்குற்றா யென்று
தேடிய வானோர் சேர்திரு முல்லை
வாயிலாய் திருப்புகழ் விருப்பால்
பாடிய அடியேன் படுதுயர் களையாய்
பாசுப தாபரஞ் சுடரே.
"Kūṭiya ilayam sathipizhai yāmaik
koṭiyiṭai umaiyavaḷ kāṇa
āṭiya azhakā arumaṟaip poruḷē
aṅkaṇā eṅkutṟā yeṉtṟu
thēṭiya vāṉōr sērthiru mullai
vāyilāy thiruppukazh viruppāl
pāṭiya aṭiyēṉ paṭuthuyar kaḷaiyāy
pāsupa thāparañ chuṭarē".
விண்பணிந் தேத்தும் வேதியா மாதர்
வெருவிட வேழமன் றுரித்தாய்
செண்பகச் சோலை சூழ்திரு முல்லை
வாயிலாய் தேவர்தம் மரசே
தண்பொழில் ஒற்றி மாநகர் உடையாய்
சங்கிலிக் காஎன்கண் கொண்ட
பண்பநின் னடியேன் படுதுயர் களையாய்
பாசுப தாபரஞ் சுடரே.
"Viṇpaṇin thēththum vēthiyā māthar
veruviṭa vēzhamaṉ tṟurithāy
seṇpakach chōlai chūzhthiru mullai
vāyilāy thēvartham marasē
thaṇpozhil otṟi mānakar uṭaiyāy
saṅkilik kā'eṉkaṇ koṇṭa
paṇpaniṉ ṉaṭiyēṉ paṭuthuyar kaḷaiyāy
pāsupa thāparañ chuṭarē".
பொன்னலங் கழனிப் புதுவிரை மருவிப்
பொறிவரி வண்டிசை பாட
அந்நலங் கமலத் தவிசின்மேல் உறங்கும்
அலவன்வந் துலவிட அள்ளல்
செந்நெலங் கழனி சூழ்திரு முல்லை
வாயிலாய் திருப்புகழ் விருப்பால்
பன்னலந் தமிழாற் பாடுவேற் கருளாய்
பாசுப தாபரஞ் சுடரே.
"Poṉṉalaṅ kazhaṉip puthuvirai maruvip
poṟivari vaṇṭicai pāṭa
annalaṅ kamalath thavisiṉmēl uṟaṅkum
alavaṉvan thulaviṭa aḷḷal
sennelaṅ kazhaṉi chūḻthiru mullai
vāyilāy thiruppukazh viruppāl
paṉṉalan thamizhāṟ pāṭuvēṟ karuḷāy
pāsupa thāparañ chuṭarē".
சந்தன வேருங் காரகிற் குறடுந்
தண்மயிற் பீலியுங் கரியின்
தந்தமுந் தரளக் குவைகளும் பவளக்
கொடிகளுஞ் சுமந்துகொண் டுந்தி
வந்திழி பாலி வடகரை முல்லை
வயிலாய் மாசிலா மணியே
பந்தனை கெடுத்தென் படுதுயர் களையாய்
பாசுப தாபரஞ் சுடரே.
"Santhaṉa vēruṅ kārakiṟ kuṟaṭun
thaṇmayiṟ pīliyuṅ kariyiṉ
thanthamun tharaḷak kuvaikaḷum pavaḷak
koṭikaḷuñ sumanthukoṇ ṭunthi
vanthizhi pāli vaṭakarai mullai
vayilāy māsilā maṇiyē
panthaṉai keṭutheṉ paṭuthuyar kaḷaiyāy
pāsupa thāparañ chuṭarē".
மற்றுநான் பெற்ற தார்பெற வல்லார்
வள்ளலே கள்ளமே பேசிக்
குற்றமே செயினுங் குணமெனக் கொள்ளுங்
கொள்கையால் மிகைபல செய்தேன்
செற்றுமீ தோடுந் திரிபுரம் எரித்த
திருமுல்லை வாயிலாய் அடியேன்
பற்றிலேன் உற்ற படுதுயர் களையாய்
பாசுப தாபரஞ் சுடரே.
"Matṟunāṉ petṟa thārpeṟa vallār
vaḷḷalē kaḷḷamē pēsik
kutṟamē seyiṉuṅ kuṇameṉak koḷḷuṅ
koḷkaiyāl mikaipala seythēṉ
setṟumī thōṭun thiripuram eritha
thirumullai vāyilāy aṭiyēṉ
patṟilēṉ utṟa paṭuthuyar kaḷaiyāy
pāsupa thāparañ chuṭarē".
மணிகெழு செவ்வாய் வெண்ணகைக் கரிய
வார்குழல் மாமயிற் சாயல்
அணிகெழு கொங்கை அங்கயற் கண்ணார்
அருநடம் ஆடல றாத
திணிபொழில் தழுவு திருமுல்லை வாயிற்
செல்வனே எல்லியும் பகலும்
பணியது செய்வேன் படுதுயர் களையாய்
பாசுப தாபரஞ் சுடரே.
"Maṇikezhu sevvāy veṇṇakaik kariya
vārkuzhal māmayiṟ sāyal
aṇikezhu koṅkai aṅkayaṟ kaṇṇār
arunaṭam āṭala ṟātha
thiṇipozhil thazhuvu thirumullai vāyiṟ
selvaṉē elliyum pakalum
paṇiyathu seyvēṉ paṭuthuyar kaḷaiyāy
pāsupa thāparañ chuṭarē".
நம்பனே அன்று வெண்ணெய்நல் லூரில்
நாயினேன் தன்னையாட் கொண்ட
சம்புவே உம்ப ரார்தொழு தேத்துந்
தடங்கடல் நஞ்சுண்ட கண்டா
செம்பொன்மா ளிகைசூழ் திருமுல்லை வாயில்
தேடியான் திரிதர்வேன் கண்ட
பைம்பொனே அடியேன் படுதுயர் களையாய்
பாசுப தாபரஞ் சுடரே.
"Nampaṉē aṉtṟu veṇṇeynal lūril
nāyiṉēṉ thaṉṉaiyāṭ koṇṭa
sampuvē umpa rārthozhu thēththun
thaṭaṅkaṭal nañchuṇṭa kaṇṭā
sempoṉmā ḷikaichūzh thirumullai vāyil
thēṭiyāṉ thiritharvēṉ kaṇṭa
paimpoṉē aṭiyēṉ paṭuthuyar kaḷaiyāy
pāsupa thāparañ chuṭarē".
மட்டுலா மலர்கொண் டடியிணை வணங்கும்
மாணிதன் மேல்மதி யாதே
கட்டுவான் வந்த காலனை மாளக்
காலினால் ஆருயிர் செகுத்த
சிட்டனே செல்வத் திருமுல்லை வாயிற்
செல்வனே செழுமறை பகர்ந்த
பட்டனே அடியேன் படுதுயர் களையாய்
பாசுப தாபரஞ் சுடரே.
"Maṭṭulā malarkoṇ ṭaṭiyiṇai vaṇaṅkum
māṇithaṉ mēlmathi yāthē
kaṭṭuvāṉ vantha kālaṉai māḷak
kāliṉāl āruyir sekutha
siṭṭaṉē selvath thirumullai vāyiṟ
selvaṉē sezhumaṟai pakarntha
paṭṭaṉē aṭiyēṉ paṭuthuyar kaḷaiyāy
pāsupa thāparañ chuṭarē".
சொல்லரும் புகழான் தொண்டைமான் களிற்றைச்
சூழ்கொடி முல்லையாற் கட்டிட்
டெல்லையில் இன்பம் அவன்பெற வெளிப்பட்
டருளிய இறைவனே என்றும்
நல்லவர் பரவுந் திருமுல்லை வாயில்
நாதனே நரைவிடை ஏறீ
பல்கலைப் பொருளே படுதுயர் களையாய்
பாசுப தாபரஞ் சுடரே.
"Sollarum pukazhāṉ thoṇṭaimāṉ kaḷitṟaich
chūzhkoṭi mullaiyāṟ kaṭṭiṭ
ṭellaiyil iṉpam avaṉpeṟa veḷippaṭ
ṭaruḷiya iṟaivaṉē eṉtṟum
nallavar paravun thirumullai vāyil
nāthaṉē naraiviṭai ēṟī
palkalaip poruḷē paṭuthuyar kaḷaiyāy
pāsupa thāparañ chuṭarē".
விரைதரு மலர்மேல் அயனொடு மாலும்
வெருவிட நீண்டஎம் மானைத்
திரைதரு புனல்சூழ் திருமுல்லை வாயிற்
செல்வனை நாவலா ரூரன்
உரைதரு மாலையோர் அஞ்சினோ டஞ்சும்
உள்குளிர்ந் தேத்தவல் லார்கள்
நரைதிரை மூப்பும் நடலையு மின்றி
நண்ணுவர் விண்ணவர்க் கரசே.
"Viraitharu malarmēl ayaṉoṭu mālum
veruviṭa nīṇṭa'em māṉaith
thiraitharu puṉalchūzh thirumullai vāyiṟ
selvaṉai nāvalā rūraṉ
uraitharu mālaiyōr añchiṉō ṭañchum
uḷkuḷirn thēththaval lārkaḷ
naraithirai mūppum naṭalaiyu miṉtṟi
naṇṇuvar viṇṇavark karasē".