Visited on: 17th July, 2016 and 22nd March, 2017
Location
Thiruvanmiyur is situated at a distance of about 29 kms from Koyambedu, Chennai. It is on the ECR (Chennai to Mahabalipuram route).
Other Devara Paadal Petra Shiva sthalams near this temple are – Thiruvotriyur, Thirumullaivayil, Thiruverkadu, Mylapore and Thiruvalithayam.
General Information
| | |
| --- | --- |
| Moolavar | Sri Marundeeswarar, Sri Vedapureeswarar, Sri Palvanna Nathar, Sri Vanmeeka Nathar |
| Ambal | Sri Thiripura Sundari, Sri Chokka Nayaki, Sri Sundara Nayaki |
| Theertham (Holy water) | Chithirai tank and 5 more Theerthams -Janma nasini, Kama nasini, Papa nasini, Gyana dhayini and Moksha nasini. |
| Sthala Vriksham (Sacred Tree) | Vanni |
| Pathigam (Hymn) rendered by | Saint Thirugnanasambanthar and Saint Thirunavukarasar (Appar) |
This is one of the 276 Devara Paadal Petra Shiva Sthalams and 25th Shiva Sthalam in Thondai Nadu.
Lord Shiva in this temple is a Swayambumurthi (self-manifested) and the lingam is white in colour.
This lingam is not touched by human hands, not even by the priests, as it is "Theendathirumeni".
This temple's east facing main tower (Rajagopuram) has 7-tiers and it has two corridors.
The last consecration ceremony (Maha Kumbabishekam) took place on 22.08.2004 and prior to that on 12.02.1984 and 01.02.1979.
History of the Temple
Thiruvanmiyur is located in Chennai and the temple is very close to the shores of the Bay of Bengal. This ancient temple is believed to be more than 1300 years old. Thiruvanmiyur derives its names from Sage Valmiki - Thiru-Valmiki-Oor. ("Thiru" is a respectful prefix and "Oor" is a place in Tamil). Since Sage Valmiki is believed to have worshipped Lord Shiva here, the lord here is also praised as "Vanmeeki Nathar".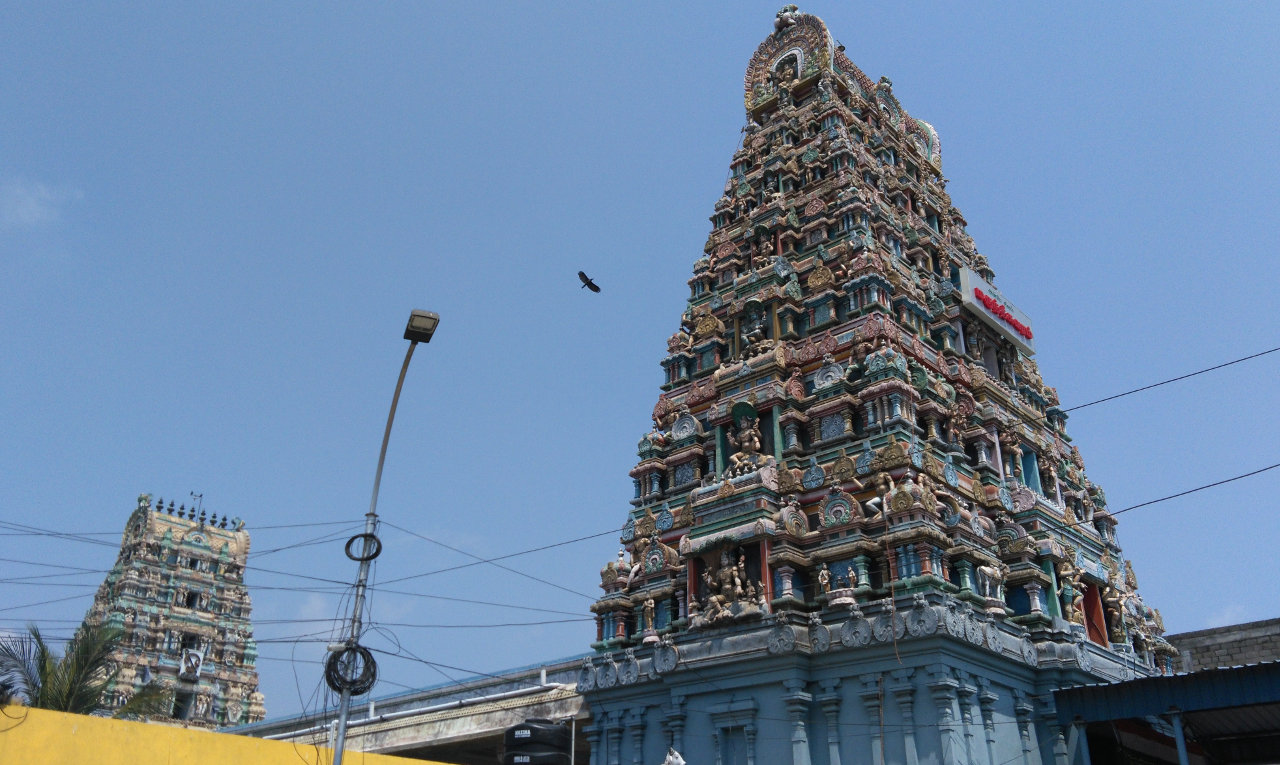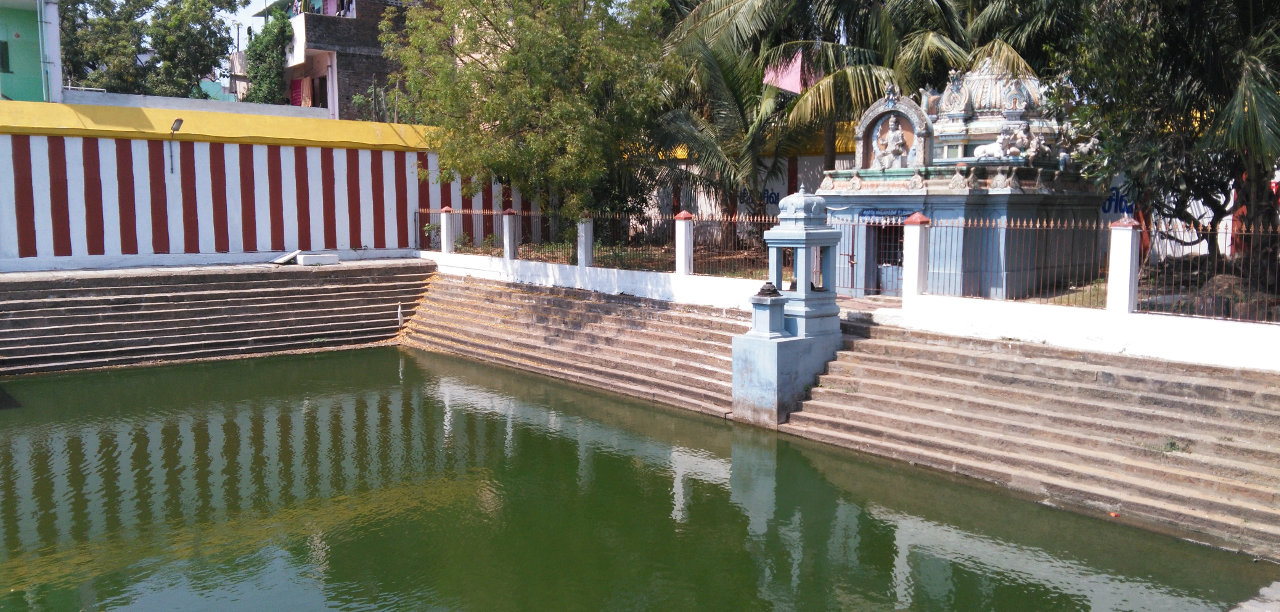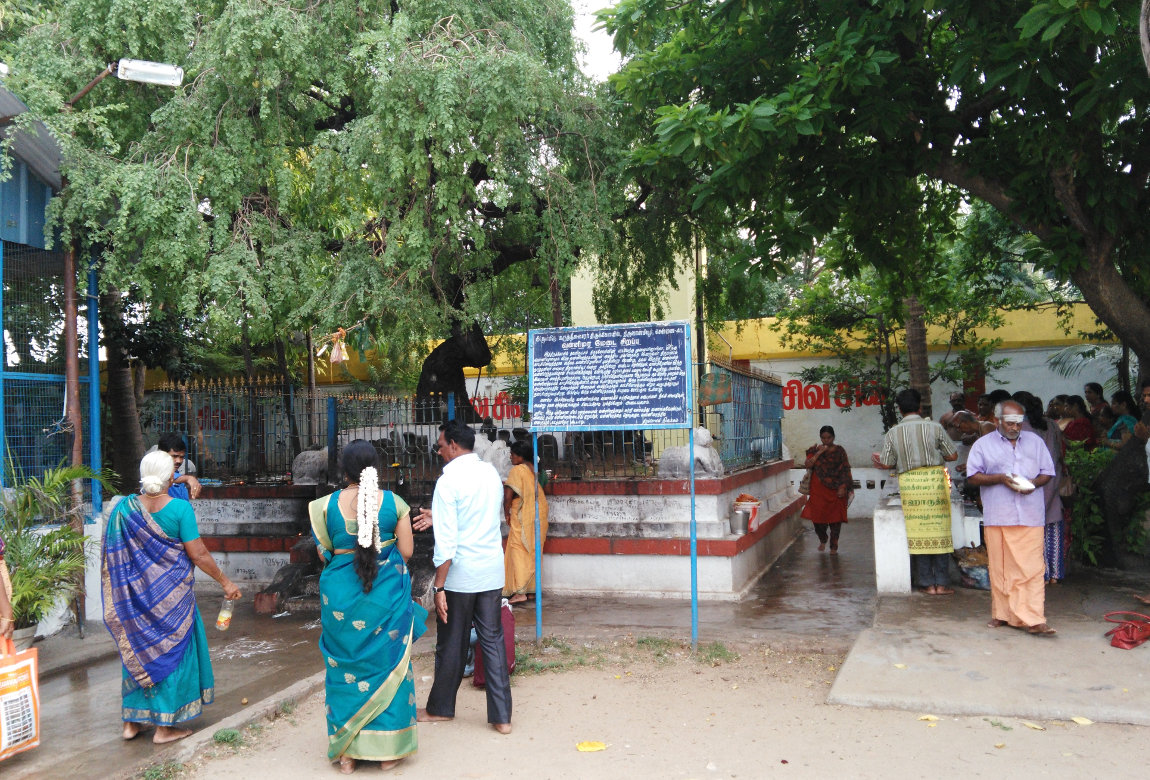 Legend
The legend is that sage Agasthiyar worshipped the lord here and was taught the science of "Oushadha Muligai" (medicinal herbs) by the lord. Hence the lord here is also known as "Sri Oushadeeswarar" and "Sri Marundeeswarar" ("Marundu" means medicine and "Eswarar" means god in Tamil). Sage Agasthiyar was blessed with Lord Shiva's wedding darshan under the Vanni tree, the sacred tree of this temple.
It is believed that Sage Valmiki was advised by Sage Narada to go to this temple and worship the lord to seek salvation. Lord Shiva is believed to have given darshan to sage Valmiki under this temple's Vanni tree. The lord is also believed to have performed his dance on a full moon day in the Tamil month of Panguni when the sage attained salvation.
The divine cow Kamadhenu is also believed to have worshipped the lingam here to seek relief from a curse by Sage Vashistar. The hoof marks of Kamadhenu can be seen on the lingam. As Kamadenu worshipped and offered her milk for the lord here, the lingam appears white in colour. Hence, the lord here is also known as "Palvanna Nathar" ("Palvannam" means "white as milk" in Tamil).
Vedas and Devas are believed to have worshipped the lord here. Hence the lord here is also known as "Sri Vedapureeswarar".
Lord Shiva also gave dharshan to sage Markandeyar under the Vanni tree.
It is believed that lords Brahma, Mahavishnu, Ram, Suryan, Chandran and Sage Birunki have worshipped Lord Shiva of this temple. The great Chola King Rajendran is also believed to have worshiped the lord here.
Saint Appayya Dhikshithar, a well-known Sanskrit scholar is also believed to have worshiped the lord here. It is believed that once, during heavy floods, the saint could not see the lord's face for worship. He prayed to the lord asking him to turn around. Lord Shiva obliged and turned west to grace his darshan. Hence, in this temple, Lord Shiva's shrine alone faces west whereas the other shrines face the east direction.
Deities in the temple
Other than the shrines of Lord Shiva and Goddess Parvathi, shrines and idols of lords Vinayakar, Murugan (as Selva Muthukumaraswamy) with his consorts, Veerabahu, Arunagirinathar, Dakshinamurthy, Brahma, Mahavishnu, Durgai, Gajalakshmi, 108 lingams, 63 Nayanmars, Nalvars, Kedareswarar, Jambukeswarar, Ramanathar, Arunachaleswarar with Unnamulai Amman, Sundareswarar and Kalabairavar can be seen in the corridors.
There is a separate shrine for Sage Valmiki in this place.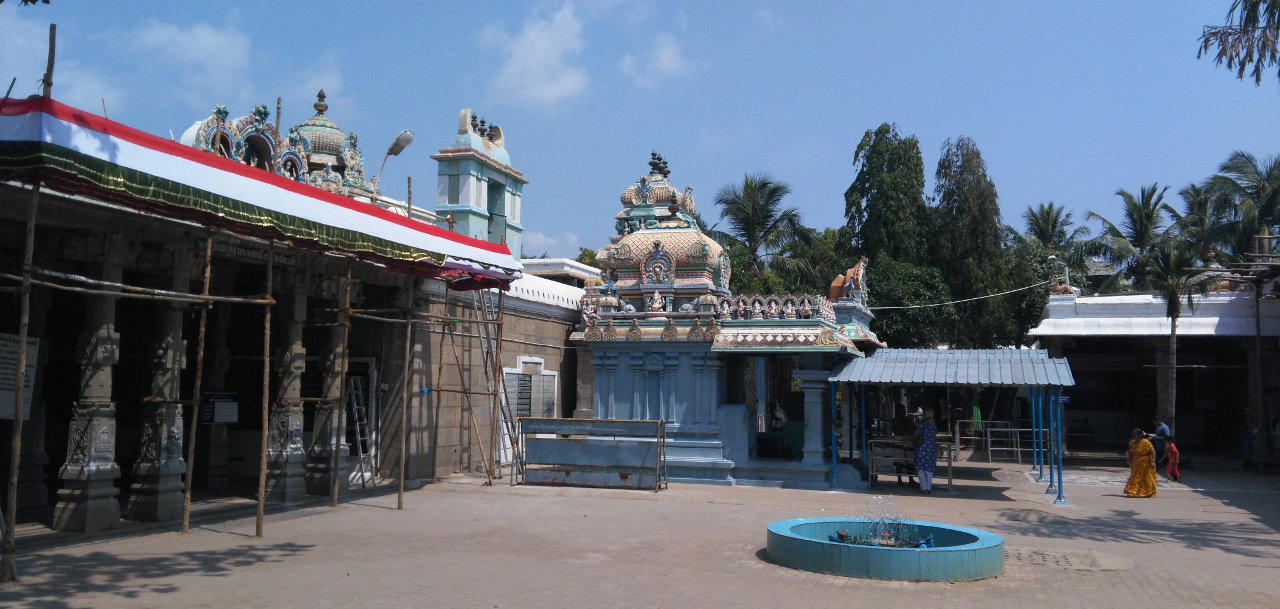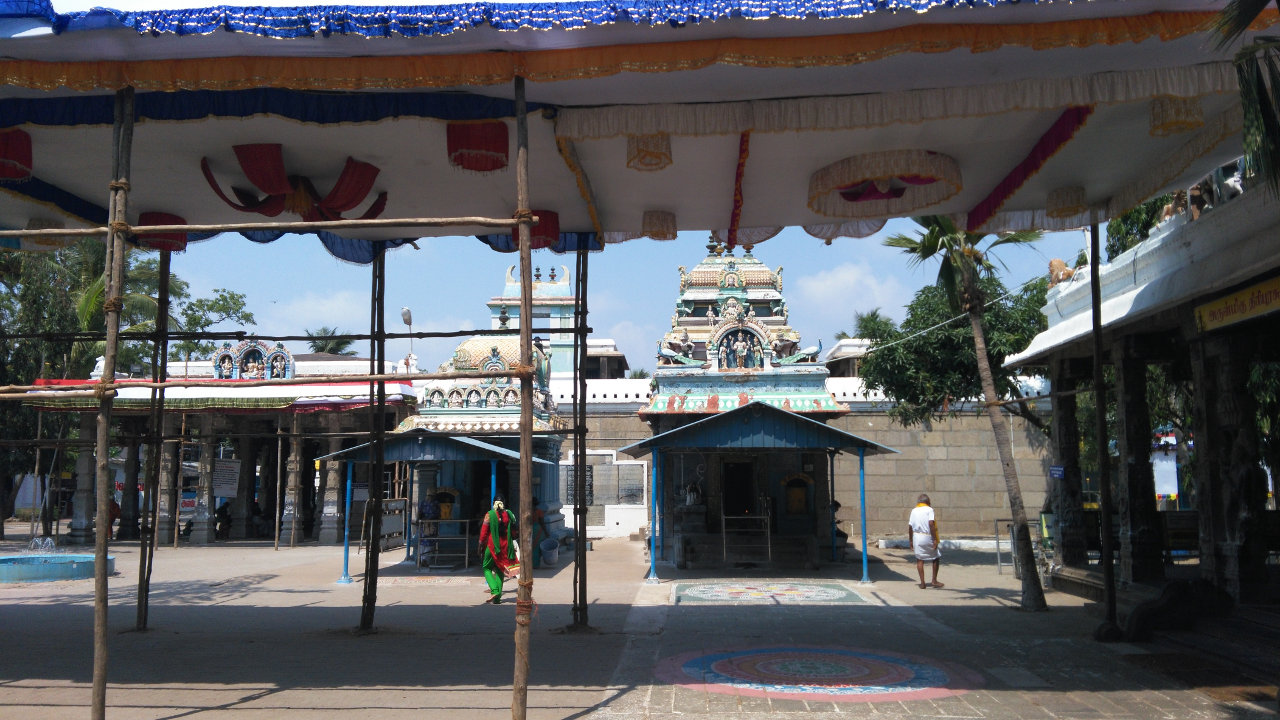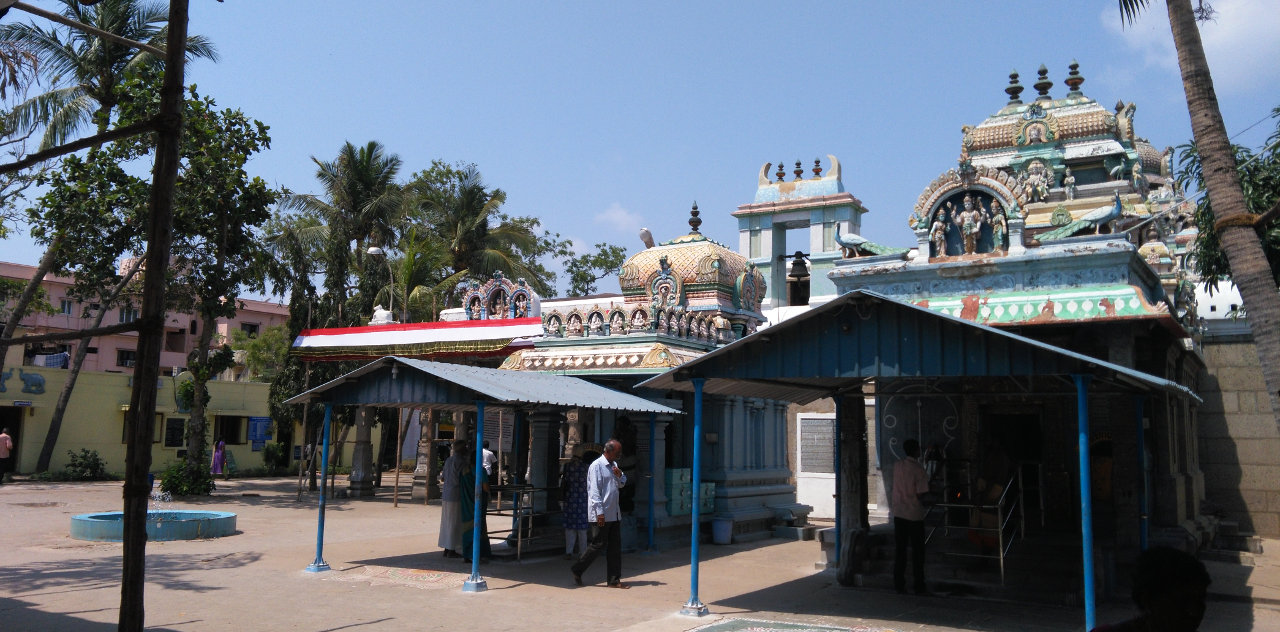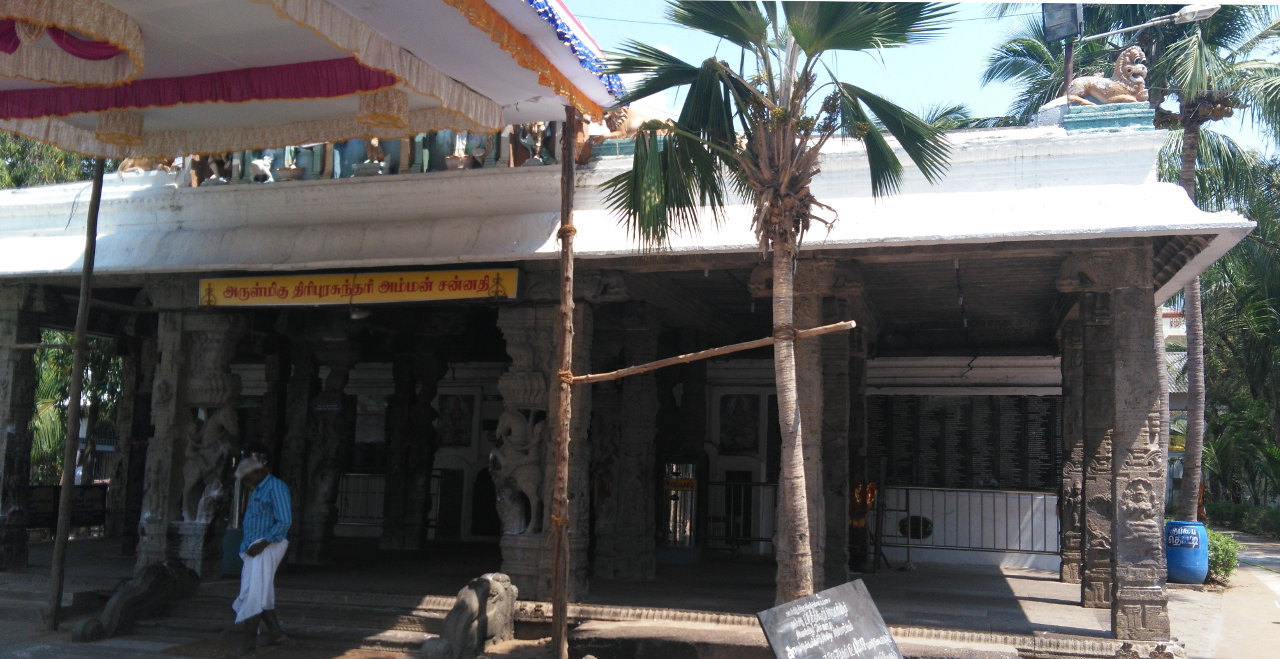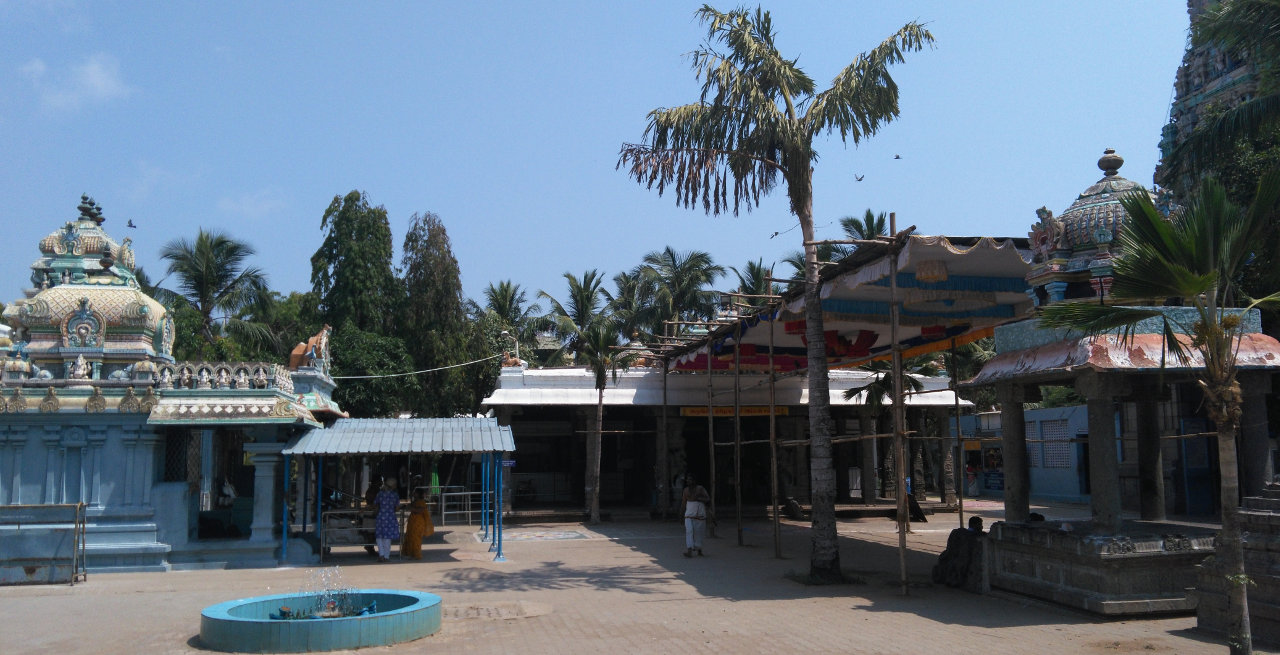 Salient Features
This temple has 5 theerthams – Janma nasini, Kama nasini, Papa nasini, Gyana dhayini and Moksha nasini. These are believed to have originated from the "jada mudi" of Lord Shiva.
Lord Murugan is seen with his right leg on his peacock mount. He has a bow in his hand.
Saint Arunagirinadhar has sang songs in praise of Lord Murugan of this temple in his revered Thirupugazh.
There is no Navagraham in this temple as this temple is believed to have been built in 7th century. Navagraham worship came into practice only after the 10th century (during the Chola period). It is also believed that since Suryan and Chandran worshiped the lord here, there is no need for a Navagraham shrine here.
There is a "Srichakra" installed in front of Goddess Thiripura Sundari.
Greatness of this temple
Devotees believe that by worshiping the lord here, they will be cured from their prolonged illness. It is also believed that by circumambulating the Vanni tree (where Lord Shiva gave darshan), devotees will be relieved off their sins and can obtain salvation.
Important Festivals
Brahmotsavam in the Tamil month of Panguni (Mar-Apr) is celebrated in a grand manner. During Brahmotsavam, on the 9th day, the occasion of Lord Shiva giving darshan to sage Agasthiar is celebrated.
Shivratri in the Tamil month of Masi (Feb-Mar), Vinayaka Chaturthi in the Tamil month of Aavani (Aug-Sept), Skanda Sashti in the Tamil month of Aippasi (Oct-Nov) are the other main festivals celebrated here.
Pradosham is also observed regularly.
Temple Timings
From 05.30 AM to 12.00 Noon and 04.00 PM to 08.30 PM.
Temple Address
Sri Marundeeswarar Temple
Lalitha Nagar
Thiruvanmiyur
Chennai,
Tamil Nadu – 600 041.
Tele: +91 44 - 2441 0477, 2442 2688.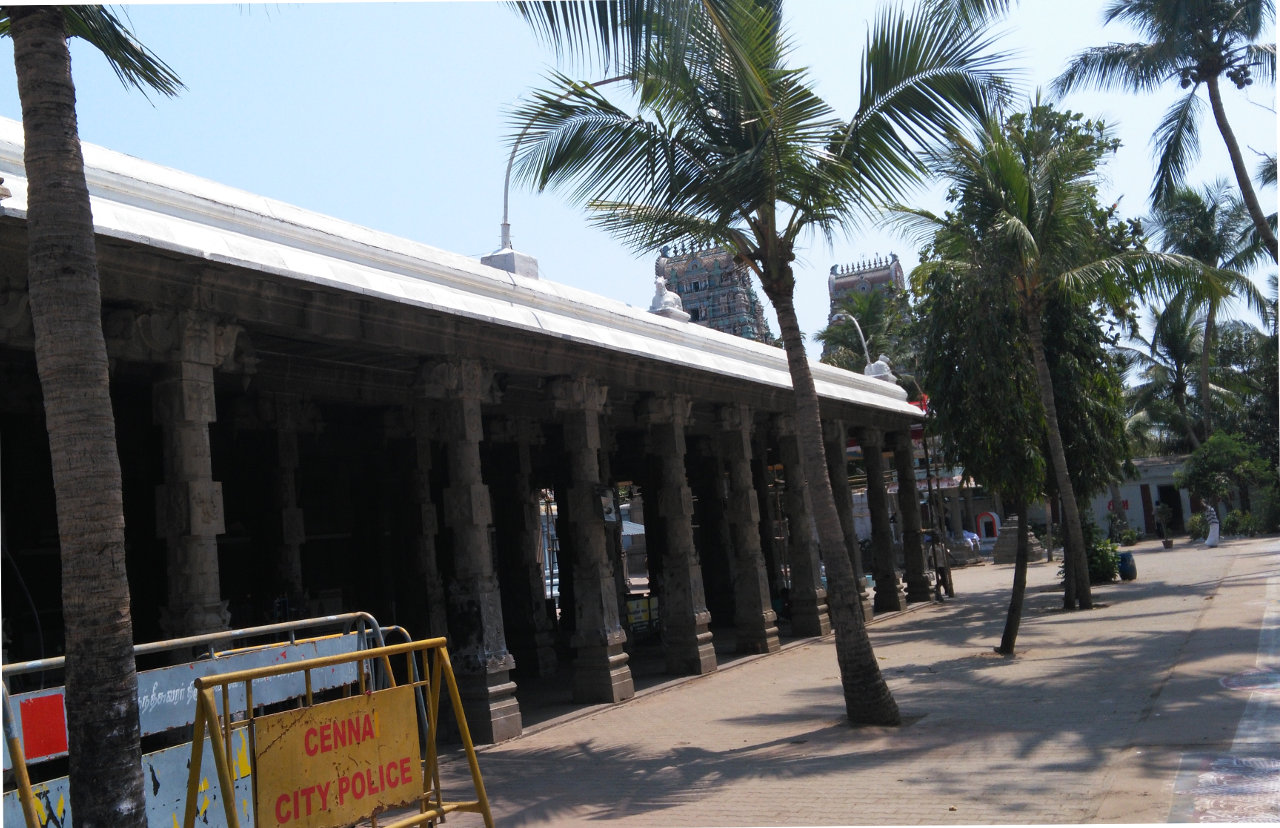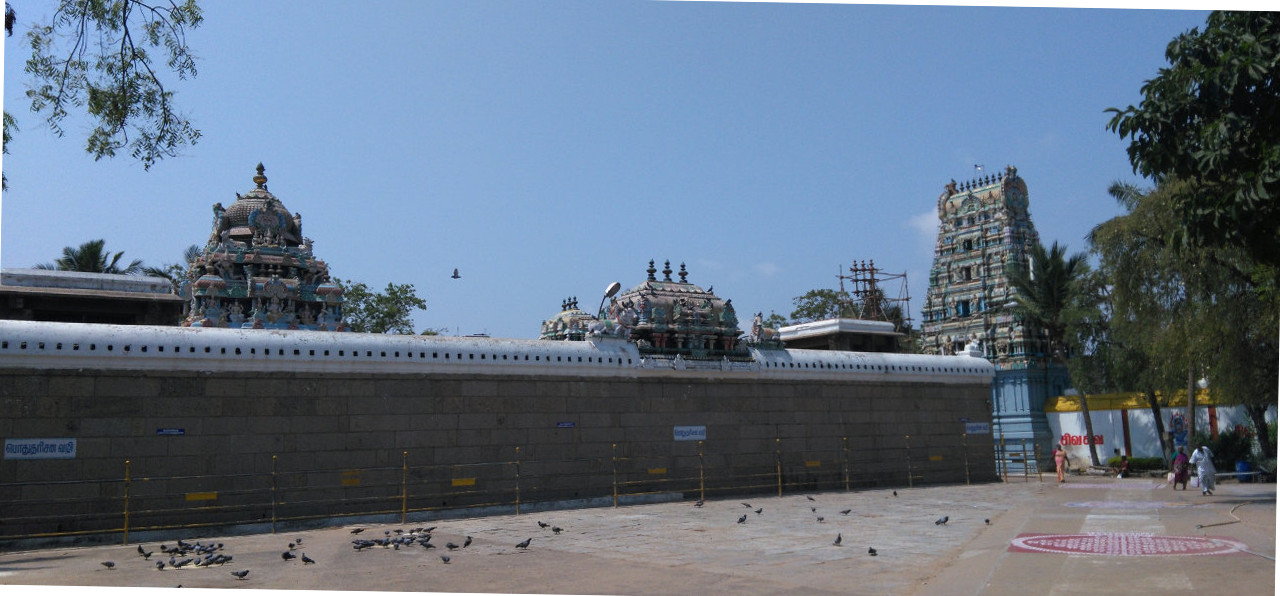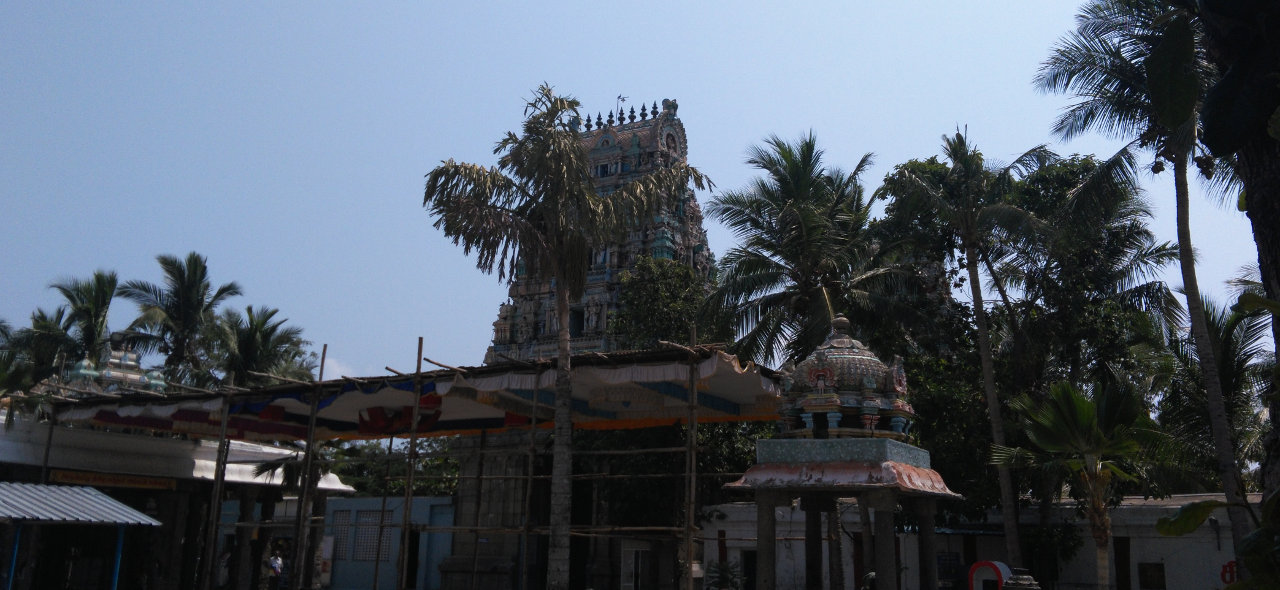 ---
Pathigam (Hymn) with English transliteration
Saint Thirugnanasambanthar visited this temple and sang this Pathigam.
Devotees visiting this temple should make it a practice to recite this Pathigam.
கரையு லாங்கட லிற்பொலி சங்கம்வெள் ளிப்பிவன்
திரையு லாங்கழி மீனுக ளுந்திரு வான்மியூர்
உரையு லாம்பொரு ளாயுல காளுடை யீர்சொலீர்
வரையு லாமட மாதுட னாகிய மாண்பதே.
"Karaiyu lāṅkaṭa liṟpoli saṅkamveḷ ḷippivaṉ
thiraiyu lāṅkaḻzhi mīṉuka ḷunthiru vāṉmiyūr
uraiyu lāmporu ḷāyula kāḷuṭai yīrsolīr
varaiyu lāmaṭa māthuṭa ṉākiya māṇpathē".
சந்து யர்ந்தெழு காரகில் தண்புனல் கொண்டுதம்
சிந்தை செய்தடி யார்பர வுந்திரு வான்மியூர்ச்
சுந்த ரக்கழல் மேற்சிலம் பார்க்கவல் லீர்சொலீர்
அந்தி யின்னொளி யின்நிற மாக்கிய வண்ணமே.
"Santhu yarnthezhu kārakil thaṇpuṉal koṇṭutham
sinthai seythaṭi yārpara vunthiru vāṉmiyūrch
suntha rakkazhal mēṟsilam pārkkaval līrsolīr
anthi yiṉṉoḷi yiṉniṟa mākkiya vaṇṇamē".
கான யங்கிய தண்கழி சூழ்கட லின்புறம்
தேன யங்கிய பைம்பொழில் சூழ்திரு வான்மியூர்த்
தோன யங்கம ராடையி னீரடி கேள்சொலீர்
ஆனையங் கவ்வுரி போர்த்தன லாட வுகந்ததே.
"Kāṉa yaṅkiya thaṇkazhi chūzhkaṭa liṉpuṟam
thēṉa yaṅkiya paimpozhil chūḻthiru vāṉmiyūrth
thōṉa yaṅkama rāṭaiyi ṉīraṭi kēḷsolīr
āṉaiyaṅ kavvuri pōrththaṉa lāṭa vukanthathē".
மஞ்சு லாவிய மாட மதிற்பொலி மாளிகைச்
செஞ்சொ லாளர்கள் தாம்பயி லுந்திரு வான்மியூர்
துஞ்சு வஞ்சிரு ளாடலு கக்கவல் லீர்சொலீர்
வஞ்ச நஞ்சுண்டு வானவர்க் கின்னருள் வைத்ததே.
"Mañchu lāviya māṭa mathiṟpoli māḷikaich
cheñcho lāḷarkaḷ thāmpayi lunthiru vāṉmiyūr
thuñchu vañchiru ḷāṭalu kakkaval līrcholīr
vañcha nañchuṇṭu vāṉavark kiṉṉaruḷ vaiththathē".
மண்ணி னிற்புகழ் பெற்றவர் மங்கையர் தாம்பயில்
திண்ணெ னப்புரி சைத்தொழி லார்திரு வான்மியூர்த்
துண்ணெ னத்திரி யுஞ்சரி தைத்தொழி லீர்சொலீர்
விண்ணி னிற்பிறை செஞ்சடை வைத்த வியப்பதே.
"Maṇṇi ṉiṟpukazh petṟavar maṅkaiyar thāmpayil
thiṇṇe ṉappuri saiththozhi lārthiru vāṉmiyūrth
thuṇṇe ṉaththiri yuñchari thaiththozhi līrsolīr
viṇṇi ṉiṟpiṟai cheñchaṭai vaiththa viyappathē".
போது லாவிய தண்பொழில் சூழ்புரி சைப்புறந்
தீதில் அந்தணர் ஓத்தொழி யாத்திரு வான்மியூர்ச்
சூது லாவிய கொங்கையொர் பங்குடை யீர்சொலீர்
மூதெ யில்லொரு மூன்றெரி யூட்டிய மொய்ம்பதே.
"Pōthu lāviya thaṇpozhil chūzhpuri saippuṟan
thīthil anthaṇar ōththozhi yāththiru vāṉmiyūrch
chūthu lāviya koṅkaiyor paṅkuṭai yīrsolīr
mūthe yilloru mūṉtṟeri yūṭṭiya moympathē".
வண்டி ரைத்த தடம்பொழி லின்நிழற் கானல்வாய்த்
தெண்டி ரைக்கட லோதமல் குந்திரு வான்மியூர்த்
தொண்டி ரைத்தெழுந் தேத்திய தொல்கழ லீர்சொலீர்
பண்டி ருக்கொரு நால்வர்க்கு நீருரை செய்ததே.
"Vaṇṭi raiththa thaṭampozhi liṉnizhaṟ kāṉalvāyth
theṇṭi raikkaṭa lōthamal kunthiru vāṉmiyūrth
thoṇṭi raiththezhun thēththiya tholkazha līrsolīr
paṇṭi rukkoru nālvarkku nīrurai seythathē".
தக்கில் வந்த தசக்கிரி வன்தலை பத்திறத்
திக்கில் வந்தல றவ்வடர்த் தீர்திரு வான்மியூர்த்
தொக்க மாதொடும் வீற்றிருந் தீரரு ளென்சொலீர்
பக்க மேபல பாரிடம் பேய்கள் பயின்றதே.
"Thakkil vantha thasakkiri vaṉthalai paththiṟath
thikkil vanthala ṟavvaṭarth thīrthiru vāṉmiyūrth
thokka māthoṭum vītṟirun thīraru ḷeṉsolīr
pakka mēpala pāriṭam pēykaḷ payiṉtṟathē".
பொருது வார்கட லெண்டிசை யுந்தரு வாரியால்
திரித ரும்புகழ் செல்வமல் குந்திரு வான்மியூர்
சுருதி யாரிரு வர்க்கும் அறிவரி யீர்சொலீர்
எருது மேல்கொ டுழன்றுகந் தில்பலி யேற்றதே.
"Poruthu vārkaṭa leṇṭisai yuntharu vāriyāl
thiritha rumpukazh selvamal kunthiru vāṉmiyūr
suruthi yāriru varkkum aṟivari yīrsolīr
eruthu mēlko ṭuzhaṉṟukan thilpali yētṟathe".
மைத ழைத்தெழு சோலையின் மாலைசேர் வண்டினம்
செய்த வத்தொழி லாரிசை சேர்திரு வான்மியூர்
மெய்த வப்பொடி பூசிய மேனியி னீர்சொலீர்
கைத வச்சமண் சாக்கியர் கட்டுரைக் கின்றதே.
"Maitha zhaiththezhu chōlaiyiṉ mālaisēr vaṇṭiṉam
seytha vaththozhi lārisai sērthiru vāṉmiyūr
meytha vappoṭi pūsiya mēṉiyi ṉīrsolīr
kaitha vachamaṇ sākkiyar kaṭṭuraik kiṉtṟathē".
மாதொர் கூறுடை நற்றவ னைத்திரு வான்மியூர்
ஆதி யெம்பெரு மானருள் செய்ய வினாவுரை
ஓதி யன்றெழு காழியுள் ஞானசம் பந்தன்சொல்
நீதி யால்நினை வார்நெடு வானுல காள்வரே.
"Māthor kūṟuṭai natṟava ṉaiththiru vāṉmiyūr
āthi yemperu māṉaruḷ seyya viṉāvurai
ōthi yaṉtṟezhu kāzhiyuḷ gñāṉasam banthaṉsol
nīthi yālniṉai vārneṭu vāṉula kāḷvarē".