Visited on: Sunday, 18th September, 2016
Location
Thiru Idaiyaru is at a distance of about 35 kms from Villupuram on the Villupuram to Thirukovilur route (via Thiruvennainallur).
Another nearby Devara Paadal Petra Sthalam is Thiruvennainallur which is at a distance of about 5 kms.
General Information
| | |
| --- | --- |
| Moolavar | Sri Marutheswarar, Sri Idaiyatru Nathar, Sri Adimathyarjuneswarar |
| Ambal | Sri Gnanambikai, Sri Sitridai Nayagi |
| Theertham (Holy water) | Virudhapinakini (Pennai river), Sitridai Theertham (well) |
| Sthala Vriksham (Sacred Tree) | Marutham tree |
| Pathigam (Hymn) rendered by | Saint Sundaramurthy Nayanar (Sundarar) |
This is one of the 276 Devara Paadal Petra Shiva Sthalams and 13th Shiva Sthalam in Nadu Naadu.
Lord Shiva in this temple is a Swayambumurthi (self-manifested).
This is a west facing temple and its main tower (Rajagopurm) has 3-tiers.
There is no flag post (dwajasthambam) in this temple.
This is the birth place of the saivite guru Marai Gnana Sambandar.
History of the Temple
The temple is located between the rivers South Pennai and Malattaru, on the southern banks of Pennai river. The historical name of this place is "Thiru Maruthanthurai". This ancient temple is believed to have been constructed during the time of the Chola dynasty. There are 18 stone inscriptions belonging to the Chola, Pandiyas, Vijayanagar and Chalukiyas periods.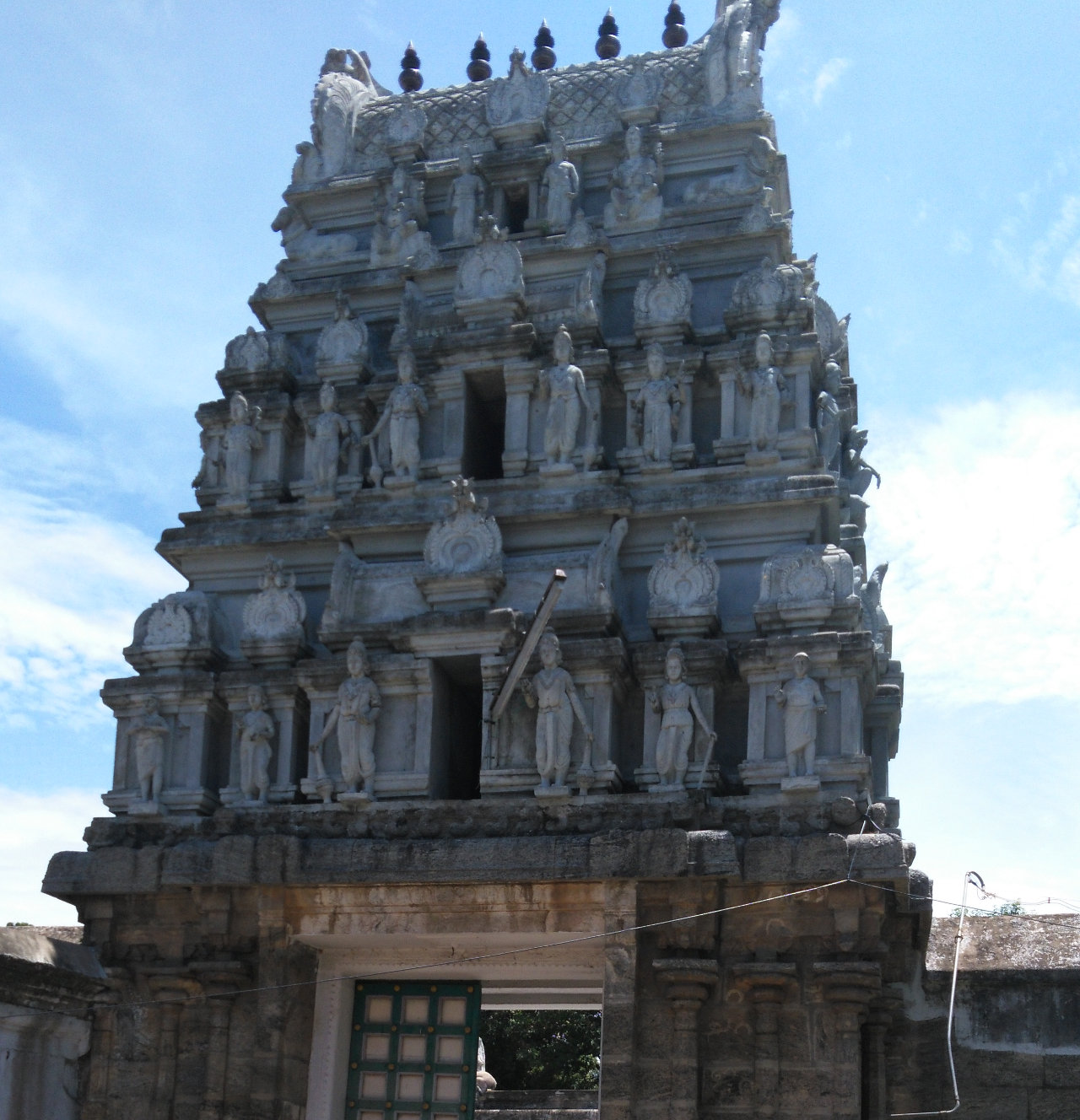 Legend
Sage Agasthiyar is believed to have visited this place during his pilgrimage. He is also believed to have been installed a lingam and worshipped it. This lingam is praised as "Sri Agastheeswarar". Sage Agasthiyar's idol can also be seen here.
Another legend associated with this place is that of the sage Sukhar Brahma Rishi. He is believed to have been an expert in changing forms. Once he took the form of a parrot and flew to Mount Kailash where he saw Lord Shiva imparting the knowledge of "Shiva Gnanam" to Goddess Parvathi. Curious to learn the Shiva Gnanam, the sage, in his parrot form, flew towards Lord Shiva and Goddess Parvathi. Upon noticing him, Goddess Parvathi cursed him to be born on earth.
The sage begged Lord Shiva for pardon. Lord Shiva informed him that he would be born to Sage Veda Vyasa and he would live in Thirumaruthanthurai (Idayaru). He further advised him to do penance under the "Marutha" tree to be absolved of this sin and to seek solvation. However, during his period on earth, he would have human body with the face of a parrot. "Sukha" in Sanskrit means parrot.
It is believed that on the day of the Swathi nakshatra, Lord Shiva gave dharisanam to Sage Sukhar Brahma Rishi and taught astrology (Jothidam) to him here.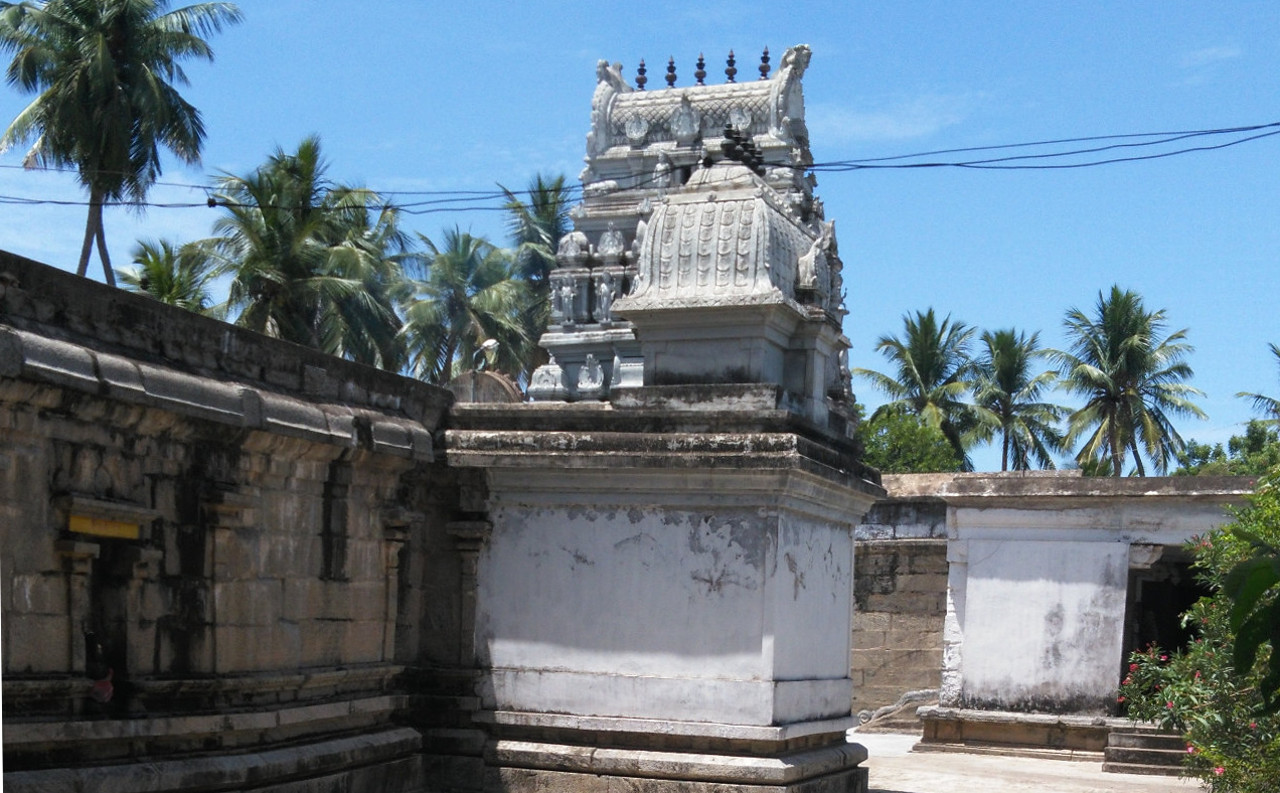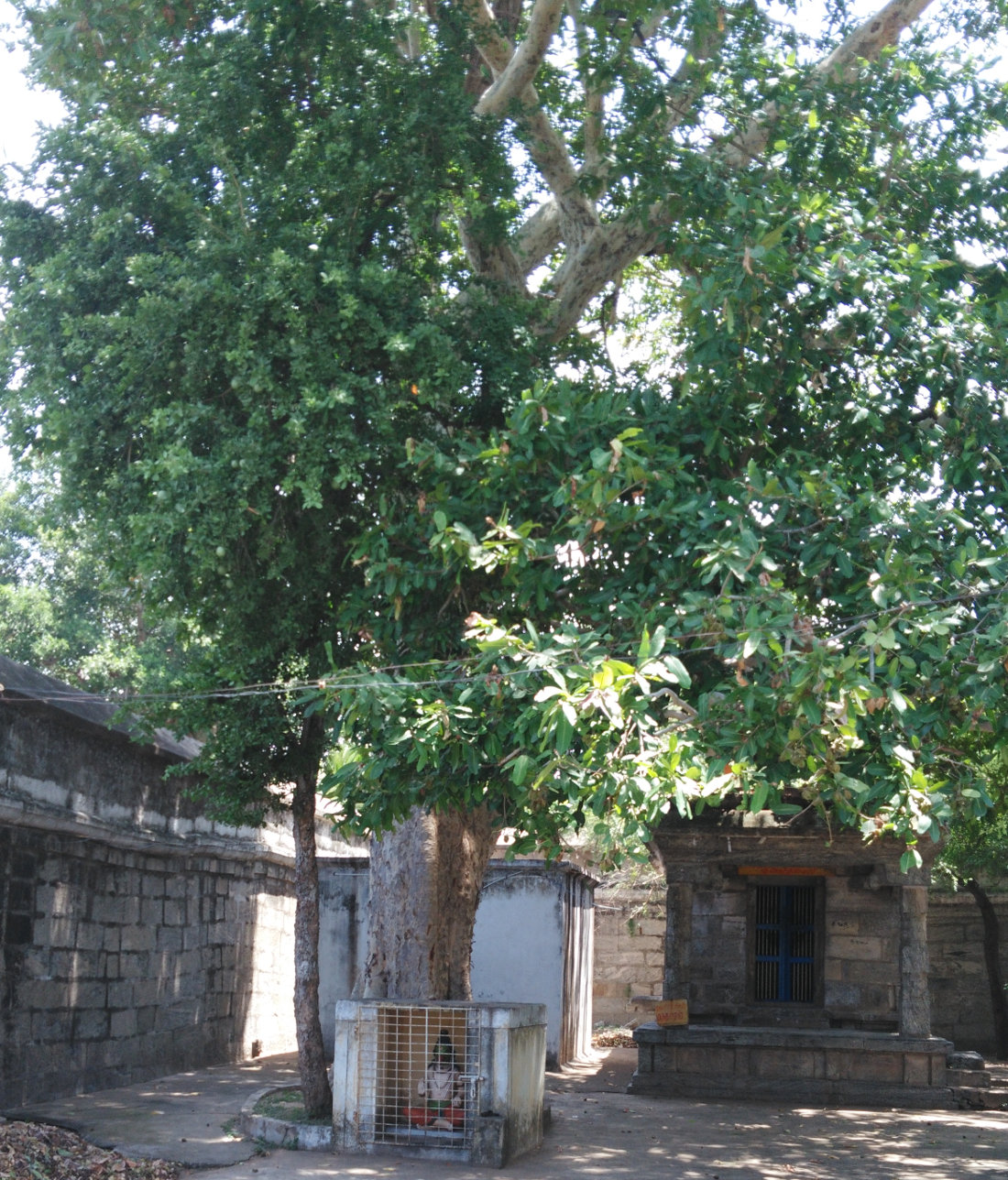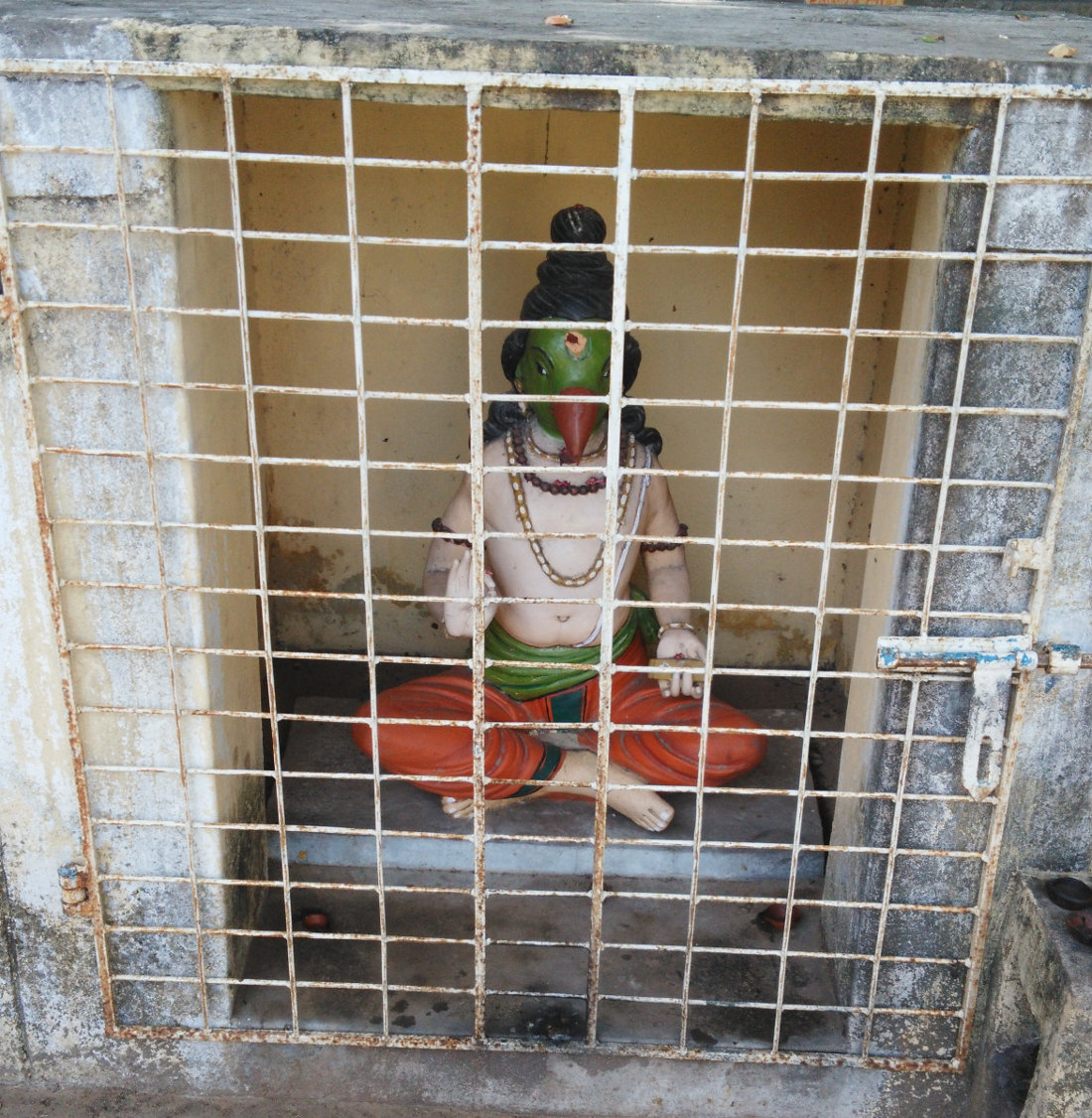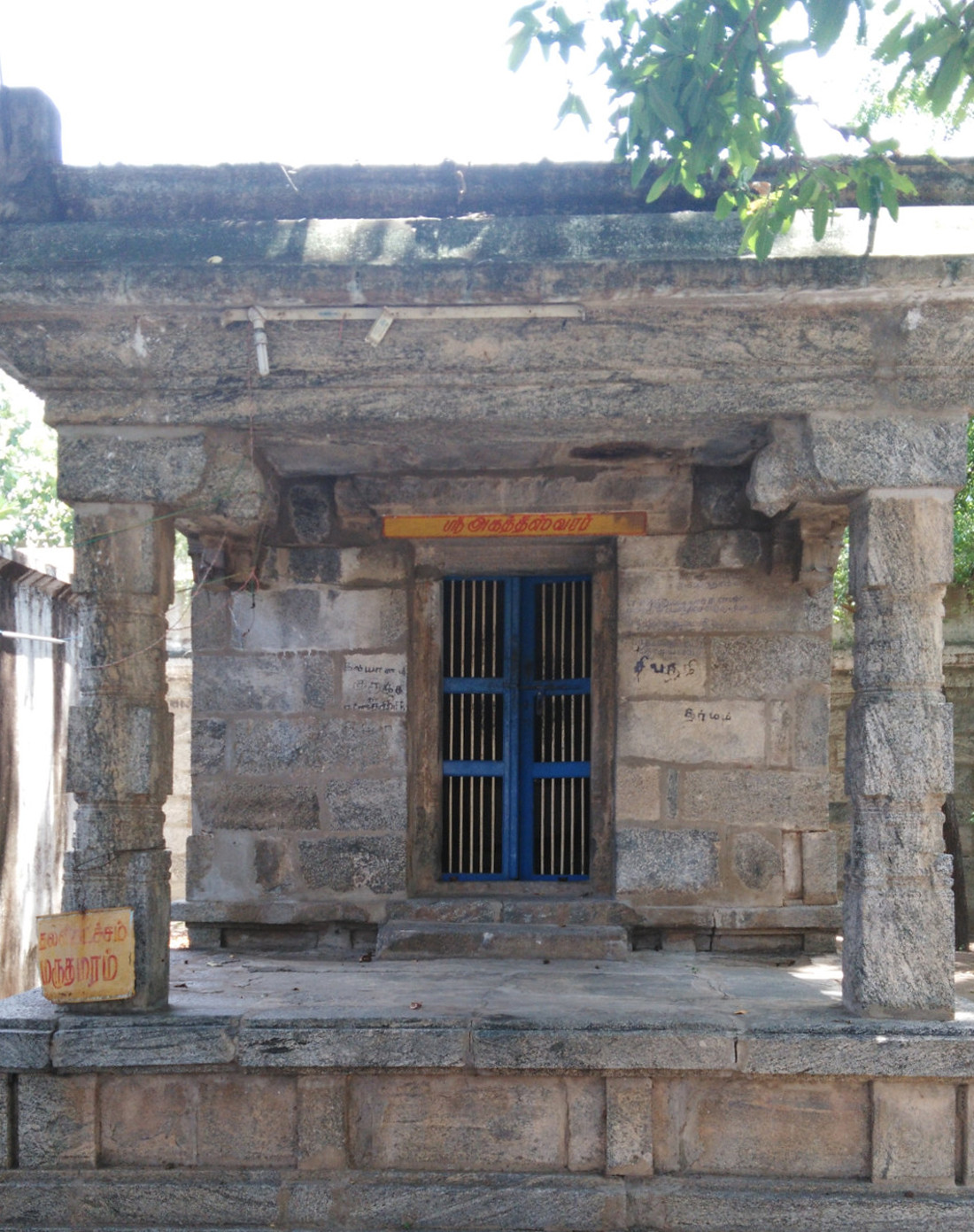 Another interesting story is that Sukha Brahma Rishi was also an ardent devotee of Lord Ram. He was blessed with Lord Ram's darshan at the Yoga Ramar temple at Nedungunam.
It is believed that Lord Brahma, Sapta Madakkal, Saint Sundaramurthy Nayanar and Saint Maraignana Sambanthr have worshipped Lord Shiva in this temple.
Deities in the Temple
In this temple, Lord Shiva and Goddess Parvathy are depicted in their wedding posture. They can be seen facing each other. Lord Shiva's shrine faces west while Goddess's shrine is facing east.
Shrines and idols of lords Balamrutha Vinayakar, Murugan with his consorts, Dakshinamurthy, Durgai, Chandikeswarar, Agastheeswara Lingam, Saptamadakkal, Navagraham and Saint Maraignana Sambanthar can be seen in the corridors. There is also a small shrine for Sukha Brahma Rishi in the outer corridor.
Salient Features
As Sukha Brahma Rishi is believed to have worshipped the lord here, there are a lot of parrots in this place.
Traditionally, Lord Murugan (as Somaskanda) is seen between the shrines of Lord Shiva and Goddess Parvathi. However, in this temple Lord Vinayakar (Bala Ganapathy or "Infant Ganapathy") occupies Lord Murugan's place.
As per the stone inscriptions available here, Lord Vinayakar of this temple is also named as "Marutha Ganapathy" and "Polla Pillayar". Interestingly, Lord Murugan is referred to as "Kaliyugarama Pillayar".
This is the birth place of the saivite guru Marai Gnana Sambandar. He is the third of the four "Santhna Kuravar". It is believed that he was blessed by Lord Vinayakar (in his Polla Pillayar form) here. At a very young age, he is believed to have moved to Pennadam since it is the birth place of Saint Meikandar (the first Santhana Kuravar), He is known as Maruthai Marai Gnanasambandar and Kadanthai Marai Gnanasambandar. Kadanthai is the historical name of Pennadam.
There is another shrine for Lord Vinayakar here which can be seen in the midst of a farm at a distance of about one kilometre from this temple. It is believed that this is the Vinayakar that blessed saint Marai Gnanasambandar. This Vinayakar is also praised as Maruthai Pillayar and Gnanasambantha Pillayar.
When Saint Sundararamurthy Nayanar rendered his Pathigam in this temple, he mentioned various other famous Shiva temples and said that this temple is as good as them.
It is believed that Lord Suryan (Sun) worships Lord Shiva of this temple by directing his rays on the lingam on the 15th and 16th of the Tamil month of Maasi (Feb-Mar) from 5.00 p.m. to 5.15 p.m.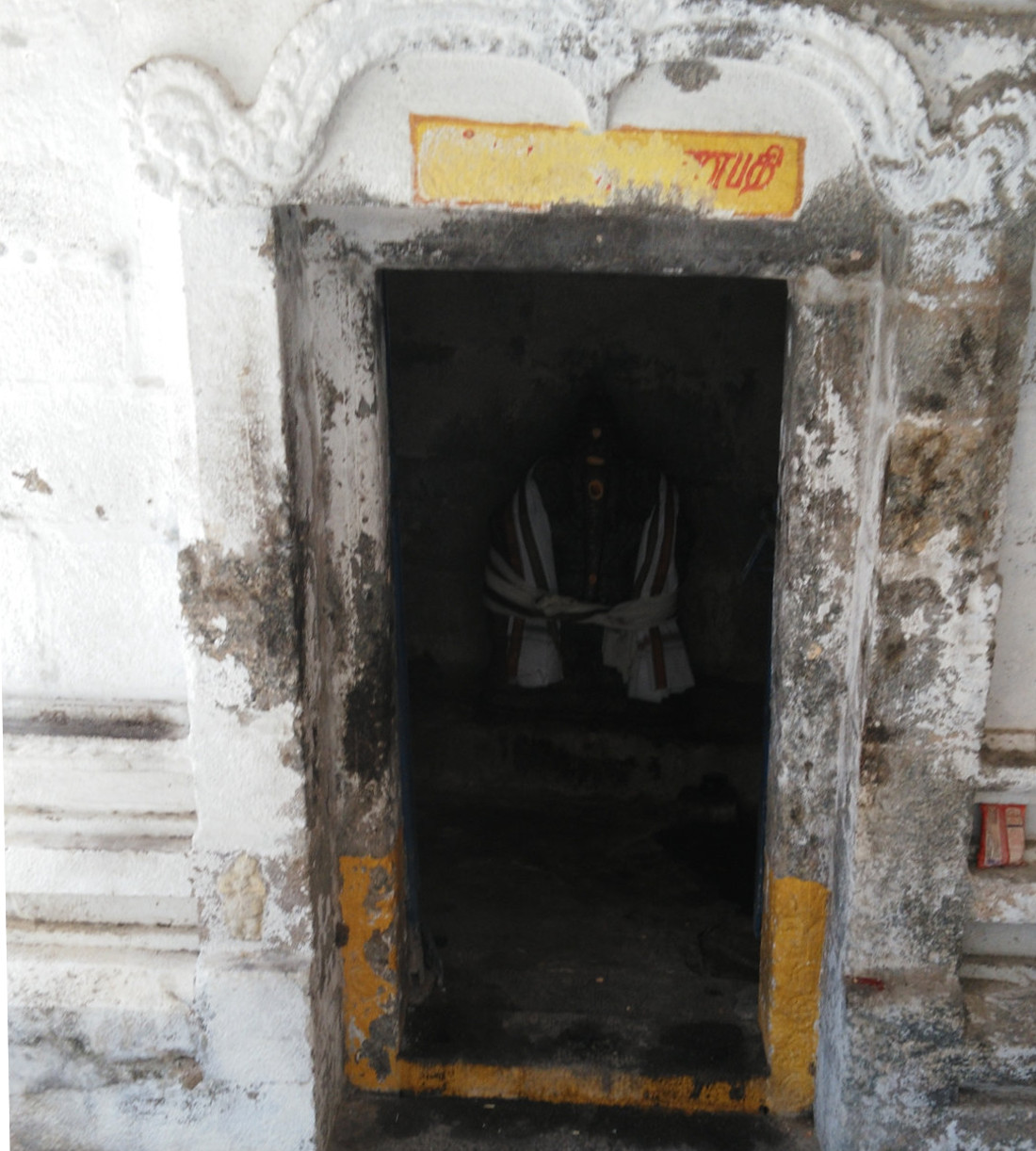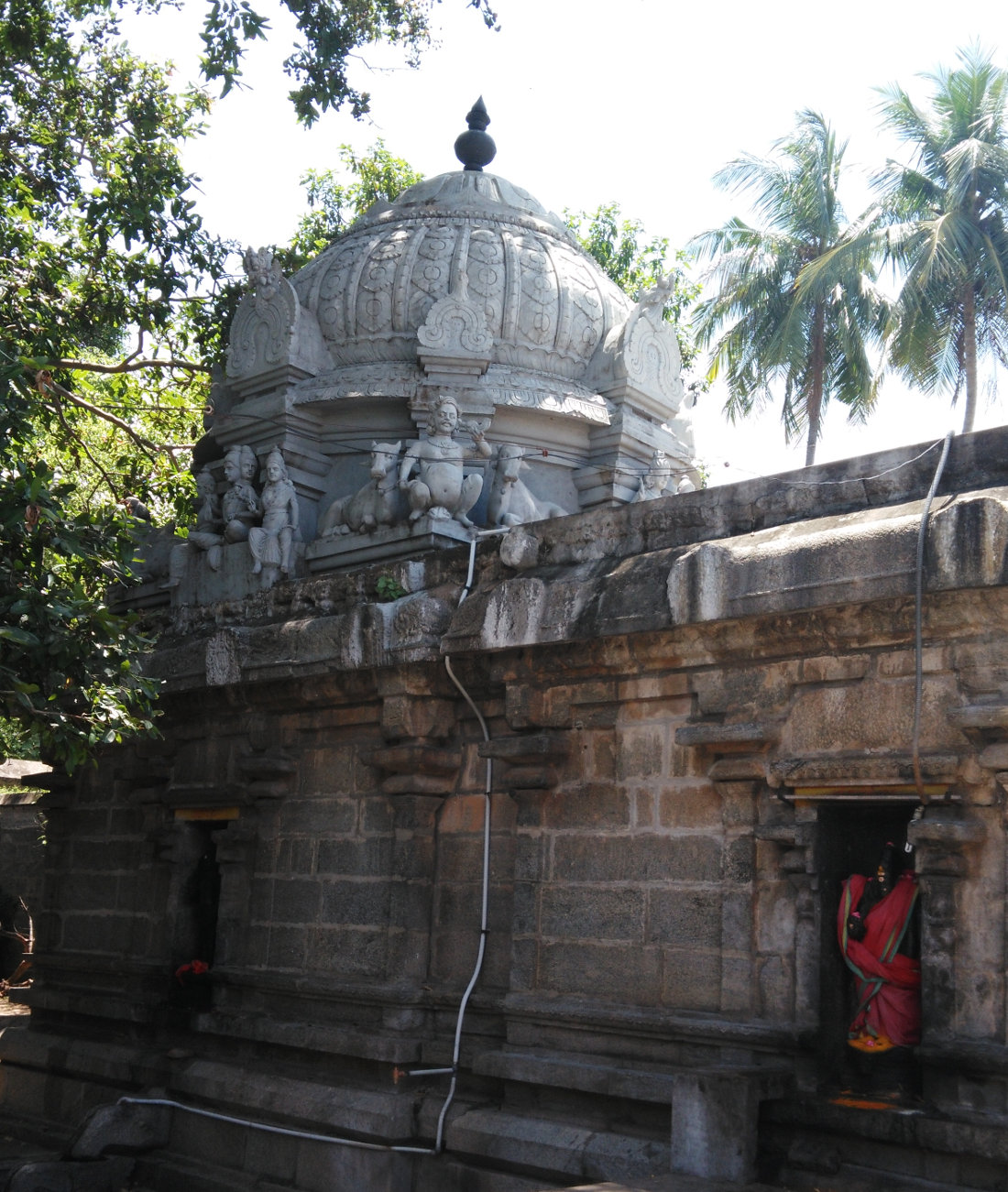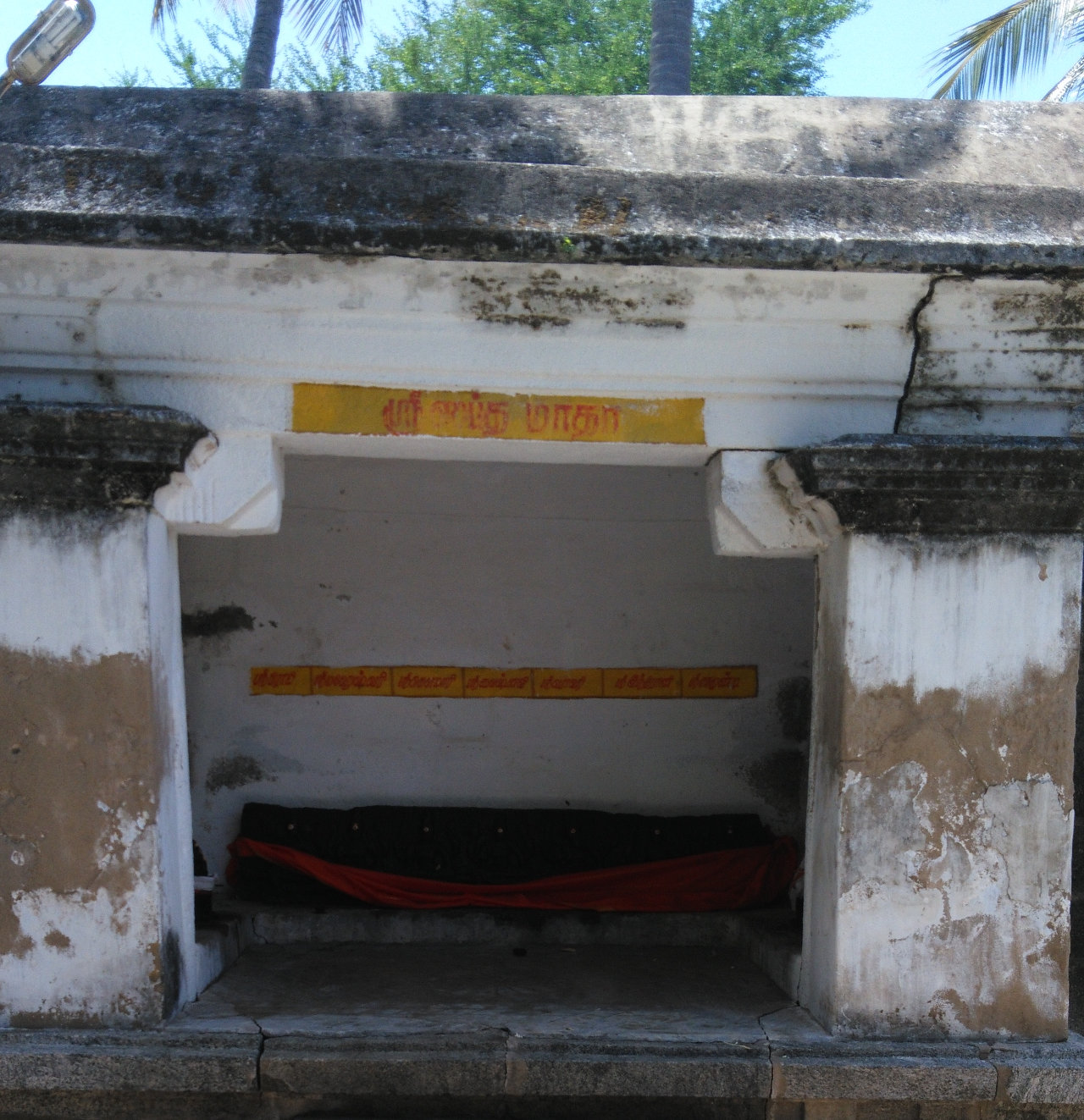 Greatness of this Temple
In this temple, Lord Shiva is facing west and Goddess Parvathi is facing east, as if they are exchanging garlands. Hence this temple is famous with devotees seeking wedding boon. Devotees facing prolonged delays in their marriage proposals worship the lord here and take the garlands exchanged between the God and Goddess to their homes. It is believed that doing this will remove obstacles from their marriage proposals.
Important Festivals
The most important festival celebrated in this temple is "Aattru Thiruvizha" (River festival) in the Tamil month of Thai (Jan-Feb).
Surya Puja is performed in the temple on 15th and 16th of the Tamil month of Maasi (Feb-Mar) from 5.00 p.m. to 5.15 p.m.
Temple Timings

From 06:00 AM to 11:00 AM and from 05:00 PM to 08:00 PM.
Temple Address

Sri Marudeeswarar Temple,
T. Edayar, Thirukkovilur Taluk,
Villupuram District,
Tamil Nadu-607 203.
Tele: + 91 04146 216045 / 206515; Mobile: 94424 23919.
Contact the temple priest and Trustee, Sri R.Gnanaskantha Gurukkal at 098847 77078.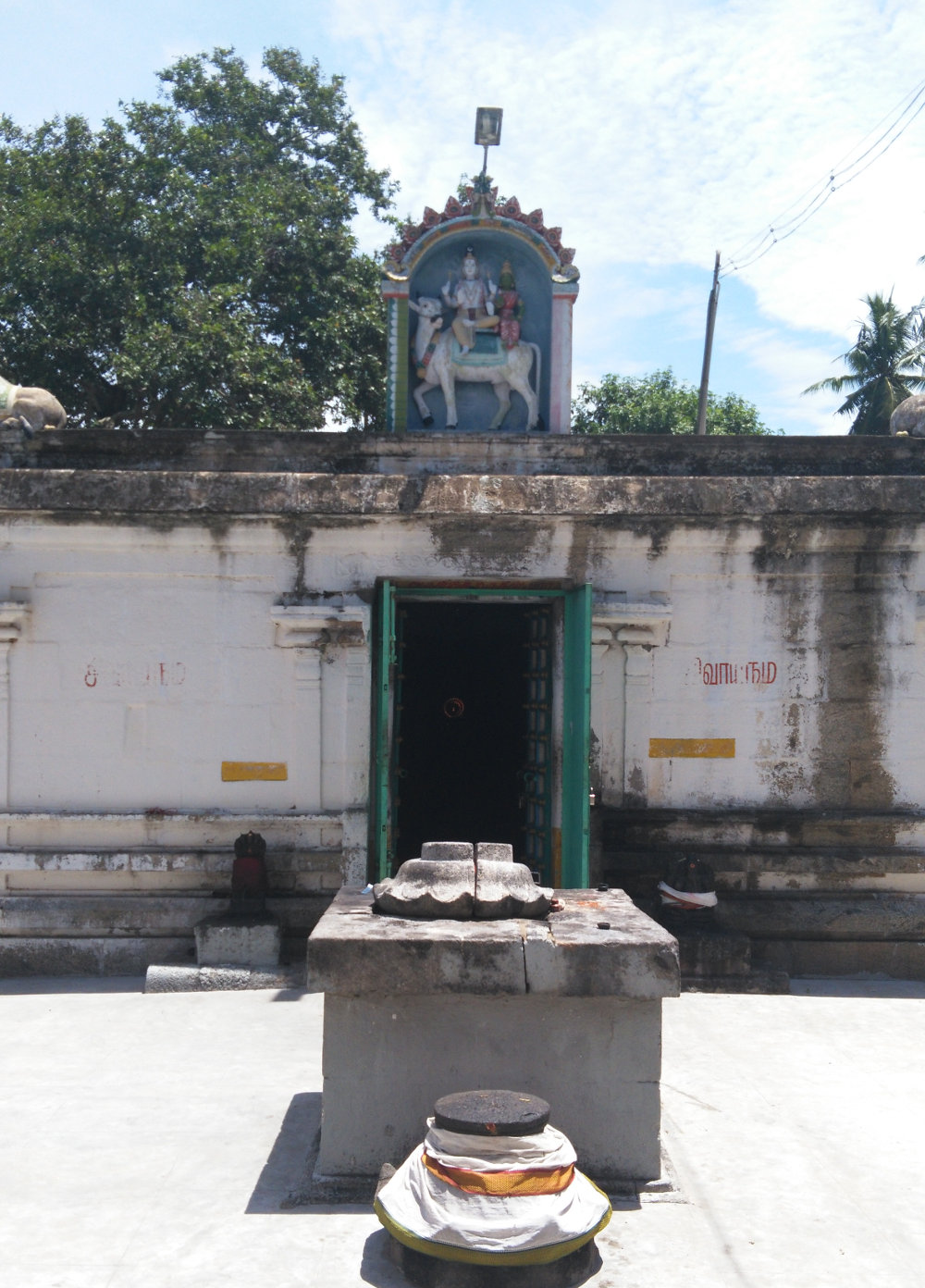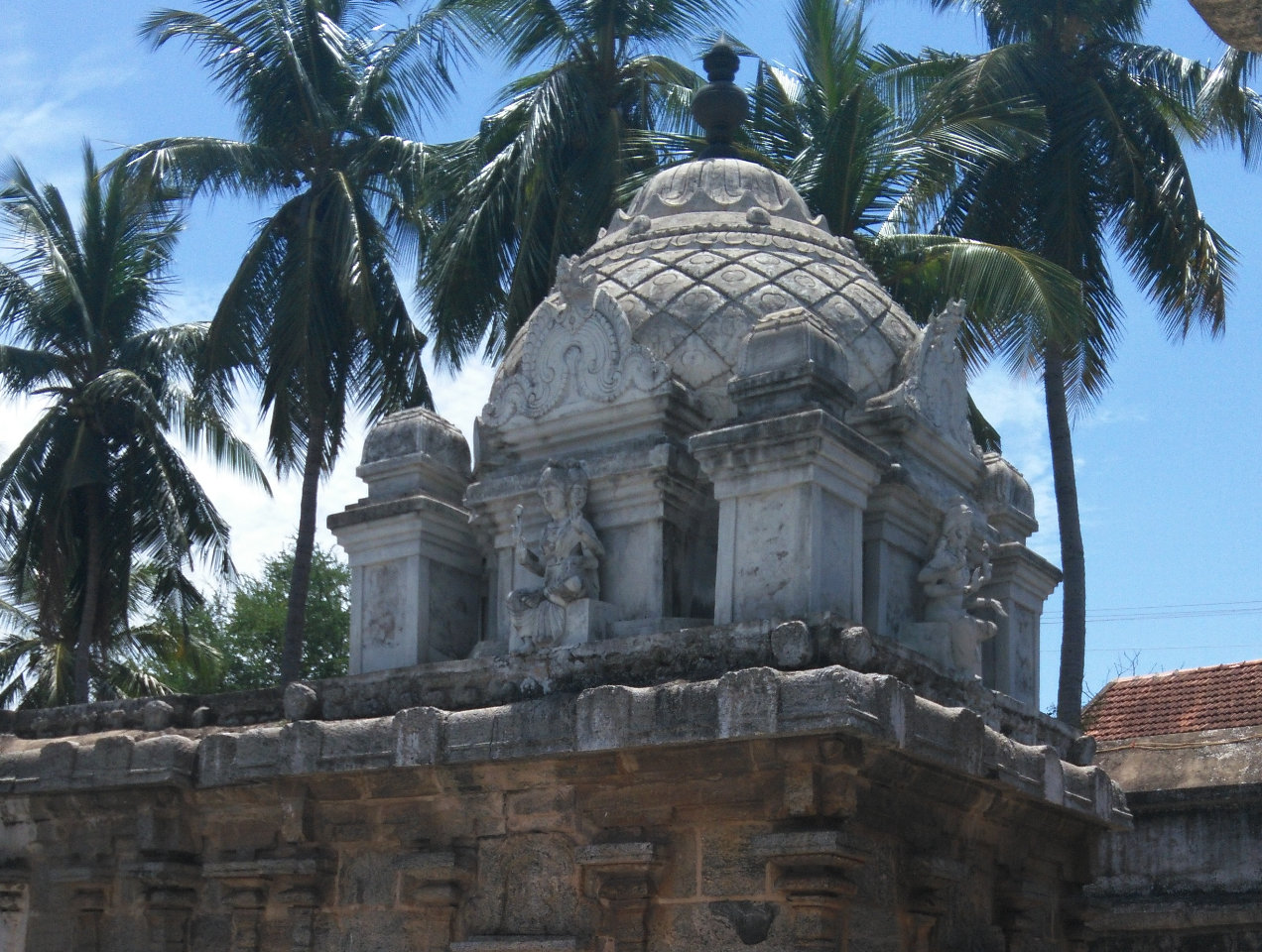 ---
Pathigam (Hymn) with English transliteration
Saint Sundaramurthy Nayanar visited this temple and sang this Pathigam.
Devotees visiting this temple should make it a practice to recite this Pathigam.
முந்தையூர் முதுகுன்றங் குரங்கணின் முட்டம்
சிந்தையூர் நன்றுசென் றடைவான் திருவாரூர்
பந்தையூர் பழையாறு பழனம் பைஞ்ஞீலி
எந்தையூர் எய்தமான் இடையா றிடைமருதே.
"Munthaiyūr muthukuṉṟaṅ kuraṅkaṇiṉ muṭṭam
sinthaiyūr naṉtṟuseṉ tṟaṭaivāṉ thiruvārūr
panthaiyūr pazhaiyāṟu pazhaṉam paiñjili
enthaiyūr eythamāṉ iṭaiyā ṟiṭaimaruthē".
சுற்றுமூர் சுழியல் திருச்சோ புரந்தொண்டர்
ஒற்றுமூர் ஒற்றியூர் திருவூறல் ஒழியாப்
பெற்றமேறிப் பெண்பாதி யிடம்பெண்ணைத் தெண்ணீர்
எற்றுமூர் எய்தமான் இடையா றிடைமருதே.
"Sutṟumūr chuzhiyal thiruchō puranthoṇṭar
otṟumūr otṟiyūr thiruvūṟal ozhiyāp
petṟamēṟip peṇpāthi yiṭampeṇṇaith theṇṇīr
etṟumūr eythamāṉ iṭaiyā ṟiṭaimaruthē".
கடங்களூர் திருக்காரிக் கரைகயி லாயம்
விடங்களூர் திருவெண்ணி அண்ணா மலைவெய்ய
படங்களூர் கின்றபாம் பரையான் பரஞ்சோதி
இடங்கொளூர் எய்தமான் இடையா றிடைமருதே.
"Kaṭaṅkaḷūr thirukkārik karaikayi lāyam
viṭaṅkaḷūr thiruveṇṇi aṇṇā malaiveyya
paṭaṅkaḷūr kiṉtṟapām paraiyāṉ parañchōthi
iṭaṅkoḷūr eythamāṉ iṭaiyā ṟiṭaimaruthē".
கச்சையூர் காவங் கழுக்குன்றங் காரோணம்
பிச்சையூர் திரிவான் கடவூர் வடபேறூர்
கச்சியூர் கச்சிசிக்கல் நெய்த்தானம் மிழலை
இச்சையூர் எய்தமான் இடையா றிடைமருதே.
"Kachaiyūr kāvaṅ kazhukkuṉtṟaṅ kārōṇam
pichaiyūr thirivāṉ kaṭavūr vaṭapēṟūr
kachiyūr kachisikkal neythāṉam mizhalai
ichaiyūr eythamāṉ iṭaiyā ṟiṭaimaruthē".
நிறையனூர் நின்றியூர் கொடுங்குன்றம் அமர்ந்த
பிறையனூர் பெருமூர் பெரும்பற்றப் புலியூர்
மறையனூர் மறைக்காடு வலஞ்சுழி வாய்த்த
இறைவனூர் எய்தமான் இடையா றிடைமருதே.
"Niṟaiyaṉūr niṉtṟiyūr koṭuṅkuṉtṟam amarntha
piṟaiyaṉūr perumūr perumpatṟap puliyūr
maṟaiyaṉūr maṟaikkāṭu valañchuzhi vāytha
iṟaivaṉūr eythamāṉ iṭaiyā ṟiṭaimaruthē".
திங்களூர் திருவா திரையான் பட்டினமூர்
நங்களூர் நறையூர் நனிநா லிசைநாலூர்
தங்களூர் தமிழான் என்றுபா விக்கவல்ல
எங்களூர் எய்தமான் இடையா றிடைமருதே.
"Thiṅkaḷūr thiruvā thiraiyāṉ paṭṭiṉamūr
naṅkaḷūr naṟaiyūr naṉinā lisainālūr
thaṅkaḷūr thamizhāṉ eṉtṟupā vikkavalla
eṅkaḷūr eythamāṉ iṭaiyā ṟiṭaimaruthē".
கருக்கநஞ் சமுதுண்ட கல்லாலன் கொல்லேற்றன்
தருக்கருக் கனைச்செற் றுகந்தான்றன் முடிமேல்
எருக்கநாண் மலரிண்டை யும்மத்த முஞ்சூடி
இருக்குமூர் எய்தமான் இடையா றிடைமருதே.
"Karukkanañ chamuthuṇṭa kallālaṉ kollētraṉ
tharukkaruk kaṉaich setṟukanthāṉtṟaṉ muṭimēl
erukkanāṇ malariṇṭai yum'matha muñchūṭi
irukkumūr eythamāṉ iṭaiyā ṟiṭaimaruthē".
தேசனூர் வினைதேய நின்றான் திருவாக்கூர்
பாசனூர் பரமேட்டி பவித்திர பாவ
நாசனூர் நனிபள்ளி நள்ளாற்றை அமர்ந்த
ஈசனூர் எய்தமான் இடையா றிடைமருதே.
"Thēsaṉūr viṉaithēya niṉtṟāṉ thiruvākkūr
pāsaṉūr paramēṭṭi pavithira pāva
nāsaṉūr naṉipaḷḷi naḷḷātṟai amarntha
īsaṉūr eythamāṉ iṭaiyā ṟiṭaimaruthē".
பேறனூர் பிறைச்சென் னியினான் பெருவேளூர்
தேறனூர் திருமா மகள்கோன் றிருமாலோர்
கூறனூர் குரங்காடு துறைதிருக் கோவல்
ஏறனூர் எய்தமான் இடையா றிடைமருதே.
"Pēṟaṉūr piṟaicheṉ ṉiyiṉāṉ peruvēḷūr
thēṟaṉūr thirumā makaḷkōṉ tṟirumālōr
kūṟaṉūr kuraṅkāṭu thuṟaihtiruk kōval
ēṟaṉūr eythamāṉ iṭaiyā ṟiṭaimaruthē".
ஊறிவா யினநாடிய வன்றொண்டன் ஊரன்
தேறுவார் சிந்தைதேறு மிடஞ்செங்கண் வெள்ளே
றேறுவார் எய்தமான் இடையா றிடைமருதைக்
கூறுவார் வினையெவ் விடமெய் குளிர்வாரே.
"Ūṟivā yiṉanāṭiya vaṉtṟoṇṭaṉ ūraṉ
thēṟuvār chinthaithēṟu miṭañcheṅkaṇ veḷḷē
ṟēṟuvār eythamāṉ iṭaiyā ṟiṭaimaruthaik
kūṟuvār viṉaiyev viṭamey kuḷirvārē".