Visited on: 12th August, 2017.
Location
Thiruneelakkudi (Thennalakkudi) is situated at a distance of about 15 kms from Kumbakonam on the Kumbakonam to Karaikkal route. From Aduthurai, this temple is about 3 kms on the Aduthurai to Thiruvarur route.
Nearest railway station is Aduthurai which is about 4 kms away from this temple.
Other Paadal Petra Shiva Sthalams near this place are – Aaduthurai, Thiruvavaduthurai, Thirukkozhambam, Therizhanthur, Kuthalam, Thirumanancheri, Velvikkudi, Ethirkolpadi, Thiruvidaimaruthur and Mayiladuthurai.
General Information
Moolavar

Sri Manokkiyanathaswamy, Sri Neelakandeswarar

Ambal

1.Sri Bakthapeeshtappradayani (Sri Thavakkola Ammai)
2.Sri Anoopamasthani, (Sri Azhakaambigai)

Theertham (Holy water)

Brahma Theertham, Devi Theertham, Ksheera, Theertham, Bharatwaja Theertham and Markandeya Theertham

Sthala Vriksham (Sacred Tree)

Vilvam tree (Pancha vilvam)

Pathigam (Hymn) rendered by

Saint Thirunavukarasar (Appar)

This is one of the 276 Devara Paadal Petra Shiva Sthalams and 32 Shiva Sthalam on the Southern bank of river Cauveri in Chozha Nadu (Thenkarai).
Lord Shiva in this temple is a Swayambumurthi (self-manifested).
There are two separate shrines for Goddess Parvathy here.
This east facing temple has a single tier main tower (Rajagopuram) and it has two corridors.
The last consecration (Kumbabishekam) ceremony took place on 17.03.2006.
History of the Temple
There are 4-5 stone inscriptions available in this temple. According to these inscriptions, this ancient temple is believed to have been built by Chola kings Rajarajan and Vikrama Chola.
When a devotee hears the name Thiruneelakkudi, he is immediately reminded of the "oil abhishekam of the lord".
This temple's Sthala Viruksham (Pancha Vilva tree) is very significant, hence this place is known as "Pancha Vilvaaranya kshetram". Often five leaves of this Vilva tree can be seen together on a twig which is rare.
This temple is under the administrative control of Thiruvavaduthurai Aadheenam.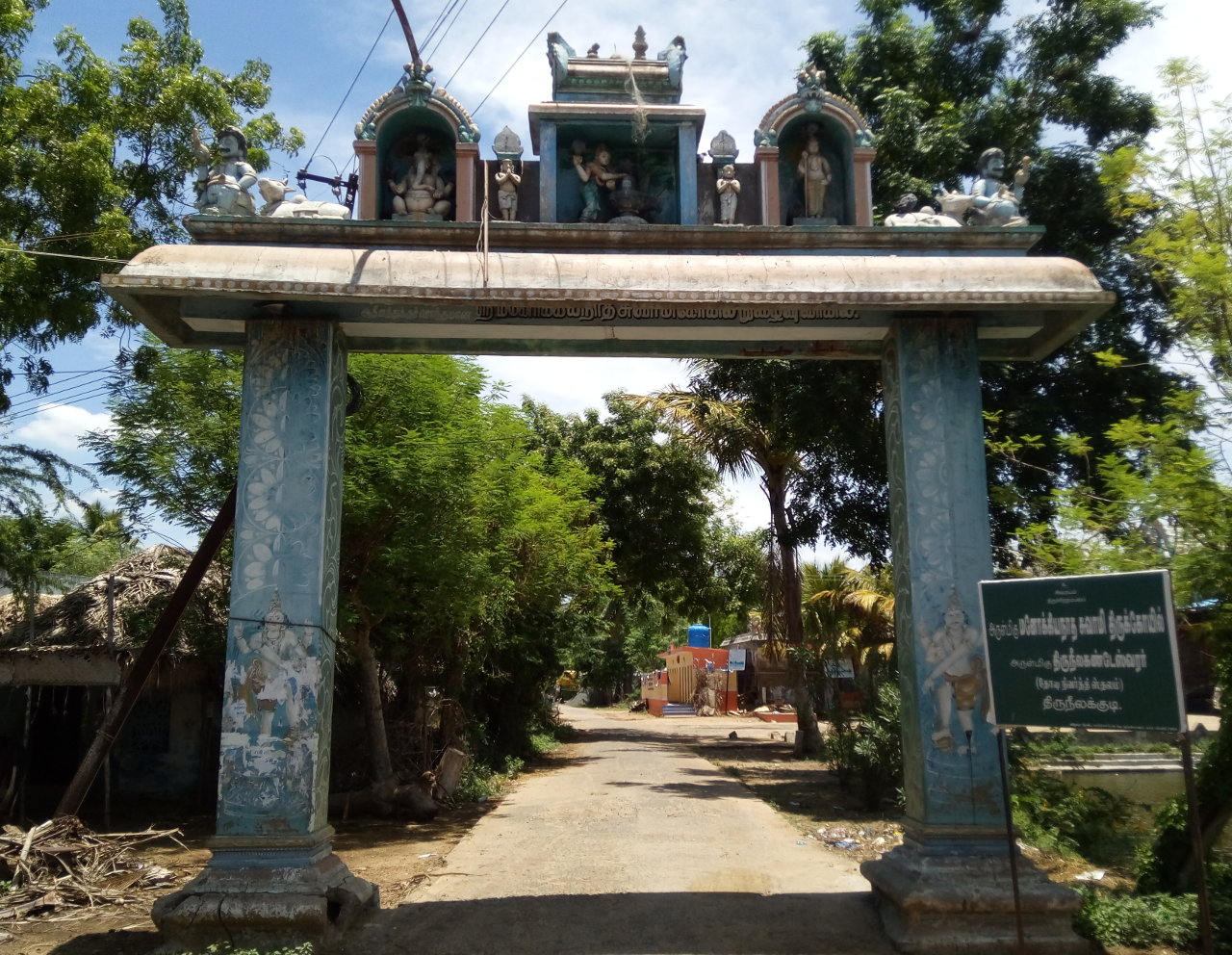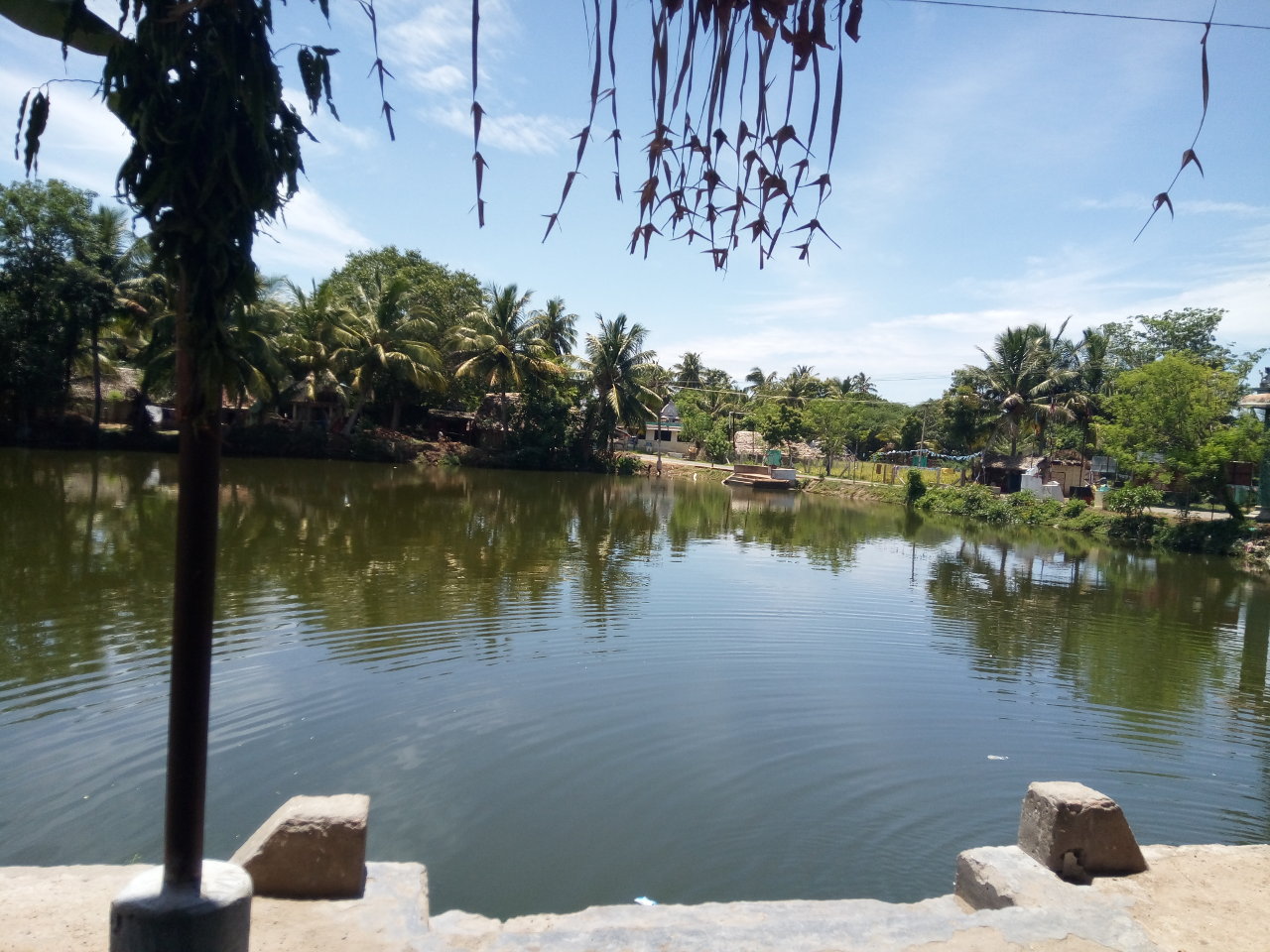 Legend
The legend is that when "Thirupparkadal" was churned to find nectar, first instead of nectar poison came out. Lord Shiva consumed this poison. However, in order to stop the poison from entering Lord Shiva's stomach, Goddess Parvathy held his throat with her hands. The lord's throat turned blue in colour due to the poison. For this reason, the lord is praised as "Sri Neelakandeswarar" and the place is known as "Neelakkudi". ("Neelam" means blue and "Kandam" means throat in Tamil).
In this temple, "gingelly (sesame) oil abhishekam" of the lord is very famous. It is believed that to reduce the poison's effect, Goddess Parvathy performed oil abhishekam to the lord here quite often. It is also believed that the lord informed the goddess that whatever the quantity of oil she offered, it will be absorbed by him in its entirety.
As per the "Sthala Puranam" a fixed quantity of oil is offered to the lord in the Tamil months of Chithirai, Karthigai and Masi. Traditionally, the oil and rest of the items for the pooja are first kept in front of Goddess Parvathy and then taken to Lord Shiva's shrine for Abhishekam. However, it is a miracle even now that the entire quantity of oil that is used for abhishekam is fully absorbed by the lingam. Interestingly, after a couple of hours, the idol looks as if it has not seen oil in days. It is also interesting to note that the Shivalingam is still rough even after continuous offerings of oil. Hence the lord here is also praised as "Sri Thailapriyangeswarar" ("thailam" means oil and "priyam" means fondness in Tamil).
Another legend associated with this temple is that of Saint Markandeya, son of Sage Mrikandu. Since Sage Mrikandu was informed by an astrologer that his son's life would be very short, he sought the advice of Sage Vashistar and Sage Narada. On their advice, it is believed that Markandeya visited this temple and worshiped the lord. He also performed gingelly oil abishekam to the lord. Lord Shiva granted him his dharisanam and blessed him with the status of "Chiranjeevi" ("Entrum Pathinaru"). This blessing ensured that Markandeya would attain immortality and would remain 16 years old forever. Enthused by this blessing, Markandeya took the lord in procession to seven nearby villages ("Sapthas Sthanam"). These are -Ilanthurai, Enathi Mangalam, Thirunageswaram, Thirupuvanam, Thiruvidaimaruthur, Maruthuvakkudi and Thiruneelakkudi. This event is commemorated in the Tamil month of Chithirai every year in a grand manner.
Another legend is that Saint Thirunavukkarasar was tied to a granite slab and thrown into the sea by Jains (Samanars). It is believed that he prayed to Lord Shiva of this temple and was able to float and reach the shore. The saint has mentioned this incident in the 7th stanza of his hymn of this temple.
It is believed that Lord Brahma, Varunan, Sage Romasa, Sage Vashistar, Sage Bharadwajar, Sage Markandeya, Deva Kannigais, Kamadenu and Soorapadman have worshipped Lord Shiva here.
Lord Shiva here is also praised as Sri Vilvaranyeswarar, Sri Brahmanayakar and Sri Kamadenupuradesar.
Deities in the temple
Other than the shrines of Lord Shiva and Goddess Parvathy, shrines and idols of lords Vinayakar, Murugan with his consorts, Dakshinamurthy, Kannimulai Ganapathy, the lingam worshiped by Sage Markandeyar, Balasubramaniyar, Kasi Vishwanathar with Visalakshi, Goddess Saraswathy, Mahalakshmi, Durgai, Chandikeswarar, Chandikeswari, Narthana Vinayakar, Nalvar, Markandeyar, Navagraham, Suryan and Bairavar can be seen in the corridors.
There are two separate shrines for Goddess Parvathy here – one as Sri Anoopamasthani and the other as Sri Bakthapeeshtappradayani.
The lingam worshiped by Lord Brahma (Brahma Lingam) is in the front hall and the lingam worshiped by Sage Markandeya (Markandeya Lingam) is in the corridor.
In Navagraham, rest of the idols are facing Lord Suryan.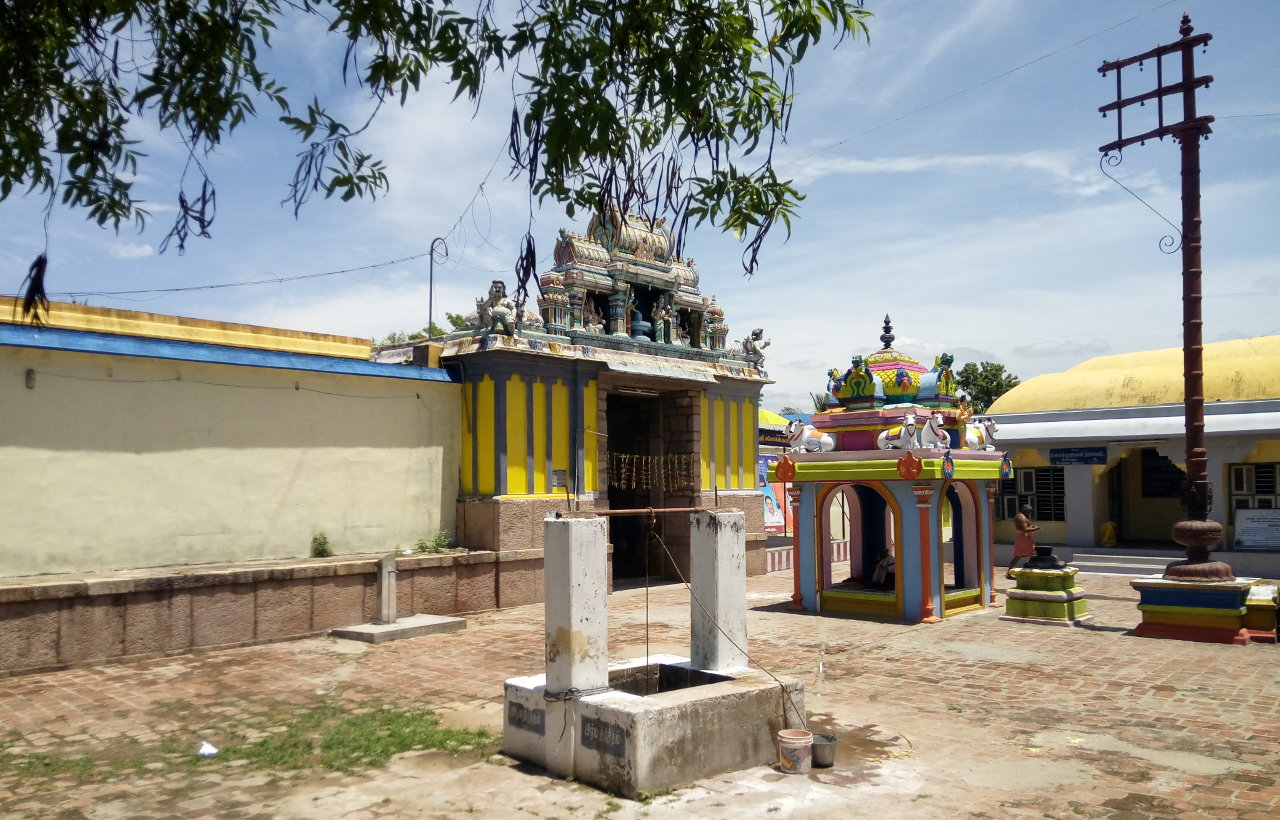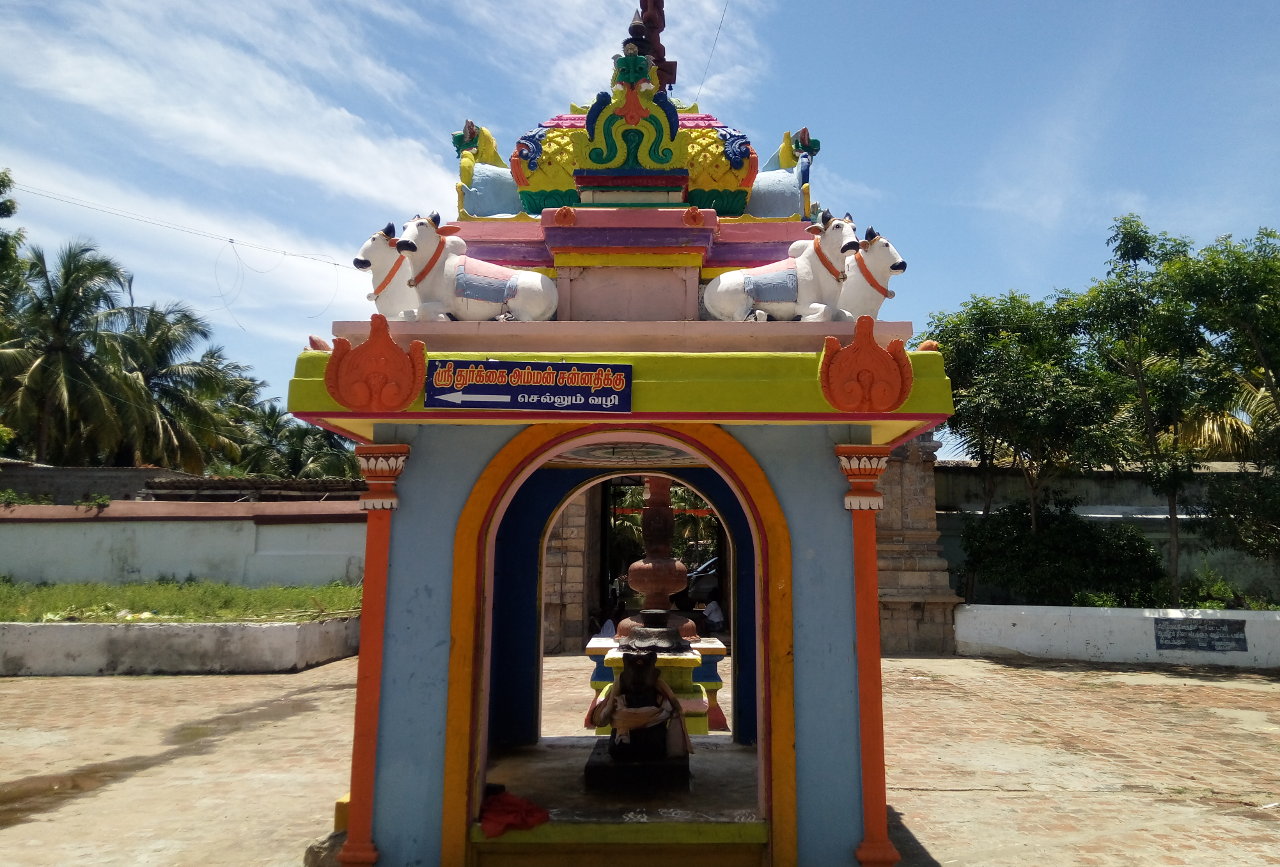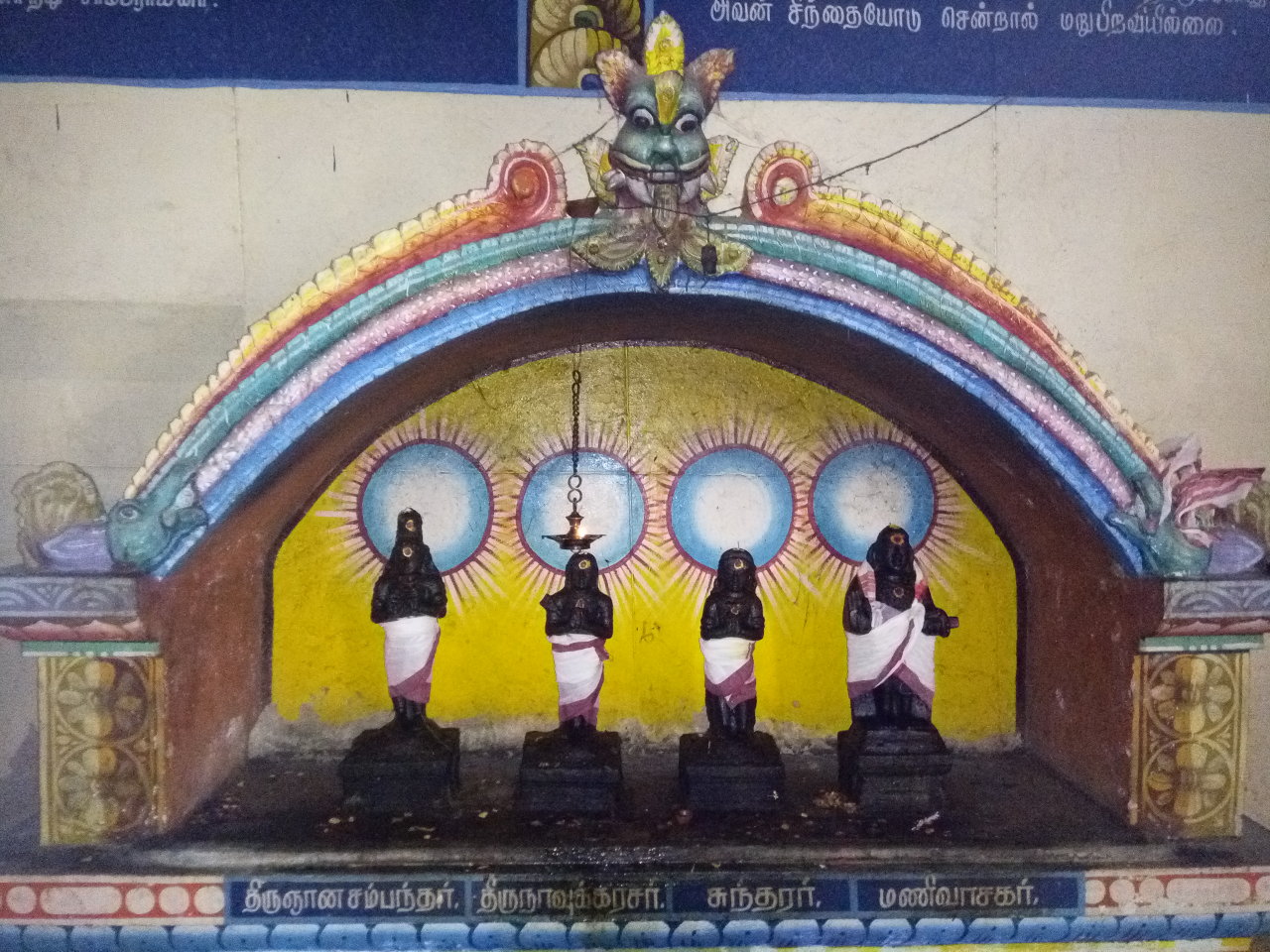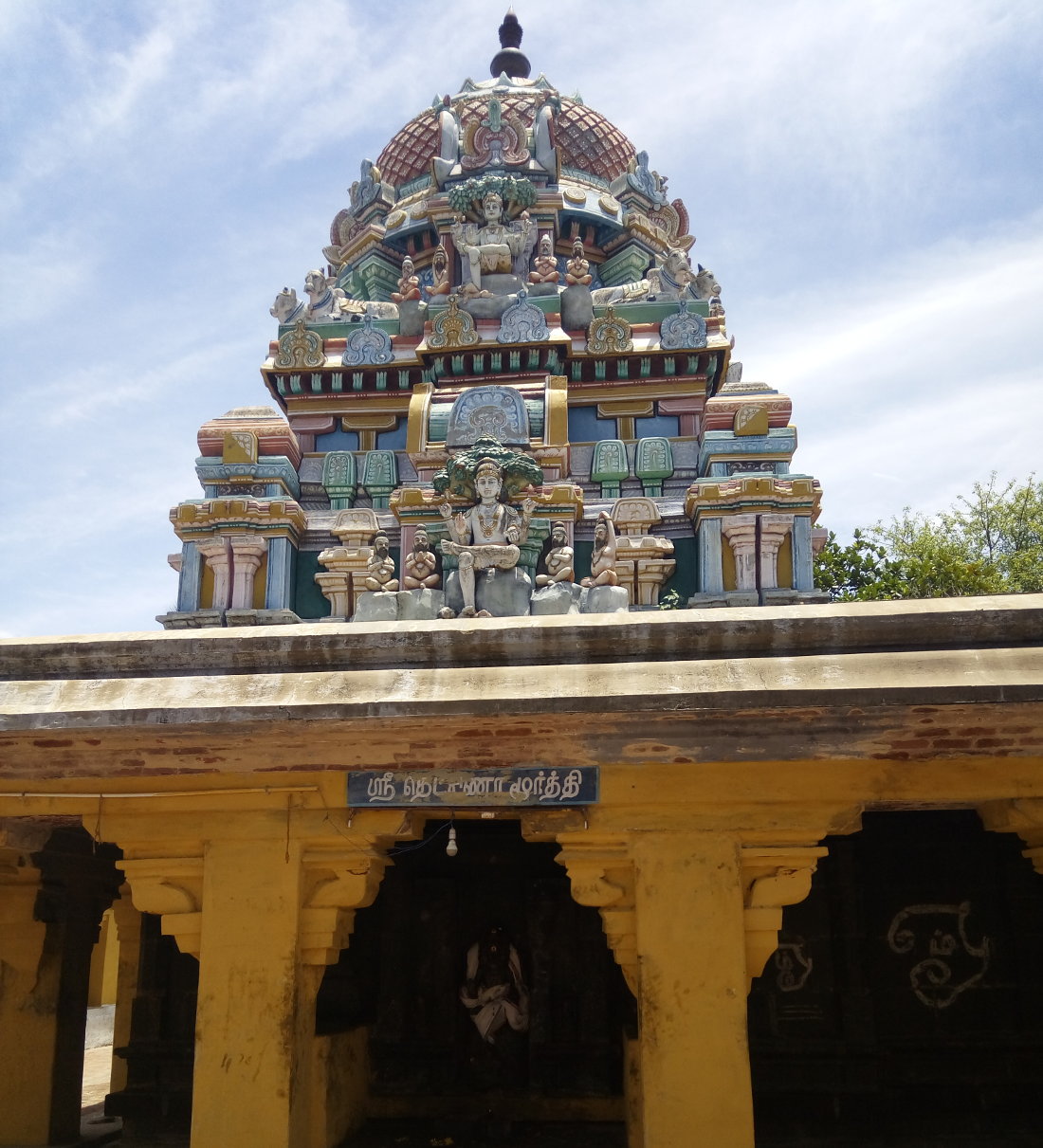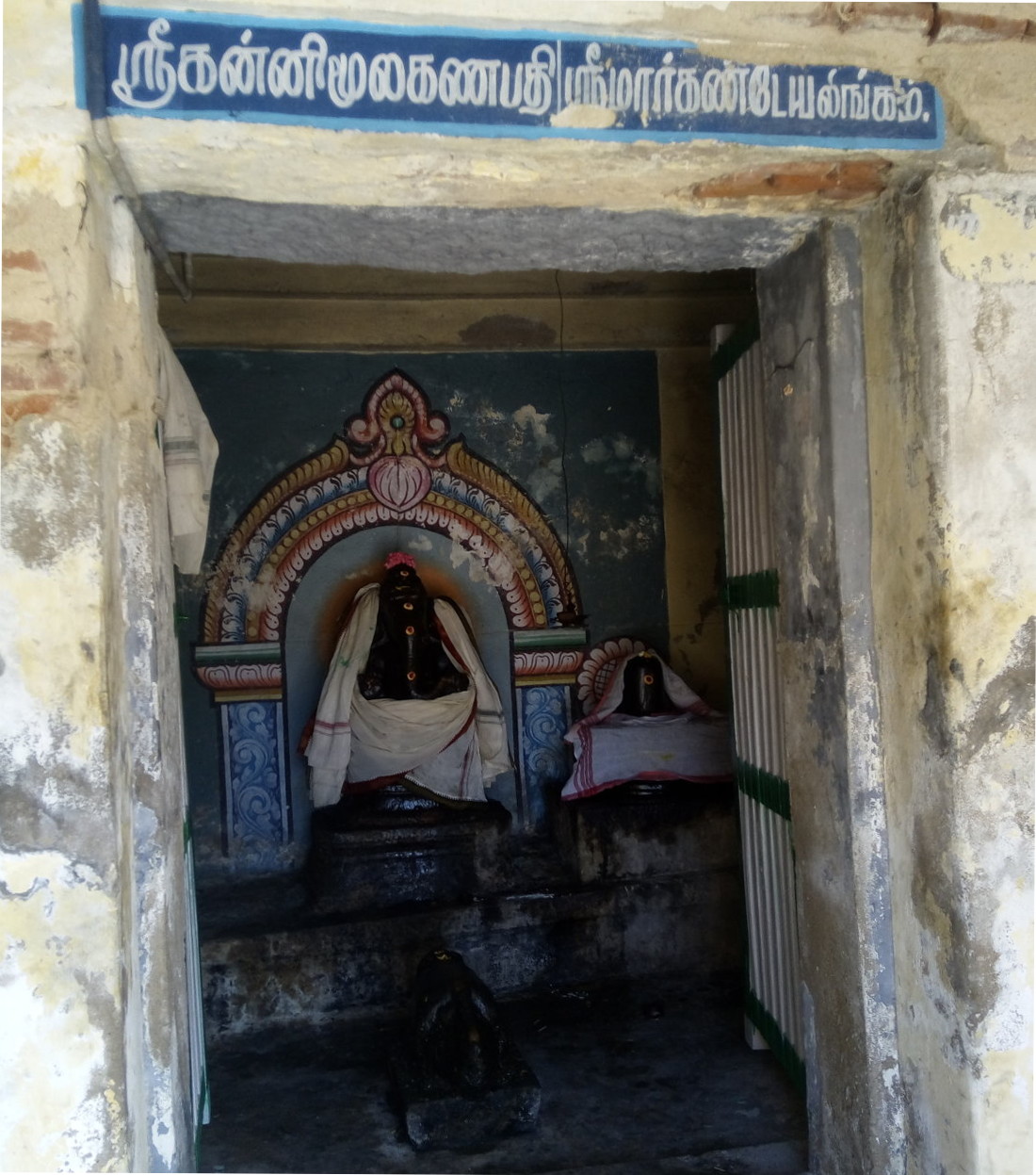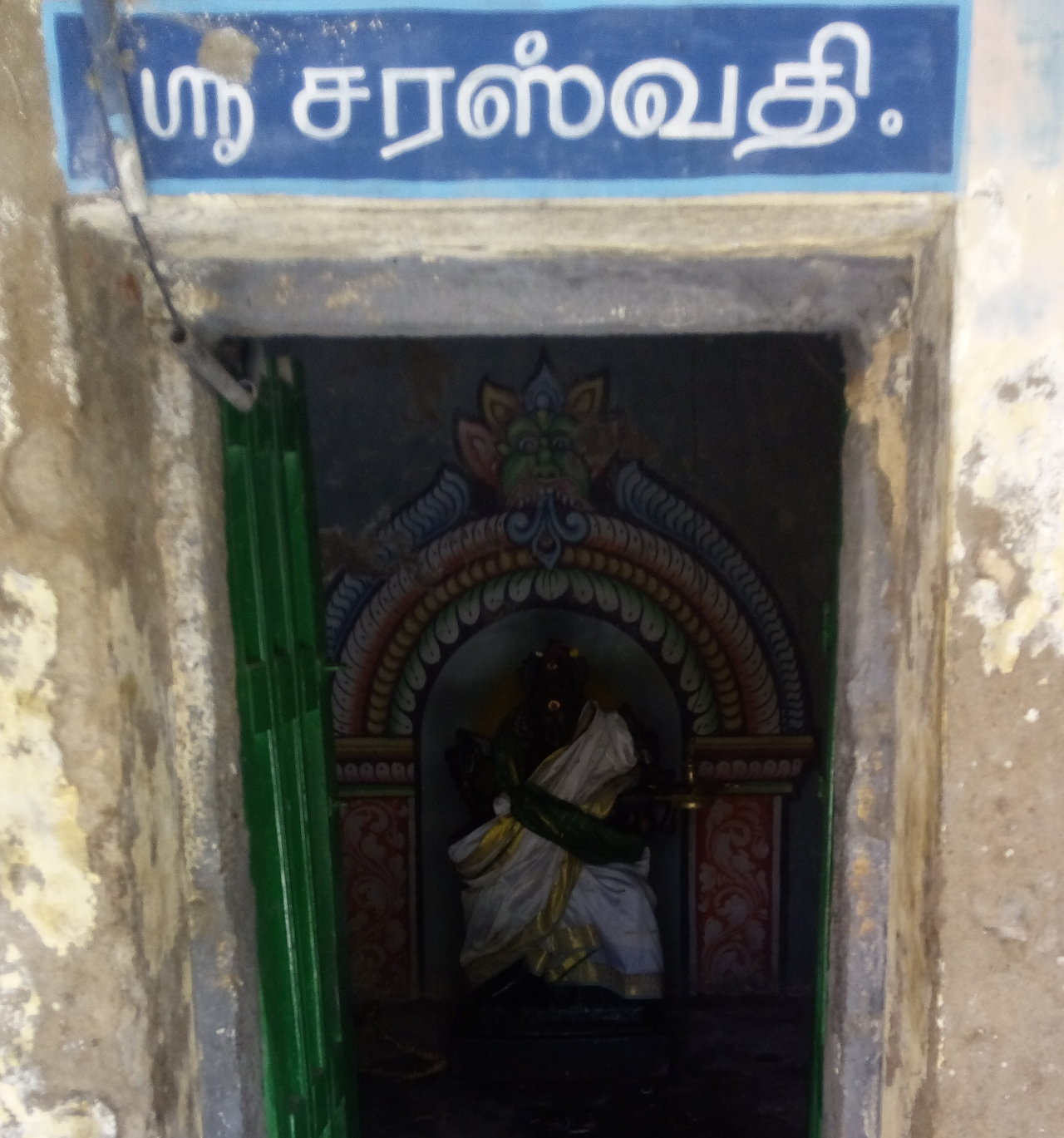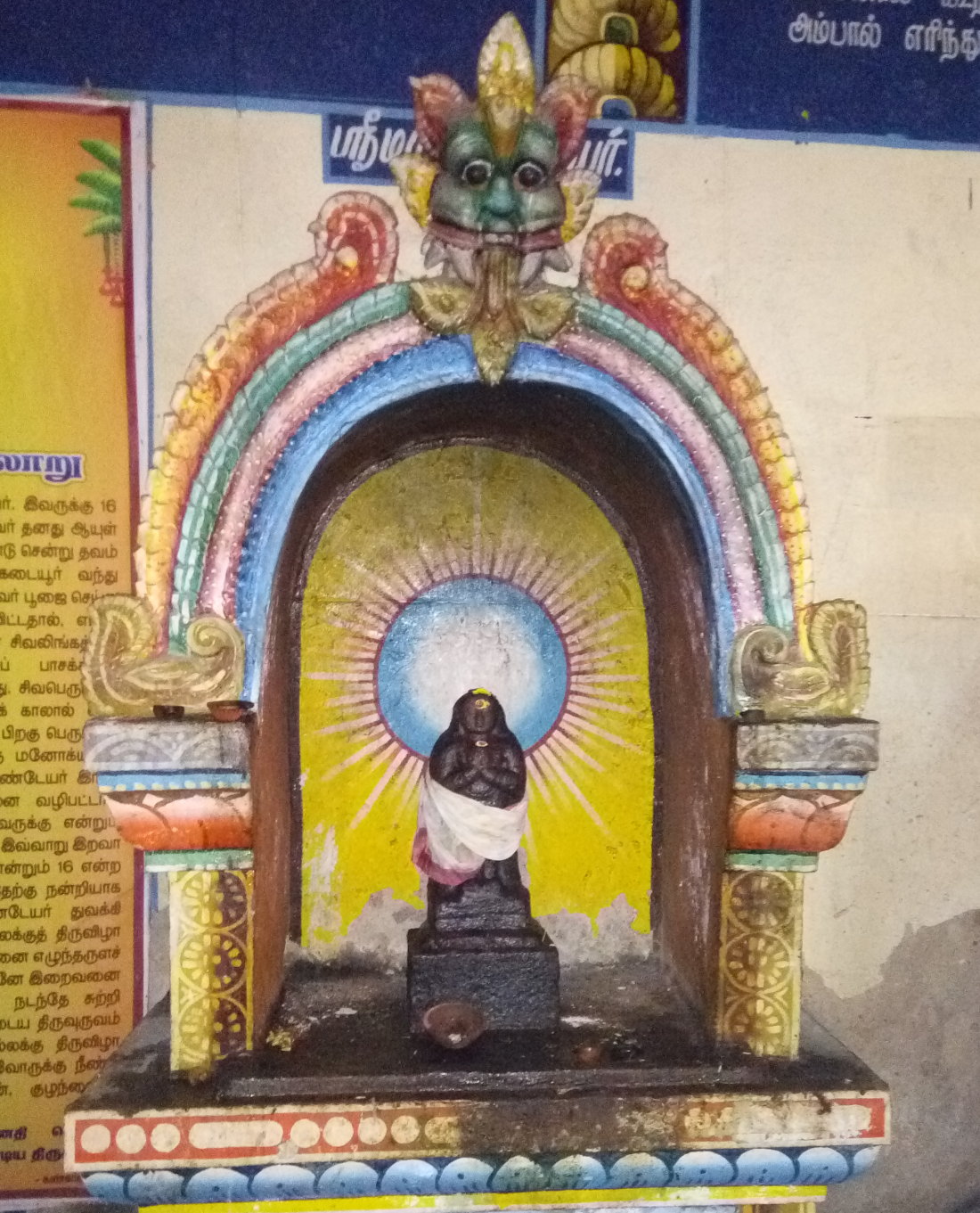 Salient Features
It is believed that the jackfruit tree (Palamaram) in the corridor is very auspicious and its fruits cannot be taken out without making an offering to the lord. If it is taken out without offering to the lord, the fruits will get spoilt.
This temple is considered to be significant for its three important attributes – Moorthy, Sthalam and Theertham - glory of Lord, sacredness of the land and the auspicious temple tank.
A beautiful painting depicting Goddess Parvathy performing oil abishekam to the lord can be seen in the corridor.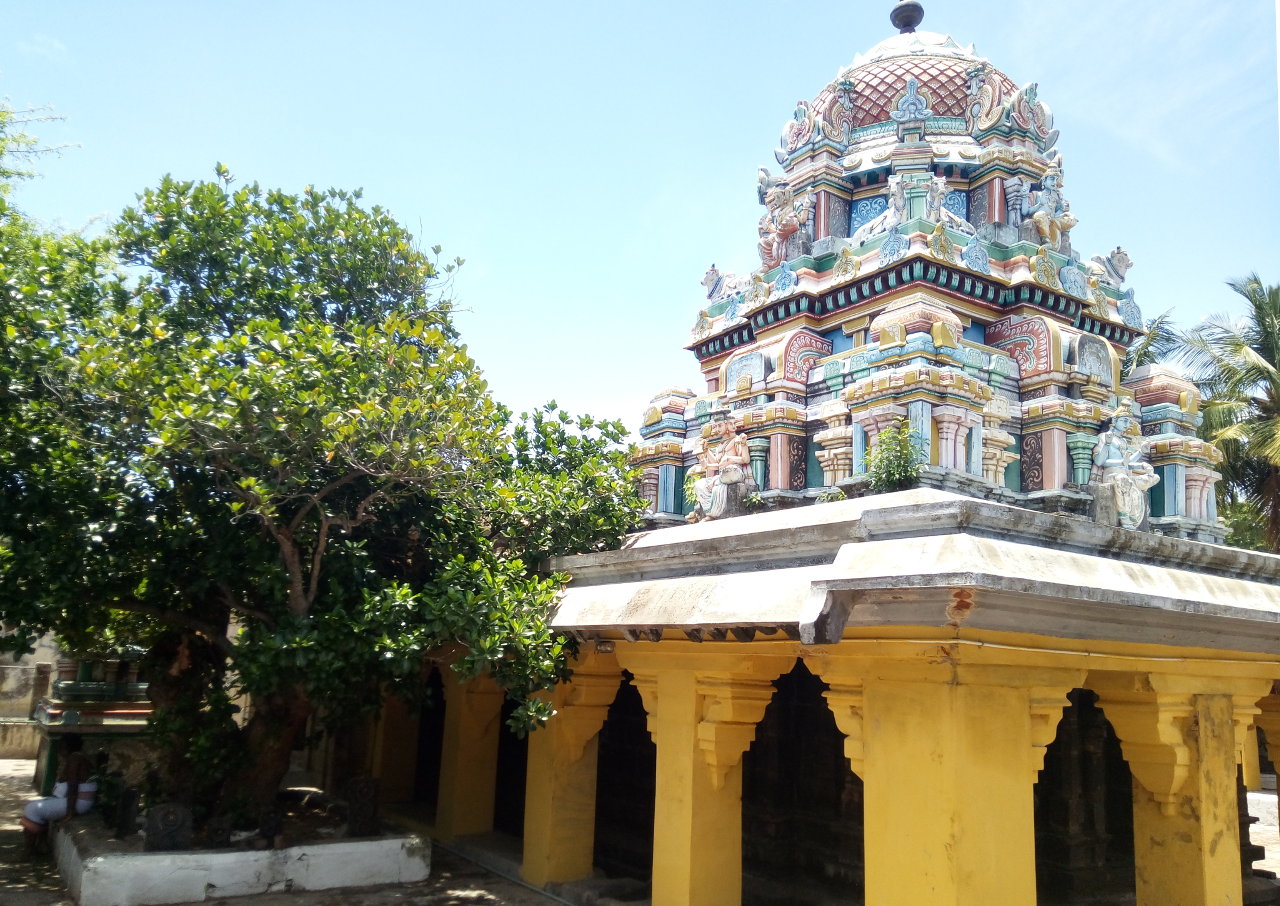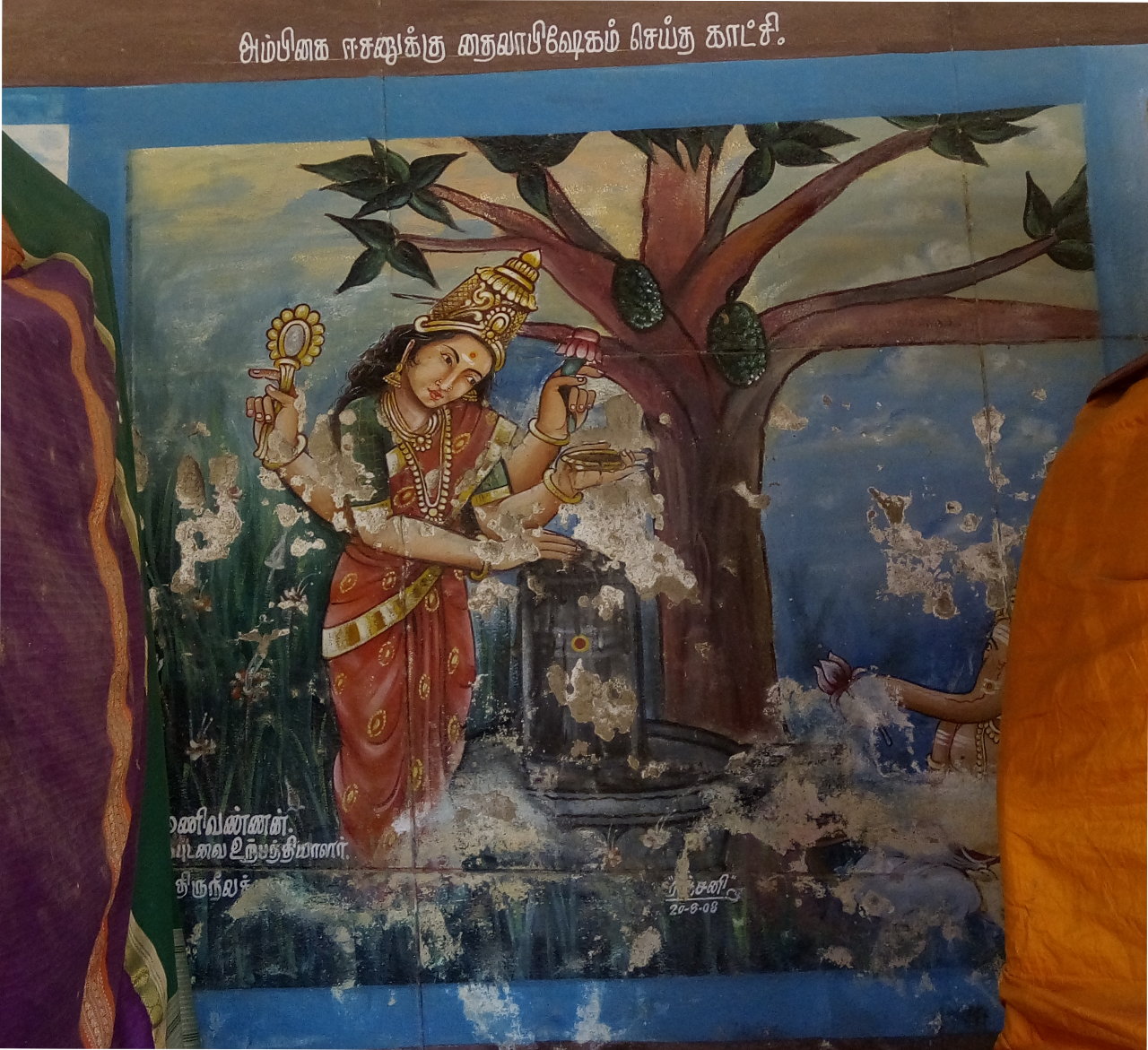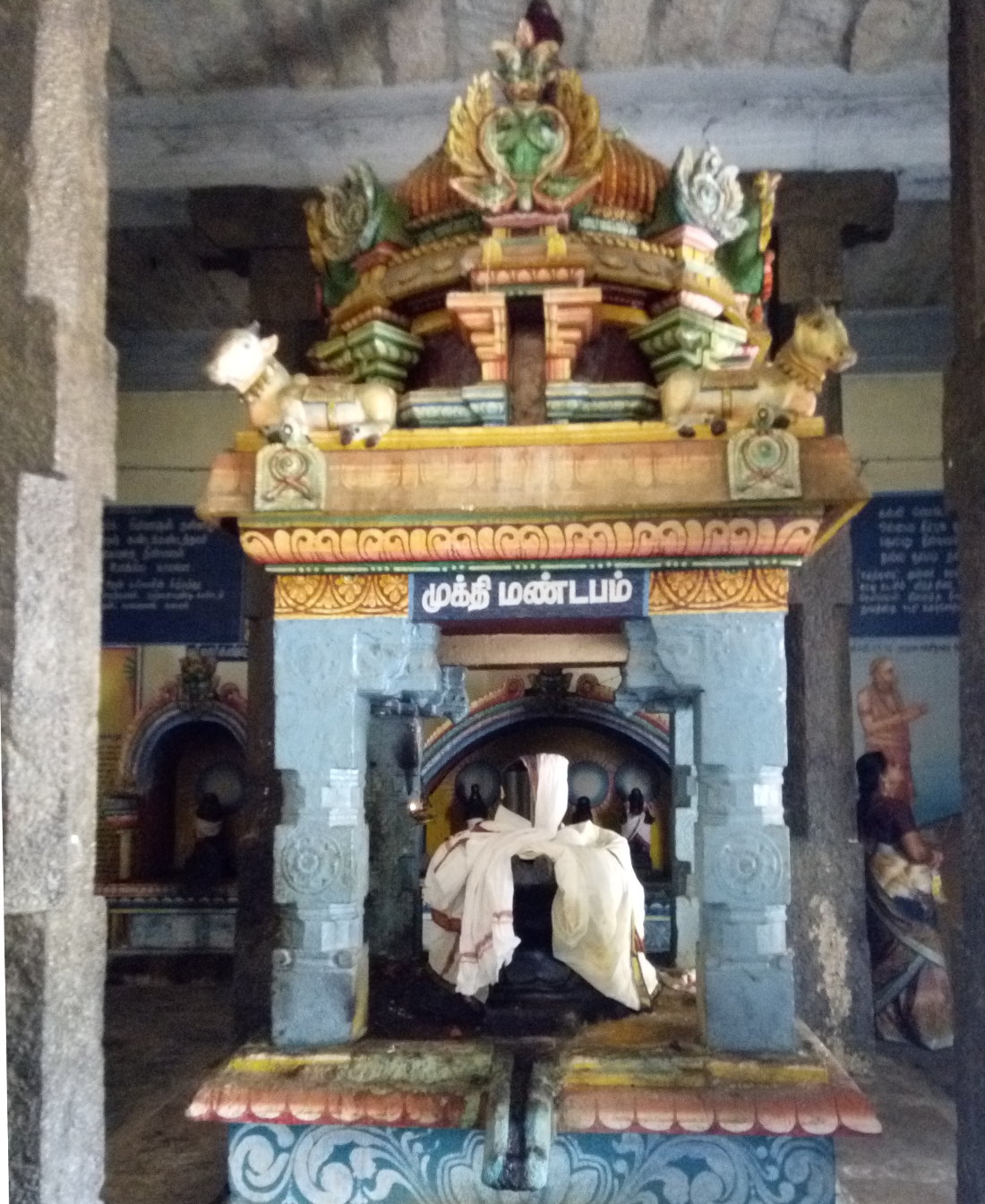 In his hymn of this temple at 4th stanza., Saint Thirunavukarsar mentioned about the lord's consumption of poison.
Every month on Chithirai star day, oil abhishekam is performed to the lord.
In the main hall, Sri Brahmalingam is housed in a shrine which is called the "Mukthi Mandapam".
A stone mortar and pestle set can be seen here. Earlier it was used to grind gingelly seeds.
The sanctum sanctorum is in the form of semi-circular tank (akazhi in Tamil).
Greatness of this temple
As Lord Shiva is believed to have given Sage Markandeya the blessing of immortality here, devotees believe that by worshiping the lord here they would be relieved of "Yama Bhayam" (fear of death).
Devotees also believe that by worshiping the lord here, they would be blessed with longevity.
Devotees offer pots and bowls of oil regularly to the lord and it is believed that by consuming a small quantity of the offered oil, their prolonged ailments will be cured.
Important Festivals
Some of the important festivals celebrated in this temple are -
18-day Brahmotsavam in the Tamil month of Chithirai (April–May);
Aadipooram in the Tamil month of Aadi (July-August);
Annabishekam in the Tamil month of Aippasi (Oct – Nov);
Thiru Karthikai in the Tamil month of Karthikai (November-December);
Thiruvadhirai in the Tamil month of Margazhi (December-January); and
Shivrathri in the Tamil month of Masi (Feb-Mar).
Pradosham is also observed regularly.
Temple Timings
From 06:00 AM to 12:00 Noon and from 04:00 PM to 08:00 PM.
Temple Address
Sri Manokkiyanathaswamy Temple,
Thiruneelakkudi Post,
Thiruvidaimaruthur Taluk,
Tanjure District,
Tamil Nadu-612 108.
Tel: +94428 61634; 0435 - 246 0660.
Contact person: Sri V.Arunachalam at 91594 55050.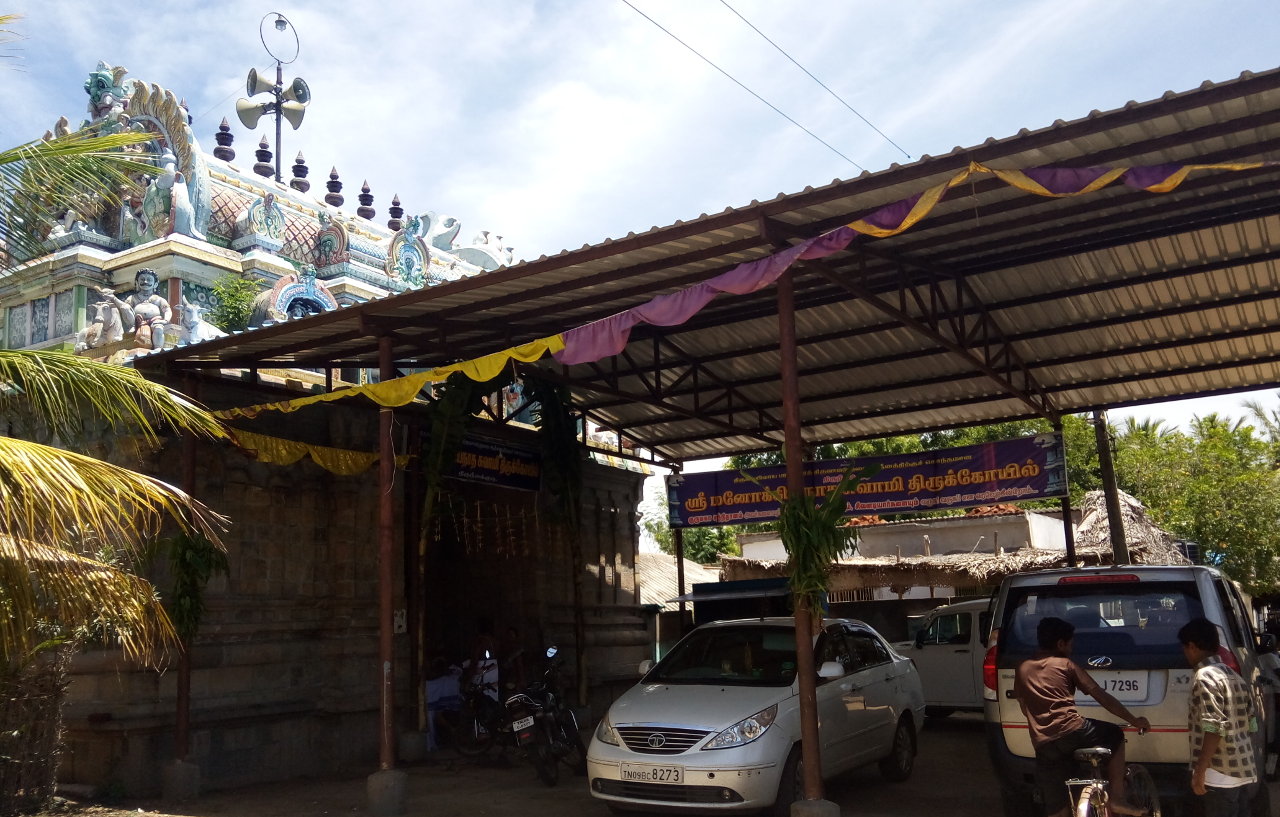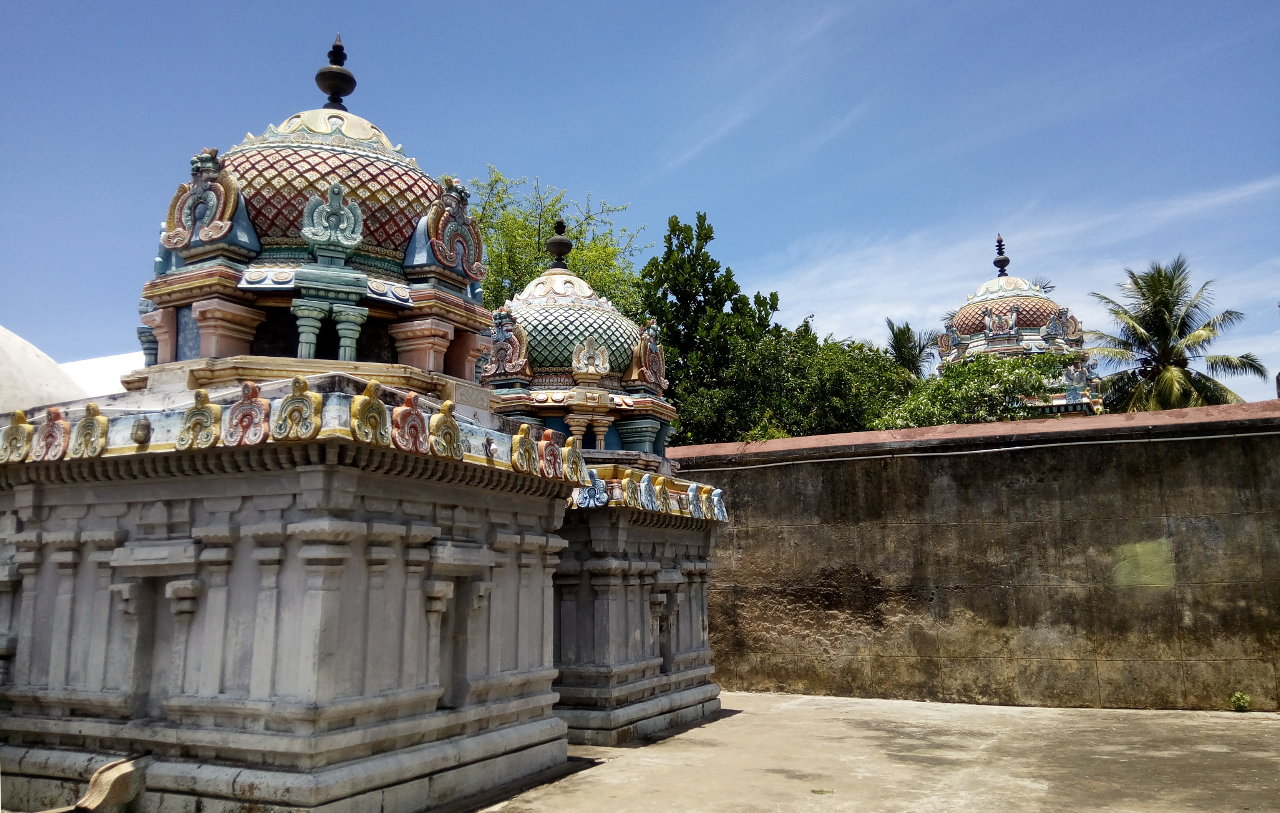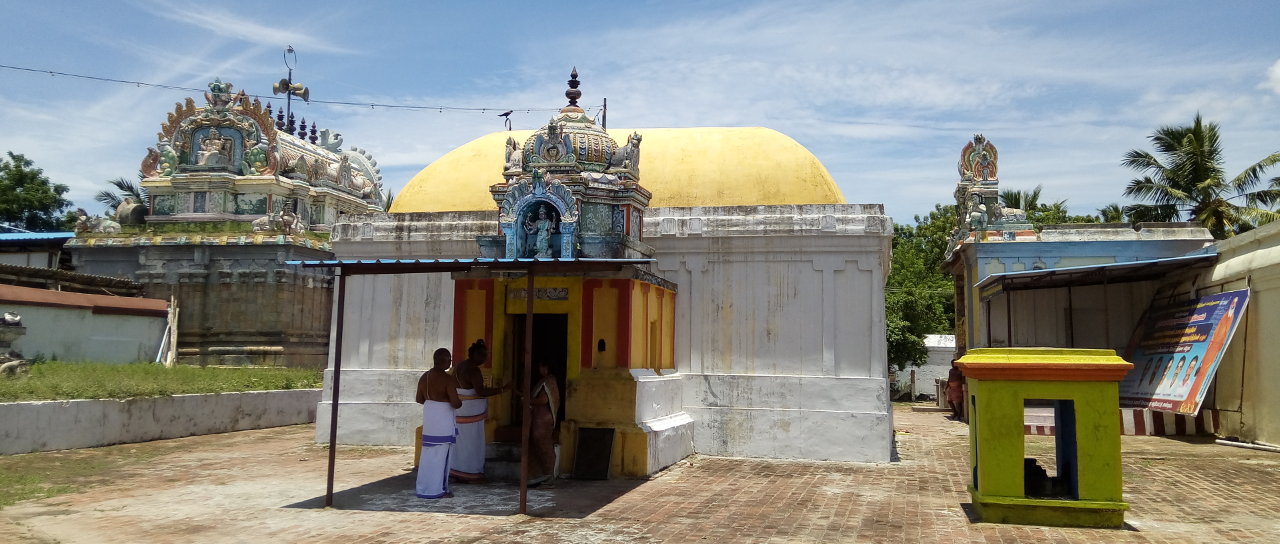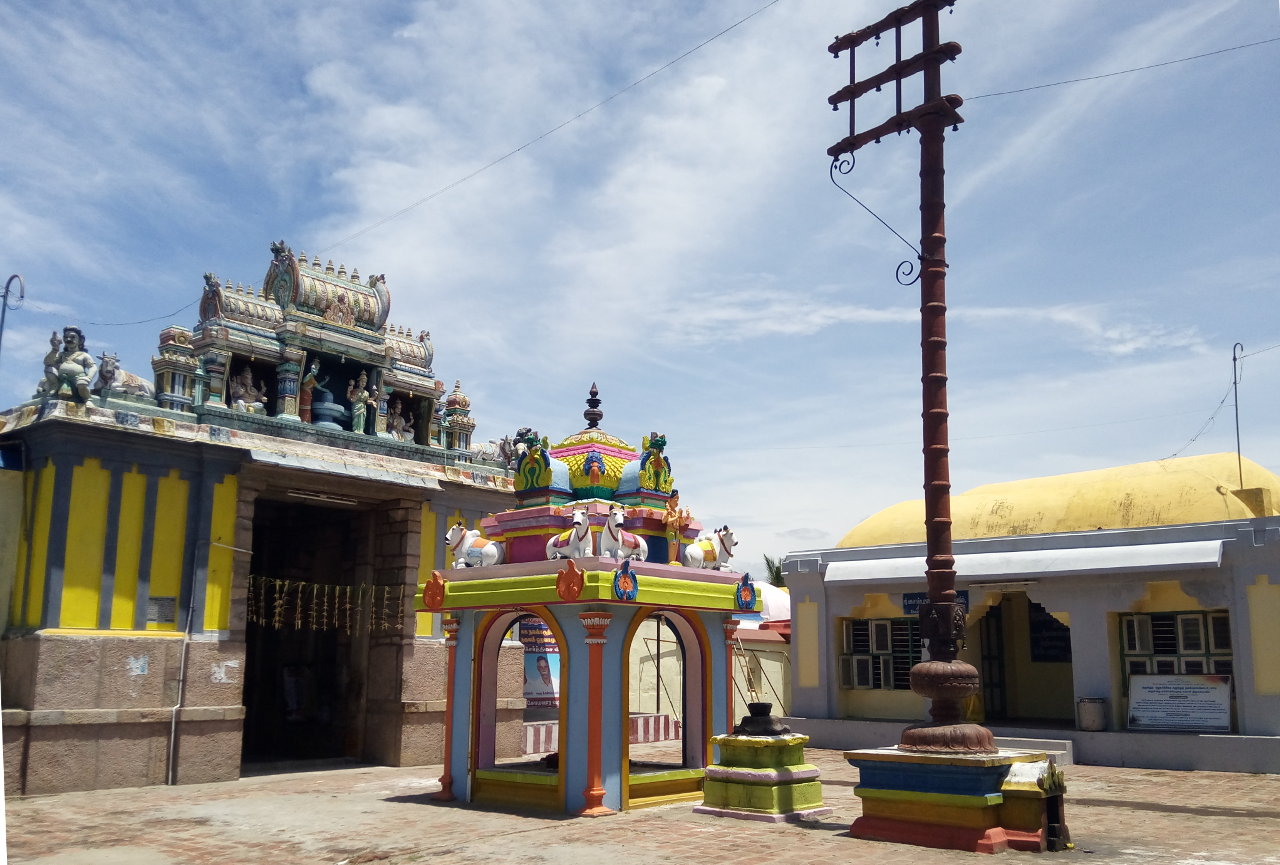 ---
Pathigam (Hymn) with English transliteration
Saint Thirunavukarasar visited this temple and sang this Pathigam.
Devotees visiting this temple should make it a practice to recite this Pathigam.
வைத்த மாடும் மனைவியும் மக்கள்நீர்
செத்த போது செறியார் பிரிவதே
நித்த நீலக் குடியர னைந்நினை
சித்த மாகிற் சிவகதி சேர்திரே.
"Vaitha mādum maṉaiviyum makkaḷnīr
setha pōthu seṟiyār pirivathē
nitha nīlak kuṭiyara ṉainniṉai
sitha mākiṟ sivakathi sērthirē".
செய்ய மேனியன் றேனொடு பால்தயிர்
நெய்ய தாடிய நீலக் குடியரன்
மைய லாய்மற வாமனத் தார்க்கெலாங்
கையி லாமல கக்கனி யொக்குமே.
"Cheyya mēṉiyaṉ tṟēṉoṭu pālthayir
neyya thāṭiya nīlak kuṭiyaraṉ
maiya lāymaṟa vāmaṉath thārkkelāṅ
kaiyi lāmala kakkaṉi yokkumē".
ஆற்ற நீள்சடை ஆயிழை யாளொரு
கூற்றன் மேனியிற் கோலம தாகிய
நீற்றன் நீலக் குடியுடை யானடி
போற்றி னாரிடர் போக்கும் புனிதனே.
"Ātṟa nīḷsaṭai āyizhai yāḷoru
kūtṟaṉ mēṉiyiṟ kōlama thākiya
nītṟaṉ nīlak kuṭiyuṭai yāṉaṭi
pōtṟi ṉāriṭar pōkkum puṉithaṉē".
நாலு வேதியர்க் கின்னருள் நன்னிழல்
ஆலன் ஆலநஞ் சுண்டகண் டத்தமர்
நீலன் நீலக் குடியுறை நின்மலன்
கால னாருயிர் போக்கிய காலனே.
"Nālu vēthiyark kiṉṉaruḷ naṉṉizhal
ālaṉ ālanañ chuṇṭakaṇ ṭaththamar
nīlaṉ nīlak kuṭiyuṟai niṉmalaṉ
kāla ṉāruyir pōkkiya kālaṉē".
நேச நீலக் குடியர னேயெனா
நீச ராய்நெடு மால்செய்த மாயத்தால்
ஈச னோர்சர மெய்ய எரிந்துபோய்
நாச மானார் திரிபுர நாதரே.
"Nēsa nīlak kuṭiyara ṉēyeṉā
nīsa rāyneṭu mālseytha māyaththāl
īsa ṉōrsara meyya erinthupōy
nāsa māṉār thiripura nātharē".
கொன்றை சூடியைக் குன்ற மகளொடு
நின்ற நீலக் குடியர னேயெனீர்
என்றும் வாழ்வுகந் தேயிறு மாக்குநீர்
பொன்றும் போது நுமக்கறி வொண்ணுமே.
"Koṉtṟai chūṭiyaik kuṉtṟa makaḷoṭu
niṉtṟa nīlak kuṭiyara ṉēyeṉīr
eṉtṟum vāzhvukan thēyiṟu mākkunīr
poṉtṟum pōthu numakkaṟi voṇṇumē".
கல்லி னோடெனைப் பூட்டி அமண்கையர்
ஒல்லை நீர்புக நூக்கவென் வாக்கினால்
நெல்லு நீள்வயல் நீலக் குடியரன்
நல்ல நாமம் நவிற்றியுய்ந் தேனன்றே.
"Kalli ṉōṭeṉaip pūṭṭi amaṇkaiyar
ollai nīrpuka nūkkaveṉ vākkiṉāl
nellu nīḷvayal nīlak kuṭiyaraṉ
nalla nāmam navitṟiyuyn thēṉaṉtṟē".
அழகி யோமிளை யோமெனு மாசையால்
ஒழுகி ஆவி உடல்விடு முன்னமே
நிழல தார்பொழில் நீலக் குடியரன்
கழல்கொள் சேவடி கைதொழு துய்ம்மினே.
"Azhaki yōmiḷai yōmeṉu māsaiyāl
ozhuki āvi uṭalviṭu muṉṉamē
nizhala thārpozhil nīlak kuṭiyaraṉ
kazhalkoḷ sēvaṭi kaithozhu thuym'miṉē".
கற்றைச் செஞ்சடைக் காய்கதிர் வெண்டிங்கள்
பற்றிப் பாம்புடன் வைத்த பராபரன்
நெற்றிக் கண்ணுடை நீலக் குடியரன்
சுற்றித் தேவர் தொழுங்கழற் சோதியே.
"Katṟaich cheñchaṭaik kāykathir veṇṭiṅkaḷ
patṟip pāmpuṭaṉ vaiththa parāparaṉ
netṟik kaṇṇuṭai nīlak kuṭiyaraṉ
sutṟith thēvar thozhuṅkazhaṟ chōthiyē".
தருக்கி வெற்பது தாங்கிய வீங்குதோள்
அரக்க னாருட லாங்கோர் விரலினால்
நெரித்து நீலக் குடியரன் பின்னையும்
இரக்க மாயருள் செய்தனன் என்பரே.
"Tharukki veṟpathu thāṅkiya vīṅkuthōḷ
arakka ṉāruṭa lāṅkōr viraliṉāl
neriththu nīlak kuṭiyaraṉ piṉṉaiyum
irakka māyaruḷ seythaṉaṉ eṉparē".