Visited on: 26th August, 2016 and 22nd November, 2016
Location
Thirumalpur is at a distance of about 14 kms from Kanchipuram on the Kanchipuram to Arakkonam route. There is a Railway Station at Thirumalpur. The temple is 5 kms away from this railway station.
From Thiruvallur it is about 40 kms.
Other Paadal Petra Shivasthalams near Thirumalpur are - Thakkolam (17 kms), Kuranganil Muttam (30 kms), Thiru Magaral (30 kms) and Thiru Vanparthan Panangattur (37 kms).
General Information
Moolavar

Sri Manikandeswarar, Sri Dhayanitheeswarar
Sri Malvanangeeswarar

Ambal

Sri Anchanatchi Amman, Sri Karunai Nayaki

Theertham (Holy water)

Chakkara Theertham

Sthala Vriksham (Sacred Tree)

Vilvam

Pathigam (Hymn) rendered by

Saint Thirugnanasambanthar-2, Saint Thirunavukarasar (Appar)-4

This is one of the 276 Devara Paadal Petra Shiva Sthalams and 11th Shiva Sthalam in Thondai Nadu.
Lord Shiva in this temple is a Swayambumurthi, (self-manifested).
It is believed that the Moolavar of this temple is made of sand by Goddess Parvathi herself.
This lingam is not touched by human hands, not even by the priests, as it is "Theendathirumeni" and is always covered by a metal sheet (kavacham).
Lord Mahavishnu got his discus (Sudarshana Chakaram) from Lord Shiva here.
This is an east facing temple that has two corridors and a main tower (Rajagopuram) with 5-tiers.
History of the Temple
This ancient temple is located on the banks of Virudhasheera river (Palaru) and is said to be more than 1500 years old. The temple is said to have been built by King Paranthaka Chola-I.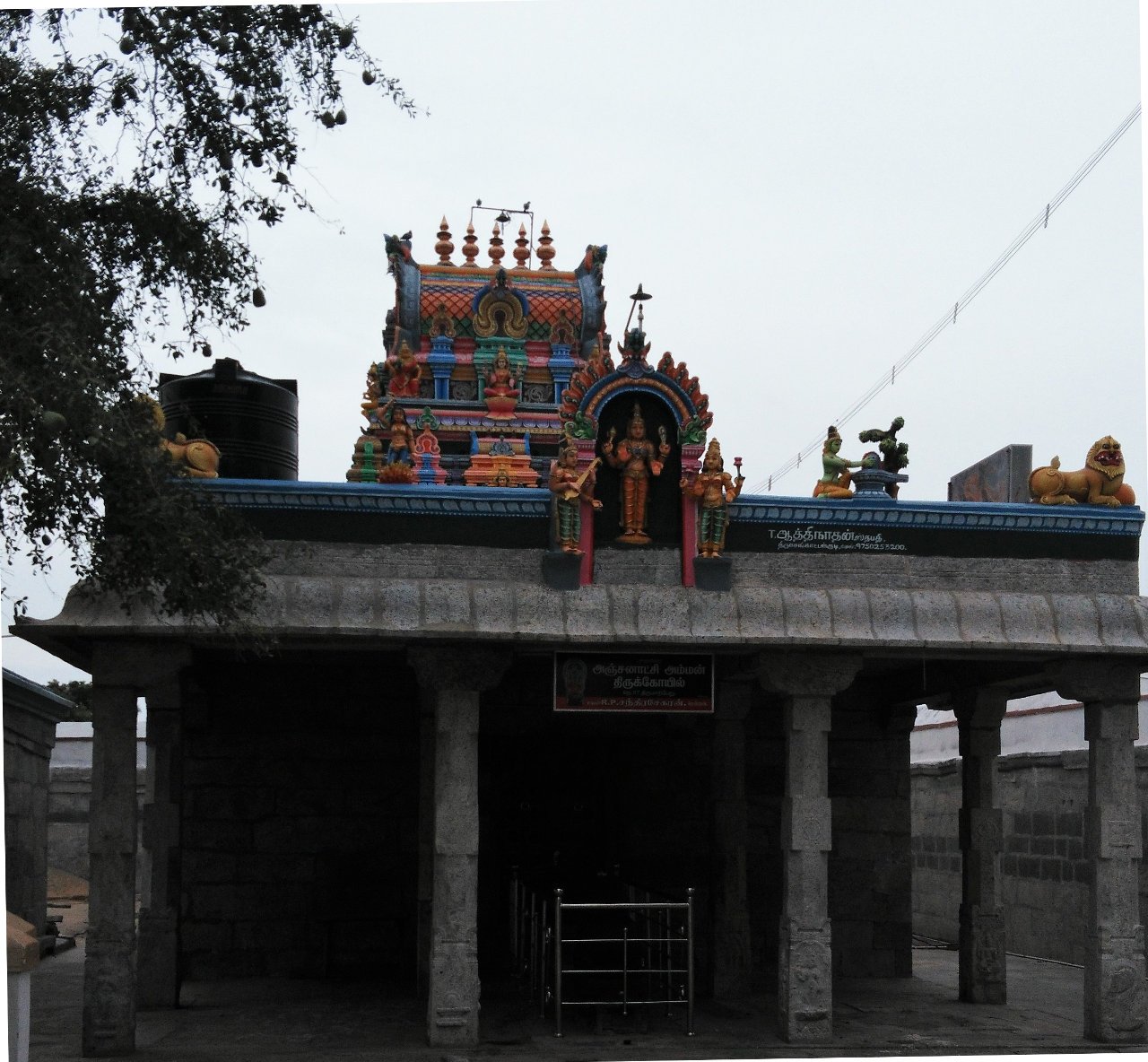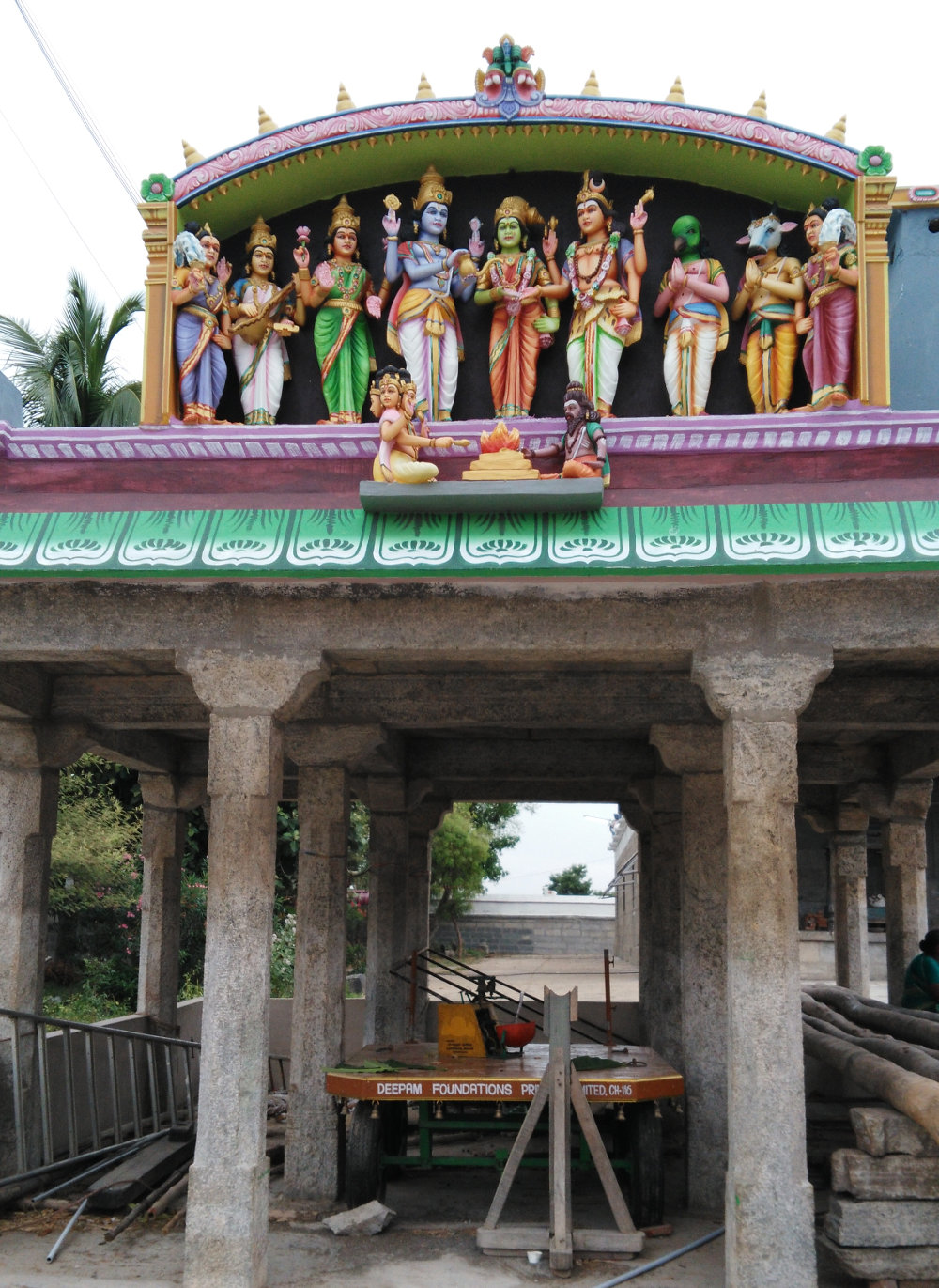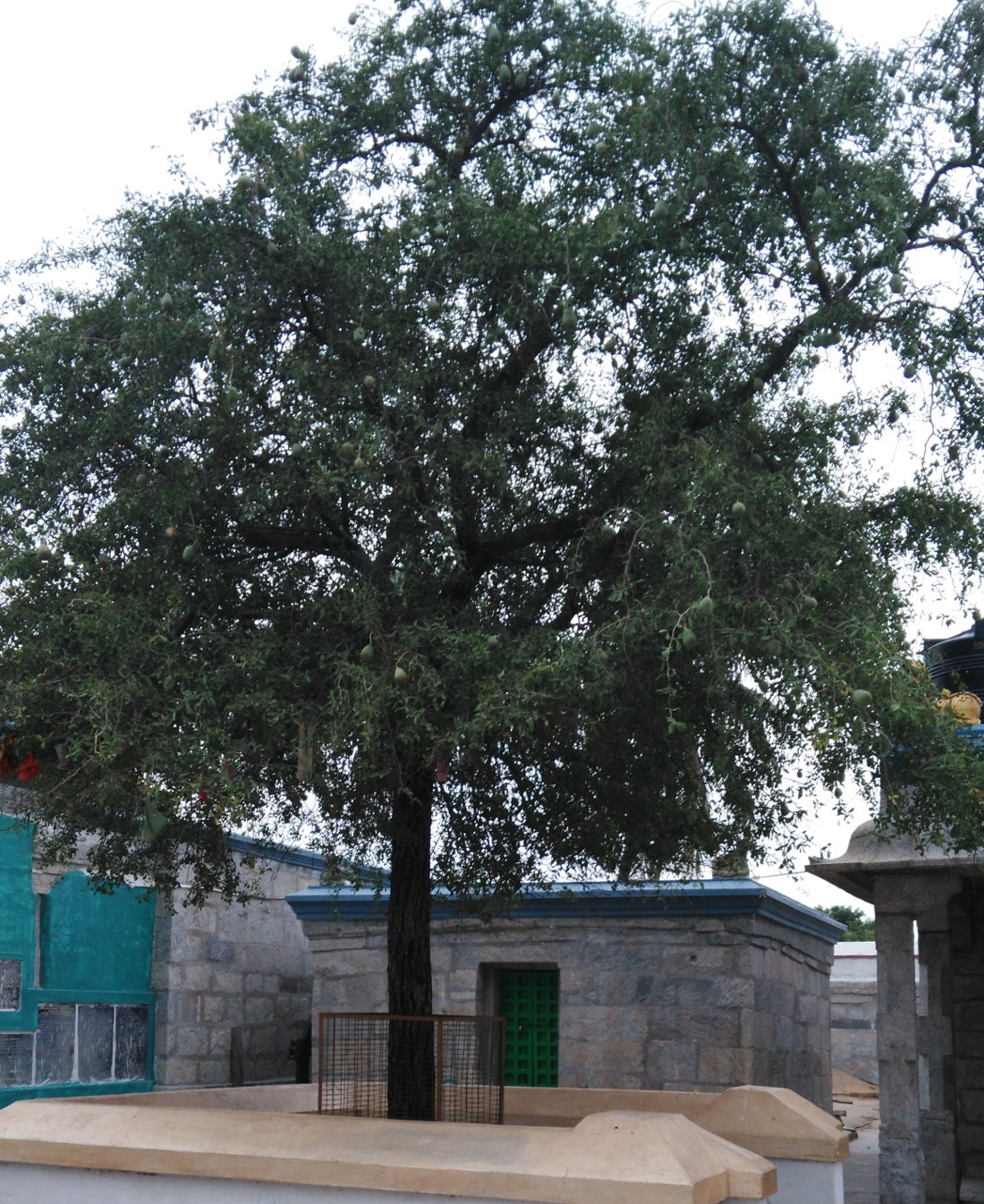 Legend
The legend is that once, when Goddess Parvathi was playing with her husband, Lord Shiva, she inadvertently covered his eyes with her hands. She soon realized that because of this act, all living beings in the world had come to a standstill. She immediately removed her hands.
To repent for the hardships caused due to her action and to seek absolution for her sins, she decided to come to earth, make a lingam with sand, install it on the banks of Viruthasheera river and start offering her prayers there. It is believed that once, while she was offering her prayers, the river started overflowing. To safeguard the lingam, she hugged it and prayed to her brother Mahavishnu for help. He immediately took his reclining form "Ranganathar" and acted as a dam to divert the flood. It is believed that this lingam is the moolavar in the sanctum of this temple. The place where Ranganathar diverted the river is called Thiruparkadal. It is near this temple and there is a separate shrine for Lord Mahavishnu there.
Another legend is that Lord Mahavishnu is said to have been blessed with his "Discus" (Chakrayudam) upon worshipping Lord Shiva in this temple. It is believed that in his battle against Sage Thutheesi, Lord Mahavishnu had used his discus (Chakrayudam). When the discus touched the sage's body, it lost its sharpness and became defunct. Worried, Lord Mahavishnu consulted with the celestial gods (Devas) who advised him that Lord Shiva had the "Sudharsana Chakram" (discus) which he had created to destroy demon Chalandaran.
Lord Mahavishnu came to this place (Thirumalpur) and worshipped Lord Shiva here every day by making an offering of a thousand lotus flowers. To test the determination of Lord Vishnu, it is believed that Lord Shiva caused shortage of one flower. To make up for this shortage, Lord Vishnu immediately plucked one of his eyes out and offered it along with the flowers. Pleased by his determination, Lord Shiva restored Lord Mahavishnu's eye and blessed him by saying that "since you offered your eye in place of a lotus flower, your eyes will have the beauty of the lotus flower itself and you will be praised as "Padumashan". Lord Shiva also blessed him with the "Sudharsana Chakram".
Because Lord Mahavishnu was given the Chakra here, this place got the name Harichakrapuram (in Sanskrit) and Thiru Malpuram ("Mal" meaning Mahavishnu and "Puram" meaning village in Tamil). Similarly, Lord Shiva here is also praised as "Sri Malvanangeeswarar" ("Mal" meaning Mahavishnu and "Vanangu" meaning worship in Tamil).
Lord Mahavishnu requested Lord Shiva that the devotees who offer their prayers here to be given the benefits of having worshiped all Shiva temples in the world. He also prayed that the devotees who visit the lord here may be granted salvation. Acceeding to Lord Mahavishnu's request, Lord Shiva informed him that whoever chants his 1000 names or at least chants his eight names (Theentachivanthar, Sadarubar, Manikandar, Dayanithiyar, Pavalamalaiyar, Vattanthavirthar and Sakisanar), would be granted salvation.
Another interesting aspect in this temple is that Adhikara Nandhi's idol is in standing posture with a monkey's face. It is believed that one day Ravana came to this temple to pray to Lord Shiva and entered the sanctum without Adhikara Nandhi's permission. When he returned after his prayers, Nandhi told him that he should have obtained his permission before entering into the sanctum. Angered, Ravana told Adhikara Nandhi that being an ardent devotee of Lord Shiva and having been blessed by the lord himself, he did not need anyone's permission to enter the sanctum santorum. He also cursed the Nandhi to have monkey's face. In retaliation, Nandhi cursed him that he would be destroyed by a monkey.
It is also believed that Moon God (Chandran) had also worshiped Lord Shiva of this temple.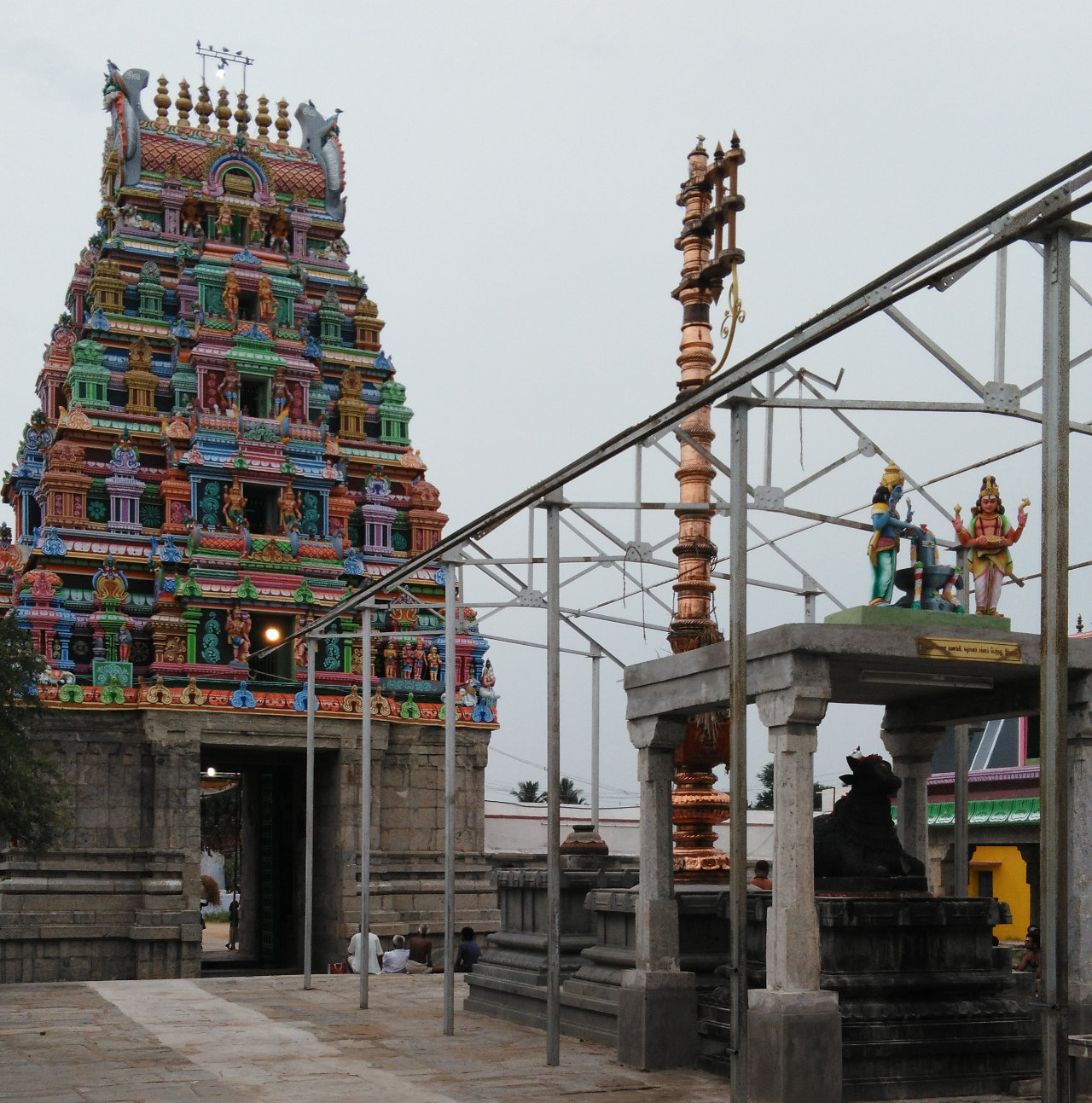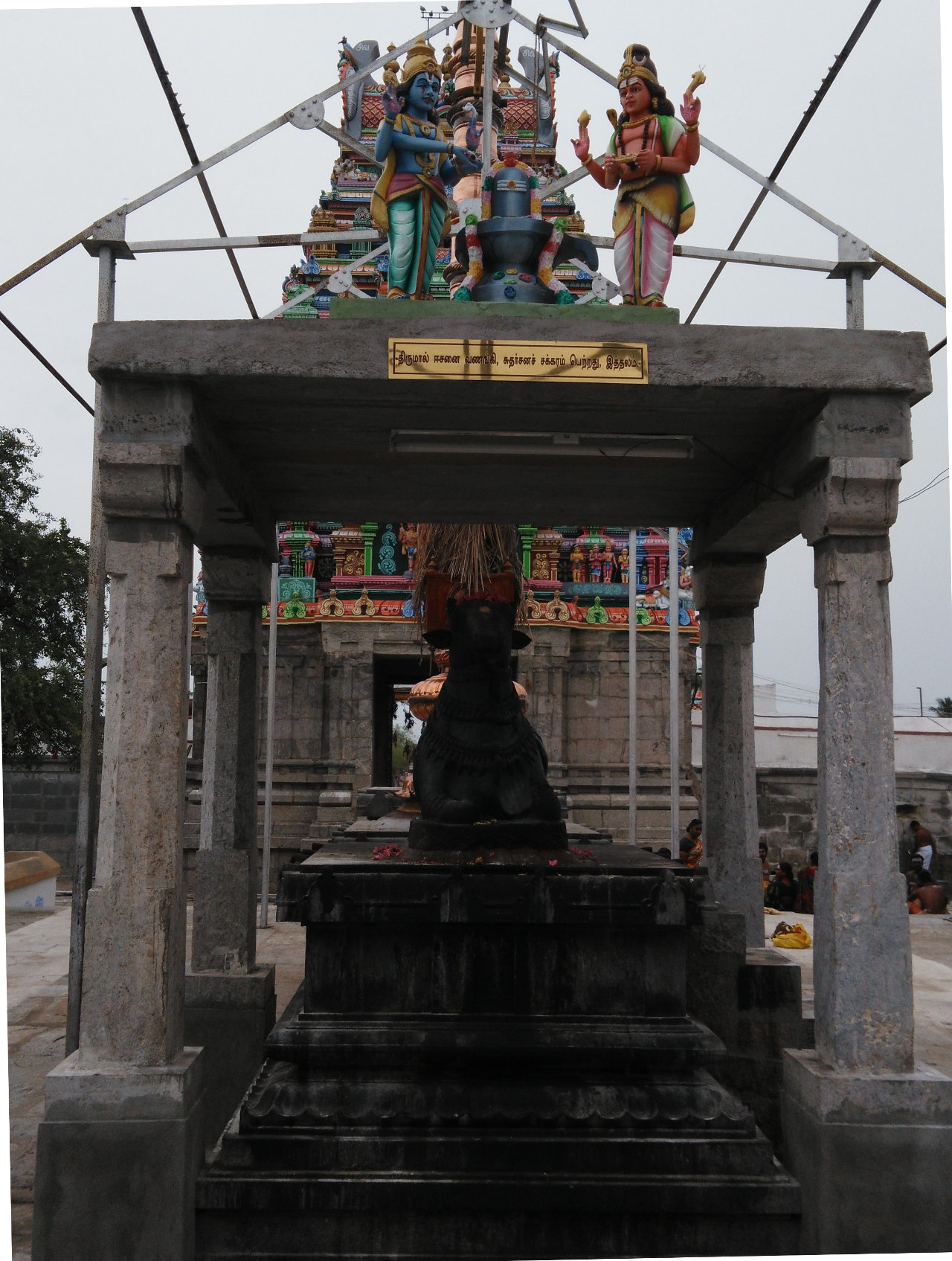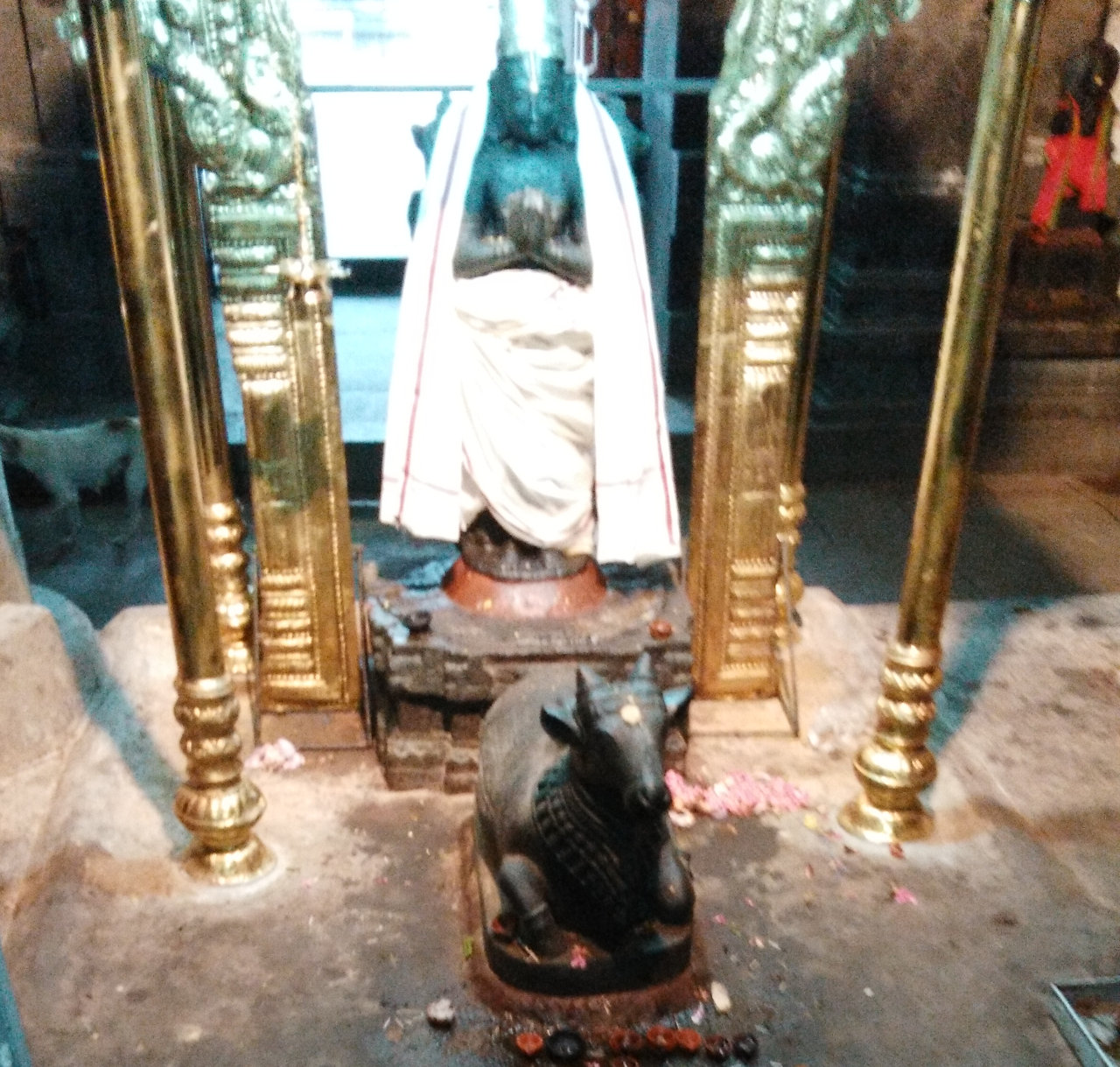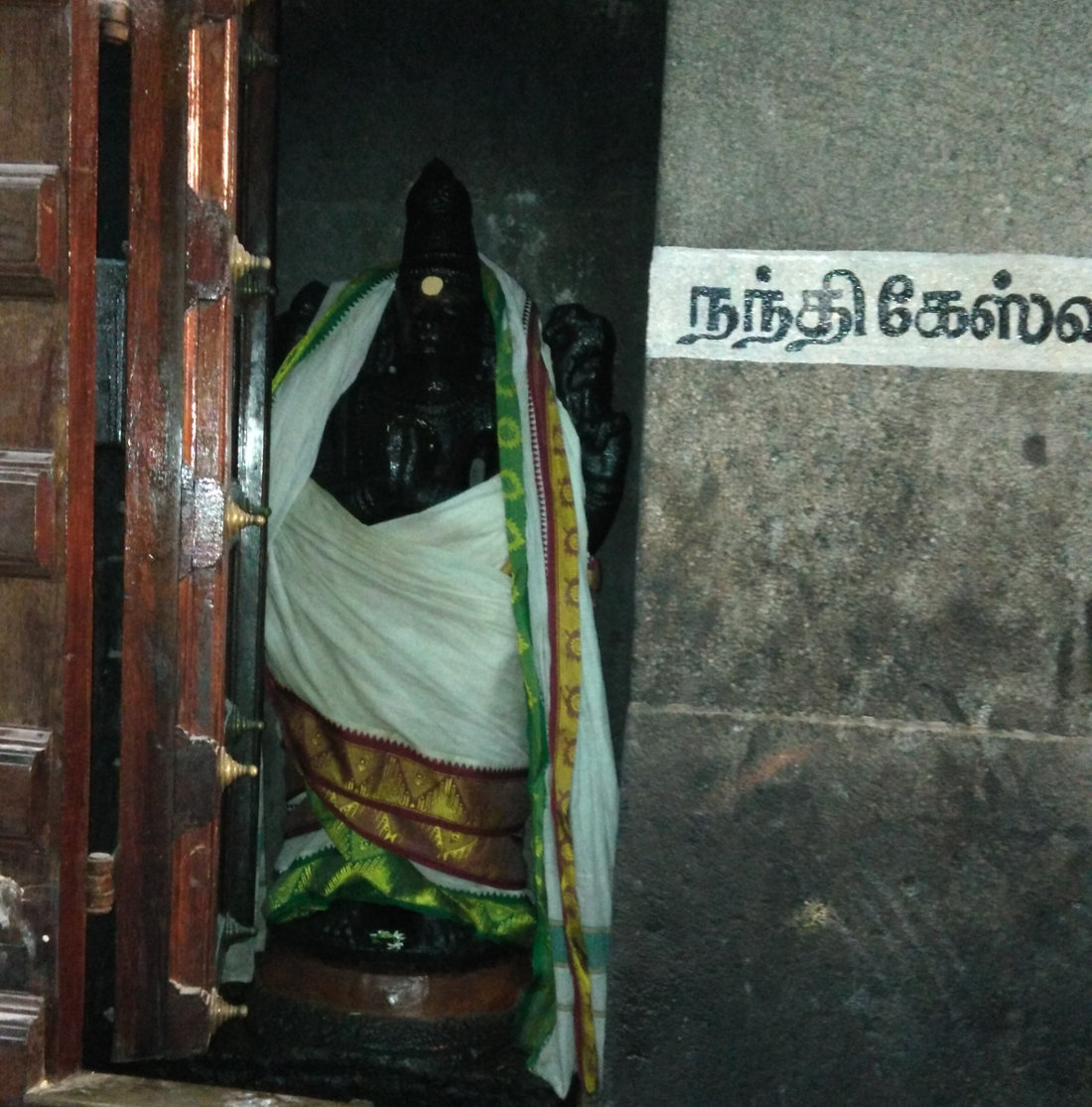 Deities in the temple
There are idols and shrines of Lords Vinayakar, Murugan with his consorts, Chidambareswarar, Somaskandar, Choleeswarar, Chandikeswarar, Natarajar, Veerabathrar, Bairavar, Suryan, Chandran, Nalvars, Goddess Gajalakshmi, Dakshinamurthy, Mahavishnu, Brahma and Durgai in the corridors.
Salient Features
Lord Mahavishnu is present in this temple as "Senthamarai Kanna Perumal". His idol can be seen worshipping Lord Shiva.
Although this is a Shiva temple, since Lord Mahavishnu is believed to have worshipped Lord Shiva here, many Vaishnava traditions are also followed in this temple. Devotees are given holi theertham along with the sacred ash (Viputhi). They are also blessed with "Chatari". Another interesting aspect is that "Garuda Seva" is observed in this temple during the Brahmotsavam festival.
Many idols here are depicted in a very unique form - the Dwarabalakas are huge in size; Adhikara Nandhi is in a standing posture with a monkey's face; Vinayakar can be seen with ten hands (as "Vallabha Vinayakar"); Goddess Durga devi is with 8 hands; and Lord Mahavishnu is in a standing posture with folded hands in front of Lord Shiva.
The procession idol (Utsava Murthy) of Lord Mahavishnu is with a lotus flower in one hand and an eye in the other hand.
Greatness of this temple
It is believed that devotees who pray to Lord Shiva here would have no threats from enemies and will also see favourable outcome in litigation cases. It is also believed that by worshiping the lord here, devotees can seek salvation.
Important Festivals
10-day Brahmotsavam in the Tamil month of Masi (February-March) is celebrated in a grand manner. During this festival, Theerthavari dedicated to Lord Shiva and Garuda Seva dedicated to Lord Mahavishnu are observed.
Aani Tirumanjanam in the Tamil month of Aani (June-July), Aadi Velli and Aadi Puram in the Tamil month of Aadi (July-August), Thirukarthikai in the Tamil month Karthikai (November-December) and Thiruvadhirai in the Tamil month of Margazhi (December-January) are the other festivals celebrated in this temple.
Monthly Pradosham is also observed.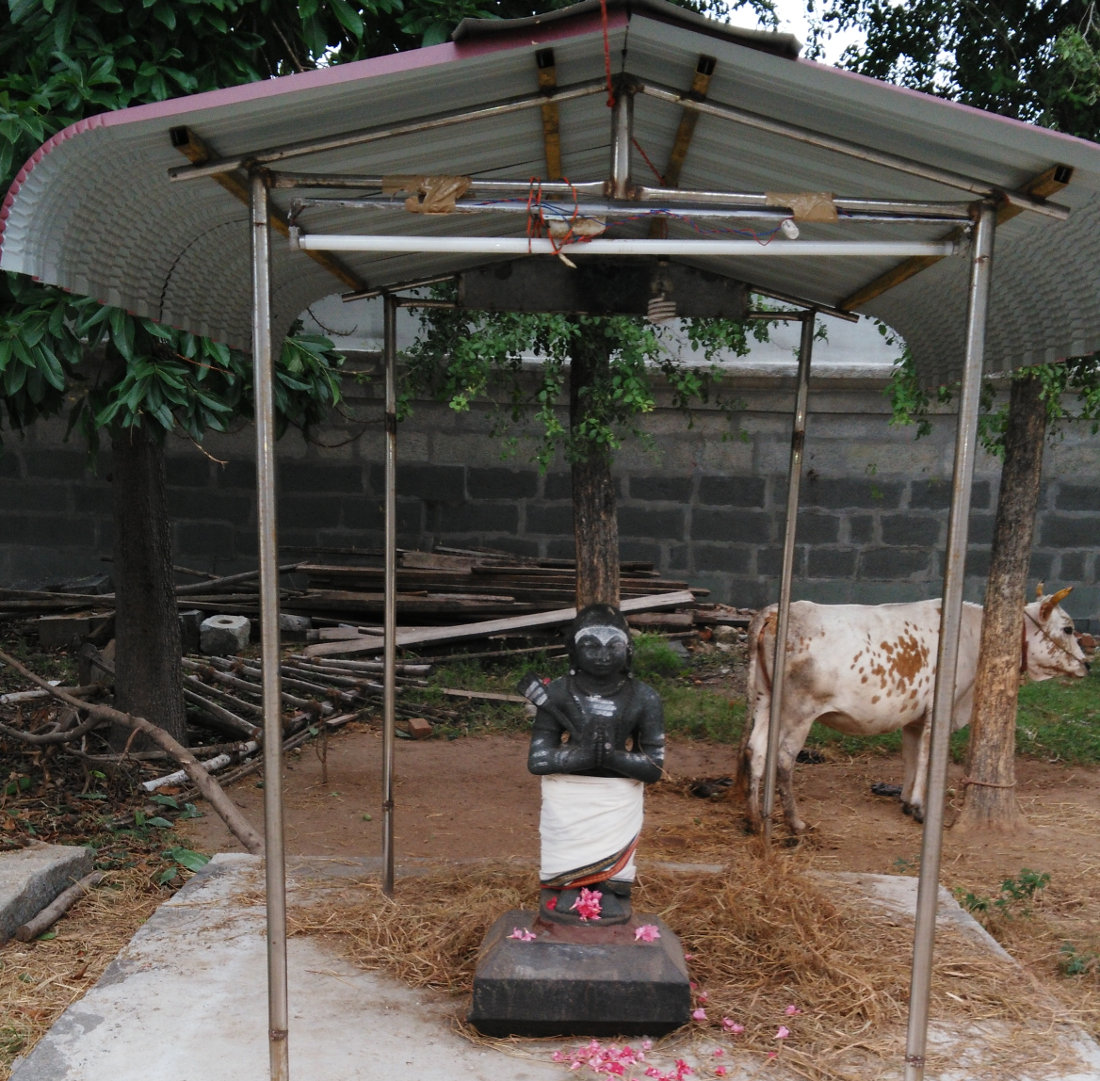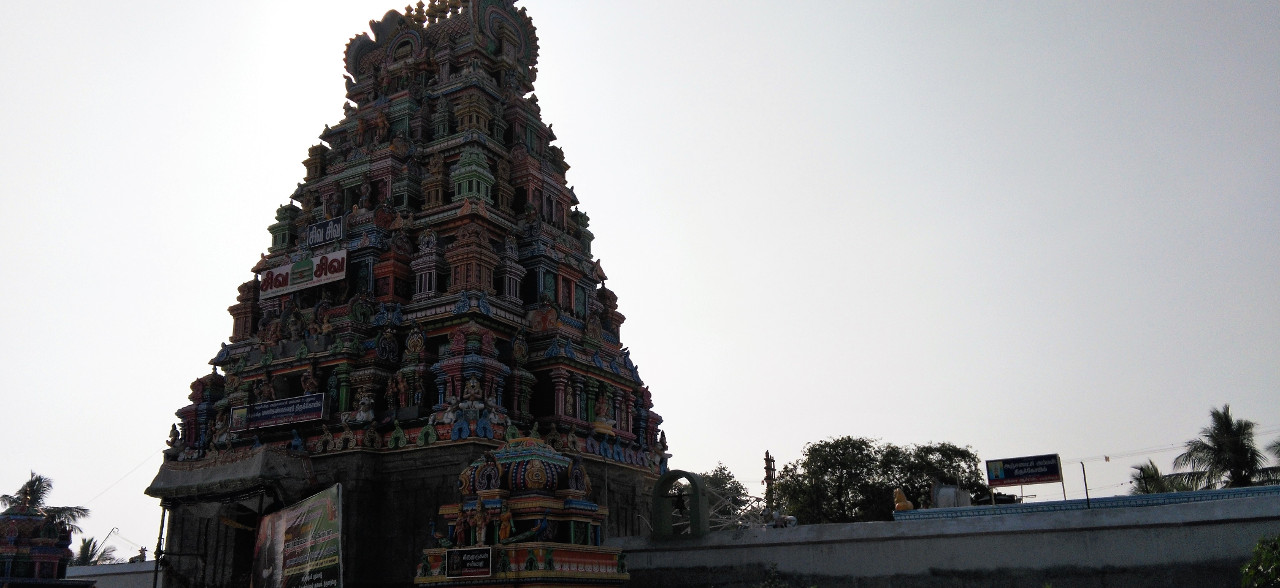 Temple Timings
06.00 AM to 12.00 Noon and 04.00 PM to 09.00 PM
Temple Address
Sri Manikandeeswarar Temple
Thirumalperu Post
Arakkonam Taluk
Vellore District
Tamil Nadu – 631 053.
Tele: +91 4177 - 248 220, 093454 49339.

The temple priest, Sri Shanmugam Gurukkal can be contacted at 09444386442.
---
Pathigam (Hymn) with English transliteration
Saint Thirugnanasambanthar visited this temple and sang Pathigams.
Devotees visiting this temple should make it a practice to recite this Pathigam.
குருந்தவன் குருகவன் கூர்மையவன்
பெருந்தகை பெண்ணவன் ஆணுமவன்
கருந்தட மலர்க்கண்ணி காதல்செய்யும்
மருந்தவன் வளநகர் மாற்பேறே.
"Kurunthavaṉ kurukavaṉ kūrmaiyavaṉ
perunthakai peṇṇavaṉ āṇumavaṉ
karunthada malarkkaṇṇi kāthalseyyum
marunthavaṉ vaḷanakar māṟpēṟē".
பாறணி வெண்டலை கையிலேந்தி
வேறணி பலிகொளும் வேட்கையனாய்
நீறணிந் துமையொரு பாகம்வைத்த
மாறிலி வளநகர் மாற்பேறே.
"Pāṟaṇi veṇdalai kaiyilēnthi
vēṟaṇi palikoḷum vēṭkaiyaṉāy
nīṟaṇin thumaiyoru pākamvaitha
māṟili vaḷanakar māṟpēṟē".
கருவுடை யாருல கங்கள்வேவச்
செருவிடை ஏறியுஞ் சென்றுநின்
றுருவுடை யாளுமை யாளுந்தானும்
மருவிய வளநகர் மாற்பேறே.
"Karuvuṭai yārula kaṅkaḷvēvach
cheruvidai ēṟiyuñ cheṉṟuniṉ
tṟuruvuṭai yāḷumai yāḷunthāṉum
maruviya vaḷanakar māṟpēṟē".
தலையவன் தலையணி மாலைபூண்டு
கொலைநவில் கூற்றினைக் கொன்றுகந்தான்
கலைநவின் றான்கயி லாயமென்னும்
மலையவன் வளநகர் மாற்பேறே.
"Thalaiyavaṉ thalaiyaṇi mālaipūṇṭu
kolainavil kūtṟiṉaik koṉtṟukanthāṉ
kalainaviṉ tṟāṉkayi lāyameṉṉum
malaiyavaṉ vaḷanakar māṟpēṟē".
துறையவன் தொழிலவன் தொல்லுயிர்க்கும்
பிறையணி சடைமுடிப் பெண்ணொர்பாகன்
கறையணி மிடற்றண்ணல் காலற்செற்ற
மறையவன் வளநகர் மாற்பேறே.
"Thuṟaiyavaṉ thozhilavaṉ tholluyirkkum
piṟaiyaṇi saṭaimuṭip peṇṇorpākaṉ
kaṟaiyaṇi miṭatṟaṇṇal kālaṟchetṟa
maṟaiyavaṉ vaḷanakar māṟpēṟē".
பெண்ணின்நல் லாளையொர் பாகம்வைத்துக்
கண்ணினாற் காமனைக் காய்ந்தவன்றன்
விண்ணவர் தானவர் முனிவரொடு
மண்ணவர் வணங்குநன் மாற்பேறே.
"Peṇṇiṉnal lāḷaiyor pākamvaithuk
kaṇṇiṉāṟ kāmaṉaik kāynthavaṉtṟaṉ
viṇṇavar thāṉavar muṉivarodu
maṇṇavar vaṇaṅkunaṉ māṟpēṟē".

(*) இப்பதிகத்தில் 7-ம் செய்யுள் சிதைந்து போயிற்று.

(*) Ippathikathil 7-m seyyuḷ sithainthu pōyitṟu.
தீதிலா மலையெடுத் தவ்வரக்கன்
நீதியால் வேதகீ தங்கள்பாட
ஆதியா னாகிய அண்ணலெங்கள்
மாதிதன் வளநகர் மாற்பேறே.
"Thīthilā malaiyeduth thavvarakkaṉ
nīthiyāl vēthakī thaṅkaḷpāda
āthiyā ṉākiya aṇṇaleṅkaḷ
māthithaṉ vaḷanakar māṟpēṟē".
செய்யதண் தாமரைக் கண்ணனொடுங்
கொய்யணி நறுமலர் மேலயனும்
ஐயன்நன் சேவடி அதனையுள்க
மையல்செய் வளநகர் மாற்பேறே.
"Seyyathaṇ thāmaraik kaṇṇaṉoṭuṅg
koyyaṇi naṟumalar mēlayaṉum
aiyaṉnaṉ sēvadi athaṉaiyuḷka
maiyalsey vaḷanakar māṟpēṟē".
குளித்துணா அமணர்குண் டாக்கரென்றுங்
களித்துநன் கழலடி காணலுற்றார்
முளைத்தவெண் மதியினொ டரவஞ்சென்னி
வளைத்தவன் வளநகர் மாற்பேறே.
"Kuḷithuṇā amaṇarkuṇ ṭākkareṉtṟuṅg
kaḷithunaṉ kazhaladi kāṇalutṟār
muḷaithaveṇ mathiyiṉo daravañcheṉṉi
vaḷaithavaṉ vaḷanakar māṟpēṟē".
அந்தமில் ஞானசம் பந்தன்நல்ல
செந்திசை பாடல்செய் மாற்பேற்றைச்
சந்தமின் றமிழ்கள்கொண் டேத்தவல்லார்
எந்தைதன் கழலடி எய்துவரே.
"Anthamil gñāṉasam banthaṉnalla
senthisai paādalsey māṟpētṟaich
chanthamiṉ tṟamizhkaḷkoṇ ṭēthavallār
enthaithaṉ kazhaladi eythuvarē".