Visited on: July 23, 2016 and November 05, 2016.
Location
Thiruchopuram (Thiyagavalli) is situated at a distance of about 18 kms from Cuddalore on the Cuddalore to Chidambaram route. One has to take left turn near Aalappakkam railway station, pass through the railway crossing and then travel 2 kms along the same route to reach Thiruchopuram (Thiyagavalli village). From Chidambaram it is about 22 kms.
General Information
| | |
| --- | --- |
| Moolavar | Sri Mangalapureeswarar, Sri Thiruchchopuranathaswamy |
| Ambal | Sri Saththiyaya Dakshi, Sri Velnedunganni, Sri Thiyavalli, Sri Chopura Nayaki |
| Sthala Vriksham (Sacred Tree) | Kondrai Tree |
| Theertham (Holy water) | Chopuratheertham, Brahmatheertham (Sea) |
| Pathigam (Hymn) rendered by | Saint Thirugnanasambanthar |
This is one of the 276 Devara Paadal Petra Shiva Sthalams and is the 6th Shiva Sthalam in Nadu Naadu.
Lord Shiva graces this temple as a Swayambhumoorthy (self-manifested).
This west facing temple has two corridors and its main tower (Rajagopuram) does not have any tiers.
History of the Temple
The temple is very close to the shores of the Bay of Bengal and is believed to have been built by Thiyagavalli, the wife of the Chola King Kulothungan-III (also known as Thirubhuvana Chakravarthi).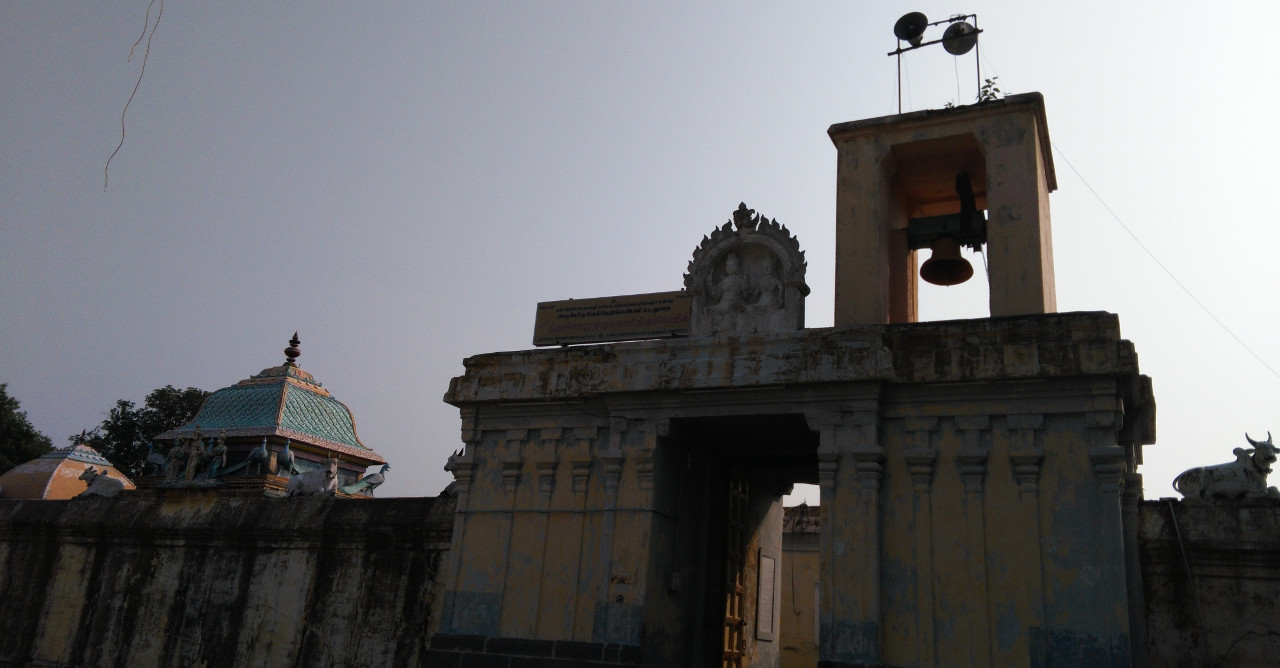 Legend
It is believed that Agasthiya Maharishi installed and worshiped this lingam and his palm prints can still be seen on the deity.
According to legend, this temple was once completely covered by sand dunes. About two hundred years ago, a saint by the name of saint, Ramalinga Yogi (Thambiran) from the Madurai Thirugnanasambanthar Aatheenam discovered this temple. He took the help of many people from nearby villages and began the arduous task of renovating this temple. This is why the temple is also called "Thambiran Kanda Koil" (the temple found by Thambiran).
Another version of the story is that this temple was renovated by the Chola King Kulothungan and his wife, Thiyagavalli. Hence the village around this temple is named "Cholarpuram" and "Thiyagavalli". Idols of the king and queen can also be found in the corridors of the temple.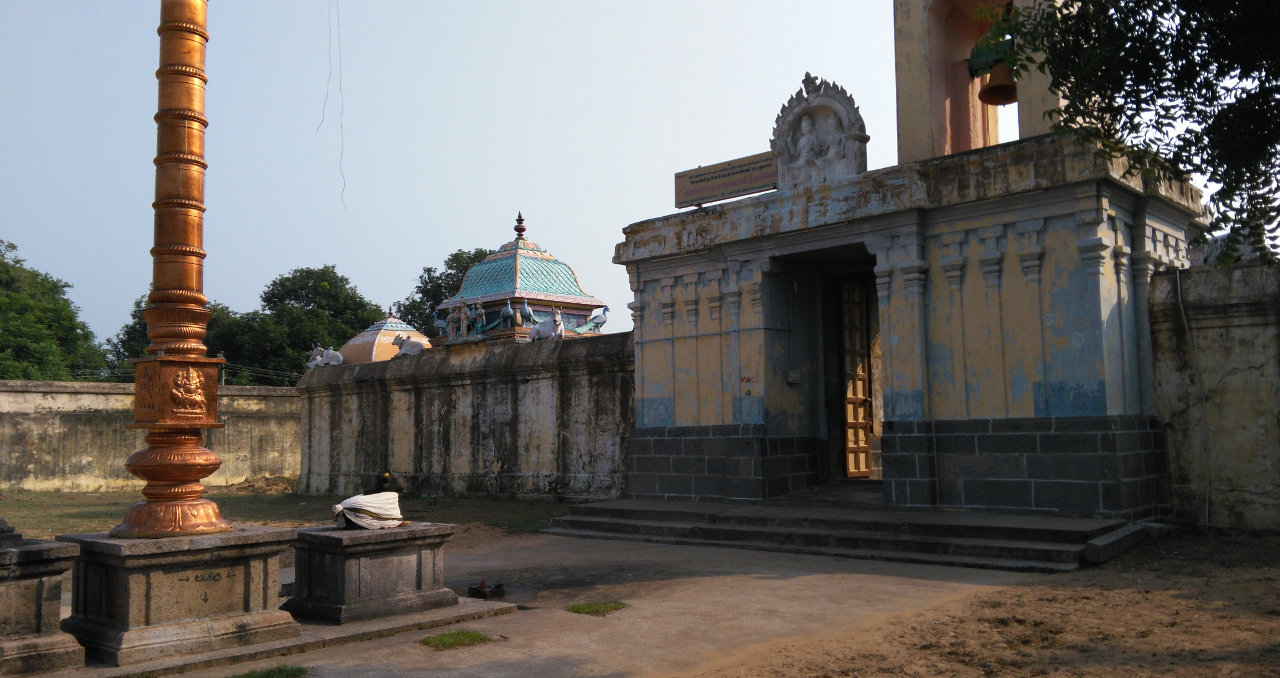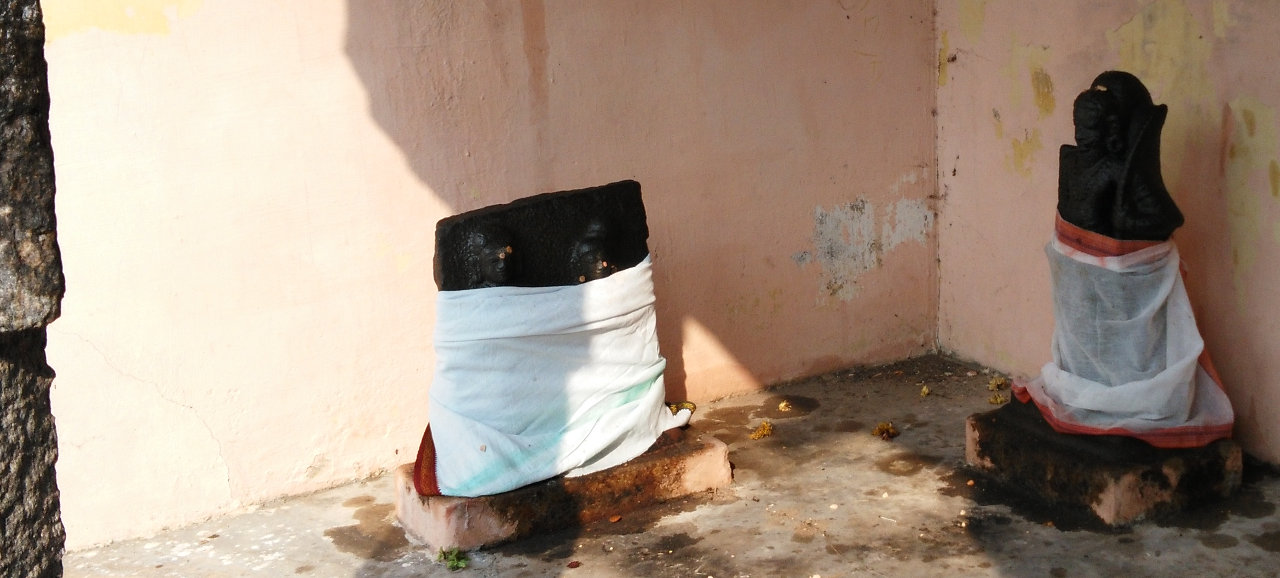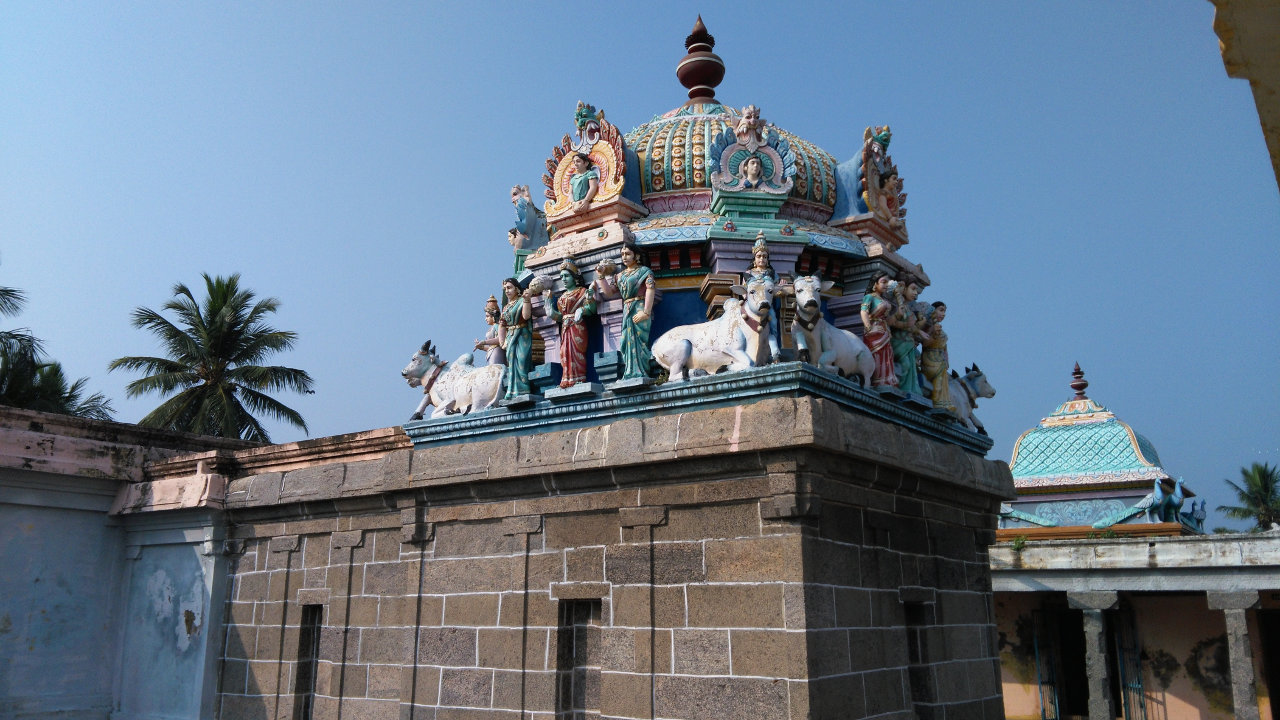 Deities in the temple
Shrines and idols of Lords Vinayakar, Murugan with his consorts, Natarajar, Gajalakshmi, Visalakshi and Viswanathar, Veerateswarar, Kannappa Nayanar, Chola king and Thiyagavalli, 63 Nayanmars, Dakshinamurthy, Durgai, Chandikeswarar, Agasthiar, Suryan, Bairavar and Navagraham can be seen in the main hall and the corridors.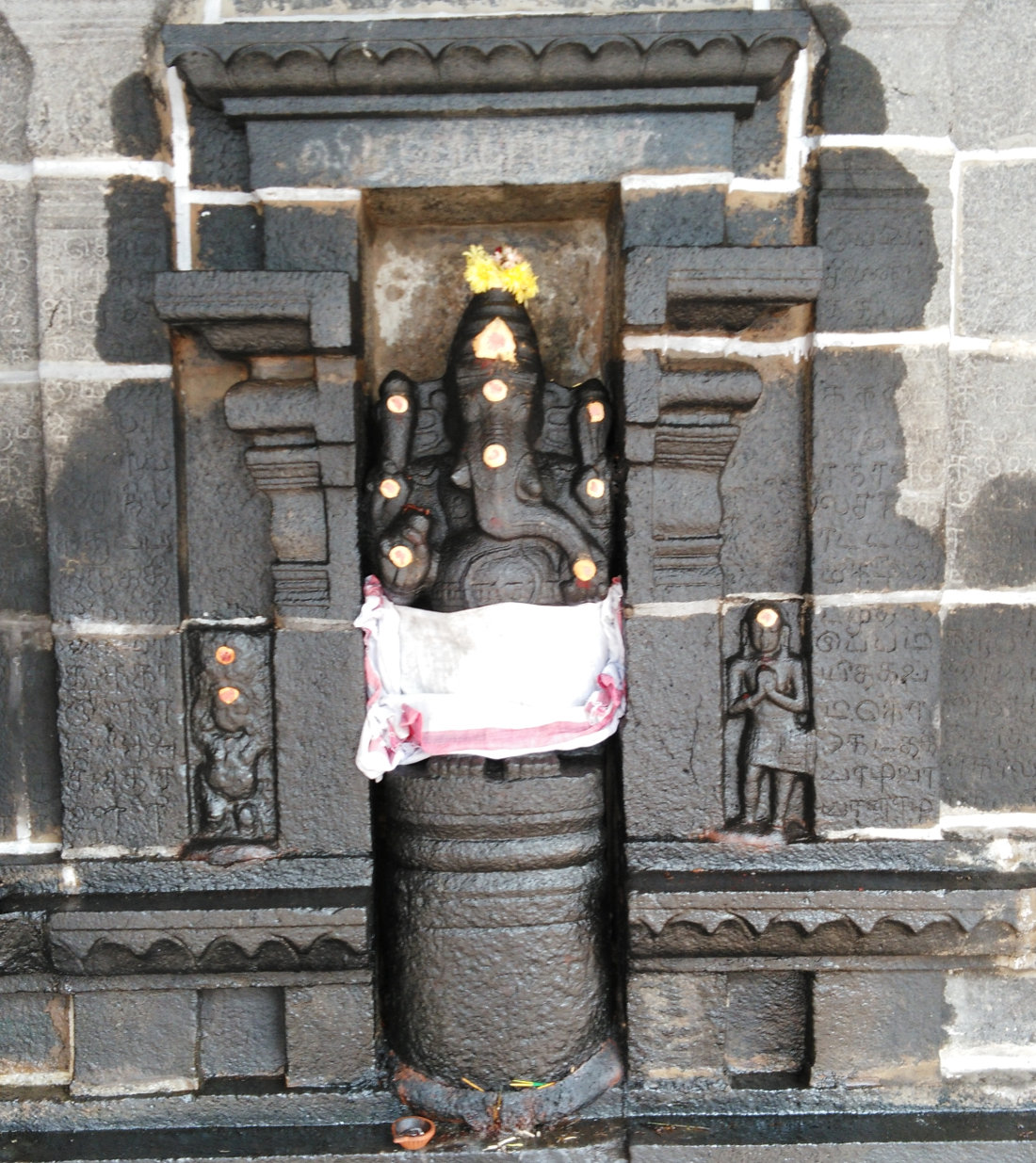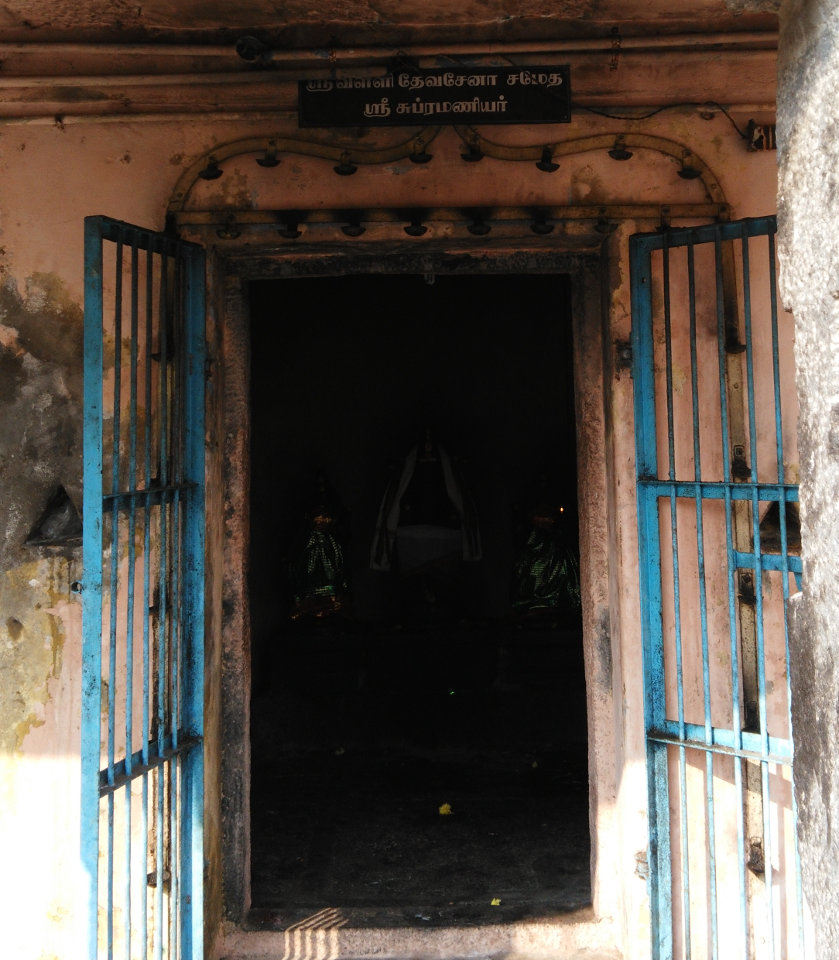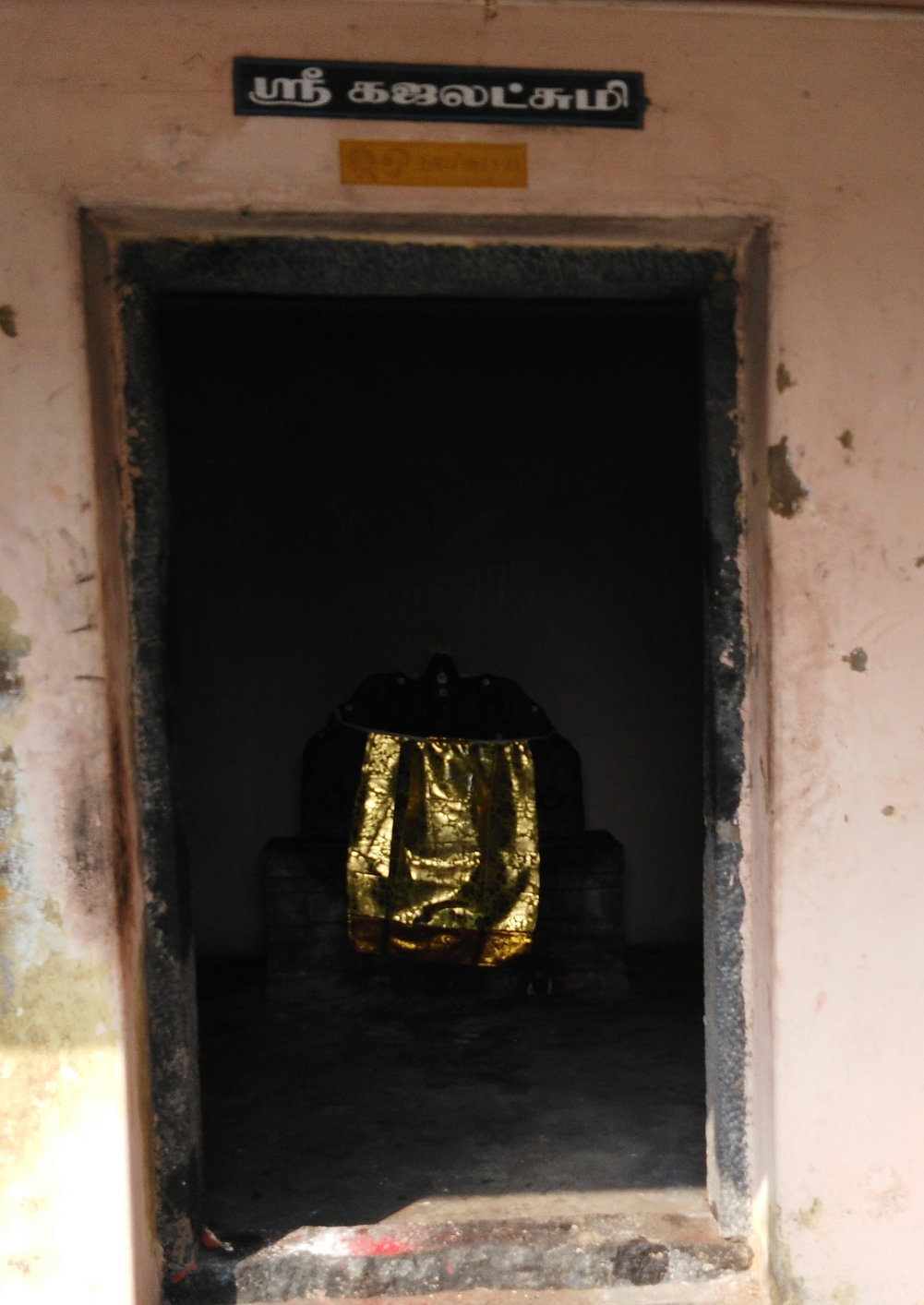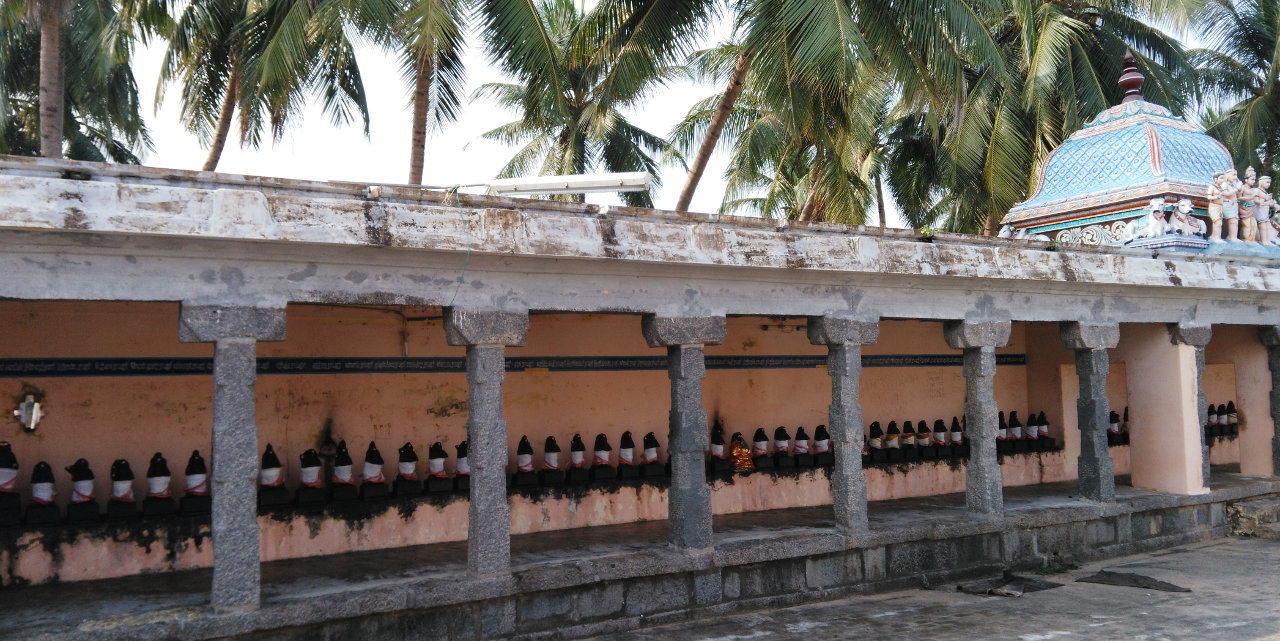 Salient Features
The lord here is called Sri Mangalapureeswarar because it is believed that Goddess Parvathi became one with the Lingam when Agasthya Maharishi installed it. This is the reason why, unlike regular offerings made to Lord Shiva, turmeric and kumkum are used in the worship of this Lord. Both these offerings are usually made to the goddess and are considered very auspicious ("Mangalam" in Tamil).
Behind the sanctum sanctorum, on either sides of Lord Lingothbavar, there are idols of Lord Mahavishnu and Lord Brahma in a worshipping posture. Devotees can enjoy the darshan of all the three lords (Trimurthys) – Brahma, Vishnu and Shiva. This is considered to be very auspicious.
It is significant to note that instead of the normal practice of dressing Lord Dakshinamurthy in yellow clothes, a white cloth is used in this temple. It is said that if we gently tap on the idol of Dakshinamurthy, the sound of seven musical notes - reverently called "Sapthaswaram", can be heard.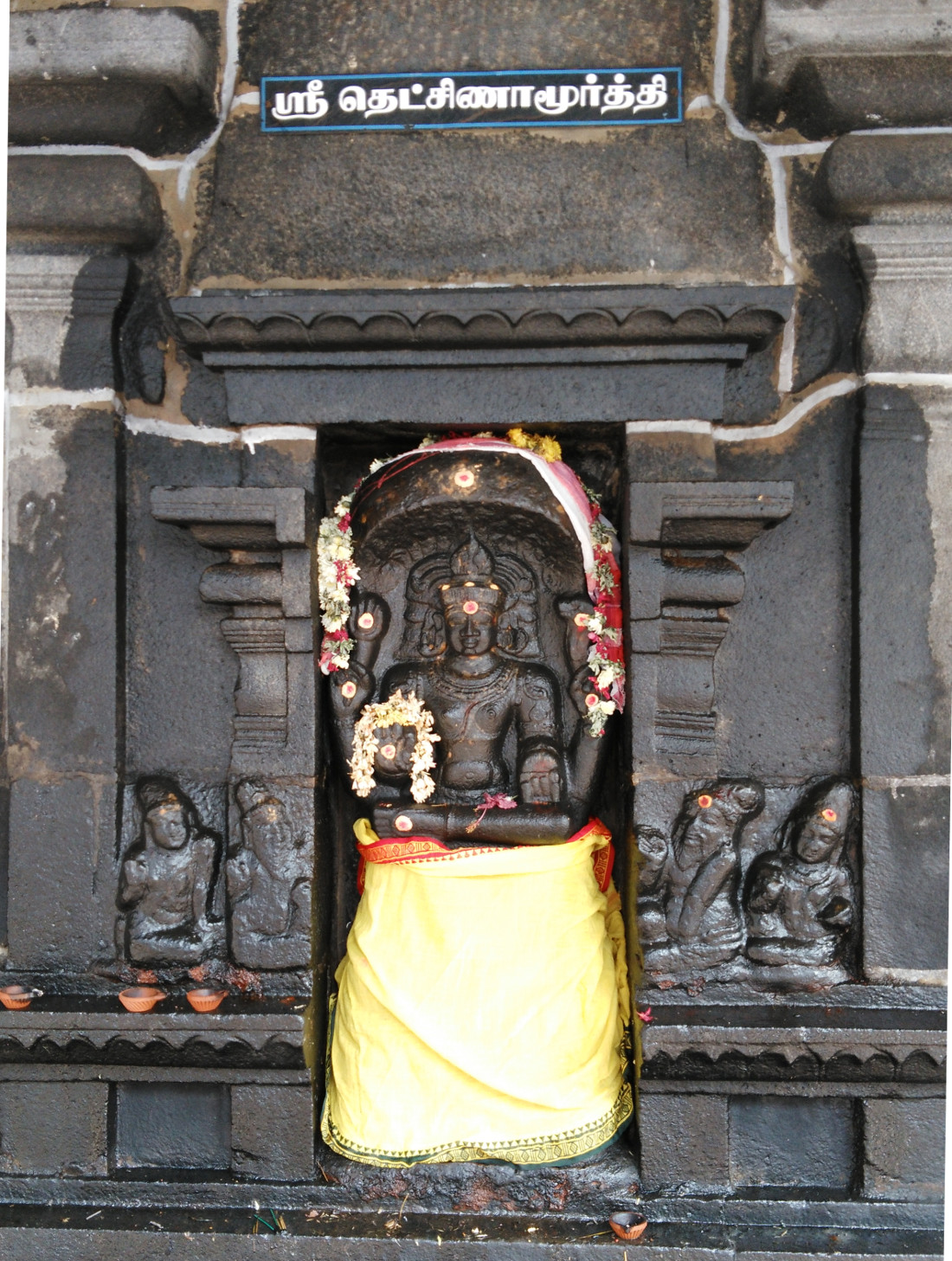 Greatness of this Temple
This temple is also popular with students interested in arts and music. They come here to perform poojas and seek the blessings of Lord Dakshinamurthy to help them attain excellence in their chosen art forms.
People with problems related to marriage and health can be seen making offerings of kumkum and turmeric to Lord Mangalapureeswarar.
Important Festivals
Maha Shivrathri in the Tamil month of Maasi (Feb-Mar), Thirukarthikai in the Tamil month of Karthikai (Nov-Dec), Annabishekam in the Tamil month of Aippasi (Oct-Nov) and Panguni Uthiram in the Tamil month of Panguni (Mar-Apr) are the important festivals celebrated in this temple.
Temple Timings
From 08.30 AM to 11.00 AM and from 05.30 PM to 08.00 PM.
Temple Address
Sri Mangalapureeswarar (Chopuranathar) Temple,
Tiruchopuram,
Thiyagavalli-Post,
Cuddalore Taluk and District
Tamil Nadu – 608 801.
Telephone: +91 94425 85845.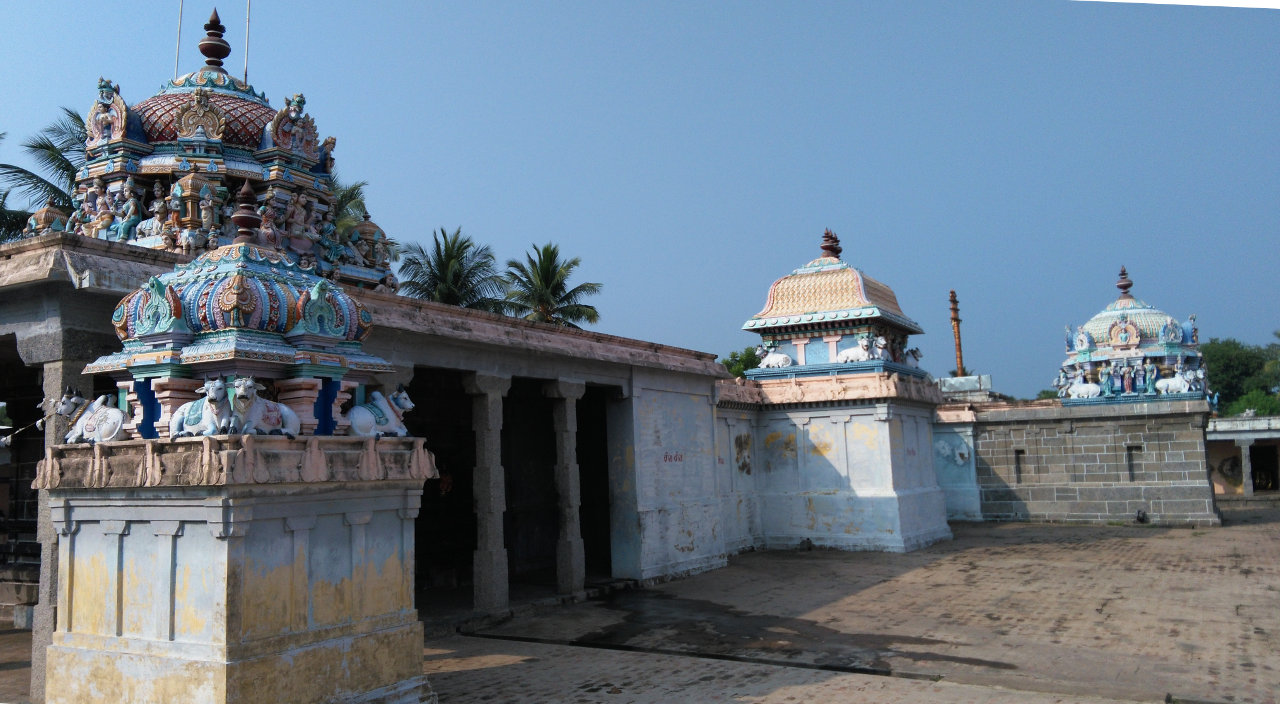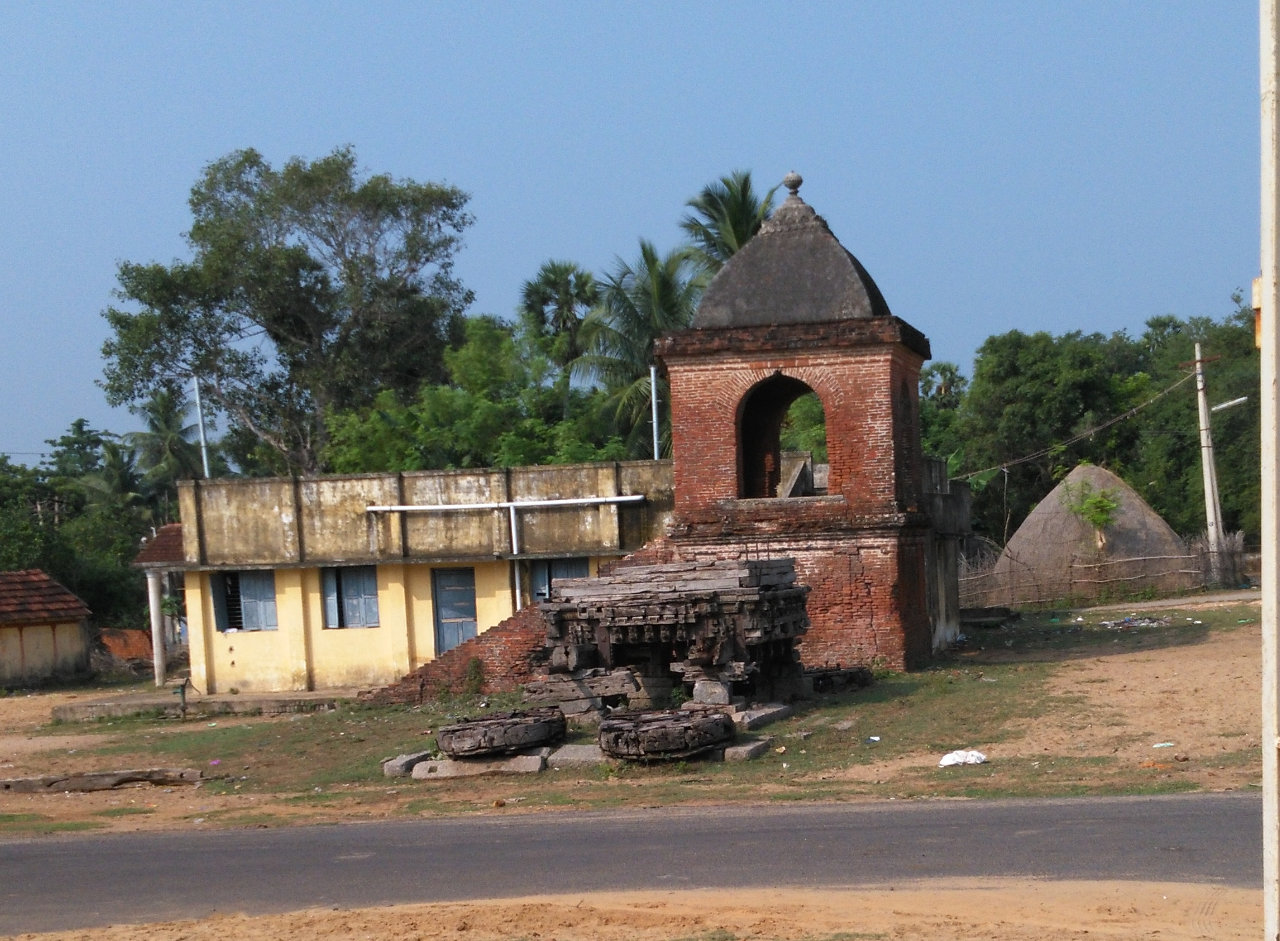 This temple's Ther (Car) - in a dilapitated condition
---
Pathigam (Hymn) with English transliteration
Saint Thirugnanasambanthar visited this temple and sang this Pathigam.
Devotees visiting this temple should make it a practice to recite this Pathigam.
வெங்கண்ஆனை யீருரிவை போர்த்து விளங்குமொழி
மங்கைபாகம் வைத்துகந்த மாண்பது வென்னைகொலாங்
கங்கையோடு திங்கள்சூடிக் கடிகம ழுங்கொன்றைத்
தொங்கலானே தூயநீற்றாய் சோபுர மேயவனே.
"Veṅkaṇāṉai yīrurivai pōrthu viḷaṅkumozhi
maṅkaipākam vaithukantha māṇpatu veṉṉaikolāṅg
kaṅkaiyōṭu thiṅkaḷsūṭik kaṭikama zhuṅgkoṉṟaith
thoṅkalāṉē thūyanītṟāy chōpura mēyavaṉē".
விடையமர்ந்து வெண்மழுவொன் றேந்திவி ரிந்திலங்கு
சடையொடுங்கத் தண்புனலைத் தாங்கிய தென்னைகொலாங்
கடையுயர்ந்த மும்மதிலுங் காய்ந்தன லுள்ளழுந்தத்
தொடைநெகிழ்ந்த வெஞ்சிலையாய் சோபுர மேயவனே.
"Viṭaiyamarnthu veṇmazhuvoṉ tṟēntivi rinthilaṅku
saṭaiyoṭuṅgkath thaṇpuṉalaith thāṅkiya theṉṉaikolāṅg
kaṭaiyuyarntha mum'matiluṅg kāynthaṉa luḷḷazhunthath
thoṭainekizhntha veñchilaiyāy chōpura mēyavaṉē".
தீயராய வல்லரக்கர் செந்தழ லுள்ளழுந்தச்
சாயவெய்து வானவரைத் தாங்கிய தென்னைகாலாம்
பாயும்வெள்ளை ஏற்றையேறிப் பாய்புலித் தோலுடுத்த
தூயவெள்ளை நீற்றினானே சோபுர மேயவனே.
"Thīyarāya vallarakkar senthazha luḷḷazhunthach
chāyaveythu vāṉavaraith thāṅkiya theṉṉaikālām
pāyumveḷḷai ētṟaiyēṟip pāypulith thōluṭutha
thūyaveḷḷai nītṟiṉāṉē chōpura mēyavaṉē".
பல்லிலோடு கையிலேந்திப் பல்கடை யும்பலிதேர்ந்
தல்லல்வாழ்க்கை மேலதான ஆதர வென்னைகொலாம்
வில்லைவென்ற நுண்புருவ வேல்நெடுங் கண்ணியொடுந்
தொல்லையூழி யாகிநின்றாய் சோபுர மேயவனே.
"Pallilōṭu kaiyilēnthip palkaṭai yumpalithērnth
thallalvāzhkkai mēlathāṉa āthara veṉṉaikolām
villaiveṉtṟa nuṇpuruva vēlneṭuṅg kaṇṇiyoṭunth
thollaiyūzhi yākiniṉtṟāy chōpura mēyavaṉē".
நாற்றமிக்க கொன்றைதுன்று செஞ்சடை மேல்மதியம்
ஏற்றமாக வைத்துகந்த காரண மென்னைகொலாம்
ஊற்றமிக்க காலன்றன்னை ஒல்க வுதைத்தருளித்
தோற்றமீறு மாகிநின்றாய் சோபுர மேயவனே.
"Nātṟamikka koṉṟaithuṉtṟu cheñchaṭai mēlmathiyam
ētṟamāka vaithukantha kāraṇa meṉṉaikolām
ūtṟamikka kālaṉtṟaṉṉai olka vuthaitharuḷith
thōtṟamīṟu mākiniṉtṟāy chōpura mēyavaṉē".
கொன்னவின்ற மூவிலைவேல் கூர்மழு வாட்படையன்
பொன்னைவென்ற கொன்றைமாலை சூடும்பொற் பென்னைகொலாம்
அன்னமன்ன மென்னடையாள் பாக மமர்ந்தரைசேர்
துன்னவண்ண ஆடையினாய் சோபுர மேயவனே.
"Koṉṉaviṉtṟa mūvilaivēl kūrmazhu vāṭpaṭaiyaṉ
poṉṉaiveṉtṟa koṉtṟaimālai chūṭumpoṟ peṉṉaikolām
aṉṉamaṉṉa meṉṉaṭaiyāḷ pāka mamarntharaisēr
thuṉṉavaṇṇa ādaiyiṉāy chōpura mēyavaṉē".
குற்றமின்மை யுண்மைநீயென் றுன்னடி யார்பணிவார்
கற்றல்கேள்வி ஞானமான காரண மென்னைகொலாம்
வற்றலாமை வாளரவம் பூண்டயன் வெண்டலையில்
துற்றலான கொள்கையானே சோபுர மேயவனே.
"Kutṟamiṉmai yuṇmainīyeṉ tṟuṉṉaṭi yārpaṇivār
katṟalkēḷvi gñāṉamāṉa kāraṇa meṉṉaikolām
vatṟalāmai vāḷaravam pūṇṭayaṉ veṇṭalaiyil
thutṟalāṉa koḷkaiyāṉē chōpura mēyavaṉē".
விலங்கலொன்று வெஞ்சிலையாக் கொண்டு விறலரக்கர்
குலங்கள்வாழும் ஊரெரித்த கொள்கையி தென்னைகொலாம்
இலங்கைமன்னு வாளவுணர் கோனை யெழில்விரலால்
துலங்கவூன்றி வைத்துகந்தாய் சோபுர மேயவனே.
"Vilaṅkaloṉtṟu veñchilaiyāk koṇṭu viṟalarakkar
kulaṅkaḷvāzhum ūreritha koḷkaiyi theṉṉaikolām
ilaṅkaimaṉṉu vāḷavuṇar kōṉai yezhilviralāl
thulaṅkavūṉtṟi vaithukantāy chōpura mēyavaṉē".
விடங்கொள்நாக மால்வரையைச் சுற்றி விரிதிரைநீர்
கடைந்தநஞ்சை யுண்டுகந்த காரண மென்னைகொலாம்
இடந்துமண்ணை யுண்டமாலு மின்மலர் மேலயனுந்
தொடர்ந்துமுன்னங் காணமாட்டாச் சோபுர மேயவனே.
"Viṭaṅkoḷnāka mālvaraiyaich chutṟi virithirainīr
kaṭainthanañchai yuṇṭukantha kāraṇa meṉṉaikolām
idanthumaṇṇai yuṇṭamālu miṉmalar mēlayaṉunth
thoṭarnthumuṉṉaṅg kāṇamāṭṭāch chōpura mēyavaṉē".
புத்தரோடு புன்சமணர் பொய்யுரை யேரைத்துப்
பித்தராகக் கண்டுகந்த பெற்றிமை யென்னைகொலாம்
மத்தயானை யீருரிவை போர்த்து வளர்சடைமேல்
துத்திநாகஞ் சூடினானே சோபுர மேயவனே.
"Putharōṭu puṉsamaṇar poyyurai yēraithup
pitharākak kaṇṭukantha petṟimai yeṉṉaikolām
mathayāṉai yīrurivai pōrthu vaḷarsaṭaimēl
thuthinākañch chūṭiṉāṉē chōpura mēyavaṉē".
சோலைமிக்க தண்வயல்சூழ் சோபுர மேயவனைச்
சீலமிக்க தொல்புகழார் சிரபுரக் கோன்நலத்தான்
ஞாலம்மிக்க தண்டமிழான் ஞானசம் பந்தன்சொன்ன
கோலம்மிக்க மாலைவல்லார் கூடுவர் வானுலகே.
"Chōlaimikka thaṇvayalchūzh chōpura mēyavaṉaich
chīlamikka tholpukazhār chirapurak kōṉnalathāṉ
gñālam'mikka thaṇṭamizhāṉ gñāṉasam banthaṉchoṉṉa
kōlam'mikka mālaivallār kūṭuvar vāṉulakē".