Visited on: 20th May, 2016
Location
Irumbai is about 10 kms from Puducherry and 2 kms away from Morattandi on Puducherry to Tindivanam route. After Morattandi, there is a small road on the right side leading to Irumbai village where the temple is located. Also, the temple is in the vicinity of Auroville International Township.
Two more Padal Petra Sthalam, Kiliyanur and Arisili are located very near to this place.
General Information
| | |
| --- | --- |
| Moolavar | Sri Mahakaleswarar |
| Ambal | Sri Kuyilmozhi Ammai / Sri Madhu Sundara Nayaki |
| Theertham (Holy water) | Makalar Theertham |
| Sthala Vriksham (Sacred Tree) | Punnai (Alexandrian Laurel Tree) |
| Pathigam (Hymn) rendered by | Saint Thirugnanasambanthar |
This is one of the 276 Devara Paadal Petra Shiva Sthalams and 32nd Shiva Sthalam in Thondai Nadu.
Lord Shiva in this temple is a Swayambumurthi (self-manifested).
This is one of the three places where the Shiva Lingam is said to have been installed and worshipped by Mahakala Rishi.
The Vimanam - the tower above the sanctum sanctorum is an excellent example of the Ekadala style of architecture.
History of the Temple
It is believed that this temple was built in the 7th century by Chola King Kulothungan III.
As per the inscriptions on the stone walls of the temple, the village's name is mentioned as "Iruncheri".
Another reasoning behind the name Irumbai is that this place was once densely populated by Iluppai trees and so the village got the name Iluppai. Over a period of time this name got changed to Irumbai.
This temple is associated with the legend of Kaduveli Siddhar, a famous yogi who lived in the area about five hundred years ago.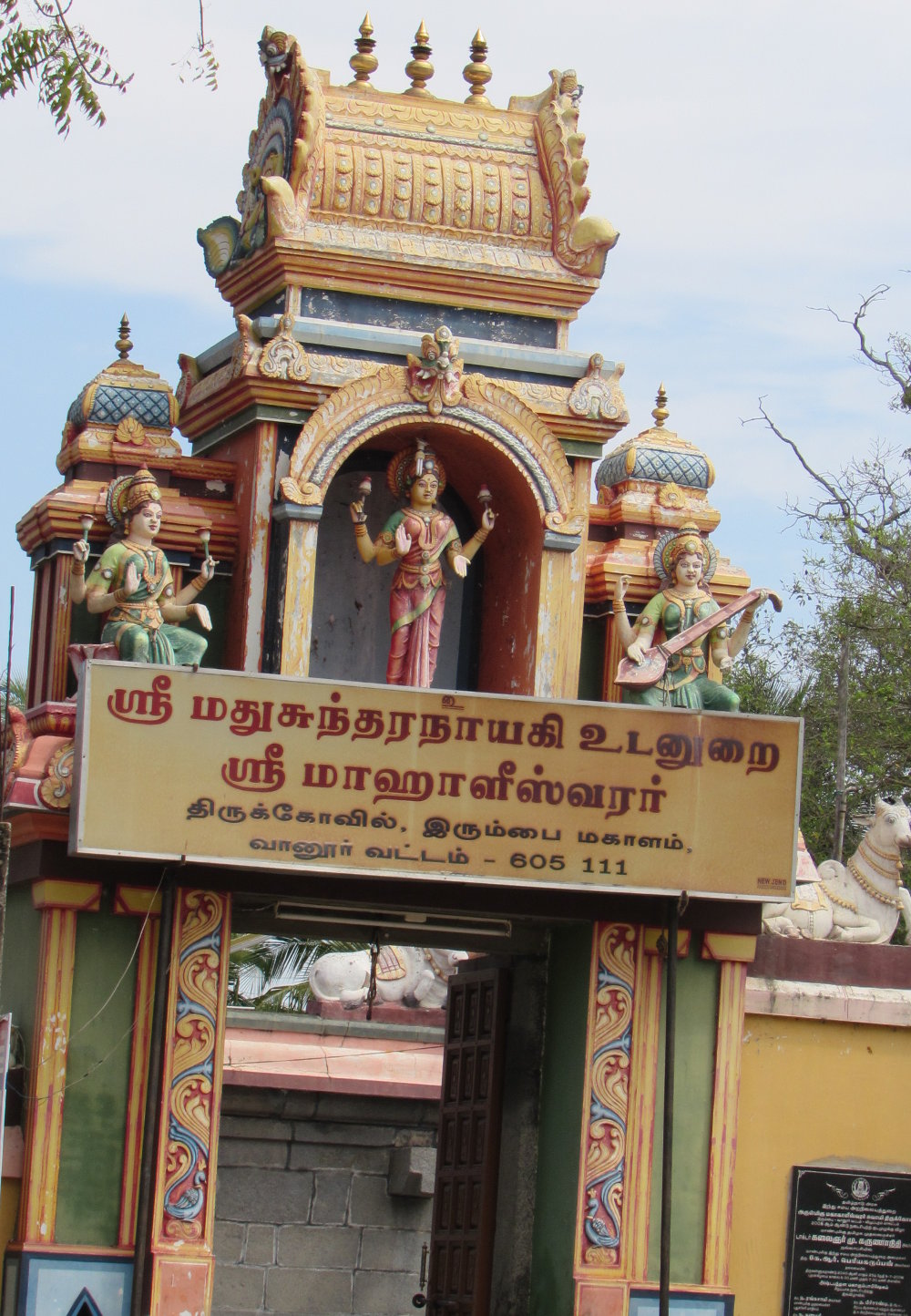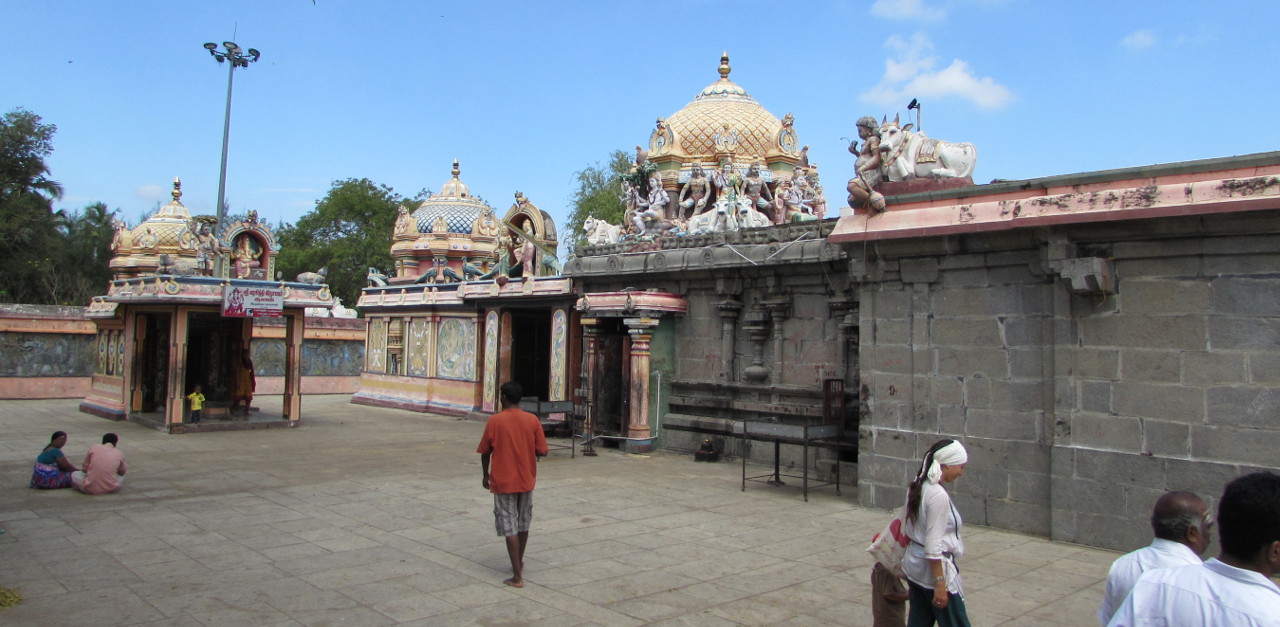 Legend
According to the legend, a saint called Mahakala Rishi, during his pilgrimage, installed three lingams – one in Ujjain in North India (Vada Naadu), one at Ambar Makalam near Mayiladuthurai in the south (Then Naadu) and the third one at this place (Nadu Naadu). Hence the Lord here is named Sri Mahakaleshwarar.
Another interesting story associated with this place is that of sage Kaduveli Siddhar. It is believed that he would perform severe penance by sitting under a peepal tree in yogic posture for days at a stretch. Once, during his penance, the heat of his body became so intense that the rain gods suffered, there was no rain and the people were exposed to hardship and drought. The situation worsened to such a degree that it finally came to the knowledge of King Kulothungan, who ruled from Kottakkarai. Since no one dared to disturb Kaduveli Siddhar in his penance as he chanted the mantra of Lord Shiva, the King announced that whoever could break the Siddhar's penance will be suitably rewarded.
Tempted by the reward, a temple dancer named Valli who was devoted to Lord Shiva, decided to try her best to break the Siddhar's penance. She observed that the Siddhar would occasionally catch and consume the falling and withered peepal leaves. To get his attention, she tactfully prepared some fried papads (thin, crispy wafers) which had salt in it and placed them around him. After a few days of consuming the salted papads thinking that they were peepal leaves, the Siddhar got back to his sense. When he opened his eyes and saw the papads and also saw Valli standing nearby, he asked her why she had fed him these papads and what had happened. She explained him about the abnormal heat around this place and the lack of rain. She further told him that this was due to his severe penance. Since his penance was broken and the heat started reducing, the rain god was relieved from the torturous heat and granted showers of rain.
In order to celebrate this event, the King ordered for a big pooja to be held at this temple. Valli being the temple dancer was supposed to perform the cosmic dance of Lord Shiva (Anantha Thandavam). She invited the Siddhar to the temple for the Pooja as well as to watch her dance performance, which he accepted.
However, during the performance, one of her anklets fell off, and she lost her rhythm. Kaduveli Siddhar, who saw the Lord Shiva in Valli, picked up the anklet and put it back on her feet. Since he had touched the feet of a dancing girl, he was exposed to the ridicule of the people as well as the King. Angered by the heckling, the Siddhar asked Lord Shiva to come out of his temple and prove his innocence by causing a rain of stones.
The song that the Siddhar sang is as follows:
"வெல்லும் பொழுது விடுவேன் வெகுளியை
செல்லும் பொழுது செலுத்தினேன் சிந்தையை
அல்லும் பகலும் உன்னையே தொழுதேன்
கல்லும் பிளந்து கடுவெளியாமே"


Immediately the lingam in the sanctum sanctorum of the temple exploded into three pieces, and wherever those fragments fell, that place became a desert. The Siddhar cursed that these places would become uninhabited and devoid of all vegetation. To this day, there is such a desert called "Kaduveli" at a distance of about three kilometres from this village.
On realizing the truth and power of the Siddhar the King begged for forgiveness and pleaded him to quench the effects of the curse. The Siddhar was appeased by the King's request and said that although he could not change what had already happened, in the future, people from far-off lands would come and make the deserted lands green and fertile again.
Further, the Siddhar was also requested to mend the broken Shivalingam. He sang the following song to join the broken fragments. When he finished this song the fragments were joined together.
"எட்டும் அறிந்த உந்தனுக்கு
எட்டும் அறியாத எந்தனுக்கு
எட்டு அறிந்தும் ஒன்று சேருமே"


Today, some of the villagers feel that the Aurovilians are the people from the far-off lands that the Siddhar had mentioned and that the curse is now beginning to leave.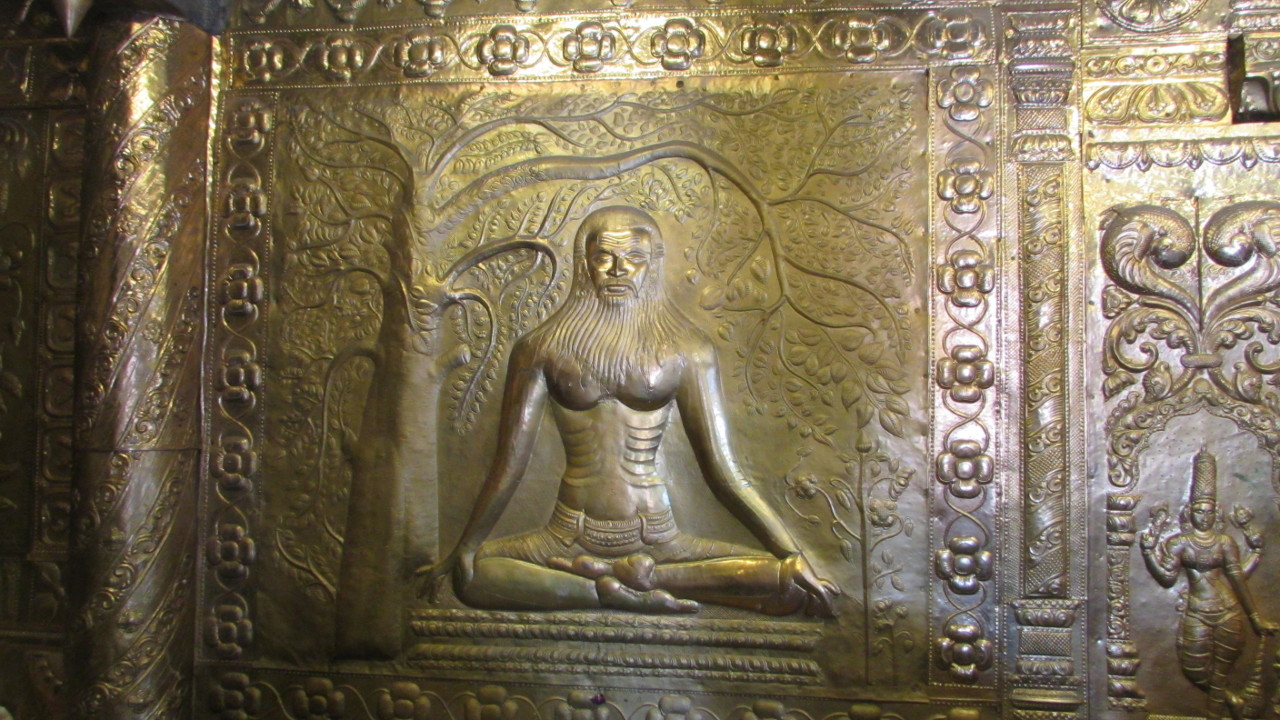 Another legend associated with this temple is that once two Asuras (demons) worshipped Lord Shiva to seek the boon of marrying Goddess Parvathi. Angered by this, Goddess Parvathi took the form of Maha Kali and destroyed them. It is believed that Goddess Parvathi was inflicted with the "Brahmahathi Dosham" (the sin accrued by the act of taking a life) due to the killing of those two demons. She worshipped Lord Shiva at this place to seek respite from this dosham.
Deities in the temple
Shrines for Lords Vinayakar, Subramanyar with his consorts Valli and Daivanai, Natarajar, Dakshinamurthy, Kalabhairava and Chandran (Moon God) can be seen in the corridors.
The significance of the Navagraham in this temple is that all the nine planets are with their respective consorts - Suryan (Usha and Pradusha), Chandran (Keerthika), Angarakan (Sakthi Devi), Budhan (Gana Devi), Guru (Dhara Devi), Sukran (Sirungini Devi), Sani (Jesta Devi), Raghu (Singi Devi) and Kethu (Chitraleka).
Salient Features
The speciality of this temple is that the main lingam Sri Mahakaleshwarar is broken in pieces and tied together with a copper string.
Goddess Parvathi is worshipped here as Kuyil Mozhi Nayaki which literally translates to "goddess with a voice as sweet as that of a nightingale".
The inner corridor walls have intricate sculptures and reliefs that beautifully depict the story of Kaduveli Siddhar.
Saint Arunagirinadhar has also sang songs in praise of Lord Murugan of this temple in his revered Thirupugazh.
Greatness of this temple
This temple is also popular with devotees interested in arts and music. They come here to perform poojas and seek the blessings of Goddess Kuyil Mozhi Nayaki to help them attain excellence in their chosen art forms.
Devotees also pray to Lord Mahakaleshwarar for prosperity and longevity.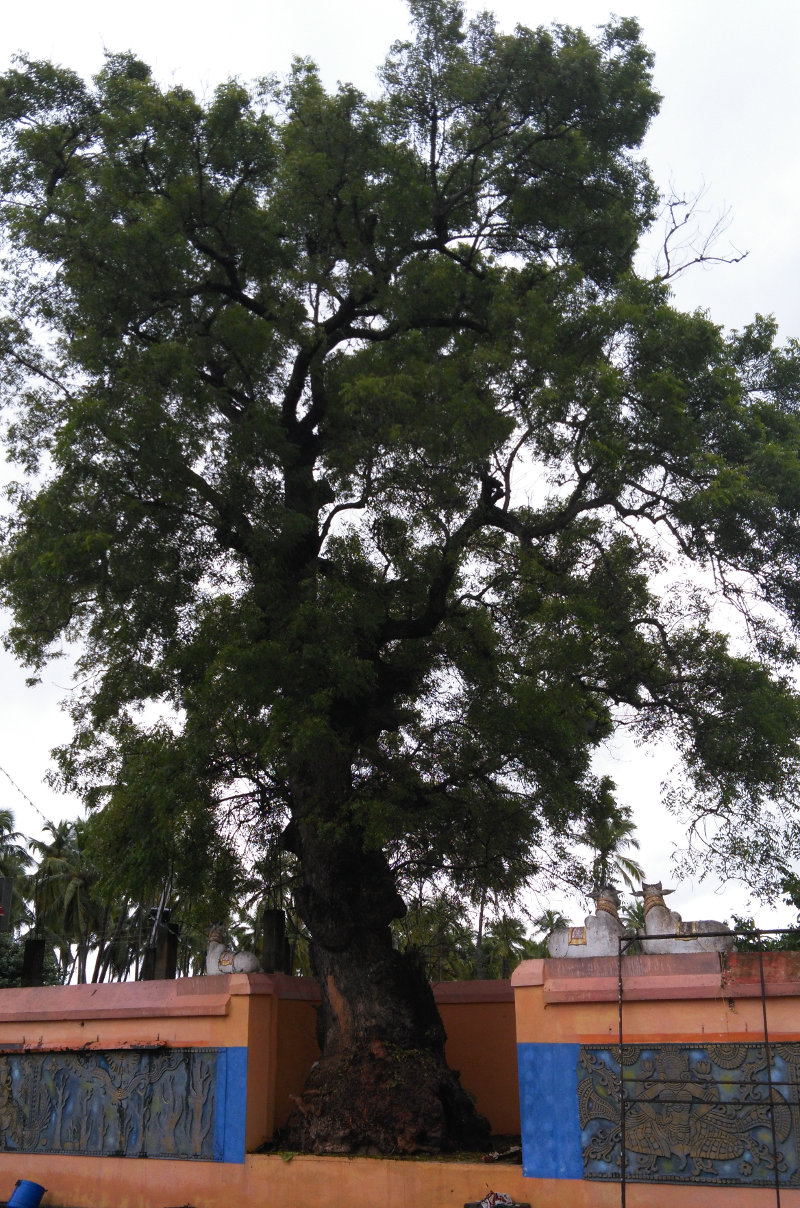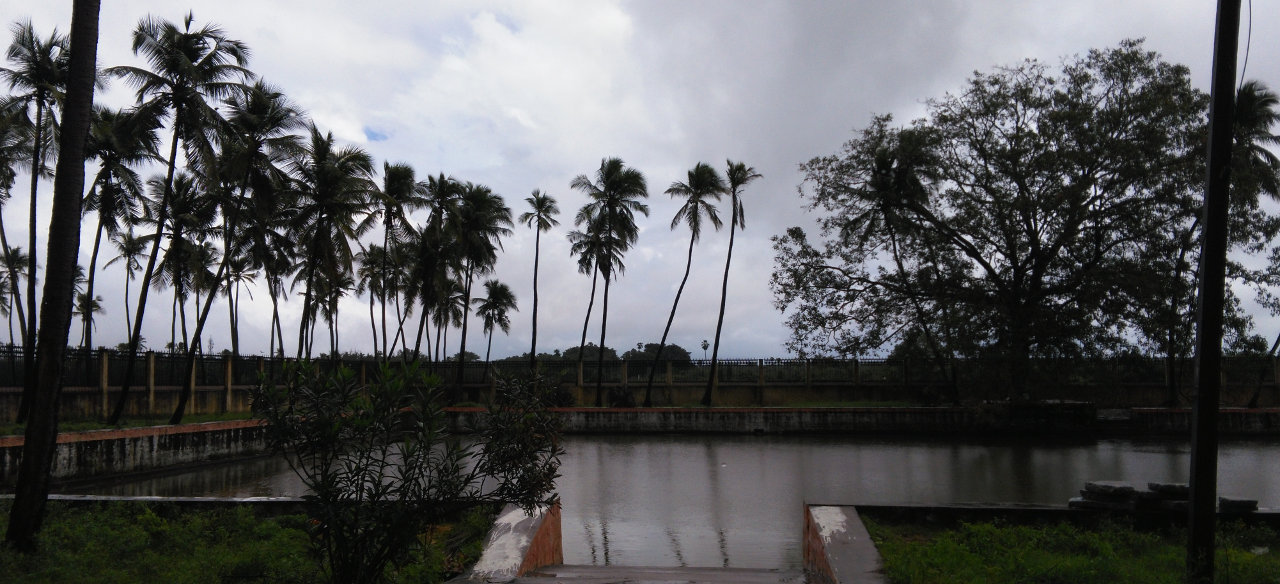 Important Festivals
Maasi Magam and Shivrathri in Tamil month of Maasi (February-March), Thirukarthikai in Karthikai (November-December) and Panguni Uthiram in Panguni (March-April) are the major festivals celebrated in this temple. Also, all Pradosham are celebrated in a grand manner.
Temple Timings
07.00 AM to 12.00 Noon and 04.00 PM to 08.00 PM.
Temple Address

Shri Mahakaleswarar Temple,
Irumbai Mahalam,
Vanur Taluk, Villupuram District,
Tamil Nadu - 605 111
Tele: +91- 413 - 268 8943, 98435 26601.
The temple priest Sri Raja Gurukkal can be contacted at: 80981 44813.
---
Pathigam (Hymn) with English transliteration

Saint Thirugnanasambanthar visited this temple and sang this Pathigam.

Devotees visiting this temple should make it a practice to recite this Pathigam.
மண்டுகங்கை சடையிற் கரந்தும் மதிசூடிமான்
கொண்டகையாற் புரம்மூன் றெரித்த குழகன்னிடம்
எண்டிசையும் புகழ்போய் விளங்கும் இரும்பைதனுள்
வண்டுகீதம் முரல்பொழில் சுலாய்நின்ற மாகாளமே.
"Maṇdugaṅgai chadaiyiṟ karanthum mathichūdimāṉ
koṇṭakaiyāṟ puram'mūṉ tṟeritha kuzhakaṉṉidam
eṇṭisaiyum pukazhpōy viḷaṅkum irumbaithaṉuḷ
vaṇdukītham muralpozhil sulāyniṉtṟa mākāḷamē".
வேதவித்தாய் வெள்ளைநீறு பூசி வினையாயின
கோதுவித்தா நீறெழக் கொடிமா மதிலாயின
ஏதவித்தா யினதீர்க் கும்மிடம் இரும்பைதனுள்
மாதவத்தோர் மறையோர் தொழநின்ற மாகாளமே.
"Vēthavithay veḷḷainīṟu pūsi viṉaiyāyiṉa
kōthuvithā nīṟezhak koṭimā mathilāyiṉa
ēthavithā yiṉathīrk kum'miṭam irumbaithaṉuḷ
māthavaththōr maṟaiyōr thozhaniṉtṟa mākāḷamē".
வெந்தநீறும் எலும்பும் அணிந்த விடையூர்தியான்
எந்தைபெம்மா னிடம்எழில்கொள் சோலை யிரும்பைதனுள்
கந்தமாய பலவின் கனிகள் கமழும்பொழில்
மந்தியேறிக் கொணர்ந்துண் டுகள்கின்ற மாகாளமே.
"Venthanīṟum elumpum aṇintha vidaiyūrthiyāṉ
enthaipem'mā ṉiṭamezhilkoḷ sōlai yirumbaithaṉuḷ
kanthamāya palaviṉ kaṉikaḷ kamazhumpozhil
manthiyēṟik koṇarnthuṇ ṭukaḷkiṉtṟa mākāḷamē".
நஞ்சுகண்டத் தடக்கி நடுங்கும் மலையான்மகள்
அஞ்சவேழம் உரித்த பெருமான் அமரும்மிடம்
எஞ்சலில்லாப் புகழ்போய் விளங்கும் இரும்பைதனுள்
மஞ்சிலோங்கும் பொழில்சூழ்ந் தழகாய மாகாளமே.
"Nañchukaṇṭath thaṭakki naṭuṅkum malaiyāṉmakaḷ
añchavēzham uritha perumāṉ amarum'midam
eñjchalillāp pukazhpōy viḷaṅkum irumbaithaṉuḷ
mañjchilōṅkum pozhilchūzhn thazhakāya mākāḷamē".
பூசுமாசில் பொடியான் விடையான் பொருப்பான்மகள்
கூசஆனை யுரித்த பெருமான் குறைவெண்மதி
ஈசனெங்கள் இறைவன் னிடம்போல் இரும்பைதனுள்
மாசிலோர்கண் மலர்கொண் டணிகின்ற மாகாளமே.
"Pūsumāsil poṭiyāṉ viṭaiyāṉ poruppāṉmakaḷ
kūsa'āṉai yuritha perumāṉ kuṟaiveṇmathi
īsaṉeṅkaḷ iṟaivaṉ ṉiṭampōl irumbaithaṉuḷ
māsilōrkaṇ malarkoṇ ṭaṇikiṉtṟa mākāḷamē".
குறைவதாய குளிர்திங்கள் சூடிக் குனித்தான்வினை
பறைவதாக்கும் பரமன் பகவன் பரந்தசடை
இறைவன்எங்கள் பெருமான் இடம்போல் இரும்பைதனுள்
மறைகள்வல்லார் வணங்கித் தொழுகின்ற மாகாளமே.
"Kuṟaivathāya kuḷirthiṅkaḷ sūṭik kuṉithāṉviṉai
paṟaivathākkum paramaṉ pakavaṉ parantasaṭai
iṟaivaṉeṅkaḷ perumāṉ idampōl irumbaithaṉuḷ
maṟaikaḷvallār vaṇaṅkith thoḻukiṉtṟa mākāḷamē".
பொங்குசெங்கண் ணரவும் மதியும் புரிபுன்சடைத்
தங்கவைத்த பெருமானென நின்றவர் தாழ்விடம்
எங்குமிச்சை யமர்ந்தான் இடம்போல் இரும்பைதனுள்
மங்குல்தோயும் பொழில்சூழ்ந் தழகாய மாகாளமே.
"Poṅkuseṅkaṇ ṇaravum mathiyum puripuṉsaṭaith
thaṅkavaitha perumāṉeṉa niṉtṟavar thāḻvidam
eṅkumichchai yamarnthāṉ idampōl irumbaithaṉuḷ
maṅkulthōyum pozhilsūzhn thazhakāya mākāḷamē".
நட்டத்தோடு நரியாடு கானத் தெரியாடுவான்
அட்டமூர்த்தி யழல்போ லுருவன் னழகாகவே
இட்டமாக இருக்கும் மிடம்போல் இரும்பைதனுள்
வட்டஞ்சூழ்ந்து பணிவார் பிணிதீர்க்கும் மாகாளமே.
"Naṭṭathōdu nariyādu kāṉath theriyāduvāṉ
aṭṭamūrthi yazhalpō luruvaṉ ṉazhakākavē
iṭṭamāka irukkum miṭampōl irumbaithaṉuḷ
vaṭṭañchūzhnthu paṇivār piṇithīrkkum mākāḷamē".
அட்டகாலன் றனைவவ் வினான்அவ் வரக்கன்முடி
எட்டுமற்றும் இருபத்திரண் டும்மிற வூன்றினான்
இட்டமாக விருப்பா னவன்போ லிரும்பைதனுள்
மட்டுவார்ந்த பொழில்சூழ்ந் தெழிலாரு மாகாளமே.
"Aṭṭakālaṉ tṟaṉaivav viṉāṉav varakkaṉmudi
eṭṭumatṟum irupathiraṇ dum'miṟa vūṉtṟiṉāṉ
iṭṭamāka viruppā ṉavaṉpō lirumbaithaṉuḷ
maṭṭuvārntha pozhilchūzhn thezhilāru mākāḷamē".
அரவமார்த்தன் றனலங்கை யேந்தி யடியும்முடி
பிரமன்மாலும் மறியாமை நின்ற பெரியோனிடம்
குரவமாரும் பொழிற் குயில்கள் சேரும் மிரும்பைதனுள்
மருவிவானோர் மறையோர் தொழுகின்ற மாகாளமே.
"Aravamārthaṉ tṟaṉalaṅkai yēnthi yadiyum'mudi
piramaṉmālum maṟiyāmai niṉtṟa periyōṉidam
kuravamārum pozhiṟ kuyilkaḷ sērum mirumbaithaṉuḷ
maruvivāṉōr maṟaiyōr thozhukiṉtṟa mākāḷamē".
எந்தையெம்மா னிடமெழில்கொள் சோலை யிரும்பைதனுள்
மந்தமாயம் பொழில்சூழ்ந் தழகாரு மாகாளத்தில்
அந்தமில்லா அனலாடு வானையணி ஞானசம்
பந்தன்சொன்ன தமிழ்பாட வல்லார்பழி போகுமே.
"Enthaiyem'mā ṉiṭamezhilkoḷ sōlai yirumbaithaṉuḷ
manthamāyam pozhilchūzhn thazhakāru mākāḷathil
anthamillā aṉalādu vāṉaiyaṇi gñāṉasam
banthaṉsoṉṉa thamizhpāda vallārpazhi pōkumē".