Visited on: 25th June, 2016 and 10th April, 2017.
Location
Ambar Makalam (Koil Thirumalam) is situated at a distance of about 6 kms from Peralam on the Peralam to Karaikkal route. Peralam is on the Mayiladuthurai to Thiruvarur route. It is about 18 kms from Mayiladuthurai and from Thiruvarur it is about 24 kms. From Karaikkal, Ambar Makalam is about 18 kms.
Nearest railway station is Poonthottam which is about 3 kms away.
This temple is one kilometer away from the Ambar (Ambal) Perunthirukkoil.
Other Paadal Petra Shiva Sthalams near this place are –
Thiruppampuram, Sirukudi, Thiruvizhimazhalai, Ambar Perunthirukkoil, Thirumeyechur, Thirumeyechur Ilangkoil and Thirunallar.
General Information
| | |
| --- | --- |
| Moolavar | Sri Mahakalanathaswamy, Sri Kalakandeswarar |
| Ambal | Sri Bayakshiyambikai, Sri Patchanayaki, Sri Rajamathanki, Sri Iyanmadevi |
| Theertham (Holy water) | Amritavaavi / Makala Theertham |
| Sthala Vriksham (Sacred Tree) | Karungkali tree |
| Pathigam (Hymn) rendered by | Saint Thirugnanasambanthar |
This is one of the 276 Devara Paadal Petra Shiva Sthalams and 55th Shiva Sthalam on the Southern bank of the river Cauveri in Chozha Nadu (Thenkarai).
Lord Shiva in this temple is a Swayambumurthi (self-manifested).
This is the birth place of Saint Somayaji Mara Nayanar, one of the 63 Nayanmars. His "Soma Yagna" is very popular here.
This east facing temple has 2 corridors and it has a 5-tiered main tower (Rajagopuram).
This temple is counted as one of the seventy Maadak Koils built by King Kochengat Cholan.
The last Consecration ceremony (Kumbabishekam) took place on 24.04.2011, prior to that on18.05.1998 and 12.09.1960.
History of the Temple
This ancient temple is situated on the northern banks of the river Arasalaru. As per the stone inscriptions available in this temple, the temple was first built in the 12th Century AD by King Kulothunga Cholan-I and later extended by King Vikrama Cholan.
The historical names of this place are Marapuri and Indirapuri.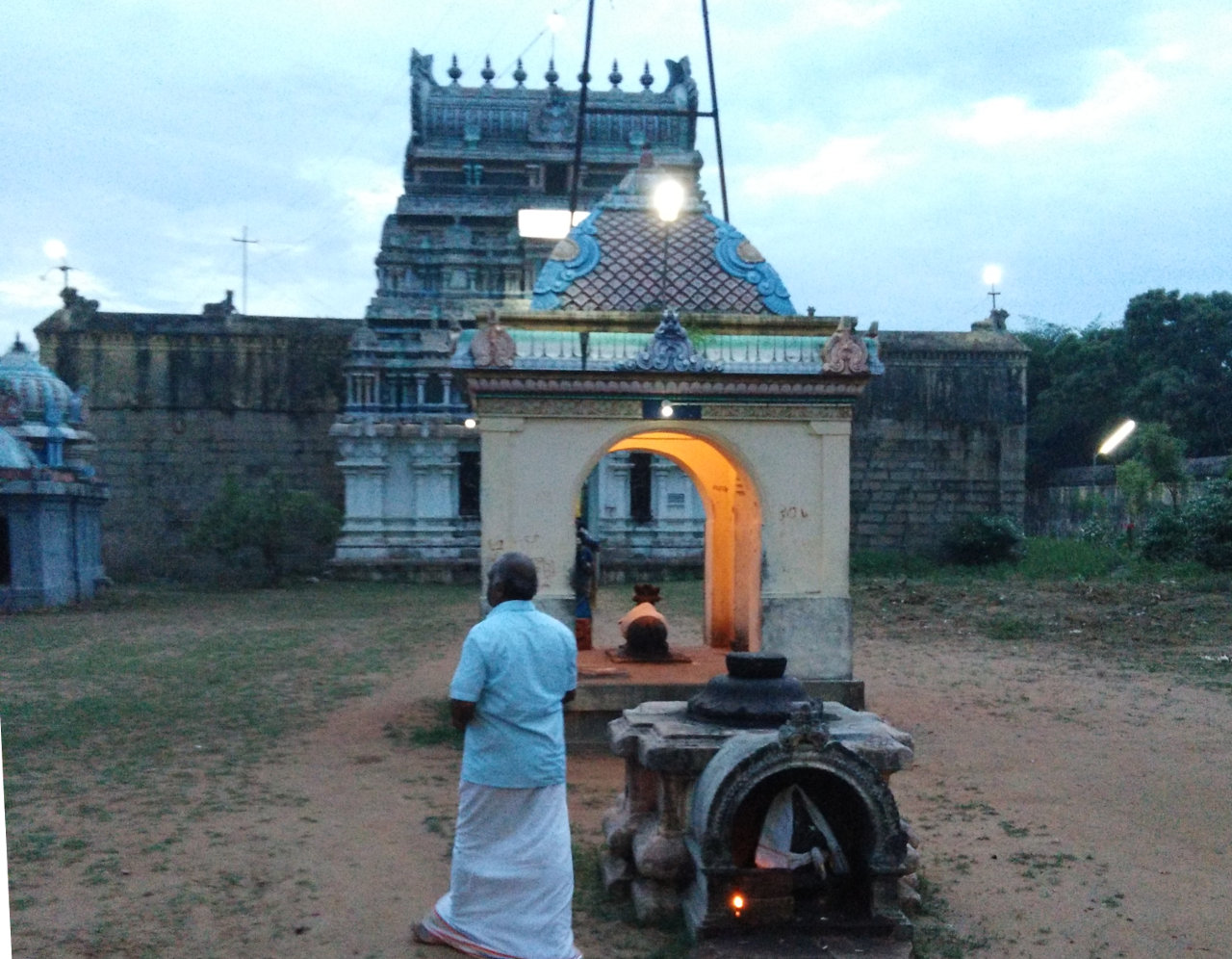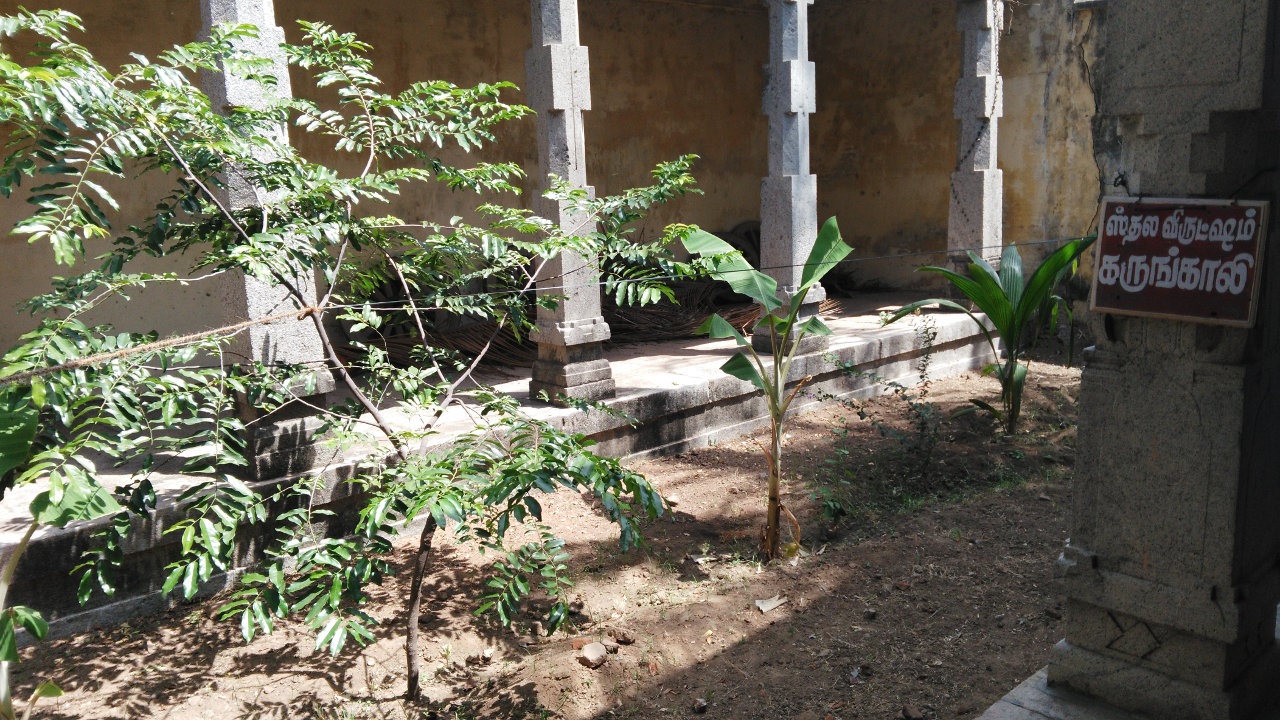 Legend
Goddess Kaali
The legend of this temple concerns the two sons of Sage Dhurvasa, Ambasuran and Amban. Both these brothers were ardent Shiva devotees and were blessed with various powers by Lord Shiva. However, they started misusing their powers by terrorizing the common people. They were vanquished by Goddess Kaali here upon Lord Shiva's instructions. Goddess Kaali took the form of a beautiful girl and was accompanied by Lord Mahavishnu who took the guise of an old man. On seeing the girl, both these brothers started fighting with each other on who would get to marry her. In their fight, the elder brother Ambasuran was killed and Goddess Kaali vanquished the younger one. The place where the younger brother Amban was killed is known as "Ambakarathur". This is very near to Ambal.
To seek relief from the "Brahmahathi dosha" (the sin accrued by killing a person), Goddess Kaali is believed to have installed a small lingam that she made with her own hands and worshiped it in this place. Hence this place gets the name Ambar Maakaalam.
Sage Madanga Maharishi
Another legend is that Sage Madanga Maharishi worshiped the lord here seeking child boon. He was blessed with a girl child and she was named Rajamadangi. When the girl attained the marriageable age, it is believed that Lord Shiva appeared before her and married her. When the lord asked her if she had any wish, she replied that she wanted to be with him here in the wedding form. She also requested the lord to grant the boon of wedding to those who come here and pray. The lord granted her wish. Based on this event, those facing delays in their marriage proposals can visit this place, offer two garlands to Goddess Parvathy and then take back one for themselves. It is believed that by doing so for five consecutive weeks, obstacles in marriage proposals will be removed.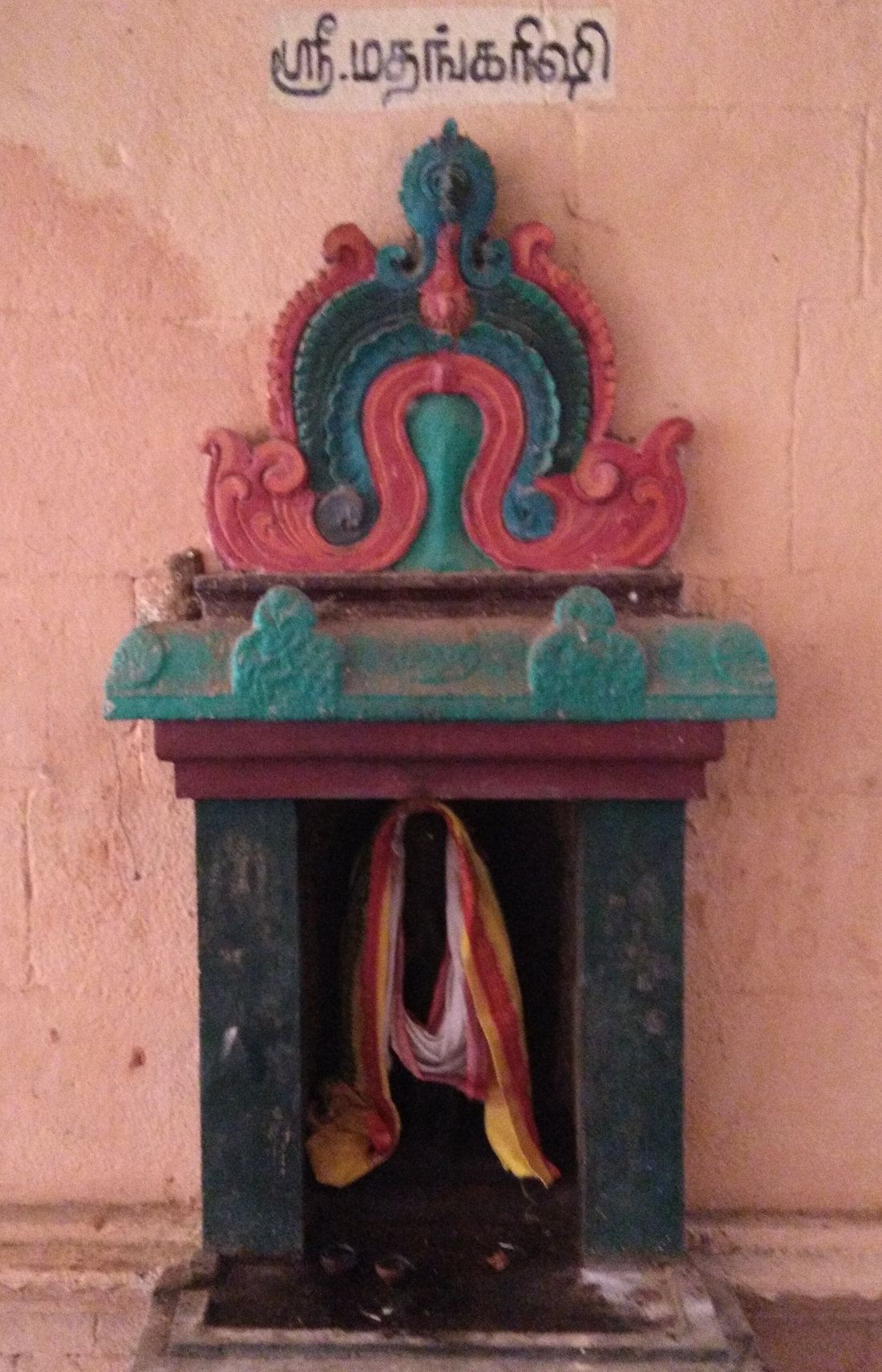 Sage Maakaala Maharishi
Another legend associated with this place is that of Sage Maakaala Maharishi. It is believed that he worshiped the lord here due to which this place gets the name Maakaalam and the lord is praised as "Sri Maakaalanathar".
It is believed that there are three places where Sage Maakaala Maharishi installed a Shivalingam and worshiped Lord Shiva. They are -Ambar Maakaalam, Irumbai Maakaalam near Puducherry and Mahaakaal in Ujjain, Madhya Pradesh.
Vimalan of Kasi (Banaras)
As per the sthala purana, it is believed that a brahmin by the name of Vimalan lived in Kasi. He did not have a child. Despite visiting various temples and praying to Lord Shiva, he was not blessed with a child. He started his pilgrimage to southern part of India and visited various temples with the same goal. One day Lord Shiva appeared before him in the guise of an old man and asked him where he was going. Vimalan told him about his desire. The old man suggested him to go to this temple (Koil Thirumalam) and worship Sri Makalanathar. He further informed him that in this temple he can find Lord Vinayakar and Lord Murugan as young children. Further Lord Vinayakar of this temple has a human head. The old man told Vimalan to worship these lords as well. He also told him that he would be blessed with a male child and that he should name him as Mahadevan. Vimalan visited this temple, worshiped the lords and was blessed with a child.
Saint Somasimara Nayanar
This is the birth place of Saint Somayaji Mara Nayanar (Somasi Mara Nayanar). Saint Somasimarar was praised by Saint Sundaramurthy Nayanar as "Ambaran Somasi Maranukkum adiyen" in his "Thiruthondar Thogai". He lived in this place with his wife Susheela and was fond of offering food to devotees of Lord Shiva.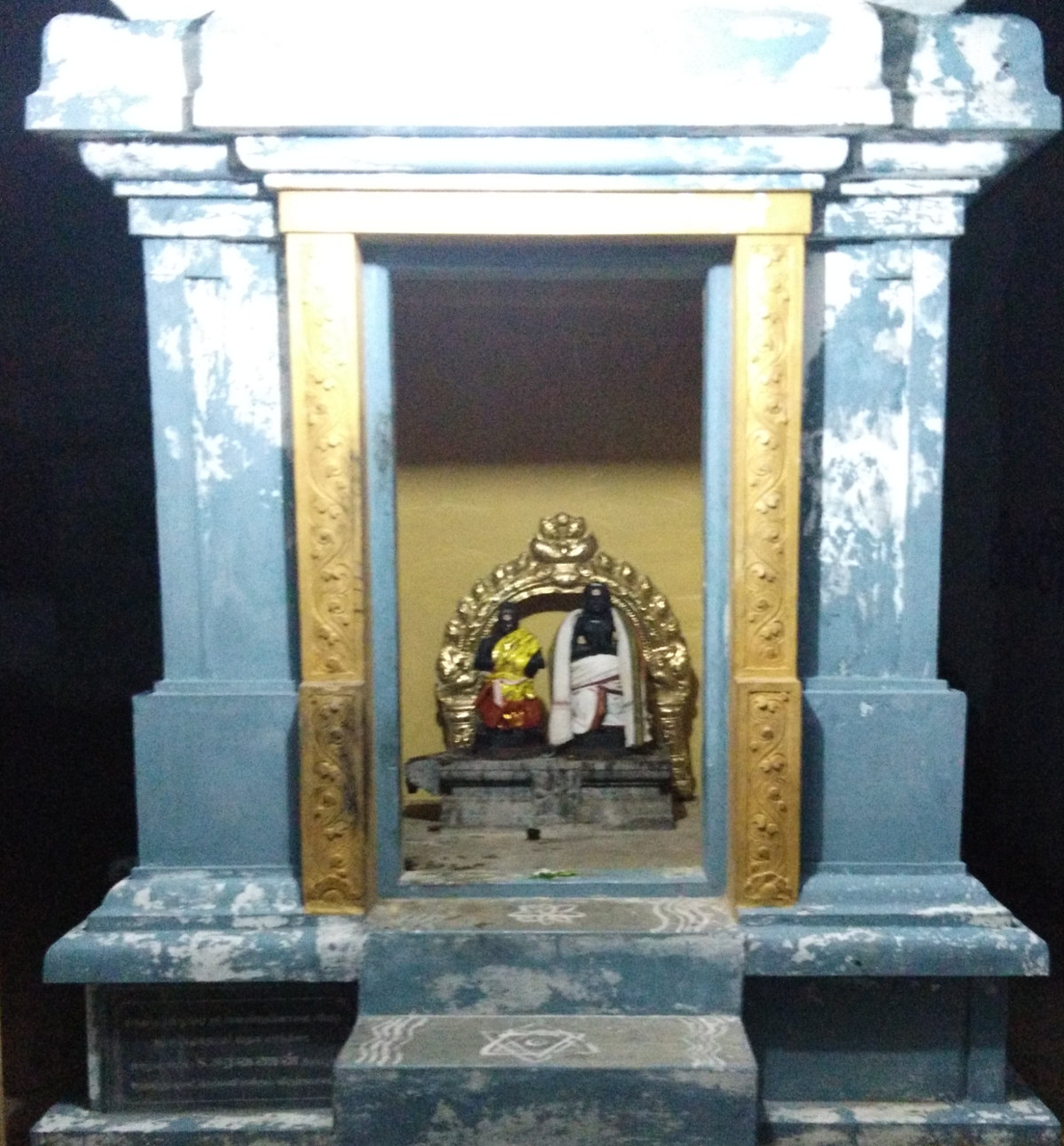 He wanted to conduct a big "Soma yagna" here and wanted to invite Lord Thiyagaraja of Thiruvarur. He knew that the only person who could bring the lord to the yagna was Saint Sundarar. Incidentally, Saint Sundarar was on his pilgrimage and was staying in this place itself. When Somasimarar went to visit Sundarar, he came to know that Sundarar was suffering from cough and cold. He started sending "Thoodhuvalai" (an herbal plant) every day to Sundarar. When Sundarar got cured of his illness, he came to see Somasimarar to thank him. Somasimarar sought the help of Sundarar to bring Lord Shiva to his proposed Yajna. Sundarar agreed to take up the task and convinced Lord Shiva to participate in the yagna.
When the news spread that the lord himself would be attending the yajna, many people including Vedic scholars and sages gathered at the place of the yajna. Lord Shiva is believed to have appeared in the guise of a hunter (Sandalan in Tamil) with four dogs following him and a dead calf on his shoulder. He was accompanied by Goddess Parvathi in the guise of a woman with a pot on her head. Vinayakar and Murugan came in the guise of young boys holding their mother's hands. representing the four Vedas
As an untouchable person appeared there, all the brahmins assembled there were afraid that something had gone wrong while conducting the Yajna. They started running away from the scene. But Somasimarar whole heartedly welcomed the guests. Lord Vinayakar clandestinely indicated to Somasimarar about the true identity of the lord. He also said that the four dogs following the hunter represent the four vedas. Somasimarar and Sundarar worshiped the hunter, continued the yagna and offered "Avirbaham" (Prasad of the yagna) to the guests. Lord Shiva and Goddess Parvathy left the guise of the hunters and granted darshan to Somasimarar and Sundarar. The lord then blessed Somasimarar by naming him as one of his Nayanmars.
There is a small shrine for this Vinayakar and he is praised as "Sri Achantheertha Vinayakar" (the one who cleared the doubts). Also, there is a small Mandapam (hall) where this Yagna is believed to have been conducted. These two structures can be seen in between Ambar Maakaalam and Ambar Perunthirukkovil.
Every year a yagna is conducted here to commemorate this event. During this yagna, the noon time pooja is not performed at the Thiagaraja Temple in Thiruvarur. This is because the lord is believed to have come to this place instead.
Other Legends
It is believed that Serpent Vasuki, one of the eight serpents (Ashta Nagams) visited this place and worshiped the lord to seek relief from Brahmahathi Dosham. "Naga Kannigai" (virgin serpent) is also believed to have worshiped the lord here. Another reason this place gets the name Makalam is that "Kalam" means serpent in Tamil.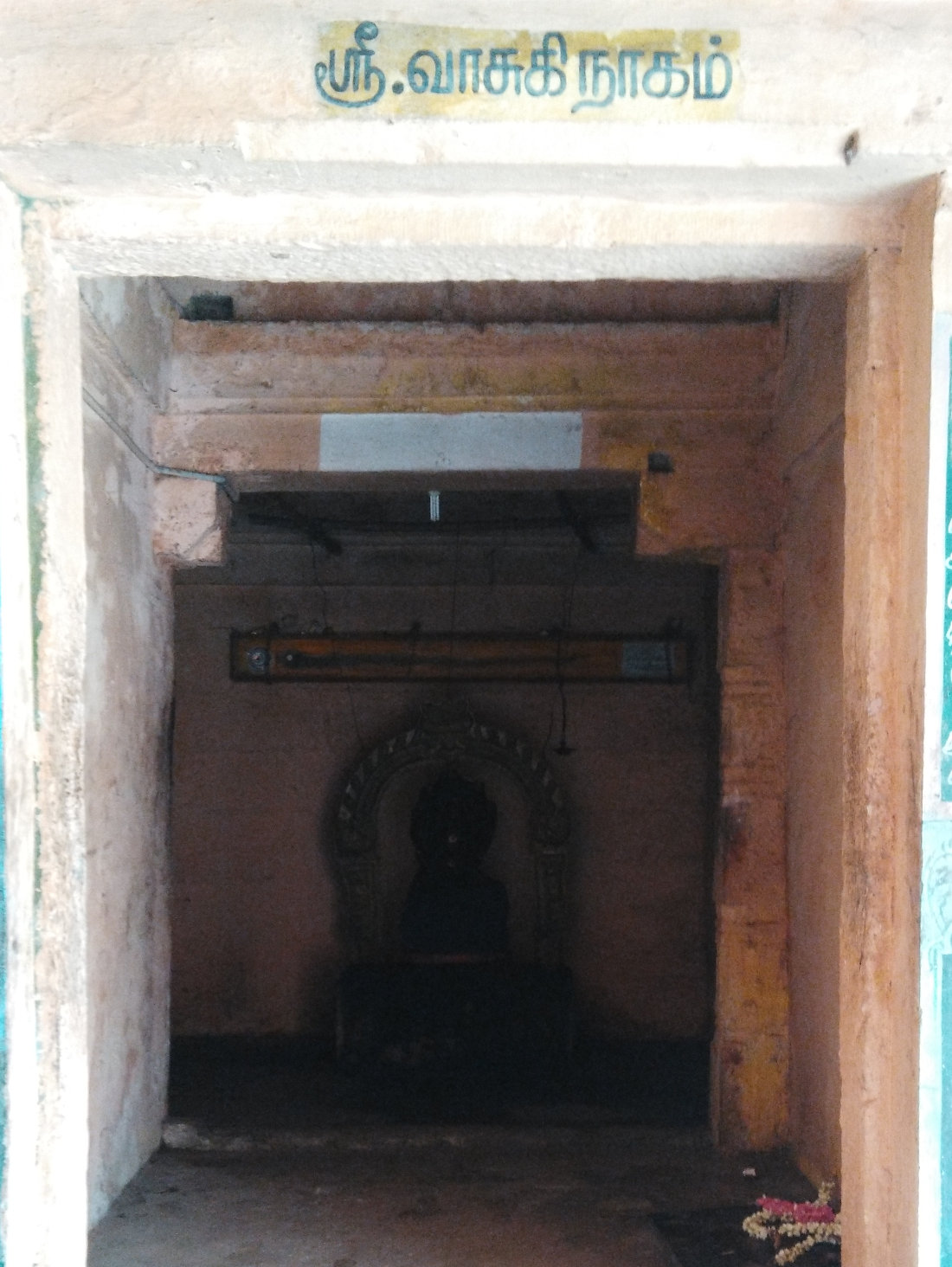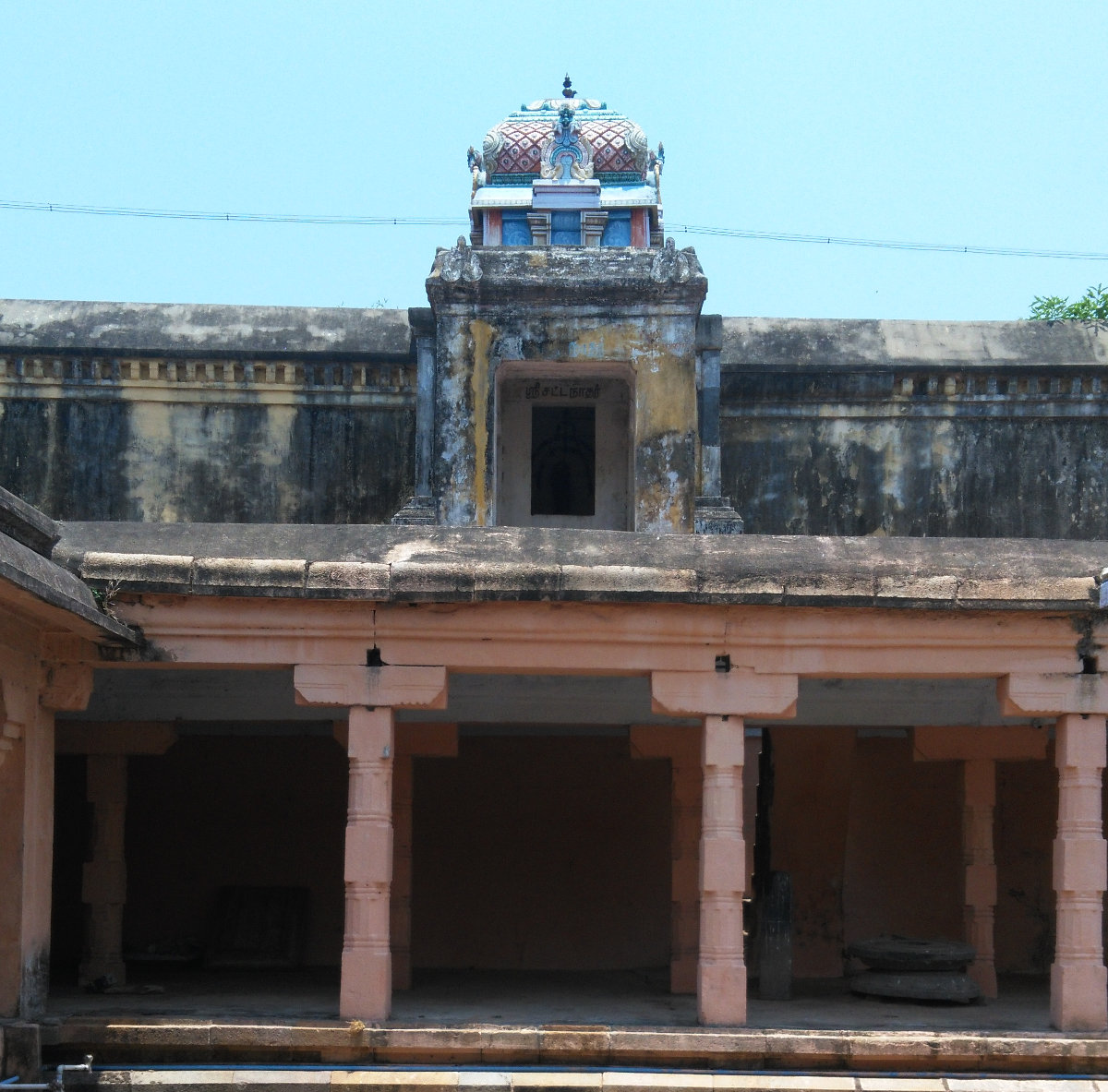 It is believed that once when Sage Vishwamitra was performing rigorous penance, the Devas decided to disrupt his "thapas" by instructing Manmathan to shoot an arrow at him. Angered by this, the sage cursed Lord Indira (head of Devas). Indira is believed to have worshiped the lord here to seek relief from this curse.
Another story associated with Lord Indira is that he visited this place after being defeated by Samharaseelan. He prayed to Lord Shiva here and sought his help. Lord Shiva took the form of Bairavar (Sattanathar) and destroyed Samharaseelan, thus reinstating Indira's position.
This place was considered to be one of the "Naimisaranyam" (peaceful place to perform penance). It is believed that Sages Vyasar, Dhurvasar and Saptarishies have worshiped the lord here.
Deities in the temple
Other than the shrines of Lord Shiva and Goddess Parvathy, shrines and idols of lords Vinayakar, Murugan with his consorts, Marudappar, Thiyagarajar with Goddess Neelothbalambal, Natarajar, Kaali, Mathanka rishi, Dakshinamurthy, Mahalakshmi, Chandikeswarar, Chandikeswari, Valmikanathar, Saneeswaran, Viswanathar, Dhandapani, Moksha Lingam, Naganathar, Esanya Lingam, Juranivarthi Lingam, Agasthia Lingam, Bhana Lingam, Brahma, Yoga Subramaniar, Nagar, 63 Nayanmars, Nalvar, Saint Somayaji Mara Nayanar with his wife Susheela, Navagraham and Bairavar can be seen in the corridors.
Goddess Parvathy graces from a separate shrine as Sri Bayakshayambikai. Bayakshayambikai means one who drove away fear.
There is a shrine for serpent Vasuki in the corridor. There is also a separate shrine on the first floor for Lord Sattanathar (Bairavar).
Lord Dhanusu Subramaniar (Murugan) here is seen with bow and arrow ("Dhanusu" means bow in Tamil).
The procession idols in this temple are very intricately carved. Among these, the idols of "Katchi Kodutha Nayakar" (the lord who gave darshan to Somayaji Mara Nayanar), Lord Shiva and Goddess Parvathi in the form of a hunter and his wife (Lord Thiyagarajar and Goddess Neelothbalambal), Kaali with a lingam in her hand, Somaskandar and Natarajar are of exquisite beauty. These idols can be seen in the hall.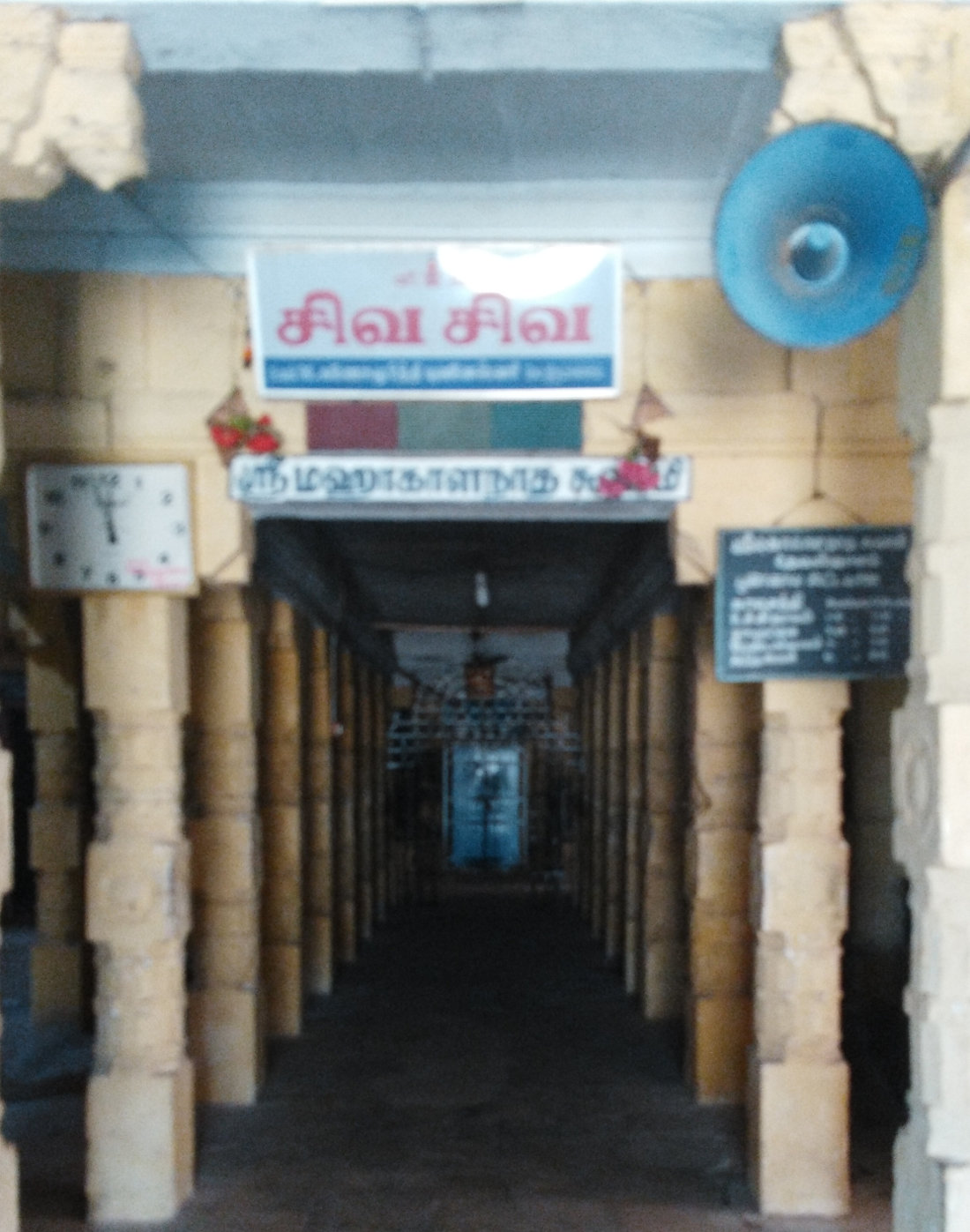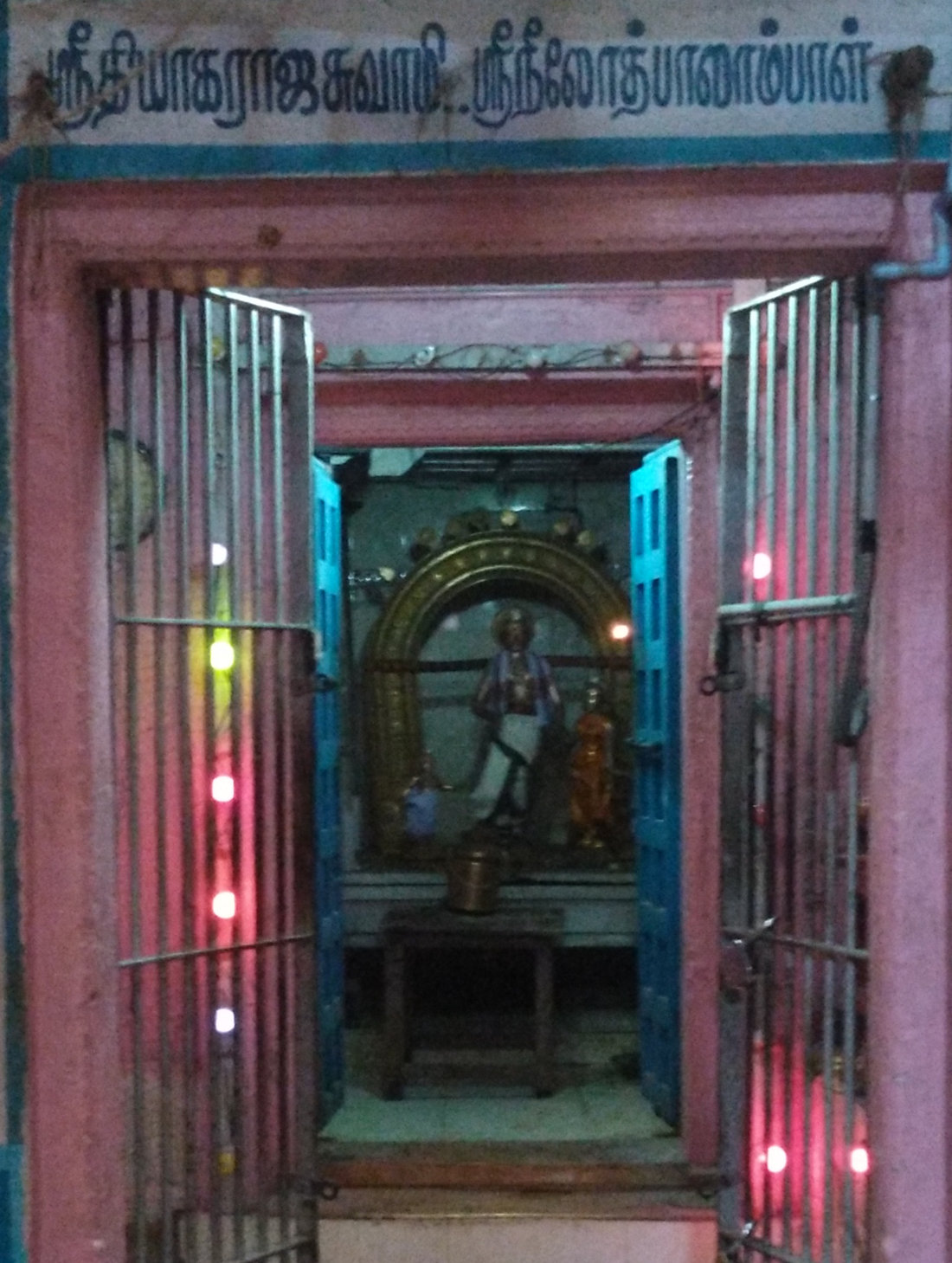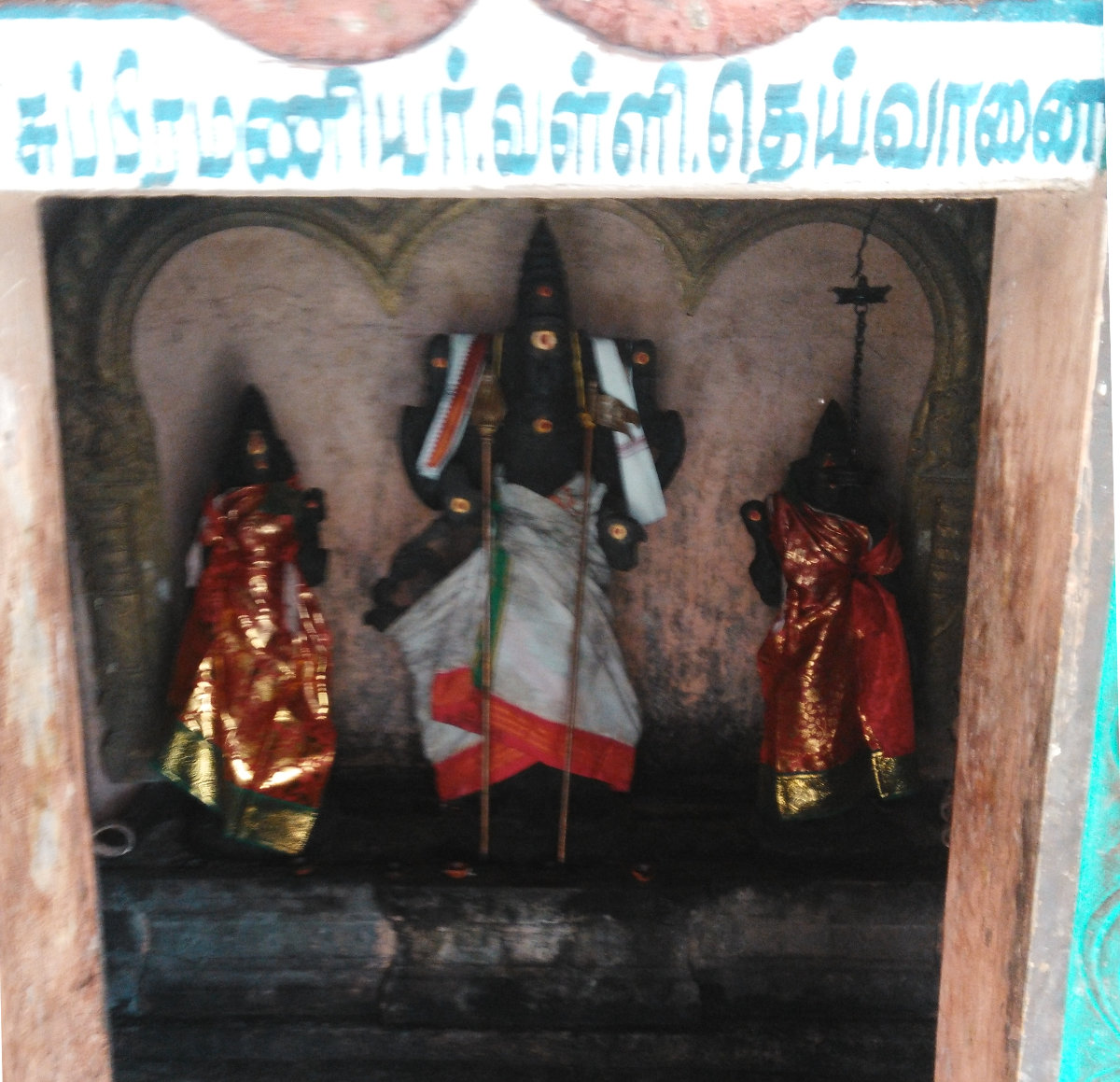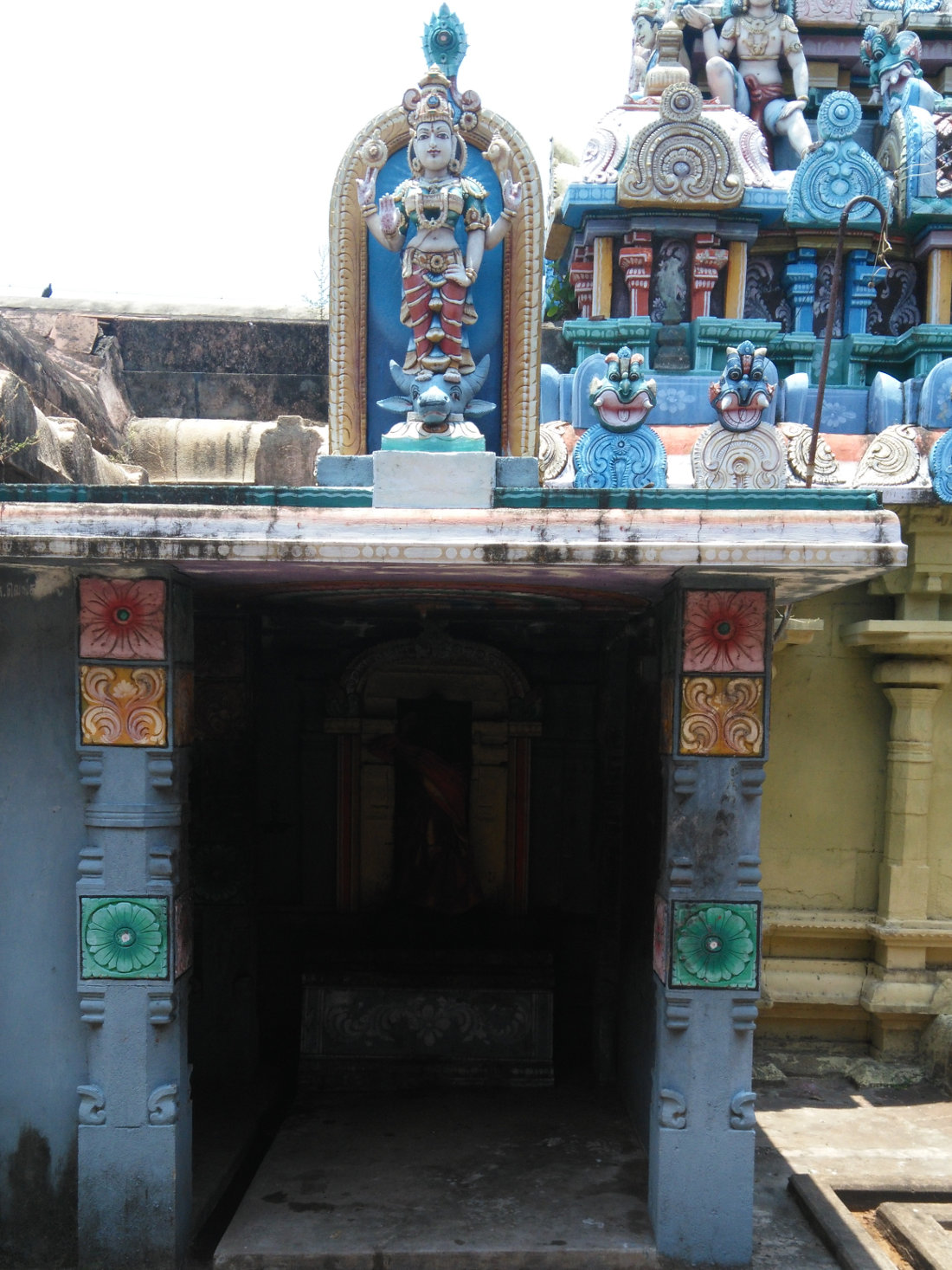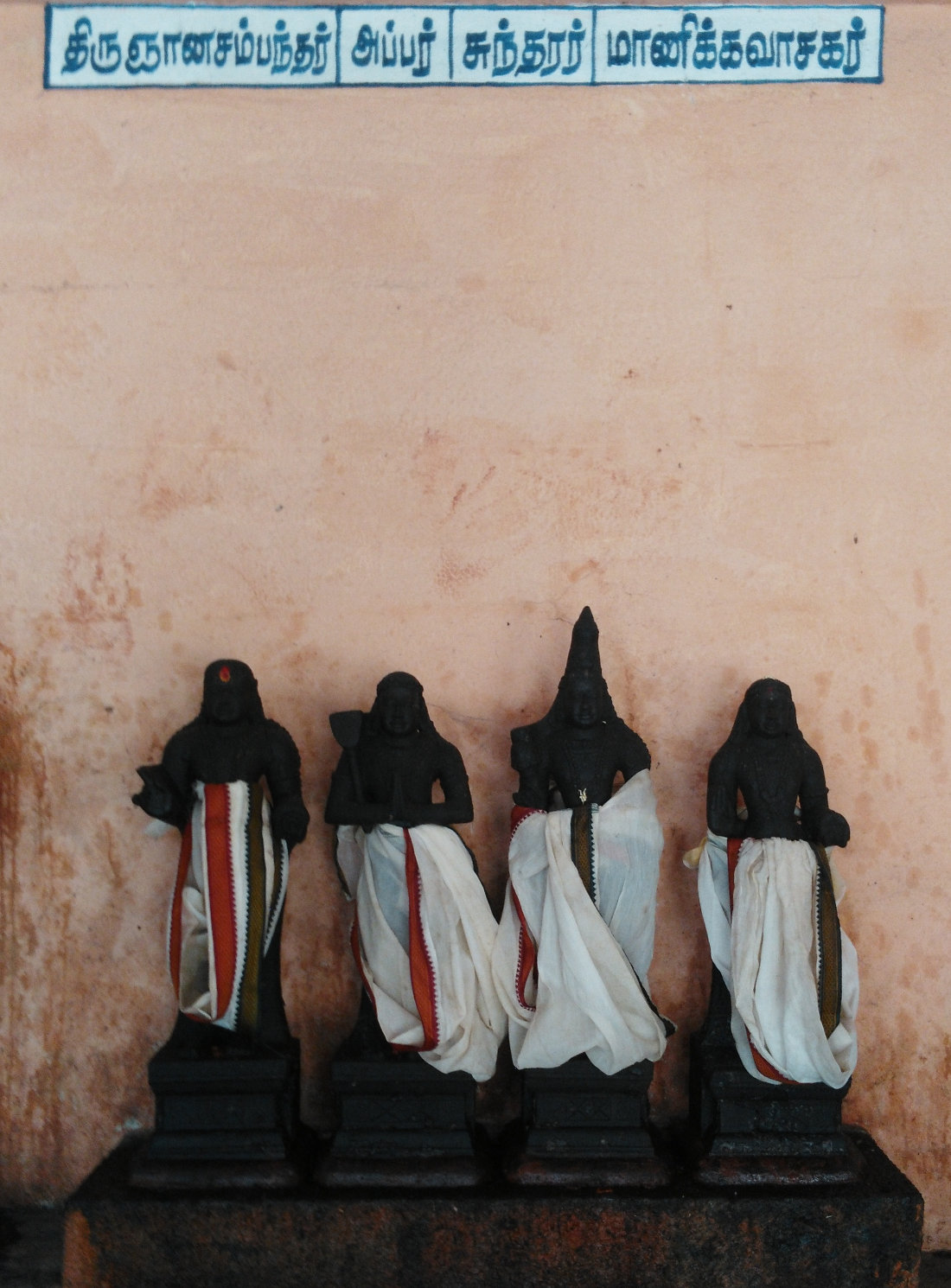 Salient Features
This is one of the Madakkoils built by the King Kochengat Cholan. Madakkoils are temples that are built at an elevation and have a few steps that need to be climbed to see the Lord. Also, the sanctum sanctorum's (Karpagragam) entrance is narrow and small so that no elephant can enter into it.
There is a shrine for Goddess Mohini and she is not touched by human hands, not even by the priests, as it is "Theendathirumeni". A stick is used to adorn her with clothes and garlands.
"Soma Yaga" festival is an important event in this temple which is celebrated on the day of Aslesha (Aayilyam) in the Tamil month of Vaikasi (May-June). Lord Shiva graces the devotees on this day wearing sandals, with four dogs around him, a calf on his shoulders and a drum in his hand. Goddess Parvathy holds a pot on her head. These idols are taken in a procession to the place of yagna and after the yagna, "Avir Bagham" is offered to the lord. After this, the lord gives dharisanam in his normal form along with Goddess Parvathy seated on his bull mount.
Idol of Lord Vinayakar can be seen here with a human face. Idol of Balamurugan can also be seen. At the time of the yagna, it is believed that Vinayakar came with a human head and it is further believed that he stayed here in the same form.
Greatness of this temple
Devotees facing delays in their wedding proposals offer two garlands of "Arali" flowers to the lord. Then they are given one of these garlands back to wear. By doing this, it is believed that hurdles in their marriage proposals will be removed.
Important Festivals
The Somayaji Mara Nayanar's yagna festival called "Soma Yagna" is celebrated in a grand manner every year in the Tamil month of Vaikasi (May-June).
Other important festivals celebrated here are –
Vinayakar Chaturthi in the Tamil month of Aavani (Aug-Sept),
Navarathri in the Tamil month of Purattasi (Sept-Oct),
Skanda Shashti and Annabishekam in the Tamil month of Aippasi (Oct–Nov), Thiruvadhirai in the Tamil month of Markazhi (Dec-Jan),
Makara Sankranthi in the Tamil month of Thai (Jan-Feb), and
Shivrathri in the Tamil month of Masi (Feb-Mar).
Pradosham is also observed regularly.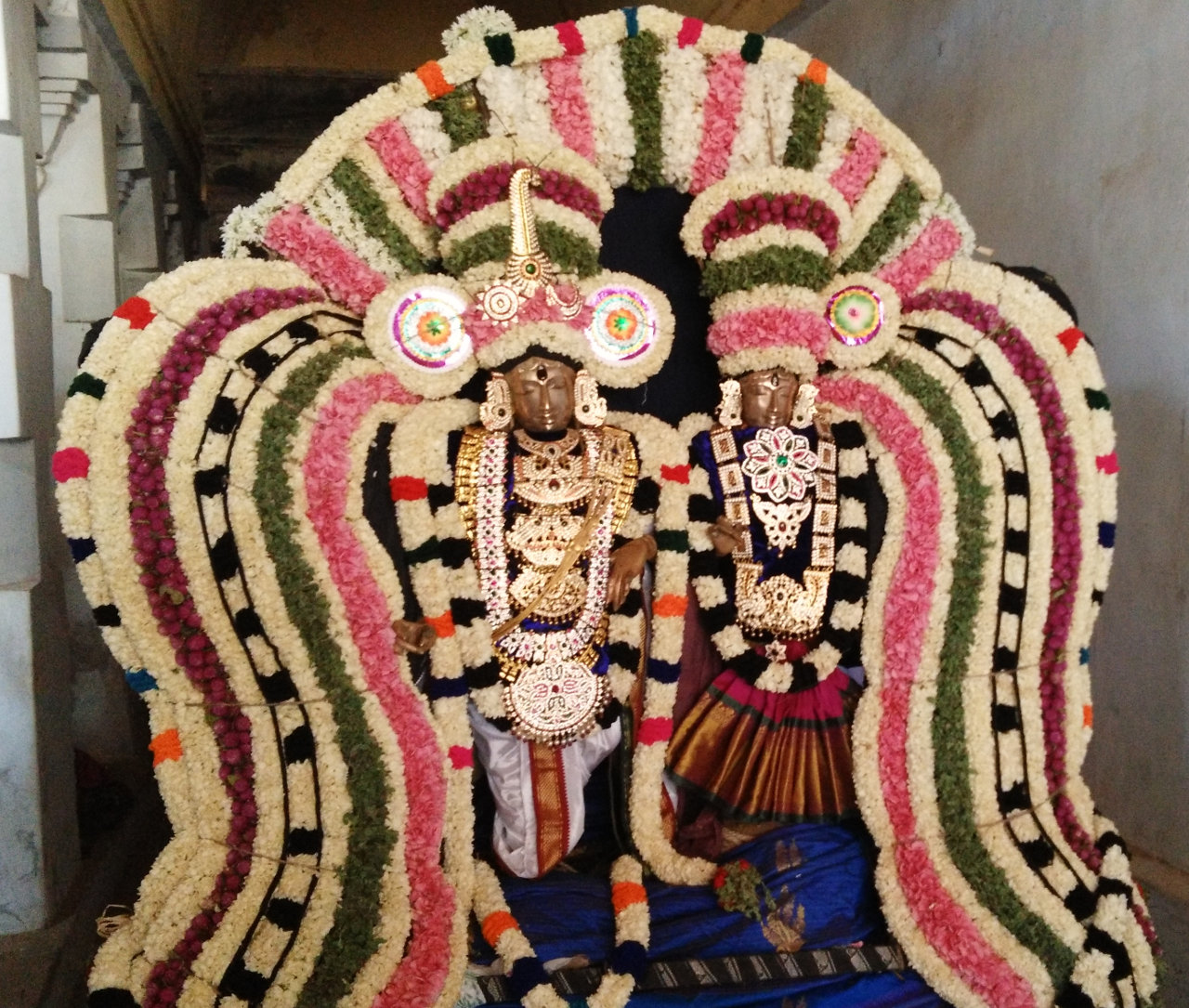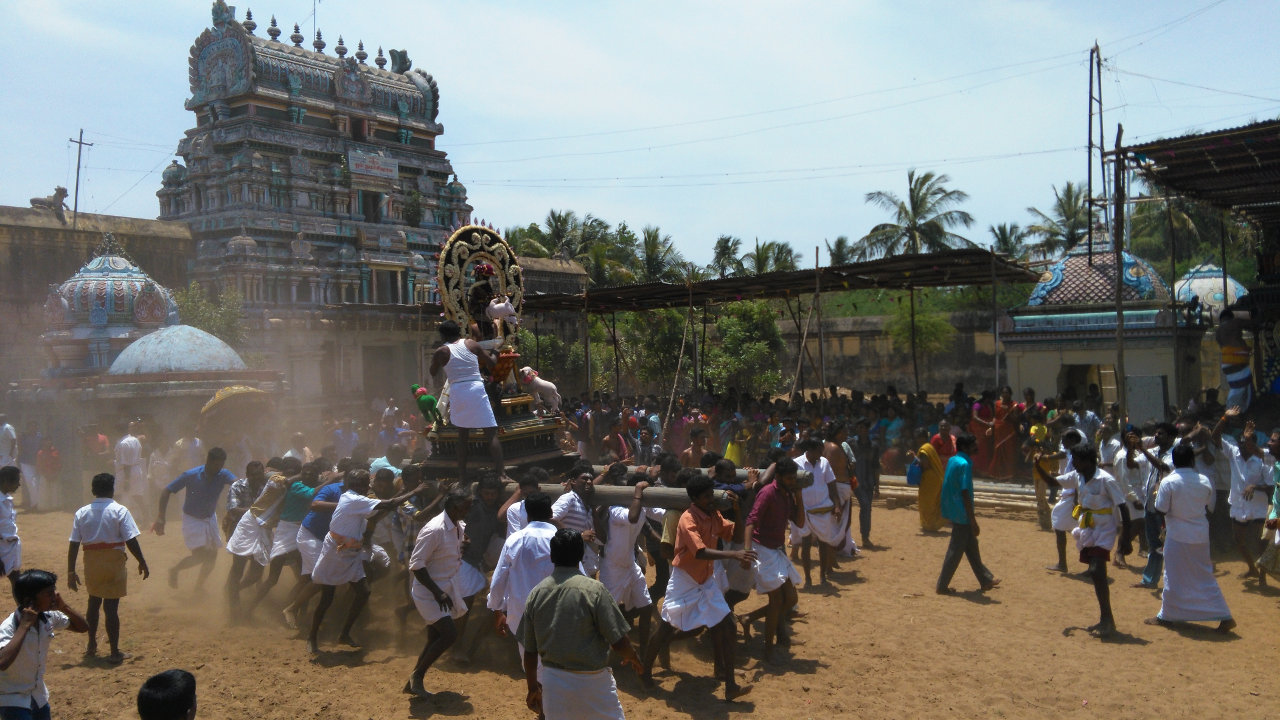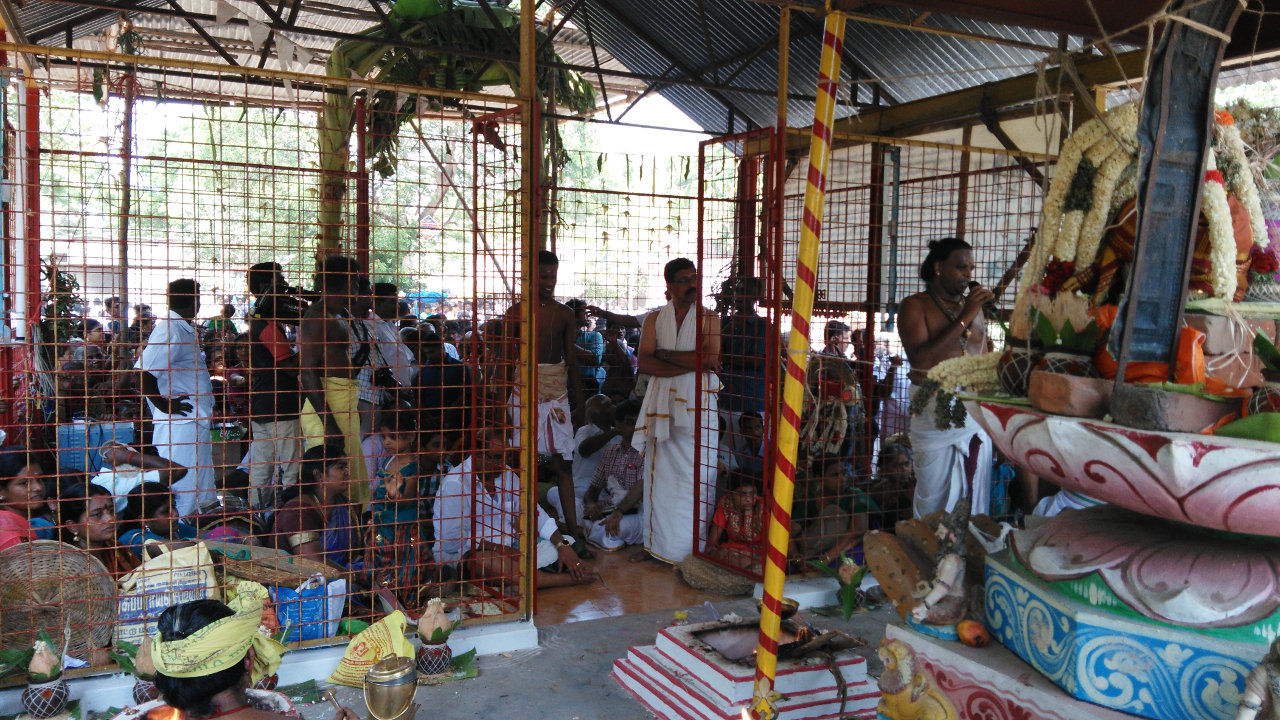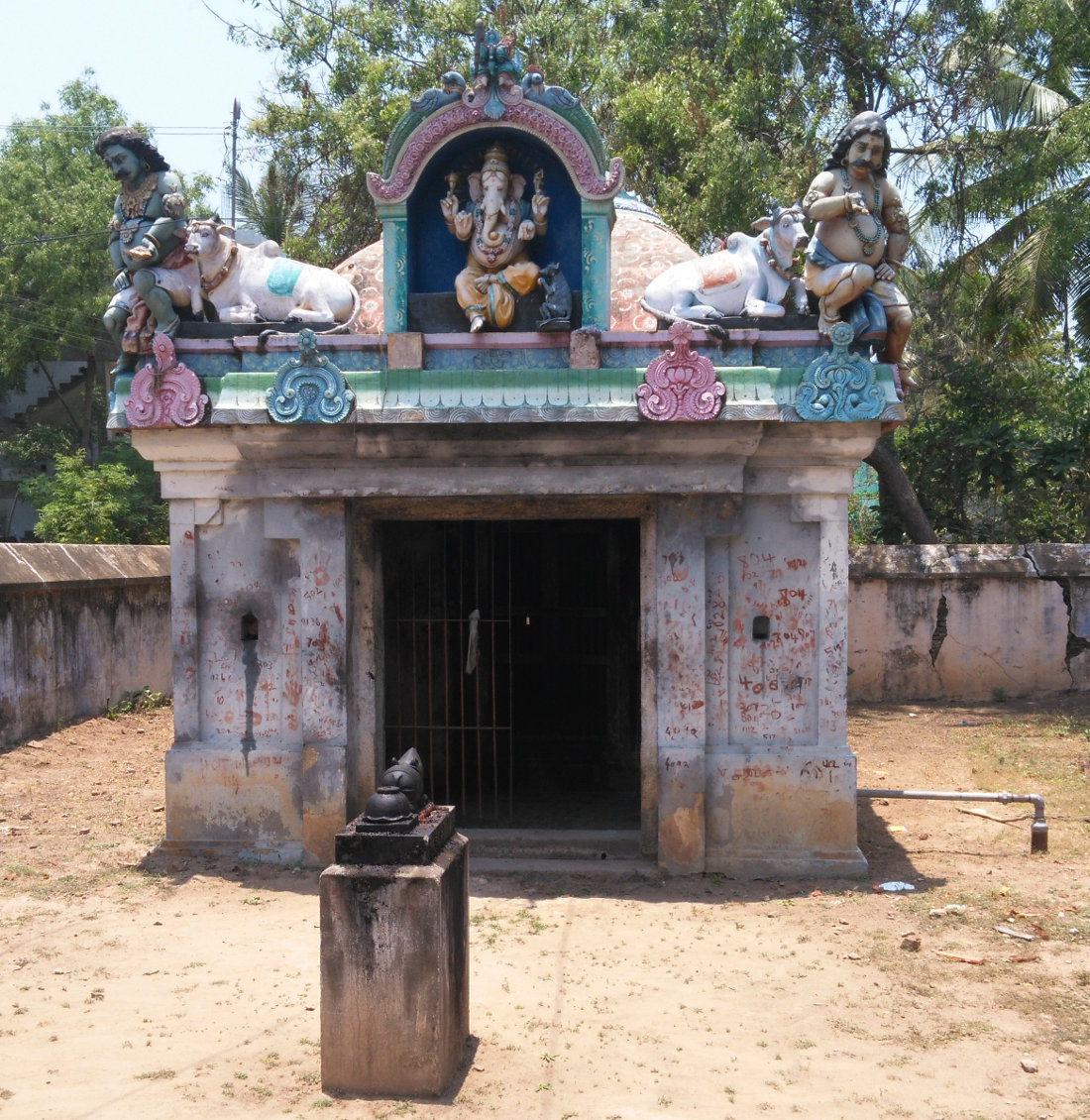 Temple Timings
From 07.00 AM to 12.00 Noon and 05.00 PM to 08.00 PM.
Temple Address
Sri Mahakalanathaswamy Temple,
Koil Thirumalam Post,
Poonthottam Via,
Nannilam Taluk,
Thiruvarur District,
Tamil Nadu- 609503.
Tele: +91 4366 291 457, 94427 66818.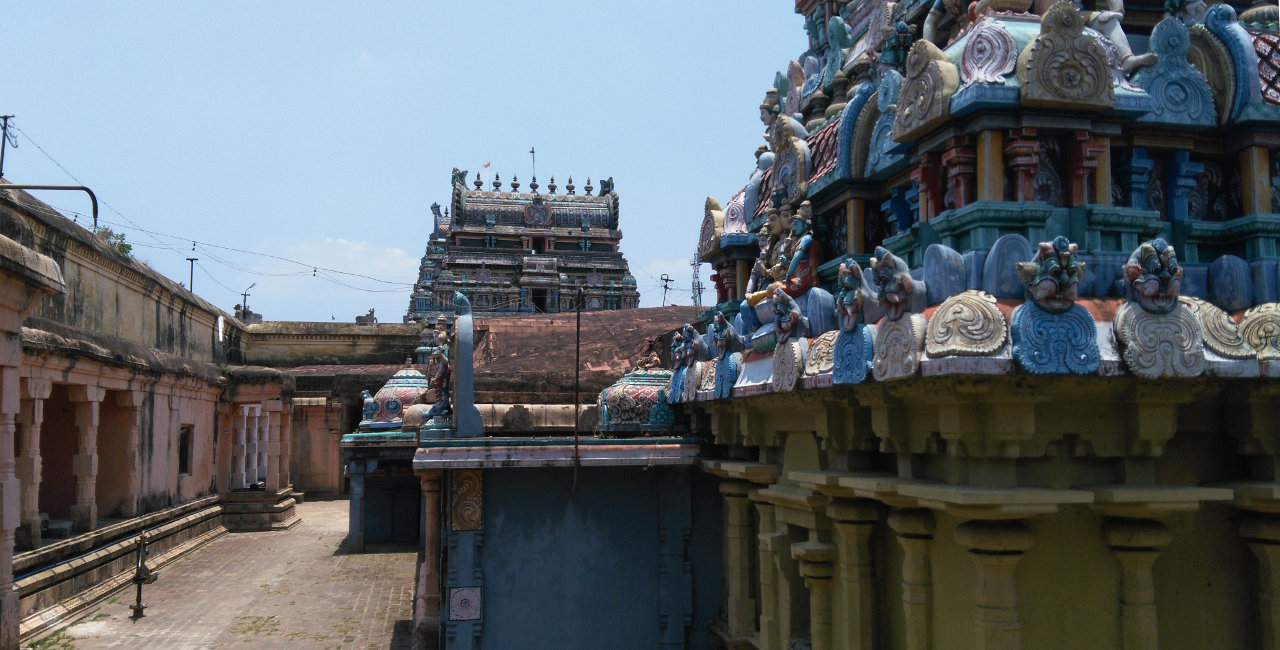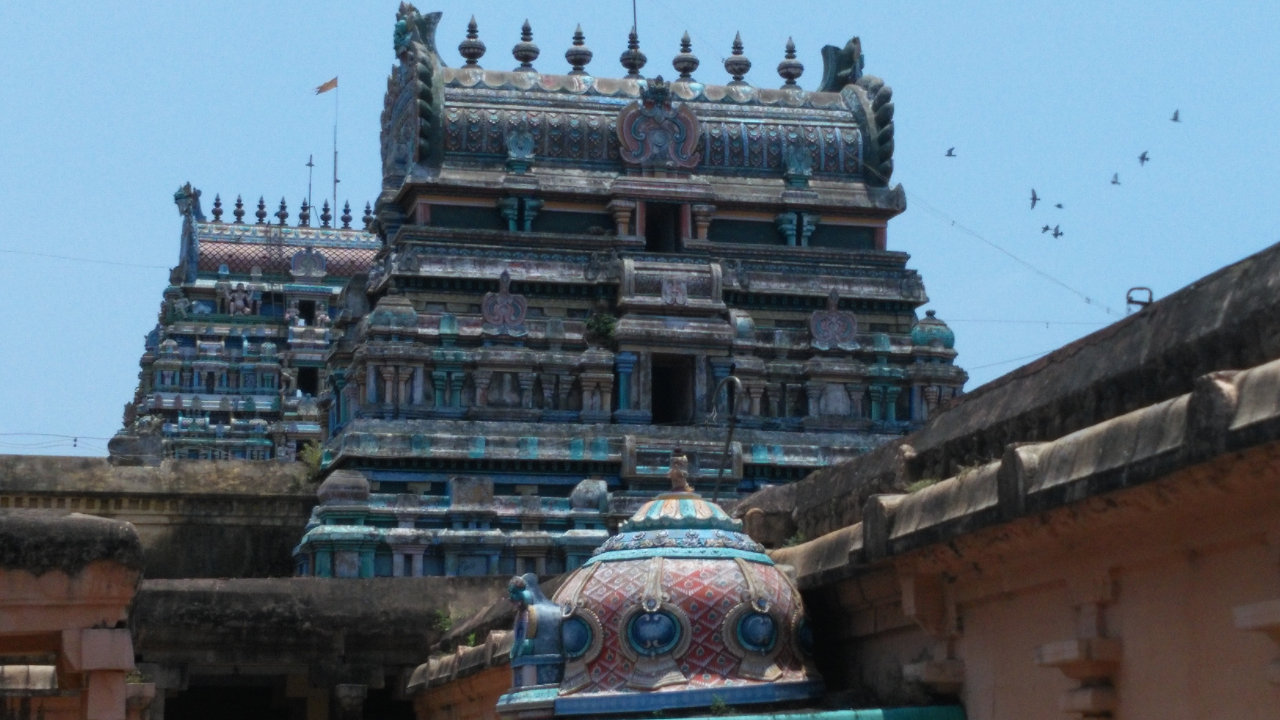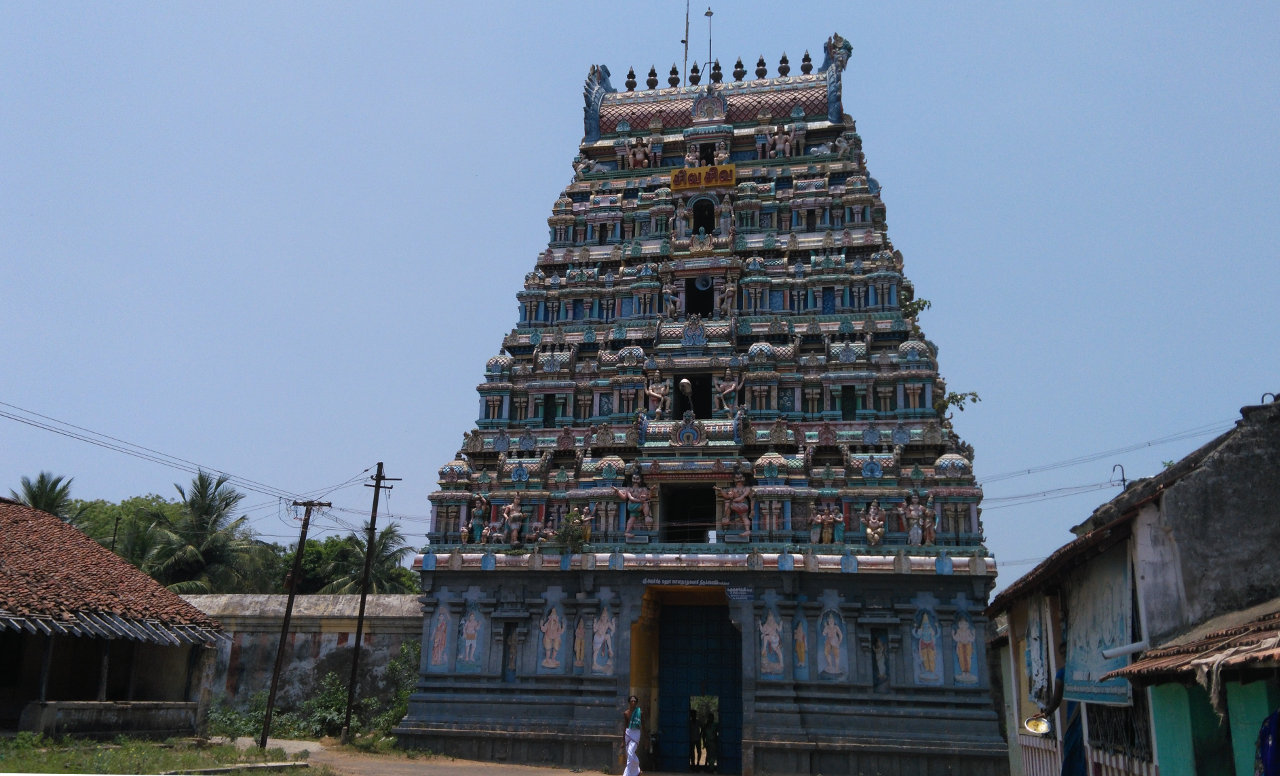 ---
Pathigam (Hymn) with English transliteration

Saint Thirugnanasambanthar visited this temple and sang this Pathigam.
Devotees visiting this temple should make it a practice to recite this Pathigam.
அடையார் புரமூன்றும் அனல்வாய்விழ வெய்து
மடையார் புனலம்பர் மாகா ளம்மேய
விடையார் கொடியெந்தை வெள்ளைப் பிறைசூடுஞ்
சடையான் கழலேத்தச் சாரா வினைதானே.
"Adaiyār puramūṉtṟum aṉalvāyvizha veythu
madaiyār puṉalampar mākā ḷam'mēya
vidaiyār koṭiyenthai veḷḷaip piṟaichūṭuñ
chadaiyāṉ kazhalēthach chārā viṉaithāṉē".
தேனார் மதமத்தந் திங்கள் புனல்சூடி
வானார் பொழிலம்பர் மாகா ளம்மேய
ஊனார் தலைதன்னிற் பலிகொண் டுழல்வாழ்க்கை
ஆனான் கழலேத்த அல்லல் அடையாவே.
"Thēṉār mathamaththan thiṅkaḷ puṉalchūṭi
vāṉār pozhilampar mākā ḷam'mēya
ūṉār thalaithaṉṉiṟ palikoṇ ṭuzhalvāzhkkai
āṉāṉ kazhalētha allal aṭaiyāvē".
திரையார் புனலோடு செல்வ மதிசூடி
விரையார் பொழிலம்பர் மாகா ளம்மேய
நரையார் விடையூரும் நம்பான் கழல்நாளும்
உரையா தவர்கண்மேல் ஒழியா வூனம்மே.
"Thiraiyār puṉalōṭu selva mathichūṭi
viraiyār pozhilampar mākā ḷam'mēya
naraiyār viṭaiyūrum nampāṉ kazhalnāḷum
uraiyā thavarkaṇmēl ozhiyā vūṉam'mē".
கொந்தண் பொழிற்சோலைக் கோல வரிவண்டு
மந்தம் மலியம்பர் மாகா ளம்மேய
கந்தங் கமழ்கொன்றை கமழ்புன் சடைவைத்த
எந்தை கழலேத்த இடர்வந் தடையாவே.
"Konthaṇ pozhiṟchōlaik kōla varivaṇṭu
mantham maliyampar mākā ḷam'mēya
kanthaṅ kamazhkoṉtṟai kamazhpuṉ saṭaivaitha
enthai kazhalētha iṭarvan thaṭaiyāvē".
அணியார் மலைமங்கை ஆகம் பாகமாய்
மணியார் புனலம்பர் மாகா ளம்மேய
துணியா ருடையினான் துதைபொற் கழல்நாளும்
பணியா தவர்தம்மேற் பறையா பாவம்மே.
"Aṇiyār malaimaṅkai ākam pākamāy
maṇiyār puṉalampar mākā ḷam'mēya
thuṇiyā ruṭaiyiṉāṉ thuthaipoṟ kazhalnāḷum
paṇiyā thavartham'mēṟ paṟaiyā pāvam'mē".
பண்டாழ் கடல்நஞ்சை உண்டு களிமாந்தி
வண்டார் பொழிலம்பர் மாகா ளம்மேய
விண்டார் புரம்வேவ மேருச் சிலையாகக்
கொண்டான் கழலேத்தக் குறுகா குற்றம்மே.
"Paṇṭāzh kaṭalnañchai uṇṭu kaḷimānthi
vaṇṭār pozhilampar mākā ḷam'mēya
viṇṭār puramvēva mēruch chilaiyākak
koṇṭāṉ kazhalēththak kuṟukā kutṟam'mē".
மிளிரும் மரவோடு வெள்ளைப் பிறைசூடி
வளரும் பொழிலம்பர் மாகா ளம்மேய
கிளருஞ் சடையண்ணல் கேடில் கழலேத்தத்
தளரும் முறுநோய்கள் சாருந் தவந்தானே.
"Miḷirum maravōṭu veḷḷaip piṟaichūṭi
vaḷarum pozhilampar mākā ḷam'mēya
kiḷaruñ chaṭaiyaṇṇal kēṭil kazhalēththath
thaḷarum muṟunōykaḷ sārun thavanthāṉē".
கொலையார் மழுவோடு கோலச் சிலையேந்தி
மலையார் புனலம்பர் மாகா ளம்மேய
இலையார் திரிசூலப் படையான் கழல்நாளும்
நிலையா நினைவார்மேல் நில்லா வினைதானே.
"Kolaiyār mazhuvōṭu kōlach chilaiyēnthi
malaiyār puṉalampar mākā ḷam'mēya
ilaiyār thirichūlap paṭaiyāṉ kazhalnāḷum
nilaiyā niṉaivārmēl nillā viṉaithāṉē".
சிறையார் வரிவண்டு தேனுண் டிசைபாட
மறையார் நிறையம்பர் மாகா ளம்மேய
நறையார் மலரானும் மாலுங் காண்பொண்ணா
இறையான் கழலேத்த எய்தும் இன்பமே.
"Siṟaiyār varivaṇṭu thēṉuṇ ṭisaipāṭa
maṟaiyār niṟaiyampar mākā ḷam'mēya
naṟaiyār malarāṉum māluṅ kāṇpoṇṇā
iṟaiyāṉ kazhalētha eythum iṉpamē".
மாசூர் வடிவின்னார் மண்டை யுணல்கொள்வார்
கூசா துரைக்குஞ்சொற் கொள்கை குணமல்ல
வாசார் பொழிலம்பர் மாகா ளம்மேய
ஈசா என்பார்கட் கில்லை யிடர்தானே.
"Māchūr vaṭiviṉṉār maṇṭai yuṇalkoḷvār
kūsā thuraikkuñchoṟ koḷkai kuṇamalla
vāsār pozhilampar mākā ḷam'mēya
īsā eṉpārkaṭ killai yiṭarthāṉē".
வெருநீர் கொளவோங்கும் வேணு புரந்தன்னுள்
திருமா மறைஞான சம்பந் தனசேணார்
பெருமான் மலியம்பர் மாகா ளம்பேணி
உருகா வுரைசெய்வார் உயர்வான் அடைவாரே.
"Verunīr koḷavōṅkum vēṇu puranthaṉṉuḷ
thirumā maṟaigñāṉa samban thaṉasēṇār
perumāṉ maliyampar mākā ḷampēṇi
urukā vuraiseyvār uyarvāṉ aṭaivārē".