Visited on: November 1, 2015
Location
40 kms from Erode and 25 kms from Karur. Kodumudi has a railway station on Trichy to Erode route. Nearest airport is at Coimbatore and Trichy both are at a distance of about 110 kms.
General Information
Moolavar

Sri Magudeswarar / Sri Kodumudinathar

Ambal

Sri Vadivudainayaki/ Sri Panmozhiyalammai

Theertham (Holy water)

Kaveri, Bharathwaja Theertham, Brahma Threertham and Deva Theertham

Sthala Vriksham (Sacred Tree)

Vanni Tree

Pathigam (Hymn) rendered by

Saint Thirugnanasambanthar
Saint Thirunavukarasar (Appar)
Saint Sundaramurthy (Sundarar)

This is one of the 276 Thevara Paadal Petra Sthalams and 6th Shiva Sthalam in Kongu Nadu.
This is a famous Sthalam for performing rituals to satiate one's ancestors.
This is also a Parikara Sthalam for Naga Dhosham.
Moovar Paadal Petra Sthalam.
History of the Temple
The temple is situated on the banks of the river Kaveri. There are three adjacent temples inside the same premises for Lords Shiva, Vishnu and Brahma.
All the three towers are east facing.
The temple has epigraphs from the time period of King Sundarapandiyan Kesari's rule.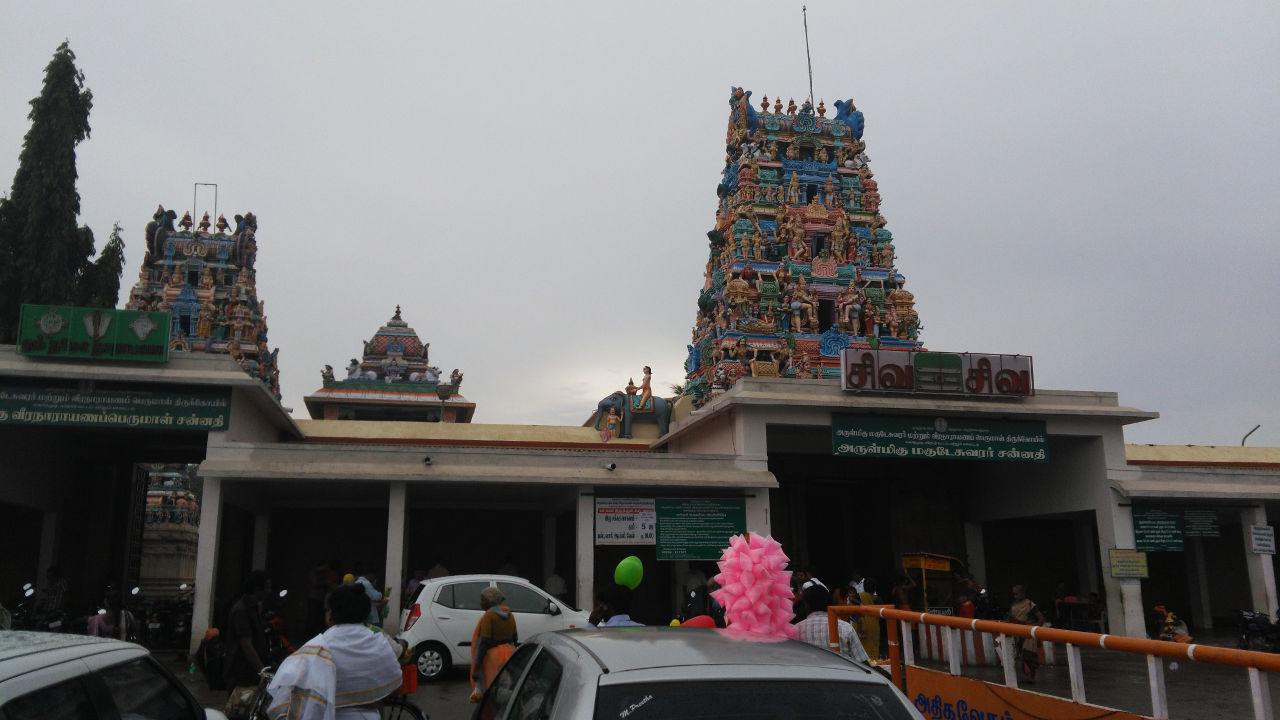 Legend
According to the legend there was a competition between Adiseshan (the serpent on whom Sri Mahavishnu rests) and Vayu (Lord of the Winds) to determine who is stronger. Lord Indiran prescribed certain rules to conduct the competition. They put Mount Meru at the centre and it was held tightly by Adiseshan, Vayu blew the wind with all his might to push Adiseshan. In the ensuing struggle, Meru's peak (Magudam) split into 5 pieces and fell in five different places.
It is believed that the pieces came down as 5 different gem stones – Red Corel at Thiruvannamalai, Ruby (Manickam) at Rathinagiri (Thiruvatpokki), Emerald (Maragatham) at Engoimalai, Sapphire (Neelam) at Pothigaimalai and Diamond at Kodumudi. As per legend the Diamond that feel at Kodumudi became the Swayambulingam (self-manifested lingam) and the rest of the stones became hills. Since the origin of the lingam is from the Meru, the lord is called Magudeswarar.
It is also believed that Sage Agasthiyar installed and worshiped the idol of Lord Shiva and his finger prints can be seen on the deity.
It is also believed that Kodumudi is the place where Lord Shiva performed a dance for Sage Bharadwajar.
It is also said that both these sages were blessed with Lord Shiva's wedding darshan here.
Deities in the temple
Near the Ambal Shrine, there is a separate shrine for Goddess Saraswathi. Amongst other deities, Idols of Lord Dakshinamurthy, Hanuman, Navagraham are in the corridors.
Lord Mahavishnu is named here as Pallikonda Perumal and Veeranarayana Perumal. The mythological significance of Lord Vishnu and Lord Brahma temples inside this premises is that they are believed to be worshiping Lord Shiva.
Salient Features
Devotees throng the place in large numbers for performing ritual ceremonies (Tarpan/Shradh) for their ancestors on the new moon day on the banks of river Kaveri. Devotees can also be seen celebrating their 60th birthday here with Poojas (Ayushya Homam) for longevity.
This is a place for Serpent (Nagar) worship because Adiseshan was responsible for the origin of this temple. Majority of the devotees come here seeking relief from the adverse effects of Naga Dosham and they install a small stone Nagar under the Vanni tree.
Historians are not able to estimate the age of the ancient Vanni tree of the temple. Under this tree, there is Lord Brahma's idol with three faces. The age of this tree may be more than 3000 years. It is believed that if a leaf from this tree is put in a pot of water, the water's purity lasts for years. Interestingly, certain portion of the tree has thorns and certain portion are devoid of any thorns. It also does not blossom or bear any fruits.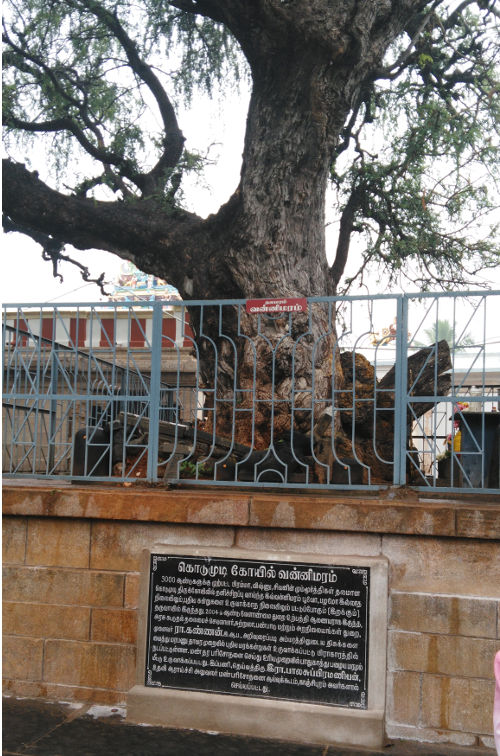 Although Lord Brahma is said to have four faces, in this temple Lord Brahma's idol has only three faces and the Sthala Viruksham (Vanni Tree) is said to be his fourth face.
Speciality of the Theertham
It is believed that those who take a dip in the river Kaveri and worship the Lords Shiva and Vishnu, will be cured of diseases and will get relief for their ailments.
It is also said that one of the Pandya Prince's fingers were not growing enough. The King prayed to this Lord after taking a dip in the river and soon his son's fingers grew to normal size. To show his gratitude, the King constructed the three main towers (Gopurams) and renovated this temple. Because of the association with Pandya kingdom, this place is also called Pandikkodumudi.
Greatness of Temple
Those afflicted by Raghu Dosham (adverse effect of planet Raghu) and those facing obstacles in marriage or child birth may pray here for relief.
For longevity and betterment of life, people perform Poojas (abhishekam) to Lord Vinayakar using an equal number of pots of water as their age.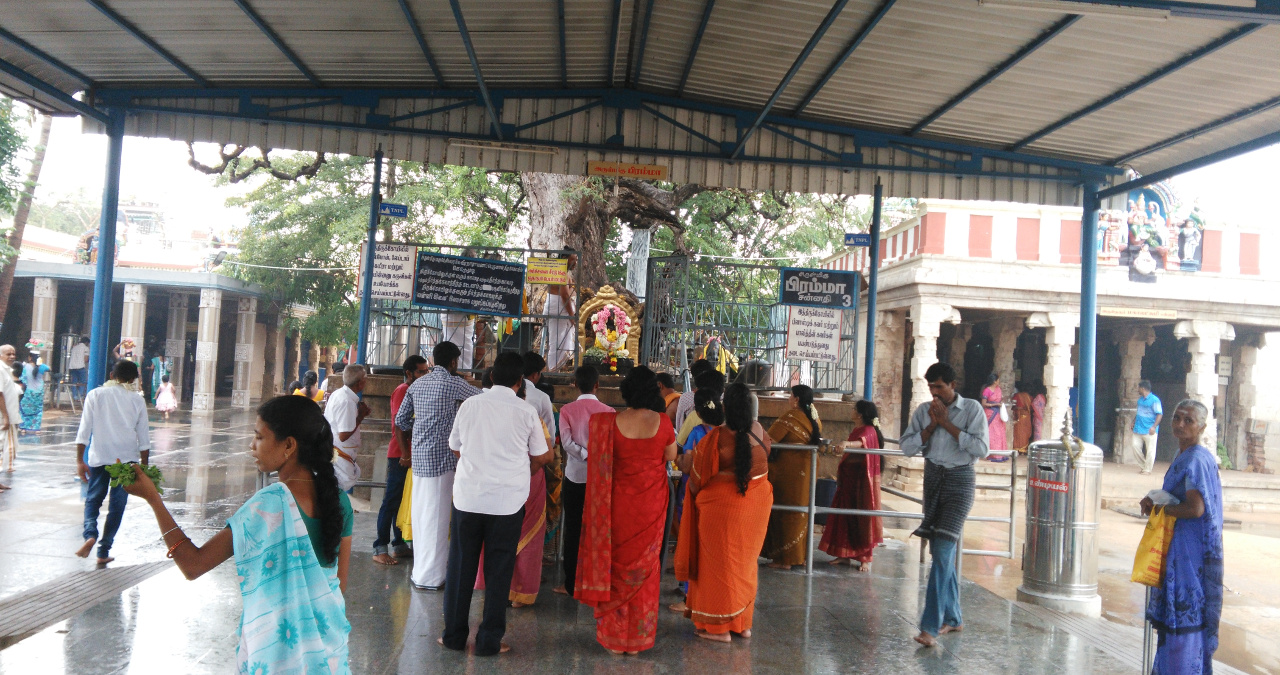 Important Festivals
"Chithirai Thirunal" festival is celebrated for 11 days in the months of April-May and is the main festival of this temple. Devotees also come in huge numbers on the "Aadi Perukku" day in July-August. Special Poojas are performed in this temple on new moon, full moon and "Pradosham" days.
Temple Timings
From 06.00 AM to 12.00 Noon and from 04.00 PM to 09.00 PM.
Temple Address
Sri Magudeswarar Temple,
Tirupandikodumudi (Kodumudi),
Erode District, Tamil Nadu-638 151.
Tele: +91- 4204-222 375.
---
Pathigam (Hymn) with English transliteration
Saint Sundarar visited this temple and sang "Namachivaya Pathigam".
Devotees visiting this temple should make it a practice to recite this Pathigam.
மற்றுப் பற்றெனக் கின்றி நின்றிருப் பாத மேமனம் பாவித்தேன்
பெற்ற லும்பிறந் தேனி னிப்பிற வாத தன்மைவந் தெய்தினேன்
கற்ற வர்தொழு தேத்துஞ் சீர்க்கறை யூரிற் பாண்டிக் கொடுமுடி
நற்ற வாவுனை நான்ம றக்கினுஞ் சொல்லும் நாநமச்சி வாயவே.
"Matṟup patṟeṉak kiṉtṟi niṉtṟirup pātha mēmaṉam pāvithēṉ
petṟa lumpiṟanth thēṉi ṉippiṟa vātha thaṉmaivanth theythiṉēṉ
katṟa varthozhu thēthuñch chīrkkaṟai yūriṟ pāṇṭik kodumudi
natṟa vāvuṉai nāṉma ṟakkiṉuñch chollum nānamachi vāyavē".
இட்ட னும்மடி யேத்து வார்இகழ்ந் திட்ட நாள்மறந் திட்டநாள்
கெட்ட நாளிவை என்ற லாற்கரு தேன்கி ளர்புனற் காவிரி
வட்ட வாசிகை கொண்ட டிதொழு தேத்து பாண்டிக் கொடுமுடி
நட்ட வாவுனை நான்ம றக்கினுஞ் சொல்லும் நாநமச்சி வாயவே.
"Iṭṭa ṉum'madi yēthu vār'ikazhnth thiṭṭa nāḷmaṟanth thiṭṭanāḷ
keṭṭa nāḷivai eṉtṟa lāṟkaru thēṉki ḷarpuṉaṟ kāviri
vaṭṭa vāsikai koṇda dithozhu thēthu pāṇṭik kodumudi
naṭṭa vāvuṉai nāṉma ṟakkiṉuñch chollum nānamachi vāyavē".
ஓவு நாளுணர் வழியும் நாளுயிர் போகும் நாளுயர் பாடைமேல்
காவு நாளிவை என்ற லாற்கரு தேன்கி ளர்புனற் காவிரிப்
பாவு தண்புனல் வந்தி ழிபரஞ் சோதி பாண்டிக் கொடுமுடி
நாவ லாஉனை நான்ம றக்கினுஞ் சொல்லும் நாநமச்சி வாயவே.
"Ōvu nāḷuṇar vazhiyum nāḷuyir pōkum nāḷuyar pādaimēl
kāvu nāḷivai eṉtṟa lāṟkaru thēṉki ḷarpuṉaṟ kāvirip
pāvu thaṇpuṉal vanthi zhiparañch chōthi pāṇṭik kodumudi
nāva lā'uṉai nāṉma ṟakkiṉuñch chollum nānamachi vāyavē".
எல்லை யில்புகழ் எம்பி ரானெந்தை தம்பி ரானென்பொன் மாமணி
கல்லை யுந்தி வளம்பொ ழிந்திழி காவி ரியதன் வாய்க்கரை
நல்ல வர்தொழு தேத்துஞ் சீர்க்கறை யூரிற் பாண்டிக் கொடுமுடி
வல்ல வாவுனை நான்ம றக்கினுஞ் சொல்லும் நாநமச்சி வாயவே.
"Ellai yilpukazg empi rāṉenthai thampi rāṉeṉpoṉ māmaṇi
kallai yunthi vaḷampo zhinthizhi kāvi riyathaṉ vāykkarai
nalla varthozhu thēthuñch chīrkkaṟai yūriṟ pāṇṭik kodumudi
valla vāvuṉai nāṉma ṟakkiṉuñch chollum nānamachi vāyavē".
அஞ்சி னார்க்கரண் ஆதி யென்றடி யேனும் நான்மிக அஞ்சினேன்
அஞ்ச லென்றடித் தொண்ட னேற்கருள் நல்கி னாய்க்கழி கின்றதென்
பஞ்சின் மெல்லடிப் பாவை மார்குடைந் தாடு பாண்டிக் கொடுமுடி
நஞ்ச ணிகண்ட நான்ம றக்கினுஞ் சொல்லும் நாநமச்சி வாயவே.
"Añchi ṉārkkaraṇ āthi yeṉṟadi yēṉum nāṉmika añchiṉēṉ
añcha leṉṟaṭith thoṇṭa ṉēṟkaruḷ nalki ṉāykkazhi kiṉtṟatheṉ
pañchiṉ mellaṭip pāvai mārkudainth thādu pāṇṭik kodumudi
nañcha ṇikaṇda nāṉma ṟakkiṉuñch chollum nānamachi vāyavē".
ஏடு வானிளந் திங்கள் சூடினை என்பின் கொல்புலித் தோலின்மேல்
ஆடு பாம்பத ரைக்க சைத்த அழக னேயந்தண் காவிரிப்
பாடு தண்புனல் வந்தி ழிபரஞ் சோதி பாண்டிக் கொடுமுடி
சேட னேயுனை நான்ம றக்கினுஞ் சொல்லும் நாநமச்சி வாயவே.
"Ēdu vāṉiḷanth thiṅkaḷ chūṭiṉai eṉpiṉ kolpulith thōliṉmēl
ādu pāmpatha raikka saithe azhaka ṉēyanthaṇ kāvirip
pādu thaṇpuṉal vanthi zhiparañch chōti pāṇṭik kodumudi
sēda ṉēyuṉai nāṉma ṟakkiṉuñch chollum nānamachi vāyavē".

விரும்பி நின்மலர்ப் பாத மேநினைந் தேன்வி னைகளும் விண்டனன்
நெருங்கி வண்பொழில் சூழ்ந்தெ ழில்பெற நின்ற காவிரிக் கோட்டிடைக்
குரும்பை மென்முலைக் கோதை மார்குடைந் தாடு பாண்டிக் கொடுமுடி
விரும்ப னேயுனை நான்ம றக்கினுஞ் சொல்லும் நாநமச்சி வாயவே.
"Virumpi niṉmalarp pātha mēniṉainth thēṉvi ṉaikaḷum viṇdaṉaṉ
neruṅgki vaṇpozhil chūzhnthe zhilpeṟa niṉtṟa kāvirik kōṭṭiṭaik
kurumpai meṉmulaik kōthai mārkudainth thādu pāṇṭik kodumudi
virumpa ṉēyuṉai nāṉma ṟakkiṉuñch chollum nānamachi vāyavē".
செம்பொ னேர்சடை யாய்தி ரிபுரந் தீயெ ழச்சிலை கோலினாய்
வம்பு லாங்குழ லாளைப் பாகம மர்ந்து காவிரிக் கோட்டிடைக்
கொம்பின் மேற்குயில் கூவ மாமயி லாடு பாண்டிக் கொடுமுடி
நம்ப னேயுனை நான்ம றக்கினுஞ் சொல்லும் நாநமச்சி வாயவே.
"Chempo ṉērchaṭai yāythi ripuranth thīye zhachilai kōliṉāy
vampu lāṅgkuzha lāḷaip pākama marnthu kāvirik kōṭṭiṭaik
khompiṉ mēṟkuyil kūva māmayi lādu pāṇṭik kodumudi
nampa ṉēyuṉai nāṉma ṟakkiṉuñch chollum nānamachi vāyavē".
சார ணன்தந்தை எம்பி ரானெந்தை தம்பிரா னென்பொன்மா மணியென்று
பேரெ ணாயிர கோடி தேவர் பிதற்றி நின்று பிரிகிலார்
நார ணன்பிர மன்றொ ழுங்கறை யூரிற் பாண்டிக் கொடுமுடிக்
கார ணாவுனை நான்ம றக்கினுஞ் சொல்லும் நாநமச்சி வாயவே.
"Sāra ṇaṉthanthai empi rāṉenthai thampirā ṉeṉpoṉmā maṇiyeṉtṟu
pēre ṇāyira kōdi thēvar pithatṟi niṉtṟu pirikilār
nāra ṇaṉpira maṉtṟo zhuṅkaṟai yūriṟ pāṇṭik kodumudik
kāra ṇāvuṉai nāṉma ṟakkiṉuñch chollum nānamachi vāyavē".
கோணி யபிறை சூடியைக் கறை யூரிற் பாண்டிக் கொடுமுடி
பேணி யபெரு மானைப் பிஞ்ஞகப் பித்த னைப்பிறப் பில்லியைப்
பாணு லாவரி வண்ட றைகொன்றைத் தார னைப்படப் பாம்பரை
நாண னைத்தொண்டன் ஊரன் சொல்லிவை சொல்லு வார்க்கில்லை துன்பமே.
"Kōṇi yapiṟai chūṭiyaik kaṟai yūriṟ pāṇṭik kodumudi
pēṇi yaperu māṉaip piñchchakap pitha ṉaippiṟap pilliyaip
pāṇu lāvari vaṇda ṟaikoṉtṟaith thāra ṉaippaṭap phāmparai
nāṇa ṉaithoṇṭaṉ ūraṉ chollivai chollu vārkkillai tuṉpamē".