Visited on: 12th August, 2017
Location
Sethalapathy is situated at a distance of about 25 kms from Mayiladuthurai on the Mayiladuthurai to Thiruvarur route. First travel to Poonthottam (20 kms) and then to Sethalapathy (5 kms). Nearest railway station is Poonthottam which is about 3 kms away from this temple.
Other Devara Paadal Petra Shiva Sthalams near this temple are – Thirumiyachur, Thirumiyachur Ilamkoil, Thiru Anniyur, Thiruppampuram, Serukudi, Thiruveezhimizhalai, Thiru Kottaram, Ambal Maakalam and Ambar Perunthirukkoil.
Another notable temple near this place is the temple for Goddess Saraswathy in Koothanur.
General Information
| | |
| --- | --- |
| Moolavar | Sri Madhimuktheswarar, Sri Mandaravaneswarar |
| Ambal | Sri Porkodi Nayaki, Sri Swarnavalli, Sri Maragatha Valli |
| Theertham (Holy water) | Surya Theertham, Chandra Theertham and river Arisilaru |
| Sthala Vriksham (Sacred Tree) | Mantharai tree |
| Pathigam (Hymn) rendered by | Saint Thirugnanasambanthar |
This is one of the 276 Devara Paadal Petra Shiva Sthalams and 58 Shiva Sthalam on the Southern bank of the river Cauveri in Chozha Nadu (Thenkarai).
Lord Shiva in this temple is a Swayambumurthi (self-manifested).
This is a famous "parihara sthalam" for conducting ancestral rites similar to that performed it in Rameswaram.
This east facing temple's main tower (Rajagopuram) has 3 tiers. However, the back side of the tower is flat (without any reliefs). The temple has a single corridor.
The sanctum's tower is called "Dhuvithala Vimanam".
The last consecration (Kumbabishekam) ceremony took place on 08.07.2012 and prior to that on 25.08.1999.
History of the Temple
The temple is situated on the southern banks of the river Arisilaru which is flowing in the north to south direction. Rivers flowing in such direction are called "Uthiravahini".
The historical names of this place are Thilathai Pathi and Thilatharpanapuri. However, now it is known as Sethalapathy. The historical name of the temple is Madhimutham.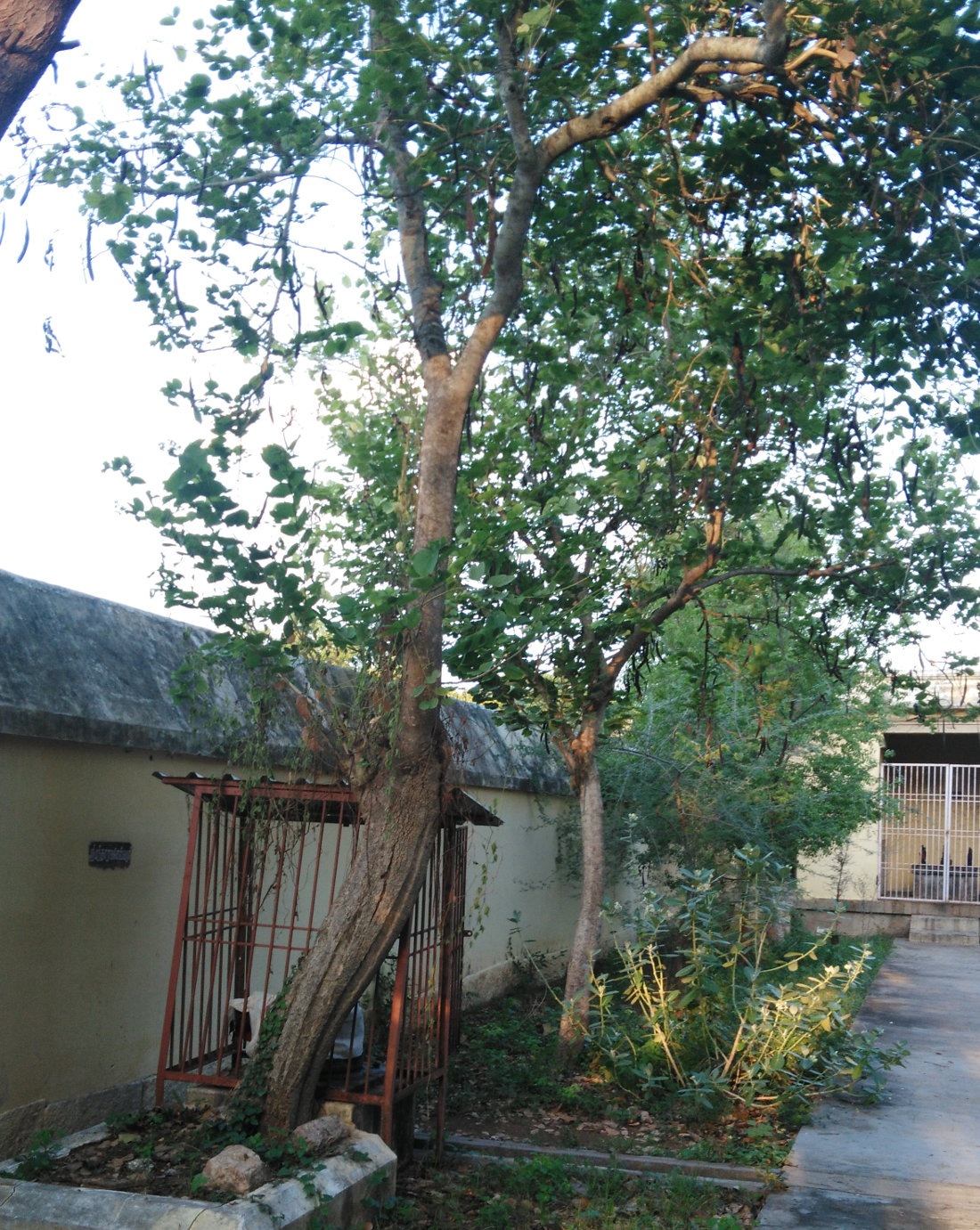 Legend
The legend is that once Lord Brahma fell in love with the celestial angel Urvasi. For this reason, he was cursed by Lord Shiva to go to the earth and worship him. It is believed that Brahma visited Thilatharpanapuri and performed rigorous penance. Lord Shiva granted him darshan and relieved him from the curse.
Lord Ram and Lakshmana are believed to have learnt about the news of their father King Dasaratha's demise here. They performed the "Thila Tharpanam" for their father here. "Thilam" means gingili seeds and "Tharpanam" means performing rites in Tamil. "Thila Tharpanam" is a ceremony that is offered to departed ancestors by male descendants. It is also believed that Lord Ram performed this rites for his affectionate bird "Jatayu" (Jatayu is the king of vultures) here.
The idol of Lord Ram with four lingams can be seen in the corridors. The legend is that when Lord Ram performed "Thila Tharpanam", he kept four rice balls (Pindam) which later became the four lingams. Lord Ram's idol is quite unique – he can be seen sitting on his right leg and performing the rites. Since the lord is believed to have been given salvation to Lord Ram's father here, the lord is praised as Sri Muktheeswarar ("Mukthi" means salvation in Tamil). This is the reason why this place also gets the name "Thila Tharpana Puri", which was later changed to Sethalapathy.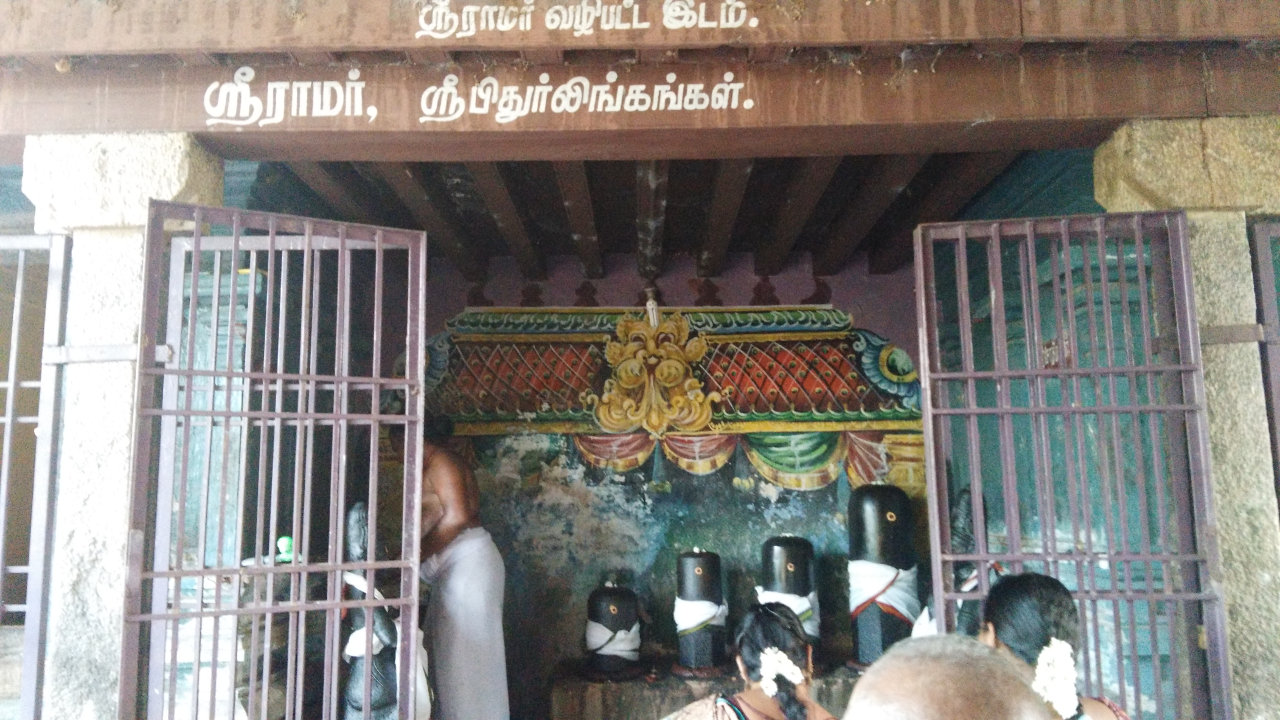 Another legend associated with this place is that of a king from Banaras (Kasi) called Narchothi. The king wanted to perform the ritual ceremony for his deceased father. However, he wanted to offer food (pindam) to his ancestors directly. He tried travelling to many places but his offering was not accepted anywhere. It is believed that in this place his "Thila Tharpanam" offer was finally accepted by his ancestors. Hence this place is considered to be very auspicious to perform the ritual ceremonies for departed ancestors.
It is believed that Goddess Parvathy, Goddess Lakshmi and Lord Brahma, Lord Suryan, Lord Chandran and king Narchothi have worshiped Lord Shiva here. It is also believed that an elephant and a lion have worshipped Lord Shiva of this temple.
Deities in the temple
Other than the shrines of Lord Shiva and Goddess Parvathy, shrines and idols of lords Vinayakar, Murugan with his consorts, Natarajar with Sivakami, Ram, Lakshman, the Lingams worshiped by Ram, Kasi Visvanathar, Nagar, Gajalakshmi, Navagraham, Bairavar, Nalvar, Suryan and Chandran can be seen in the corridors.
In the "koshtam" (place surrounding the sanctum sanctorum) , idols of Narthana Vinayakar, Dakshinamurthy, Mahavishnu, Brahma and Durgai can be seen.
A small shrine for Lord Mandaravaneswarar (Lord Shiva) can be seen under the temple's sthala viruksham (Manthara tree).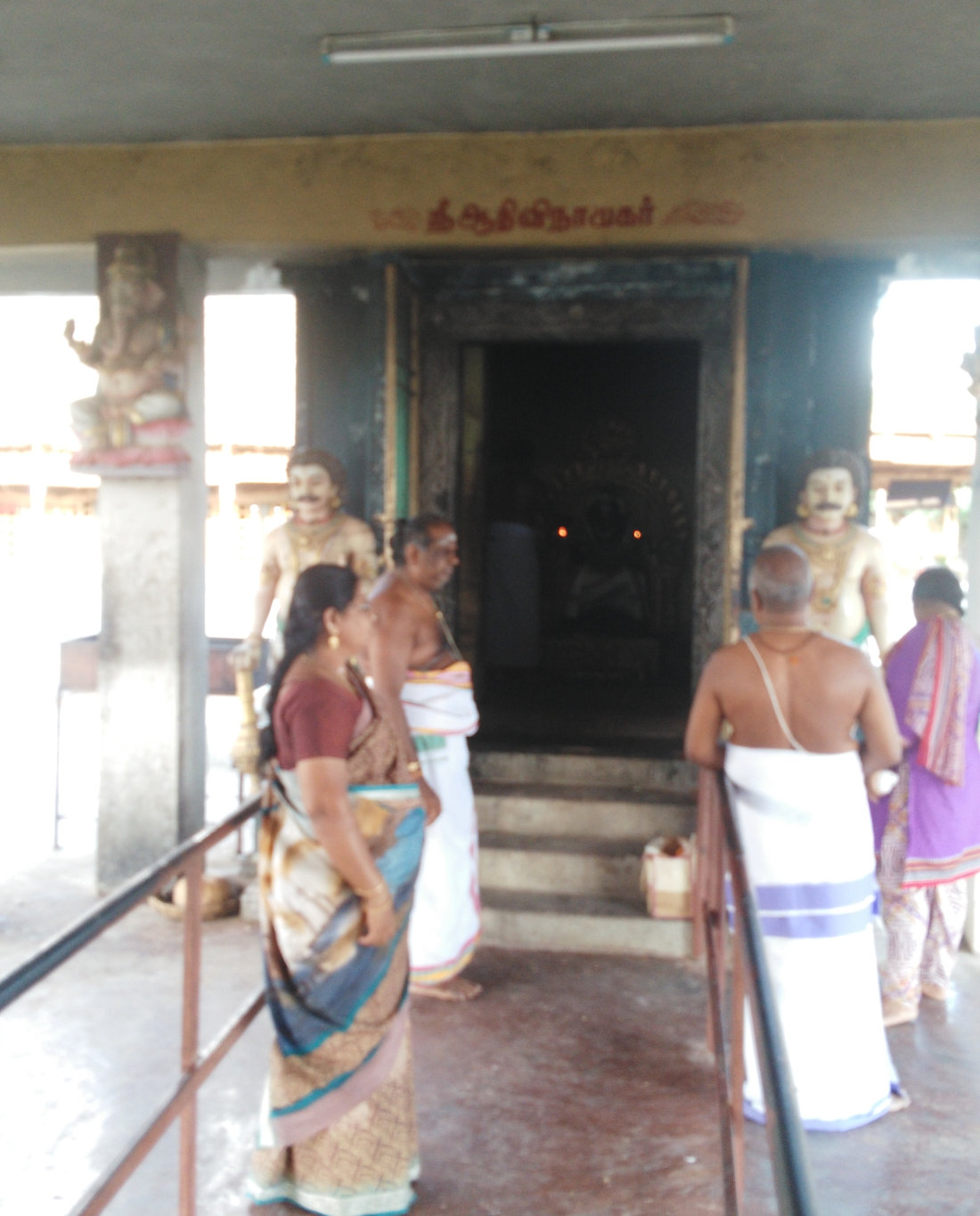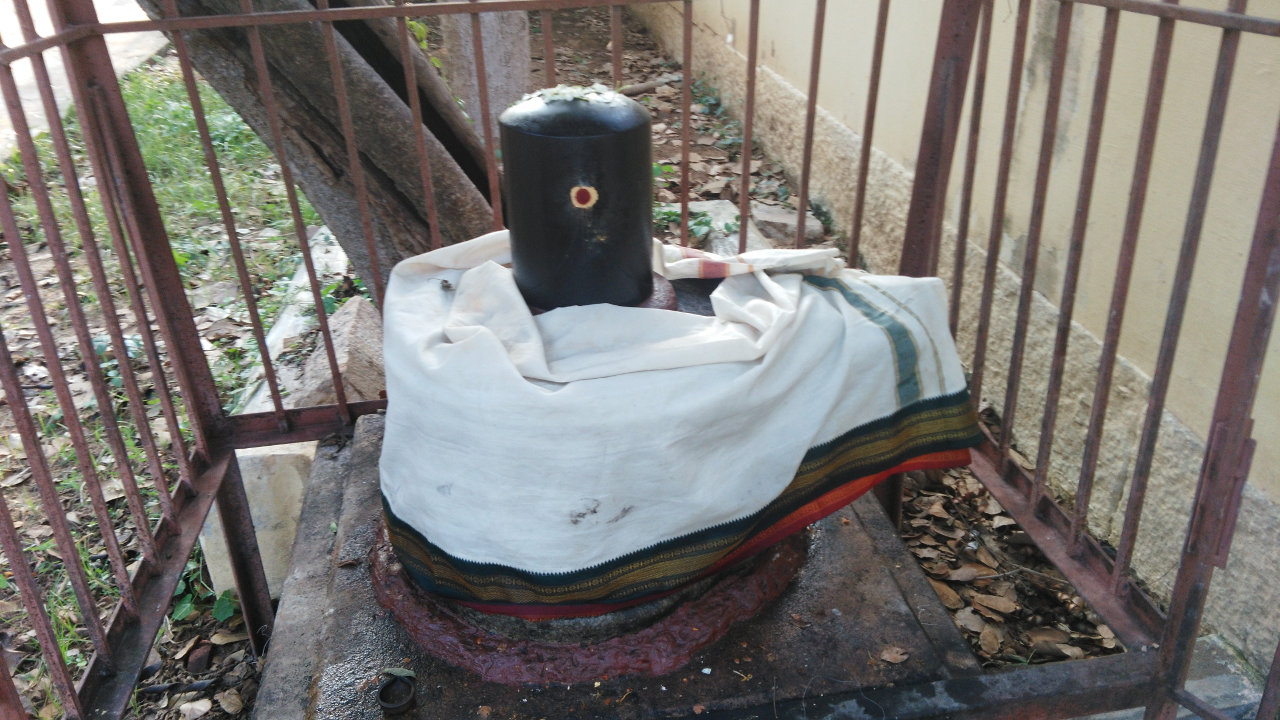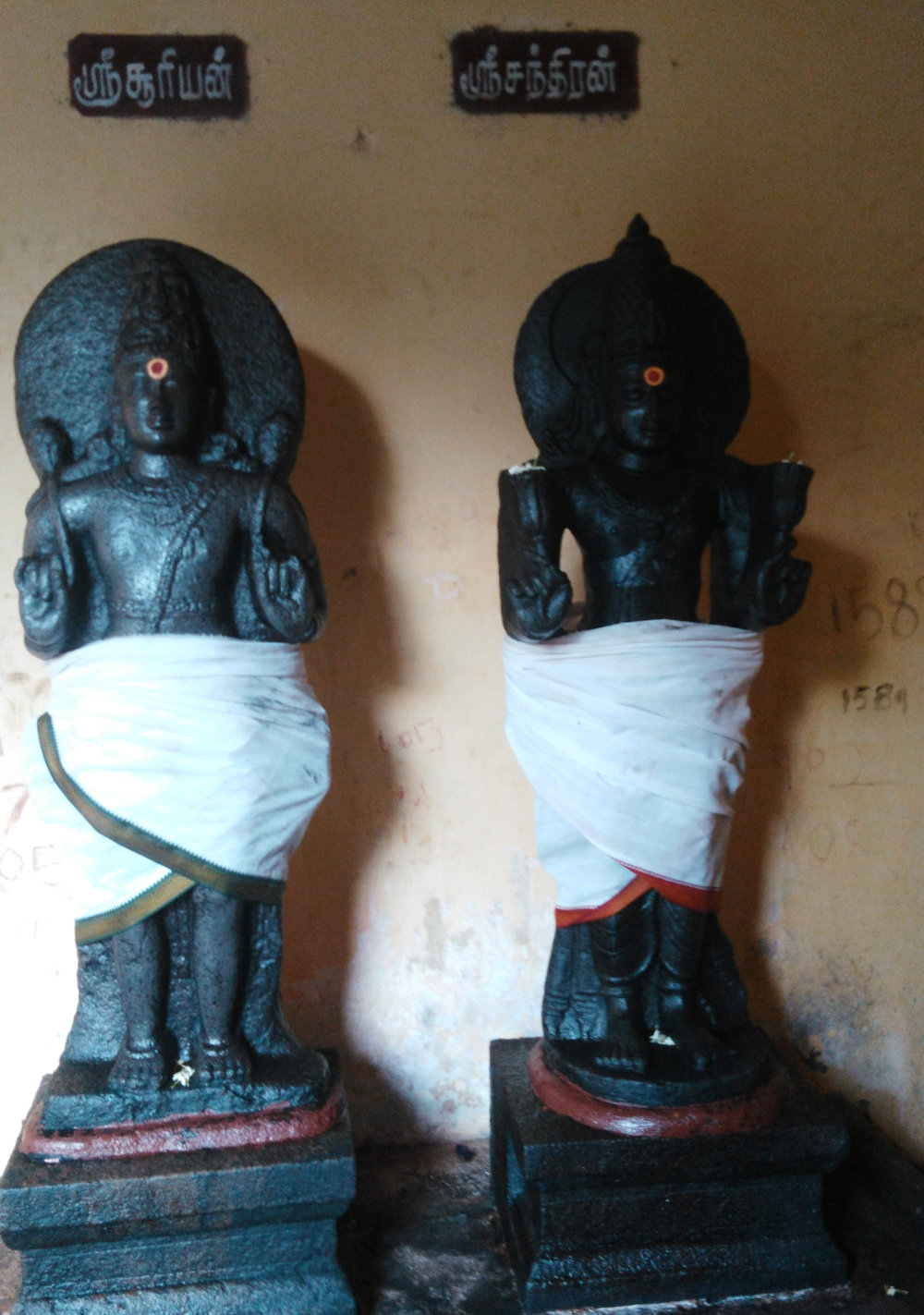 A unique feature of this temple is that Lord Mahavishnu is seen in three places in three different postures – as Lord Ram, as Mahavishnu in place of Lingothbavar and as Perumal along with Sreedevi and Poodevi.
Salient Features
One of the important deities of this temple is "Nara Mukha Ganapathy" who can be seen in a separate shrine near the entrance of the temple. This Vinayakar has a human face. This is a rare form of Lord Vinayakar and is also popularly known as "Aadhi Vinakayar".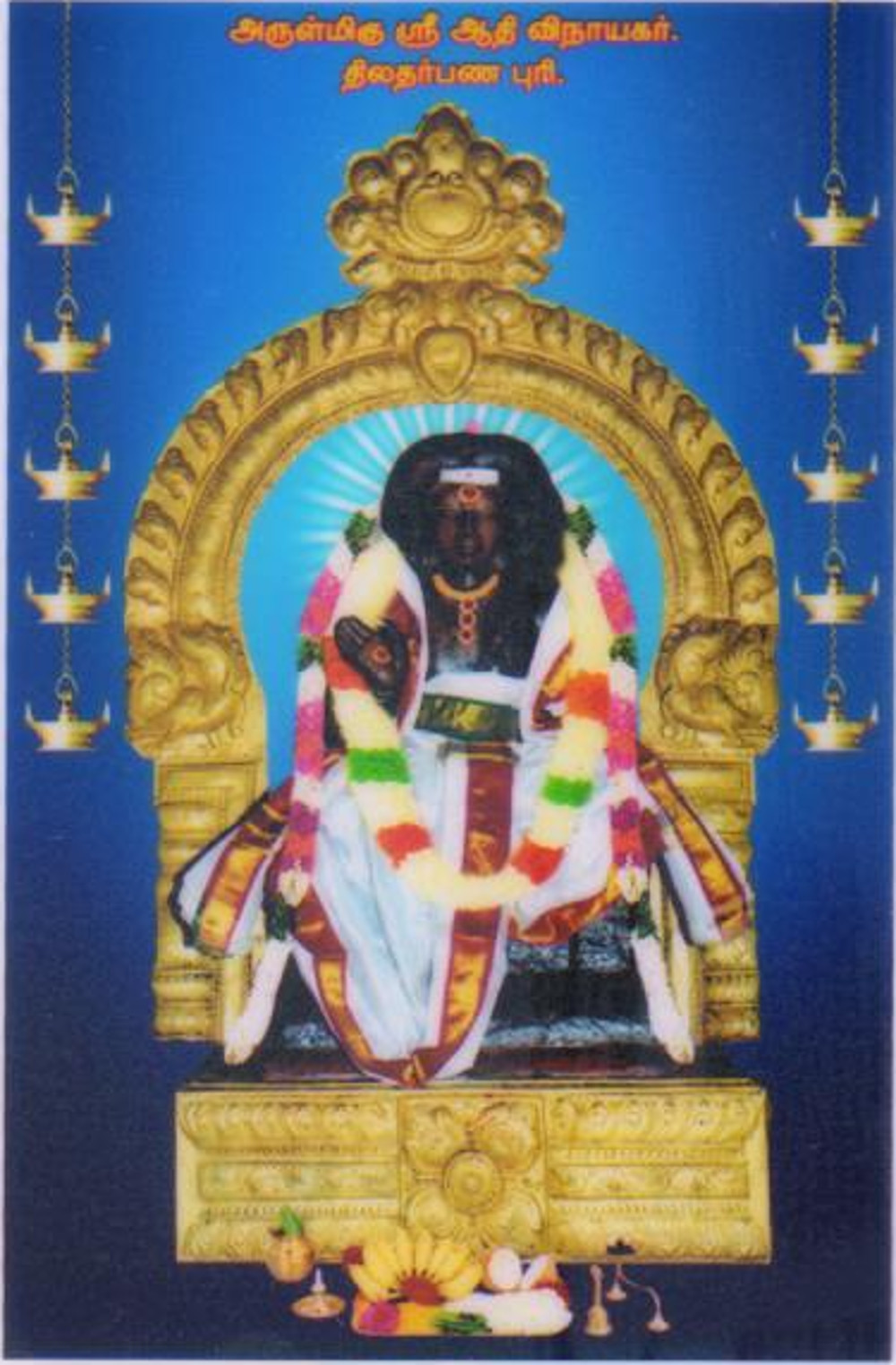 Goddess Parvathy is praised here as "Sri Swarnavalli". "Swarnam" means gold in Tamil. Those who are fond of gold and want to acquire it can visit this temple and worship the goddess to seek her blessings.
Most of the idols in this temple display exquisite craftmanship. The idols of Lord Dakshinamurthy, Lord Ram, Goddess Durgai, Nalvars and Perumal are especially noteworthy.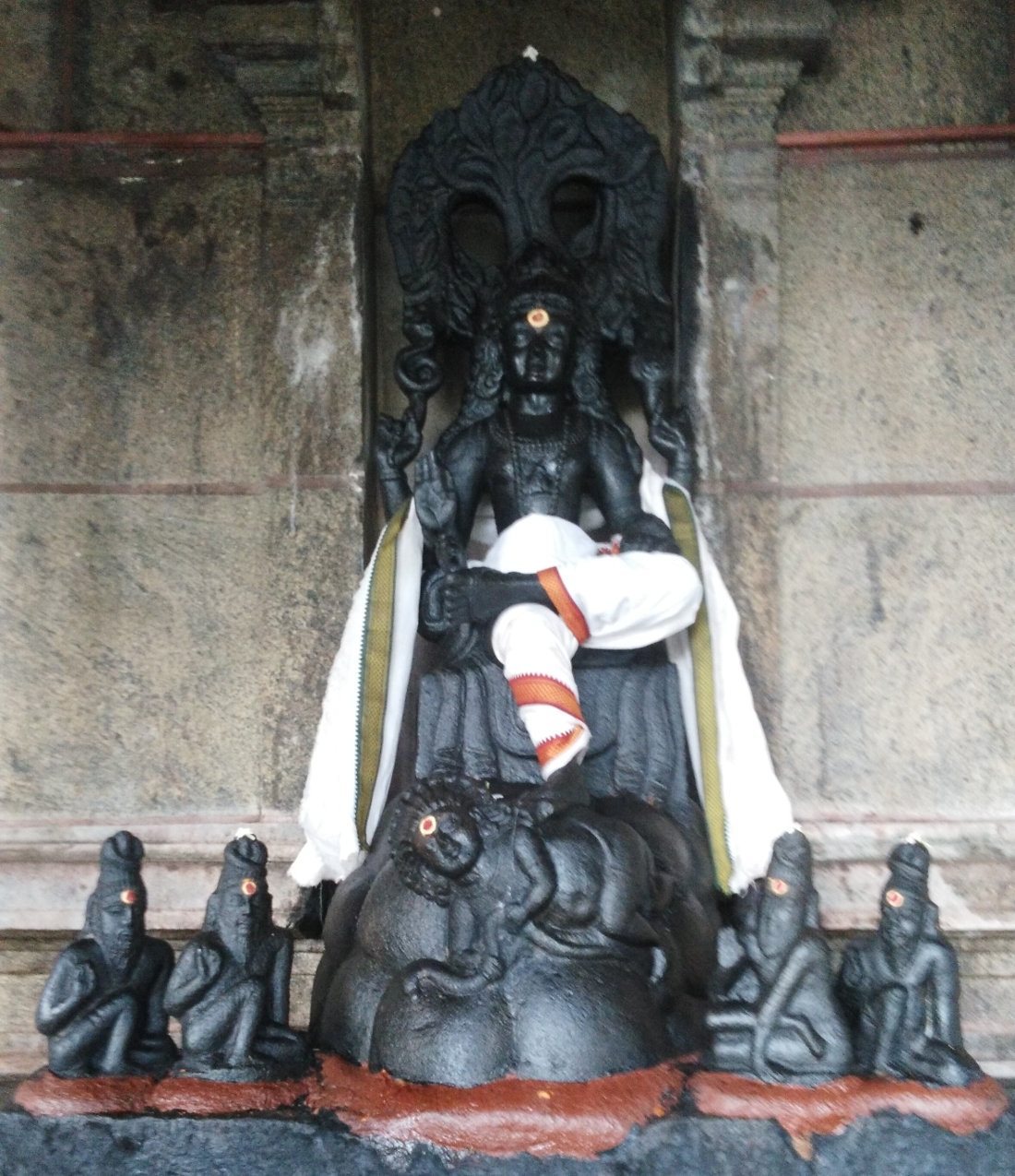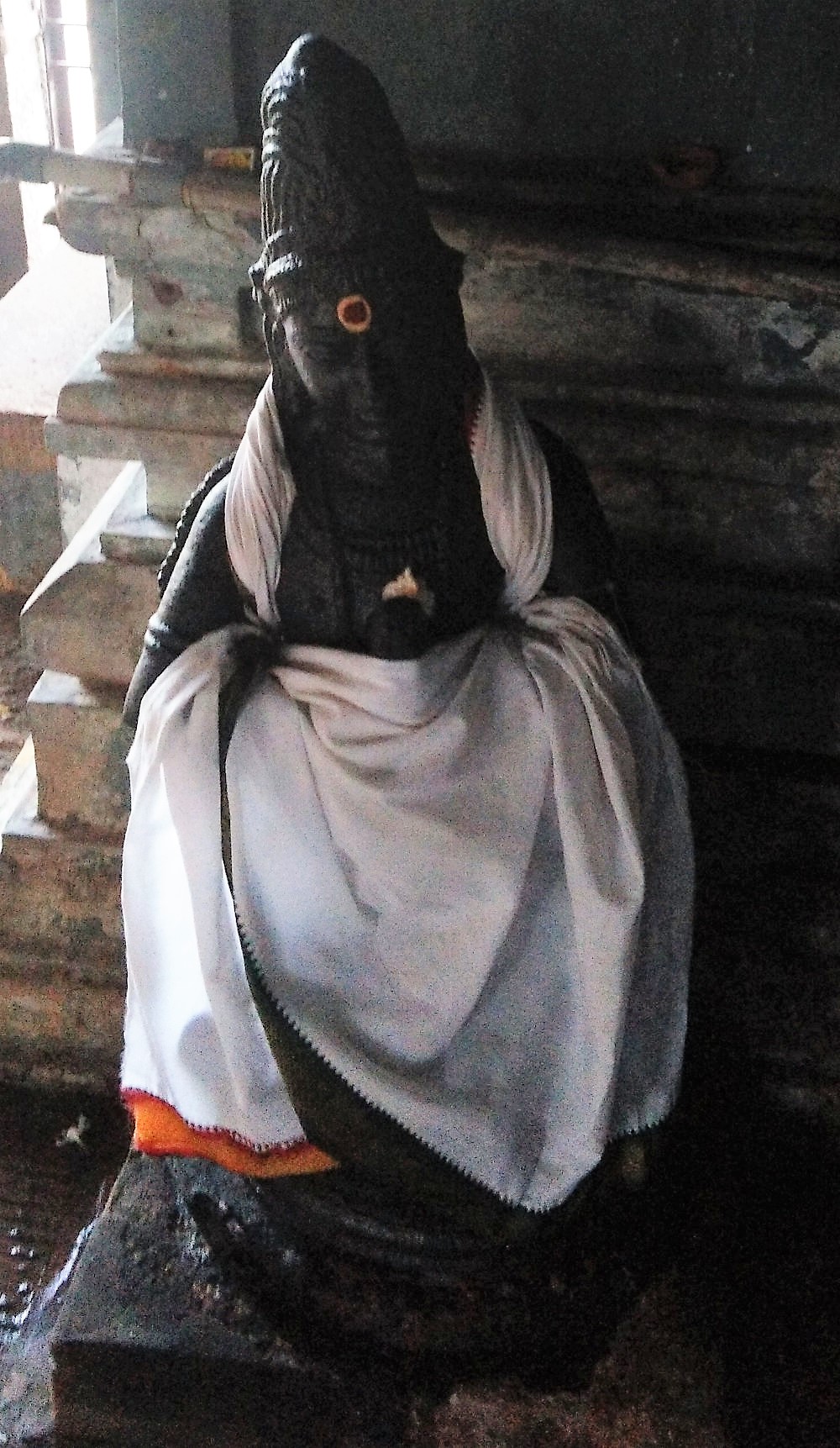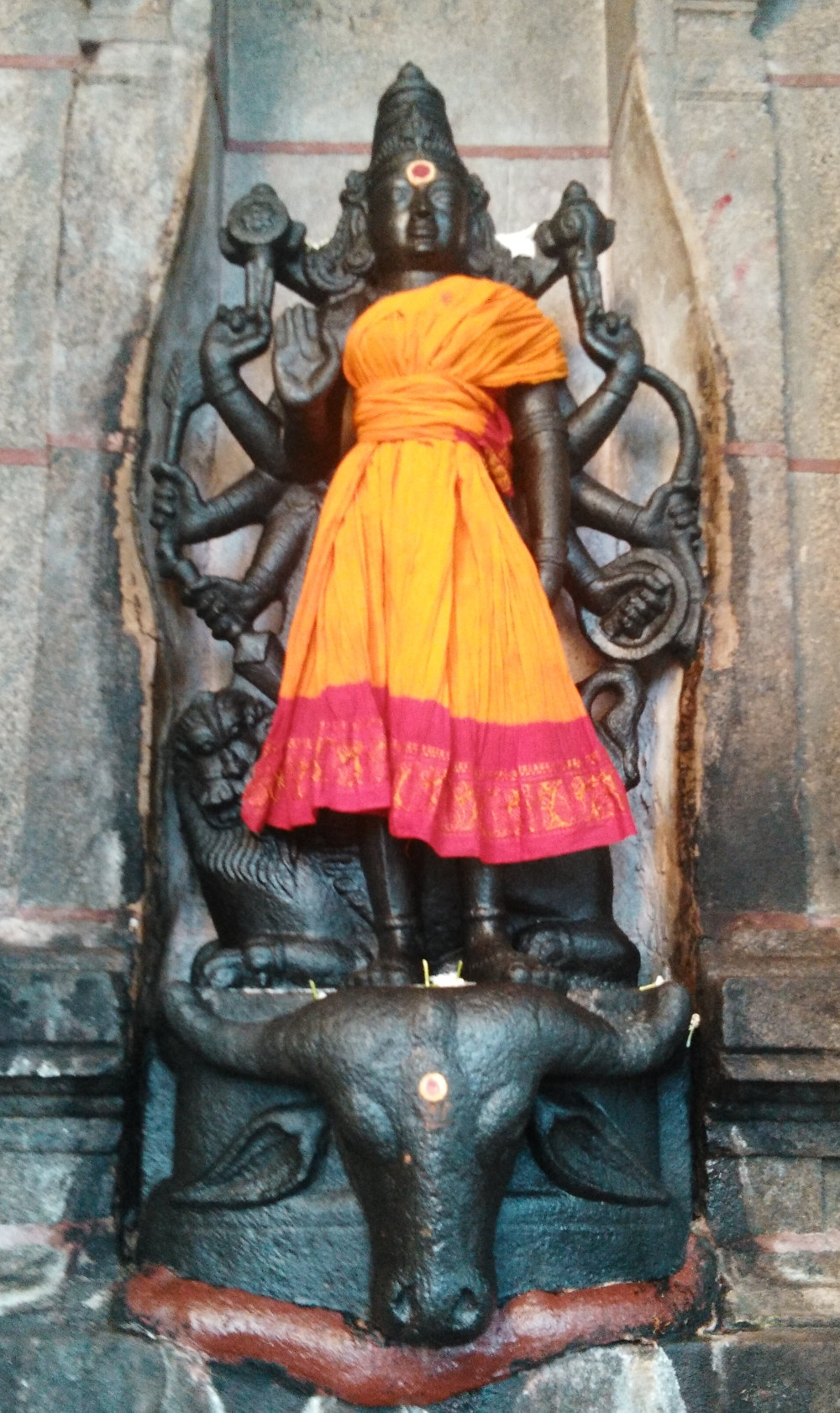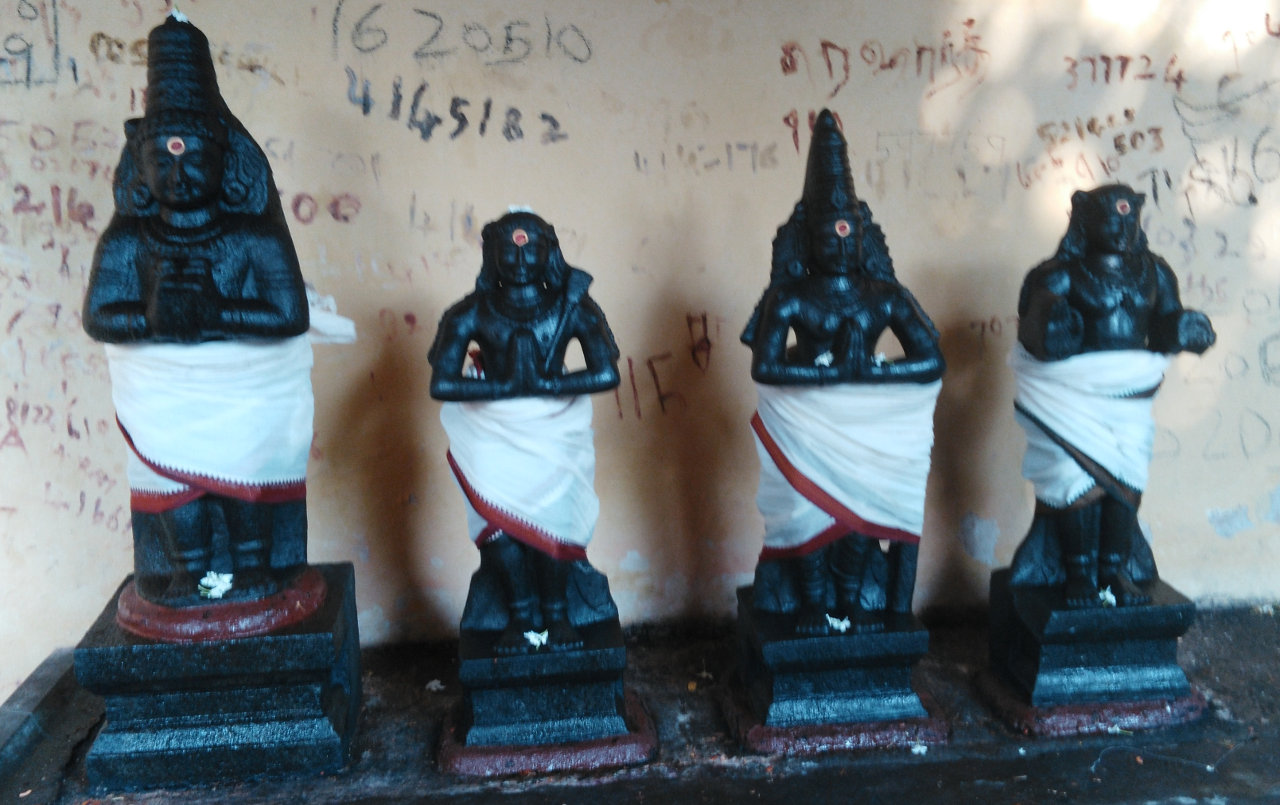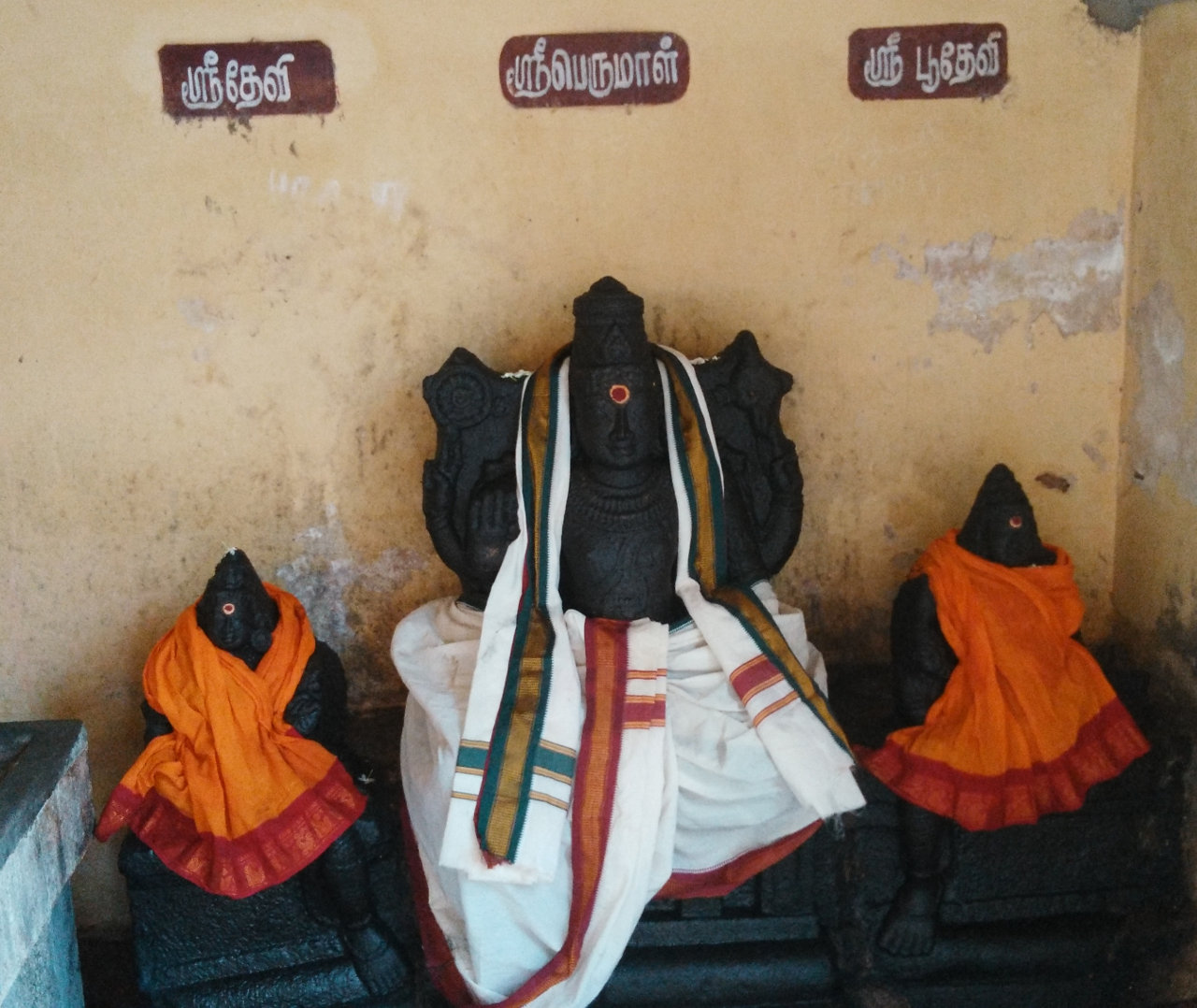 There are 7 places that are considered to be very auspicious for performing rituals for deceased ancestors. They are Banaras, Gaya, Rameswaram, Srivanchiam, Thiruvenkadu, Thilatharpanapuri (Sethalapathy) and the Thiriveni Sangam at Allahabad.
It is believed that both Lord Suryan and Lord Chandran worshiped the lord here simultaneously. Hence all days are considered here as "new moon day" (Amavasya). In this temple, their idols are also kept together.
It is believed that for conducting the ritual ceremony in this place, there is no need to see the date and time, any date is considered auspicious.
Saint Arunagirinadhar has sang songs in praise of Lord Murugan of this temple in his revered Thirupugazh.
In his hymn, Saint Thirugnanasambanthar mentioned that those who recite this hymn sincerely and regularly would definitely reach Lord Shiva's abode. He also referred to this place as "Madhimutham". The saint also mentioned in his hymn that Lord Shiva here was worshiped by Lord Suryan, Lord Chandran, an elephant and a lion.
Beautiful paintings of all the 63 Nayanmars can be seen on the walls of the main hall in front of the sanctum sanctorum.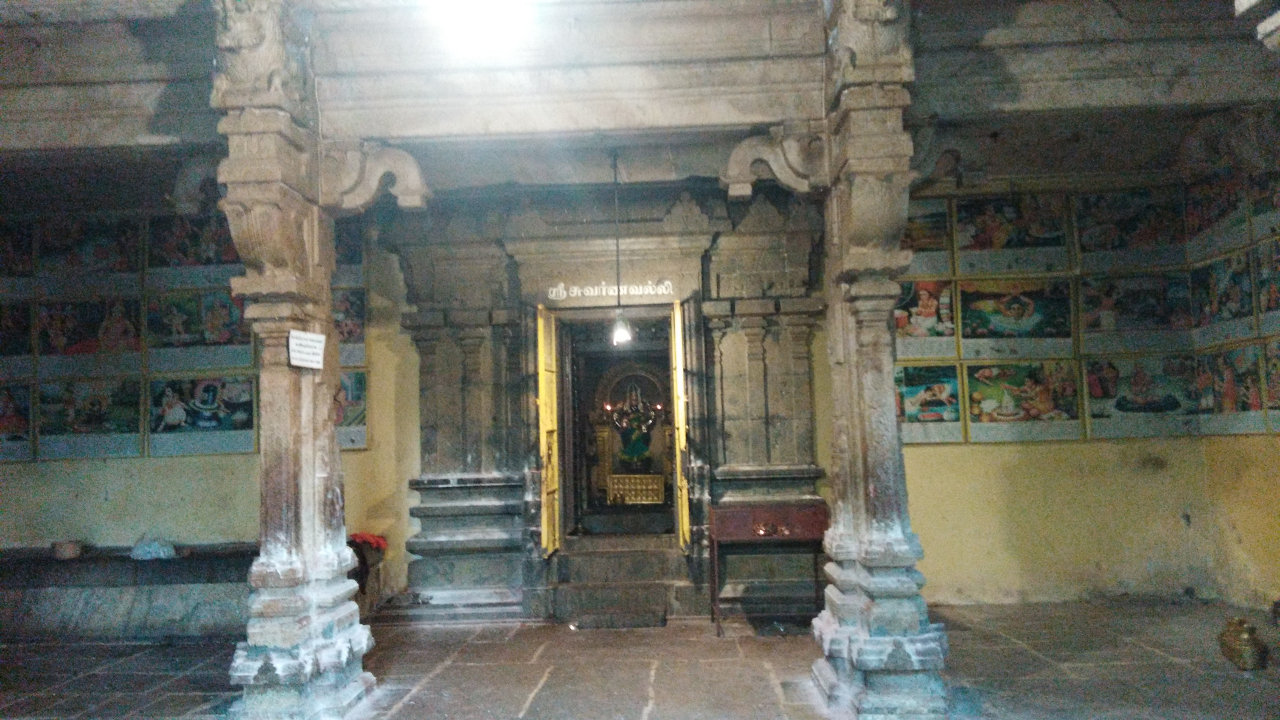 Greatness of this temple
Similar to Rameswaram, performing rituals for ancestors here is considered to be of great significance.
This is a parihara sthalam for "Pithru Dosha".
Important Festival
Some of the important festivals celebrated in this temple are –
Shivrathri in the Tamil month of Masi (Feb-Mar),
Vinayakar Chaturthi in the Tamil month of Aavani (Aug-Sept),
Thiru Karthikai in the Tamil month of Karthikai (Nov-Dec).
Pradosham is also observed regularly.
Special poojas are also performed on new moon days.
Temple Timings
From 07.00 AM to 12.00 Noon and 04.00 PM to 08.00 PM.
Temple Address
Sri Madhimuktheeswarar Temple
Sethalapathy,
Poonthottam Post,
Nannilam Taluk,
Thiruvarur District,
Tamil Nadu – 609503.
Tele: 04366 - 238818, 239700, 94427 14055.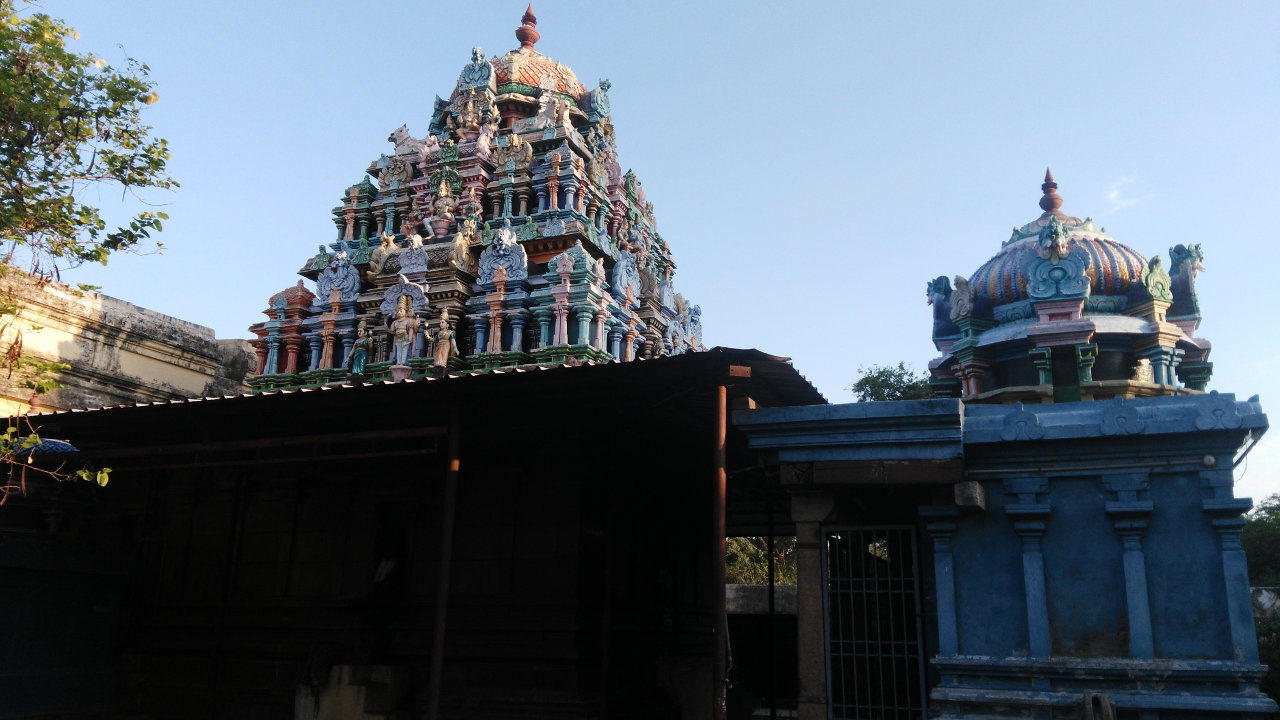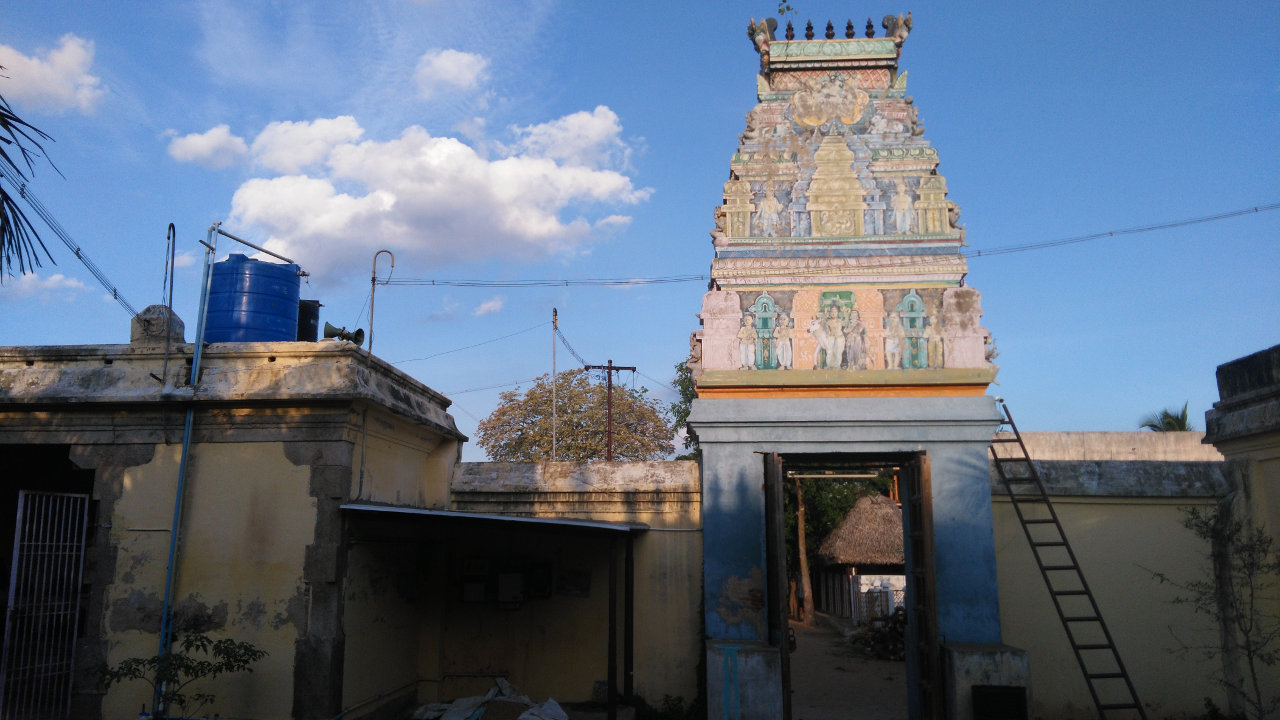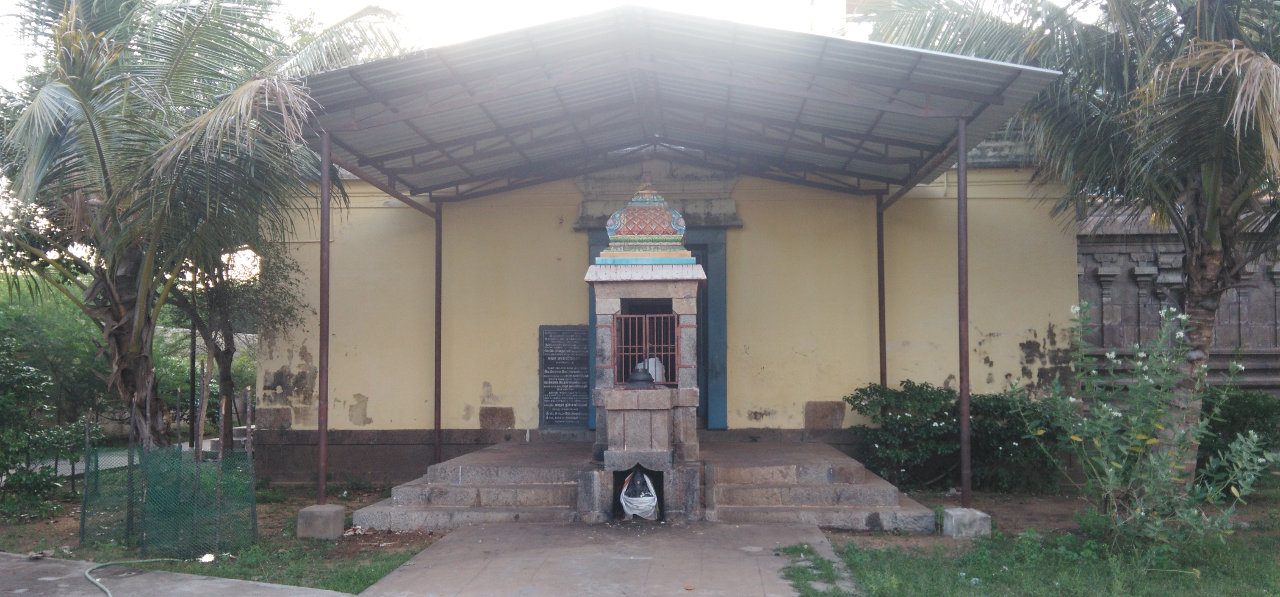 ---
Pathigam (Hymn) with English transliteration
Saint Thirugnanasambanthar visited this temple and sang this Pathigam.
Devotees visiting this temple should make it a practice to recite this Pathigam.
பொடிகள்பூசிப் பலதொண்டர் கூடிப் புலர்காலையே
அடிகளாரத் தொழுதேத்த நின்றவ் வழகன்னிடம்
கொடிகளோங்கிக் குலவும் விழவார் திலதைப்பதி
வடிகொள்சோலைம் மலர்மணங் கமழும் மதிமுத்தமே.
"Poṭikaḷpūsip palathoṇṭar kūṭip pularkālaiyē
aṭikaḷārath thozhuthēththa niṉtṟav vazhakaṉṉiṭam
koṭikaḷōṅkik kulavum vizhavār thilathaippathi
vaṭikoḷchōlaim malarmaṇaṅ kamazhum mathimuththamē".
தொண்டர் மிண்டிப் புகைவிம்மு சாந்துங் கமழ்துணையலும்
கொண்டு கண்டார் குறிப்புணர நின்ற குழகன்னிடம்
தெண்டிரைப்பூம் புனலரிசில் சூழ்ந்த திலதைப்பதி
வண்டுகெண்டுற்றிசை பயிலுஞ் சோலைம் மதிமுத்தமே.
"Thoṇṭar miṇṭip pukaivim'mu chāntuṅ kamazhthuṇaiyalum
koṇṭu kaṇṭār kuṟippuṇara niṉtṟa kuzhakaṉṉiṭam
theṇṭiraippūm puṉalarisil chūzhntha thilathaippathi
vaṇṭukeṇṭutṟisai payiluñ chōlaim mathimuththamē".
அடலுளேறுய்த் துகந்தான் அடியார் அமரர்தொழக்
கடலுள்நஞ்சம் அமுதாக வுண்ட கடவுள்ளிடம்
திடலடங்கச் செழுங்கழனி சூழ்ந்த திலதைப்பதி
மடலுள் வாழைக் கனிதேன் பிலிற்றும் மதிமுத்தமே.
"Aṭaluḷēṟuyth thukanthāṉ aṭiyār amararthozhak
kaṭaluḷnañcham amuthāka vuṇṭa kaṭavuḷḷiṭam
thiṭalaṭaṅkach chezhuṅkazhaṉi chūzhntha thilathaippathi
maṭaluḷ vāzhaik kaṉithēṉ pilitṟum mathimuththamē".
கங்கை திங்கள் வன்னிதுன் எருக்கின்னொடு கூவிளம்
வெங்கண்நாகம் விரிசடையில் வைத்த விகிர்தன்னிடம்
செங்கயல்பாய் புனலரிசில் சூழ்ந்த திலதைப்பதி
மங்குல்தோயும் பொழில்சூழ்ந் தழகார் மதிமுத்தமே.
"Gaṅgai thiṅkaḷ vaṉṉithuṉ erukkiṉṉoṭu kūviḷam
veṅkaṇnākam virisaṭaiyil vaiththa vikirthaṉṉiṭam
seṅkayalpāy puṉalarisil chūḻntha thilathaippathi
maṅkulthōyum pozhilchūzhn thazhakār mathimuththamē".
புரவியேழும் மணிபூண் டியங்குங்கொடித் தேரினான்
பரவிநின்று வழிபாடு செய்யும்பர மேட்டியூர்
விரவிஞாழல் விரிகோங்கு வேங்கைசுர புன்னைகள்
மரவம்மவ்வல் மலருந் திலதைம் மதிமுத்தமே.
"Puraviyēzhum maṇipūṇ ṭiyaṅkuṅkoṭith thēriṉāṉ
paraviniṉtṟu vazhipāṭu seyyumpara mēṭṭiyūr
viravigñāzhal virikōṅku vēṅkaisura puṉṉaikaḷ
maravam'mavval malarun thilathaim mathimuththamē".
விண்ணர்வேதம் விரித்தோத வல்லார் ஒருபாகமும்
பெண்ணர்எண்ணார் எயில்செற் றுகந்த பெருமானிடம்
தெண்ணிலாவின் ஒளிதீண்டு சோலைத் திலதைப்பதி
மண்ணுளார்வந் தருள்பேண நின்றம் மதிமுத்தமே.
"Viṇṇarvētham viriththōtha vallār orupākamum
peṇṇar'eṇṇār eyilsetṟ ṟukantha perumāṉiṭam
theṇṇilāviṉ oḷithīṇṭu chōlaith thilathaippathi
maṇṇuḷārvan tharuḷpēṇa niṉtṟam mathimuththamē".
ஆறுசூடி யடையார்புரஞ் செற்றவர் பொற்றொடி
கூறுசேரும் உருவர்க்கிட மாவது கூறுங்கால்
தேறலாரும் பொழில்சூழ்ந் தழகார் திலதைப்பதி
மாறிலாவண் புனலரிசில் சூழ்ந்தம் மதிமுத்தமே.
"Āṟusūṭi yaṭaiyārpurañ chetṟavar potṟoṭi
kūṟusērum uruvarkkiṭa māvathu kūṟuṅkāl
thēṟalārum pozhilchūzhn thazhakār thilathaippathi
māṟilāvaṇ puṉalarisil chūzhntham mathimuththamē".
கடுத்துவந்த கனல்மேனி யினான்கரு வரைதனை
எடுத்தவன்றன் முடிதோள் அடர்த்தார்க் கிடமாவது
புடைக்கொள்பூகத் திளம்பாளை புல்கும் மதுப்பாயவாய்
மடுத்துமந்தி யுகளுந் திலதைம் மதிமுத்தமே.
"Kaṭuththuvantha kaṉalmēṉi yiṉāṉkaru varaithaṉai
eṭuththavaṉtṟaṉ muṭithōḷ aṭarththārk kiṭamāvathu
puṭaikkoḷpūkath thiḷampāḷai pulkum mathuppāyavāy
maṭuththumanthi yukaḷun thilathaim mathimuththamē".
படங்கொள்நாகத் தணையானும் பைந்தா மரையின்மிசை
இடங்கொள்நால்வே தனுமேத்த நின்ற இறைவன்னிடம்
திடங்கொள்நாவின் இசைத்தொண்டர் பாடுந் திலதைப்பதி
மடங்கல்வந்து வழிபாடு செய்யும் மதிமுத்தமே.
"Paṭaṅkoḷnākath thaṇaiyāṉum painthā maraiyiṉmisai
iṭaṅkoḷnālvē thaṉumēththa niṉtṟa iṟaivaṉṉiṭam
thiṭaṅkoḷnāviṉ isaiththoṇṭar pāṭun thilathaippathi
maṭaṅkalvanthu vazhipāṭu cheyyum mathimuththamē".
புத்தர்தேரர் பொறியில் சமணர்கருவீறிலாப்
பித்தர்சொன்னம் மொழிகேட்கி லாத பெருமானிடம்
பத்தர்சித்தர் பணிவுற் றிறைஞ்சுந் திலதைப்பதி
மத்தயானை வழிபாடு செய்யும் மதிமுத்தமே.
"Puththarthērar poṟiyil samaṇarkaruvīṟilāp
piththarchoṉṉam mozhikēṭki lātha perumāṉiṭam
paththarsiththar paṇivutṟ iṟaiñchun thilathaippathi
maththayāṉai vazhipāṭu seyyum mathimuththamē".
மந்தமாரும் பொழில்சூழ் திலதைம் மதிமுத்தர்மேல்
கந்தமாருங் கடற்காழி யுள்ளான் தமிழ்ஞானசம்
பந்தன்மாலை பழிதீர நின்றேத்த வல்லார்கள் போய்ச்
சிந்தைசெய்வார் சிவன்சேவடி சேர்வது திண்ணமே.
"Manthamārum pozhilchūzh thilathaim mathimuththarmēl
kanthamāruṅ kaṭaṟkāzhi yuḷḷāṉ thamizhgñāṉasam
banthaṉmālai pazhithīra niṉtṟēththa vallārkaḷ pōych
chinthaiseyvār sivaṉsēvaṭi sērvathu thiṇṇamē".