Visited on: January 10, 2016 and December 2, 2016
Location
Thiruvasi is located at a distance of about 13 kms from Trichy on the Trichy-Salem route via Ayyanpalayam. Nearest railway station is Uttamarkoil which is 5 kms away from this place.
Other Devara Paadal Petra Shiva Sthalams near this place are – Thiruvanaikkaval, Thiruchirappalli (Tiruchy Malaikkottai), Anbilanthurai, Thirumanthurai, Thiruppatrurai, Thiruppainjeeli, Mukkeecharam (Uraiyur) and Thiruverumbur.
General Information
Moolavar

Sri Maatrurai Varadeeswarar, Sri Matrari Varathar,
Sri Sameevaneswarar, Sri Brahmapureswarar

Ambal

Sri Balambikai Amman, Sri Balasoundari

Theertham (Holy water)

Annamam Poikai, Kollidam river, Silambu (Panguni) river

Sthala Vriksham (Sacred Tree)

Vanni Tree

Pathigam (Hymn) rendered by

Saint Thirugnanasambanthar, Saint Sundaramurthy (Sundarar)

This is one of the 276 Devara Paadal Petra Shiva Sthalams and 62nd Shiva Sthalam on the northern bank of the river Cauvery in Chozha Nadu (Vadakarai).
Lord Shiva in this temple is a Swayambumurthi (self-manifested).
Saint Sambanthar sang a hymn and cured a girl from Muyalagan disease.
Lord Shiva gave a purse containing gold to Saint Sundarar here.
This east facing temple has a 5-tiered main tower (Rajagopuram) and it has two corridors.
The last consecration ceremony (Kumbabishekam) took place on 14.06.2017.
History of the Temple
It is believed that this temple is 1500 years old and was built and renovated by Kings of the Hoysala, Chola and Pandiya dynasties. This temple is situated on the northern bank of the river Kollidam (Coleroon).
The historical name of this place is "Pachil Kutrathu Achiramam" which has been changed to Pachilachiramam.
As per the stone inscriptions, during the Chola and Pandiya period, the places on the northern bank of the river Kollidam was called "Parchil Kutram". The village around it was called Thiruvachiramam. This was later changed to Thiruvasi.
Also, in ancient times this place was densely populated with Vanni trees. For this reason, this place is also known as Sameevanam and the lord here is praised as Sri Sameevaneswarar.
As Lord Brahma is believed to have worshiped the lord here, the lord is also known as "Sri Brahmapureswarar".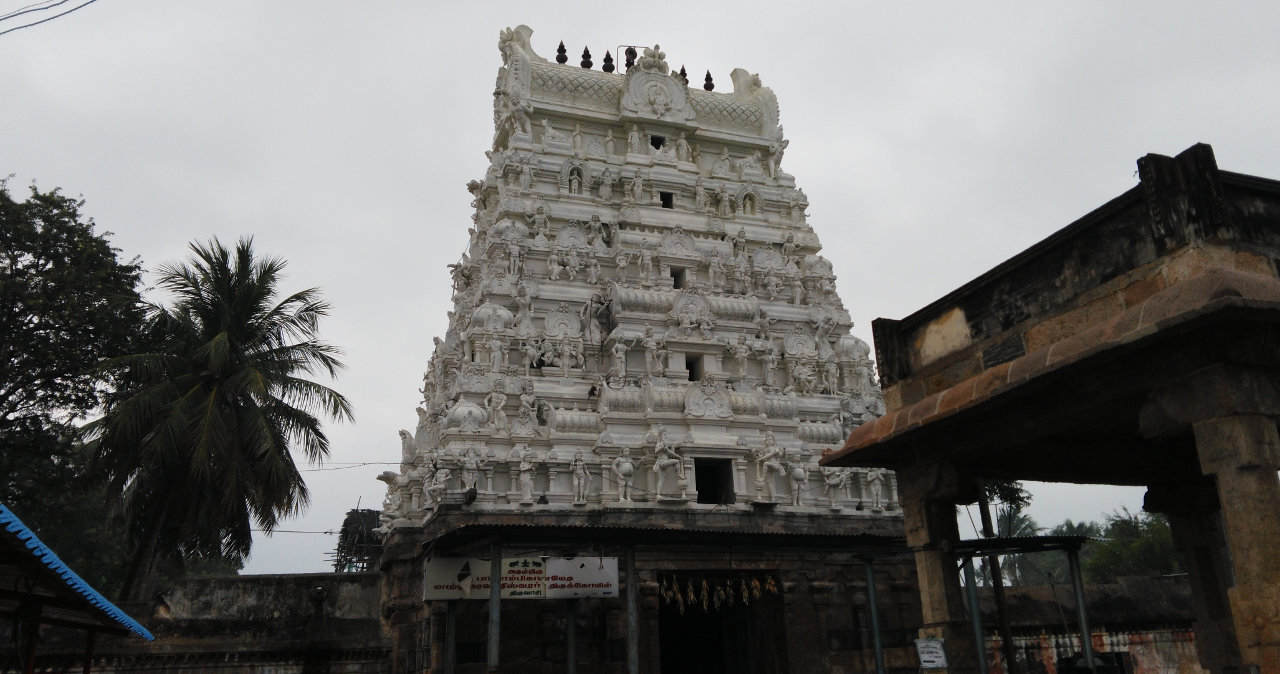 Legend
According to legend, this region was once called Mazhanadu and it was ruled by king Kolli Mazhavan. His daughter was suffering from a severe disease called Muyalagan (epilepsy), which could not be cured by any the king's doctors. The king decided to leave his daughter in this temple with the hope that the lord would cure her. Saint Thirugnanasambanthar came to this place during his pilgrimage and found the girl in the temple. The king explained to the saint the sad story of his daughter and begged him for help. Saint Sambanthar sang a pathigam in praise of Lord Natarajar. Pleased with his pathigam, Lord Nataraja transformed the muyalagan disease into a serpent and danced on it. The lord then blessed the princess and cured her disease.
Based on this event, Lord Nataraja appears here with his hair tied in a knot. Instead of his usual depiction of standing on top of Muyalagan, in this temple he is seen standing on a serpent. He is praised here as "Sarpa Nataraja" ("Sarpa" meaning serpent in Tamil). This is a rare posture of Lord Nataraja.
Another legend is that once a business man called Kamalan from Pachur, who was a staunch Shiva devotee, was childless. One day when he was going home from this temple he heard a child's cry and found an abandoned baby. He took her home, named her Amalai and raised her as his own. When the child was ready for marriage, he wanted her to be married to his brother-in-law. Amalai was also an ardent devotee of Lord Shiva and she desired to marry Lord Shiva. Pleased with her prayers, Lord Shiva came to their house as Kamalan's brother-in-law and married Amalai. After the wedding, the newly wedded couple left the house informing Kamalan that they are going to the temple. After they left, to the surprise of Kamalan his actual brother-in-law came home. It was only then that they realised what had happened. They went to the temple in search of Amalai. Lord Shiva appeared before them seated on his bull mount (Rishaba Vahanam) and gave dharisanam with Amalai as Goddess Parvathi. Goddess Parvathy threw her anklet and from the place where it hit the ground, water started flowing as a river. This river came to be known as Silambu river but its name was later changed to Panguni river.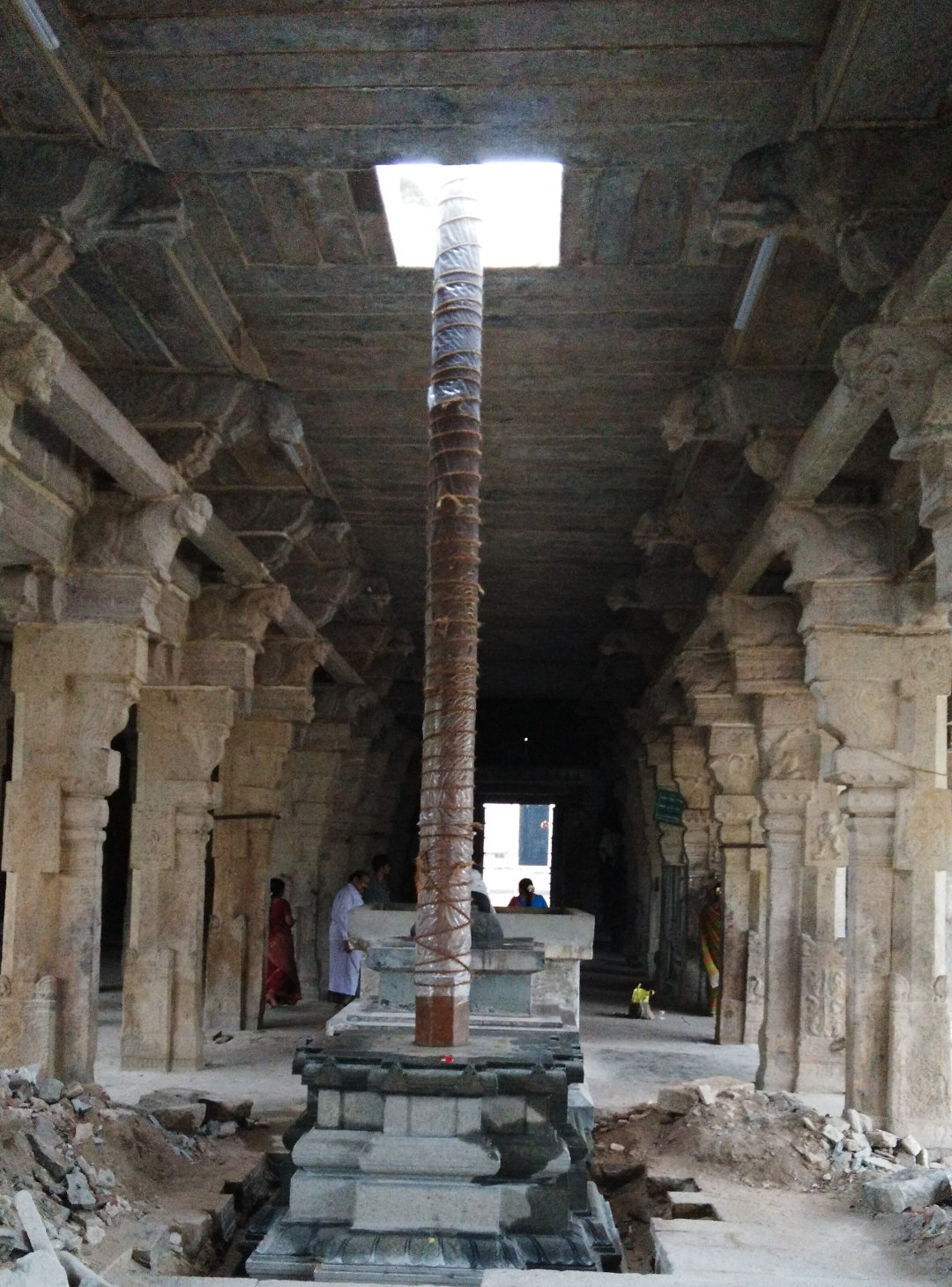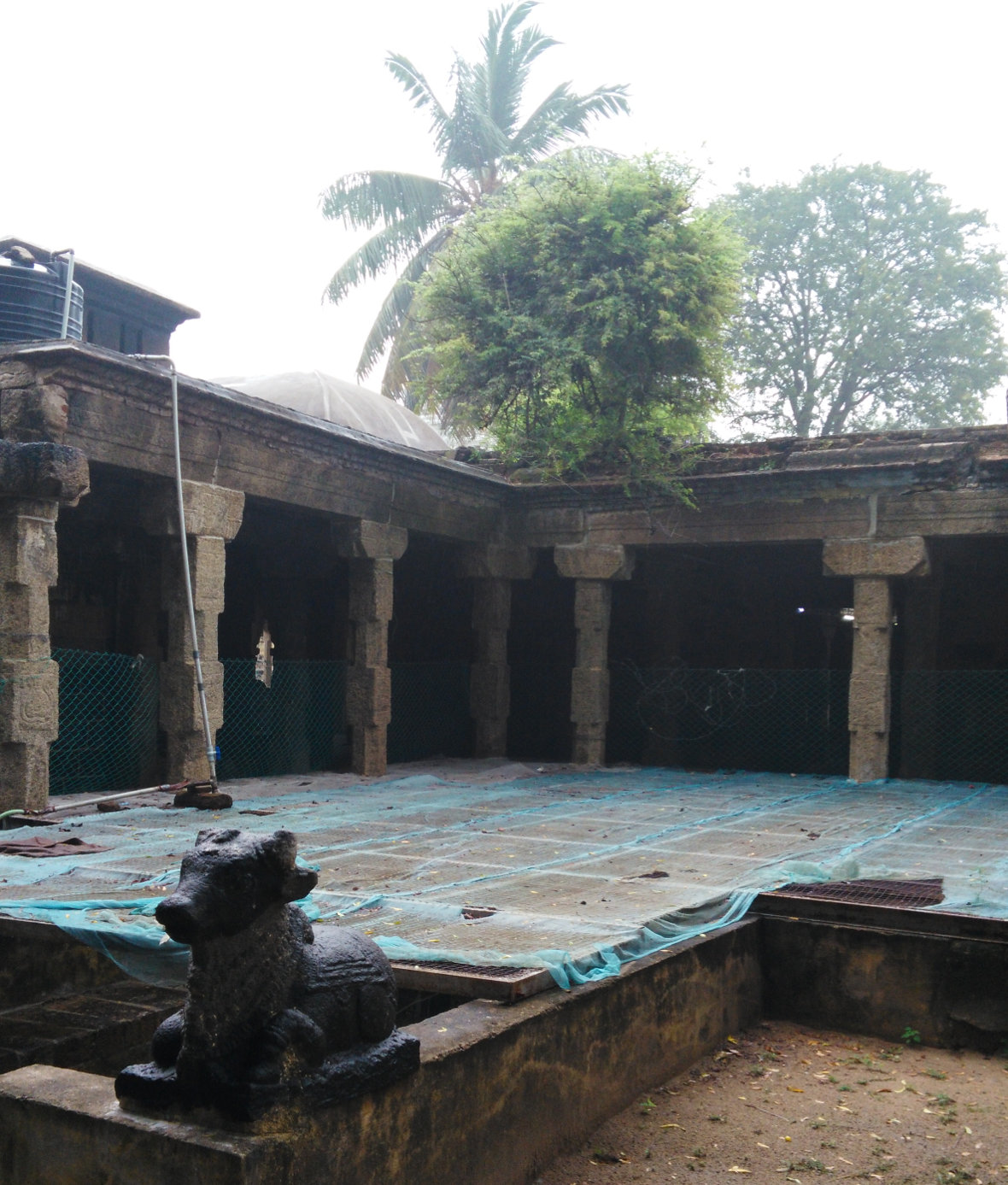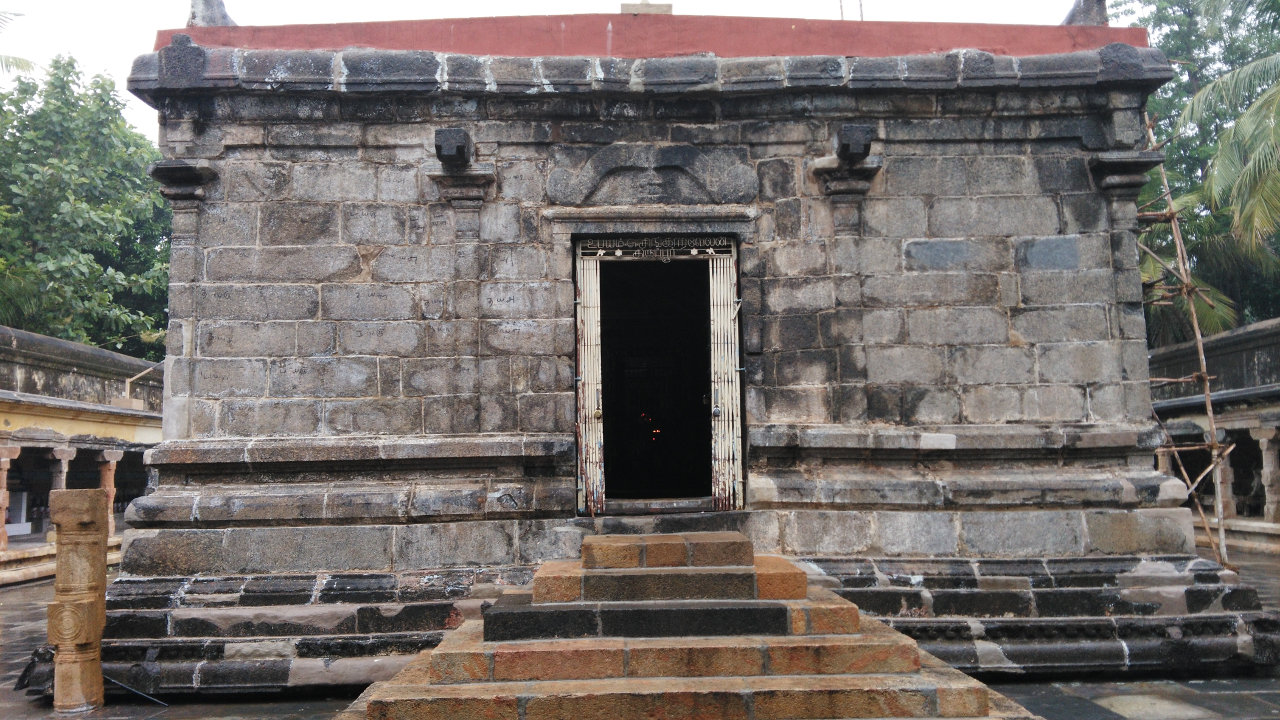 Another legend associated with this temple is that Saint Sundaramurthy Nayanar got a bag of gold from Lord Shiva in this place. Saint Sundarar used to get gold from Lord Shiva to feed his followers. After worshipping the lord in Thiruvanaikaval, he came to this temple and sang in praise of the lord seeking gold. Lord Shiva kept mum. Angred, Sundarar continued his Pathigam in a loud voice questioning whether there was someone called Lord Shiva here or not. Pleased with Sundarar's hymn, Lord Shiva gave him a purse containing gold. Yet he was doubtful about its purity and examined it closely. Two men came to him and asked him why he was doing so. Sundarar sought their help in determining the purity of the gold. Both of them confirmed the purity of the metal after scratching it. Both disappeared instantly. Sundarar sang again saying that he did not mean to insult or doubt the Lord. Lord Shiva appeared before him and said that he himself had come as the assessor and his companion was Lord Mahavishnu. Hence the Lord here is named "Matru Urai Nathar" – God who confirmed the purity of gold – ("Matru" means quality, Urai" means "Urasi Parthal" - scratching and assessing while "Nathar" is a respectful suffix in Tamil).
It is believed that Lord Brahma, Goddess Parvathi, Goddess Lakshmi and Sage Agasthiar have worshipped Lord Shiva of this temple.
Deities in the temple
Other than the shrines of Lord Shiva and Goddess Parvathy, shrines and idols of lords Vinayakar, Murugan, Natarajar, Nalvar, Dakshinamurthy, Arthanareeswarar, Brahma, Durgai, Chandikeswarar, 63 Nayanmars, Sapthamathakkal, Navagraham, Suryan, Chandran, Sahasra lingam and Bairavar can be seen in the corridor. In the Navagraham, Suryan is seen with his two consorts - Usha and Prathyusha. The other planets can be seen looking at him.
Goddess Balambikai has a separate temple on the left side of the entrance. The shrine of Lord Selva Vinayakar and Annamam Poigai (sacred well) are opposite to the shrine of Goddess Balambikai.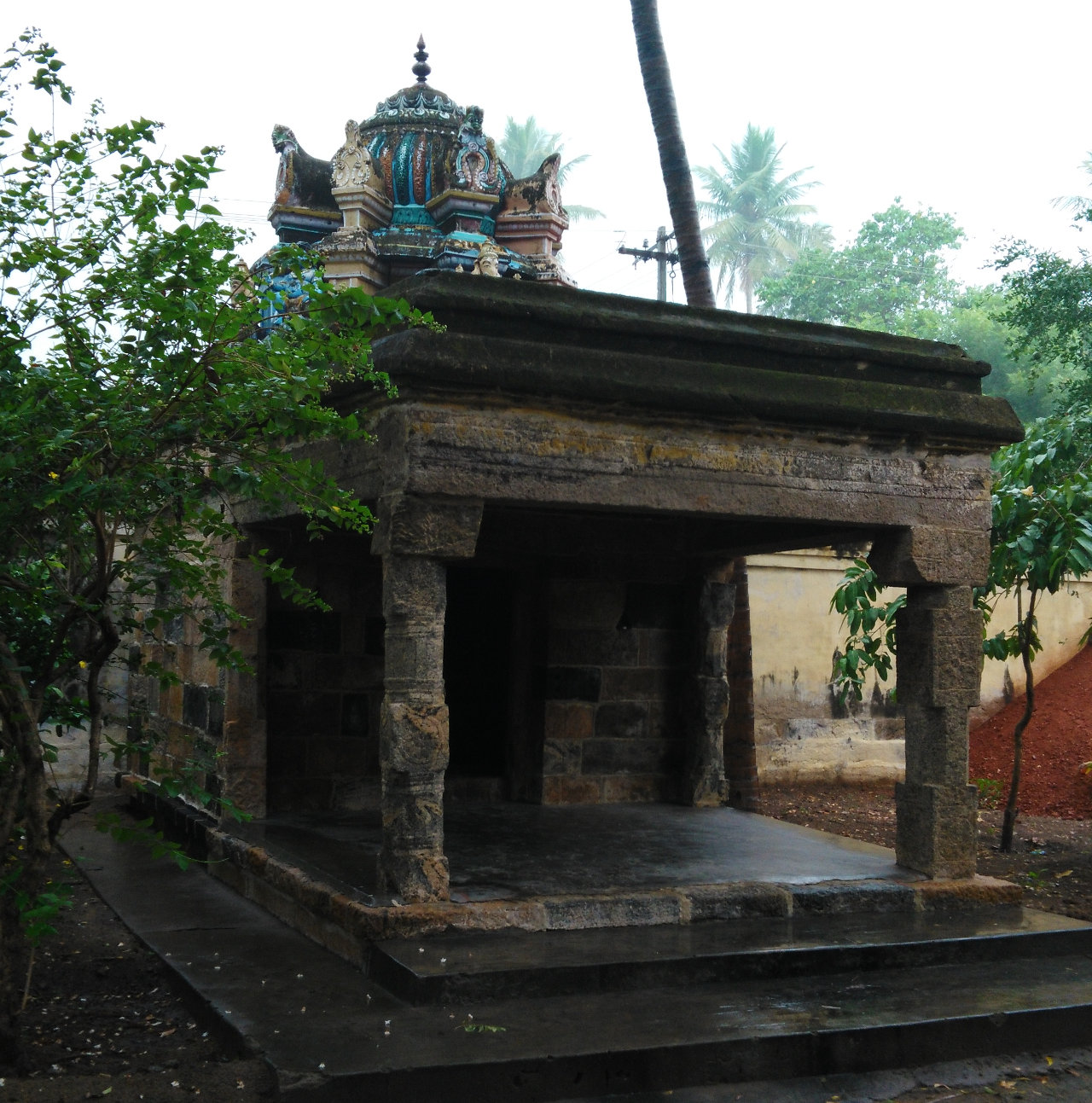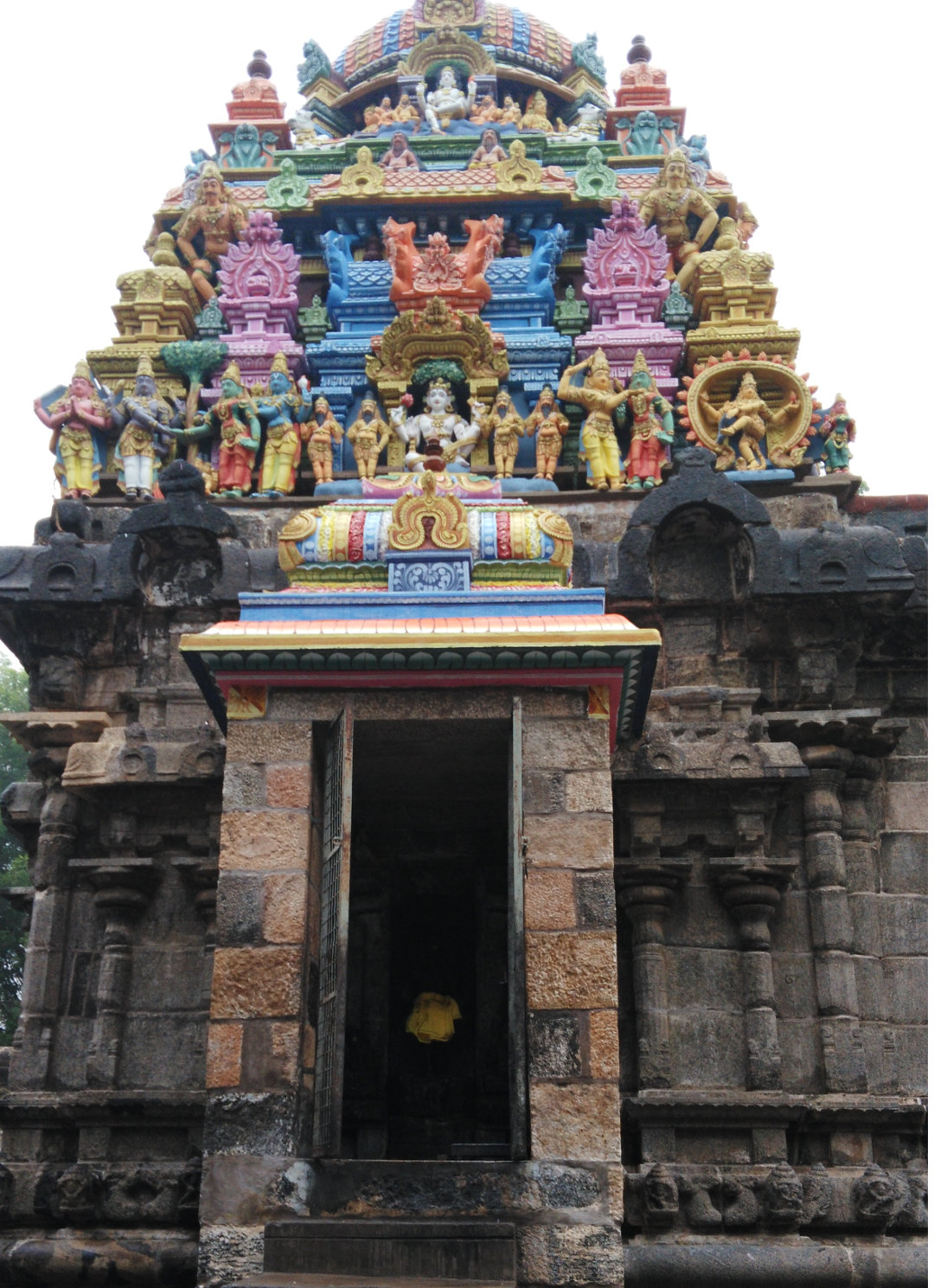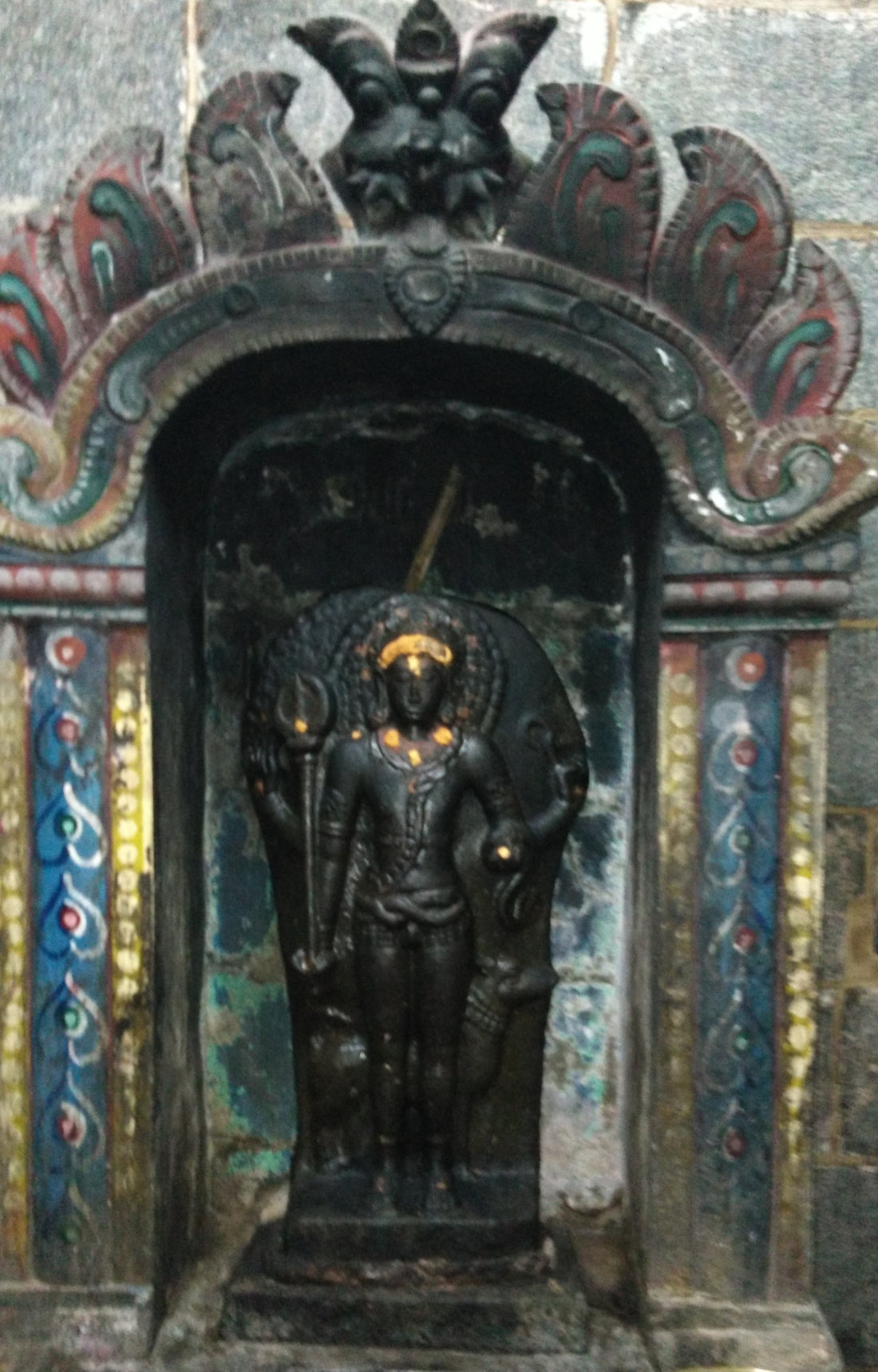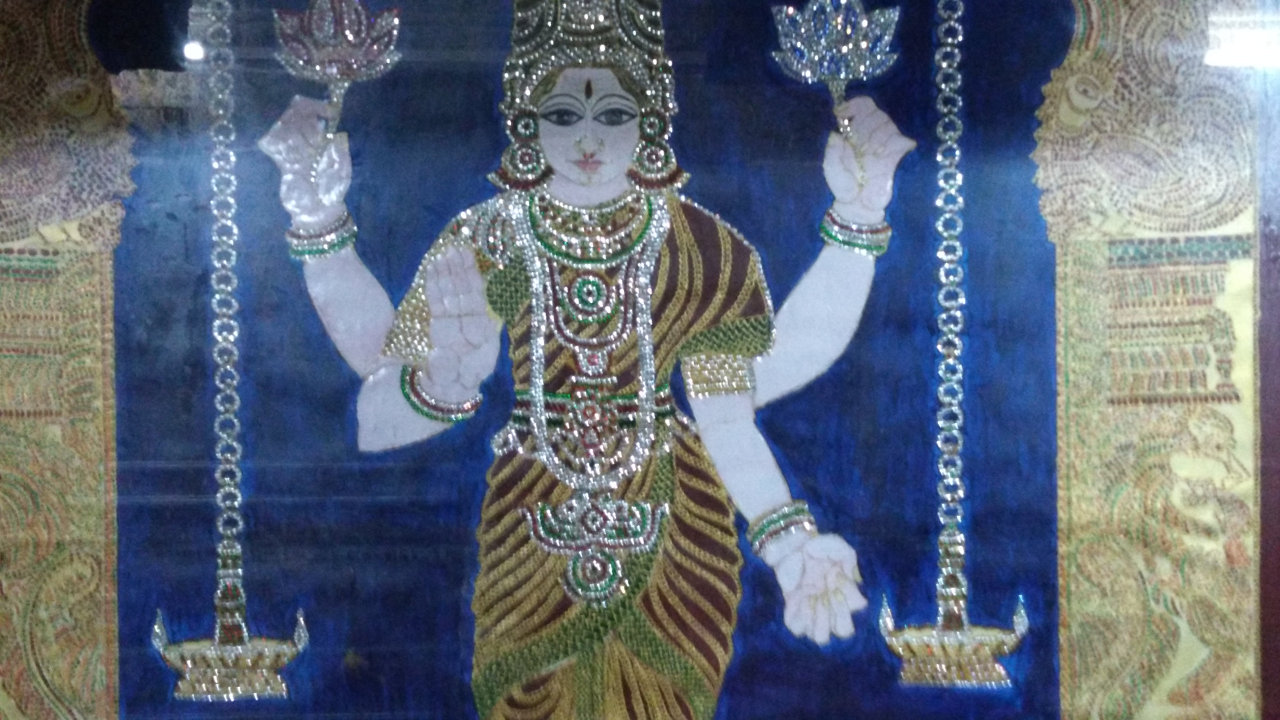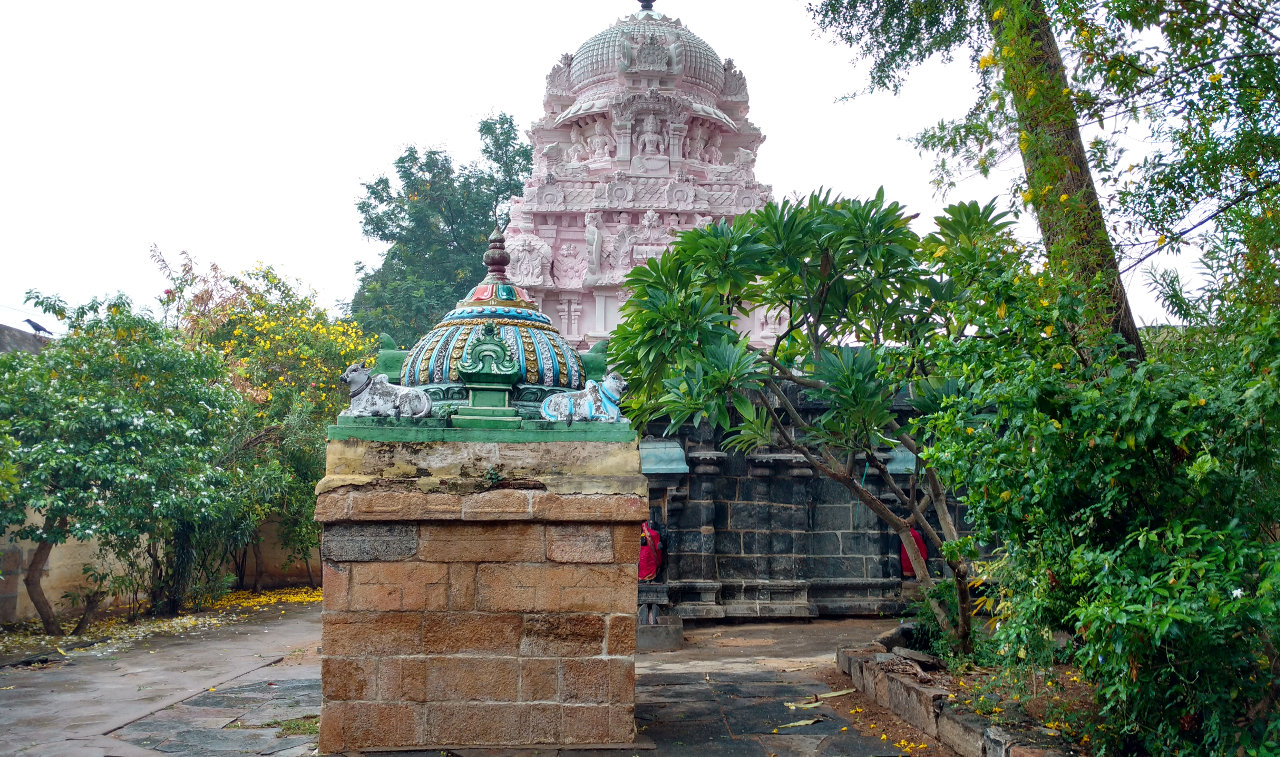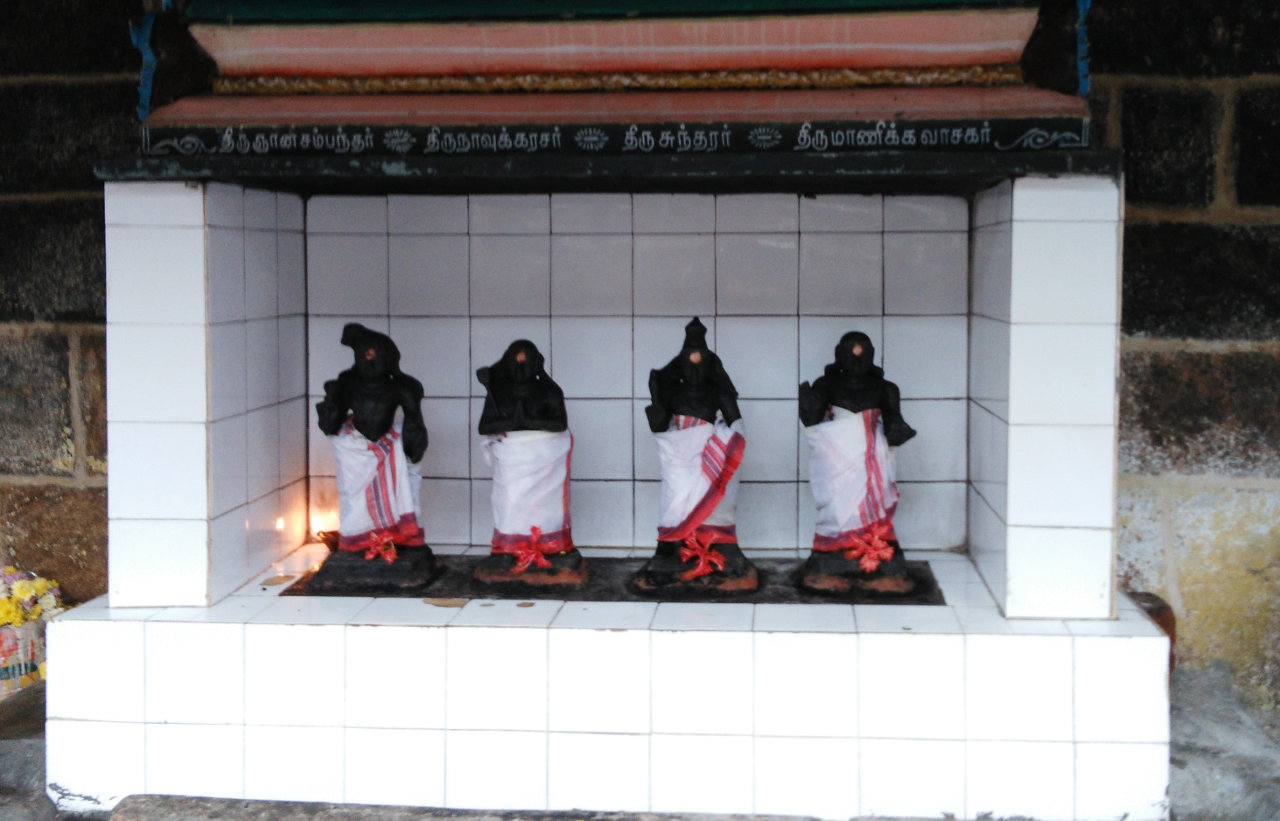 Salient Features
Goddess Balambikai here has a unique posture – her left hand looks like a crab (Nandu / Kadagam in Tamil). It is also said that this is the only temple where you can see Goddess Parvathy's hand like this. It is believed that taking the abishekam milk of this goddess for three consecutive Sundays would give relief to children who are born with the "Balarishta dosham" (The child who is afflicted by Balarishta dosha will suffer from frequent inexplicable ailments that will fail to respond to conventional medical treatment).
This temple is considered to be significant for its three important attributes – Murthy, Sthalam and Theertham (glory of Lord, sacredness of the land and the auspicious temple tank).
Devotees pray to Lord Shiva here by lighting lamps with "Iluppai" oil for welfare of their family and removal of evil effects surrounding them. Those seeking "Santhana Prapthi" (child boon) also pray to Goddess Balambikai here.
Greatness of this temple
Thiruvasi is considered to be equivalent to visiting Kasi (Banaras).
This temple is famous as a Parihara sthalam for those suffering from Balarishta Dosham.
Devotees believe that worshipping the goddess here for 5 consecutive Fridays will remove obstacles from their marriage proposals.
It is also believed that devotees who are facing stomach related illnesses, nervous weakness, epilepsy and paralysis can worship Lord Natarajar here for one mandalam (45 days) to get relief.
Important Festivals
Important festivals celebrated in this temple are –
11-day Brahmotsavam in the Tamil month of Vaikasi (May-June),
Thirukarthikai in the Tamil month of Karthikai (Nov-Dec),
Arudra Dharisanam in the Tamil month of Margazhi (Dec-Jan) and
Poosam in the Tamil month of Thai (Jan-Feb).
Monthly Pradosham is also observed regularly.
Temple Timings
From 08.00 AM to 12.00 noon and 05.00 PM to 08.00 PM.
Temple Address
Sri Matrurai Varadeeswarar Temple,
Thiruvasi,
Mannachanallur Taluk,
Trichy District,
Tamil Nadu – 621216.
Tele: +91 431 6574 972, +91 94436 92138.

The temple priest, Sri Vijaya Kumar Gurukkal can be contacted at +91 98656 64870.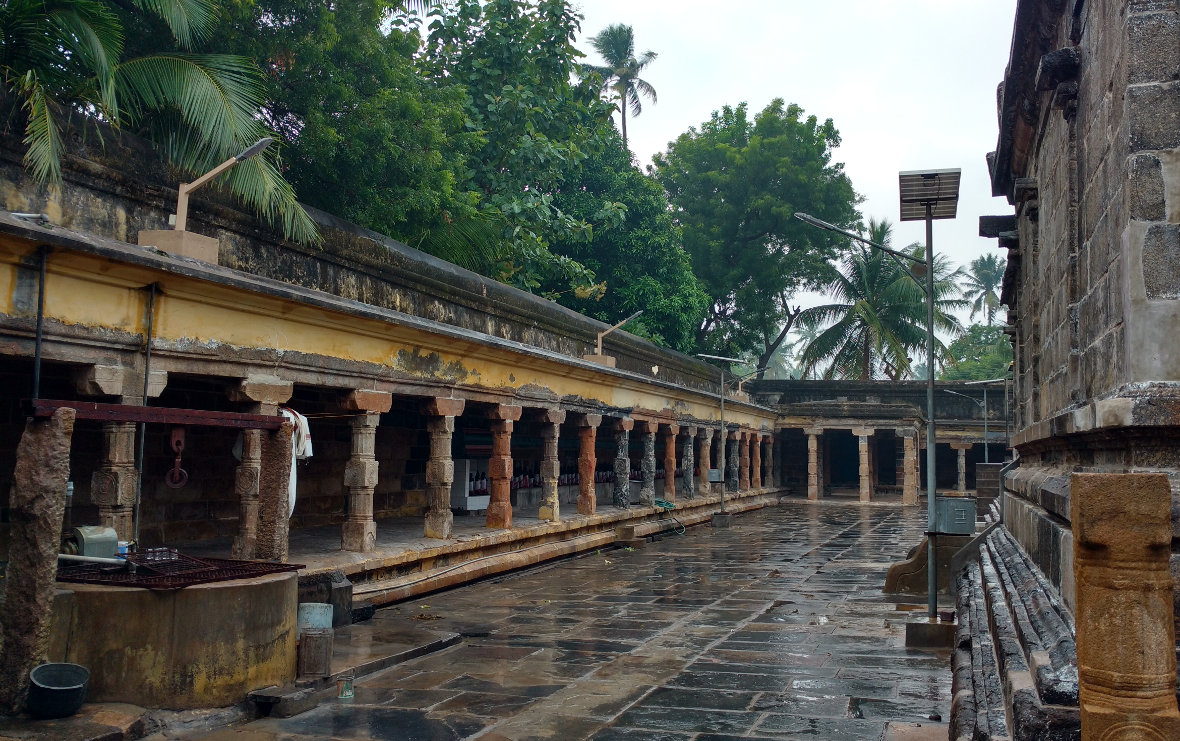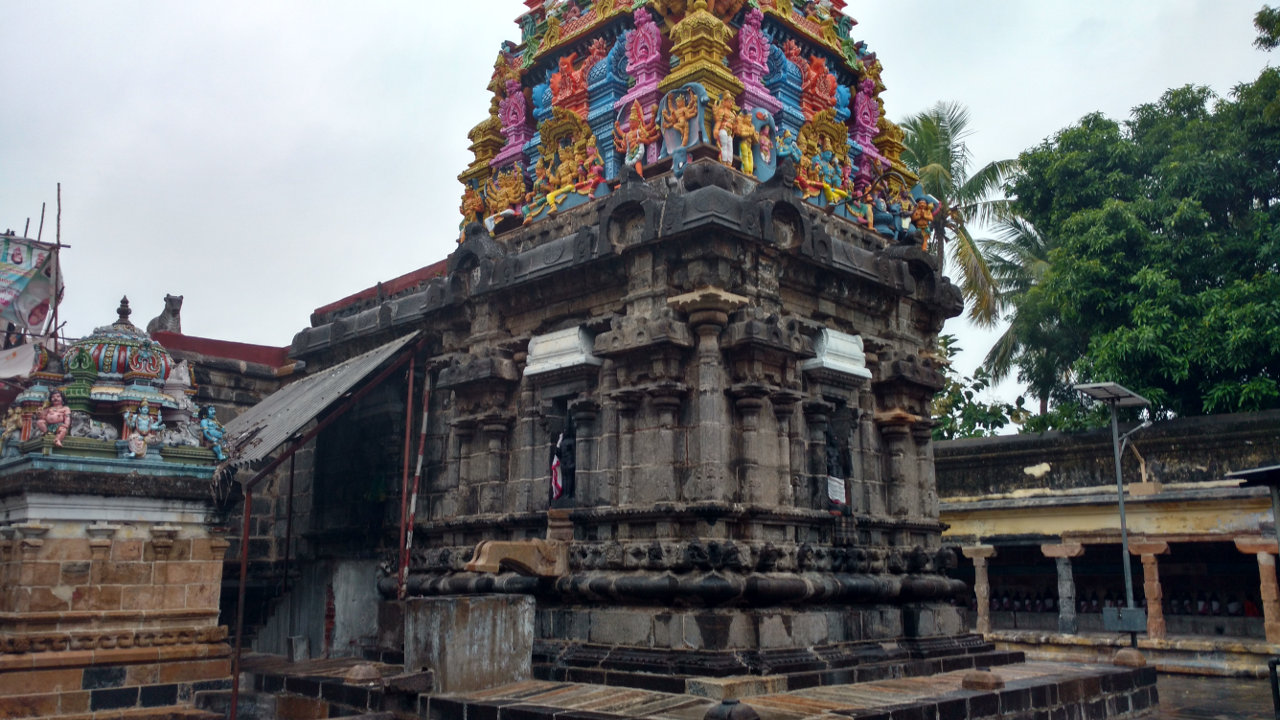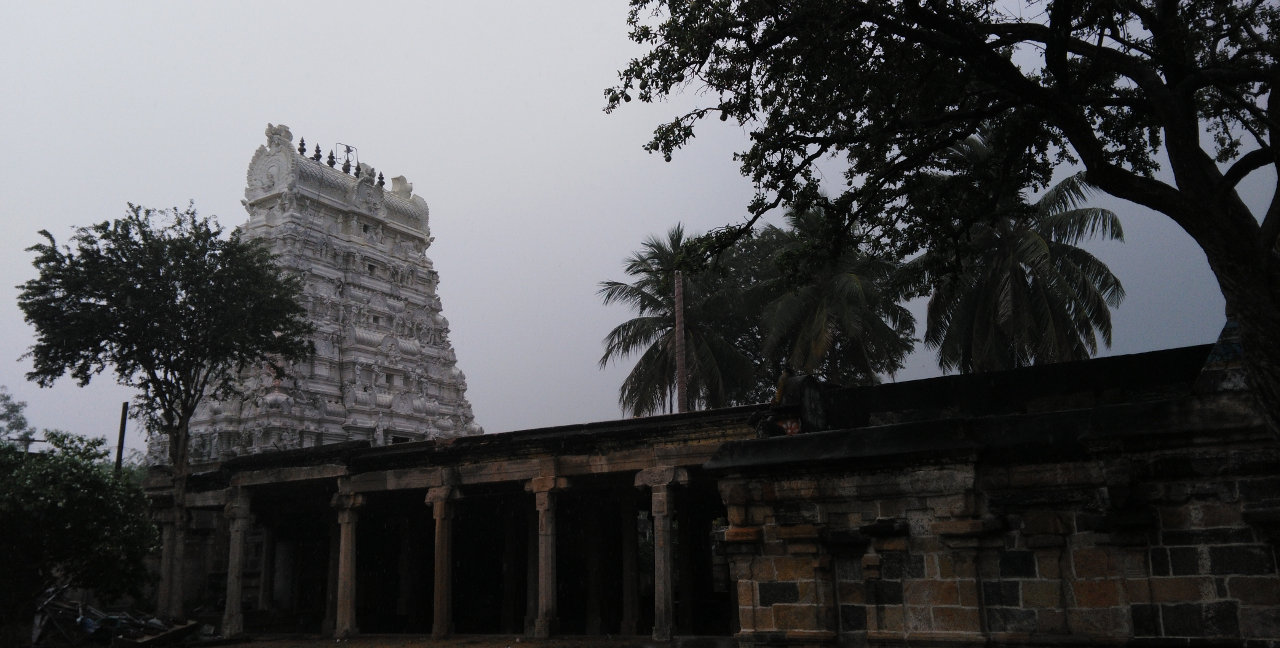 ---
Pathigam (Hymn) with English transliteration
Saint Thirugnanasambanthar visited this temple and sang this Pathigam.
Devotees visiting this temple should make it a practice to recite this Pathigam.
துணிவளர் திங்கள் துளங்கி விளங்கச்
சுடர்ச்சடை சுற்றிமு டித்துப்
பணிவளர் கொள்கையர் பாரிடஞ் சூழ
வாரிட மும்பலி தேர்வர்
அணிவளர் கோலமெ லாஞ்செய்து பாச்சி
லாச்சிரா மத்துறை கின்ற
மணிவளர் கண்டரோ மங்கையை வாட
மயல்செய்வ தோஇவர் மாண்பே.
"Thuṇivaḷar thiṅkaḷ thuḷaṅki viḷaṅkach
chuṭarchchaṭai chutṟimu ṭithup
paṇivaḷar koḷkaiyar pāriṭañ chūzha
vāriṭa mumpali thērvar
aṇivaḷar kōlame lāñcheythu pāchchi
lāchchirā mathuṟai kiṉtṟa
maṇivaḷar kaṇṭarō maṅkaiyai vāṭa
mayalseyva thō'ivar māṇpē".
கலைபுனை மானுரி தோலுடை யாடை
கனல்சுட ராலிவர் கண்கள்
தலையணி சென்னியர் தாரணி மார்பர்
தம்மடி கள்ளிவ ரென்ன
அலைபுனல் பூம்பொழில் சூழ்ந்தமர் பாச்சி
லாச்சிரா மத்துறை கின்ற
இலைபுனைவேலரோ ஏழையை வாட
இடர்செய்வ தோஇவ ரீடே.
"Kalaipuṉai māṉuri thōluṭai yāṭai
kaṉalsuṭa rālivar kaṇkaḷ
thalaiyaṇi seṉṉiyar thāraṇi mārpar
tham'maṭi kaḷḷiva reṉṉa
alaipuṉal pūmpozhil chūḻnthamar pāchchi
lāchchirā mathuṟai kiṉtṟa
ilaipuṉaivēlarō ēzhaiyai vāṭa
iṭarseyva thō'iva rīṭē".
வெஞ்சுட ராடுவர் துஞ்சிருள் மாலை
வேண்டுவர் பூண்பது வெண்ணூல்
நஞ்சடை கண்டர் நெஞ்சிட மாக
நண்ணுவர் நம்மை நயந்து
மஞ்சடை மாளிகை சூழ்தரு பாச்சி
லாச்சிரா மத்துறை கின்ற
செஞ்சுடர் வண்ணரோ பைந்தொடி வாடச்
சிதைசெய்வ தோஇவர் சீரே.
"Veñchuṭa rāṭuvar thuñhciruḷ mālai
vēṇṭuvar pūṇpathu veṇṇūl
nañchaṭai kaṇṭar neñchiṭa māka
naṇṇuvar nam'mai nayanthu
mañchaṭai māḷikai chūzhtharu pāchchi
lāchchirā mathuṟai kiṉtṟa
cheñchuṭar vaṇṇarō painthoṭi vāṭach
chitaiceyva thō'ivar sīrē".
கனமலர்க் கொன்றை அலங்கல்இ லங்கக்
கனல்தரு தூமதிக் கண்ணி
புனமலர் மாலை யணிந்தழ காய
புநிதர்கொ லாமிவ ரென்ன
வனமலி வண்பொழில் சூழ்தரு பாச்சி
லாச்சிரா மத்துறை கின்ற
மனமலி மைந்தரோ மங்கையை வாட
மயல்செய்வ தோஇவர் மாண்பே.
"Kaṉamalark koṉtṟai alaṅkali laṅkak
kaṉaltharu thūmathik kaṇṇi
puṉamalar mālai yaṇinthazha kāya
punitharko lāmiva reṉṉa
vaṉamali vaṇpozhil chūzhtharu pāchchi
lāchchirā mathuṟai kiṉtṟa
maṉamali maintharō maṅkaiyai vāṭa
mayalcheyva thō'ivar māṇpē".
மாந்தர்தம் பால்நறு நெய்மகிழ்ந் தாடி
வளர்சடை மேற்புனல் வைத்து
மோந்தை முழாக்குழல் தாளமொர் வீணை
முதிரவோர் வாய்மூரி பாடி
ஆந்தைவி ழிச்சிறு பூதத்தர் பாச்சி
லாச்சிரா மத்துறை கின்ற
சாந்தணி மார்பரோ தையலை வாடச்
சதுர்செய்வ தோஇவர் சார்வே.
"Mānthartham pālnaṟu neymakizhn thāṭi
vaḷarsaṭai mēṟpuṉal vaithu
mōnthai muzhākkuzhal thāḷamor vīṇai
muthiravōr vāymūri pāṭi
ānthaivi zhichiṟu pūthaththar pāchchi
lāchchirā mathuṟai kiṉtṟa
chānthaṇi mārparō thaiyalai vāṭach
chathurseyva thō'ivar sārvē".
நீறுமெய் பூசி நிறைசடை தாழ
நெற்றிக்கண் ணாலுற்று நோக்கி
ஆறது சூடி ஆடர வாட்டி
யைவிரற் கோவண ஆடை
பாறரு மேனியர் பூதத்தர் பாச்சி
லாச்சிரா மத்துறை கின்ற
ஏறது ஏறியர் ஏழையை வாட
இடர்செய்வ தோஇவ ரீடே.
"Nīṟumey pūsi niṟaisaṭai thāzha
netṟikkaṇ ṇālutṟu nōkki
āṟathu chūṭi āṭara vāṭṭi
yaiviraṟ kōvaṇa āṭai
pāṟaru mēṉiyar pūthaththar pāchchi
lāchchirā mathuṟai kiṉtṟa
ēṟathu ēṟiyar ēzhaiyai vāṭa
iṭarseyva thō'iva rīṭē".
பொங்கிள நாகமொ ரேகவ டத்தோ
டாமைவெண் ணூல்புனை கொன்றை
கொங்கிள மாலை புனைந்தழ காய
குழகர்கொ லாமிவ ரென்ன
அங்கிள மங்கையோர் பங்கினர் பாச்சி
லாச்சிரா மத்துறை கின்ற
சங்கொளி வண்ணரோ தாழ்குழல் வாடச்
சதிர்செய்வ தோஇவர் சார்வே.
"Poṅkiḷa nākamo rēkava ṭathō
ṭāmaiveṇ ṇūlpuṉai koṉtṟai
koṅkiḷa mālai puṉainthazha kāya
kuzhakarko lāmiva reṉṉa
aṅkiḷa maṅkaiyōr paṅkiṉar pāchchi
lāchchirā mathuṟai kiṉtṟa
saṅkoḷi vaṇṇarō thāzhkuzhal vāṭach
chathirseyva thō'ivar sārvē".
ஏவலத் தால்விச யற்கருள் செய்து
இராவணனையீ டழித்து
மூவரி லும்முத லாய்நடுவாய
மூர்த்தியை யன்றி மொழியாள்
யாவர்க ளும்பர வும்மெழிற் பாச்சி
லாச்சிரா மத்துறை கின்ற
தேவர்கள் தேவரோ சேயிழை வாடச்
சிதைசெய்வ தோஇவர் சேர்வே.
"Ēvalath thālvisa yaṟkaruḷ cheythu
irāvaṇaṉaiyī ṭazhithu
mūvari lum'mutha lāynaṭuvāya
mūrthiyai yaṉtṟi mozhiyāḷ
yāvarka ḷumpara vum'mezhiṟ pāchchi
lāchchirā mathuṟai kiṉtṟa
thēvarkaḷ thēvarō sēyizhai vāṭach
cithaiseyva thō'ivar sērvē".
மேலது நான்முகன் எய்திய தில்லை
கீழது சேவடி தன்னை
நீலது வண்ணனும் எய்திய தில்லை
யெனஇவர் நின்றது மல்லால்
ஆலது மாமதி தோய்பொழிற் பாச்சி
லாச்சிரா மத்துறை கின்ற
பாலது வண்ணரோ பைந்தொடி வாடப்
பழிசெய்வ தோஇவர் பண்பே.
"Mēlathu nāṉmukaṉ eythiya thillai
kīzhathu sēvaṭi thaṉṉai
nīlathu vaṇṇaṉum eythiya thillai
yeṉa'ivar niṉtṟathu mallāl
ālathu māmathi thōypozhiṟ pāchchi
lāchchirā mathuṟai kiṉtṟa
pālathu vaṇṇarō painthoṭi vāṭap
pazhiseyva thō'ivar paṇpē".
நாணொடு கூடிய சாயின ரேனும்
நகுவ ரவரிரு போதும்
ஊணொடு கூடிய வுட்கு நகையார்
உரைக ளவைகொள வேண்டா
ஆணொடு பெண்வடி வாயினர் பாச்சி
லாச்சிரா மத்துறை கின்ற
பூண்நெடு மார்பரோ பூங்கொடி வாடப்
புனைசெய்வ தோஇவர் பொற்பே.
"Nāṇoṭu kūṭiya sāyiṉa rēṉum
nakuva ravariru pōthum
ūṇoṭu kūṭiya vuṭku nakaiyār
uraika ḷavaikoḷa vēṇṭā
āṇoṭu peṇvaṭi vāyiṉar pāchchi
lāchchirā mathuṟai kiṉtṟa
pūṇneṭu mārparō pūṅkoṭi vāṭap
puṉaiseyva thō'ivar poṟpē".
அகமலி அன்பொடு தொண்டர் வணங்க
ஆச்சிரா மத்துறை கின்ற
புகைமலி மாலை புனைந்தழ காய
புனிதர்கொ லாமிவ ரென்ன
நகைமலி தண்பொழில் சூழ்தரு காழி
நற்றமிழ் ஞானசம் பந்தன்
தகைமலி தண்டமிழ் கொண்டிவை யேத்தச்
சாரகி லாவினை தானே.
"Akamali aṉpoṭu thoṇṭar vaṇaṅka
āchchirā mathuṟai kiṉtṟa
pukaimali mālai puṉainthazha kāya
puṉitharko lāmiva reṉṉa
nakaimali thaṇpozhil chūzhtharu kāzhi
natṟamizh gñāṉasam banthaṉ
thakaimali thaṇṭamizh koṇṭivai yēththach
chāraki lāviṉai thāṉē".