Visited on: 28th September, 2016 and 6th November, 2016.
Location
Thirunintriyur is situated at a distance of about 9 kms from Mayiladuthurai on the Mayiladuthurai to Chidambaram route (via Vaitheeswarankoil). This temple is about one kilometre away from the main road.
Other Devara Paadal Petra Shiva Sthalam near this place are – Vaitheeswaran Koil, Thirukkannar Koil, Thiruppunkur, Thiruvazhkoliputhur, Thiru Karuppariyalur, Thiru Kurakkuka, Thiru Kurukkai, Mayiladuthurai, Thiru Needur and Thiru Anniyur.
General Information
| | |
| --- | --- |
| Moolavar | Sri Lakshmipureeswarar, Sri Mahalakshinathar, Sri Parikeswarar |
| Ambal | Sri Ulaga Nayaki, Sri Loka Nayaki |
| Theertham (Holy water) | Neelamalar Poigai |
| Sthala Vriksham (Sacred Tree) | Vilvam tree |
| Pathigam (Hymn) rendered by | Saint Thirugnanasambanthar-1, Saint Thirunavukarasar (Appar)-1 and Saint Sundaramurthy (Sundarar)-2 |
This is one of the 276 Devara Paadal Petra Shiva Sthalams and 19th Shiva Sthalam on the northern bank of the river Cauvery in Chozha Nadu (Vadakarai).
Lord Shiva in this temple is a Swayambumurthi (self-manifested).
This is a parihara sthalam for "Brahmahathi Dosham".
This is one of the 44 Paadal petra sthalams where the "Moovar" (the three saints - Saint Thirugnanasambanthar, Saint Thirunavukarasar (Appar) and Saint Sundaramurthy (Sundarar) had rendered their Pathigams.
This temple is counted as one of the Maadak Koils built by King Kochengat Cholan.
This east facing temple has two corridors and its main tower (Rajagopuram) has 3-tiers.
There is no flag post (Dwajasthambam) here.
History of the Temple
There is only one stone inscription in this temple which dates back to the period of the Chola king "Thirubhuvana Chakravarthy" Rajaraja Devan.
Now this temple is under the administrative control of Dharumapuram Adheenam.
However, the temple is in a very bad state. The main tower as well as the towers in the sanctum are in ruins and are covered with a lot of weeds and plants. Even the compound walls and shrines are in a dilapidated condition.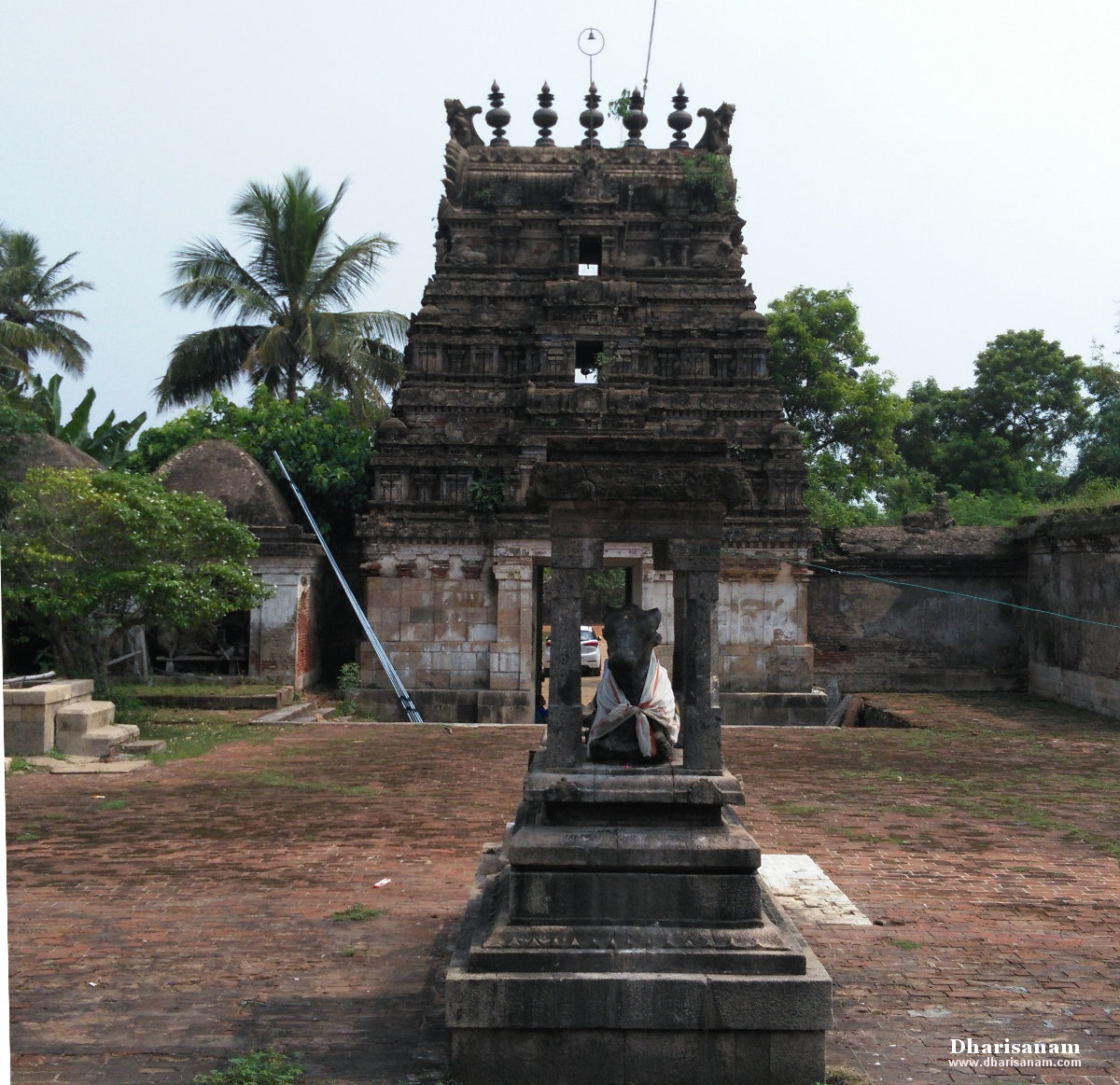 Legend
It is believed that Lord Mahavishnu and Goddess Mahalakshmi worshiped Lord Shiva here. Hence the lord gets the name Sri Lakshmipureeswarar. Secondly, since Goddess Mahalakshmi (also known as "Thiru") worshipped Lord Shiva in this place, it gets the name Thiru Nintra Oor.
Another legend associated with this temple is that of Sage Jamadhagni. Once, the sage caught his wife Renukadevi admiring the handsomeness of a Gandharva (a celestial god). He was angered by this and instructed his son Sage Parasuramar to chop off her head. To obey his father's instruction, Parasuramar killed his mother. However, he then asked his father to bring her back to life. For having committed the sin of killing his own mother, Parusaramar worshipped Lord Shiva here. Sage Jamadhagni also realised his hasty decision and worshiped the lord here asking for forgiveness. Lord Shiva granted darshan to both father and son and absolved them from their sins.
Sage Parasuramar is believed to have assigned to 300 brahmins the duty of chanting vedas in this temple every day. He also granted 360 'veli' (a unit of measurement) agricultural land to this temple. The income generated from the land was to be used for the entire year's expenses.
Another legend is that a Chola king would pass this village every day while on his way to the Chidambaram temple. One day when he was crossing this place, the torches carried by his men automatically went off. Despite their best efforts, they were not able to light it again. But as soon as they crossed this place, the torches lit up automatically. This became a regular phenomenon. Curious to understand the reason behind this, the king asked a shepherd if anything strange was happening at this place. The shepherd informed the king that there was a Shivalingam nearby and a cow performed abhishekam on that lingam. The king then ordered his men to search the place and soon a lingam was unearthed. However, the king noticed that the lingam was bleeding because of being hit with an iron rod while digging. Realising the sin that he had unknowingly committed, the king prayed to Lord Shiva asking for forgiveness. He also decided to build a temple there. As the wick of the torches ("Thiri" in Tamil) got extinguished here, this place came to be known as "Thiri Nintravur". This has now changed to Thirunintriyur. The scar on the Shivalingam can be seen even now.
It is also believed that Lord Indra, Iravadham, a Chola king and Sages Agasthiyar, Jamadhagni and Parasuramar have worshiped the lord of this temple.
It is also believed that a cow worshiped the lord here by performing milk abhishekam every day before dawn and attained salvation.
Deities in the temple
Other than the shrines of Lord Shiva and Goddess Parvathy, shrines and idols of Selva Vinayakar, Murugan with his consorts, Lord Mahavishnu, Mahalakshmi, Navagraham, Bhairavar, Suryan, Chandran, Lingams worshiped by Jamathakini and Parasuramar, Subramaniyar, Parikeswarar and Naalvar can be seen in the corridors. The idols of Suryan and Chandran are facing each other.
In the "koshtam" (place surrounding the sanctum sanctorum), idols of Narthana Vinayakar, Dakshinamurthy, Lingothbavar, Brahma and Durgai and Chandikeswarar can be seen.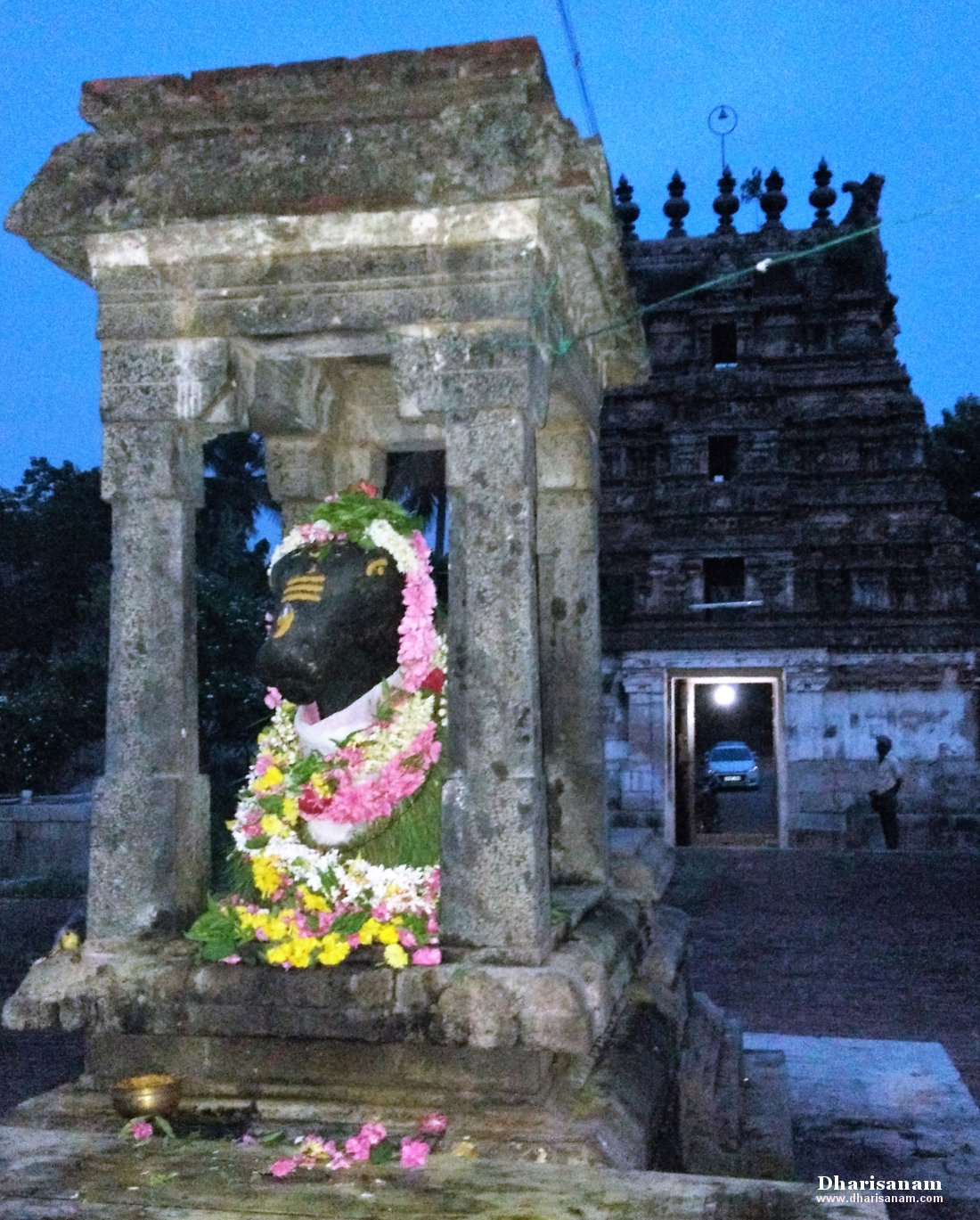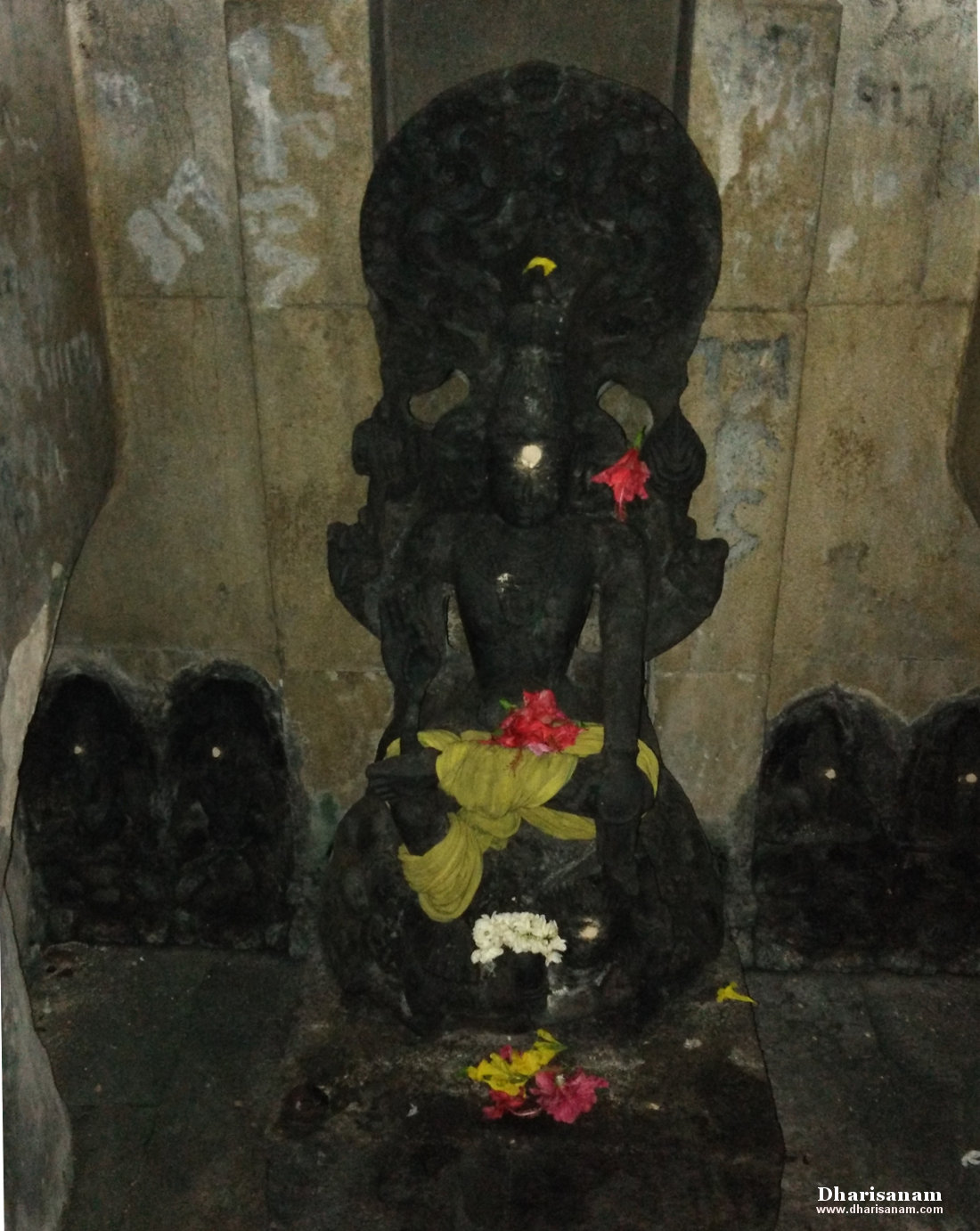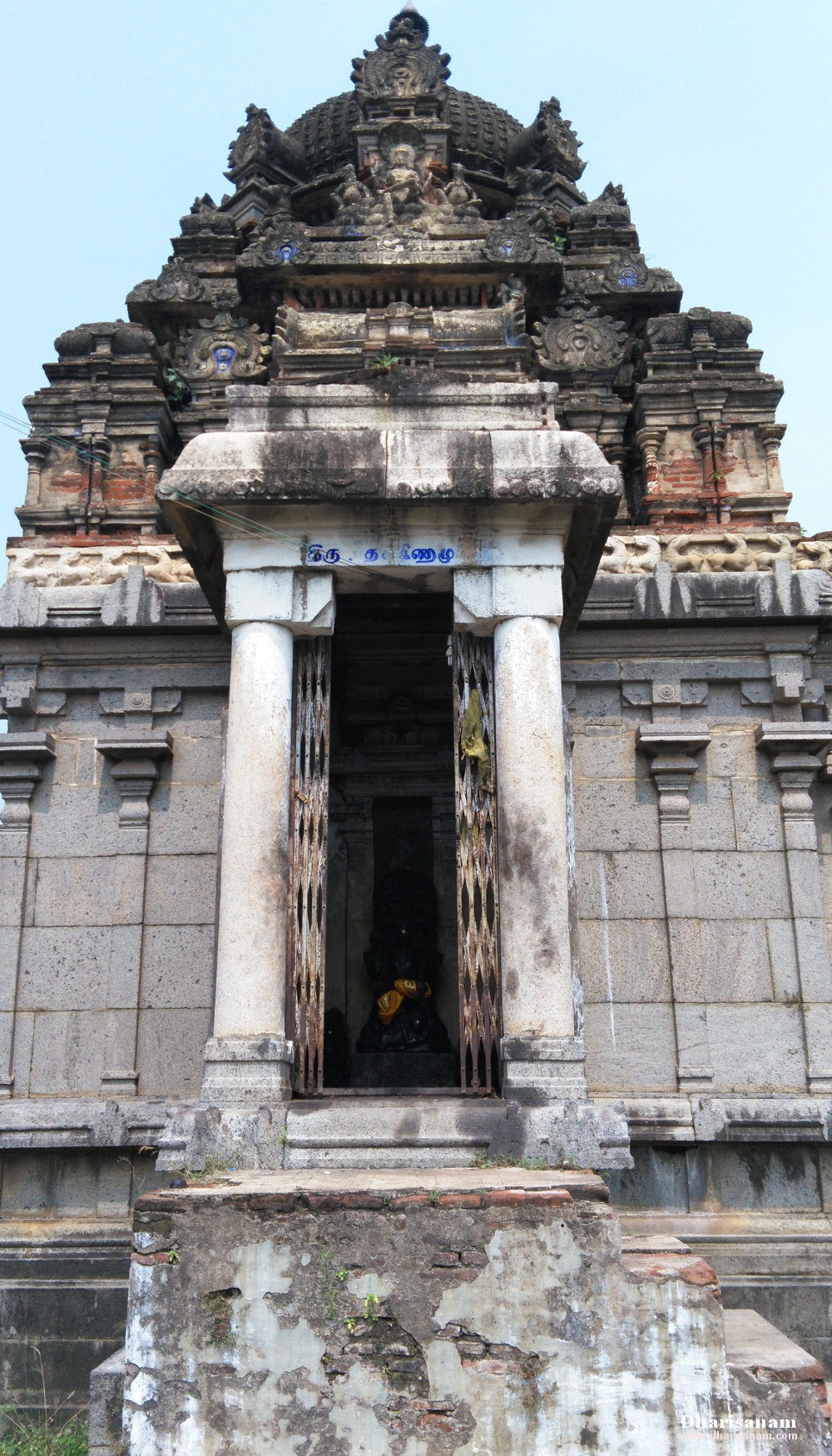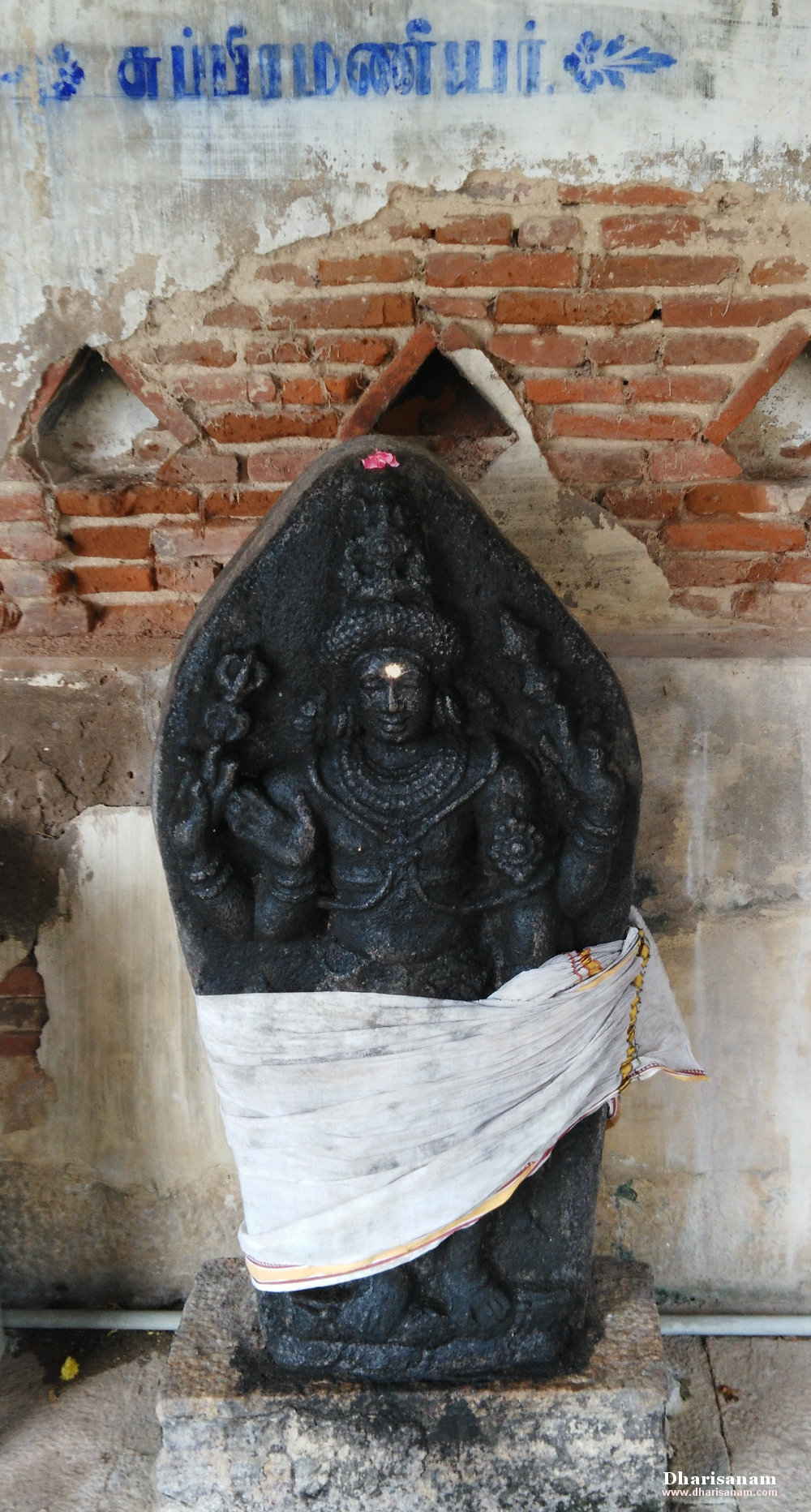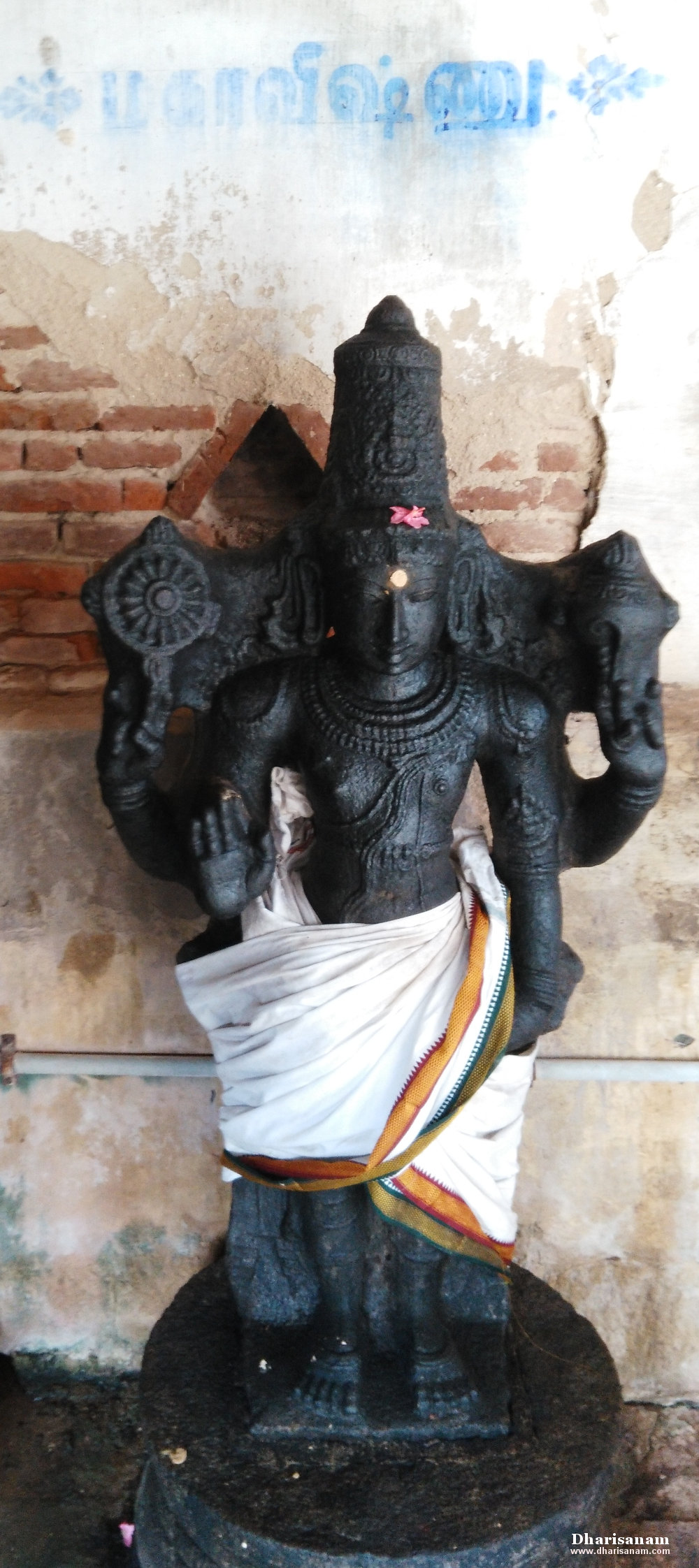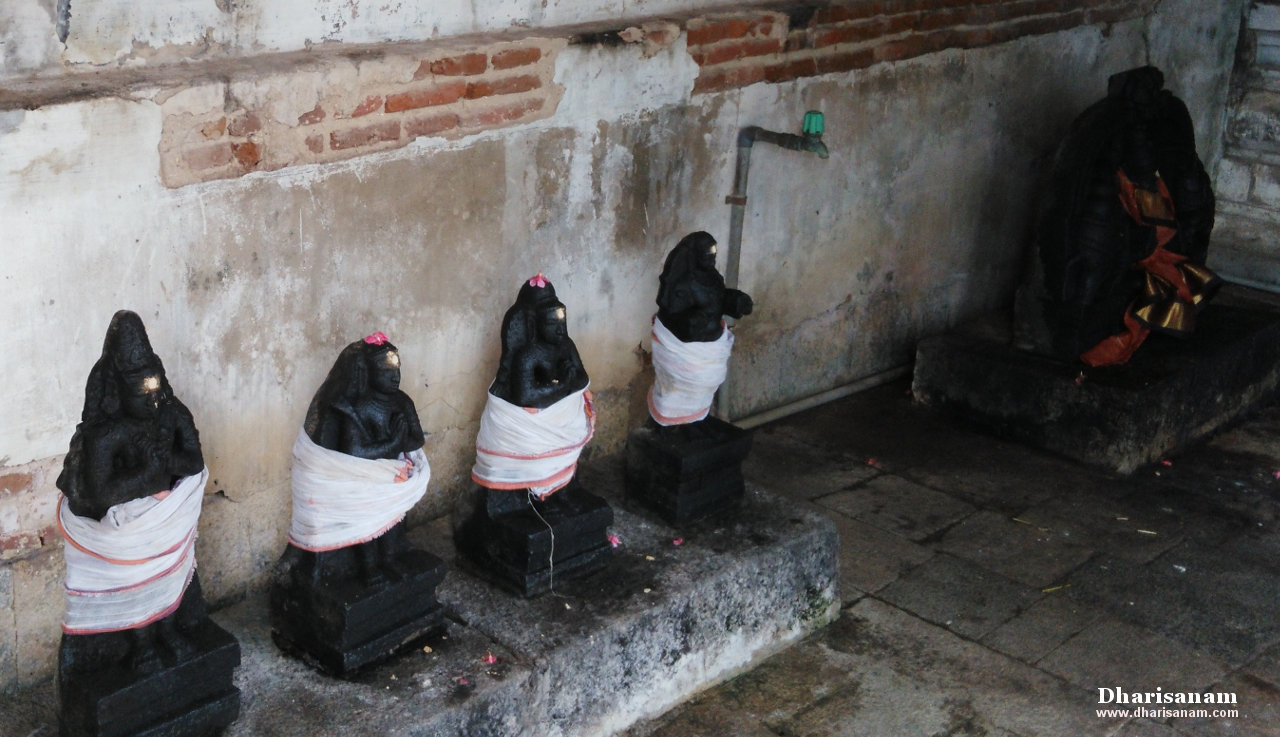 Salient Features
Three tanks adorn this temple in the form of a garland. This was praised as "Neela Malar Poigai" (fragrant blue flowers) by Saint Thirugnanasambanthar. He also mentioned that those praying here will have a peaceful life free of ailments, fear and sins.
Saint Sundarar in his hymn mentioned that this place is very auspicious because - Indra was blessed with the post of the head of the devas,
Sage Agasthiyar was blessed to stay in the Pothigai hill,
Iravatham got a place in the celestial world,
Parusuramar and the cow were blessed by Lord Shiva with the "Thiruvadi Theetchai".
Muyalagan, the symbol of ignorance, under the feet of Lord Dakshinamurthy is on the left side with a serpent in his hand.
It is believed that King Kochengat Chola built about 70 "Madakkoils". The distinguishing feature of a Madakkoil is that it is not easily approachable by an elephant. He built these temples at an elevation and there are a few steps that need to be climbed before seeing the lord. Also, the sanctum sanctorum's (Karpagragam) entrance is narrow such that no elephant can enter it.
Greatness of this temple
This temple is famous for those who are born during the time of "Anusham Nakshatram".
This is also a Parihara sthalam for those suffering from Brahmahathi dosham.
Those who worship the lord here will be blessed with a peaceful life free from ailments, fear and sins.
Also, people pray here on new moon days to seek salvation of their ancestors' souls.
Important Festivals
Some of the main festivals celebrated in this temple are-
Aani Tirumanjanam in the Tamil month of Aani (June-July),
Vinayakar Chaturthi in the Tamil month of Aavani (Aug-Sept),
Skanda Shashti and Annabishekam in the Tamil month of Aippasi (Oct–Nov),
Thiru Karthikai in the Tamil month of Karthikai (Nov-Dec) and
Shivrathri in the Tamil month of Masi (Feb-Mar).
Pradosham is also observed regularly.
Temple Timings
From 07.00 AM to 12.00 Noon and 04.00 PM to 08.00 PM.
Temple Address
Sri Lakshmipureeswarar Temple,
Thirunintriyur Post,
Mayiladuthurai Taluk,
Nagapattinam District,
Tamil Nadu - 609 118.
Tele: +91- 4364 - 279 423 ,320 520, +91- 94861 41430.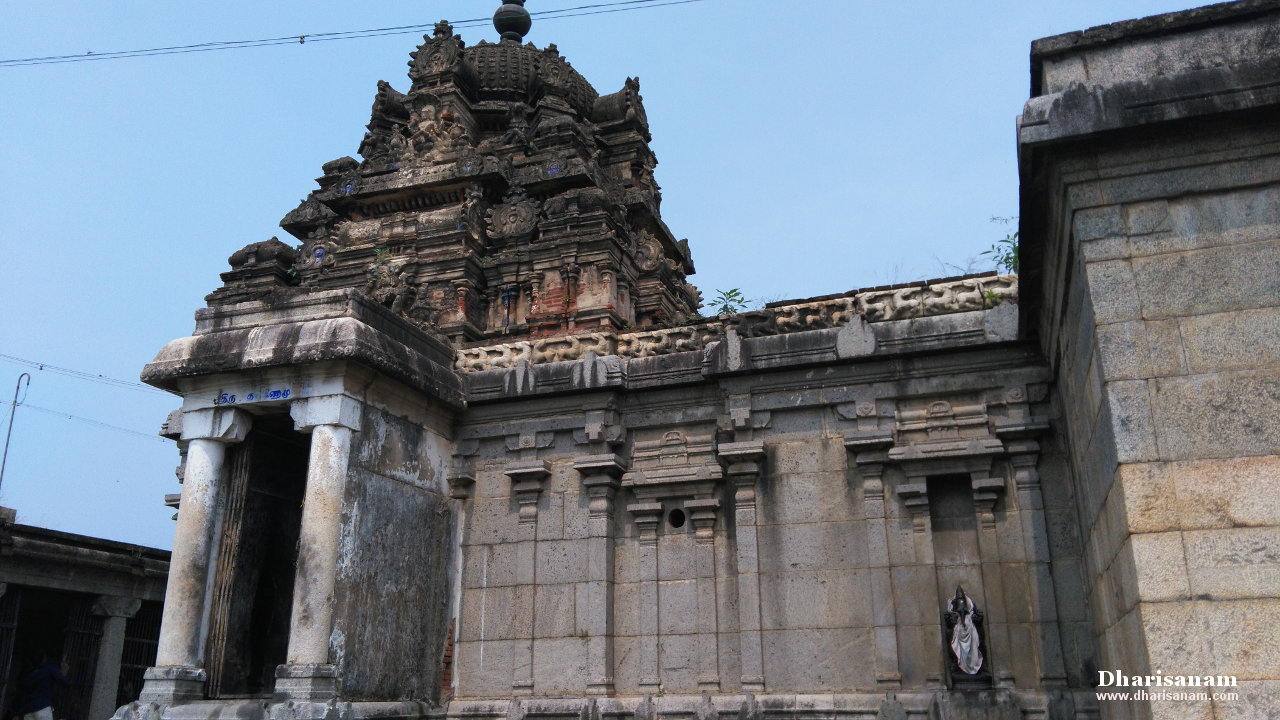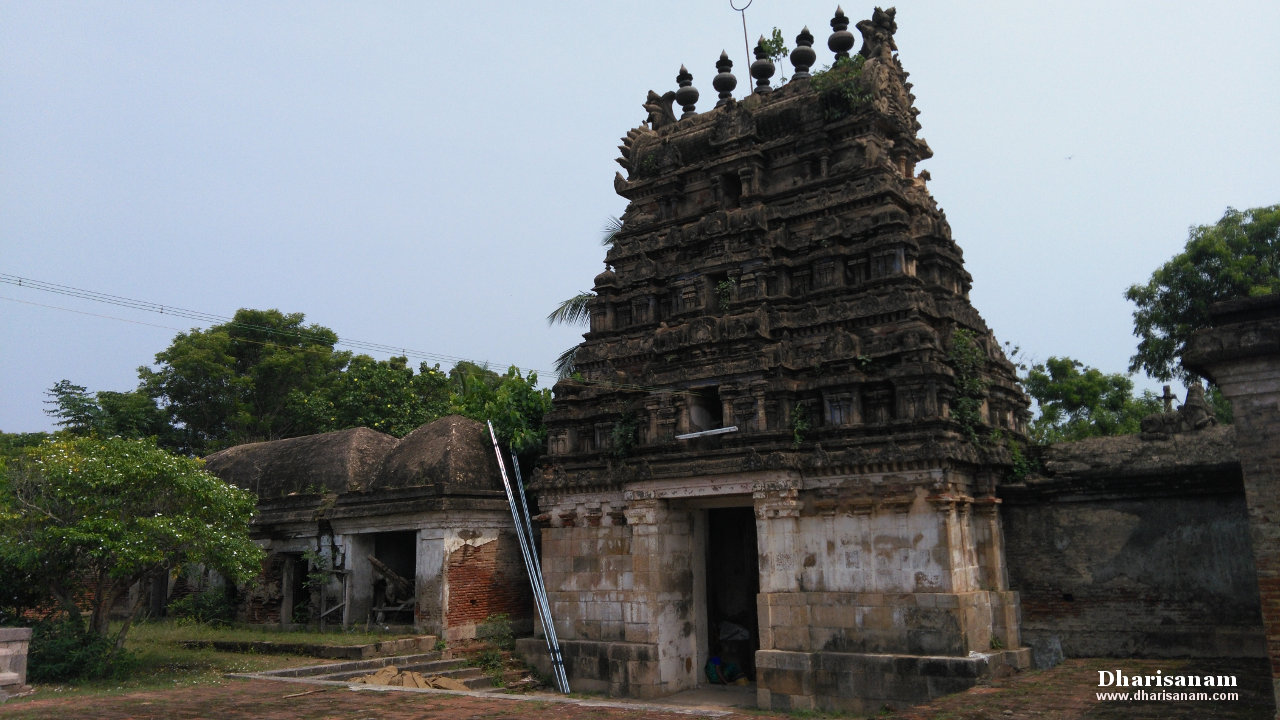 ---
Pathigam (Hymn) with English transliteration
Saint Sundararamurthy Nayanar visited this temple and sang this Pathigam.
Devotees visiting this temple should make it a practice to recite this Pathigam.
அற்றவ னாரடி யார்தமக் காயிழை பங்கினராம்
பற்றவ னாரெம் பராபர ரென்று பலர்விரும்பும்
கொற்றவ னார்குறு காதவர் ஊர்நெடு வெஞ்சரத்தால்
செற்றவ னார்க்கிட மாவது நந்திரு நின்றியூரே.
"Atṟava ṉāraṭi yārthamak kāyizhai paṅkiṉarām
patṟava ṉārem parāpara reṉtṟu palarvirumpum
kotṟava ṉārkuṟu kāthavar ūrneṭu veñcharaththāl
cetṟava ṉārkkiṭa māvathu nanthiru niṉtṟiyūrē".
வாசத்தி னார்மலர்க் கொன்றையுள் ளார்வடி வார்ந்தநீறு
பூசத்தி னார்புக லிந்நகர் போற்றுமெம் புண்ணியத்தார்
நேசத்தி னாலென்னை யாளுங்கொண் டார்நெடு மாகடல்சூழ்
தேசத்தி னார்க்கிட மாவது நந்திரு நின்றியூரே.
"Vāsaththi ṉārmalark koṉtṟaiyuḷ ḷārvaṭi vārnthanīṟu
pūsaththi ṉārpuka linnagar pōtṟumem puṇṇiyaththār
nēsaththi ṉāleṉṉai yāḷuṅkoṇ ṭārneṭu mākaṭalchūzh
thēsaththi ṉārkkiṭa māvathu nanthiru niṉtṟiyūrē".
அங்கையின் மூவிலை வேலர் அமரர் அடிபரவச்
சங்கையை நீங்க அருளித் தடங்கடல் நஞ்சமுண்டார்
மங்கையோர் பாகர் மகிழ்ந்த இடம்வள மல்குபுனற்
செங்கயல் பாயும் வயல்பொலி யுந்திரு நின்றியூரே.
"Aṅkaiyiṉ mūvilai vēlar amarar aṭiparavach
chaṅkaiyai nīṅka aruḷith thaṭaṅkaṭal nañchamuṇṭār
maṅkaiyōr pākar makizhntha iṭamvaḷa malkupuṉaṟ
seṅkayal pāyum vayalpoli yunthiru niṉtṟiyūrē".
ஆறுகந் தாரங்கம் நான்மறை யாரெங்கு மாகியடல்
ஏறுகந் தாரிசை ஏழுகந் தார்முடிக் கங்கைதன்னை
வேறுகந் தார்விரி நூலுகந் தார்பரி சாந்தமதா
நீறுகந் தாருறை யும்மிட மாந்திரு நின்றியூரே.
"Āṟukan thāraṅkam nāṉmaṟai yāreṅku mākiyaṭal
ēṟukan thārisai ēzhukan thārmuṭik gaṅgaithaṉṉai
vēṟukan thārviri nūlukan thārpari sānthamathā
nīṟukan thāruṟai yum'miṭa mānthiru niṉtṟiyūrē".
வஞ்சங்கொண் டார்மனஞ் சேரகில் லார்நறு நெய்தயிர்பால்
அஞ்சுங்கொண் டாடிய வேட்கையி னாரதி கைப்பதியே
தஞ்சங்கொண் டார்தமக் கென்றும் இருக்கை சரணடைந்தார்
நெஞ்சங்கொண் டார்க்கிட மாவது நந்திரு நின்றியூரே.
"Vañchaṅkoṇ ṭārmaṉañ chērakil lārnaṟu neythayirpāl
añchuṅkoṇ ṭāṭiya vēṭkaiyi ṉārathi kaippathiyē
thañchaṅkoṇ ṭārthamak keṉtṟum irukkai saraṇaṭainthār
neñchaṅkoṇ ṭārkkiṭa māvathu nanthiru niṉtṟiyūrē".
ஆர்த்தவர் ஆடர வம்மரை மேற்புலி ஈருரிவை
போர்த்தவர் ஆனையின் தோலுடல் வெம்புலால் கையகலப்
பார்த்தவ ரின்னுயிர் பார்படைத் தான்சிர மஞ்சிலொன்றைச்
சேர்த்தவ ருக்குறை யும்மிட மாந்திரு நின்றியூரே.
"Ārththavar āṭara vam'marai mēṟpuli īrurivai
pōrththavar āṉaiyiṉ thōluṭal vempulāl kaiyakalap
pārththava riṉṉuyir pārpaṭaith thāṉsira mañchiloṉṟaich
chērththava rukkuṟai yum'miṭa mānthiru niṉtṟiyūrē".
தலையிடை யார்பலி சென்றகந் தோறுந் திரிந்தசெல்வர்
மலையுடை யாளொரு பாகம்வைத் தார்கல் துதைந்தநன்னீர்
அலையுடை யார்சடை எட்டுஞ் சுழல அருநடஞ்செய்
நிலையுடை யாருறை யும்மிட மாந்திரு நின்றியூரே.
"Thalaiyiṭai yārpali seṉtṟakan thōṟun thirinthaselvar
malaiyuṭai yāḷoru pākamvaith thārkal thuthainthanaṉṉīr
alaiyuṭai yārsaṭai eṭṭuñ chuzhala arunaṭañchey
nilaiyuṭai yāruṟai yum'miṭa mānthiru niṉtṟiyūrē".
எட்டுகந் தார்திசை ஏழுகந் தார்எழுத் தாறுமன்பர்
இட்டுகந் தார்மலர்ப் பூசையிச் சிக்கும் இறைவர்முன்னாள்
பட்டுகும் பாரிடைக் காலனைக் காய்ந்து பலியிரந்தூண்
சிட்டுகந் தார்க்கிட மாவது நந்திரு நின்றியூரே.
"Eṭṭukan thārthisai ēzhukan thār'ezhuth thāṟumaṉpar
iṭṭukan thārmalarp pūsaiyich chikkum iṟaivarmuṉṉāḷ
paṭṭukum pāriṭaik kālaṉaik kāynthu paliyiranthūṇ
siṭṭukan thārkkiṭa māvathu nanthiru niṉtṟiyūrē".
காலமும் ஞாயிறு மாகிநின் றார்கழல் பேணவல்லார்
சீலமுஞ் செய்கையுங் கண்டுகப் பாரடி போற்றிசைப்ப
மாலொடு நான்முகன் இந்திரன் மந்திரத் தால்வணங்க
நீலநஞ் சுண்டவ ருக்கிட மாந்திரு நின்றியூரே.
"Kālamum gñāyiṟu mākiniṉ tṟārkazhal pēṇavallār
sīlamuñ cheykaiyuṅ kaṇṭukap pāraṭi pōtṟisaippa
māloṭu nāṉmukaṉ inthiraṉ manthirath thālvaṇaṅka
nīlanañ chuṇṭava rukkiṭa mānthiru niṉtṟiyūrē".
வாயார் மனத்தால் நினைக்கு மவருக் கருந்தவத்தில்
தூயார் சுடுபொடி யாடிய மேனியர் வானிலென்றும்
மேயார் விடையுகந் தேறிய வித்தகர் பேர்ந்தவர்க்குச்
சேயார் அடியார்க் கணியவர் ஊர்திரு நின்றியூரே.
"Vāyār maṉaththāl niṉaikku mavaruk karunthavaththil
thūyār suṭupoṭi yāṭiya mēṉiyar vāṉileṉtṟum
mēyār viṭaiyukan thēṟiya viththakar pērnthavarkkuch
chēyār aṭiyārk kaṇiyavar ūrthiru niṉtṟiyūrē".
சேரும் புகழ்த்தொண்டர் செய்கை அறாத்திரு நின்றியூரிற்
சீருஞ் சிவகதி யாயிருந் தானைத் திருநாவலா
ரூரன் உரைத்த உறுதமிழ் பத்தும்வல் லார்வினைபோய்ப்
பாரும் விசும்புந் தொழப்பர மன்னடி கூடுவரே.
"Sērum pukazhththoṇṭar seykai aṟāththiru niṉtṟiyūriṟ
sīruñ sivakathi yāyirun thāṉaith thirunāvalā
rūraṉ uraiththa uṟuthamizh paththumval lārviṉaipōyp
pārum visumpun thozhappara maṉṉaṭi kūṭuvarē".