Visited on: 24th July, 2016 and 10th February, 2017.
Location
Thalaignayiru (Thiru Karuppariyalur) is situated at a distance of about 9 kms from Vaitheeswarankoil on the Vaitheeswarankoil to Manalmedu route. The temple is about one kilometre away from the main road. From Mayiladuthurai, it is about 12 kms.
Other Devara Paadal Petra Shiva Sthalam near this place are – Vaitheeswaran Koil, Thirukkannar Koil, Thiruppunkur, Thiruvazhkoliputhur, Thiru Nintriyur, Thiru Kurakkuka, Thiru Kurukkai, Mayiladuthurai, Thiru Needur and Thiru Anniyur.
General Information
| | |
| --- | --- |
| Moolavar | Sri Kutram Porutha Nathar, Sri Aparadha Kshameswarar |
| Ambal | Sri Kolvalai Nayagi, Sri Vichitra Balambikai |
| Theertham (Holy water) | Indhra Theertham, Surya Theertham |
| Sthala Vriksham (Sacred Tree) | Kokudi Mullai (Jasmine) |
| Pathigam (Hymn) rendered by | Saint Thirugnanasambanthar and Saint Sundaramurthy (Sundarar) |
This is one of the 276 Devara Paadal Petra Shiva Sthalams and 27th Shiva Sthalam on the northern bank of the river Cauvery in Chozha Nadu (Vadakarai).
Lord Shiva in this temple is a Swayambumurthi (self-manifested).
This east facing temple has two corridors and its main tower (Rajagopuram) has 3-tiers.
The last consecration ceremony (Maha Kumbabishekam) took place on 22.03.1953.
History of the Temple
The historical names of this place are Yuthigavanam, Thiru Karuppariyalur, Melaikkazhi, Kanmanasa Puram, Adhithyapuri, Thalaignayiru, Kokudikkoil and Kallar kottai.
There are 12 stone inscriptions in this temple which date back to the periods of Chola kings Kulothungan-III, Konerikondan and Thiribuvana Chakravarthy Rajarajan and Vijayanagara king Pratapakrishna Devarayar.
This temple is under the administrative control of Dharumapuram Adheenam.
However, this temple is presently in a very bad state. The main tower as well as the towers in the sanctum are in ruins and are covered with a lot of weeds and plants. Even the compound walls and shrines are in a dilapidated condition.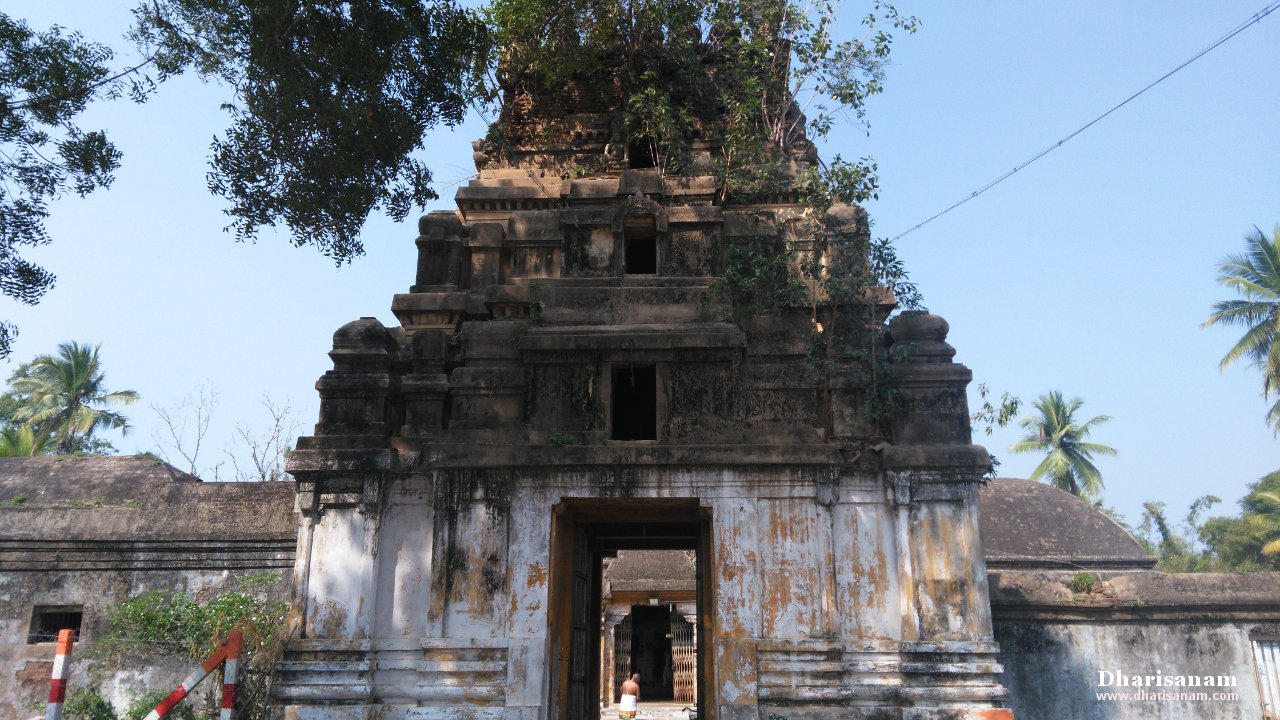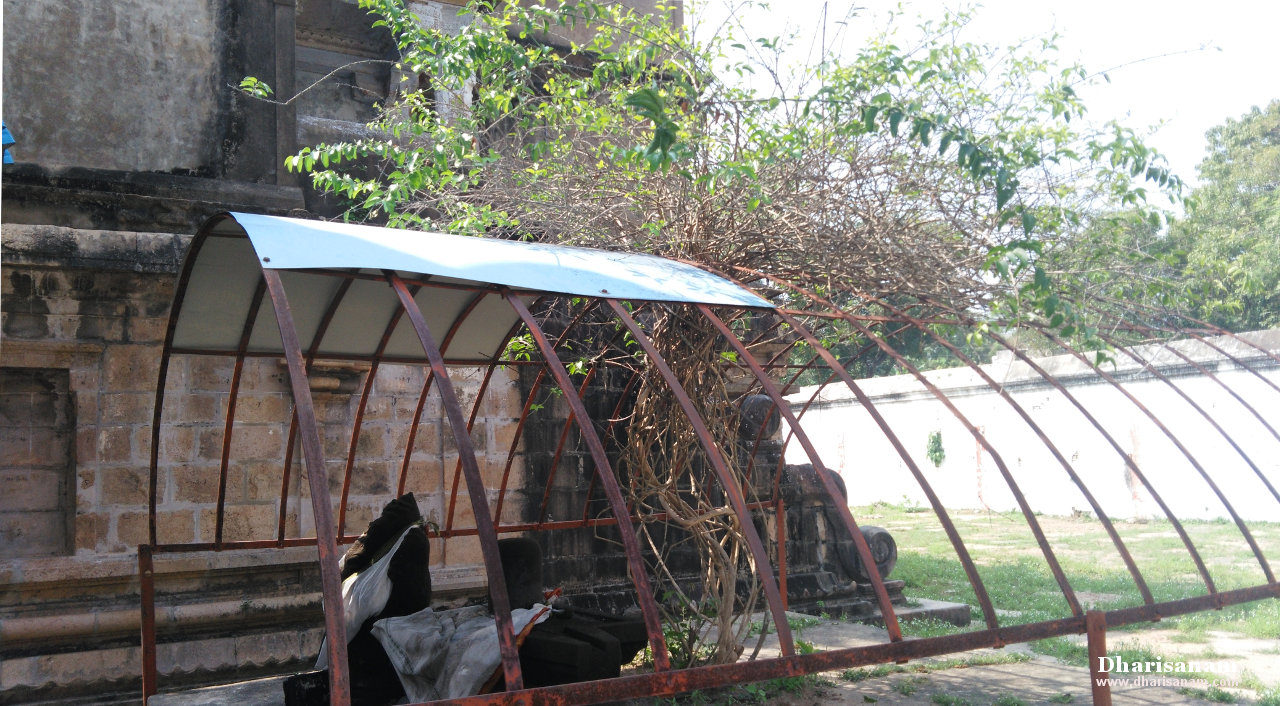 Legend
As per the Sthala Puranam, once Indra (the king of Devas) is believed to have visited Mount Kailash where Lord Shiva appeared before him as a "bhoothaganam". Without knowing that this was Lord Shiva, Indra attacked him with his Vajrayutham. When he realised his mistake, he came to this place to seek forgiveness. Lord Shiva forgave him for his hasty act of aggression. Hence the lord is praised as Sri Aparadha Kshameswarar ("Kutram Porutha Nathar" in Tamil) and this place gets the name Karma Naasa Puram.
It is believed that Lord Ram, Sita and others returned to Rameswaram after the war with Ravana. Ram wanted to worship Lord Shiva to get relief from the sins accrued by killing the demons. He asked Hanuman to go to Ayodhya and bring his Shiva idol for worship. However, Hanuman got delayed in bringing the lingam. In the meantime, Sage Agasthiyar advised Sita to prepare a lingam with sand and asked Ram to perform his prayers. When Hanuman reached Rameswaram, he apologised for the delay. The lingam that he brought was installed by Ram in another place in Rameswaram.
Anjaneyar wanted to take the sand lingam that had been made by Sita and worshiped by Ram with him. He tried to uproot it with his tail but failed to move the lingam. Also, in this process, his tail got cut and he lost his strength. He then realised the sin ("Shiva aparadam") that he was trying to commit by removing the Shivalingam from its place.
It is believed that Lord Ram advised Hanuman to go for a pilgrimage and visit a few Shiva temples to seek relief. This temple is one of the places where Hanuman worshiped Lord Shiva. This is also the place where he was finally relived of his sin.
Another legend associated with this place is that of Meganathan, the son of Ravana. Meganathan is also known as Indrajit as he won against Lord Indra in a battle. Once, Indrajit was flying in his chariot ("Pushpaka Vimanam") across the sky. At one point, his chariot was impeded and stopped in the sky. When he looked down he understood that he was flying over a Shiva temple. That was the reason why he could not move the chariot. Indrajit came down and worshiped the lord here after taking bath in the sacred Theertham. He also tried to shift this wonderful lingam to Lankapuri. But he could not move it and instead fell unconscious in the process. Ravana came to know about this incident and he pleaded to the lord to pardon his son. Lord Shiva forgave Indrajit and let him continue his travel. Hence, the lord of this place is also praised as "Kutram Porutha Nathar" ('Kutram means mistake, "porutha" means to pardon and "nathar" refers to the lord in Tamil.
Other legends
This is the first place where Suryan worshiped Lord Shiva. Hence this place gets the name "Thalai Gnayiru" ("Thalai" means first and "Gnayiru" means Suryan in Tamil). It is also called Adhithyapuri ("Adhi" meaning first and "puri" is place in Tamil).
As per the sthala puranam, King Vichithiraangan (from the Sindu kingdom) with his wife Suseelai visited many Shiva temples and worshipped the lord seeking child boon. It is believed that in this temple, they had blessed with a child and in gratitude the King constructed this temple.
Sage Vashishtar is believed to have worshiped Lord Shiva here upon the advice of Lord Brahma. It is believed that Sage Vashishtar installed a lingam here and worshiped it. It is also believed that 72 Maharishis including Angirasa, Gauthamar, Vamadevar and Kabali have worshiped the lord here and attained salvation ("mukthi"). Both Sage Vashishtar and the 72 Maharishis were taught the highest wisdom by Lord Shiva here.
Deities in the temple
Other than the shrines of Lord Shiva and Goddess Parvathy, shrines and idols of Siddhi Vinayagar, Murugan with his consorts, Mahalakshmi, Moovar and Uma Mamaheswarar can be seen in the corridors.
In the "koshtam" (place surrounding the sanctum sanctorum), idols of Narthana Vinayakar, Dakshinamurthy, Lingothbavar, Brahma and Durgai can be seen. The idols of Chandikeswarar with his wife Yamini are depicted in a seated posture.
There is an idol of Vinayakar along with a Shivalingam under the Sthala Viruksham (Mullai plant).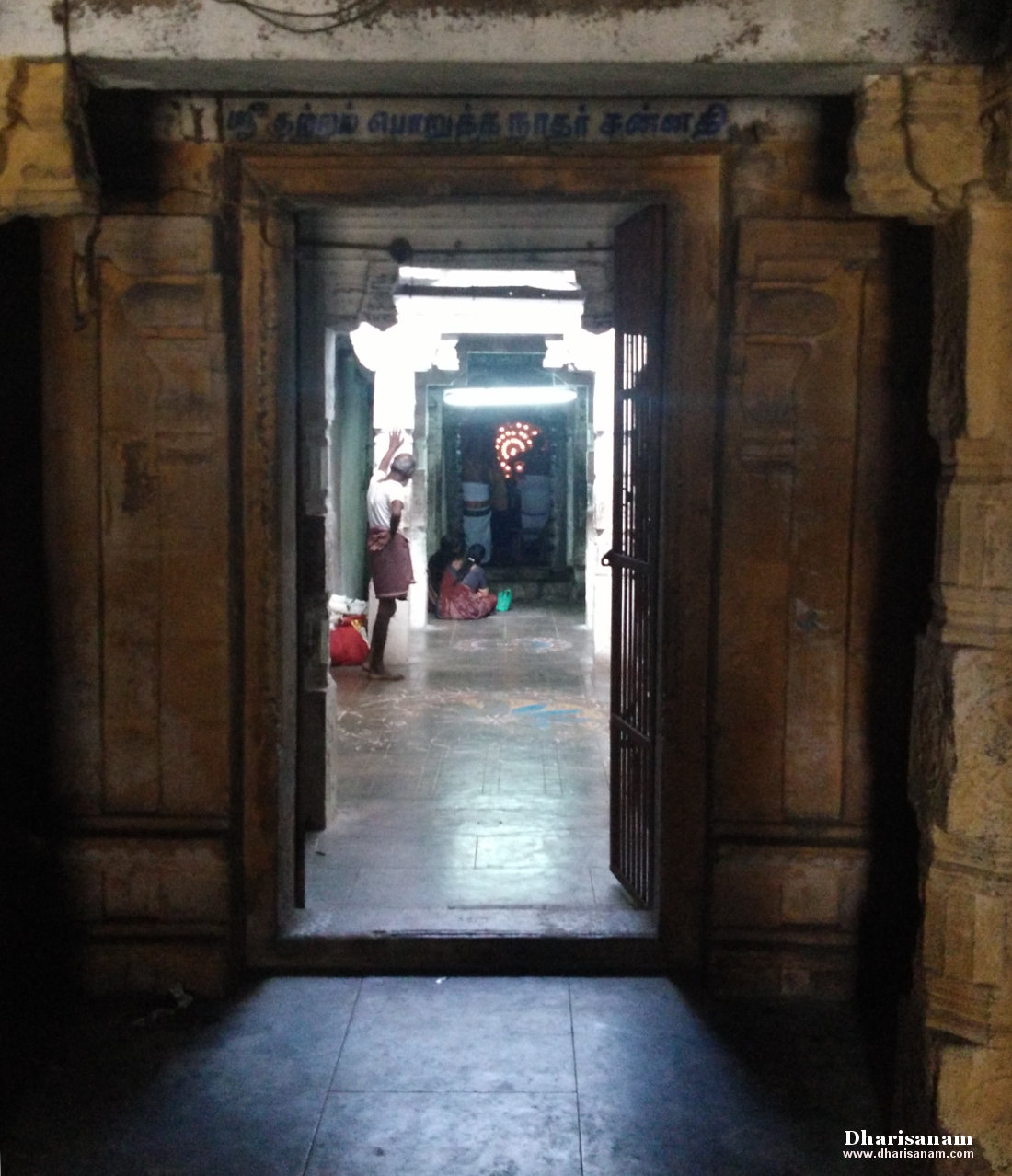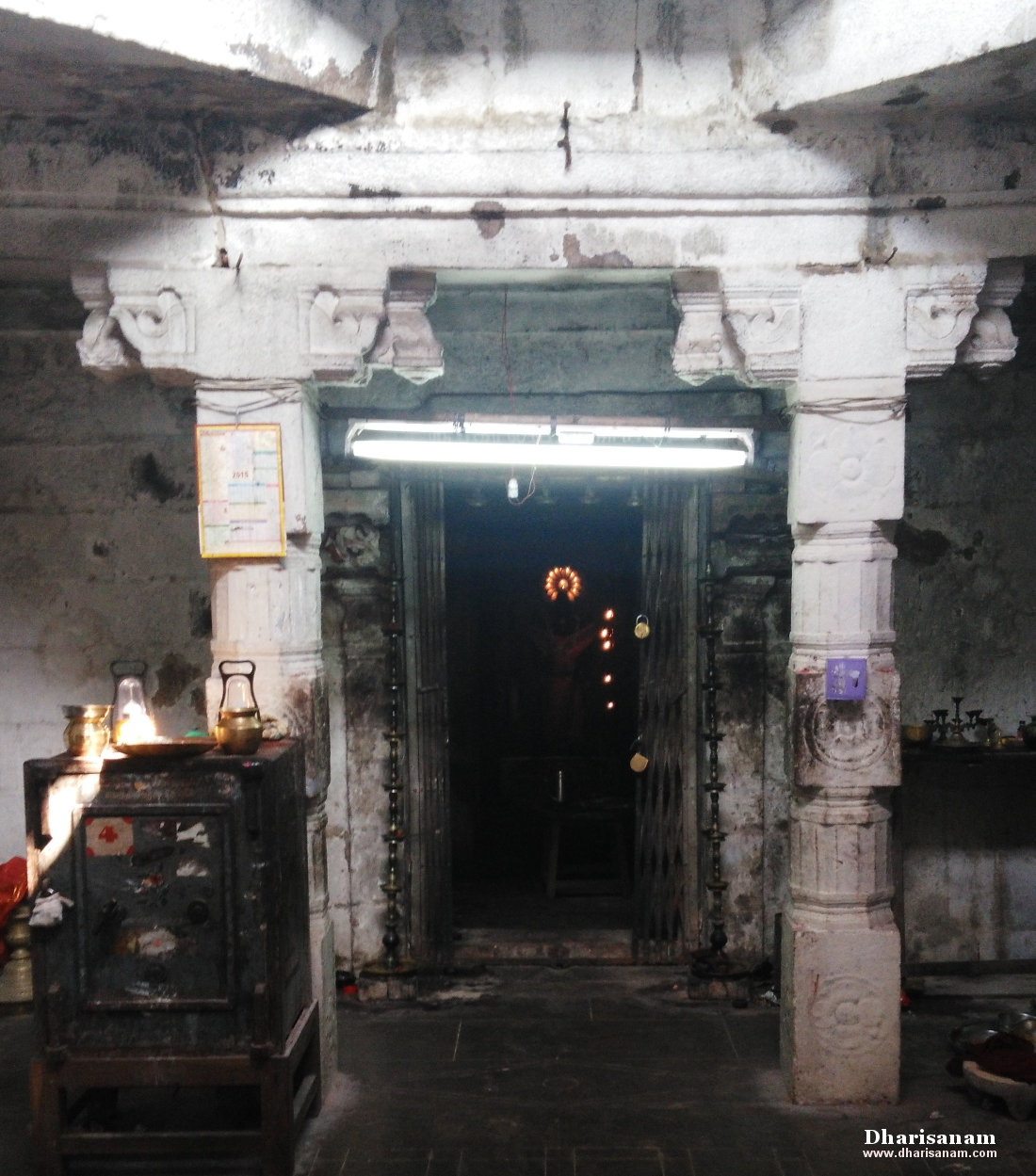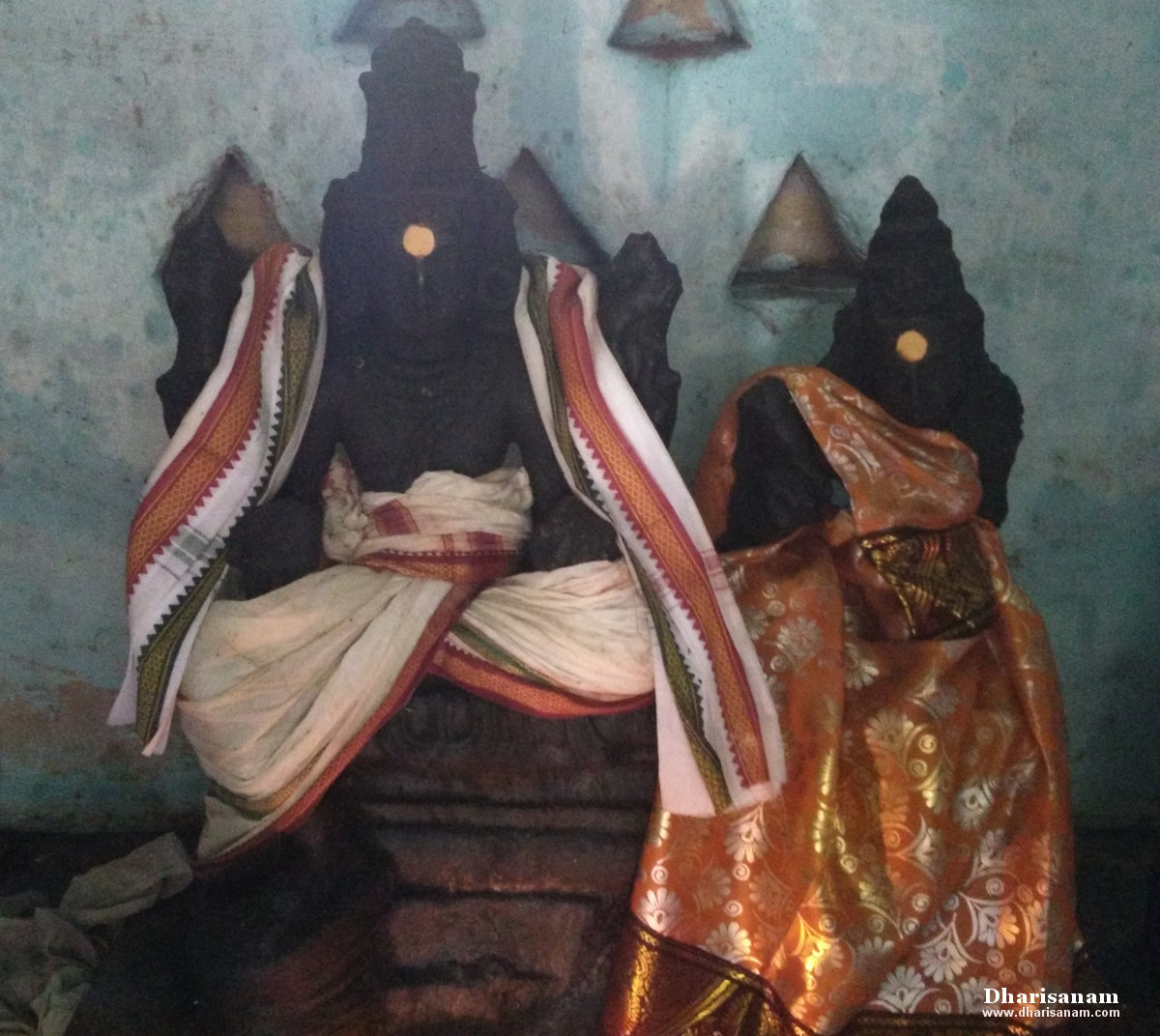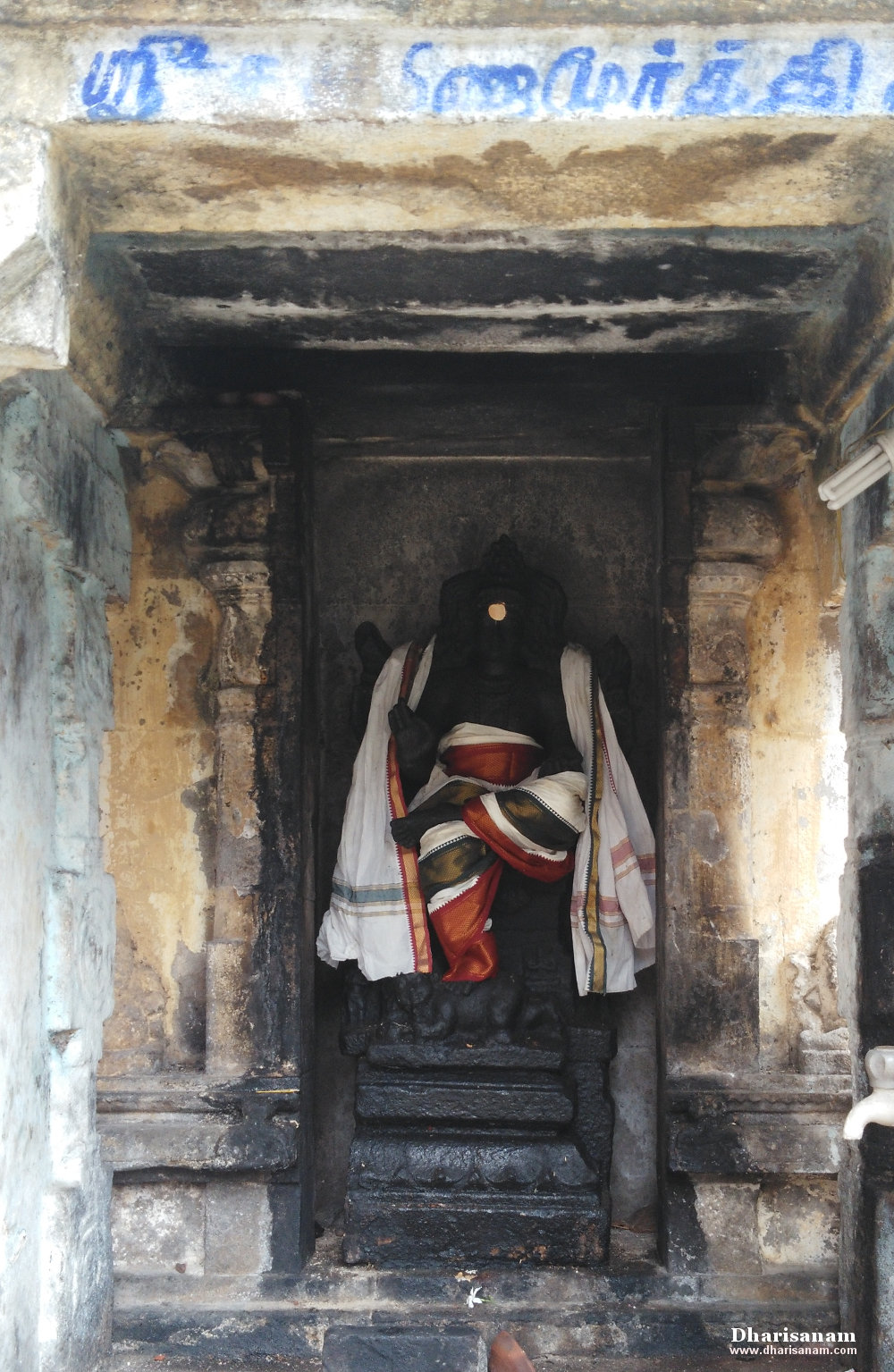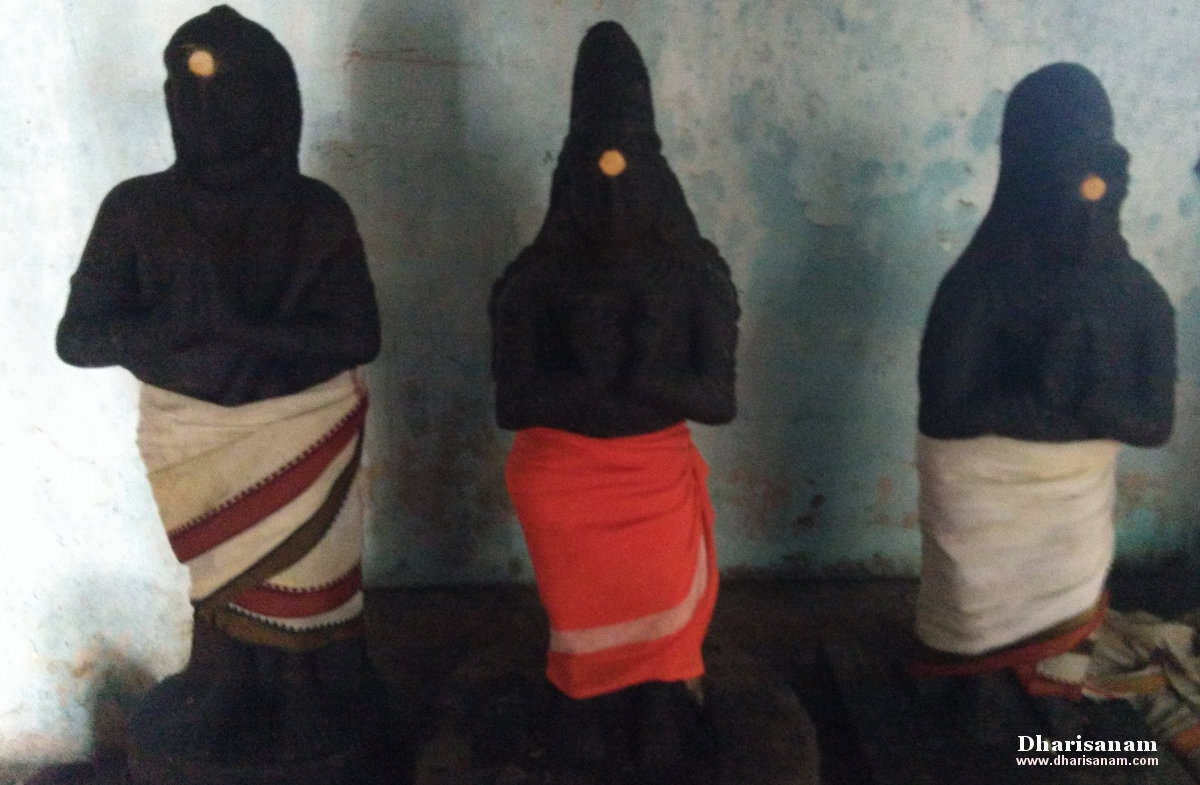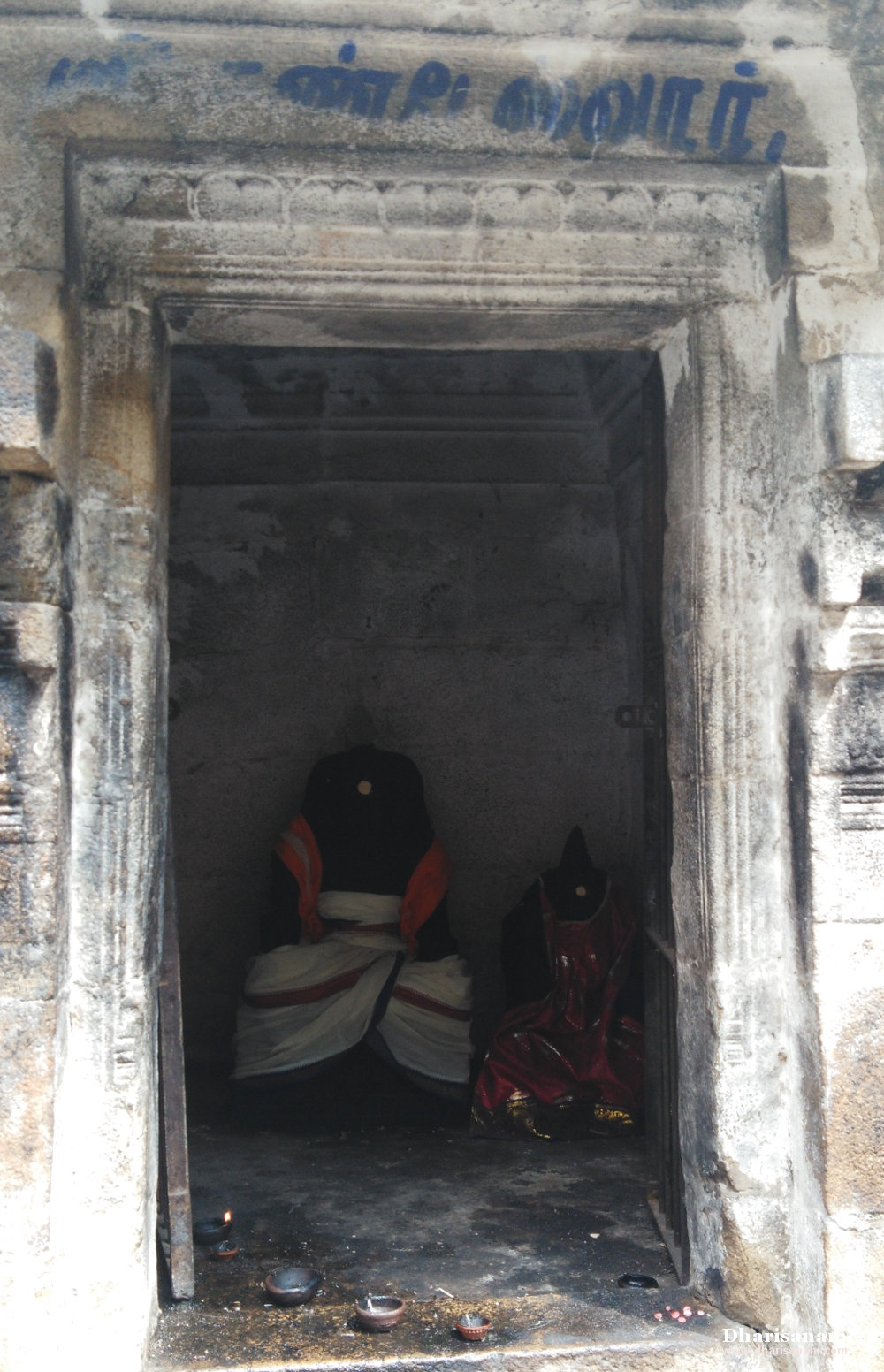 Salient Features
There is a hill temple ("Malaikkoil" in Tamil) with two floors inside this temple similar to the Sattainaathar temple at Sirkazhi. The ground floor houses the Moolavar. Lord Uma Maheswarar (Thoniyappar) and Lord Sattainaathar can be seen in the first and the second floor respectively.
Thoniyappar and the goddess are praised as Sri Garppa Gnaneswarar and Sri Garppa Gnana Parameswari here. As this temple is on the western side of Sirkazhi, this place also gets the name Mela Kaazhi ("Mela" meaning west).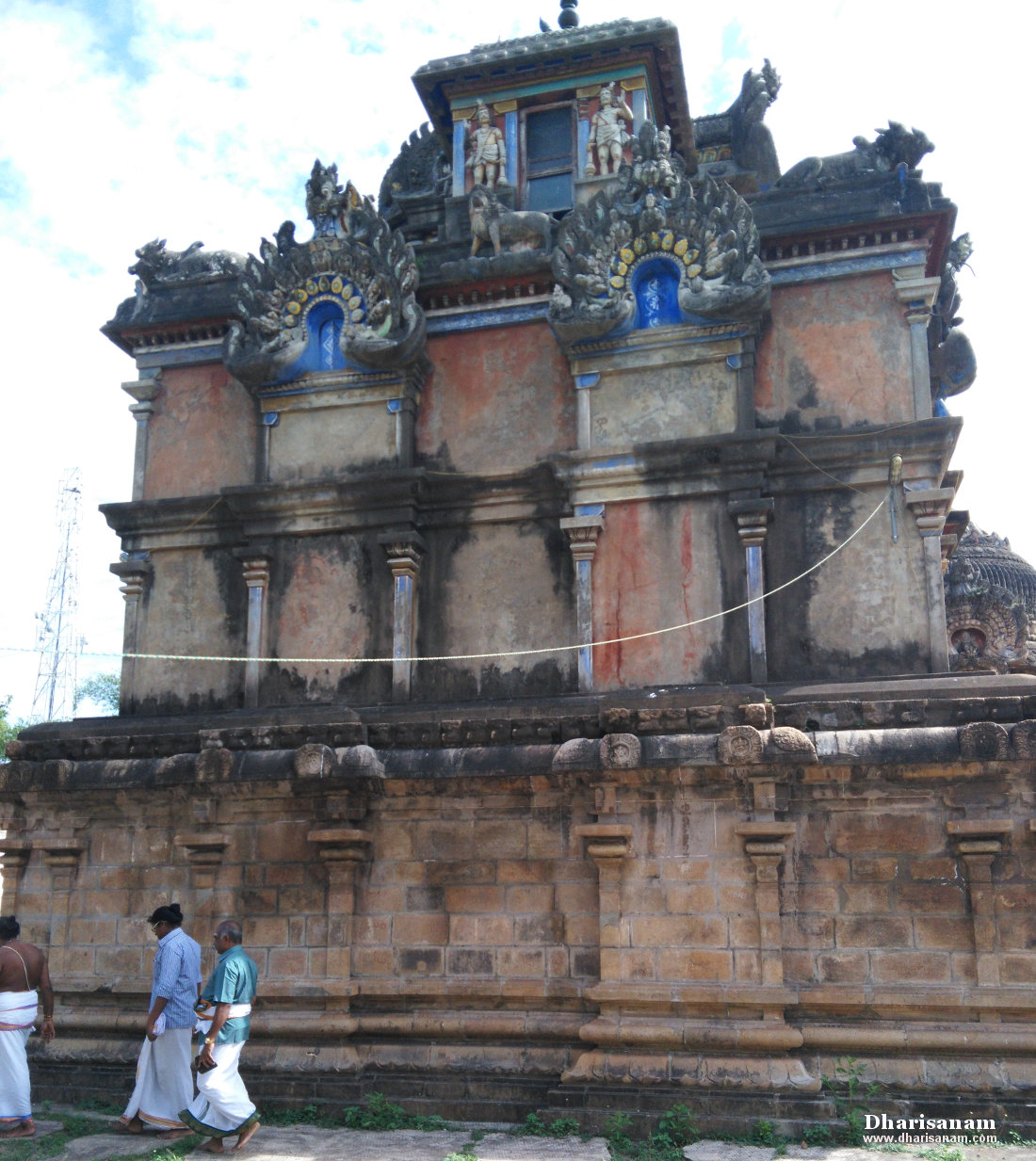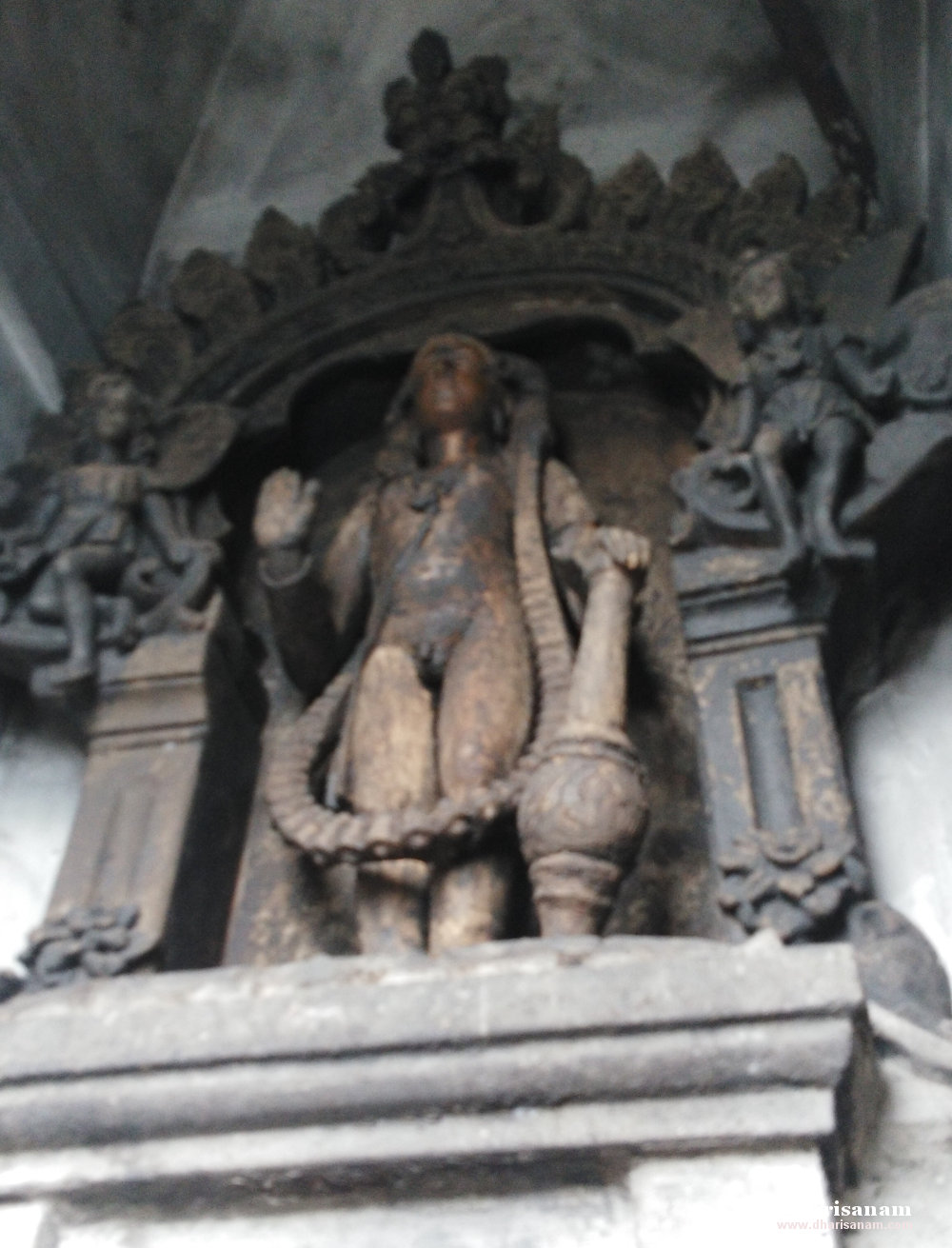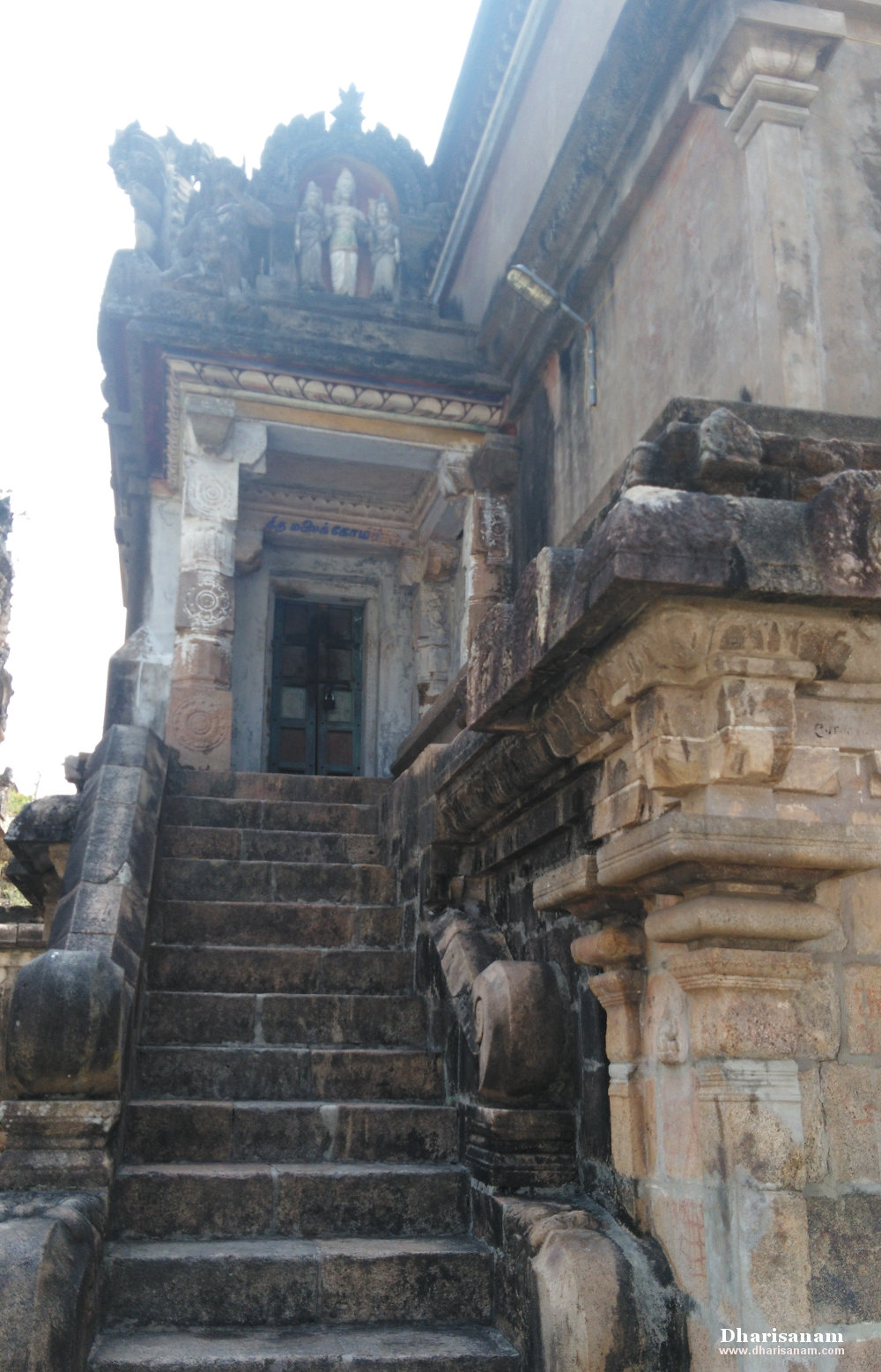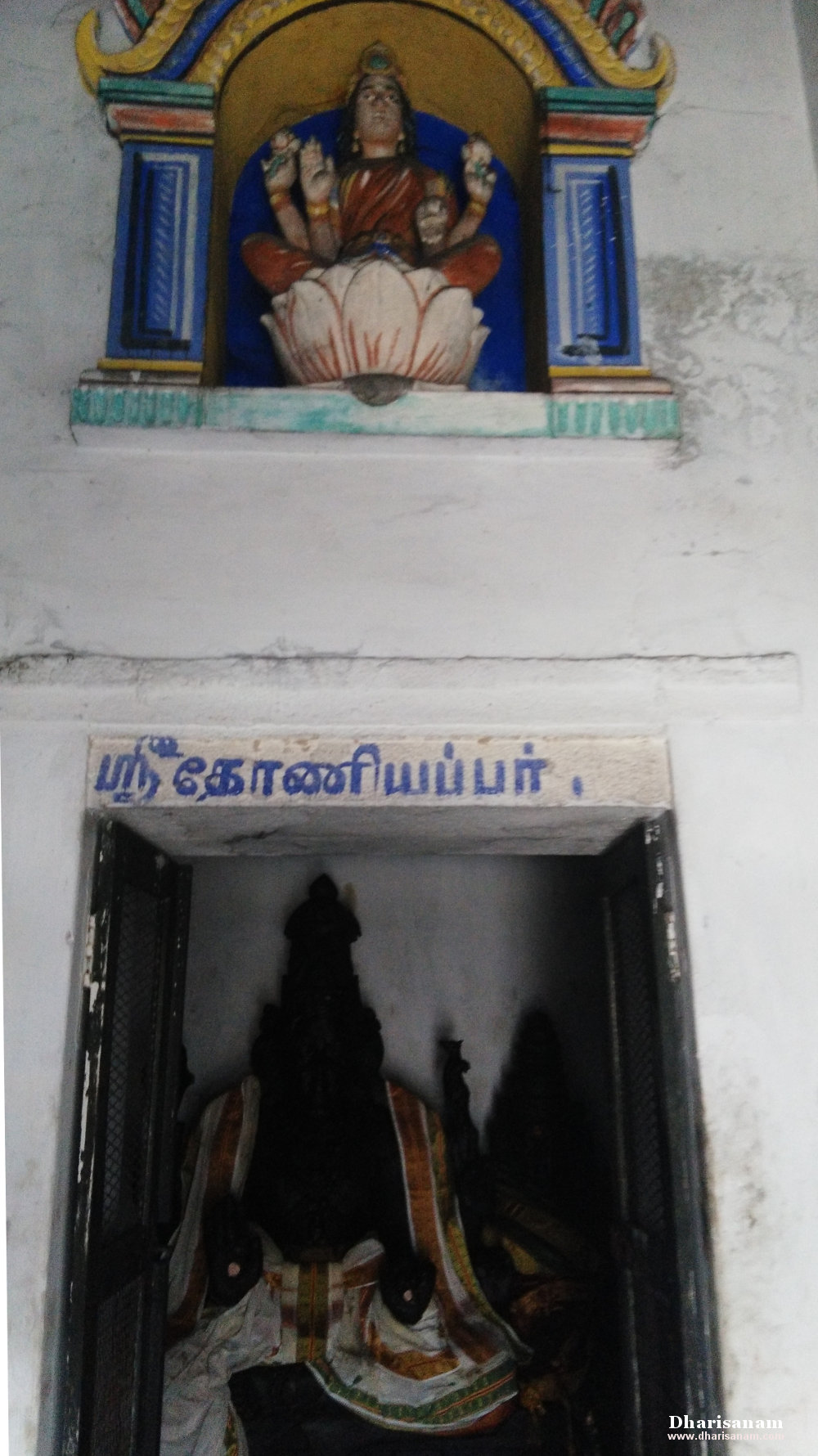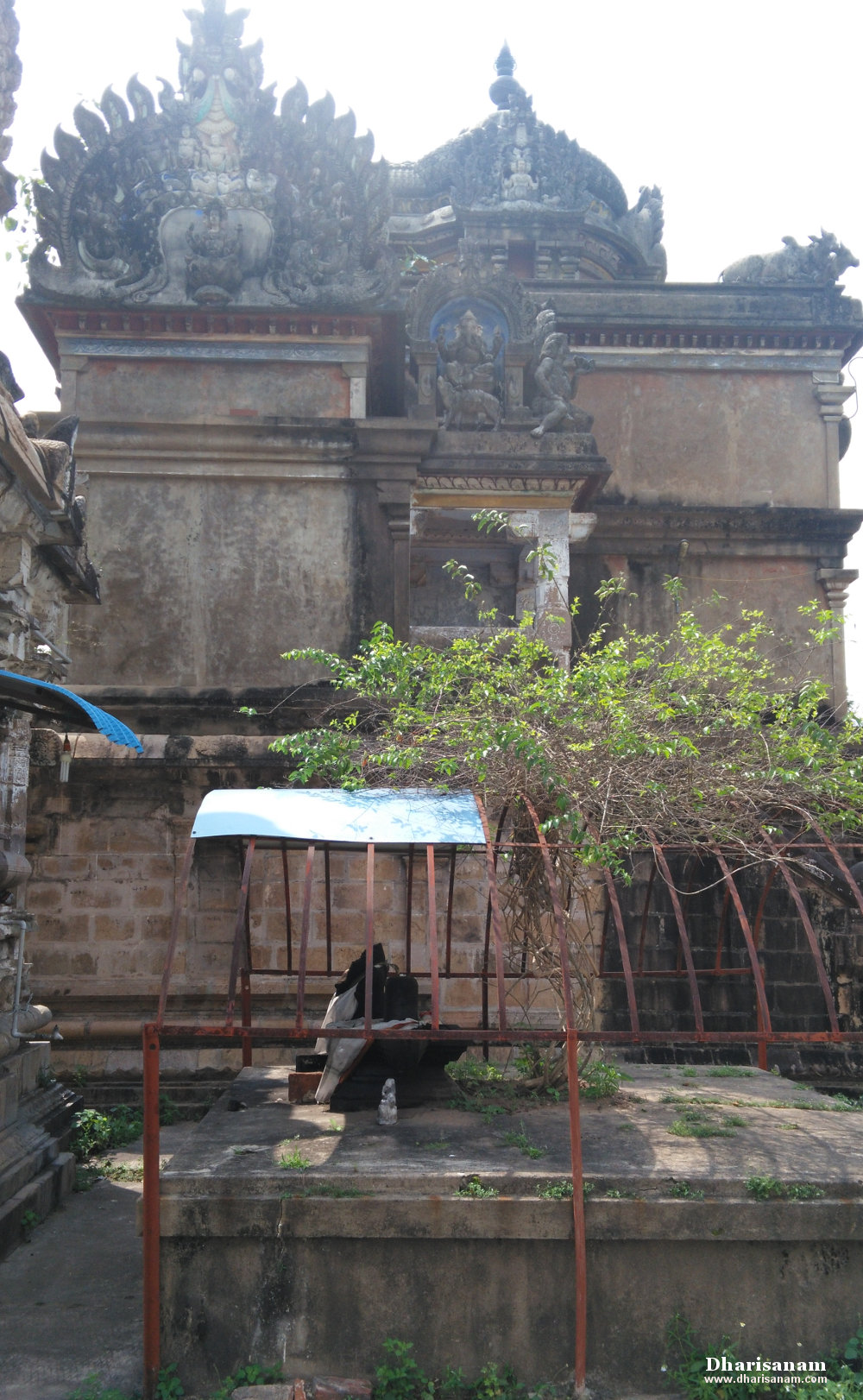 It is believed that worshiping the lord here would help devotees get salvation and will help them break away from the repetitive cycle of birth and re-birth. Hence this place also gets the name "Karu Pariyalur" ("karu" means foetus and "Pariyal" means "to seize" in Tamil). In the first stanza of his hymn, Saint Thirugnanasambanthar also mentions about this "Karu Pariyal" of those who worship the lord here.
The front hall (Mandapam) of this temple is designed to look like the forehead of a bat ("Vovval Nethi Mandapam"). This looks very beautiful.
The Sthala Viruksham of this temple is Kokudi Mullai, a variety of jasmine and hence this place is also known as Kokudikkoil. In their hymns, both Saint Thirugnanasambanthar and Saint Sundaramurthy have mentioned this temple as "Kokudikkoil".
There are about eight holy waters (Theerthams) associated with this temple – Vinayaka theertham (river Pazhavaru), Surya theertham, Vashista theertham, Hunuman theertham, Nimbapushkarani, Sankapushkarani, Potramarai and Senkazhunir thadagam.
Greatness of this temple
It is believed that Lord Brahma informed Sage Vashistar that any good deed committed at this temple will multiply ten-fold.
In this temple Sage Vashishtar and 72 Maharishis were blessed with the gift of wisdom by Lord Shiva. For this reason, those seeking excellence in educational pursuits can worship the lord here.
Lord Dakshinamurthy is considered to be the god of education and he is very popular with students. In his hymn, Saint Thirugnanasambanthar also mentioned that the learned lord resides in this temple.
It is believed that those seeking "Santhana Prapthi" (child boon) can pray to the lord here after taking a dip in the Surya Theertham.
Important Festivals
Some of the important festivals celebrated in the temple are –
Vinayakar Chaturthi in the Tamil month of Aavani (Aug-Sept),
Skanda Shashti and Annabishekam in the Tamil month of Aippasi (Oct–Nov),
Thiru Karthikai in the Tamil month of Karthikai (Nov-Dec),
Shivrathri in the Tamil month of Masi (Feb-Mar) and
Panguni Uthiram in the Tamil month of Panguni (Mar-Apr).
Pradosham is also observed regularly.
Temple Timings
From 08.00 AM to 12.00 Noon and from 05.00 PM to 08.00 PM.
Temple Address
Sri Kutram Porutha Natheswarar Temple,
Thiru Karuppariyalur (Thalaignayiru),
Ilanthoppu Via,
Mayiladuthurai Taluk,
Nagapatinam District,
Tamil Nadu - 609201.
Tele: +91- 4364 - 258 833.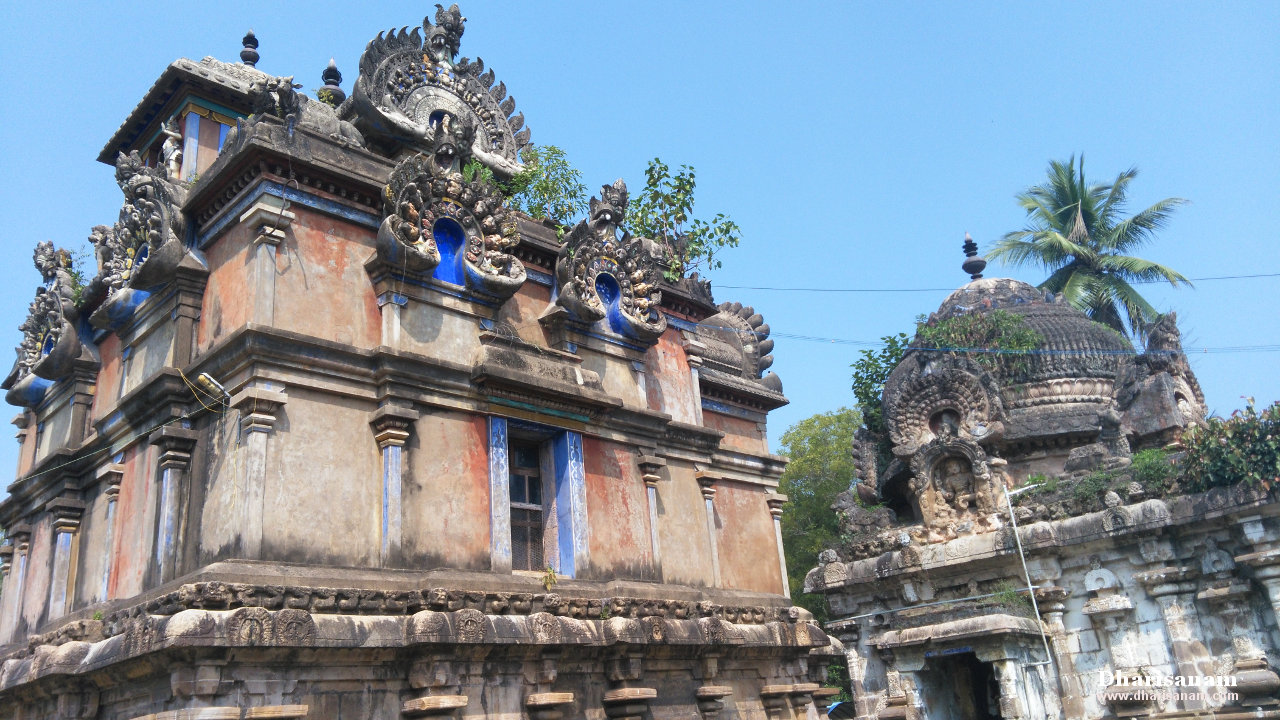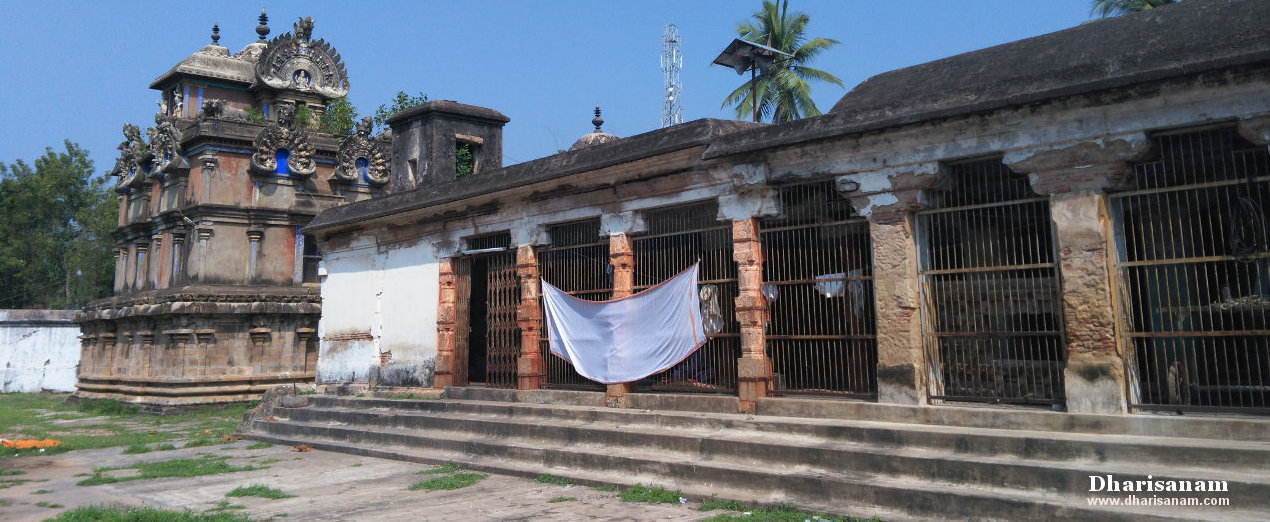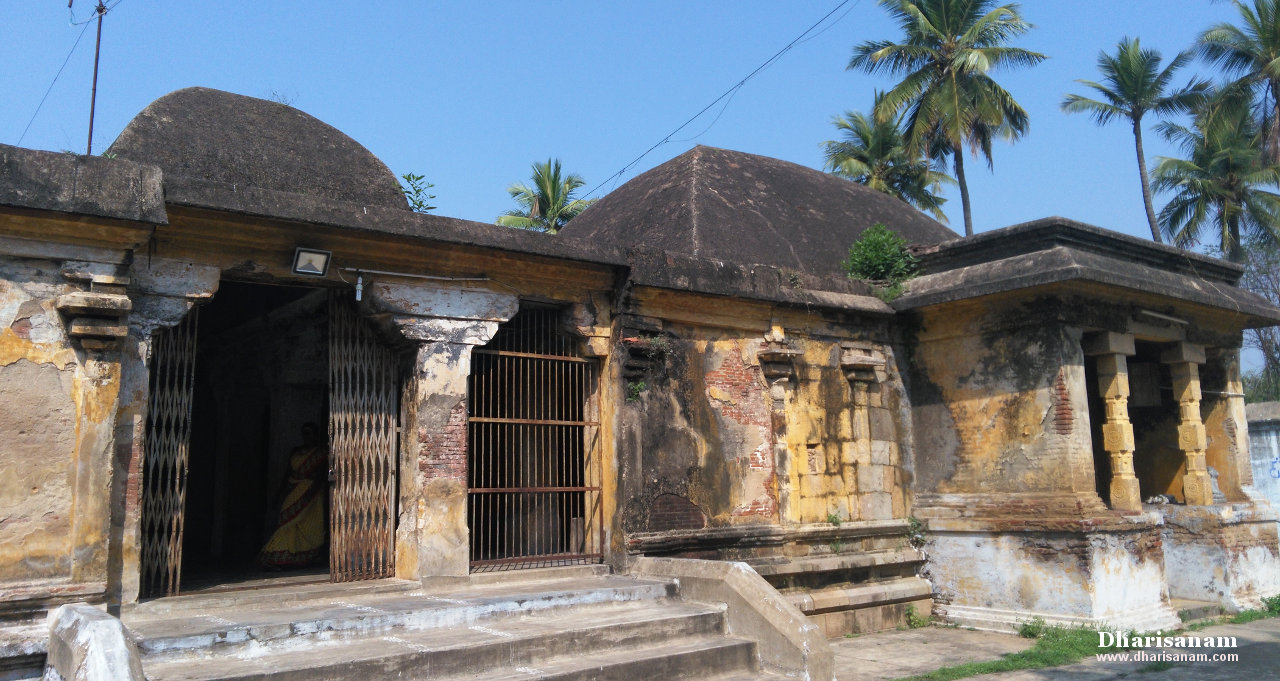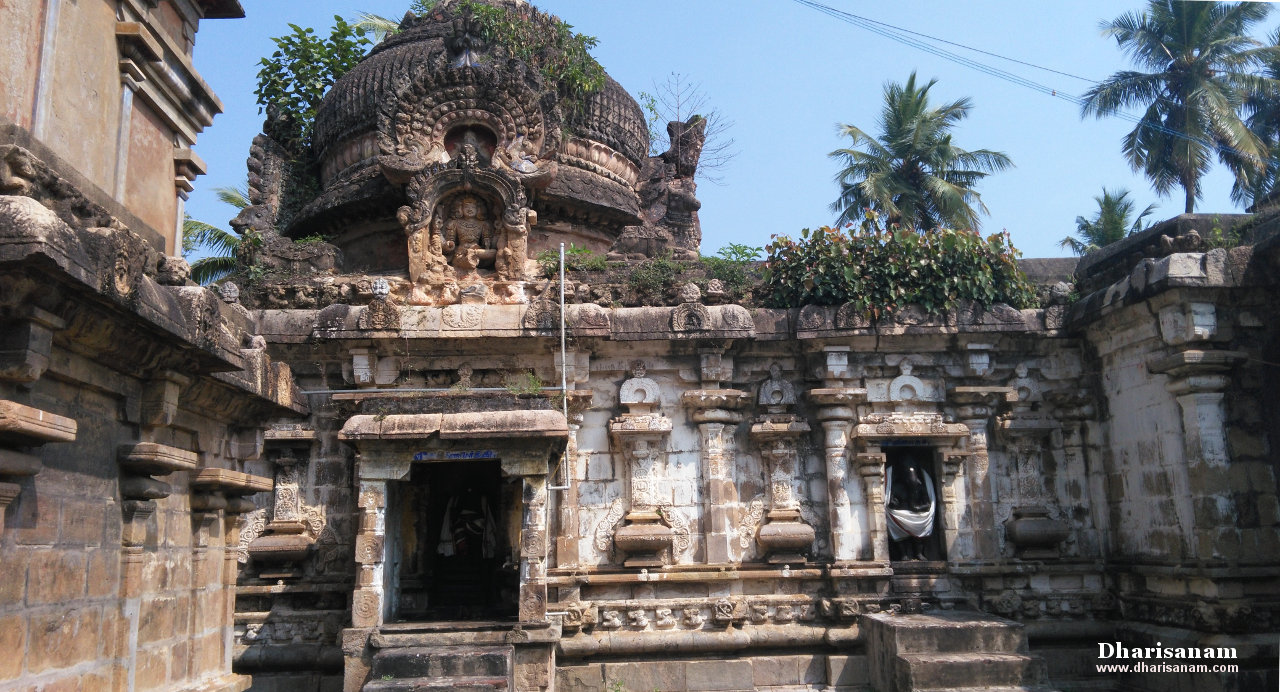 ---
Pathigam (Hymn) with English transliteration
Saint Thirugnanasambanthar visited this temple and sang this Pathigam.
Devotees visiting this temple should make it a practice to recite this Pathigam.
சுற்றமொடு பற்றவை துயக்கற அறுத்துக்
குற்றமில் குணங்களொடு கூடும்அடி யார்கள்
மற்றவரை வானவர்தம் வானுலக மேற்றக்
கற்றவ னிருப்பது கருப்பறிய லூரே.
"Sutṟamodu patṟavai thuyakkaṟa aṟuththuk
kutṟamil kuṇaṅkaḷodu kūṭumaṭi yārkaḷ
matṟavarai vāṉavartham vāṉulaka mētṟak
katṟava ṉiruppathu karuppaṟiya lūrē".
வண்டணைசெய் கொன்றையது வார்சடை கள்மேலே
கொண்டணைசெய் கோலமது கோளரவி னோடும்
விண்டணைசெய் மும்மதிலும் வீழ்தரவொ ரம்பால்
கண்டவ னிருப்பது கருப்பறிய லூரே.
"Vaṇṭaṇaisey koṉtṟaiyathu vārsaṭai kaḷmēlē
koṇṭaṇaisey kōlamathu kōḷaravi ṉōṭum
viṇṭaṇaisey mum'mathilum vīzhtharavo rampāl
kaṇṭava ṉiruppathu karuppaṟiya lūrē".
வேதமொடு வேதியர்கள் வேள்விமுத லாகப்
போதினொடு போதுமலர் கொண்டுபுனை கின்ற
நாதனென நள்ளிருண்முன் ஆடுகுழை தாழும்
காதவ னிருப்பது கருப்பறிய லூரே.
"Vēthamodu vēthiyarkaḷ vēḷvimutha lākap
pōthiṉodu pōthumalar koṇṭupuṉai kiṉtṟa
nāthaṉeṉa naḷḷiruṇmuṉ ādukuzhai thāzhum
kāthava ṉiruppathu karuppaṟiya lūrē".
மடம்படு மலைக்கிறைவன் மங்கையொரு பங்கன்
உடம்பினை விடக்கருதி நின்றமறை யோனைத்
தொடர்ந்தணவு காலனுயிர் காலவொரு காலால்
கடந்தவ னிருப்பது கருப்பறிய லூரே.
"Maṭampaṭu malaikkiṟaivaṉ maṅkaiyoru paṅkaṉ
uṭampiṉai viṭakkaruthi niṉtṟamaṟai yōṉaith
thoṭarnthaṇavu kālaṉuyir kālavoru kālāl
kaṭanthava ṉiruppathu karuppaṟiya lūrē".
ஒருத்தியுமை யோடுமொரு பாகமது வாய
நிருத்தனவன் நீதியவன் நித்தன்நெறி யாய
விருத்தனவன் வேதமென அங்கமவை யோதும்
கருத்தவ னிருப்பது கருப்பறிய லூரே.
"Oruththiyumai yōṭumoru pākamathu vāya
niruththaṉavaṉ nīthiyavaṉ niththaṉneṟi yāya
viruththaṉavaṉ vēthameṉa aṅkamavai yōthum
karuththava ṉiruppathu karuppaṟiya lūrē".
விண்ணவர்கள் வெற்பரசு பெற்றமகள் மெய்த்தேன்
பண்ணமரும் மென்மொழியி னாளையணை விப்பான்
எண்ணிவரு காமனுடல் வேவஎரி காலும்
கண்ணவ னிருப்பது கருப்பறிய லூரே.
"Viṇṇavarkaḷ veṟparasu petṟamakaḷ meyththēṉ
paṇṇamarum meṉmozhiyi ṉāḷaiyaṇai vippāṉ
eṇṇivaru kāmaṉuṭal vēva'eri kālum
kaṇṇava ṉiruppathu karuppaṟiya lūrē".
ஆதியடி யைப்பணிய அப்பொடு மலர்ச்சேர்
சோதியொளி நற்புகை வளர்க்குவடு புக்குத்
தீதுசெய வந்தணையும் அந்தகன் அரங்கக்
காதினன் இருப்பது கருப்பறிய லூரே.
"Āthiyaṭi yaippaṇiya appoṭu malarchchēr
sōthiyoḷi naṟpukai vaḷarkkuvaṭu pukkuth
thīthuseya vanthaṇaiyum anthakaṉ araṅkak
kāthiṉaṉ iruppathu karuppaṟiya lūrē".
வாய்ந்தபுகழ் விண்ணவரும் மண்ணவரும் அஞ்சப்
பாய்ந்தமர்செ யுந்தொழிலி லங்கைநகர் வேந்தற்
கேய்ந்தபுயம் அத்தனையும் இற்றுவிழ மேனாள்
காய்ந்தவ னிருப்பது கருப்பறிய லூரே.
"Vāynthapukazh viṇṇavarum maṇṇavarum añchap
pāynthamarse yunthozhili laṅkainagar vēnthaṟ
kēynthapuyam aththaṉaiyum itṟuvizha mēṉāḷ
kāynthava ṉiruppathu karuppaṟiya lūrē".
பரந்தது நிரந்துவரு பாய்திரைய கங்கை
கரந்தொர்சடை மேன்மிசை யுகந்தவளை வைத்து
நிரந்தரம் நிரந்திருவர் நேடியறி யாமல்
கரந்தவ னிருப்பது கருப்பறிய லூரே.
"Paranthathu niranthuvaru pāythiraiya gaṅgai
karanthorsaṭai mēṉmisai yukanthavaḷai vaiththu
nirantharam niranthiruvar nēṭiyaṟi yāmal
karanthava ṉiruppathu karuppaṟiya lūrē".
அற்றமறை யாவமண ராதமிலி புத்தர்
சொற்றமறி யாதவர்கள் சொன்னசொலை விட்டுக்
குற்றமறி யாதபெரு மான்கொகுடிக் கோயில்
கற்றென இருப்பது கருப்பறிய லூரே.
"Atṟamaṟai yāvamaṇa rāthamili puththar
sotṟamaṟi yāthavarkaḷ soṉṉasolai viṭṭuk
kutṟamaṟi yāthaperu māṉkokuṭik kōyil
katṟeṉa iruppathu karuppaṟiya lūrē".
நலந்தரு புனற்புகலி ஞானசம் பந்தன்
கலந்தவர் கருப்பறியல் மேயகட வுள்ளைப்
பலந்தரு தமிழ்க்கிளவி பத்துமிவை கற்று
வலந்தரு மவர்க்குவினை வாடலெளி தாமே.
"Nalantharu puṉaṟpukali gñāṉasam banthaṉ
kalanthavar karuppaṟiyal mēyakaṭa vuḷḷaip
palantharu thamizhkkiḷavi paththumivai katṟu
valantharu mavarkkuviṉai vāṭaleḷi thāmē".