Visited on: 24th July, 2016 and 4th September, 2017.
Location
Thirukurakkukka (Thirukkurakkaval) is situated at a distance of about 8 kms to the west of Sirkazhi and near Thalaignayiru.
From Vaitheeswarankoil, it is about 12 kms on the Vaitheeswaran Koil to Thiruppananthal route via Ilanthoppu. Take the diversion road from Ilanthoppu village and proceed further about 3 kms to reach this temple.
Other Devara Paadal Petra Shiva Sthalam near this place are – Sirkazhi, Vaitheeswaran Koil, Thirukkannar Koil, Thirunintriyur, Thiruvazhkoliputhur, Thiru Karuppariyalur (Thalaignayiru), Thiruppunkur, Thiru Kurukkai, Mayiladuthurai, Thiru Needur and Thiru Anniyur.
General Information
| | |
| --- | --- |
| Moolavar | Sri Kundalakarneswarar |
| Ambal | Sri Elasoundari, Sri Kuntalambikai |
| Theertham (Holy water) | Pazhavaru / Ganapathy river |
| Sthala Vriksham (Sacred Tree) | Ashoka tree, Vilva tree |
| Pathigam (Hymn) rendered by | Saint Thirunavukarasar (Appar) |
This is one of the 276 Devara Paadal Petra Shiva Sthalams and 28th Shiva Sthalam on the northern bank of the river Cauvery in Chozha Nadu (Vadakarai).
Lord Shiva in this temple is a Swayambumurthi (self-manifested).
This temple is popularly known as "Siva Bhakta Anjaneyar" temple.
This east facing temple has no main tower (Rajagopuram) but it has a beautiful arch at the entrance.
There is no flag post (dwajasthambam) here. The temple has a single corridor.
The last consecration ceremony (Maha Kumbabishekam) took place on 04.09.2017.
History of the Temple
This ancient temple is situated on the banks of the river "Pazhavaru".
Another significance of this place is that this is one of the five sthalams whose name ends with "Ka". ("Ka" means "a beautiful garden" in Tamil). They are – Thiruvanikka, Thirukkodikka, Thirukkolakka, Thiru Nellikka and Thiru Kurakkukka.
It is believed that the temple was once surrounded by beautiful gardens. As Anjaneyar (also known as Hanuman) worshiped the lord here, this place gets the name Thiru Kurankukka which later changed to Thiru Kurakkukka.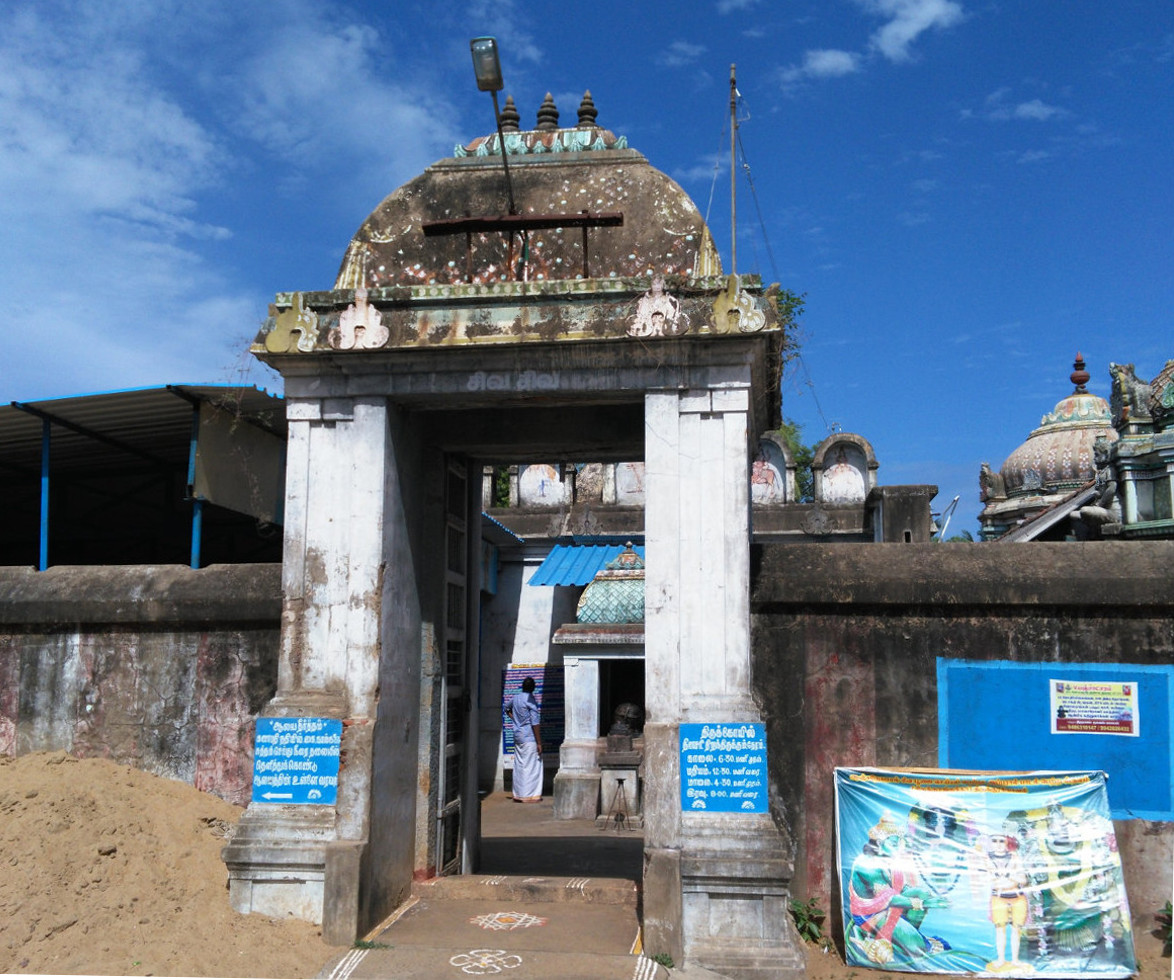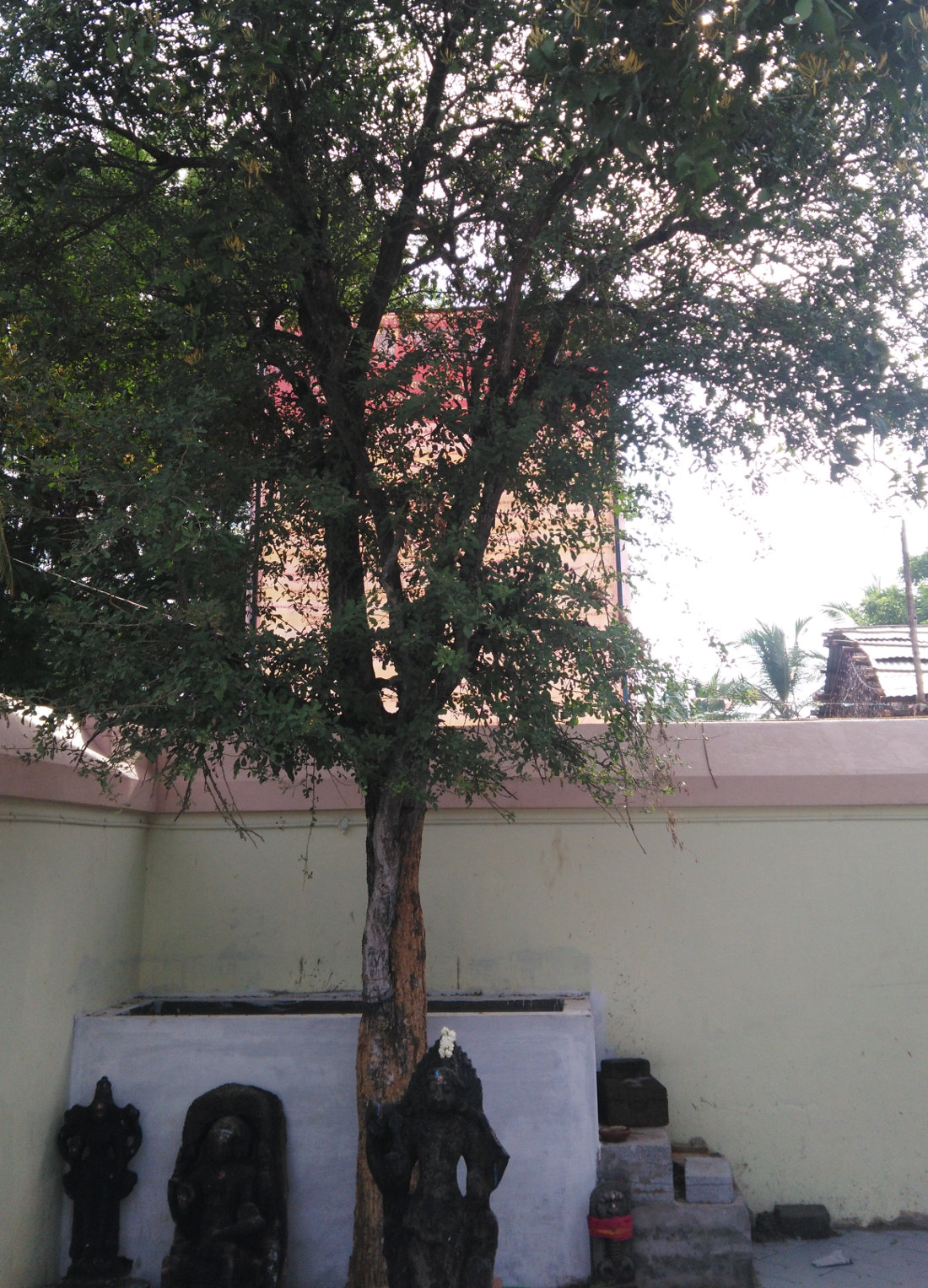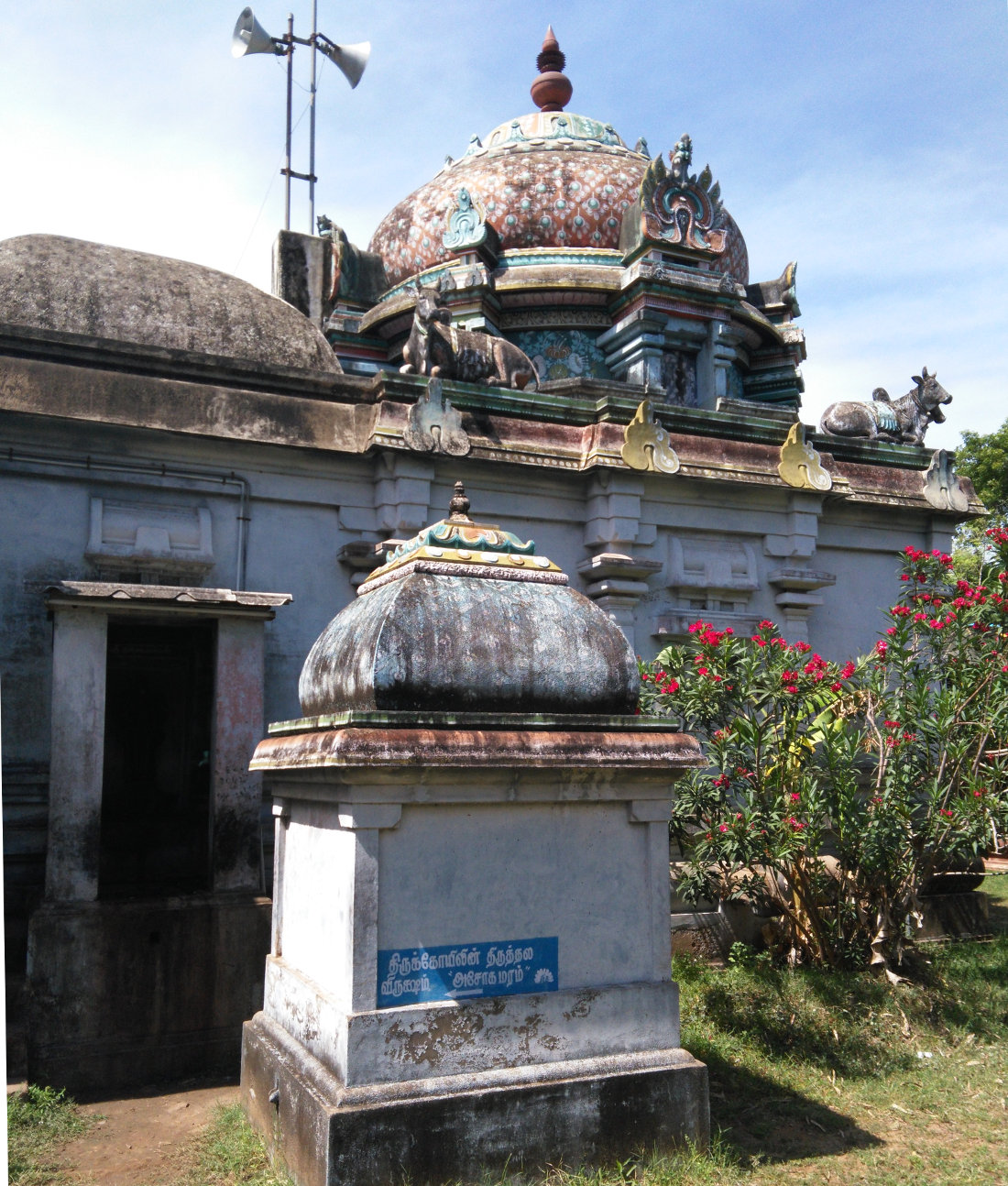 Legend
According to legend, it is believed that Lord Ram, Sita and others returned to Rameswaram after the war with Ravana. Ram wanted to worship Lord Shiva to get relief from the sins accrued by killing the demons. He asked Hanuman to go to Ayodhya and bring his Shiva idol for worship. Hanuman proceeded to bring the idol and on his way back he visited Suruttappalli and Kaasi (Banaras) in order to offer his prayers to Lord Shiva. Because of these stoppages, he got delayed. In the meantime, Sage Agasthiyar advised Sita to prepare a lingam with sand and asked Ram to perform his prayers. When Hanuman reached Ramewswaram, he apologised for the delay. The lingam that he brought was installed by Ram in another place in Rameswaram.
Anjaneyar wanted to take the sand lingam that had been made by Sita and worshiped by Ram with him. He tried to uproot it with his tail but failed to move the lingam. Also, in this process, his tail got cut and he lost his strength. He then realised the sin that he was trying to commit by removing the Shivalingam from its place.
It is believed that at this point the lord's divine voice was heard saying that he should start a pilgrimage and visit many Shiva temples. He was further advised that in one of these places he would realise the need to install a Shivalingam and worship it. Anjaneya started his pilgrimage and after visiting many Shiva temples, he reached this place. Here the divine voice once again heard saying that this is the place where he should install a lingam and worship it to get relief from his sins.
As advised by the lord, Anjaneyar installed a Shivalingam in this place and started worshiping it. During the course of his prayers, one day Lord Shiva decided to test the extent of his devotion. The lord decided to make one of his earrings ("Kundalam" in Tamil) disappear. On noticing that the lord did not have his earring, without any hesitation, Anjaneyar immediately cut his ear along with an earring and offered to the lord. Anjamneya had to cut his entire ear because he was born with the earrings and they could not be removed. Pleased with his devotion, Lord Shiva appeared before him and blessed him by restoring his tail as well as his ear. The lord further told him that this place would henceforth be known by his name – "Kurankukka". Also, as Anjaneyar worshipped the lord by offering his "Kundalam", the lord here is praised as "Sri Kundalakarneswarar".
It is believed that this is the last temple where Anjaneyar worshiped Lord Shiva during the Ramayana era.
It is also believed that Sages Agasthiyar and Markandeyar have worshiped the lord of this temple.
Deities in the temple
Other than the shrines of Lord Shiva and Goddess Parvathy, shrines and idols of Vinayakar, Murugan with his consorts, Suryan, Bairavar, Chelliamman and Chandikeswarar can be seen in the corridors. There is also a separate shrine for Anjaneyar in the corridor.
In the "koshtam" (place surrounding the sanctum sanctorum), only the idols of Dakshinamurthy and Durgai can be seen. There is no Navagraham in this temple.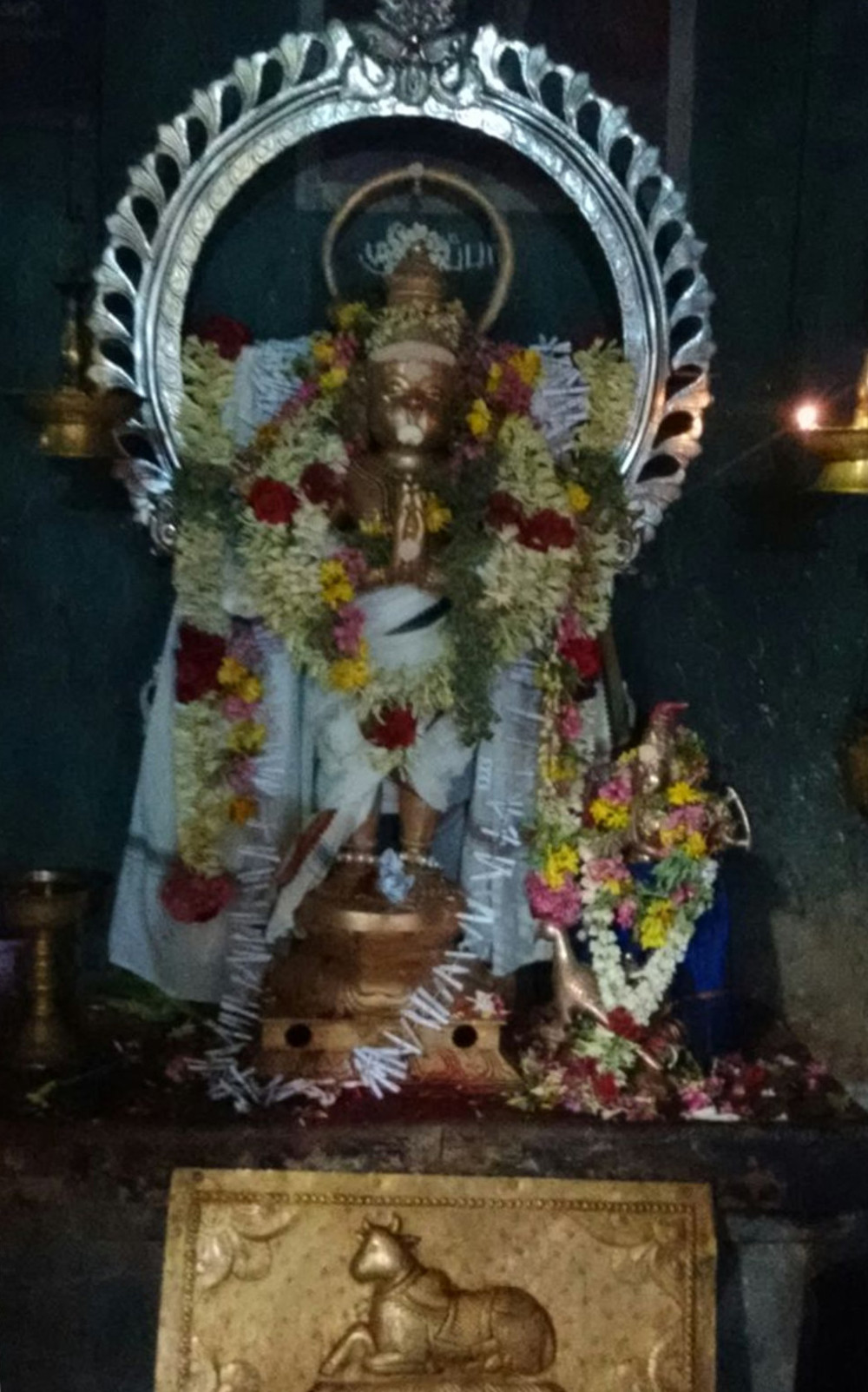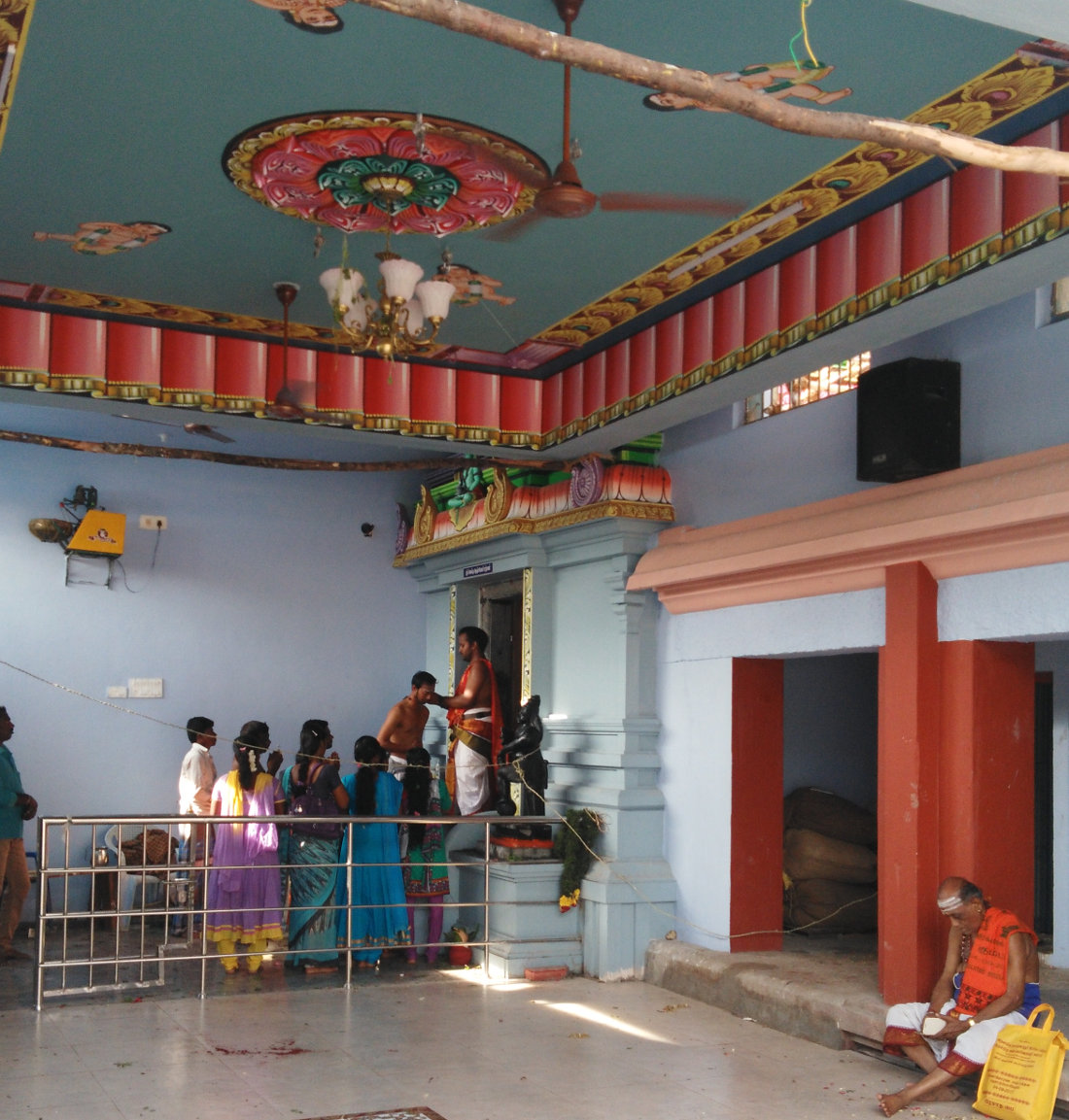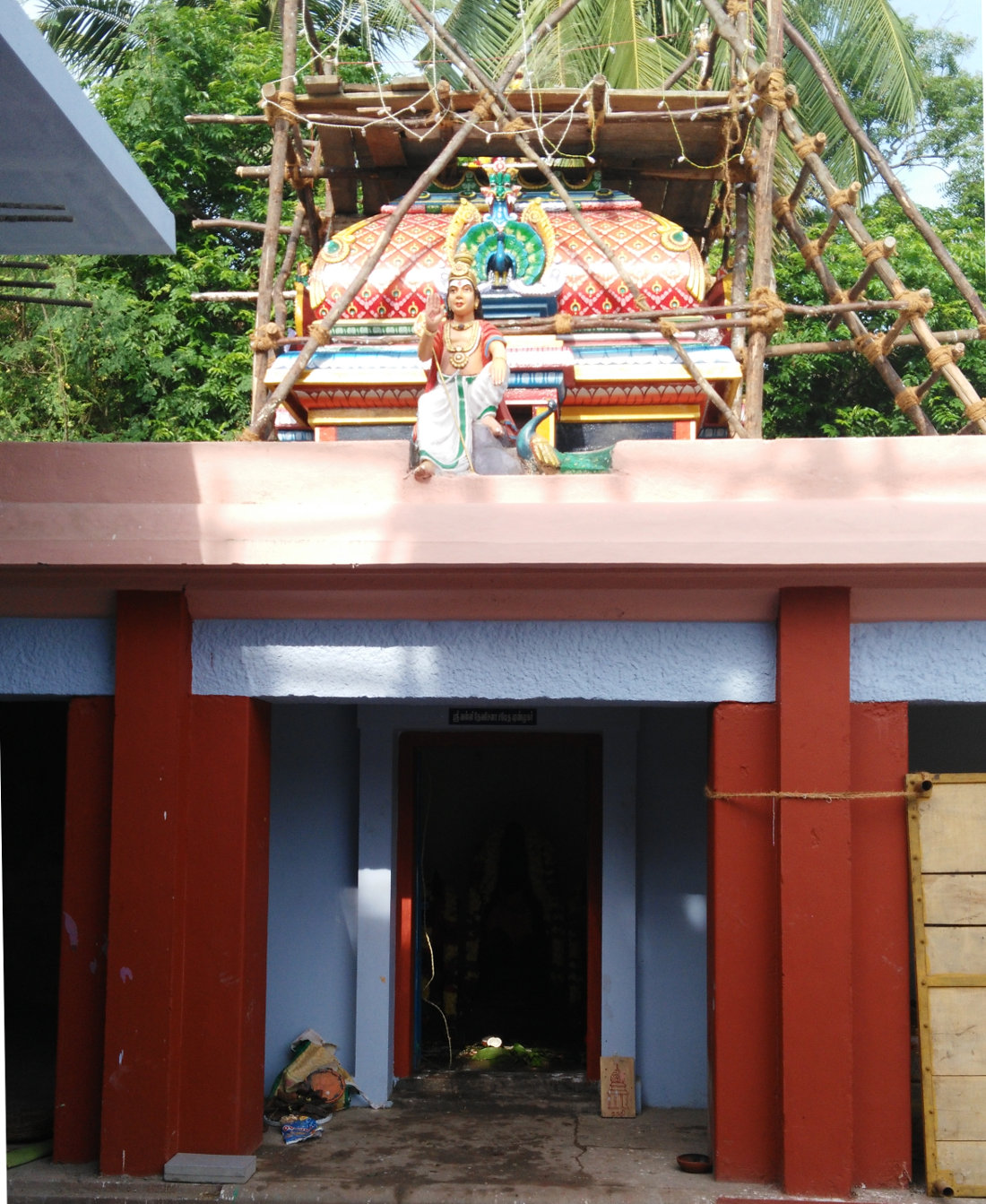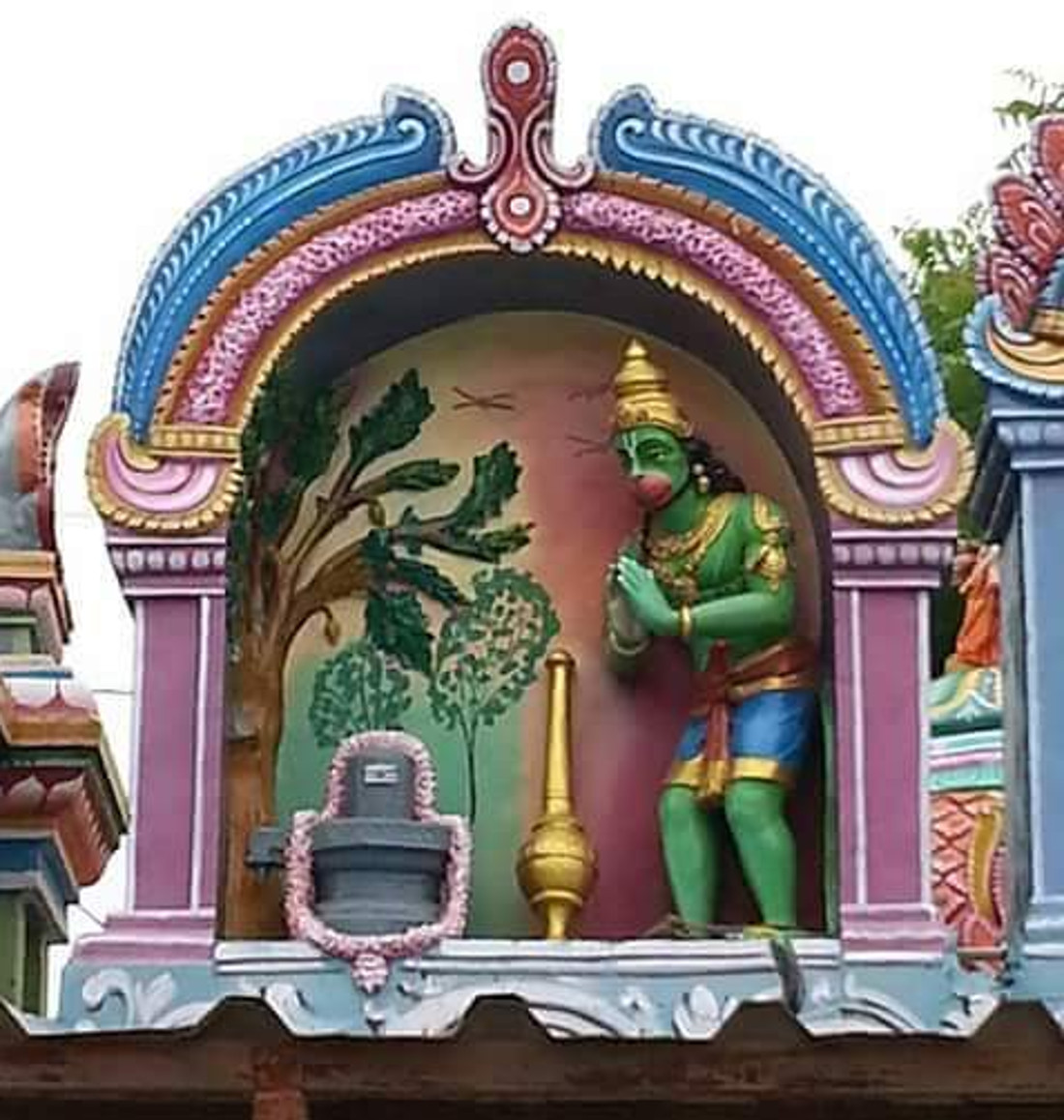 Salient Features
There is a beautiful procession idol of Anjaneyar in this temple. This is placed in a separate shrine.
Recently this temple got renovated and Kumbabishekam was celebrated on 04.09.2017 in a grand manner.
It is believed that even now, during the Tamil month of Chithirai (Apr-May), two monkeys come to this temple, take a dip in the river, take some Vilva leaves from the temple's Vilva tree and enter the sanctum to make offerings to the main deity.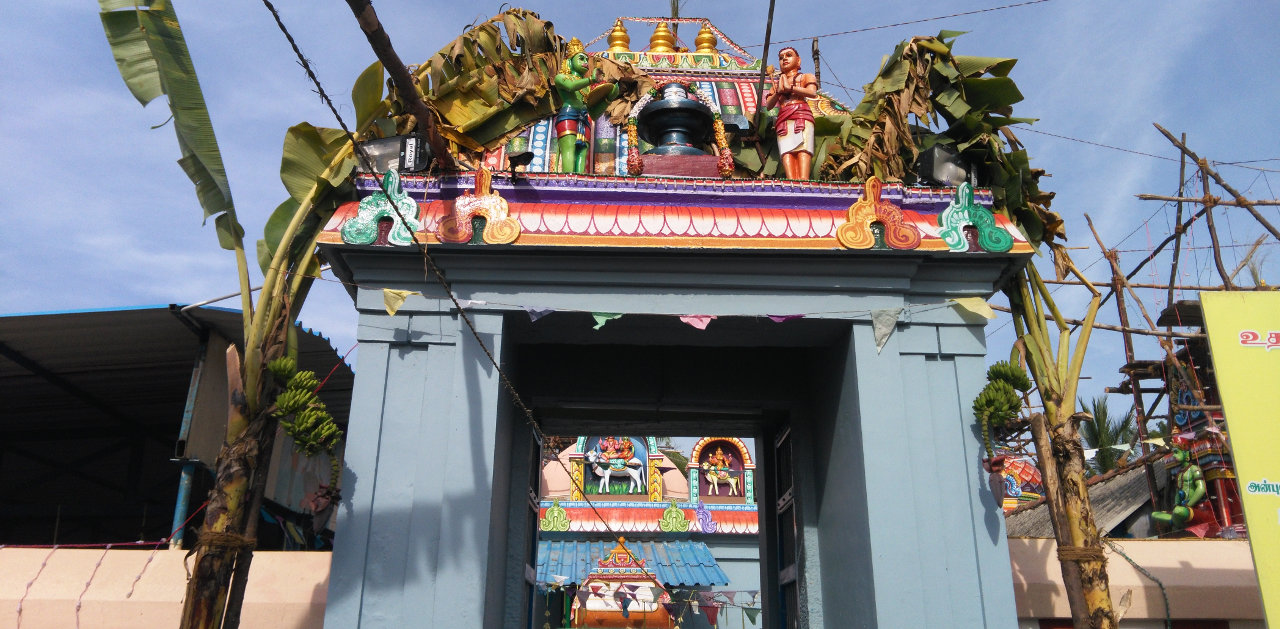 Greatness of this temple
As Anjaneyar is believed to be the lord for Rahu and Saneeswarar, devotees can get relief from the adverse effects of these two planets by worshiping Anjaneyar here.
It is believed that those seeking wedding boon and "santhana prapthi" (child boon) can pray to the lord here.
It is also believed that those seeking better job opportunities or excellence in educational pursuits can worship the lord here.
Important Festivals
Some of the important festivals celebrated in the temple are –
Annabishekam in the Tamil month of Aippasi (Oct – Nov),
Thiru Karthikai in the Tamil month of Karthikai (Nov-Dec) and
Maha Shivrathri in the Tamil month of Masi (Feb-Mar).
Special poojas are conducted on all Saturdays and new moon (Amavasya) days.
A yagna is performed in the shrine on every new moon day for peace and prosperity in the world.
Hanuman Jayanthi is also celebrated in this temple.
Pradosham is also observed regularly.
Temple Timings
From 07.00 AM to 12.30 PM and from 04.30 PM to 08.00 PM.
Temple Address
Sri Kundalakarneswarar Temple,
Thirukkurakkaval Post,
Ilanthoppu Via,
Mayiladuthurai Taluk,
Nagapatinam District,
Tamil Nadu- 609 201.
Tele: +91- 4364 - 258 785.

The temple priest, Sri T.A.Nataraja Sivam can be contacted at: 077088 20533.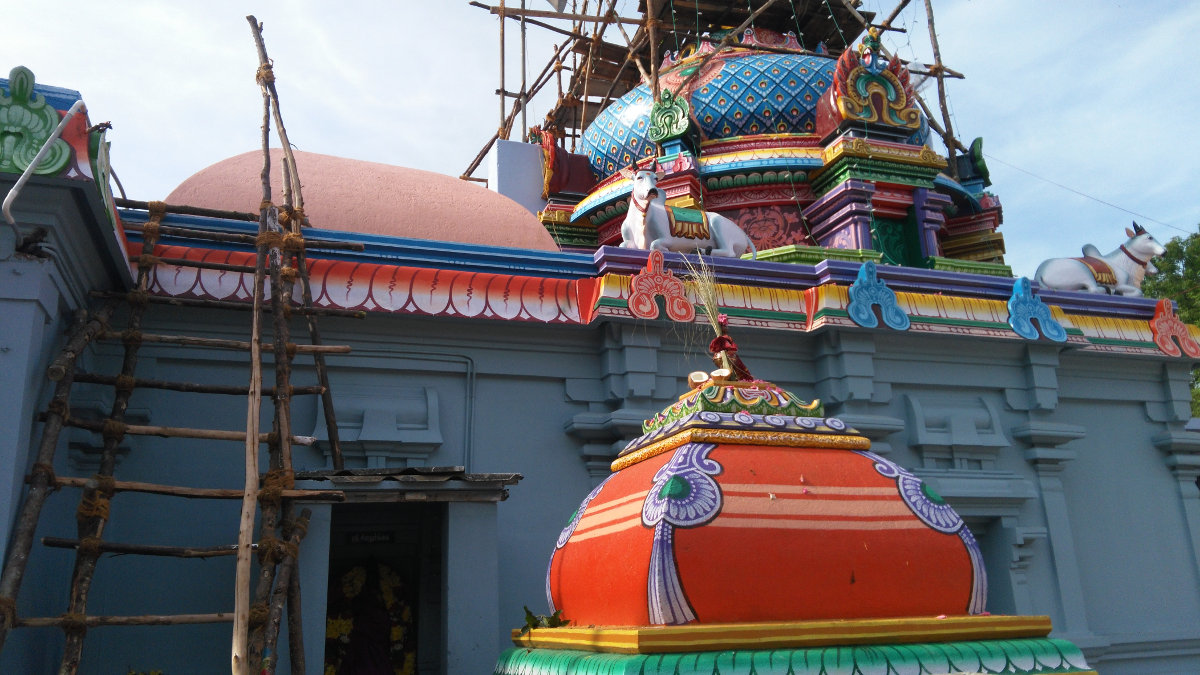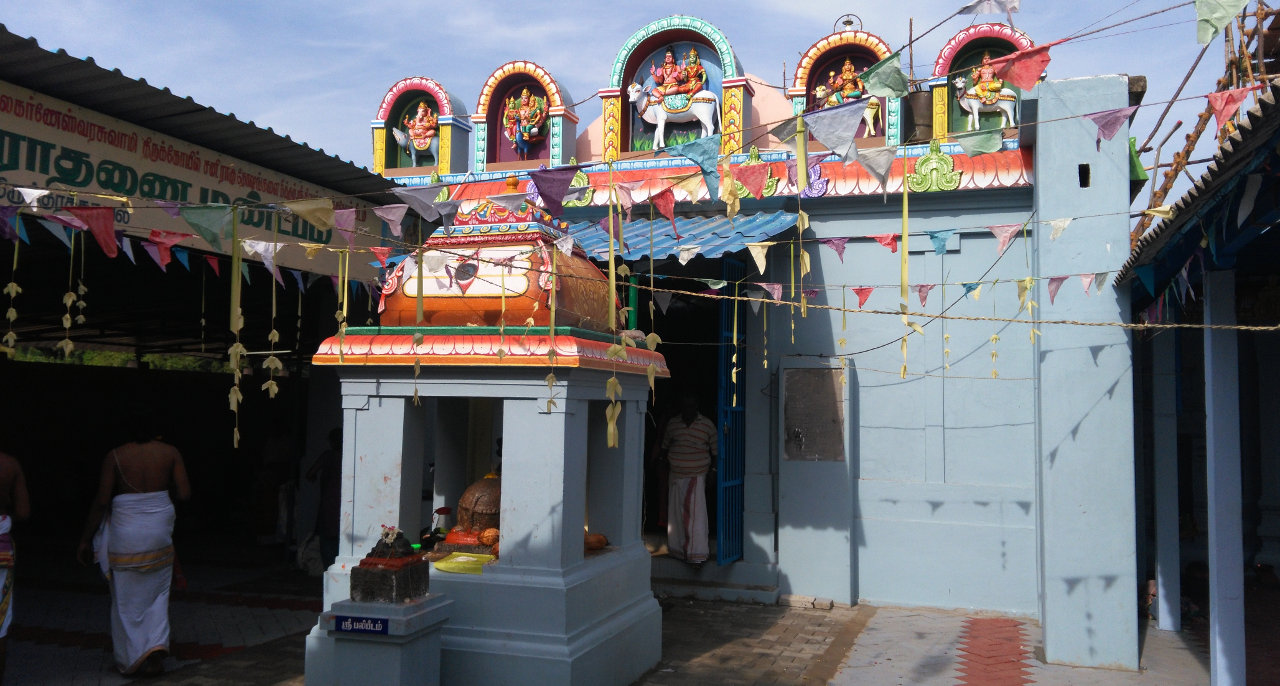 ---
Pathigam (Hymn) with English transliteration
Saint Thirunavukarasar visited this temple and sang this Pathigam.
Devotees visiting this temple should make it a practice to recite this Pathigam.
மரக்கொக் காமென வாய்விட் டலறிநீர்
சரக்குக் காவித் திரிந்தய ராதுகால்
பரக்குங் காவிரி நீரலைக் குங்கரைக்
குரக்குக் காவடை யக்கெடுங் குற்றமே.
"Marakkok kāmeṉa vāyviṭ ṭalaṟinīr
sarakkuk kāvith thirinthaya rāthukāl
parakkuṅ kāviri nīralaik kuṅkaraik
kurakkuk kāvaṭai yakkeṭuṅ kutṟamē".
கட்டா றேகழி காவிரி பாய்வயல்
கொட்டா றேபுன லூறு குரக்குக்கா
முட்டா றாவடி யேத்த முயல்பவர்க்
கிட்டா றாவிட ரோட எடுக்குமே.
"Kaṭṭā ṟēkazhi kāviri pāyvayal
koṭṭā ṟēpuṉa lūṟu kurakkukkā
muṭṭā ṟāvaṭi yēththa muyalpavark
kiṭṭā ṟāviṭa rōṭa eṭukkumē".
கைய னைத்துங் கலந்தெழு காவிரி
செய்ய னைத்திலுஞ் சென்றிடுஞ் செம்புனல்
கொய்ய னைத்துங் கொணருங் குரக்குக்கா
ஐய னைத்தொழு வார்க்கல்ல லில்லையே.
"Kaiya ṉaiththuṅ kalanthezhu kāviri
seyya ṉaiththiluñ cheṉtṟiṭuñ chempuṉal
koyya ṉaiththuṅ koṇaruṅ kurakkukkā
aiya ṉaiththozhu vārkkalla lillaiyē".
மிக்க னைத்துத் திசையும் அருவிகள்
புக்குக் காவிரி போந்த புனற்கரைக்
கொக்கி னம்பயில் சோலைக் குரக்குக்கா
நக்க னைநவில் வார்வினை நாசமே.
"Mikka ṉaiththuth thisaiyum aruvikaḷ
pukkuk kāviri pōntha puṉaṟkaraik
kokki ṉampayil sōlaik kurakkukkā
nakka ṉainavil vārviṉai nās.amē".
விட்டு வெள்ளம் விரிந்தெழு காவிரி
இட்ட நீர்வய லெங்கும் பரந்திடக்
கொட்ட மாமுழ வோங்கு குரக்குக்கா
இட்ட மாயிருப் பார்க்கிட ரில்லையே.
"Viṭṭu veḷḷam virinthezhu kāviri
iṭṭa nīrvaya leṅkum paranthiṭak
koṭṭa māmuzha vōṅku kurakkukkā
iṭṭa māyirup pārkkiṭa rillaiyē".
மேலை வானவ ரோடு விரிகடல்
மாலும் நான்முக னாலுமளப் பொணாக்
கோல மாளிகைக் கோயில் குரக்குக்காப்
பால ராய்த்திரி வார்க்கில்லை பாவமே.
"Mēlai vāṉava rōṭu virikaṭal
mālum nāṉmuka ṉālumaḷap poṇāk
kōla māḷikaik kōyil kurakkukkāp
pāla rāyththiri vārkkillai pāvamē".
ஆல நீழ லமர்ந்த அழகனார்
கால னையுதை கொண்ட கருத்தனார்
கோல மஞ்ஞைகள் ஆலும் குரக்குக்காப்
பால ருக்கருள் செய்வர் பரிவொடே.
"Āla nīzha lamarntha azhakaṉār
kāla ṉaiyuthai koṇṭa karuththaṉār
kōla maññaikaḷ ālum kurakkukkāp
pāla rukkaruḷ seyvar parivoṭē".
செக்க ரங்கெழு செஞ்சுடர்ச் சோதியார்
அக்க ரையரெம் மாதிபு ராணனார்
கொக்கி னம்வயல் சேருங் குரக்குக்கா
நக்க னைத்தொழ நம்வினை நாசமே.
"Chekka raṅkezhu cheñchuṭarch chōthiyār
akka raiyarem māthipu rāṇaṉār
kokki ṉamvayal sēruṅ kurakkukkā
nakka ṉaiththozha namviṉai nāsamē".
உருகி ஊன்குழைந் தேத்தி யெழுமின்நீர்
கரிய கண்டன் கழலடி தன்னையே
குரவ னஞ்செழுங் கோயில் குரக்குக்கா
இரவும் எல்லியும் ஏத்தித் தொழுமினே.
"Uruki ūṉkuzhain thēththi yezhumiṉnīr
kariya kaṇṭaṉ kazhalaṭi thaṉṉaiyē
kurava ṉañchezhuṅ kōyil kurakkukkā
iravum elliyum ēththith thozhumiṉē".
இரக்க மின்றி மலையெடுத் தான்முடி
உரத்தை யொல்க அடர்த்தா னுறைவிடங்
குரக்கி னங்குதி கொள்ளுங் குரக்குக்கா
வரத்த னைப்பெற வானுல காள்வரே.
"Irakka miṉtṟi malaiyeṭuth thāṉmuṭi
uraththai yolka aṭarththā ṉuṟaiviṭaṅ
kurakki ṉaṅkuthi koḷḷuṅ kurakkukkā
varaththa ṉaippeṟa vāṉula kāḷvarē".