Visited on: 10th March, 2017
Location
Erukkathampuliyur is situated at a distance of about 7 kms from Sri Mushnam on Virudhachalam to Jayamkondam route. From Virudhachalam it is about 12 kms, from Pennadam 18 kms and from Chidambaram around 50 kms.
General Information
Moolavar

Sri Neelakandeswarar, Sri Kumaraswamy,
Sri Suvethaaranyeswarar

Ambal

Sri Neelamalar Kanni, Sri Virar Mulaiyammai,
Sri Abeethakuja Nayagi, Sri Neelorbalaambal

Theertham (Holy water)

Skanda Theertham, Neelorpala Theertham, Senkazhuneer Theertham

Sthala Vriksham (Sacred Tree)

Vellai Erukku Plant

Pathigam (Hymn) rendered by

Saint Thirugnanasambanthar

This is one of the 276 Devara Paadal Petra Shiva Sthalams and 4th Shiva Sthalam in Nadu Naadu.
Lord Shiva in this temple is a Swayambumurthi (self-manifested).
This is the birth place of Saint Thiru Neelakanta Yazhpanar.
The last consecration ceremony (Maha Kumbabishekam) took place on 02.09.1996.
History of the Temple
Sage Viyakrapathar, also called "Pulikkal Munivar" in Tamil, whose legs are believed to have been like those of a tiger (tiger is puli in Tamil), worshiped the lord here. Also, the Sthala Viruksham of this temple is the white "erukku" (Calotropis) plant, hence this place gets the name "Erukkathampuliyur" ("Atham" means forest in Tamil). Now this village is called as Rajendra Pattinam.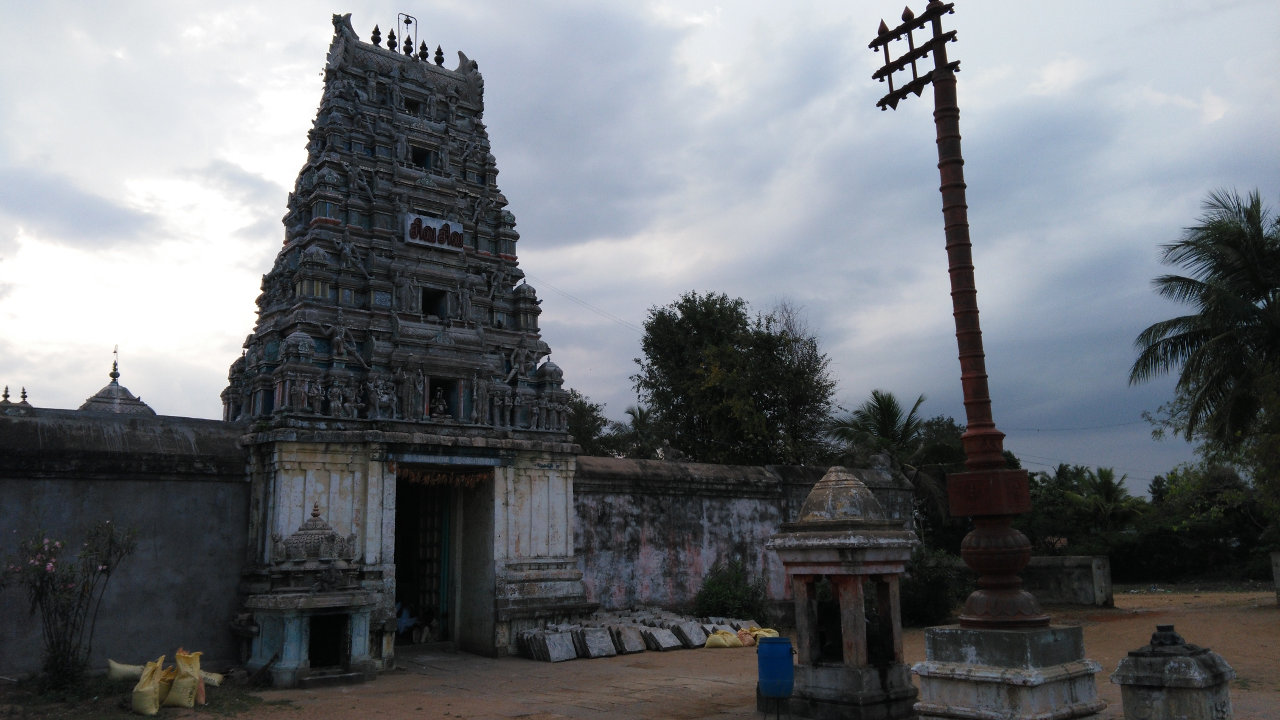 Legend
The legend is that once Lord Shiva was teaching the meaning of Vedas and Agamas to Goddess Parvathi in Mount Kailash. Since she failed to listen attentively, Lord Shiva cursed her to be born in Bharathavar (fishermen) community. Angered by this, Lord Murugan threw the Vedas in the sea. Lord Shiva cursed him to be born as a mute child in the traders community.
Murugan was born in Madurai as Rudrasanmar to Thalapathy and Gunasalini. Since he could not speak, he started visiting many Shiva shrines to seek relief and gain the gift of speech. He was blessed with speaking skills at Erukkathampuliyur. As Lord Murugan (also called Kumaran) worshipped Lord Shiva in this place, the Lord here is named Thiru Kumara Swami. There is an idol of Rudrasanmar in the temple.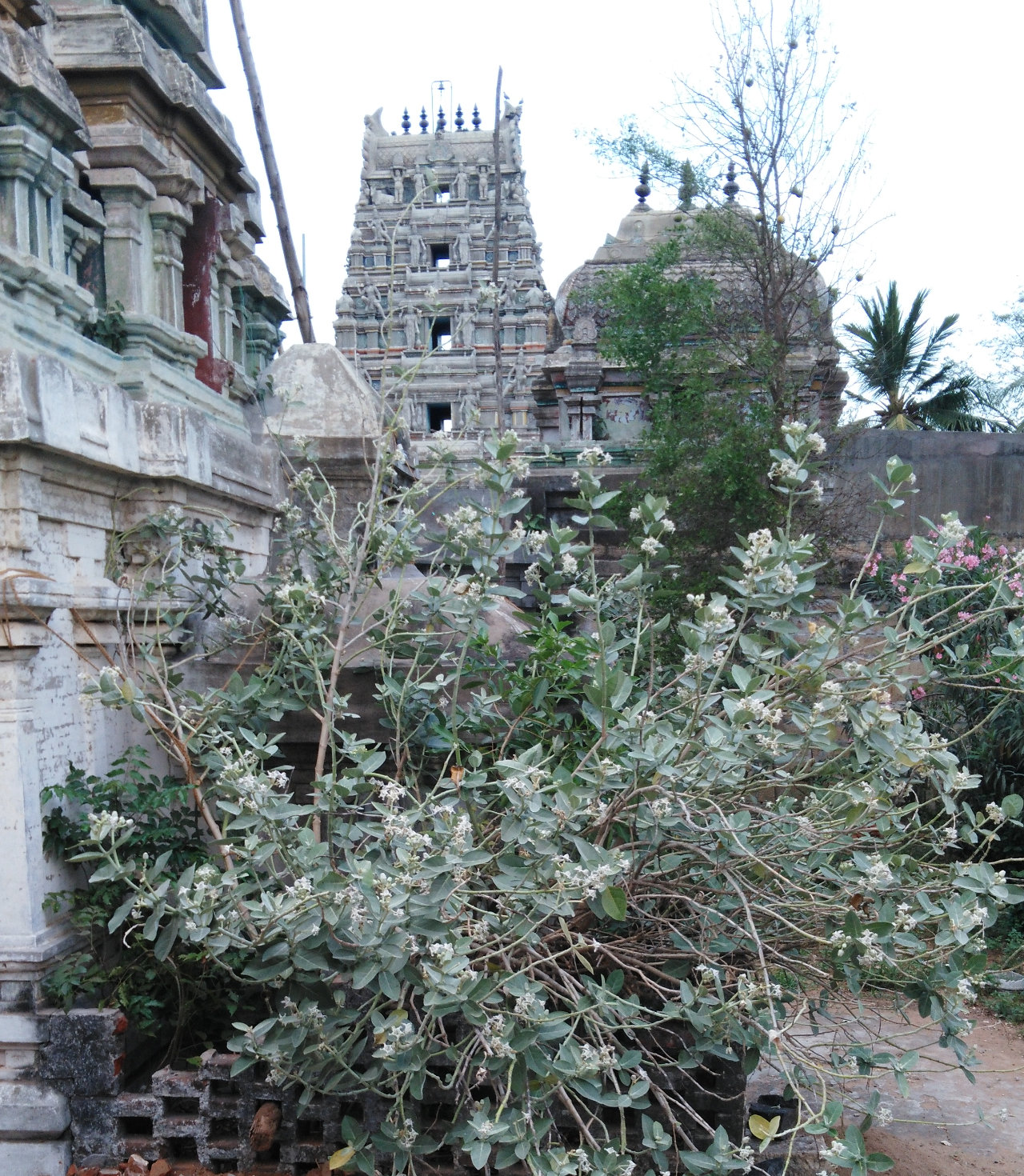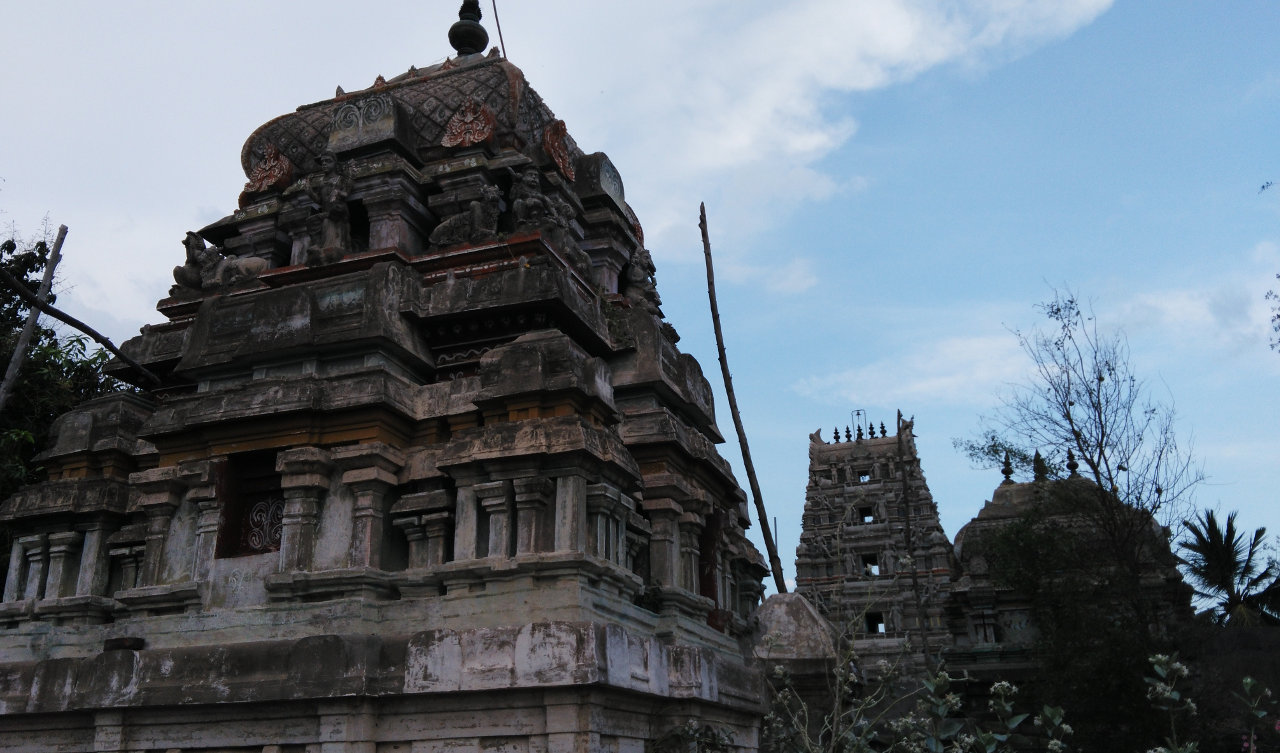 This is the birth place of Saint Thiru Neelakanta Yazhpanar, a maestro of the Yazh (a lute). He is one of the celebrated saints of Hindu mythology and a member of the 63 Nayanmars. Yazhpanar and his wife Madhanga Soolamani Ammaiyar accompanied and played Yazh with Saint Thirugnanasambanthar during most of his pilgrimages.

Nalvar, Yazhpanar with his wife and Sekkizhar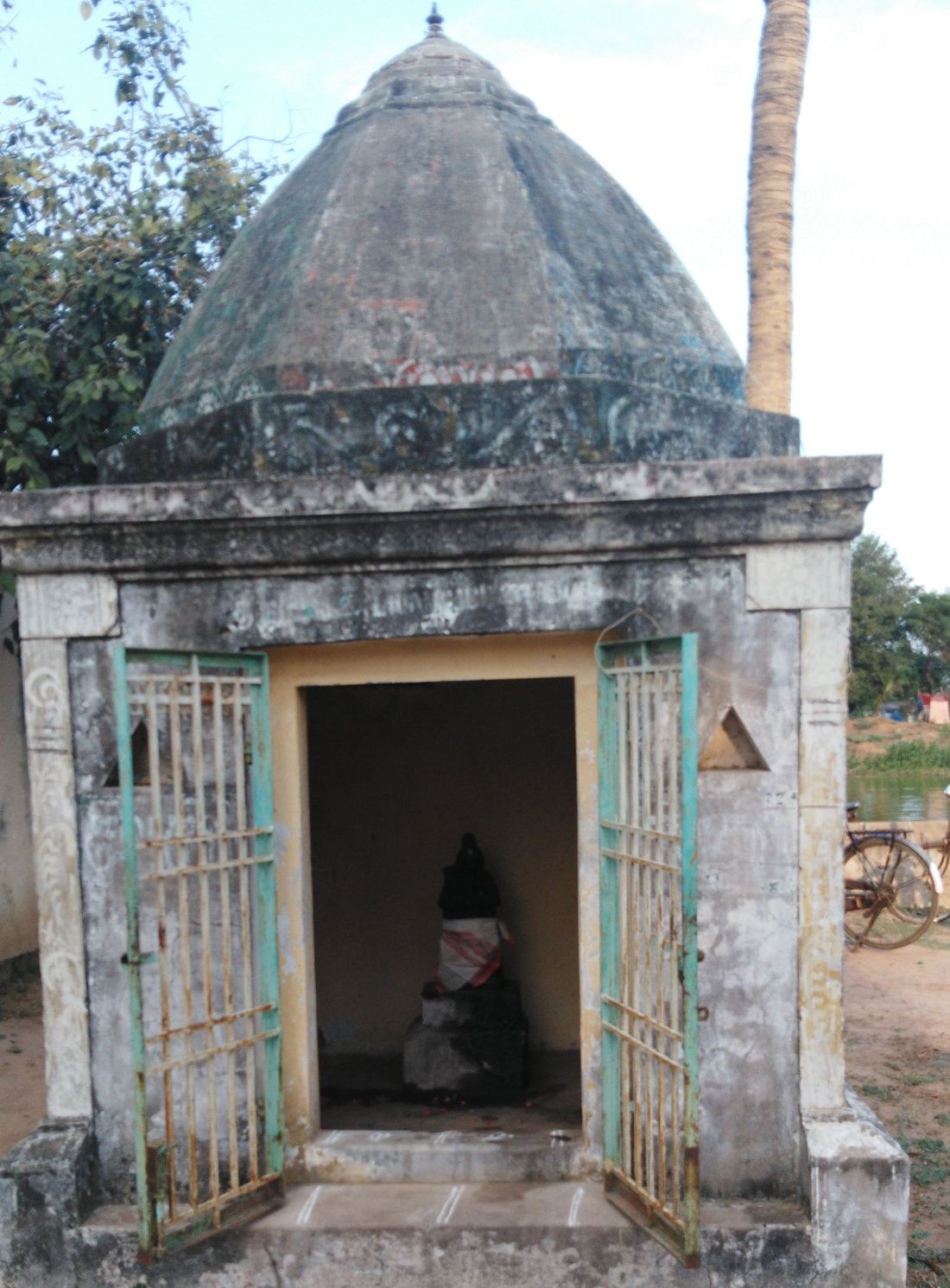 Yazhpanar Shrine
Thirugnanasambanthar's legend states that during his wedding at Nallur Perumanam near Sirkazhi (Achalpuram), he along with all the attendants at his wedding were consumed by a huge fire (Shiva Jyothi) and were granted salvation by Lord Shiva. Both Yazhpanar and his wife are also believed to have been among those attendees
It is also believed that at a much later date, a woman from Yazhpanar's lineage composed the melodic musical notes for the Devaram on the advice of a Chola King. These notes are called "Pann" in Tamil.
Sage Viyakrapathar worshiped Lord Shiva of this temple. There are five Shiva Sthalams where Sage Viyakrapathar worshiped Lord Shiva and the names of all these places end with "Puliyur". They are - Erukkatham Puliyur, Omam Puliyur, Perumpattra Puliyur, Thirupathiri Puliyur, and Thiru Perum Puliyur.
Pulikkal Munivar was the son of Madiyanthina Munivar. He was also called Bala Munivar as he became a sage at a very young age. He lived in Chidambaram and worshipped Lord Shiva there. He used to pluck flowers from various trees in the surrounding areas to worship the Lord. Since he wanted to pluck the flowers before the flies or bees could take their nectar (magarantham), he would do so during pre-dawn. He prayed to Lord Shiva that he may be given the feet and eyes like that of a tiger so that he could see in the dark and climb the trees easily. His prayers were answered and he came to be known as Pulikkal (Pulikkal means tiger legs in Tamil) Munivar. He was also known as Vygrapather (Vyagra is tiger in Sanskrit). It is believed that he would make offerings of four types of flowers - "kodi po" from the creepers, "neer poo" found in water, "nila poo" found on earth and "kottum poo" the flowers that fell to the ground on their own.
Another legend is that a king named Suvedhan, a staunch Lord Shiva devotee, was infected with leprosy due to his past sins. It is believed that he got relieved of this disease by worshipping the Lord here and taking a dip in this temple's sacred tank. Incidentally, Erukku plant is said to have the power to cure leprosy.
According to the Sthala Puranam, Chola King Raja Rajan visited this temple and worshiped the lord here to seek child boon. The King was blessed with a son, Rajendra Chola, hence this place was also given the name Rajendra Pattinam.
It is also mentioned that some of Poodhaganams (the Lord's guards) visited Virudhachalam temple and sought the lord's help to find a place where they could attain liberation. The lord advised them to go to Erukkathampuliyur. It is believed that they came to this temple, worshiped the lord and attained salvation.
Another legend mentioned in the Sthala Puranam is related to the erukku plants around this temple. After knowing about the greatness of the lord of this temple, some of the Sages (Naimisaranya Rishis) and Devas in the celestial world came to this place in the forms of birds and trees and worshiped the lord here. However, they were troubled by the wood cutters and hunters and they complained to Lord Shiva. Then they heard a divine voice directing them to become Erukku plants because these plants are not useful to anybody and hence there would be no danger to them.
Deities in the Temple
Shrines and idols of Lords Kodi Vinayakar, Murugan with his consorts, Kasi Viswanathar and Visalakshi, Sreenivasa Perumal, Mahalakshmi, Anjaneyar, Nalvar, Thiru Neelakanta Yazhpanar and his wife Madhanga Soolamani Ammaiyar, Sekkizhar, Dakshinamurthy, Brahma, Lingothbawar, Goddess Durgai, Chandikeswarar, Navagraham, Suriyan, Chandiran, Saneeswaran, Bala Ganapathi, Bala Murugan and Ruthirasanmar can be seen in the corridors.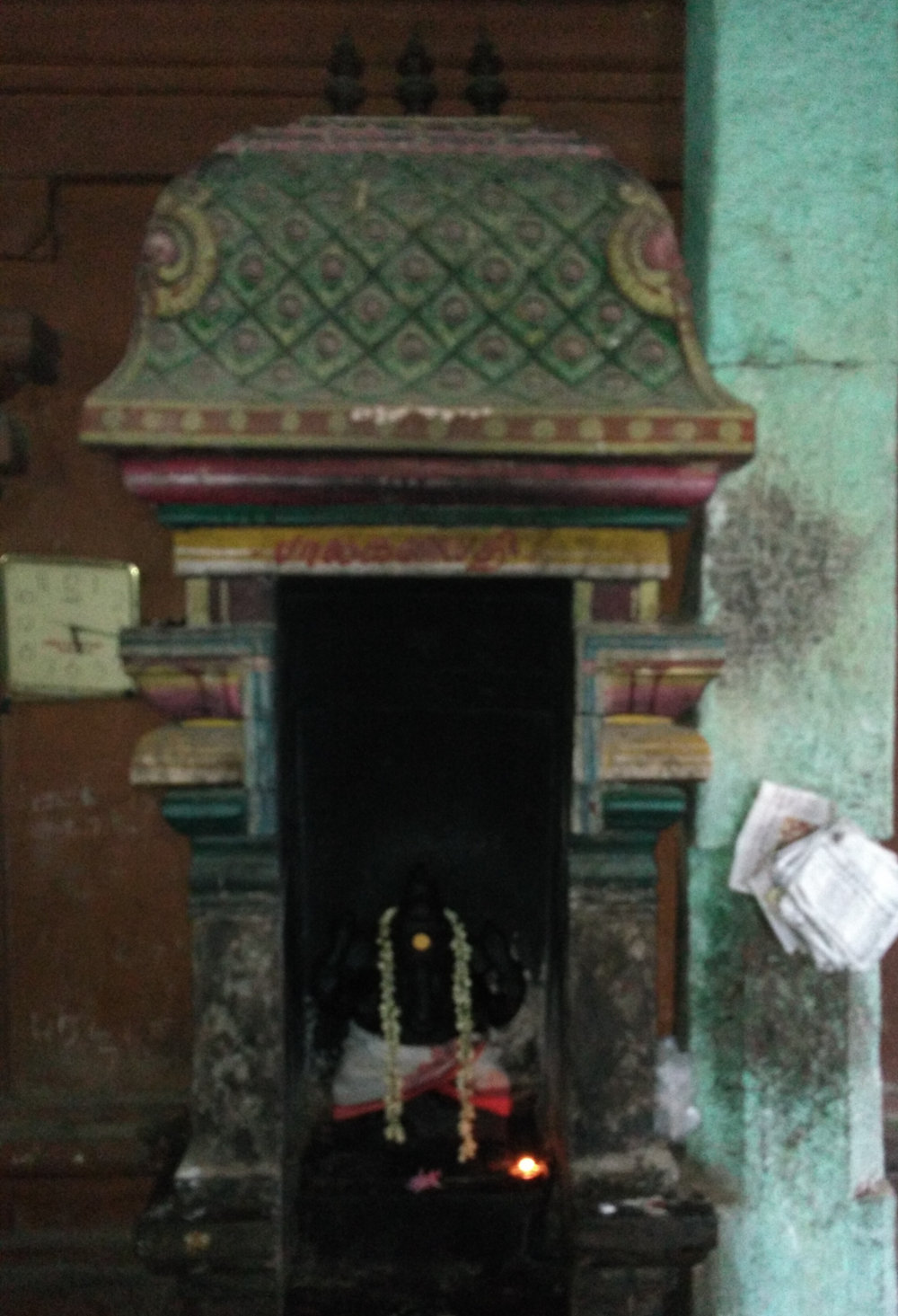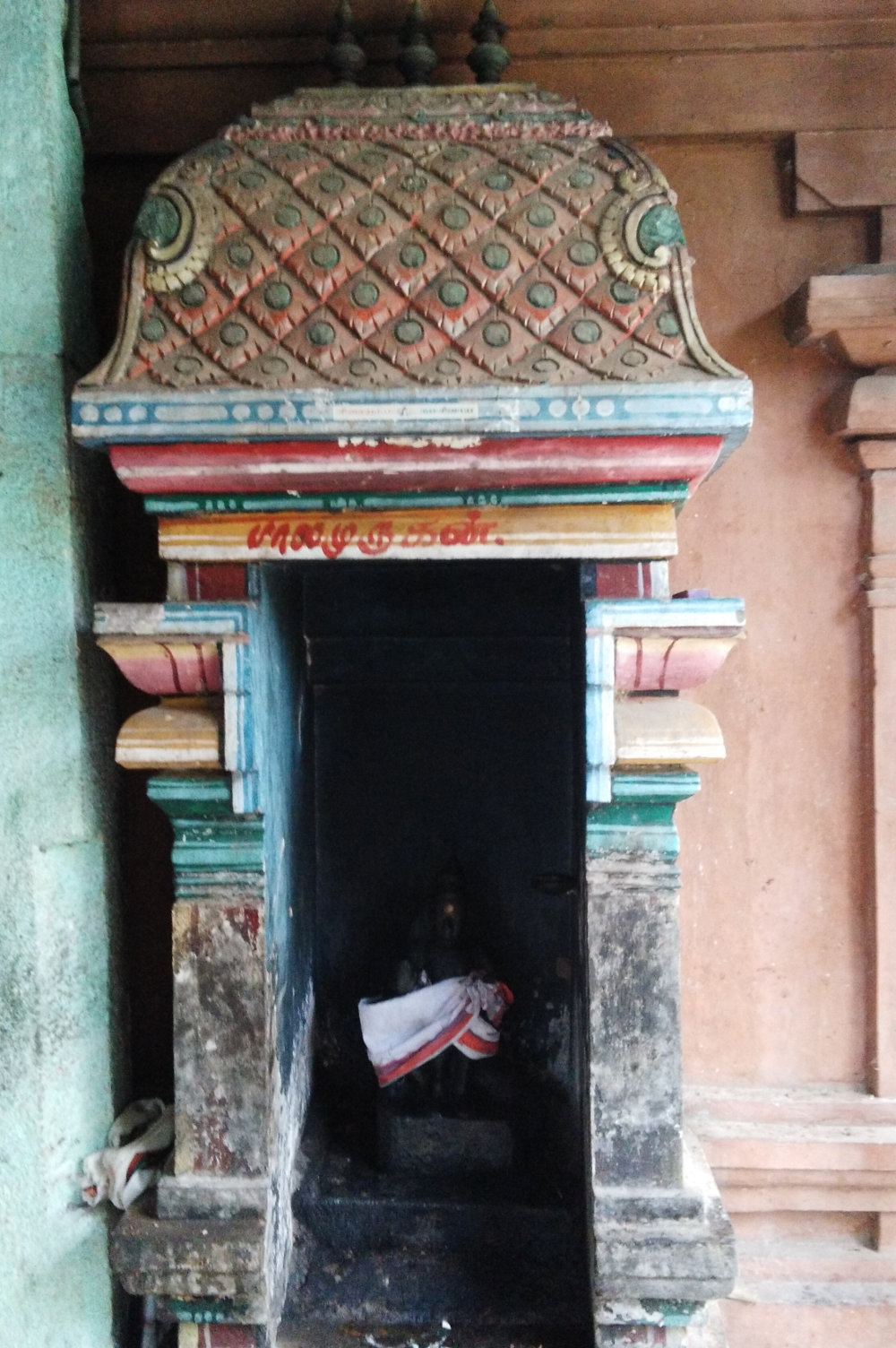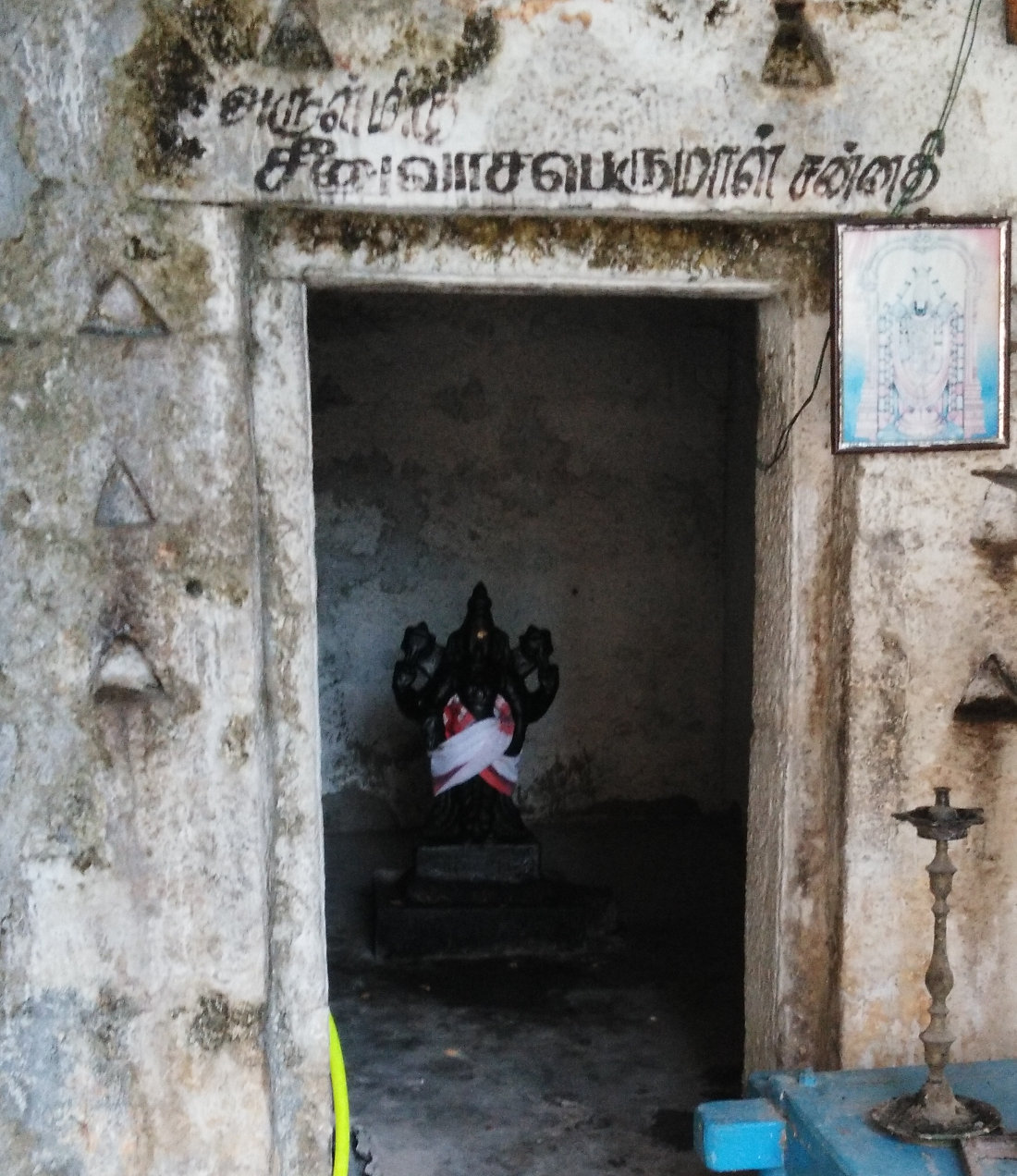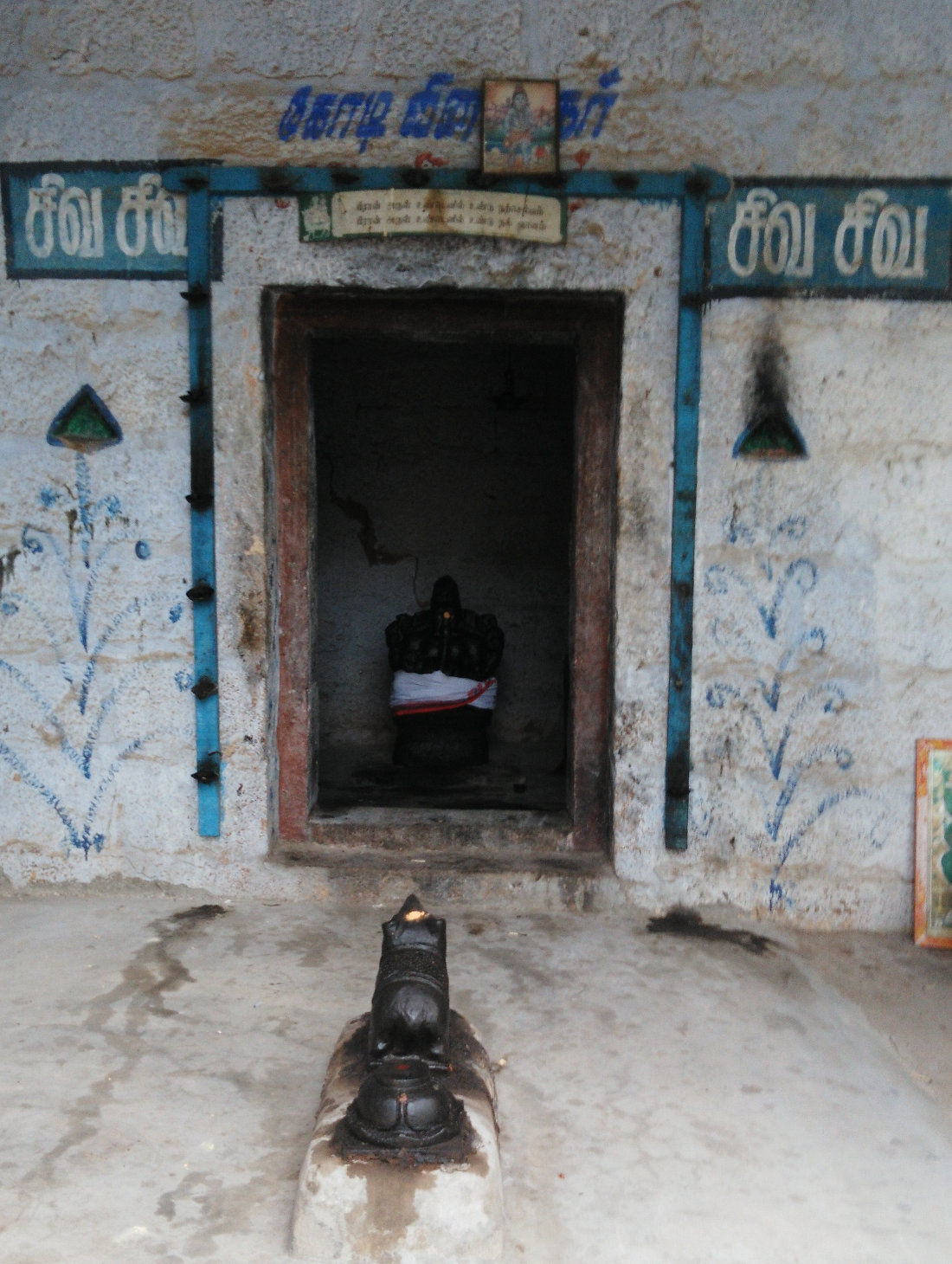 Salient Features
Lots of white Erukku plants can be seen in the outer corridor of this temple.
Goddess Parvathi's shrine is on the left side of Lord Shiva's shrine. Both these shrines are in the same direction.
It is believed that Lord Suryan (Sun) worships Lord Shiva of this temple by directing his rays on the lingam for five days from March 16 to 20 (Tamil month Pankuni 3 to 7).
Greatness of this temple
Those suffering from speech impairment visit this temple and worship the lord here in order to seek relief.
It is also believed that those seeking "santhana prapthi" (child boon) can pray to the lord here.
Important Festivals
Maha Shivrathri in the Tamil month of Masi (Feb-March) is celebrated in the temple. Monthly Pradosham is also observed.
Temple Timings
From 08:00 AM to 11:00 AM and from 06:00 PM to 08:00 PM.
Temple Address
Sri Thiruneelakandeswarar Temple
Rajendrapattinam Post
Virudhachalam Taluk
Cuddalore District
Tamil Nadu-608703.
Tele: +91 4143 243 533.

Contact the temple priest Sri Jayasankar Gurukkal at: +91 9865863332.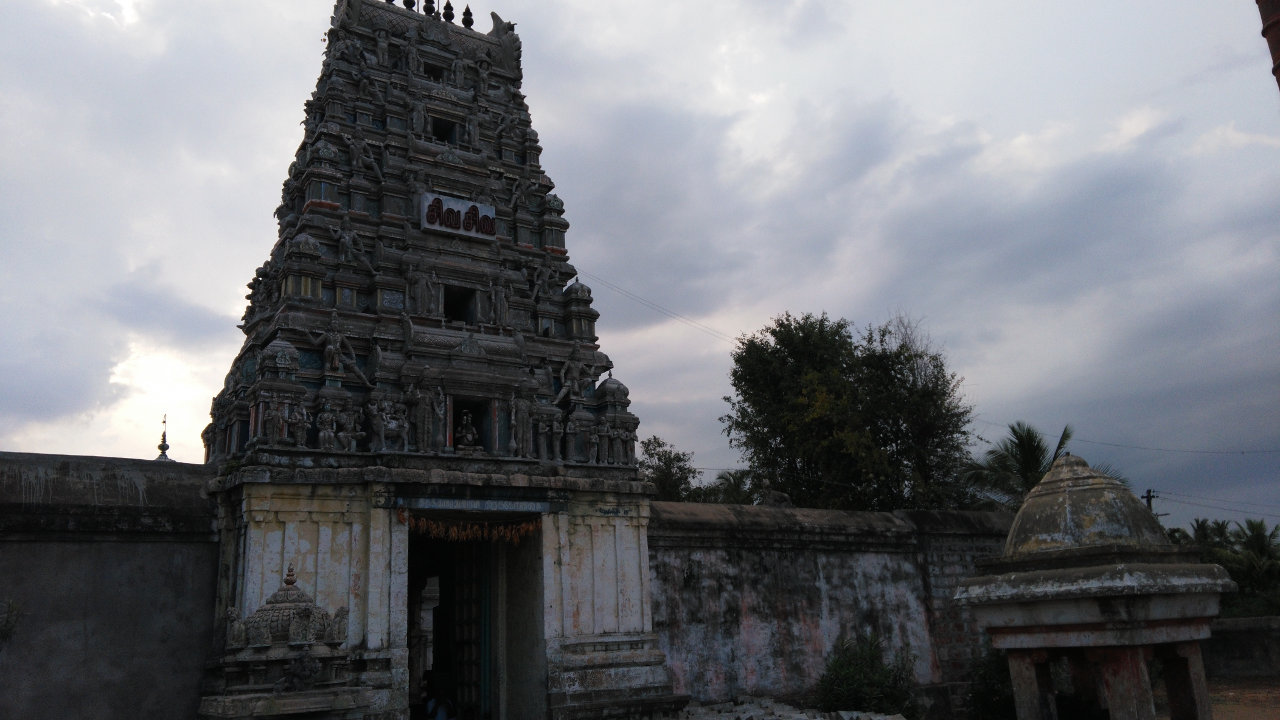 ---
Pathigam (Hymn) with English transliteration
Saint Thirugnanasambanthar visited this temple and sang this Pathigam.
Devotees visiting this temple should make it a practice to recite this Pathigam.
படையார் தருபூதப் பகடார் உரிபோர்வை
உடையான் உமையோடும் உடனா யிடுகங்கைச்
சடையான் எருக்கத்தம் புலியூர்த் தகுகோயில்
விடையான் அடியேத்த மேவா வினைதானே.
"Paṭaiyār tharupūthap pakaṭār uripōrvai
uṭaiyāṉ umaiyōṭum uṭaṉā yiṭugaṅgaich
chaṭaiyāṉ erukkatham puliyūrth thakukōyil
viṭaiyāṉ aṭiyētha mēvā viṉaithāṉē".
இலையார் தருசூலப் படையெம் பெருமானாய்
நிலையார் மதில்மூன்றும் நீறாய் விழவெய்த
சிலையான் எருக்கத்தம் புலியூர்த் திகழ்கோயிற்
கலையான் அடியேத்தக் கருதா வினைதானே.
"Ilaiyār tharusūlap paṭaiyem perumāṉāy
nilaiyār mathilmūṉtṟum nīṟāy vizhaveytha
silaiyāṉ erukkatham puliyūrth thikazhkōyiṟ
kalaiyāṉ aṭiyēthak karuthā viṉaithāṉē".
விண்ணோர் பெருமானே விகிர்தா விடையூர்தீ
பெண்ணாண் அலியாகும் பித்தா பிறைசூடி
எண்ணார் எருக்கத்தம் புலியூ ருறைகின்ற
அண்ணா எனவல்லார்க் கடையா வினைதானே.
"Viṇṇōr perumāṉē vikirthā viṭaiyūrthee
peṇṇāṇ aliyākum pithā piṟaisūṭi
eṇṇār erukkatham puliyū ruṟaikiṉtṟa
aṇṇā eṉavallārk kaṭaiyā viṉaithāṉē".
அரையார் தருநாகம் அணிவான் அலர்மாலை
விரையார் தருகொன்றை யுடையான் விடையேறி
வரையான் எருக்கத்தம் புலியூர் மகிழ்கின்ற
திரையார் சடையானைச் சேரத் திருவாமே.
"Araiyār tharunākam aṇivāṉ alarmālai
viraiyār tharukoṉtṟai yuṭaiyāṉ viṭaiyēṟi
varaiyāṉ erukkatham puliyūr makizhkiṉtṟa
thiraiyār saṭaiyāṉaich chērath thiruvāmē".
வீறார் முலையாளைப் பாகம் மிகவைத்துச்
சீறா வருகாலன் சினத்தை யழிவித்தான்
ஏறான் எருக்கத்தம் புலியூ ரிறையானை
வேறா நினைவாரை விரும்பா வினைதானே.
"Vīṟār mulaiyāḷaip pākam mikavaithuch
chīṟā varukālaṉ siṉathai yazhivithāṉ
ēṟāṉ erukkatham puliyū riṟaiyāṉai
vēṟā niṉaivārai virumpā viṉaithāṉē".
நகுவெண் டலையேந்தி நானா விதம்பாடிப்
புகுவா னயம்பெய்யப் புலித்தோல் பியற்கிட்டுத்
தகுவான் எருக்கத்தம் புலியூர்த் தகைந்தங்கே
தொகுவான் கழலேத்தத் தொடரா வினைதானே.
"Nakuveṇ ṭalaiyēnthi nāṉā vithampāṭip
pukuvā ṉayampeyyap pulithōl piyaṟkiṭṭuth
thakuvāṉ erukkatham puliyūrth thakainthaṅkē
thokuvāṉ kazhalēthath thoṭarā viṉaithāṉē".
* இப்பதிகத்தின் 7-ம் செய்யுள் சிதைந்து போயிற்று

(* Ippathikathiṉ 7-m ceyyuḷ cithainthu pōyitṟu)
ஆவா வெனஅரக்கன் அலற அடர்த்திட்டுத்
தேவா எனஅருளார் செல்வங் கொடுத்திட்ட
கோவே எருக்கத்தம் புலியூர் மிகுகோயில்
தேவே யெனஅல்லல் தீர்தல் திடமாமே.
"āvā veṉa'arakkaṉ alaṟa aṭarthiṭṭuth
thēvā eṉa'aruḷār selvaṅ koṭuthiṭṭa
kōvē erukkatham puliyūr mikukōyil
thēvē yeṉa'allal thīrthal thiṭamāmē".
மறையான் நெடுமால்காண் பரியான் மழுவேந்தி
நிறையா மதிசூடி நிகழ்முத் தின்தொத்தே
இறையான் எருக்கத்தம் புலியூ ரிடங்கொண்ட
கறையார் மிடற்றானைக் கருதக் கெடும்வினையே.
"Maṟaiyāṉ neṭumālkāṇ pariyāṉ mazhuvēnthi
niṟaiyā mathisūṭi nikazhmuth thiṉthothē
iṟaiyāṉ erukkatham puliyū riṭaṅkoṇṭa
kaṟaiyār miṭatṟāṉaik karuthak keṭumviṉaiyē".
புத்தர் அருகர்தம் பொய்கள் புறம்போக்கிச்
சுத்தி தரித்துறையுஞ் சோதி யுமையோடும்
நித்தன் எருக்கத்தம் புலியூர் நிகழ்வாய
அத்தன் அறவன்தன் அடியே அடைவோமே.
"Puthar arukartham poykaḷ puṟampōkkich
chuthi tharithuṟaiyuñ chōthi yumaiyōṭum
nithaṉ erukkatham puliyūr nikazhvāya
athaṉ aṟavaṉthaṉ aṭiyē aṭaivōmē".
ஏரார் எருக்கத்தம் புலியூர் உறைவானைச்
சீரார் திகழ்காழித் திருவார் சம்பந்தன்
ஆரா அருந்தமிழ் மாலை யிவைவல்லார்
பாரா ரவரேத்தப் பதிவான் உறைவாரே.
"Ērār erukkatham puliyūr uṟaivāṉaich
chīrār thikazhkāzhith thiruvār sampanthaṉ
ārā arunthamizh mālai yivaivallār
pārā ravarēthap pathivāṉ uṟaivārē".