Visited on: November 2, 2017.
Location
Kottaiyur is situated at a distance of about 4 kms from Kumbakonam on the Kumbakonam to Swamimalai route.
Other Devara Paadal Petra Shiva Sthalams near this place are –
Kumbakonam (Kudamukku, Kudanthai Karonam and Kudanthai Keezhkkottam), Innambur, Thiruppurambiam, Thiruvisayamangai and Thiruvaikavur.
General Information
| | |
| --- | --- |
| Moolavar | Sri Koteewaraswamy |
| Ambal | Sri Panthadunayaki Ammai, Sri Kanthuga Greedambal |
| Theertham (Holy water) | River Cauveri, Kodi Theertham (Amutha well) |
| Sthala Vriksham (Sacred Tree) | Castor oil plant |
| Pathigam (Hymn) rendered by | Saint Thirunavukarasar (Appar)-1 |
This is one of the 276 Devara Paadal Petra Shiva Sthalams and 44th Shiva Sthalam on the northern bank of the river Cauvery in Chozha Nadu (Vadakarai).
Lord Shiva in this temple is a Swayambumurthi (self-manifested).
This east facing temple has two corridors and its main tower (Rajagopuram) has 5-tiers.
The last consecration ceremony (Maha Kumbabishekam) took place on 26.10.2015 and prior to that on 09.02.1992.
History of the Temple
The historical names of this place are Koteecharam, Vilvaaranyam and Herandapuram.
There are five stone inscriptions in this temple which date back to the periods of Chola kings Rarathirajan and Kulothungan-III. This temple is believed to have been built by Chola and Pallava kings.
This temple is under the administrative control of the Hindu Religious and Charitable Endowments Department of Government of Tamil Nadu (HR&CE).
This is one of the Saptastanam temples associated with Sri Adhi Kumbeswarar temple, Kumbakonam. Other temples are Kalayanallur, Thiru Valanchuzhi, Darasuram, Swamimalai, Kumbakonam and Melaikkaveri.
12 famous Shiva temples participate in the renowned "Mahaamaham" festival during which "Theerthavaari" happens in the Mahaamaha tank. This festival is celebrated once in 12 years in Kumbakonam. These 12 Shiva temples are:
Kasi Viswanathar Temple, Kumbakonam
Aadhi Kumbeswarar Temple, Kumbakonam
Someswarar Temple, Kumbakonam
Nageswarar (Vilvavaneswarar) Temple, Kumbakonam
Kalahasteeswarar Temple, Kumbakonam
Gauthameswarar (Upaveethanathar) Temple, Kumbakonam
Koteeswarar Temple, Kottaiyur
Amirthakalasanathar Temple, Kalayanallur
Bhanapureeswarar Temple, Kumbakonam
Abhimukeswarar Temple, Kumbakonam
Aathikambatta Visvanathar Temple, Kumbakonam and
Ekambareswarar Temple, Kumbakonam.
Simultaneously, 5 Vaishnava temples from Kumbakonam also participate in this festival. However, instead of their Theerthavaari in Mahaamaha tank, the Theerthavaari happens in the river Kaveri. These Vaishnava temples are:
Sri Saarangapani temple
Sri Chakrapaani temple
Sri Ramaswami temple
Sri Rajagopalaswami temple and
Sri Aadhivaraha Perumal temple.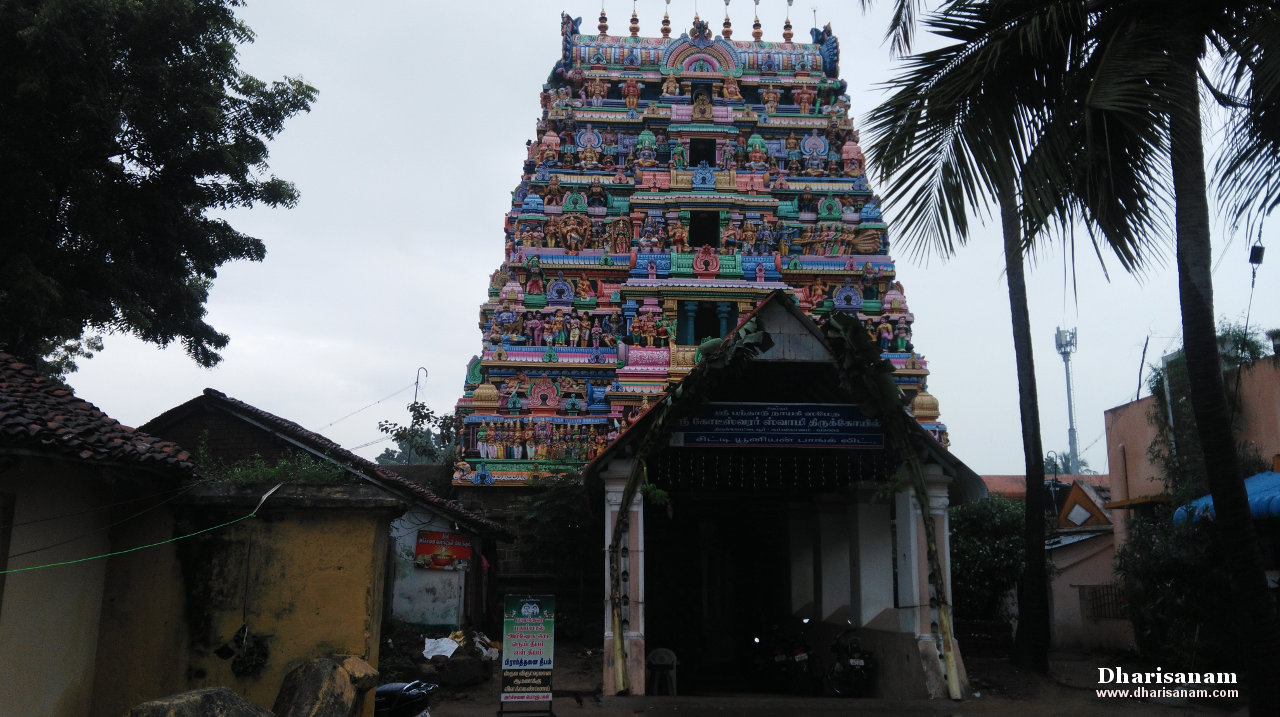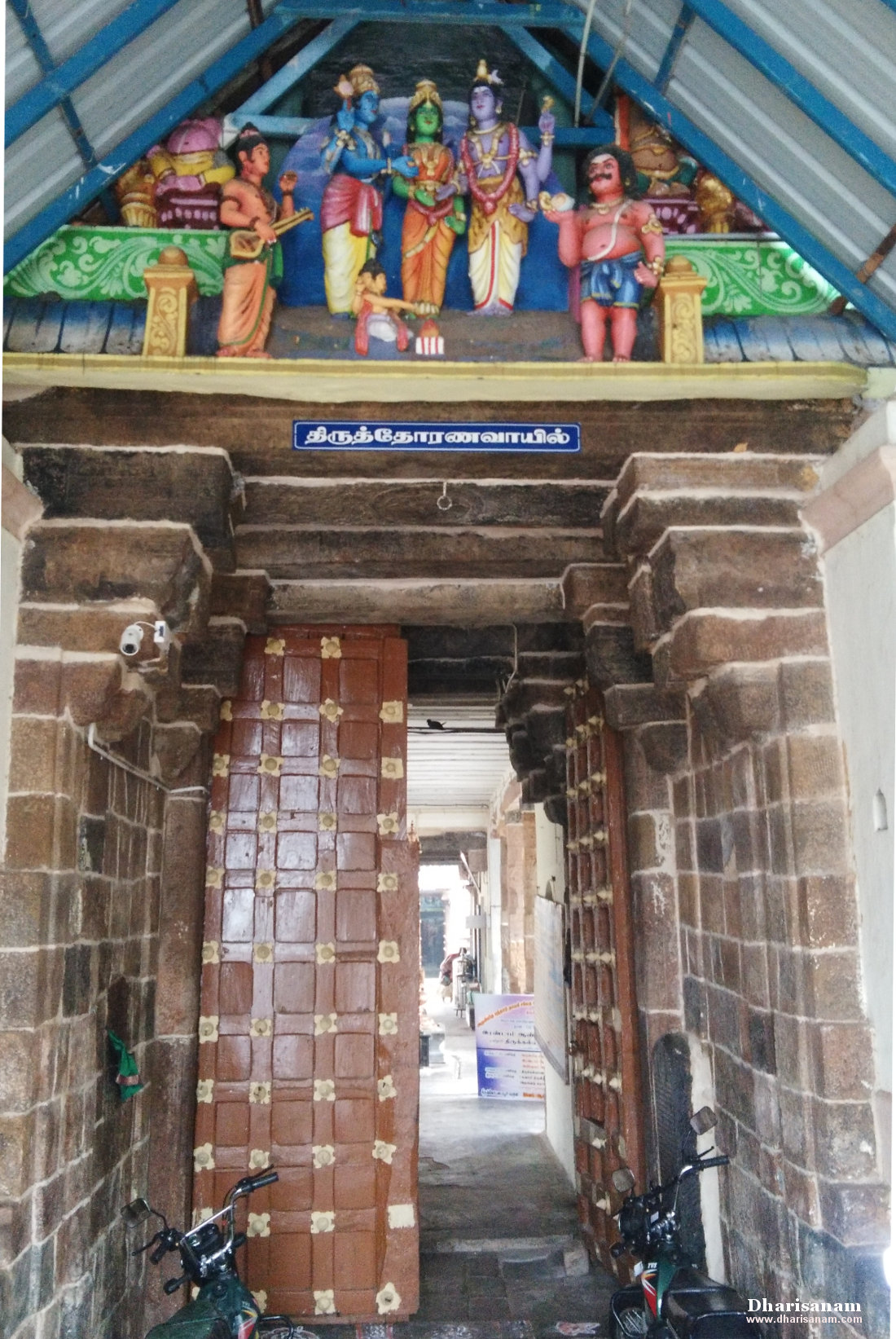 Legend
According to Hindu mythology, at the end of every "yuga", there is a huge flood that leads to the destruction of all living beings in the earth. This is called the "Pralayam". Lord Shiva, through Lord Brahma, arranged for the seeds of all living organisms and four Vedas and Puranas to be put in a pot ("Amutha Kalas" or Kumbham or Kudam in Tamil) filled with nectar ("amirtham"). This was decorated with flowers and cloth and a string was tied to it. This was kept on top of the Mount Kailash. When the Maha Pralayam started, it destroyed all living creatures on the earth. The Amutha Kalas also got displaced and started floating on the seas for years. Eventually when the Pralayam stopped, the Kalas settled in Kumbakonam. Then Lord Shiva took the form of a hunter (Kiratha Murthy) and split open the pot with his arrow. The life on earth started flourishing again.
It is believed that when Lord Shiva opened the pot with his arrow, the pot broke and the decorative items on it fell in various places across the earth. Each of these pieces became Shivalingams. In Kottaiyur Sri Koteeswarar temple, it is believed that some drops of the nectar fell in a well. This well is known as "Amutha well".
Another legend is that Lord Shiva (in the form of a Shivalingam) appeared here in the midst of castor plants. The fruits of castor plant are called "kottai" in Tamil and because of this, the place gets the name Kottaiyur.
The main Shivalingam in this temple looks as it is formed out of the fruits of a caster plant. In other words, its texture resembles a jack fruit. Hence the lord here is praised as "Sri Koteeswarar". Another important feature of this lingam is that water droplets can be seen coming out of its top. This symbolises the legend that the Ganges resides in Lord Shiva's head.
Another legend associated with this place is that of Heranda (Athreyar) Maharishi. Herandam" means Castor plant. The sage gets his name because he had performed penance under the castor plants in this place. There is a separate shrine for Heranda Maharishi in the front hall where he is seen in a meditative posture. The legend is that once in Thiruvalanchuzhi, Aadhiseshan came out from the "Padhala logam" (underworld) on a Shivarathri day to worship Lord Shiva. A huge hole ("phila dwaram") formed at the place where Aadhisheshan came out. Since river Cauvery was flowing through this place, she entered this hole and fell into the underworld. The Chola king who ruled from Kumbakonam, Harithuvajan got worried about this and prayed to Lord Shiva. It is believed that at this point the lord's divine voice was heard saying that a king or a sage has to sacrifice his life by entering into the hole so that the river can come back to earth.
The king also sought the advice of Sage Heranda Maharishi who was performing penance in this place. The sage confirmed the divine voice. When the king decided to get into the hole for the welfare of the people, the sage stopped him and he himself entered into the hole and brought Cauvery back to earth. The place where the river came back to earth is called "Mela Cauvery", near Kumbakonam. Although he entered into the underworld at Thiruvalanchuzhi, it is believed that he came back to the earth in Thiruvalampuram. He worshiped the lord there for some time and attained salvation.
Other legends
It is believed that Sage Pathrayogi, in order to regain his spiritual power, visited many Shiva temples. When he reached this temple, Lord Shiva was pleased with his devotion and blessed him by appearing in the form of one crore ("kodi" in Tamil) images of himself, along with one crore images each of Vinayakar, Goddess Parvathy, Murugan and Chandikeswarar. This was done as a way to bless him with the benefit of visiting one crore Shiva temples. Hence the lord here is praised as Sri Koteeswarar and the place gets the name Koteecharam. It is believed that any good deed (Punniyam) or bad deed (Pavam) done here will be multiplied one crore times.
Surusi, a prince from Thirihartha kingdom (a kingdom in the north), son of king Sathyathi, was cursed by Sage Pathrayogi to become a devil. This was because he had disrespected the sage and disturbed his penance in the Himalayas. As advised by Sage Vyasa, the king brought his son to this place to worship Lord Shiva. The prince took a dip in the temple's Theerthams and worshiped the lord. It is believed that he was absolved of his sins. It is believed that the king stayed here for some time, renovated this temple and made some endowments for the temple's maintenance.
It is believed that Lord Ram, Brahma, Indra, Sage Naradar and Sage Markandeya have worshiped the lord here.
Deities in the temple
Other than the shrines of Lord Shiva and Goddess Parvathy, shrines and idols of Kodi Vinayakar, Kodi Murugan, Gajalakshmi, Natarajar, Somaskandar, Mahalakshmi, Navagraham, Bairavar, Jurakeswarar, Saneeswarar, Suryan Chandran, lingam, Maha Sastha, Nalvar, Pancha lingam and Athreya Maharishi (Herandar) can be seen in the main hall and corridors.
In the "koshtam" (place surrounding the sanctum sanctorum), idols of Narthana Vinayakar, Dakshinamurthy, lingothbavar, Brahma, Durgai and Chandikeswarar can be seen.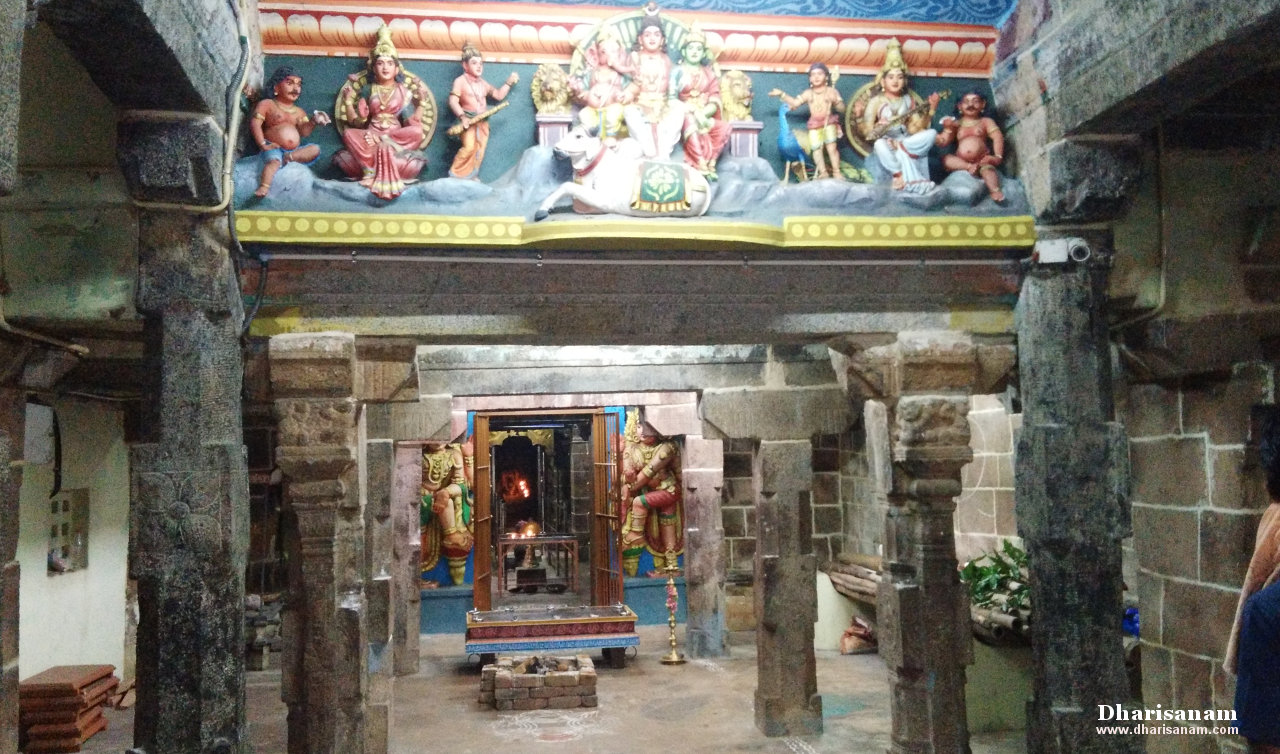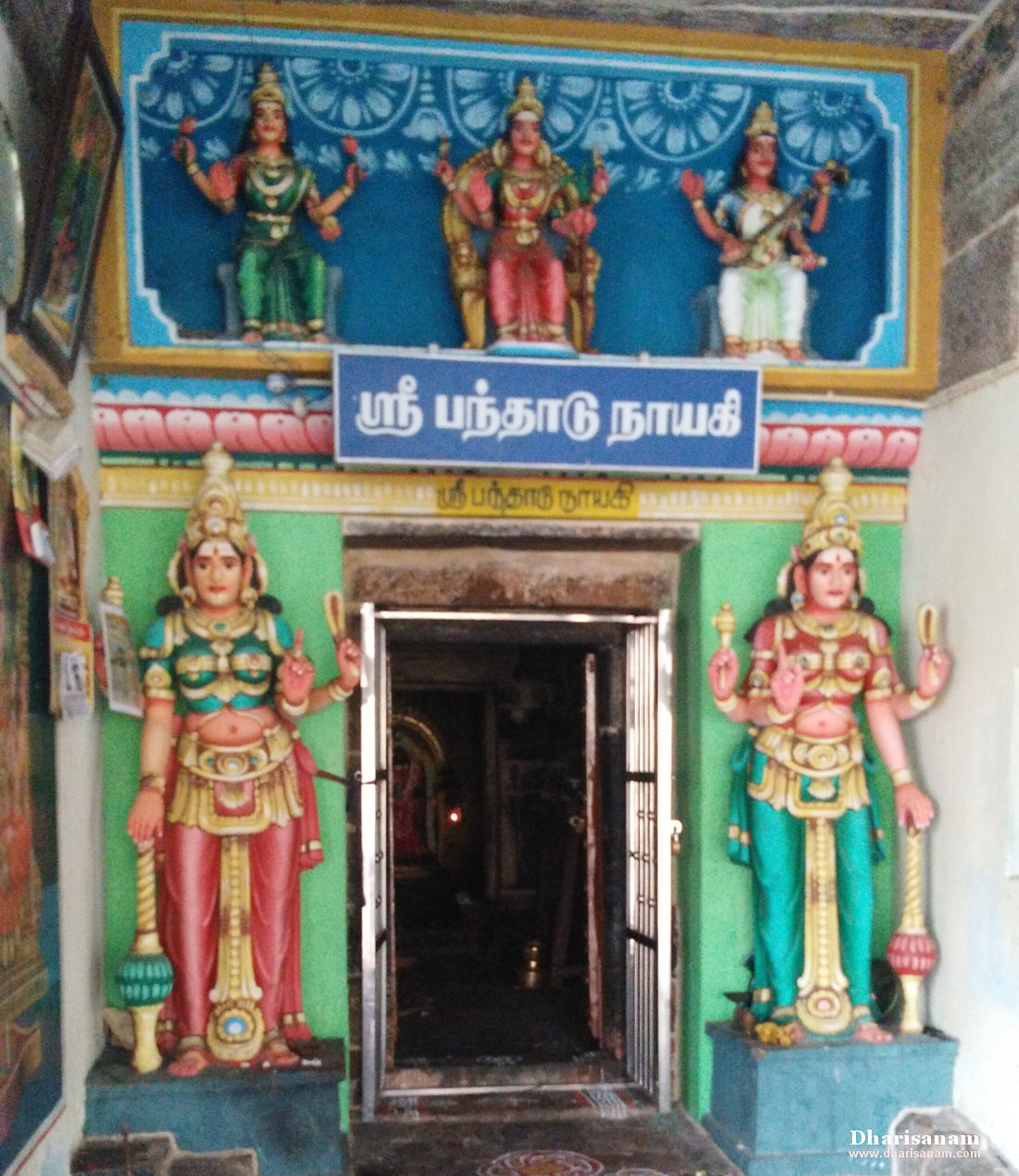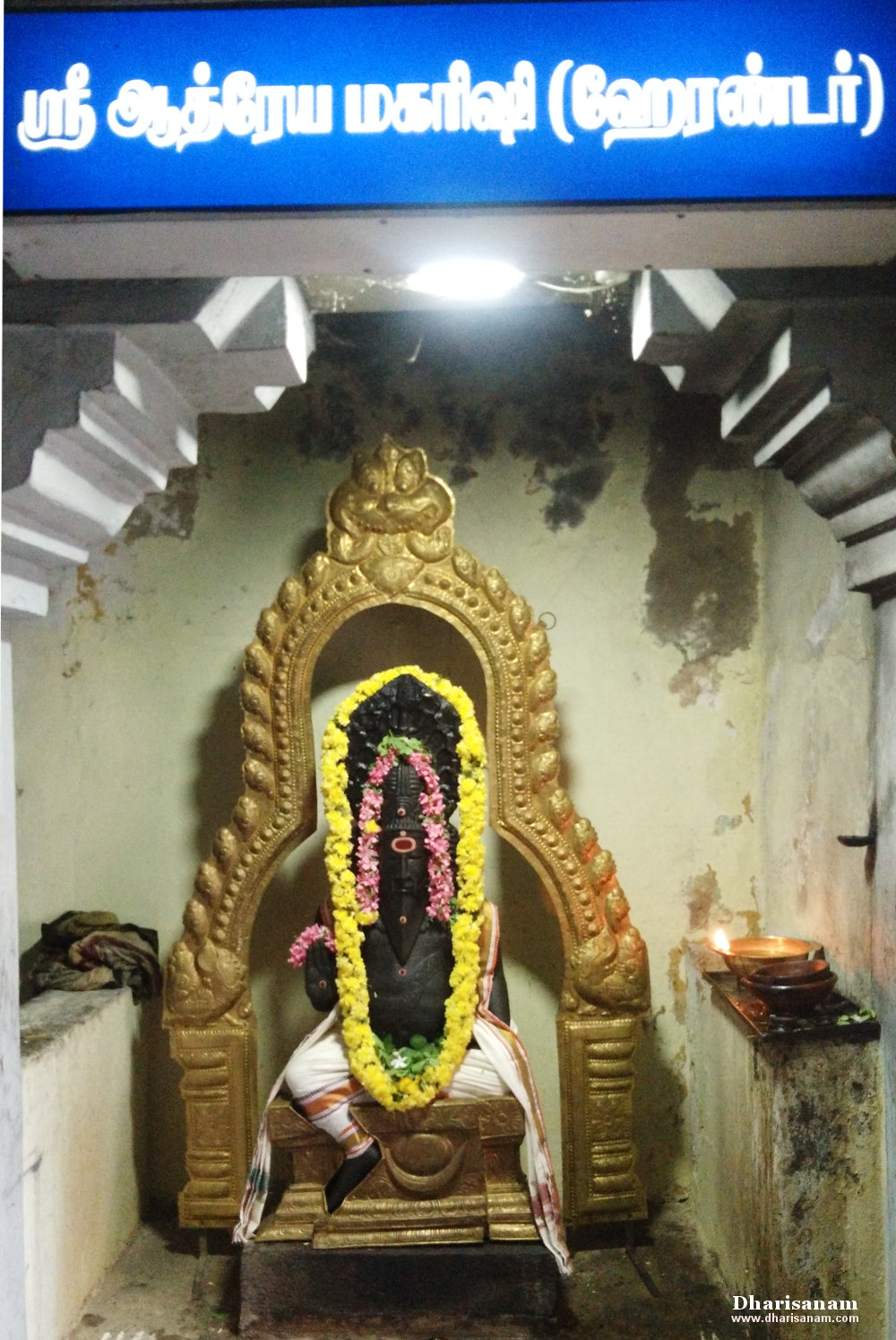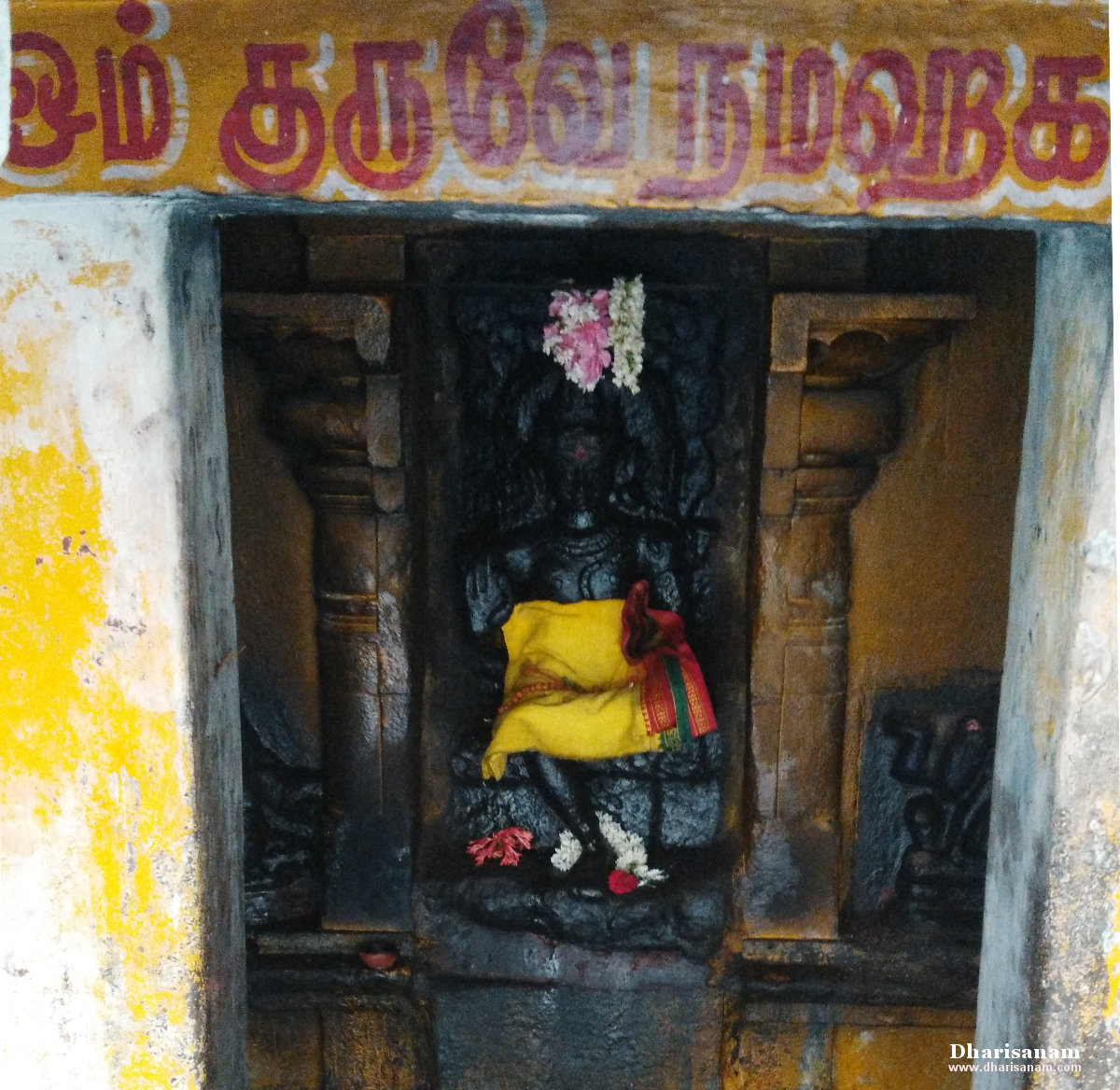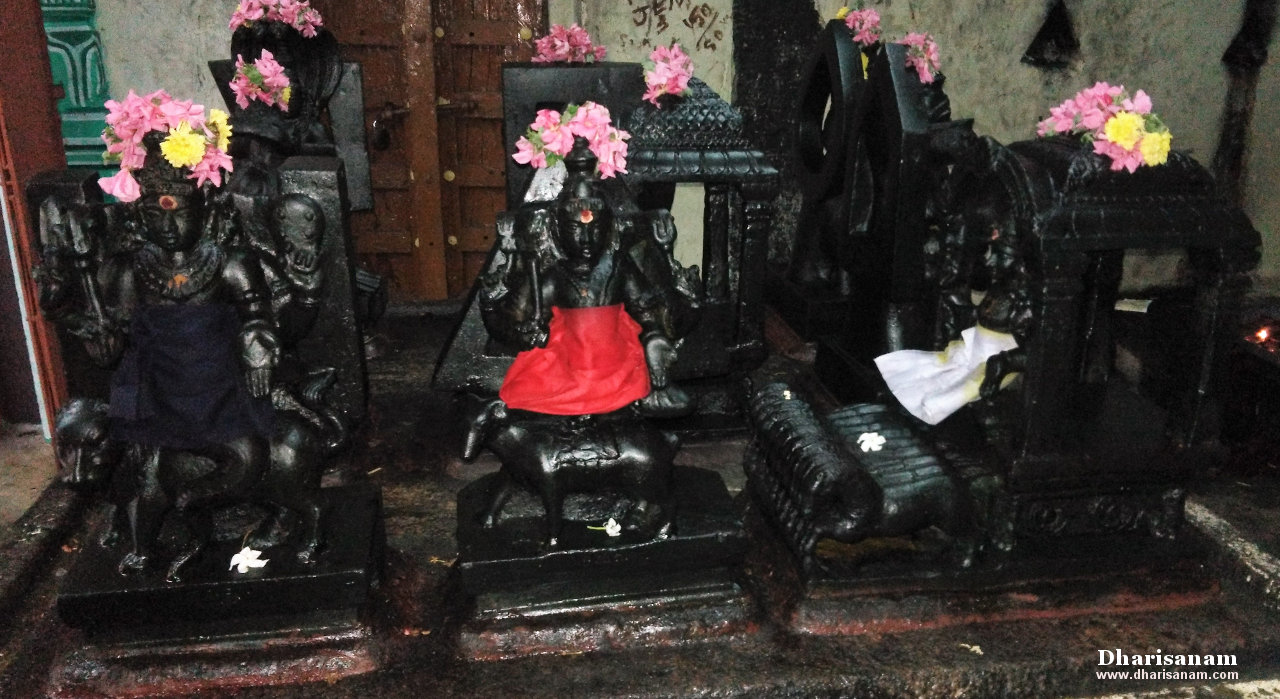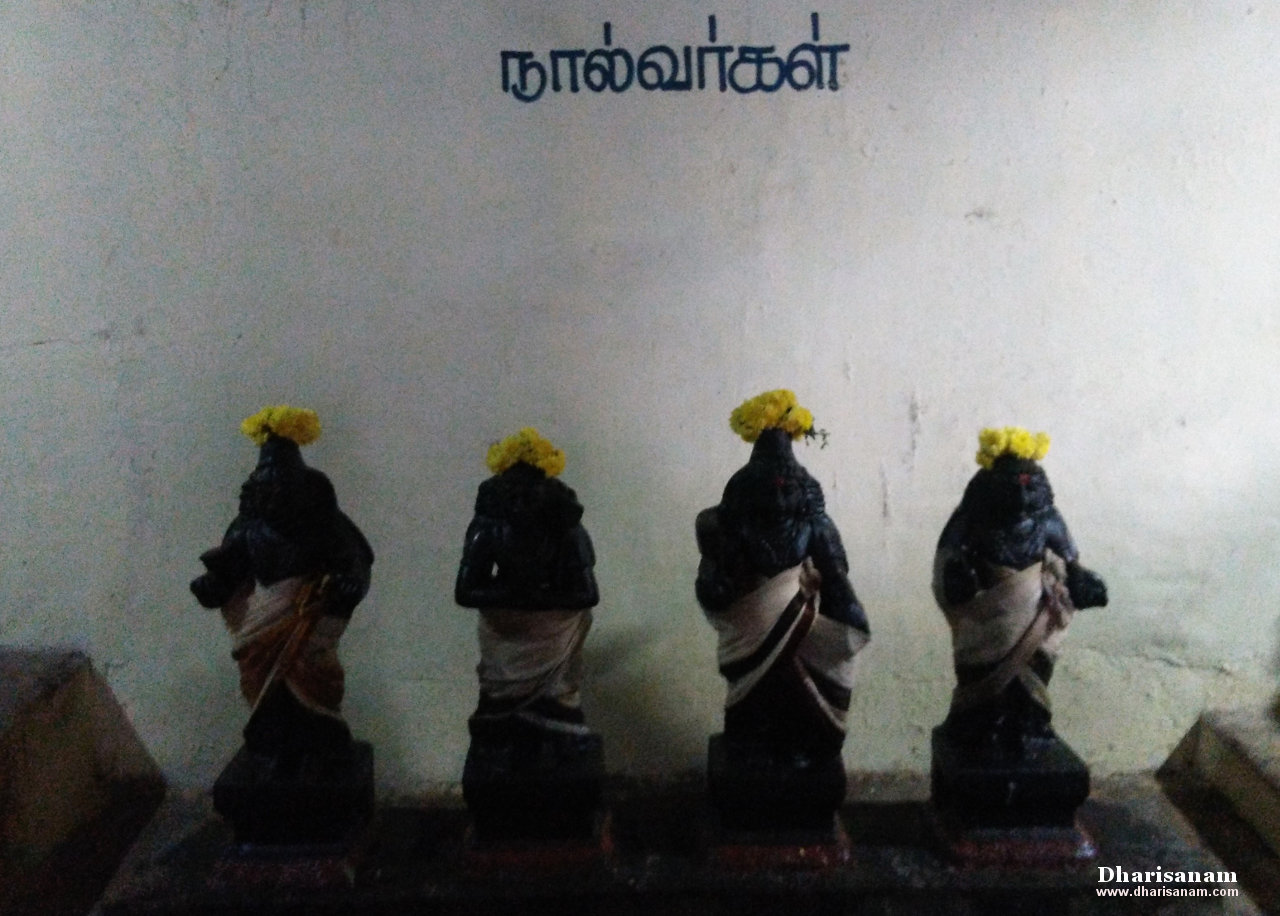 Salient Features
There is no relief for the sins that are committed here. A proverb related to this place goes like this – "Kottaiyuril seitha pavam kattaiyode" meaning "those who commit a sin here will have to live with its repercussions for the rest of their life".
Lord Murugan is praised as Kodi Subramaniyar and can be seen with his consorts in the inner corridor. Lord Murugan (in the name of Dhandayuthapani) can be seen at the entrance of the temple.
The idol of Vinayakar here contgains many small images of Vinayakars on it. This Vinayakar is believed to be self-manifested (Swayambu) and is praised as Kodi Vinayakar. It is believed that at the time of renovation, the idol could not be removed. Even after digging for 20 feet, its base could not be found.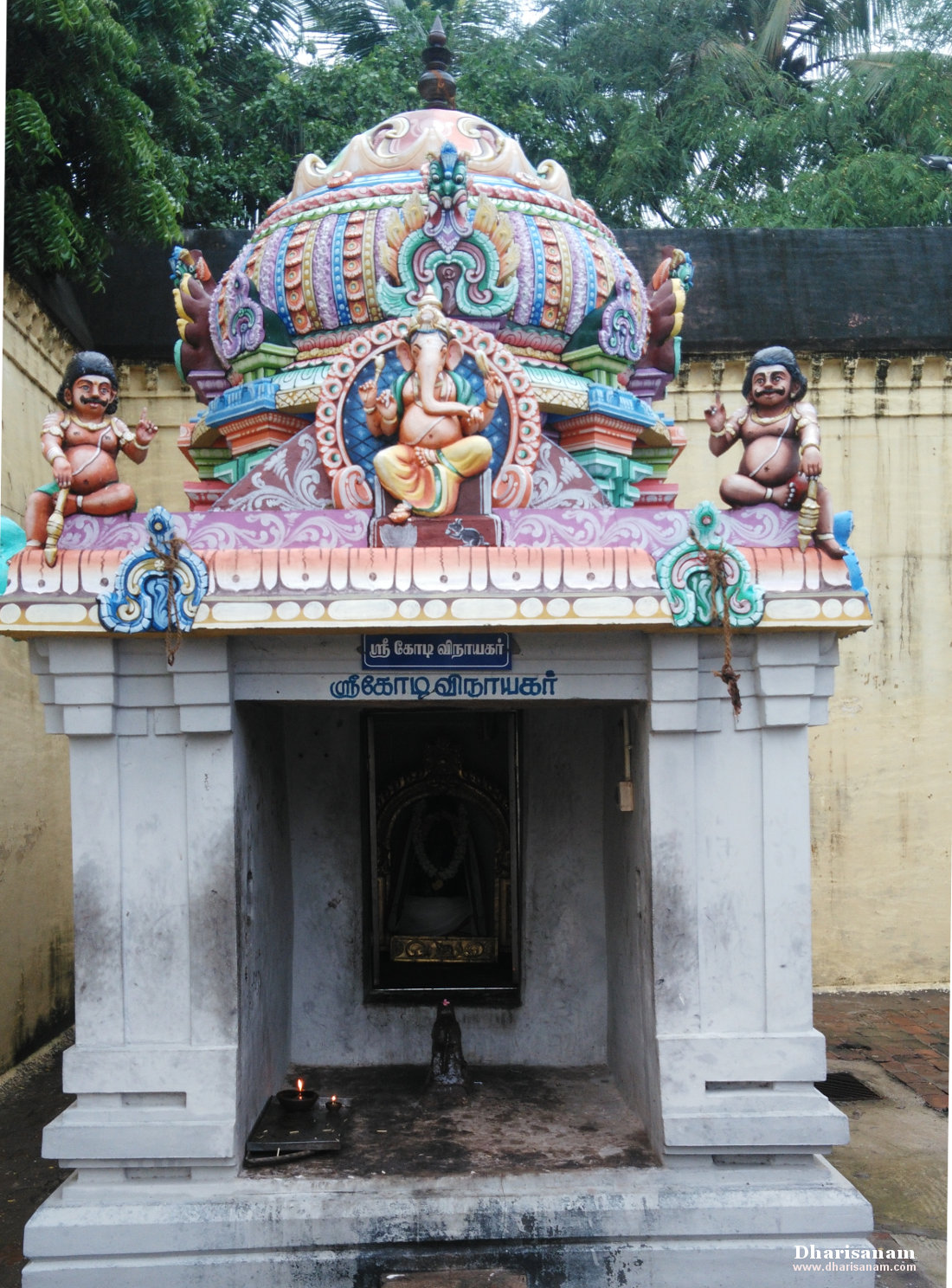 Goddess Parvathi's shrine (Panthadu Nayaki) is facing the south. She is depicted in a playful posture. Devotees worship the Goddess here because they believe that the goddess will toss away all their sins and will bless them with a righteous life.
The idols in the Navagraham here are big in size, very beautiful and unique. All the lords are depicted along with their respective mounts. Suryan and Chandran are seen on chariots pulled by horses.
Goddess Durgai is depicted with eight hands (Ashtapuja Durgai) and her right leg a step forward.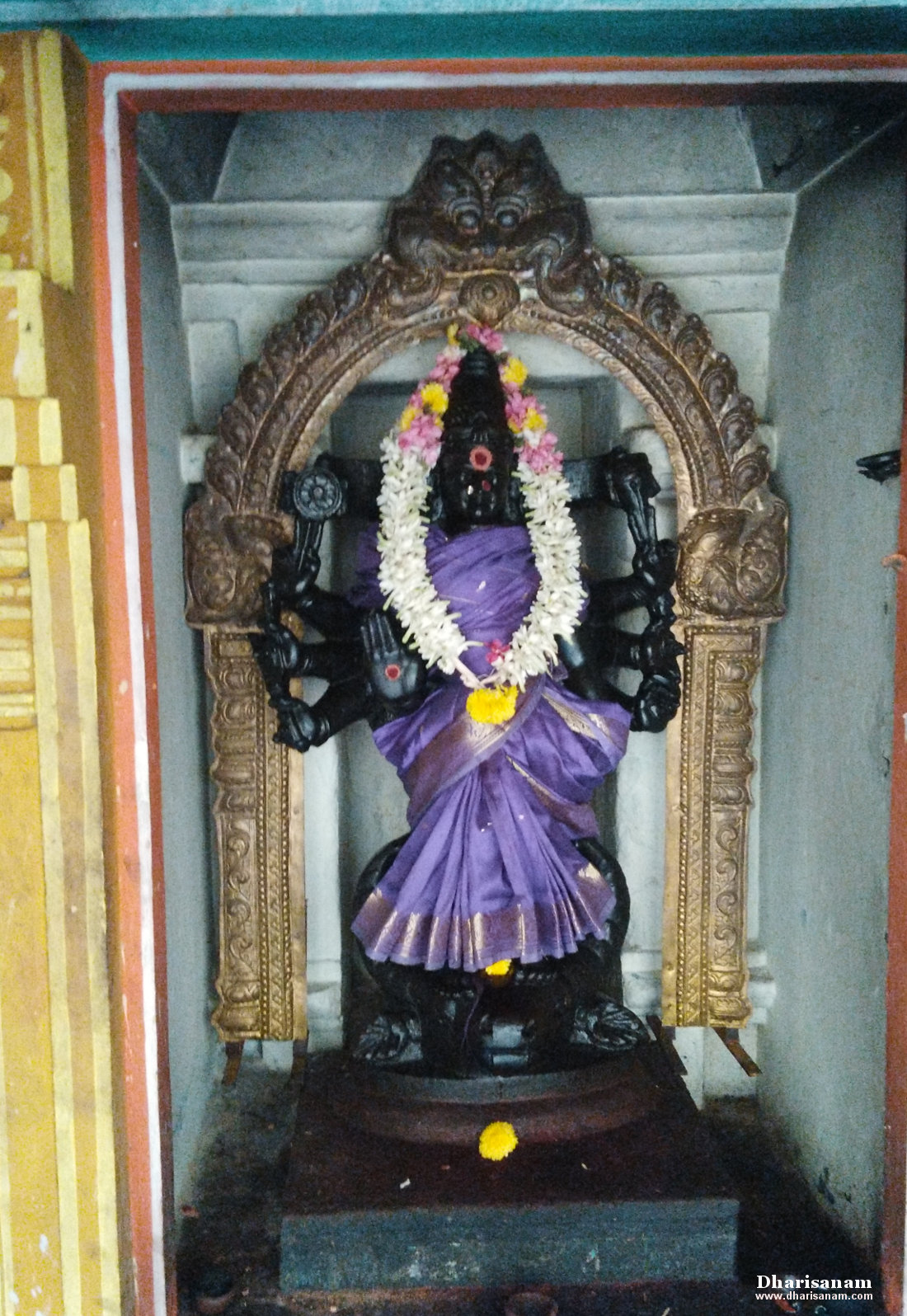 This temple's holy water (Kodi theertham) is believed to have been created by Sage Heranda for the purpose of the lord's abhishekam. This well never dries up. Devotees believe that sprinkling water from this well on their body will purify their mind and cure many diseases.
Goddess Parvathy's shrine has a separate corridor. This corridor has many beautiful carvings engraved on its walls. Also, there are many beautiful sculptures in various places in this temple.
A beautiful relief depicting the story of Chola king Manu Neethi, who kept his son under his chariot's wheels and ran over his body to give justice to a cow, can be seen in the second entrance of this temple.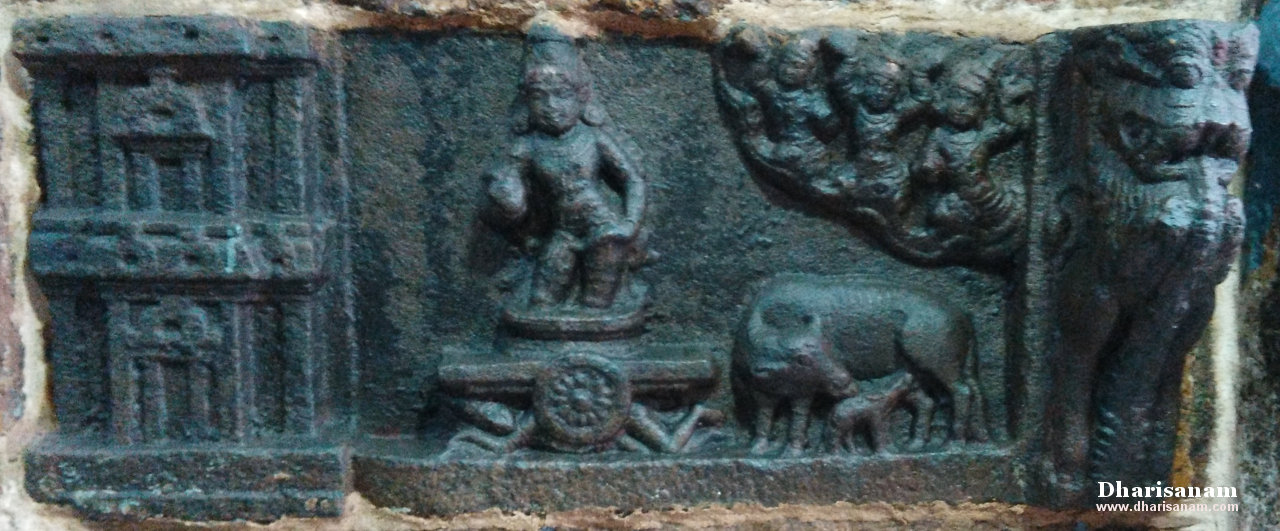 Saint Arunagirinadhar has sang songs in praise of Lord Murugan of this temple in his revered Thirupugazh.
Greatness of this temple
It is believed that those who worship the lord here will get the benefit of worshiping the lord in one crore Shiva temples.
It is believed that any good deed ("Punniyam") or bad deed ("Pavam") done here will be multiplied one crore times.
Devotees sprinkle water from this temple's Theertham on their head and worship the lord here to stay healthy and young. They believe that doing so will also keep away the evil spirits.
Important Festivals
Some of the important festivals celebrated in the temple are –
Vinayakar Chaturthi in the Tamil month of Aavani (Aug-Sept),
Annabishekam in the Tamil month of Aippasi (Oct–Nov),
Thiruvadhirai in the Tamil month of Markazhi (Dec-Jan),
Shivrathri in the Tamil month of Masi (Feb-Mar), and
Panguni Uthiram in the Tamil month of Panguni (Mar-Apr).
Pradosham is also observed regularly.
Temple Timings
From 06.30 to 12.00 Noon and from 04.00 PM to 08.00 PM.
Temple Address
Sri Koteeswarar Temple,
Kottaiyur,
Melakkaveri Post,
Kumbakonam Taluk,
Tanjure District,
Tamil Nadu-612 002.
Tele: +91 0435 2450595, 94866 70043.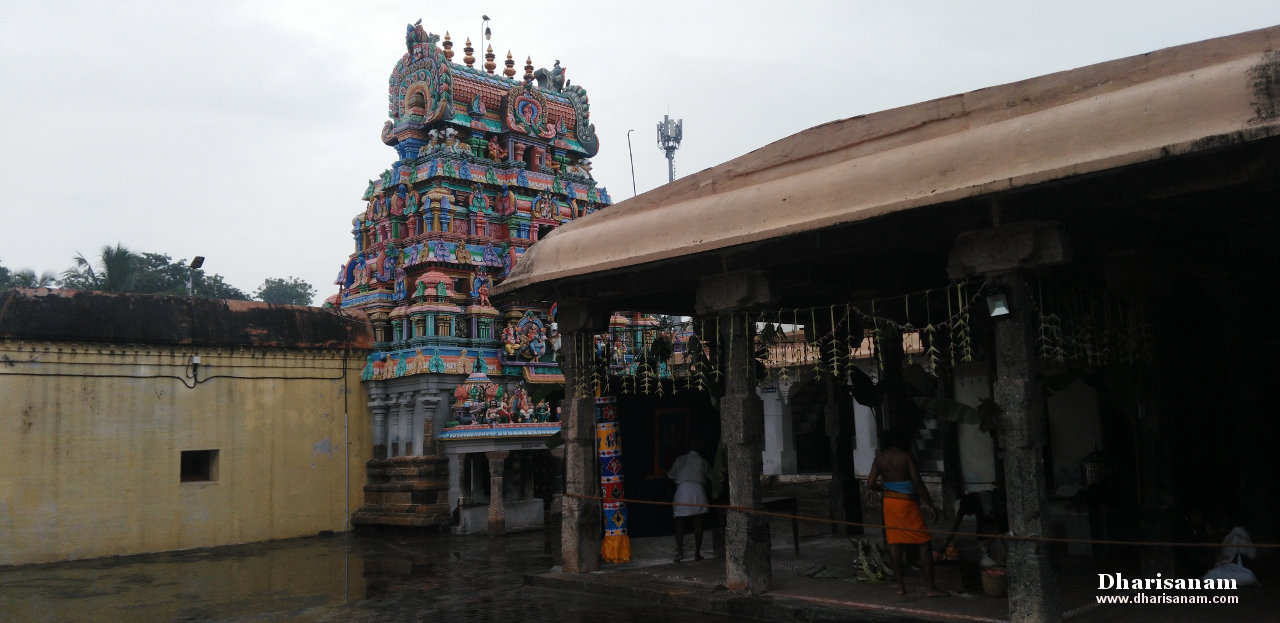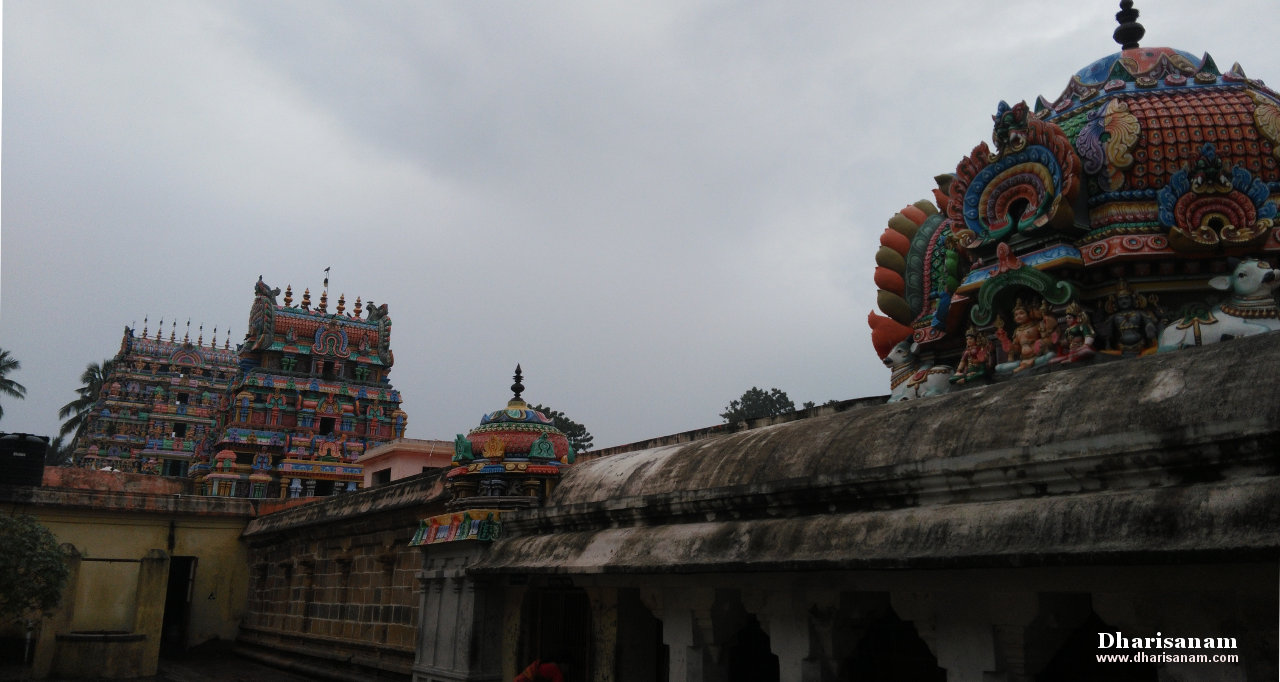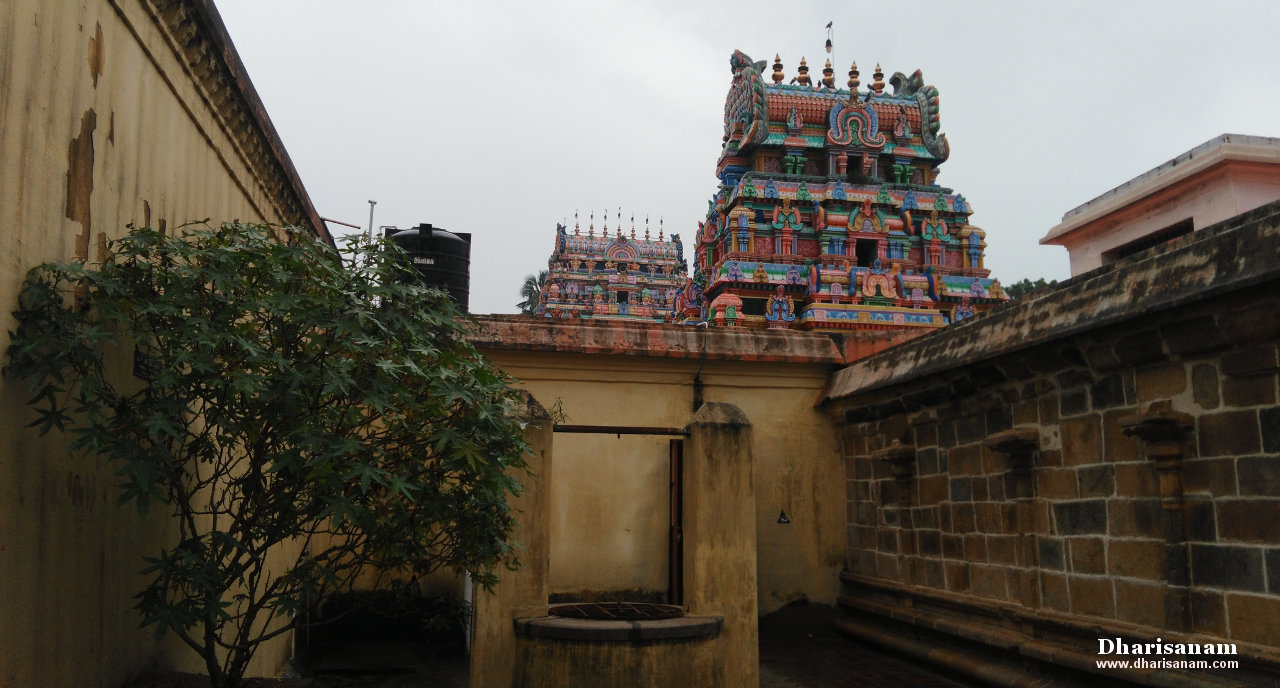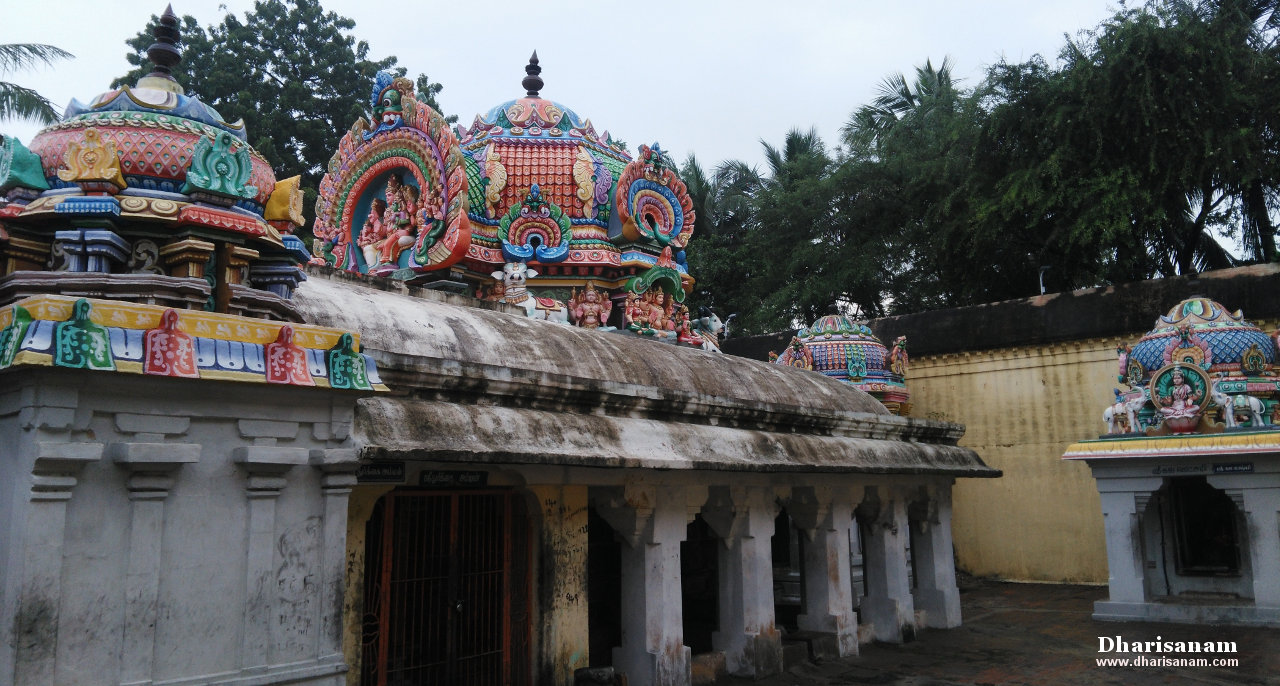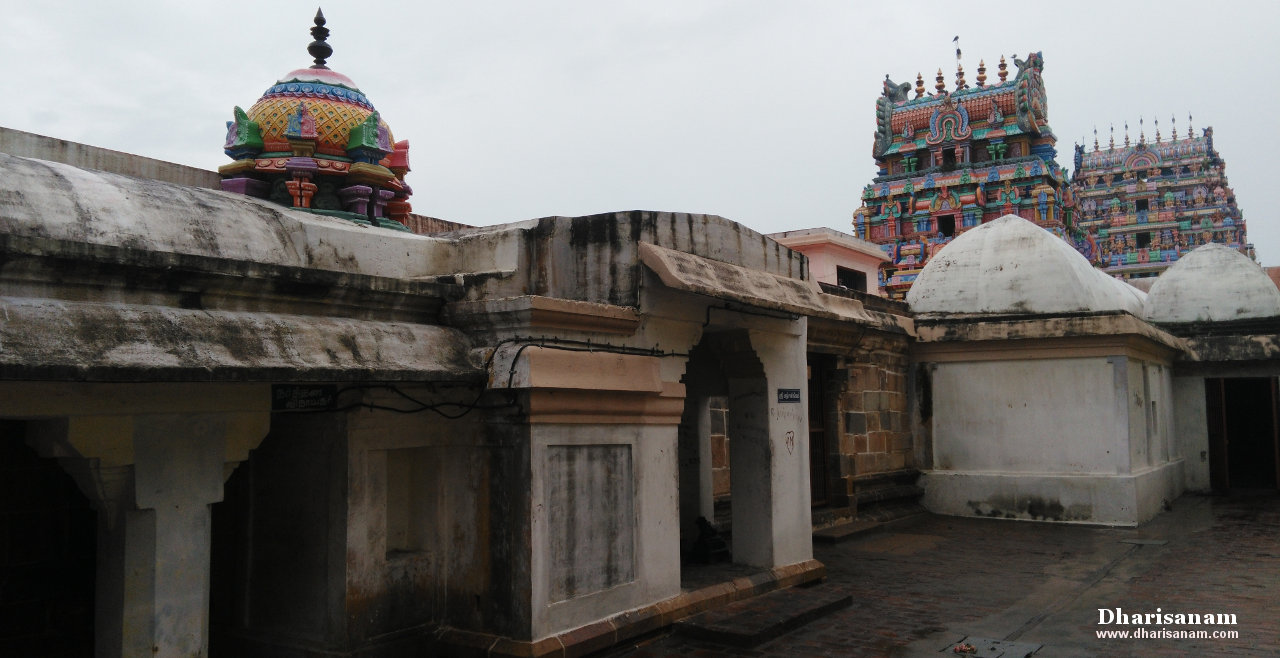 ---
Pathigam (Hymn) with English transliteration
Saint Thirunavukkarasar (Appar) visited this temple and sang this Pathigam.
Devotees visiting this temple should make it a practice to recite this Pathigam.
(This is a combined Pathigam for Thiruvalanchuzhi and Kottaiyur temples).
கருமணிபோற் கண்டத் தழகன் கண்டாய்
கல்லால நிழற்கீ ழிருந்தான் கண்டாய்
பருமணி மாநாகம் பூண்டான் கண்டாய்
பவளக்குன் றன்ன பரமன் கண்டாய்
வருமணிநீர்ப் பொன்னிவலஞ் சுழியான் கண்டாய்
மாதேவன் கண்டாய் வரதன் கண்டாய்
குருமணிபோல் அழகமருங் கொட்டை யூரிற்
கோடீச் சரத்துறையுங் கோமான் றானே.
"Karumaṇipōṟ kaṇṭath thazhakaṉ kaṇṭāy
kallāla nizhaṟkī zhirunthāṉ kaṇṭāy
parumaṇi mānākam pūṇṭāṉ kaṇṭāy
pavaḷakkuṉ tṟaṉṉa paramaṉ kaṇṭāy
varumaṇinīrp poṉṉivalañ chuzhiyāṉ kaṇṭāy
māthēvaṉ kaṇṭāy varathaṉ kaṇṭāy
kurumaṇipōl azhakamaruṅ koṭṭai yūriṟ
kōṭīch charaththuṟaiyuṅ kōmāṉ tṟāṉē".
கலைக்கன்று தங்கு கரத்தான் கண்டாய்
கலைபயில்வோர் ஞானக்கண் ணானான் கண்டாய்
அலைக்கங்கை செஞ்சடைமே லேற்றான் கண்டாய்
அண்ட கபாலத்தப் பாலான் கண்டாய்
மலைப்பண்டங் கொண்டு வருநீர்ப் பொன்னி
வலஞ்சுழியின் மேவிய மைந்தன் கண்டாய்
குலைத்தெங்கஞ் சோலைசூழ் கொட்டை யூரிற்
கோடீச்சரத் துறையுங் கோமான் றானே.
"Kalaikkaṉtṟu thaṅku karaththāṉ kaṇṭāy
kalaipayilvōr gñāṉakkaṇ ṇāṉāṉ kaṇṭāy
alaikgaṅgai cheñchaṭaimē lētṟāṉ kaṇṭāy
aṇṭa kapālaththap pālāṉ kaṇṭāy
malaippaṇṭaṅ koṇṭu varunīrp poṉṉi
valañchuzhiyiṉ mēviya mainthaṉ kaṇṭāy
kulaiththeṅkañ chōlaichūzh koṭṭai yūriṟ
kōṭīchcharath thuṟaiyuṅ kōmāṉ tṟāṉē".
செந்தா மரைப்போ தணிந்தான் கண்டாய்
சிவன்கண்டாய் தேவர் பெருமான் கண்டாய்
பந்தாடு மெல்விரலாள் பாகன் கண்டாய்
பாலோடு நெய் தயிர்தே னாடி கண்டாய்
மந்தார முந்தி வருநீர்ப் பொன்னி
வலஞ்சுழியின் மன்னு மணாளன் கண்டாய்
கொந்தார் பொழிற்புடைசூழ் கொட்டை யூரிற்
கோடீச் சரத்துறையுங் கோமான் றானே.
"Senthā maraippō thaṇinthāṉ kaṇṭāy
sivaṉkaṇṭāy thēvar perumāṉ kaṇṭāy
panthāṭu melviralāḷ pākaṉ kaṇṭāy
pālōṭu ney thayirthē ṉāṭi kaṇṭāy
manthāra munthi varunīrp poṉṉi
valañchuzhiyiṉ maṉṉu maṇāḷaṉ kaṇṭāy
konthār pozhiṟpuṭaichūzh koṭṭai yūriṟ
kōṭīch charaththuṟaiyuṅ kōmāṉ tṟāṉē".
பொடியாடு மேனிப் புனிதன் கண்டாய்
புட்பாகற் காழி கொடுத்தான் கண்டாய்
இடியார் கடுமுழக்கே றூர்ந்தான் கண்டாய்
எண்டிசைக்கும் விளக்காகி நின்றான் கண்டாய்
மடலார் திரைபுரளுங் காவி ரிவாய்
வலஞ்சுழியின் மேவிய மைந்தன் கண்டாய்
கொடியாடு நெடுமாடக் கொட்டை யூரிற்
கோடீச்சரத் துறையுங் கோமான் றானே.
"Poṭiyāṭu mēṉip puṉithaṉ kaṇṭāy
puṭpākaṟ kāzhi koṭuththāṉ kaṇṭāy
iṭiyār kaṭumuzhakkē ṟūrnthāṉ kaṇṭāy
eṇṭisaikkum viḷakkāki niṉtṟāṉ kaṇṭāy
maṭalār thiraipuraḷuṅ kāvi rivāy
valañchuzhiyiṉ mēviya mainthaṉ kaṇṭāy
koṭiyāṭu neṭumāṭak koṭṭai yūriṟ
kōṭīchcharath thuṟaiyuṅ kōmāṉ tṟāṉē".
அக்கரவம் அரைக்கசைத்த அம்மான் கண்டாய்
அருமறைக ளாறங்க மானான் கண்டாய்
தக்கனது பெருவேள்வி தகர்த்தான் கண்டாய்
சதாசிவன்காண் சலந்தரனைப் பிளந்தான் கண்டாய்
மைக்கொண்மயிற் றழைகொண்டு வருநீர்ப் பொன்னி
வலஞ்சுழியான் கண்டாய் மழுவன் கண்டாய்
கொக்கமரும் வயற்புடைசூழ் கொட்டை யூரிற்
கோடீச் சரத்துறையுங் கோமான் றானே.
"Akkaravam araikkasaiththa am'māṉ kaṇṭāy
arumaṟaika ḷāṟaṅka māṉāṉ kaṇṭāy
thakkaṉatu peruvēḷvi thakarththāṉ kaṇṭāy
sathāsivaṉkāṇ salantharaṉaip piḷanthāṉ kaṇṭāy
maikkoṇmayit ṟazhaikoṇṭu varunīrp poṉṉi
valañchuzhiyāṉ kaṇṭāy mazhuvaṉ kaṇṭāy
kokkamarum vayaṟpuṭaichūzh koṭṭai yūriṟ
kōṭīch charaththuṟaiyuṅ kōmāṉ tṟāṉē".
சண்டனைநல் லண்டர்தொழச் செய்தான் கண்டாய்
சதாசிவன் கண்டாய்சங் கரன்றான் கண்டாய்
தொண்டர்பலர் தொழுதேத்துங் கழலான் கண்டாய்
சுடரொளியாய்த் தொடர்வரிதாய் நின்றான் கண்டாய்
மண்டுபுனற் பொன்னிவலஞ் சுழியான் கண்டாய்
மாமுனிவர் தம்முடைய மருந்து கண்டாய்
கொண்டல்தவழ் கொடிமாடக் கொட்டை யூரிற்
கோடீச் சரத்துறையுங் கோமான் றானே.
"Saṇṭaṉainal laṇṭarthozhach cheythāṉ kaṇṭāy
sathāsivaṉ kaṇṭāysaṅ karaṉtṟāṉ kaṇṭāy
thoṇṭarpalar thozhuthēththuṅ kazhalāṉ kaṇṭāy
suṭaroḷiyāyth thoṭarvarithāy niṉtṟāṉ kaṇṭāy
maṇṭupuṉaṟ poṉṉivalañ chuzhiyāṉ kaṇṭāy
māmuṉivar tham'muṭaiya marunthu kaṇṭāy
koṇṭalthavazh koṭimāṭak koṭṭai yūriṟ
kōṭīch charaththuṟaiyuṅ kōmāṉ tṟāṉē".
அணவரியான் கண்டாய் அமலன் கண்டாய்
அவிநாசி கண்டாயண் டத்தான் கண்டாய்
பணமணிமா நாக முடையான் கண்டாய்
பண்டரங்கன் கண்டாய் பகவன் கண்டாய்
மணல்வருநீர்ப் பொன்னிவலஞ் சுழியான் கண்டாய்
மாதவற்கும் நான்முகற்கும் வரதன் கண்டாய்
குணமுடைநல் லடியார்வாழ் கொட்டை யூரிற்
கோடீச் சரத்துறையுங் கோமான் றானே.
"Aṇavariyāṉ kaṇṭāy amalaṉ kaṇṭāy
avināsi kaṇṭāyaṇ ṭaththāṉ kaṇṭāy
paṇamaṇimā nāka muṭaiyāṉ kaṇṭāy
paṇṭaraṅkaṉ kaṇṭāy pakavaṉ kaṇṭāy
maṇalvarunīrp poṉṉivalañ chuzhiyāṉ kaṇṭāy
māthavaṟkum nāṉmukaṟkum varathaṉ kaṇṭāy
kuṇamuṭainal laṭiyārvāzh koṭṭai yūriṟ
kōṭīch charaththuṟaiyuṅ kōmāṉ tṟāṉē".
விரைகமழு மலர்க்கொன்றைத் தாரான் கண்டாய்
வேதங்கள் தொழநின்ற நாதன் கண்டாய்
அரையதனிற் புள்ளியத ளுடையான் கண்டாய்
அழலாடி கண்டாய் அழகன் கண்டாய்
வருதிரைநீர்ப் பொன்னிவலஞ் சுழியான் கண்டாய்
வஞ்சமனத் தவர்க்கரிய மைந்தன் கண்டாய்
குரவமரும் பொழிற்புடைசூழ் கொட்டை யூரிற்
கோடீச் சரத்துறையுங் கோமான் றானே.
"Viraikamazhu malarkkoṉtṟaith thārāṉ kaṇṭāy
vēthaṅkaḷ thozhaniṉtṟa nāthaṉ kaṇṭāy
araiyathaṉiṟ puḷḷiyatha ḷuṭaiyāṉ kaṇṭāy
azhalāṭi kaṇṭāy azhakaṉ kaṇṭāy
varuthirainīrp poṉṉivalañ chuzhiyāṉ kaṇṭāy
vañchamaṉath thavarkkariya mainthaṉ kaṇṭāy
kuravamarum pozhiṟpuṭaichūzh koṭṭai yūriṟ
kōṭīch charaththuṟaiyuṅ kōmāṉ tṟāṉē".
தளங்கிளருந் தாமரையா தனத்தான் கண்டாய்
தசரதன்றன் மகனசைவு தவிர்த்தான் கண்டாய்
இளம்பிறையும் முதிர்சடைமேல் வைத்தான் கண்டாய்
எட்டெட் டிருங்கலையு மானான் கண்டாய்
வளங்கிளர்நீர்ப் பொன்னிவலஞ் சுழியான் கண்டாய்
மாமுனிகள் தொழுதெழுபொற் கழலான் கண்டாய்
குளங்குளிர்செங் குவளைகிளர் கொட்டை யூரிற்
கோடீச் சரத்துறையுங் கோமான் றானே.
"Thaḷaṅkiḷarun thāmaraiyā thaṉaththāṉ kaṇṭāy
thasarathaṉtṟaṉ makaṉasaivu thavirththāṉ kaṇṭāy
iḷampiṟaiyum muthirsaṭaimēl vaiththāṉ kaṇṭāy
eṭṭeṭ ṭiruṅkalaiyu māṉāṉ kaṇṭāy
vaḷaṅkiḷarnīrp poṉṉivalañ chuzhiyāṉ kaṇṭāy
māmuṉikaḷ thozhuthezhupoṟ kazhalāṉ kaṇṭāy
kuḷaṅkuḷirseṅ kuvaḷaikiḷar koṭṭai yūriṟ
kōṭīch charaththuṟaiyuṅ kōmāṉ tṟāṉē".
விண்டார் புரமூன் றெரித்தான் கண்டாய்
விலங்கலில்வல் லரக்கனுட லடர்த்தான் கண்டாய்
தண்டா மரையானும் மாலுந் தேடத்
தழற்பிழம்பாய் நீண்ட கழலான் கண்டாய்
வண்டார்பூஞ் சோலைவலஞ் சுழியான் கண்டாய்
மாதேவன் கண்டாய் மறையோ டங்கங்
கொண்டாடு வேதியர்வாழ் கொட்டை யூரிற்
கோடீச் சரத்துறையுங் கோமான் றானே.
"Viṇṭār puramūṉ tṟeriththāṉ kaṇṭāy
vilaṅkalilval larakkaṉuṭa laṭarththāṉ kaṇṭāy
thaṇṭā maraiyāṉum mālun thēṭath
thazhaṟpizhampāy nīṇṭa kazhalāṉ kaṇṭāy
vaṇṭārpūñ chōlaivalañ chuzhiyāṉ kaṇṭāy
māthēvaṉ kaṇṭāy maṟaiyō ṭaṅkaṅ
koṇṭāṭu vēthiyarvāzh koṭṭai yūriṟ
kōṭīch charaththuṟaiyuṅ kōmāṉ tṟāṉē".