Visited on: December 16, 2017.
Location
Thirukkozhambiam is situated at a distance of about 20 kms from Kumbakonam on the Kumbakonam to Karaikkal route. On this route, take a diversion road from S.Pudur and proceed for about 2 kms to reach this temple. Nearest railway station is Narasinganpettai on the Chennai to Kumbakonam railway line, which is about 4 kms away.
Other Devara Paadal Petra Sthalam near this place are - Thirunallam (Konerirajapuram), Vaikal Madakkoil, Thiruneelakkudi, Thenkurangadu Thurai (Aduthurai), Thiruvidaimaruthur and Thiruvavaduthurai.
General Information
Moolavar

Sri Kokileswarar, Sri Goganeswarar,
Sri Kozhambanathar

Ambal

Sri Soundara Nayaki

Theertham (Holy water)

Brahma Theertham

Sthala Vriksham (Sacred Tree)

Vilva tree / Jasmine plant

Pathigam (Hymn) rendered by

Saint Thirugnanasambanthar-1 and Saint Thirunavukarasar (Appar)-1

This is one of the 276 Devara Paadal Petra Shiva Sthalams and 35th Shiva Sthalam on the Southern bank of the river Cauveri in Chozha Nadu (Thenkarai).
Lord Shiva in this temple is a Swayambumurthi (self-manifested).
This east facing temple's main tower is not tiered. In place of the Gopuram, there is a beautiful sculpture depicting Lord Shiva and Goddess Parvathy. However, the inner tower has 3-tiers.
There is no flag post (Dwajasthambam) in this temple.
This temple has two corridors.
The last consecration ceremony (Kumbabishekam) took place on 22.03.2000.
History of the Temple
This ancient temple is believed to have been constructed by queen Chembian Maadevi, wife of the Chola King Kandarathithan.
This temple is under the administrative control of the Hindu Religious and Charitable Endowments Department of Government of Tamil Nadu (HR&CE).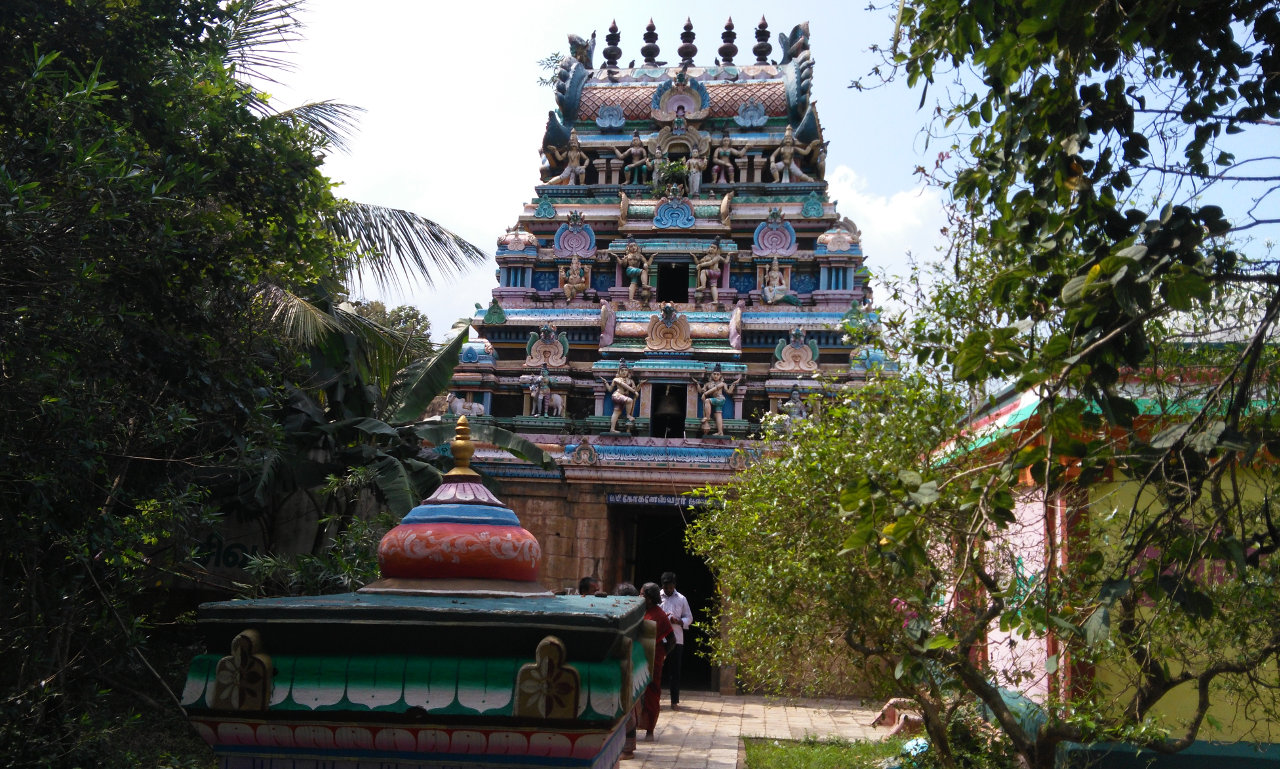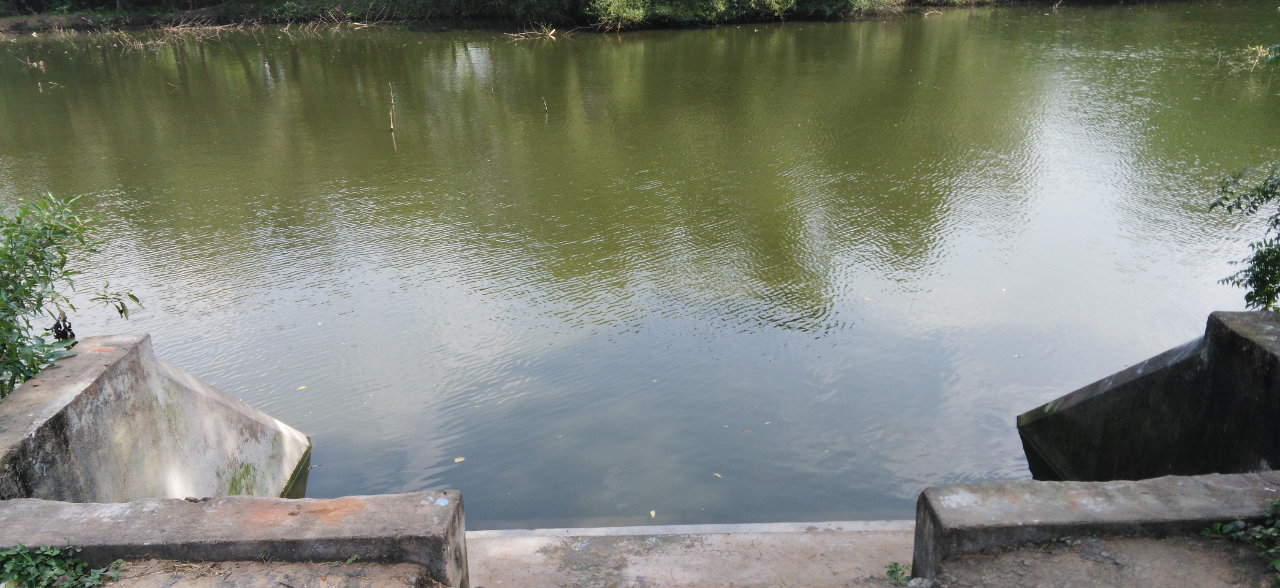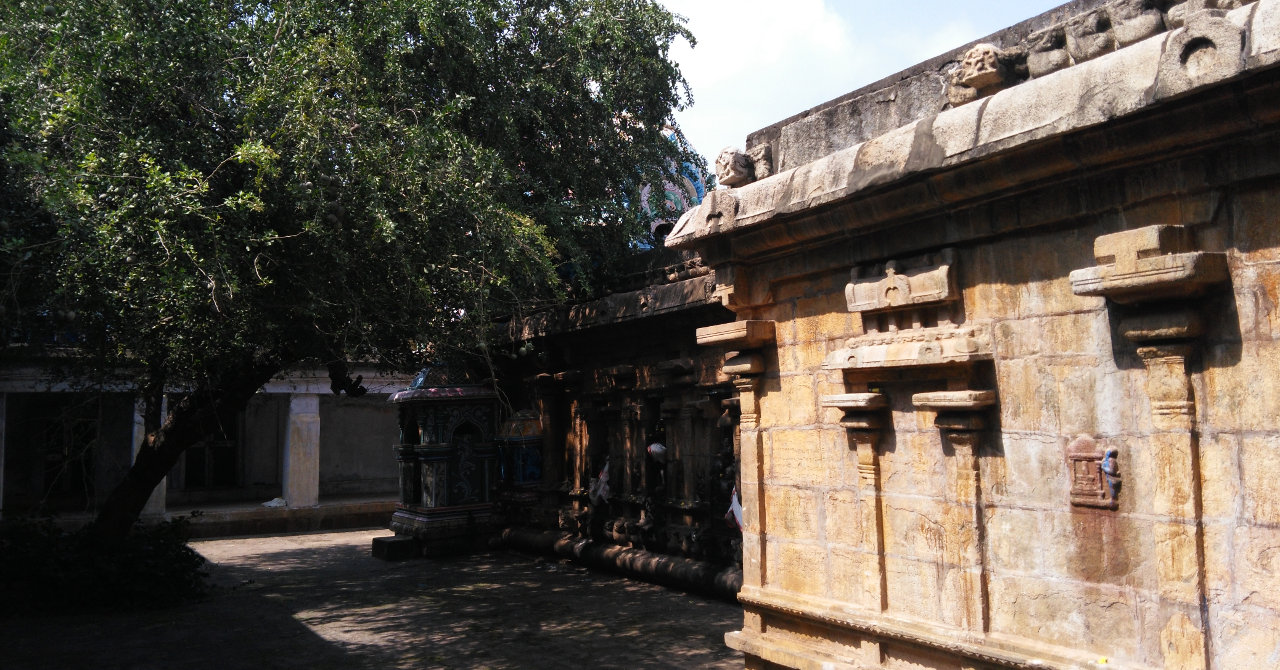 Legend
Thirukkozhambam enjoys a special place in mythology because it is linked to the legends of a few nearby Paadal Petra Shiva Sthalams.
At Therezhunthur, Lord Shiva cursed Goddess Parvathy which made her turn into a cow. Lord Mahavishnu played the role of a shepherd here.
At Thirukkozhambam, Goddess Parvathy, who was in the form of a cow, worshiped Lord Shiva. During the worship, as the cow's leg hit Lord Shiva by mistake, its hoof made a mark on the Shivalingam.
At Thiruvaduthurai, again Goddess Parvathy (in the form a cow) worshiped Lord Shiva. It is here that Goddess Parvathy was relieved of her curse and got restored to her original form.
At Thiruthuruthi (Kuthalam), Sage Bharatha performed a yagna and it is believed that Goddess Parvathy came out of the fire in the form of a child.
At Ethirkolpadi, Lord Shiva was received as a groom by his father-in-law, Sage Bharatha.
At Thiruvelvikudi, the wedding ceremony including the yagna ("Velvi") was performed. This is the great place where the earthly wedding of Lord Shiva and Goddess Parvathy took place.
At Thirumanancheri, Lord Shiva and Goddess Parvathy granted their wedding darshan to everyone.
It is believed that once Goddess Parvathi was cursed to be born on earth. She is believed to have appeared from the fire of Sage Bharatha's "Kameshti yagna". Sage Bharatha raised her as his own daughter. When she grew up and attained the marriageable age, the sage prayed to Lord Shiva that he help him find a suitable groom for her. Responding to his prayers, Lord Shiva appeared before him and told him that he would marry his daughter soon. The lord further told the sage that his daughter was none other than Goddess Parvathy herself. He also explained him that the reason for her appearance on earth was to grant her the wish of being married on earth.
The hoof mark of a cow is visible on the base (Aavudayar) of the lingam. This is the reason why this place gets the name Thiru Kolambiam ("Thiru" is a respectful prefix and hoof means "Kolambu" in Tamil). Hence the lord here is also praised as "Sri Kozhambanathar".
Another legend is that once, Lord Mahavishnu and Lord Brahma had a contest to determine who among them was superior. They asked Lord Shiva to be the judge. Lord Shiva agreed and appeared before them in the form of a flame. He challenged them to find the source of the flame. Lord Brahma took the form of a swan and flew up in the sky to see the top of the flame, while Lord Vishnu took the form of a boar (Varaha) and sought its base. Neither Lord Brahma nor Lord Vishnu were able to find the source. While Lord Vishnu conceded his defeat, Lord Brahma lied and said that he had found the origin. Lord Shiva was furious with Lord Brahma's lie. To punish him, Lord Shiva ordained that Lord Brahma would never have temples on earth in his name. To seek relief from this punishment, it is believed that Lord Brahma came to this place, created a spring and worshipped Lord Shiva. The spring created by him is known as Brahma Theertham.
Another legend associated with this temple is that of Chandan, a scholar who was born as a nightingale due to a curse by Lord Indira. He came to this place in his nightingale form, worshipped the lord and was restored back to his original form. As a nightingale (Kokila in Tamil) worshipped the lord here, the lord is also praised as "Sri Kokileswarar".
It is believed that Lord Indira also performed penance here for a long time to seek relief from the curse inflicted by Sage Gautama.
Deities in the temple
Other than the shrines of Lord Shiva and Goddess Parvathy, shrines and idols of Vinayakar, Murugan, Natarajar, Gajalakshmi, Chola lingam, Saint Thirunavukkarasar (Appar), Suryan and Bairavar can be seen in the corridors.
In the "koshtam" (place surrounding the sanctum sanctorum), idols of Vinayakar, Natarajar, Agasthiyar, Sattanathar, Dakshinamurthy, Lingothbavar, Brahma, Arthanareeswarar, Pitchadanar, Durgai and Chandikeswarar can be seen. There is a relief where Queen Chembian Maadevi can be seen worshiping the lord.
All procession idols are kept in some other place for safety purposes.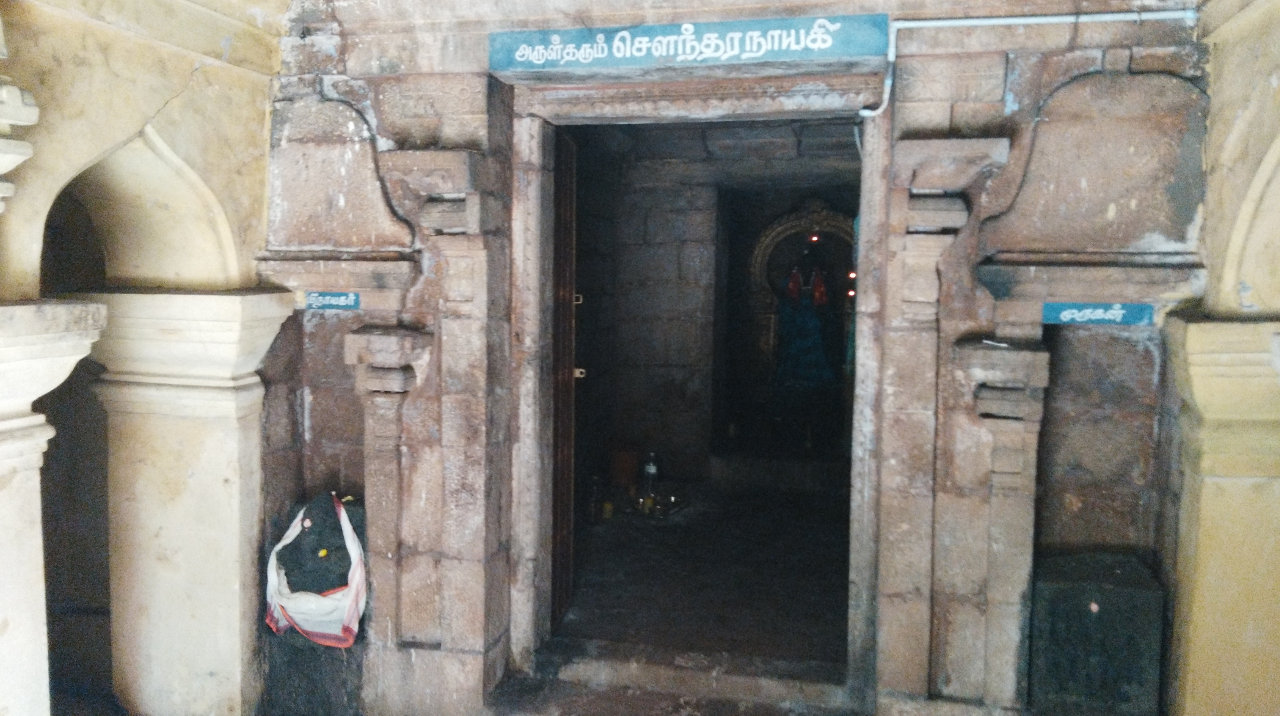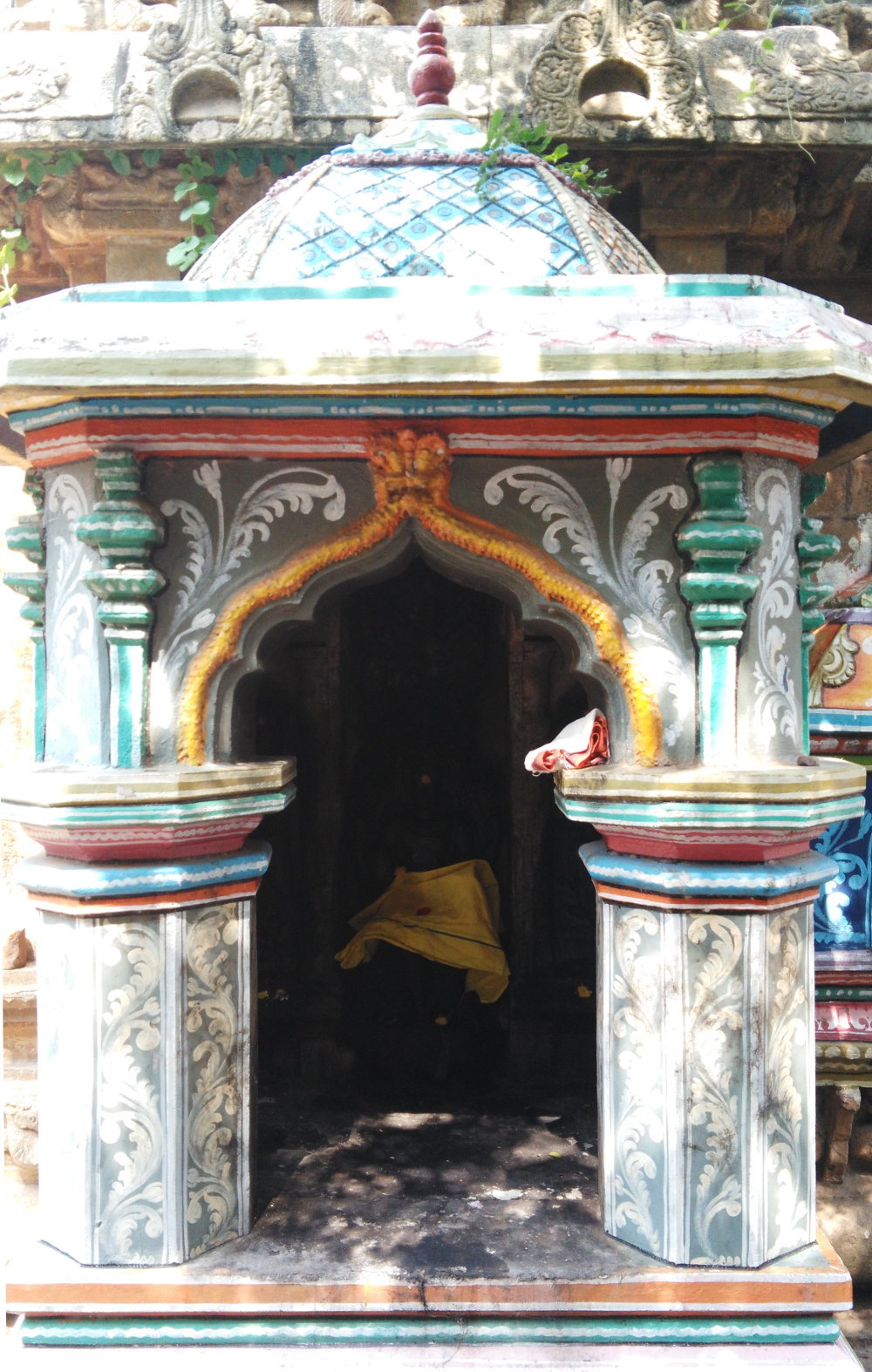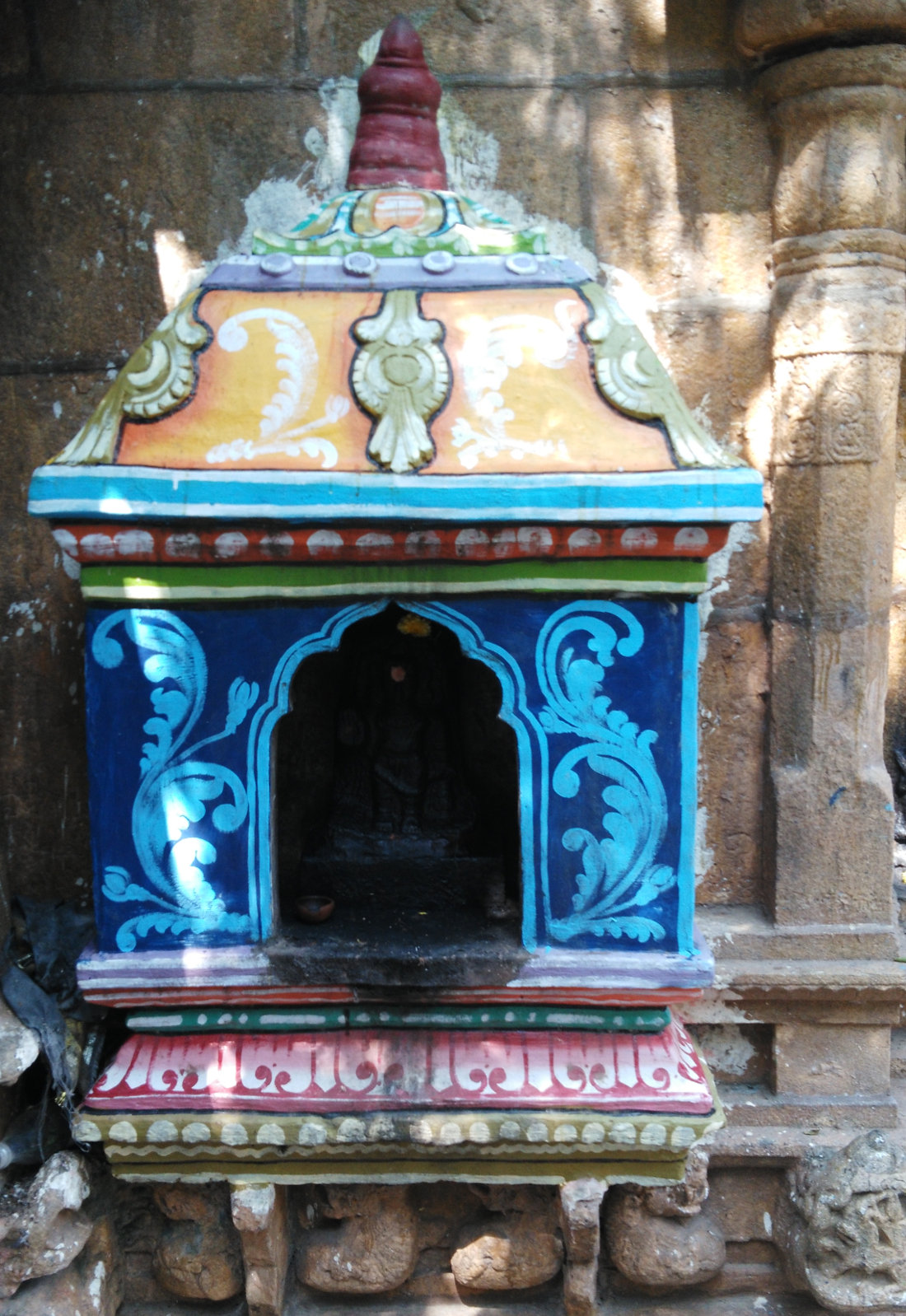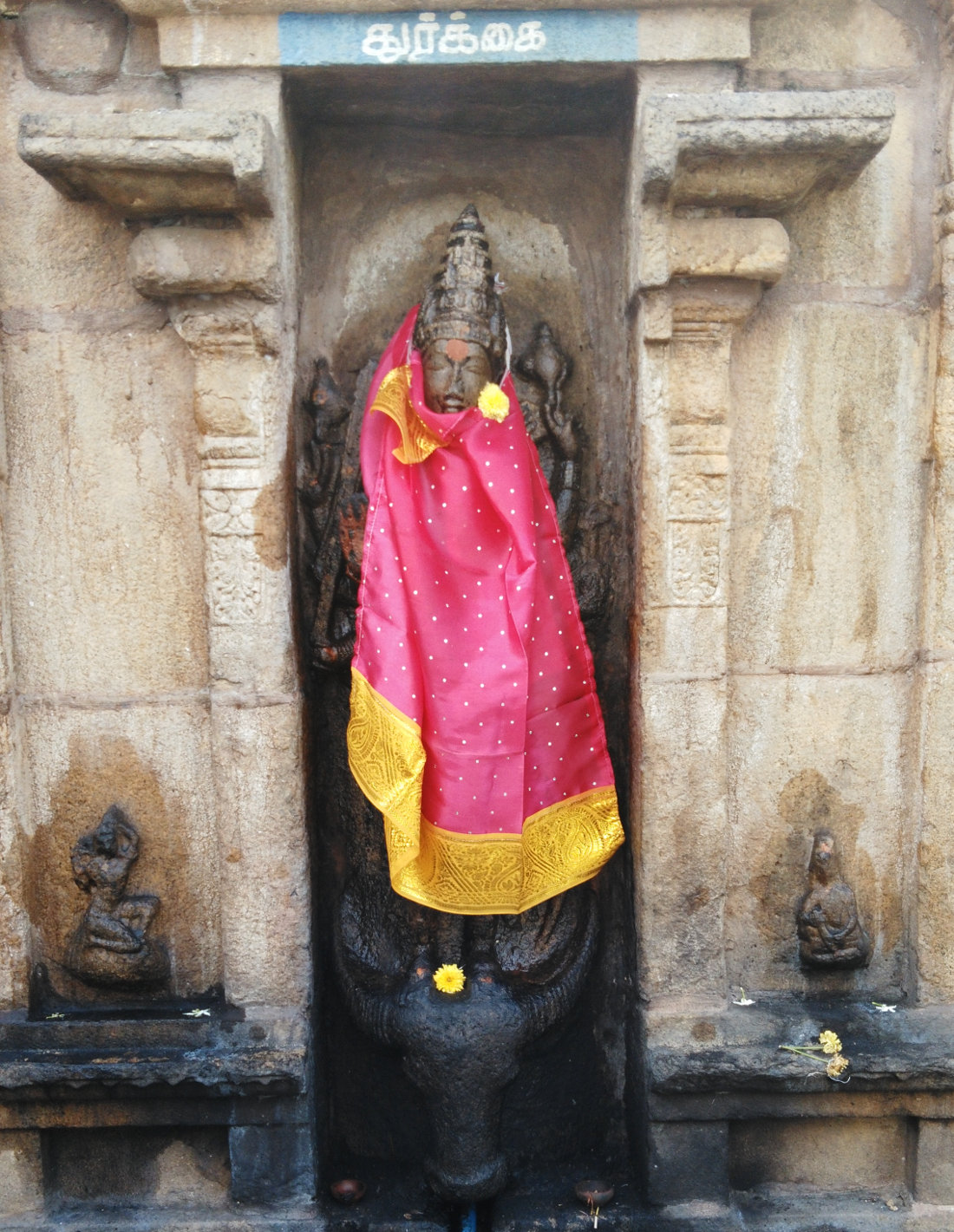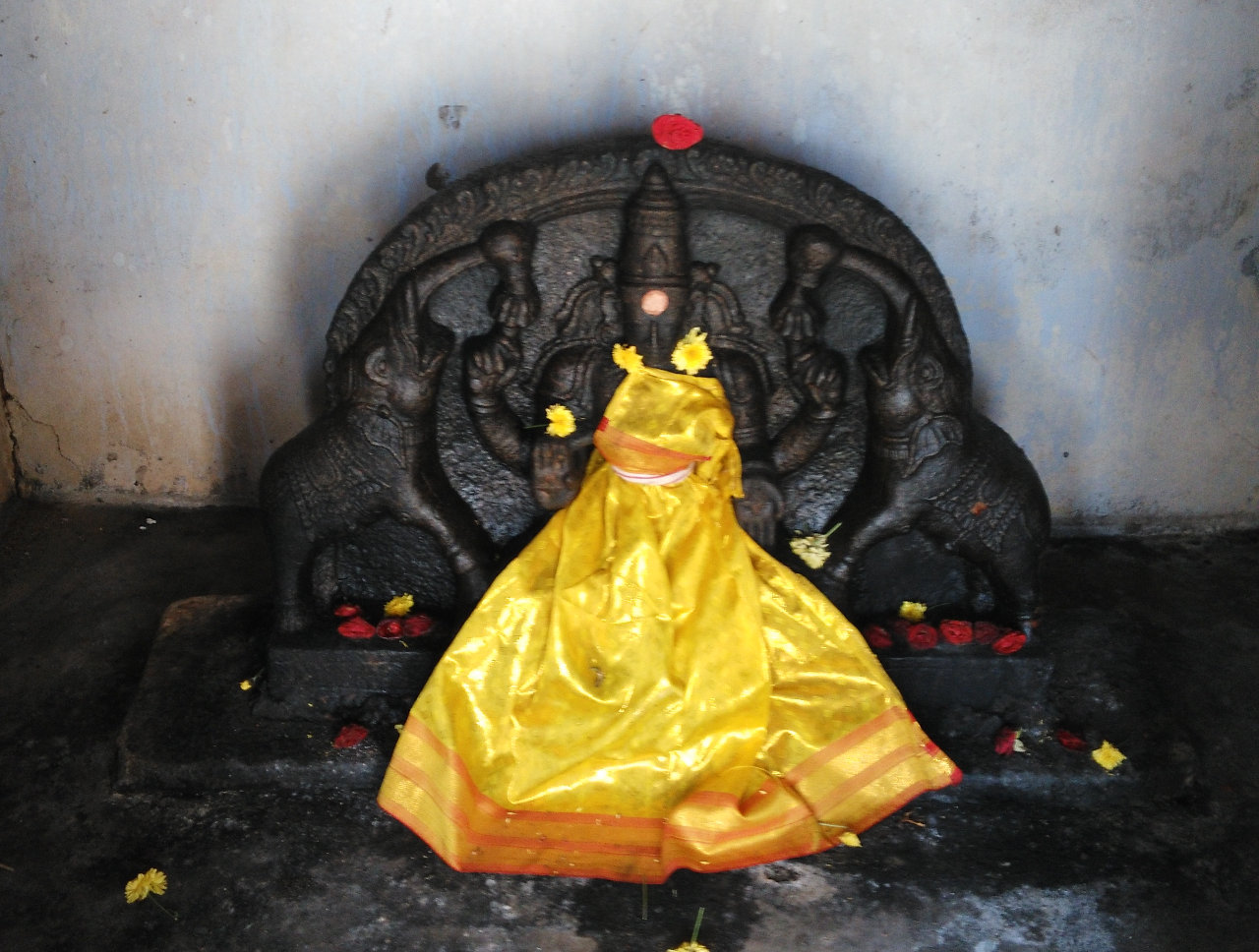 Salient Features
Behind the sanctum sanctorum, on either sides of Lord Lingothbavar, there are idols of Lord Mahavishnu and Lord Brahma in a worshipping posture. Devotees can enjoy the darshan of all the three lords (Trimurthys) – Brahma, Vishnu and Shiva. This is considered to be very auspicious.
The stone idols of Natarajar, Agasthiyar, Lingothbavar, Brahma, Arthanareeswarar and Pitchadanar are beautifully carved.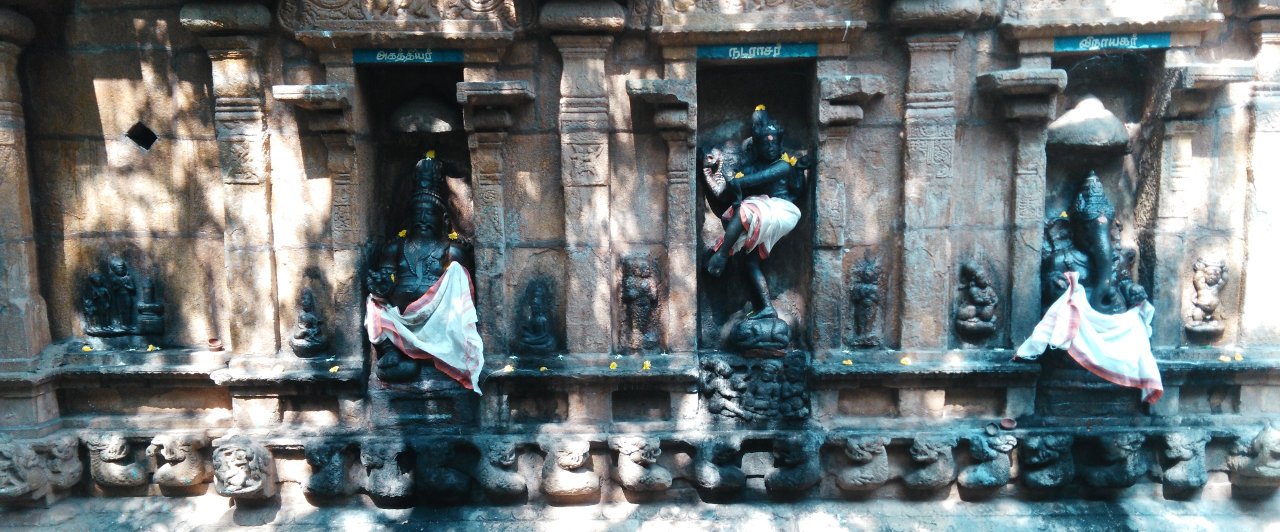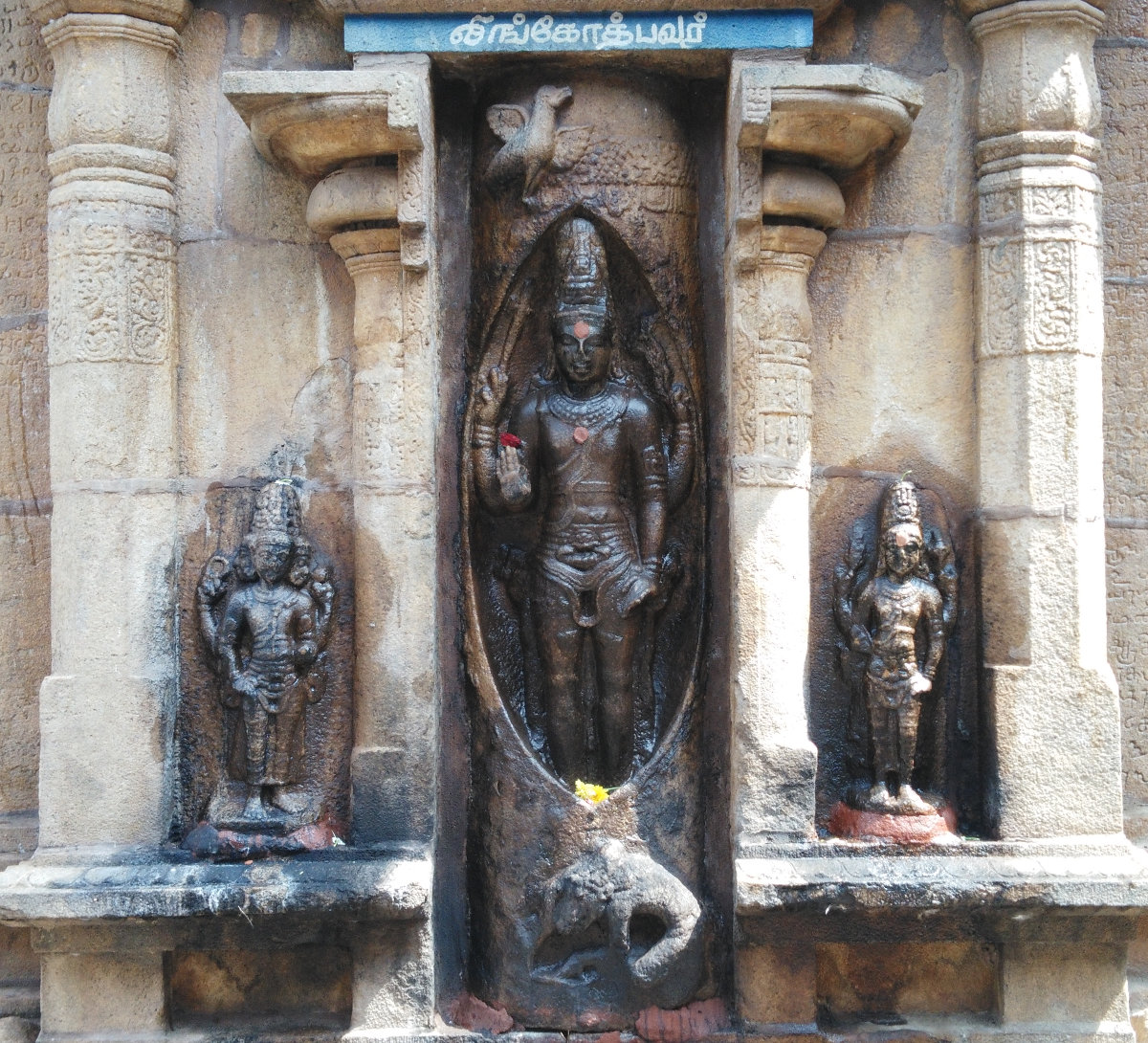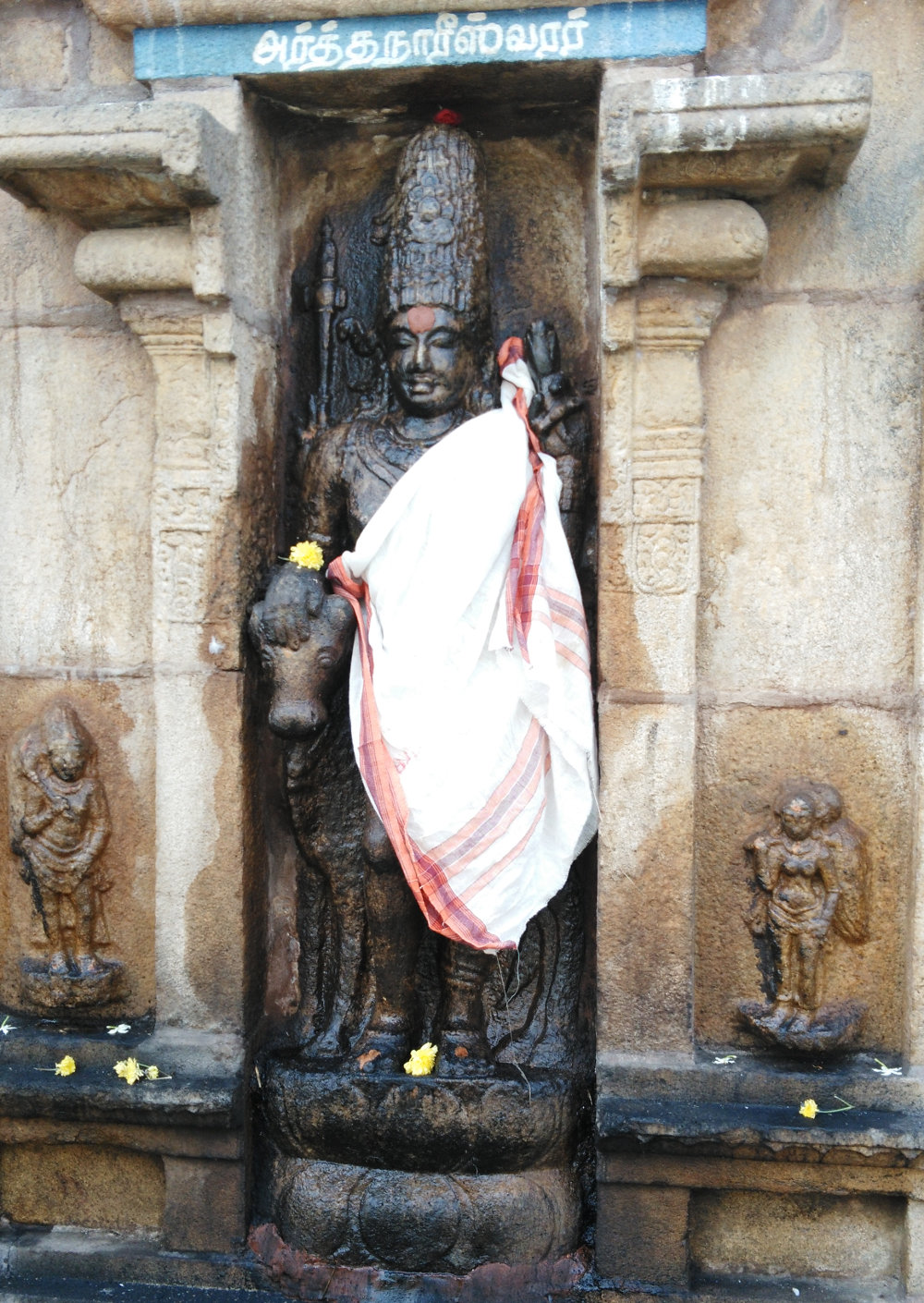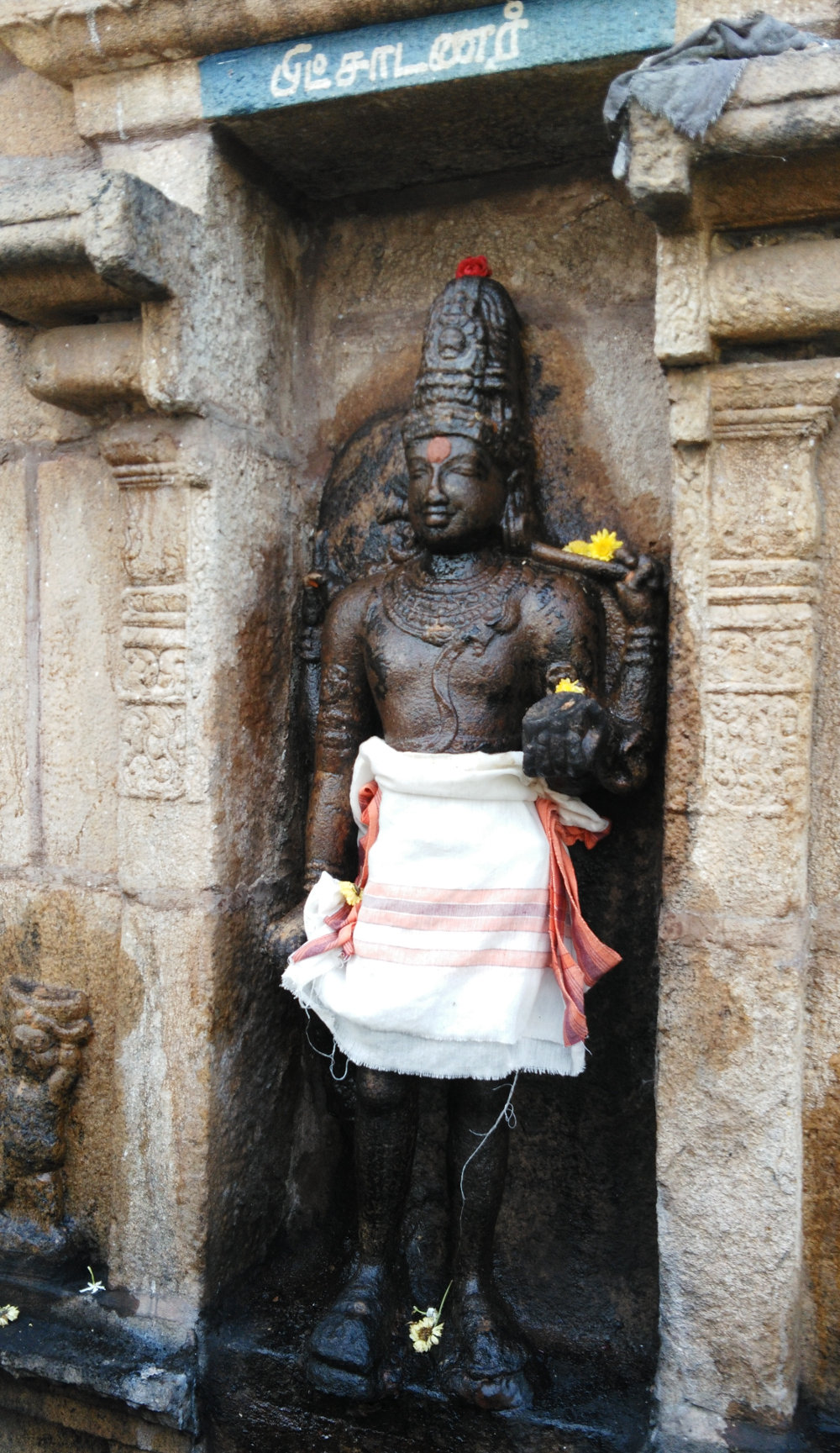 Greatness of this temple
Devotees believe that by worshiping the lord here, obstacles from their marriage proposals will be removed.
Important Festivals
Some of the important festivals celebrated in this temple are –
Vinayakar Chaturthi in the Tamil month of Aavani (Aug-Sept),
Somavaram (all Mondays) in the Tamil month of Karthikai (Nov-Dec),
Shivrathri in the Tamil month of Masi (Feb-Mar) and
Panguni Uthiram in the Tamil month of Panguni (Mar-Apr).
Temple Timings
From 09.00 AM to 12.00 Noon and from 04.00 PM to 06.00 PM.
Temple Address
Sri Kokileswarar Temple,
Thirukkozhambiam,
S.Pudur Post,
Thiruvidaimaruthur Taluk,
Thanjavur District,
Tamil Nadu - 612 205,
Tele: +91- 4364-232 055, 232 005.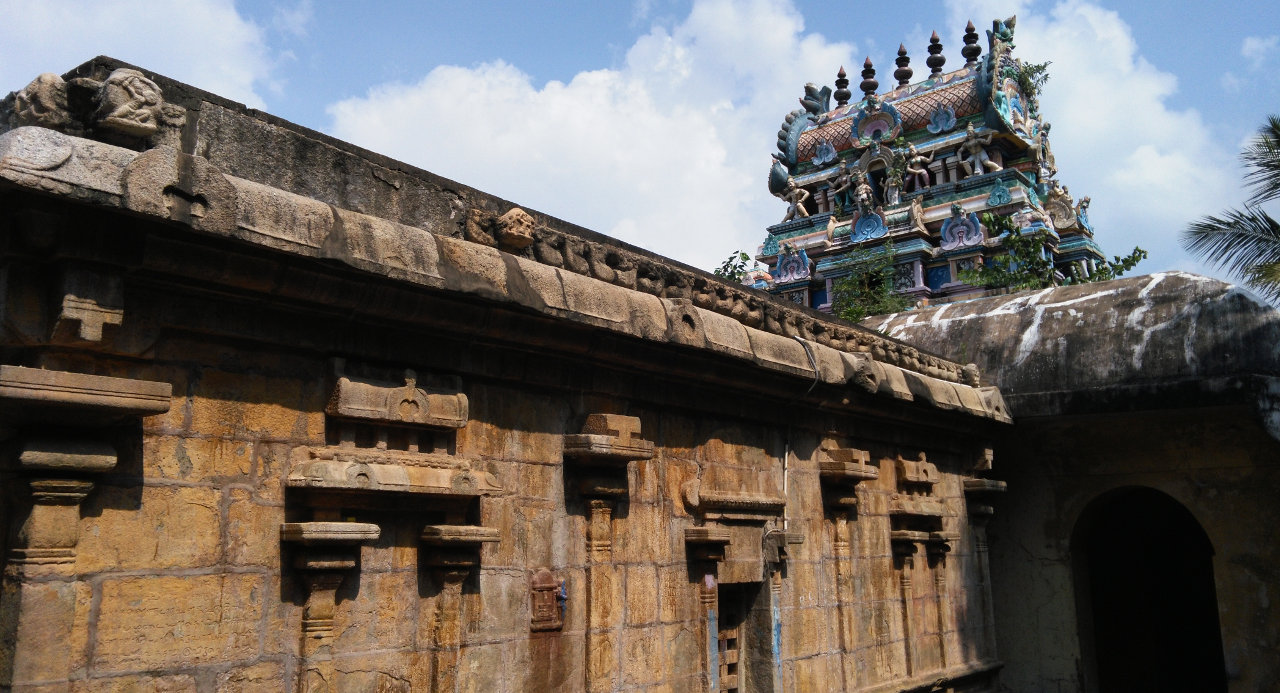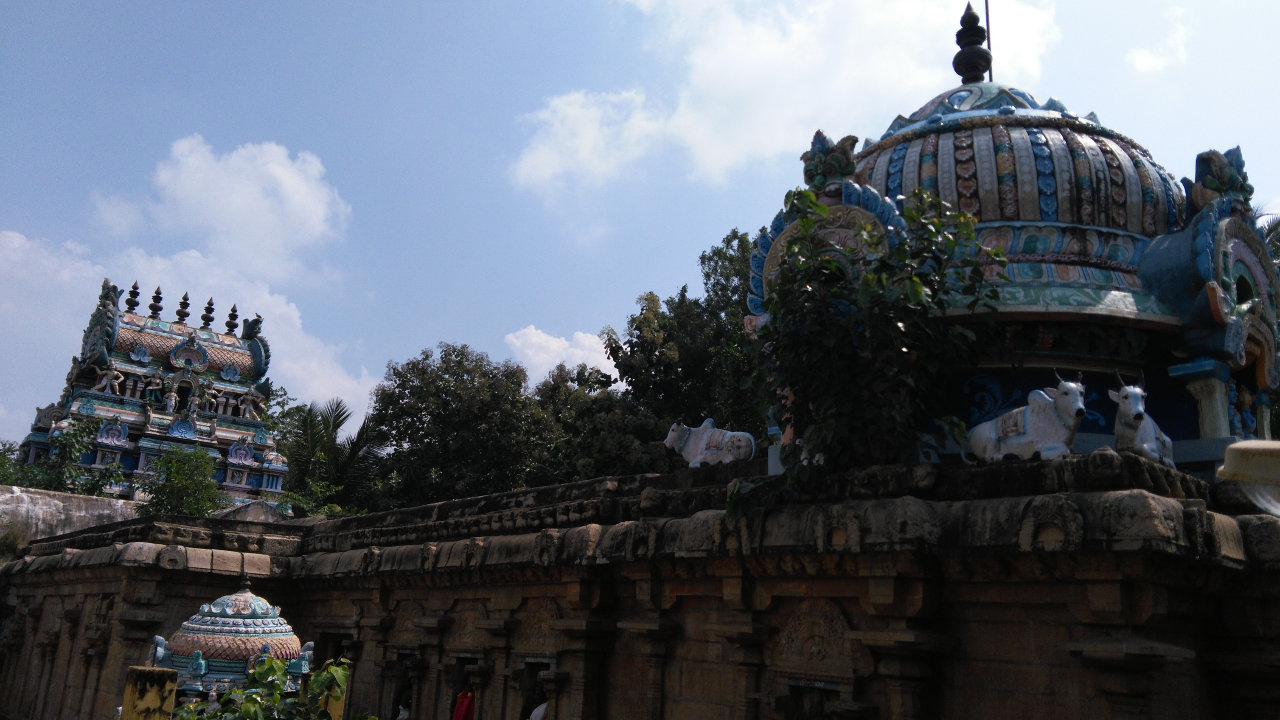 ---
Pathigam (Hymn) with English transliteration
Saint Thirugnanasambanthar visited this temple and sang this Pathigam.
Devotees visiting this temple should make it a practice to recite this Pathigam.
நீற்றானை நீள்சடை மேல்நிறை வுள்ளதோர்
ஆற்றானை அழகமர் மென்முலை யாளையோர்
கூற்றானைக் குளிர்பொழிற் கோழம்பம் மேவிய
ஏற்றானை யேத்துமின் நும்மிடர் ஏகவே.
"Nītṟāṉai nīḷsaṭai mēlniṟai vuḷḷathōr
ātṟāṉai azhakamar meṉmulai yāḷaiyōr
kūtṟāṉaik kuḷirpozhiṟ kōzhampam mēviya
ētṟāṉai yēththumiṉ num'miṭar ēkavē".
மையான கண்டனை மான்மறி யேந்திய
கையானைக் கடிபொழிற் கோழம்பம் மேவிய
செய்யானைத் தேன்நெய்பா லுந்திகழ்ந் தாடிய
மெய்யானை மேவுவார் மேல்வினை மேவாவே.
"Maiyāṉa kaṇṭaṉai māṉmaṟi yēnthiya
kaiyāṉaik kaṭipozhiṟ kōzhampam mēviya
seyyāṉaith thēṉneypā lunthikazhn thāṭiya
meyyāṉai mēvuvār mēlviṉai mēvāvē".
ஏதனை யேதமி லாஇமை யோர்தொழும்
வேதனை வெண்குழை தோடுவி ளங்கிய
காதனைக் கடிபொழிற் கோழம்பம் மேவிய
நாதனை யேத்துமின் நும்வினை நையவே.
"Ēthaṉai yēthami lā'imai yōrthozhum
vēthaṉai veṇkuzhai thōṭuvi ḷaṅkiya
kāthaṉaik kaṭipozhiṟ kōzhampam mēviya
nāthaṉai yēththumiṉ numviṉai naiyavē".
சடையானைத் தண்மல ரான்சிர மேந்திய
விடையானை வேதமும் வேள்வியு ஆயநன்
குடையானைக் குளிர்பொழில் சூழ்திருக் கோழம்பம்
உடையானை உள்குமின் உள்ளங்கு ளிரவே.
"Saṭaiyāṉaith thaṇmala rāṉsira mēnthiya
viṭaiyāṉai vēthamum vēḷviyu āyanaṉ
kuṭaiyāṉaik kuḷirpozhil chūzhthiruk kōzhampam
uṭaiyāṉai uḷkumiṉ uḷḷaṅku ḷiravē".
காரானைக் கடிகமழ் கொன்றையம் போதணி
தாரானைத் தையலோர் பால்மகிழ்ந் தோங்கிய
சீரானைச் செறிபொழிற் கோழம்பம் மேவிய
ஊரானை யேத்துமின் நும்மிடர் ஒல்கவே.
"Kārāṉaik kaṭikamazh koṉtṟaiyam pōthaṇi
thārāṉaith thaiyalōr pālmakizhn thōṅkiya
sīrāṉaich cheṟipozhiṟ kōzhampam mēviya
ūrāṉai yēththumiṉ num'miṭar olkavē".
பண்டாலின் நீழலா னைப்பரஞ் சோதியை
விண்டார்கள் தம்புரம் மூன்றுட னேவேவக்
கண்டானைக் கடிகமழ் கோழம்பங் கோயிலாக்
கொண்டானைக் கூறுமின் உள்ளங் குளிரவே.
"Paṇṭāliṉ nīzhalā ṉaipparañ chōthiyai
viṇṭārkaḷ thampuram mūṉtṟuṭa ṉēvēvak
kaṇṭāṉaik kaṭikamazh kōzhampaṅ kōyilāk
koṇṭāṉaik kūṟumiṉ uḷḷaṅ kuḷiravē".
சொல்லானைச் சுடுகணை யால்புரம் மூன்றெய்த
வில்லானை வேதமும் வேள்வியு மானானைக்
கொல்லானை உரியானைக் கோழம்பம் மேவிய
நல்லானை யேத்துமின் நும்மிடர் நையவே.
"Sollāṉaich chuṭukaṇai yālpuram mūṉtṟeytha
villāṉai vēthamum vēḷviyu māṉāṉaik
kollāṉai uriyāṉaik kōzhampam mēviya
nallāṉai yēththumiṉ num'miṭar naiyavē".
விற்றானை வல்லரக் கர்விறல் வேந்தனைக்
குற்றானைத் திருவிர லாற்கொடுங் காலனைச்
செற்றானைச் சீர்திக ழுந்திருக் கோழம்பம்
பற்றானைப் பற்றுவார் மேல்வினை பற்றாவே.
"Vitṟāṉai vallarak karviṟal vēnthaṉaik
kutṟāṉaith thiruvira lāṟkoṭuṅ kālaṉaich
chetṟāṉaich chīrthika zhunthiruk kōzhampam
patṟāṉaip patṟuvār mēlviṉai patṟāvē".
நெடியானோ டயனறி யாவகை நின்றதோர்
படியானைப் பண்டரங்க வேடம்ப யின்றானைக்
கடியாருங் கோழம்பம் மேவிய வெள்ளேற்றின்
கொடியானைக் கூறுமின் உள்ளங் குளிரவே.
"Neṭiyāṉō ṭayaṉaṟi yāvakai niṉtṟathōr
paṭiyāṉaip paṇṭaraṅka vēṭampa yiṉtṟāṉaik
kaṭiyāruṅ kōzhampam mēviya veḷḷētṟiṉ
koṭiyāṉaik kūṟumiṉ uḷḷaṅ kuḷiravē".
புத்தருந் தோகையம் பீலிகொள் பொய்ம்மொழிப்
பித்தரும் பேசுவ பேச்சல்ல பீடுடைக்
கொத்தலர் தண்பொழிற் கோழம்பம் மேவிய
அத்தனை யேத்துமின் அல்லல் அறுக்கவே.
"Putharun thōkaiyam pīlikoḷ poym'mozhip
piththarum pēsuva pēchchalla pīṭuṭaik
koththalar taṇpozhiṟ kōzhampam mēviya
aththaṉai yēththumiṉ allal aṟukkavē".
தண்புன லோங்குதண் ணந்தராய் மாநகர்
நண்புடை ஞானசம் பந்தன்நம் பான்உறை
விண்பொழிற் கோழம்பம் மேவிய பத்திவை
பண்கொளப் பாடவல் லார்க்கில்லை பாவமே.
"Thaṇpuṉa lōṅkuthaṇ ṇantharāy mānakar
naṇpuṭai gñāṉasam banthaṉnam pāṉuṟai
viṇpozhiṟ kōzhampam mēviya paththivai
paṇkoḷap pāṭaval lārkkillai pāvamē".