Visited on: 2nd September, 2016
Location
Thirukkodikkaval is located at a distance of about 19 kms from Kumbakonam on the Kumbakonam to Mayiladuthurai route (Via Kathiramangalam) and 17 kms from Mayiladuthurai.
It is about 5 kms from Suryanarkoil (famous Navagraha Sthalam for Lord Suryan).
Other Devara Paadal Petra Shiva Sthalams near this temple are – Kuthalam, Therezhunthur, Thirukkozhambam, Thiruvaduthurai, Thiruvelvikudi, Ethirkolpadi, Thirumanancheri, Thirumangalakkudi and Kanchanur.
General Information
| | |
| --- | --- |
| Moolavar | Sri Kodeeswarar, Sri Vedhravaneswarar |
| Ambal | Sri Thiripurasundari, Sri Vadivambikai |
| Theertham (Holy water) | Sirungothbava Theertham, Cauvery river, Mukkodi Theertham |
| Sthala Vriksham (Sacred Tree) | Pirambu (cane variety) |
| Pathigam (Hymn) rendered by | Saint Thirugnanasambanthar and Saint Thirunavukarasar (Appar) |
This is one of the 276 Devara Paadal Petra Shiva Sthalams and 37th Shiva Sthalam on the northern bank of the river Cauvery in Chozha Nadu (Vadakarai).
Lord Shiva in this temple is a Swayambumurthi (self-manifested).
This east facing temple has two corridors and its main tower (Rajagopuram) has 5-tiers.
The last consecration ceremony (Kumbabishekam) took place on 17.02.2014 and prior to that on 05.09.2001.
History of the Temple
There about 50 stone inscriptions in this temple. According to the inscriptions, this ancient temple was built about 1,300 years ago. These inscriptions relate to various kingdoms – the early Pallavas and the later Pallavas, Pandiya King Maran Sadayan and Chola Kings Rajarajan-I, Kulothungan-I and Kulothungan-III.
In 970 AD, this temple was reconstructed using stones during the reign of King Uthama Chola by his mother, Queen Sembiyan Madevi (wife of Chola King Gandaradithyan).
The Sthala Viruksham of this temple is Perambu plants. In Sanskrit, it is called "Vedhra Viruksham", hence the lord here is praised as "Sri Vedhravaneswarar" ("vanam" means forest and "Eswarar" means the lord in Tamil).
This is one of the five sthalams whose name ends with "Ka". ("Ka" means "a beautiful garden" in Tamil). They are – Thiruvanikka, Thirukkodikka, Thirukkolakka, Thiru Nellikka and Thiru Kurakkukka.
It is believed that the temple was once surrounded by beautiful gardens. Hence this place gets the name "Kotikka" and the lord is praised as "Sri Koteeswarar".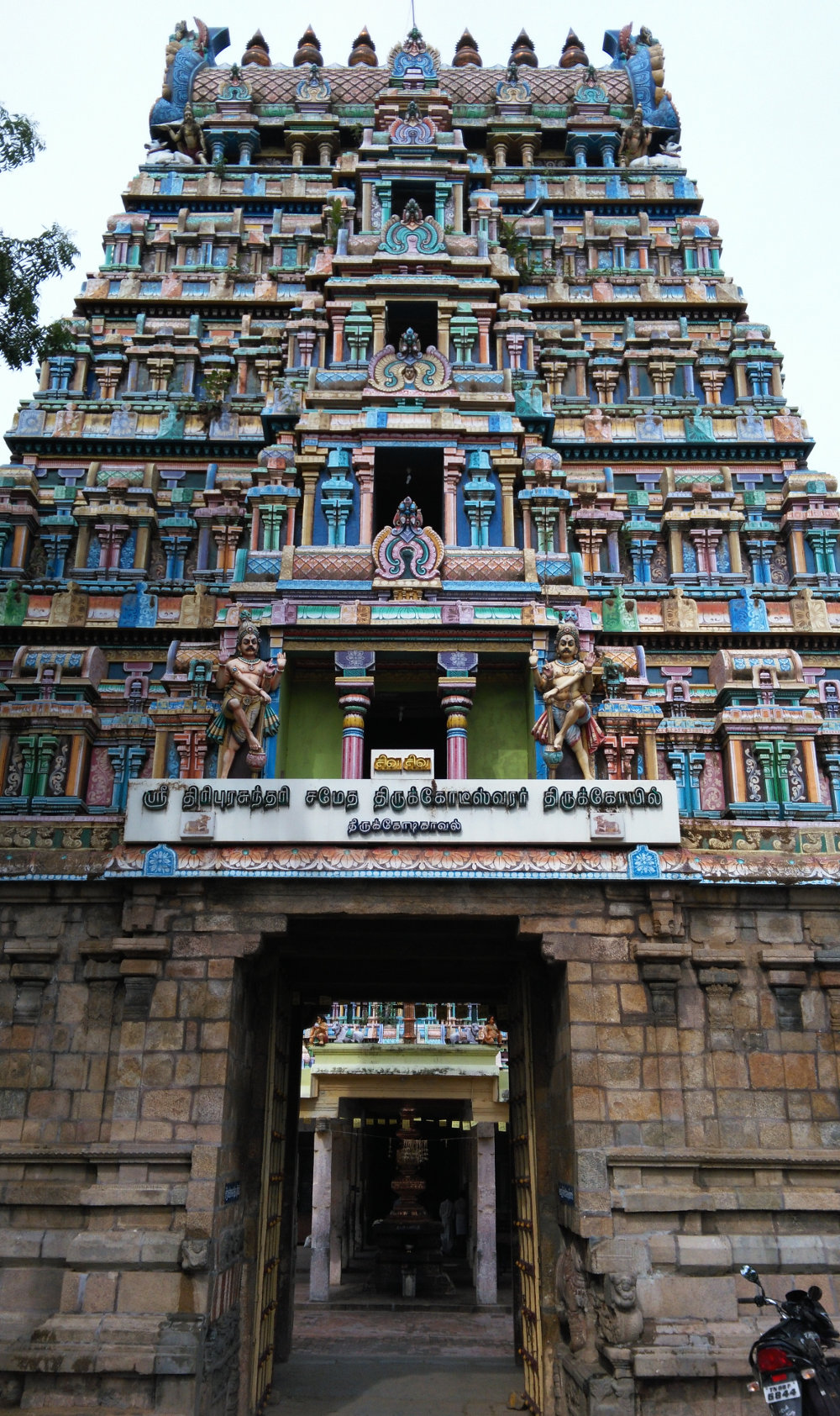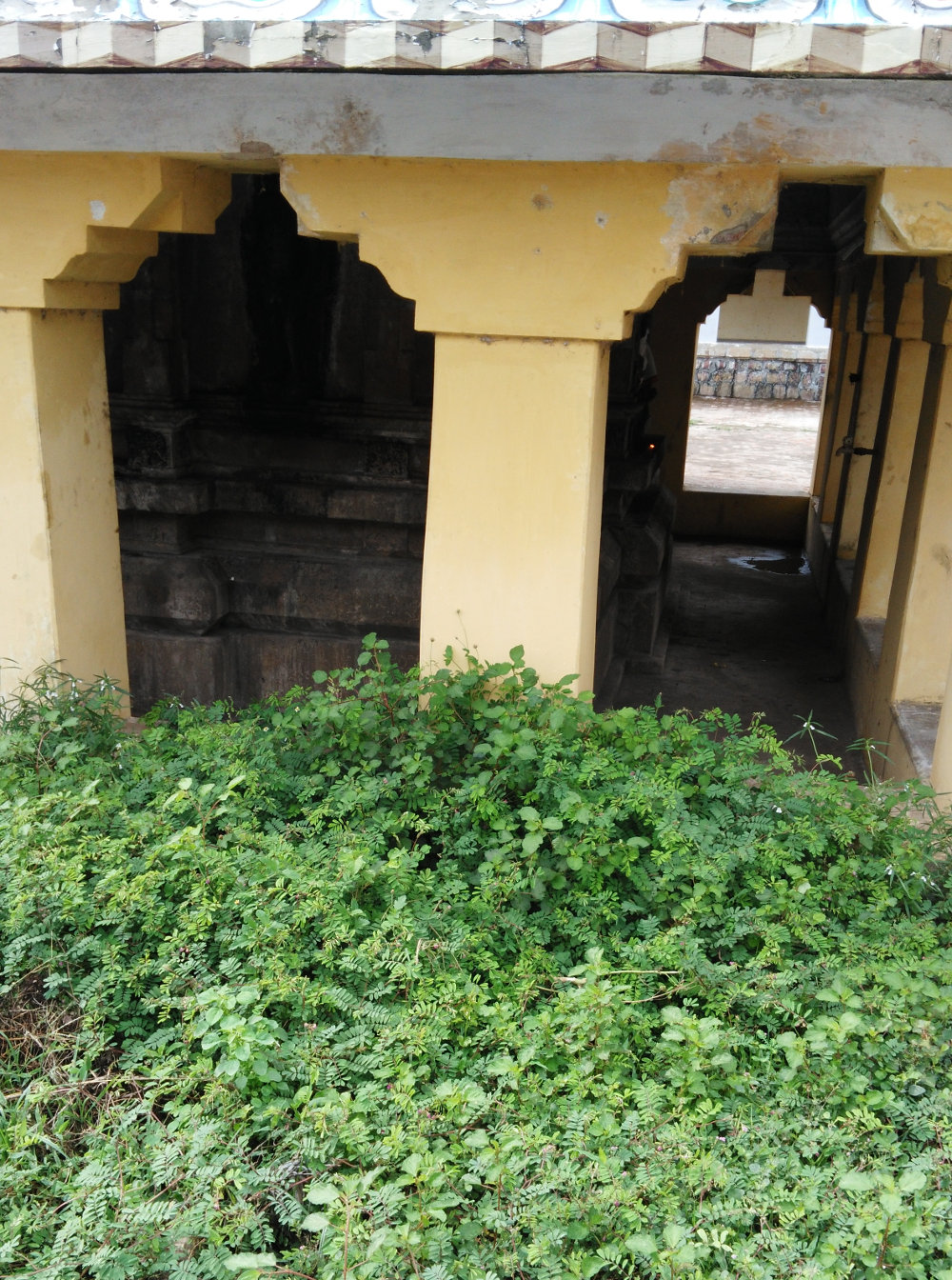 Legend
According to legend, it is believed that all the 3 crores devas, sages and the angels of Hindu mythology ("Muppaththu Mukkodi Devarkal" in Tamil) have visited this temple and worshipped the lord. It is believed that the angels obtained salvation ("Sayujya Mukthi") here.
While granting his darshan to the Devas, Lord Thirukoteeswarar emphasised the sacredness of "Vedhravana Kshetram" (another name for Thirukkodikaval) and the Theerthams therein. The lord further said that "This, my kshetram here, is also known as "Bhaavagam". It is situated on the banks of Cauvery theertham and it is very sacred. This kshetram is equal to my body. This tank, Sirungothbava Theertham, was created by Nandhi using his horns. Whoever takes a dip in it, is sure to be relieved of all distress and diseases (`rogam' in Tamil)".
The lord further clarified that once when Mount Kailash and Thirukkodikkaval were placed on a balance, the latter weighed more thereby proving its greatness.
Another legend is that the Azhwars (Vaishnava adiyarkals) were asked by Lord Venkatachalapathi of Thirupathi to worship Goddess Thripurasundari here before offering worship at Thirupathi. They could not reach this place as the river Cauveri was heavily flooded at that time. Sage Agasthyar appeared before them and advised them to pray to Lord "Karaiyetrum Vinayakar" to help them cross the river. The goddess is believed to have granted her darshan in the form of Lord Venkatachalapathi.
It is believed that Lord Yama worshipped Lord Shiva here. Lord Shiva is believed to have instructed Lord Yama that he should not punish any of his devotees who visit Thirukkodikkaval and worship him here. Similar to Banaras, the people of Thirukkodikkaval do not fear the lord of death. It is also believed that there are 1008 devas surrounding Lord Shiva here and hence, there is no cremation ground ("Rudra Bhoomi") in this village. The villagers are using the ground which is on the other side of the river bank.
Another legend associated with this place is that of Saint Haradhathar. Haradhathar was born in a Vaishnav family in Kanchanur, a nearby village. He later became an ardent Lord Shiva devotee. He used to visit 7 Shiva temples (Thiruvalankadu, Thiruvavaduthuri, Aduthurai, Thirumangalakkudi, Thirumanthurai, Thirukkodikka and Kanchanur) every day before taking his dinner. One day when he left this temple, there was heavy rain and in the darkness, he was unable to find the way back to his village. It is believed that Lord Shiva came in the guise of a villager and took him to Kanchanur. Haradhathar offered the prasad which he got from Kanchanur temple to that villager. When he visited this temple the next day, he was surprised to see that the food he had given to the villager last night was placed in front of the lord. Haradhathar realised that the villager was none other than Lord Shiva himself.
As per the Sthalapuranam, Sages Dhurvasar and Agasthiyar visited this place and had performed penance. It is also believed that Ram, Balaramar, Veerabhadrar and Kaali have worshiped the lord here to seek absolution for their sins. Also, Saint Karaikkal Ammaiyar is believed to have worshiped the lord here.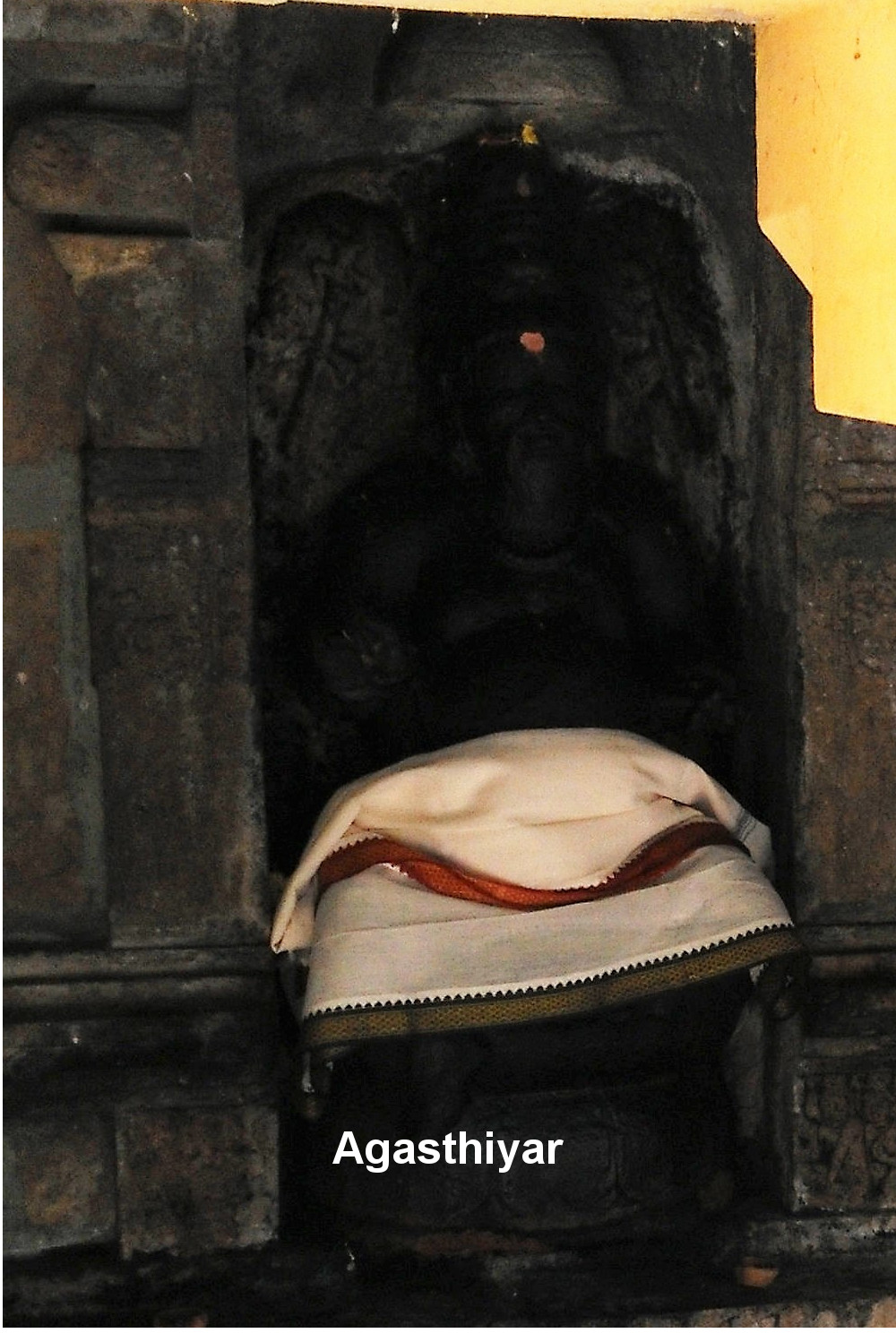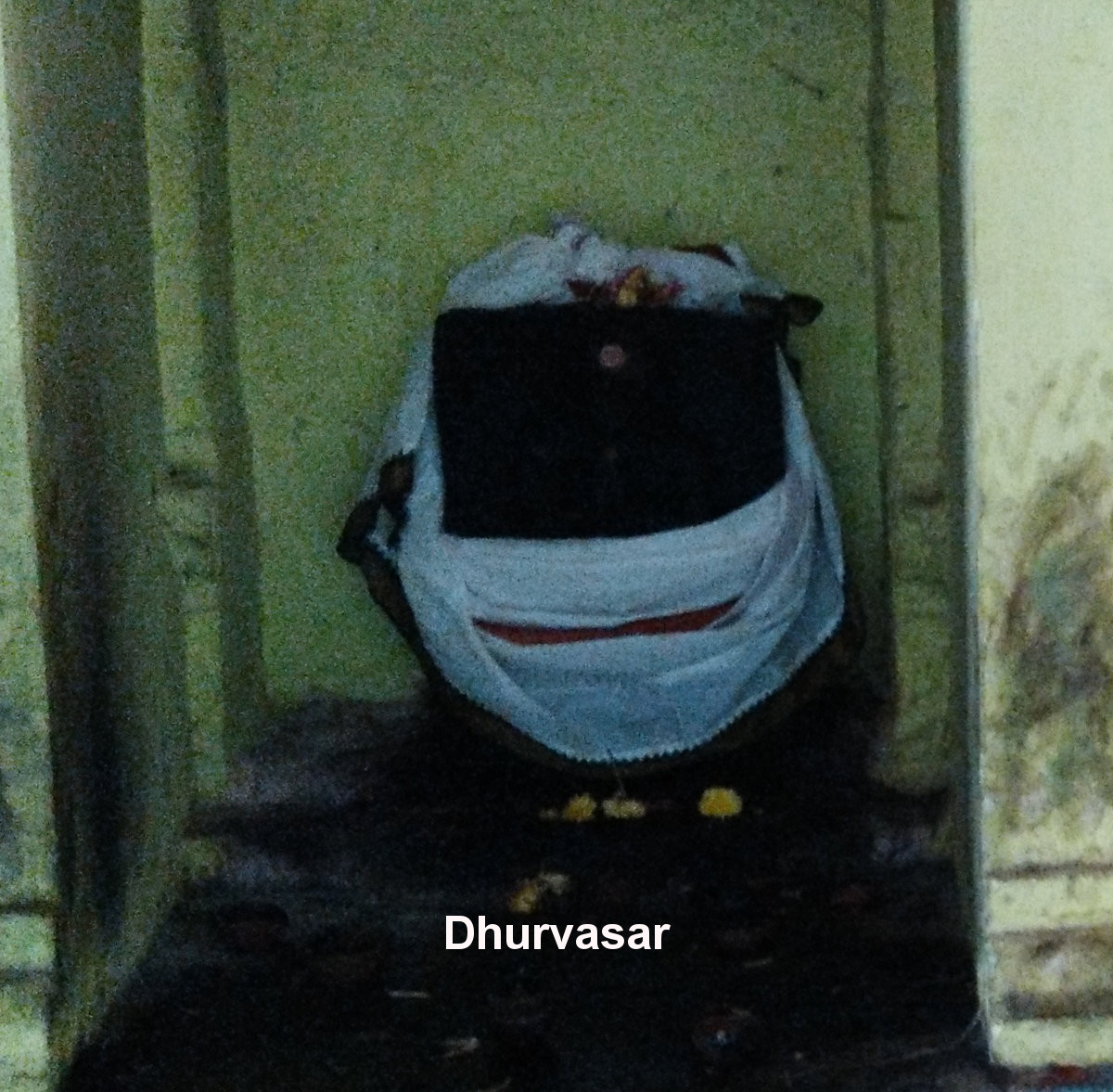 Sage Agasthiyar is believed to have installed a Vinayakar here made out of sand and worshiped him. This Vinayakar is known as "Sri Karaiyetrum Vinayakar".
Deities in the temple
Other than the shrines of Lord Shiva and Goddess Parvathy, shrines and idols of
Karaiyetrum Vinayakar, Murugan, Natarajar, Gajalakshmi, Kalabairavar, Suryan, Chandran, Nalvar, Sage Agasthiyar, Sage Dhurvasar and Chandikeswarar can be seen in the corridors. There is no Navagraham here.
Apart from these idols, the corridors have Shivalingams in the names of the four vedas (Rig, Yajur, Sama and Atharvana) and three Shivalingams that were worshiped by the mukkodi Devas.
Lord Saneeswarar and Lord Yama are facing each other. Similarly, Chitragupta (the Accountant of Lord Yama) and Sage Dhurvasar are placed opposite to each other.
The idol of Saneeswarar's wife Jeastadevi along with their son Manthi and daughter Mantha can be seen in a carving made out of a single stone.
In the "koshtam" (place surrounding the sanctum sanctorum), idols of Narthana Vinayakar, Natarajar, Karaikkal Ammaiyar, Dakshinamurthy, Lingothbavar, Brahma, Astapuja Durgai, Pitchadanar and Agasthiyar can be seen. Lord Brahma's idol is in two places - one in koshtam and the other in a separate smaller shrine.
The stone idol of Lord Natarajar with Goddess Sivakami is very beautiful and is worth seeing.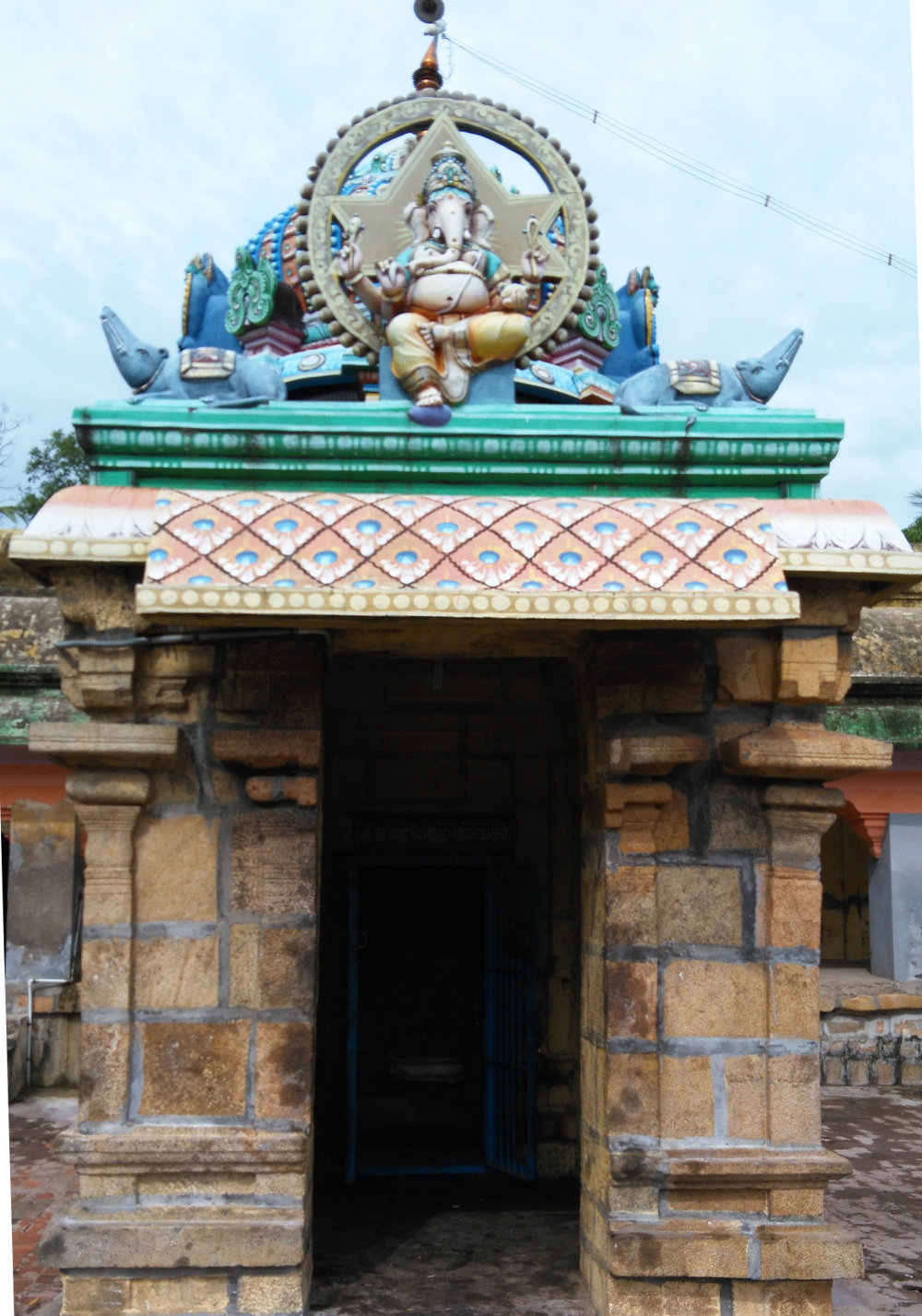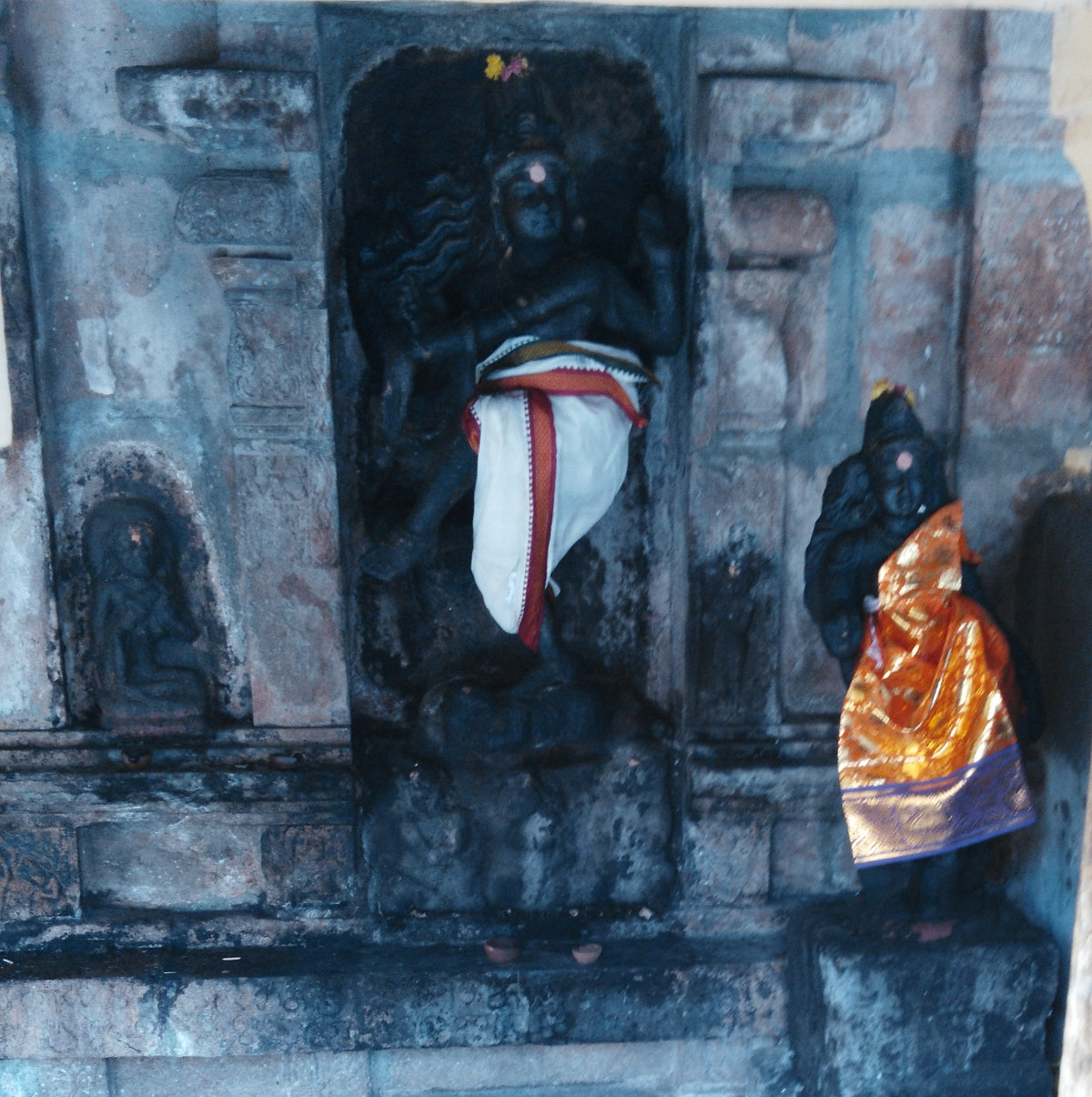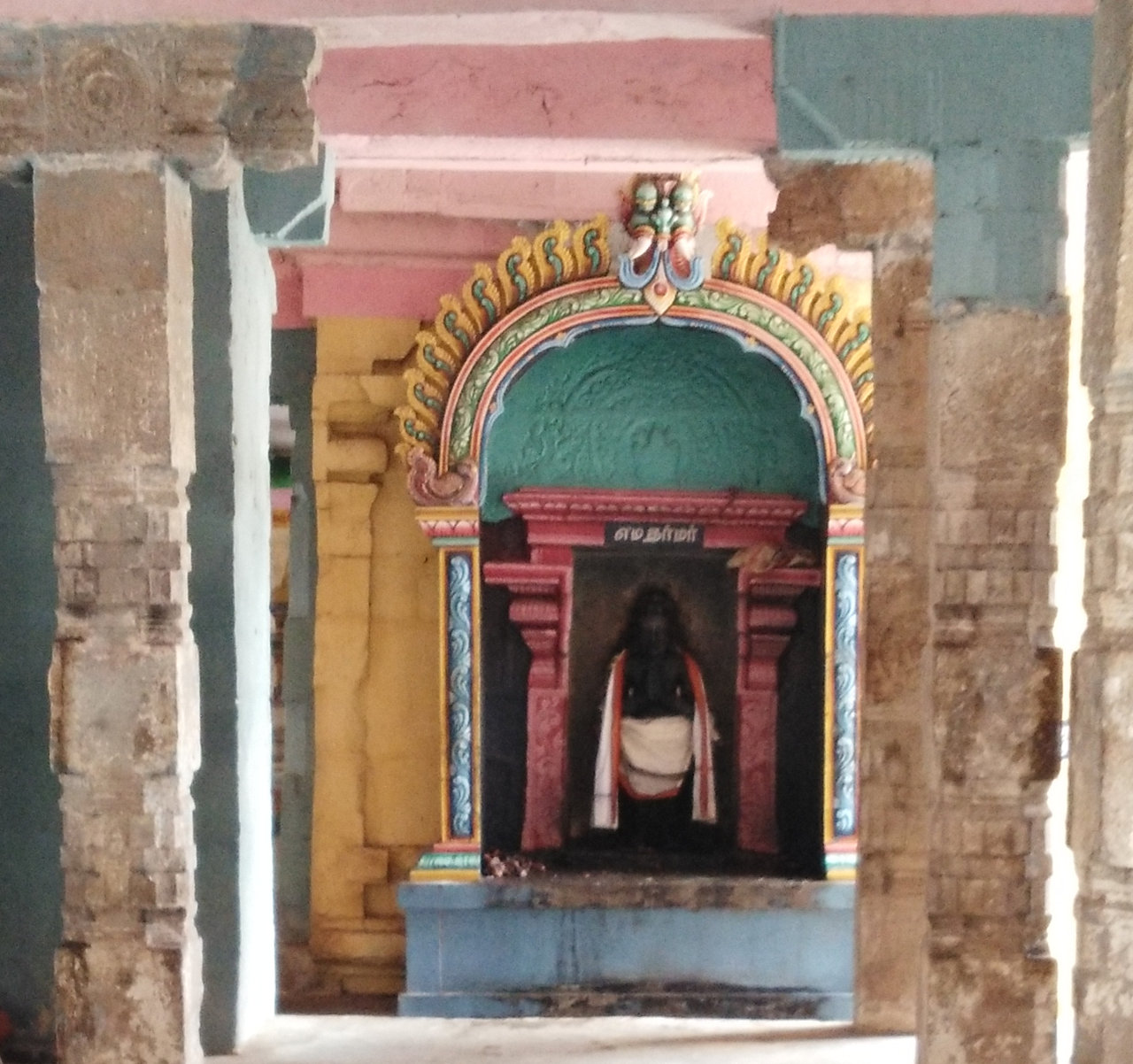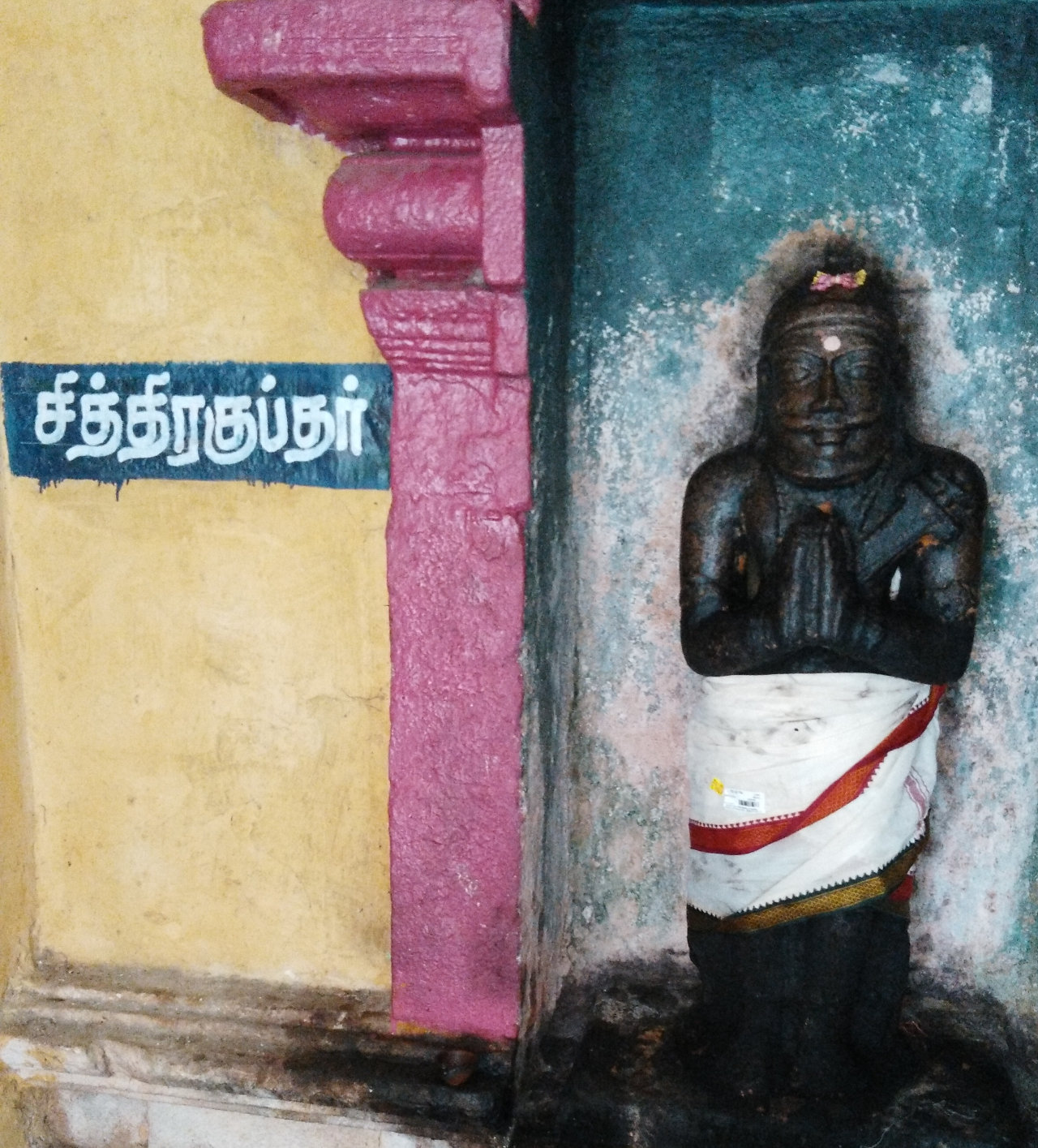 Salient Features
Lord Vinayakar is praised as "Sri Karaiyetrum Vinayakar" meaning that he would be a guide for those facing hardships and difficulties.
It is believed that Lord Suryan (Sun) worships Lord Shiva of this temple by directing his rays on the lingam for three days - 19th to 21st in the Tamil month of Aadi (Jul-Aug).
It is believed that Queen Sembiyan Madevi, wife of Chola King Gandaradithyan, offered gold equal to her weight ("Dhulabara Nerthi") to the lord of this temple. She started the practice of making offerings equal to one's weight.
There are many beautifully carved sculptures in this temple. Of these sculptures, those of Kamadenu, Karpaka Viruksham and Lord Krishna are especially worth mentioning. Other sculptures and reliefs depict battlefields involving war horses and elephants and everyday scenes of women dancing and playing musical instruments.
Here Lord Saneeswarar is known as Bala Sani. He is holding a Shivalingam on his head and has "Garudan" as his mount.
It is believed that performing meditation, yagna and prayers in this temple would yield triple benefits.
This temple is considered to be significant for its three important attributes – Moorthy, Sthalam and Theertham - glory of Lord, sacredness of the land and the auspicious temple tank.
The sanctum sanctorum of this temple is in the form of semi-circular tank ("akazhi" in Tamil).
Saint Arunagirinadhar has sang songs in praise of Lord Murugan of this temple in his revered Thirupugazh.
The "Sakthi Upasagar", Sri Bhaskaracharya (1690- 1785) lived in an adjacent village called Bhaskararajapuram. It is believed that he composed the book, "Sowbhagya Bhaskaram" in Goddess Thiripurasundari's shrine in this temple. This book explains the meaning and significance of Lalitha Sahasranamam. It is believed that his "bhashyam" (explanations) was approved by Goddess Parvathy and was introduced to the world.
The maestro of Carnatic music, Sri Semmangudi Sreenivasa Iyer was born here.
Greatness of this temple
The Cauvery flows here as Uthiravahini (south to north direction). Taking a dip in the river and the theertham before worshiping the lord and goddess here in the Tamil month of Karthigai (Nov-Dec) is considered very auspicious. It is believed that by doing so one would be absolved of all their sins.
It is believed that worshiping the lord on a Pradosham day would yield the same benefit of conducting the grand "Ashvametha yagna".
Since both Yama and Chitragupta can be worshiped together here, devotees believe that by worshiping them they would be relieved of "Yama Bhayam" (fear of death).
Important Festivals
Some of the important festivals celebrated in this temple are -
Vinayakar Chaturthi in the Tamil month of Aavani (Aug-Sept),
Navarathri in the Tamil month of Purattasi (Sept-Oct),
Skanda Shashti and Annabishekam in the Tamil month of Aippasi (Oct – Nov),
Thiru Karthikai in the Tamil month of Karthikai (Nov-Dec),
Thiruvadhirai in the Tamil month of Markazhi (Dec-Jan),
Makara Sankranthi in the Tamil month of Thai (Jan-Feb) and
Shivrathri in the Tamil month of Masi (Feb-Mar).
Pradosham is also observed regularly.
Temple Timings
From 07:00 AM to 12:00 Noon and from 04:30 PM to 08:30 PM.
Temple Address
Sri Koteeswarar Temple,
Thirukkodikkaval Post,
Narasinganpettai Via,
Thiruvidaimaruthur Taluk,
Tanjure District,
Tamil Nadu – 609 802.
The temple priest Sri Shanmugananda Gurukkal can be contacted at: 94866 70043 and 0435-2450595.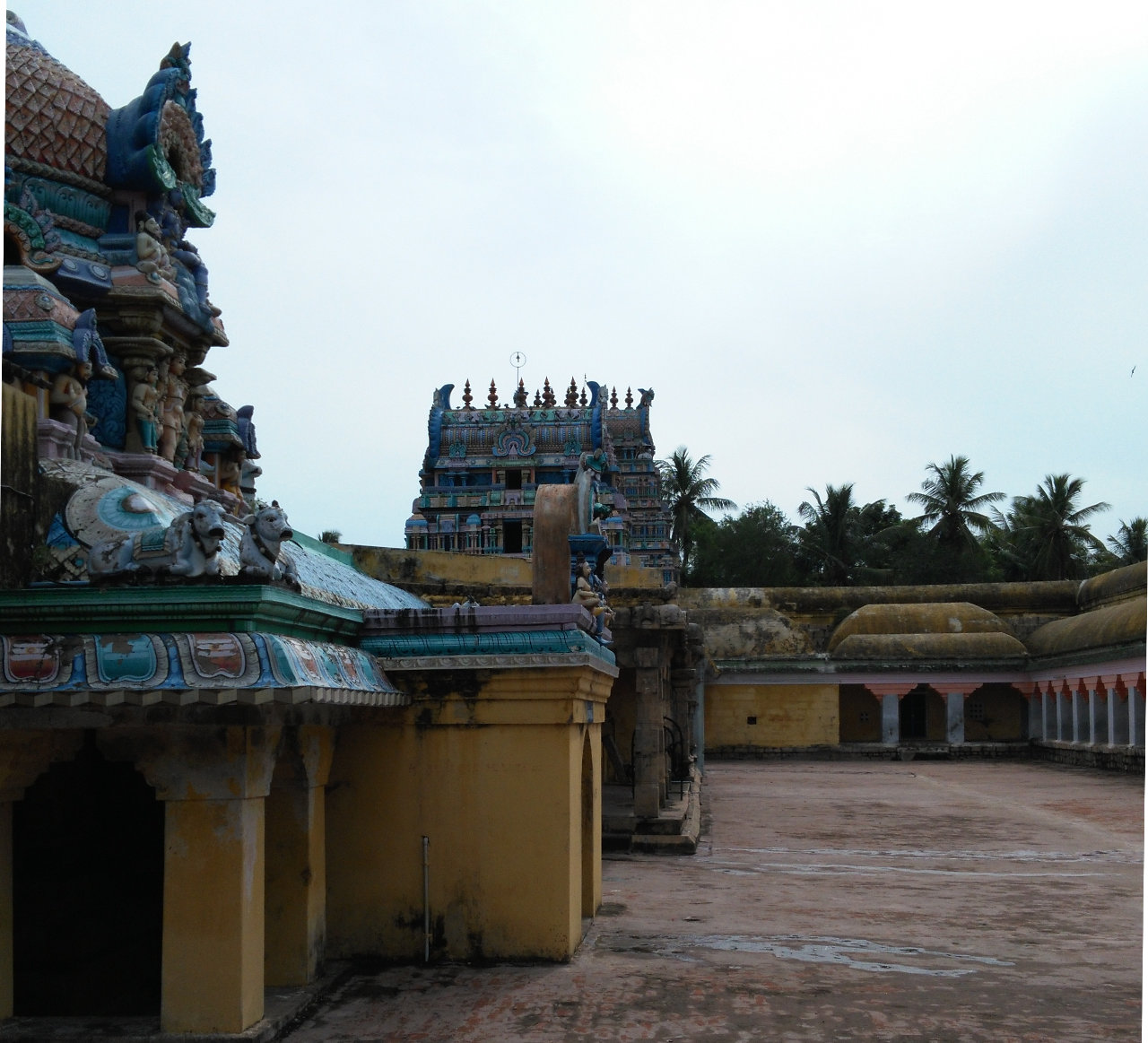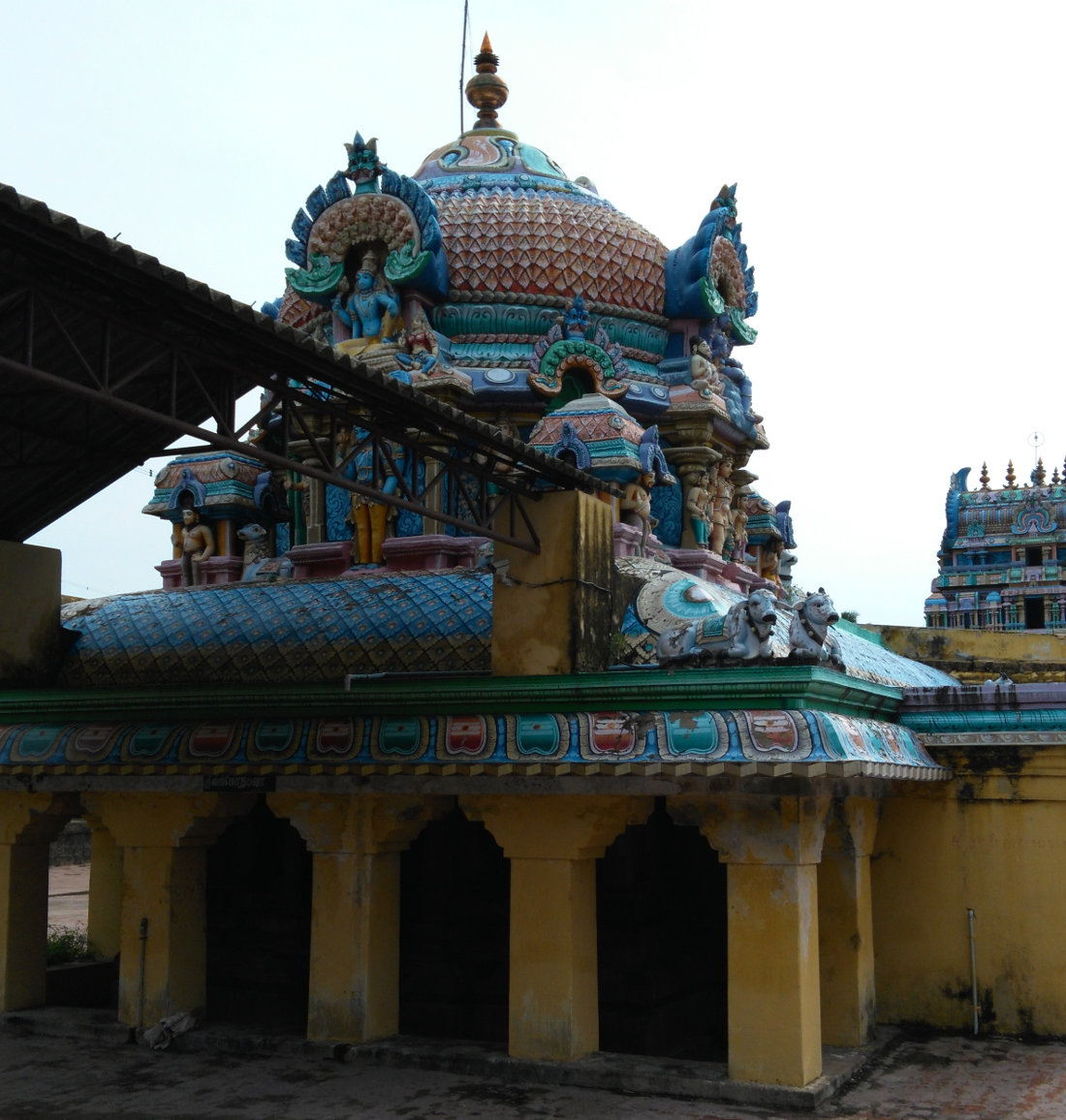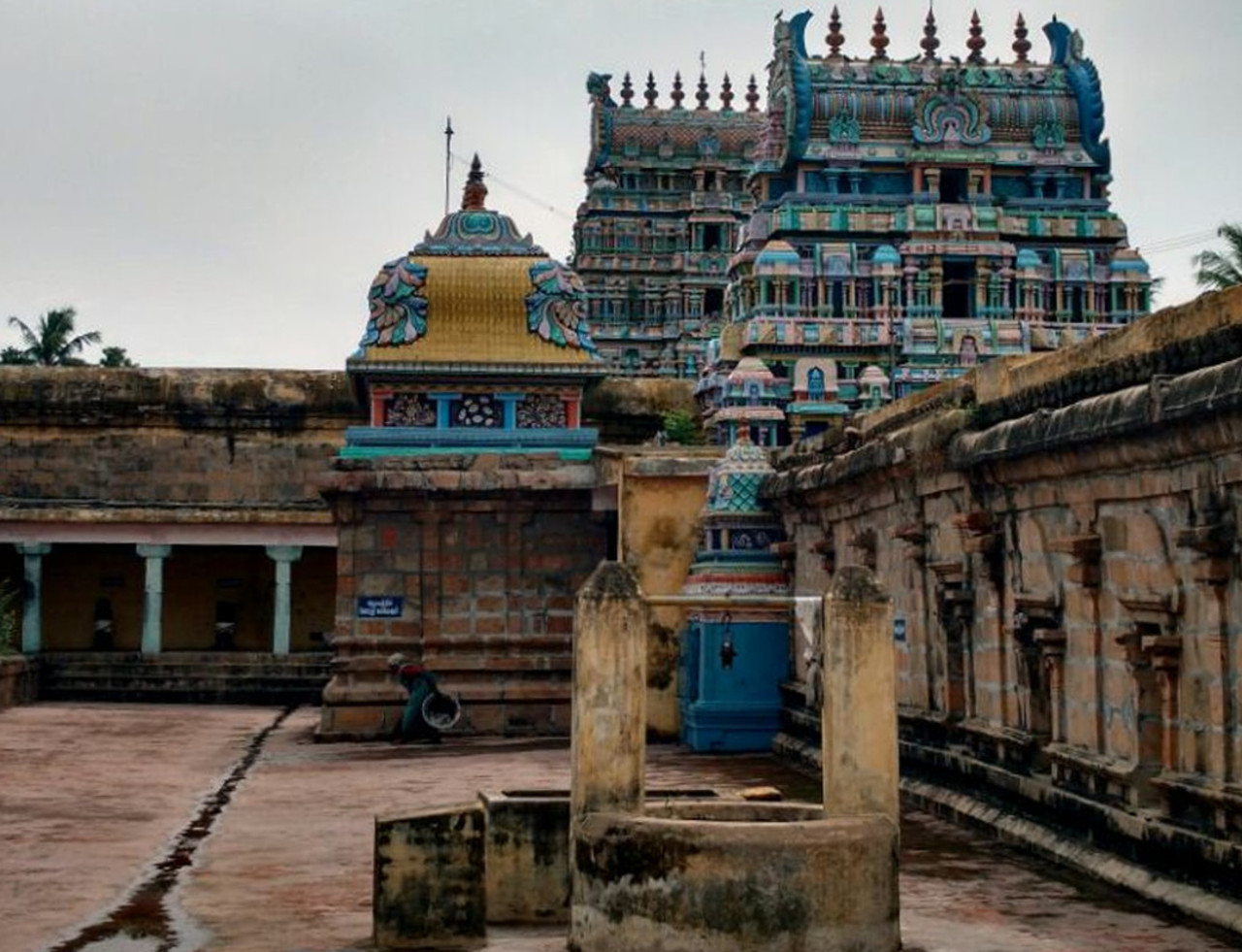 ---
Pathigam (Hymn) with English transliteration
Saint Thirugnanasambanthar visited this temple and sang this Pathigam.
Devotees visiting this temple should make it a practice to recite this Pathigam.
இன்றுநன்று நாளைநன் றென்றுநின்ற இச்சையால்
பொன்றுகின்ற வாழ்க்கையைப் போகவிட்டுப் போதுமின்
மின்தயங்கு சோதியான் வெண்மதி விரிபுனல்
கொன்றைதுன்று சென்னியான் கோடிகாவு சேர்மினே.
"Iṉtṟunaṉtṟu nāḷainaṉ tṟeṉtṟuniṉtṟa ictchaiyāl
poṉtṟukiṉtṟa vāzhkkaiyaip pōkaviṭṭup pōthumiṉ
miṉthayaṅku chōthiyāṉ veṇmathi viripuṉal
koṉtṟaithuṉtṟu cheṉṉiyāṉ kōdikāvu sērmiṉē".
அல்லல்மிக்க வாழ்க்கையை ஆதரித் திராதுநீர்
நல்லதோர் நெறியினை நாடுதும் நடம்மினோ
வில்லையன்ன வாணுதல் வெள்வளையோர் பாகமாம்
கொல்லைவெள்ளை யேற்றினான் கோடிகாவு சேர்மினே.
"Allalmikka vāzhkkaiyai ātharith thirāthunīr
nallathōr neṟiyiṉai nāṭuthum naṭam'miṉō
villaiyaṉṉa vāṇuthal veḷvaḷaiyōr pākamām
kollaiveḷḷai yētṟiṉāṉ kōdikāvu sērmiṉē".
துக்கமிக்க வாழ்க்கையின் சோர்வினைத் துறந்துநீர்
தக்கதோர் நெறியினைச் சார்தல்செய்யப் போதுமின்
அக்கணிந் தரைமிசை யாறணிந்த சென்னிமேல்
கொக்கிற கணிந்தவன் கோடிகாவு சேர்மினே.
"Thukkamikka vāzhkkaiyiṉ sōrviṉaith thuṟanthunīr
thakkathōr neṟiyiṉaich chārthalseyyap pōthumiṉ
akkaṇin tharaimisai yāṟaṇintha seṉṉimēl
kokkiṟa kaṇinthavaṉ kōdikāvu sērmiṉē".
பண்டுசெய்த வல்வினை பற்றறக் கெடும்வகை
உண்டுமக் குரைப்பன்நான் ஒல்லைநீர் எழுமினோ
மண்டுகங்கை செஞ்சடை வைத்துமாதொர் பாகமாக்
கொண்டுகந்த மார்பினான் கோடிகாவு சேர்மினே.
"Paṇṭuseytha valviṉai patṟatṟak keṭumvakai
uṇṭumak kuraippaṉnāṉ ollainīr ezhumiṉō
maṇṭugaṅgai cheñchaṭai vaiththumāthor pākamāk
koṇṭukantha mārpiṉāṉ kōdikāvu sērmiṉē".
முன்னைநீர்செய் பாவத்தான் மூர்த்திபாதஞ் சிந்தியா
தின்னநீரி டும்பையின் வீழ்கிறீர் எழும்மினோ
பொன்னைவென்ற கொன்றையான் பூதம்பாட ஆடலான்
கொன்னவில்லும் வேலினான் கோடிகாவு சேர்மினே.
"Muṉṉainīrsey pāvaththāṉ mūrththipāthañ chinthiyā
thiṉṉanīri ṭumpaiyiṉ vīzhkiṟīr ezhum'miṉō
poṉṉaiveṉtṟa koṉtṟaiyāṉ pūthampāṭa āṭalāṉ
koṉṉavillum vēliṉāṉ kōdikāvu sērmiṉē".
ஏவமிக்க சிந்தையோ டின்பமெய்த லாமெனப்
பாவமெத் தனையும்நீர் செய்தொரு பயனிலைக்
காவல்மிக்க மாநகர் காய்ந்துவெங் கனல்படக்
கோவமிக்க நெற்றியான் கோடிகாவு சேர்மினே.
"Ēvamikka sinthaiyō ṭiṉpameytha lāmeṉap
pāvameth thaṉaiyumnīr seythoru payaṉilaik
kāvalmikka mānakar kāynthuveṅ kaṉalpaṭak
kōvamikka netṟiyāṉ kōdikāvu sērmiṉē".
ஏணழிந்த வாழ்க்கையை இன்பமென் றிருந்துநீர்
மாணழிந்த மூப்பினால் வருந்தன்முன்னம் வம்மினோ
பூணல்வெள் ளெலும்பினான் பொன்திகழ் சடைமுடிக்
கோணல்வெண் பிறையினான் கோடிகாவு சேர்மினே.
"Ēṇazhintha vāzhkkaiyai iṉpameṉ tṟirunthunīr
māṇazhintha mūppiṉāl varunthaṉmuṉṉam vam'miṉō
pūṇalveḷ ḷelumpiṉāṉ poṉthikazh saṭaimuṭik
kōṇalveṇ piṟaiyiṉāṉ kōdikāvu sērmiṉē".
மற்றிவாழ்க்கை மெய்யெனும் மனத்தினைத் தவிர்ந்துநீர்
பற்றிவாழ்மின் சேவடி பணிந்துவந் தெழுமினோ
வெற்றிகொள் தசமுகன் விறல்கெட இருந்ததோர்
குற்றமில் வரையினான் கோடிகாவு சேர்மினே.
"Matṟivāzhkkai meyyeṉum maṉaththiṉaith thavirnthunīr
patṟivāzhmiṉ sēvaṭi paṇinthuvan thezhumiṉō
vetṟikoḷ thasamukaṉ viṟalkeṭa irunthathōr
kutṟamil varaiyiṉāṉ kōdikāvu sērmiṉē".
மங்குநோய் உறும்பிணி மாயும்வண்ணஞ் சொல்லுவன்
செங்கண்மால் திசைமுகன் சென்றளந்துங் காண்கிலா
வெங்கண்மால் விடையுடை வேதியன் விரும்புமூர்
கொங்குலாம் வளம்பொழிற் கோடிகாவு சேர்மினே.
"Maṅkunōy uṟumpiṇi māyumvaṇṇañ cholluvaṉ
seṅkaṇmāl thisaimukaṉ seṉtṟaḷanthuṅ kāṇkilā
veṅkaṇmāl viṭaiyuṭai vēthiyaṉ virumpumūr
koṅkulām vaḷampozhiṟ kōdikāvu sērmiṉē".
தட்டொடு தழைமயிற் பீலிகொள் சமணரும்
பட்டுடை விரிதுகிலி னார்கள்சொற் பயனிலை
விட்டபுன் சடையினான் மேதகும் முழவொடும்
கொட்டமைந்த ஆடலான் கோடிகாவு சேர்மினே.
"Thaṭṭoṭu thazhaimayiṟ pīlikoḷ samaṇarum
paṭṭuṭai virithukili ṉārkaḷsoṟ payaṉilai
viṭṭapuṉ saṭaiyiṉāṉ mēthakum muzhavoṭum
koṭṭamaintha āṭalāṉ kōdikāvu sērmiṉē".
கொந்தணி குளிர்பொழிற் கோடிகாவு மேவிய
செந்தழ லுருவனைச் சீர்மிகு திறலுடை
அந்தணர் புகலியு ளாயகேள்வி ஞானசம்
பந்தன தமிழ்வல்லார் பாவமான பாறுமே.
"Konthaṇi kuḷirpozhiṟ kōdikāvu mēviya
senthazha luruvaṉaich chīrmiku thiṟaluṭai
anthaṇar pukaliyu ḷāyakēḷvi gñāṉasam
banthaṉa thamizhvallār pāvamāṉa pāṟumē".