Visited on: 11th January, 2017. I have also had the honour of working as a priest in this temple for many years.
Location
Thirunthudhevankudi is situated at a distance of about 10 kms from Kumbakonam on the Kumbakonam to Mayiladuthurai route. Take the diversion road from Thiruvisanallur and travel for about 2 kms to reach this temple. Nearest railway station is Thiruvidaimaruthur which is about 6 kms away from this place.
Other Devara Paadal Petra Shiva Sthalams near this place are - Thiruvisanallur, Thiruvidaimaruthur, Thirunageswaram, Then Kurangaduthurai (Aduthurai) and Thiruneelakkudi.
General Information
| | |
| --- | --- |
| Moolavar | Sri Karkateswarar, Sri Devadevesar |
| Ambal | Sri Arumarundhu Nayaki and Sri Apoorva Nayaki |
| Theertham (Holy water) | Navabashana Theertham |
| Sthala Vriksham (Sacred Tree) | Nangai tree |
| Pathigam (Hymn) rendered by | Saint Thirugnanasambanthar |
This is one of the 276 Devara Paadal Petra Shiva Sthalams and 42nd Shiva Sthalam on the northern bank of the river Cauvery in Chozha Nadu (Vadakarai).
Lord Shiva in this temple is a Swayambumurthi (self-manifested).
This is a famous "Parihara Sthalam" for those who born in Kadaka Raasi.
This east facing temple has two corridors and its main tower (Rajagopuram) does not have any tiers.
In place of the Gopuram, there is a beautiful sculpture depicting Lord Shiva and Goddess Parvathy.
The last consecration ceremony (Maha Kumbabishekam) took place on 06.07.2003.
History of the Temple
This temple is surrounded by a moat called Thirumaruvum Poigai in the midst of lush green fields. This moat is in the form of a semicircle ("Akazhi" in Tamil) around the temple.
Nowadays, there is no village or residence near this temple and is totally surrounded by agricultural lands. In his hymn, Saint Thirugnanasambanthar referred to this village as "Thenum vandum isaipadum devankudi" meaning that this village is alive with the hum of bees and insects.
In ancient times, this place is considered to be a medicinal hub with lots of medicinal plants.
The historical names of this place are Karkateswaram, Thirundhudevan Kudi and Thiru Nandankoil.
There are few stone inscriptions in this temple which date back to the periods of Chola Kings Kulothunga-I, Vikraman, Rajathirajan-II, Rajarajan and Queen Sembian Maadevi.
This temple is under the administrative control of the Hindu Religious and Charitable Endowments Department of Government of Tamil Nadu (HR&CE).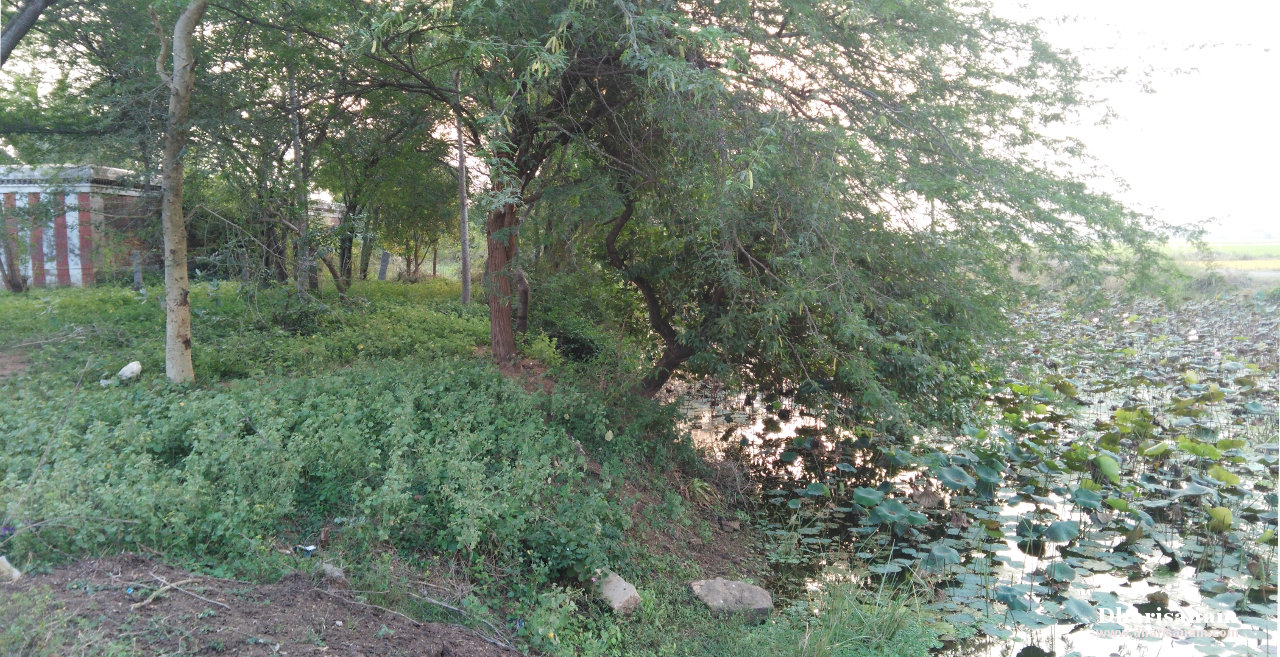 Legend
The legend is that Lord Indra, the king of Devas, following the advice of his Guru Prahaspati, worshiped the Lord here with 1008 Sengazhuneer flowers (Lily) daily after taking a dip in this temple's theertham (Pushkarini). Lord Varunan was given the task of growing those flowers in the temple's tank. One day, Indra ran short of a flower during his pooja. He asked Varunan about it but Varunan replied by saying that he had counted 1008 flowers. When this is continued for a few more days, Indra decided to keep a watch on the flowers. He noticed that one of the flowers was moving out of the tank and into the sanctum sanctorum through the drain. On closer scrutiny, he saw that it was a Crab ("Nandu" in Tamil and "Karkadam" in Sanskrit) that was bringing the flower inside the sanctum and offering it to the lingam. Angered by its act, he was about to hit the Crab which was on top of the lingam. Lord Shiva instantly formed a hole on the lingam and took the Crab inside. Indra realise his mistake and surrendered to the lord asking him for forgiveness. Lord Shiva pardoned him. Because of Indra's attempt to strike the crab, a huge cut can still be seen on the Shivalingam. Since then the lord came to be known as Sri Karkateswarar. The hole created by the lord can be seen during arthi.
As Lord Indra tried to rectify his mistake here, this place gets the name Thirunthu Devan Kudi ("thirunthu" meaning correction, Devan is a reference to Lord Indra and "Kudi" meaning village in Tamil). However, locals call this place as Nandaan Koil.
It is believed that once Sage Durvasa was mocked at by a Gandharva (a community known for their skill in music in the celestial world) that he walked like a crab. The angry sage cursed the Gandharva to become a crab. When he begged for pardon, the sage advised him to worship Lord Shiva in this temple for relief. He followed the advice of the sage and was absolved of his sin.
Another legend associated with this temple is that once the Swaymbulingam of this temple was buried under the sand due to heavy floods during the reign of a Chola king. The king was afflicted with paralysis and could not be cured despite the best efforts of his physicians. He prayed to Lord Shiva for remedy. It is believed that Lord Shiva and Goddess Parvathy visited him in the form an aged couple and informed him that they can cure his illness. The king agreed and the old man applied an oil on his body and gave him some medicines. Surprisingly, the king was cured instantly and was able to stand up again. He begged the old couple to stay with him as doctors of the royal family in the palace but they refused. He then offered them some valuables but they declined to accept them. The king promised them that he would give them anything they wished. They brought the king to this place and informed him that there was a Shivalingam buried under the sand and that he should build a temple for Lord Shiva here. Thereafter both of them disappeared. The king then realized that the couple had been none other than Lord Shiva and Goddess Parvathi. The king recovered the lingam and built this temple.
There are two shrines for Goddess Parvathy here – one for Sri Arumarunthu Nayaki and the other for Sri Apoorva Nayaki. When the king built the temple, he could not find the original idol of the goddess. He made a new one and installed it as "Sri Arumarunthu Nayaki" (Goddess of rare medicine). However, within a few days, the original idol was found. He named it "Sri Apoorva Nayaki" and installed it along with the new idol.
It is believed that Sage Agasthiyar and Dhanvantari, the god of Ayurveda have worshiped the lord here.
Deities in the temple
Other than the shrines of Lord Shiva and Goddess Parvathy, shrines and idols of Vinayaakar, Murugan with his consorts, Gajalakshmi, Dhanvanthiri, Agasthiyar, Kaala Bairavar, Suryan, Chandran and Naalvar can be seen.
In the "koshtam" (place surrounding the sanctum sanctorum), idols of Narthana Vinayagar, Dhakshinamoorthy, Lingothbavar. Brahma, Durgai and Chandikeswarar can be seen.
Lord Natarajar's idol here is made of clay ("Sudhai Sirpam").
The idol of Chandran can be seen here in yogic posture and is thus praised as "Yoga Chandran". Normally in all temples the idol of Chandran can be seen in a standing posture whereas here he can be seen in a seated posture. This temple is also a Chandra dosha Parihara sthalam.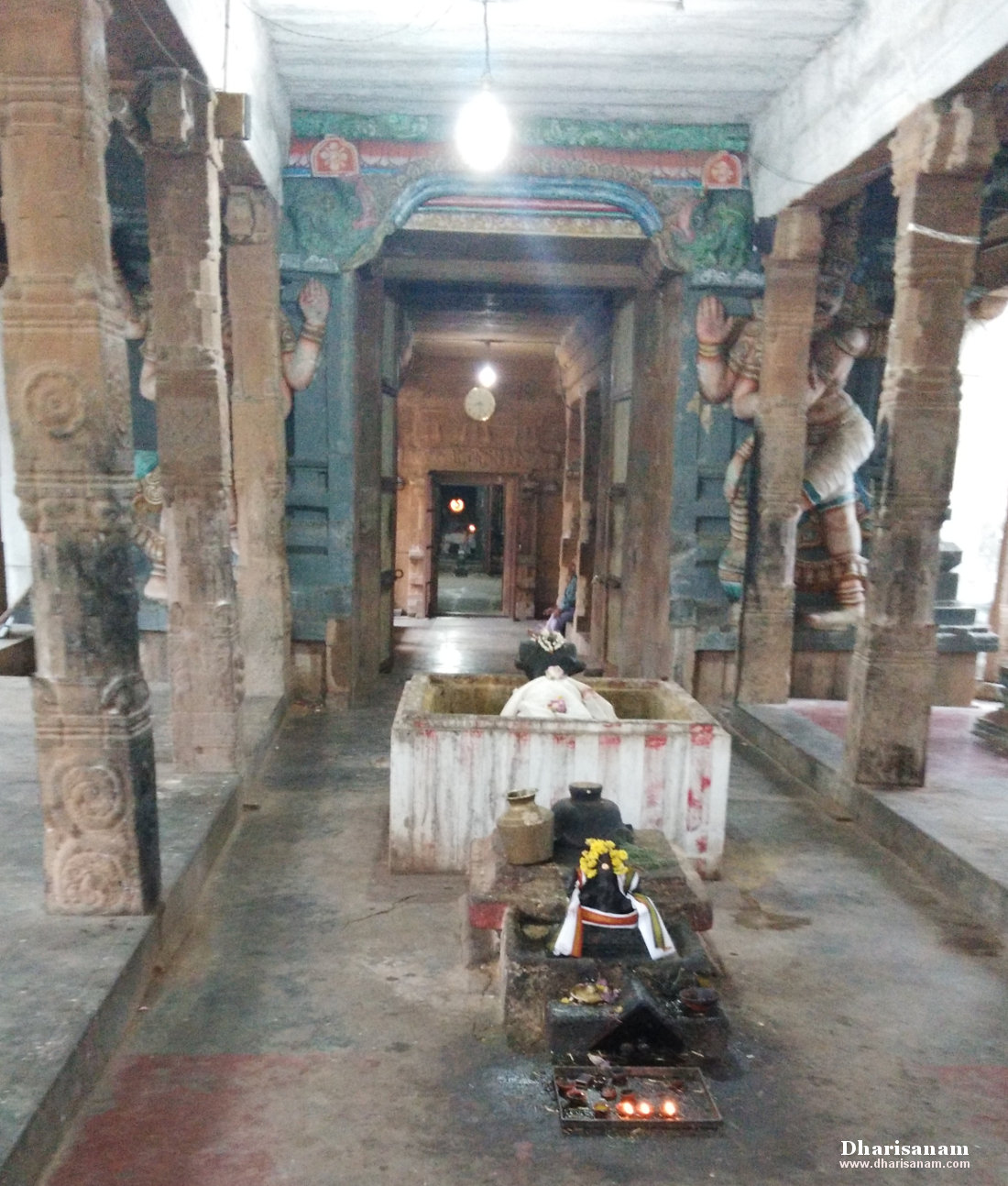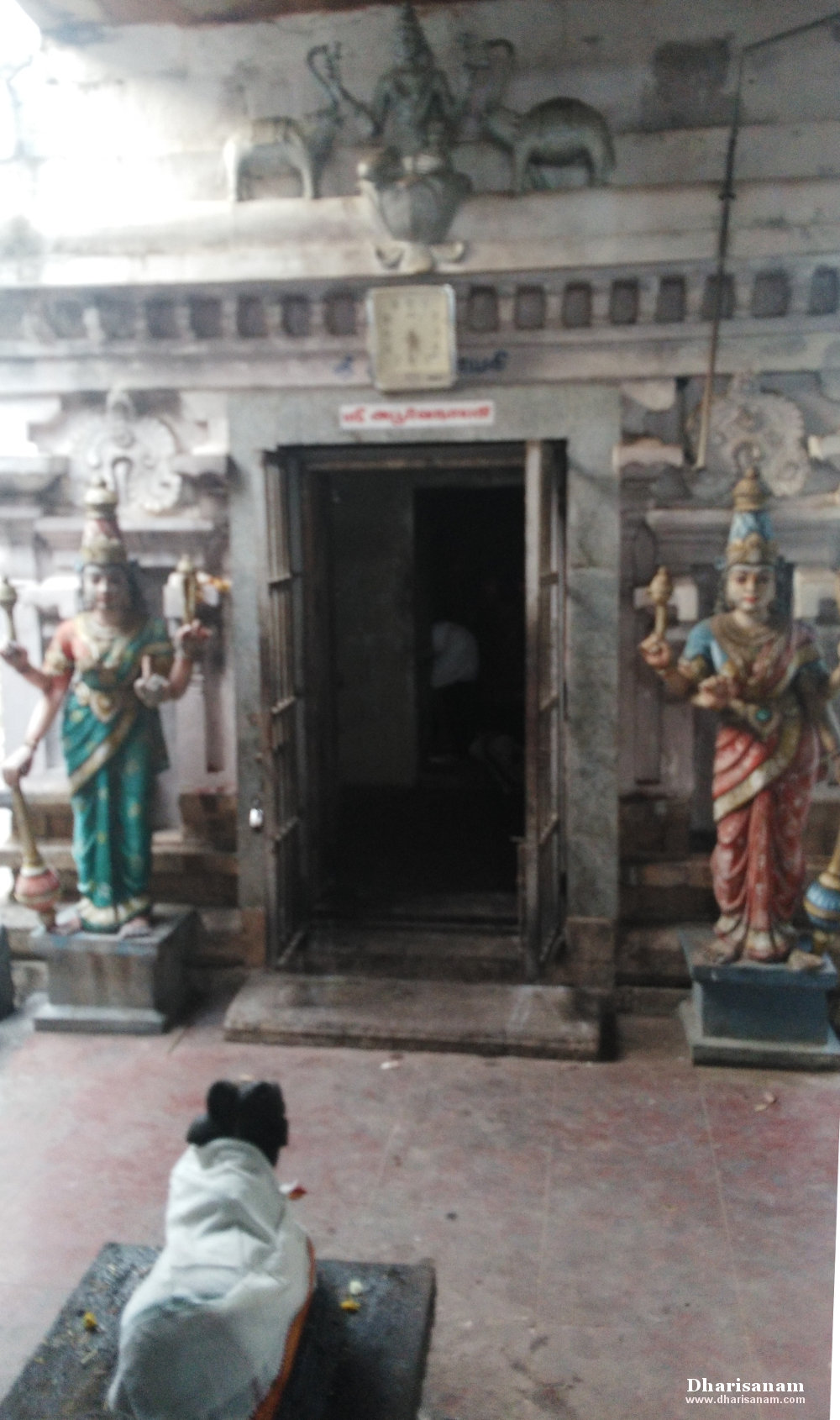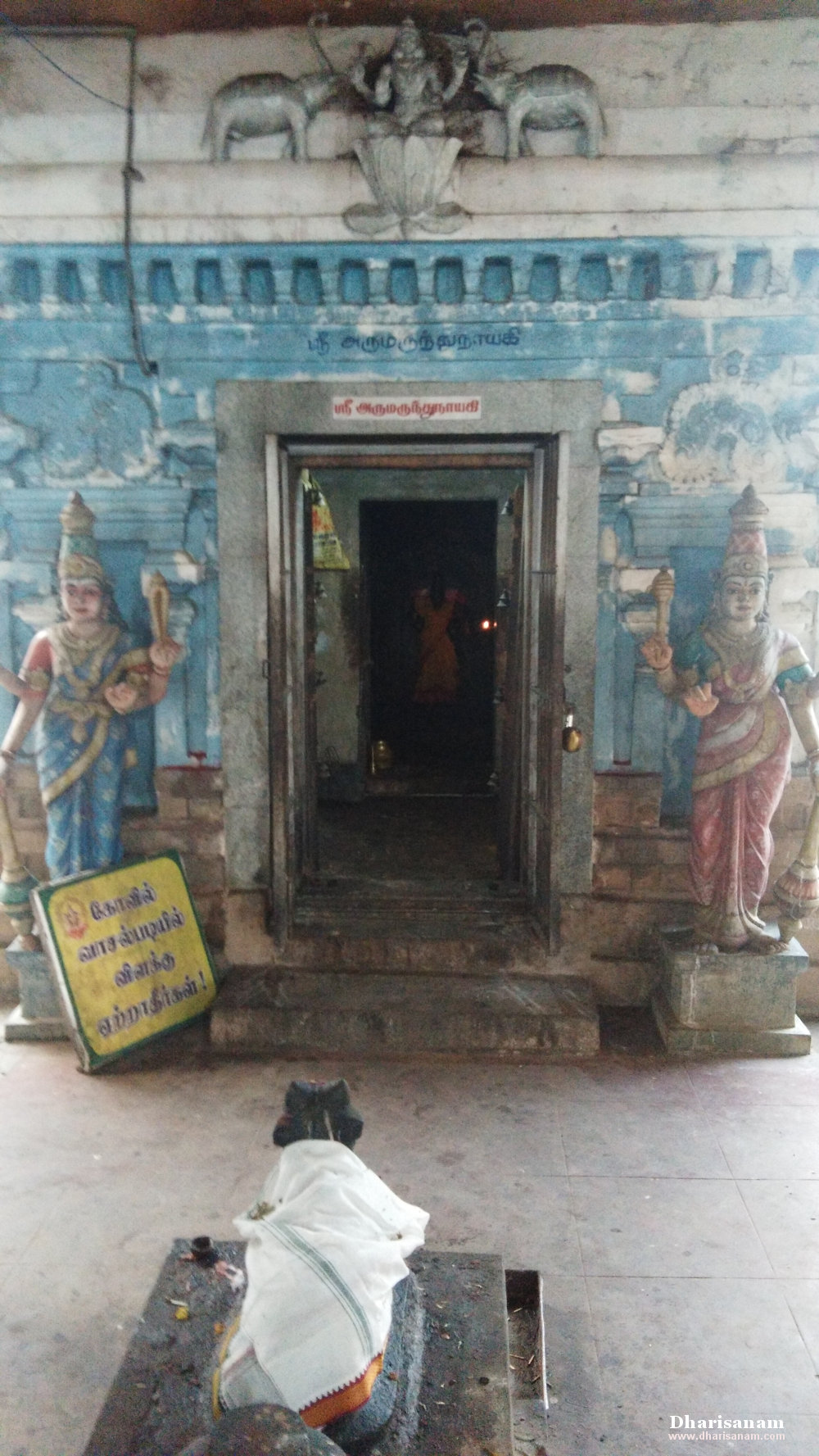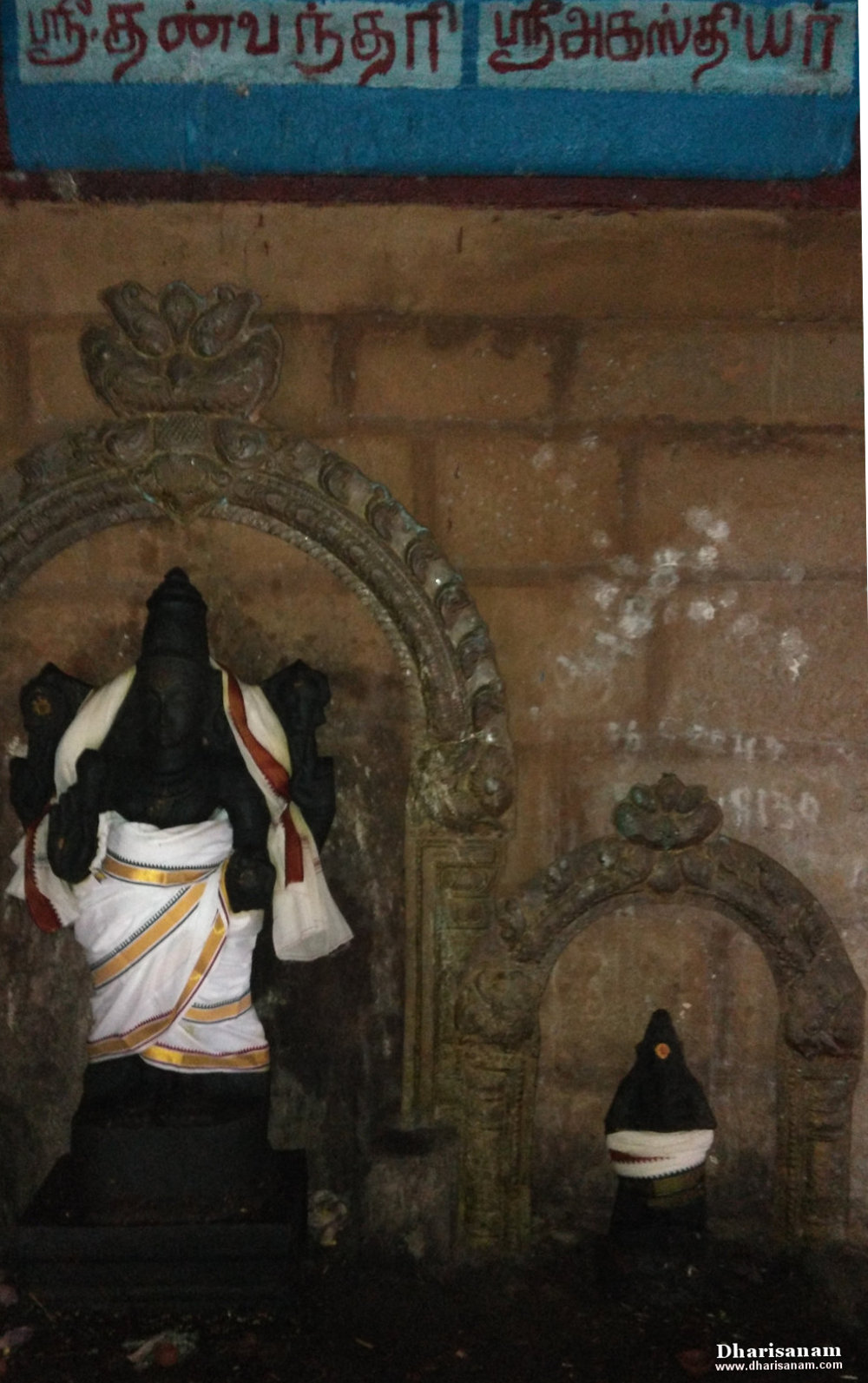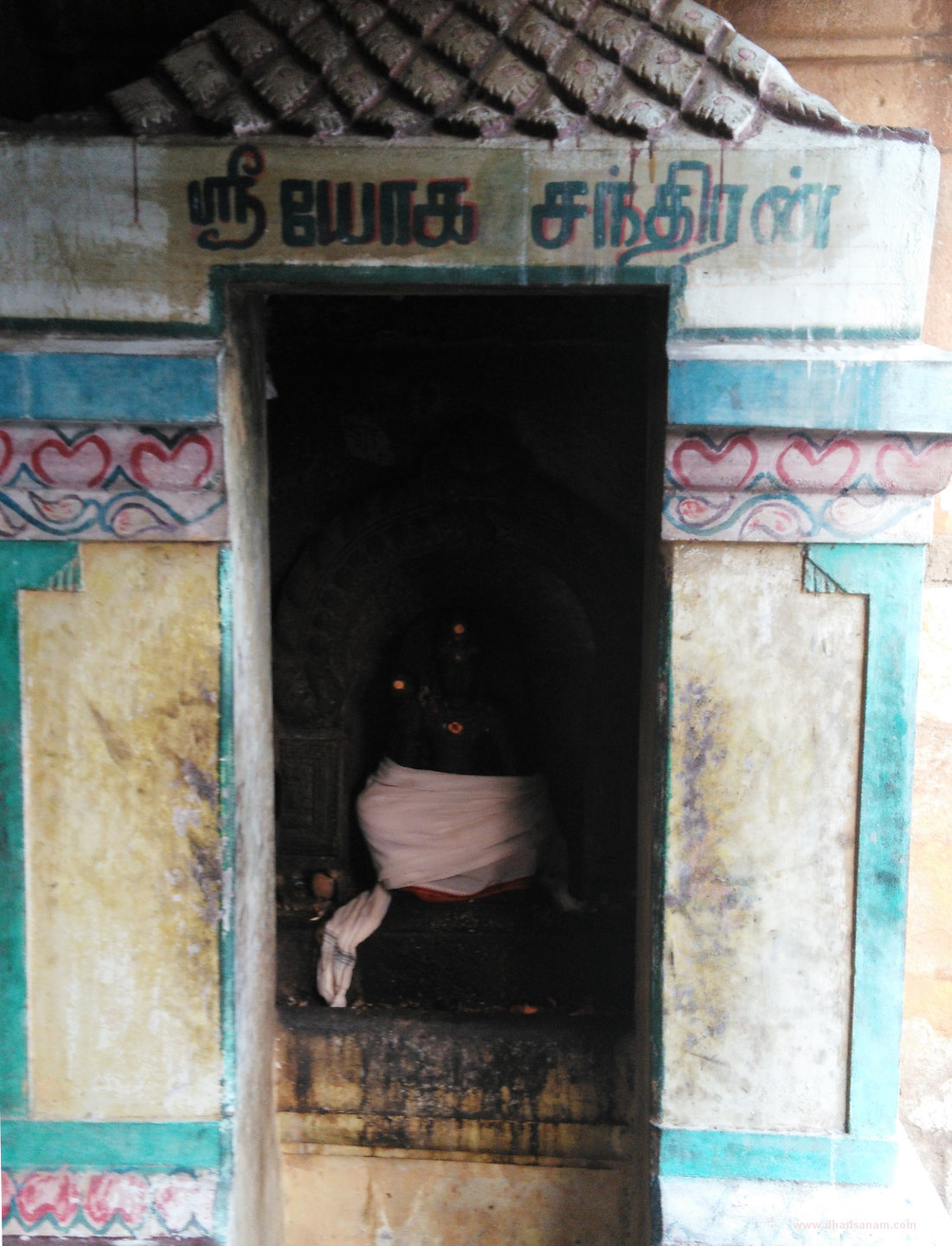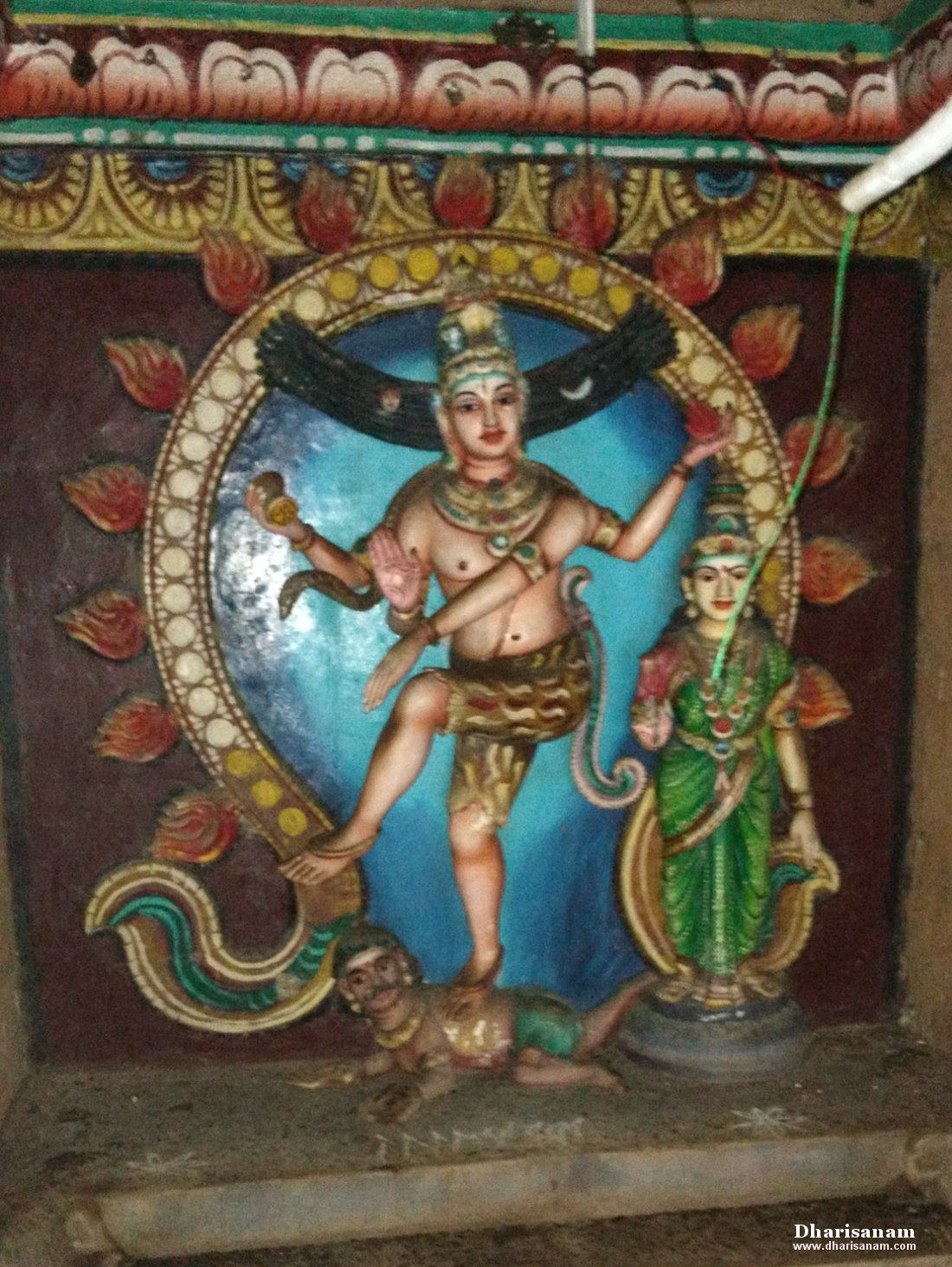 Salient Features
It is believed that the tank around this temple has many "Navabashana" wells in it. Taking a dip in this tank and worshiping Goddess Parvathy here will cure various ailments.
It is believed that worshiping Lord Shiva here will cure many ailments. In his hymn, Saint Thirugnanasambanthar praised Lord Shiva of this temple as a healer of diseases. The oil applied to the Goddess here is considered very auspicious.
Devotees perform abhishekam to Goddess Arumarunthu Nayaki using gingelly oil. It is believed that consuming a small portion of the oil after abhishekam will cure many diseases.
The sanctum tower's "Kalasam" is not a usual metallic one but it is carved out of stone.
In this temple, there is a relief depicting Sage Agasthiyar handing over the locally grown herbs with exceptional medicinal properties to Dhanvantari, the god of Ayurveda. A King and his Queen are witnessing the happening while the celestial gods from the heaven are also watching it.
There are many other reliefs here that vividly portray the legends of this temple.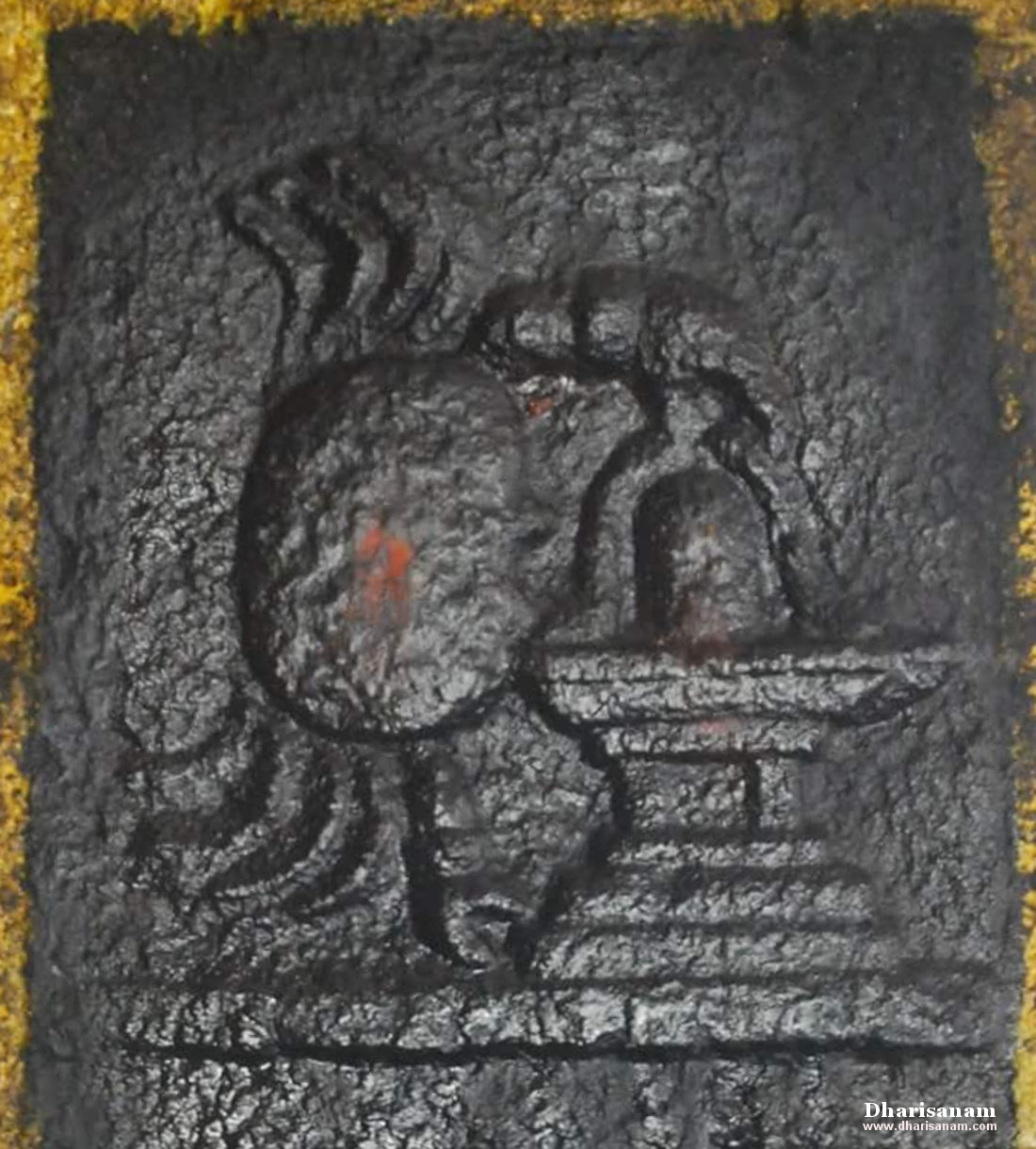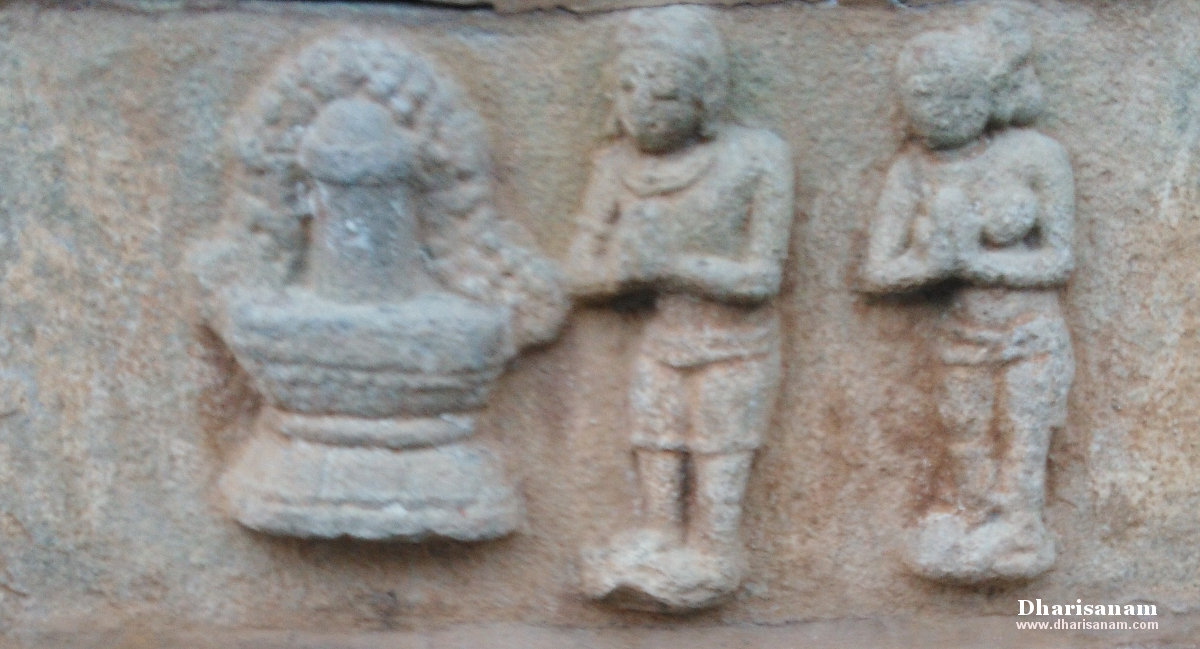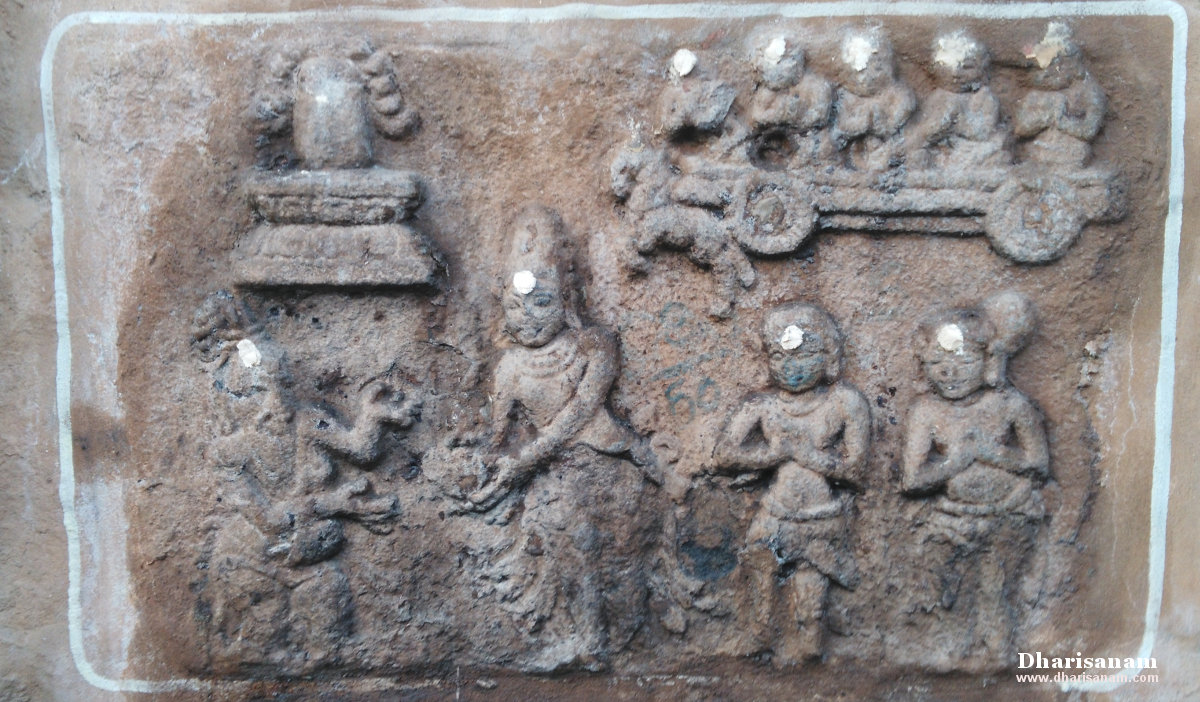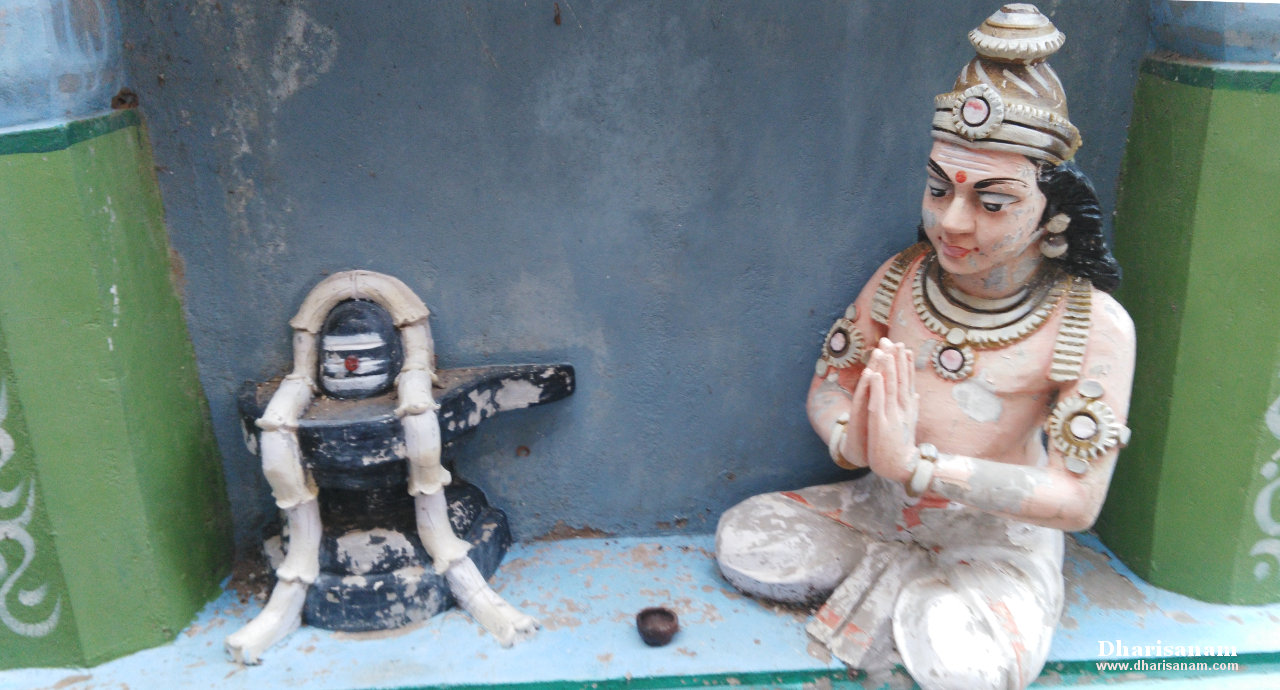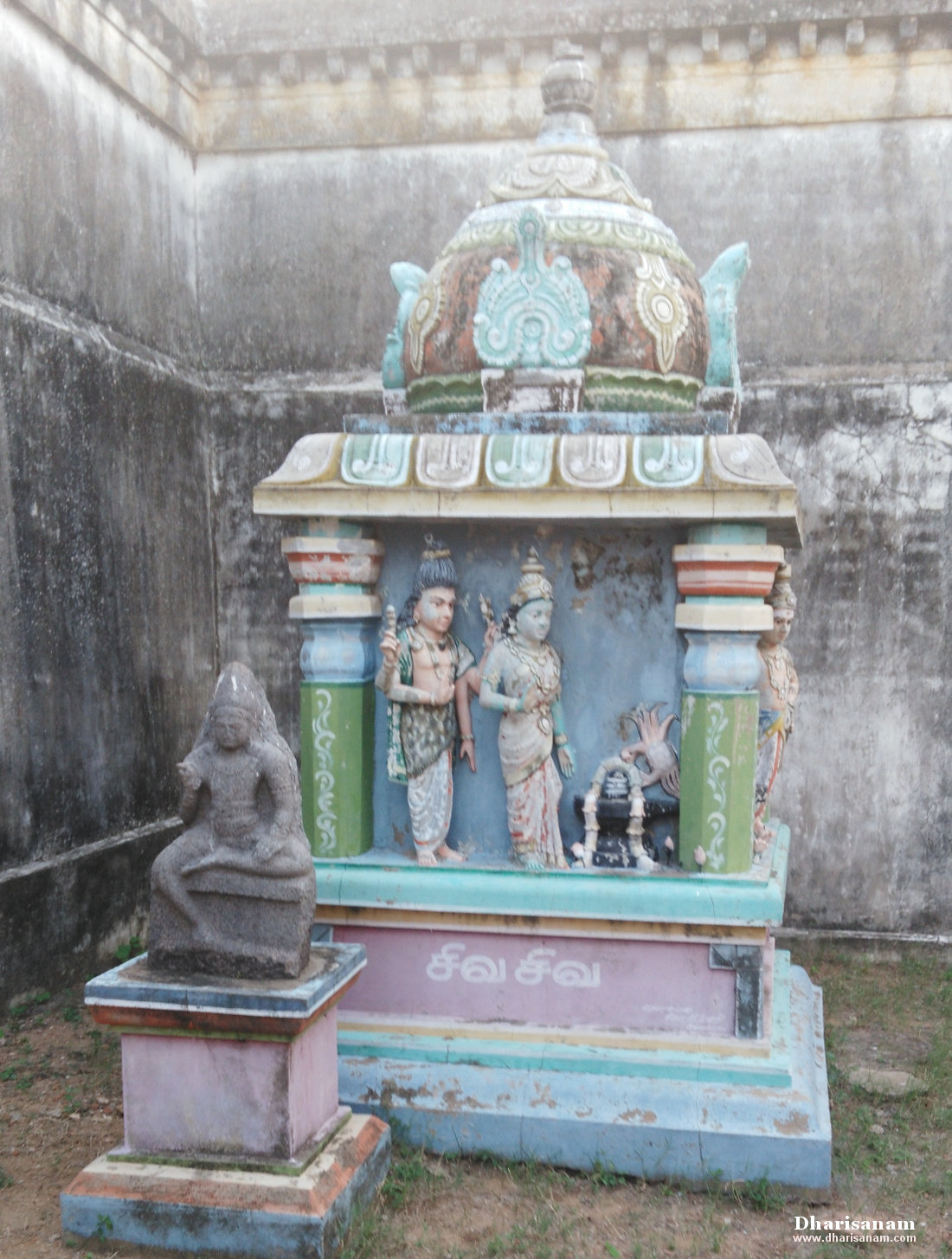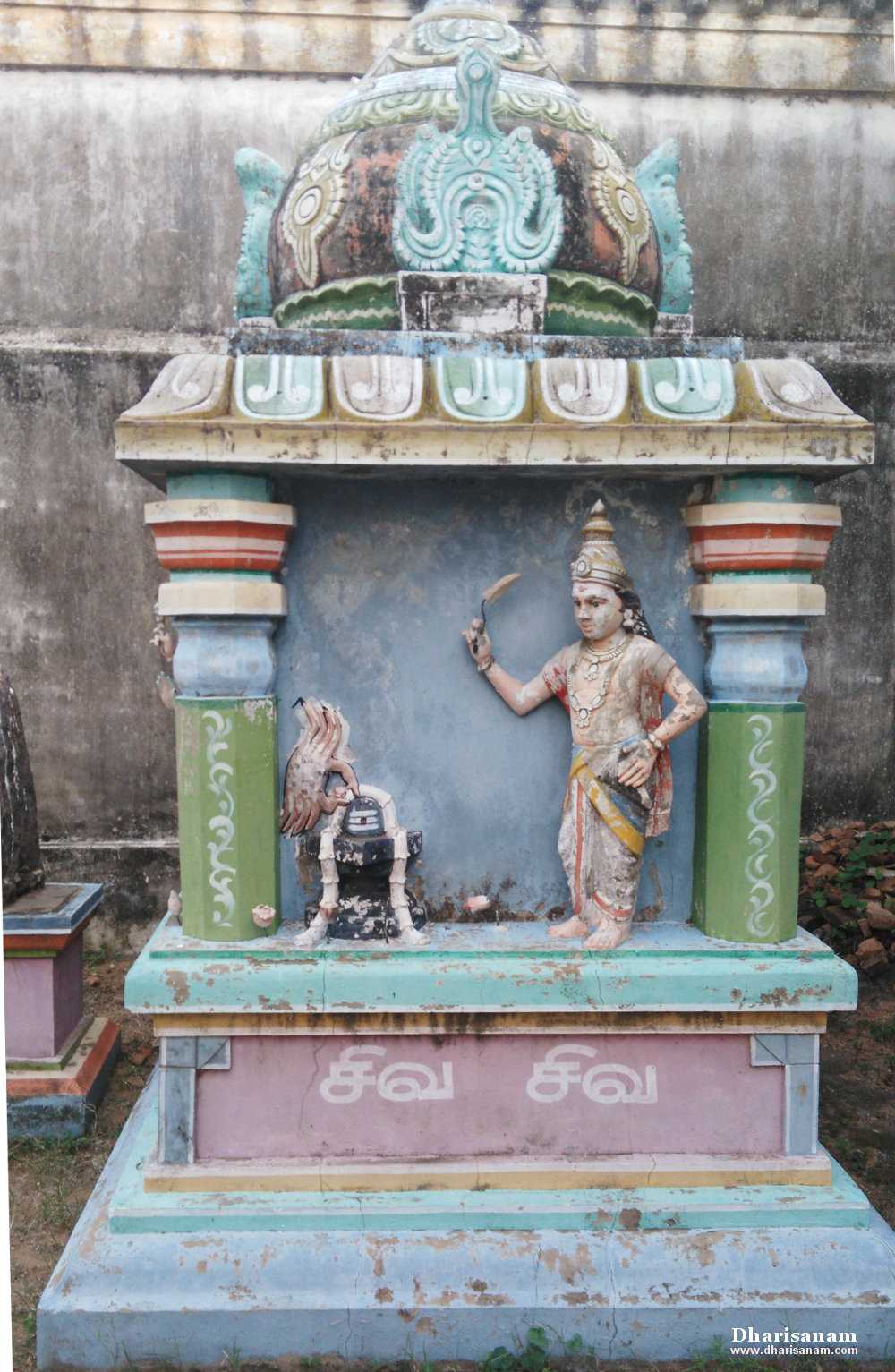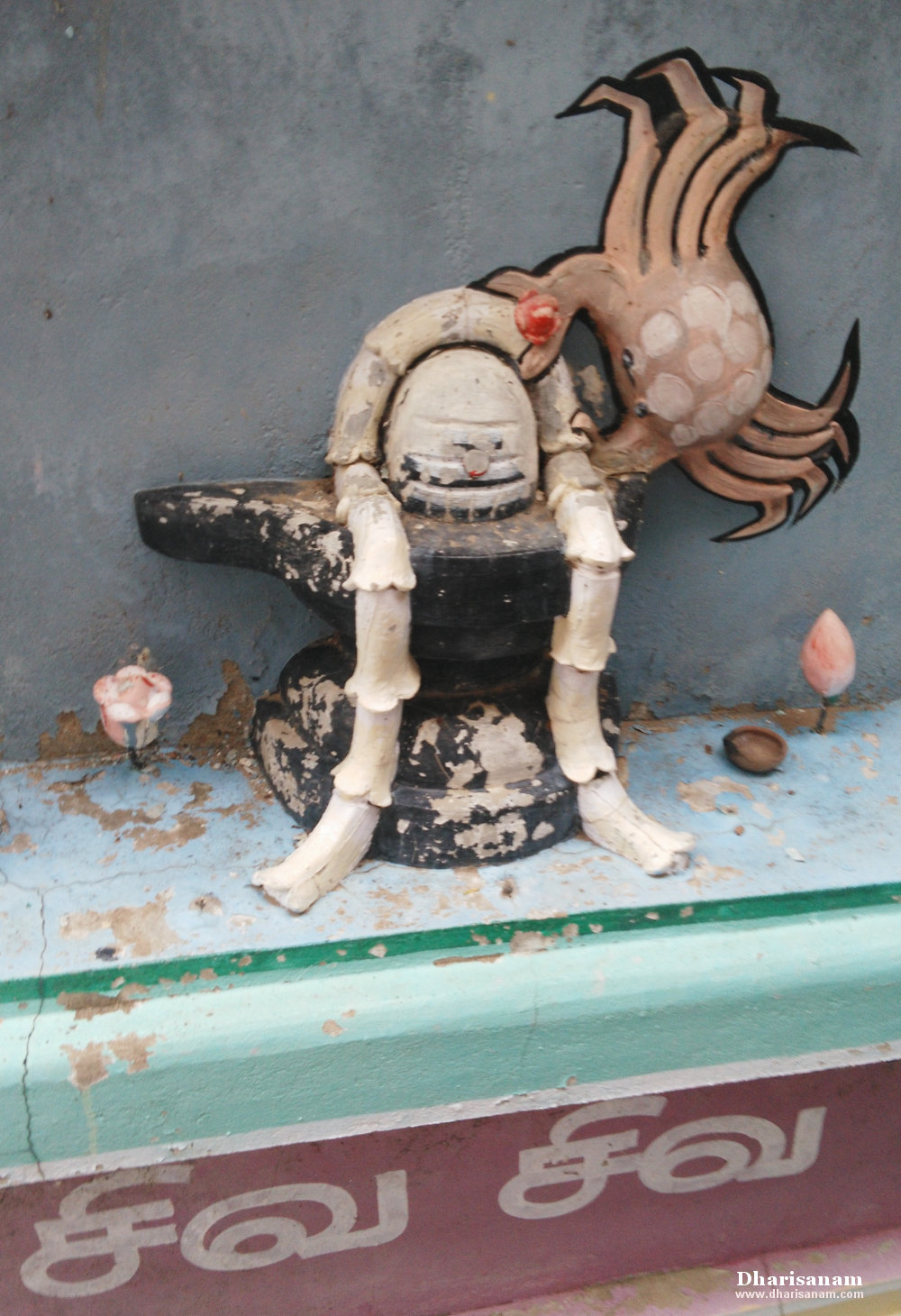 Greatness of this temple
This is also a famous parihara sthalam for those born during the periods of the constellations Punarpusam, Pusam and Ayilam (Kadaka raasi).
Important Festivals
Some of the important festivals celebrated in the temple are –
Vinayakar Chaturthi in the Tamil month of Aavani (Aug-Sept),
Annabishekam in the Tamil month of Aippasi (Oct–Nov),
Thiru Karthikai in the Tamil month of Karthikai (Nov-Dec) and
Shivrathri in the Tamil month of Masi (Feb-Mar).
Pradosham is also observed regularly.
Temple Timings
From 09.00 AM to 1.00 PM and 04.00 PM to 07.00 PM.
Temple Address
Sri Karkateswarar Temple,
Thirunthudevankudi,
Thiruvisanallur Post,
Thiruvidaimaruthur Taluk,
Tanjure District,
Tamil Nadu – 612105.
Tele: +91 435 – 200 0240, 99940 15871.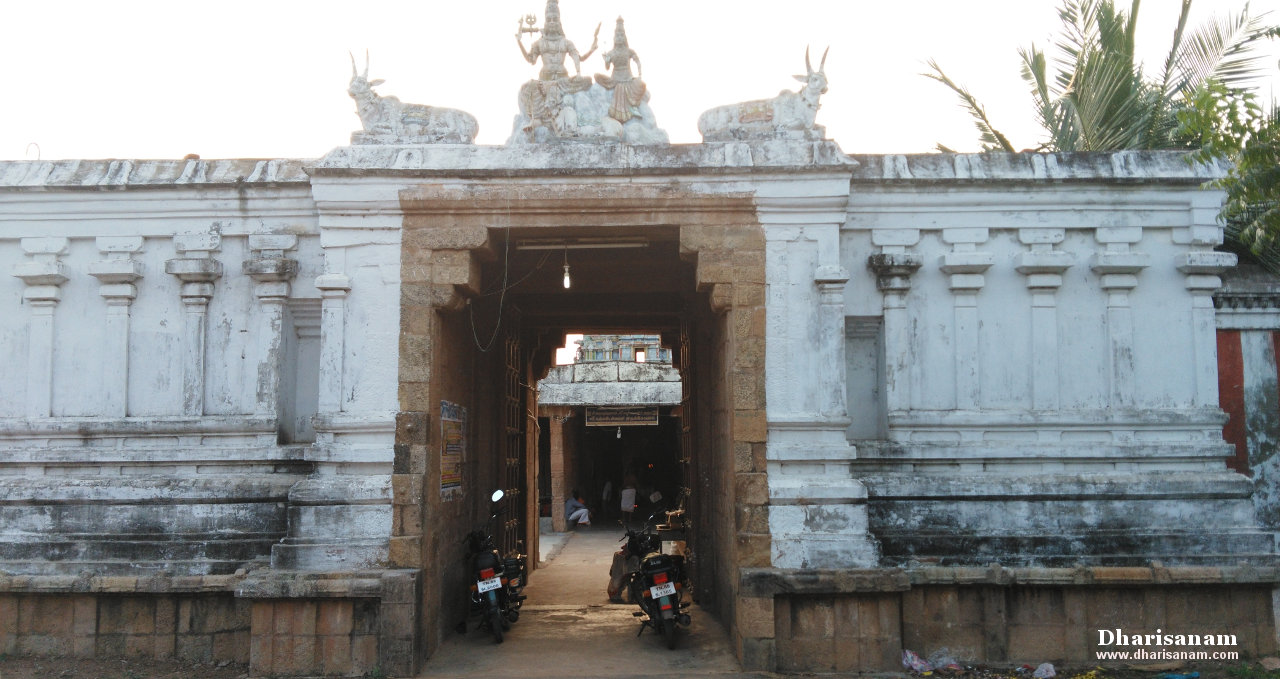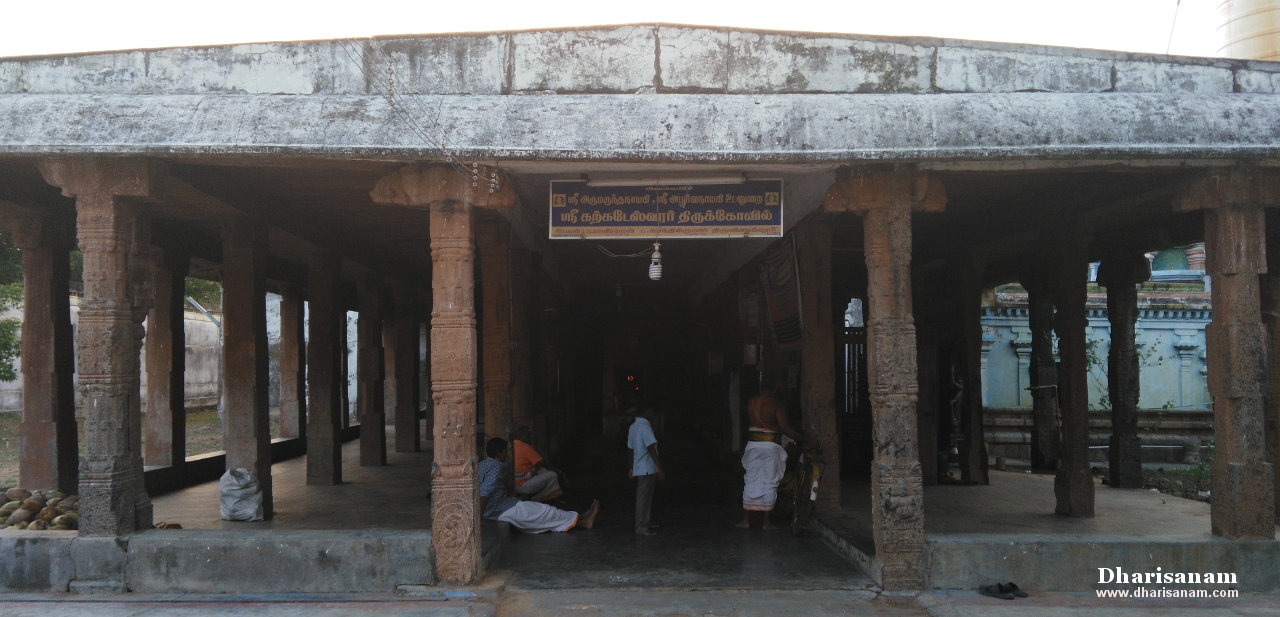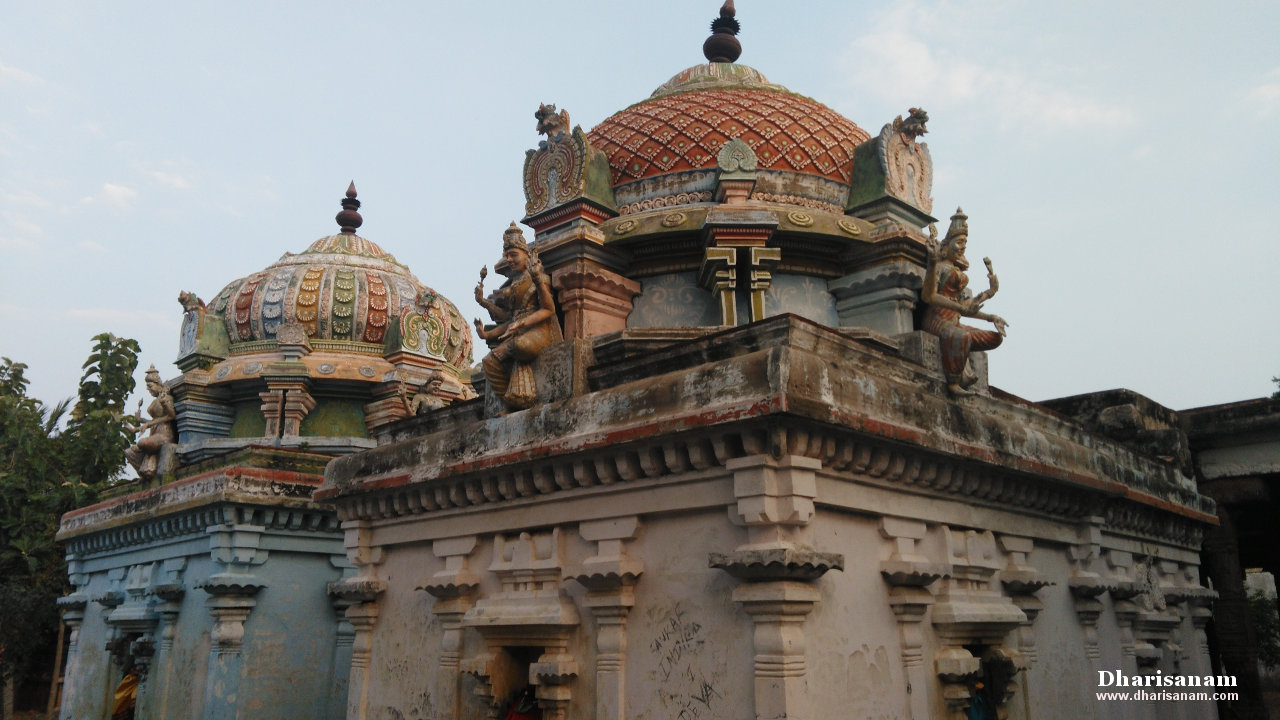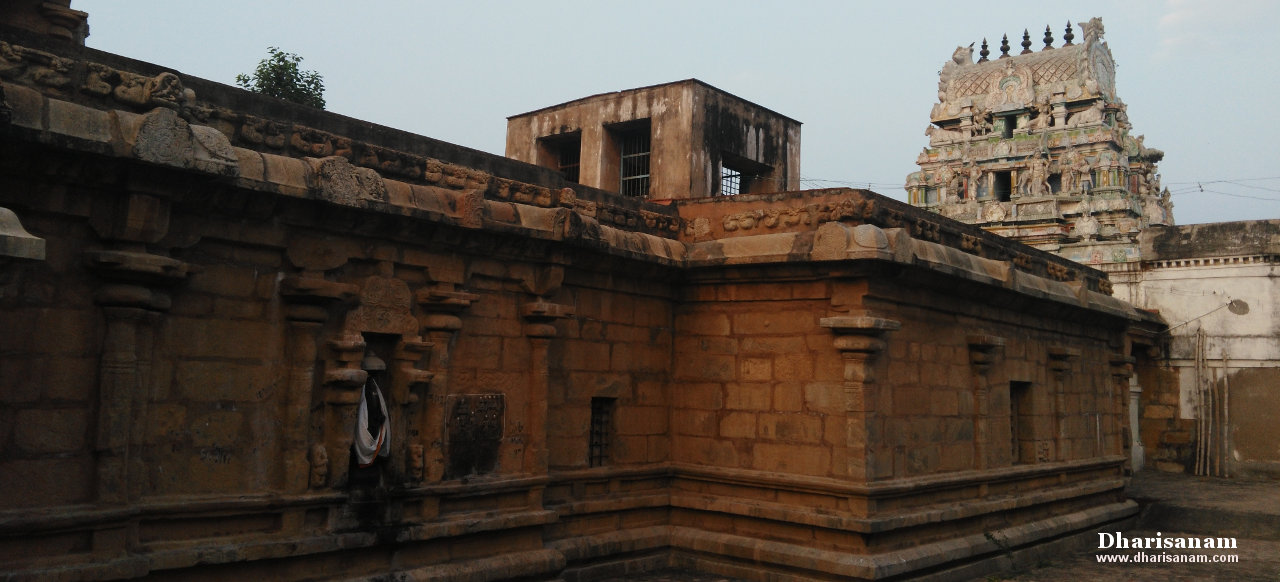 ---
Pathigam (Hymn) with English transliteration
Saint Thirugnanasambanthar visited this temple and sang this Pathigam.
Devotees visiting this temple should make it a practice to recite this Pathigam.
மருந்துவேண் டில்லிவை மந்திரங் கள்ளிவை
புரிந்துகேட் கப்படும் புண்ணியங் கள்ளிவை
திருந்துதே வன்குடித் தேவர்தே வெய்திய
அருந்தவத் தோர்தொழும் அடிகள்வே டங்களே.
"Marunthuvēṇ ṭillivai manthiraṅ kaḷḷivai
purinthukēṭ kappaṭum puṇṇiyaṅ kaḷḷivai
thirunthuthē vaṉkuṭith thēvarthē veythiya
arunthavath thōrthozhum aṭikaḷvē ṭaṅkaḷē".
வீதிபோக் காவன வினையைவீட் டுவ்வன
ஓதியோர்க் ககப்படாப் பொருளையோ விப்பன
தீதில்தே வன்குடித் தேவர்தே வெய்திய
ஆதியந் தம்மிலா அடிகள்வே டங்களே.
"Vīthipōk kāvaṉa viṉaiyaivīṭ ṭuvvaṉa
ōthiyōrk kakappaṭāp poruḷaiyō vippaṉa
thīthilthē vaṉkuṭith thēvarthē veythiya
āthiyan tham'milā aṭikaḷvē ṭaṅkaḷē".
மானமாக் குவ்வன மாசுநீக் குவ்வன
வானையுள் கச்செலும் வழிகள்காட் டுவ்வன
தேனும்வண் டும்மிசை பாடுந்தே வன்குடி
ஆனஞ்சா டும்முடி யடிகள்வே டங்களே.
"Māṉamāk kuvvaṉa māsunīk kuvvaṉa
vāṉaiyuḷ kachchelum vazhikaḷkāṭ ṭuvvaṉa
thēṉumvaṇ ṭum'misai pāṭunthē vaṉkuṭi
āṉañchā ṭum'muṭi yaṭikaḷvē ṭaṅkaḷē".
செவிகளார் விப்பன சிந்தையுட் சேர்வன
கவிகள்பா டுவ்வன கண்குளிர் விப்பன
புவிகள்பொங் கப்புனல் பாயுந்தே வன்குடி
அவிகளுய்க் கப்படும் அடிகள்வே டங்களே.
"Sevikaḷār vippaṉa sinthaiyuṭ sērvaṉa
kavikaḷpā ṭuvvaṉa kaṇkuḷir vippaṉa
puvikaḷpoṅ kappuṉal pāyunthē vaṉkuṭi
avikaḷuyk kappaṭum aṭikaḷvē ṭaṅkaḷē".
விண்ணுலா வுந்நெறி வீடுகாட் டுந்நெறி
மண்ணுலா வுந்நெறி மயக்கந்தீர்க் குந்நெறி
தெண்ணிலா வெண்மதி தீண்டுதே வன்குடி
அண்ணலான் ஏறுடை யடிகள்வே டங்களே.
"Viṇṇulā vunneṟi vīṭukāṭ ṭunneṟi
maṇṇulā vunneṟi mayakkanthīrk kunneṟi
theṇṇilā veṇmathi thīṇṭuthē vaṉkuṭi
aṇṇalāṉ ēṟuṭai yaṭikaḷvē ṭaṅkaḷē".
பங்கமென் னப்படர் பழிகளென் னப்படா
புங்கமென் னப்படர் புகழ்களென் னப்படுந்
திங்கள்தோ யும்பொழில் தீண்டுதே வன்குடி
அங்கமா றுஞ்சொன்ன அடிகள்வே டங்களே.
"Paṅkameṉ ṉappaṭar pazhikaḷeṉ ṉappaṭā
puṅkameṉ ṉappaṭar pukazhkaḷeṉ ṉappaṭun
thiṅkaḷthō yumpozhil thīṇṭuthē vaṉkuṭi
aṅkamā ṟuñchoṉṉa aṭikaḷvē ṭaṅkaḷē".
கரைதலொன் றும்மிலை கருதவல் லார்தமக்
குரையிலூ னம்மிலை உலகினின் மன்னுவர்
திரைகள்பொங் கப்புனல் பாயுந்தே வன்குடி
அரையில்வெண் கோவணத் தடிகள்வே டங்களே.
"Karaithaloṉ ṟum'milai karuthaval lārthamak
kuraiyilū ṉam'milai ulakiṉiṉ maṉṉuvar
thiraikaḷpoṅ kappuṉal pāyunthē vaṉkuṭi
araiyilveṇ kōvaṇath thaṭikaḷvē ṭaṅkaḷē".
உலகமுட் குந்திறல் லுடையரக் கன்வலி
விலகுபூ தக்கணம் வெருட்டும்வே டத்தின
திலகமா ரும்பொழில் சூழ்ந்ததே வன்குடி
அலர்தயங் கும்முடி யடிகள்வே டங்களே.
"Ulakamuṭ kunthiṟal luṭaiyarak kaṉvali
vilakupū thakkaṇam veruṭṭumvē ṭaththiṉa
thilakamā rumpozhil chūzhnthathē vaṉkuṭi
alarthayaṅ kum'muṭi yaṭikaḷvē ṭaṅkaḷē".
துளக்கமில் லாதன தூயதோற் றத்தன
விளக்கமாக் குவ்வன வெறிவண்டா ரும்பொழில்
திளைக்குந்தே வன்குடித் திசைமுக னோடுமால்
அளக்கவொண் ணாவண்ணத் தடிகள்வே டங்களே.
"Thuḷakkamil lāthaṉa thūyathōt ṟaththaṉa
viḷakkamāk kuvvaṉa veṟivaṇṭā rumpozhil
thiḷaikkunthē vaṉkuṭith thisaimuka ṉōṭumāl
aḷakkavoṇ ṇāvaṇṇath thaṭikaḷvē ṭaṅkaḷē".
செருமரு தண்துவர்த் தேரமண் ஆதர்கள்
உருமரு வப்படாத் தொழும்பர்தம் உரைகொளேல்
திருமரு வும்பொய்கை சூழ்ந்ததே வன்குடி
அருமருந் தாவன அடிகள்வே டங்களே.
"Serumaru thaṇthuvarth thēramaṇ ātharkaḷ
urumaru vappaṭāth thozhumpartham uraikoḷēl
thirumaru vumpoykai chūzhnthathē vaṉkuṭi
arumarun thāvaṉa aṭikaḷvē ṭaṅkaḷē".
சேடர்தே வன்குடித் தேவர்தே வன்றனை
மாடமோங் கும்பொழில் மல்குதண் காழியான்
நாடவல் லதமிழ் ஞானசம் பந்தன
பாடல்பத் தும்வல்லார்க் கில்லையாம் பாவமே.
"Sēṭarthē vaṉkuṭith thēvarthē vaṉtṟaṉai
māṭamōṅ kumpozhil malkuthaṇ kāzhiyāṉ
nāṭaval lathamizh gñāṉasam banthaṉa
pāṭalpath thumvallārk killaiyām pāvamē".