Visited on: December 15, 2017.
Location
Thiruvalanchuzhi is situated at a distance of about 7 kms from Kumbakonam on the Kumbakonam to Tanjore route (via Papanasam). Nearest railway station is Swamimalai which is about a kilometre away.

Other Devara Paadal Petra Shiva Sthalams near this place are – Patteeswaram, Sakthimutram, Pazhayarai Vadathali, Kottaiyur, Innambur, Thiruppurambiam, Thiruvaikavur, Thiruvisayamangai and Kumbakonam (3 temples – Kudamukku, Keezhkkottam and Karonam).
General Information
| | |
| --- | --- |
| Moolavar | Sri Kapartheeswarar, Sri Karpaganatheswarar, Sri Senchatai Nathar, Sri Valanchuzhi Nathar |
| Ambal | Sri Mangalanayagi, Sri Brahannayaki, Sri Periyanakai Amman |
| Theertham (Holy water) | River Cauvery, Arasalaru and Jada Theertham |
| Sthala Vriksham (Sacred Tree) | Vilvam tree |
| Pathigam (Hymn) rendered by | Saint Thirugnanasambanthar-3 and Saint Thirunavukarasar (Appar)-3 |
This is one of the 276 Devara Paadal Petra Shiva Sthalams and 25th Shiva Sthalam on the Southern bank of the river Cauveri in Chozha Nadu (Thenkarai).
Lord Shiva in this temple is a Swayambumurthi (self-manifested).
This temple is popularly known as "Vellai Pillayar" (White Vinayakar) temple.
This east facing temple has three corridors and its main tower (Rajagopuram) has 5-tiers.
The last consecration ceremony (Kumbabishekam) took place on 25.03.1981 and prior to that on 27.08.1971.
History of the Temple
This ancient temple is very huge and is housed in a sprawling 7.25 acre of land with 5 large halls (mandapams).
The historical names of this place are Shakti Vanam, Thirunaavartham and Dakshinaavartham.
This is one of the "Pancha krosha sthalams". The others being Thirunallur, Patteswaram, Keezha Pazhayarai and Avoor. It is considered very auspicious to worship all these 5 temples in a single day during "Dakshinayanam".
There are certain stone inscriptions in this temple which date back to the periods of Chola kings Thiribhuvana Chakravarthy, Rajathirajan, Rajakesari Varman, Parakesari Varman, Vikraman and Rajendra Cholan.
This temple is under the administrative control of the Hindu Religious and Charitable Endowments Department of Government of Tamil Nadu (HR&CE).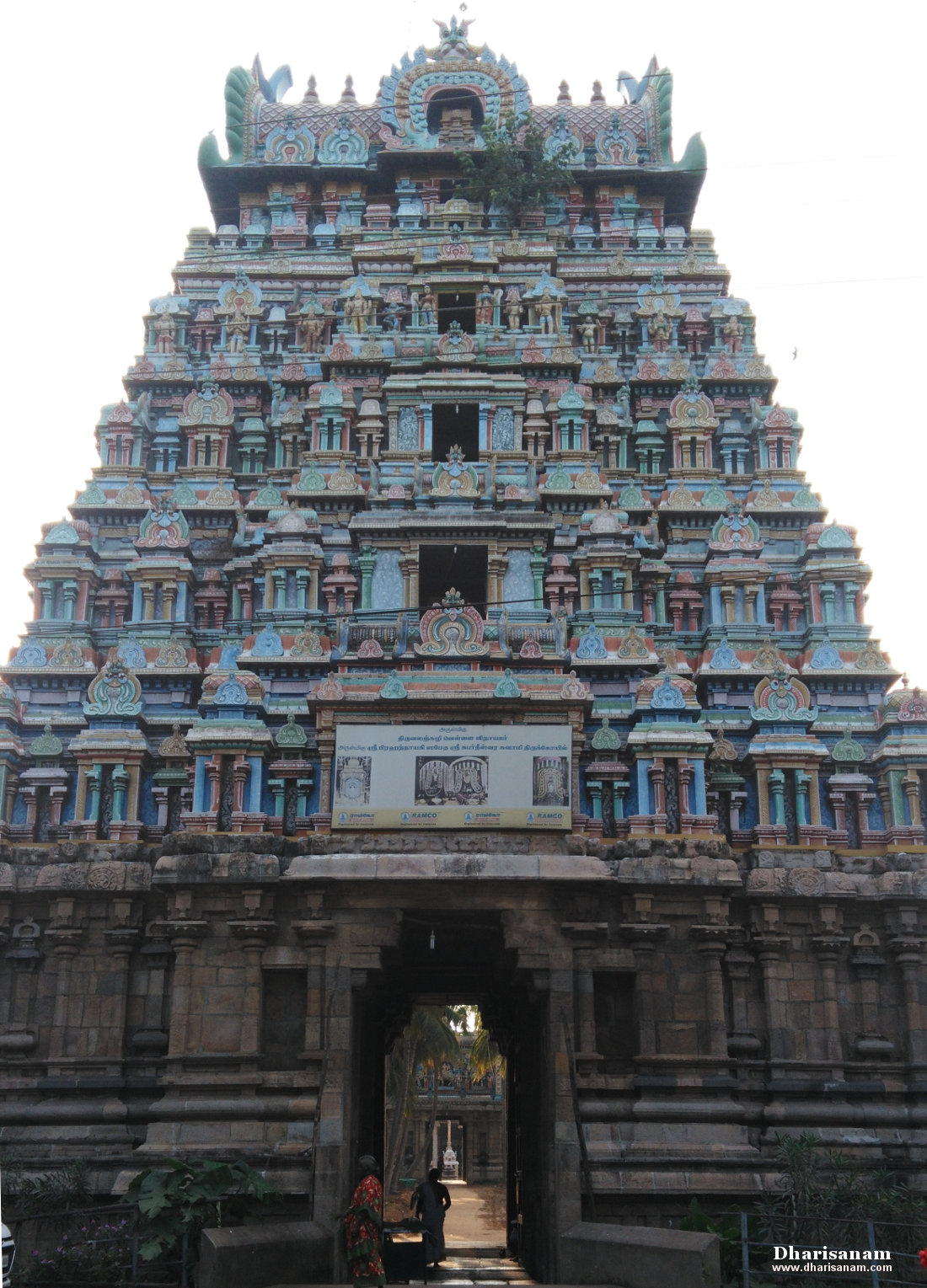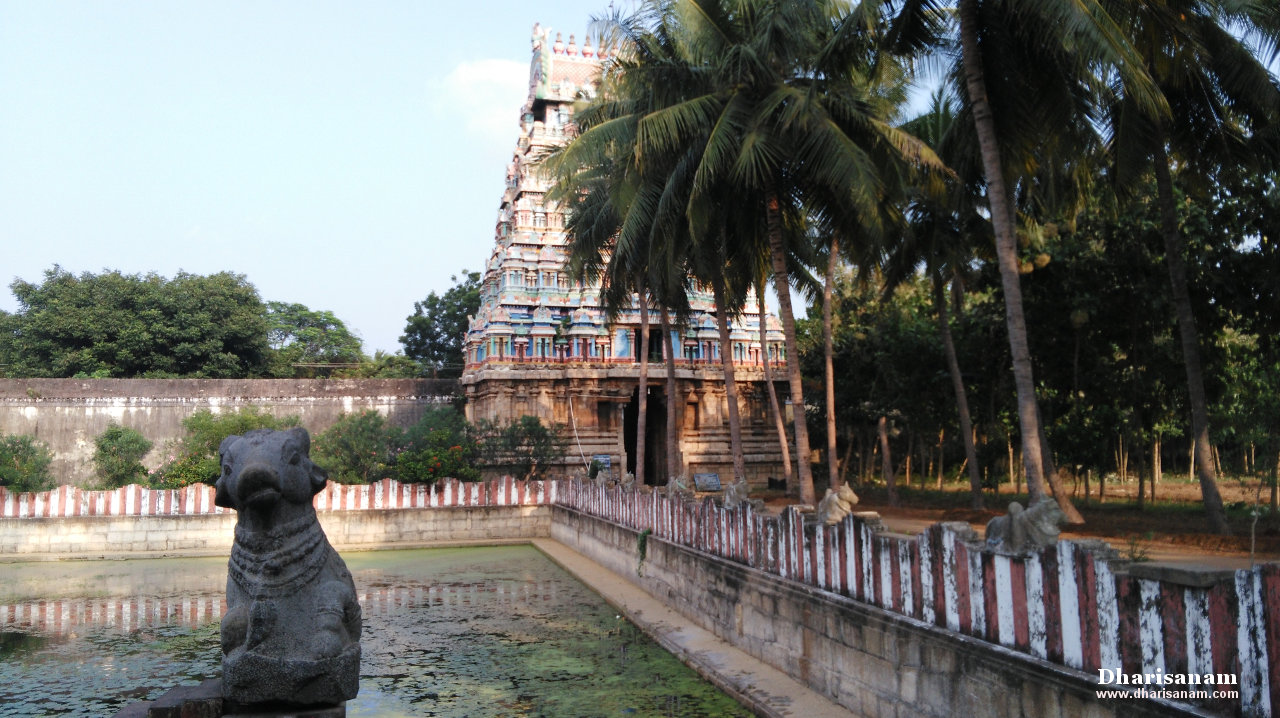 Legend
According to legend, the celestial gods (Devas) had created an idol of Lord Vinayakar out of the ocean foam to worship during the churning of Thirupparkadal for extracting nectar (Amritam). Indra, the king of Devas is believed to have had this idol in his possession. During his pilgrimage to this place, he placed this idol on the ground before proceeding to worship Lord Shiva. However, when he tried to take it back, he was unable to move it as it got rooted in the earth. Lord Indra decided to build a temple for the Vinayakar here itself. It is believed that even now he visits this temple to worship this Vinayakar on every Vinayaka Chaturthy day.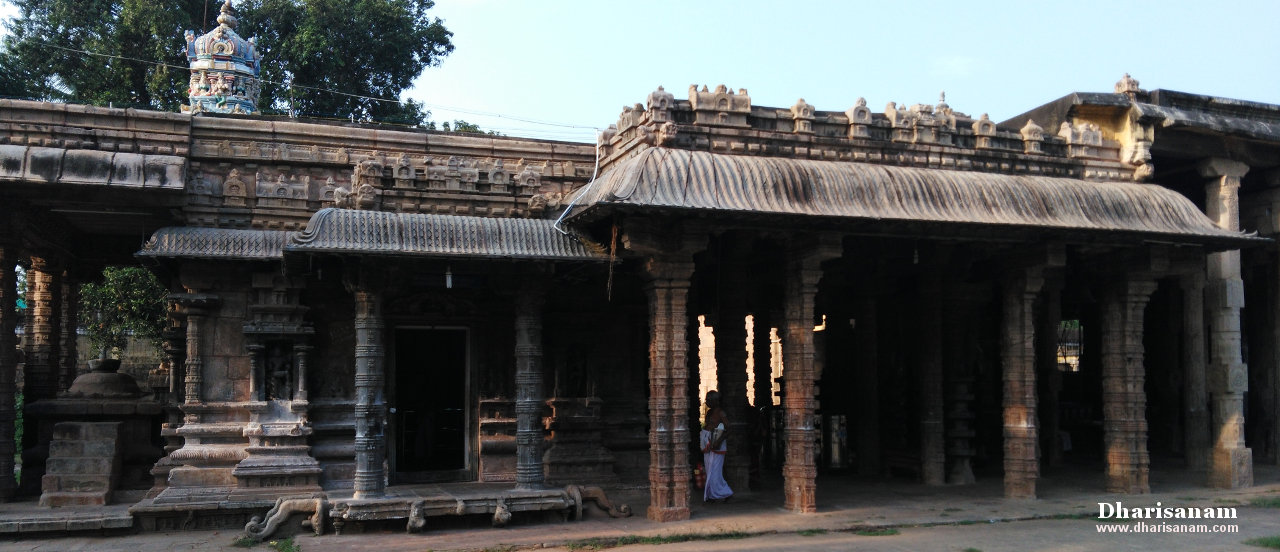 Since the Vinayakar is made out of foam, no abhishekam is performed but punugu (civet) is often applied. Also, raw camphor ("Pachai Karpuram") powder is sprinkled on the idol without directly touching the idol. For this reason, this Vinayakar is considered a "Theendath Thirumeni" (untouched by human hands).
This Vinayakar is praised as Sri Valamchuzhi Vinayakar, Sri Swetha Vinayakar, Vellai Pillayaar and Sri Nuraippillaiyaar ("nurai" meaning foam in Tamil). Since this Vinayakar's trunk is turned towards the right side ("valappakkam") against the usual left side ("idappakkam"), he is also praised as Sri Valamchuzhi Vinayakar and this place gets the name Thiru Valamchuzi.
Another legend associated with this place is that of Heranda (Athreyar) Maharishi. Once, Aadhiseshan came out from the "Padhala logam" (underworld) on a Shivarathri day here to worship Lord Shiva. A huge hole ("phila dhwaram") formed at the place where Aadhisheshan came out. River Cauvery was flowing through this place after making a circumambulation ("valam varuthal") of this Shiva temple. It is believed that she entered the hole created by Aadhisheshan and fell into the underworld.
The Chola king who ruled from Kumbakonam, Harithuvajan got worried about this and prayed to Lord Shiva. It is believed that at this point the lord's divine voice was heard saying that a king or a sage has to sacrifice his life by entering into the hole so that the river can come back to earth. The king also sought the advice of Sage Heranda Maharishi who was performing penance in a place called Kottaiyur. The sage confirmed what the divine voice had said. When the king decided to get into the hole for the welfare of the people, the sage stopped him and he himself entered into the hole and brought Cauvery back to earth. The place where the river came back to earth is called "Mela Cauvery". It is near Kumbakonam. Although he entered into the underworld in this place, it is believed that he came back to the earth in Thiruvalampuram (Mela Perumpallam). He worshiped the lord there for some time and attained salvation.
Since river Cauvery was flowing through this place but suddenly changed its direction, this place gets the name "Thiru Valam Chuzhi".
It is believed that Goddess Parvathy, Lord Mahavishnu, Lord Brahma, Lord Indra, Adhisheshan and Heranda Maharishi have worshiped Lord Shiva here.
Deities in the temple
Other than the shrines of Lord Shiva and Goddess Parvathy, shrines and idols of Vinayakar, Murugan, Natarajar, Somaskandar, Mahavishnu, Gajalakshmi, Sri Thapas Nachiyar, Brahma lingam, Suryan, Chandran, Viswanathar with Visalakshi along with few Nagars, Irattai Vinayakar and Durgai with Saptamadas can be seen in the corridors.
In the "koshtam" (place surrounding the sanctum sanctorum), idols of Narthana Vinayakar, Natarajar, Pitchandavar, Dakshinamurthy, Lingothbavar, Brahma, Arthanaareeswarar, Durgai and Chandikeswarar can be seen.
Goddess Brahannayaki (Periyanayaki) graces from a separate temple that is located towards the right side of Lord Shiva's shrine.
There are separate shrines for Ashtapuja Mahakaali, Saneeswarar, Heranda Maharishi, and Bairavar.
Shrine of Jada Theertha Vinayakar is on the bank of the Jada Theertham (tank),
It is believed that many sages and Devas attended a yagna conducted here by Dhurvasa Maharishi. Each one of the attendees had installed a Shivalingam here. There are about 22 such Shivalingams placed in a row in the names of the various sages. Other than these Shivalingams, there are many other lingams placed in a row. All of these can be seen in the outer corridor.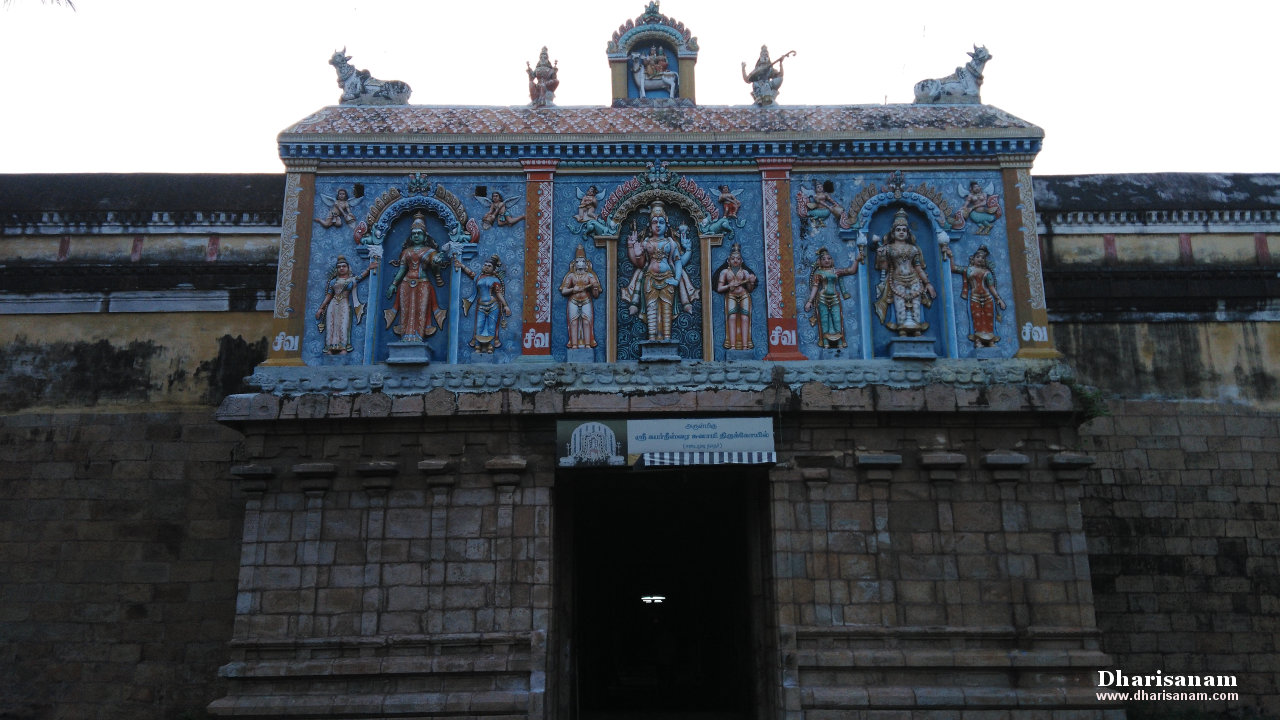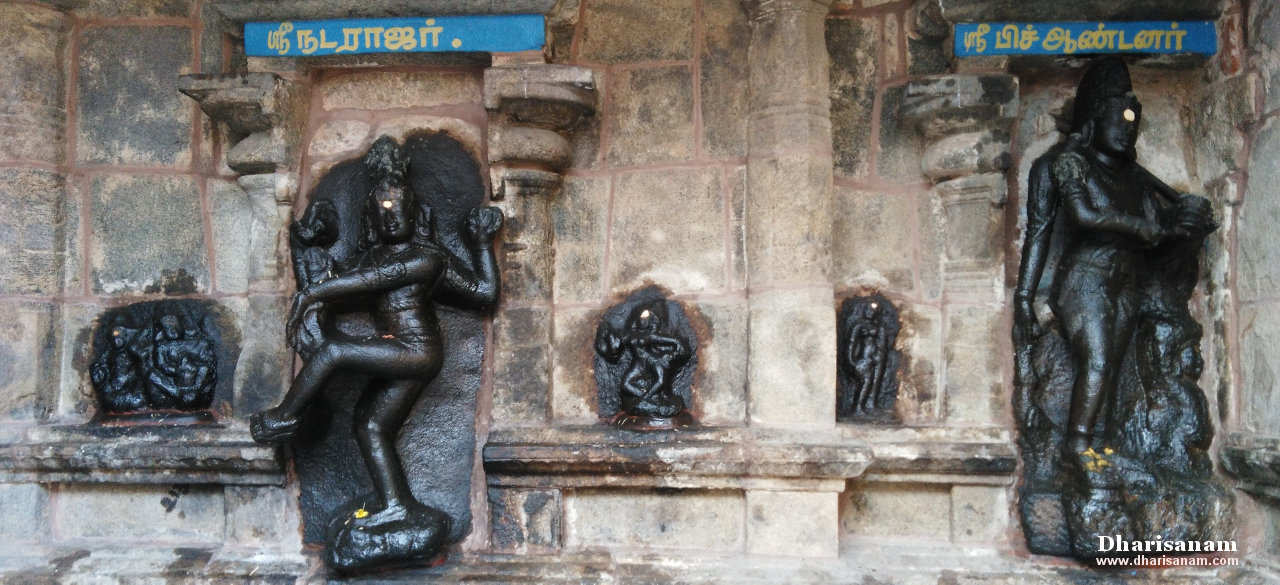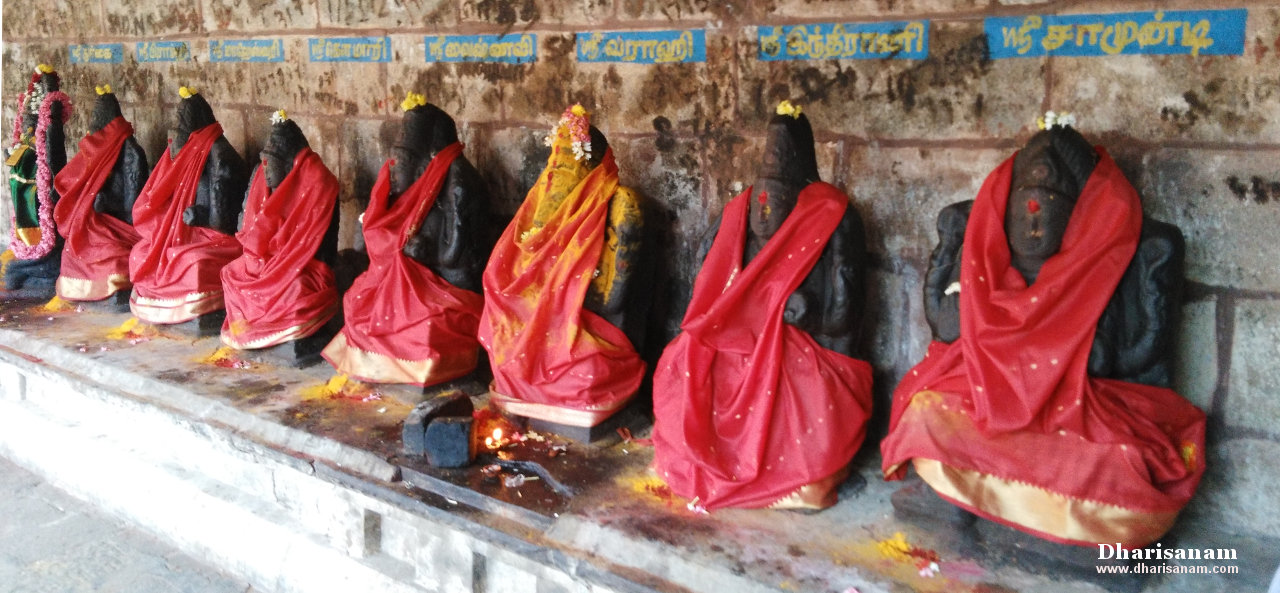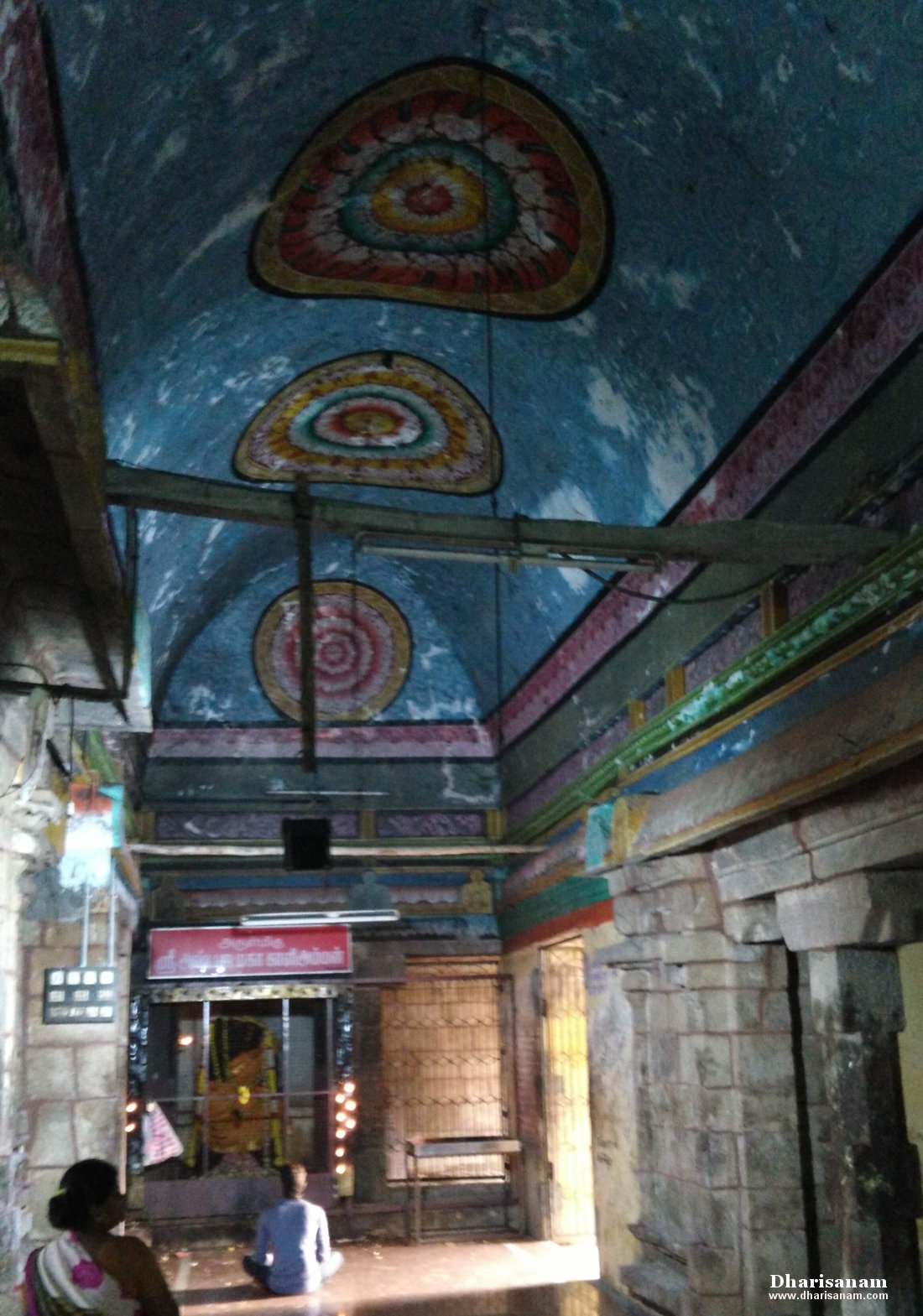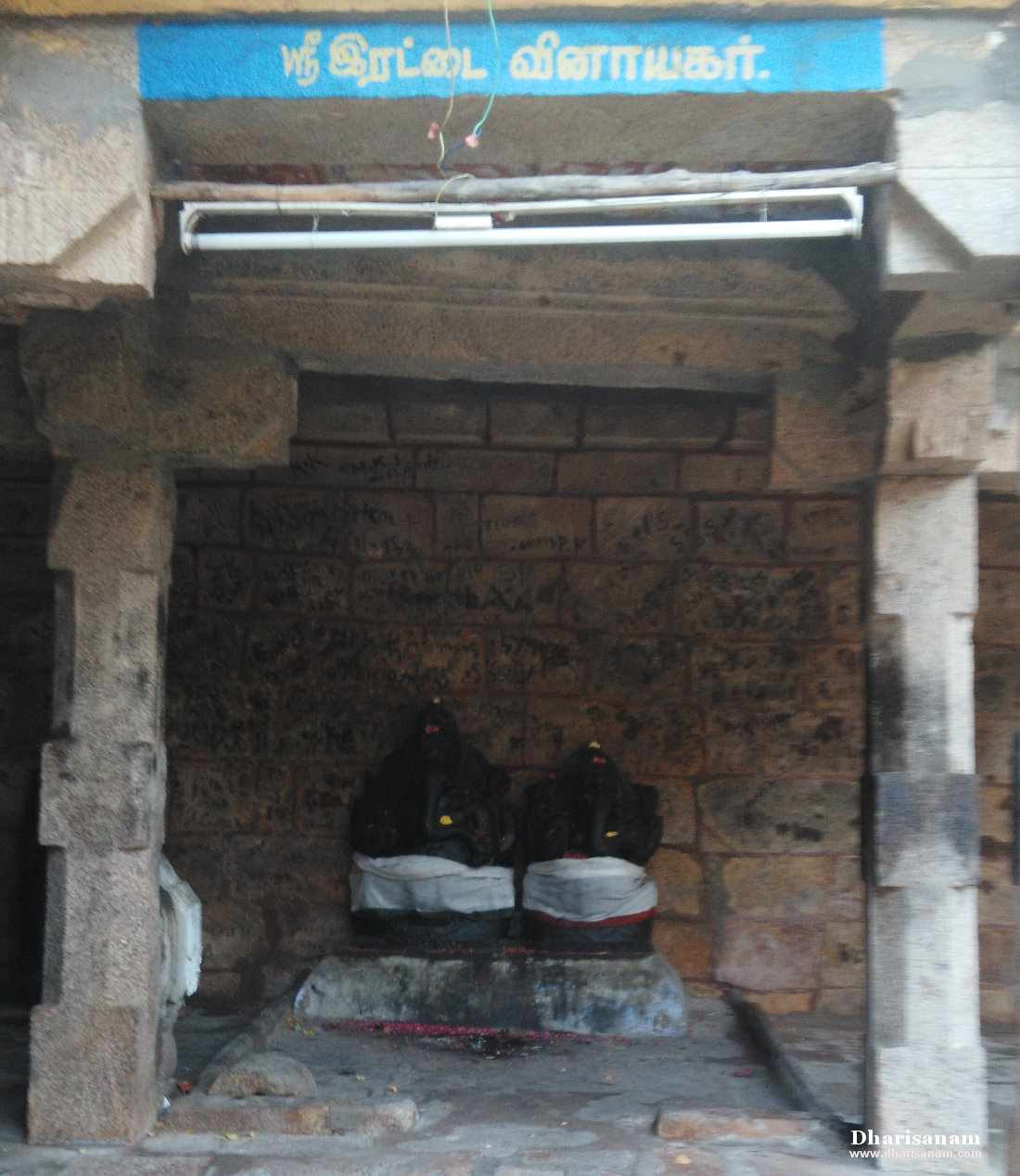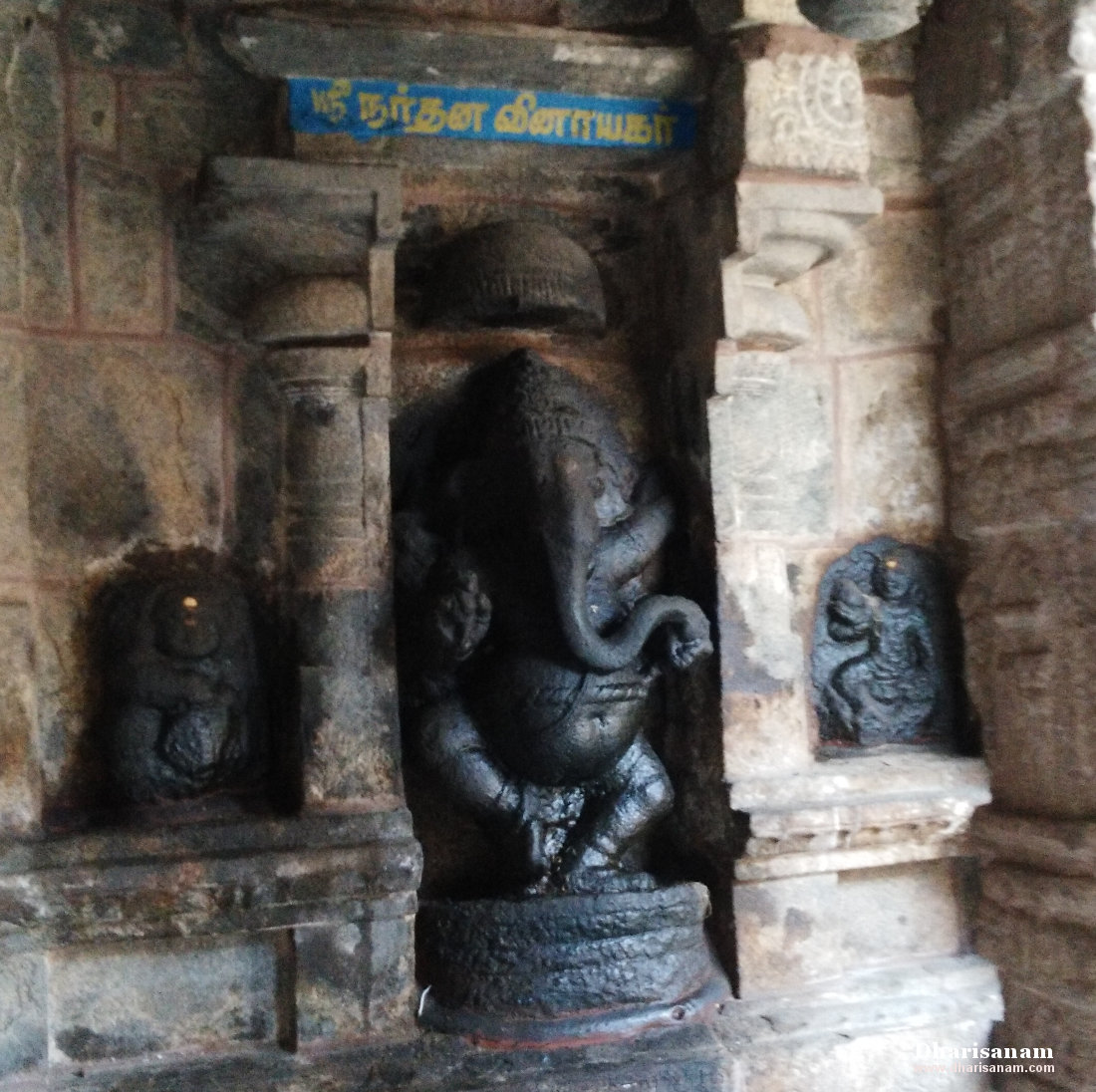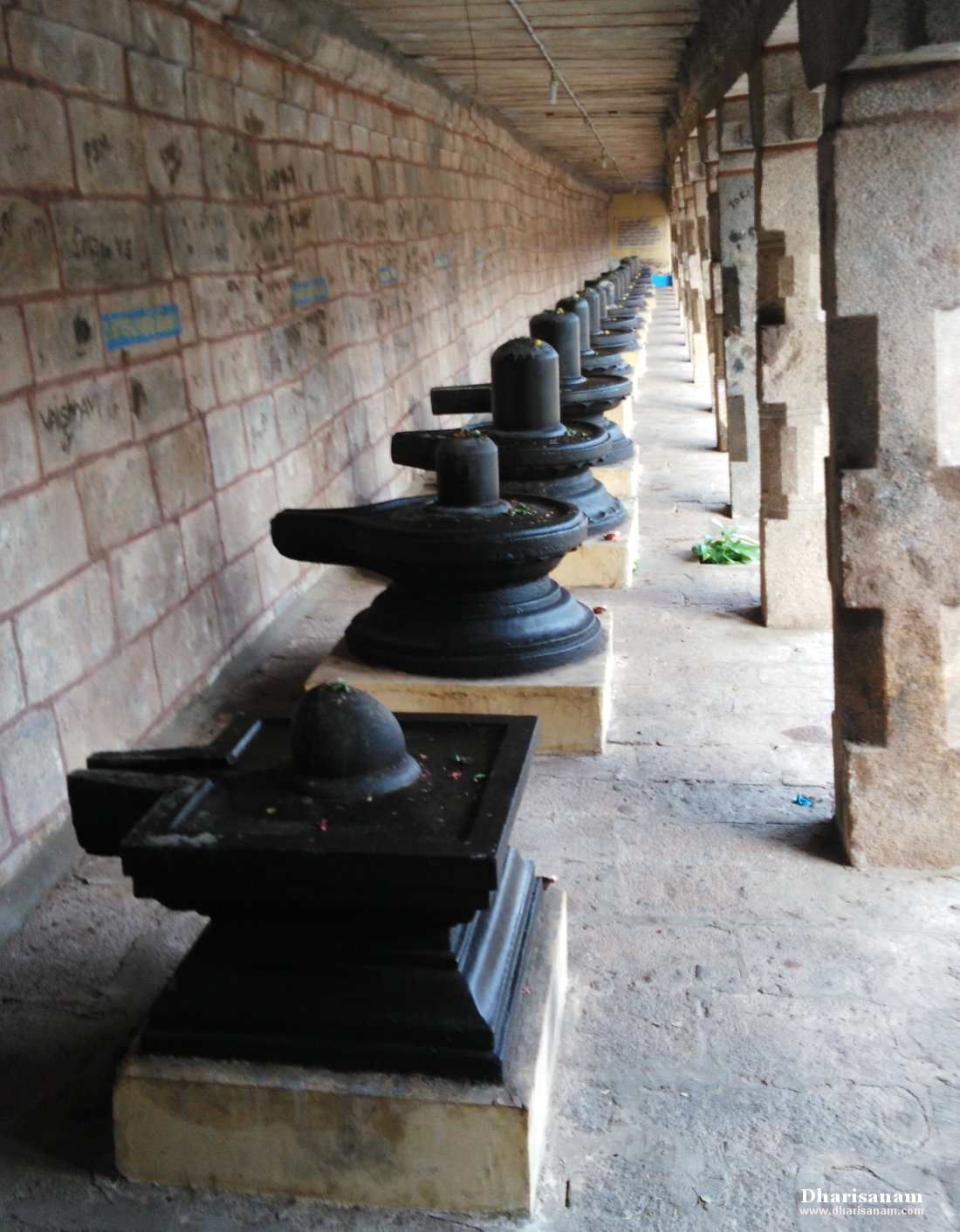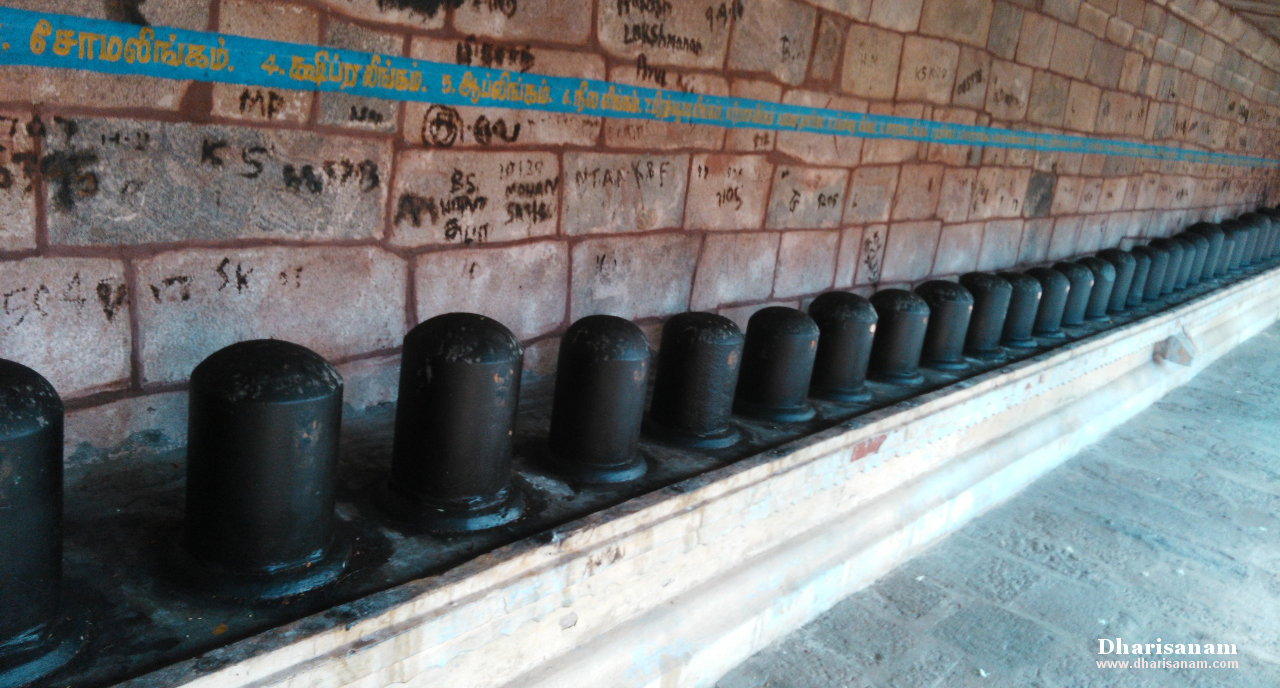 Salient Features
In this temple, the shrines of both Lord Shiva and Goddess Parvathy are facing the east direction. Goddess Parvathy's shrine is on the right side of Lord Shiva's shrine. This is considered to symbolise their wedding posture.
In his hymn, Saint Thirugnanasambanthar mentions that one must have performed many good deeds before getting the opportunity to visit this temple and worship Lord Shiva here.
Aadhiseshan is believed to have worshiped Lord Shiva on a Maha Shivrathri day at four different places – Kudanthai Nageswarar temple, Thiru Nageswaram, Thiru Pampuram and Thiru Nagaikkaronam.
The front hall (mandapam) housing the Vellai Vinayakar is believed to have been created by Lord Indra. It is filled with many artistic pillars with intricate carvings. Three 6-feet high stone lamps and a huge grilled window made from a single stone are placed in front of this Vinayakar. These are some of the unique features of this temple.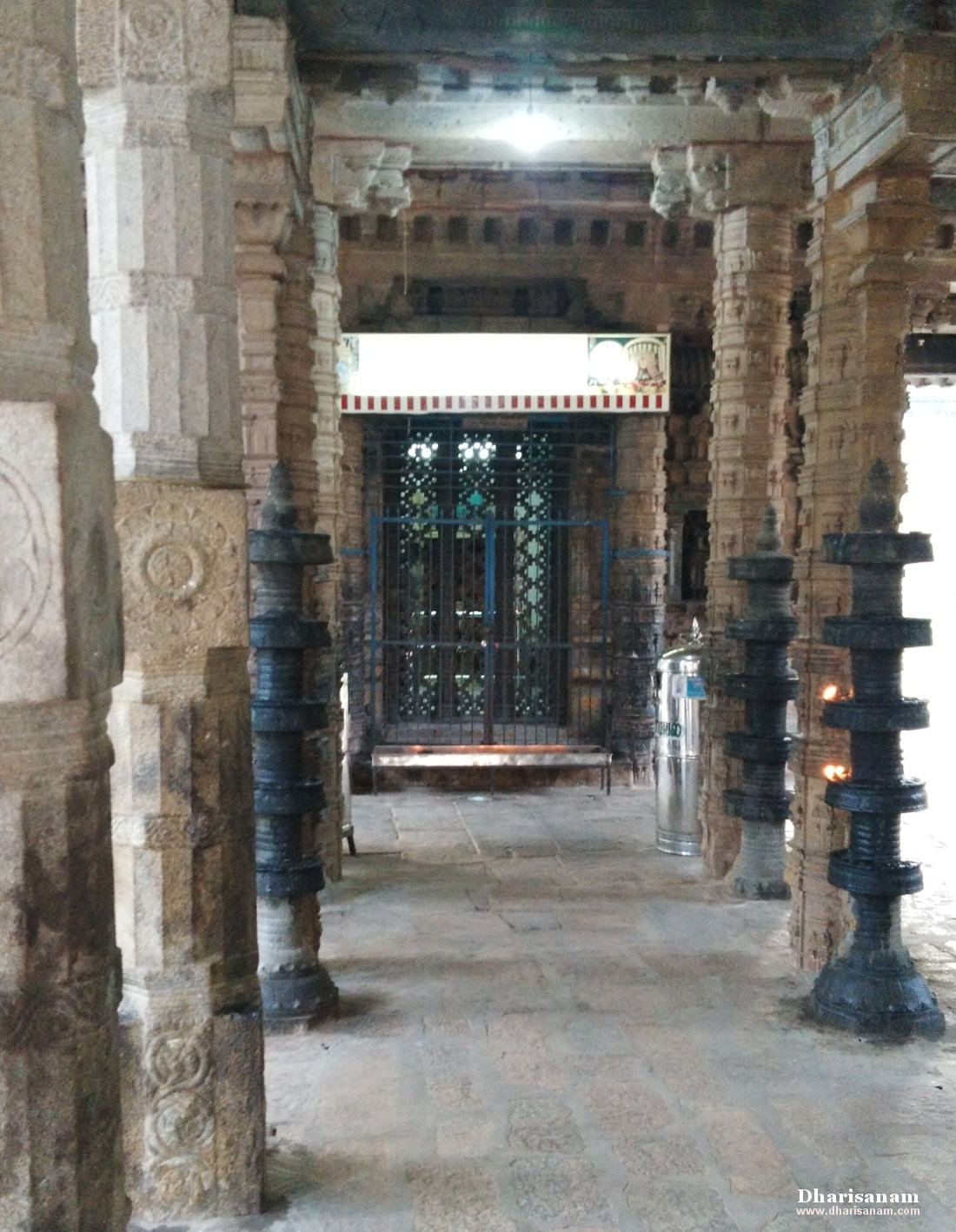 This temple is known more for the Vinayakar than the main deity.
There are two shrines of Lord Murugan here. In one shrine, Lord Murugan is depicted with six faces, 12 hands, seated on his peacock mount and is with his consorts. In the second shrine, he is praised as Lord Subramanyar and is depicted in his human form.
Saint Arunagirinadhar has sang songs in praise of Lord Murugan of this temple in his revered Thirupugazh.
The sanctum sanctorum is in the form of semi-circular tank (akazhi in Tamil).
The sculptures depicting the cosmic dance of Lord Shiva and the images of celestial nymphs display exquisite craftsmanship. These were created under the patronage of Nayakkars.
As per the "Maruthavana Puraanam", Sri Mahalingaswamy temple at Thiruvidaimaruthur has 9 other temples associated ("Parivaara sthalams") with it. Thiruvalanchuzhi is one of them and is considered to represent Lord Vinayakar. These 9 temples along with the deities that they represent are –
Thiruvalanchuzhi – Vinayakar,
Swamimalai – Murugan,
Aalangudi – Dakshinamurthy,
Thiruvavaduthurai – Nandhi,
Suriyanarkoil – Navagraham,
Seinganur – Chandikeswarar,
Chidambaram – Natarajar,
Sirkazhi – Bairavar, and
Thiruvarur – Somaskandar.
Greatness of this temple
Devotees believe that by worshiping the lord here, obstacles from their marriage proposals will be removed.
Devotees also believe that worshiping Lord Shiva here will lead to removal of sins from their previous birth.
Important Festivals
Some of the important festivals celebrated in the temple are –
Vinayakar Chaturthi in the Tamil month of Aavani (Aug-Sept),
Navarathri in the Tamil month of Purattasi (Sept-Oct),
Skanda Shashti and Annabishekam in the Tamil month of Aippasi (Oct–Nov),
Thiru Karthikai in the Tamil month of Karthikai (Nov-Dec),
Thiruvadhirai in the Tamil month of Markazhi (Dec-Jan),
Makara Sankranthi in the Tamil month of Thai (Jan-Feb), and
Shivrathri in the Tamil month of Masi (Feb-Mar).
Pradosham is also observed regularly.
Temple Timings
From 06:30 AM to 12:00 Noon and from 04:00 PM to 08:00 PM.
Temple Address
Sri Valanchuzhinathar Temple,
Thiruvalanchuzhi Post,
Swamimalai Via,
Kumbakonam Taluk,
Tanjure District,
Tamil Nadu – 612 302.
Tele: +91 435 - 245 4421 and 245 4026.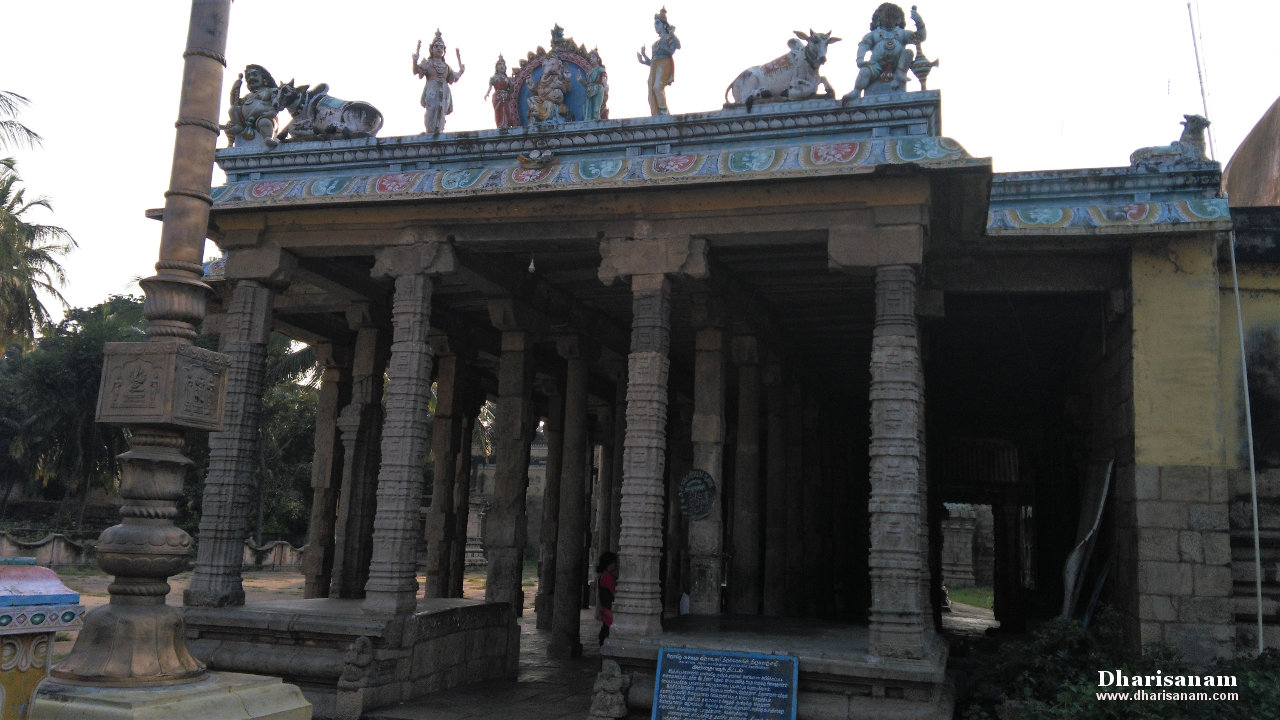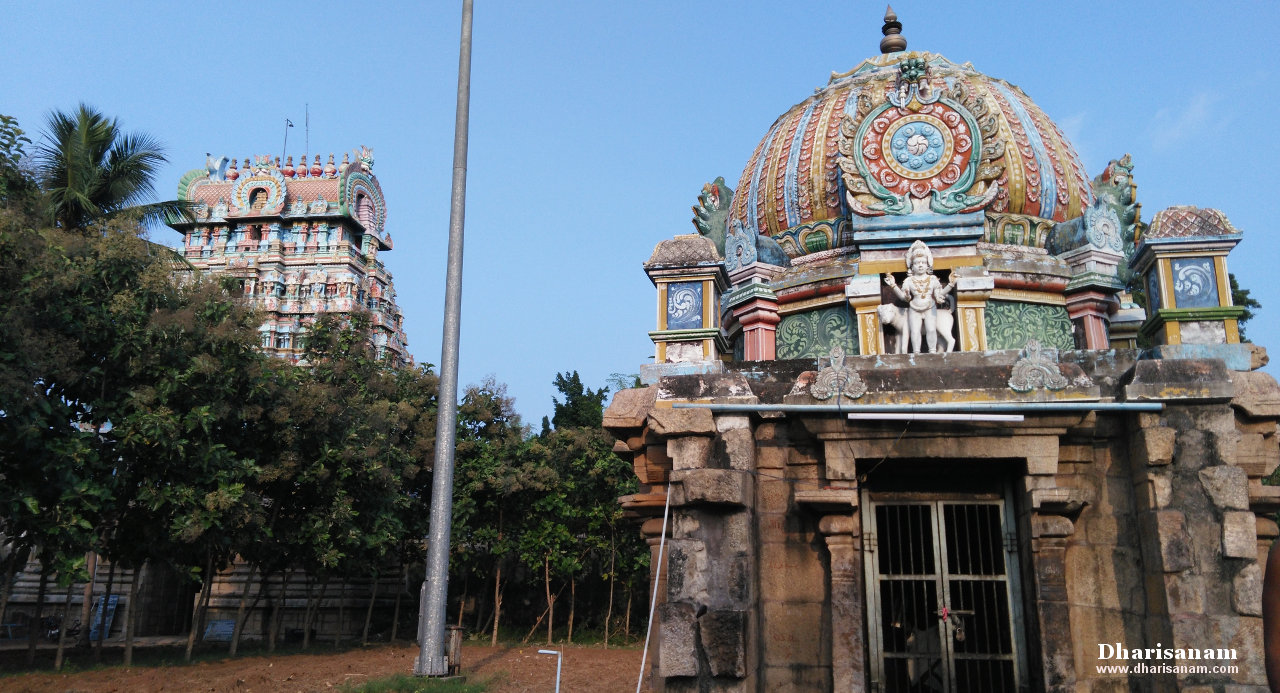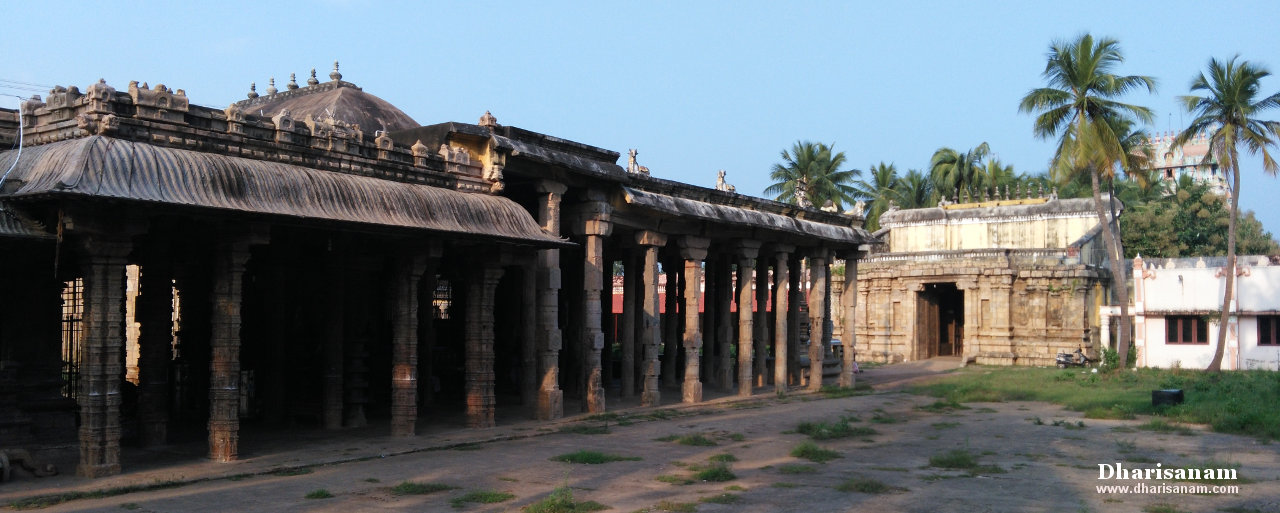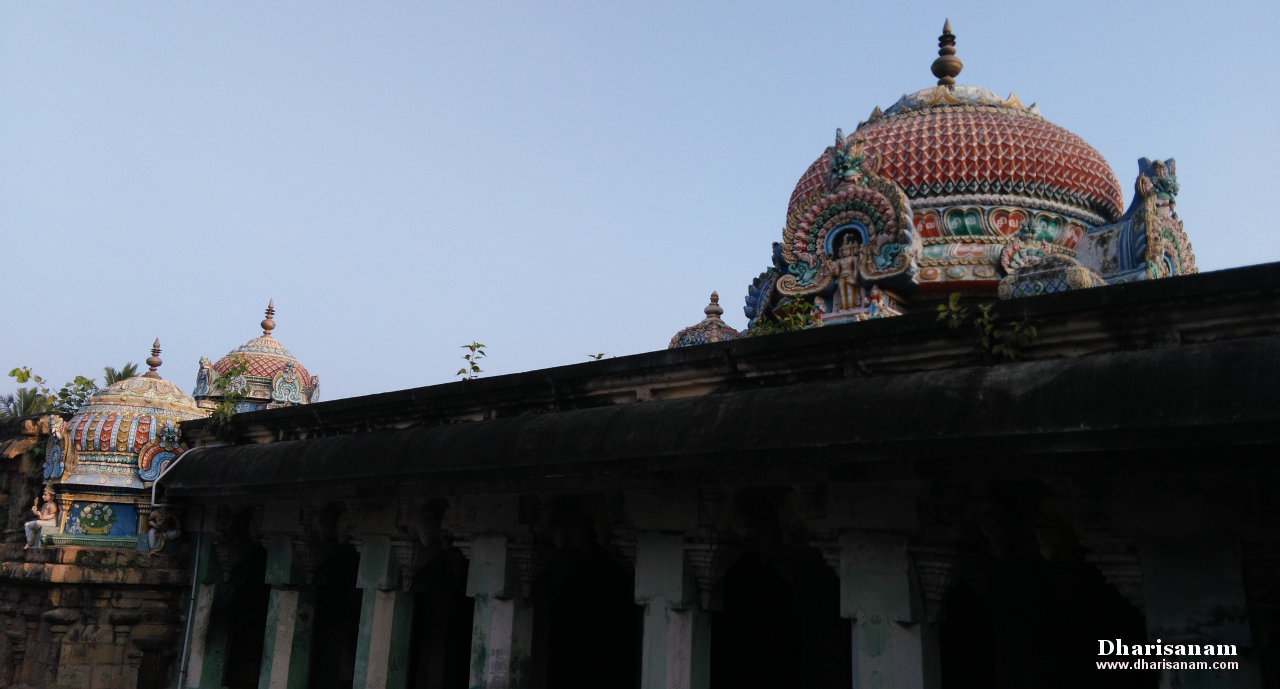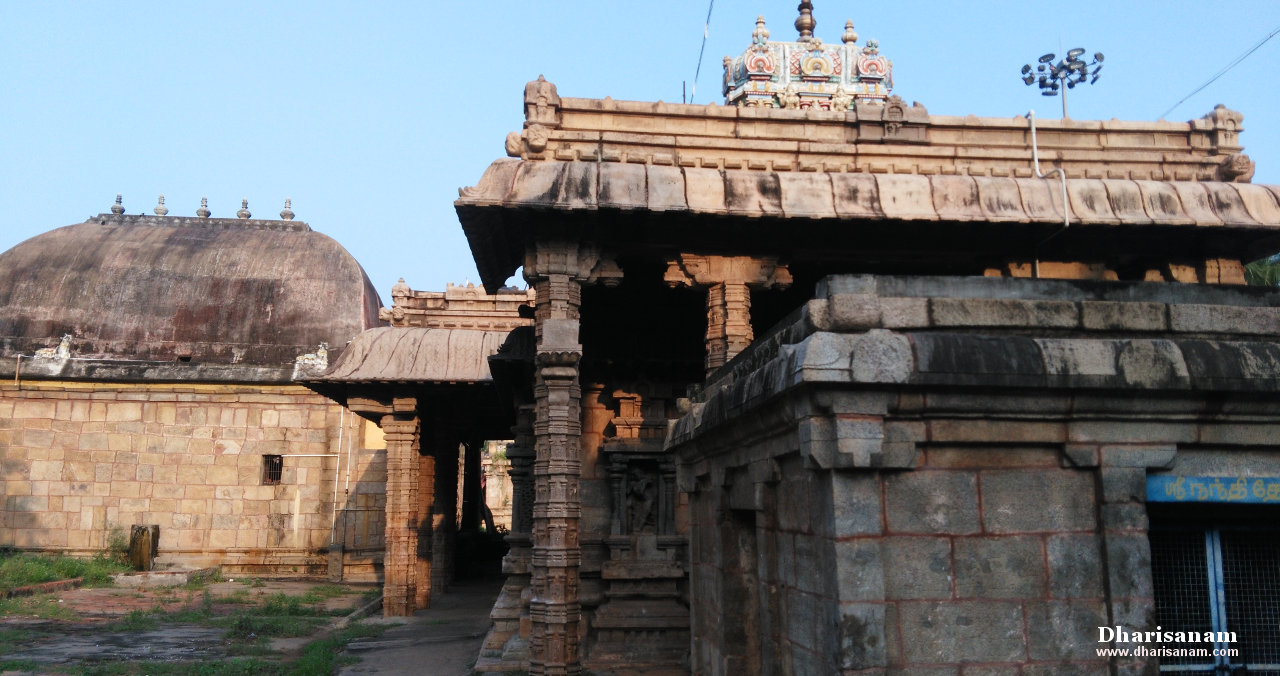 ---
Pathigam (Hymn) with English transliteration
Saint Thirugnanasambanthar visited this temple and sang this Pathigam.
Devotees visiting this temple should make it a practice to recite this Pathigam.
விண்டெ லாமலரவ் விரை நாறுதண் டேன்விம்மி
வண்டெ லாம்நசை யாலிசை பாடும் வலஞ்சுழித்
தொண்டெ லாம்பர வுஞ்சுடர் போலொளி யீர்சொலீர்
பண்டெ லாம்பலி தேர்ந்தொலி பாடல் பயின்றதே.
"Viṇṭe lāmalarav virai nāṟuthaṇ ṭēṉvim'mi
vaṇṭe lāmnasai yālisai pāṭum valañchuzhith
thoṇṭe lāmpara vuñchuṭar pōloḷi yīrsolīr
paṇṭe lāmpali thērntholi pāṭal payiṉṟathē".
பாரல் வெண்குரு கும்பகு வாயன நாரையும்
வாரல் வெண்டிரை வாயிரை தேரும் வலஞ்சுழி
மூரல் வெண்முறு வல்நகு மொய்யொளி யீர்சொலீர்
ஊரல் வெண்டலை கொண்டுல கொக்கவு ழன்றதே.
"Pāral veṇkuru kumpaku vāyaṉa nāraiyum
vāral veṇṭirai vāyirai thērum valañchuzhi
mūral veṇmuṟu valnaku moyyoḷi yīrsolīr
ūral veṇṭalai koṇṭula kokkavu zhaṉtṟathē".
கிண்ண வண்ணமல ருங்கிளர் தாமரைத் தாதளாய்
வண்ண நுண்மணல் மேலனம் வைகும் வலஞ்சுழிச்
சுண்ண வெண்பொடிக் கொண்டுமெய் பூசவ லீர்சொலீர்
விண்ண வர்தொழ வெண்டலை யிற்பலி கொண்டதே.
"Kiṇṇa vaṇṇamala ruṅkiḷar thāmaraith thāthaḷāy
vaṇṇa nuṇmaṇal mēlaṉam vaikum valañchuzhich
chuṇṇa veṇpoṭik koṇṭumey pūsava līrsolīr
viṇṇa varthozha veṇṭalai yiṟpali koṇṭathē".
கோடெ லாம்நிறை யக்குவ ளைம்மல ருங்குழி
மாடெ லாம்மலி நீர்மண நாறும் வலஞ்சுழிச்
சேடெ லாமுடை யீர்சிறு மான்மறி யீர்சொலீர்
நாடெ லம்அறி யத்தலை யின்னற வேற்றதே.
"Kōṭe lāmniṟai yakkuva ḷaim'mala ruṅkuzhi
māṭe lām'mali nīrmaṇa nāṟum valañchuzhich
chēṭe lāmuṭai yīrsiṟu māṉmaṟi yīrsolīr
nāṭe lamaṟi yaththalai yiṉṉaṟa vētṟathē".
கொல்லை வென்றபுனத் திற்குரு மாமணி கொண்டுபோய்
வல்லை நுண்மணல் மேலனம் வைகும் வலஞ்சுழி
முல்லை வெண்முறு வல்நகையா ளொளி யீர்சொலீர்
சில்லை வெண்டலை யிற்பலி கொண்டுழல் செல்வமே.
"Kollai veṉtṟapuṉath thiṟkuru māmaṇi koṇṭupōy
vallai nuṇmaṇal mēlaṉam vaikum valañchuzhi
mullai veṇmuṟu valnakaiyā ḷoḷi yīrsolīr
sillai veṇṭalai yiṟpali koṇṭuzhal selvamē".
பூச நீர்பொழி யும்புனற் பொன்னியிற் பன்மலர்
வாச நீர்குடை வாரிடர் தீர்க்கும் வலஞ்சுழித்
தேச நீர்திரு நீர்சிறு மான்மறி யீர்சொலீர்
ஏச வெண்டலை யிற்பலி கொள்வதி லாமையே.
"Pūsa nīrpozhi yumpuṉaṟ poṉṉiyiṟ paṉmalar
vāsa nīrkuṭai vāriṭar thīrkkum valañchuzhith
thēsa nīrthiru nīrsiṟu māṉmaṟi yīrsolīr
ēsa veṇṭalai yiṟpali koḷvathi lāmaiyē".
கந்த மாமலர்ச் சந்தொடு காரகி லுந்தழீஇ
வந்த நீர்குடை வாரிடர் தீர்க்கும் வலஞ்சுழி
அந்த நீர்முதல் நீர்நடு வாமடி கேள்சொலீர்
பந்த நீர்கரு தாதுல கிற்பலி கொள்வதே.
"Kantha māmalarch chanthoṭu kāraki lunthazhī'i
vantha nīrkuṭai vāriṭar thīrkkum valañchuzhi
anta nīrmuthal nīrnaṭu vāmaṭi kēḷsolīr
pantha nīrkaru thāthula kiṟpali koḷvathē".
தேனுற் றநறு மாமலர்ச் சோலையில் வண்டினம்
வானுற் றநசை யாலிசை பாடும் வலஞ்சுழிக்
கானுற் றகளிற் றின்னுரி போர்க்கவல் லீர்சொலீர்
ஊனுற் றதலை கொண்டுல கொக்கவு ழன்றதே.
"Thēṉut ṟanaṟu māmalarch chōlaiyil vaṇṭiṉam
vāṉut ṟanasai yālisai pāṭum valañchuzhik
kāṉut ṟakaḷit ṟiṉṉuri pōrkkaval līrsolīr
ūṉut ṟathalai koṇṭula kokkavu zhaṉṟathē".
தீர்த்த நீர்வந் திழிபுனற் பொன்னியிற் பன்மலர்
வார்த்த நீர்குடை வாரிடர் தீர்க்கும் வலஞ்சுழி
ஆர்த்து வந்த அரக்கனை யன்றடர்த் தீர்சொலீர்
சீர்த்த வெண்டலை யிற்பலி கொள்வதுஞ் சீர்மையே.
"Thīrththa nīrvan thizhipuṉaṟ poṉṉiyiṟ paṉmalar
vārththa nīrkuṭai vāriṭar thīrkkum valañchuzhi
ārththu vantha arakkaṉai yaṉtṟaṭarth thīrsolīr
sīrththa veṇṭalai yiṟpali koḷvathuñ sīrmaiyē".
உரம னுஞ்சடை யீர்விடை யீரும தின்னருள்
வரம னும்பெற லாவதும் எந்தை வலஞ்சுழிப்
பிரம னுந்திரு மாலும் அளப்பரி யீர்சொலீர்
சிரமெ னுங்கல னிற்பலி வேண்டிய செல்வமே.
"Urama ṉuñchaṭai yīrviṭai yīruma thiṉṉaruḷ
varama ṉumpeṟa lāvathum enthai valañchuzhip
birama ṉunthiru mālum aḷappari yīrsolīr
sirame ṉuṅkala ṉiṟpali vēṇṭiya selvamē".
வீடு ஞானமும் வேண்டுதி ரேல்விர தங்களால்
வாடி ஞானமென் னாவதும் எந்தை வலஞ்சுழி
நாடி ஞானசம் பந்தன செந்தமிழ் கொண்டிசை
பாடு ஞானம்வல் லாரடி சேர்வது ஞானமே.
"Vīṭu gñāṉamum vēṇṭuthi rēlvira thaṅkaḷāl
vāṭi gñāṉameṉ ṉāvathum enthai valañchuzhi
nāṭi gñāṉasam banthaṉa senthamizh koṇṭisai
pāṭu gñāṉamval lāraṭi sērvathu gñāṉamē".