Visited on: 19th February, 2016 and 22nd March, 2017
Location
Mylapore is situated in the heart of Chennai at a distance of about 14 kms from Koyambedu. There is a railway station in Mylapore on the Beach to Velachery MRTS train route.
Other Devara Paadal Petra Shiva sthalams near this temple are – Thiruvotriyur, Thirumullaivayil, Thiruverkadu, Thiruvalithayam and Thiruvanmiyur.
General Information
| | |
| --- | --- |
| Moolavar | Sri Kapaleeswarar, Punnaivana Nathar |
| Ambal | Sri Karpakambikai |
| Theertham (Holy water) | Kapali Theertham, Kadavul Theertham, Veda Theertham, Vali Theertham, Ganga Theertham, Velli Theertham and Rama Theertham. |
| Sthala Vriksham (Sacred Tree) | Punnai tree |
| Pathigam (Hymn) rendered by | Saint Thirugnanasambanthar |
This is one of the 276 Devara Paadal Petra Shiva Sthalams and 24th Shiva Sthalam in Thondai Nadu.
Lord Shiva in this temple is a Swayambumurthi (self-manifested).
This is the most popular of the "Sapthasthana" temples in Chennai.
This is the birth place of Vayilar Nayanar- one of the 63 Nayanmars.
This is the birth place of Thiruvalluvar.
This east facing temple has a 7-tiered main tower (Rajagopuram) and it has 2 corridors. The 3-tiered west facing tower is facing the temple's sacred tank.
The last Consecration ceremony (Maha Kumbabishegam) took place on 03.04.2016 and prior to that in the year 2004.
History of the Temple
The historical name of this place is Kapaleecharam.
Mylapore is on the sea coast and the shore is just one kilometre away.
There are three places where Goddess Parvathy took the form of peacock ("Mayil" in Tamil) and worshiped Lord Shiva – they are Mayiladuthurai (Mayuram), Thirumayiladi and Mylapore.
The original temple was located near the sea but was believed to have been submerged in the sea. The current temple was built around 350 years ago.
The temple's towers are very beautiful. There is a big tank opposite to the temple's western tower. The view of the temple and the tank is picturesque.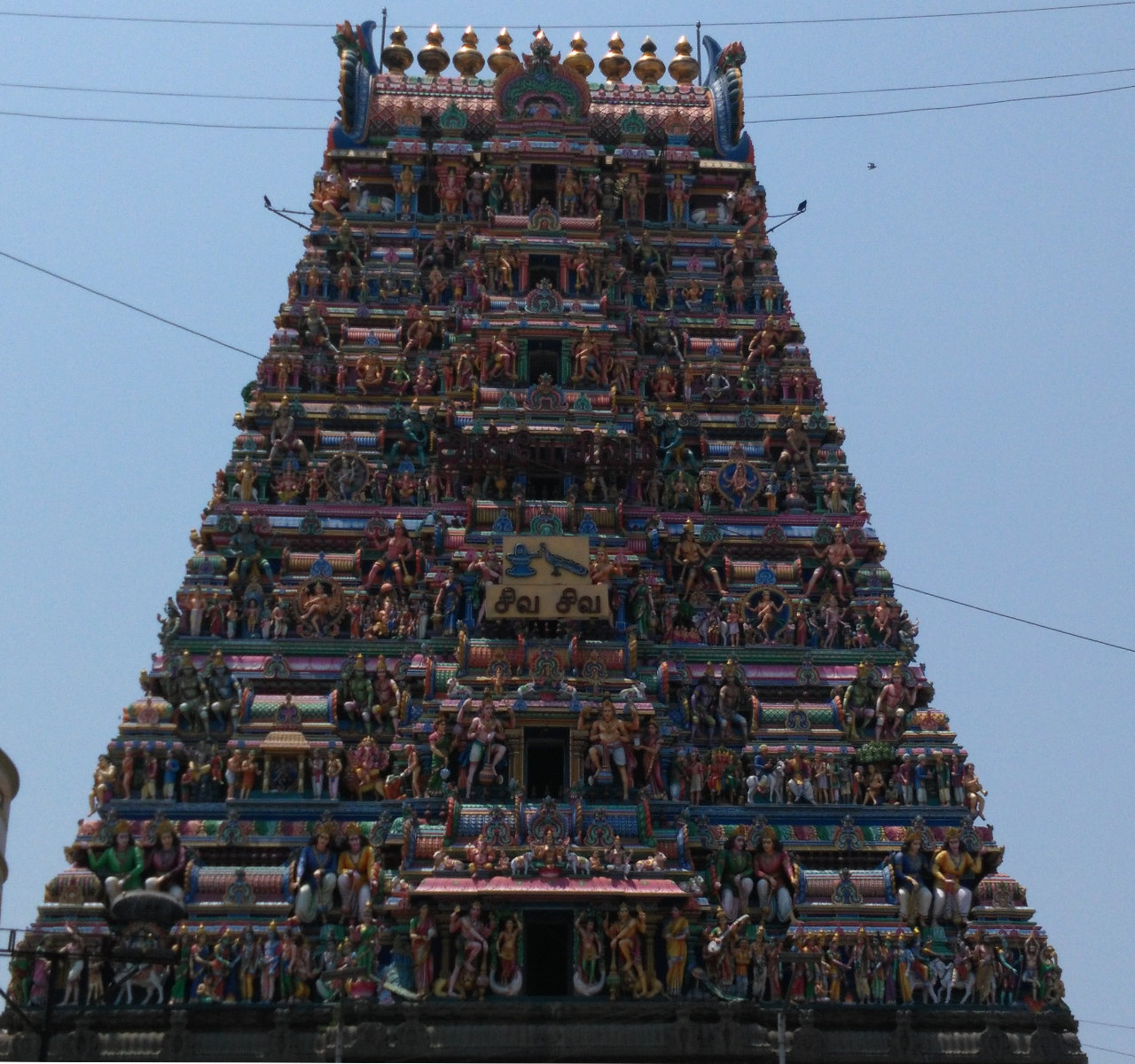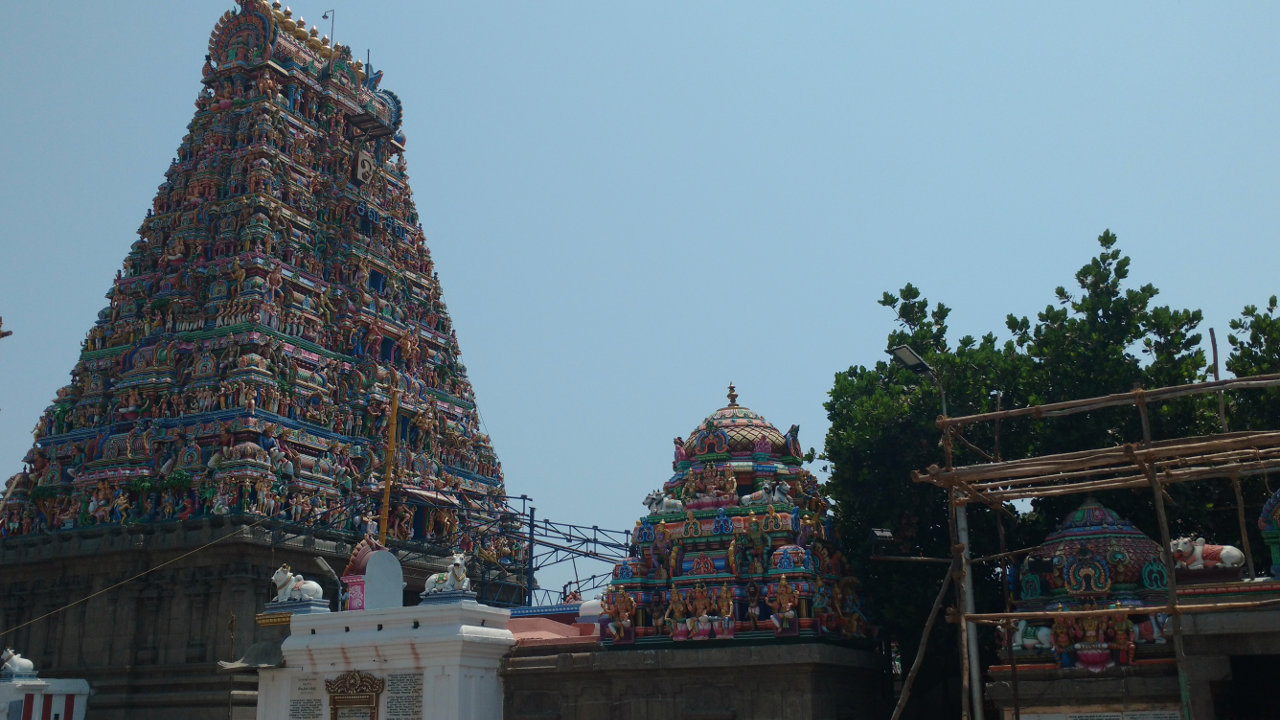 Legend
Goddess Parvathy's penance
It is believed that once Goddess Parvathi wanted to understand the full meaning of the five lettered Mantra ("Na Ma Shi Va Ya") and the significance of the sacred ash. She requested Lord Shiva to explain it to her. While Lord Shiva was teaching her, she was attracted by the beauty of a peacock dancing there. For her lack of attention, Lord Shiva cursed her to become a peacock. For relief from this curse, he advised her to go to Earth and perform penance. She worshiped Lord Shiva under a "Punnai" tree in this place in the form of Peacock. Pleased with her penance, Lord Shiva appeared before her, relieved her from the curse and named her "Karpagambal".
Hence the lord here is known as Sri Punnaivana Nathar ("Punnai vanam" means a forest of Punnai trees). The idol of Goddess Parvathi in a peacock form can be seen in this shrine. Lord Punnaivana Nathar's shrine under a Punnai tree (Sthala Vriksham) can be seen in the outer corridor. The name Mayilai or Mylapore is derived from the legend that the Goddess Parvathi worshipped Lord Shiva in the form of a peacock.
Lord Brahma's pride
Another legend is that Lord Brahma worshiped the lord here and got relieved from his sins. Once, it is believed that he was arrogant and thought himself to be the equal of Lord Shiva. To teach him a lesson and to rein in his pride, Lord Shiva nipped one of Brahma's head and held the skull in his hand. "Kapala" in Sanskrit means skull, hence Lord Shiva here is also praised as "Sri Kapaleeswarar" and this place is called "Kapaleeswaram".
Lord Murugan's Penance
Before waging his war on the demon Surapadma, Lord Murugan performed penance in this temple. Lord Shiva and Goddess Parvathy blessed their son and gifted him the weapon "Vel" (spear) to conquer the demon. Lord Murugan returned triumphantly as Singaravelan. After the demon Surapadman's defeat, he took the form of a peacock and became Lord Murugan's mount (Vahanam).
After Lord Murugan's return, Lord Indiran gave his daughter Deivanai's hand to Lord Murugan for marriage. Iravadham, Lord Indiran's elephant could not bear the separation of Deivanai and chose to stay with her. In this temple, Lord Murugan gives darshan to his devotees with his consorts Valli and Deivanai sitting on the Iravadham. Seeing Lord Murugan in such a form is very rare.
Saint Thirugnanasambanthar and Pumpavay
The temple is closely associated with the history of Saint Thirugnanasambanthar who restored Pumpavay to life from the bones and ashes preserved by her father Sivanesar. The father was intending to give his daughter to the saint in marriage. But fate had it that she died of a snake bite. Yet, the father preserved her bones in a pot to be handed over to the saint whenever he visited this place. When Sambandar came to this place, Sivanesar told him the sad story and placed the pot before the saint.
Sambandar rendered a pathigam containing 10 verses, beginning with the line, 'Mattitta Punnai'. In his pathigam, he listed the various festivals celebrated in this temple before asking Pumpavay how she could miss all of these festivals. After he finished his pathigam, the pot broke off and Pumpavay came out of it alive in her beautiful form. Everyone was amazed to see the power of the saint's songs. Pumpavay's father urged Sambanthar to accept his daughter's hand in marriage. However, Sambandar told him that he had now become her father as he had given her life again. For this reason, he could only see her as his daughter. Pumpavay spent the rest of her life worshiping Lord Shiva before attaining salvation.
Vayilar Nayanar
This is also the birth place of Vayilar Nayanar, one among the 63 Nayanmars.
He was a staunch devotee of Lord Shiva. It is believed that he constructed a temple inside his mind ("manaseekamaka") and worshiped Lord Shiva there. He had transcended the stage of idol worship. He had attained such purity of heart and clarity of vision that he did not need the aid of symbols or rituals. He was able to raise his mind to the sublime heights of the abstract before attaining salvation.
The inclusion of Vayilar Nayanar among the 63 Nayanmars highlights the facts that devotion is of many types. Whatever be the path one chooses, ultimately, the goal is to be united with Lord Shiva. Hindu mythology has often emphasised that there is no stereotyped spiritual path and idol worship is not the only way to attain salvation.
Deities in the temple
Lord Shiva's shrine is facing the west while Goddess Parvathy is facing south. Shrines and idols of Lords Narthana Vinayakar (Lord Vinayakar in a dancing form), Palani Aandavar, Natarajar, Sundareswarar, Annamalayar, Jagadeeswarar, Navagraham, Saint Vayilar Nayanar, Dakshinamurthy, Brahma, Lingothbavar, Durgai, Sarasvathi, Lakshimi, Lord Murugan as Singaravelan, Saint Arunagirinathar, Bairavar, Veerabadhrar, Devara Moovar, Santhana Kuravarkal and the 63 Nayanmars can be seen in the corridors.
There is a separate shrine for Lord Saneeswarar. There is also a lingam that is believed to have been worshiped by planet Sukran. There is a shrine for Pumpavay near the western tower.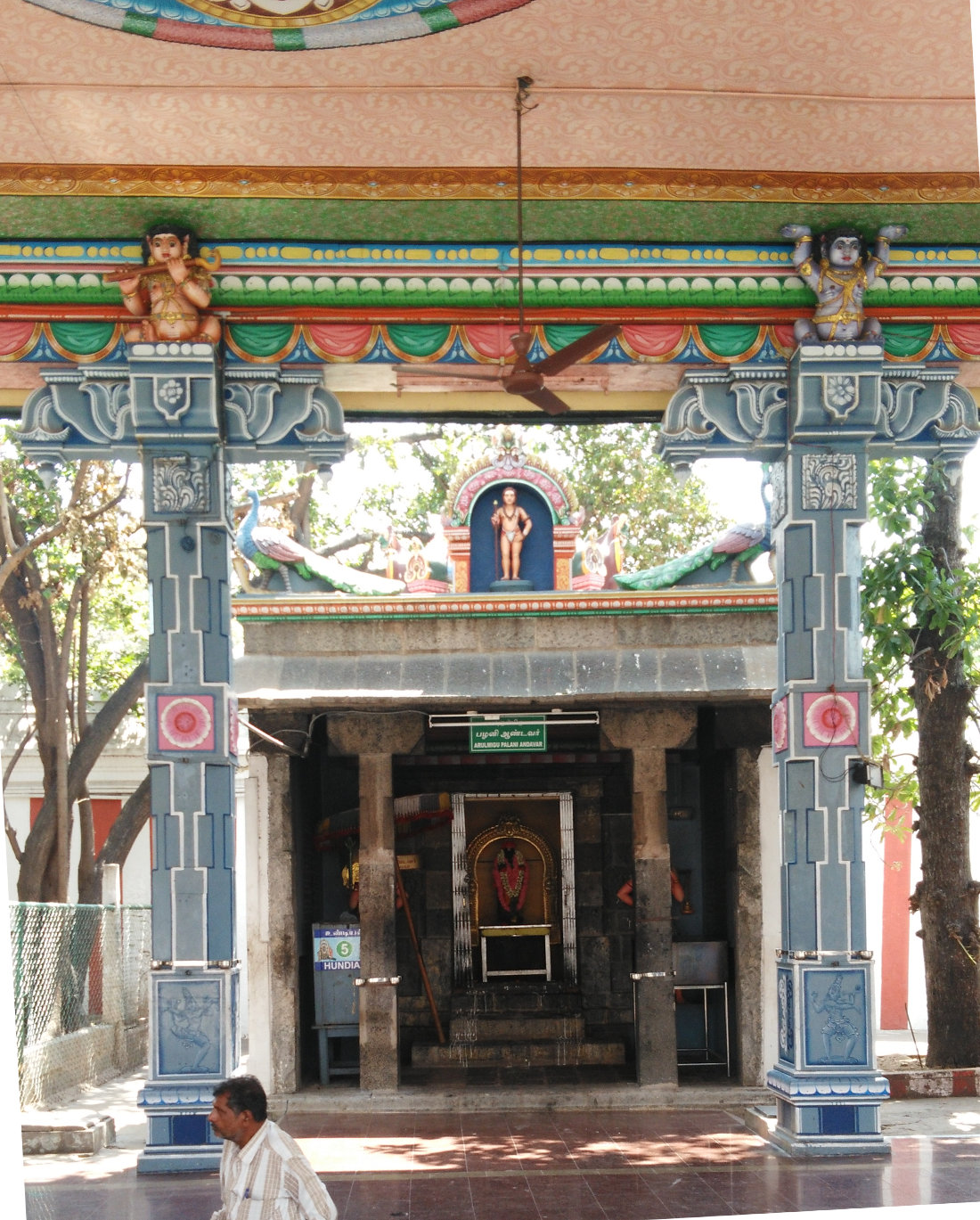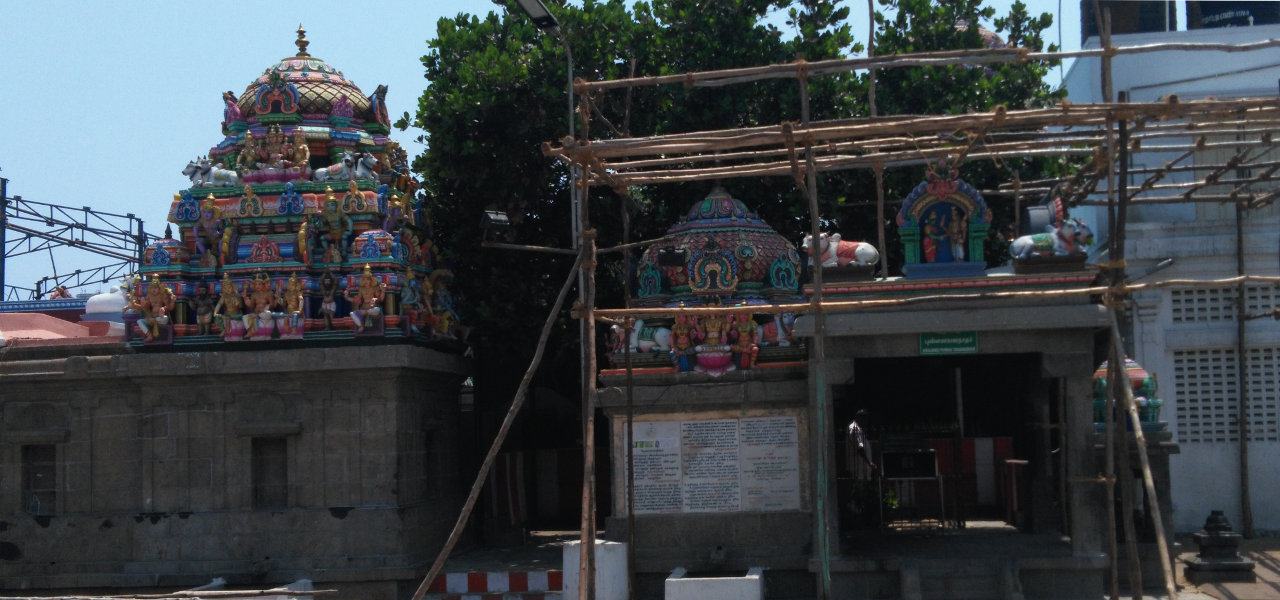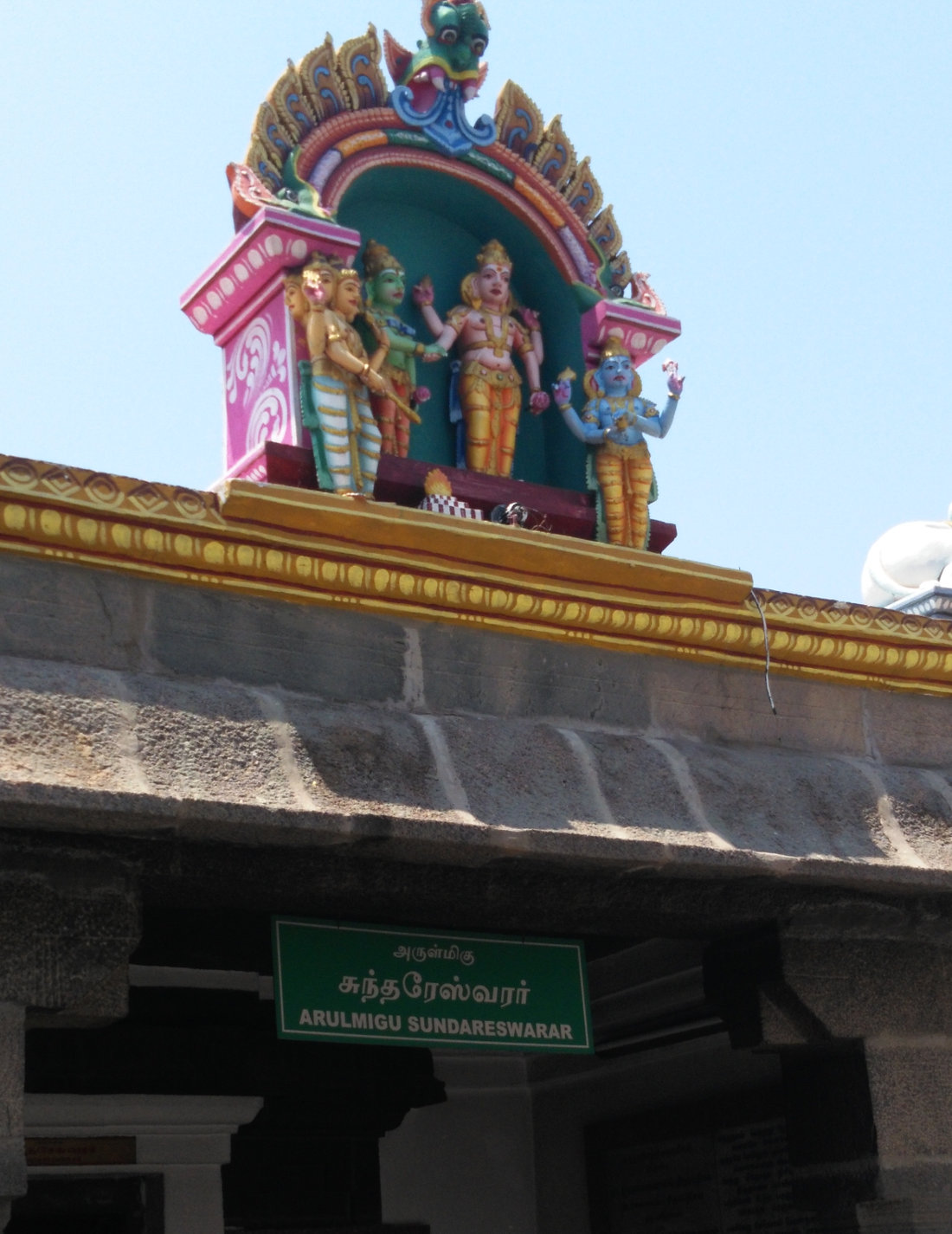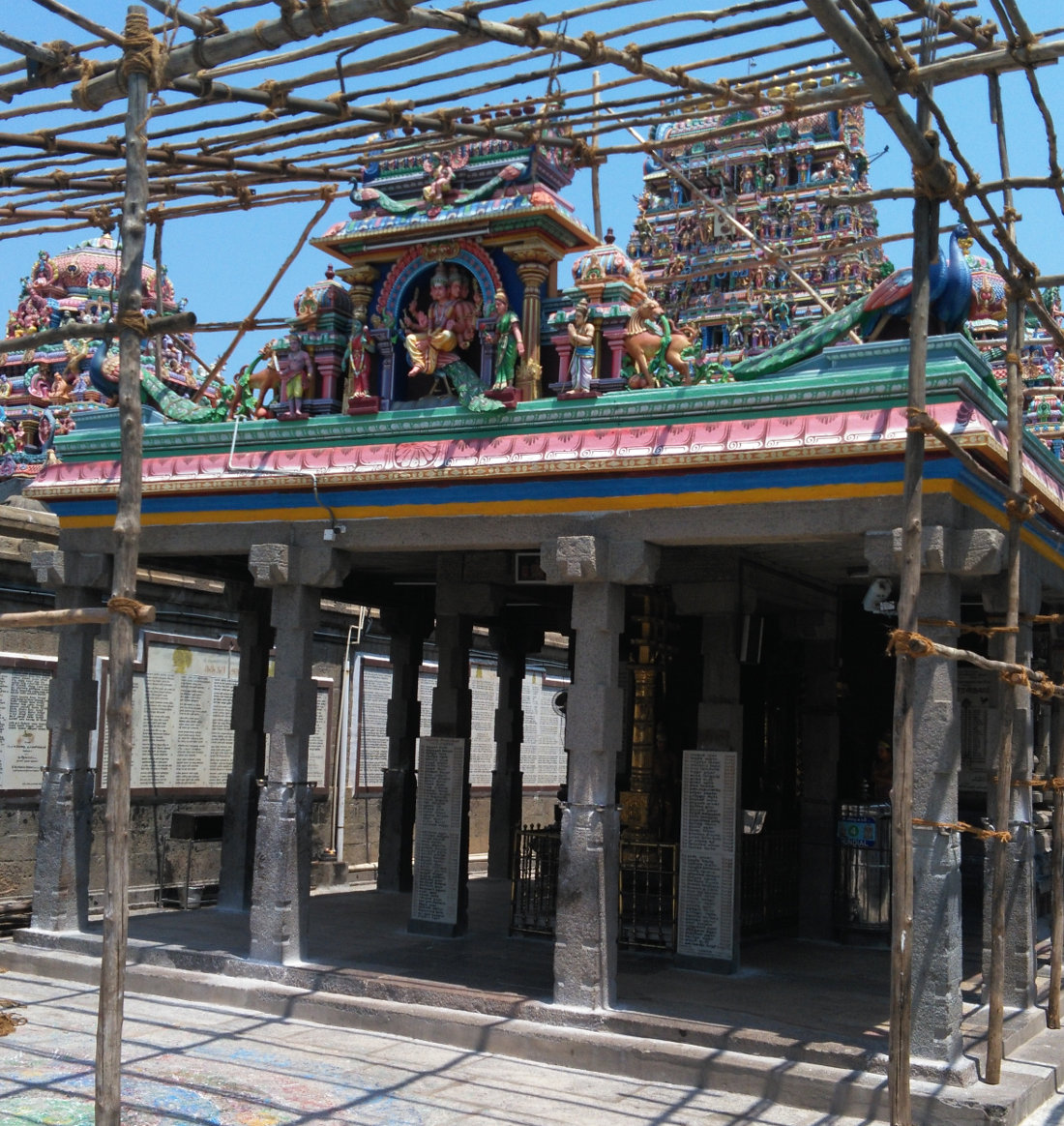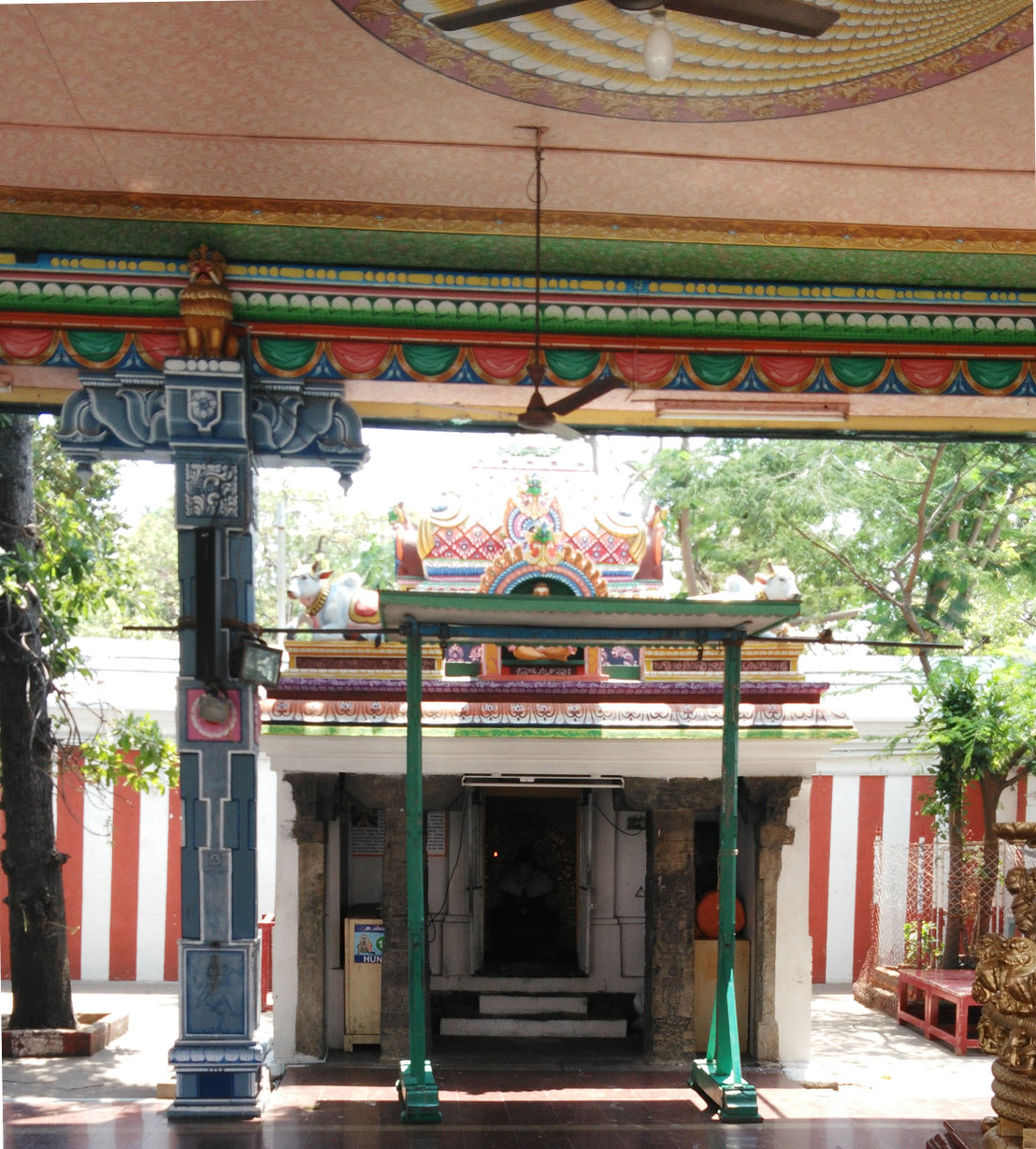 Salient Features
There is a famous saying "Mylai is Kylai" which means that Mylapore is Mount Kailash itself.
There is a beautiful hall called "Navratri Mandapam" in the western side of the outer corridor.
In the Cauvery river belt, there are a group of seven temples called the "Saptha Sthaana temples". These are - Thiruvaiyaru, Thirupazhanam, Thiruchotruthurai, Thiruvedhikudi, Thirukandiyur, Thirupoonthuruthi and Thiruneithanam. Similarly, near Mylapore there are seven (Saptha Sthaana) Shiva temples. These includes –
(1) Sri Karaneeswarar Temple,
(2) Sri Theerthapaleeswarar Temple,
(3) Sri Velleeswarar Temple,
(4) Sri Virupaksheeswarar Temple,
(5) Sri Valeeswarar Temple,
(6) Sri Malleeswarar Temple, and
(7) Sri Kapaleeswarar Temple.
Devotees should keep in mind that practice of worshiping these seven Shiva temples predates to Thiru Gnanasambanthar's time. It is significant to note that when he visited Mylapore, he visited these temples in that order.
It is believed that Lord Ram visited this sacred place and worshiped Lord Shiva here. It is also believed that the Vedas, Planet Sukran and Sage Kasyapar have worshiped the lord of this temple.
In his hymn, Saint Thirugnanasambanthar narrated the greatness of this temple and the festivals celebrated here while reinstating the soul of devotee Pumpavay. He also mentioned about the festival "Kadalattu Vizha" (Lord Shiva give Theerthavari in the sea) that is celebrated in the Tamil month of Maasi. This pathigam is unlike the others where the greatness of the lord is highlighted instead of the festivals celebrated at each place.
Saint Thiruvalluvar Temple
Saint Thiruvalluvar the celebrated author of Thirukkural, the world-famous ethical treatise, was born and lived in Mylapore nearly 2,000 years ago. Thiruvalluvar's Thirukkural is honoured with translations in many other languages of the world. There is an old temple in his birth place that is located very near to the Mundakkanni Amman temple. There is an old "Iluppai" tree there which is believed to be more than 2000 years old. It is believed that Thiruvalluvar was born under this tree. In the year 1935, the tree got damaged and its base is being protected with a cover. It is believed that once when Thiruvalluvar's wife was fetching water from a well, Thiruvalluvar called her inside. She dropped the pot that she was using to haul water and instantly went to answer her husband's call. When she returned, she was astonished to find the pot hanging halfway in the well. The well from this famous incident can still be seen here.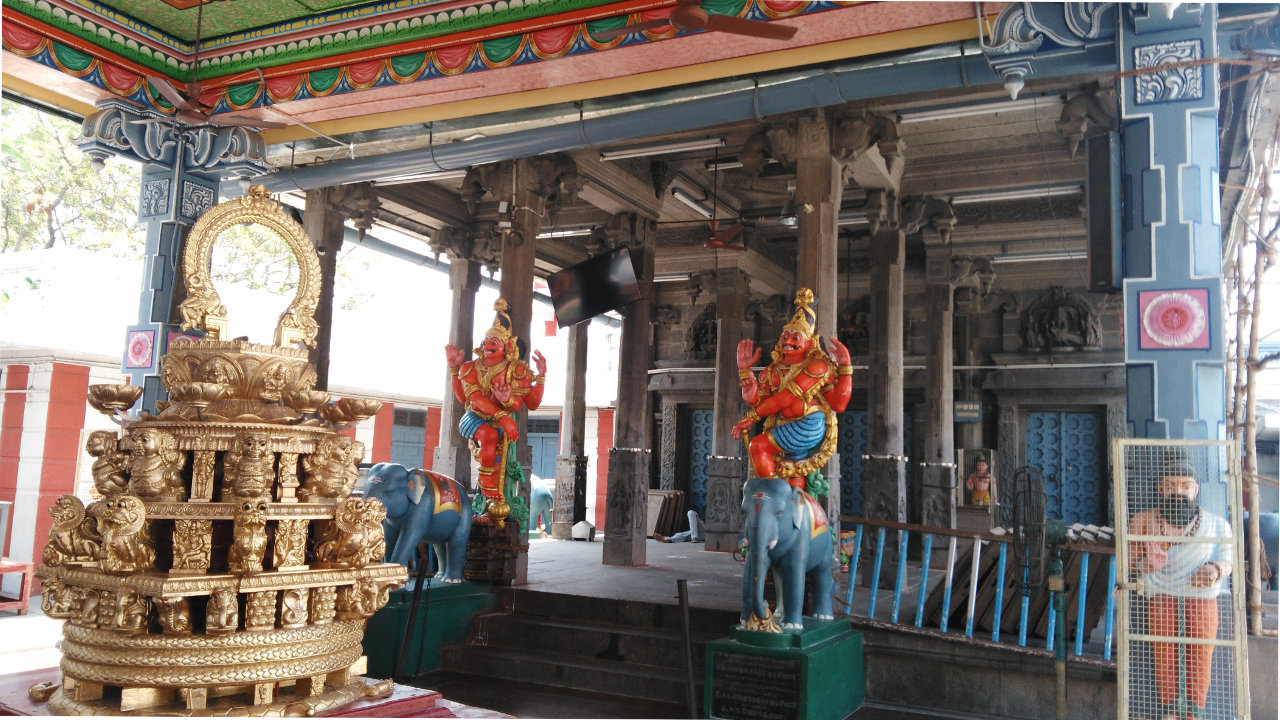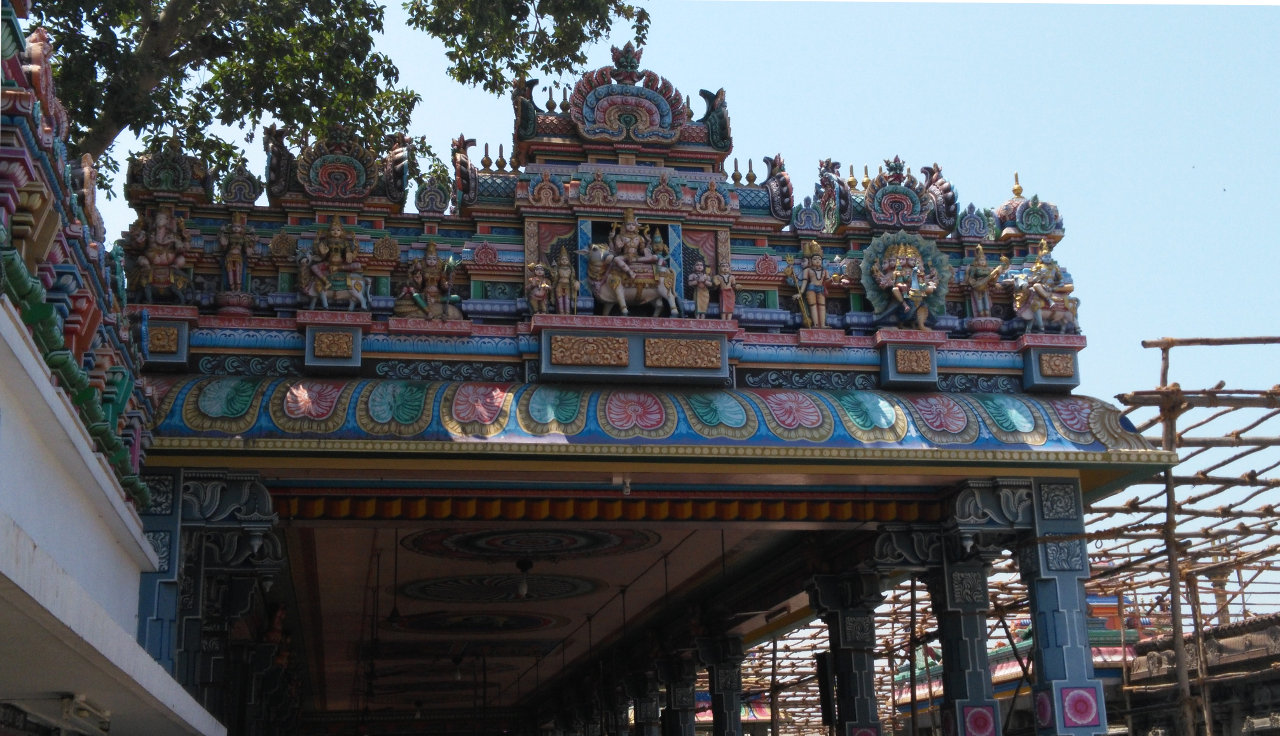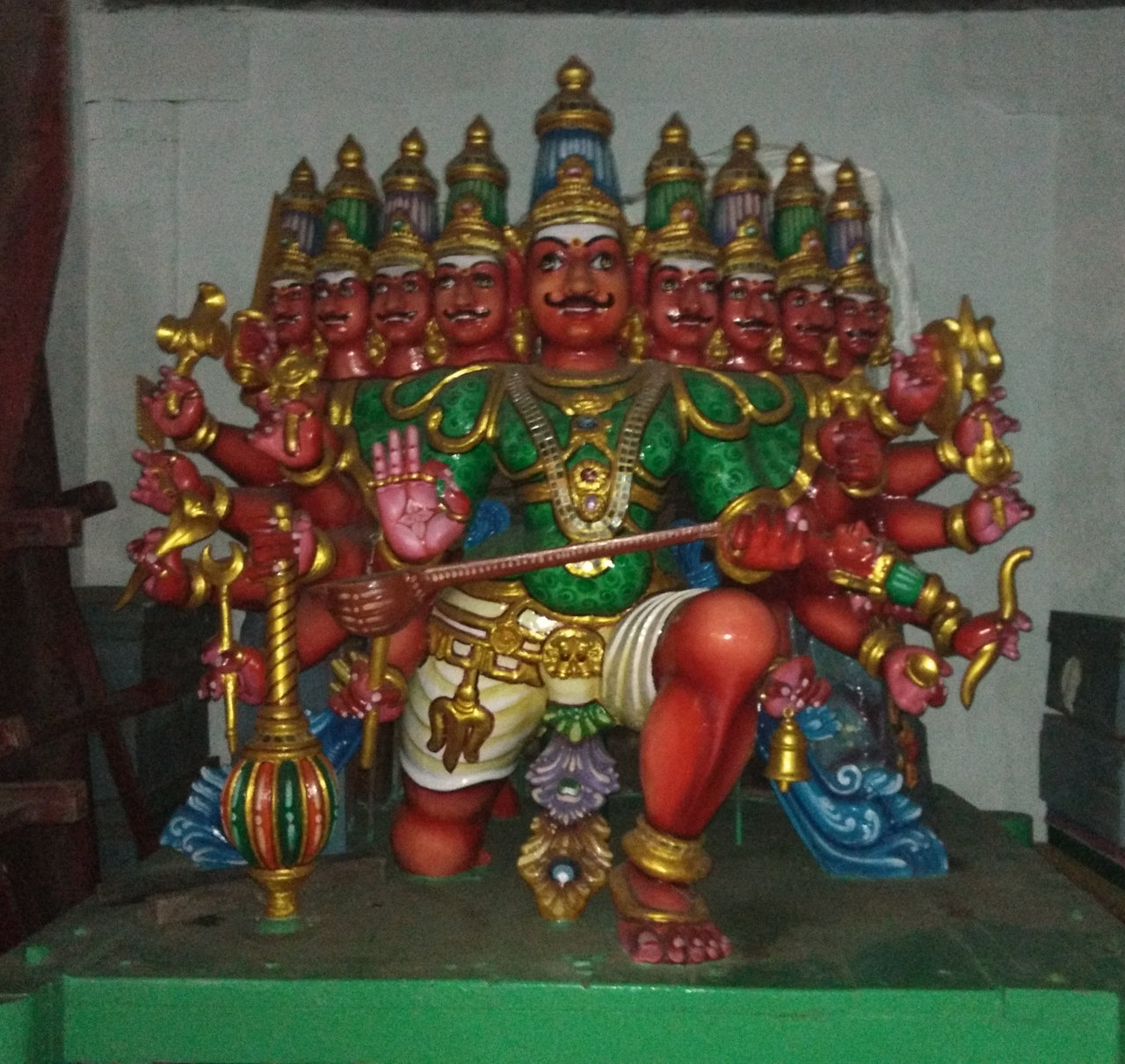 Greatness of this temple
This temple is considered to be a significant place to conduct one's 61st and 81st birth days.
It is believed that those seeking "santhana prapthi" (child boon) can pray to Goddess Karpakambikai here. Also, devotees believe that worshiping Goddess Karpakambikai here will remove obstacles from their marriage proposals.
It is also strongly believed by devotees that their prayers here will bring them relief from any illness.
Important Festivals
Almost all festivals related to Lord Shiva temple are observed in a grand manner here. Some of the important ones are –
10-day Brahmotsavam in the Tamil month of Panguni (Mar-Apr). On the 8th day of Brahmotsavam, the event of Sambanthar giving rebirth to Pumpavay is celebrated.
The 63 Nayanmars festival is very popular in this temple and draws a large number of devotees.
During Maasi Maham in the Tamil month of Maasi (Feb-Mar), the "Kadalattu Vizha" (Theerthavari) is celebrated.
This temple attracts a large number of devotees on new moon and full moon days and during Pradosham.
Temple Timings
From 06.00 AM to 12.00 Noon and 04.00 PM to 09.00 PM.

Temple Address
Sri Kapaleeswarar Temple,
Vadaku Mada Veethi,
Mylapore,
Chennai,
Tamil Nadu – 600 004.
Tele: +91 44 2464 1670, +91 44 2461 1356.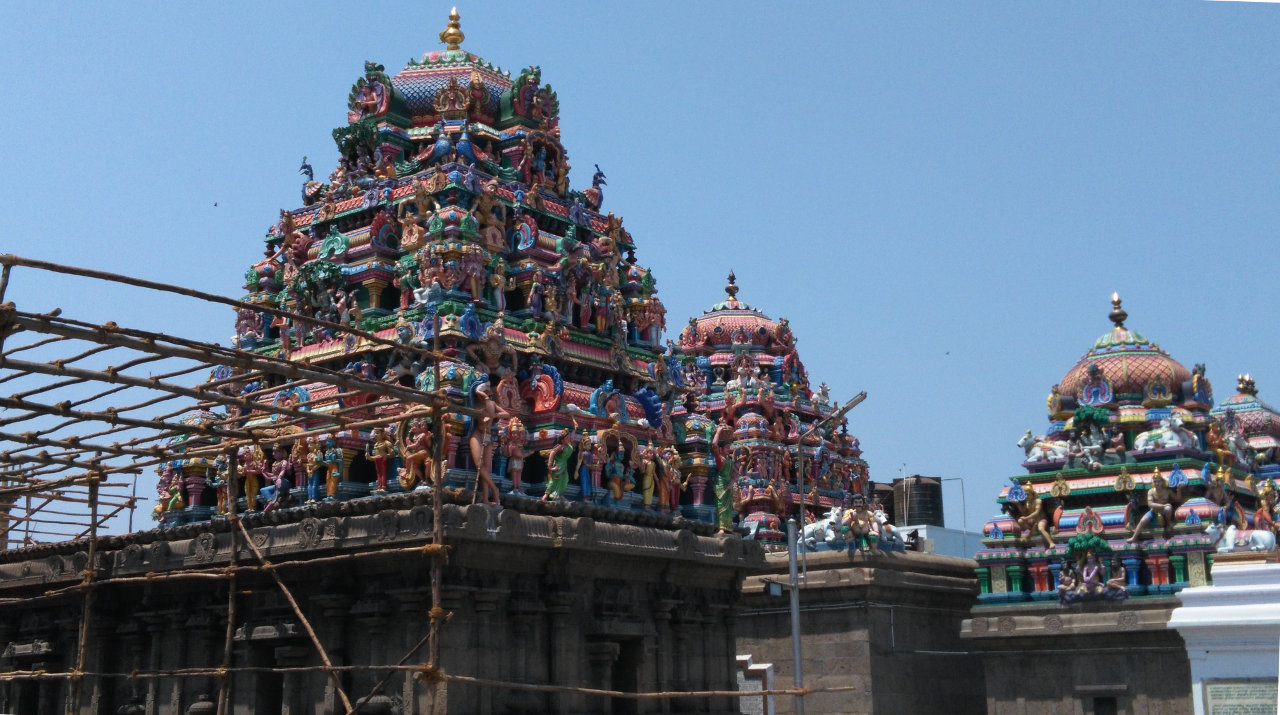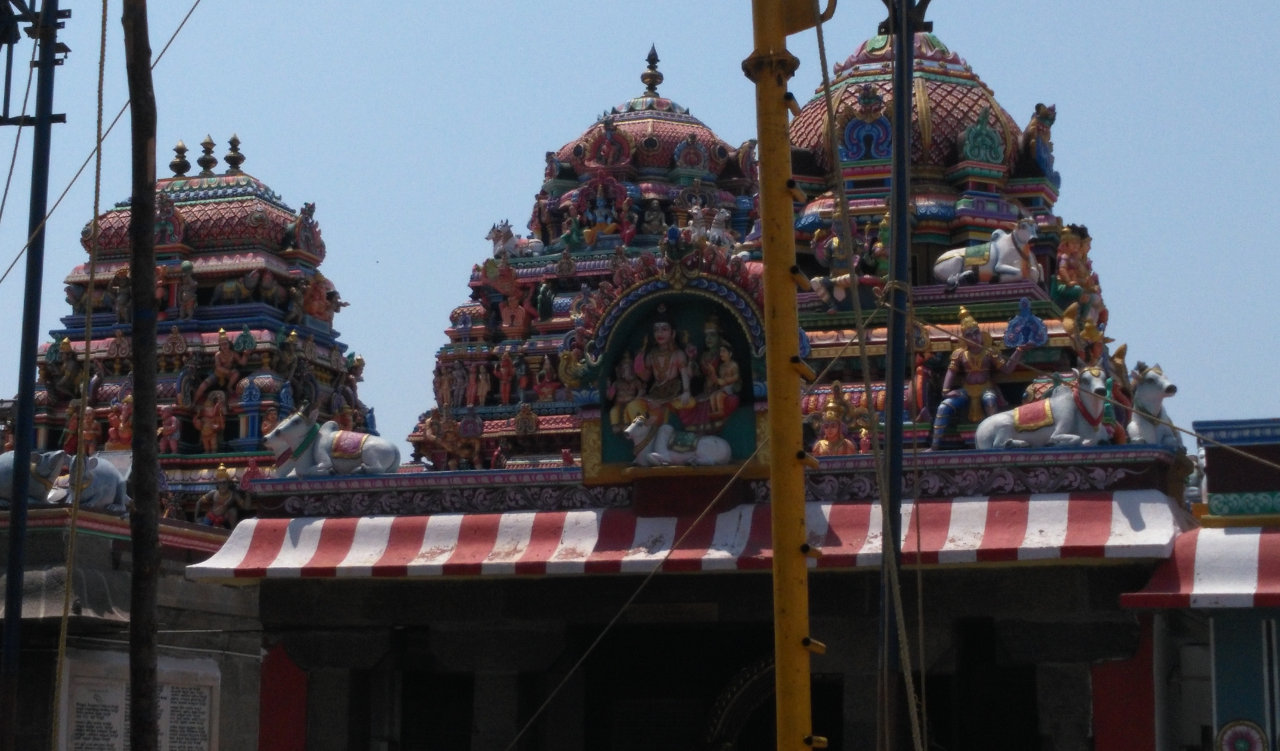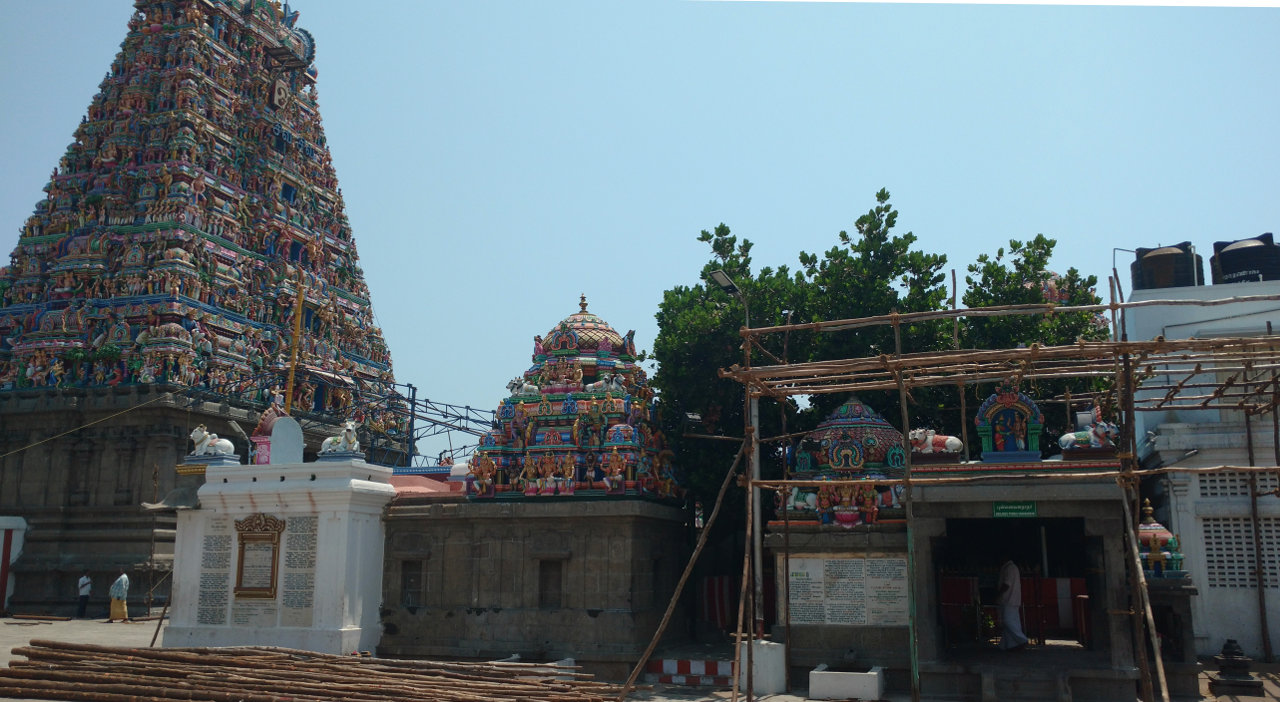 ---
Pathigam (Hymn) with English transliteration
Saint Thirugnanasambanthar visited this temple and sang this Pathigam.
Devotees visiting this temple should make it a practice to recite this Pathigam.
மட்டிட்ட புன்னையங் கானல் மடமயிலைக்
கட்டிட்டங் கொண்டான் கபாலீச் சரம்அமர்ந்தான்
ஒட்டிட்ட பண்பின் உருத்திர பல்கணத்தார்க்
கட்டிட்டல் காணாதே போதியோ பூம்பாவாய்.
"Maṭṭiṭṭa puṉṉaiyaṅ kāṉal maṭamayilaik
kaṭṭiṭṭaṅ koṇṭāṉ kapālīch charamamarnthāṉ
oṭṭiṭṭa paṇpiṉ uruththira palkaṇaththārk
kaṭṭiṭṭal kāṇāthē pōthiyō pūmpāvāy".
மைப்பயந்த ஒண்கண் மடநல்லார் மாமயிலைக்
கைப்பயந்த நீற்றான் கபாலீச் சரம்அமர்ந்தான்
ஐப்பசி ஓண விழாவும் அருந்தவர்கள்
துய்ப்பனவுங் காணாதே போதியோ பூம்பாவாய்.
"Maippayantha oṇkaṇ maṭanallār māmayilaik
kaippayantha nītṟāṉ kapālīch charamamarnthāṉ
aippasi ōṇa vizhāvum arunthavarkaḷ
thuyppaṉavuṅ kāṇāthē pōthiyō pūmpāvāy".
வளைக்கை மடநல்லார் மாமயிலை வண்மறுகில்
துளக்கில் கபாலீச் சரத்தான்தொல் கார்த்திகைநாள்
தளத்தேந் திளமுலையார் தையலார் கொண்டாடும்
விளக்கீடு காணாதே போதியோ பூம்பாவாய்.
"Vaḷaikkai maṭanallār māmayilai vaṇmaṟukil
thuḷakkil kapālīch charaththāṉthol kārththikaināḷ
thaḷathēn thiḷamulaiyār thhaiyalār koṇṭāṭum
viḷakkīṭu kāṇātē pōthiyō pūmpāvāy".
ஊர்திரை வேலை யுலாவும் உயர்மயிலைக்
கூர்தரு வேல்வல்லார் கொற்றங்கொள் சேரிதனில்
கார்தரு சோலைக் கபாலீச் சரம்அமர்ந்தான்
ஆதிரைநாள் காணாதே போதியோ பூம்பாவாய்.
"Ūrthirai vēlai yulāvum uyarmayilaik
kūrtharu vēlvallār kotṟaṅkoḷ sērithaṉil
kārtharu chōlaik kapālīch charamamarnthāṉ
āthiraināḷ kāṇāthē pōthiyō pūmpāvāy".
மைப்பூசும் ஒண்கண் மடநல்லார் மாமயிலைக்
கைப்பூசு நீற்றான் கபாலீச் சரம்அமர்ந்தான்
நெய்ப்பூசு மொண்புழுக்கல் நேரிழையார் கொண்டாடும்
தைப்பூசங் காணாதே போதியோ பூம்பாவாய்.
"Maippūsum oṇkaṇ maṭanallār māmayilaik
kaippūsu nītṟāṉ kapālīch charamamarnthāṉ
neyppūsu moṇpuzhukkal nērizhaiyār koṇṭāṭum
thaippūsaṅ kāṇāthē pōthiyō pūmpāvāy".
மடலார்ந்த தெங்கின் மயிலையார் மாசிக்
கடலாட்டுக் கண்டான் கபாலீச் சரம்அமர்ந்தான்
அடல்ஆனே றூரும் அடிக ளடிபரவி
நடமாடல் காணாதே போதியோ பூம்பாவாய்.
"Maṭalārntha theṅkiṉ mayilaiyār mācik
kaṭalāṭṭuk kaṇṭāṉ kapālīch charamamarnthāṉ
aṭalāṉē ṟūrum aṭika ḷaṭiparavi
naṭamāṭal kāṇāthē pōthiyō pūmpāvāy".
மலிவிழா வீதி மடநல்லார் மாமயிலைக்
கலிவிழாக் கண்டான் கபாலீச் சரம்அமர்ந்தான்
பலிவிழாப் பாடல்செய் பங்குனி யுத்திரநாள்
ஒலிவிழாக் காணாதே போதியோ பூம்பாவாய்.
"Malivizhā vīthi maṭanallār māmayilaik
kalivizhāk kaṇṭāṉ kapālīch charamamarnthāṉ
palivizhāp pāṭalsey paṅkuṉi yuththiranāḷ
olivizhāk kāṇāthē pōthiyō pūmpāvāy".
தண்ணா அரக்கன்தேள் சாய்த்துகந்த தாளினான்
கண்ணார் மயிலைக் கபாலீச் சரம்அமர்ந்தான்
பண்ணார் பதினெண் கணங்கள்தம் அட்டமிநாள்
கண்ணாரக் காணாதே போதியோ பூம்பாவாய்.
"Thaṇṇā arakkaṉthēḷ sāyththukantha thāḷiṉāṉ
kaṇṇār mayilaik kapālīch charamamarnthāṉ
paṇṇār pathiṉeṇ kaṇaṅkaḷtham aṭṭamināḷ
kaṇṇārak kāṇāthē pōthiyō pūmpāvāy".
நற்றா மரைமலர்மேல் நான்முகனும் நாரணனும்
உற்றாங் குணர்கிலா மூர்த்தி திருவடியைக்
கற்றார்க ளேத்துங் கபாலீச் சரம்அமர்ந்தான்
பொற்றாப்புக் காணாதே போதியோ பூம்பாவாய்.
"Natṟā maraimalarmēl nāṉmukaṉum nāraṇaṉum
utṟāṅ kuṇarkilā mūrththi thiruvaṭiyaik
katṟārka ḷēththuṅ kapālīch charamamarnthāṉ
potṟāppuk kāṇāthē pōthiyō pūmpāvāy".
உரிஞ்சாய வாழ்க்கை அமணுடையைப் போர்க்கும்
இருஞ்சாக் கியர்க ளெடுத்துரைப்ப நாட்டில்
கருஞ்சோலை சூழ்ந்த கபாலீச் சரம்அமர்ந்தான்
பெருஞ் சாந்தி காணாதே போதியோ பூம்பாவாய்.
"Uriñchāya vāzhkkai amaṇuṭaiyaip pōrkkum
iruñchāk kiyarka ḷeṭuthuraippa nāṭṭil
karuñchōlai chūzhntha kapālīch charamamarnthāṉ
peruñ chānthi kāṇāthē pōthiyō pūmpāvāy".
கானமர் சோலைக் கபாலீச் சரம்அமர்ந்தான்
தேனமர் பூம்பாவைப் பாட்டாகச் செந்தமிழான்
ஞானசம் பந்தன் நலம்புகழ்ந்த பத்தும்வலார்
வானசம் பந்தத் தவரோடும் வாழ்வாரே.
"Kāṉamar chōlaik kapālīch charamamarnthāṉ
thēṉamar pūmpāvaip pāṭṭākach chenthamizhāṉ
gñāṉasam banthaṉ nalampukazhntha pathumvalār
vāṉasam panthath thavarōṭum vāzhvārē".