Visited on: November 1, 2015
Location
About 22 kms from Karur. Route: Karur- Aravakkurichi- Venjamangudalur. Town Bus route: Karur to Atrumedu. Nearest railway station is at Karur. Nearest airport is at Trichy which is 80 kms away from this place.
General Information
Moolavar

Sri Kalyanavikirtheswarar / Sri Vikirthanatheswarar

Ambal

Sri Mathurabhashini / Sri Panner Mozhi Ammai /
Sri Vikirthanayaki

Theertham (Holy water)

Vilva Theertham/ Vikrita Theertham.

Sthala Vriksham (Sacred Tree)

Vilvam

Pathigam (Hymn) rendered by

Saint Sundaramurthy Nayanar (Sundarar)

This is one of the 276 Devara Padal Petra Shiva Sthalams and 5th Shiva Sthalam in Kongu Nadu.
It is believed that the Lord Vigirtheeswarar is a Swaymbumurthy (self-manifested).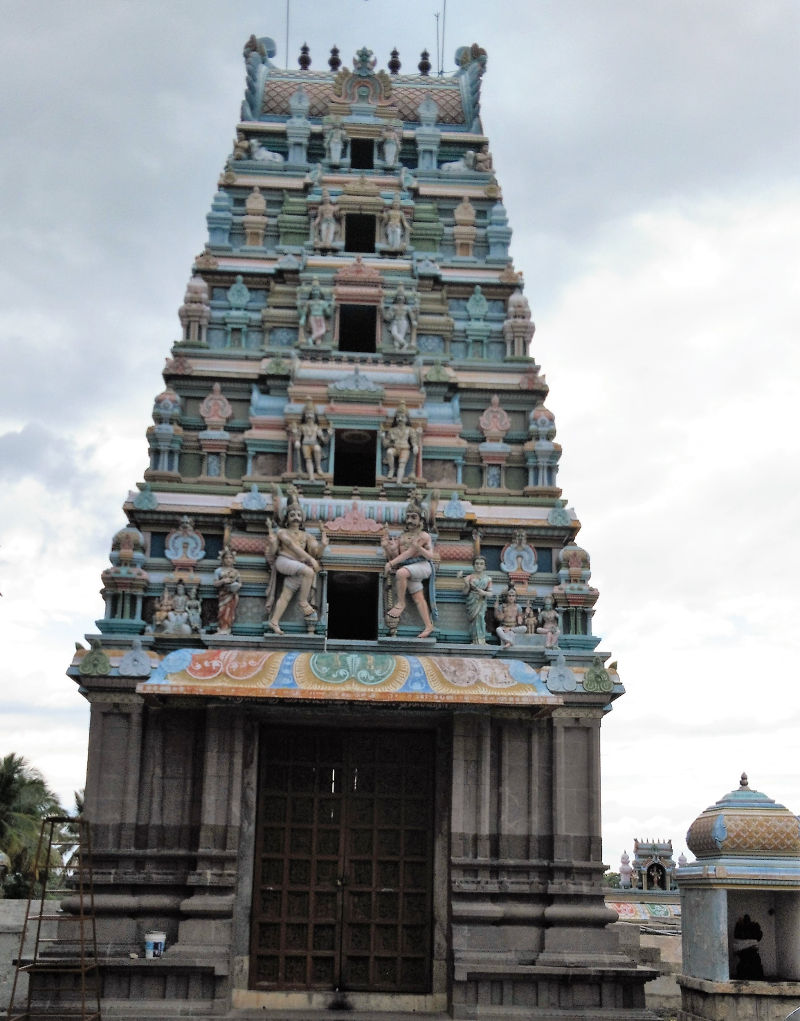 History of the Temple
This east facing temple is located at the junction of rivers Sitraru and Kudakanaru and a tributary of river Amaravathy (also called Manimutharu). Hence, this place gets the name Koodalur (confluence).
A hunter king by the name of Venjaman, who ruled this place is said to have worshipped Lord Shiva here. Hence this place is also called Venjamaakoodal.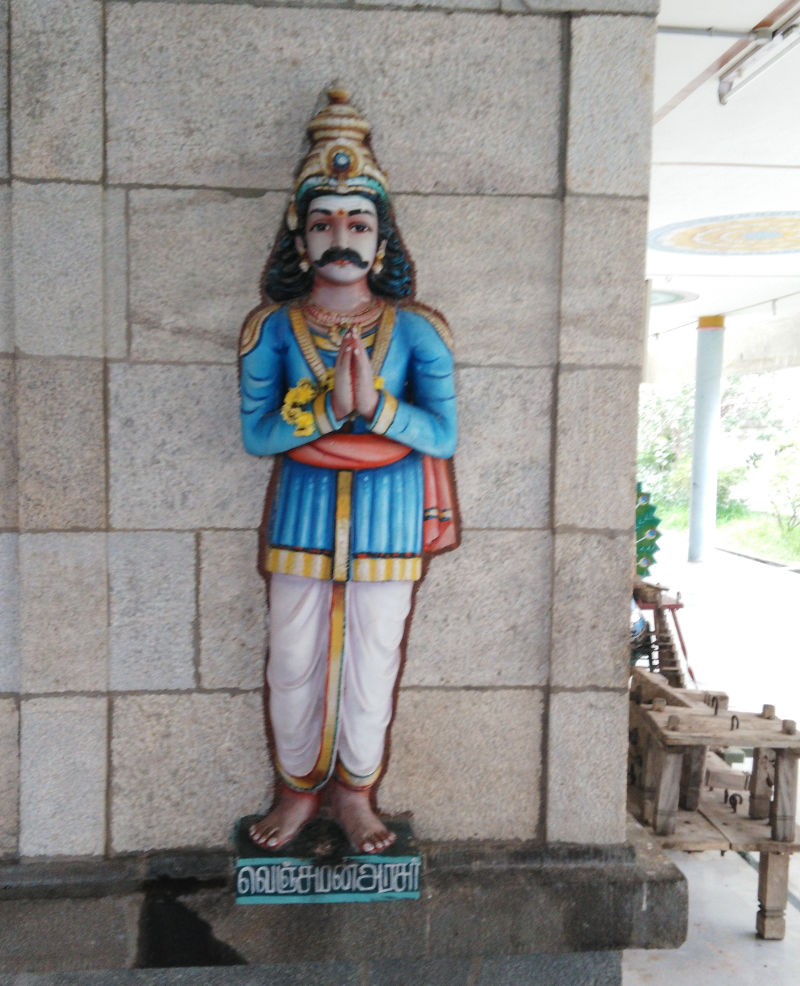 The temple was washed away by severe floods in the river Kudakanaru. It was rebuilt in the year 1982. However, this temple is still 10-12 feet below the road level, which shows the possible impact of the damages done during the flood.
Legend
The legend is that when Saint Sundarar came to this place, he was left with no money (gold coins) and prayed to Lord Shiva to give him some money. Lord Shiva wanted to play with him and said that he also had no money to give Sundarar. Saint Sundarar said that the Lord cannot be without money and pressed his demand. Lord said that he would have to pledge something to give money to Sundarar. The Saint simply said that he did not care about his problem and stuck to the demand. Lord Shiva made Goddess Parvathi come to the earth as an old lady. When she came, Lord Shiva appeared in the guise of an old man and pledged his two sons to her in exchange for money. Then he blessed Sundarar with gifts of gold for the songs he had sung here. The story emphasizes the kindness that Lord Shiva shows to his friend and ardent devotee, Sundarar.
Another legend associated with this temple is that Indiran, the king of the Celestial Gods (Devars) developed a desire for Akalya, wife of Maharshi Gautama. He entered into his hermitage in the guise of a rooster and cried indicating the breaking of dawn. Innocent Maharshi left the hermitage for the river to have his morning bath. Then, Indiran entered into the hermitage in the guise of the Maharishi.
Akalya thought the entrant was her own husband. Meantime, the sage, finding that there was more time for the dawn and returned home sensing some mischief. Seeing the Rishi, Indiran, tried to escape in the guise of a cat but was cursed to have eyes on his whole body. Reeling in confusion, Indiran began to visit various Shiva temples to seek relief from this curse. Venjamangudalur is the temple where Lord Shiva finally heard his pleas and absolved him from his sins.
Deities in the temple
In the outer corridor, idols of Suryan, Chandran, Pancha lingams, Lord Vinayakar and Lord Murugan with his consorts - Valli and Devasena can be seen.
In the inner corridor of the sanctum sanctorum (prakaram) shrines of Navagrahas, Bairavar, Nambiyandar Nambikal, Sekizhar, 63 Nayanmars and Natarajar can also be seen.
Salient Features
On the doors of Lord Shiva's sanctum sanctorum, depictions of all the seven Devara Padal Petra Sthalams in Kongu Naadu are beautifully engraved.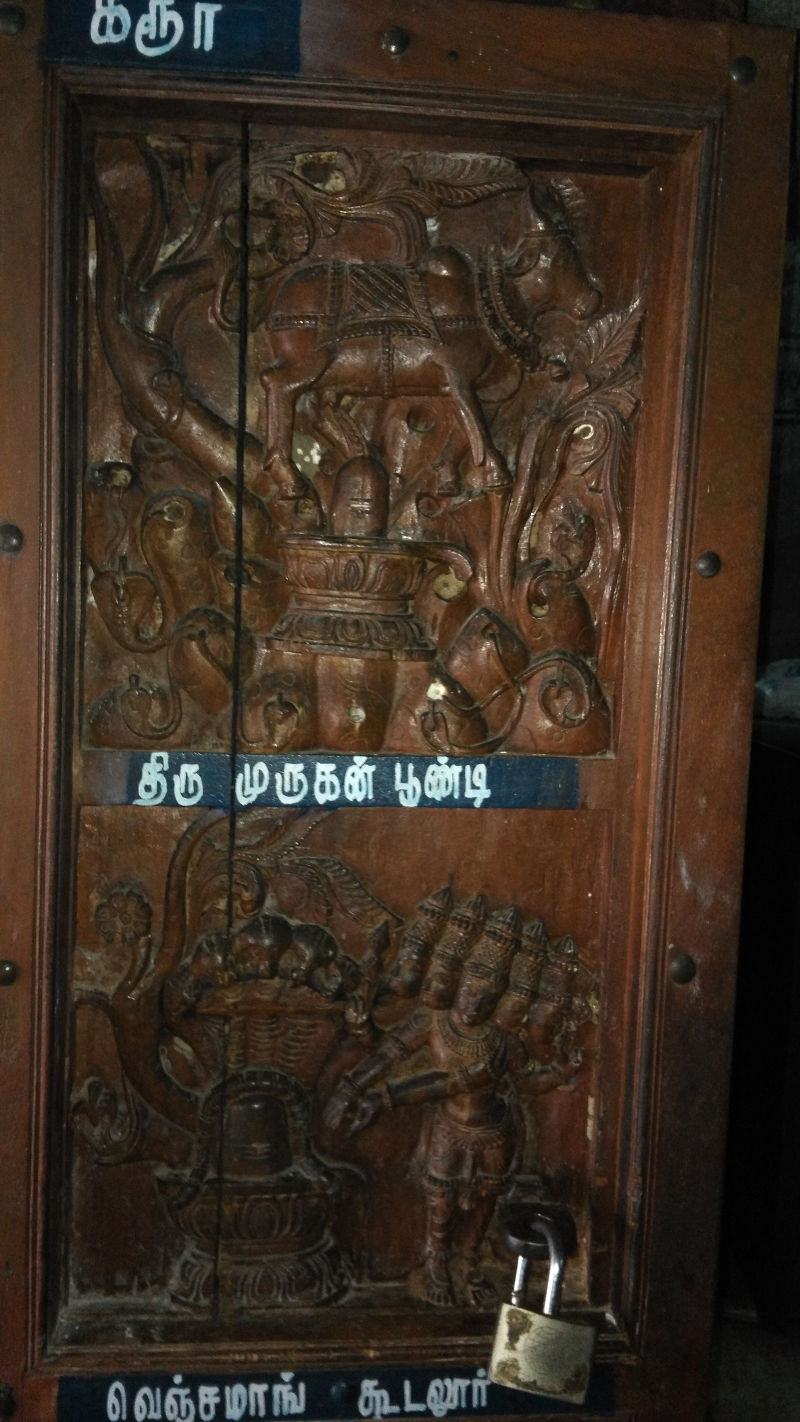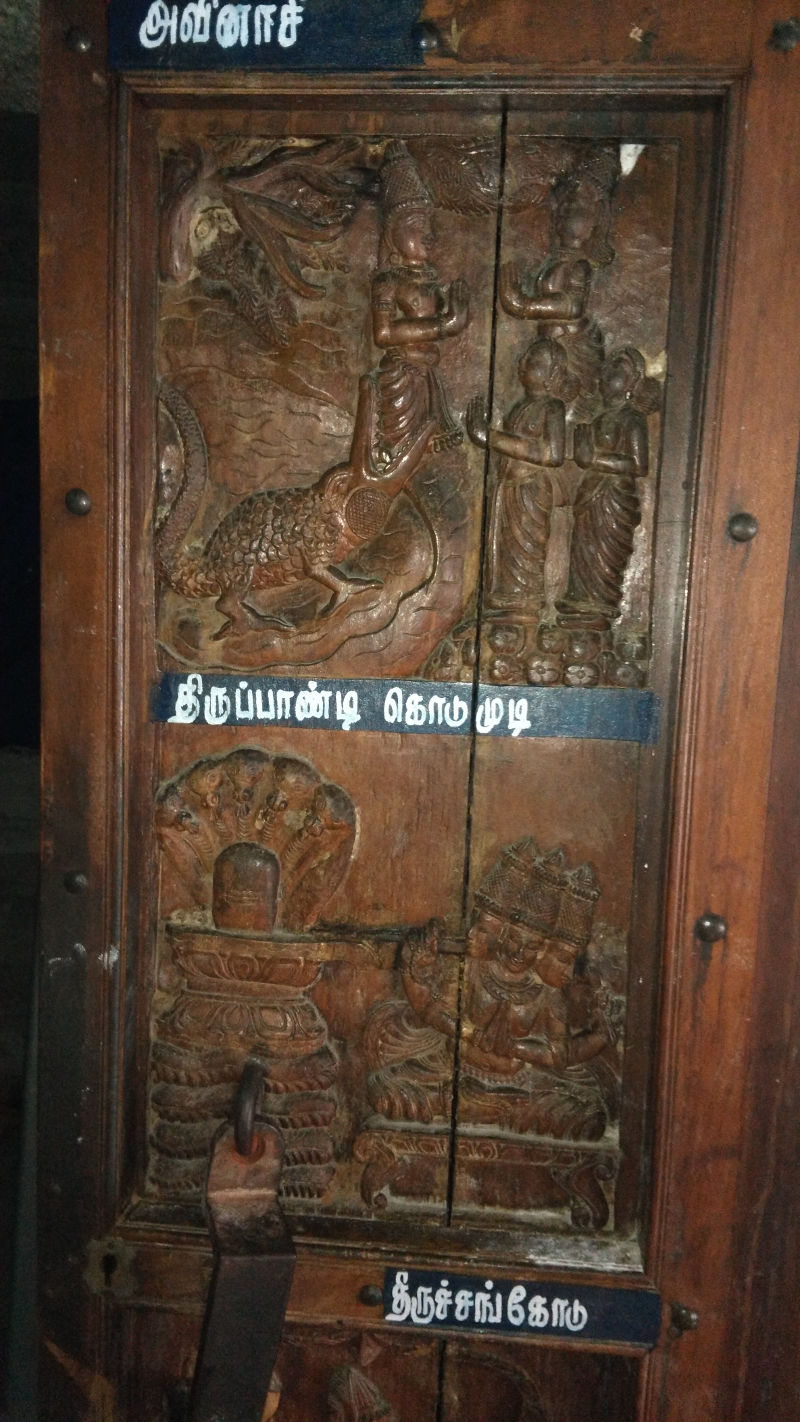 Saint Arunagirinadhar has also sang in praise of Lord Murugan of this temple in his revered Thirupugazh.
Greatness of this temple
It is believed that worshipping Lord Murugan here will result in the re-union of estranged couples.
Lord Shiva of this temple also goes by the name of "Vikirtheeswarar", which means the lord who grants us all that is good. Devotees can seek absolution of sins by worshipping Lord Shiva here.
Important Festivals
The significant festivals celebrated are – 10 day Brahmmotsavam in Masi (February-March), Tiruvadhirai in Margazhi (December-January), Annabishekam in Aipasi (October-November), Tirukarthikai in November-December and Mahashivrathri in February-March.
Temple Timings
06.30 AM to 12.00 Noon and 04.00 PM to 07.30 PM.
Temple Address
Sri Kalyana Vigirtheeswarar Temple,
Venjamangudalur,
Aravakkurichi Taluk,
Karur District, Tamil Nadu – 639 109.
Tele: +91-4324- 262 010.
---
Pathigam (Hymn) with English transliteration
Saint Sundarar visited this temple and sang this Pathigam.
Devotees visiting this temple should make it a practice to recite this Pathigam.
எறிக்குங் கதிர்வே யுதிர்முத் தமொடு
மிலவங்கந் தக்கோலம் இஞ்சி
செறிக்கும் புனலுட் பெய்துகொண்டு மண்டித்
திளைத்தெற்று சிற்றாறதன் கீழ்க்கரைமேல்
முறிக்குந் தழைமா முடப்புன்னை ஞாழல்
குருக்கத்திகள் மேற்குயில் கூவலறா
வெறிக்குங் கலைமா வெஞ்சமாக் கூடல்
விகிர்தா அடியேனையும் வேண்டுதியே.
"Eṟikkuṅg kathirvē yuthirmuth thamodu
milavaṅkanth thakkōlam iñchi
seṟikkum puṉalud peythukoṇdu maṇṭith
thiḷaithetṟu sitṟāṟathaṉ kīzhkkaraimēl
muṟikkunth thazhaimā mudappuṉṉai gnazhal
kurukkathikaḷ mēṟkuyil kūvalaṟā
veṟikkuṅg kalaimā veñchamāk kūdal
vikirthā adiyēṉaiyum vēṇduthiyē".
குளங்கள் பலவுங் குழியுந் நிறையக்
குடமாமணி சந்தனமும் அகிலுந்
துளங்கும் புனலுட் பெய்துகொண்டு மண்டித்
திளைத்தெற்று சிற்றாறதன் கீழ்க்கரைமேல்
வளங்கொள் மதில்மா ளிகைகோ புரமும்
மணிமண்டபமும் இவைமஞ்சு தன்னுள்
விளங்கும் மதிதோய் வெஞ்சமாக் கூடல்
விகிர்தா அடியேனையும் வேண்டுதியே.
"Kuḷaṅkaḷ palavuṅg kuzhiyun niṟaiyak
kuṭamāmaṇi santhaṉamum akilun
thuḷaṅkum puṉaluṭ peythukoṇṭu maṇṭith
thiḷaithetṟu sitṟāṟathaṉ kīzhkkaraimēl
vaḷaṅgkoḷ mathilmā ḷikaikō puramum
maṇimaṇdapamum ivaimañchu thaṉṉuḷ
viḷaṅgkum mathithōy veñchamāk kūdal
vikirthā adiyēṉaiyum vēṇduthiyē".
வரைமான் அனையார் மயிற்சாயல் நல்லார்
வடிவேற்கண் நல்லார்பலர் வந்திறைஞ்சத்
திரையார் புனலுட் பெய்துகொண்டு மண்டித்
திளைத்தெற்று சிற்றாறதன் கீழ்க்கரைமேல்
நிரையார் கமுகும் நெடுந்தாட் டெங்குங்
குறுந்தாட்பலவும் விரவிக் குளிரும்
விரையார் பொழில்சூழ் வெஞ்சமாக் கூடல்
விகிர்தா அடியேனையும் வேண்டுதியே.
"Varaimāṉ aṉaiyār mayiṟchāyal nallār
vaṭivēṟkaṇ nallārpalar vanthiṟaiñchath
thiraiyār puṉalud peythukoṇṭu maṇṭith
thiḷaithetṟu sitṟāṟathaṉ kīzhkkaraimēl
niraiyār kamukum neṭunthāṭ ṭeṅkuṅg
kuṟunthāṭpalavum viravik kuḷirum
viraiyār pozhilchūzh veñchamāk kūdal
vikirthā adiyēṉaiyum vēṇṭuthiyē".
பண்ணேர் மொழியா ளையோர்பங் குடையாய்
படுகாட்டகத் தென்றுமோர் பற்றொழியாய்
தண்ணா ரகிலுந் நலசா மரையும்
அலைத்தெற்று சிற்றாறதன் கீழ்க்கரைமேல்
மண்ணார் முழவுங் குழலும் இயம்ப
மடவார் நடமாடு மணியரங்கில்
விண்ணார் மதிதோய் வெஞ்சமாக் கூடல்
விகிர்தா அடியேனையும் வேண்டுதியே.
"Paṇṇēr mozhiyā ḷaiyōrpaṅg kudaiyāy
paṭukāṭṭakath theṉtṟumōr patṟozhiyāy
thaṇṇā rakilunth nalasā maraiyum
alaithetṟu sitṟāṟathaṉ kīzhkkaraimēl
maṇṇār muzhavuṅg kuzhalum iyampa
madavār nadamādu maṇiyaraṅkil
viṇṇār mathithōy veñchamāk kūdal
vikirthā adiyēṉaiyum vēṇṭuthiyē".
துளைவெண் குழையுஞ் சுருள்வெண் டோடுந்
தூங்குங்காதிற் றுளங்கும் படியாய்
களையே கமழும் மலர்க்கொன் றையினாய்
கலந்தார்க்கருள் செய்திடுங் கற்பகமே
பிளைவெண் பிறையாய் பிறங்குஞ் சடையாய்
பிறவாதவனே பெறுதற் கரியாய்
வெளைமால் விடையாய் வெஞ்சமாக் கூடல்
விகிர்தா அடியேனையும் வேண்டுதியே.
"Tuḷaiveṇ kuzhaiyuñj churuḷveṇ dō dunth
thūṅkuṅgkāthiṟ ṟuḷaṅgkum paṭiyāy
kaḷaiyē kamazhum malarkkoṉ tṟaiyiṉāy
kalanthārkkaruḷ seythiṭuṅg kaṟpakamē
piḷaiveṇ piṟaiyāy piṟaṅgkuñj chaṭaiyāy
piṟavāthavaṉē peṟuthaṟ kariyāy
veḷaimāl vidaiyāy veñchamāk kūdal
vikirthā aṭiyēṉaiyum vēṇṭuthiyē".
தொழுவார்க் கெளியாய் துயர்தீர நின்றாய்
சுரும்பார் மலர்க்கொன்றை துன்றுஞ்சடையாய்
உழுவார்க் கரிய விடையேறி ஒன்னார்
புரந்தீயெழ ஓடுவித்தாய் அழகார்
முழவா ரொலிபா டலோடா டலறா
முதுகாடரங்கா நடமாட வல்லாய்
விழவார் மறுகின் வெஞ்சமாக் கூடல்
விகிர்தா அடியேனையும் வேண்டுதியே.
"Thozhuvārk keḷiyāy thuyarthīra niṉtṟāy
surumpār malarkkoṉtṟai thuṉtṟuñchadaiyāy
uzhuvārk kariya vidaiyēṟi oṉṉār
puranthīyezha ōduvithāy azhakār
muzhavā rolipā dalōdā ṭalaṟā
muthukāṭaraṅgkā nadamāda vallāy
vizhavār maṟukiṉ veñchamāk kūdal
vikirthā aṭiyēṉaiyum vēṇṭuthiyē".
கடமா களியா னையுரித் தவனே
கரிகாடிடமா அனல்வீசி நின்று
நடமா டவல்லாய் நரையே றுகந்தாய்
நல்லாய் நறுங்கொன்றை நயந்தவனே
படமா யிரமாம் பருத்துத்திப் பைங்கண்
பகுவாய் எயிற்றோடழ லேஉமிழும்
விடவார் அரவா வெஞ்சமாக் கூடல்
விகிர்தா அடியேனையும் வேண்டுதியே.
"Kadamā kaḷiyā ṉaiyurith thavaṉē
karikāṭidamā aṉalvīsi niṉtṟu
naṭamā ṭavallāy naraiyē ṟukanthāy
nallāy naṟuṅgkoṉtṟai nayanthavaṉē
padamā yiramām paruthuthip paiṅkaṇ
pakuvāy eyitṟōdazha lē'umizhum
vidavār aravā veñchamāk kūdal
vikirthā aṭiyēṉaiyum vēṇṭuthiyē".
காடும் மலையுந் நாடு மிடறிக்
கதிர்மாமணி சந்தனமும் அகிலுஞ்
சேட னுறையும் மிடந்தான் விரும்பி
திளைத்தெற்று சிற்றாறதன் கீழ்க்கரைமேற்
பாடல் முழவுங் குழலு மியம்பப்
பணைத்தோளியர் பாடலோ டாடலறா
வேடர் விரும்பும் வெஞ்சமாக் கூடல்
விகிர்தா அடியேனையும் வேண்டுதியே.
"Kādum malaiyun nādu midaṟik
kathirmāmaṇi santhaṉamum akiluñj
chēda ṉuṟaiyum midanthāṉ virumpi
thiḷaithetṟu sitṟāṟathaṉ kīzhkkaraimēṟ
pādal muzhavuṅg kuzhalu miyampap
paṇaithōḷiyar pādalō dādalaṟā
vēdar virumpum veñchamāk kūdal
vikirthā aṭiyēṉaiyum vēṇṭuthiyē".
கொங்கார் மலர்க்கொன் றையந்தா ரவனே
கொடுகொட்டி யோர்வீணை யுடையவனே
பொங்கா டரவும் புனலுஞ் சடைமேற்
பொதியும்புனிதா புனஞ்சூழ்ந் தழகார்
துங்கார் புனலுட் பெய்துகொண்டு மண்டித்
திளைத்தெற்று சிற்றாறதன் கீழ்க்கரைமேல்
வெங்கார் வயல்சூழ் வெஞ்சமாக் கூடல்
விகிர்தா அடியேனையும் வேண்டுதியே.
"Koṅgkār malarkkoṉ tṟaiyanthā ravaṉē
kodukoṭṭi yōrveeṇai yudaiyavaṉē
poṅgkā daravum puṉaluñj sadaimēṟ
pothiyumpuṉithā puṉañjchūzhn thazhakār
thuṅkār puṉalud peythukoṇdu maṇṭith
thiḷaithetṟu sitṟāṟathaṉ kīzhkkaraimēl
veṅkār vayalchūzh veñchamāk kūdal
vikirthā aṭiyēṉaiyum vēṇṭuthiyē".
வஞ்சிநுண் ணிடையார் மயிற்சாய லன்னார்
வடிவேற்க ணல்லார்பலர் வந்திறைஞ்சும்
வெஞ்சமாக் கூடல் விகிர்தா அடியேனையும்
வேண்டுதி யேயென்று தான்விரும்பி
வஞ்சியா தளிக்கும் வயல்நா வலர்கோன்
வனப்பகையப்பன் வன்றொண்டன் சொன்ன
செஞ்சொற்றமிழ் மாலைகள் பத்தும் வல்லார்
சிவலோகத் திருப்பது திண்ணமன்றே.
"Vañchinuṇ ṇidaiyār mayiṟchāya laṉṉār
vadivēṟka ṇallārpalar vanthiṟaiñjchum
veñchamāk kūdal vikirthā aṭiyēṉaiyum
vēṇṭuthi yēyeṉtṟu thāṉvirumpi
vañchiyā thaḷikkum vayalnā valarkōṉ
vaṉappakaiyappaṉ vaṉtṟoṇṭaṉ choṉṉa
cheñjchotṟamizh mālaikaḷ pathum vallār
sivalōkath thiruppathu thiṇṇamaṉtṟē".