Visited on: April 1, 2018.
Location
Thiru Nallur is situated at a distance of about 15 kms from Kumbakonam on the Kumbakonam – Papanasam – Tanjore route. After Sundara Perumal Koil, take the diversion road at Uthani village and proceed further for about 2 kms to reach Nallur. From Papanasam (via Vazhappazhakkadai) Nallur is about 5 kms.
Nearest railway station is Sundaraperumal Koil (3 kms) on the Kumbakonam to Tanjore line.
Other Devara Paadal Petra Shiva Sthalams near this place are – Patteeeswaram, Thiru Sakthi Mutram, Thiruvalanchuzhi, Pazhaiyarai, Thirukkarukkavur, Avoor, Thiruppalaththurai, Vada Kurangaduthurai, Thiruppazhanam and Thiruvaiyaru.
General Information
Moolavar
Sri Kalyanasundareswarar, Sri Panchavarneswarar, Sri Periyandeswarar, Sri Soundara Naayakar, Sri Amirthalingar
Ambal
Sri Kalyana Sundari, Sri Giri Sundari, Sri Thiripurasundari, Sri Parvatha Sundari, Sri Vanduvaazh kuzhali, Sri Thirumalai Sokki
Theertham (Holy water)
Saptha Sahara Theertham, river Kaveri
Sthala Vriksham (Sacred Tree)
Vilvam tree
Pathigam (Hymn) rendered by
Saint Thirugnanasambanthar-3,
Saint Thirunavukarasar (Appar)-2
This is one of the 276 Devara Paadal Petra Shiva Sthalams and 20th Shiva Sthalam on the Southern bank of the river Cauvery in Chozha Nadu (Thenkarai).
Lord Shiva in this temple is a Swayambumurthi (self-manifested).
This temple is counted as one of the Maadak Koils built by King Kochengat Cholan.
This temple is also famous as "Then (Dakshina) Kayilayam".
The uniqueness of this temple is that the Shivalingam here changes its colour 5 times in a day.
Lord Shiva granted his "Thiruvadi Deekshai" here to Saint Thirunavukkarasar.
Amaraneethi Nayanar, one of the 63 Nayanmars, lived in this place and attained salvation.
This east facing temple has three corridors and its main tower (Rajagopuram) has 5-tiers.
The last consecration ceremony (Maha Kumbabishekam) took place on 30.08.2013 and prior to that on 11.09.1991.
History of the Temple
As per Hindu mythology, Adisheshan (the serpent on whom Sri Mahavishnu rests) and Vayu (lord of the winds) fought among themselves frequently to test their superiority. During one such struggle, against Vayu's severe wind, Adhiseshan failed to hold on to the Mount Meru. In this process, two peaks of the mountain were dislocated and fell onto the earth, one at this place (Nallur) and the other at Aavoor, a nearby village. The Shivalingam here is believed to have formed from the mountain peak that fell here.
There are 23 stone inscriptions in this temple which mostly date back to the periods of Chola kings – Uthama Chola, Raja Raja Chola and Rajendra Chola. A few inscriptions belong to the Hoysala and Vijayanagara empires.
This temple is under the administrative control of Thiruvavaduthurai Aadheenam since the early part of the 13th century.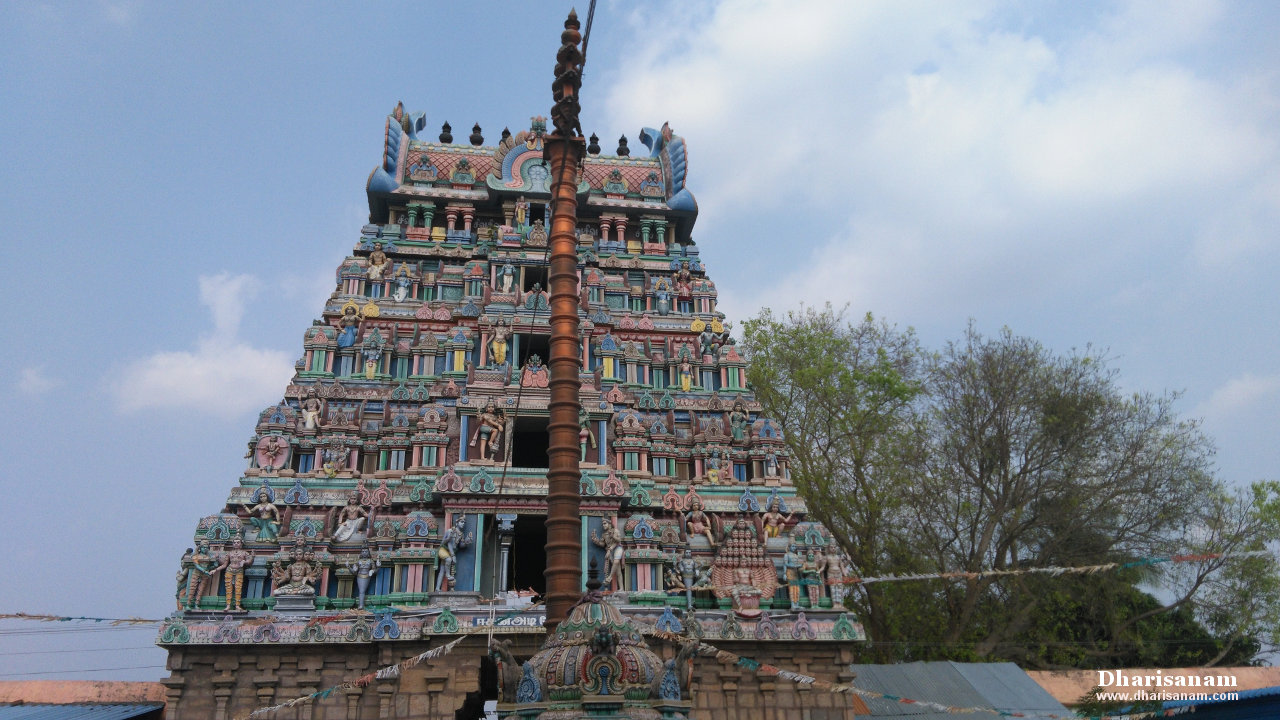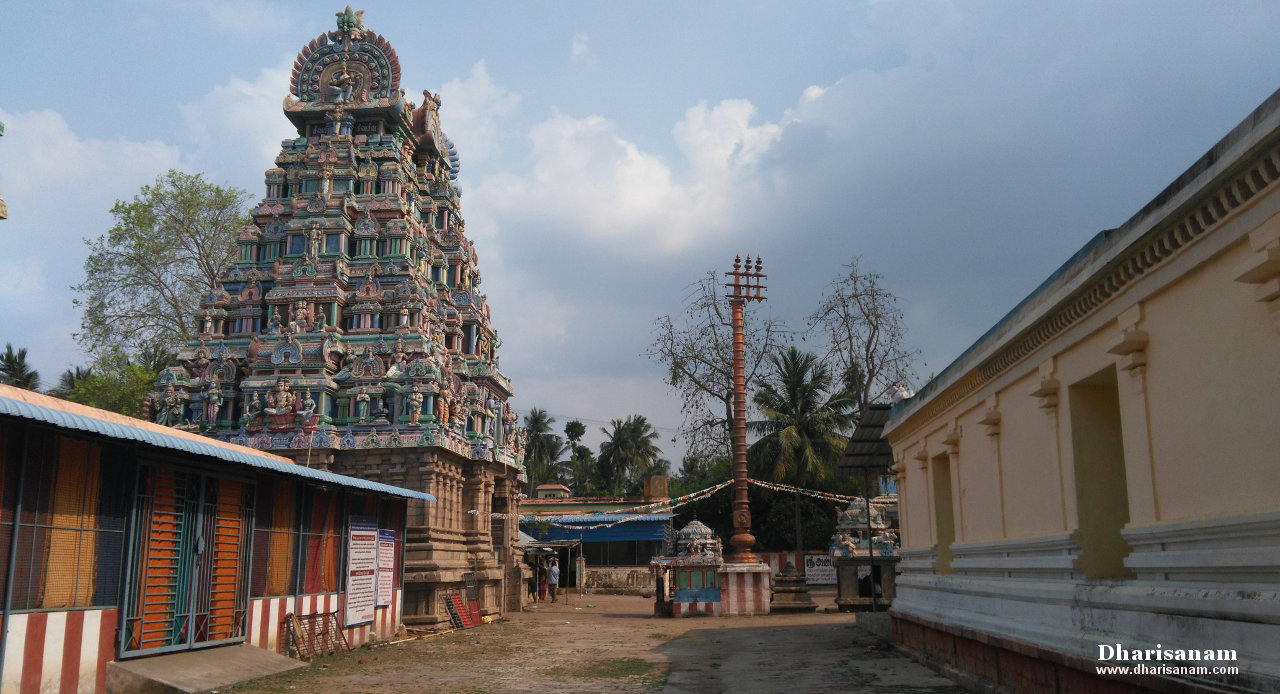 Legend
Lord Shiva's lingam here changes its colour 5 times in a day. Hence, the lord is praised as "Sri Panchavarneswarar" ("pancha" means five, "varnam" means colour and "eswarar" means the lord in Tamil).
According to legend, when Saint Thirunavukkarasar was at a nearby village called Shakthi Mutham, he pleaded to Lord Shiva that he be blessed with the lord's "thiruvadi deeksha". Lord Shiva advised the saint to come to Nallur (this temple) to get this "deeksha". It is believed that Lord Shiva gave the thiruvadi deeksha to Saint Thirunavukkarasar here by placing his feet on the saint's head. A unique tradition in this temple is that similar to Vaishnava temple, "sadaari" (lord's foot) is placed on the heads of devotees as a form of blessing.
In his hymn, Saint Thirunavukkarasar referred to this place as "vadapal kayilaiyum, thenpal Nallurum tham vazhpathiye" (It is significant to note that Nallur is described as South Kailash). In his hymn, he also mentions about thiruvadi deeksha.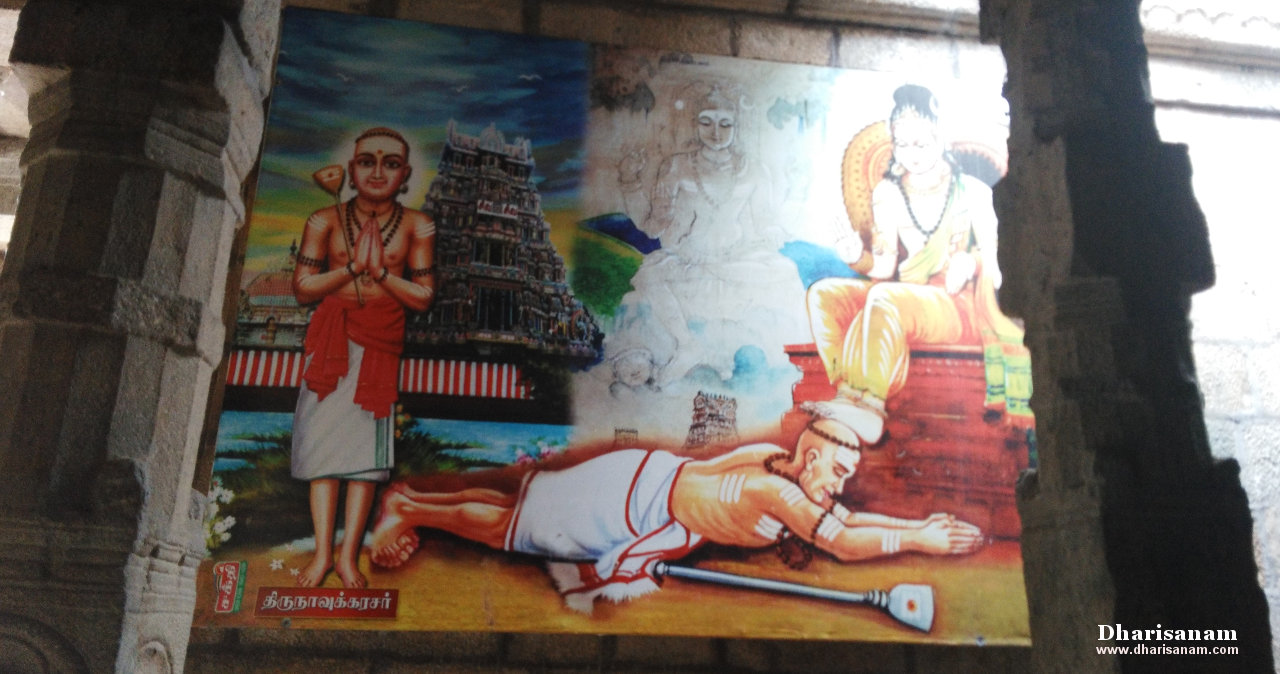 Another legend associated with this place is that of Amaraneethi Nayanar. He is one of the 63 Nayanmars. He lived in this place and attained salvation. He belonged to Pazhaiyaarai, a nearby village and later migrated to this place due to his immense devotion towards the lord of this temple. He was a trader in gold, diamonds, silks and cotton goods. Though he was engaged in worldly activities, he was an ardent Shiva devotee. Every day he would invite Shiva devotees to his house to worship and feed them. He was also extremely generous and would also give them clothes as gifts.
Lord Shiva wanted to test the extend of Amaraneedi Nayanar's generosity. He also wanted to show the Nayanar's greatness to the world. One day Lord Shiva visited him in the form of a young brahmin boy and praised his noble activities. The Nayanar requested the boy to take food in his house to which the boy agreed. The boy told him that he wanted to take a bath in the river. Since it was raining, he handed over his clothes to keep them dry. When he returned from the river and asked for his clothes, the Nayanar was unable to return them as they had magically disappeared. The Nayanar gave him a new set of garments as replacement but the boy was not ready to accept anything other than his own clothes.
The boy then demanded equal weight in gold for his lost clothes. One by one, Amaraneethi Nayanar started depositing all his wealth on one pan of the scale, but no amount of gold was able to balance it. Finally, he submitted himself, his wife and his son and prayed to Lord Shiva to save him. Lord Shiva was pleased by his devotion and blessed the three with salvation.
Idols of the Nayanar and his wife can be seen in the hall. There are both stone idols as well as metal procession idols. The "Thula Mandapam" (hall) where he weighed himself in a balance, can still be seen.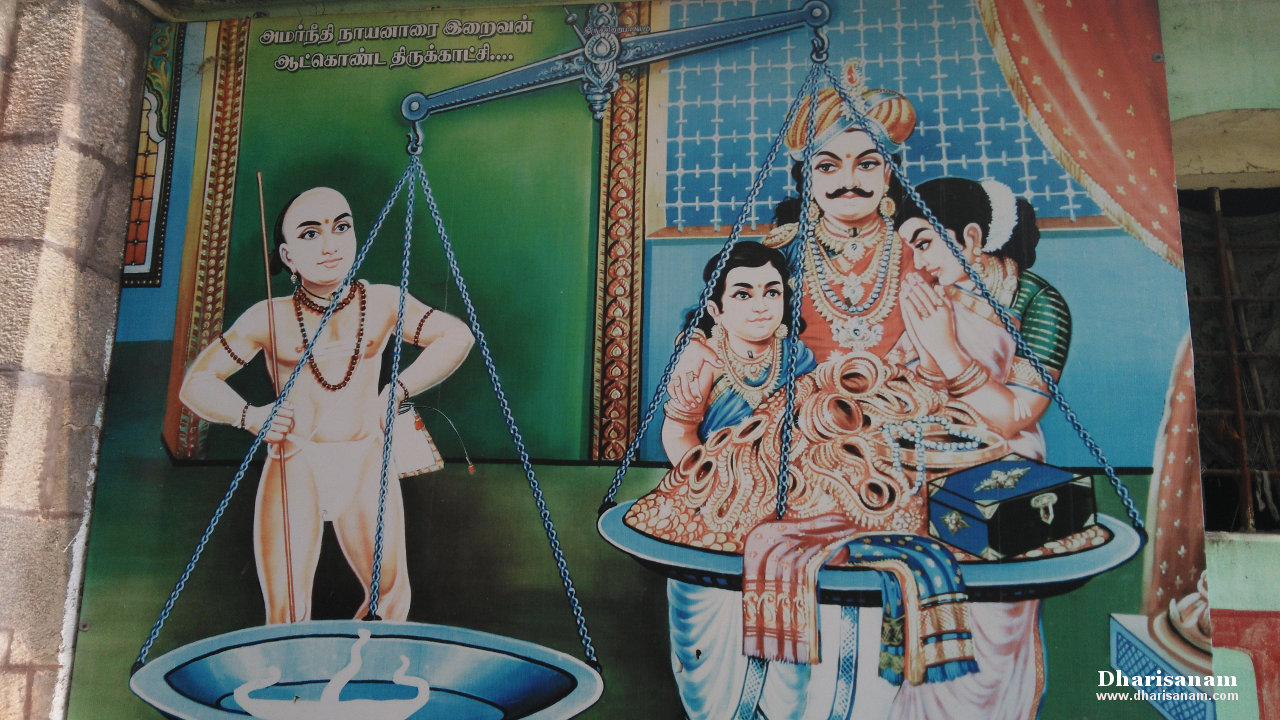 Another legend associated with this temple is that of Kunti Devi, from the Mahabaratha period. She is the wife of King Pandu and the mother of the Pandavas. Kunti had committed a sin by having a child before her marriage. She then put this infant in a basket and set him afloat in a river. This child grew up to be known as Karna. After this act, a repentant Kunti sought the advice of Sage Naradha. The sage said that she would be absolved of the sin if she takes bath in the waters of all the seven oceans on a Maasi Maham star day. A flabbergasted Kunti wondered how this could be possible. The Sage then told her to come to this place. Following the advice, she reached this place and prayed to Lord Shiva. Lord Shiva instructed all the seven seas to come to this temple's tank to enable Kunti to take a dip. She took a dip in this Theertham and was absolved of her sin. This tank is known as "Sapthasahara Theertham". There is a beautiful relief in this temple depicting Kunti performing pooja to Lord Shiva.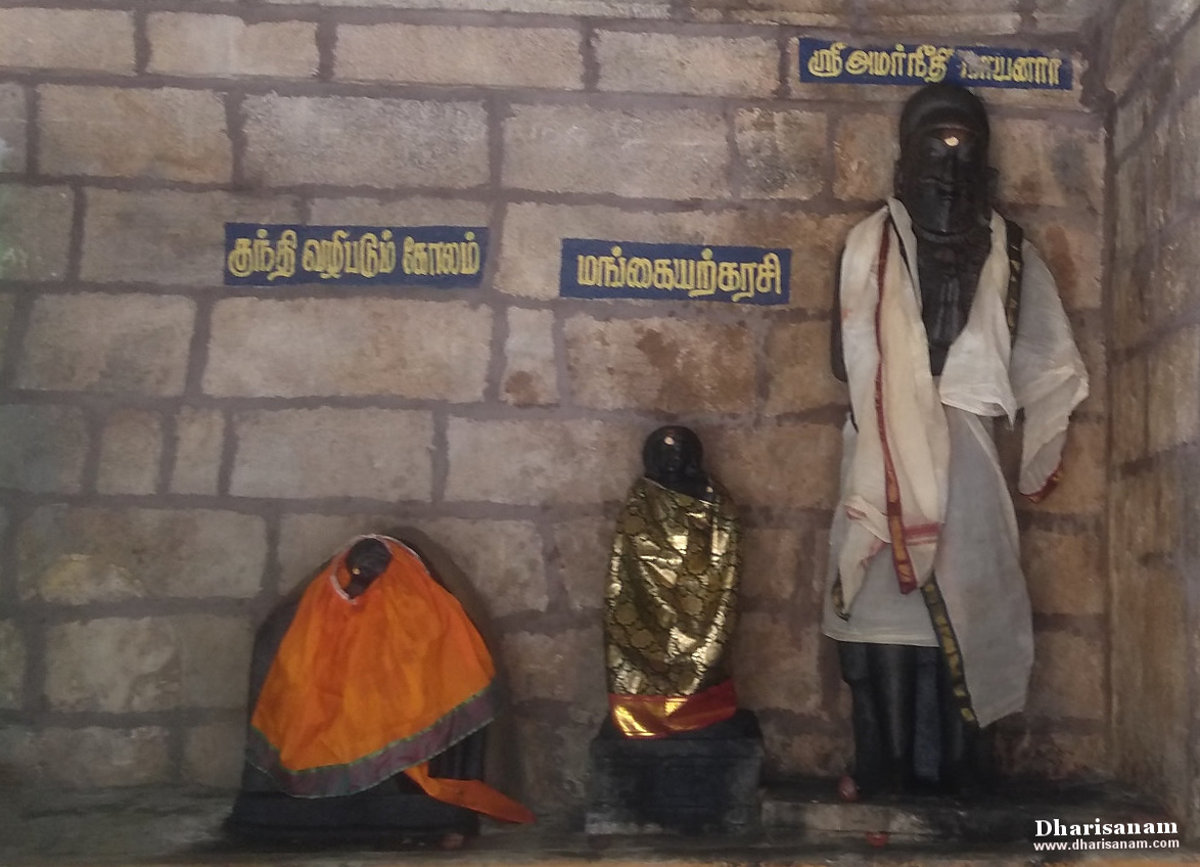 Another legend associated with this temple is that of Sage Agasthiyar. When the marriage of Lord Shiva and Goddess Parvati took place, everybody went to Mount Kailash to attend the marriage. This created an imbalance and the earth tilted to one side. In order to maintain balance, Lord Shiva asked Sage Agasthiyar to go to the southern end. However, Sage Agasthiyar was disappointed that he could not witness the lord's wedding. Understanding the sage's concern, Lord Shiva told him that he would be blessed with the wedding darshan whenever he wished to see it. Nallur is one such place where Lord Shiva gave his wedding darshan to the sage.
At this temple, Sage Agasthiyar consecrated another small lingam besides the existing one and performed pooja. This small lingam is known as "Agasthiyar lingam". Hence there are two Shiva lingams on a single base (avudaiyar). This is a unique feature of this temple. Lord Shiva was pleased with Sage Agasthiyar's devotion and appeared before him with his wedding form ("Kalyana Kolam").
Behind the Lingam in the sanctum ("garbagraham"), there is a sculpture of Lord Shiva and Goddess Parvathi in a seated posture. An interesting feature is that lords Shiva, Vishnu and Brahma are present in the same sanctum. Brahma is seen standing to Shiva's right and performing the marriage rites, while Vishnu is seen standing to Shiva's left. Sage Agasthiyar can be seen worshiping the lord.
Another legend is that Sage Brinki, an ardent devotee of Lord Shiva, was not willing to worship the Goddess Parvathy. Hence, he took the form of a "vandu" (bee) and worshipped Lord Shiva alone by flying around him. Similar to a bee hive, there are a few small holes on this Shivalingam.
It is also believed that Emperor Musukundha Chakravarthi was presented with seven idols of Lord Thiyagarajar by Lord Indra. While taking them back to his kingdom, the emperor stayed here for three days and worshiped Lord Shiva. This emperor belongs to the "Dwapara Yuga", the third of the four yugas.
It is believed that Vayu, Sage Agasthiyar, Sage Birunki, Sage Kaka Bhujandar, Kunti, Musukunda Chakravarthy andSaints Thirugnanasambanthar and Appar have worshiped the lord here. It is also believed that this lord was once worshiped by a lion.
Deities in the temple
Other than the shrines of Lord Shiva and Goddess Parvathy, shrines and idols of Kasi Vinayakar, Kailasa Ganapathy, Uchishta Ganapathy, Natarajar, Somaskandar, Lord Gana Nathar, eight lingams, Sapthamathas, Kasi Viswanathar, Agasthiyar, 63 Nayanmars, Sri Musukuntha Lingam, Sri Sangukarna Lingam, Sri Sumathi Lingam, Sri Varuna Lingam, Sri Vishnu Lingam, Sri Brahma Lingam, Gajalakshmi, Sri Kalahastheeswarar, Sri Kalahastheeswari, Bairavar, Saneeswarar, Suryan, Chandran, Bhana Lingam, Maha Lingam, Jurahareswarar, Jurahareswari, Indra Lingam, Agni Lingam and Moovar can be seen in the hall and corridors.
In the "koshtam" (place surrounding the sanctum sanctorum), idols of Narthana Vinayakar, Dakshinamurthy, Lingothbavar, Brahma, Vishnu Durgai and Chandikeswarar can be seen.
Ashtapuja Kaali (with 8 hands) is housed in the south corridor of this temple. This Kaali is very popular among women devotees, especially pregnant women. They conduct their bangle wearing ceremony here during their pregnancy and pray for an easy and safe delivery.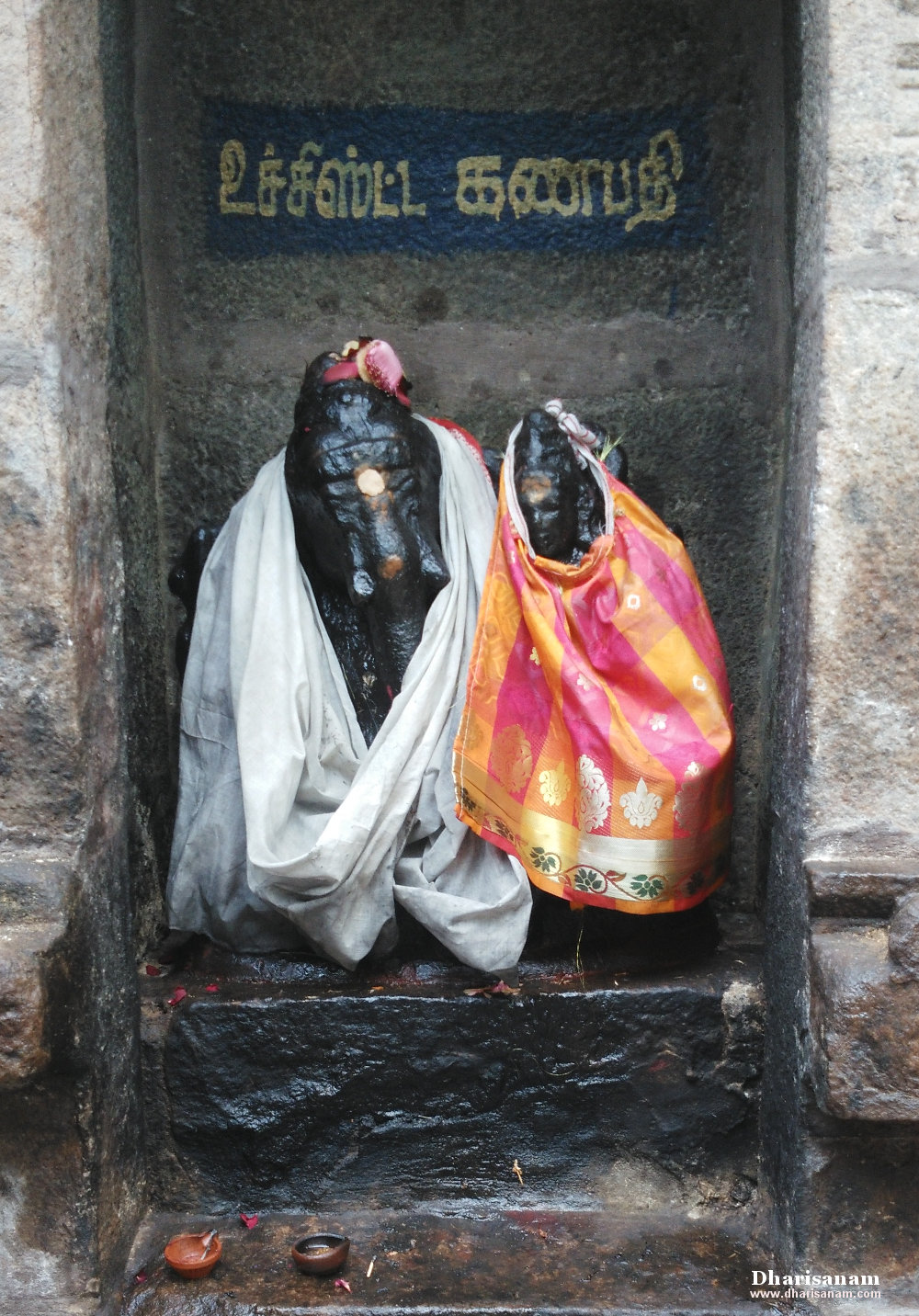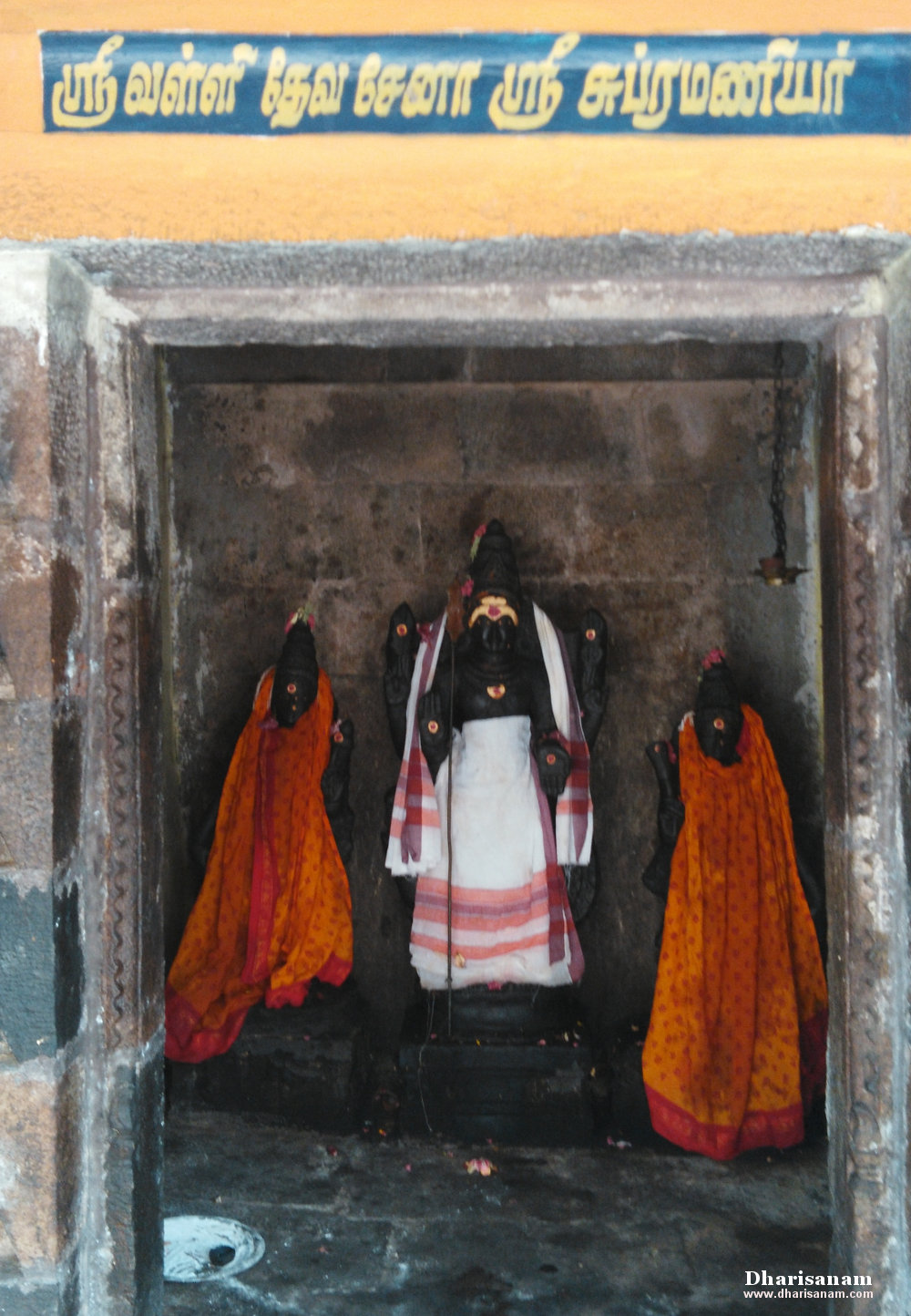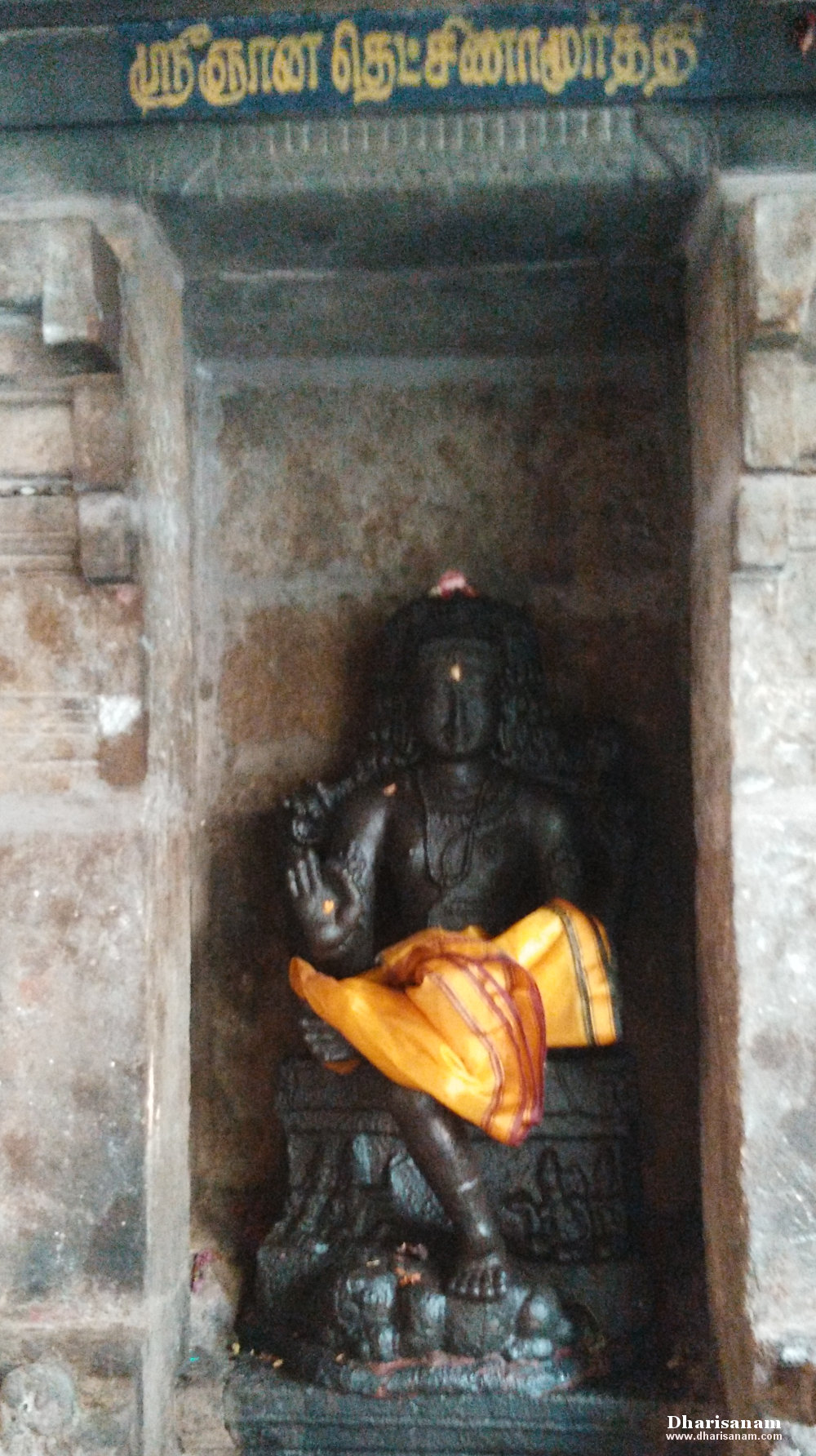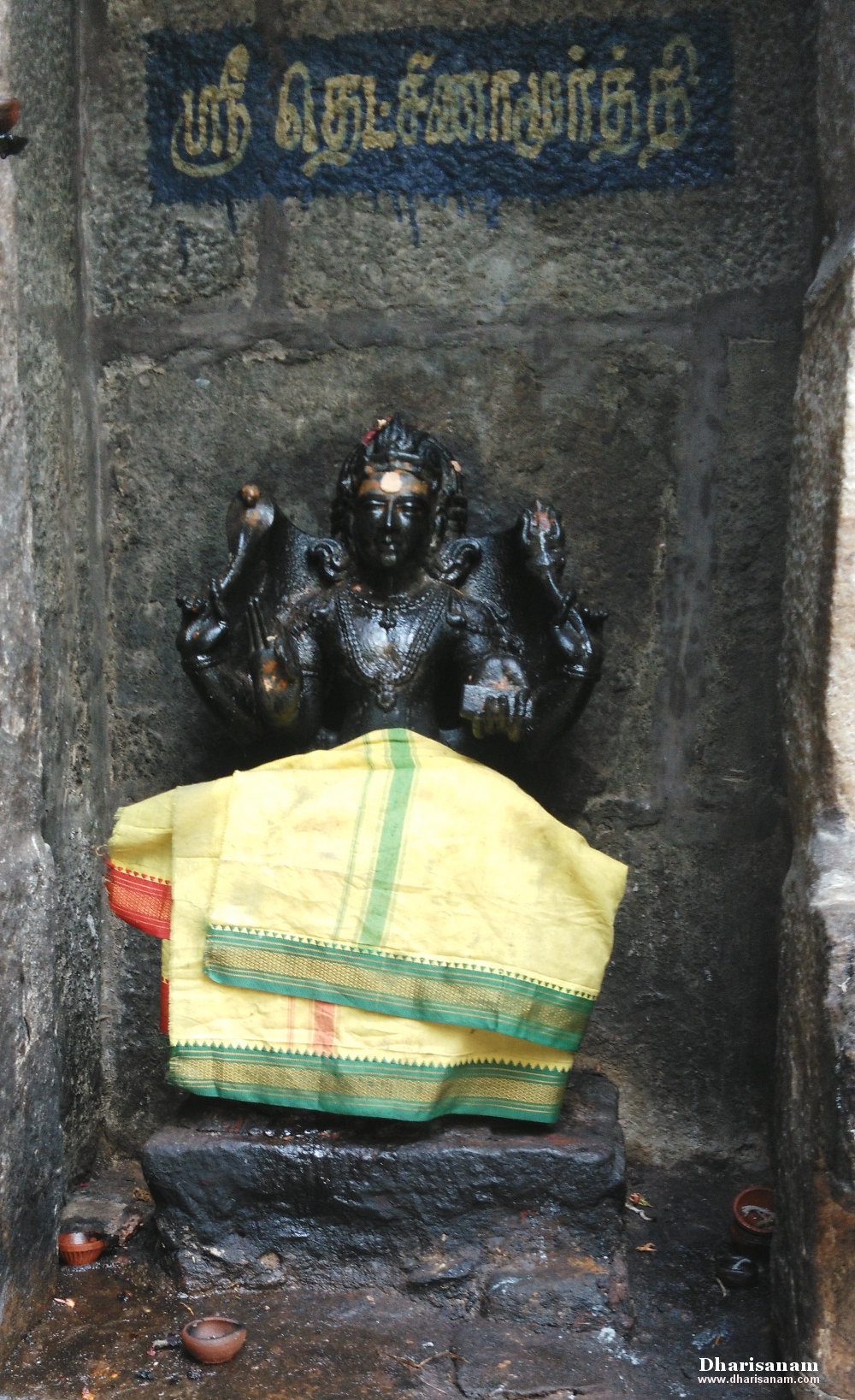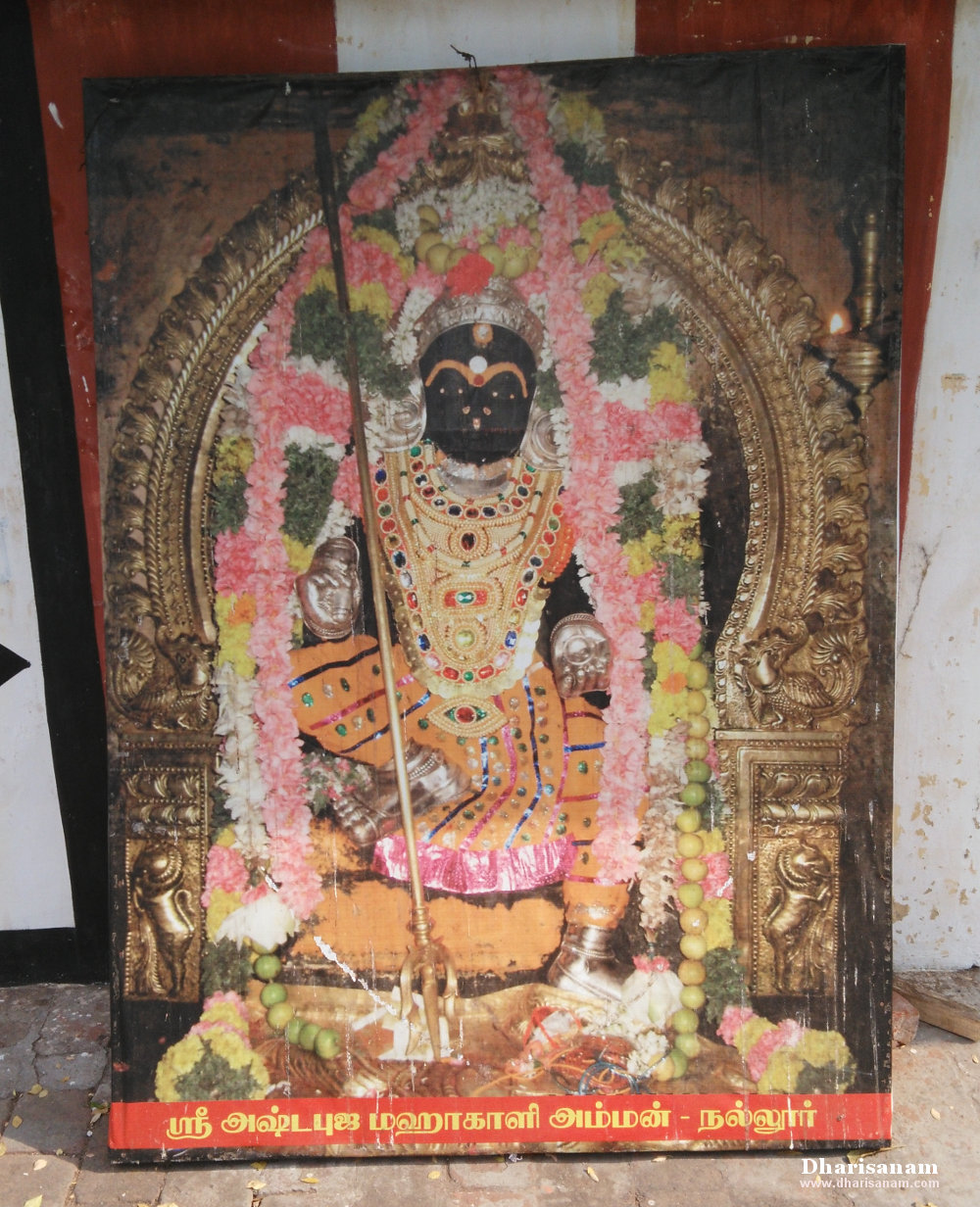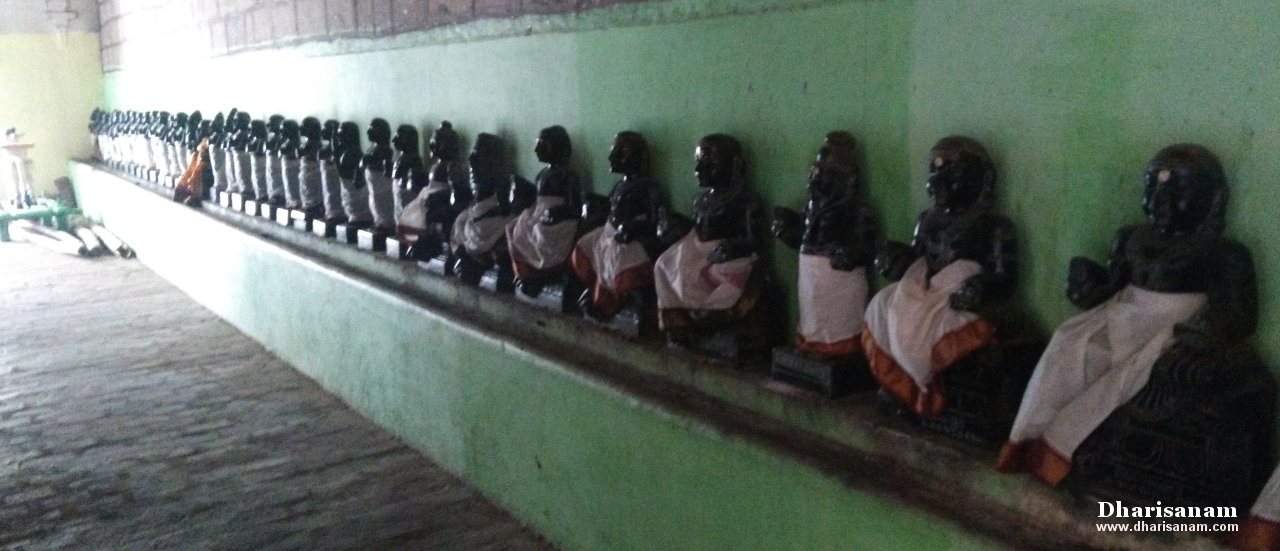 Salient Features
Inside the sanctum, at the back of the main lingam, there is a sculpture of Lord Shiva and Goddess Parvathi in their wedding form. Mahavishnu and Brahma can also be seen in this sculpture.
The "Balipeeta" (platform for making offerings) is referred to as Lord Gananathar. It is considered to be a form of Lord Shiva. There are only two places where Gananathar can be seen in this form – one in Varanasi and the other one here.
It is believed that King Kochengat Chola built about 70 "Madakkoils". The distinguishing feature of a Madakkoil is that it is not easily approachable by an elephant. He built these temples at an elevation and there are a few steps that need to be climbed before seeing the lord. Also, the sanctum sanctorum's (Karpagragam) entrance is narrow such that no elephant can enter it.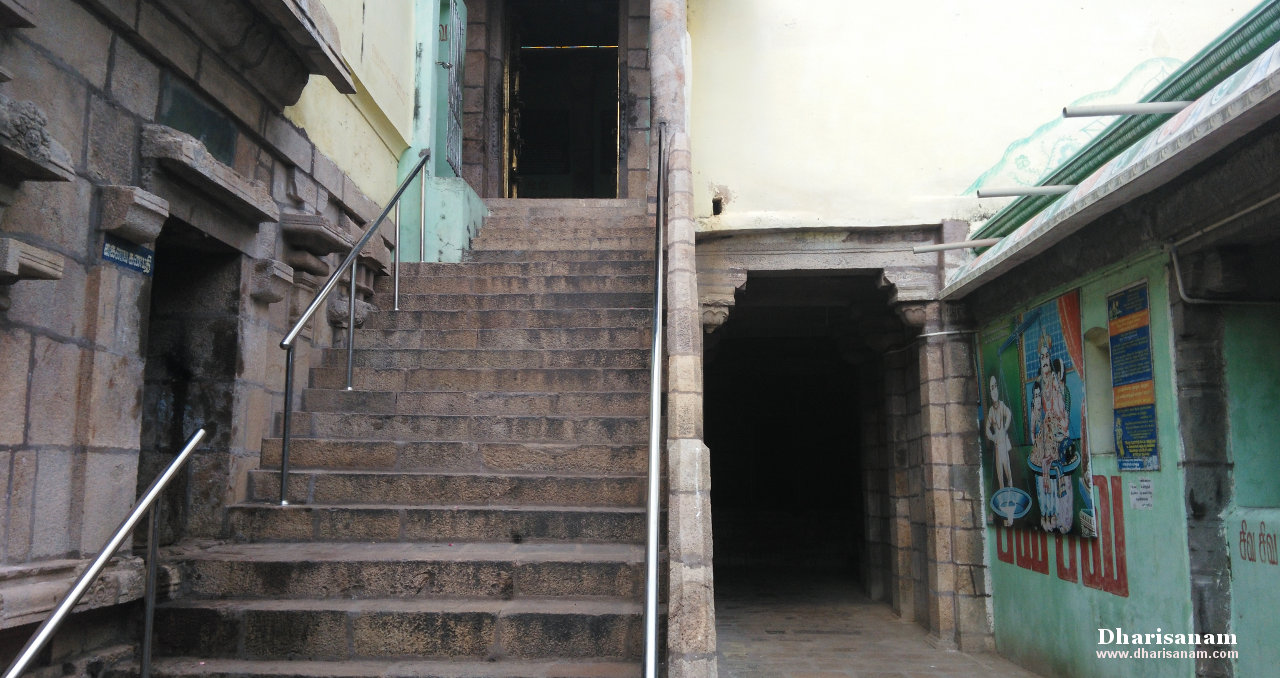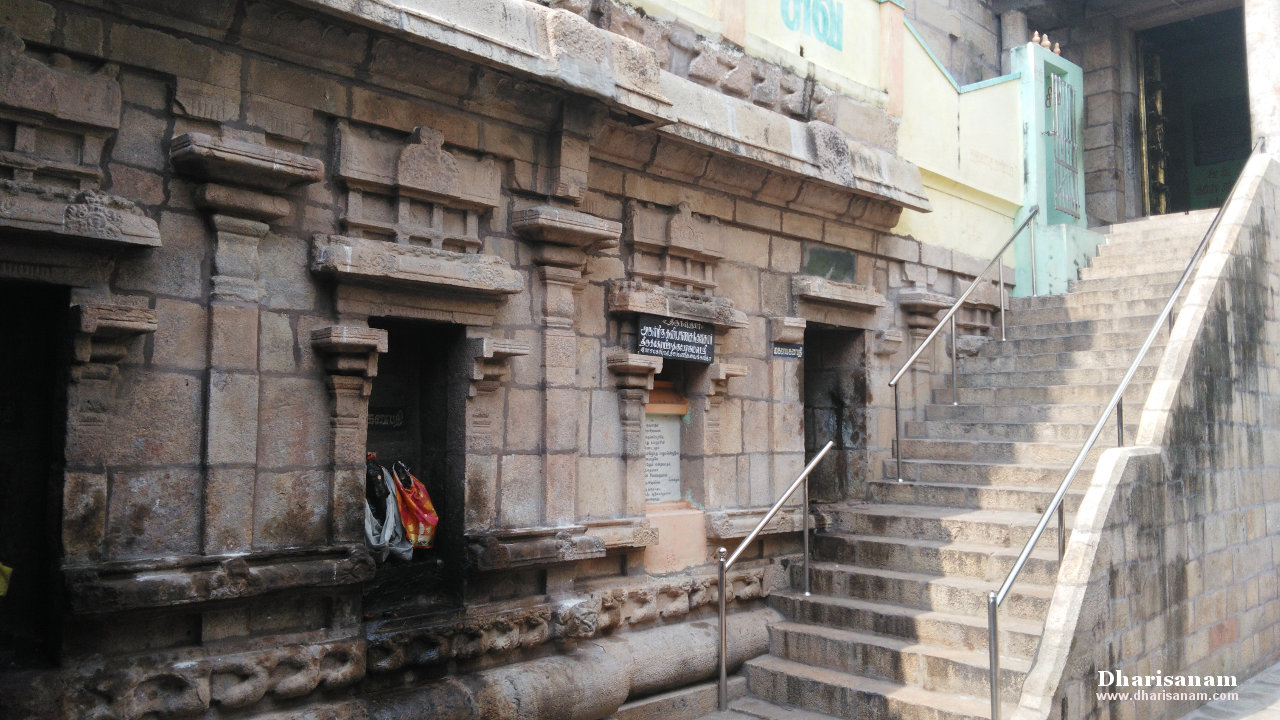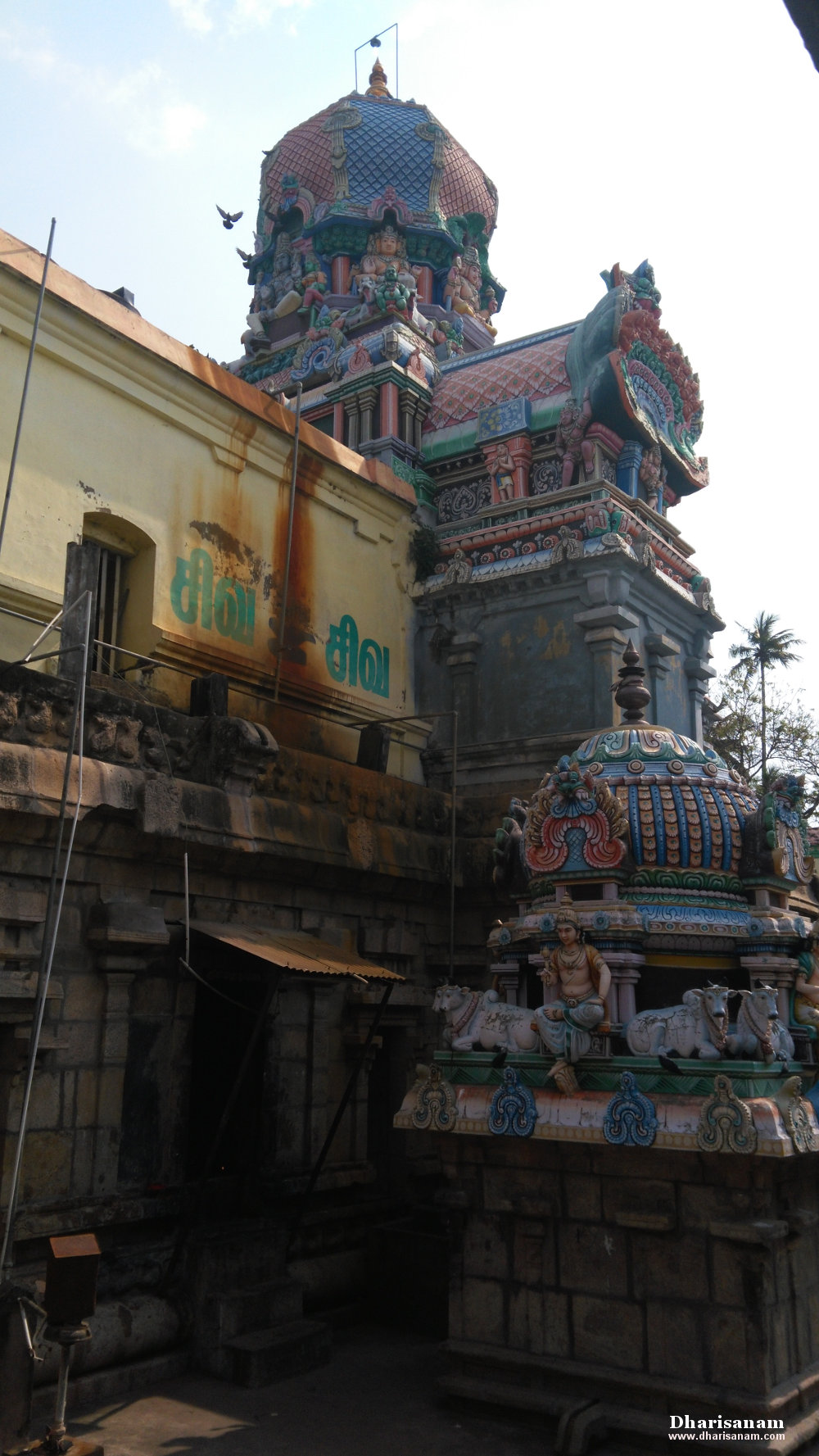 A very interesting phenomenon, a miracle even, is that the Shiva Lingam here changes colour every six "nazhigai" (one nazhigai equals 24 minutes). This means that the Shivalingam changes to a different colour after every 2 hours and 24 minutes. From 6 am to 8:24 am the lingam is copper coloured, between 8:25 am to 10:48 am the lingam is red in colour, it changes to a golden hue between 10:49 am and 1:12 pm. Between 1:13 pm and 3:36 pm the colour changes to emerald green and finally, the lingam appears multi-coloured between 3:37 pm and 6 pm. Hence the lord gets the name "Sri Panchavarneswrar".
The idol of Uchishta Ganapathy here can be seen with his wife.
Lord Shiva's hair ("Jada Mudi") is believed to occupy the space behind the sanctum. Hence, no one is allowed to go around the inner corridor.
Saint Arunagirinadhar has sang songs in praise of Lord Murugan of this temple in his revered Thirupugazh.
Saints Manickavasakar, Ramalinga Adigalar, Sekkizhar, Nambiyandar Nambi and Malaikkozhunthu Navalar have sang songs in praise of this lord.
This temple's ancient Sthala viruksham (vilvam tree) is called "Aadhimaram" ("adhi" means very old and "maram" means tree in Tamil). This tree is believed to be the first tree on earth.
In the corridors, there are many beautiful sculptures depicting various "avatars" of Lord Shiva.
There is a famous proverb - "Maham piranthadu Nalluril Mahamaham piranthadu Kumbakonathil". This means that the "Maham festival" started in Nallur and the "Mahamaham festival" started in Kumbakonam.
Thiru Nallur's "Sapthasthana" temples are – Thiru Nallur, Govindakudi, Avoor, Maaligaithidal, Mattiyanthidal, Papanasam and Thiruppalaithurai.
In this temple, we can see a sculpture of Lord Narasimha on the vimanam (tower) of the sanctum.
Greatness of this temple
Devotees who are born during the time of "Maka nakshatram" can visit this temple to seek the blessings of the lord.
Devotees believe that by worshiping the lord here, they will be relieved from the sins committed by them (such as illicit relationship, abortion, cheating and adultery).
It is believed that a dip in this temple's holy water, Saptha Sahara Theertham, will absolve a person from all his sins. This Theertham is considered to be as auspicious as the Kumbakonam Mahamaham tank.
Important Festivals
Some of the important festivals celebrated in this temple are –
Thirunavukkarasar Guru Poojai,
Aani Thirumanjanam in the Tamil month of Aani (June-July),
Aadi Pooram in the Tamil month of Aadi (July-Aug),
Vinayakar Chaturthi in the Tamil month of Aavani (Aug-Sept),
Navarathri in the Tamil month of Purattasi (Sept-Oct),
Skanda Shashti and Annabishekam in the Tamil month of Aippasi (Oct–Nov),
Thiru Karthikai in the Tamil month of Karthikai (Nov-Dec),
Thiruvadhirai in the Tamil month of Markazhi (Dec-Jan),
Makara Sankranthi in the Tamil month of Thai (Jan-Feb),
Shivrathri in the Tamil month of Masi (Feb-Mar) and
Panguni Uthiram in the Tamil month of Panguni (Mar-Apr).
Pradosham is also observed regularly.
Temple Timings
From 07:30 AM to 12:30 PM and from 04:00 PM to 08:00 PM.
Temple Address
Sri Kalyanasundareswarar Temple,
Thirunallur Post,
Sundaraperumal Koil-Via,
Valangaiman Taluk,
Thiruvarur District,
Tamil Nadu – 614208.
Tele: +91- 04374-312857.
This temple priests can be contacted at: 9488110697, 9942439209 and 9443668306.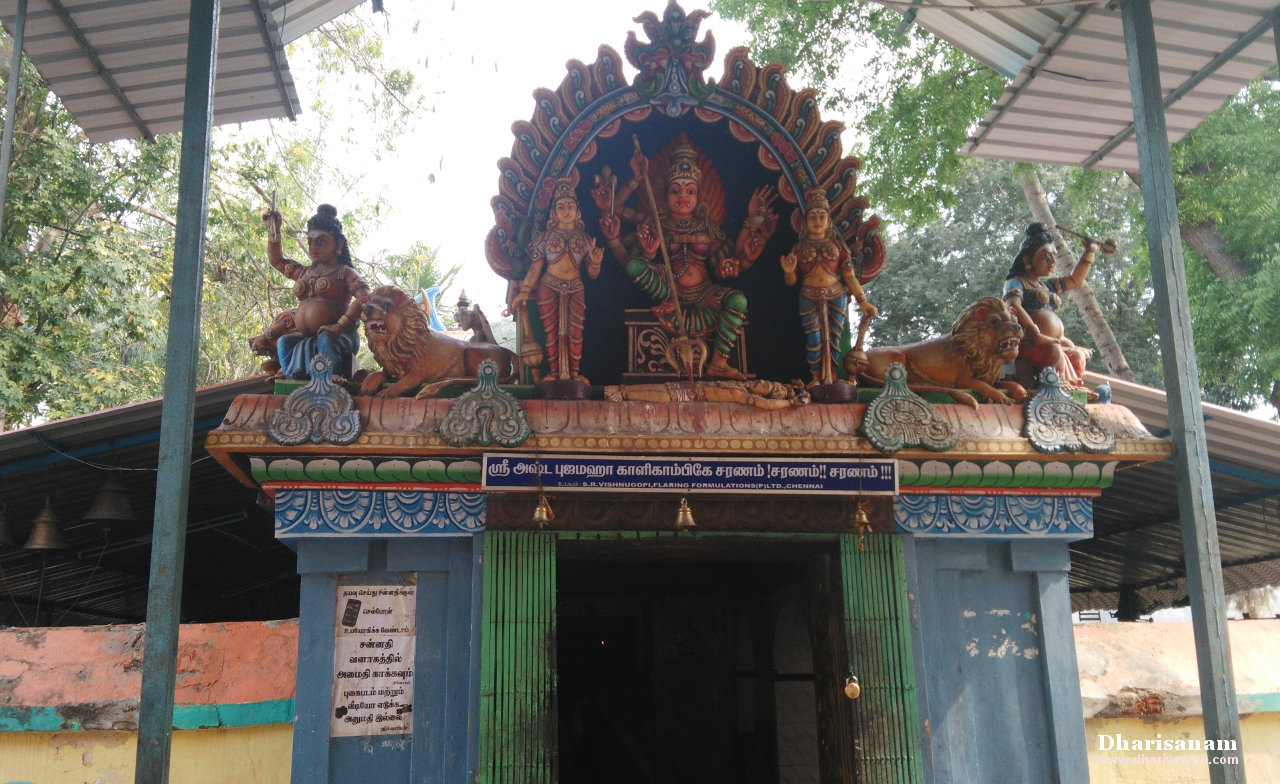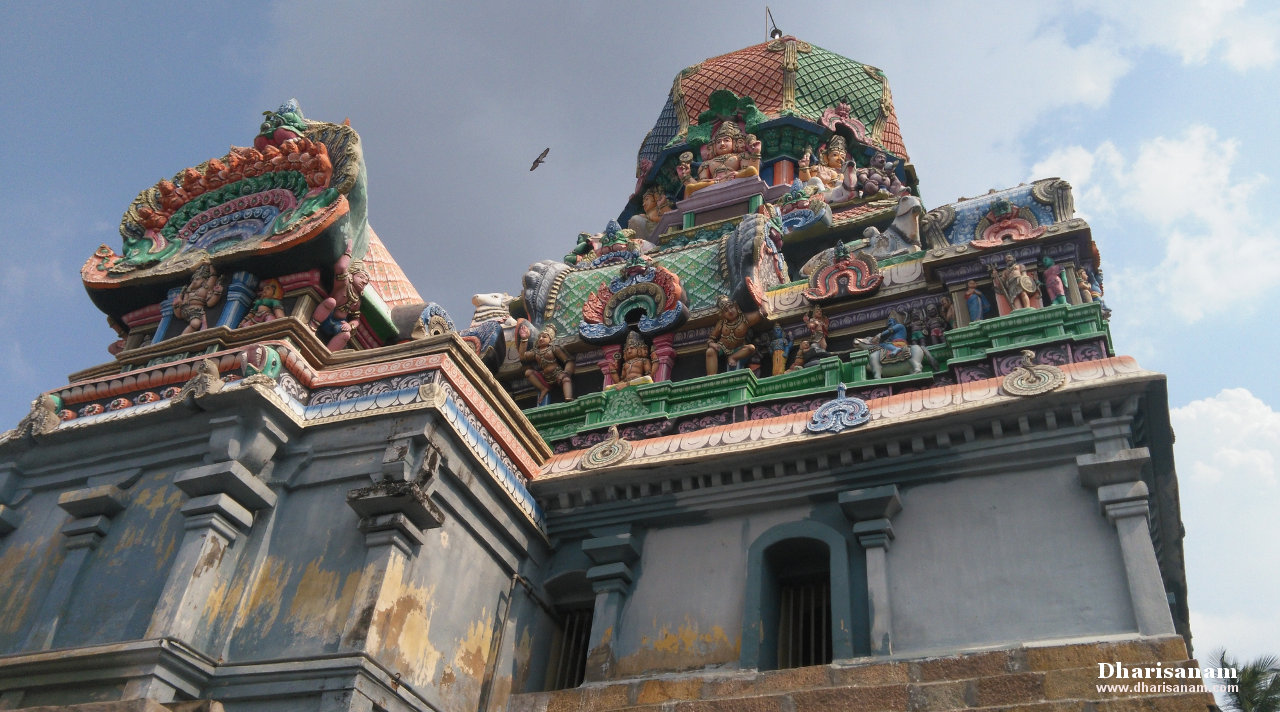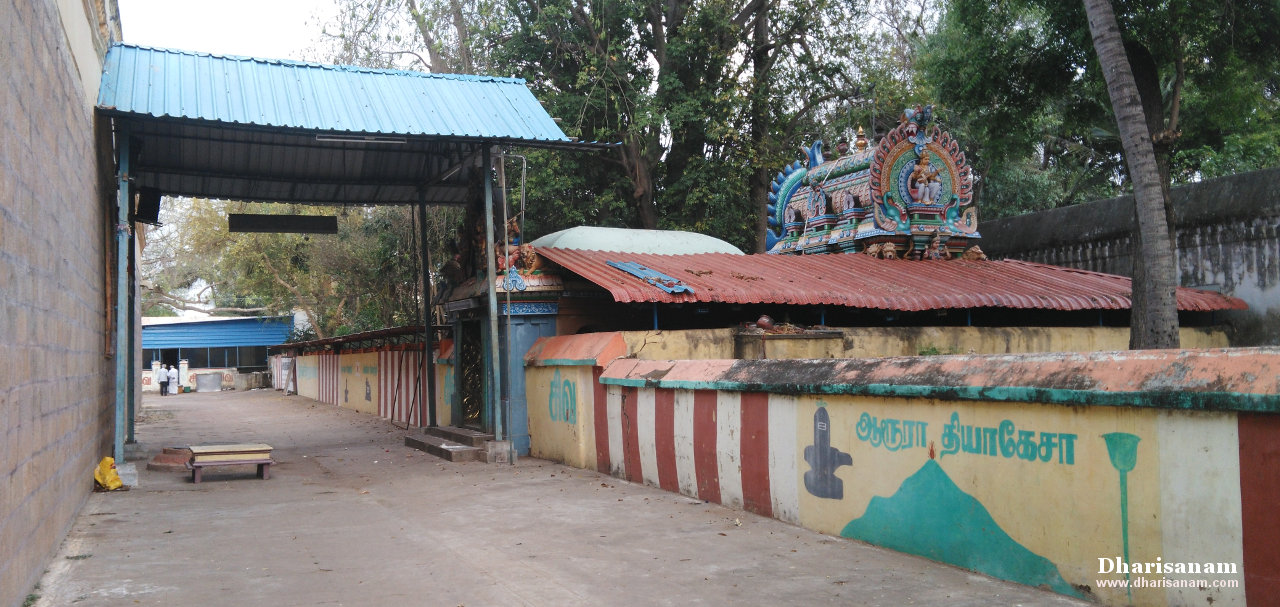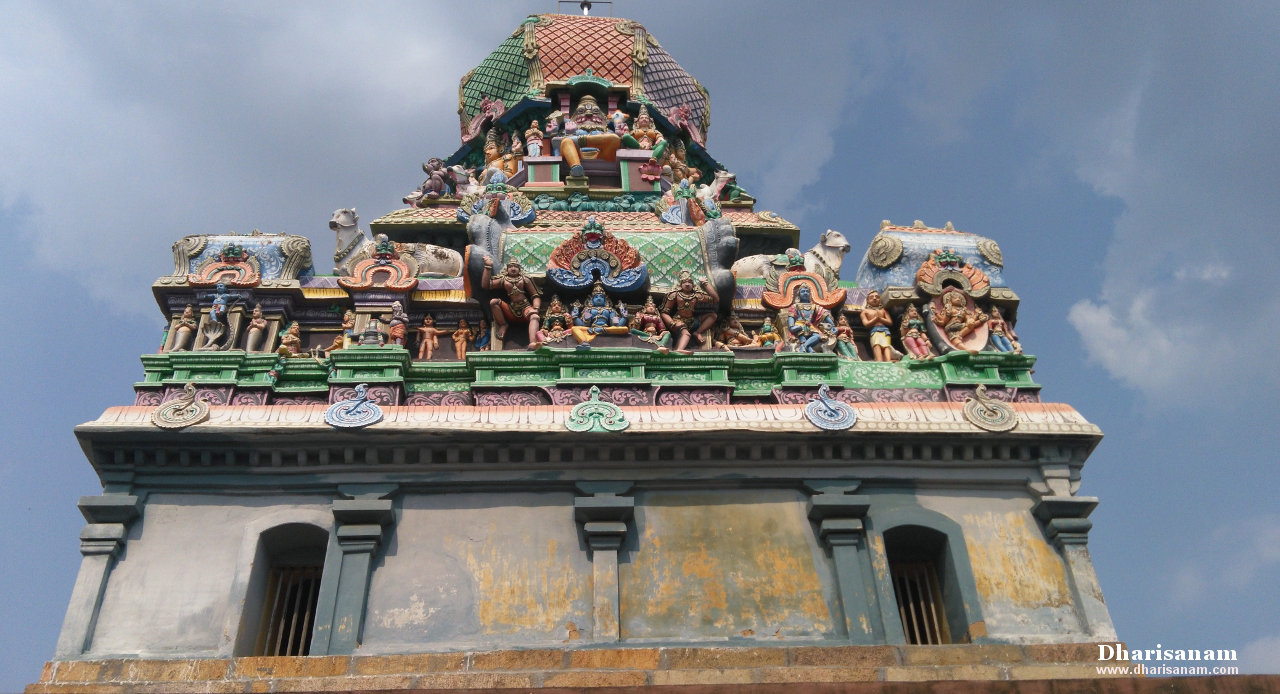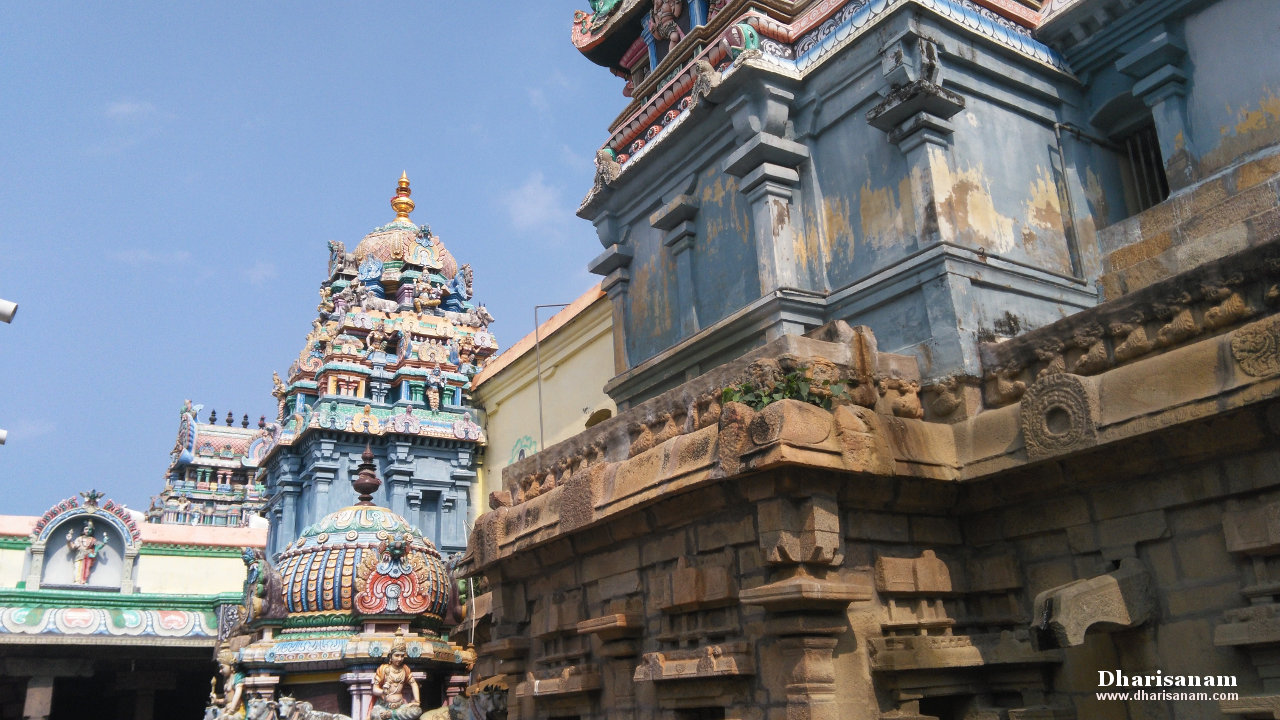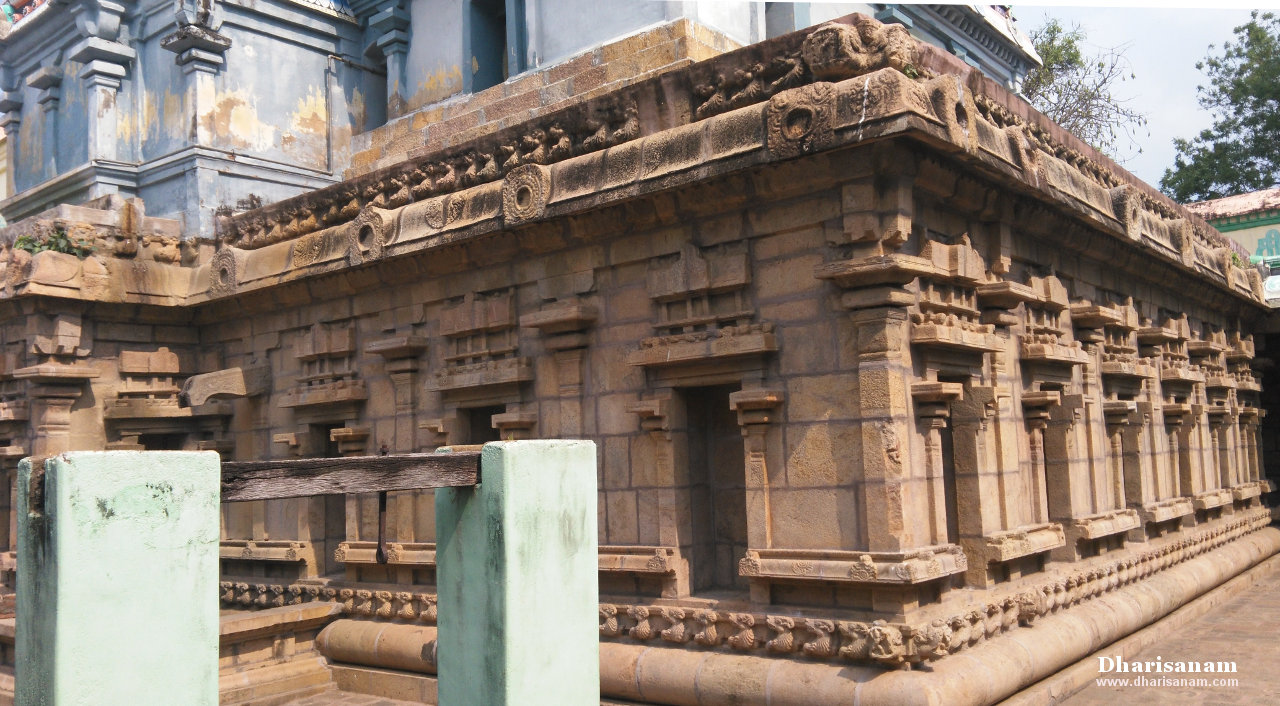 ---
Pathigam (Hymn) with English transliteration and Tamil meaning.
Saint Thirugnanasambanthar visited this temple and sang this Pathigam.
Devotees visiting this temple should make it a practice to recite this Pathigam.
கொட்டும் பறைசீராற் குழும அனலேந்தி
நட்டம் பயின்றாடும் நல்லூர்ப் பெருமானை
முட்டின் றிருபோதும் முனியா தெழுந்தன்பு
பட்ட மனத்தார்கள் அறியார் பாவமே.
"Koṭṭum paṟaisīrāṟ kuzhuma aṉalēnthi
naṭṭam payiṉtṟādum nallūrp perumāṉai
muṭṭiṉ tṟirupōthum muṉiyā thezhunthaṉpu
paṭṭa maṉaththārkaḷ aṟiyār pāvamē".
பறை கொட்டும் சீருக்கு ஏற்பப் பூதகணங்கள் முதலியன சூழக் கையின்கண்
அனலேந்தி விருப்போடு நடனம் ஆடும் நல்லூர்ப் பெருமானைக் காலை
மாலை இருபொழுதும் தவறாமல் வெறுப்பின்றி எழுச்சியோடு வணங்கி
அன்பு பூண்ட மனத்தார்களைப் பாவம் அணுகாது.
ஏறில் எருதேறும் எழிலா யிழையோடும்
வேறும் முடனுமாம் விகிர்த ரவரென்ன
நாறும் மலர்ப்பொய்கை நல்லூர்ப் பெருமானைக்
கூறும் மடியார்கட் கடையா குற்றமே.
"Ēṟil eruthēṟum ezhilā yizhaiyōdum
vēṟum muṭaṉumām vikirtha ravareṉṉa
nāṟum malarppoykai nallūrp perumāṉaik
kūṟum maṭiyārkaṭ kaṭaiyā kutṟamē".
ஊர்தியாக எருது ஒன்றிலேயே ஏறுபவனும், அழகிய உமையம்மையோடு
ஒன்றாகவும் வேறாகவும் விளங்கும் தன்மையை உடையவனுமாகிய
சிவபெருமான், அன்பர்கள் எண்ணுமாறு மணங்கமழும் மலர்ப் பொய்கை
சூழ்ந்த நல்லூரில் விளங்குகின்றான். அப்பெருமான் புகழைக் கூறும்
அடியவர்களைக் குற்றங்கள் அடையா.


சூடும் இளந்திங்கள் சுடர்பொற் சடைதாழ
ஓடுண் கலனாக வூரூ ரிடுபிச்சை
நாடும் நெறியானை நல்லூர்ப் பெருமானைப்
பாடும் அடியார்கட் கடையா பாவமே.
"Sūṭum iḷanthiṅkaḷ suṭarpoṟ saṭaithāzha
ōṭuṇ kalaṉāka vūrū riṭupichchai
nāṭum neṟiyāṉai nallūrp perumāṉaip
pāṭum adiyārkaṭ kaṭaiyā pāvamē".
இளம்பிறை, முடியிற்சூடி, ஒளி விடுகின்ற பொன் போன்ற சடைகள் தாழ,
தலையோட்டையே உண்கலனாகக் கொண்டு, ஒவ்வோர் ஊரிலும் மகளிர்
இடும் பிச்சையை நாடிச் செல்லும் அறநெறியாளனாகிய நல்லூர்ப்
பெருமானைப் பாடும் அடியவர்களைப் பாவங்கள் அடையா.
நீத்த நெறியானை நீங்காத் தவத்தானை
நாத்த நெறியானை நல்லூர்ப் பெருமானைக்
காத்த நெறியானைக் கைகூப் பித்தொழுது
தேத்தும் அடியார்கட் கில்லை யிடர்தானே.
"Nīththa neṟiyāṉai nīṅkāth thavaththāṉai
nāththa neṟiyāṉai nallūrp perumāṉaik
kāththa neṟiyāṉaik kaikūp piththozhuthu
thēththum aṭiyārkaṭ killai yiṭarthāṉē".
உலகியல் நெறி முறைகளைத் தான் பின்பற்றாது நீத்தவனும், நீங்காத
தவத்தை உடையவனும், கட்டுப்பாடுகளுடைய நெறிகளை வகுத்து
அளித்தவனும், அந்நெறி நிற்பாரைக் காத்தருள்பவனும் ஆகிய நல்லூர்ப்
பெருமானைக் கைகுவித்துத் தொழுதேத்தும் அடியவர்கட்கு இடரில்லை.
ஆகத் துமைகேள்வன் அரவச் சடைதாழ
நாகம் மசைத்தானை நல்லூர்ப் பெருமானைத்
தாகம் புகுந்தண்மித் தாள்கள் தொழுந்தொண்டர்
போகம் மனத்தராய்ப் புகழத் திரிவாரே.
"Ākath thumaikēḷvaṉ aravach chaṭaithāzha
nākam masaiththāṉai nallūrp perumāṉaith
thākam pukunthaṇmith thāḷkaḷ thozhunthoṇṭar
pōkam maṉaththarāyp pukazhath thirivārē".
தனது திருமேனியில், கூறாகக் கொண்டுள்ள உமையம்மையின் கணவனும்
பாம்பணிந்த சடைகள் தாழ்ந்து தொங்க, இடையில் பாம்பைக் கச்சாகக்
கட்டியவனும் ஆகிய நல்லூர்ப் பெருமானை, வேட்கை மிக்கவராய் அணுகி
அவன் திருவடிகளைத் தொழும் தொண்டர்கள் இன்பம் பொருந்திய
மனத்தவராய்ப் பலரும் புகழ உலகில் வாழ்வார்.
கொல்லுங் களியானை யுரிபோர்த் துமையஞ்ச
நல்ல நெறியானை நல்லூர்ப் பெருமானைச்
செல்லும் நெறியானைச் சேர்ந்தா ரிடர்தீரச்
சொல்லும் அடியார்கள் அறியார் துக்கமே.
"Kolluṅ kaḷiyāṉai yuripōrth thumaiyañcha
nalla neṟiyāṉai nallūrp perumāṉaich
chellum neṟiyāṉaich chērnthā riṭarthīrach
chollum aṭiyārkaḷ aṟiyār thukkamē".
தன்னைக் கொல்ல வந்த மதம் பொருந்திய யானையை, உமையம்மை
அஞ்சுமாறு கொன்று, அதன் தோலைப் போர்த்த நல்ல நெறியாளனாய்,
நல்லூர்ப் பெருமானாய், எல்லோரும் அடையத்தக்க முத்திநெறியாளனாய்
விளங்கும் சிவபிரானை அடைந்து, தங்களது அரிய துன்பங்கள் தீருமாறு
புகழ்ந்து போற்றும் அடியவர்கள், துக்கம் அறியார்.
எங்கள் பெருமானை இமையோர் தொழுதேத்தும்
நங்கள் பெருமானை நல்லூர் பிரிவில்லாத்
தங்கை தலைக்கேற்றி யாளென் றடிநீழல்
தங்கு மனத்தார்கள் தடுமாற் றறுப்பாரே.
"Eṅkaḷ perumāṉai imaiyōr thozhuthēththum
naṅkaḷ perumāṉai nallūr pirivillāth
thaṅkai thalaikkētṟi yāḷeṉ tṟaṭinīzhal
thaṅku maṉaththārkaḷ thaṭumāt ṟaṟuppārē".
எங்கள் தலைவனும், தேவர்களால் தொழுது போற்றப்படும் நம் பெருமானும்,
நல்லூரில் பிரிவின்றி எழுந்தருளியிருக்கும் தலைவனுமாய இறைவனை
அடைந்து, தம் கைகளை உச்சி மேல் குவித்து, நாங்கள் உனக்கு அடிமை
என்று கூறி, அவனது திருவடி நீழலில் ஒன்றி வாழும் மனத்தவர்கள்
தடுமாற்றம் இலராவர்.


காமன் எழில்வாட்டிக் கடல்சூழ் இலங்கைக்கோன்
நாமம் இறுத்தானை நல்லூர்ப் பெருமானை
ஏம மனத்தாரா யிகழா தெழுந் தொண்டர்
தீப மனத்தார்கள் அறியார் தீயவே.
"Kāmaṉ ezhilvāṭṭik kadalchūzh ilaṅkaikkōṉ
nāmam iṟuththāṉai nallūrp perumāṉai
ēma maṉaththārā yikazhā thezhun thoṇṭar
thīpa maṉaththārkaḷ aṟiyār thīyavē".
மன்மதனது உருவ அழகை அழித்துக் கடல் சூழ்ந்த இலங்கை மன்னனாகிய
இராவணனது புகழைக் கெடுத்து, விளங்கும் நல்லூரில் எழுந்தருளிய
பெருமானை, பாதுகாப்புக் கொண்ட மனத்தவர்களாய் இகழாது அவனைக்
காண எழும் தொண்டர்கள், தீபம் போன்ற ஞானஒளி நிலைத்த மனம்
உடையவராவர். தீயனவற்றை அவர்கள் அறியார்.
வண்ண மலரானும் வையம் அளந்தானும்
நண்ண லரியானை நல்லூர்ப் பெருமானைத்
தண்ண மலர்தூவித் தாள்கள் தொழுதேத்த
எண்ணும் அடியார்கட் கில்லை யிடுக்கணே.
"Vaṇṇa malarāṉum vaiyam aḷanthāṉum
naṇṇa lariyāṉai nallūrp perumāṉaith
thaṇṇa malarthūvith thāḷkaḷ thozhuthēththa
eṇṇum aṭiyārkaṭ killai yiṭukkaṇē".
செந்தாமரையில் விளங்கும் பிரமனும், உலகை அளந்த திருமாலும்,
நண்ணுதற்கு அரியவனாய் விளங்கும் நல்லூர்ப் பெருமானை, குளிர்ந்த
மலர்களைத்தூவி, அவன் திருவடிகளைத் தொழுது வணங்க எண்ணும்
அடியவர்களுக்கு, இடுக்கண் இல்லை.
பிச்சக் குடைநீழற் சமணர் சாக்கியர்
நிச்சம் அலர்தூற்ற நின்ற பெருமானை
நச்சு மிடற்றானை நல்லூர்ப் பெருமானை
எச்சும் அடியார்கட் கில்லை இடர்தானே.
"Pichchak kuṭainīzhaṟ samaṇar sākkiyar
nichcham alarthūtṟa niṉtṟa perumāṉai
nachchu miṭatṟāṉai nallūrp perumāṉai
echchum aṭiyārkaṭ killai iṭarthāṉē".
மயிற்பீலியாலாகிய குடை நீழலில் திரியும் சமணர்களும், புத்தர்களும்
நாள்தோறும் பழி தூற்றுமாறு நின்ற பெருமானாய், நஞ்சு பொருந்திய
கண்டத்தை உடைய நல்லூர்ப்பெருமானாய் விளங்கும் சிவபிரானை, ஏத்தும்
அடியவர்களுக்கு இடரில்லை.
தண்ணம் புனற்காழி ஞான சம்பந்தன்
நண்ணும் புனல்வேலி நல்லூர்ப் பெருமானை
வண்ணம் புனைமாலை வைக லேத்துவார்
விண்ணும் நிலனுமாய் விளங்கும் புகழாரே.
"Thaṇṇam puṉaṟkāzhi gñāṉa sambanthaṉ
naṇṇum puṉalvēli nallūrp perumāṉai
vaṇṇam puṉaimālai vaika lēththuvār
viṇṇum nilaṉumāy viḷaṅkum pukazhārē".
குளிர்ந்த நீரால் சூழப்பட்ட சீகாழிப் பதியில் தோன்றிய ஞானசம்பந்தன்,
பொருந்திய நீரை வேலியாக உடைய நல்லூரில் விளங்கும் பெருமான்
இயல்புகளைப் புனைந்து பாடிய இத்திருப்பதிகத்தை நாள்தோறும்
சொல்லித் துதிப்பவர் விண்ணும் மண்ணும் விளங்கும் புகழாளர் ஆவர்.