Visited on: November 1, 2015
Location
Karur is very well connected by road from other major cities. Karur has a Railway station on Trichy - Erode route. Around 80 kms from Trichy and 65 kms from Erode. Nearest airport is at Trichy.
General Information
Moolavar

Sri Kalyana Pasupatheeswarar /
Sri Ahnilaiyappar /Sri Pasupathy Nathar

Ambal

1. Sri Soundyarya Nayaki (Vadivudaiyal)
2. Sri Alangara Nayaki

Theertham (Holy water)

Brahma Theertham, Thadaagai Theertham, Ambiravathi-Amaravathi River

Sthala Vriksham (Sacred Tree)

Vanji

Pathigam (Hymn) rendered by

Saint Thirugnanasambanthar

This is one of the 276 Devara Paadal Petra Shiva Sthalams and 7th Sthalam in Kongu Nadu.
The temple is very big - its main Tower (Rajagopuram) is 120 feet high with 7-tiers and two corridors. This temple is facing the East.
The Moolavar Lingam in the temple is a Swayambumurthi (self-manifested).
This temple is renowned for its three splendours - Moorthy (The Presiding Deity), Sthalam (Place of divinity) and Theertham (The Holy Water).
Lord Brahma is believed to be the first ever devotee to worship Lord Shiva in this temple.
It is also believed that the divine bovine–goddess Kamadenu has worshipped Lord Shiva here. Its hoof mark is visible on the Lingam. The name Ahnilaiyappar is derived from "Ah" meaning cow (Kamadenu) and "nilai" meaning place.
This is the birth place of Eripatha Nayanar, one of the 63 Nayanmars.
King Pugazh Cholan, who later became a Nayanar (one of the 63 Nayanmars) also belongs to this place.
Karur has the reputation of being the birthplace of Karuvurar Siddhar, (also called Karuvur Devar), one of the 18 famous Siddhars of South India. Karuvurar Siddhar has praised the Lord in his hymns "Thiruvisaippa", which forms a part of the 9th Thirumurai. This Siddhar's life forms an important part of this temple's legacy. The story goes that some Brahmins complained against Karuvurar Siddhar to the king that the Siddhar was following the Vama Margam - offering wine and meat to the Lord. Upon enquiry it was revealed that this complaint was baseless and the king punished the complainants. However, unable to bear the continual harassment, he ran towards the shrine, embraced and became unified with the Lord Ahnilaiyappar. Because of his embracement, the Lingam is found in a slanting position. Inside the temple, there is a Jeeva Samathi of Karuvurar Siddhar.
History of the Temple
The temple was constructed during the Chola period.
Karur is said to be one of the five capitals of Chola kingdom.
From the inscriptions, it can be inferred that this temple existed during the reign of the King Rajendra Cholan (1012-54 A.D.) and that he also gifted lands to this temple.
Legend
Lord Brahma and Kamadenu
It is believed that Lord Brahma became very proud of his position as the Creator of the world and Lord Shiva decided to teach him a lesson in humility. During the same time, Kamadenu was also looking to obtain Moksham so Lord Shiva instructed Sage Naradar to ask Kamadenu to go to earth and perform penance in a "Vanji" forest. (Vanji is a tree that is indigenous to the Indian sub-continent). Following these instructions, Kamadenu reached Karur, since it was at that time fully covered by Vanji trees. Kamadenu found that the lingam at this place was fully covered by an anthill. She cleared the anthill and started worshipping the Lord here. Incidentally when Kamadenu was performing abishekam, the hoof hit the lingam and that impression can still be seen on the lingam. Pleased with her devotion, Lord Shiva blessed her with Lord Brahma's role - the power of creation. Lord Brahma realized his mistake and pleaded to Lord Shiva to forgive him. Lord Shiva forgave him and reinstated his position of the creator of the world. In recognition to Kamadenu's dedication, Lord Shiva said that he would be worshipped as Pasupathi Nathar in Karur (Pasu meaning cow).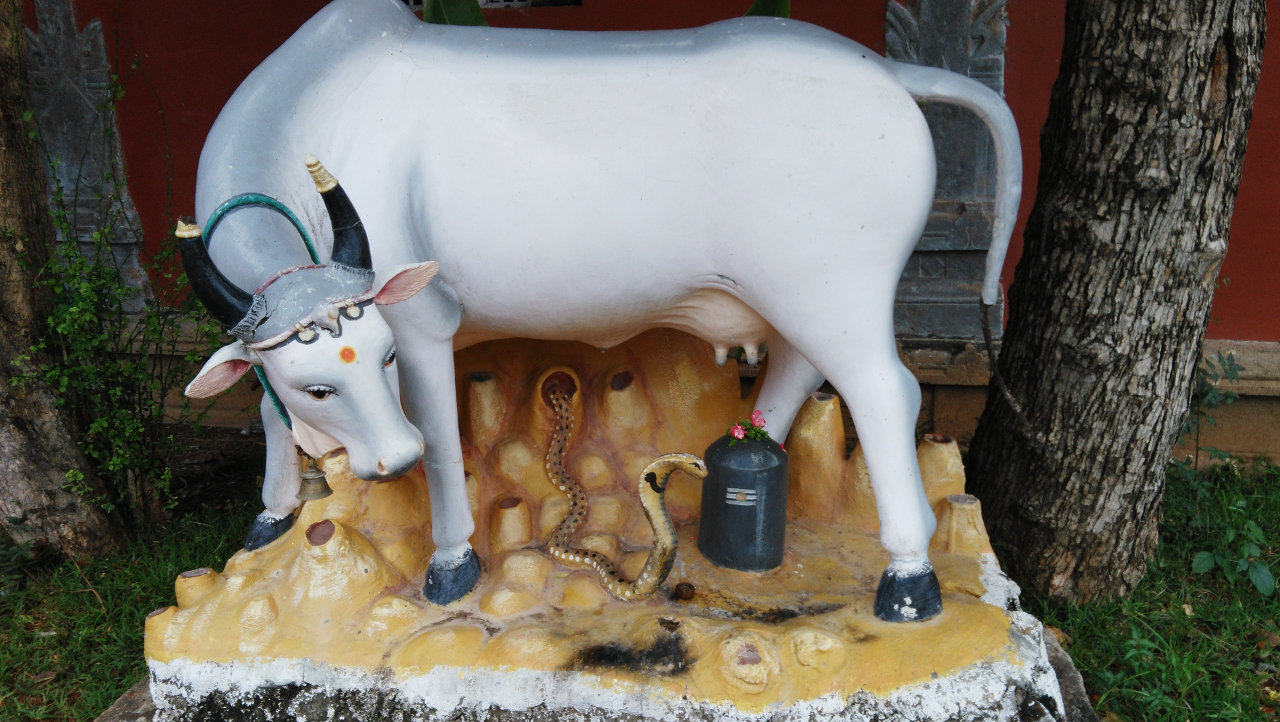 Emperor Musukunda
Emperor Musukunda, belonging to the Skanda Mahapurana period, is believed to have undertaken renovation of this temple. According to the history of this place, Emperor Musukunda was extended an invitation to attend the wedding of Lord Murugan with Deivanai that took place in Thiruparankundram near Madurai.
Eripatha Nayanar
It is believed that Eripatha Nayanar, a staunch worshipper of Lord Pasupatheesvarar, had dedicated his life towards protection and welfare of other Shiva devotees. He would always carry a weapon - an axe, for this purpose. With the axe he would punish anyone trying to harm the devotees. During the same time, another Shiva devotee, Sivakami Andar also lived in this place. It is believed that every day Sivakami Andar would collect flowers, make garlands and give them an offerring to the Lord.
Once, on a Navami day, as Sivakami Andar was going to the temple with a basket of flowers to give his offering, the king's elephant wrenched the basket from him, threw it on the ground and ran away. Realizing that the elephant had destroyed the flowers he had kept for the worship of the Lord, Sivakami Andar started crying.
Eripatha Nayanar happened to pass that way and heard Sivakami Andar's pitiable cry. Upon enquiring what was happened, Eripatha Nayanar became furious that an elephant had caused an aged Shiva devotee such distress. He ran and overtook the elephant, hurled his powerful axe and killed it. He also killed the Mahouts because he felt that the Mohouts should have controlled the elephant but failed to do so.
On hearing the news of the death of his elephant, King Pugazh Cholan reached the spot with his soldiers. Upon further enquiry he was informed that Eripatha Nayanar had killed the elephant and Mahouts because of the distress that it had caused to another Shiva devotee. Since the king himself was a staunch Shiva devotee, rather than getting angry he felt ashamed that his elephant and the Mahouts had caused "Shiva Aparadham".
He surrendered to Eripathar and requested him to kill him with his own sword as he deemed himself responsible for the actions of his elephant. Eripathar was stunned to hear these words and was moved by the King's devotion to the Lord. Fearing that he might have caused distress to the King - another Shiva devotee, Eripathar wanted to punish himself and he began to cut his own throat. The king became alarmed. Realizing that he might become guilty of another offence, the King grabbed the sword and stopped Eripathar.
It is believed that at this point God's voice was heard saying that this saga had unfolded because he wanted the world to know Eripathar's sincere and faithful service. Immediately, the elephant and the Mahouts got up, as if from sleep and Sivakami Andar's flower basket became full.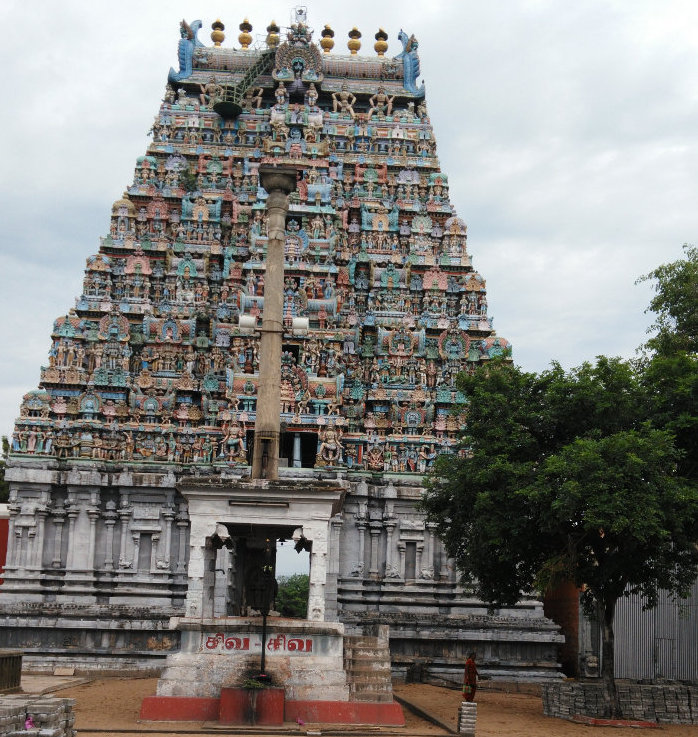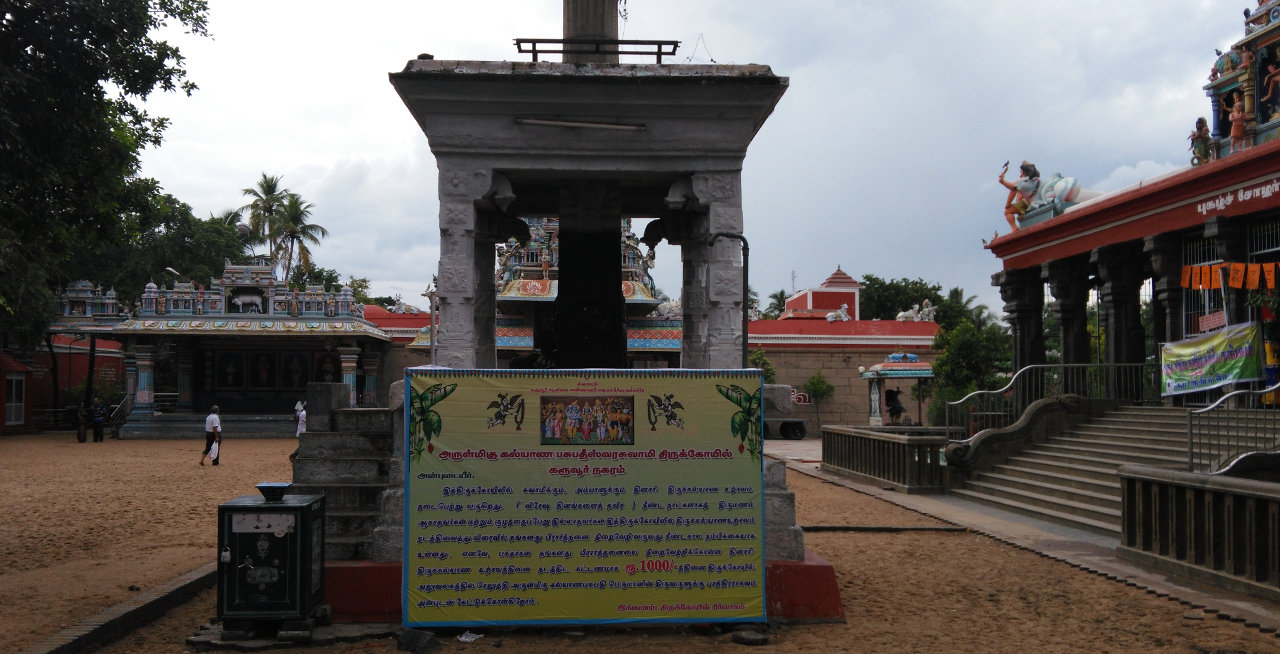 Soundarya Nayaki
Another interesting story associated with Karur is that of the second consort of Lord Shiva - Soundarya Nayaki (also called Vadivudaiyal). It is said that Vadivudaiyal who was born in a place called Appipalayam (near Karur), was devoted to Lord Pasupatheeswarar and wanted to marry him. She worshiped the Lord faithfully and observed all religious injunctions. Her parents were worried as they could not dissuade her from what they felt was a foolish dream. However, Lord Shiva assured them in their dream that he would marry their daughter on the seventh day of the next Panguni Uthiram festival. This would be indicated through a floral shower over the entire village.
Vadivudaiyal was meditating when the whole village witnessed the downpour of flowers, and a glowing garland bedecked her. She was taken to Pasupatheeswarar temple where she merged with the Lord and re-christened as Soundarya Nayaki. To this date, the procession idol of Lord Pasupatheeswarar is taken to Appipalayam, on the sixth day in the month of Panguni and is brought back on the seventh day along with the idol of Soundarya Nayaki.
Deities in the temple
There are two separate shrines for Ambal. One is for Sri Alankara Nayaki and the other one for Sri Soundarya Nayaki. While Alankara Nayaki is a symbol of 'kriya sakti,' Soundarya Nayaki represents 'itcha sakti.
Amongst others, idols of Vinayakar, Murugan with his consorts, Natarajar, Dakshinamurthi, 63 Nayanmars, Mahalakshmi, Navagragam, Pancha Lingams, eight-armed Kala Bhairavar can be seen in the corridors.
The idols of Eripatha Nayanar, King Pugazh Chola, Saint Sambandar and Chola Emperor Muchukunda can also be seen.
Salient Features
There is large stone pillar (Dwajasthambam) after entering the main Tower. One side of the stone pillar has the sculpture of King Pugazh Chola Nayanar with his hand holding a head on a plate, which shows that he was ready to offer his head. The other side has the sculpture of a cow (Kamadenu) making an offering of milk to the Shivalingam.
There is a 100 pillar Hall (Mandapam) in front of the shrine and is called Pugazh Chozhar Mandapam.
There is a beautiful sculpture in the outer corridor (Pirakaram) depicting a cow making an offering of milk to the Shiva Lingam.
Saint Arunagirinadhar has also sang 7 songs in praise of Lord Murugan of this temple in his revered Thirupugazh.
Though the Sthala Vriksham is said to be Vanji, only Vilva trees can be seen now.
The architectural marvel of this place is such that on 14th, 15th and 16th days of the Tamil month of Panguni (March-April), sun rays fall directly on the idol of Lord Shiva.
Greatness of this temple
Large number of devotees come to Lord Pasupatheeswarar temple to seek relief from mental ailments and to pray for child and wedding boon, better employment opportunity and for progress in trade / business.
Important Festivals
The thirteen day "Panguni Uthiram" festival (Brahmotsavam) in the months of March-April and "Arudhra Darshanam" in the months of December-January are of most significance.
Jupiter and Saturn transition days and New Moon days are also important festivals celebrated in this temple that draws huge crowd.
Car (Ther) festival is also very popular here.
Monthly "Pradosham" poojas are also observed here.
Temple Timings
From 06:00 AM to 12:30 PM and from 04:00 PM to 08:30 PM.
Temple Address
Sri Kalyana Pasupatheeswarar Temple,
Karur, Karur District,
Tamil Nadu-639 001.
Telephone: +91 4324 262010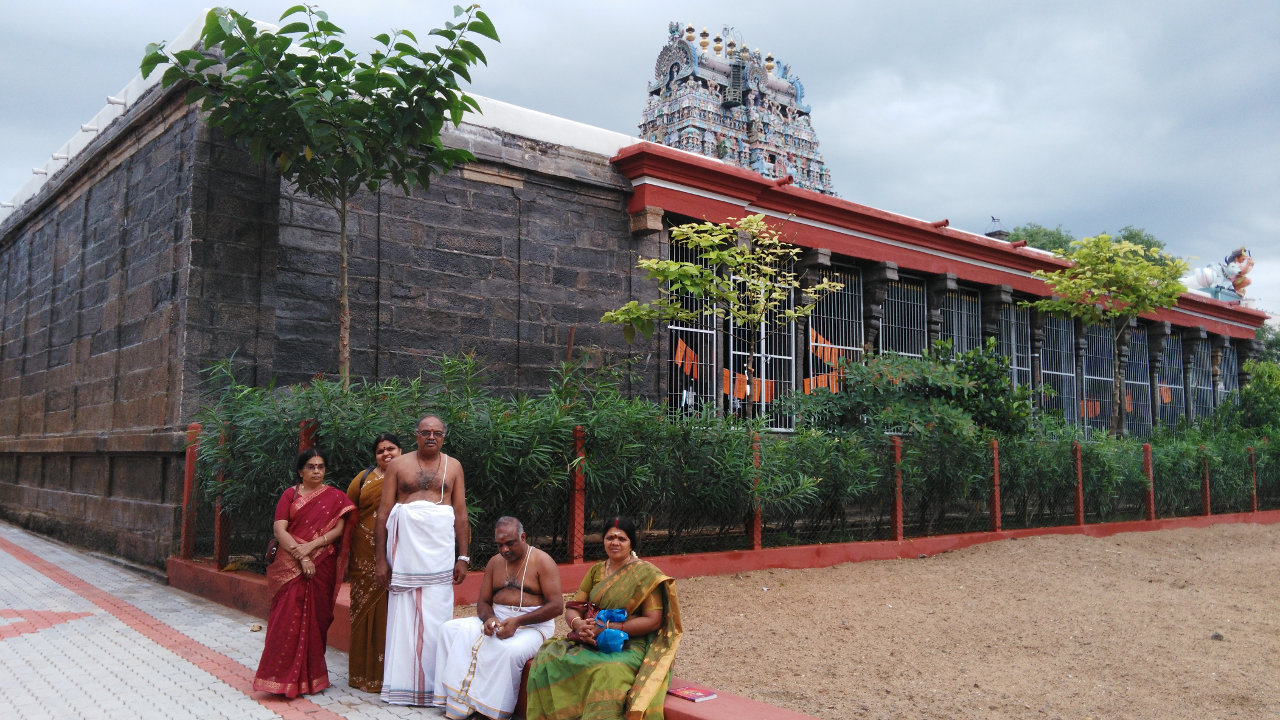 ---
Pathigam (Hymn) with English transliteration

Saint Thirugnanasambanthar visited this temple and sang this pathigam

Devotees visiting this temple should make it a practice to recite this pathigam
தொண்டெ லாமலர் தூவி ஏத்தநஞ் சுண்ட லாருயி ராய தன்மையர்
கண்ட னார்கரு வூரு ளானிலை அண்ட னாரரு ளீயும் அன்பரே.
"Thoṇde lāmalar thūvi ēthananj chuṇṭa lāruyi rāya thaṉmaiyar
kaṇṭa ṉārkaru vūru ḷāṉilai aṇṭa ṉāraru ḷīyum aṉparē".
நீதி யார்நினைந் தாய நான்மறை ஓதி யாரொடுங் கூட லார் குழைக்
காதி னார்கரு வூரு ளானிலை ஆதி யாரடி யார்தம் அன்பரே.
"Nīthi yārniṉain thāya nāṉmaṟai ōthi yāroṭuṅg kūṭa lār kuzhaik
kāthi ṉārkaru vūru ḷāṉilai āthi yāradi yārtham aṉparē".
விண்ணு லாமதி சூடி வேதமே பண்ணு ளார்பர மாய பண்பினர்
கண்ணு ளார்கரு வூரு ளானிலை அண்ண லாரடி யார்க்கு நல்லரே.
"Viṇṇu lāmathi chūdi vēthamē paṇṇu ḷārpara māya paṇpiṉar
kaṇṇu ḷārkaru vūru ḷāṉilai aṇṇa lāradi yārkku nallarē".
முடியர் மும்மத யானை யீருரி பொடியர் பூங்கணை வேளைச் செற்றவர்
கடியு ளார்கரு வூரு ளானிலை அடிகள் யாவையு மாய ஈசரே.
"Mudiyar mum'matha yāṉai yīruri podiyar pūṅgkaṇai vēḷaich chetṟavar
kaṭiyu ḷārkaru vūru ḷāṉilai adikaḷ yāvaiyu māya īsarē".
பங்க யம்மலர்ப் பாதர் பாதியோர் மங்கை யர்மணி நீல கண்டர்வான்
கங்கை யர்கரு வூரு ளானிலை அங்கை யாடர வத்தெம் மண்ணலே.
"Paṅka yam'malarp pāthar pāthiyōr maṅgai yarmaṇi nīla kaṇdarvāṉ
gaṅkai yarkaru vūru ḷāṉilai aṅkai yāṭara vaththem maṇṇalē".
தேவர் திங்களும் பாம்புஞ் சென்னியில் மேவர் மும்மதி லெய்த வில்லியர்
காவ லர்கரு வூரு ளானிலைமூவ ராகிய மொய்ம்ப ரல்லரே.
"Thēvar thiṅkaḷum pāmpunj cheṉṉiyil mēvar mum'mathi leytha villiyar
kāva larkaru vūru ḷāṉilai mūva rākiya moympa rallarē".
பண்ணி னார்படி யேற்றர் நீற்றர்மெய்ப் பெண்ணி னார்பிறை தாங்கு நெற்றியர்
கண்ணி னார்கரு வூரு ளானிலை நண்ணி னார்நமை யாளும் நாதரே.
"Paṇṇi ṉārpadi yētṟar nītṟarmeyp peṇṇi ṉārpiṟai thāṅku netṟiyar
kaṇṇi ṉārkaru vūru ḷāṉilai naṇṇi ṉārnamai yāḷum nātharē".
கடுத்த வாளரக் கன்க யிலையை எடுத்த வன்தலை தோளுந் தாளினால்
அடர்த்த வன்கரு வூரு ளானிலை கொடுத்த வன்னருள் கூத்த னல்லனே.
"Kaṭutha vāḷarak kaṉka yilaiyai edutha vaṉthalai thōḷunth tāḷiṉāl
adartha vaṉkaru vūru ḷāṉilai koṭutha vaṉṉaruḷ kūtha ṉallaṉē".
உழுது மாநிலத் தேன மாகிமால் தொழுது மாமல ரோனுங் காண்கிலார்
கழுதி னான்கரு வூரு ளானிலை முழுது மாகிய மூர்த்தி பாதமே.
"Uzhuthu mānilath thēṉa mākimāl thozhuthu māmala rōṉuṅg kāṇkilār
kazhuthi ṉāṉkaru vūru ḷāṉilai muzhuthu mākiya mūrthi pāthamē".
புத்தர் புன்சமண் ஆதர் பொய்யுரைப் பித்தர் பேசிய பேச்சை விட்டுமெய்ப்
பத்தர் சேர்கரு வூரு ளானிலை அத்தர் பாதம் அடைந்து வாழ்மினே.
"Puthar puṉsamaṇ āthar poyyuraip pithar pēsiya pēchai viṭṭumeyp
pathar sērkaru vūru ḷāṉilai athar pātham adainthu vāzhmiṉē".
கந்த மார்பொழில் காழி ஞானசம் பந்தன் சேர்கரு வூரு ளானிலை
எந்தை யைச்சொன்ன பத்தும் வல்லவர் சிந்தை யில்துய ராய தீர்வரே.
"Kantha mārpozhil kāzhi gnāṉasam panthaṉ sērkaru vūru ḷāṉilai
enthai yaichoṉṉa pathum vallavar sinthai yilthuya rāya thīrvarē".